The best travel idea you can have for 2019 is… *drumroll* a Portugal road trip along the coastline! It's time to start the engines and explore the most idilic landscapes of this beautiful country!
I've decided to create this road trip guide because all the conversations I have about my country abroad follow a trend.
It always starts with the chit-chat about Cristiano Ronaldo.
Yeah, he's an awesome player, makes a lot of money and I don't get his love life either. But eventually the conversation gets much more interesting:
– Where do you recommend to go to in Portugal?
My answer: do a road trip!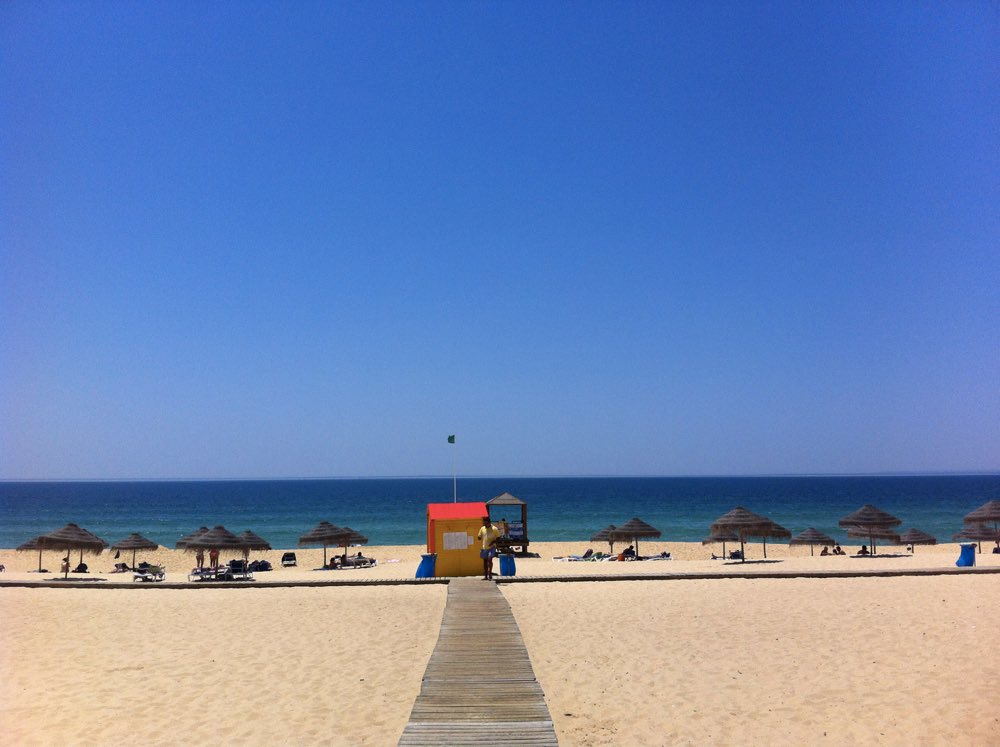 This article is a full road trip guide and itinerary to explore southwest Portugal – one of the best-kept secret regions in the whole Europe.
Why go on a road trip in Portugal in the first place?
First of all, going on a road trip is something magic by itself.
I bet you are already thinking of sticking your head out of the window and feel the wind ride your hair. Yeah, you can do that and much more!
A road trip is one of the best way to practice slow travel. This new travel movement advocates you shouldn't rush things and invest in getting to know deeply a country. It is particularly suited if you're travelling on a budget.
Secondly, I'm proud to say Portugal has a LOT to uncover. I mean, for some reason I've shared DOZENS of reasons why Portugal is worth visiting before.
When I had little or no money to travel, I got to explore a lot of my own country. And was still amazing. It's these knowledge I now want to share with you.
Overview of this road trip guide
Driving along southwest Portugal's coast – Costa Alentejana
Portugal is still overlooked by travelers. I can't help to think how underwhelming it is to fly to Algarve and spend your days wandering between the hotel pool and a overcrowded beach.
I agree Algarve can be a beautiful scenery we all need some lazy holidays once in a while. But trust me, Portugal has a lot more to offer and its 500km of coast are home to a tremendous set of landscapes and experiences.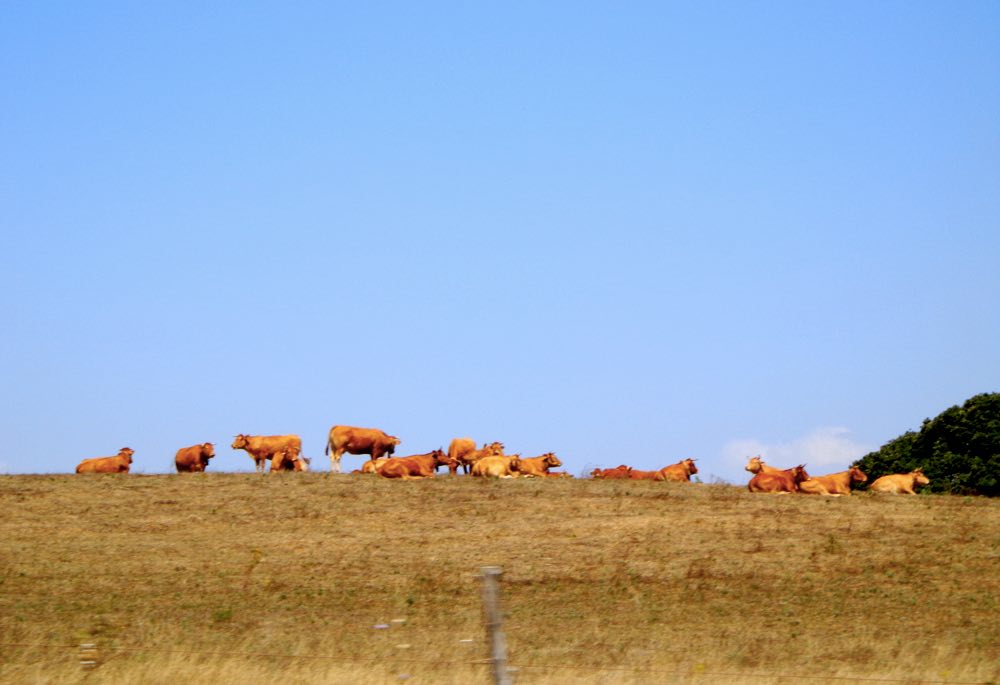 This is where Costa Alentejana and Vicentina come into play. The whole southwestern coast of the country, comprising mostly the Alentejo region still lies in the shadow of Algarve and is generally overlooked by tourists.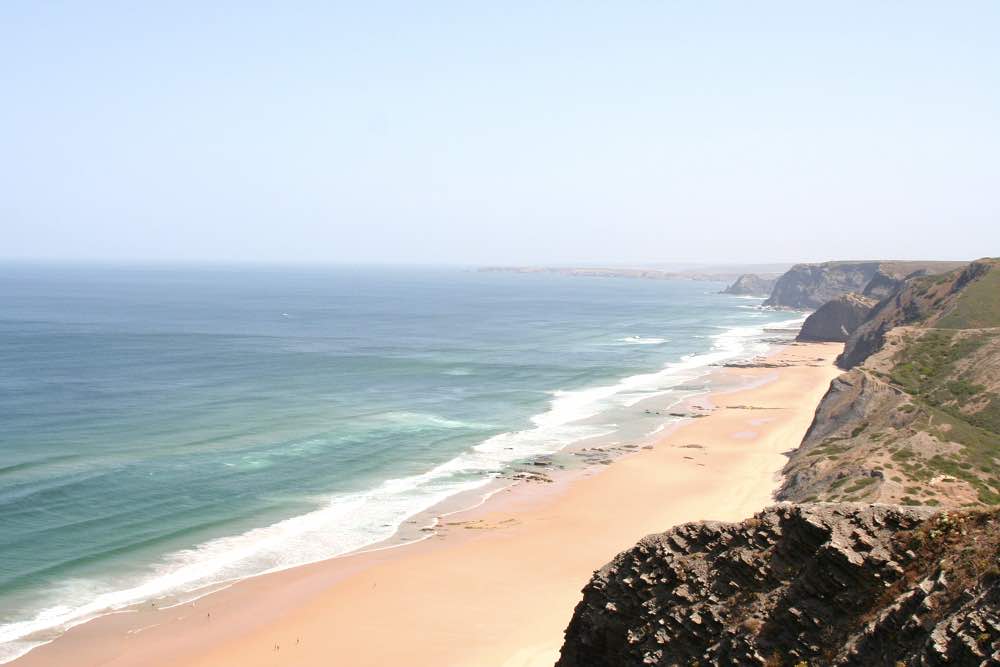 It's characterized by dramatic beaches separated by dramatic cliffs, untouched landscapes and a raw Atlantic essence hard to find elsewhere. Apart from the kilometers of beaches, there are also a lot of quaint villages, blissful coastal cities and vast natural parks.
If a summer road trip spend getting to know all these places seems idilic, well… that's because it is!
What this guide contains
After almost 10 years living in delightful Lisbon and several summer explorations in the south and southwest coast, I'm now delighted to share with you my guide for a road trip in Portugal. It includes:


Pumped up? Let's start the engines!
Portugal road trip itinerary
I've started and ended my road trips from where I was based at the time:Lisbon. From there, I drove along the coastline towards the south of the country for about 10 days.
This is the recommended duration for this road trip. If you have more time, great, spend more time in each place of just take some of my extra suggestions.

Starting Point: Lisboa
Ending Point: Faro
Recommended Duration: 10 Days

The idea of this itinerary is to explore the whole south west coast of Portugal. This includes beach paradises like Comporta and Odeceixe or the untouched natural landscapes of Parque Natural do Sudoeste Alentejano e da Costa Vicentina – 70.000 ha of pure virgin landscapes in the west coast of Algarve.
Portugal road trip map
Nothing like a map to see where you're going, right? I'm about to mention several places in this guide, so I've put them all together so you can easily follow the journey visually.
Orange pins: Main road trip stops – preferred places to base yourself
Yellow pins: Scenic landscape spots – don't miss these if you're a nature lover
Blue pins: Beaches within route – places for a dive along the way
Green pins: Extra & Add-Ons to this route – try to squeeze these in!
You can also open the map in a new window following this link. Now find detailed descriptions of some of these places below.
LISBON: Starting off big!
You'll need at least 3 days to get to know Portugal's capital. To help you plan, I've put together a 3-day itinerary for Lisbon, with detailed tips on what to see and do.
Make sure you have time to indulge in some experiences not to miss in Lisbon and to explore some of its secret places.
Walking around the downtown is a must, but more than ticking off tourist attractions off the checklist, you might want to explore the most typical neighbourhoods of Alfama and Graça.
The awe-inspiring viewpoints (miradouros) and the narrow steep streets crowded with the moorish castle on top – Castelo de São Jorge -are the true essence of Lisboa.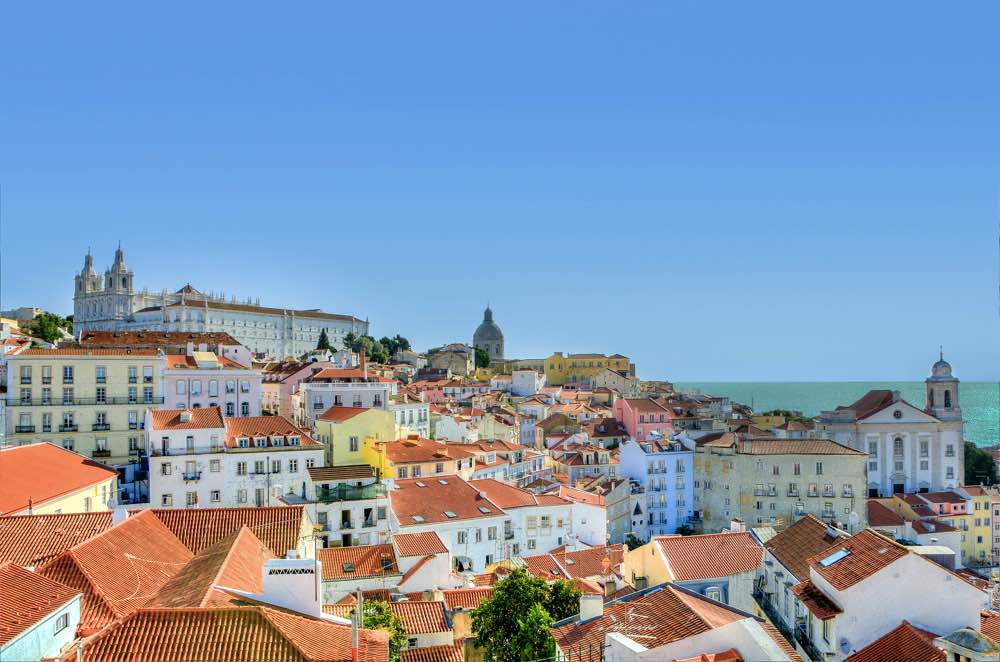 Before you're gone, don't forget to grab a stock of pastéis de nata and start your trip south, crossing either the Vasco da Gama or the 25 de Abril bridges.
💰 My value-for-money hotel recommendations in Lisbon 💰
Hotel HF Fenix Music
Charmingly music-themed hotel, super close to the center. Oh it comes with this stunning rooftop swimming pool.
We Love F Tourists

Located in busy Rossio – the heart of Lisbon – it's just one of those amazing value places that will make you feel at home. Perfect to make friends.
Or… find your own!
Use this list of quality hotels and guesthouses I've put together to get you started. ALL of these are located in the best central areas of Lisbon, with WiFi and with a rating of 8 or higher. Just pick your favourite!
ARRÁBIDA: Green and blue landscapes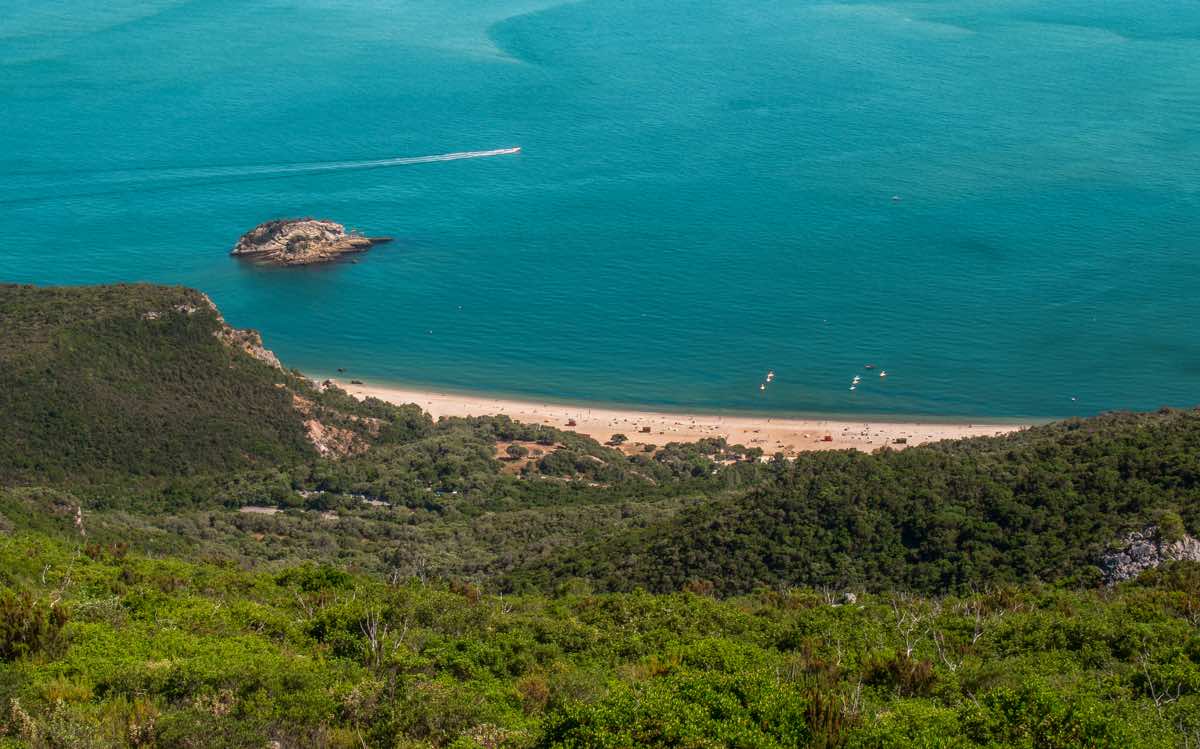 Stretching along the south coast of the peninsula of Setúbal, Arrábida natural park is rich in golden beaches edged by impressive greenery cliffs. It's home to some of my favorite beaches around Lisbon.
The ex-libris of this area is the stunning Portinho da Arrábida with azure waters and a 17th-century fort. Personally, I'd rather have the 20-min hike and reach Praia dos Coelhos to a more off the beaten track experience in direct contact with nature.
Both options ensure an awesome beach day.
Getting around Arrábida
Arrábida is a special place to get around. First of all, the road along the coast is one-way which means you always need to start your journey to get there in the city of Setúbal.
Secondly, parking is done on the road itself. Specially in summer weekends, this can be a nightmare. I recommend you get there as early in the morning as possible.
★ Where to stay in Arrábida ★
Casa da Adôa
Superbly located between the sea and the mountains, it's a refreshing place to spend a day or two.
COMPORTA: The perfect beach getaway
When you arrive here, you'll officially be in the Alentejo region. I've praised Comporta before and how this perfect beach getaway is still kept a semi-secret beach destination is beyond me.
Imagine a small village, stuck between the Atlantic, endless rice fields and the plain landscape (sort of an european savana) of Alentejo. Oh and 15km of the most wild beaches you'll find in Europe.
It's the perfect pitstop to disconnect and step into a new state of mind for the rest of your trip. The Royal family of Monaco, who comes here every summer, appears to agree.
💰 My value-for-money resort recommendations in Comporta 💰
Or… find your own!
PORTO COVO: Summertime charm
Title of a well-known and melancholic portuguese song, Porto Covo is also a little hidden gem close to the port city of Sines. Somewhere in the maze of bright blue, red and white houses you'll find many family-run restaurants with delicious and inexpensive food.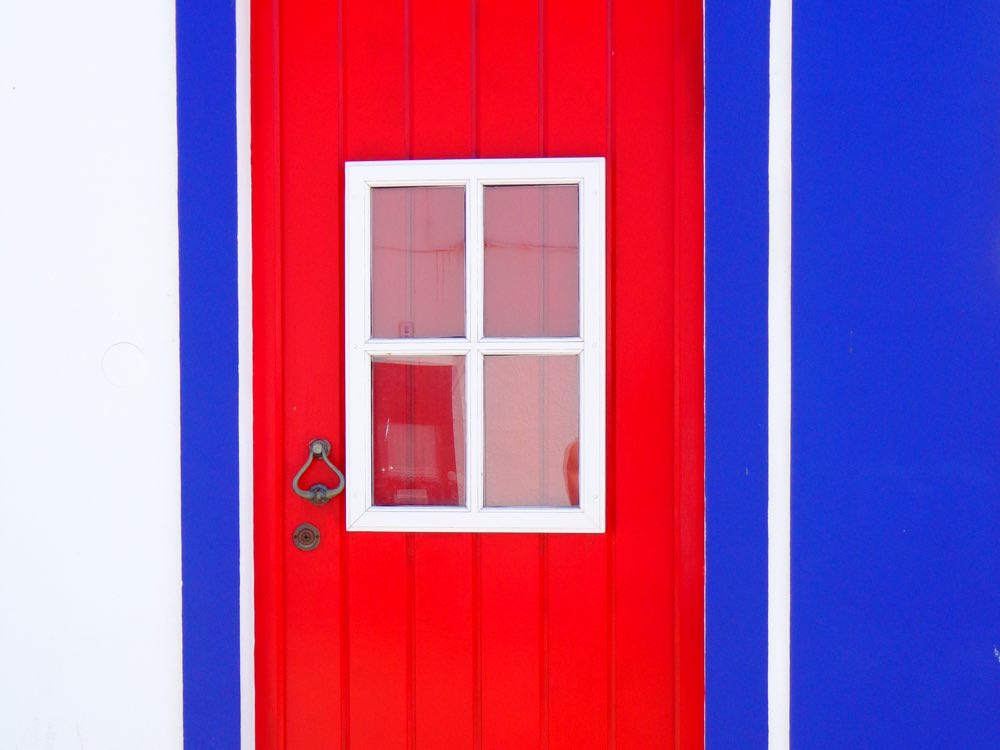 A 5-min drive out of the town center takes you to beaches with golden sands and turquoise waters. Try Praia de São Torpes – popular amongst surfers – or Praia da Ilha – with a great view for the small Pessegueiro islet.
Where to stay in Porto Covo
ZAMBUJEIRA DO MAR: Music for your ears
Zambujeira do Mar is not particularly exciting as a town. Period.
Apart from the MEO Sudoeste summer festival happening each August (had a great time there partying my ass off at the sound of Calvin Harris!) there's nothing much going on.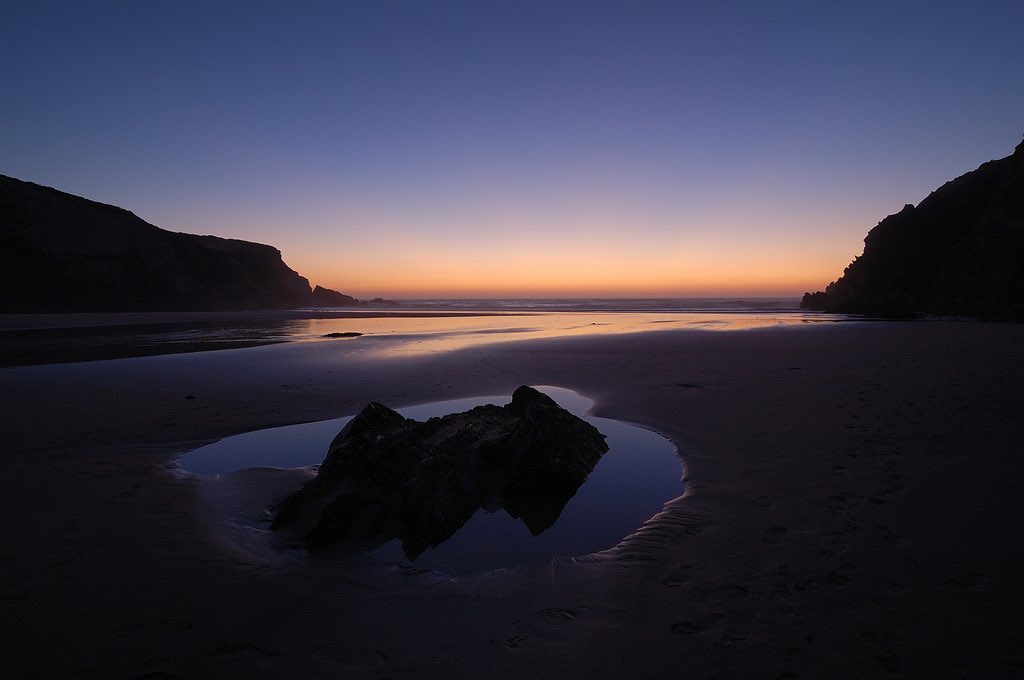 However, it's a VERY interesting strategic point to spend a few days. There are lots of great affordable accommodation available as it generally attracts younger crowds. I recommend Herdade do Sardanito da Frente: breakfast, pools and even a sauna!
Also, it's close enough to explore some of the best spots like the western most point of the whole Alentejo's coast, Cabo Sardão, and some more striking beaches such as Praia do Tonel and Praia do Carvalhal. There are great hiking trails available as well.
ODECEIXE: Atlantic bliss
Where the river Ceixe meets the Atlantic, lies Odeceixe, technically already in the Algarve region. But this is not the typical Algarve you are used to.
Odeceixe is well known for one of the largest and glorious beaches in Portugal, surrounded by giant tree-covered cliffs of a giant natural park. Little confession to make: this is my favourite place of them all.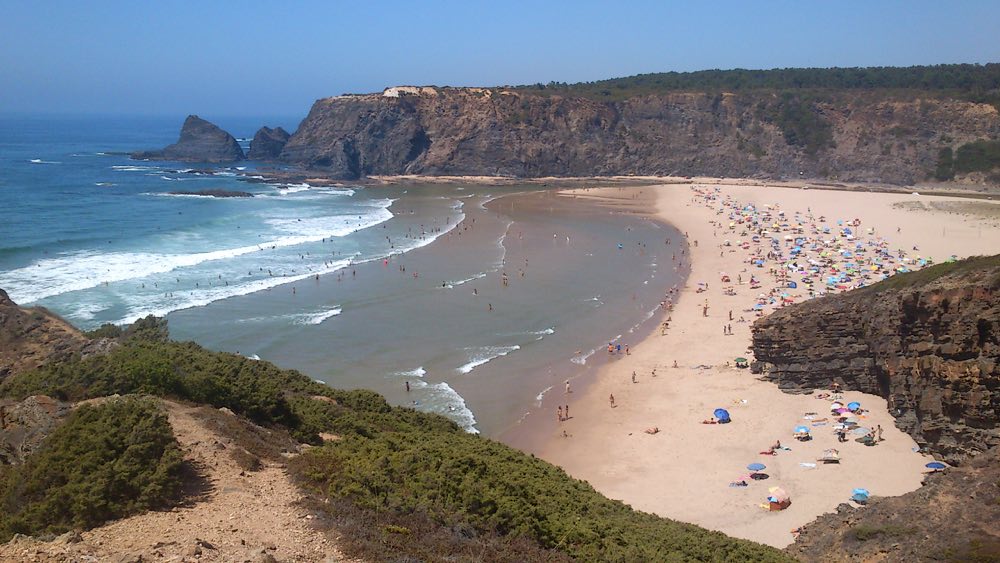 Save 2 or 3 days to explore the surroundings of Odeceixe. I've been here several times, but never stayed more than one full day. I REALLY want to come back not only for the top-notch local beach, but also to hike some of the cliffs in the surroundings.
💰 Where to stay in Odeceixe: my value-for-money suggestions 💰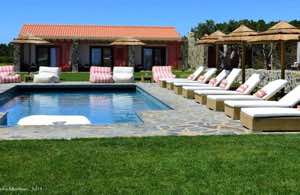 Monte do Cardal
A peaceful guesthouse surrounded by nature and the sound of the ocean in the morning. Breakfast with healthy homemade food. What's there not to like?
Casa Vicentina

Quiet, peaceful and charming, it's the ultimate getaway spot. Just a short drive away from beaches.
Or… find your own!
Search amongst the places to stay in Odeceixe with WiFi and a minimum overall rating of "Very Good". Hard to go wrong with these!
ARRIFANA: Cliff fantasy
Hidden at the bottom of a steep cliff, Praia da Arrifana is both a postcard landscape and a paradise for surfers. Down there, Restaurante da Praia has great grilled fish, yummy salads and is also great for a relax drink at the evening at the sound of the waves.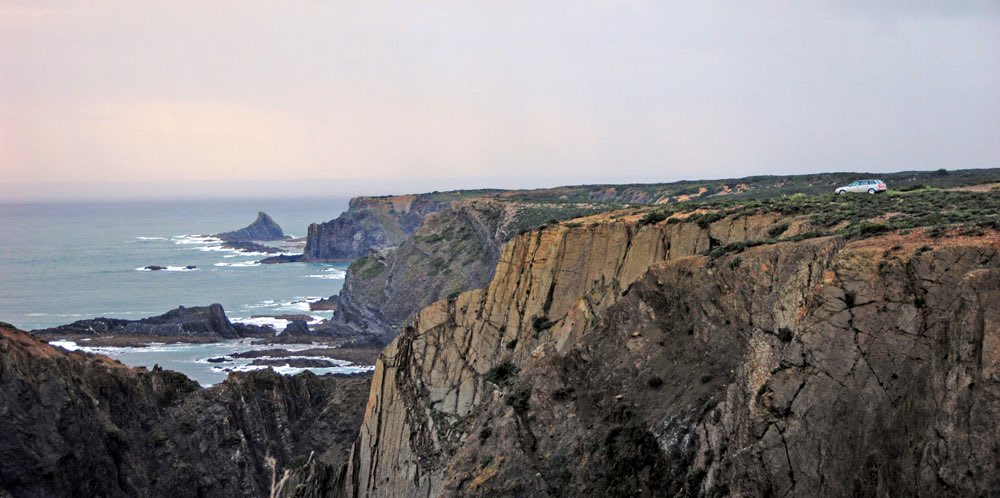 Kayaking, windsurfing, SUP, surfing and water sports in general are HUGE in Portugal. If you haven't tried these before, this is absolutely the time to do it. Arrifana in particular is a well-known destination for watersports lovers.
Where to stay next to Arrifana Beach
The Amazigh Bed & Breakfast is a great value place to stay next to the beach.
FARO/ALGARVE: The perfect farewell to Portugal
Although I prefer hands down the wild and vibe of Alentejo's coastline, I got to say I've always enjoyed my time in Algarve.
Even though massive tourism threatens to take away some of its personality, it's still home to some top-notch beaches in the world. There's nothing wrong in saving two of three days to lay on one or more of them. It's the perfect farewell to Portugal!
While Faro is the only international airport in the region and it has some beautiful almost-deserted islands around – like the stunning Ilha do Farol, by all means don't stick to this city.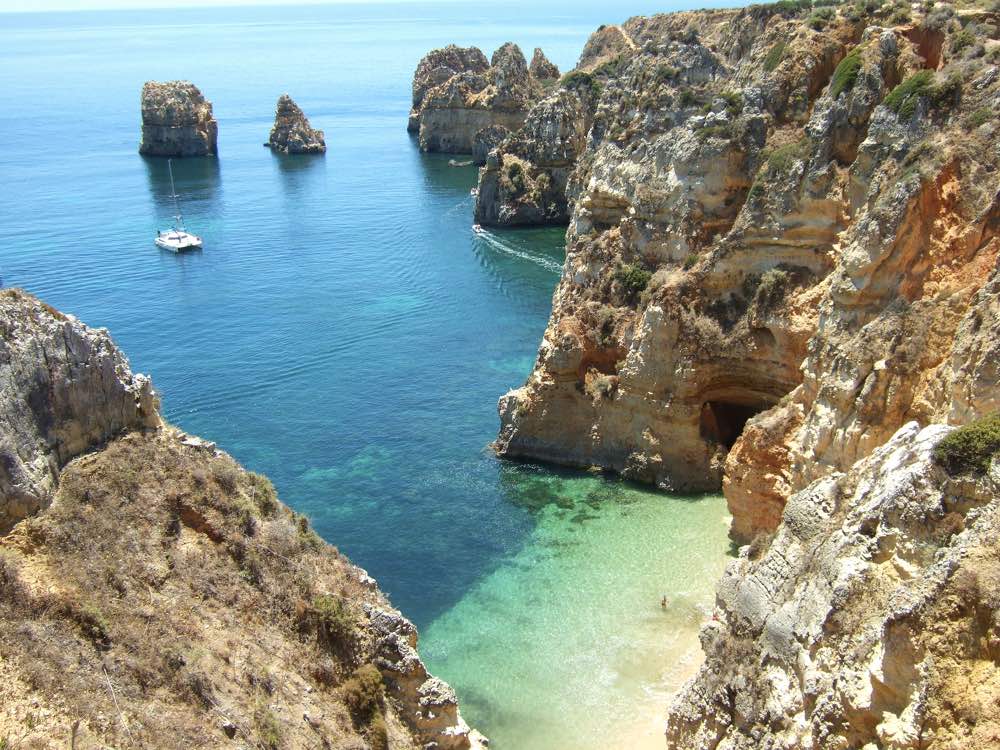 Avoid the booze hotspots of Algarve: Albufeira and Vilamoura . These are nothing but bland touristy places with OK beaches nearby.
A slightly better option is Portimão, where there are excellent beach options nearby: Praia do Vau or Praia dos Três Irmãos.
Another option is Lagos, one of my favorite areas in the Algarve. It's a very tranquil place, even though the top beach there has suffered a massive reengineering project which made it unrecognizable. Faro airport is no far and there are transfer companies doing the journey (I suggest this one).
There are some other great options around Lagos town like Praia do Camilo, Praia dos Pinheiros or Praia da Luz – where some are still looking for Maddie McCann.
Check the road trip map for other suggestions for beaches in Algarve.
⚠ Beware of the cliffs!
I remember hearing on the news some fatal accident involving cliffs in Algarve every single year. DON'T be the one on the news!
When you're standing on top of the cliffs, watch your steps when you're trying to get a better view for your photos and don't get too close of the edge. Also, there are not usually fences on the cliff line so don't be tempted to lay your towel right next to it. As good as a shade may feel in a hot summer day, cliff rock falls can happen anytime.
Where to stay in Algarve
Lagos is a great place to base yourself in the Algarve, giving you access to a series of top-notch small beaches.
Extra stops to add to this road trip itinerary
This itinerary has got a minimum recommended duration of 10 days, but if you have more time, make sure you explore other highlights of Portugal.
It's relatively small country after all and you can easily add more places to your route and enrich your holidays. There are many other places in Portugal worth discovering.
Here are some suggestions:
Porto
Why not start your road trip route upper north in Portugal's second largest city? Porto is very different from Lisbon – and of the rest of the country for that matter – in many ways.
But both are clearly national winners in two things: the sympathy of people and food. Read more about it in my Porto guide for dummies or in my weekend itinerary of the city.

Nazaré, Portugal
Nazaré is the most traditional fishing village in Portugal. Look around and notice the drying the fish and women with their typical set of seven-layered skirts.
While the main beach in the town is OK to get into the water, this is a place well-known for its GIGANTIC waves which has become a tourist attraction by itself. Praia do Norte is the location for the world record of the largest wave ever surfed – by Garret McNamara in 2013. The monster wave was 100ft or 30m high and can be seen in this video.
Sintra, Portugal
Located the northern-most extent of the protected Sintra-Cascais Natural Park, 30km from Lisbon, Sintra displays an alluring fairy-tale nature setting. This little town has been a summer retreat for the portuguese royal family for centuries and is lush with green forests, exotic flowers and exquisite architecture.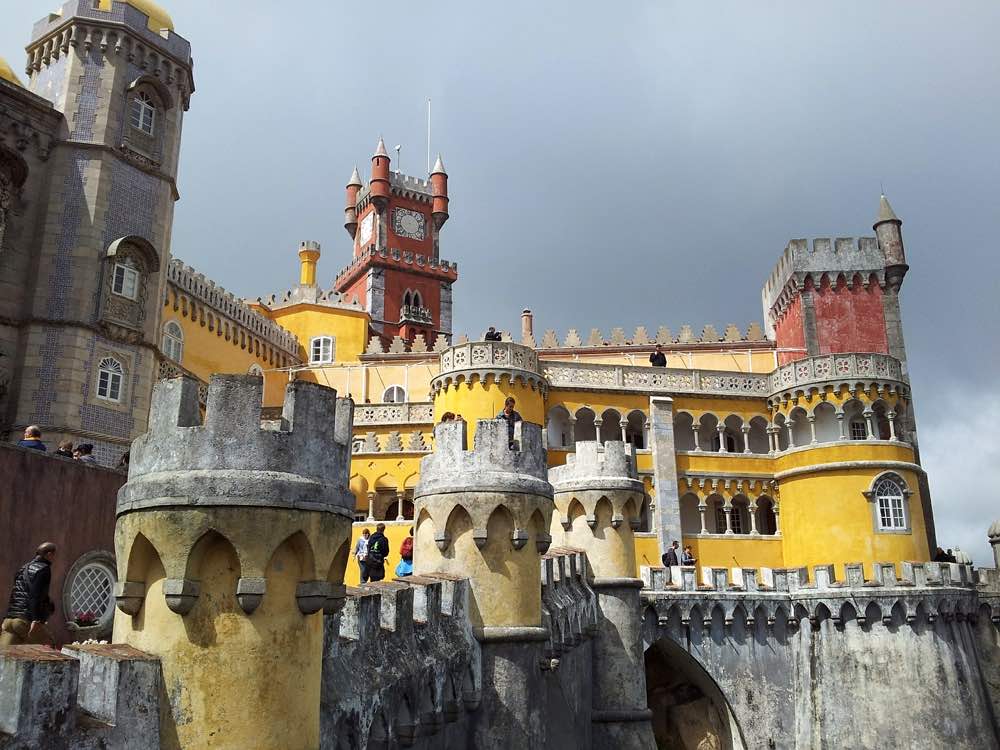 Make sure you don't miss Castelo dos Mouros -the moorish castle overlooking the village – and Palácio da Pena, a Romanticist palace on top a hill with great views over the entire Lisbon metropolitan area. Also, since you're already in the area get a look at continental Europe's most western point: Cabo da Roca. Beware of the wind!
Sevilla, Spain
I know this road trip is about Portugal, but why not take a detour and include one more country in your itinerary? Iberian power! Seville is less than 200km away from the portuguese border and is the cultural centre of the region of Andalucía.
There's a lot to do and specially to eat here. Grab some hot churros con chocolate, jamón or a freshly-made sangria in between your visit to the city's main sights. Don't miss El Alcazar, a royal palace built for Moorish kings, and the magnificent Plaza de España.
Best time of the year to visit Portugal
You are absolutely fine to go anywhere between May and October, as warm weather in Portugal lasts for about half a year. Now comes the but. Along this route you'll be driving along an wild Atlantic coastline, so weather can be rough and particularly windy very quickly.
On the other hand, avoiding the month of August will surely save you 20-30% of the overall budget, as everything since accommodation to a single bottle of water is inflated. Plus, all the towns I've mentioned tend to turn into mini-Algarves.
So if you want to avoid peak months but at the same time maximize the probability of warm sunny weather try to aim your trip for May, June, July or September months.

What to eat in Portugal
OK, almost dinner time at the time I'm writing this, so let's talk about food. I know this is suspicious coming from me *a bold statement is coming* but food standards in Portugal is simply great.
I honestly can't find a better combination of taste, healthiness and price, no matter where I go in Europe. If you are really to take this road trip, I bet my pinkie finger you will not have one mediocre meal. I know, #highexpectations.
Take advantage of your time in Portugal to eat food generally unavailable or expensive elsewhere: fish. Grilled fresh fish with a simple pinch of salt and herbs to season it's one of my favorite summer pleasures. Luckily, that's not hard to find at all in the entire coast of Portugal, usually at delicious prices.
What to eat in Alentejo
And speaking of Alentejo in particular… oh dear. We're talking about one of Portugal's gastronomic edens! Don't miss the big peppery olives (azeitonas) for starters and a glass of regional wine to drink – half of the country's wine is produced here.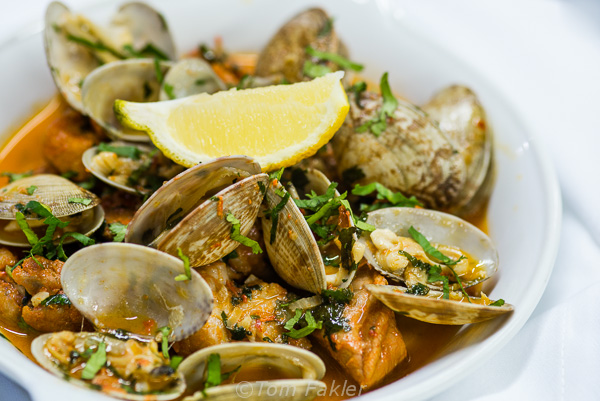 Bacalhau (codfish) dishes are frequent as well as porco (pork), but you can't miss to try a local plate and my personal favorite: Carne de Porco à Alentejana – a mouth-watering combination of pork, wine, potatoes and clams.
Driving in Portugal
Driving in Portugal is not anywhere near like a Gran Turismo game, but you'll need to be careful, as the country has one of the highest accident rates in Europe.
Although there is a direct highway from Lisbon to Algarve (A2 motorway), the best and more scenic route for this road trip is through the regional and national roads. These go very close to the coast so it's more enjoyable.
If you ask me, car rentals in Portugal should be cheaper. Sadly, you can find overall lower prices in other countries of southern Europe. That said, you can still find some great deals, specially if you book early! I always use this great tool to compare rental prices.
There is a toll system in operation on the major motorways so taking the secondary roads will be considerably cheaper. If you pass by any of the main tolls, take care NOT to use the green lanes. These are strictly reserved for motors who subscribe to the automatic pay system Via Verde.
Some other useful driving numbers to remember – information from 2017:
Alcohol Limit: 50mg per 100ml. Or two to three beers.
Speed Limits: 50km/h in the built-up area, 90km/h outside of the built-up area and 120km/h on the motorways. Inside some limited residential areas and historical centers the limit is 30km/h.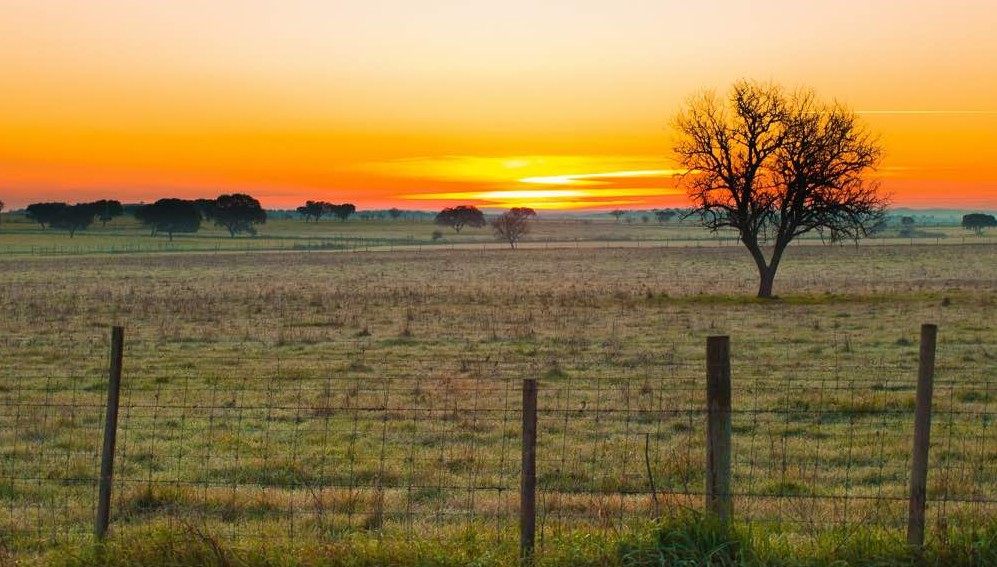 Finding accommodation in Alentejo and Algarve
Having a lot of media attention lately, the accommodation in Alentejo has risen a lot in recent years, both in quantity and quality as resorts, rural houses and guest houses pop like mushrooms.
My personal suggestion is Herdade do Amarelo, a stunning homestead next to Vila Nova de Milfontes, but there is a choice to all tastes and wallet sizes.
To make your life even easier, use this shortlist of the best-reviewed rural accommodation in the coast of Alentejo.
In Algarve region, the offer accommodation is much higher but the best places can get fully booked with months in advance.
PORTUGAL MINI TRAVEL GUIDE
How to get to Portugal
The best way is by air. Lisbon and Porto are very well served by airline connections from all over Europe and also from the U.S., South America and Africa.
If you're coming from the United States, take a look at Azores Getaways. They have great flight + hotel + transfers deals for Portugal.

If you're not into travel packages or you're not coming from the US, I recommend Skyscanner or the new online sensation Kiwi to find the cheapest flight prices.
Where to stay in Portugal
To make your life easier, start your search with my pre-selection of the best hostels/hotels/guesthouses/villas for each of these amazing spots:
These include only accommodations with great-to-excellent rating and a good free WiFi . You can't go wrong with these!
Best time to go to Portugal
While summers are long in Portugal and you can expect good weather anywhere between May and October, make sure you avoid August. Unless you have a thing for packed beaches!
Useful Portugal Resources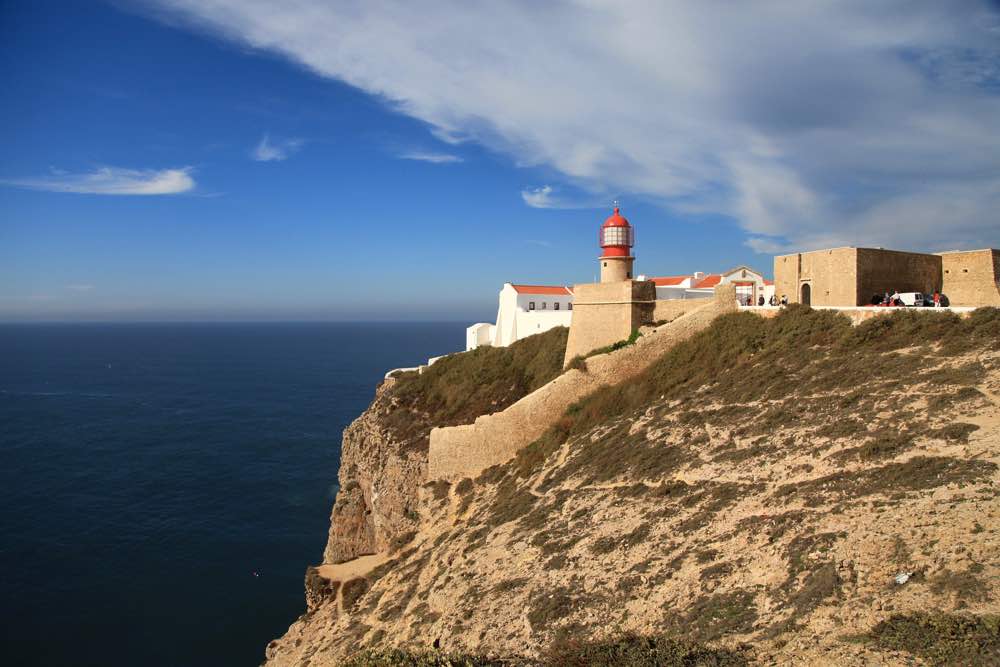 Enjoy the ride and help me improve this guide!
You know I always love to put together a complex travel plan – just like I did with my Croatia road trip guide, my Japan itinerary or my island hopping guide in Thailand. This one is different though. Being my country, I did it with little or no research: it was written all from the heart 💖.
This guide will be updated regularly from now on, so after you use it and visit Portugal yourself, let me know of any additional suggestions or tips, I'd love to hear what I've missed! Just let me know in the comment section below.
Creating this guide made me want to do this road trip it all over again. It's cheap, it's still unspoiled by tourism and comes with a getaway feeling to it which is harder and harder to find nowadays.
I really hope you can have the same experience. Because contrarily to the immense coastline of awe-inspiring beaches of Alentejo, Cristiano Ronaldo does not need any more hype!
Have I missed any tip to do a proper Portugal road trip? Leave a comment in the section below!