São Miguel, Azores, my home island. With so many different landscapes and things to do here, planning a route is essential. This is the exact road trip itinerary I use to show São Miguel island to friends visiting.
Local tips for international travelers, all updated for 2022.
A significant portion of the time I spend in São Miguel, my home island, is (re-)exploring it when I've got friends visiting.
Pressure is on me to make sure I keep them busy with a balanced itinerary plan that allows them to have a good travel experience.
This 4-day São Miguel road trip itinerary is the result of several years of being a local guide. Here's what you can find in this article:
São Miguel Road Trip Itinerary – Sections
The ultimate road trip itinerary of São Miguel
I love to plan itineraries. It's kind of my thing.
I've done detailed itineraries in Croatia and Portugal, Japan, Mexico, Thailand, and Greece.
This itinerary for São Miguel was first created when I got friends visiting in 2015. Since then, I've updated it several times, the last time being in May 2022.
Other blunt copies of this itinerary – seriously, same title, map and article structure – have shown up in the web as well, but I can assure you this is the original thing. 😉
Things to know about this São Miguel itinerary
You'll need 4 full days, this is the bare minimum you'll need to explore São Miguel. The order of days is pretty much irrelevant. If you have more time, the better.
It's tailored for first-time visitors. Have a read at the top things to know before going to the Azores and this other page to complement the info here.
It assumes you'll have a car. I highly recommend you get your own wheels in Azores or you won't be able to cover all the attractions that I mention here.
Although you will likely drive 300+ km and walk a total of 30km in 4 days (data: my phone!), it's not intended to be a rally course. I've seen some crazy "itineraries" who are only doable by spending entire days incarcerated in a car ticking spots off the list. Quality over quantity!
Keep your plans flexible. You'll most likely need to tweak something and accommodate other factors… like the unstable azorean weather.
⚠Keep Azores green and beautiful
The Azores have been consecutively named one of the top sustainable destinations worldwide. Don't spoil what has been unspoilt for centuries. 💚
When you're in the islands, please try to minimize your impact at all times. Be careful with any activities thay may cause visual, noise, and physical pollution. This includes avoiding playing loud music on phones and obviously taking ALL the trash with you until you find a bin, especially plastic!

Explore this list of the top-rated hotels, hostels, villas, and guesthouses in São Miguel with parking.
Itinerary of São Miguel on a map 🗺️
You can use my itinerary map in Google Maps as a reference. The pins below represent the places we've been (including small descriptions) separated in four different days: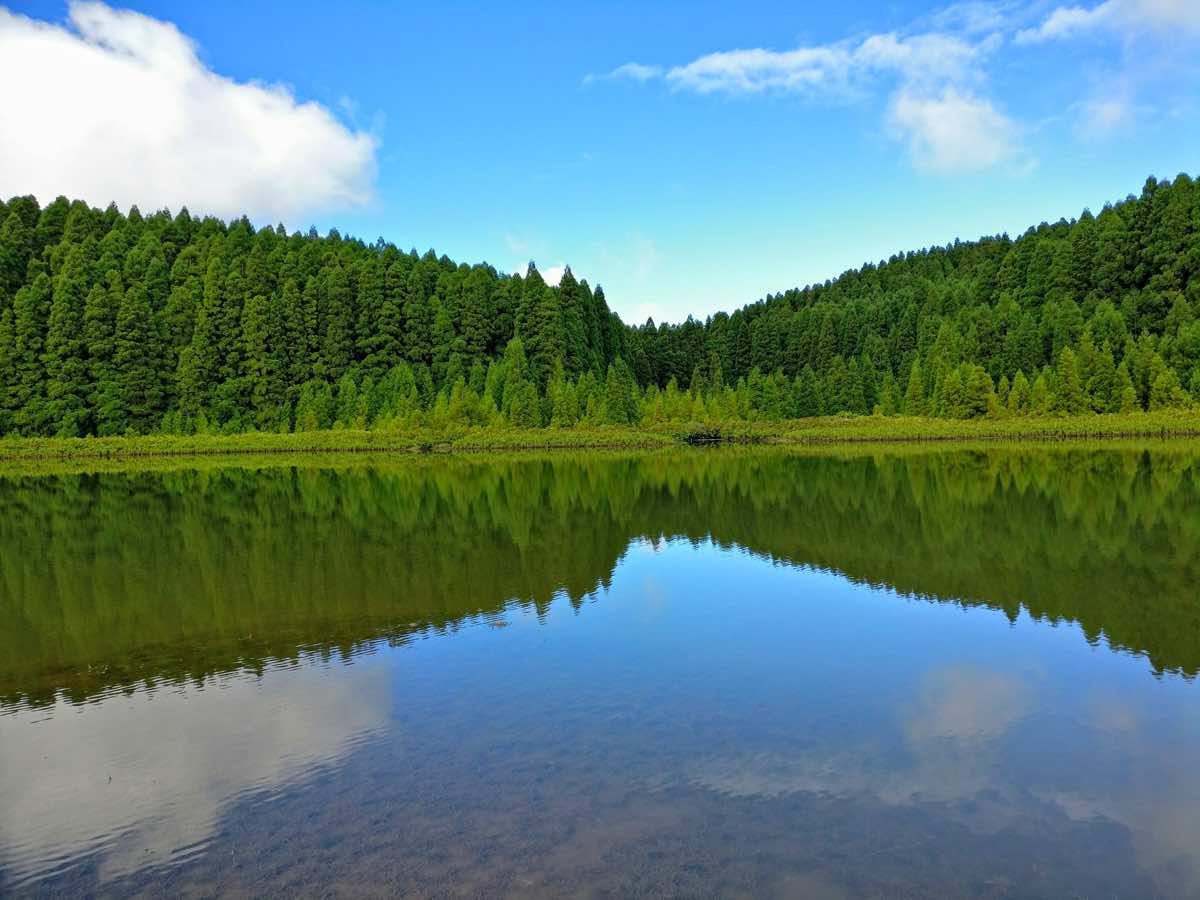 Itinerary Day 1 – Sete Cidades
This day is to explore the west side of the island. Try to pick a day where the weather is clear for Sete Cidades; otherwise, all that you'll see will be clouds.
Here's the day plan.
Miradouro da Vista Do Rei (Vista do Rei Viewpoint)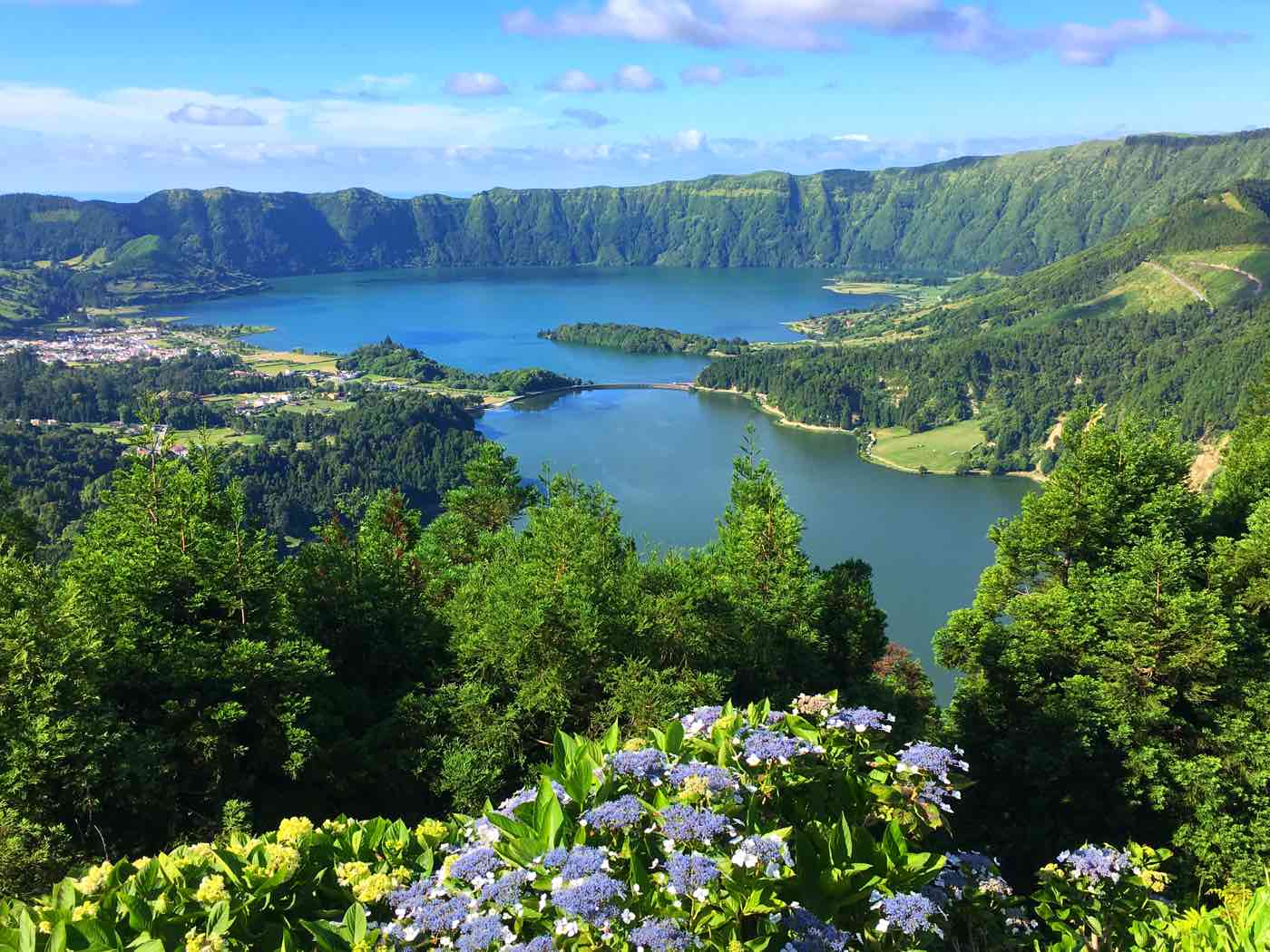 Lagoa das Sete Cidades (Sete Cidades Lake) is the most well-known postcard of the Azores. You'll see it in every brochure, ad or article about the islands.
The first contact you'll have with the lakes will probably be from Vista do Rei viewpoint. The spot is just at the right distance to appreciate the view over both lakes.
Although commonly they're known for the green and blue lake, this is actually the same lake separated by a bridge, they just reflect the light differently due to the surrounding vegetation. You can drive or walk around along the dirt road (Cumeeiras) to get views from different angles. This exact road is the most spectacular track on the World Rallye Championship.
ℹParking in Vista do Rei
The lookout area has undergone some reconstruction and re-opened in 2018 with some changes. There is still some parking available nearby, but I'd advise you to leave your car in the short-term car park, just 200m before you get there. You can stay there for 20 minutes.
If you plan to spend more time exploring the area, you'll have to head to another parking site located 1 kilometer further ahead (after the viewpoint and the hotel).
Monte Palace Hotel
Built in the 70s and operational for less than 2 years, the abandoned hotel Monte Palace tops the hills around the crater lake of Sete Cidades near Vista do Rei.
Before, people would enter and freely explore the building all the way up to the top floor, but entrance to the site is now forbidden due to danger of collapse. Enter at your own risk.
Miradouro da Boca do Inferno (Boca do Inferno Viewpoint)

While the view from Vista do Rei is inspiring, the one from Miradouro da Boca do Inferno has jaw-dropping potential. I have been here countless times, but every time I feel goosebumps again.
From up there, apart from the crazy views of the mountains and the sea in the background, two other lagoons are visible: Rasa and Santiago in a complete 360-degree nature experience. The view is wide open to the entire volcanic crater of Sete Cidades, formed 22,000 years ago.
Also known as Lagoa Do Canário Viewpoint due to the nearby Canário Lake, Boca do Inferno has become super popular in the last years. Come as early as possible to avoid crowds and have the place to yourself. On a bright sunny day, this is one of the most incredible views I've seen. Ever.
ℹHow to get to Boca do Inferno viewpoint
Coming from Vista do Rei viewpoint, DO NOT turn left on the first exit down to the Sete Cidades village. Continue straight for about 7 minutes, following the signs to Lagoa do Canário
After about a 7 minutes drive, you'll notice a car park on the right, where a short walking trail begins, and a small entrance to a dirt road just on the opposite side.
The gate is not always open, but if it is, you can go in with there your car. Otherwise, just park next to the hiking trail.
Continue for about 3-4 more minutes straight until you see a set of stairs upwards next to some picnic tables.
Start the hike up. You're 5 minutes away from paradise!
Boca do Inferno Viewpoint – Tips
⏱ How long: To do the small hike, wander around, fully take the view in, and visit Canário lake, you'll need at least 30 minutes. The gate closes to cars at 7pm (summer time); after this hour, you'll need to walk about 15 min to the main road.
💰 How much: Entrance is free.
💡 Tip: The path is muddy and slippery. Be extra careful if it rained recently.
Lagoa do Canário (Canário Lake)
View this post on Instagram
Apparently this lake has been nicknamed Snapchat Lake because it resembles the ghosty app's logo, but it will always be Lagoa do Canário (Canário Lake). Snapchat may be dead, but this lake definitely isn't.
Anyway. Canário Lake is housed in a small volcanic crater in the Devassa mountain range, surrounded by a dense forest. It's actually quite hidden which gives it a peaceful feeling when you finally get there. Perfect place to meditate if you're into it.
You can get there by entering the above's entrance gate to Boca do Inferno and turning immediately left.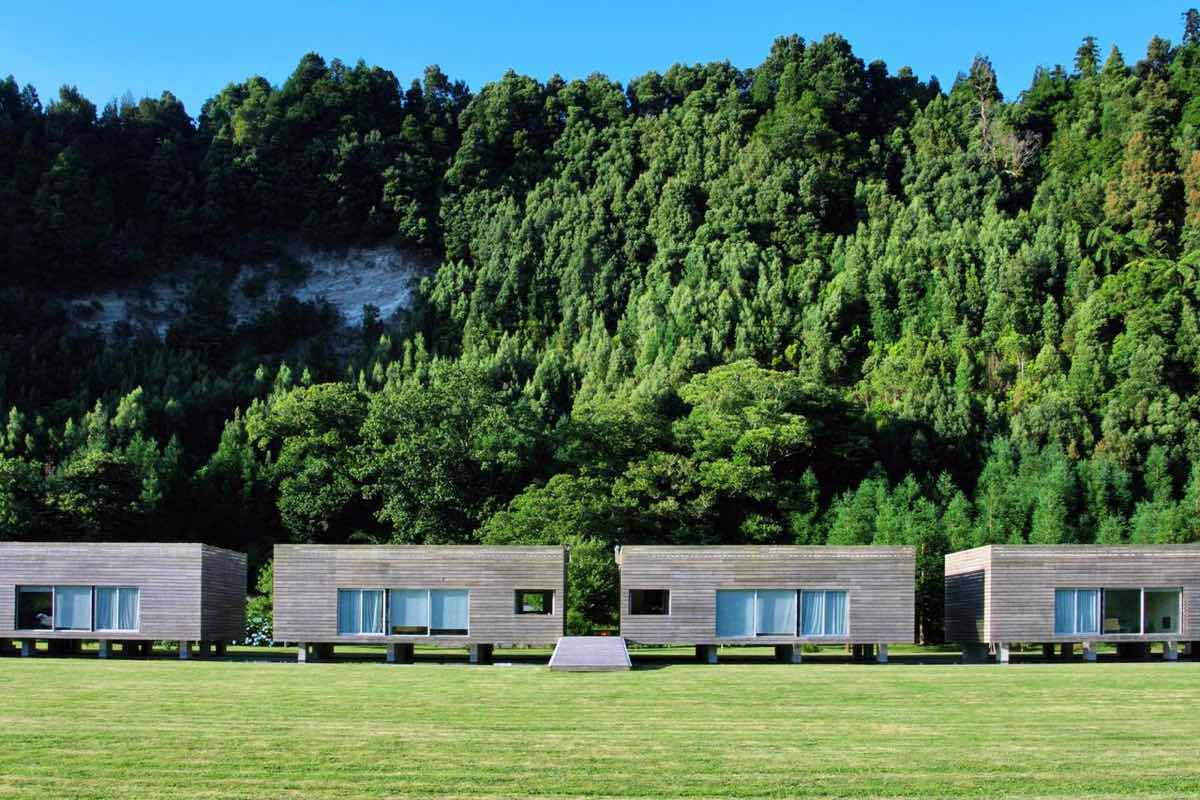 Lagoa das Sete Cidades (Sete Cidades Lake)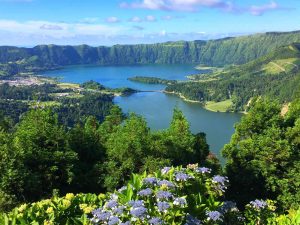 Time to go down to the Sete Cidades lakeshore level. On the way down there are several viewpoints you can briefly make a stop and take in the view, particularly Miradouro do Cerrado das Freiras. The more you descend, the more the dormant volcano crater will absorb you and win you over.
Sete Cidades is also the name of the small village next to the lake. Everything seems untouched since the 50s here, but this area holds some of the best outdoor activities you can do in São Miguel.
Biking along the lake shore, SUP, or kayaking are just some the options to spend your afternoon. Or hey, just chill and get some vitamin D. By the way, if you are lucky enough to go on a sunny clear day, I can assure you the colors around you will be more vibrant and breathtaking.
Whatever you do, please take all trash with you – especially plastic – to the nearest bin. Oh and if you decide to swim in the lake, don't wear sunscreen… Help keep this place beautiful.
The Sete Cidades Tale 👸
There's a cute little story about the reason why one of the lakes is blue and the other green. Legend has it that once upon a time a shepherd and a princess fell in love, but were prohibited to see each other due to their different family statuses.
When they met for the last time, they cried so much that the Sete Cidades lakes were formed. The blue-eyed shepherd gave origin to the blue lake while the green-eyed princess formed the green lake.
Ferraria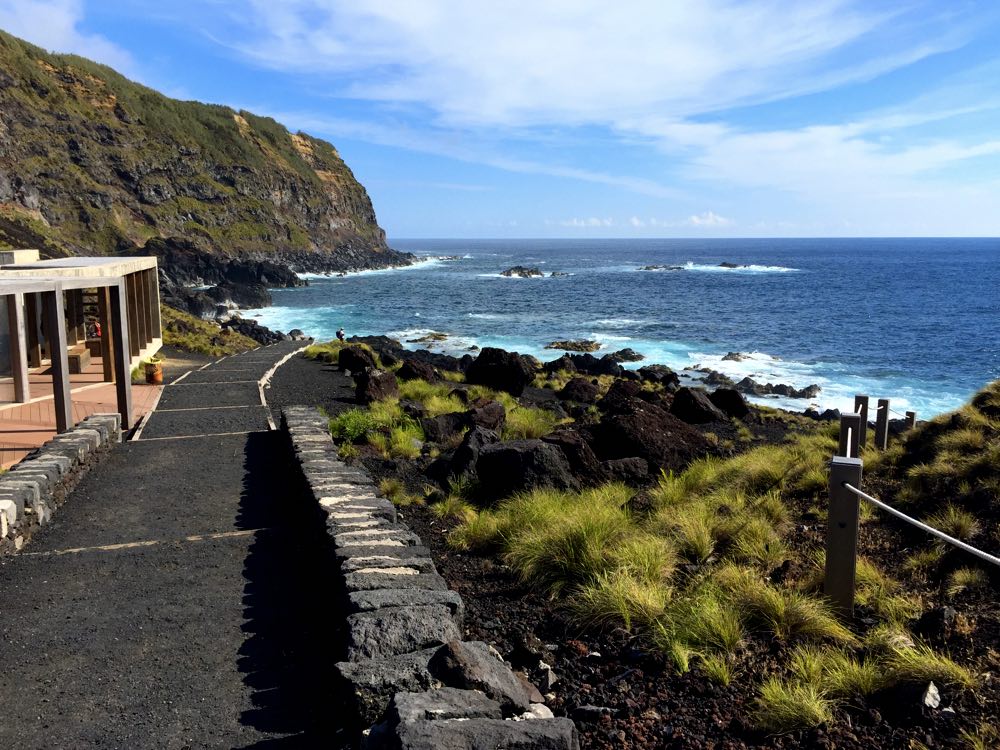 Fancy a dive in hot ocean? Ponta da Ferraria is a small cove surrounded by gigantic lava rock cliffs where the ocean water is warmed up by a geothermal natural spring beneath. It's quite an experience to swim in mix of cold and hot ocean water while the waves slosh you around!
There is no proper beach here, you most likely have to find a place to sit in the rocks. May not be the most comfortable spot, but it's worth for the view: between giant cliffs on one side and the wild Atlantic on the other.
Checking tides near Ferraria is important. Be careful on low tide as it can get VERY HOT in some spots and can even burn you. However, if you go on the peak of high tide you won't feel the warmth of the spring at all – aim for somewhere in the middle.
There are also housed baths with an outdoor swimming pool, but who wants to pay when you can go for the thrilling (and completely free) swim in the ocean?
If you still have time after your swim, head to Mosteiros to watch the perfect sunset and eat some local seafood – you can't go wrong with lapas!
Ferraria – Tips
⏱ How long: Count with at least an hour to get there, swim in the ocean and relax.
💰 How much: Entrance is free to swim in the ocean; if you prefer to use the outdoor pool of the nearby spa
💡 Tip: We need to talk about the road to Ferraria. Not gonna lie: it's sinuous and extremely steep. I would not recommended coming here if you're not comfortable driving manual.
Itinerary Day 2 – Ponta Delgada & Lagoa do Fogo
This day includes a whale-watching tour from Ponta Delgada and a venture out to Lagoa do Fogo, another of the three main lakes in São Miguel. Feel free to reverse the order of these sights.
Whale-Watching (from Ponta Delgada)
Whale watching is a must-do activity to do in the Azores, especially if you are able to
time your trip right to see several different species of cetaceans. The ideal time for this is between April and June.
A ticket is not exactly cheap but is definitely worth the unique experience. The last time I went, I chose to go with Picos de Aventura and it surpassed my expectations. A great friendly staff, prioritizing safety but also allowing space for some fun and have a great time out there in the sea.
We ended up seeing three sperm whales, dozens of dolphins and even a turtle – a "very good day" according to our guides.
Safe to say we had a blast (see video below!).
Tips for Whale-Watching in São Miguel 🐋
If you're visiting other Azorean islands such as Faial or Pico, I'd recommend to do your Whale Watching tour there. Especially in Pico. São Miguel has good observation conditions, but they have great ones.
Make sure the company you go with complies with all the safety and ethical regulations to avoid disturbing and stressing out the animals. Sea Color Azores is a great example.
Expect to pay at least 55 Euros for a 3-hour trip.
Dolphin interaction tours is NOT recommended. There has been increasing proof these tours have a negative impact on the stress of the animals. For some reason the most experienced whale-watching company in the Azores – Espaço Talassa – stopped doing it.
Most companies depart from Ponta Delgada or Vila Franca marinas, usually at 2-3 different time slots in the day.
Make a reservation for the tour at least 2-3 days in advance.
Ponta Delgada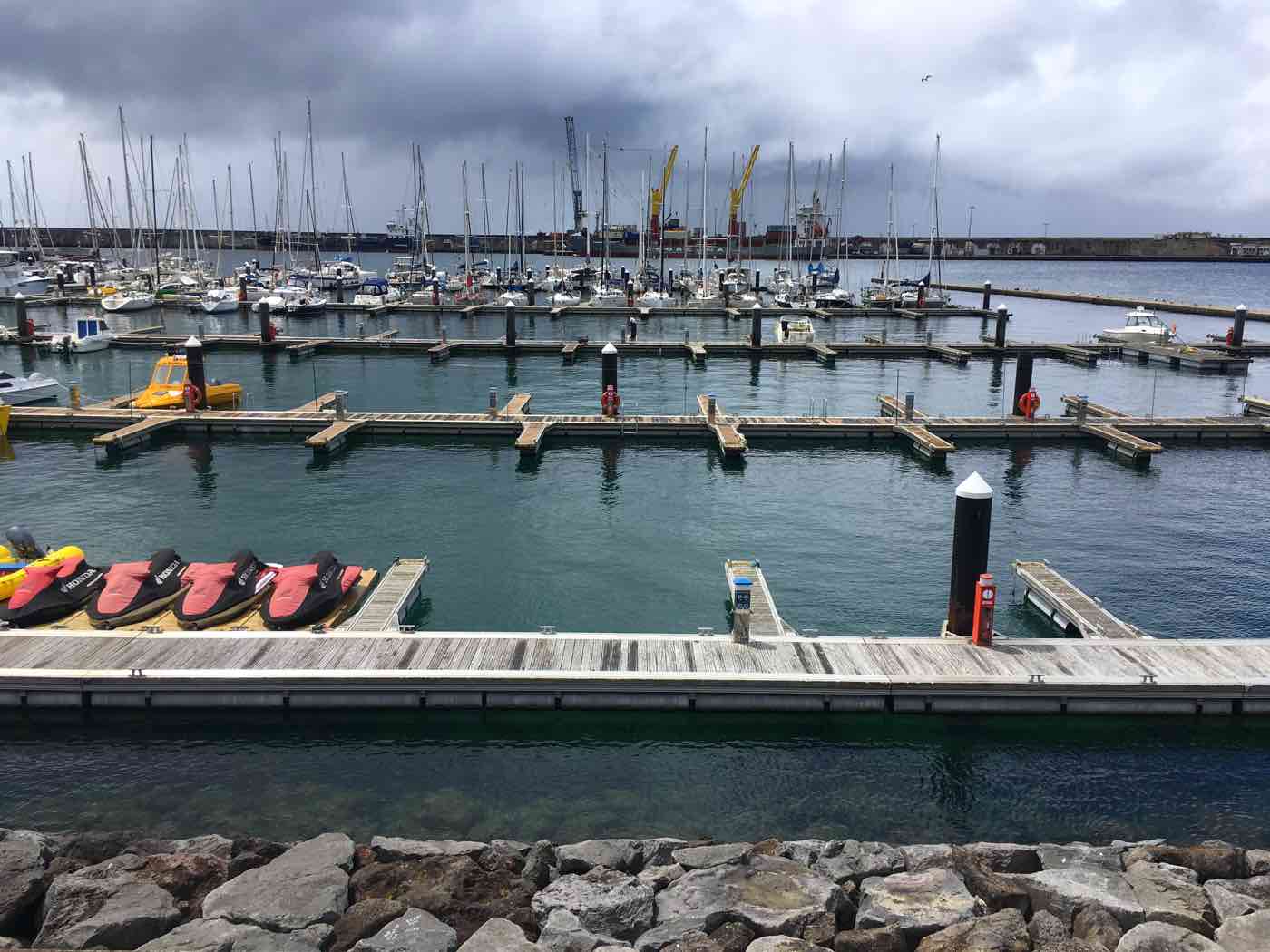 Up until a few years ago, if I was a visitor, I'd much rather spend my precious time exploring the rest of the island than visiting Ponta Delgada. SHOCKING statement about my own birthplace. But hey, it's the T.
In recent times, the city is slowly awakening from its long sleep. Trendy restaurants, kitsch shops, and quaint cafés all popping up. Buildings and churches abandoned for decades have gained a new life. And now I've realized I've got material to make a post about the best things to do in Ponta Delgada.
Main suggestions: walking along the seaside promenade (locally called "Avenida"), visit the farmers market in Mercado da Graça – great place for shopping souvenirs and local food! – and take a stroll around the area of Igreja Matriz (Matriz Church).
Ponta Delgada is the definition of a great hub. Not only it has more restaurants, shops, and overall infrastructure than anywhere else, but it's also geographically located almost in the center of the island.
Pico da Barrosa (Barrosa Peak)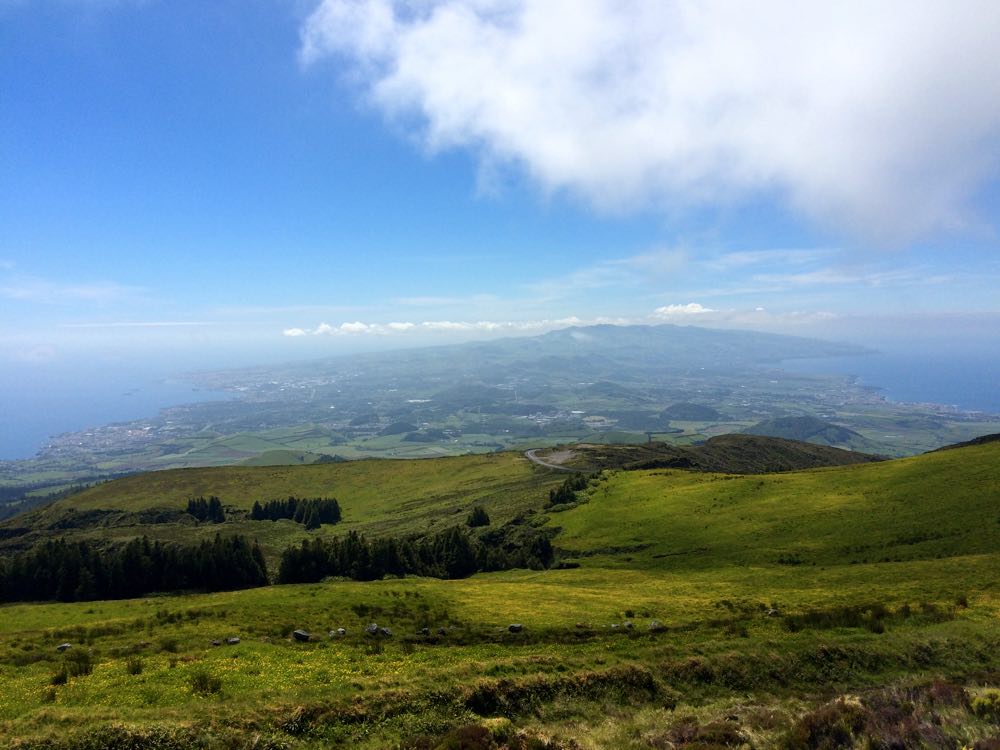 At the very peak of the road that goes from Ponta Delgada and just before arriving Lagoa do Fogo, stop in Pico da Barrosa.
It's one of the few places in São Miguel where you can see both the south and north coasts at the same time. It helps to put the island in perspective.
Lagoa do Fogo (Fire Lake)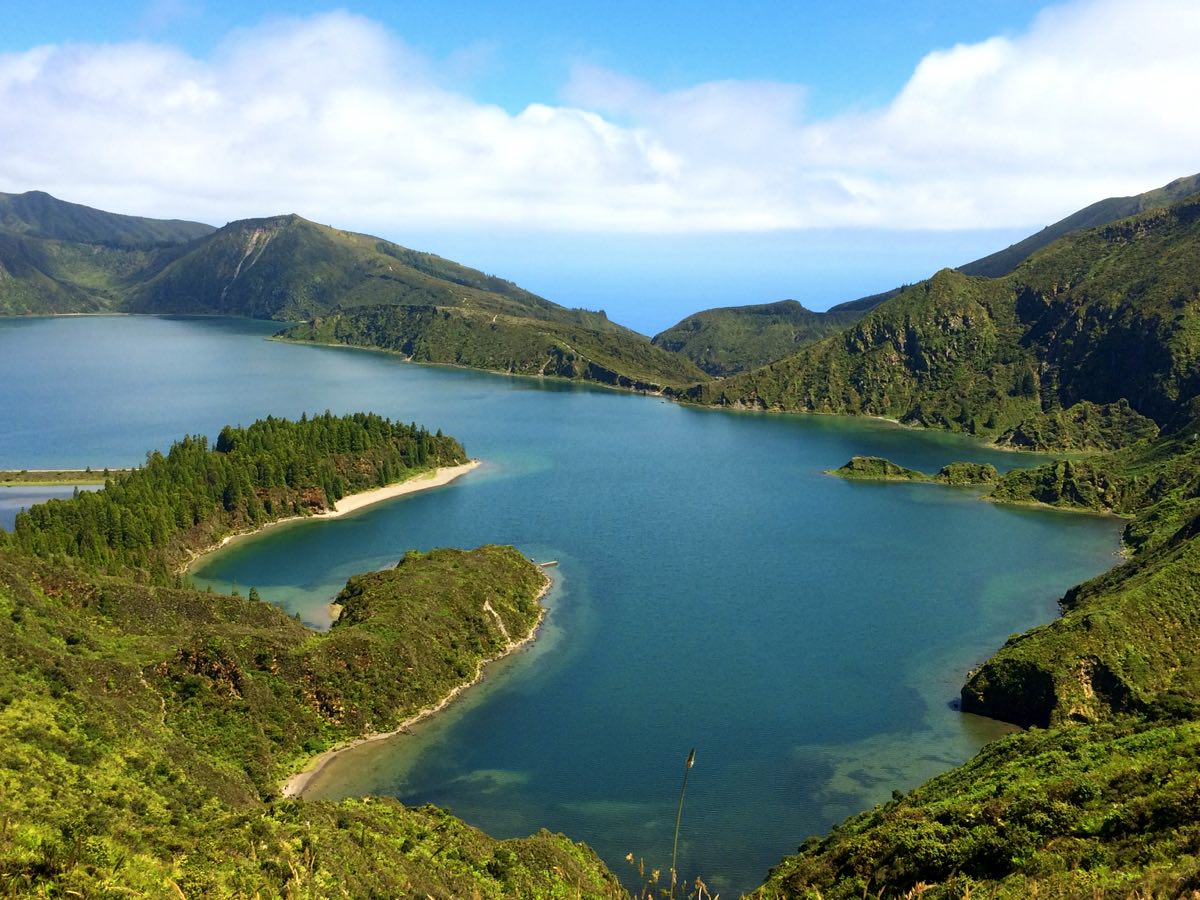 Lagoa do Fogo – Fire Lake is my favorite lake of them all and one of my top special places in São Miguel.
First of all, you can consider yourself extremely lucky if you go to Lagoa do Fogo on a clear day. This is very rare up in this high part of the island.
You can get down to the beach down there through a 30-min hike down in a dodgy trail. A few years ago, we used to had a wild beach just for ourselves but you'll likely find dozens of other people there too. In case you're wondering, you can NOT swim on the lake.


Every single time I go to Lagoa do Fogo I fell a bit more in love with it. The sensory overload of smells, sounds, and vivid colors is unmissable. It's the kind of gorgeous that grabs hold of you tightly.
Modern construction is not permitted in this area, so there is no worry of the views being spoiled any time soon. As of June 2023, be aware that car rentals are not allowed during summer months between 9am and 7pm. All non-residents should take a shuttle up to the lake, with a cost of 5€.
⚠Take good care of Lagoa do Fogo
Please be aware this has been a site of unspoiled nature for centuries. Don't help spoil it now. As a Natural Reserve, this an especially sensitive spot compared to other places on the island.
Last time I was here I was shocked to see a group of tourists listening to schizophrenic hip-hop with loudspeakers and leaving plastic bottles behind. Don't be like them.
Take ALL your trash with you
Since 2019, it's now FORBIDDEN to swim in the lake
Keep SILENCE as much as you can to not disturb the peace and natural balance. Noise pollution is also a kind of pollution.
Caldeira Velha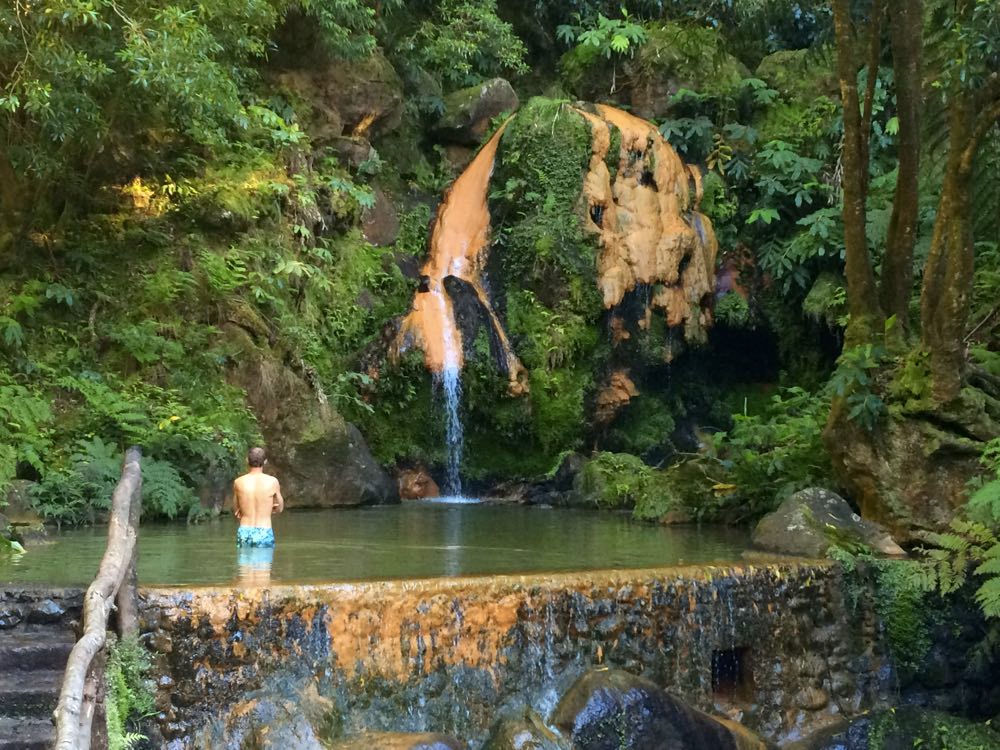 Located halfway in the road between Lagoa do Fogo and the city of Ribeira Grande, Caldeira Velha is a natural park – ok, more like a Jurassic jungle – with a pair of hot springs.
No kidding: both thermal pools are stone-walled and surrounded by intense lush foliage which really gives tropical vibes.
The main highlight is the waterfall spring (>20ºC), at the end of the park. It's a bigger pool with a stunning backdrop. There is also a more shallow and hotter spring (>35ºC) which can get very crowded. No wonder, it's like a natural jacuzzi!
Final note: if you prefer, you can skip this one and do one of the thermal springs in Furnas instead. Similar experiences.
Caldeira Velha – Tips
⏱ How long: You'll need at least 1 hour here to relax and go through all the springs. Despite being the most busy time, I recommend leaving it for late afternoon. Just the perfect soothing end of the day.
💰 How much: The entrance to the Environmental Interpretation Center which also allows bathing is 8 EUR per adult (as per 2022). Maximum duration stay is 2 hours. Book your tickets online to guarantee your spot.
💡 Pro tip: Use a dark and old bathing suit. The minerals in the water can easily leave a PERMANENT orange stain. If you recently dyed your hair, you should avoid these kind of pools too.
São Miguel is super trendy post-pandemic – hotels sell out quickly. Book your stay as soon as possible for the best deal!
I've made your life easier and you can start your search with my pre-selection of the hotels/guesthouses/villas in the island of São Miguel. This list only includes the top-rated reviewed places in São Miguel, with parking included.
Or just start your own search:
Itinerary Day 3 – Furnas & Nordeste
This day will take you to the wild eastern part of the island, including the quaint Furnas Valley. Prepare to see, feel, and smell the volcanic phenomena of Azores. It's not a bad idea to assign the day with the gloomiest weather to this day itinerary.
If you have more time around this area, I highly encourage you to do a 2-hour hiking trail in Sanguinho – Salto do Prego. It's one of my favorites hikes in Azores. The path is gorgeous and it leads to a dreamy waterfall in the middle of the forest. I didn't add it here because this is already a packed day!
Lagoa das Furnas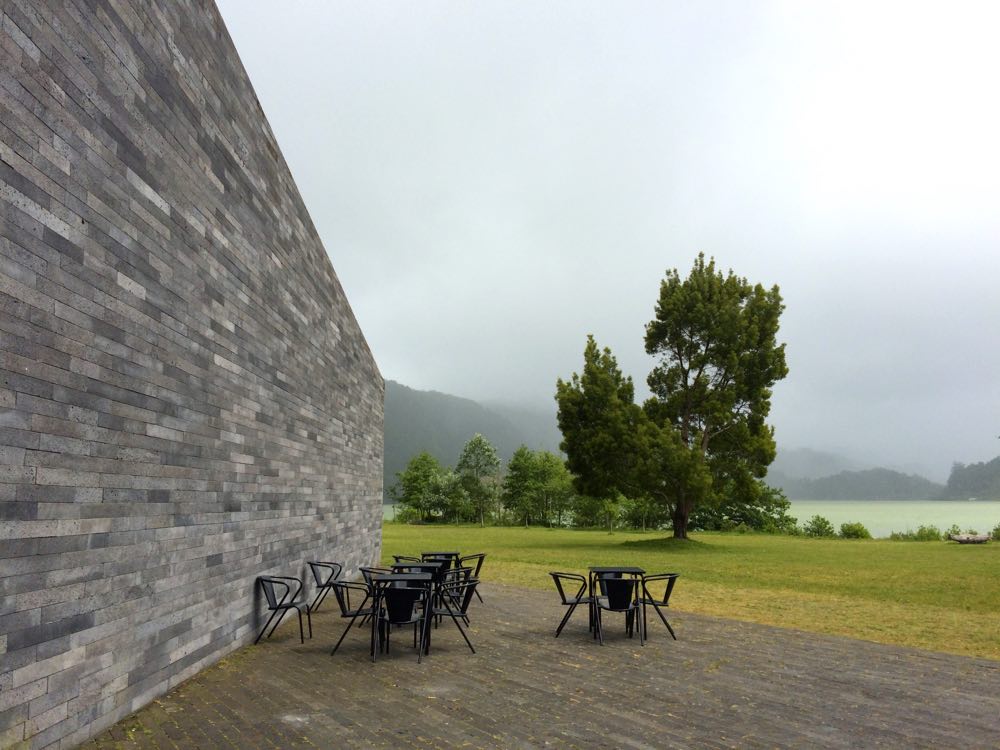 After Fogo and Sete Cidades, Lagoa das Furnas – Furnas Lake is the last of the 3 main lakes in São Miguel. It may not have the same dramatic views as the other lakes – you may need to head to Pico do Ferro viewpoint for that – but coming here is a guarantee you'll be feeling more relaxed and tranquil.
On the west section of the lake, don't miss the Nossa Senhora das Vitórias Neo-Gothic church and the contemporary Research Center, a sort of museum that studies the evolution of the lake's ecossystem and biodiversity (good place for a break, they have a small coffeeshop).
The main attractions, however, lie on the opposite shore of the lagoon… but geez, what's that rotten egg smell?!
These delightful smell comes from the geothermal holes and springs that send mud and steam up in the air continuously for centuries. Locally known as Fumarolas, this spot is also where you can find the steaming holes where they slooowly cook the famous Cozido das Furnas (Furnas stew) for about 6-7 hours.
Although personally not my favorite food in the island (too bland and dry), this has a strong novelty factor. It's not everyday you have a meal cooked by Mother Nature.
Cozido das Furnas (Furnas Stew) 🍲
Basically the opposite of a vegetarian-friendly dish. This stew is a mix of meats – pork, veal, chicken, blood sausages – with local vegetables like sweet potato, kale, or cabbage.
Where to eat Cozido das Furnas (Furnas Stew) 🍲
The days where families would put a stew to cook underground as a Sunday activity are almost gone, and nowadays the restaurants in Furnas village are the ones using the majority of the steaming holes each morning.
The most famous restaurants are Tony's, Caldeiras & Vulcões, and for a more upscale experience, the restaurant of Terra Nostra Garden Hotel.
Furnas (town)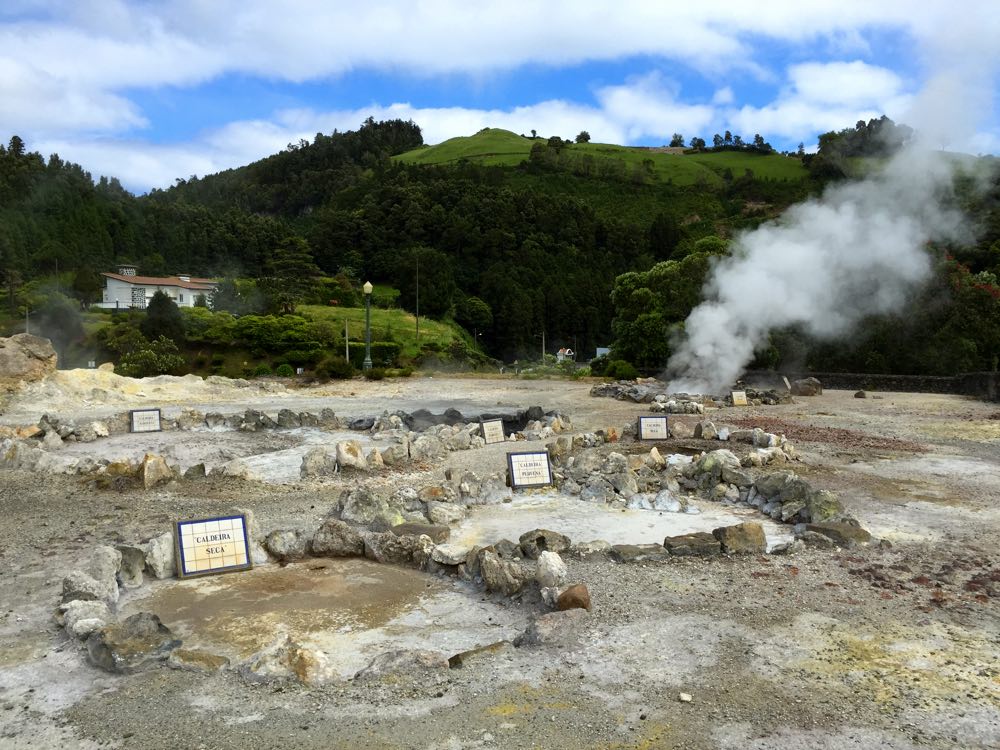 I find it incredible how such a small village in the heart of a lush valley holds so many different active volcanic phenomena. Starting with the hot springs of Caldeiras, where the tiny geysers and hot water creeks give the area a VERY strong smell of sulfur and moon-ish vibes. Planet Earth is very much alive guys.
During my childhood, the highlight of going to Furnas was getting to eat the corn cooked in huge bags directly in these mud holes. If you go around summertime, you most likely will find lovely ladies selling freshly-cooked corn cobs. Taste this delicious snack of my childhood and let me know what you think!
Don't stick to Caldeiras though. The whole town is quaint and tranquil and worth seeing around. Take in the surrounding views, follow the creek next to the camping park, and try to find the upside down house – yes, a real one – in the heart of Furnas.
🏨 Where to stay in Furnas
Furnas is one of the best spots in the island to stay if you're looking to relax and get away from it all.
Terra Nostra Park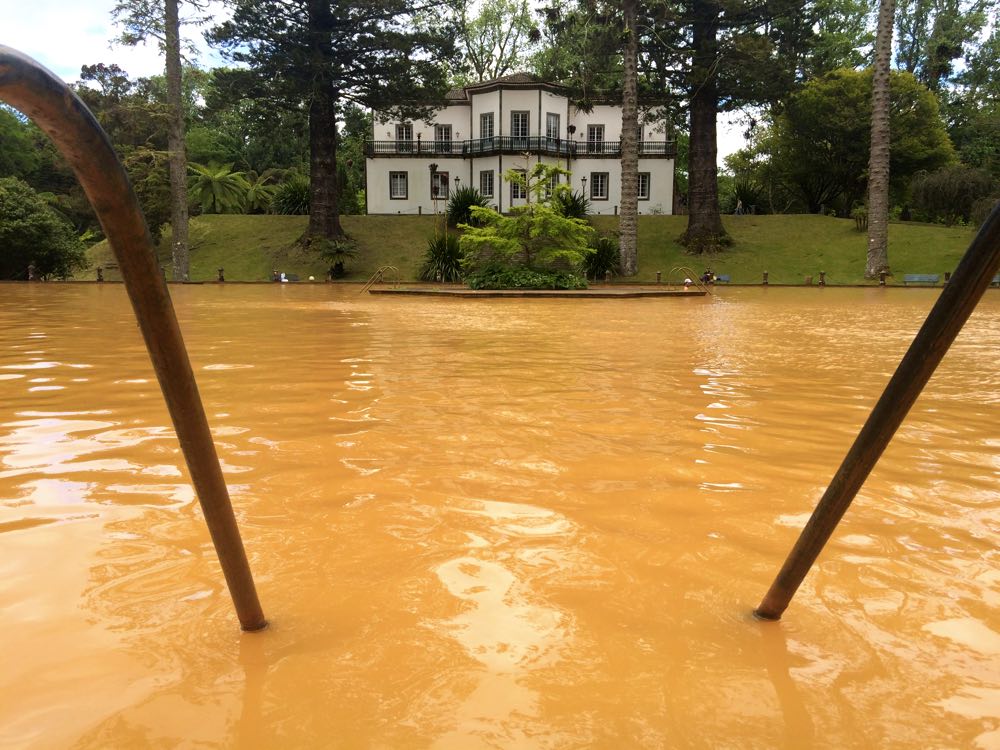 This popular tropical outdoor garden is one of the highlights of Furnas. It belongs to the exclusive Terra Nostra Garden Hotel but you don't need to stay here to visit it (nor to eat their restaurant, for that matter).
Terra Nostra Park has a stunning collection of plants and flowers from all over the world, some of them dating back millions of years. In some sections, it feels likes Jurassic Park. They even have got different recommended itineraries for each time of the year. Perfect for a post-lunch stroll.
The highlight of the gardens is the iron-enriched thermal pool, one of the most beautiful hot springs in São Miguel. The water is geothermically heated at around 38 degrees Celsius and contains several medicinal properties. And hey, a massive pool with orange water is not your everyday sight!
Terra Nostra Park – Tips
⏱ How long: You can spend an entire afternoon relaxing here, but count with at least an hour or two.
💰 How much: Entrance fee to the park is 8 euros in Terra NostraTowels and lockers can be rented at an extra cost.
💡 Pro tip: If you have lunch at their restaurant, the entrance to the park is complimentary (this is 2017 information, please confirm in advance).
♨️ Thermal Springs in Furnas
São Miguel is home to at least 6 different hot springs and pools, and Furnas alone has 2 different spots: Terra Nostra and Poça Dona Beija .
If Terra Nostra sounds too premium and exclusive, you can skip it and go to Poça Dona Beija instead. It's a cool experience too, in a more secluded environment next to a small creek. It's also slightly cheaper. However, the set of 5 small outdoor pools will be definitely more crowded with both locals and tourists.
Unless you have plenty of time in São Miguel, there's no point in trying them both as they are not that different in terms of experience. Read my article about hot springs in São Miguel for all the hot springs locations in the island and important safety tips.

Continue reading more about Furnas and learn more about Furnas Lake, the hot springs, beaches and where to eat!
Nordeste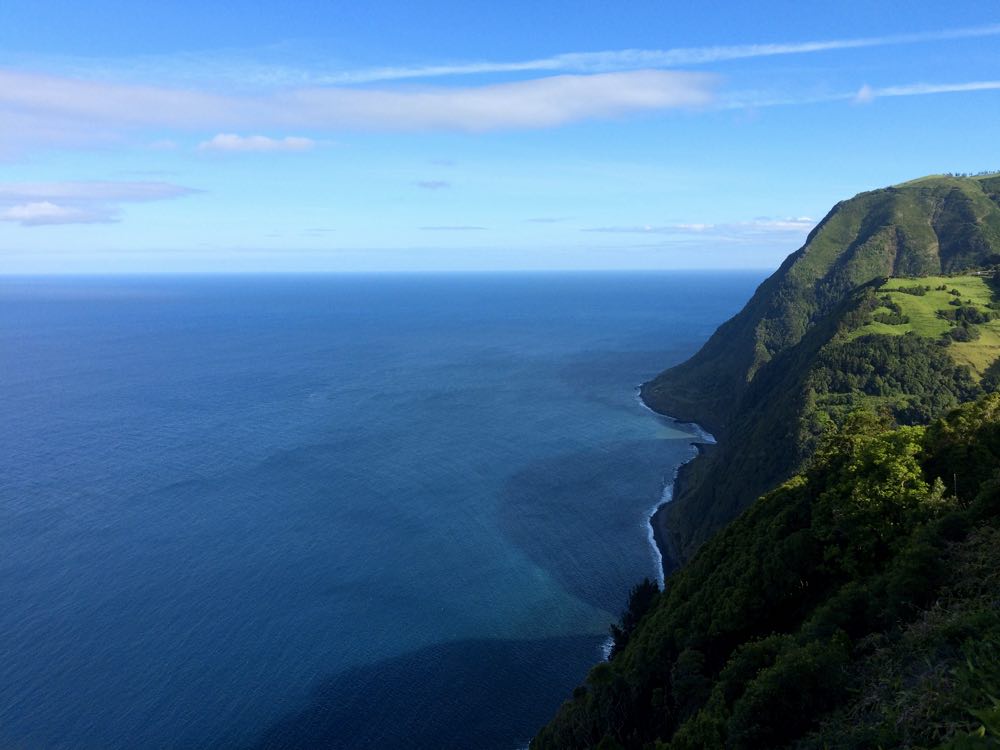 The district of Nordeste is the wildest and most remote in São Miguel. The vegetation is thicker, the sea cliffs are steeper and roads are more sinuous. There no particular sight to see but at the same time, everything around you is impressive and worth stopping your car to take it all in.
Miradouro da Ponta do Sossego and Miradouro da Ponta da Madrugada viewpoints will make your jaw drop of how intense the scenery is. In both, a vibrant flower garden decorates the path to the edge of green huge scarps contrasting with the blue vast ocean.
A bit further north, there's also Farol do Arnel, the oldest lighthouse in the Azores. If you want to go down there, I strongly recommend going there on foot if you're not used to driving manual. The road down there is 35º steep (!) and it's not a convenient place to be stuck in.
Ribeira dos Caldeirões
This natural park has some of the most amazing waterfalls on the island. It's just by the main road and worth a small stop to explore a bit and take a stroll into the wild nature. This is one of the spots of excellence for canyoning.

Itinerary Day 4 – Vila Franca & Gorreana
Day 4 is about tying up the loose ends in the island to make sure you have a good grasp of all angles and perspectives of São Miguel.
And finally, if weather permits, time for an ocean swim!
Ilhéu de Vila Franca (Vila Franca Islet)
Home to a stage of Red Bull Cliff Diving World Series, Ilhéu de Vila Franca (Vila Franca islet) is one of the most popular sunbathing places in Azores.
It encloses an almost full-circle bay perfect for swimming or snorkeling – make sure you don't forget your mask – with clear and calm ocean waters. Perfecly safe for kids, although sea shoes are recommended.
There is a regular boat connection between the Vila Franca marina and the islet operating in the summer months only. You can buy the tickets online.
Once again, this is another Nature Reserve with endemic fauna and flora so please be aware of your impact and leave nothing but footprints!
Vila Franca islet – Tips
⏱ How long: You can spend an entire day here, but allow yourself a morning or afternoon.
💰 How much: The boat ticket is 8 euros (online).
💡 Pro tip: There are very limited spots to lay your towel in the islet. While there is a small beach, it completely disappears during high tide, so I suggest going early and taking a spot at the concrete platforms on the opposite side.
Lagoa do Congro (Congro Lake)
Lagoa do Congro is a relatively off the beaten track lake in the heart of São Miguel. While Sete Cidades, Furnas and Fogo receive more and more visitors every year, this one remains remote and hidden.
The hike down through the forest is already a cool unwinding experience, but it's at the shore level that the magic happens. It will feel like someone set the saturation level to the max – a vibrant green will take over your eyes.
The silence down there is deafening and only disturbed by the splashes of fish jumps and the constant chirping of birds. It's just like those meditation soundtracks, the only difference being this is the real thing. Speaking of meditation, this is the perfect place to do it!
How to get to Congro lake
Coming from Vila Franca, follow the signs to Furnas (direction East).
After about 10 minutes, there's an exit to the left clearly stating "Lagoa do Congro". You know what to do.
Continue for about 5 more minutes and turn left on a poorly-maintained dirt road.
Continue through the middle of pastures about 5 more minutes. The entrance to the hike path should be noticeable on the right as there are usually a couple of cars parked.
The hike down is easy. It should take you 10-15 minutes (it all will be worth it, I promise!)
Gorreana (Tea plantations)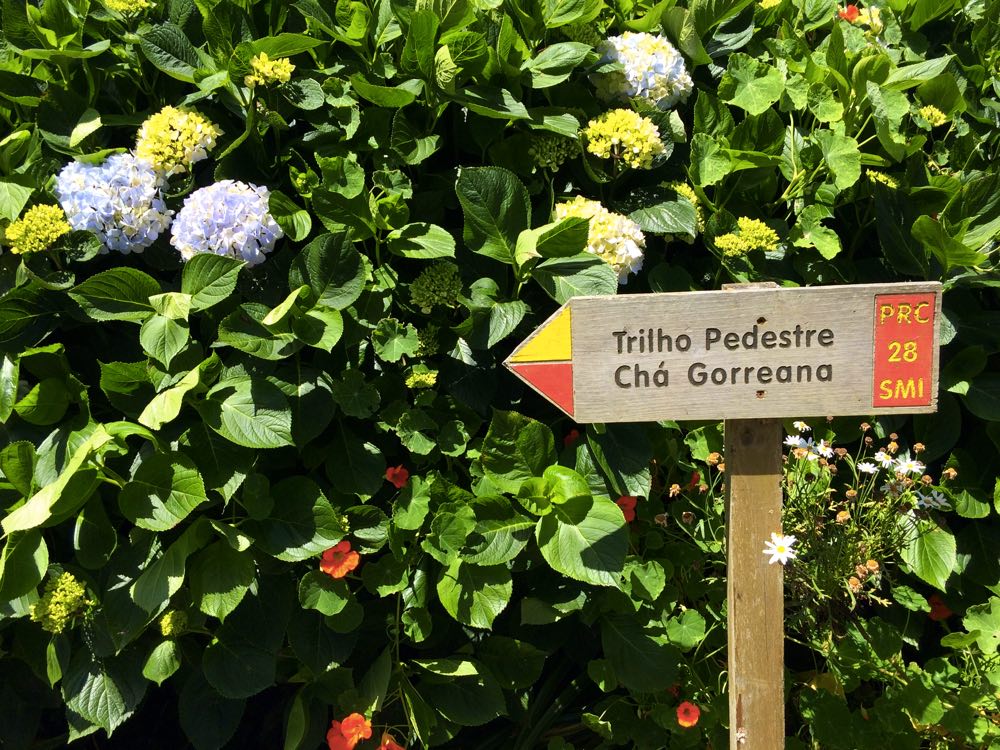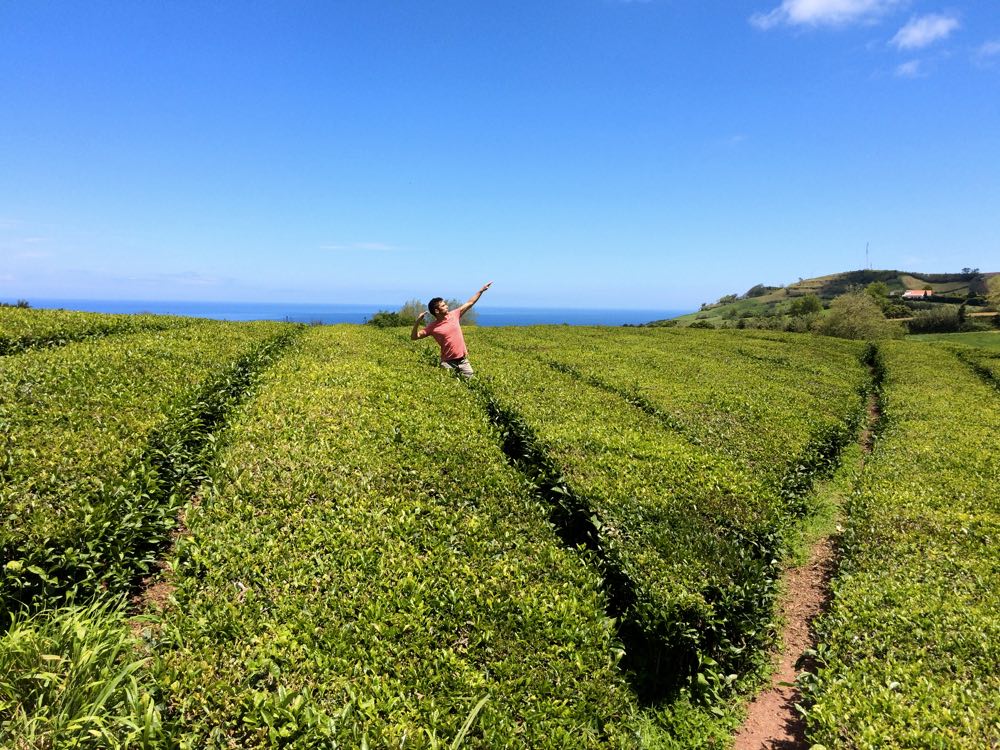 Working since 1883, Gorreana is only one of the two tea plantations in Europe – the other one is a 5-min drive away, in Porto Formoso! – and produces quality biologic black and green tea.
The tea plantation itself is a stunning scenery overlooking the sea and a great photo opportunity for Instagram. This place always reveal our inner Kardashians and creative photo skills. You can explore around more and take the official hiking trail that starts exactly at the factory.
Gorreana Tea – Tips
⏱ How long: 1 hour is enough to go through the premises and sip on a cup of tea. Allow yourself an extra hour or two if you want to hike up the tea estate.
💰 How much: Entrance is free.
💡 Pro tip: Even though you might not be interested in the way the tea is made, there is free tea inside.
Porto Formoso
This beach is a bit more off the beaten track, as it's not an usual choice for those visiting the island for the first time. But for people who had never put their feet in dark sands, I think is always interesting to incorporate a volcanic beach experience in the mix, even in winter time.
The scenery around Porto Formoso is quaint and charismatic and perfect to relax for a bit after some intense days. There's also a beach café serving snacks and full meals.
Miradouro de Santa Iria

The most well-known viewpoint on the northern coast of São Miguel. From up there you can enjoy a clear view over a big portion of the island. It's an appropriate spot to say farewell to São Miguel over a gorgeous sunset.
Where to stay in São Miguel
Where to base yourself in São Miguel
Ponta Delgada is an obvious place to set up a base for your trip. Although lacking in natural attractions, it's super well connected and has loads of restaurants and shops to keep you busy during evenings.
Another option is Ribeira Grande. Many cool accommodations have appeared there in recent years – from budget guesthouses to high-end hotels and the city is a great hub of restaurants too.
If you're looking for a more remote experience and want to get away from everything, Furnas might be better for you.
Consider staying in two different places (East-West or North-South) to get a different feel of the island. It will save you some driving time too.
Hotels in São Miguel
I've handpicked a list of the best places to stay for luxury, budget travelers as well as families.
These are my 3 top hotel suggestions in the island:
Premium hotel with modern design, located at just a short walk to the center and the ocean.

Or search for yourself!
To make your life easier, you can start your search with my pre-selection of the hotels/guesthouses/villas in the island of São Miguel.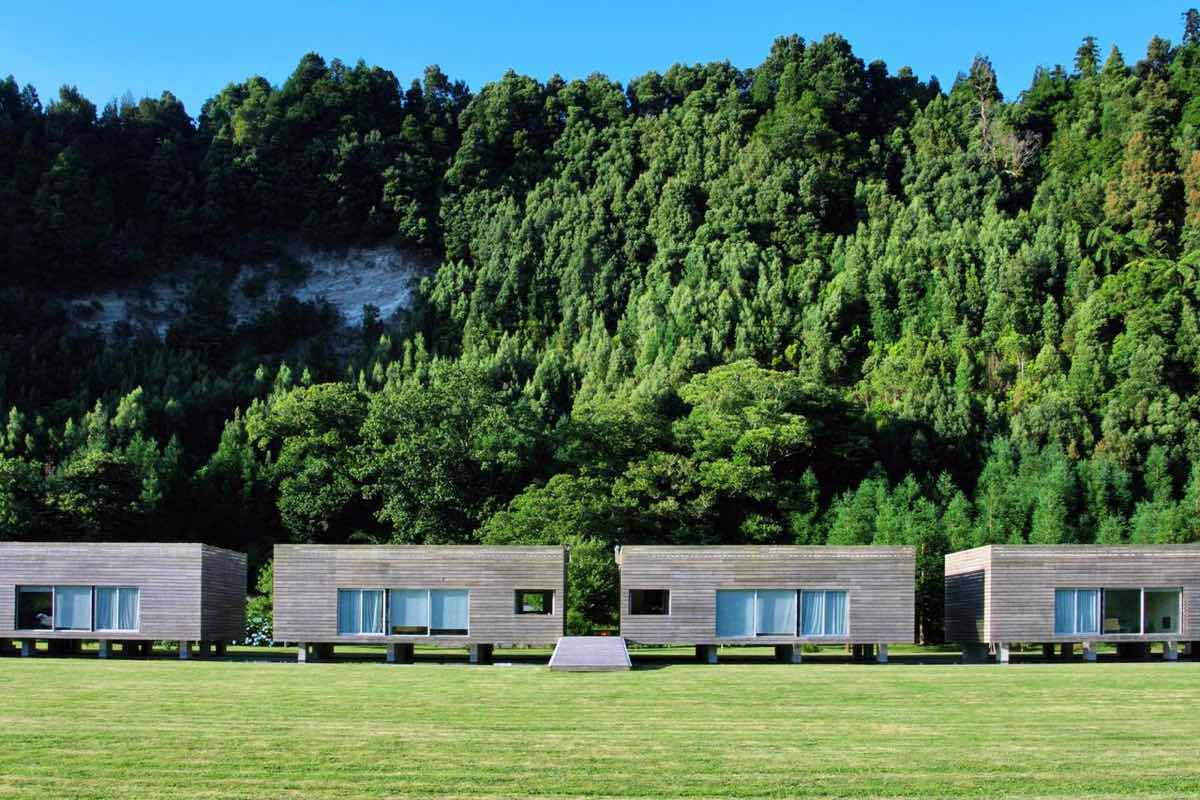 How to get around in São Miguel island 🛣️
Short answer: I STRONGLY recommend renting a car. It will give you total freedom and independence to explore the island and add a sense of adventure to your trip.
Also, the thing is: there aren't really any good value alternatives.
Scooter/bike are technically possible much more tiring and you're vulnerable to the ever-changing weather.
Public buses do exist but are not frequent and used mostly by locals to commute around the main towns. They do NOT reach the remote areas where the best landscapes and sights are located. Good luck trying to get to Miradouro da Boca do Inferno or other places in this itinerary.
Taxis are even worse. I was shocked to find the standard prices that are in play these days. A single trip from Ponta Delgada airport to Furnas can cost you a whopping 40 Euros. That's more than a full day of car rental right there!
How easy is to drive in São Miguel?
Fairly easy. Roads in São Miguel are usually in very good shape, with a main highway connecting the airport to Ponta Delgada, Vila Franca, and Ribeira Grande. Dirt/gravel roads are common but you won't use them to get to most places (an exception is Lagoa do Congro).
Drivers are NOT aggressive (although don't expect super safe driving either). There are some things you can find anxiety-inducing though:
Parking in Ponta Delgada. Can be a nightmare, especially between 9am to 6pm. Ask your hotel for a parking spot.
Curves. Some sections of the island, particularly the north and east are extremely curvy. Slow down and don't get distracted by the views.
Cows. When changing pastures, herds of cows temporarily occupy some of the roads. Relax, slow down or even stop the car and just expect them to pass. They're harmless.
Which car rental companies are the best in São Miguel island?
Here are some tips to rent a car in São Miguel, starting with which operator to go with.
I always used local companies like Micauto. I usually find them to have the best prices in the island. On the other hand, I never had good experiences with Ilha Verde – also a local company – that for some reason is the most expensive of them all and seems to have an inferior customer service. Autatlantis has become ridiculously expensive too.
Heavyweights like Avis and Sixt have the advantage of an office right at Ponta Delgada airport. Yet, other companies can pick you up there for free and take you to their headquarters.
Where can I book a car rental in advance?
Use Skyscanner or the below RentalCars to compare rental prices. Both are reliable and quickly give you an overview of prices across available operators.

Tips to rent a car in São Miguel
Whatever company you go for, try to book your car as soon as possible. It's common to have a shortage of cars available to rent in the island (last happened: July 2021).
If you're not comfortable driving manual, automatic cars are available but in even less quantity though.
The easiest way is to pick up your car directly at Ponta Delgada airport.
Usually, there are no issues with car rentals, but better safe than sorry. It's wise to make a thorough inspection of the vehicle on the spot and take lots of photos. In the event of any dispute, you'll have visual proof to back you up.
Finally, it's standard for companies to hold a large amount on your credit card as an insurance against damage/theft of the car. Don't worry, the sum is immediately returned upon delivery of the vehicle. If you are not comfortable with this, hiring an additional CDW or Super CDW insurance will lower this fee.
Planning a São Miguel trip independently
Booking a flight to São Miguel
If you are not from the US or simply not into vacation packages, you're better off by booking your flight independently.
As a rule of thumb, flights to Azores are considerably cheaper from Porto, Lisbon or London. Ponta Delgada airport has the highest number of flight connections. From there you may be entitled to a FREE connecting flight to other islands – check this page for more info.
Booking a hotel in São Miguel
Arranging accommodation before going is highly recommendable. São Miguel is in high demand right now and hotels in the island can sell out, especially in high season.
You can start off by this curated list of insights about my favorite hotels, this pre-filtered list of hotels, guesthouses and villas in São Miguel.
Budget of this São Miguel road trip
I receive a lot of questions around money and budget, so I want to give you a good real-life idea of how much you can expect to spend. This an estimated budget based on summer 2022 prices and the costs of the last few times I had friends visiting.
Cost breakdown of this São Miguel itinerary (4 full days) 💸
🏨 Accommodation: You can find double rooms starting from 50 euros/night, but they go up 30%-50% during summertime. Still, an accommodation budget of 100 euros for 2 is a very comfortable daily budget, let's go with that.
🚗 Car Rental: Renting a car can cost from 30 euros/day, but more often it will cost you around 50 euros/day or more, depending on the insurance you hire. Automatic cars are even more expensive.
🥘 Food: Restaurant prices have gone up recently due to inflation, but you can still have lunch for about 10-15 euros and dinner for 25-30 euros in most places. No need to tip. In most cases, a personal daily budget of 50 euros for food (100 for two) is a safe target budget.
🎫 Tours and entrance fees: Not many places have an entrance fee in the island, if you want to enter ALL the places mentioned in this article count with around 35 euros. The standard price for a whale-watching tour in 2022 is 60 euros, so 120 euros per person is a fair budget.
🛍️ Others:You'll want to buy some food and souvenirs to bring back home. Hard to budget these as it will depend on your personal taste and space on the luggage, but 50 euros can buy you PLENTY of stuff!
💰 Total costs: Rounding up, this sums roughly 1000 euros for 2 or 500 euros per person. Please note you CAN do a lot cheaper than this or spend 3x times more. I tried to average these out and allow room for extra expenses. Don't forget to add in your flights!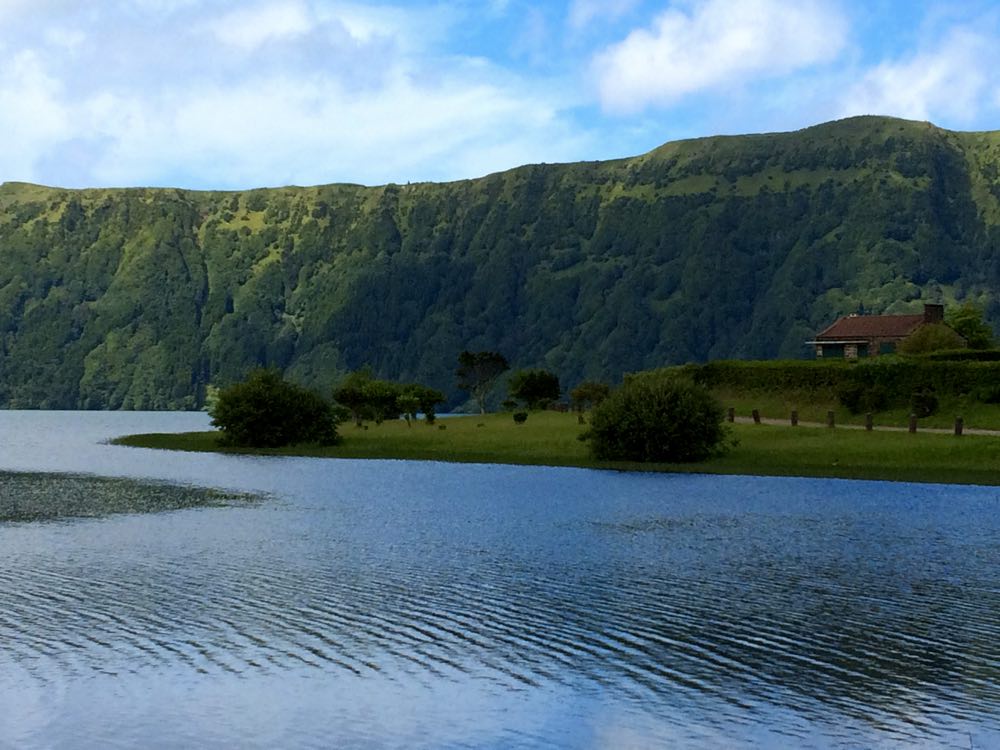 Tours and activities in São Miguel island 🚴‍♀️
São Miguel is a gem in terms of outdoor activities and there is a lot to keep you busy. Hiking trails, canyoning, whale-watching, just to name a few.
There are more and more local companies offering tours and/or adventure packages. As I do in other destinations, I recommend you skip them and make a 100% independent trip to keep a sense of adventure and fun on your trip.
Still, if you decide to book a tour, ask about insurance and make sure you ask how many people are going with you. Small groups are always a better choice, even if you have to pay a little bit extra.
São Miguel Flight + Hotel Deals 💰
I usually don't use travel agencies to book holidays. They end up being more expensive in 99% of the times. Yet I have to make an exception for Azores Getaways because I honestly think they have some pretty good prices for a flight + hotel + transfers packages to the Azores – starting at 599USD!
For São Miguel in particular they have loads of deals. 2 examples:
I particularly recommend using them if you are flying from the United States and don't have much time to plan your holidays.
More resources about the Azores
My travel tips valid anywhere
Have you used this São Miguel itinerary for your trip?
Which other places you recommend to add?
Tell me about your experience below!