A road trip through Croatia topped my travel bucket list for quite some years. Until I finally had the chance to do it and it was me-mo-ra-ble. Here's a complete guide for you to make your first Croatia road trip along the coast too!
When I was planning my trip, I found loads of websites talking about Croatia. Surprisingly none of them was complete and concise enough. Either they are too specific, too broad or simply not valuable pieces of information.
So just like I did with my island hopping guide for Thailand, and my Rio , Japan , Mexico, and Portugal itineraries, I'm helping you plan a 100% independent road trip in Croatia.
Croatia Road Trip – Sections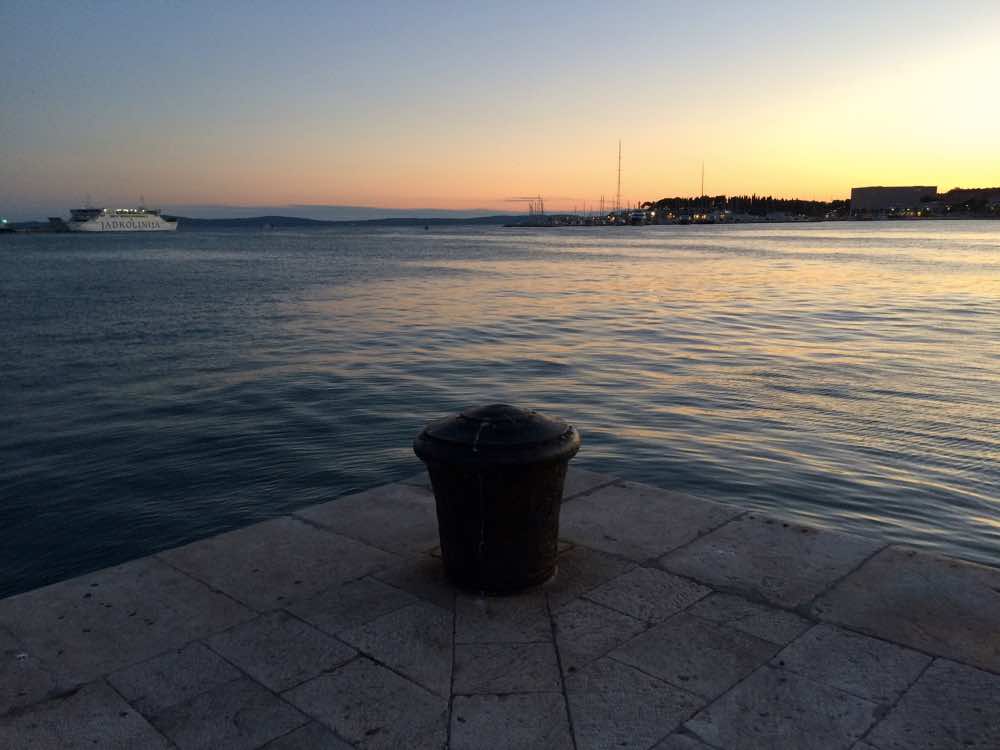 Croatia Overview and FAQ
Is Croatia worth it?
In a nutshell: HELL YES. Croatia is one of my favorite countries in Europe, period. I miss all the awesome landscapes we've come across along the Dalmatian Coast in particular the unique Zlatni Rat beach in Brac.
Is it easy to travel around Croatia?
Croatia is perfectly safe and has decent transportation options. The elongated form of the country makes the trip along the coast a bit more lenghty though.
Can you drive around Croatia?
Absolutely yes. Renting a car is the best way to enjoy Croatia. Roads are generally in very good condition, well signalized and there aren't many cars on the road. Tours or agencies only take away the fun of exploring this beautiful country on your own.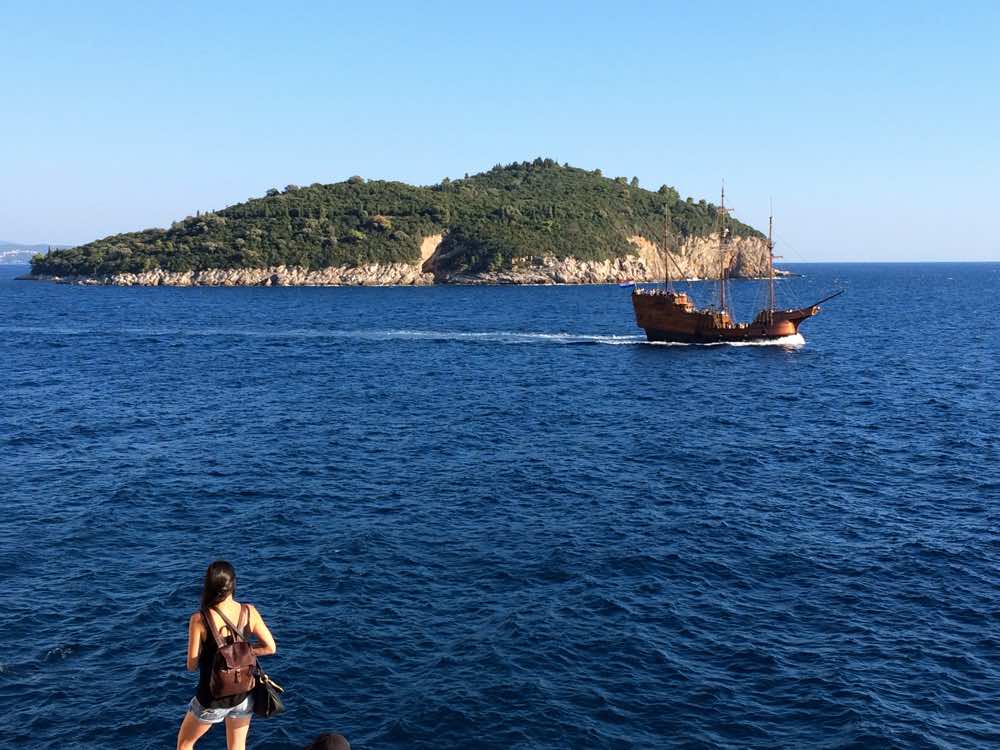 Planning a trip to Croatia
When to do a road trip in Croatia
First of all, there reasons to visit Croatia all-year round. Some people go to Croatia in January just to see Plitvice Natural Park with snow – which judging by some pictures it's a true delight!
That said, if you're like me, you'll most likely want to take advantage of the beautiful coastline and make sure you go when it's warm and sunny.
With this in mind, definitely avoid the winter months, between November and March and the peak season, between July and August. Peak season can be terribly expensive and crowded everywhere you go, including an spike in traffic in the major cities.
Aim to book your trip between April to June or between September-October, which coincides with the shoulder season in Europe.
How long for a road trip in Croatia?
How many days do you have? *wink*
Although Croatia is not a huge country, it is big enough to keep you busy and happy for weeks. Or months. Make no mistake: there are loads of things to see and places to make your wanderlust go crazy. The longer you can stay, the less you'll regret it later.
To make a first-time Croatia road trip itinerary you'll need at least 10 days. If you have more time, great, just check the extra stops to the itinerary you can add below.
How to island-hop in Croatia?
Choosing which island(s) to go in Croatia is a FOMO-inducing first-world problem. With more than 1,000 islands to pick from, it can quickly become overwhelming.
If you're indeed renting a car (or bike), I recommend starting by studying the ferry connections that allow vehicles. This can potentially save you a lot of money coming and returning from islands.
Other than that, it's up to pick the island that resonates with you the most. Go to Brač for stunning landscape and beaches, Vis or Korcula for a getaway atmosphere, or Hvar if you're looking to party.
My Croatia road trip itinerary
Here's how my itinerary for my first-time in Croatia could looked like.
Hopefully this guide will save you hours of Google searches, trying to put your head around stops all to come up with the perfect journey.
Croatia Road Trip
Duration: for all the places mentioned above, stay at least 10 days.
Activities: it includes a wide range of things to do: urban explorations, beach time, ancient ruins' history, hiking natural parks and even swim in waterfalls.
Where to stay: most of the places we've stayed were fully-furnished apartments. I've used Booking.com to book all our accommodation.
Croatia Road trip – route map
I've pinned all the places I'm about to mention in this map.
This way you can easily find them and follow the journey visually.
Orange pins: main road trip stops
Yellow pins: must-go places
Blue pins: extra places you might want to include in your itinerary
Find more information on the orange places below:
ZAGREB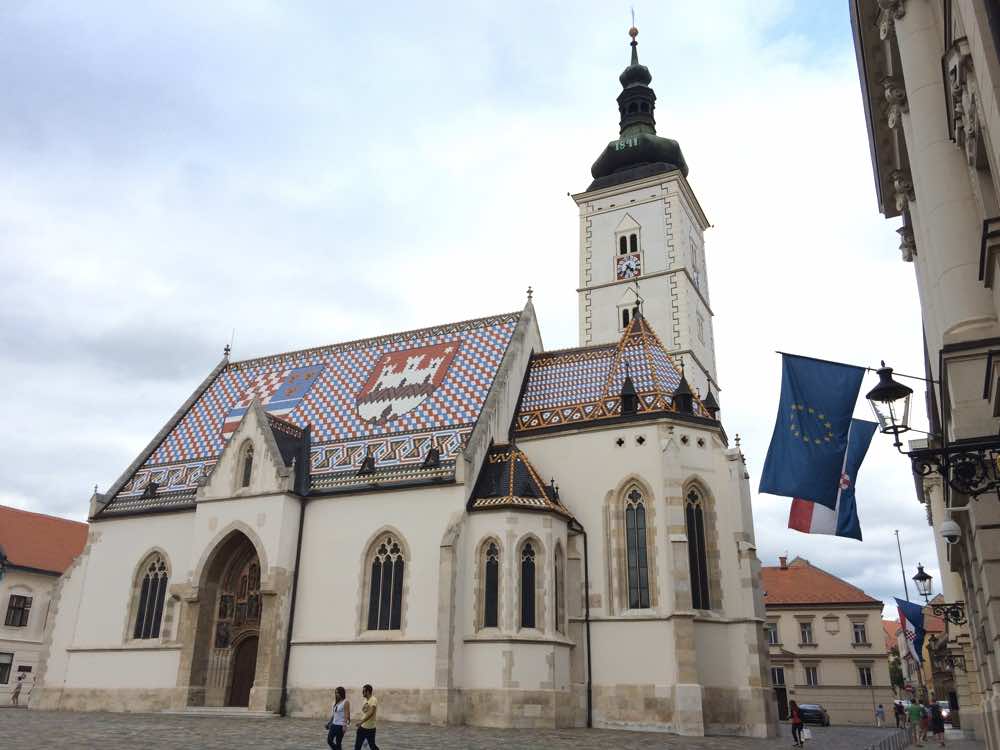 Chances are Zagreb will be the starting point for your road trip. Visiting the capital is a good way to get you introduced to Croatia, even though I later realised how different it is from the rest of the country.
The major highlight is definitely the emblematic Crkva sv. Marka (St. Mark's Church), with its colourful tile pattern representing the coat of arms of both the city and of the country on the roof.
The entire old town is picturesque and walkable. Grab a beer at Tkalčićeva – a vivid street full of bars and small stores, great for people-watching.
Other important attractions are the Croatian National Theatre and the unique Museum of Broken Relationships, displaying personal objects of ex-lovers that somehow tell their (sad) story.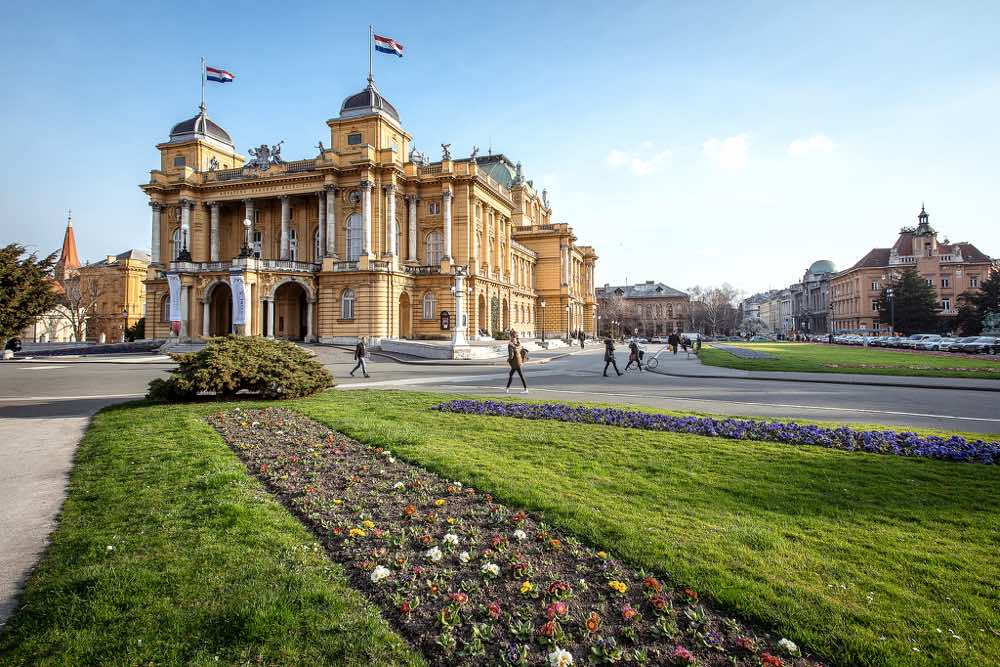 While Zagreb has some strikes of awesomeness going on, it falls a bit flat, specially if compared to nearby european capitals like Vienna or Budapest.
Still a great place to spend a full day and get your Croatian adventure started.
My value-for-money place to stay in Zagreb ⭐
Superb location in central Zagreb and a helpful staff to help you settle on your spacious bright room. Can't go wrong.
PLITVICE LAKES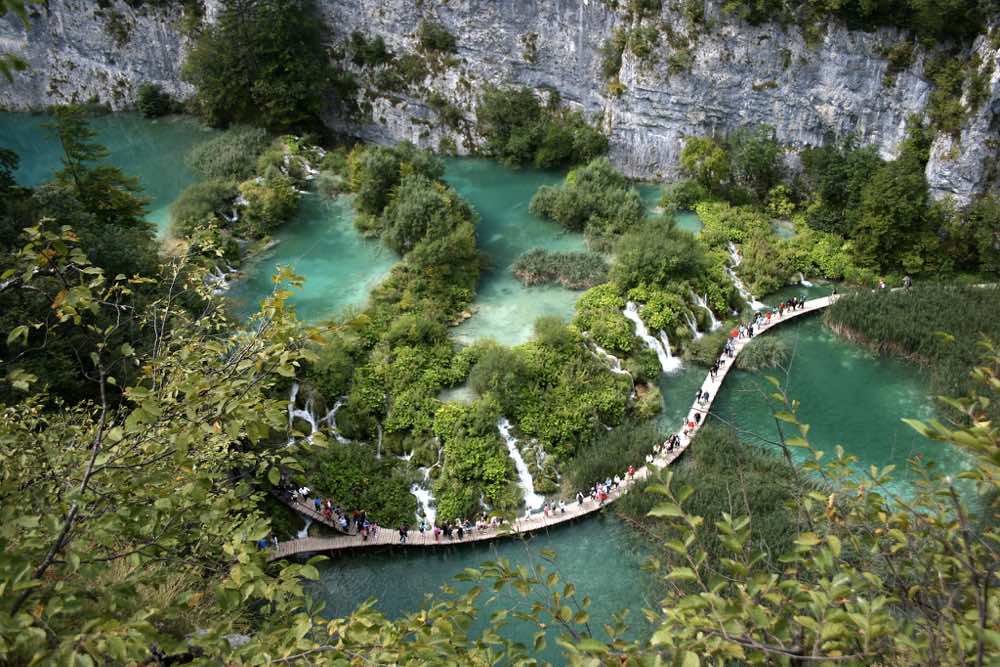 Plitvička Jezera (Plitvice Lakes) is one of Croatia's most popular tourist destinations, made up of sixteen lakes inter-connected by a series of waterfalls and mountains.
This was the major FAIL of our road trip. Plitvice was one of the main reasons I wanted to go to Croatia in the first place so getting there under heavy rain, fog and cold winds was heart-breaking. There was no point to go inside, since we wouldn't see a thing.
In any case, I highly recommend you to go to Plitvice. There must be a reason why everyone speaks about it with a little sparkle on the eyes. Good luck with the weather!
ℹPlitvice National Park
Plitvice National Park is open all year round, everyday from 7:00 to 19:00. The entrance to the park in peak season is 180 kuna.
It's advisable to book a place nearby to stay and visit the Lakes early in the morning to beat the crowds that arrive from tours from Split and Zadar. For complete details on prices and operating hours go here.
Weather is unpredictable in this region of Croatia. The owner of the apartment we stayed advised there is sort of a micro-climate going on in Plitvice (we definitely experienced that!). Be extra careful with the possibly extreme foggy and rainy conditions when driving up to the mountains.
ZADAR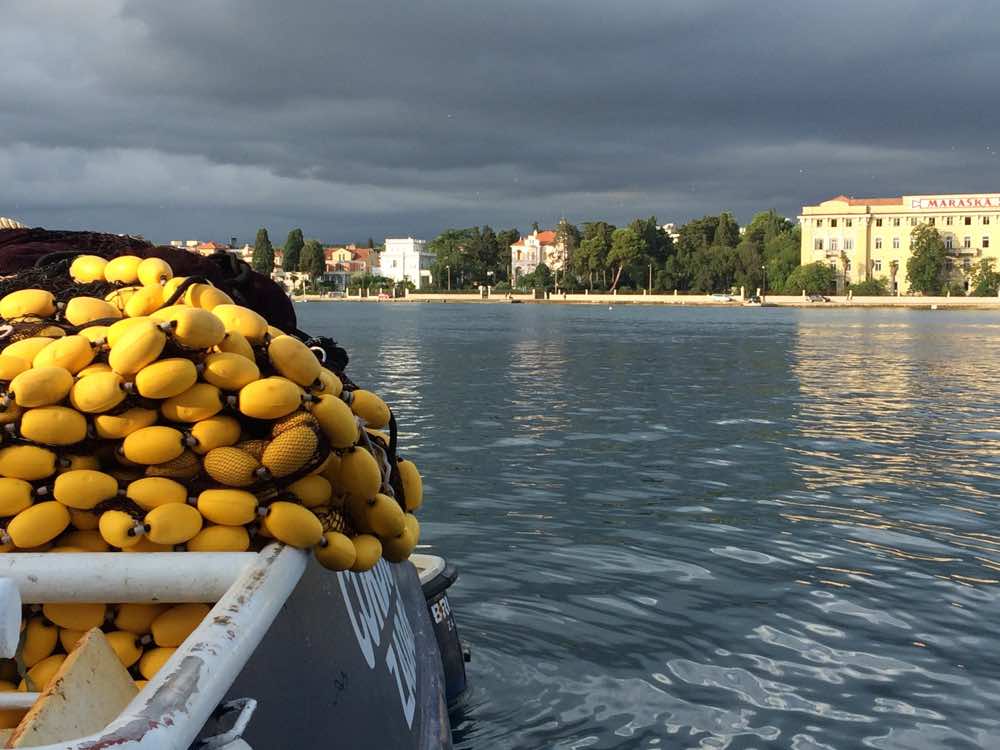 The ancient capital of Dalmatia, Zadar displays a compelling mix of ruins, fortress city walls and pedestrian-only marble streets which lead to a wide and modern waterfront.
The historical print of the city is particularly conveyed in the area where St. Donatus Church and the Cathedral of St. Anastasia sit in front of a huge lawn with scattered roman ruins.
While the old town displays an interesting combination of ancient and medieval heritage with a vibrant nightlife, the most unique feature of Zadar is in its waterfront.
Zadar has the most beautiful sunset in the world, more beautiful than the one in Key West, Florida, applauded at every evening.

– Alfred Hitchcock
The Morske orgulje (Sea Organ) is quite hard to notice at a first glance, but it does make sure it's being heard. The marble steps leading toward the Adriatic display small tubes/whistles that create tunes driven my a combination of waves and wind. Listening to this sea concert is oddly satisfying…
A few steps further, you'll find Sun Salutation : a giant blue circle embedded into the ground. This set of photovoltaic plates that collect solar energy during the day and put on a wonderful LED light show at night. A fabulous mix of high-tech and nature. I could watch it for hours.
For me, this was the first true wow moment in Croatia.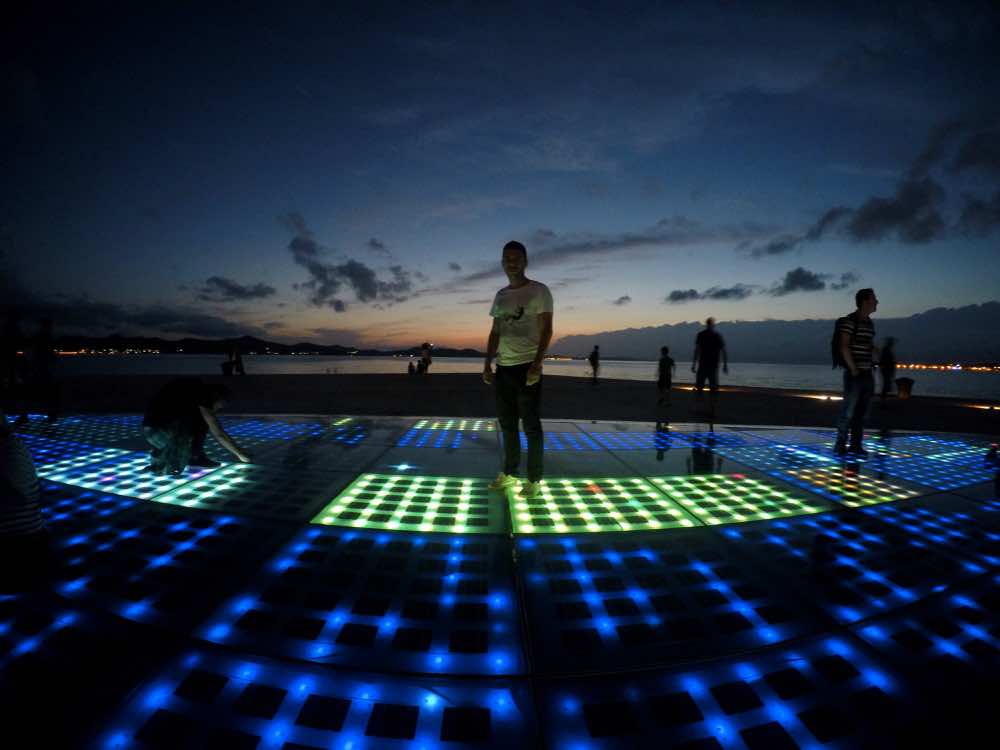 Where to stay in Zadar
Most hotels in Zadar are 3km out in the Puntamika area, but that's too far away if you ask me.
Staying is the best option but can easily become expensive. If you really wish to stay here, I'd recommend you to book well in advance.
If you're on a budget, look for the area near the bus/train station Željeznička stanica or in the other side of the bridge that connects the peninsula with the mainland. In both cases, you'll be just a short walk away from all the action.
Here's a list of the top-rated accommodation in Zadar's downtown, with free WiFi, and parking included.
⭐ My top place to stay in Zadar
Centrally located 3 minutes away from the Old Town, but far away form noice. Sea view included!
MURTER
Murter island is probably the most off-the-beaten-track destination in this itinerary. Many driving along the coast of Dalmatia would probably add in Šibenik or Makarska instead.
However we were looking for relaxation and a more local vibe. The good thing about this island is that you don't need a ferry to get there. Murter is connected to the mainland by a bascule bridge at Tisno which makes it technically sort of a peninsula.
Being the largest island in the Šibenik archipelago, it offers a wide range of beach possibilities within its numerous awe-inspiring coves and bay with shallow waters (perfect for kids!).
ℹ Murter Island
The bridge that connects the "mainland" to Murter is open each morning and at late afternoon.
From the 4 main settlements in the island, we chose Betina to stay. Easy-going and with a very local feeling and very close to Slanica Bay. It's a small place but the whole setting of the beach, including the fine sand, and the surrounding olive and pine trees, felt like a hidden paradise.
Discover other sandy and pebbly beaches around like Podvršak, Korisina and Čigrađa and consider a day trip to Kornati islands. Many locals own a second property there and may be able to take you out there in a boat. The archipelago is a national park and is known for its preserved raw beauty and rich maritime ecosystem.
KRKA NATIONAL PARK
Krka National Park is a well-known nature spot in Croatia. Comprising more than 800+ species of fauna and flora across its 100 square kilometers of area, it's a place of exceptional natural value.
I had great expectations that Krka would somehow make it up for the disappointment in Plitvice a few days earlier. And boy, everything went better than expected.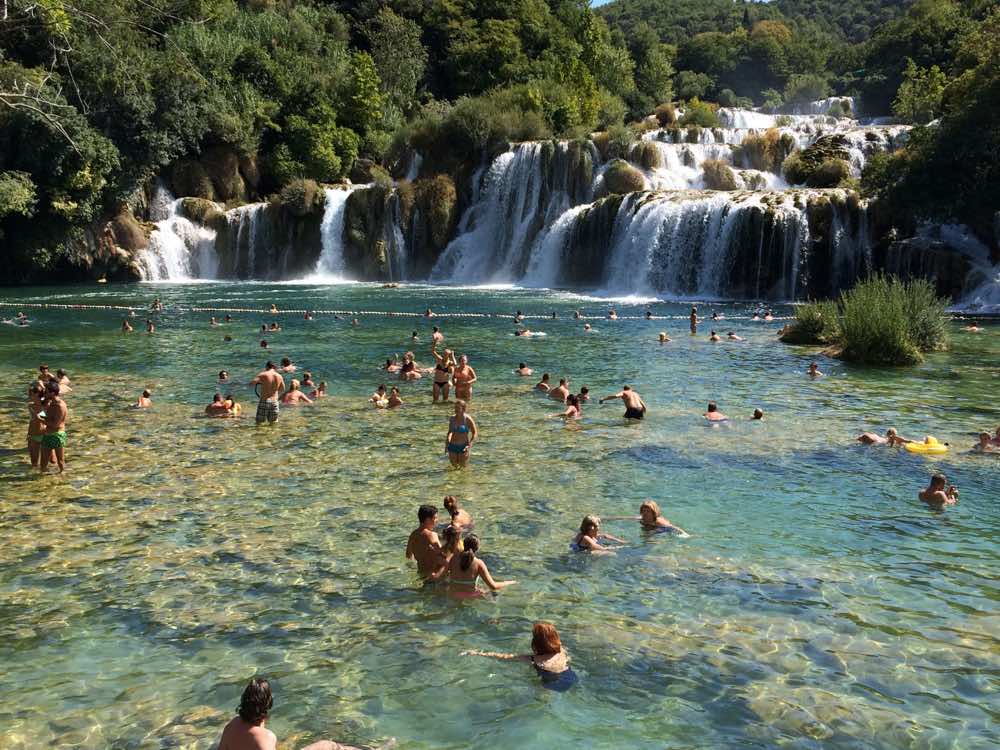 I got to say the lower part of the park has an unremarkable music summer festival feeling to it. But all is forgiven by the surrounding scenery once you start exploring the surroundings.
The highlight are the swimmable Skradinski Buk waterfalls. This set of 400-meter wide magnificent waterfalls that end up in stunning natural pools, reflecting the green of the surrounding lush vegetation. It's definitely one of the most memorable experiences you can have in the Dalmatian Coast.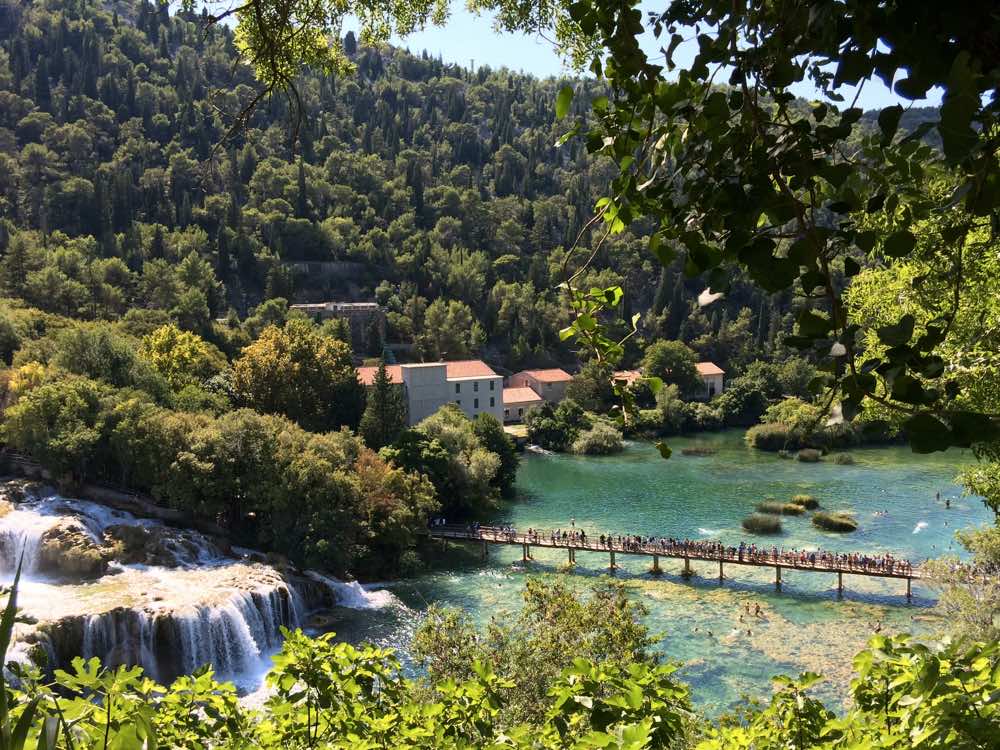 I also had time to explore further trails around the Skradinski Buk full of caves, lakes and other waterfalls which only proved how beautiful and special this place is. The whole park seems a distorted reality. It seems someone tuned up the contrast and saturation configurations: everything around overflows your eyes with color!
It's worthwhile to spend a day here, hiking, biking or whatever you want to do in nature. Everything happens for a reason and I was glad I came to Krka instead.
ℹKrka National Park
Getting to Krka NP
You can enter the park in five different points. As most people visit from Šibenik (a 20-min ride), the two most popular starting points are Skradin and Lozovac at the southern end.
We ended up leaving the car in Skradin, taking a boat up the Krka river until the park. Boats sail every fill hour and return at half hours. The sailing time from Skradin to Krka is about 25 minutes and it is completely free with your entrance ticket. Woo-hoo, a bonus boat trip through the river valley!
Prices and opening hours
Krka National Park is open all year round, everyday from 8am to 5pm. The entrance to the park in peak season is 200 kuna.
Check prices and opening hours here.
SPLIT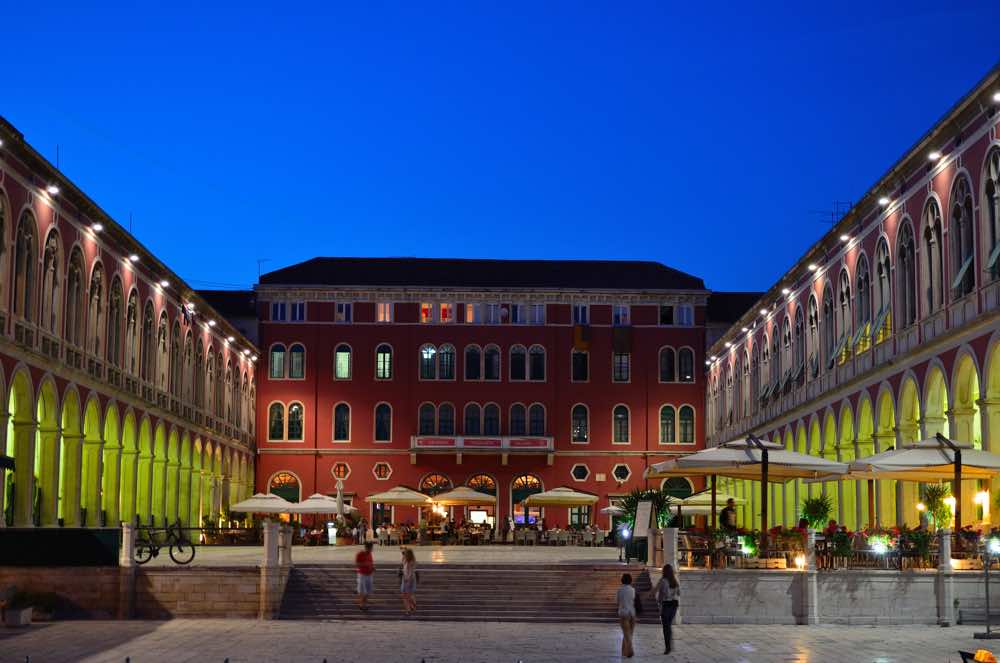 Split is a major transportation hub in Croatia and a popular cruise ship port. It is also an ideal departure place to take a ferry and explore the islands along the Dalmatian coast.
When Roman Emperor Diocletian decided to build himself a modest retirement home, he chose Split. Diocletian's Palace was so massive that a bustling town started being build around it. Today, tons of shops, restaurants and cafés in Riva – the main pedestrian street – are the centre of the city action.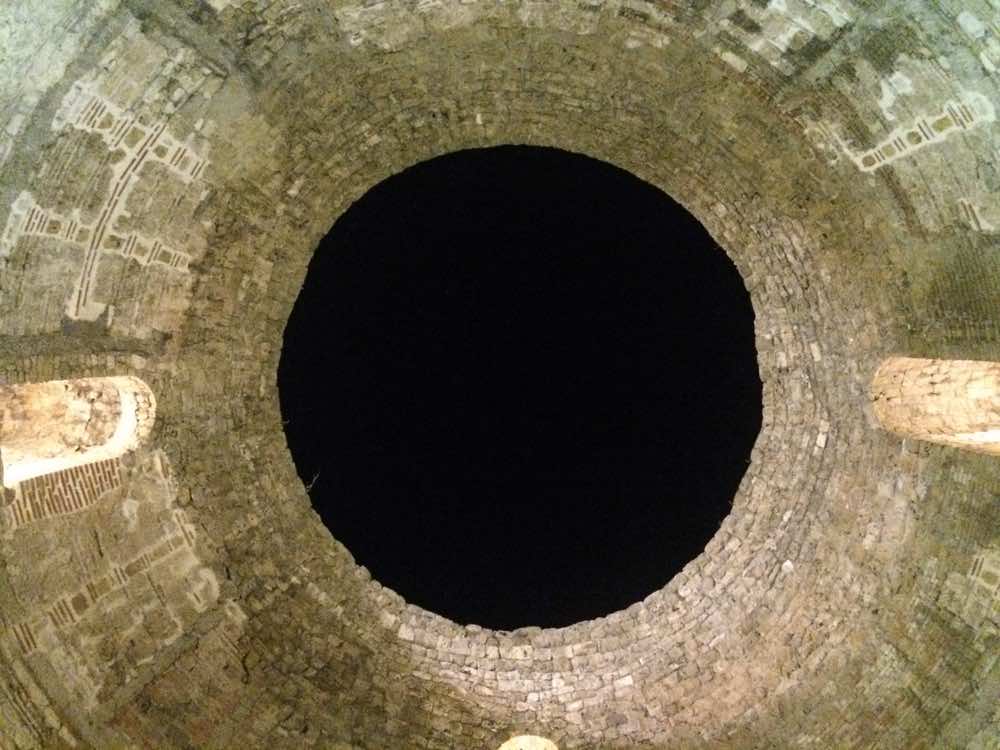 If there's a major sight not to be missed in Split is definitely the Peristyle, the central square of the palace. Grab a seat in the nearest roman ruin, order a beer and marvel the spectacular architecture and the patchwork of Roman, medieval and Renascence buildings around you. It's particularly beautiful during the evening.
Split is worth at least 1 or 2 days. Personally, I'd try to allocate more time to Zadar, but that's my preference for a slightly less touristy city.
Where to stay in Split
I highly recommend you stay in the center of the old town. If possible inside the city walls. The outskirts of Split can be a bit disappointing and they're surely not worth the extra trip.
Beware though: finding a parking spot in centre Split during the summer can be a needle-in-a-haystack task,
Here's a good option for accomodation:

Just a 4-min walk from the beach and 20-min from the Diocletian Palace, this is a great location. The apartments are clean, modern and tidy.
You can also start your search with this pre-selected list of the best accommodation in Split city center, with free WiFi, and access to parking for your car.
BRAC ISLAND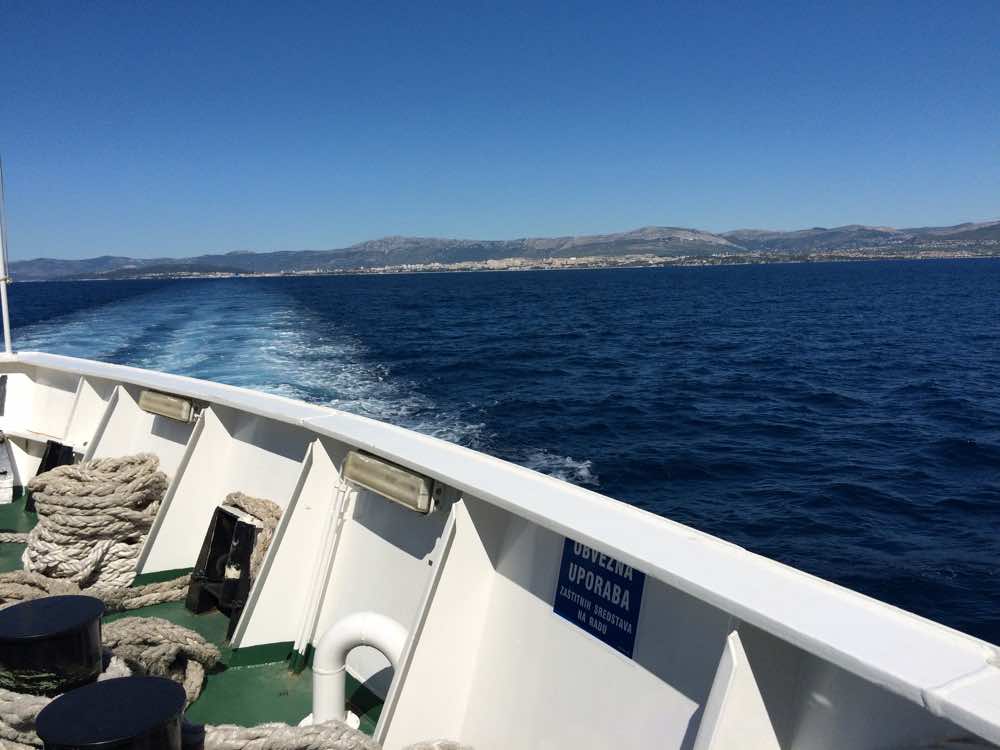 If you are road tripping Croatia, you'll want to go to one (or more) of its 1,000 islands. Don't let FOMO settle in!.
After checking the possible ferry routes and ruling out time-consuming connections, we ended up with three possibilities: Brac, Hvar and Korcula. In the end we've chosen the first one because it seemed to have the perfect mix of what we wanted to find: beaches, nature and relax.
I've praised the island of Brac before. It was a true show-stopper for me and quite possibly the major highlight of the trip. This is where the real and authentic Croatia lies.
Brac is one of those places with the power of take you away and make you forget all your problems.
The highlight: Zlatni Rat beach . One of the most popular postcards of the country. Due to its unique natural conditions, it's a mecca for all the watersports enthusiasts but also a true delight to all nature lovers.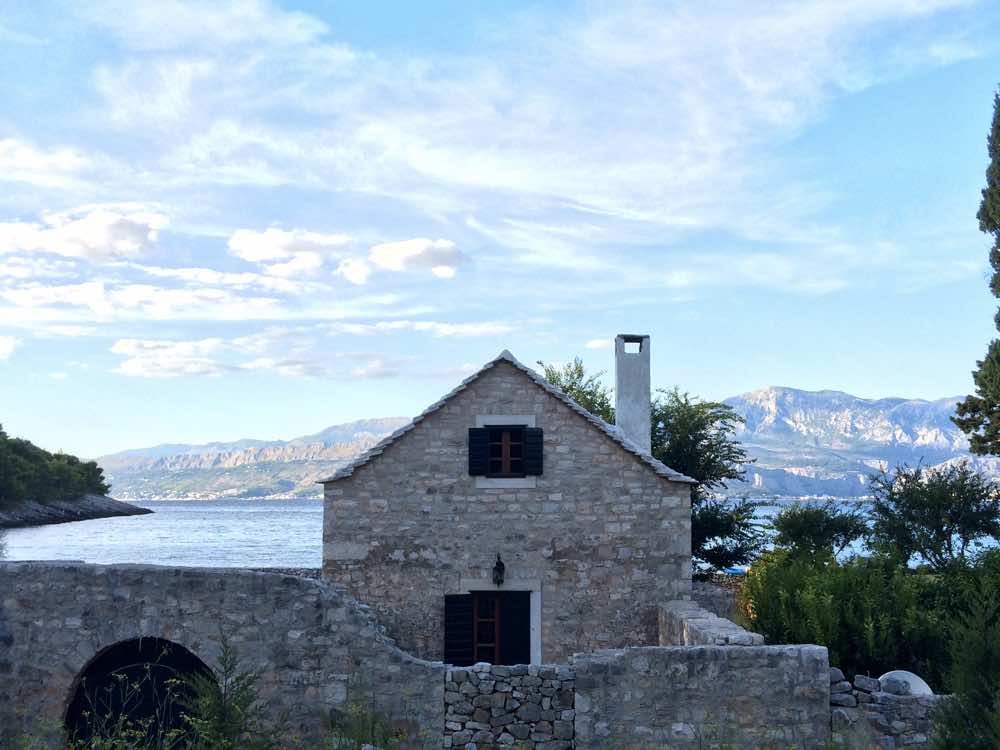 Allow yourself at least 2-3 days in Brac and don't be limited to Zlatni Rat. The island has many other stunning coves and bays waiting to be explored, such as Lovrecina and Sumartin. The quaint small villages of Supetar, Pučišća and Bol are worth to visit too.
Where to stay in Brac island

Peaceful spot close to Zlatni Rat and to the walking promenade that leads to Bol.
DUBROVNIK

You've probably heard of Dubrovnik. The city has grown hugely in popularity in recent years and much credit should be given to the TV series Game of Thrones. In fact, you can see a GoT tour in every corner of the old town.
The amount of people inside the walls of Dubrovnik during the day is impressive, especially when cruise boats arrive. Stradun, the main commercial artery, can be completely packed at that times.
In any other destination, it would totally take away the charisma and authenticity – take Venice for example. But somehow in Dubrovnik that does not happen. Even with all the crowds and tours, wandering around the narrow cobbled streets of the old town felt as special as ever.
Walking the two-kilometre ancient walls allows for the best views of Dubrovnik, but I found it more interesting seeing it from the sea. Sea kayaking tours are widely available – I recommend Adventure Dubrovnik – and usually are done starting from Pile Gate and around the Lokrum island, right in front of the city.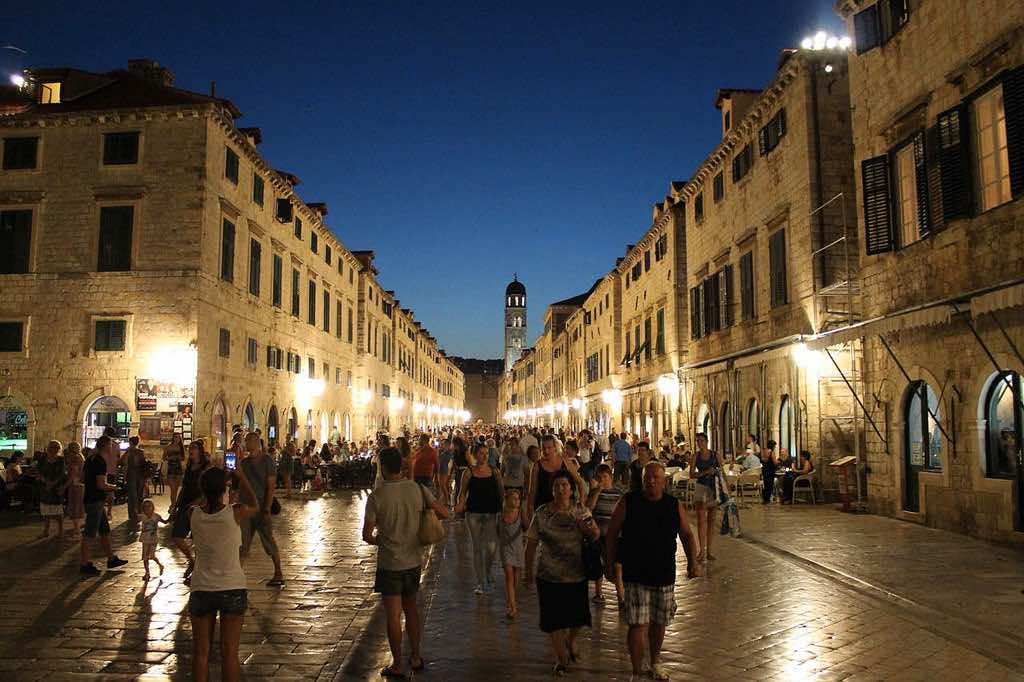 One great place to stay – far away from the old town madness but easily reachable by bus/car – is the Lapad peninsula. While it's an area with high-end luxurious hotels, it's also possible to find cheap accommodation next to the best beaches near Dubrovnik.
Take a look at this shortlist in Booking. It contains only the top-rated hotels in Dubrovnik, with WiFi, parking, and breakfast included.
ℹDubrovnik tips
Bring your passport
Did you know Dubrovnik is geographically isolated from the rest of Croatia? If you are coming from anywhere else in Croatia to Dubrovnik by road, you'll have to pass through Bosnia & Herzegovina. Bosnia is not part of the European Union, so depending on the country of your passport you may need to show your documents.
Getting around Dubrovnik
Traffic and parking in Dubrovnik is a total CHAOS. I highly recommend you get around using the reliable and efficient network of bus. We didn't wait more than 5 minutes every time we used it, even during the night.
Where to stay in Dubrovnik
I stayed in the Lapad peninsula which turned out to be a great area in Dubrovnik. Just a short bus trip to the crazy Old Town, it allows you to be away from the tourist madness and have a little bit of beach time close by.
My hotel was the one below, but here's a shortlist of the top places with WiFi in Lapad to get your search started.
Where I stayed in Dubrovnik ⭐
Just a 5-min walk from the beach, with a super friendly host, and a gorgeous view over Lapad area.
Extra places to go in Croatia
If you have some more spare days, there are many other options to enrich your itinerary with places not only in Croatia but in other neighbour countries.
Istria peninsula, Croatia
I've left the entire western-most region of Croatia out of my basic itinerary due to time limitations. If time is not a problem, you can spend some days exploring the peninsula of Istria. Amongst the green countryside and the coastal little ports, the main city Pula and the fortified town of Rovinj stand out. Nearby there also some of Croatia's popular islands: Krk, Rab and Cres.
Hvar Island, Croatia
Hvar is the most popular island destination in Croatia. From its endless lavender fields to the bubbling nightlife of Hvar Town, there's always something to keep you busy. If Hvar still bores you, you can always rent a boat and head to the deserted Paklinski islands on a day trip.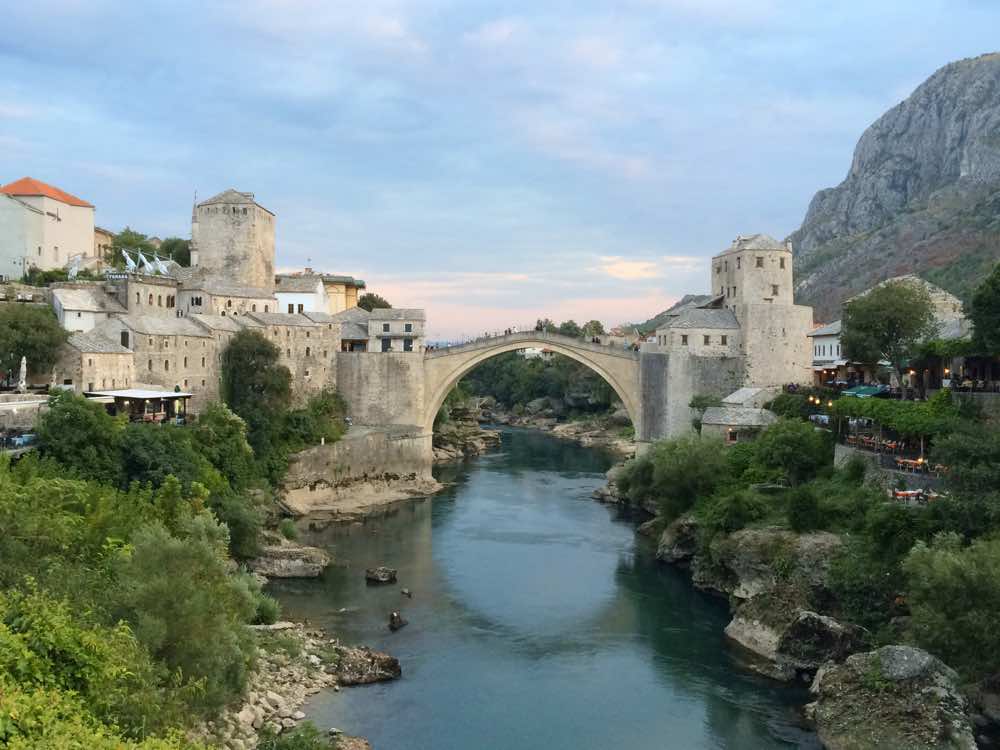 Mostar, Bosnia & Herzegovina
A day trip to Mostar is perfectly doable from either Split, Makarska or Dubrovnik. The city holds a complete different vibe from the whole Croatia, which makes it a great addition to your road trip route. Besides the stunning Stari Most (Old Bridge), Mostar is an interesting mix of a vibrant oriental culture and a joyless recent history.
Kotor, Montenegro
Backed up by impressive mountains keeping its authenticity untouched, many consider Dubrovnik to be a Euro-trashy version of Kotor. With scenic views, four-kilometre medieval walls and a ever-lasting medieval architecture, you might want to consider adding this city to your route. Next time, I will.


Driving in Croatia
I must say I was impressed with how easy it is to drive in Croatia. No matter the natural obstacles you'll be driving on – mountains, cliffs, coves – the roads are in perfect condition and very well signalised. Pay tolls, when existent, are very cheap.
Within the cities, the story is a bit different. While Zagreb is still much calmer to what you'd expect of an european capital, traffic in cities like Zadar, Split, and specially Dubrovnik can be CHAOS.
Same for parking: we wandered around 45 minutes to find a (paid!) parking spot in Split. And we decided to ditch our car when arriving Dubrovnik (our last stop) and switch immediately to public transport. Remember this was in September, can't even imagine on the peak summer months.
Which car hire companies to use in Croatia?
You can find most of the big heavy weights in Croatia. More importantly than the company you go for, is try to book your car as soon as possible – it can save you loads of money. We ended up going with Sixt and getting an additional insurance from Insurance4carhire. Good value for money in both cases, so I can just recommend them!
Pro tip: due to the geography of Croatia, consider returning the car in a different place than the pick up. Most companies will charge you a "one-way" fee, but it will be worth to avoid driving all the way back to your starting point.
Accommodation in Croatia
There's a wide range of hotels, hostels, guesthouses, villas, and especially private apartments available on Booking and on Airbnb.
Rooms are usually cheap and with good quality rooms. Yet, due to the increase of tourism in recent years, it is recommended to book well in advance for July and August months.
Start your search using the lists I've put together of all hotels in Croatia with WiFi, parking, and good-to-excellent reviews in Split, Zadar, and Dubrovnik.
Costs for a Croatia trip
So how much all of this madness cost?
Find out a breakdown on my numbers below. Keep in mind these are values per person and that I travelled with four other people, which tends to lower down the global costs. If you're travelling with less people, I'd add 10-30% extra to the total for a better estimate. And don't forget to add in your flights!
ℹHow much does a road trip in Croatia cost?
Car Rental: 102€ (rental value per person)
Diesel: 13€ (total value per person)
Ferries: 14€
Meals and snacks: 291€
Supermarket stuff: 30€
TOTAL COST (€): 585€/pax
Tips for your road trip in Croatia
Here are some generic tips to save you time and money in Croatia:
Saving money
Try to stay in apartments with kitchen, where you can prepare some meals. We actually did stay but we were too lazy to make any meals, which could have saved us loads!
Pay attention to exchange rates, in some of the most touristy places they are outrageous. You can lose a lot of money changing money to kunas!
Saving time
If you're boarding a ferry with your car, arrive to the port EARLY. Lines can start forming 1 or 2 hours before the departure time and car availability is limited.
Only a VERY limited number of ferries allow cars on board and they're usually popular routes. Study well your itinerary as you can easily you make you waste a lot of time getting back to the mainland.
For detailed ferry information check the Croatia Ferries website or go directly with the largest croatian ferry company, Jadrolinija.
Other Croatia Resources

My travel tips valid anywhere

Do you feel ready to do a Croatia road trip?
What other tips do you have? Share your experience below!