Licensing

Geeky Explorer is licensed under a Creative Commons Attribution-NonCommercial-NoDerivatives 4.0 International License.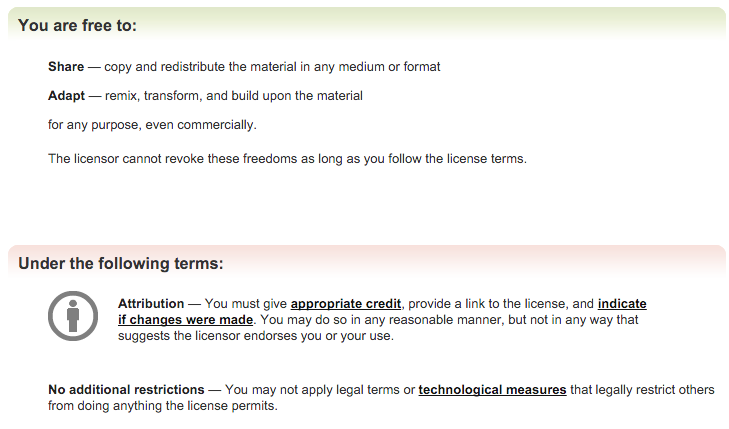 Cookies & 3rd Party Advertisements
Google, as a third party vendor, uses cookies to serve ads on your site. Google's use of the DART cookie enables it to serve ads to your users based on their visit to your sites and other sites on the Internet. Users may opt out of the use of the DART cookie by visiting the Google ad and content network privacy policy http://www.google.com/privacy_ads.html
We allow third-party companies to serve ads and/or collect certain anonymous information when you visit our web site. These companies may use non-personally identifiable information (e.g., click stream information, browser type, time and date, subject of advertisements clicked or scrolled over) during your visits to this and other Web sites in order to provide advertisements about goods and services likely to be of greater interest to you. These companies typically use a cookie or third party web beacon to collect this information. To learn more about this behavioral advertising practice or to opt-out of this type of advertising, you can visit http://www.networkadvertising.org/managing/opt_out.asp.
Google Analytics
This website uses Google Analytics, a web analytics service provided by Google, Inc. ("Google"). Google Analytics uses "cookies", which are text files saved on your computer, to help the website analyze how you use the site. The information generated by the cookie about your use of the website will be transmitted to and stored by Google on servers in the United States.
If this website anonymizes IP addresses, your IP address will be truncated by Google within a EU member state or other EEA state before being transmitted to the US. Only in exceptional situations will your full IP address be transmitted to Google servers in the United States and truncated there. Google will use this information for the purpose of evaluating your use of the website, compiling reports on website activity for website operators and providing other services relating to website activity and internet usage. Google will not associate your IP address with any other data held by Google. You may refuse the use of cookies by selecting the appropriate settings on your browser, however please note that if you do this you may not be able to use the full functionality of this website. By using this website, you consent to the processing of data about you by Google in the manner and for the purposes set out above. You can also prevent Google from collecting information (including your IP address) via cookies and processing this information by downloading this browser plugin and installing it:http://tools.google.com/dlpage/gaoptout
Further information concerning the terms and conditions of use and data privacy can be found at the Google Analytics Terms of Service or at the Google Analytics Privacy Overview. Please note that on this website, Google Analytics is supplemented by "gat._anonymizeIp();" to ensure anonymized collection of IP addresses (IP masking).
Disclaimer
Geeky Explorer is a independently owned travel site that expresses opinions about products and services related to technology and travel.
In some articles and pages you'll find afilliate links/ads which might entail a small commission should you click them or start a transaction with some partner companies. Please note there's absolutely no additional cost to the reader/user.