This 3-day Lisbon itinerary is ideal for anyone visiting for the first time the Portuguese capital. Forget guide books or TripAdvisor. Here are some local advice of what's really worth to do as well as hipster tips to see the major sights. Bem-vindo a Lisboa!
Oh Lisbon.
The city oozing the million-dollar combination of tradition, charm and modernism. The millennium-old glorious history, the delicious food and the unique things to do, all ridiculously good value-for-money.
No wonder why Lisbon is the trendiest city in Europe right now.
The truth is that every time I go to Lisbon, I fall in love a bit more. Even though I've lived there for almost 9 years (auch!) and been there countless times before and after. I still consider it to be my city.
This itinerary compiles all I know and love about Lisbon. Enjoy!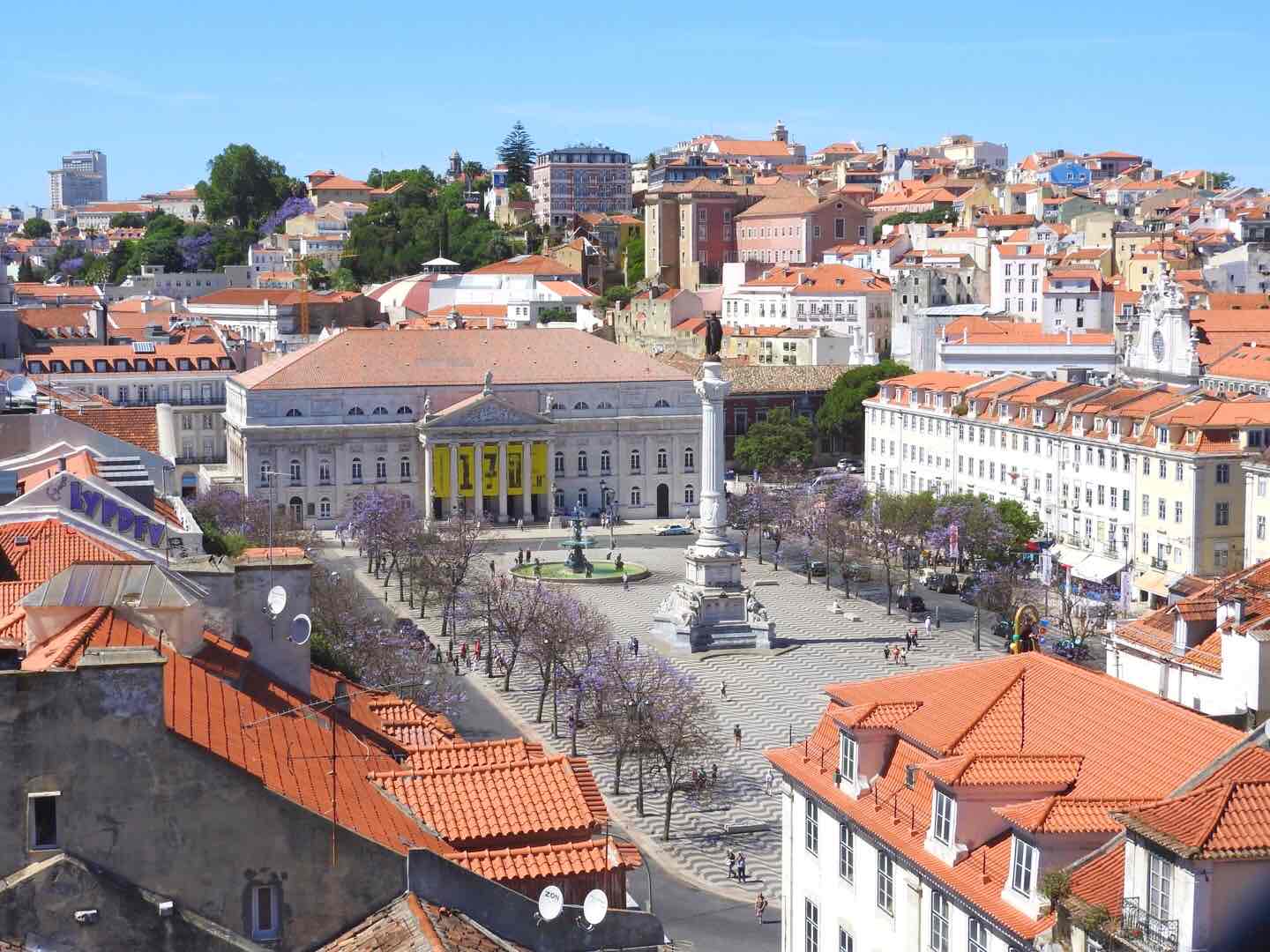 ⚠ Overtourism in Lisbon
Update: After Barcelona, Amsterdam, and Venice, it's now the time of Lisbon to be super crowded, especially during summer months (June, July, August). For more chances to discover the "local" and "authentic" Lisbon, avoid these months and don't stay in AirBnB-packed areas like Castelo and Alfama.
This itinerary requires a lot of walking around. Don't say I didn't warn you. I think is the absolute best way to explore a city, but in hilly Lisbon this means it can be… well let's just say "a great workout". This Lisbon itinerary is organized into the following sections:
Lisbon Itinerary: Summary
To make navigation in Lisbon easier, you can follow all the places I'm about to mention on the map below. The green pins correspond to the places for day 1 in this itinerary; yellow for day 2 and red for day 3. In purple, there are some suggestions if you have extra time.
Lisbon Itinerary: What to see in Day 1
Day 1 is dedicated to West Lisbon.
I always like to start off my time in a city by going to the farthest place possible to get that out of the way. In the case of Lisbon, this is Belém district.
In the afternoon, wander around the trendy Chiado area before watching the sunset with a view.
Torre de Belém (Belém Tower)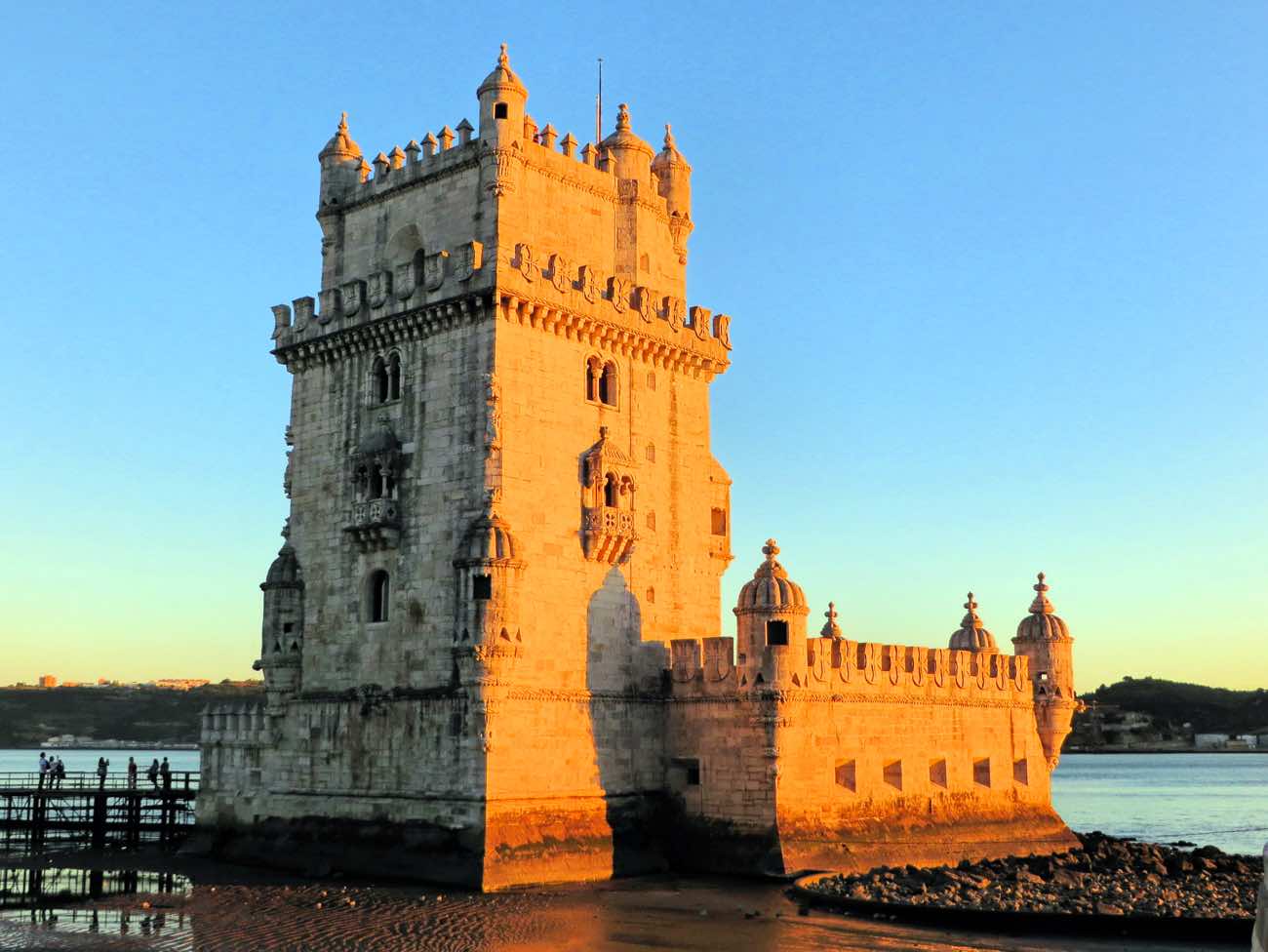 One of Lisbon's finest attractions, Torre de Belém (Belém Tower) is located in the riverside district of Belém. It was strategically built to protect the kingdom's capital in the 16th century and had a very important role in the era of Portuguese Discoveries.
Soon it also became the first symbolic icon for explorers who depart from here to places as far as Brazil, India and Africa.
Apart from being an architectural gem by itself, the setting is just amazing, near the mouth of the river Tejo. In sunny days, there's an incredible amount of sunlight being reflected on the river, making the white stones kind of shine. Trust me, it's a stunning sight.
My two cents: is NOT worth to go inside. It's a tourist trap. There's not really much to see and the tower is overrun with tourists which means huge waiting times involved. Not sure about you, but being claustrophobically stuck in narrow staircases inside a 500-year-old tower is not my idea of fun. For great views in Belém, a better option is Padrão dos Descobrimentos.
Tips for Torre de Belém
⏱ Hours: Open during peak season between 10:00 and 18:30h.
💰 How much: As per 2019, the standard ticket is 6 EUR. You can buy a combined ticket with Jerónimos Monastery for 12 EUR.
💡 Pro tip: On Sunday mornings there is no entrance fee.
💻 Website: Torre de Belém
To get to Belém, take the train or the tram E15 in Cais do Sodré. You can also take the 27, 28, 29, 43 and 49 buses which follow the same route.
Mosteiro dos Jerónimos (Jerónimos Monastery)
Mosteiro dos Jerónimos (Jerónimos Monastery) was built as a commemoration of the safe return of Vasco da Gama from his journey to India.
The initial project was to build something significantly smaller. But as the wealth of colonies during the Age of Discoveries grew, they basically decided to go over the top and built incredibly detailed carvings in expensive marble, huge cloisters, and a beautiful chapel.
Today it's a massive and highly ornate monastery and a true architecture gem not to be missed. It's impossible not to be dazzled with all the craftsmanship – remember this place is 500 years old!
Tips for Jerónimos Monastery
⏱ Hours: Open during peak season between 10:00 and 18:00h (closed on Mondays).
💰 How much: As per 2019, the standard ticket to enter the monastery is 10 EUR. The main chapel is free though.
💡 Pro tip: On Sunday mornings there is no entrance fee.
💻 Website: Mosteiro dos Jerónimos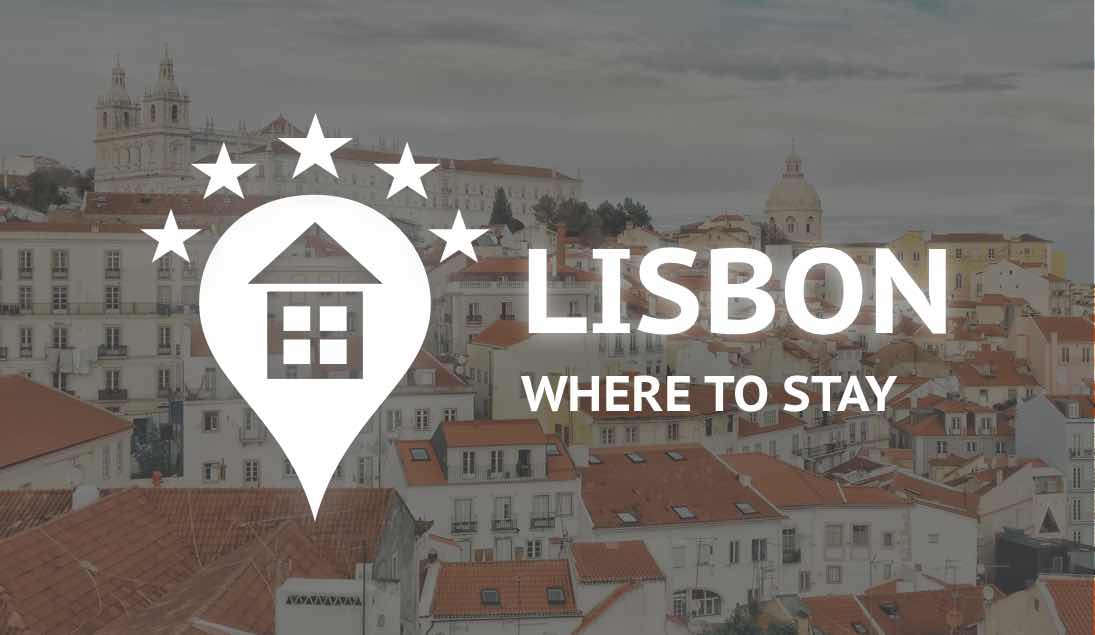 Top hotels in Lisbon
I've made the hard work for you.
This is a pre-filtered list of hotels in the best areas to stay in Lisbon.
Padrão dos Descobrimentos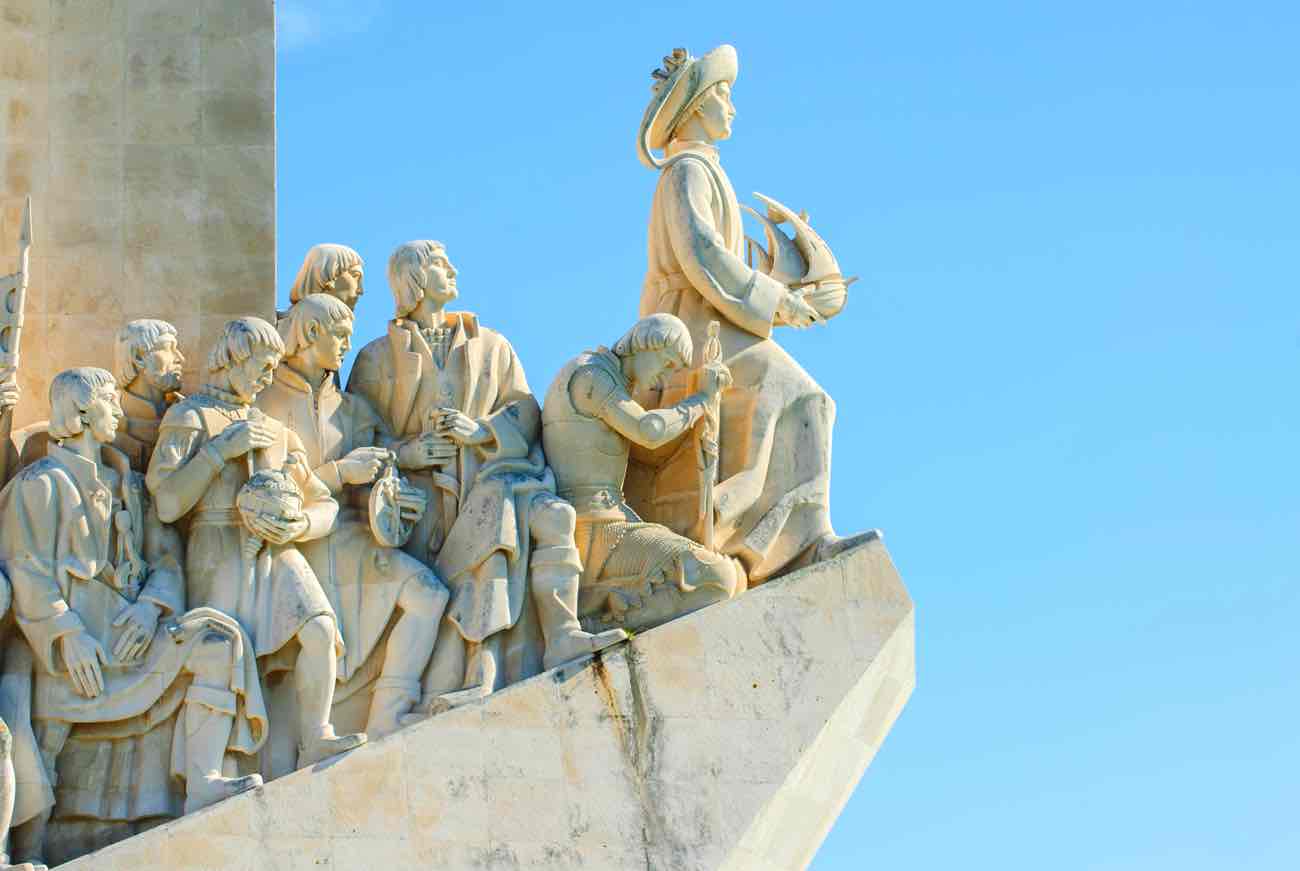 Padrão dos Descobrimentos is located exactly at the old harbour where most Portuguese discoveries voyages started. The flow of the river has been altered since then and today the monument stands in the Belém promenade.
An interesting design feature of Padrão dos Descobrimentos is that it resembles the prow of a ship when viewed from the side and as a Christian cross when viewed from the rear back.
The structure is dedicated to all the explorers and adventurers that established Portugal as a 14th-century superpower. These are the men carved in the monument with Infante D. Henrique on the front. He pretty much started this crazy idea of navigating to the unknown. Sort of the Elon Musk of that time.
My favorite spot, however, is the huge medieval world map on the marble floor. A great visual way to learn that literally HALF THE WORLD was once discovered by the Portuguese around the 1400s. Weird to think we once were the richest nation in the world, how things change!
Tips for Padrão dos Descobrimentos
⏱ Hours: Open during peak season between 10:00 and 19:00h.
💰 How much: The standard ticket to enter the monument is 6 EUR (2019 prices).
💻 Website: Padrão dos Descobrimentos
MAAT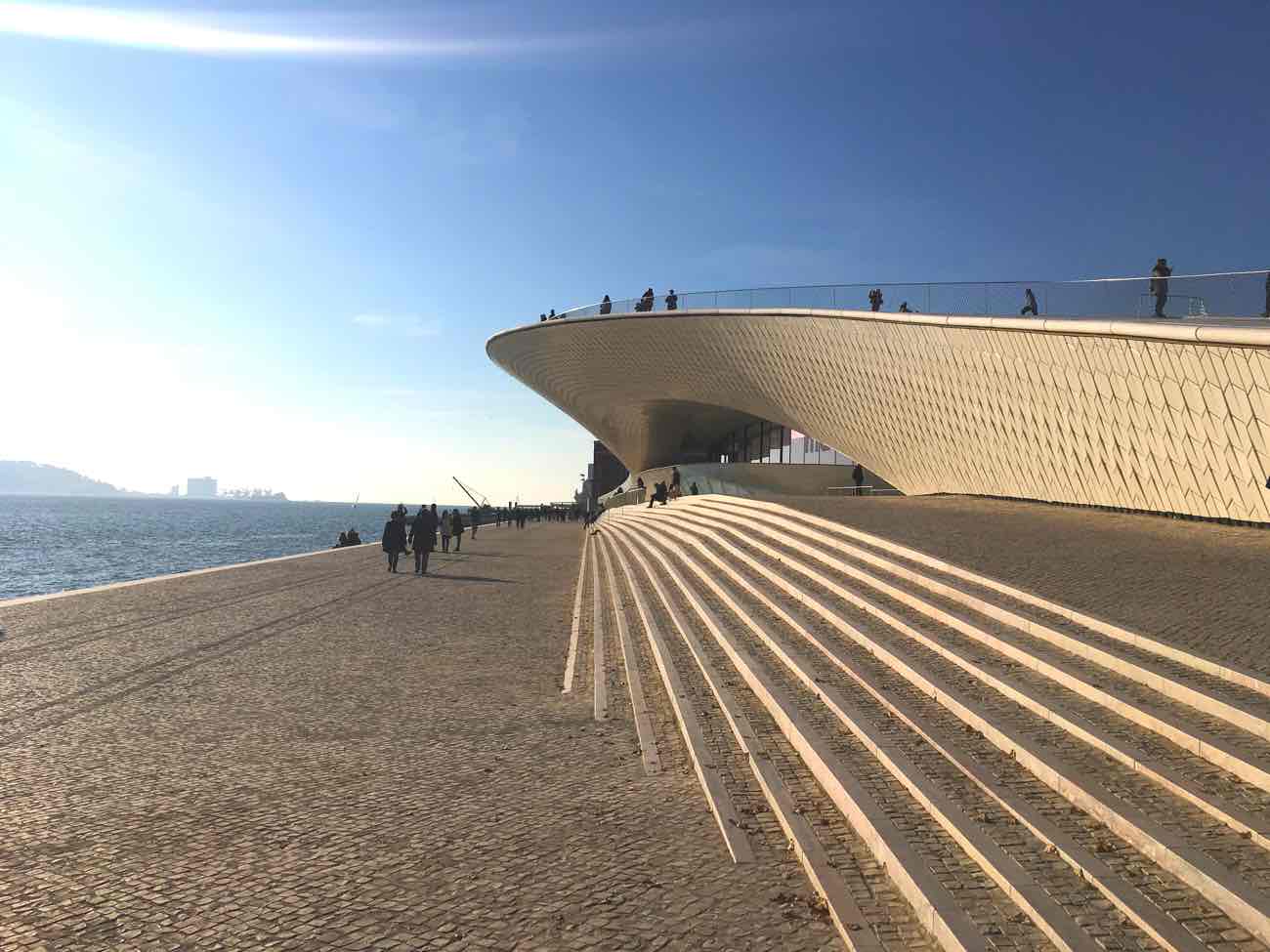 The MAAT – Museum of Art, Architecture and Technology – is the most recent addition to the cultural scene . I first visited right after it opened in 2016 and I remember getting excited just by having such a futuristic building in Lisbon, the most traditional capital I know.
The quality of visit will depend a lot on their temporary exhibitions and your personal interest – the one I've been was a bit too conceptual to be honest.
But more than the inside, MAAT deserves a visit from the outside.
Gorgeously located next to the river in Belém, visitors can even walk over the roof as the arching building was designed to be a continuation of the promenade. The 15k glazes tiles reflect the sunlight and the river surface, making it change the color throughout the day. Lots of #archigasm potential here!
Tips for MAAT
⏱ Hours: Open during peak season between 12:00 and 20:00h (closed on Tuesdays).
💰 How much: Tickets are priced from 5 EUR. Entrance is free on the first Sunday of every month.
💡 Pro tip: If you're keen on photography, come back during sunset or sunrise to see MAAT and the river in all their splendour.
💻 Website: MAAT
Largo de Camões (Camões Square)
Time to go back to Lisbon city center! If you come by train, get out in Cais do Sodré and go up Rua do Alecrim. You'll find the famous pink street – a nightlife hotspot – on your left.
Located in the convergence of Bairro Alto, Chiado and Bica neighborhoods, Largo de Camões (Camões Square) is a popular meeting spot for lisboners. The statue in the center is in honour of Luís de Camões, an iconic portuguese 16th century poet who wrote Os Lusíadas.
This square has everything a typical portuguese square should have: quaint architecture, patterned cobblestone pavement, trams passing by, coffee kiosks and several pastry shops selling pastéis de nata.
Don't miss out and do exactly as I say. Buy a generous dose of fresh-out-of-the-oven pastéis de nata (custard tarts) in Manteigaria (say hi to Daniel for me!) and take them as a reward snack to your final stop of the day, a miradouro. Thank me later.
Miradouro
One thing I use to say to anyone visiting Lisbon: whenever you see a sign with the word Miradouro on it, follow it. It will be worth it. Miradouro = viewpoint and in Lisbon viewpointing it's one of the best things you can do.
To finish off your first day there are 2 great but very different viewpoints close to Largo de Camões. I'll let you choose whatever you think suits you best.
Option #1: Miradouro de São Pedro de Alcântara (São Pedro de Alcântara Viewpoint)
This miradouro faces the east and north parts of Lisbon. It's wide, spacious and the pavement here has beautiful intricate patterns. There is 1 kiosk and some street vendors.
Getting here is easy. If you're facing the river in Largo de Camões, walk the road uphill that goes to your back (north). You'll pass Ascensor da Glória in one of the streets on your right – the viewpoint is right after it.
Option #2: Miradouro de Santa Catarina (Santa Catarina Viewpoint)
Smaller and more secluded viewpoint facing south and east. It attracts more hipster, hippie young crowds so marijuana scent is not uncommon. There's a kiosk, a terrace bar called Noobai and a statue of Adamastor, a mythological monster figure. It is a symbol of the adversities Portuguese navigators had to overcome during their journeys.
If you're facing the river in Largo de Camões, follow your right (direction west) on the street with tram tracks. You'll pass Ascensor da Bica in one of the streets on your left and take the next left. Walk until you see the viewpoint.
Again, both have great views over the city and are a great choice to finish off your day with a drink on your hand. That said, I would personally choose #2 during sunset simply because it's facing east.
Got a place to stay in Lisbon already?
Charmingly music-themed hotel, super close to the center. Oh it comes with this stunning rooftop swimming pool.
Book now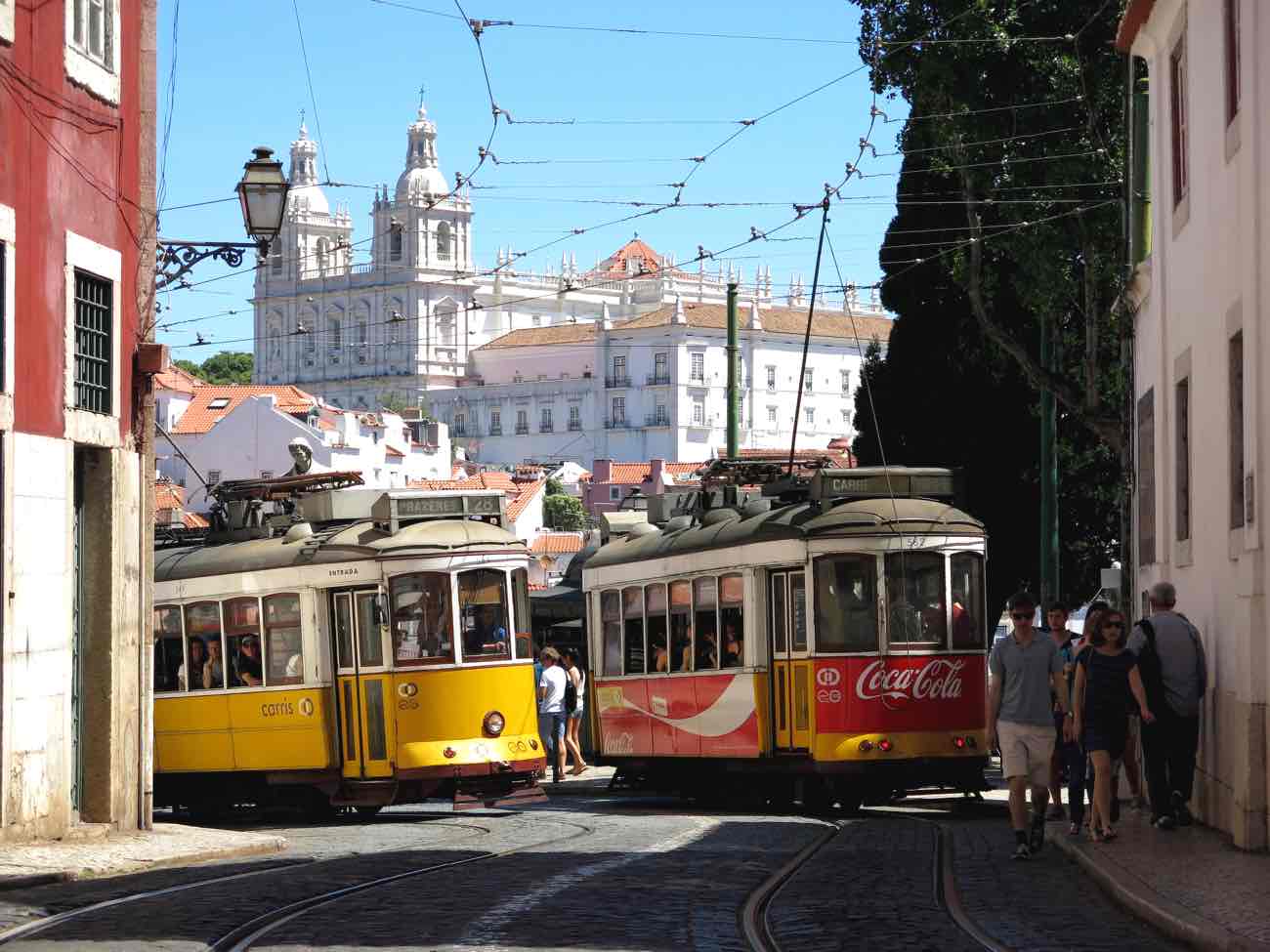 Lisbon Itinerary: What to see in Day 2
The second day is to dedicated to explore Lisbon's downtown. Prepare yourself to walk around a lot, got to make these days count!
Parque Eduardo VII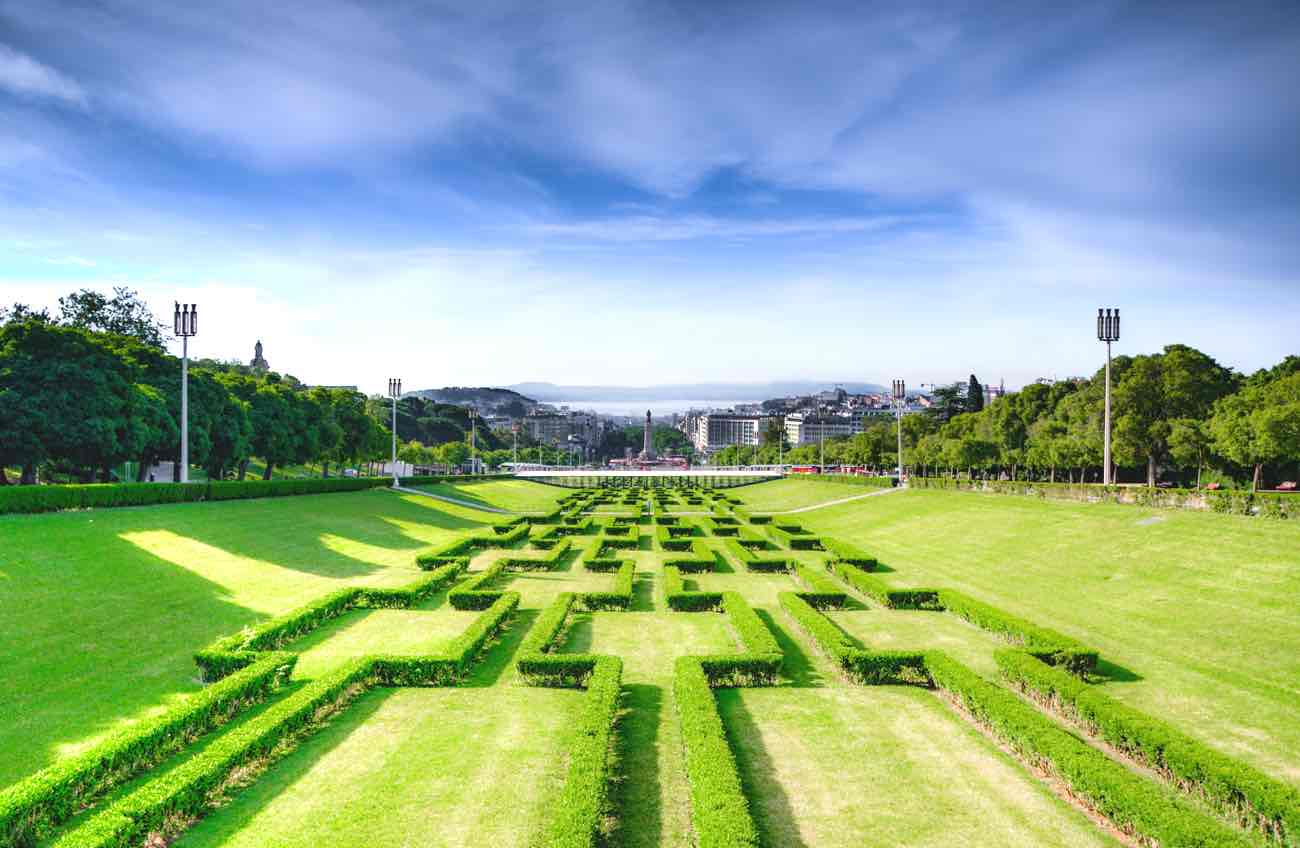 One of the green lungs of the city, Parque Eduardo VII is a popular go-to place for locals to walk their dogs, jog or just go for a walk away from the busy downtown.
The reason to come here though is the viewpoint. From there you can see a large part of the city put into perspective with vivid green labyrinthine gardens and with the river Tejo as a backdrop. Definitely worthy of a photo moment. What a way to say hello to Lisbon!
Avenida da Liberdade
Walk towards the heart of the city – Baixa – through Lisbon's most fancy avenue. Literally translated as Liberty's Avenue, this is where all the high-end boutiques, shops and hotels are located.
The avenue is pretty much all covered by trees and mini-gardens. Cafés with outdoor sitting scattered along the cobblestone pavement with intricate patterns are the perfect spot for a quick coffee break.
Elevador da Glória (Glória Funicular)
Further down next to Restauradores, the Elevador da Glória is one of the 3 funicular railways in Lisbon. Working since 1885, it provides a quick way for tourists and locals to go up the hill to Bairro Alto. The bright iconic yellow of the vehicles make a photo opportunity, but it's a shame all they have been vandalized by stupid graffitis.
You can buy a ticket to the top, but paying almost 4 euros for a 3-min noisy jam-packed ride seems the definition of overpriced to me. Wouldn't consider it a "must-go", in fact, this is borderline a tourist trap to me!
Rossio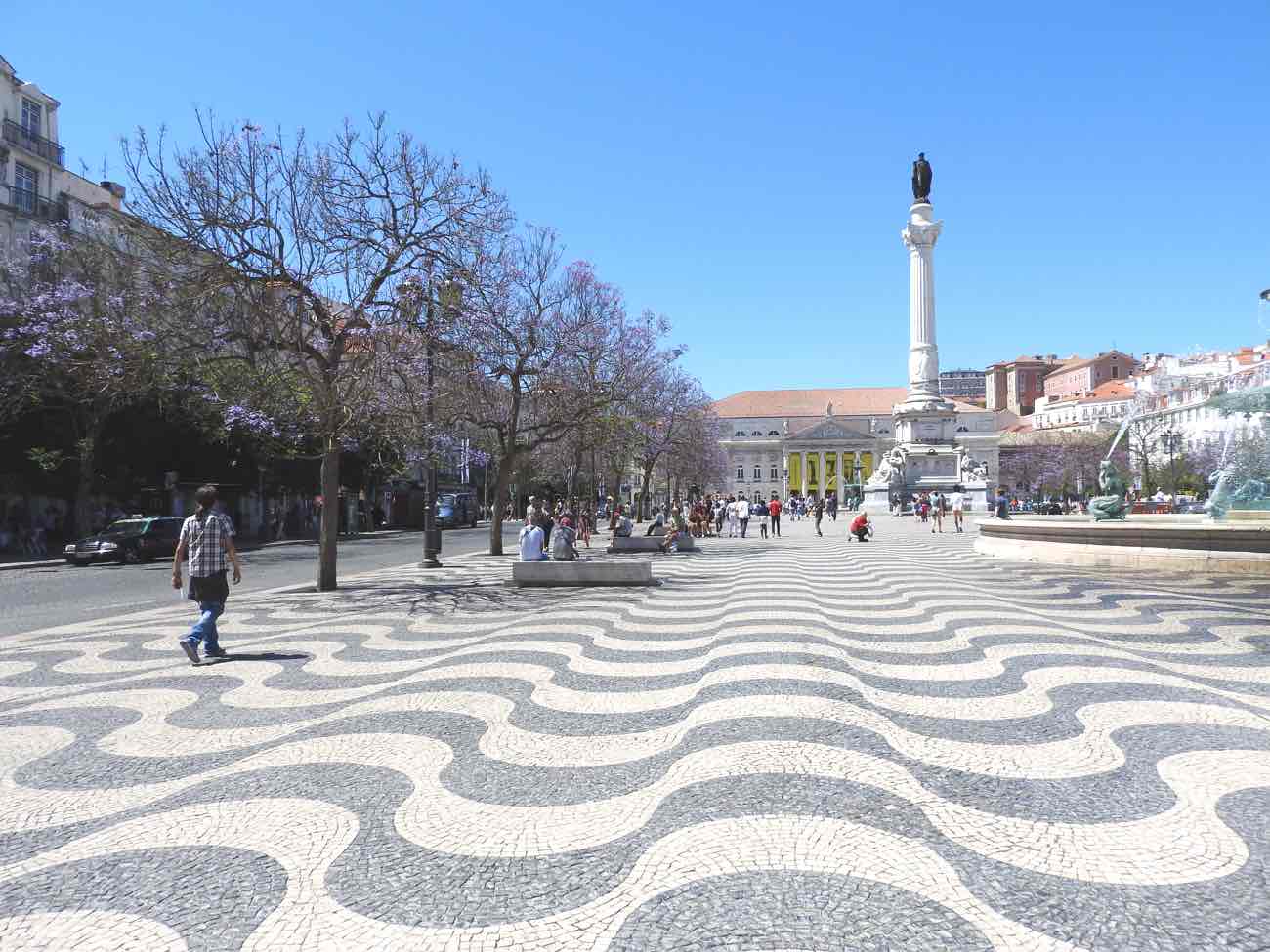 Also known as D.Pedro IV square, Rossio is the very heart of Lisbon. It's here that workers protest against the government, where college freshmen take a bath in the fountains as an initiation ritual where and tourists eat overpriced meals in outdoor sitting.
During the 19th century, the whole square was paved with the typical calçada portuguesa (portuguese cobblestone pavement) which created an interesting wave-inspired dizzying effect on the floor.
Rossio has 2 little attractions that will make you smile:
An unique public mirror.
Engraved on a mirror in number 115 of the square there's the inscription Componha aqui o nó da sua gravata". Translates as something like: "Correct here your tie's knot".
An unique drink.
Ginjinha is the most famous portuguese liquor is obtained by infusing ginjas (sour cherry) in alcohol, typically aguardente. You can choose to drink yours com ela (with the berry) or sem ela (without) in the very traditional A Ginjinha (Largo São Domingos, 8). This is a true hidden gem in Lisbon!
Convento do Carmo (Carmo Convent)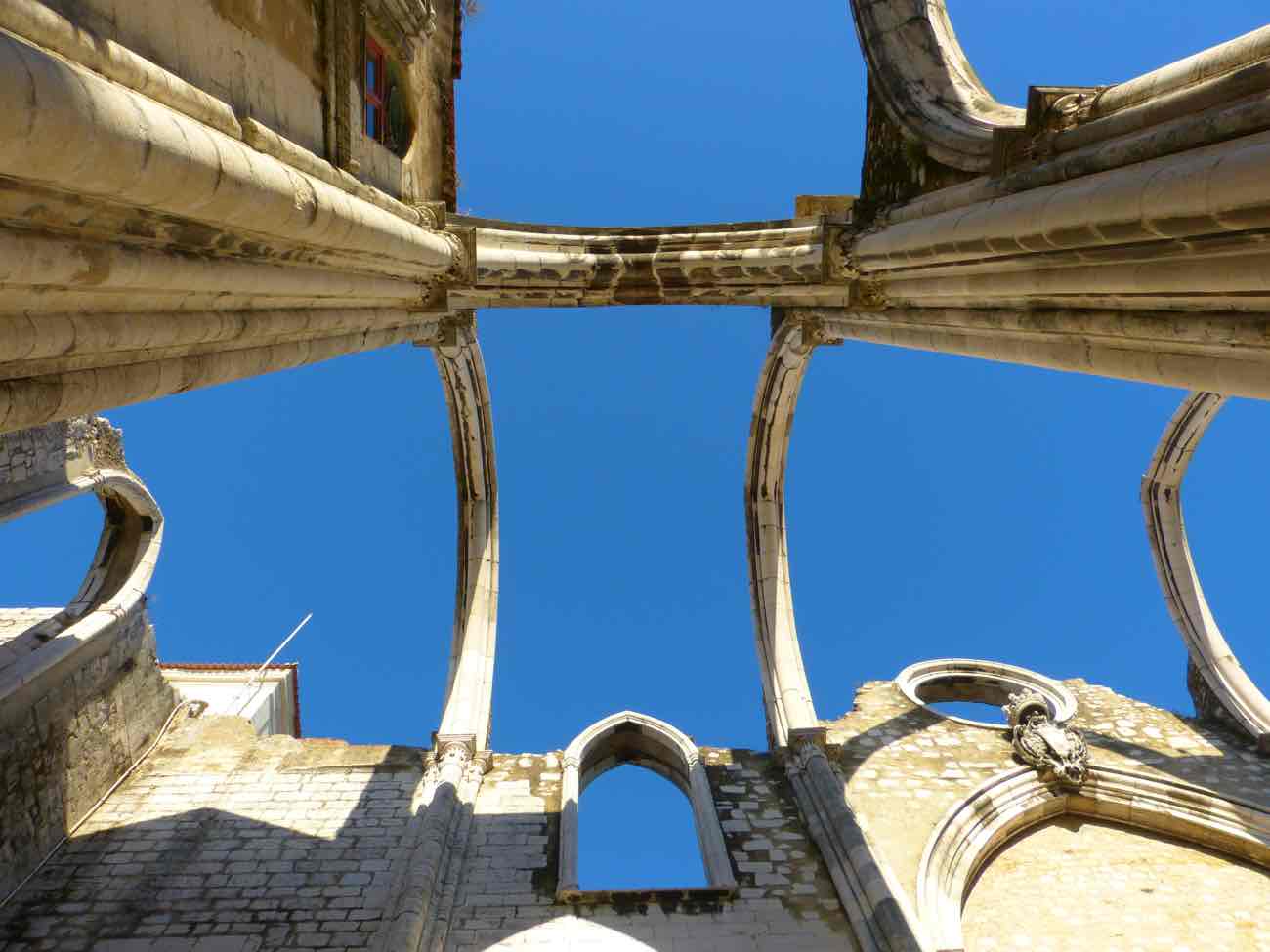 Destroyed by the massive 1755 earthquake like 85% (!) of the buildings in Lisbon, this Gothic church has recently reborn to shine from the top of Carmo hill.
They decided not to rebuilt it and keep the haunting ruins as a memorial to remind people of what happened. That's why the church is roofless – something you don't see everyday. A great place to take a fisheye photo or use a GoPro.
Overall this is a rather small sight, but a relaxing break from the hustle of the city. There's a square/terrace in front where you can grab a drink amongst the ruins. Talk about bringing history to life!
Tips for Convento do Carmo
⏱ Hours: Open during peak season between 10:00 and 19:00h.
💰 How much: As per 2019, the standard fee to enter the monastery is 4 EUR.
💻 Website: Convento do Carmo
Elevador de Santa Justa (Santa Justa Lift)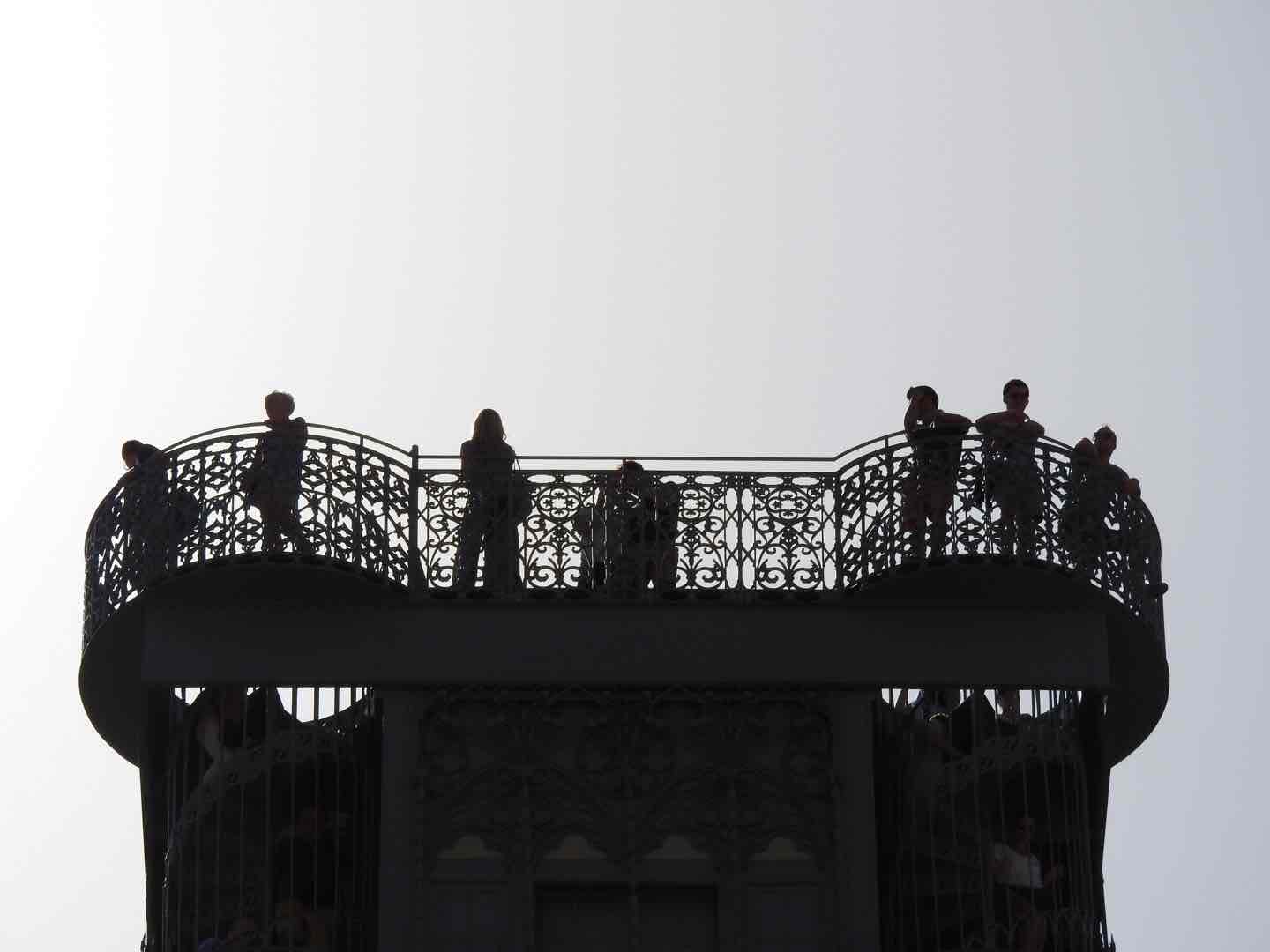 Santa Justa is a crafted ironwork elevator built in 1902 to connect Carmo Square with the lower streets of Baixa. At the time, this lift was a major innovation and a symbol of the Industrial Age throughout Europe.
With time, the lift has evolved from a functional machine to become a unique attraction. There's an observatory platform with panoramic views.
Although this viewpoint has the perspective advantage of being located exactly in the heart of the Baixa district, the views from Rua Augusta Arch are slightly superior in my opinion.
Plus, I can't really understand the idea for queuing for an hour just for a 20-second lift. Specially when there's FREE access to one of top floors through Carmo (see box below).
Tips for Elevador de Santa Justa
⏱ Hours: Open every day between 7:00 and 23:00h.
💰 How much: As per 2019, the fee is 5,15 EUR for the lift return ride. However, there's a FREE staircase access to one of the top floors via the Carmo Convent. From there you can access to the top platform via a staircase with no queuing.
💡 Pro tip: Using the entrance next to Carmo ruins will save you time and money!
Arco da Rua Augusta (Rua Augusta Arch)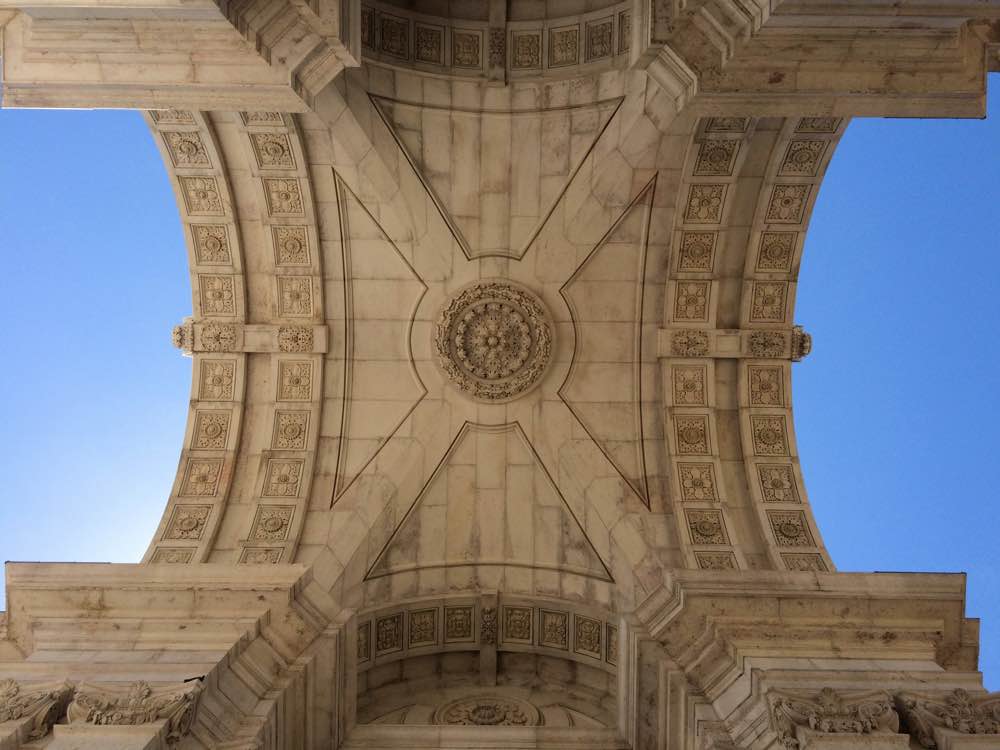 A different angle to Arco de Rua Augusta in Lisbon.
Arco da Rua Augusta (Rua Augusta Arch) is located at the southern end of Lisbon's busiest pedestrianized street. This white ornated triumphal arch is the ultimate symbol of the rebirth of a new Lisbon after the 1755 combo tragedy when an earthquake + fire + tsunami destroyed most of the city.
The structure was only completed in 1875 and it contains several intricate marble sculptures of historical figures including Vasco da Gama (who discovered the sea route to India) and Viriatus (who resisted the Roman conquest of Portugal).
The arch is majestic from every angle, but it's from the top where there is more potential to dazzle. And surprisingly there are rarely queues to go up! From there, you can expect amazing 360° views of downtown Lisbon, including Alfama, São Jorge Castle, Carmo Convent, the river and the Comércio Square just below.
Tips for Rua Augusta Arch
⏱ Hours: Open every day between 9:00 and 20:00h.
💰 How much: The ticket to go up the arch is 3 EUR.
💡 Pro tip: If possible, choose a sunny clear day to go up. You'll see the river and every marble stone reflecting the sunlight – gorgeous!
Praça do Comércio (Comércio Square)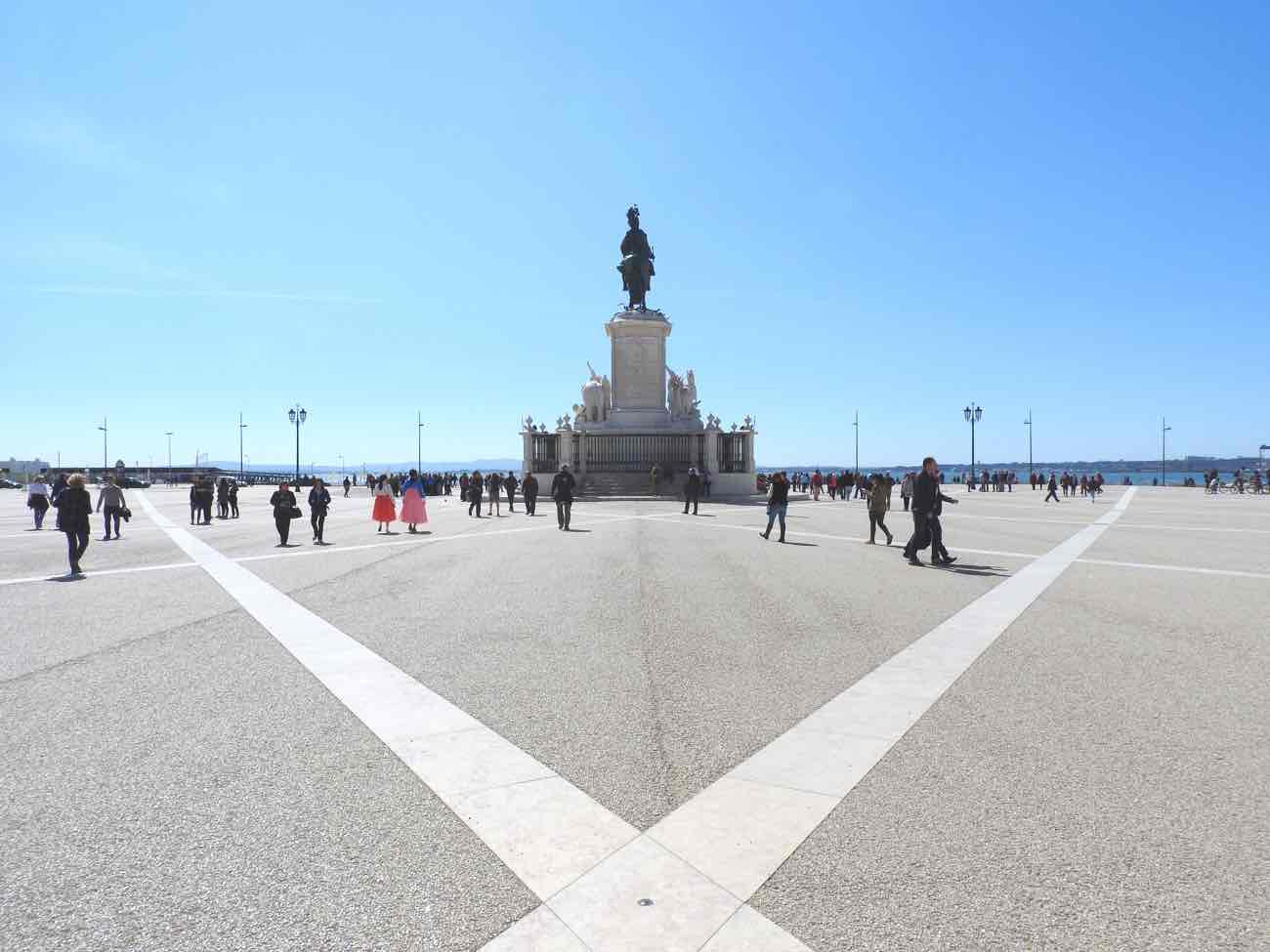 The Praça do Comércio (Comércio Square) is the grandest of the squares in Lisbon and one of the largest in Europe. Historically this was the gateway to the city, where goods from the colonies were traded. Still today has the particularity of facing the river Tejo directly.
There are several points of interest in Comércio Square:
The Rua Augusta Arch, on the northern end
The café Martinho da Arcada, a favorite from legendary portuguese writers like Eça de Queiroz and Fernando Pessoa.
Lisbon Story Centre, a museum dedicated to the story of Lisbon – can't comment as I've never been
A 14-meter statue of King Jose I depicting him on horseback
Cais das Colunas, a popular relaxing spot on the southern end of the square
I love everything about this place. It's wide open, the yellow buildings all around are beautiful and is also one of the brightest places I've been. Kind of weird to say, I know, but it's true. Not only Lisbon has a lot of sunlight already, but here everything's brighter – the marble, the floor, the river – so don't forget your sunglasses!
Ribeira das Naus
The Ribeira das Naus area was where most of the Portuguese explorers' ships were built during the 14th-16th century period. After being abandoned for many years, a recent regeneration project wanted to "give back the river to Lisbon's citizens".
A completely new riverfront promenade was born and was an immediate hit for locals and visitors who come here to read, cycle, jog or just relax. Don't get too excited though, swimming is not allowed (and not recommendable either).
Finish off your second day with a drink and a view. There's a small kiosk with a live music, sun beds and a looong happy hour. It's one of my personal favorite spots in Lisbon so if you see me there say hi! 👋
Seeking a place to stay in Lisbon? Search no more! (2/2) ⭐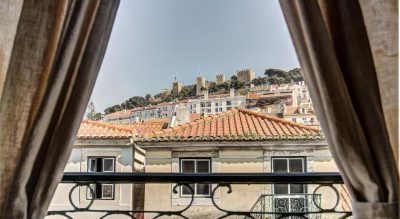 Located in busy Rossio – the heart of Lisbon – it's just one of those amazing value places that will make you feel at home. Perfect to make friends. Book now
Lisbon Itinerary: What to see in Day 3
Final day of this itinerary. I've picked a completely different area to show a futuristic and modern side of Lisbon that many leave without experiencing.
To enhance this feeling of contrast, the afternoon is dedicated to the most traditional district of the city. To finish it off your trip, the most gorgeous panoramic view in Lisbon.
Parque das Nações
This is the modern area of Lisbon: a huge contrast from everywhere else in the city. That's exactly why I think is worth a visit. Many leave without getting to know this avant-garde perspective of the portuguese capital. All the buildings here were built for the Universal Exhibition of 1998 (Expo'98), including the showstopper Gare do Oriente.
While there is a strong business feeling around, with loads of rushed businessmen heading to their next meeting, what I love the most is walking on the plank walk next to the river. It's utterly relaxing and the views over Tejo on one side and a rather dystopian side of Lisbon on the other are stunning.
Literally emerging from the water, Oceanário is one of Europe's largest indoor aquariums. With a total of 16k animals – including extremely high levels of otter and penguin cuteness – is likely the best kid-pleaser attraction in the city.
Baixa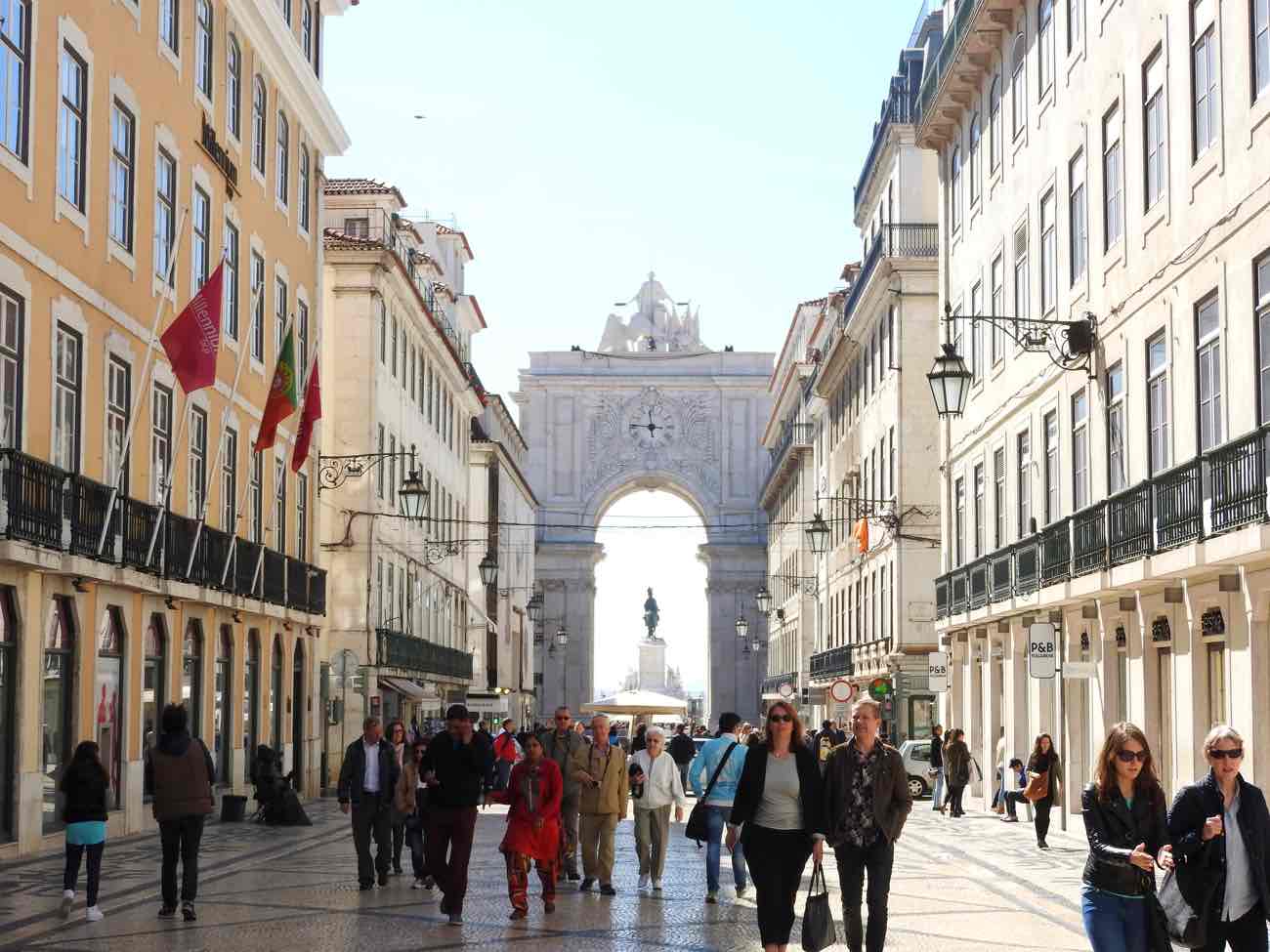 Contrasting to the rest of the city, the downtown area of Lisbon – Baixa Pombalina – has ordered streets and majestic buildings all around. Envisioned by Marquês de Pombal (hence the name) after the 1755 earthquake, it consists of 7 lined streets, 3 magnificent squares, and 1 triumphal arch to create the perfectly balanced city plan.
This area is usually where visitors spend more time. If you're a fan or architecture, the whole district is a delight to walk around but you may find it too touristy. These days there's a huge concentration of souvenir shops, human statues and overpriced restaurants (seriously, do NOT eat there!).
Oh about the men offering "hashish" – just say "No", avoid making eye contact and go on with your life.
Sé Catedral de Lisboa
Lisbon's Cathedral was built right after the first King of Portugal – D. Afonso Henriques – conquered the city to the Moorish in 1147. He wanted an immediate symbol of Christianity as a definite proof of his victory.
Almost 1 millennium later and having survived fires and several earthquakes, the Sé still stands as a highlight in the landscape of Alfama district. Yes, it suffered many architectonical changes and refurbishment works along the centuries but I personally think it's still a charming building where history is truly alive.
Tips for Sé de Lisboa
⏱ Hours: Open every day between 9:00 and 19:00h.
💰 How much: As per 2017, the entrance to the cathedral itself is free. There is however a fee to enter the treasury and the cloister (4 EUR).
💡 Pro tip: Walk instead of taking the tram #28 as every other tourist in town. There are many pickpockets aboard and walking is often much quicker than waiting on the queues.
Sé Catedral contains the remains of São Vicente, patron of Lisbon. According to the legend, 2 crows accompanied his burial to the cathedral. At the time, crows could be found everywhere and were even used as pets by merchants. In honour of the patron of the city, they were all named Vincent. All of these crows have disappeared and today can only be found in the city's official coat of arms.
Alfama district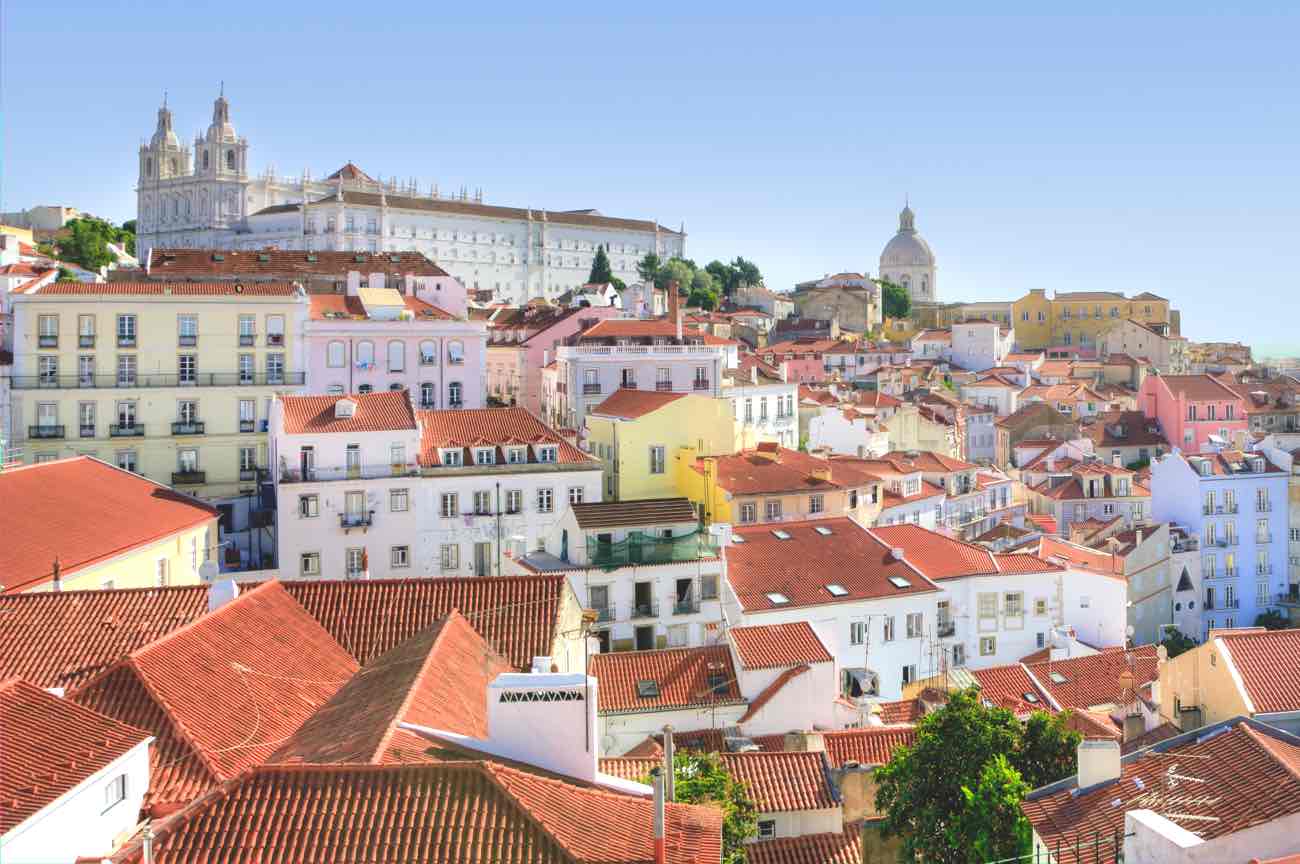 In essence a delightful maze of narrow cobblestone streets, Alfama is the oldest district of Lisbon. Inhabited since Moorish times – when it was an upper-class residential area – it occupies a rather large area between the Tejo river estuary and the castle uphill in the southeast of the city.
Even though it's now an entirely AirBnB-packed area, it is an opportunity to get a glimpse of what Lisbon once was. Wandering through the cobblestones streets, it's still possible to find kids playing soccer, neighbors chit-chatting, or get delightfully lost and end up in someone's backyard.
Don't miss on some of the best views: Miradouro de Santa Luzia or my favorite Miradouro das Portas do Sol. Take it easy, grab a beer or a glass of wine and enjoy the view over the tiled roofs of Alfama with the Tejo on the background.
In Alfama, you can find some of the most important buildings in Lisbon:
Panteão Nacional: majestic building where many of the important figures of Portuguese history are buried. And Eusébio, a soccer player (does this makes us a country obsessed with soccer?).
Sé Catedral: Lisbon's main cathedral which has been around for 900 years.
Castelo de São Jorge: next on this itinerary!
ℹFestas de Lisboa
During the Santos festivities in June, Alfama comes to life with noisy street parties and open-air restaurants serving fresh sardines and grilled meats.
It's my favorite time of the year in Lisbon: everyone is smiling and up for good fun. Check Festas de Lisboa website for more info on what's going on.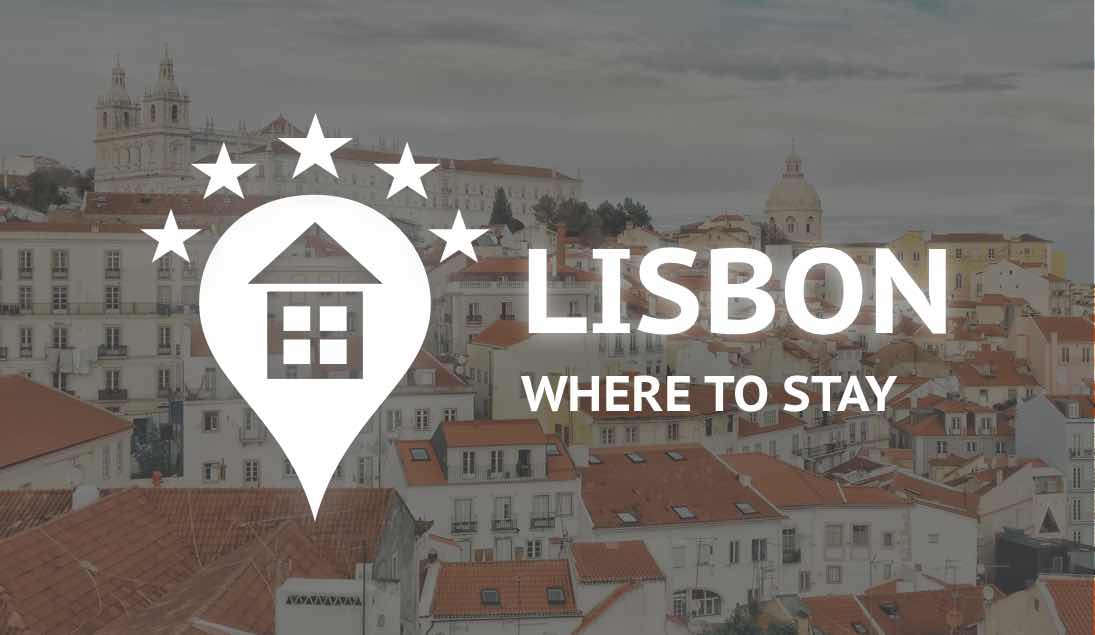 Top hotels in Lisbon
I've made the hard work for you.
This is a pre-filtered list of hotels in the best areas to stay in Lisbon.
Castelo de São Jorge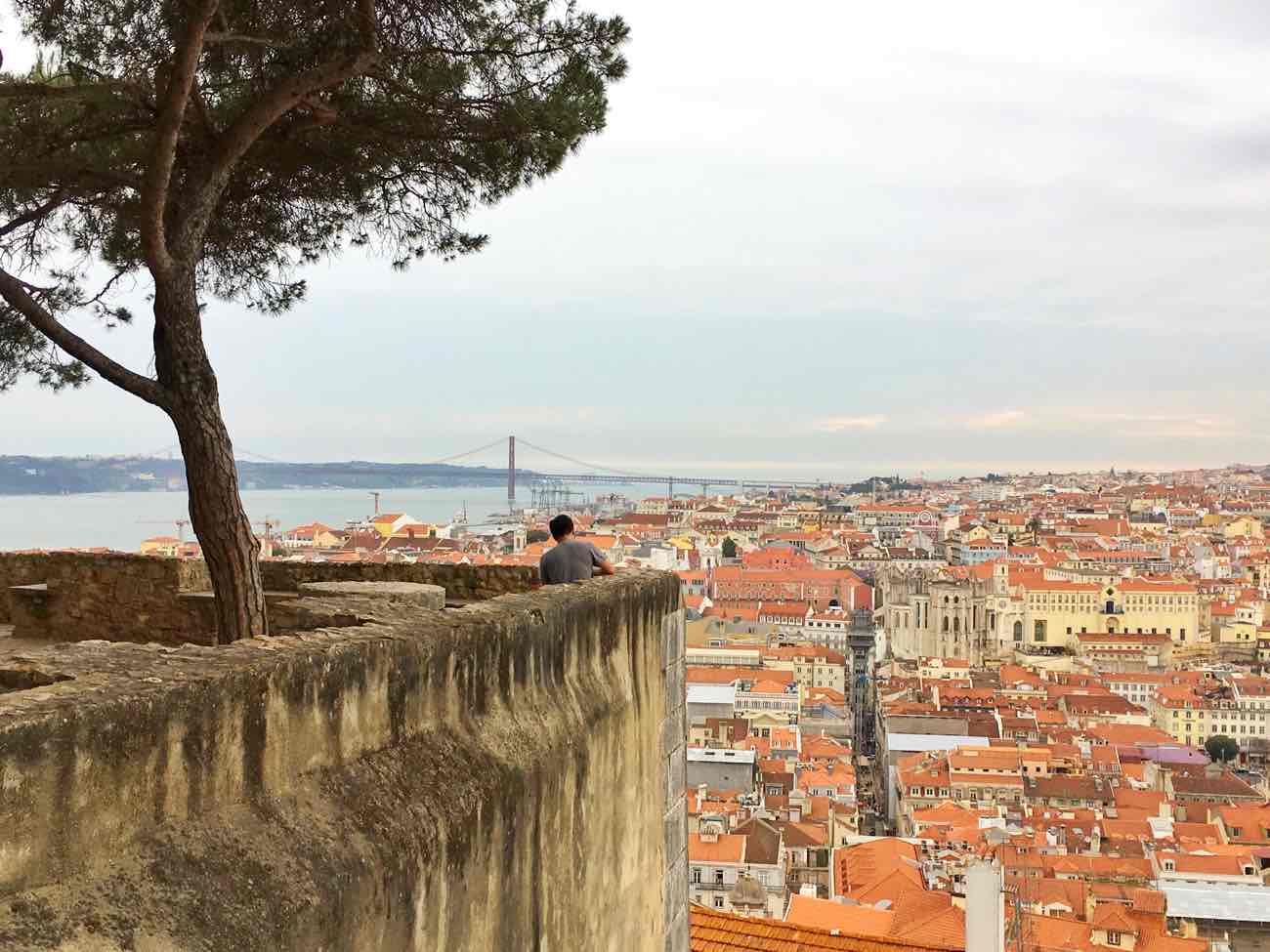 Standing on top of the highest hill in the city, it's impossible to overlook Castelo de São Jorge. Being a vantage point of excellence was exactly the reason why it been used as a defensive position by everyone in the past: Romans, Phoenicians, Visigothic, Moorish and Christians.
During the 10th century, the fortifications were rebuilt and strengthened by the Moorish who used Lisbon as an important trading port to North Africa. The Christians later reconquered Lisbon during the Second Crusade in 1147, taking the castle.
Gonna be honest: the ruins are NOT the strongest point of this site. Don't get your expectations too high. But the "go-back-in-time" feel and the open view over Lisbon are definitely worth it IMHO. The standard ticket fee is 10 euros in 2019 and it's open until 21:00 during peak season for everyone to enjoy a memorable summer sunset.
How to get to São Jorge castle
Getting to the top of the hilltop requires a decent fitness level. If you're following this itinerary, it should be a 10/15 min uphill walk from Largo das Portas do Sol. If you're not up for it here are some other options:
Walk: Going all the way up is not for everyone, but there are 2 public lifts that cut off a lot of climbing time from Baixa. One is in Rua dos Fanqueiros, 176; the other one next to Pingo Doce supermarket in Largo Chão do Loureiro.
Bus: Bus #37 from Carris departs from Praça da Figueira and goes directly to the main entrance of the castle.
Tram 28: Avoid it. It's a much more quaint ride, but there is still some walk, pickpockets and long queues involved.
I used to recommend the iconic yellow tram #28 as one of the best things to do in Lisbon. Not anymore. In recent years, the experience has downgraded: there are up to 1h30 waiting times and the tram itself is uncomfortably packed with people. Plus, it's a paradise for pickpockets. Beware.
Miradouro da Nossa Senhora do Monte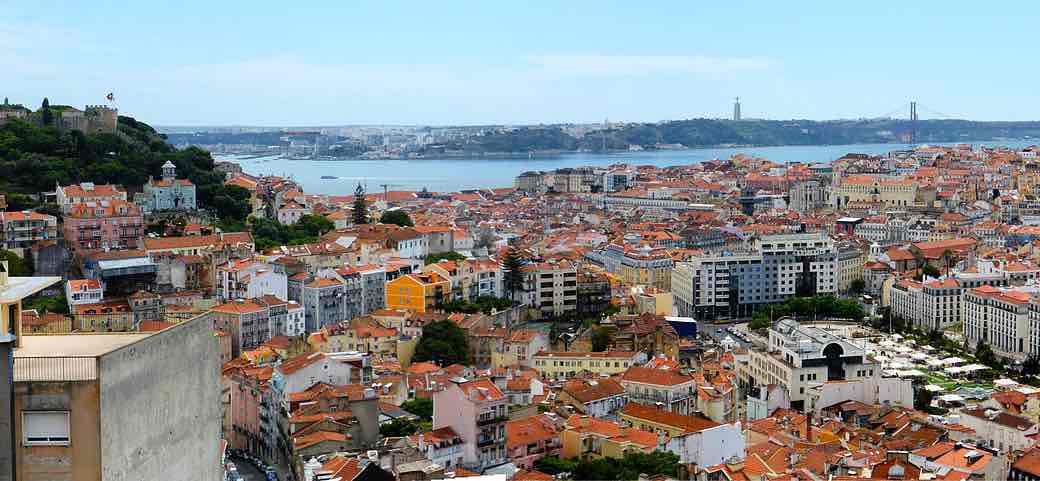 The good news: this viewpoint has the most amazing view over Lisbon. You can see pretty much the entire city, including the castle on the left, the Baixa and Chiado districts down below. And of course, the river as a backdrop. A killer Instagram update.
The bad news is that is still a good 15-20 min walk from Castelo, with a considerable part being uphill. If you are too tired for the day and don't feel like walking that much, Miradouro Sophia de Mello Breyner Andresen (also known as Miradouro da Graça also has a beautiful view and is much closer.
In any case, there's no better way to end your time in Lisbon!
Where to stay in Lisbon, on a map:
Lisbon Itinerary: Tips for extra days
In case you have extra time in Lisbon – I highly recommend you do – check my article about the best Lisbon day trips.
Or read on to know Lisbon's hidden gems and places.
Sintra
Definitely my #1 recommendation if you have an extra day in Lisbon. Described by many poets and writers as a "fairytale village", Sintra has a timeless and glamour vibe.
I didn't include it in the itinerary on the first place just because I feel it deserves a full day (maybe squeezing in Cascais as well). However if you're more of the nature type and are prepared to rush a bit, you can even replace Parque das Nações with a morning in Sintra.
Tips for Sintra
⏱ How long: Sintra is worth a full-day trip as there are a LOT of things to see. Yet, you can combine it with a visit to Cascais and Cabo da Roca – Europe's westernmost point.
💡 Pro tip: Unless you plan to visit other places in the area like Cascais, you DO NOT need a tour to visit Sintra. Simply take the train from Rossio station. It's a 40-min ride.
Costa da Caparica
If you're craving some sun, you'll be glad to know Lisbon is very close to beautiful Atlantic beaches. Perfect for a beach day trip.
The easier to get to in public transportation are in Estoril and Cascais, but if possible, hop on a bus or a car to Costa da Caparica or Meco, where huge golden strips of sand await you. Have a look at my full review of the beaches near Lisbon.
Príncipe Real
This is the hipster and trendiest area of Lisbon. This is where you'll find alternative bars, gay bars, second-hand shops as well as vegetarian/vegan/gluten-free/organic/kosher/whatever places to eat. You get the idea.
Lots of good restaurants – maybe slightly overpriced compared to the rest of the city though – and lots of bars to hang out during the evening.
Unique museums
Lisbon is home to some very unique museums. I didn't include them in this itinerary because they can be time-consuming, but they're still worth a visit!
My top suggestions are Museu do Azulejo, in Santa Apolónia and Museu Nacional dos Coches and Museu Berardo, both in the Belém district. The latter has an impressive collection and is the go-to place for Lisboners for a cultural top-up.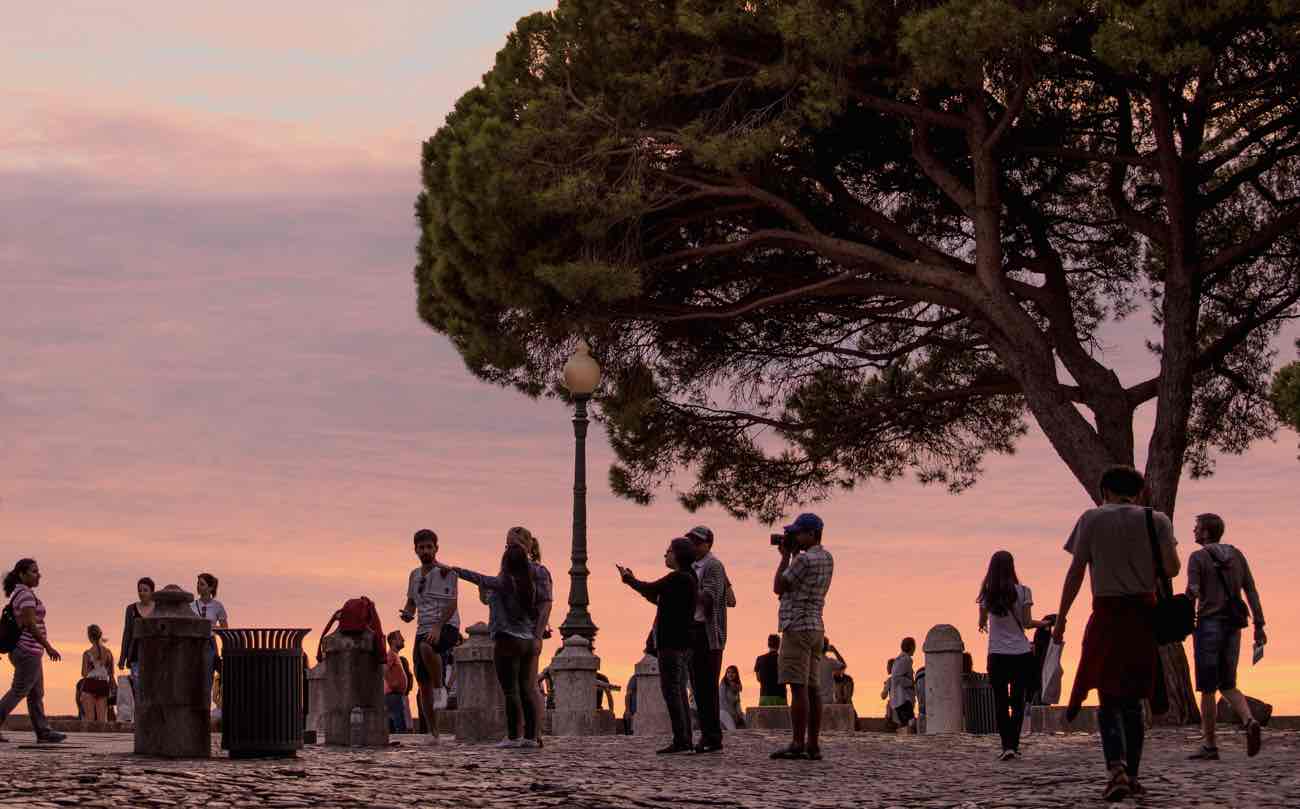 Where to stay in Lisbon
Lately, many buildings in the old neighborhoods in Lisbon have been refurbished to serve as accommodation for tourists on Airbnb. As a result, the flat offer locals is now much smaller and the rents are unbearable for Portuguese standards.
If possible book a hotel via Booking.com which does not have an impact on the local housing market.
Staying in any area in the "central axis" of Lisbon is absolutely a great choice in terms of shops, restaurants and transports. Look for areas like São Sebastião, Marquês, Príncipe Real, Avenida, Restauradores and Baixa.
Use this list of quality hotels and guesthouses I've put together to get you started. ALL of these are located in the best central areas of Lisbon, with WiFi and with a rating of 8 or higher.
Or have a look below at my top 2 recommendations.
Value-for-money hotels in Lisbon 💰
Charmingly music-themed hotel, super close to the center. Oh it comes with this stunning rooftop swimming pool.
Located in busy Rossio – the heart of Lisbon – it's just one of those amazing value places that will make you feel at home. Perfect to make friends.
Insider tips for Lisbon
Avoid taking taxis, specially if you've just arrived to Lisbon. There are far more reliable scam-free options to get to the city center.
"Drug" dealers in Baixa are completely harmless. In fact most of them don't even sell real drugs. Say no and go on with your life.
Start off your days portuguese style with a café (coffee) and a pastel de nata (custard tart) in any coffee or pastry shop. Repeat after lunch and dinner, if desired.
Whenever you see a sign saying miradouro, follow it. You'll be rewarded with great views.
Couvert items in restaurants – olives, cheese, bread, etc – do not come for free. In fact they can be overpriced. If you don't want them, just say no as soon as the waiter comes.
Do NOT eat in any restaurant with hawkers inviting you in. While in some the food is actually not that bad, others can be a tourist trap. This is specially true in Rua das Portas de Santo Antão.
Tipping is completely optional. You do it only if you think your service was far more than expected.
My travel tips valid anywhere
If you've used this Lisbon itinerary, please share your feedback below! What did you enjoy the most?