Porto is the ideal placae for a weekend trip and to get a great dose of culture, architecture and top-notch food and wine all in one. I hope this Porto city guide gives you the necessary insider advice for amazing days in the city!
The unique sweetness of world-famous Port wine has been putting Porto on the spotlight of wine lovers for many years.
But this city is much more than good wine.
It might be the second-largest city in Portugal but it feels much more authentic and traditional in comparison to Lisbon. Plus it has the ideal size to create a bubble boasting with lively culture, great tasty food and inspiring architecture.
So the first message is simple. If you're considering if Porto is worth visiting…go for it. I'll bet it will surprise you!
Sections of This Porto City Guide
Top 3 Places To Go In Porto
It's really hard to keep the list so damn short, but here you go!
Lello Library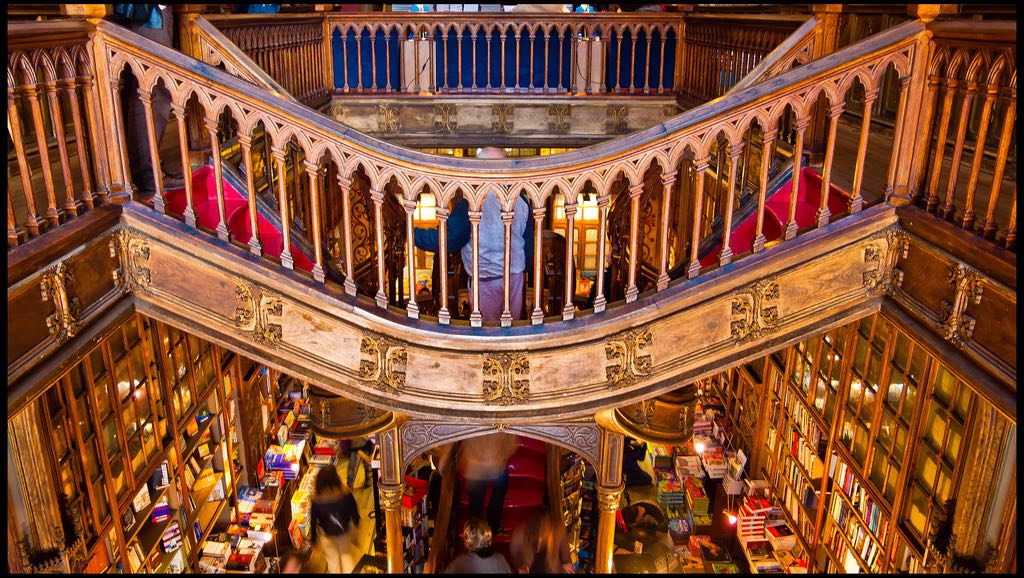 With a building that is a piece of art by itself, Livraria Lello & Irmão is the oldest bookshop in the world. Make sure you enter there just to experience the impressive wooden ceilings inside and the famous red art noveau staircase. It somehow looks like a vagina from above – sorry, someone has to say it! – but it's so cool I used it for one of my Porto article covers on Pinterest.
Rumour has it that this place was the inspiration for JK Rowling to write about the Hogwarts Library in Harry Potter. Actually even the Hogwarts costumes seem to have been inspired by typical portuguese students' outfits!
Ribeira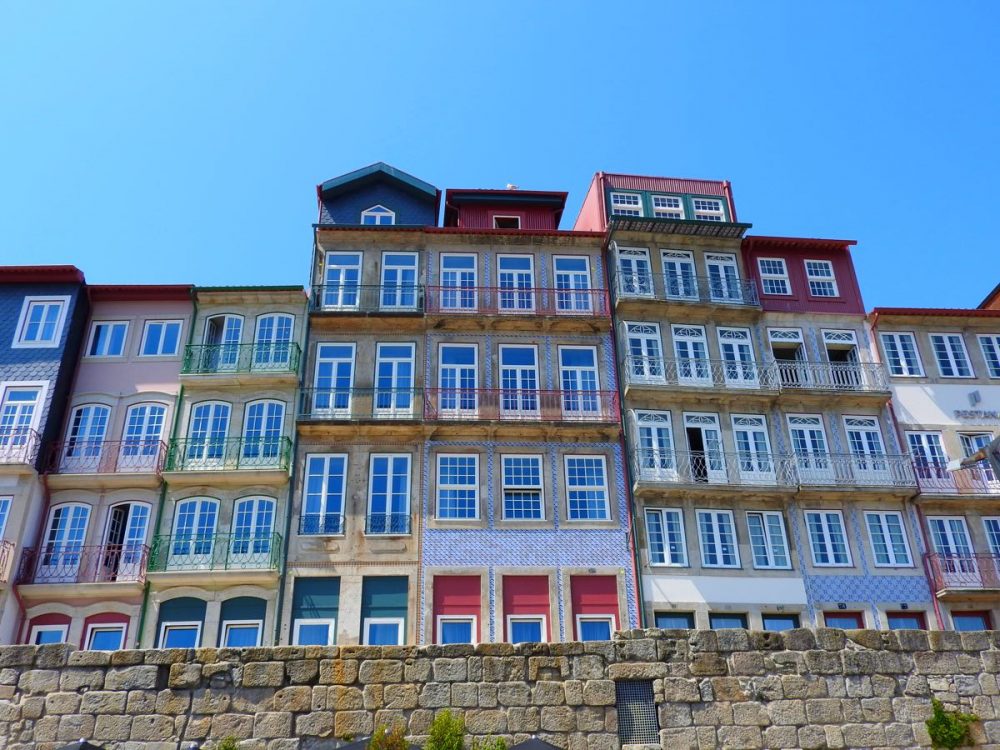 The most traditional neighborhood of the city is Ribeira right next to the river Douro.
Bearing World Heritage status, it's easy to fall in love with the tiny streets where you can indulge on local's lifestyle. Housewives putting their laundry out to dry on the balconies, the chit-chatter of the men in the local bar and kids playing football outside.
Not only this is Ribeira, it is the soul of Porto.
Dom Luís Bridge
If I had to choose a picture to define Porto as its most iconic postcard, this is it. The entire landscape is dominated by this ironwork masterpiece by a Gustave Eiffel's student. You can definitely feel Eiffel's hand on this.
Make sure you cross the bridge on foot both in the bottom and upper platforms. The upper one is not for the fainthearted though, specially if it's a windy day!
Just after you reach the other side – Vila Nova de Gaia – there's a small park to your right. If you can time your visit to see the sunset from there, prepare yourself to a magnificent moment.
Top 3 Things To Do In Porto
In such a naturally gifted place, outdoor activities should be on top of your priorities.
Go On A Cruise
There are cruises departing daily from Cais de Gaia that go upriver to Douro wine region. There are day trip cruises all the way up to one-week long rides for the most fierce wine and/or nature lovers.
In any case, the landscape is the selling point. Steep terraced vineyards dotted with quintas (farms) are a recipe for a very chilled day.
Learn More About Wine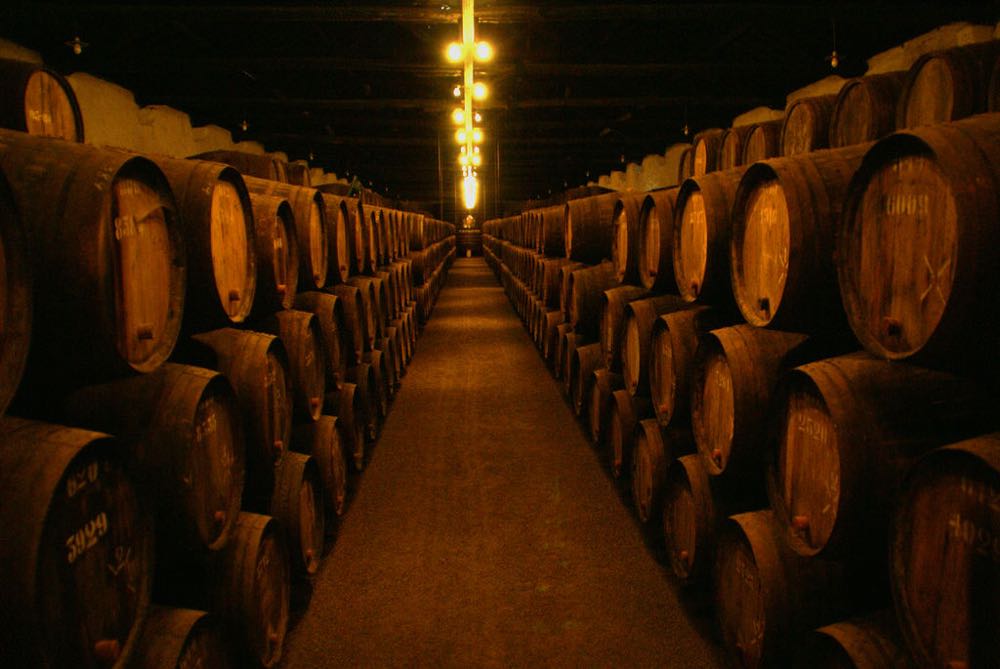 Let's start with the basics. The Douro wine region is one of the oldest demarcated wine regions in Europe and it's most famous for the Port wine. Sweeter and stronger than general wines, it's generally drank as a dessert wine.
Despite the somehow spooky experience – there are bats flying around – visiting the Port wine cellars is one of those experiences everyone must have in Porto. Not only you get to see the huge warehouses in which the barrels are kept but also you get to learn about the different types of grapes and vineyards, how to drink the wine from your glass and everything in between. Fascinating.
Most of the cellars stand uphill in Vila Nova de Gaia, just across the river, and make themselves visible from a long distance, with their names displayed in giant signs.
Most popular port wine cellars in Porto
Cockburn
Croft
Sandeman
Taylor's
Always remember: life is too short for cheap wine.
Go Out For Drinks In A Stylish Place
One of the things I enjoy the most when I'm in Porto is to go out for a drink. Going out to Galerias is very popular with locals and tourists on the weekends. These streets have the higher concentration of cool bars and discos I've seen.
I'm not talking about booze bars or Irish pubs. Like most of new architecture in Porto these are stylish and the best of all: with affordable prices! You can choose to stay inside or drink outside in the street, if the weather allows.
Best bars to go out in Porto
CaipiCompany. Start your evening with a fruit-based caipirinha.
Champanheria da Baixa. Boho-cool ambiance where the champagne is king.
Galerias de Paris. Once a fabric shop, this place was kept almost intact and is now a super cool bar and restaurant.
Plano B. With a full-on retro look, it's of the most iconic discos in Porto.
The Wall Bar. Great for either a quick glass of wine or a stylish night out with friends.
If this ain't enough, Hotel Malaposta has an interesting selection.
Best Time To Visit Porto
As a general rule, weather in northern Portugal is a bit more greyish and cold than in the rest of country. However, if you time your visit to anywhere between May and October, you should face more than acceptable temperatures and a majority of sunny days.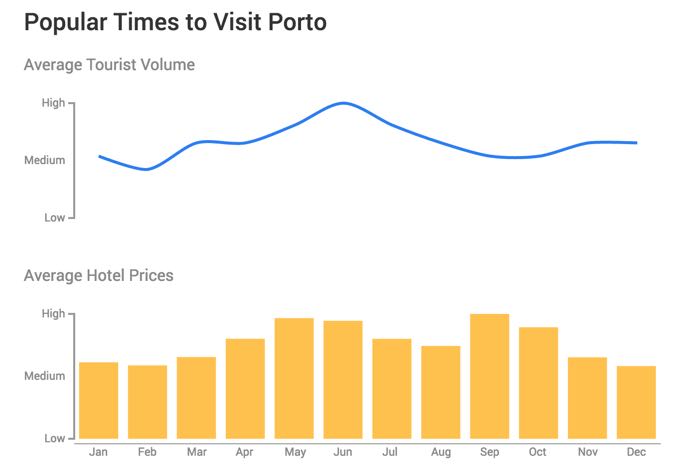 Of course choosing the best time to visit Porto is more than just looking at the good weather. I highly recommend you visit during São João, probably one of the and largest craziest street parties in Europe!
São João Festival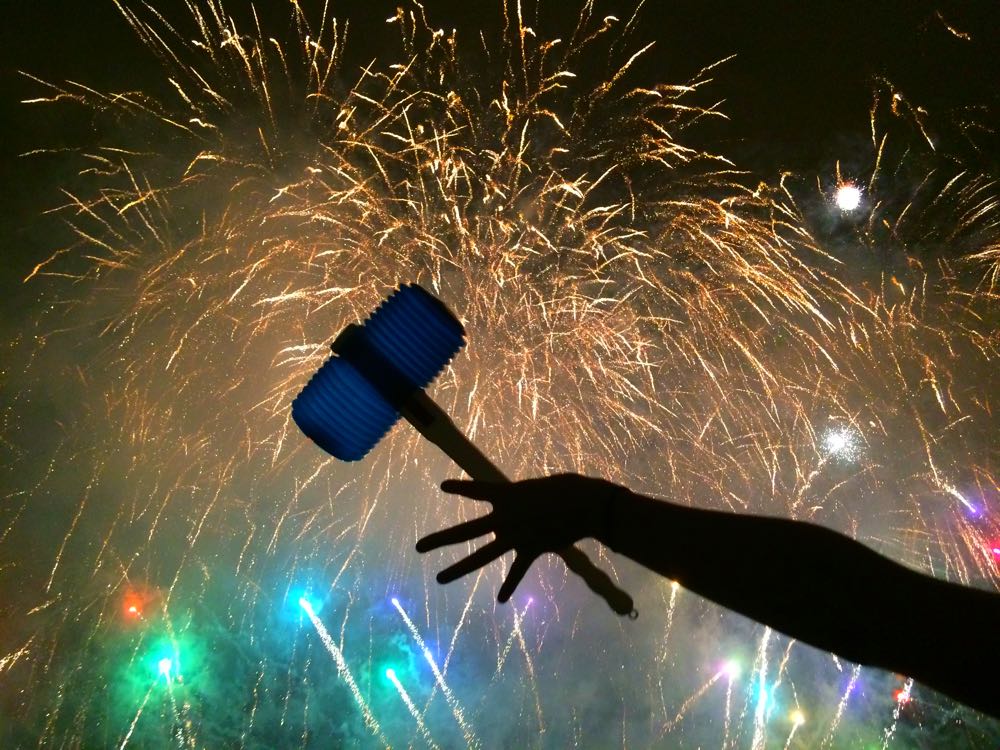 Most towns in Portugal celebrate their local holidays in honour of saints, with loads of fireworks, stalls and street parties involved.
It happens to be that São João (Saint John) is the patron saint of the city and one of the postcards of Porto.
São João do Porto festival happens every year in the night of the 23rd to 24th of June. The whole city goes out to the street and it's guaranteed partying and dancing all night!
What to do during São João in Porto
Have a local dinner. Go for one the improvised street restaurants and have delicious grilled sardines.
Watch the huge fireworks show in Ribeira at midnight. Seriously, don't miss it. Surely one of the best I've seen in my life!
Hit on each others' heads with plastic hammers. Expect to hit and get hit obviously.
Light up a paper lantern. And make a wish.
Dance and party. The portuguese traditional popular music is catchy!
Buy a little manjerico. The little basil plants are the perfect gift.
Food in Porto
It's time to loosen your belt. No, seriously. Food is a standalone reason to visit Portugal but in Porto things get even better. Food in northern Portugal is quite meat-based, but you still can find lots of fish and healthy stuff.
Apart from superbly seasoned food made with the best regional produce, portions are HUGE and prices are borderline ridiculous. You can easily grab a lunch menu for less than 6 euros. And if you're having a dinner for more than 20 euros, well it better be a very good one!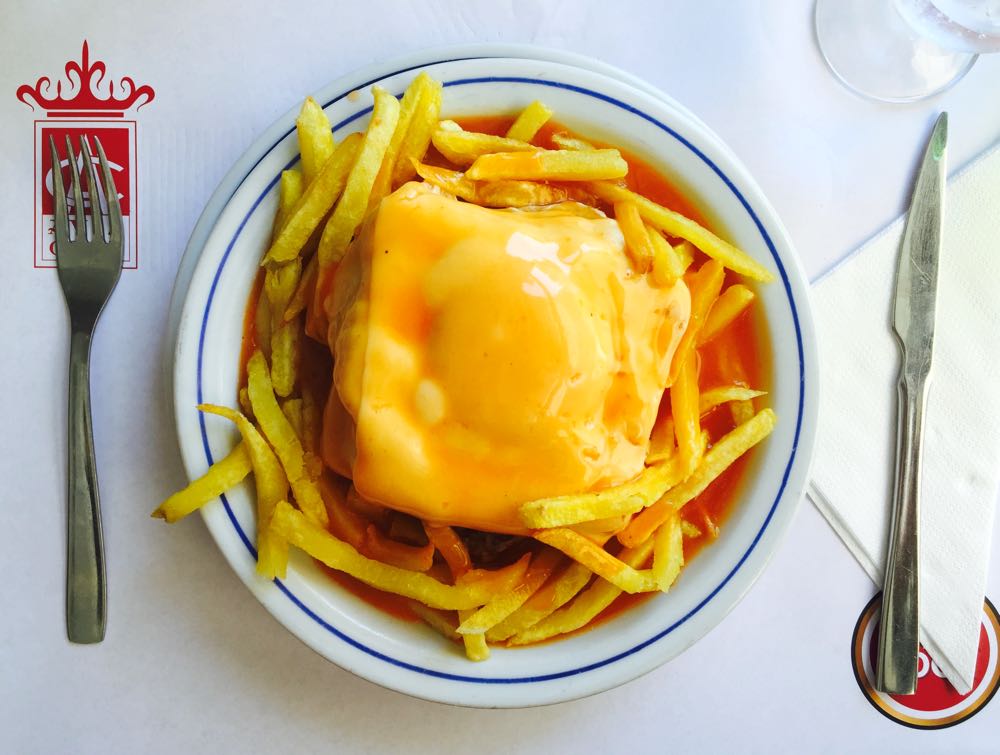 What to Eat in Porto
Francesinha. Probably one of the most caloric meals you'll ever have but hey, save your diet for later. This monster sandwich on a platter dish has all the goods on it: cured meats, linguiça, steak, cheese, egg and a delicious beer-based sauce. I'm already salivating.
Arroz de Pato. Typically portuguese, this tasty rice with duck meat with gratin cheese on top can be found at its best in Porto.
My Favorite Places to Eat in Porto
In my total time I've been in Porto, I've never a bad experience eating out. But I sure do have some favorite places!
Museu D'Avó. Literally translated as the Grandma Museum, it's a very kitsch place with amazing portuguese "tapas". Suggestion: go for the choriço!
Santiago. Rated the #1 Francesinha in Porto. Don't you dare trying anything else or everyone will give you the judgement look.
Taberna Santo António. This small family-run restaurant is a hidden gem but popular amongst locals. Try the codfish pataniscas!
Where To Stay In Porto
Accommodation in Porto is generally inexpensive.
Having that said, if you have some higher standards, it can be troublesome. I find many of the guesthouses and hostels downtown in really old buildings, often with poor maintenance. But more and more more modern hostels and hotels are popping out, helping to give the city a much needed facelift.
If you're coming for São João, make sure you book your room even earlier!
My top suggestions to stay in Porto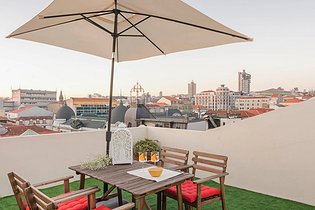 Oporto Stories Apartments
Superbly located next to
Bolhão
market and to the main shopping street, this is a clean and modern place to stay in the heart of Porto.
Book now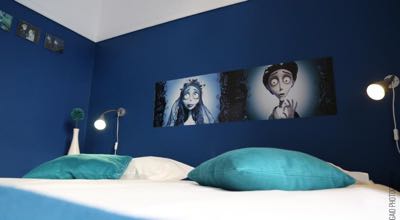 Rivoli Cinema Hostel
Decorated with a cinema theme, this hotel is located on a 1930's art-deco building very close to the main square of Porto: Aliados. Amazing value for money!
Book now
Or search on your own
To make your life easier, start searching with my pre-selection of best value-for-money hotels in Porto. This hotel shortlist only includes rooms in downtown Porto with WiFi and excellent reviews.
Or you can always search on your own terms:

Porto Travel Review
I love Porto for its authenticity and kitsch vibe. Once in a while I like to go back and spend a weekend there and I ALWAYS have a great time. People treat you like you were a old friend, the food is awesome and I will never get tired of the views in the Ribeira district.
It's an amazing value destination – and don't take my word only on this – Lonely Planet has also said in their top value destinations for 2017.
And there's having fun. I'm not a party animal – far from that actually! – but somehow Porto is one of the places I feel the urge of going out for drinks or even partying all night long. It's cheap, people are super friendly and it has some hell of cool places to choose from.
In a nutshell, Porto is completely unpretentious and that's exactly why I love it.
Porto Travel Ratings
☆☆☆☆☆ – nhec!
★★★★★ – wow!
Accessibility: ★★★★☆
Accommodation: ★★★☆☆
Activities/Things to do: ★★★☆☆
Cost (Overall): ★★★★☆
Food: ★★★★★
Getting Around: ★★★☆☆
People and Culture: ★★★★★
Safety: ★★★★☆
Scenery and Environment: ★★★★☆
Uniqueness: ★★★★☆

OVERALL TRAVEL SCORE: 39/50
Useful Links
Visit Porto – the official tourism board of Porto & Northern Portugal
My own articles about Portugal