Where are the best beaches around Lisbon, Portugal? How to get there? Which ones are less crowded? It is all in this beach guide!
There's a reason why Lisbon is trendy. The crazy amount of sunshine hours, the loads of historically rich sights and attractions and the unique things to do to have make it a top-notch travel bucket list destination.
Another plus: you don't need to go far from Lisbon to experience some of the most exciting beach landscapes. I've lived in Lisbon for 9 years and as a very picky sun seeker, I accumulated some expertise on how to get around and where to go to escape the crowds.
Here are my suggestions for the best Lisbon beaches (in portuguese: praias!) you can go on a day trip. In the end, I added some recommendations as to where NOT to go too. Enjoy the sun! 🌞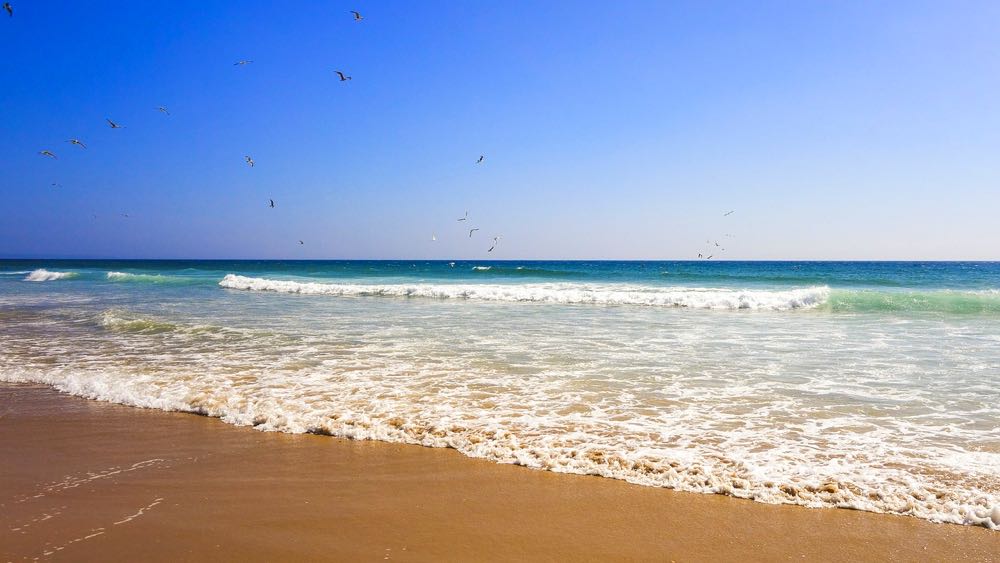 The Best Lisbon Beaches On A Map
To make your life easier, I've put all the best beaches I've visited in this map. The first thing you should note is that there aren't any good quality beaches in Lisbon per se. They're all scattered around Lisbon in different regions:
Let's go into detail for these now!
1

Beaches in Sintra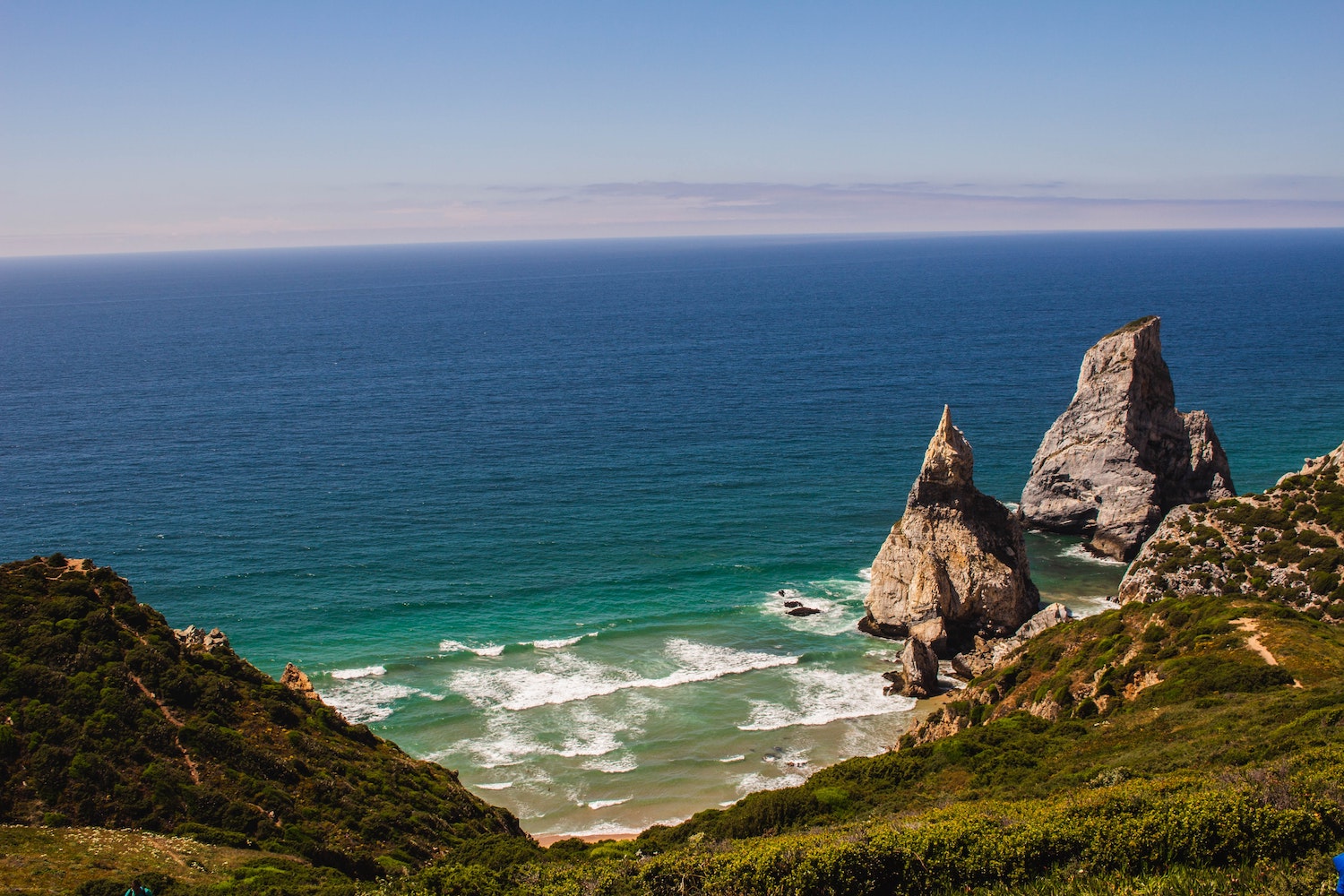 Sintra beaches are some of the best! All of them are near the stunning Sintra-Cascais Natural Park, which means they are pretty much unspoilt.
Praia Grande
Praia da Adraga
Praia das Maçãs
Praia da Ursa
Praia do Magoito
Best beach in Sintra
Remember this name: Adraga. For me, it's the best beach around! Located in the bottom of a valley, it stands out as an hidden gem enclosed in the green hills. It doesn't get as crowded as its neighbours Praia das Maçãs and Praia Grande and it is decorated with huge rocks and caves that only add to is natural beauty.
Parking is available but it can get crazy during summer weekends. Oh – and don't miss the sunset!
📌 Getting to beaches in Sintra
How far is it? It takes roughly 40 minutes to get there from Lisbon by car.
Public transport easily available?: No.
Tip: Take a walk to the south side of the Adraga beach where you will find the Pedra de Alvidrar, a huge rock formation which drops almost vertically into the sea.
2

Beaches in Cascais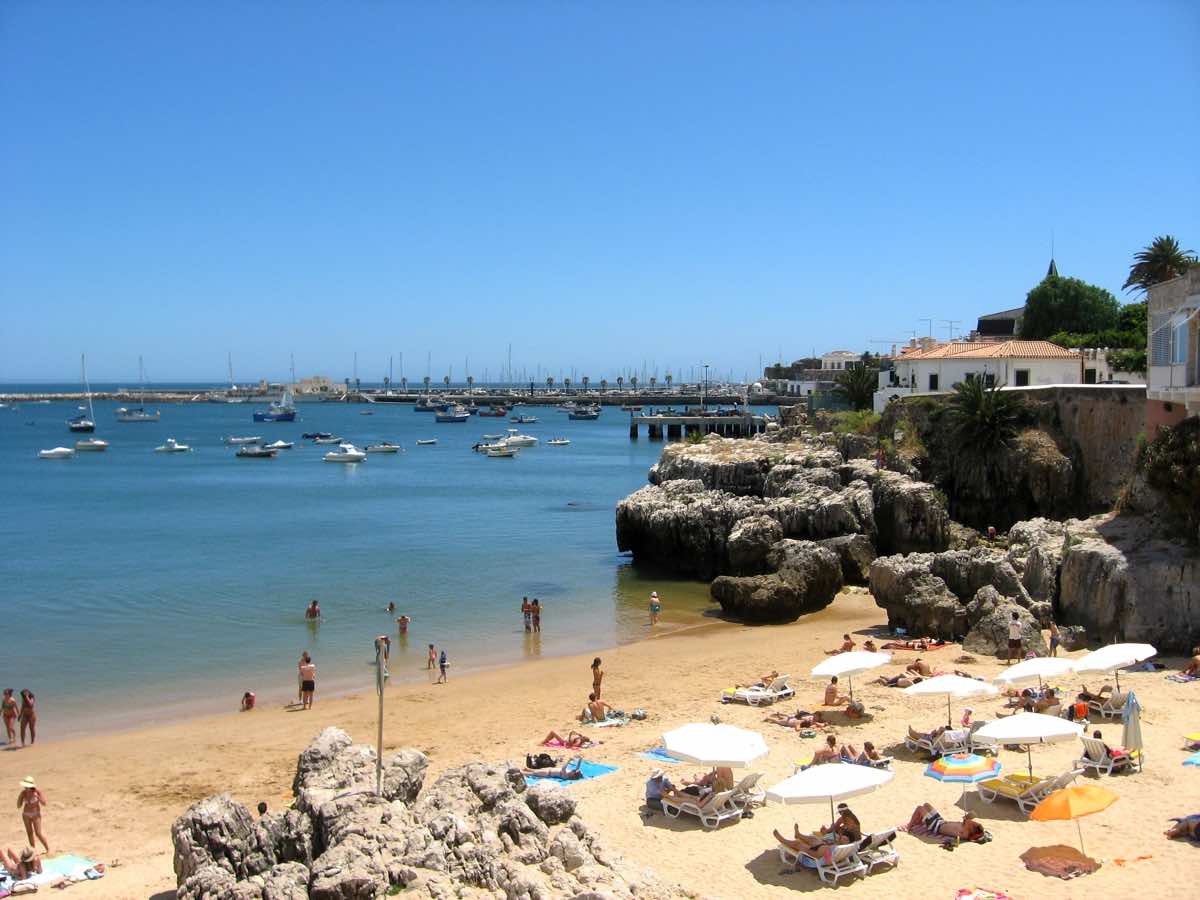 The beaches in Cascais and Estoril are the easier ones to get to from center Lisbon.
Because they are still considered urban beaches, they tend to be smaller and more crowded. They still hold the Blue Flag atesting water and sand quality, so it's a safe place for a beach day!
Praia de São Pedro do Estoril
Praia das Avencas
Praia da Torre
Praia do Tamariz
Praia da Rainha
Best beach in Cascais
Quite frankly, I only resort to beaches in Cascais/Estoril in case of an extreme tanning emergency and/or when I can't persuade anyone to go elsewhere. In any case, the more interesting options in this area is Praia de São Pedro do Estoril. It's a small beach backed by cliffs with a shoreline of 330m that gets even smaller during high tide!
Praia das Avencas is also enjoyable and fun, despite the very rocky ocean bottom during low tide. Can be fun for some seaside explorations though!
📌 Getting to beaches in Cascais
How far is it? It takes roughly 15/20 minutes to get there from Lisbon by car.
Public transport easily available?: Yes. Approximately every 20 min from Cais do Sodré station there is a train heading to Cascais that stops near all of these beaches.
Tip: Consider going only to the beaches east from Carcavelos. While there are quite a few other beaches between Lisbon and Carcavelos, they consistently fail to pass water and sand quality standards.
3

Beaches in Margem Sul

Located in the south margin of river Tejo, this is undoubtely the favorite destination of day trippers from Lisbon.
Considering a value-for-distance criterion, these would probably be the best beaches around Lisbon.
The area known as Costa da Caparica is a gigantic strip of sand with 15km of beaches to choose from. As a rule of thumb, the further south you head, the more likely you are to find less crowded beaches as well as better beach bars.
Praia da Mata
Praia Morena
Praia da Fonte da Telha
Praia do Meco
Praia da Sereia
Favorite beach in Margem Sul
It's hard to pick a favorite here. My favorite would probably be Praia do Meco.
Known since the 1970s as a naturist/nudist paradise, the beaches near Meco have gone more mainstream, but still didn't lose its appeal as a getaway with perks such as sand space. The cliffs surrounding the beaches even have waterfalls for indulging in fun mud baths. A natural spa!
The oceanside Bar do Peixe, is popular even outside bathing season and it has great seafood.
📌 Getting to beaches in Margem Sul
How far is it? Without traffic, it takes roughly 15/20 minutes to get there from center Lisbon by car.
Public transport easily available?: Yes. There are buses to Caparica departing from Areeiro and Praça de Espanha. You could do a combination of a bus plus a mini-train that runs along the beaches during the summer months.
Tip: Traffic is a pain to get here. Avoid going around lunch time (11-15h) on weekends or you're likely to get stuck before, during or right after crossing 25 de Abril bridge. Alternatively, use the Vasco da Gama bridge.
4

Beaches in Arrábida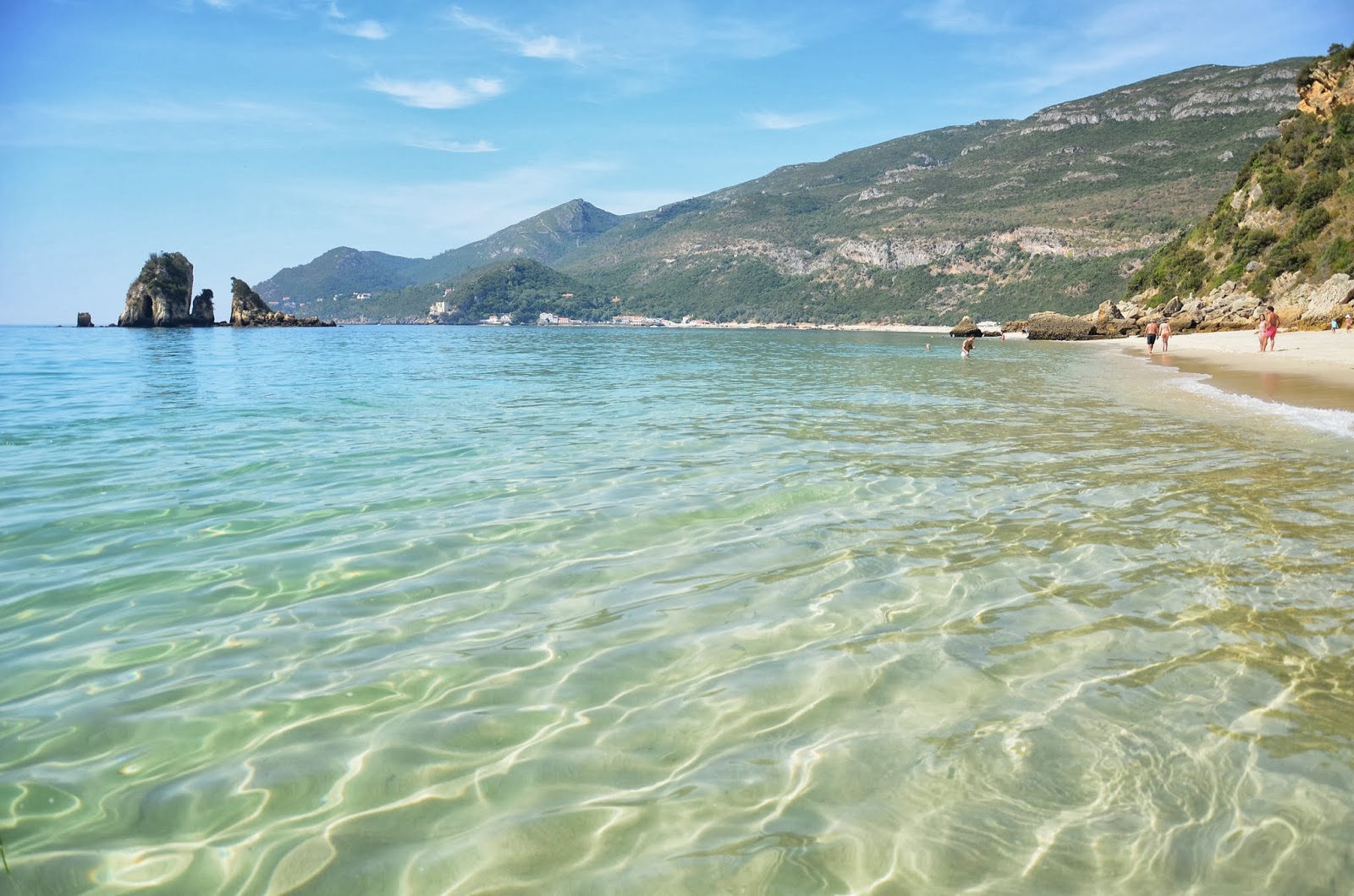 I have only been a handful of times to the beaches in the Arrábida coast, but it was more than enough to understand how stunning this area is. This scenic bay with the Arrábida Natural Park as the backdrop nests several beaches with crystal-clear waters:
Praia dos Galapinhos
Praia dos Galapos
Portinho da Arrábida
Praia da Figueirinha
Praia dos Coelhos
Favorite beach in Arrábida
Most people praise the beach at Portinho da Arrábida, but I personally love Praia de Galapinhos. Maybe it's the 15min hike to get there that gives it a more secluded vibe. Getting there, the contrast between the blue of the waters, the white of the sand and the green of the hills is just amazing!
📌 Getting to beaches in Arrábida
How far is it? It takes you at least 45/50 minutes to get to these beaches by car.
Public transport easily available?: Technically, you hop on a Fertagus train to Setúbal. From there, a bus service connects you to Setúbal to the beaches in Arrábida. This is likely to take more than an hour though.
Tip: To limit the number of people in this protected region, cars aren't allowed by the beaches between June 15 – September 15. You'll have to park in one of two parking lots: one just before Praia da Figueirinha, and the other is above Praia do Creiro. There is a TST bus #722 linking the parking lot and the beaches.
5

Beaches in Sesimbra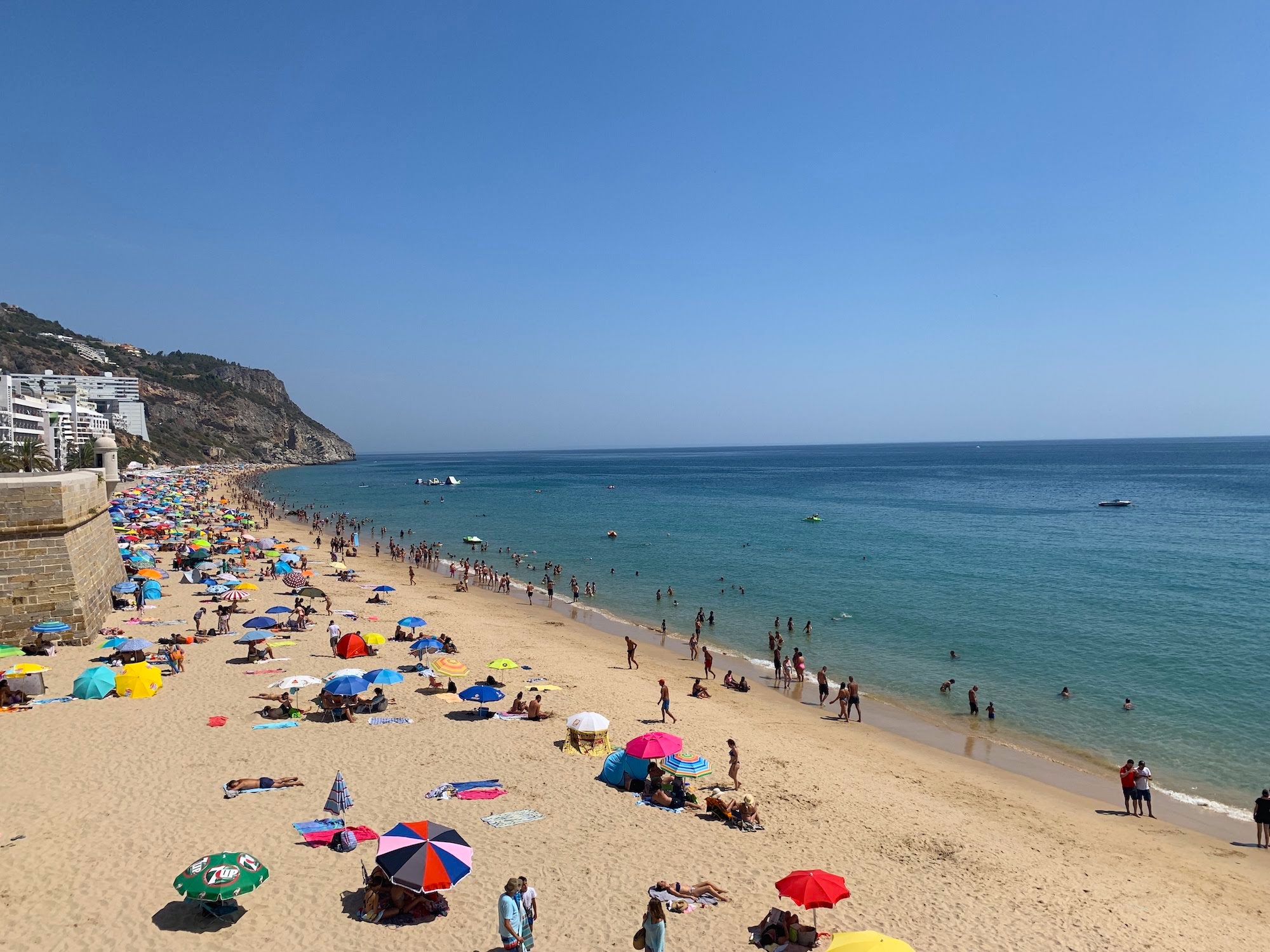 Talk about seaside towns! Right in the heart of Sesimbra, there are two of them, divided by a 17th old century fort. A to-go destination among Lisboners' families, beaches in Sesimbra boast calm and pristine waters.
In fact, beaches only compete with restaurants here. The town is known for its great seafood that attracts lots of day trippers from Lisbon, so make sure you stay for dinner!
Praia do Ribeiro do Cavalo
Praia do Ouro (Sesimbra)
Praia da Califórnia (Sesimbra)
Favorite beach in Sesimbra
I'll go ahead and say it: this is probably one of Portugal's most beautiful beaches. A hidden secret until very recently, Praia do Ribeiro do Cavalo is truly something out of a postcard. Keep in mind you'll need to follow a steep 20-min trail down the cliff to get there and there aren't any facilities there.
📌 Getting to beaches in Sesimbra
How far is it? It takes you at least 50 minutes to get to Sesimbra.
Public transport easily available?: Transportes Sul do Tejo has a bus connecting Lisbon (Sete Rios) and Sesimbra.
Tip: The problem here is parking. There are a few parking lots in the city, but come too late on weekends and you'll be sure to have a hard time finding a spot.
6

Beaches in Comporta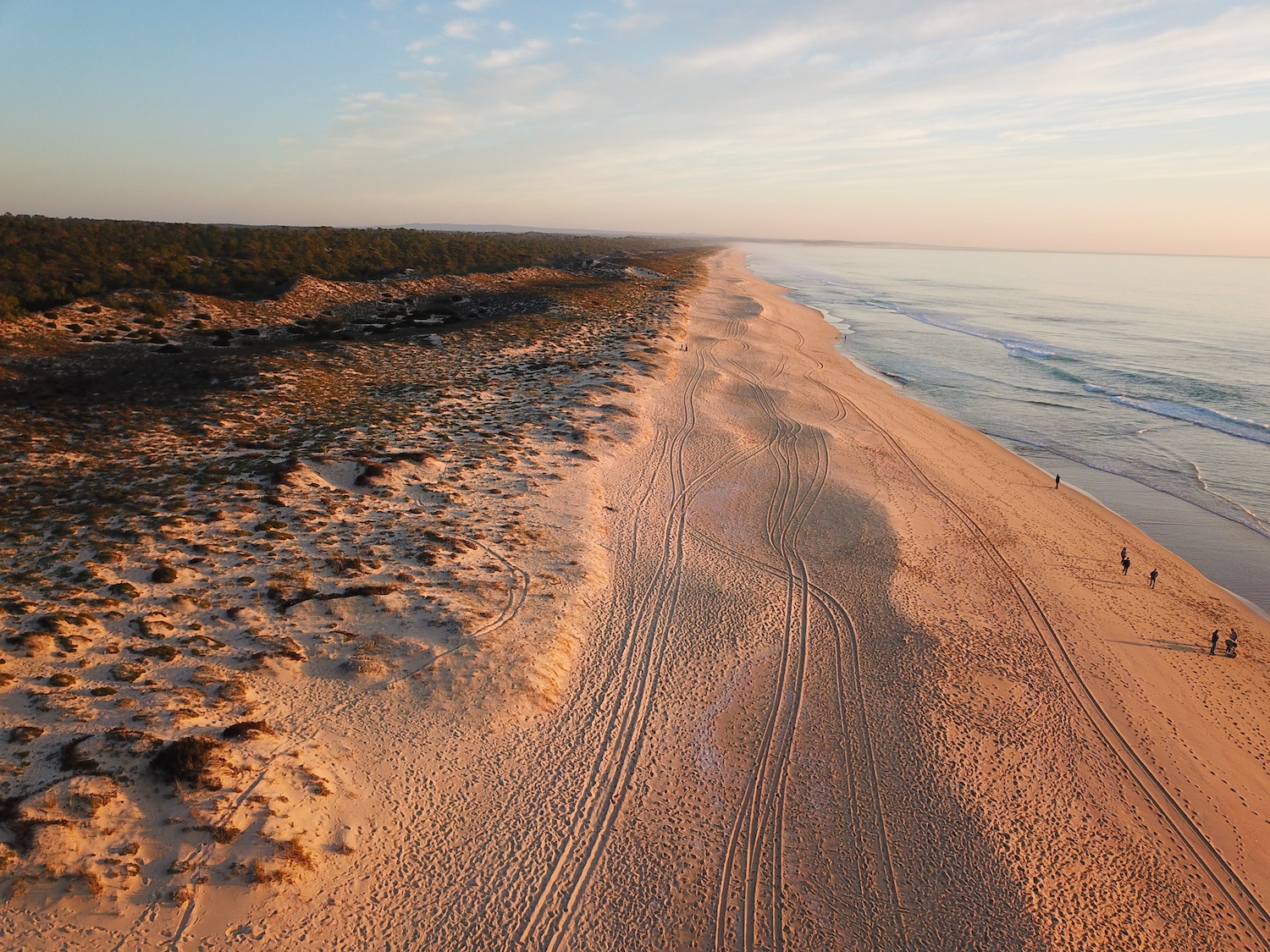 Comporta as seen above by my drone.
When I discovered Comporta I fell in love. Great food, an unique natural scenery of rice fields and a river estuary and of course, top-notch beaches with clear waters will make you fall in love too.
No wonder if has been discovered by the elite. Famous actors, monarchs, and politicians have turned Comporta into an unlikely luxury getaway village. While it may be a stretch to find cheap accommodation, but is definitely worth it to do it as a day trip.
Praia da Comporta
Praia do Carvalhal
Praia do Pego
Praia de Tróia-Mar
Favorite beach in Comporta
Honestly, you can't go wrong here with any of the side-by-side Praia do Carvalhal, Praia do Pego, or Praia da Comporta. Pick a square meter of sand to put your towel on and you're already on your way to a perfect summer getaway.
📌 Getting to beaches in Comporta
How far is it? Comporta is a 1h30 drive away from Lisbon.
Public transport easily available?: No.
Tip: Tróia peninsula is a popular beach getaway for the more wealthy. If you decide to head there, bring everything you need and avoid the super expensive supermarkets.
7

Beaches in Oeste region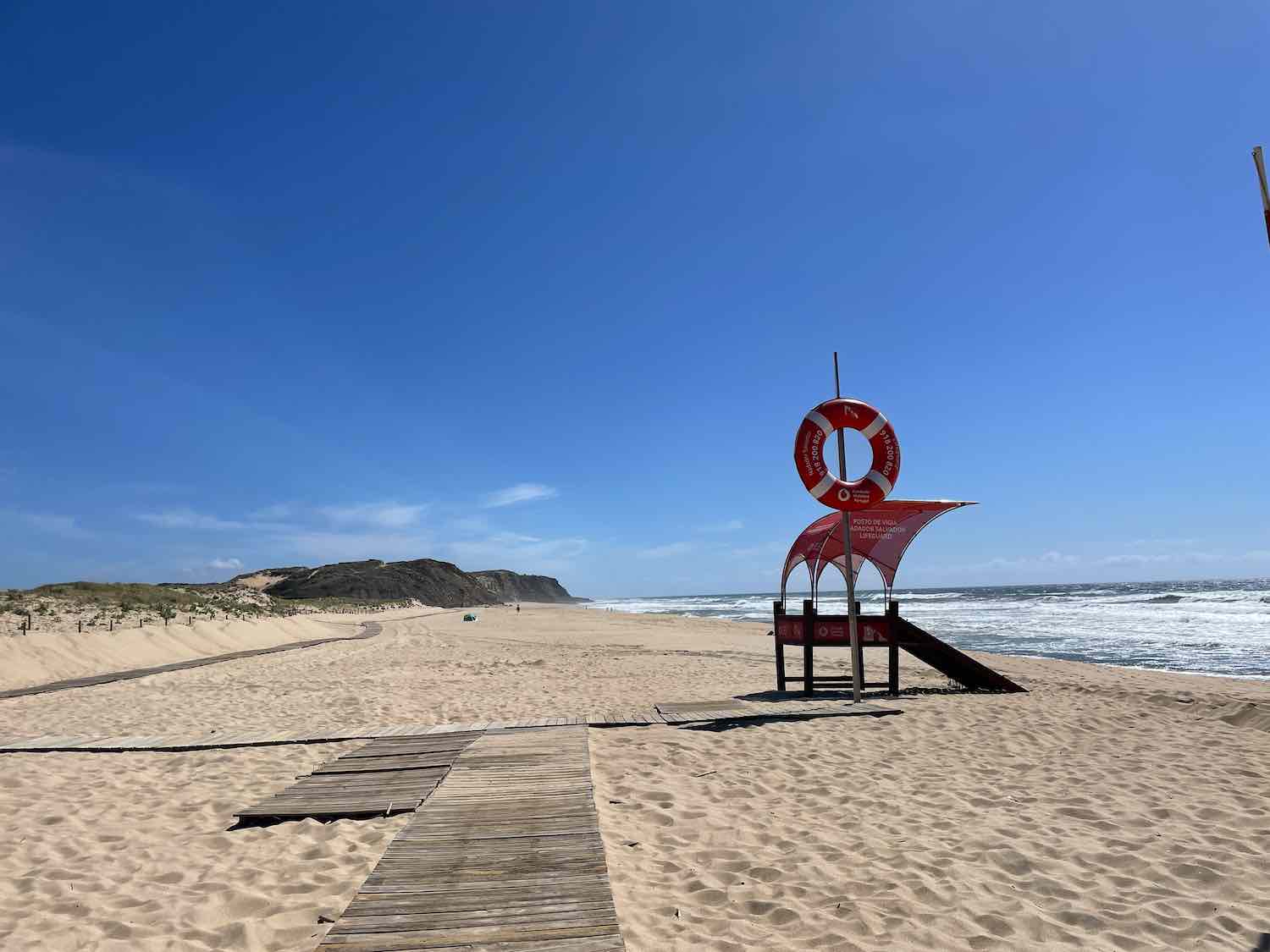 Praia de Santa Rita in Torres Vedras.
The Oeste (West) region goes located north from Lisbon comprises cliffs and massive Atlantic beaches. It may take some luck for the weather to cooperate here – sunny, windless days are rare – but when it does happen, these are truly fantastic places to be on a beach day.
Praia dos Pescadores (Ericeira)
Praia de Santa Cruz
Praia de Santa Rita
Praia Azul
Praia da Foz do Arelho
Praia de Ribeira D'Ilhas
📌 Getting to beaches in the Oeste Region
How far is it? Roughly 30-40 minutes from Lisbon.
Public transport easily available?: There are frequent buses to Ericeira from Lisbon (Campo Grande), but that's pretty much it.
Tip: This area is usually very windy, making it particularly interesting if you're into surfing or windsurfing.

Beaches I do NOT recommend near Lisbon
As you may expect, the closer you are to Lisbon, the more your beach experience will likely be impaired. The first few beaches in Costa da Caparica (e.g. Praia de São João) will be too crowded and same happens with most of the beaches in Estoril and Cascais. If you hop on the train in Cais do Sodré towards Cascais there is an entire coast of beaches to explore. Locals from all the Lisbon suburbs – Amadora, Sintra and Oeiras – all converge here. Despite the huge offer of restaurants, surf shops, and bars available, these aren't definitely the best beaches you can find near Lisbon.
Avoid: Carcavelos!
Praia de Carcavelos is one of the most popular beaches near Lisbon. From my experience, this beach can get way too much crowded during summertime and the water and sand are usually far from minimum quality standards. It can get noisy, packed, and dirty fast. I haven't been there in years and I don't recommend you go here.
Avoid: The northern section of Costa da Caparica!
In Margem Sul, try to avoid the beaches nearest to the river Tejo like Praia da Cova do Vapor and Praia de São João. Just go a bit further down and the quality of the sand and water will be considerably higher.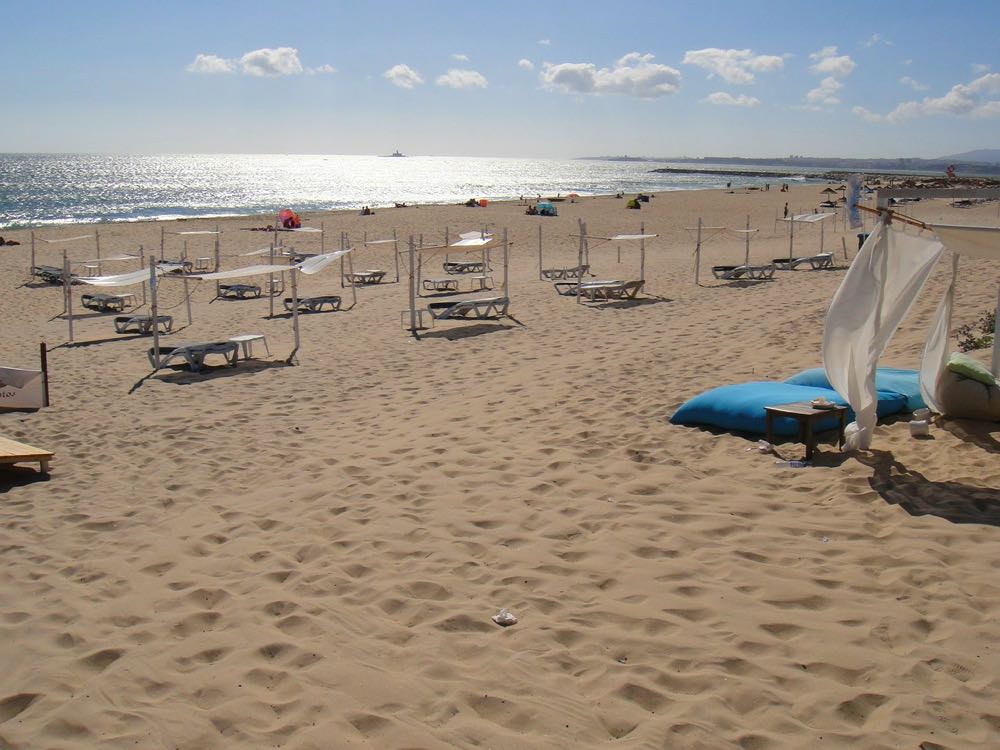 Book your hotel in Lisbon as soon as possible for the best deals!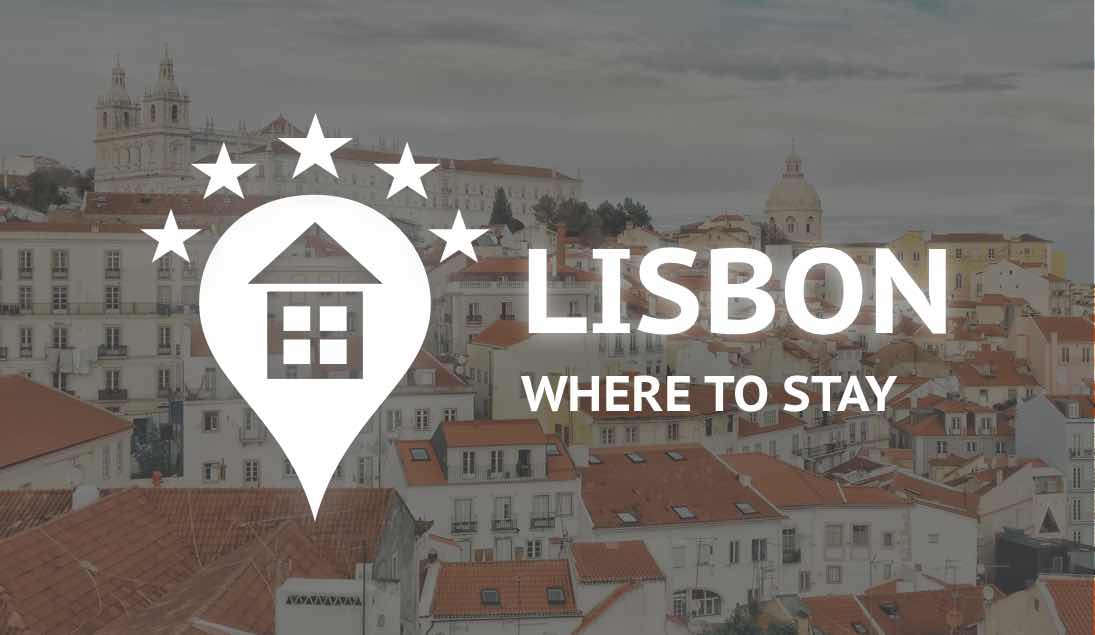 Top hotels in Lisbon
I've made the hard work for you.
This is a pre-filtered list of hotels in the best areas to stay in Lisbon.
The Lisbon beach experience
Considering this is an European capital, the offer of beaches in Lisbon is pretty impressive. There are plenty of stunning beaches around to experience a great beach day trip or weekend.
I highly recommend you rent a car to go to these beaches to minimize the time lost in public transportation, which to be honest is not great in the Lisbon suburbs.
It is definitely worthwhile to go farther away from the city and explore the wildest Atlantic beaches. Use the map I've shared with you in the beginning as a reference.
If you're planning a trip to Lisbon, find some more useful travel information below. And let me know about any beaches I'm missing!
Going to Lisbon – Essential things to know
✈ Flying to Lisbon
You can now fly to Lisbon virtually from all the major airports in Europe. If you are flying from the rest of the world, you might want to check TAP Portugal (US, South America and Africa) or Azores Airlines (US).
To choose the best price and check my options in terms of airlines, I usually use Skyscanner.
💰 Travel packages for Lisbon, Portugal
If you're coming from the United States, take a look at Azores Getaways. They have some flight + hotel + transfers deals for Lisbon, like this 6-night one, starting from 1149USD.
🌞 Best time to go to Lisbon
Shoulder season has the best value-for-money relation in Europe – Portugal is no exception. While summers are long and you can expect good weather anywhere between May and October, make sure you avoid August unless you have a thing for packed baches.
My travel tips valid anywhere
Have you been to any of the Lisbon beaches? Which was your favorite beach in Lisbon?