Want to go on a Thailand island hopping trip but still confused where to go? With so many islands to choose from, planning a trip can be overwhelming. This is a full Thailand island hopping guide with honest reviews to help you decide.
Thailand is an adventure-packed destination with a lot to see and do. From the chaotic beauty of Bangkok to the spiritual Chiang Mai.
For first timers in Asia, Thailand is perfect for a 2-week trip, hitting the right place between tropical paradise and tourism infrastructure.
And the best part of Thailand? The islands. The iconic tropical beaches backdropped by lush forests. The affordable food and accommodation. The chilled vibe. But with hundreds of islands in Thailand, so distinct from each other… where to go?
This is exactly why I've put together myself this honest island hopping guide.
The guide I wish I had before I visited Thailand.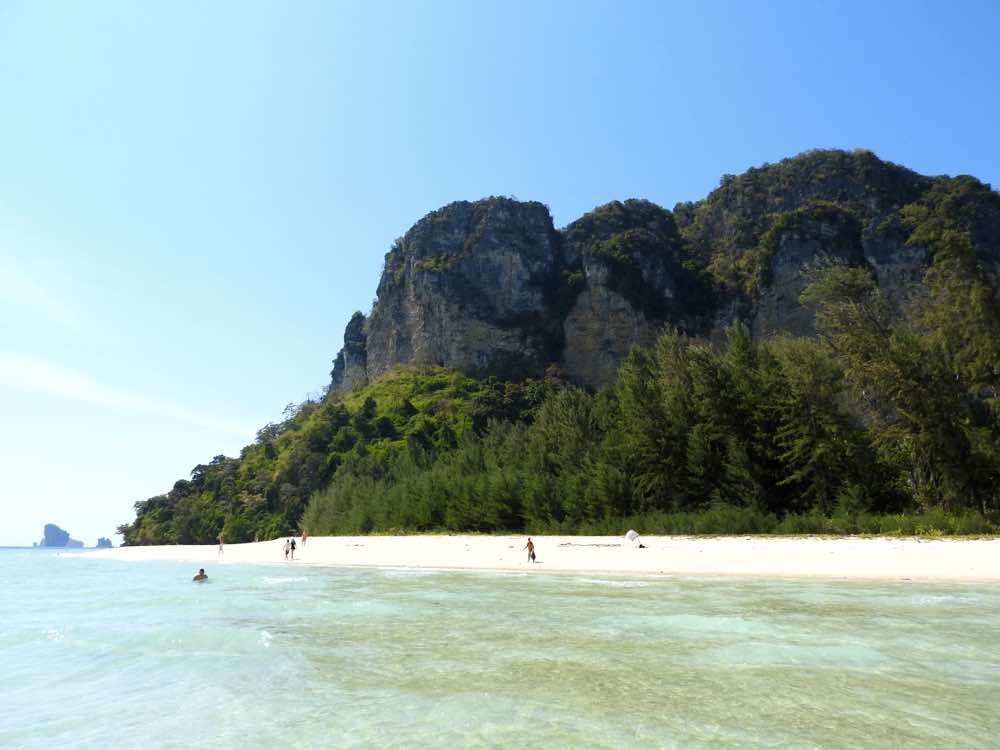 Thailand Island Hopping – A First Timer's Guide
Thailand Island Hopping 🇹🇭
Thailand Islands Map
Andaman Sea vs Gulf Of Thailand
When island hopping Thailand, the first decision you need to make is whether to go to the islands on the Andaman Sea (west) or to ones in the Gulf of Thailand (east).
Overall, if you have more time for your trip and don't mind doing a bit of island hopping, the plenty of different activities and landscapes that Andaman side offers is a good option. On the other hand, if you have just a few days to spare, the Gulf side is a more interesting option.
Another key factor to consider is when you're going.
Here's a quick summary table if you're in a rush.
Andaman Sea
Gulf of Thailand
Main islands/spots
Phuket, Krabi, Koh Phi Phi
Koh Samui, Koh Tao
Hot/Dry Season
December - April
February - September
Rainy Season
May - November
October - January
Peak Crowds
Christmas & New Year
Christmas & New Year
July & August
Worst weather
September
November
If you already know which side you're going, you can jump directly to the islands.
If not, read on to learn more about how the weather behaves in Thailand.
Weather & Seasons in Thailand Islands
There are no guarantees regarding (tropical) weather. Anything can happen at any time of the year.
However, it's generally said that Thailand has three seasons – cool, hot, and rainy. In the islands, the climate has different rules and can get specific from island to island. In particular, the east side of the islands (Gulf of Thailand) follows a different weather pattern.

Best time to go to Gulf of Thailand islands
The Samui archipelago tends to follow almost opposite rules as the rest of Thailand. This area is affected by the south-west monsoon which can lead to heavy rainfall in November and the beginning of December. Seas can be rough and visibility poor during this time.
The dry season takes place from January to April and is the best time to come if you're looking for the best chances of good weather and little (if any) rain. There is more wind too during this period, which can be good news if you're looking to do water sports.
From March to November, temperatures will start to rise, usually reaching peak levels in April and May. Rainfall also starts to gradually rise, but usually in the form of an hour-long afternoon downpour.
The only notable exceptions are the islands of Koh Chang and Koh Kood, which follow similar weather patterns to the beaches along the Andaman Sea coast.
Best time to go to the islands in the Andaman Coast
Usually, the best time to hit the west coast beaches is between December and March. High temperatures hit about 28C in December and rise to 30C in March. Naturally, this is also peak season so expect more crowds and higher prices. That said, the Andaman coast has had many more rainstorms through the high season months than the normal in the past few years.
During April, May and June, weather can get extremely hot as the cool winds depart. Expect temperatures up to 35°C. The high humidity brings storms and heavy showers, even though they usually don't last for long. Can be a good time to visit, since crowds will be almost all gone.
The rainy or monsoon season is between July and November. Prices are the lowest of the year – up to 50% less! – and crowds are minimal, but the weather can be rough and transportation choices (speedboats, longtails, and ferries) are more limited. It is, however, a good time to visit Khao Sok National Park, when it is more lush and green.
Now let's go into more detail about the islands on both sides of Thailand.

The Andaman Sea
The Andaman Sea coast is the southwest side of Thailand. It stretches for about 450 kilometers, and most of the area belongs to the Krabi province.
Even though the Andaman Sea is extremely popular with tourists – think Phuket or Phi Phi Islands – the islands here are scattered throughout a much larger ocean area, which makes each one feel more isolated and private.
The islands of Andaman Sea on a map
To make things more visual, I've put all the islands and places of the Andaman Sea on a map, divided into two groups:
Main islands in yellow: to stay over at least for a few nights
Other more off the beate track islands in red: if you seek more remote and less crowded places or to visit as a daytrip
I've written an article about the islands in the Andaman Coast before.
I'll only focus on the main islands here.

Phi Phi Islands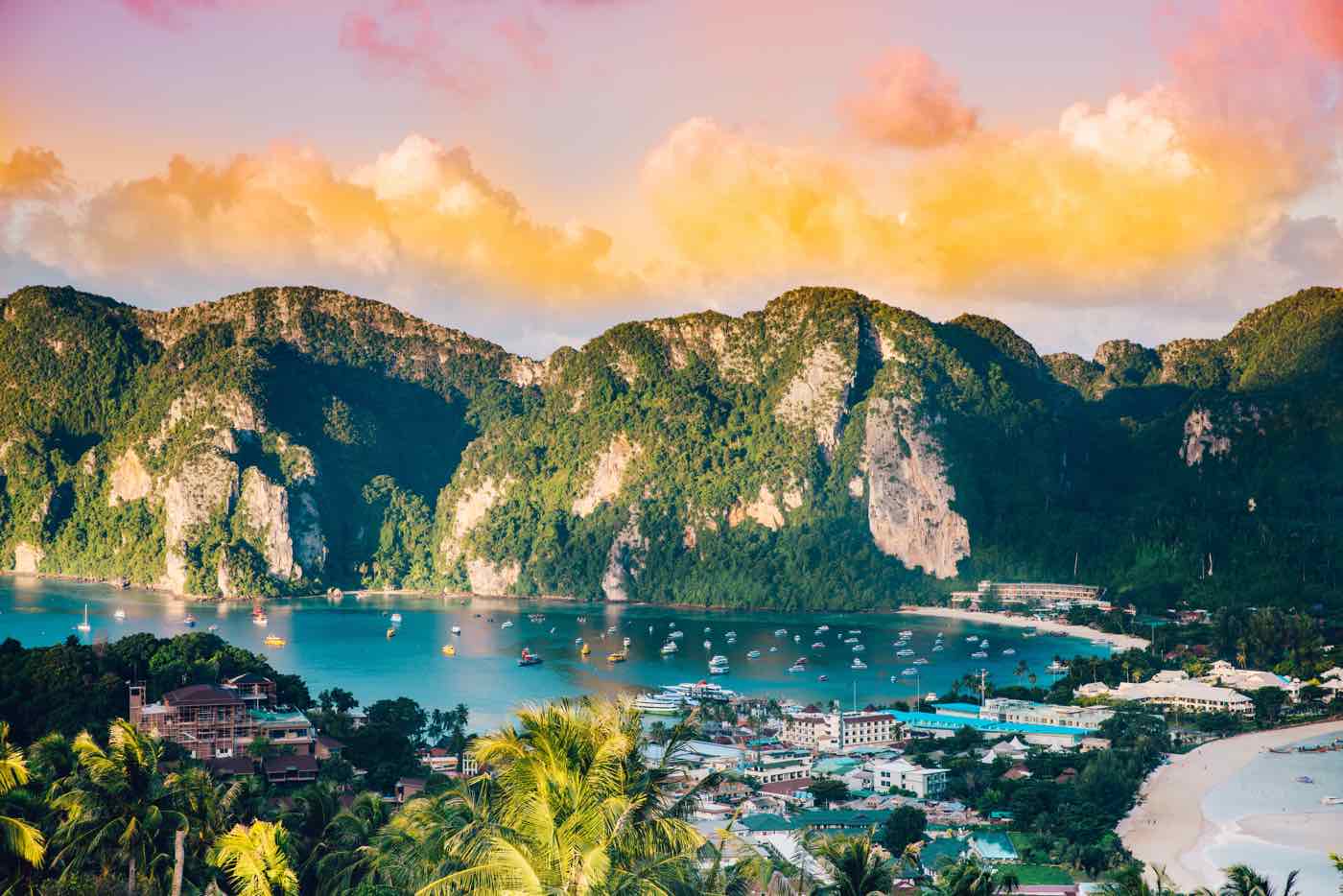 Phi Phi Islands are actually a group of islands, from which Phi Phi Don (the largest) and Phi Phi Lee (where the famous Maya Bay is) are the most iconic.
Just arriving to Tonsai Bay, the main transport hub of Phi Phi Don is… let's go withintense. There were so many speedboats that were no physical space to park the boat so we had to force our way between two other boats. A strong smell of diesel everywhere. Not a promising start.
Amongst overpriced hotels and resorts, Phi Phi Don attract a young and energetic crowd ready to party, offering a lot to do, from snorkeling boat trips to booze parties. It's a great place to make new friends – if you know what I mean.
Phi Phi Lee had no better impact on me. Don't get me wrong, it's a beautiful place. An awe-inspiring bay sheltered by 100-meter high cliffs on three sides, looking like a giant reef.
However, the island has jumped to the bucket list of travellers all around the world after the movie The Beach was filmed there in 1999. Once a hidden tropical paradise, Maya Bay had too many people for my taste. SO. MANY. PEOPLE.
⚠Maya Bay closed for tourists
Update: In October 2018, Thailand's government decided to close Maya Bay for tourists until 2021.
Maybe my experience could have been better if I wasn't on a tour. Maybe I should have hiked to the Phi Phi viewpoint. Or maybe it's not just my kind of place. I try hard not to be negative but for me, the Phi Phi Islands is a great example of everything that can go wrong with mass tourism worldwide.
In any case, these were my least favorite islands in Thailand and unless you have a party spirit, this place can be skipped entirely. I'd definitely base myself elsewhere.
🛥️ How to get to Phi Phi Islands
Book one Phi Phi Island tour or hop on one of the ferries from Ao Nang, Phuket or Krabi Town that arrives to Tonsai pier. You can check schedules and other information here.
You can also book an overnight tour that arrives the island on sunset and leaves the next morning. It costs a rather expensive 1500 baht but swimming with bioluminescent plankton is included!
🏨 Where to stay in Phi Phi Islands
I didn't stay in the island and to be honest, glad I didn't. Accommodation is widely available but it's considerably more expensive than other places in Thailand. Quality standards are also lower. In case you're set on staying on Phi Phi, check this selection of the best resorts.
Koh Lanta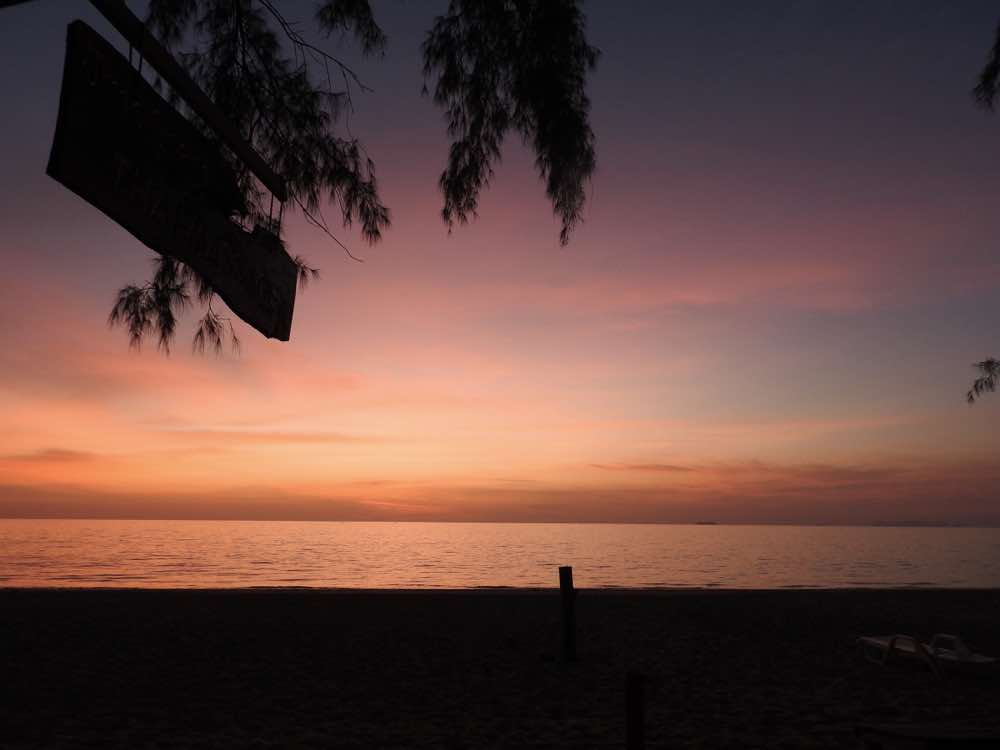 Koh Lanta is actually made up of several islands, the most well known of which is Koh Lanta Yai.
There are plenty of things to do in Koh Lanta, including world-class diving and snorkeling spots nearby. The largest beach on the island – appropriately called Long Beach – is the perfect place to catch some rays, read a book, or just chill.
🛥️ How to get to Koh Lanta
Koh Lanta is easily accessible by ferry from Ao Nang/Railay, Phuket, Krabi Town and Ko Phi Phi. Note however this service is available during November to March only. From Ao Nang the journey takes about 2:30 hours.
🏨 Where to stay in Koh Lanta
I stayed 4 days in the beautiful place below and could easily stay a few more.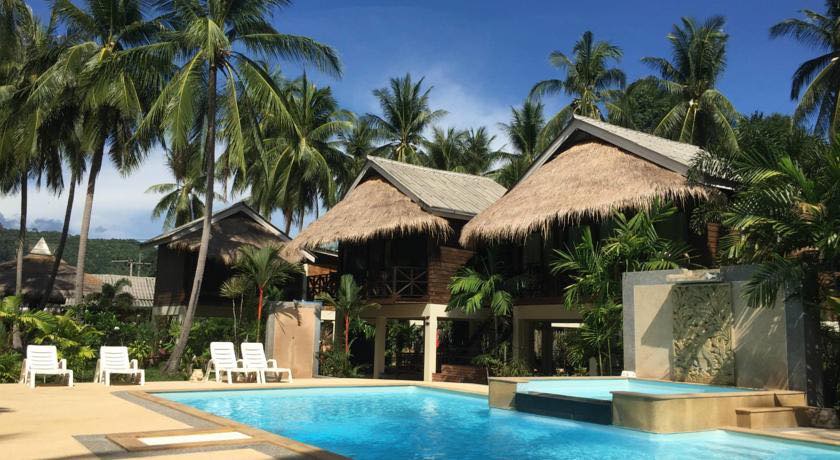 Long Beach Chalet
High-quality comfortable Thai-style bungalows just a 5-min walk from the best beach in Lanta.
Or… find your own resort in Koh Lanta:
Railay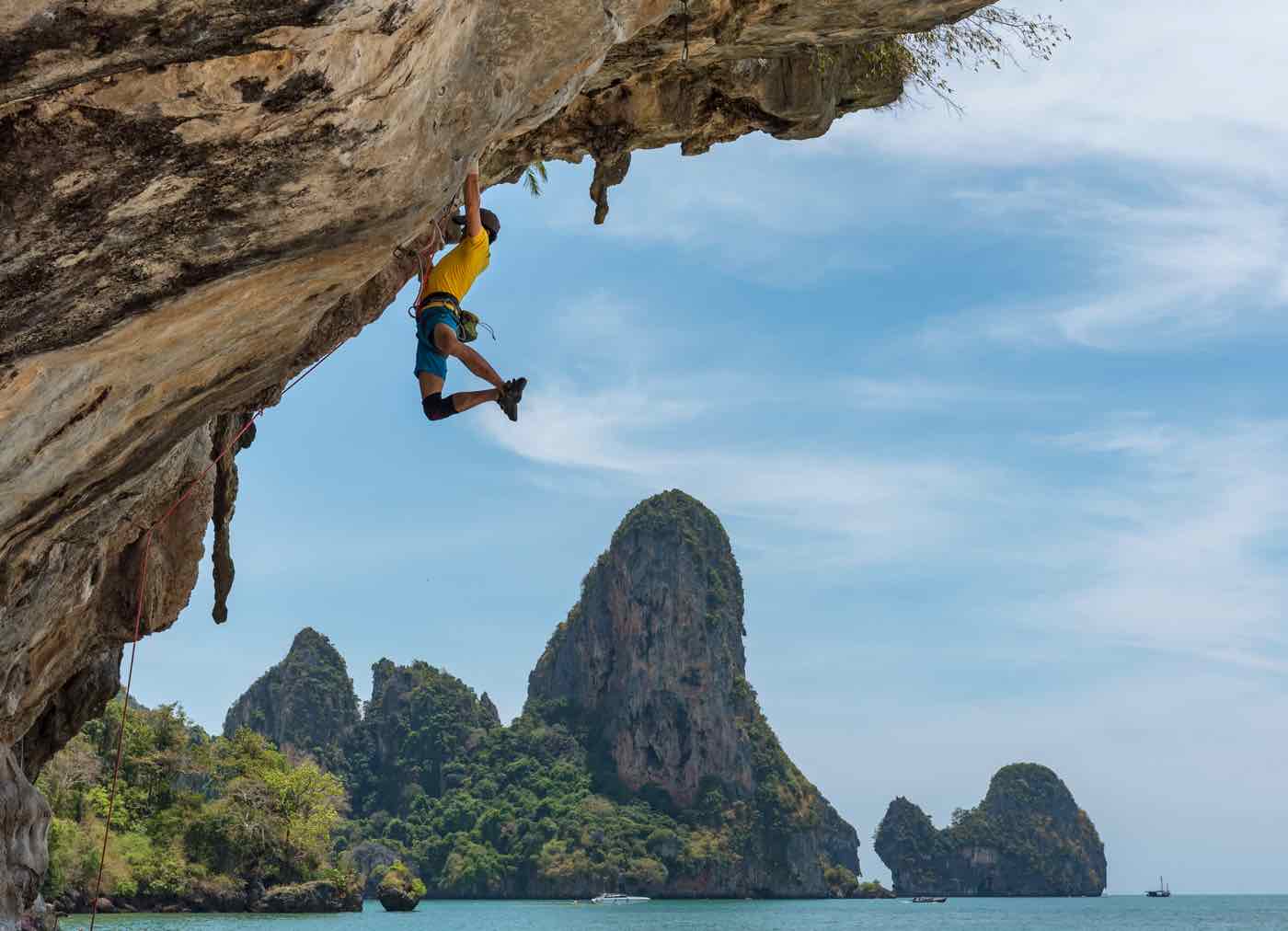 While Railay peninsula is definitely not the place to go if you want to escape the crowds – West Railay Beach is pretty dirty and noisy! – but it has other reasons for interest.
My favorite spot in the island was Phra Nang Beach. Stunning scenery, clear waters, and boats selling tasty food right on the beach. What else do you need?
There are many activities you can do in Railay, the most popular being kayaking and rock climbing. Actually, Railay is one of the top spots in the world for the latter.
🛥️ How to get to Railay
Railay is NOT accessible by land.
There are numerous longtails connecting Railay peninsula to Krabi Town and to Ao Nang. Ferries coming from Phi Phi and Koh Lanta also make a stop here (they'll make you switch to a longtail to arrive land, as big boats aren't allowed).
Hotels here may arrange all-inclusive transfers for you to and from the airport for instance. Unless it's already included for free, I recommend booking all transfers on a spot as they're cheaper.
🏨 Where to stay in Railay Beach
Railay peninsula is small and everything is at walking distance. It can get a bit boring after 2-3 days (wasn't my case). This is where I stayed: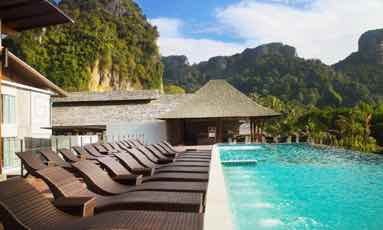 Railay Princess Resort & Spa
Quiet location, has 2 amazing swimming pools and a memorable breakfast. GREAT value. Make sure you keep the windows closed, as monkeys can steal your stuff!
As an alternative, start searching using my shortlist of the best resorts in the Railay peninsula.
Koh Lipe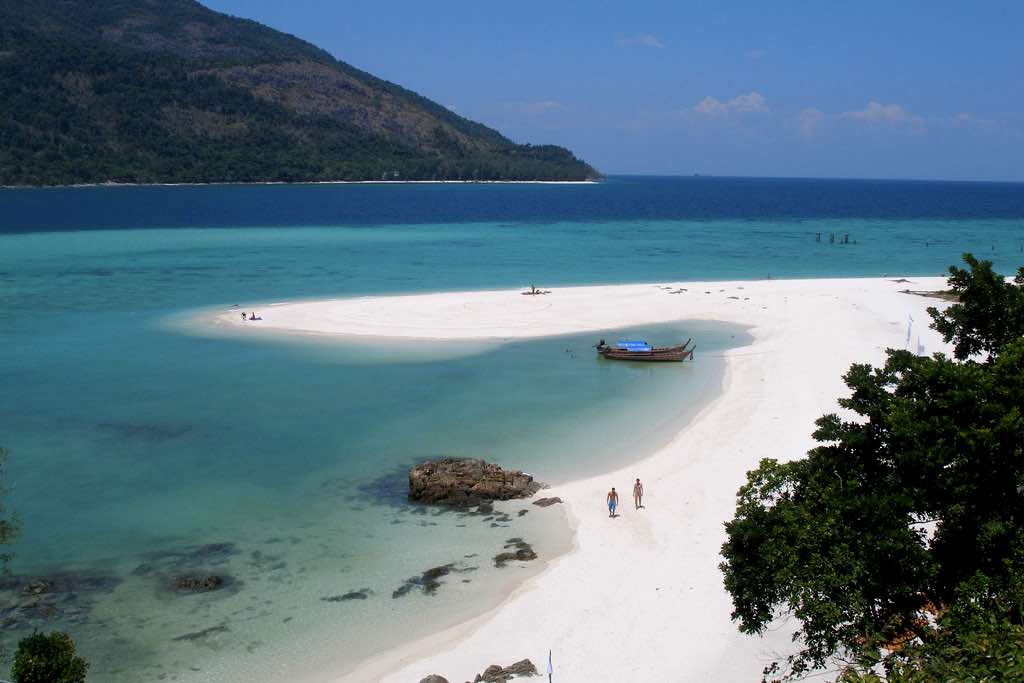 The best way to describe Koh Lipe was that I felt I was in a dream the whole time. I had high expectations and I still got amazed. The white soft sand beaches, the turquoise waters, the smile of the people and the amazing food. Not to mention the super cheap massage places!
There are plenty of things to do, from top-notch diving to snorkeling day trips within the Tarutao Marine Park or even sea kayaking. Or it's also a perfect place to unwind and live the tropical life for a few days.
Have a read at my Koh Lipe travel guide, with everything you need to know to plan your trip.
🛥️ How to get to Koh Lipe
It's not easy. Located about 60km from mainland, Koh Lipe is the southern-most island in the Adang archipelago and in the whole Thailand.
In low season, the only way to get there is by ferry from Pak Bara pier. During the high season, there are connections from other places in Thailand and from Langkawi in Malaysia. Since it's not easy to get to, I'd say to stay a minimum of 3 full days to make your journey worth it.
🏨 Where to stay in Koh Lipe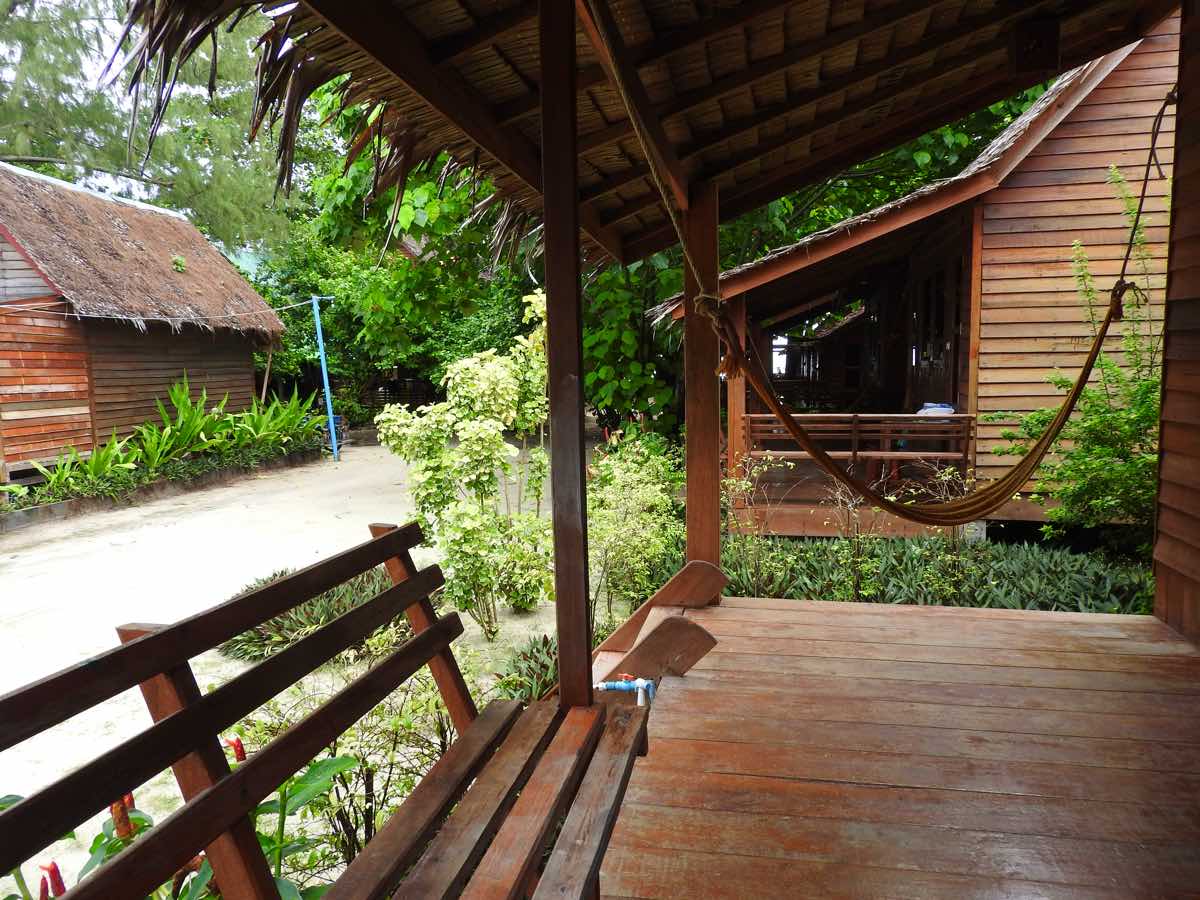 Make sure you stay along Sunrise Beach. Close to bars, the main street, and with a chance of witnessing gorgeous sunrises every day.
Phuket

Yes, the infamous Phuket! As the largest and busiest island in Thailand and the main tourist hub, it is infected with a collection of the best hotels and resorts in the country. There's a lot of activities, a lot of restaurants and a lot of people everywhere. A lot of a lot, exactly what I usually don't look for.
Apart from the pretty cool giant Buddha statue in Chalong, personally the biggest appeal I see in Phuket is its accessibility. There are tours and boat connections to virtually everywhere in Thailand. The proximity to other more laid-back islands like the Similan and the Hong Islands is also a big plus.
How to get to Phuket from Bangkok?

The Gulf of Thailand
The Gulf of Thailand corresponds to the southeast side of Thailand and is mostly known for the Samui archipelago, with its pristine beaches. The main rivers of Thailand reach this area of the ocean which makes the water a little bit greener and darker as compared to the Andaman side.
The cluster of islands that make up our Samui archipelago includes Koh Samui, Koh Phangan, Koh Tao, and the Angthong Marine Park – which itself is made up of 40 other smaller islands.
The islands of Gulf of Thailand on a map
To make things more visual, I've put all the islands and places of the Andaman Sea on a map, divided into two groups:
Main islands in yellow: to stay over at least for a few nights
Other more off the beate track islands in red: if you seek more remote and less crowded places or to visit as a daytrip
Koh Samui

The second-largest island in Thailand boasts breathtaking views, a thriving marine life, and white soft beaches while being the most established island in terms of infrastructure which makes it a favorite amongst couples and families. Luxury 5-star resorts and high-end spas are widely available in Samui and can make the idea of leaving your resort a little bit less appealing.
The best time to visit Koh Samui for good weather is between late December and April when there are little rain and a higher chance of sunny days. February and March are the driest and sunniest months.
🛥️ How to get to Koh Samui
There are combined ticket options to get to Koh Samui (train + ferry or bus + ferry via Surat Thani), but the best way to get to Koh Samui is by direct flight from Bangkok.
There are also direct flights to Koh Samui from Pattaya, Phuket, Krabi, Chiang Mai, Singapore, Hong Kong, and Kuala Lumpur. Book early as prices can get expensive.
Koh Phangan

Famous for its infamous beer-infused neon-heavy nightlife, Koh Phangan is the islands where young dreadlocked travelers flock to experience one of the mandatory stops in the Southeast Asia circuit: the Full Moon Party at Hat Rin (Sunrise Beach).
There's more to Koh Phangan though. Venture out the social hotspots and find waterfalls, semi-hidden coves, and even temples scattered in between the forest treks. The Thong Sala Night Market is also a must.
🛥️ How to get to Koh Phangan
The easiest way is from Koh Samui. There are at least 3 ferries a day from Koh Samui's Big Buddha Pier.
Alternatively, you can get here on a boat from the mainland, via Surathani. There are several buses and trains connecting Bangkok and Surathani.
There also daily boat connections from Koh Tao. Use the high-speed catamaran Lomprayah.
Koh Tao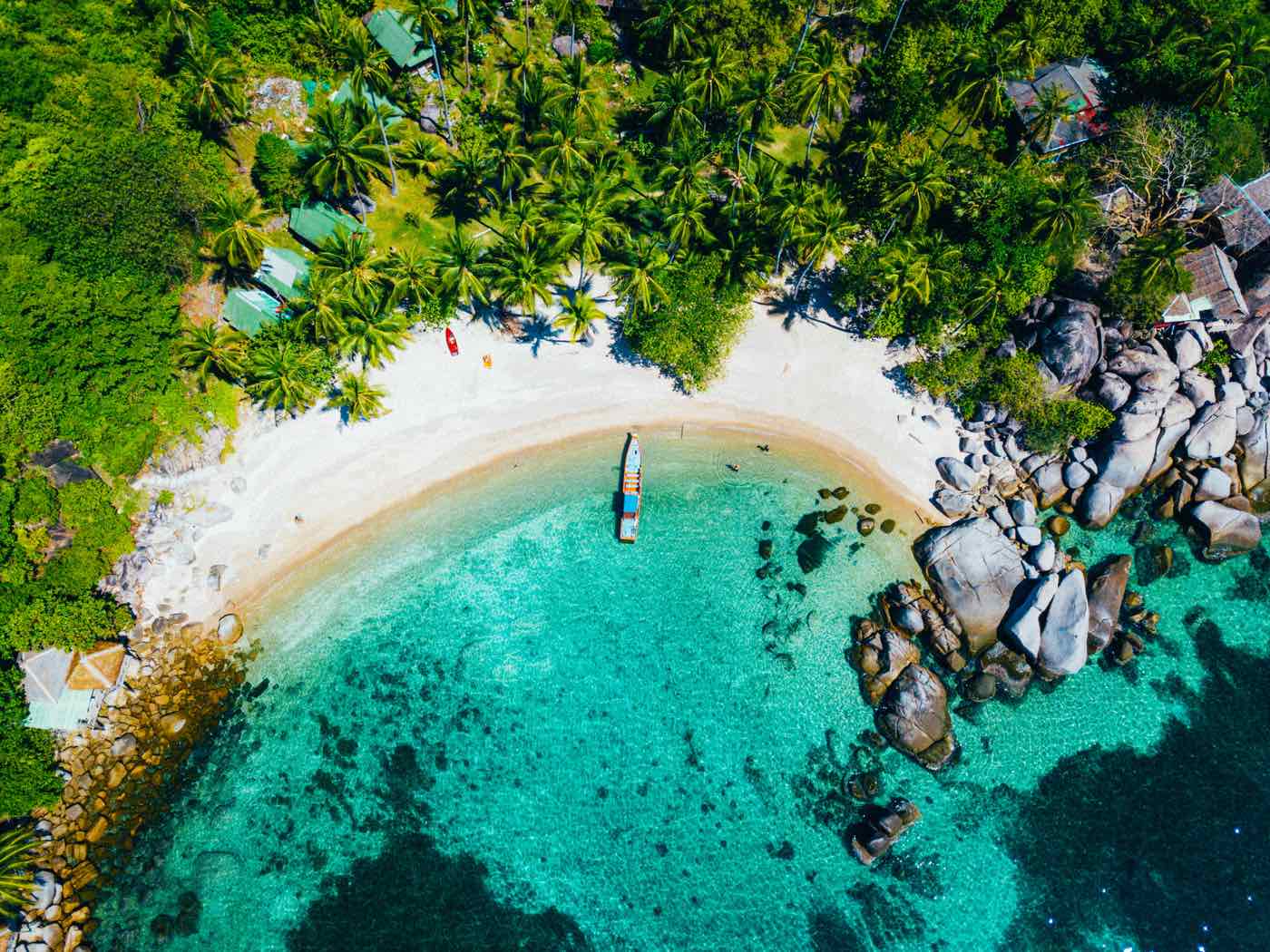 If you're as interested in the underwater world at least as much as what's happening at the surface, Koh Tao is for you. Not only is a world-class diving spot with warm shallow waters, but the island has developed itself into one of the cheapest places in the world for beginners taking a PADI license.
Apart from this, there's still plenty of things to do and see in these 21 square kilometers. More chilled out than its neighbor Koh Phangan but also with an interesting nightlife, Koh Tao also offers opportunities for yoga, hiking, snorkeling, or great beaches for beach bums.
🛥️ How to get to Koh Tao
The closest boat connections to the mainland are from Chumphon.
An alternative option is to reach Suratthani. From here, you can purchase a bus and ferry ticket heading towards Don Sak Pier, from which you can take a boat to Ao Mae Haad Pier in Koh Tao. The same route continues to Koh Phangan.
You can also get here via Koh Samui or Koh Phangan. The high-speed catamaran Lomprayah is a great option.
⚠Is Koh Tao safe?
In general, Thailand is an extremely safe and inviting country for visitors. But the odds seem to be against Koh Tao as there have been reports of people missing throughout the years in the island.
Some say these simply backpackers involved with heavy drinking or drugs; others link these cases to very influential families, and to Thai Mafia that allegedly "rule" the island. Whatever the truth, the fact is that the vast majority of travelers that head to Koh Tao have no problems at all.
Koh Chang

Even though it's Thailand's third-largest island Koh Chang has a very different vibe from other islands in the Gulf of Thailand. Bohemian, laid-back, and significantly more shy than the other islands in the Samui archipelago, and with close connections to the neighbor Cambodia.
The island is rich in natural wonders: dense forests, majestic mountains, gorgeous waterfalls, coral reefs, and of course, beaches. The main White Sand Beach (the name says it all) attracts more visitors but there many more sandy beaches to unravel here.
🛥️ How to get to Koh Chang
There is no airport on Koh Chang. The island can be reached by ferry from Trat (the harbor is about 30 km from Trat main town).
There are also regular ferry + train, ferry + bus, or ferry + plane connections from Bangkok.
Where to stay in Thailand's Islands
I usually use Booking.com to find accommodations.
I've used Agoda before in Asia, but my experience was not the best so can't recommend it.
How to get to Thailand Islands
By plane
The most direct way to get to the Andaman Sea islands in Thailand is definitely by plane. Phuket and Krabi airports have several direct national and international flights from Pattaya, Bangkok, Chiang Mai, Kuala Lumpur, Hong Kong, amongst other Asian airports. Hat Yai Airport can be useful if you're heading for more southern islands like Koh Lipe or Koh Lanta.
On the Gulf of Thailand side, the most convenient airport is Samui's. The high-speed catamaran Lomprayah then reaches other islands like Koh Tao and Koh Phangan. Other possibly useful airports are in Surat Thani and Pattaya (for Koh Chang).
By bus or train
The main gateways to the islands on the west coast are either Phuket or Krabi. Getting there from Bangkok with a combination of train or bus plus ferry can be very cheap (think $20 or so), but journey times can be a total bitch (12 hours, roughly).
On the Gulf of Thailand side, if you're not keen on flying, look to hop on a ferry to the islands in mainland piers such as Suratthani and Trat.
I used 12Go.Asia to book some of my tickets in advance and can highly recommend their service.
Combined tickets
An interesting feature some airlines offer are combined tickets.
For instance, you can buy a Fly'n'Ferry ticket with Nok Air from Bangkok to Koh Lipe. Even though the island has no airport, the ticket includes flying to a nearby Trang airport, bus to the near pier and then a passenger ferry to Koh Lipe.
Thailand Island Hopping Tips
1. Don't try to squeeze in as many islands as possible.
It's easy to fall in the mental trap of trying to justify a rather expensive flight with as many places as possible. I know people who visited the Thailand islands and didn't stay for more than 1 night in the same place.
2. Always be on the move has a toll.
You'll end up seeing just bits and bobs and spending most of the time going around on buses, planes, and longtail boats with your backpack or luggage.
3. It's wise to pick a hub island.
Pick a place well-connected, with lots of tours, ferries, and day trips opportunities such as Phuket, Railay. My pick in the Andaman Coast was Ao Nang. From there it's easier to visit other islands. If possible book a hotel close to the main pier.
4. Pick a room with AC and mosquito netting.
Don't underestimate the impact of tropical humid weather.
What are your favorite spots for island hopping in Thailand? Which islands have let you down? Share your tips below!