This is a full travel guide made by a local to explore Furnas, Azores. Venture and discover Furnas Lake, its hot springs, and all the volcanic phenomena, thermal pools, and beaches. Need some local knowledge for your trip?
When I was a little boy, Furnas was my most popular family day trip. My parents would take me to Furnas Lake to feed the ducks, eat the local stew or corncobs cooked in the hot springs.
Now that I'm older – at least on the outside – and done my fair share of travels, I can see how special is this place.
When you get to to Furnas Valley, in São Miguel island, Azores you get the feeling of arriving a unique place. A beautiful hybrid of lush New Zealand with rough Iceland in the middle of the Atlantic. Make no mistake: mother Earth is ALIVE here.
This article is a full travel guide to what you can see and do in the quaint town of Furnas, Azores, based off the possibly hundreds of times I've been there.
Where is Furnas?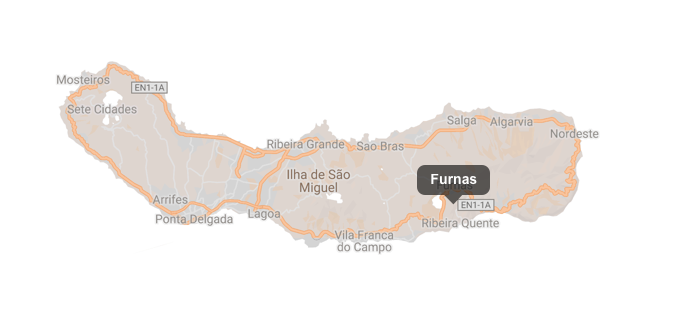 First things first. Furnas is located in the eastern side of the island of São Miguel, Azores, at a 50km distance from Ponta Delgada.
The entire Furnas valley is a giant volcanic crater which last erupted in 1630. The volcano is now dormant, but you can still feel it everywhere in the form of thermal pools, steam holes, and hot springs.
In the 18th century, the water system of Furnas Valley started to become popular due to the medicinal properties of its mineral water, used to treat rheumatism and various skin conditions.
Today Furnas is a lush, charming, and serene spot in Azores. There are enough things to do and see in Furnas that will keep you busy for at least a full day.
How to get to Furnas
First of all, let me say Furnas is a solid option to base yourself in São Miguel and the best option to truly relax for 2-3 days.
If you're not staying in Furnas though, there are 3 main ways to get there apart from the expensive taxis.
Car
The easiest way to get to Furnas is definitely by car. Simply pick up a rental car in Ponta Delgada (the airport is the most convenient) and make the beautiful 45-min drive there.
ℹHow to get to Furnas by car
if you're coming from Ponta Delgada there are 2 main ways to get to Furnas, taking the northern or southern roads.
The northern route involves driving to Ribeira Grande (no need to enter the town though) and then following the EN2-1A road that passes through Gorreana tea estate, Furnas Golf course and Pico do Ferro. You'll arrive at Furnas town.
The southern route goes through a highway until Vila Franca and then continues to beautiful winding EN1-1A road uphill with striking views over the ocean until reaching Furnas Lake.
Both take approximately the same time, so what I recommend is to take one of the roads in one way and returning from the other.
Bus to Furnas
I don't usually recommend bus to get around in Sâo Miguel because they are infrequent. But in the case of Furnas, they might just work because most sights are within walking distance.
There is a direct bus from Ponta Delgada to Furnas operating daily at 7AM (check schedules here). Other buses heading to Povoação may also stop in Furnas. Do not take the info here for granted though – always check with local bus companies.
If you're staying in Furnas for at least one night, you can afford to explore other options. For instance, you take the bus to Vila Franca do Campo and then hop on a second bus to Povoação that also stops in Furnas.
Tours in Furnas
The last option is to book a tour. There are many companies with both half-day and day tours but these are usually too rushed. Prices start at 35EUR/person.
Personally, I think a place like São Miguel is to be explored independently otherwise the beautiful sense of adventure is gone. Furnas is no exception!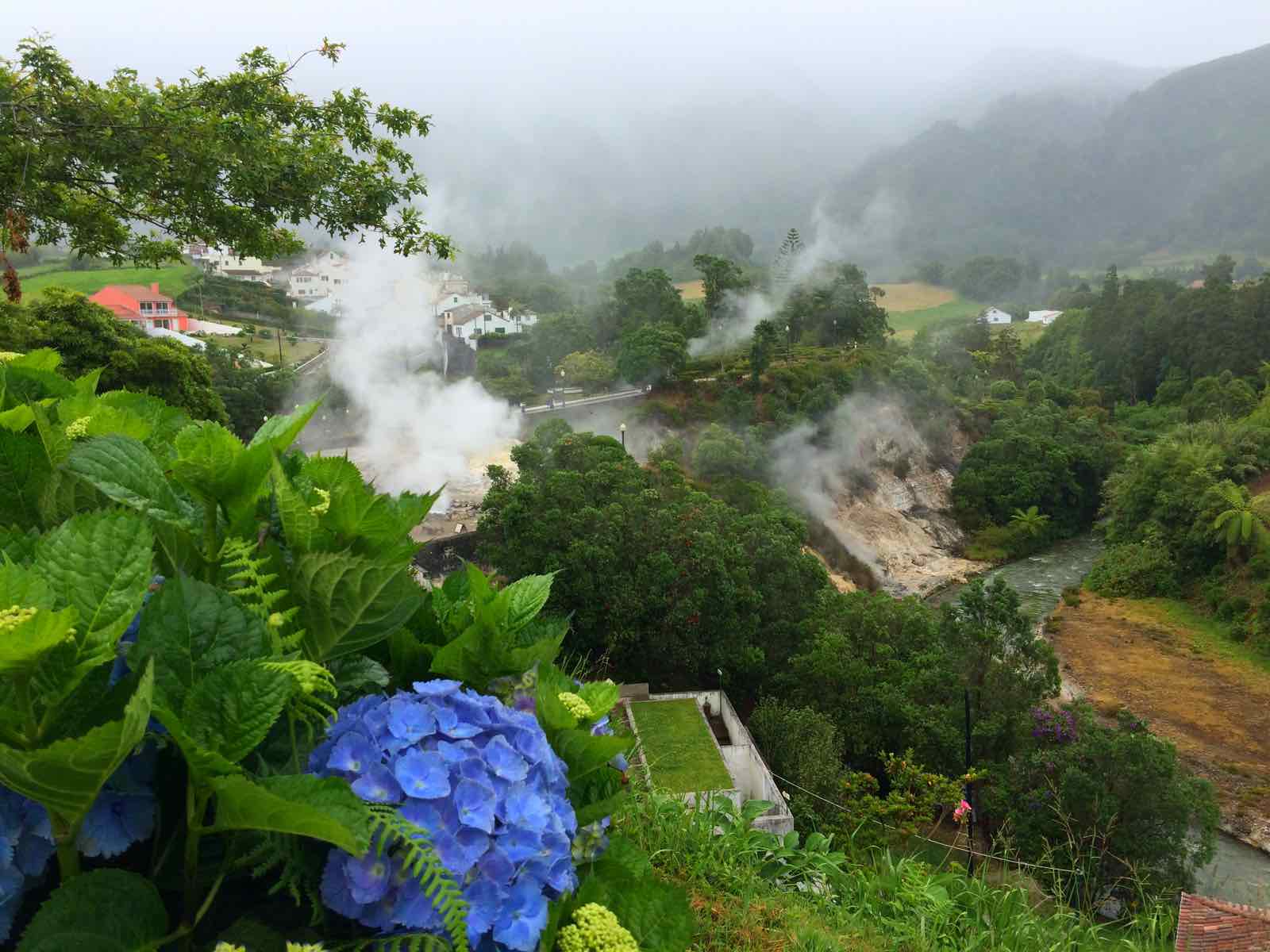 Explore this list of the top-rated hotels, hostels, villas, and guesthouses in Furnas.
Things to do in Furnas
As one of the lushest places in the island, there's a lot to see and do in Furnas.
Furnas Lake (Lagoa das Furnas)
The first place that comes to mind when thinking of Furnas is definitely Lagoa das Furnas (Furnas Lake), one of the 3 main lakes in São Miguel.
It may not come with the dramatic views of the crater lakes of Sete Cidades or Fogo – you need to go to Pico do Ferro viewpoint for that – but Furnas Lake oozes tranquility and beauty.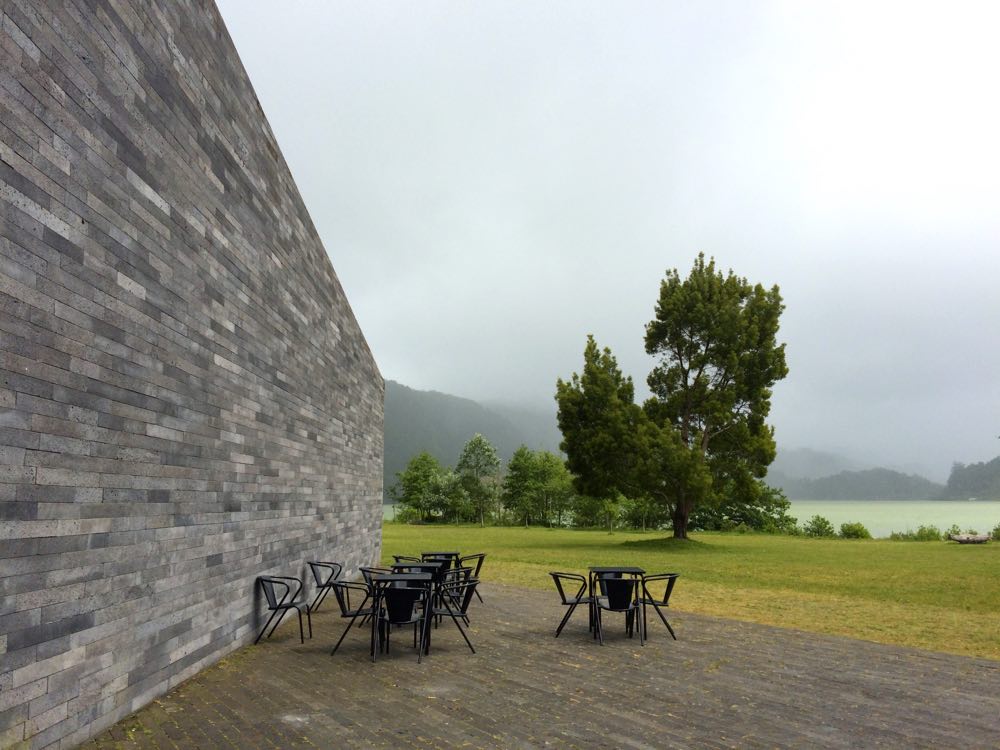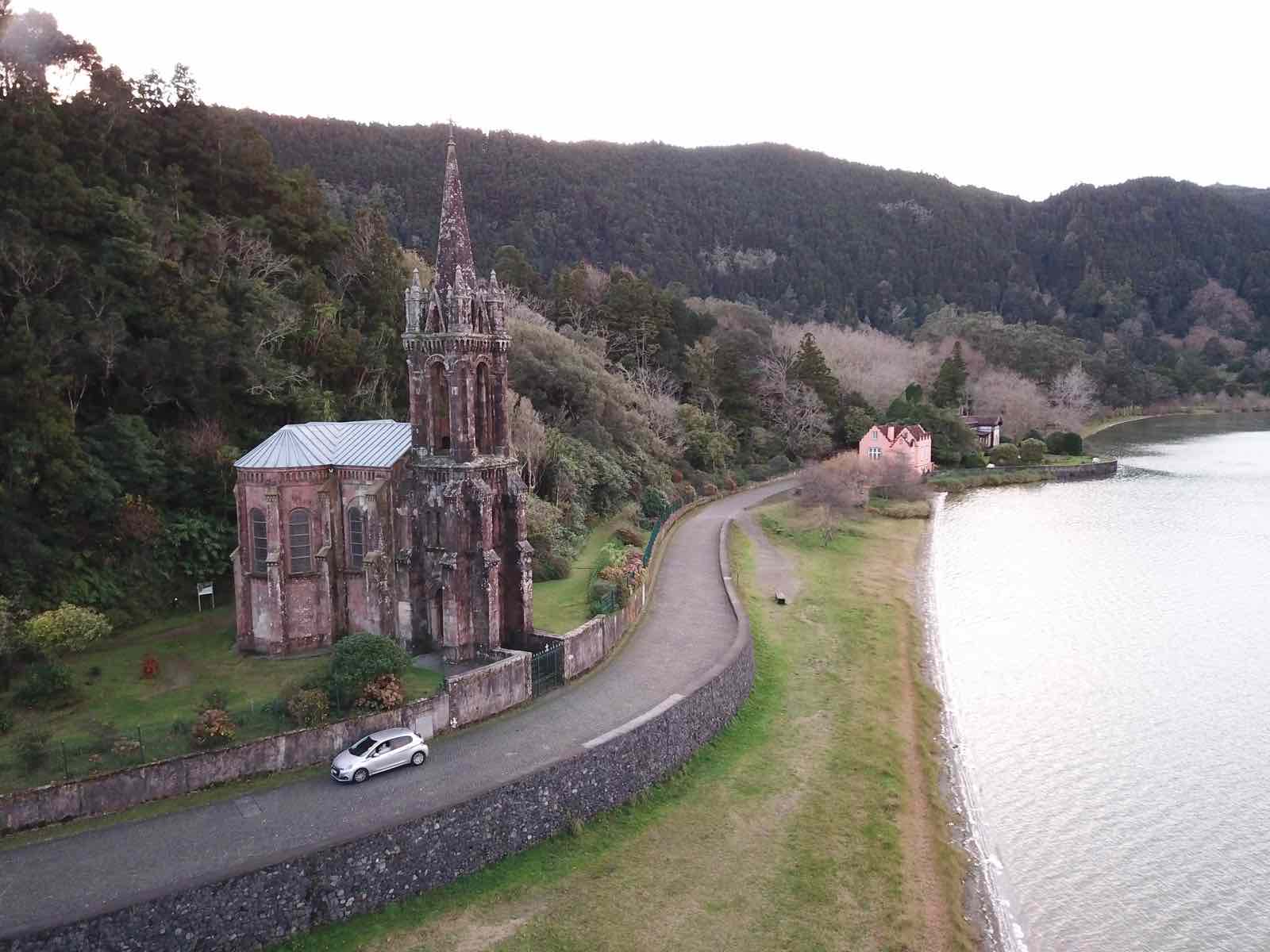 On the western side, don't miss the Neo-Gothic church right next to the lake shore (Nossa Senhora das Vitórias). It's a private church a nobleman decided to build in order to bury their spouse.
A spectacular display of love that can also get slightly creepy when the weather is foggy and gloomy (trust me).
Another highlight of Furnas Lake is the Furnas Research Center, a contemporary building that holds an exhibit where you can learn more about the agriculture and tourism impacts on the lake's ecosystem.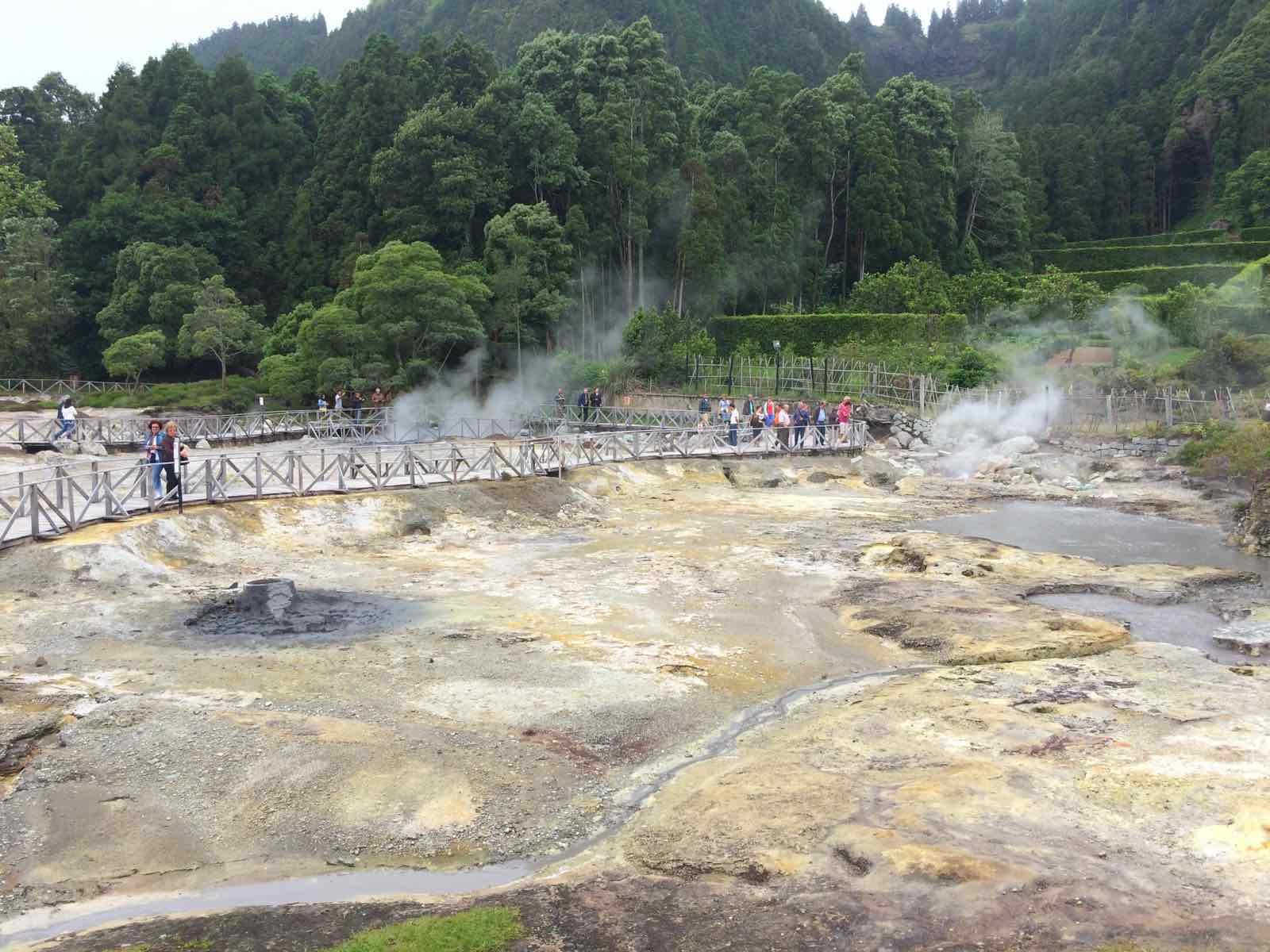 The eastern side, the most touristy, is where the volcanic phenomena are still pretty much alive. Filled with both tiny and large geothermal holes – fumaroles – expelling boiling mud and steam high up in the air. Right next to it, the unique steaming holes where food is cooked. Warning: the STRONG sulfur smell comes from the ground, no one is cooking rotten eggs :).
I strongly suggest renting a bike, there's a mobile bike rental post nearby. Or just go for a little hike all around Furnas Lake, it's one of the easiest hiking trails you can do in the island!
Cooking steam holes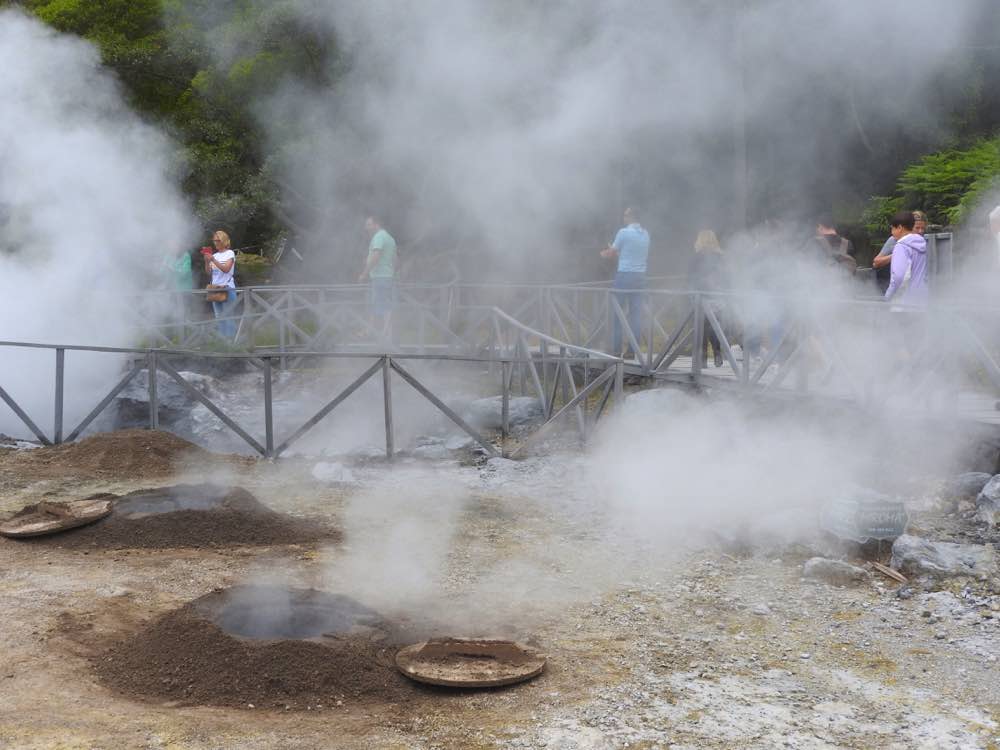 Locally known as Fumarolas, these are dozens of steaming holes where the iconic cozido (stew) is cooked underground for about 6 hours.
The best time to come here is around noon when you can see the workers pulling out the cooking pots and getting it ready to transport it to the restaurants in Furnas.
In the past, most holes were reserved for families who brought their own meal and just paid a small fee to cook it. These days, the interest in the Furnas stew is a lot bigger among tourists and most holes are reserved for restaurants.
Pico do Ferro Viewpoint
View this post on Instagram
This viewpoint has some of the most amazing views of the entire island. From up here, you can see the whole Furnas valley, from the village on your left with the hot springs and tiny houses to the majestic Furnas Lake on the right. In fact, this is one of the few spots where you can see the crater lake from above!
The only catch? Like in all the Furnas valley, weather may not cooperate. Clouds and rainfall are common, even in summer. Therefore, visibility might be close to nada, niente, zero.
ℹHow to get to Pico do Ferro viewpoint
To get to Pico do Ferro, the easiest way is to come to Furnas via the northern road. Right after you pass Furnas Golf Course, about 5-10 minutes before arriving to the valley, there's a sign to Pico do Ferro on your right. Follow the uphill road – careful, gets narrow – for about 5 more minutes.
Inverted house
More like a novelty than a major "attraction", but still fun and entertaining for kids. One of the main streets in Furnas has got a real-life upside down house! You can't go in – it's an electrical substation – but feel free to take pictures.
This is the exact spot in Google Maps.
⚠The fragility of Azores
The Azores have been consecutively named one of the top sustainable destinations worldwide. Yet with the recent tourism boom, this fragile balance is now threatened.
When you're in the islands, please try to minimize your impact at all times. Leave nothing but footprints everywhere you go, help local and sustainable businesses, and be aware of any activities causing visual and noise pollution. This includes avoiding playing loud music on phones and taking ALL the trash with you until you find a bin.
Thank you for keeping my home island green and beautiful. 💚
Caldeiras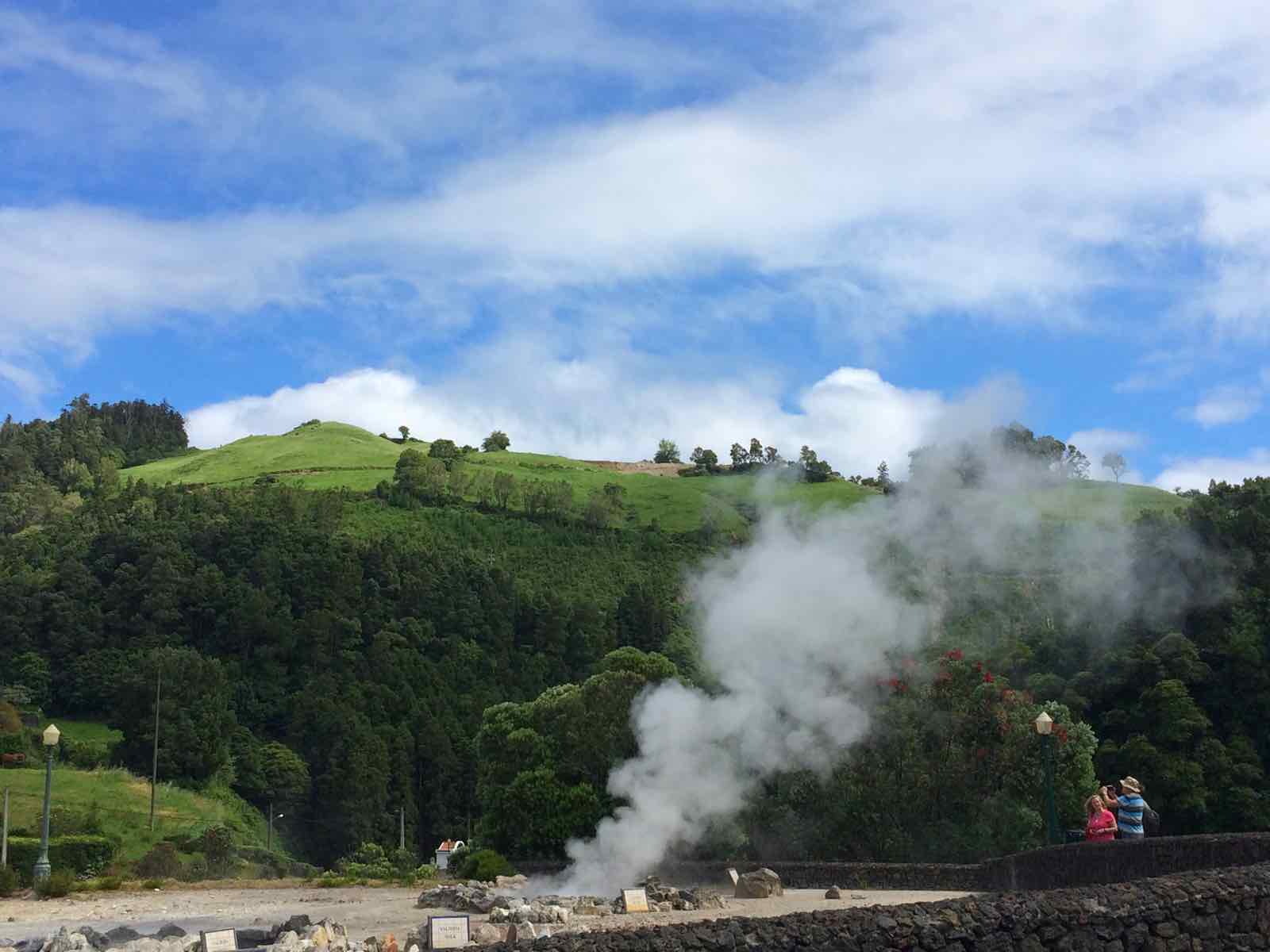 Caldeiras das Furnas is a set of hot springs in the heart of Furnas town. You can venture out amongst mud springs, hot water creeks, and even tiny geysers. It's a moon-ish scenery made even more surreal by the surrounding green hills.
Just like in the steaming holes next to Furnas Lake, the smell is not exactly pleasant here. I came here so many times I become desensitized to it, but you might feel it.
One of my fondest memories of coming here was the corn on the cob cooked in the nearby boiling springs. My favorite snack when I was a child is still sold by lovely ladies next to the Caldeiras parking lot. Try it and let me know what you think!
Your place in Furnas!
Terra Nostra Park
View this post on Instagram
Terra Nostra is a famous landmark in Furnas with a set of hotel, restaurant, gardens, and outdoor thermal pool. Terra Nostra is a fantastic place to stay in São Miguel: it's elegant, modern, and a perfect marriage with the surrounding nature. That said, you don't need to be a guest to eat in their restaurant – pricey, but delicious – nor to visit the gardens.
I've been to many botanical gardens but Terra Nostra Park is one of the most exquisite collections of plants from all over the world I have seen. I'm not a doctor, but I'm pretty sure a stroll here has anti-anxiety and relaxing properties. They even got different recommended itineraries for each time of the year.
Apart from glorious Jurassic ferns, lush plants, and majestic trees, there are also several outdoor small thermal pools of iron-enriched orange water to take a dip. For a similar but more crowded experience, head to Poça Dona Beija.
ℹTerra Nostra Park tips
As per 2022 prices, the entrance to the park + pools is 10 EUR for adults. If you stay or have lunch at the restaurant, the entrance is complimentary.
My suggestion? Pick a cloudy/rainy day to visit the pools. Bathing in 39 Celsius degrees water when it's hot and humid outside doesn't sound appealing, does it?
And last but not least: bring dark-colored swimwear that is NOT your favorite swim outfit. The extremely high iron content of the water can stain your clothes permanently.
Poça de Dona Beija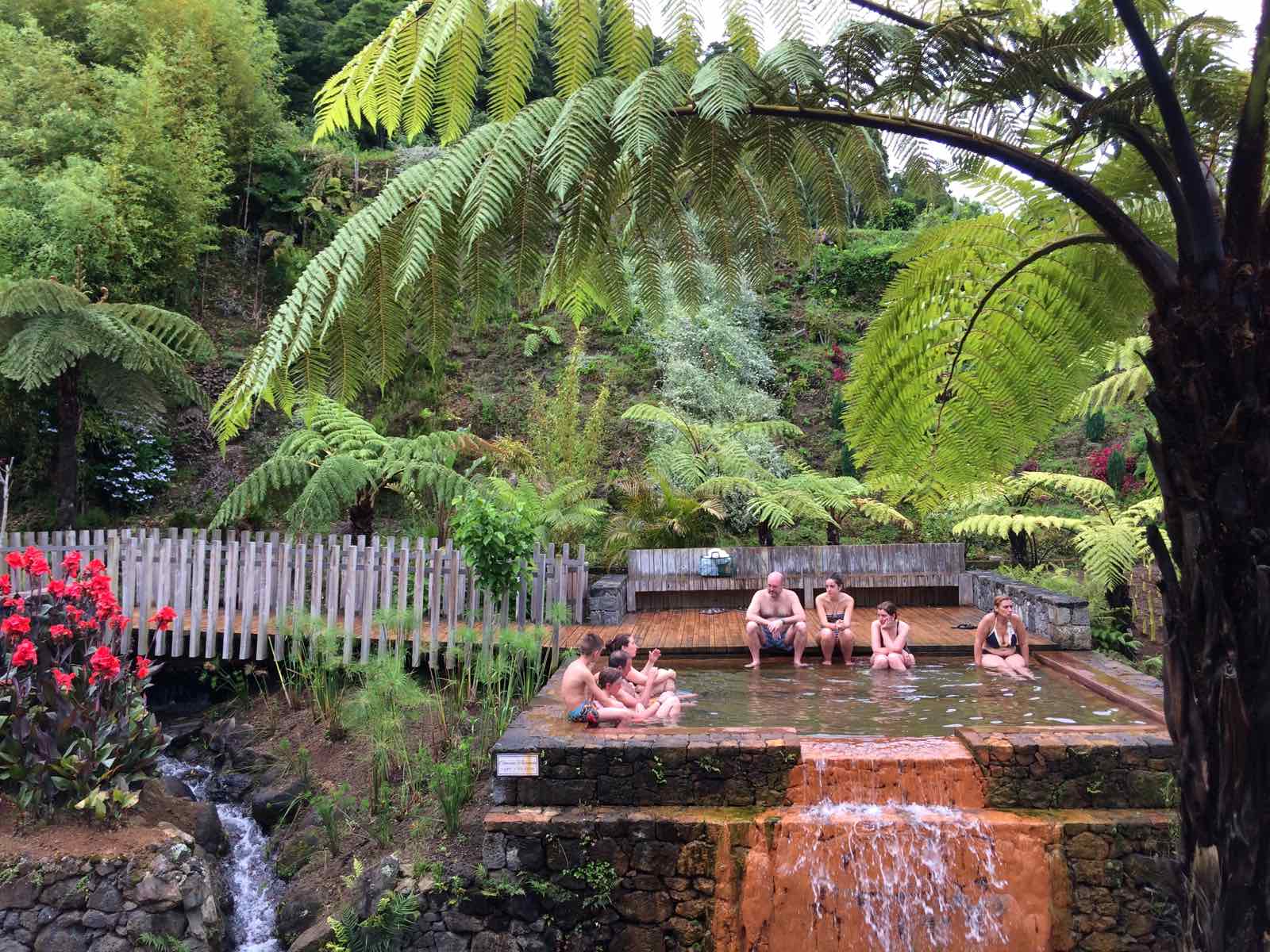 This is an alternative to Terra Nostra Park. The set of 5 pools in Poça da Dona Beija is scattered alongside a small creek, next to some plantations and gardens, and quite literally in the backyard of some houses. For years these were the public hot springs of the island.
As for the rest, same orange-y water, same medicinal properties, same temperature, just in a different setting. Pick one, can't see a reason to do both if you're coming for just a day.
Both receive a fair amount of visitors all year round, but if you're especially sensitive about sharing the same water with strangers, Poça da Dona Beija is likely to get more crowded than Terra Nostra. Last time I was there, very loud schoolkids on a field trip were there… 🤦
ℹPoça Dona Beija tips
Poça de Dona Beija is open from 7am to 11pm everyday. As per 2019 prices, the entrance to the pools is 6 EUR. Towels, hot showers, and lockers can be rented at an additional cost.
The same tips for Terra Nostra Park apply: don't come on a hot sunny day or you'll boil and bring dark (and preferably old) swimwear. Find other specific recommendations here.
Ribeira Quente beach
It's summer and you're fancying a dip in the ocean? Just a 20-min drive southeast of Furnas, Ribeira Quente is a seaside town with a gorgeous beach protected by a natural cove.
My day trips to Furnas usually end up here. They say the water in Ribeira Quente is slightly warmer than in the rest of the island due to geothermal heat, but hey, never brought a thermometer to confirm. 🤷
Parque da Grená
After decades of abandonment and three tons (!) of trash remove, a new natural and wildlife park opened next to Caldeiras das Furnas in early 2020. With 18 hectares of untouchable forest, Parque da Grená is perhaps the most recent point of interest on the island of São Miguel.
There are different trails you can do here, including one that leads to a waterfall surrounded by the forest. Go early in the morning or in the afternoon and plan to spend 2 hours here to take it all in, at the very least.
Where to stay in Furnas
There are great choices of accommodation in Furnas, from budget stays to luxury resorts.
You can start looking your place to stay with my shortlist of top-rated places in Furnas with WiFi.
Or to make your life easier, just pick your favorite amongst the top 3 hotels I recommend to stay in Furnas.

With charming art-deco vibes and surrounded by a majestic park, it's one of the most unique hotels in Azores.

Once an old cattle farm, these eco-friendly cedar bungalows are perfect if you're looking for peace and quiet.
Lovely guesthouse set in a fabulous garden with flowers and fruit trees.
Hiking in Furnas
There are dozens of trekking trails in São Miguel, but the lush and rich landscapes of Furnas are the perfect setting to go for a hike.
One of my favorites is simply going around Furnas Lake. Start in the eastern part of the lake, next to Fumarolas (the steaming holes) and just go full circle. It's a 1h30 extremely low-effort hike (walk?) and a great way to see all sights around.
If you're feeling more adventurous and the weather is clear, the 6km Grená-Pico do Ferro trail has breathtaking views. It starts right next to Pico do Ferro viewpoint.

Food in Furnas
Cozido das Furnas (Furnas Stew)
Ok – skip this section if you're a vegetarian.
Still there? Ok you simply can't leave Furnas without having the local cozido (stew). This hearty mix of different types of meat – veal, pork, chicken – and local vegetables is one of the most exciting dishes you can have in São Miguel.
Cozido das Furnas is cooked in a pot underground in the holes next to Furnas Lake using only volcanic heat and with temperatures reaching 90 degrees Celsius. It's also the definition of slow food as it can cook for up to 7-8 hours (!).
Novelties aside, it's a delicious local treat that may get you REALLY full so I recommend getting it for lunch. I'm not a fan of stews myself, but I got to admit having Mother Earth gives it a special taste you can't replicate when a human is cooking.
ℹFurnas stew ingredients
The recipe varies, but this is what you can expect to find in a typical Furnas Stew.
Pork (may or may not include pigs' ear)
Veal
Chicken
Chouriço (chorizo)
Morcela (a type of blood sausage)
Kale
Carrots
Cabbage
Potatoes
Sweet potatoes
So where can you eat Cozido das Furnas?
Technically you can cook it yourself. Bring the pot with the meat, vegetables, give it to one of the men in the holes and wait for 6 hours. Not very convenient.
For years, Tony's was the reference restaurant serving Furnas stew.
These days, this delicacy is available in many more restaurants, from the upscale experience in Terra Nostra Hotel's restaurant – expect all ingredients cooked to perfection here – to other more budget-conscious alternatives like Caldeiras e Vulcões or Banhos Férreos.
Bolo Lêvedo
I love the versatility of this cake-bread hybrid. Loosely translated as sweet muffin, tastes equally delicious in a sandwich, a hamburger or simply toasted with butter. Goes extremely well with jam or local cheese. The addiction probability is big – don't say I didn't warn you.
Even though it is made throughout the island, bolo lêvedo was born in Furnas. There are a couple of spots in town you can get them still fresh out of the oven: just google Rosa Quental or Glória Moniz.
My travel tips valid anywhere
Have you been to Furnas, Azores? What did you do in the Furnas valley?
Share your experience below in the comments! 👇