This is a curated list of the major Lisbon hidden gems and secret places. No touristy bullshit or pretentiousness here. Whether you are living in Lisbon, have a few extra days to explore or you're an hipster looking for the off the beaten track, this article is for you.
Just like a kid, I've seen Lisbon slowly grow, modernize and bloom into the trendy hotspot that is right now. Nowadays, millions come in search for sun, food and its history-enriched sights and attractions.
The drawback of having more and more people every year is that it becomes a bit like an amusement park in some aspects. Hard to keep essence and tradition when facing the gentrification capitalist monster!
That said, there's still authenticity underneath the outer layer of tourism.
Here's some of my personal favorite Lisbon hidden gems to grow your city's bucket list and fall in love with this city a bit more. 😉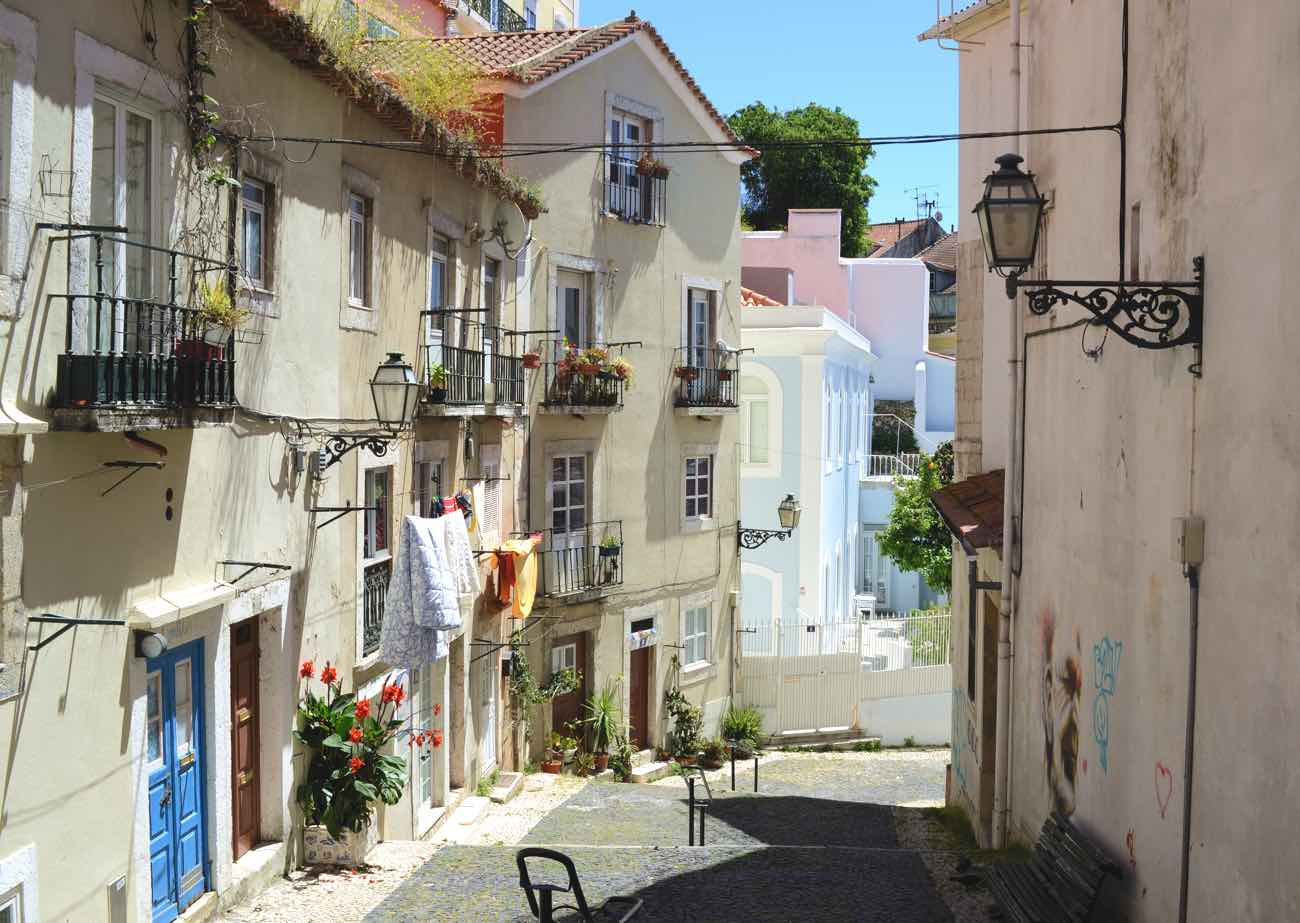 My Favorite Hidden Gems and Secrets in Lisbon 💕
1

Livraria do Simão

Let's start small, shall we?

Livraria do Simão sits quietly near Escadinhas de São Cristóvão, in the southern side of São Jorge Castle hill. With only about the size of a cupboard – only 4 square meters to be more precise – it's probably the smallest and tightest bookstore in the world. In fact it's so tiny whenever there's a client, Simão, the owner, has to get out of the shop! 😂

Despite the tiny size, there are roughly 4k books here, mostly used ones about the history and culture of Lisbon, Portugal as well as portuguese language. Even if you're not a reading kind of person, this a very curious place to explore.
2

Feira da Ladra

A "hidden gem full of hidden gems" is the best way to define this place. If you're a vintage fan and/or are looking for a bargain, definitely head to Feira da Ladra. Translated as Thieves' Market, it's the largest flea market in Lisboa. Many flock here for your opportunity to go home with a rare antique or a completely new outfit.

Along the way, do a bit of sightseeing in Igreja de Santa Engrácia, Panteão Nacional and Santa Apolónia. This is one of the most overlooked parts of Lisbon.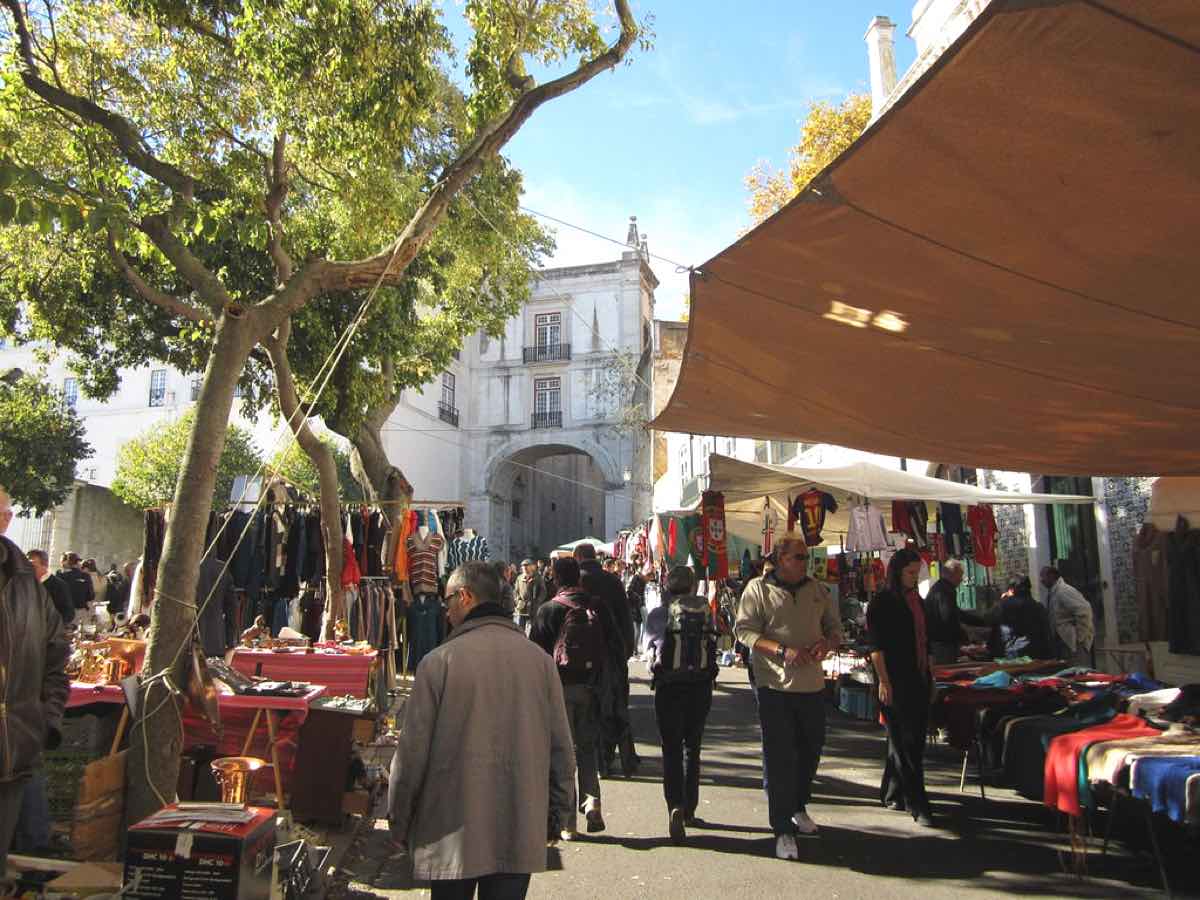 3

The streets & alleys around the castle

Walking is the best way to explore a city and this is specially true in the case of Lisbon. The streets of Alfama, Sé and Mouraria that surround the castle are some of the most authentic, perfect to get beautifully lost. True hidden gems full of little secrets!

Among the many cobble stone alleys, expect quaint restaurants, encaged birds singing and children playing soccer while their mothers put the laundry out to dry. You'll also find gorgeous views over Lisbon that act as sneak peaks the majestic viewpoint that is São Jorge Castle.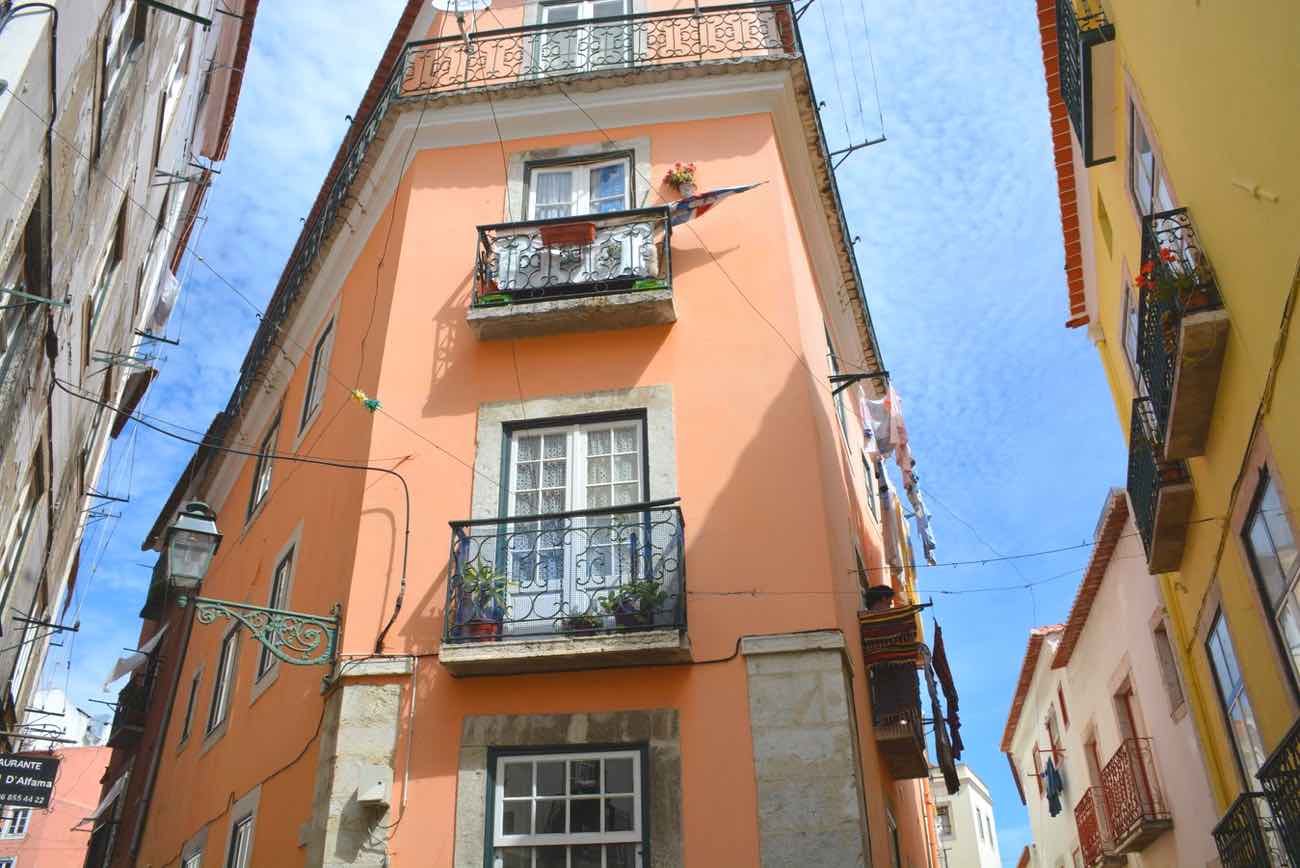 4

Listen to fado… for FREE

Sadly, apart from a beautiful culture icon of the country, Fado is also the reason for major rip-offs in Lisbon. Companies sell Fado shows which basically consist of seriously overpriced combo of dinner with low-quality food + a live fado singer.

Fortunately there are a few spots where you can listen to fado for free. No ridiculous "combo packages" or mandatory drink consumption involved. If Lisboners would never pay 60 Euros to hear fado while having a sub-standard dinner, why would you?
Where to listen to fado in Lisbon for free
O Povo: this stylish restaurant has frequent fado shows with young singers and musicians. There is no fee for the show and you can have a full dinner of petiscos for 20 euros tops, wine included.
Tasca do Chico: popular charming tasca with live fado shows on Mondays and Wednesdays. No admission or fees involved, just character and personality here. I don't recommend it for a full dinner, but great for having a drink and a bit of cheese and chouriço to nibble.
Museu do Fado: during the weekends the Fado Museum hosts a short fado show. The price is included in the ticket fee.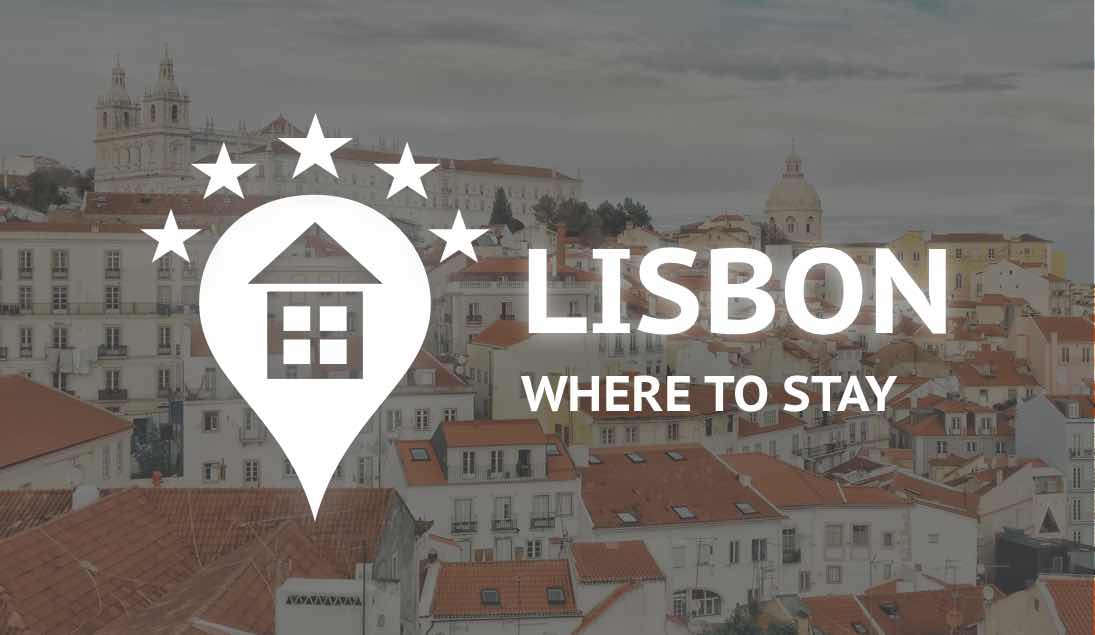 Top hotels in Lisbon
I've made the hard work for you.
This is a pre-filtered list of hotels in the best areas to stay in Lisbon.
5

Jardim do Torel

Even in a city with few green spaces, all attentions seem to be drawn into Parque Eduardo VII. A bit further down and spawning across one of the hills of Lisbon, Jardim do Torel is a lovely spot often overlooked both by travelers and locals. To give you an idea, I first went there only 5 years after I've moved to Lisbon!

This place is the definition of hidden beauty in a quiet and secluded area of the city. Located next to Lavra Funicular – the less visited lift in Lisbon – it's a great place to grab a bench and enjoy the shade in a hot summer day.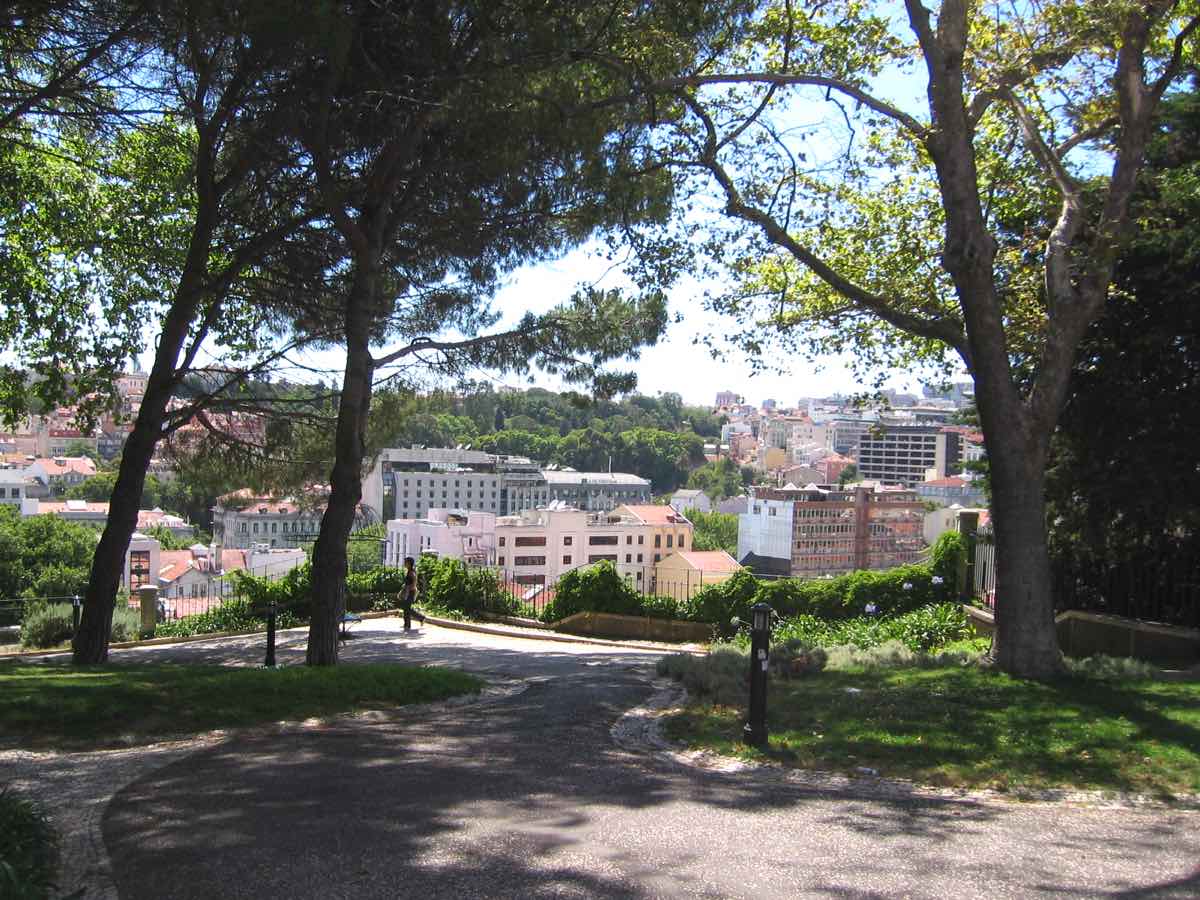 Got a place to stay in Lisbon already? (1/2) ⭐
Charmingly music-themed hotel, super close to the center. Oh it comes with this stunning rooftop swimming pool.
Check prices
6

LX Factory

What once was an ugly industrial area of Lisbon is now a creative hotspot for artists, entrepreneurs and anyone seeking a different vibe. To be honest I wouldn't call it a beautiful sight, but it's getting there. In a way LX Factory symbolizes the recent evolution of the city to a youthful, innovative and multicultural european capital.

On this site in Alcântara you'll find a bit of everything: chilled bars, typical restaurants, alluring bookshops as well as eclectic art galleries. Followed closely by Príncipe Real, it's definitely the most hipster place in Lisbon.

Head to the newly opened Rio Maravilha, grab a drink or something to eat and dazzle with the fantastic views over the Tejo river and the 25 de Abril Bridge. Not cheap, but it's the price to pay for a movie-like setting.
7

The Best Pastel de Nata In Lisbon

Traditionally portuguese pastéis de nata (custard tarts) are almost an worldwide trend now. However, no matter where you try them, nothing compares to the ones in Lisbon. Trust me, I've got my senses aware to hunt for natas everywhere I go.

Forget about the original Pastéis de Belém. Nowadays any good pastry shop in Lisbon has homemade pastéis de nata after all. But there is one place that has an edge over the others. It's so good I've even featured as one of the must-have experiences to have in Lisbon.

Manteigaria is conveniently located in Largo de Camões, right in the edge of Chiado, Bica and Bairro Alto neighborhoods.

There is no sitting available, but with fresh-out-of-the-oven tarts and 2 of the best viewpoints of the city nearby who cares? The service is super friendly, the natas are deliciously fresh and have a slight orange-y twist. My tastebuds say so anyway.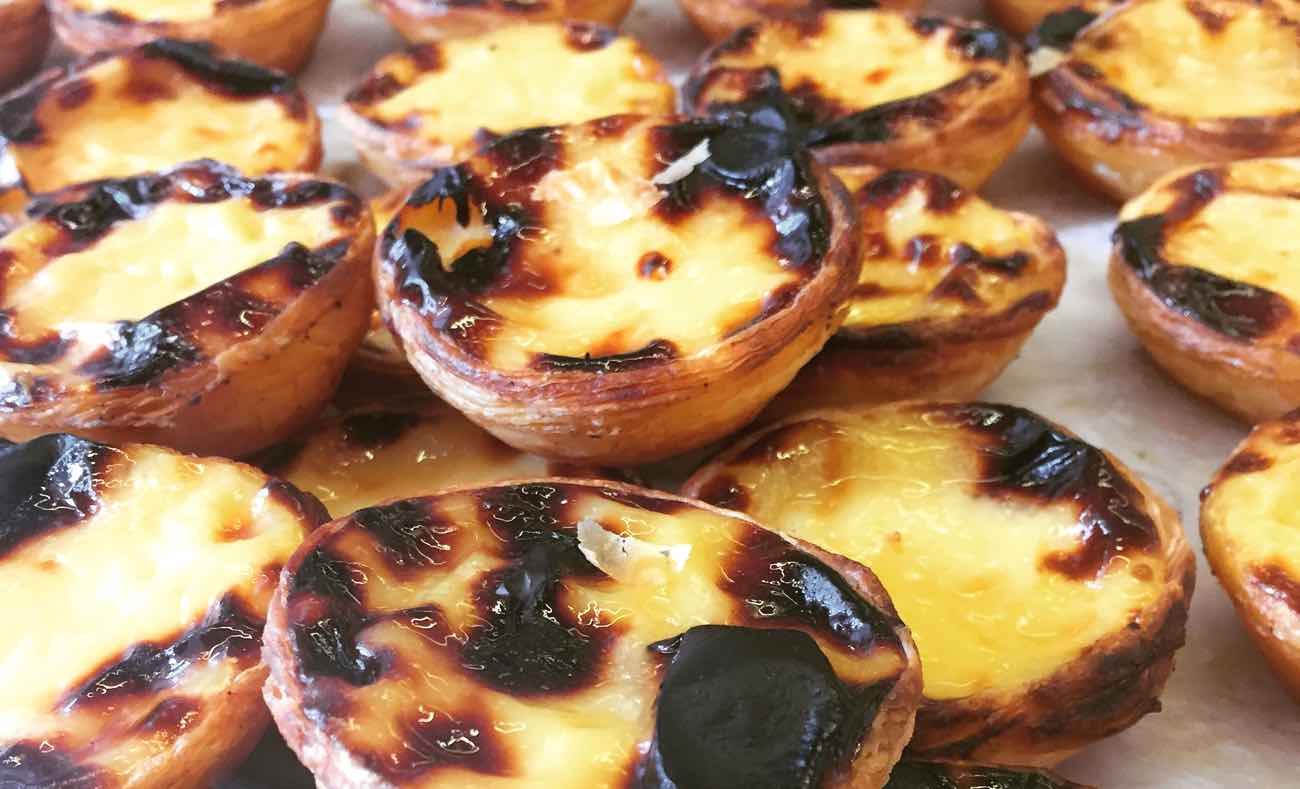 8

Biking In Belém Riverside

Easily one of the things I miss the most about Lisbon. I used to rent a bike in Cais do Sodré, Alcântara or Belém and pedal side-by-side with the Tejo river. This is where I actually learned to bike.

The bike lane goes all the way to Champalimaud Centre for the Unknown in Algés, which means around 7 km of biking along the river. Beautiful views while you serpentine around rollerbladers, joggers or families going for a walk.

On the way you'll pass through some of the Lisbon's most iconic sights like Torre de Belém, Padrão dos Descobrimentos and MAAT. Not to mention a new perspective right under the 25 de Abril Bridge!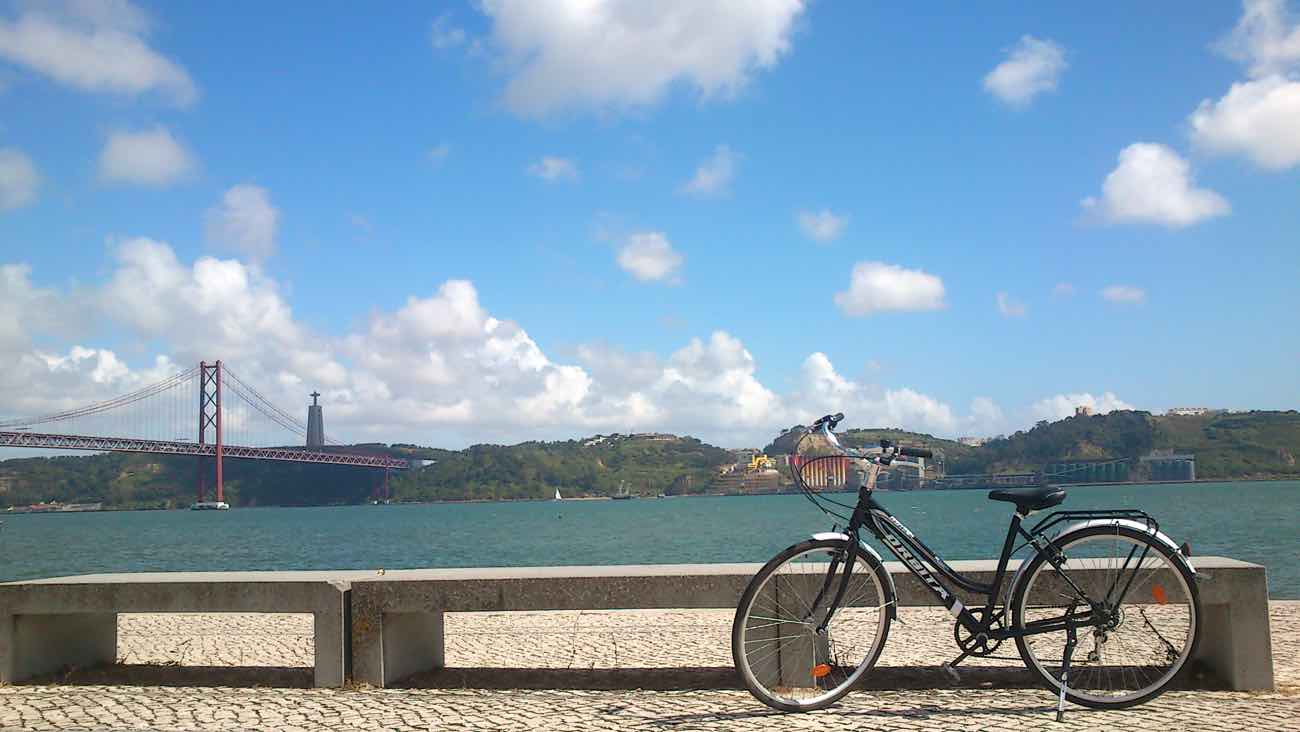 Where to rent a bike in Lisbon (to ride next to the river)
These are the best places to rent a bike close to Belém and Alcântara riverside.
🚲 GIRA (the public bike sharing system of Lisbon)
🚲 Belém Bike (Avenida de Brasília, right next to MAAT)
🚲 BikeIberia (Largo do Corpo Santo 5)
🚲 FunTrack (Doca de Alcântara, right behind Museu do Oriente)
🚲 RCicla (Avenida 24 de Julho 86A)
9

The Best Miradouro In Lisbon

Lisbon is the city of miradouros (viewpoints). I often say to everyone visiting to follow any sign with the word miradouro on it. Somehow it always leads to a spectacular spot and a romantic experience.

Yet the absolute best viewpoint of Lisbon is one of the most overlooked: Miradouro da Nossa Senhora do Monte. It's a bit harder to get to – it actually is a great leg & butt workout – but it's totally worth it. Taking in the gorgeous panoramic view is one of the best memories you'll ever have from Lisbon. You can see everything – the castle, the Baixa district, the river as well as almost all of the other miradouros.

If you want to take the best of the moment, bring a beer or a bottle of wine with you and head here just before sunset.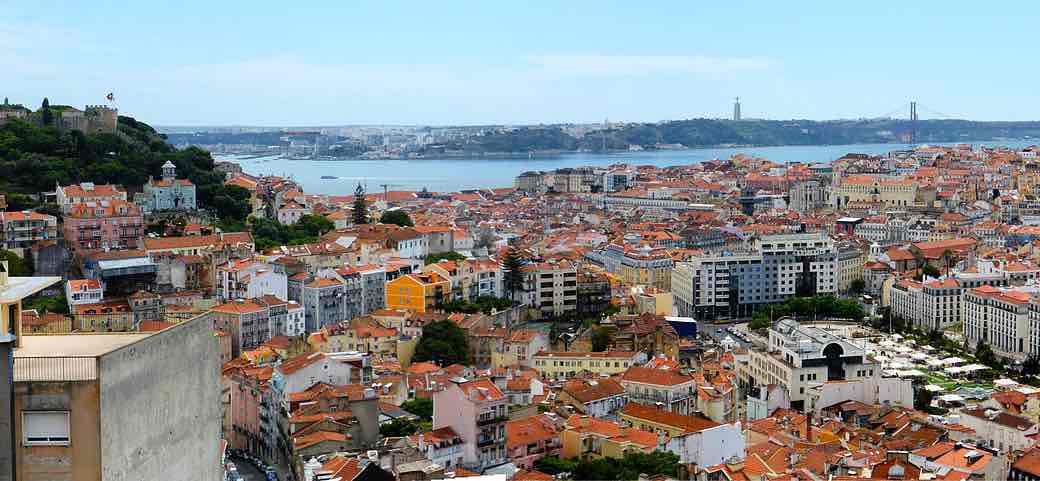 10

A Ginjinha

Speaking of alcohol. Ginjinha is the most famous portuguese liquor and is obtained by infusing ginjas (sour cherry) in alcohol, typically aguardente.

You can choose to drink yours com ela (with the berry) or sem ela (without) in the very traditional A Ginjinha (Largo São Domingos, 8), right across Teatro Nacional D.
Maria II. Some places even serve it in an edible chocolate cup, like they do in the region of Óbidos.
⭐ Suggestion of place to stay in Lisbon (2/2) ⭐
Located in busy Rossio – the heart of Lisbon – it's just one of those amazing value places that will make you feel at home. Perfect to make friends. Book now
11

Museu do Azulejo

Tiles – azulejos in Portuguese – have been the key point of design in Portugal for centuries, being featured in private houses, street art and even churches. It's only natural there's a full museum dedicated to it.

Apart from a vast collection of tiles – specially the blue mosaic ones – Museu do Azulejo has a restaurant and a terrace perfect to spend some time in.
12

Ler Devagar Bookstore

Recently named one of the 10 most beautiful bookstores in the planet, entering Ler Devagar is like entering a world apart. The timeless and endearing environment will quickly draw you in to sit down, have a bica (slang for coffee) and take your time. After all even the name of this bookstore says so – literally translated as "Read Slowly".

The giant sculpture of a cyclist hanging from the ceiling fills in the space that once was a book printing site, inside the premises of LX Factory art center (see #6). You can still have a look at the antique machinery on the top floor.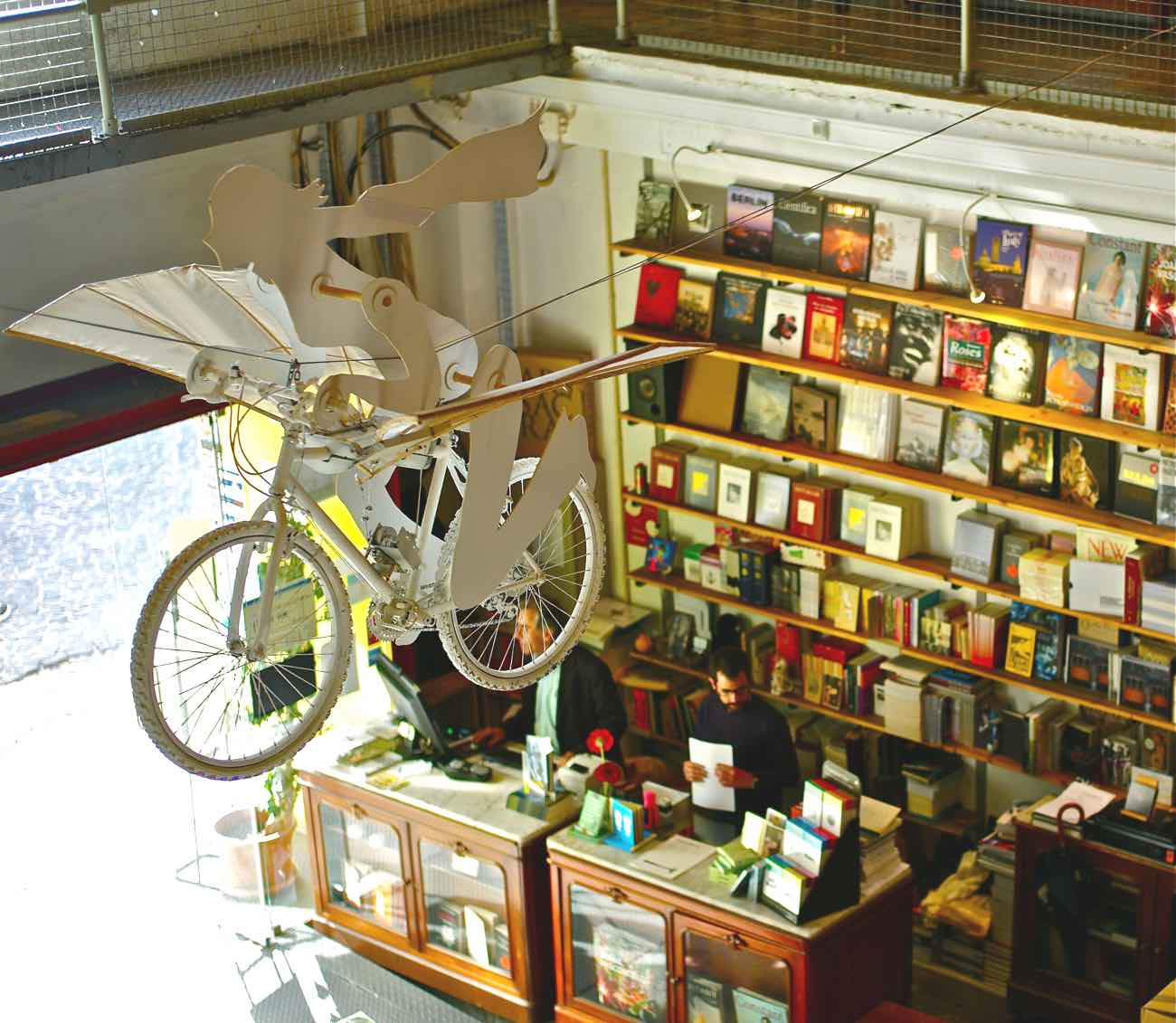 13

Café da Garagem

If you're looking for a hipster place for a coffee break – or wine break, I don't judge – look no further. Service in Café da Garagem is great, food is delicious and affordable, all in a retro atmosphere. But the reason why this place is considered an hidden gem is because of the really panorama view over Lisbon.

Surprisingly this spot not very well-known – I only read about it last year! – and there is also a theater on the top floor with small art exhibitions.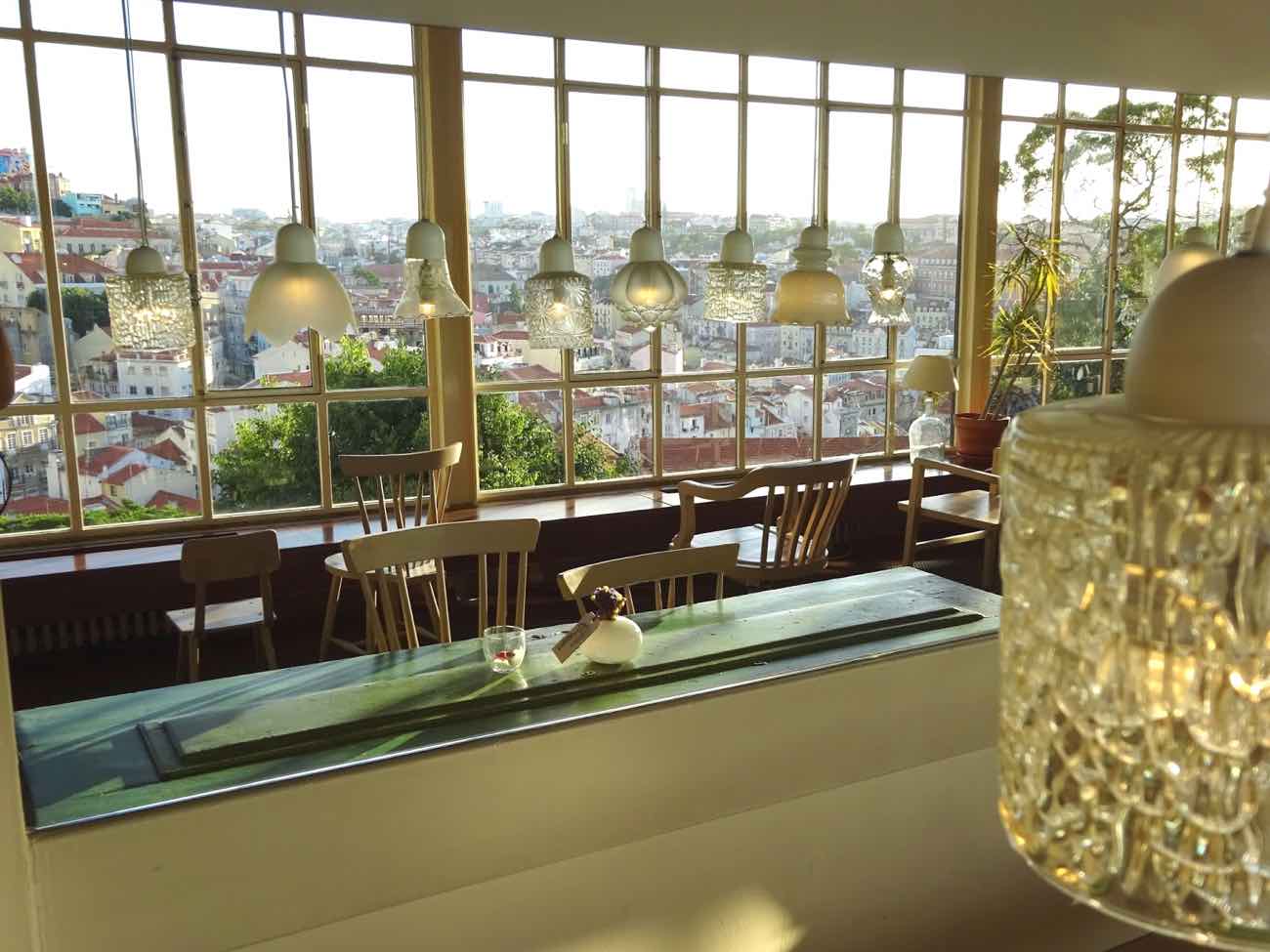 14

Hospital das Bonecas

The strangest place on this list for sure. Located in Praça da Figueira, in the heart of the downtown, visiting Hospital das Bonecas (Doll Hospital) is a sweet but somewhat creepy experience.

It's exactly what the name says: here both modern and vintage dolls (as well as stuffed toys and miniatures) are repaired in a family-owned business that runs since 1830 (!). Despite being the era of video games and gadgets, there are still children who take their best friends to this hospital. How sweet is that?
15

Traditional Restaurants 🍴

It's the 21st century and apps like TripAdvisor have tackled the problem of finding good quality restaurants when you're abroad.

However they've created another problem in the process. Trying to go to one of these top listings is almost impossible. They're always completely packed. The last time I was in Lisbon for 4 times restaurants told me they were not accepting any more clients for the night.

Anyway. To finish off this article, I've put together a shortlist of my favorite traditional restaurants in Lisbon.

Yes, they do still exist. No fancy decorations or sophisticated dishes. Here all it matters is exactly what it should matter in a restaurant: the food. Please note I'm not responsible for any weight that you might gain.
The best secret traditional restaurants in Lisbon
🍴 A Gina (Parque Mayer): great honest food from the North of Portugal, respecting traditional ingredients and ways of cooking. You can eat a LOT for 20EUR/person, but I'm particularly fan of their meat.
🍴 Carvoaria Jacto (Rua Maria Andrade, 6A): a steakhouse, done the portuguese way. Choose your meat (lamb, beef or pork), the cut and size and they'll cook it for you. Salad is complimentary. Everything is great quality, but the Posta À Mirandesa has the potential to be memorable.
🍴 O Eurico (Largo de São Cristóvão, 3): fresh, uncomplicated and traditional portuguese food. Bacalhau is specially good. An old couple running this place and the tables close to each other create a cozy atmosphere. It has become very trendy recently, so get there early.
🍴 Toma Lá Dá Cá (Travessa do Sequeiro, 38): very typical and unpretentious place. Don't expect creative or imaginative dishes, this is authentic food as it's served in any Portuguese home. I find it a particularly good choice for meat lovers. Won't be disappointed.
🍴 Zé da Mouraria (Rua João do Outeiro, 24): Tiny restaurant with few or no tourists, serving delicious homemade food coming in big portions. Don't miss out on the octopus salad or calamari. Great value-for-money!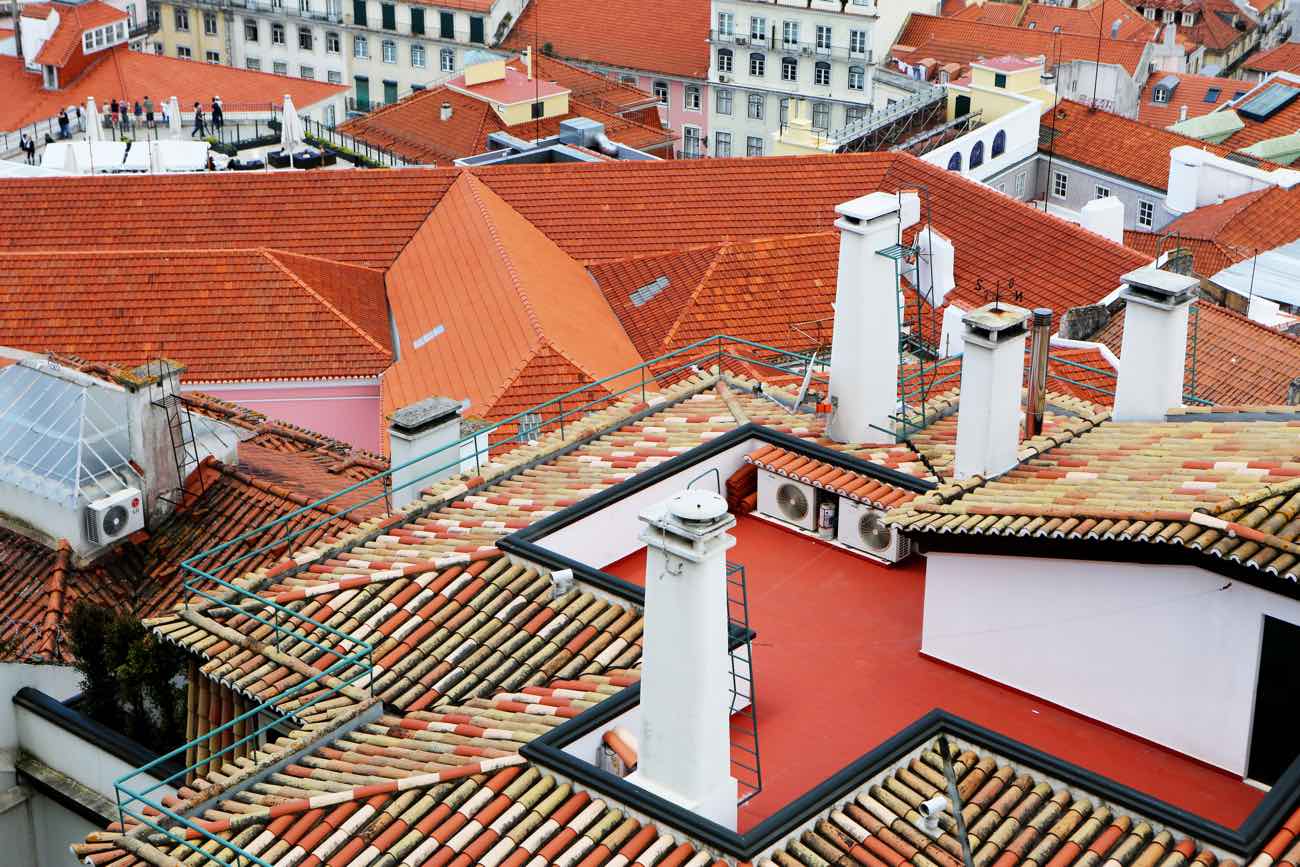 Where to stay in Lisbon
Many buildings in the old neighbourhoods in Lisbon are being refurbished to serve as accommodation for tourists. As a result, this has increased the rent for locals as crazy, but that's another story.
There are some areas I would personally avoid staying – Martim Moniz, Intendente and Mouraria – for safety issues. And because there's little to see as a visitor.
On the other hand, any area in the "central axis" of Lisbon is absolutely a great choice in terms of shops, restaurants and transports. I'm talking about São Sebastião, Marquês, Avenida, Restauradores and Baixa.
Use this list of hotels and guesthouses I've put together to get you started. ALL of these are located in the best central areas of Lisbon, with WiFi, and with a rating of 8 or higher.
Or have a look below at my top 2 recommendations.
My value-for-money hotel recommendations in Lisbon 💰
Charmingly music-themed hotel, super close to the center. Oh it comes with this stunning rooftop swimming pool.
Check prices
Located in busy Rossio – the heart of Lisbon – it's just one of those amazing value places that will make you feel at home. Perfect to make friends. Check prices
Useful Portugal Resources
Have you visited any of these Lisbon hidden gems? Which others would you add here?
Share your experience below!