Skip biased TripAdvisor reviews and read insights from a local and find the best hotel for you in São Miguel (Azores).
My home island is now completely different compared to just a few years ago.
There is now a wide choice of hotels, villas, and guesthouses in São Miguel island, for all kind of travelers. From the exclusive luxury to the shoestring backpacker.
I've handpicked a selected list of 23 hotels and other accommodation types for each kind of traveler. All sorts of budgets, experiences, and locations throughout the island. This island map has even more options.
Best Luxury Hotels in São Miguel 💎
To those who are used to some standards or honeymooners looking for the best possible experience in São Miguel. Compared to other destinations, premium accommodation in Azores (still) comes at a fairly reasonable price, so might as well take advantage of it!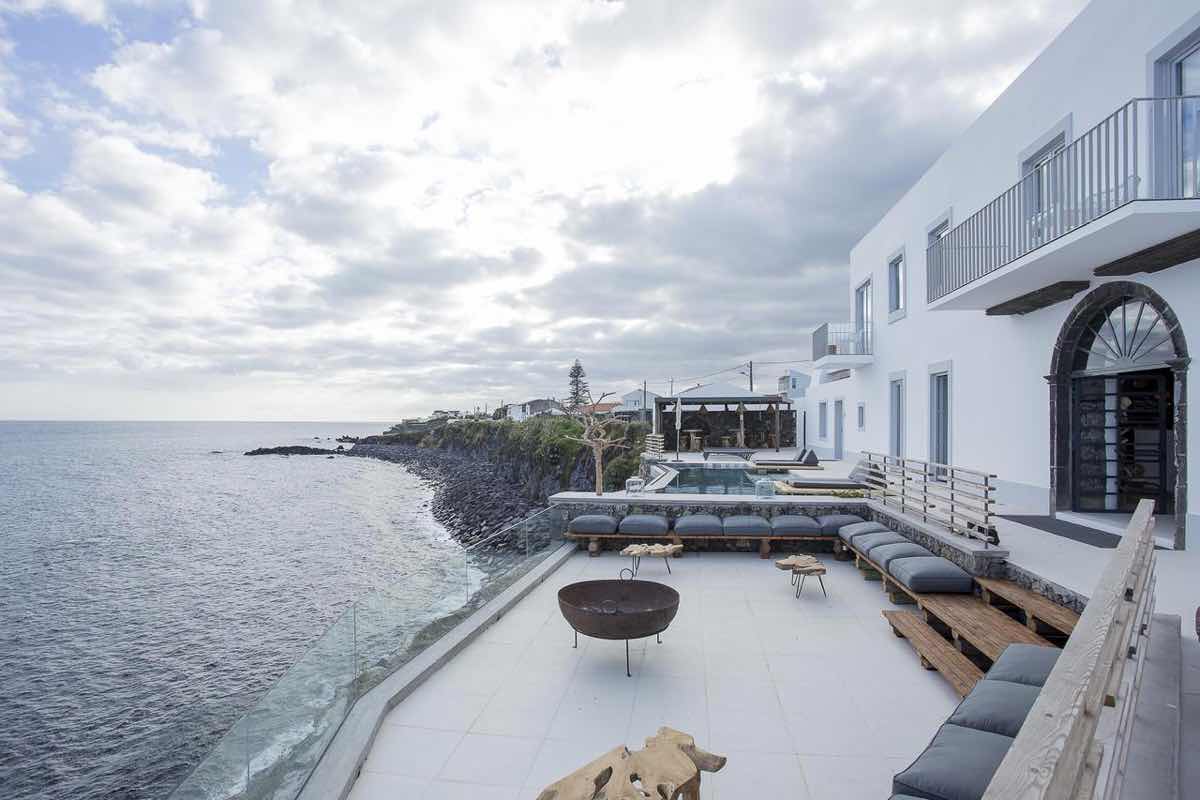 The cliffside location of this dreamy seaside resort is still controversial in São Miguel, but the fact that it's now open and has enough appeal to spend an entire day relaxing. The old&new stylish decoration combined with the killer ocean views has a somewhat Greek-inspired kind of flare. But this is Azores, elevated.
It features a saltwater pool, an outdoor firepit, a fresh healthy breakfast, and gorgeous soundproof villas right on top of a seaside cliff. White is a honeymooners' delight but really a dream for anyone looking to have a memorable (and romantic!) time in the Azores.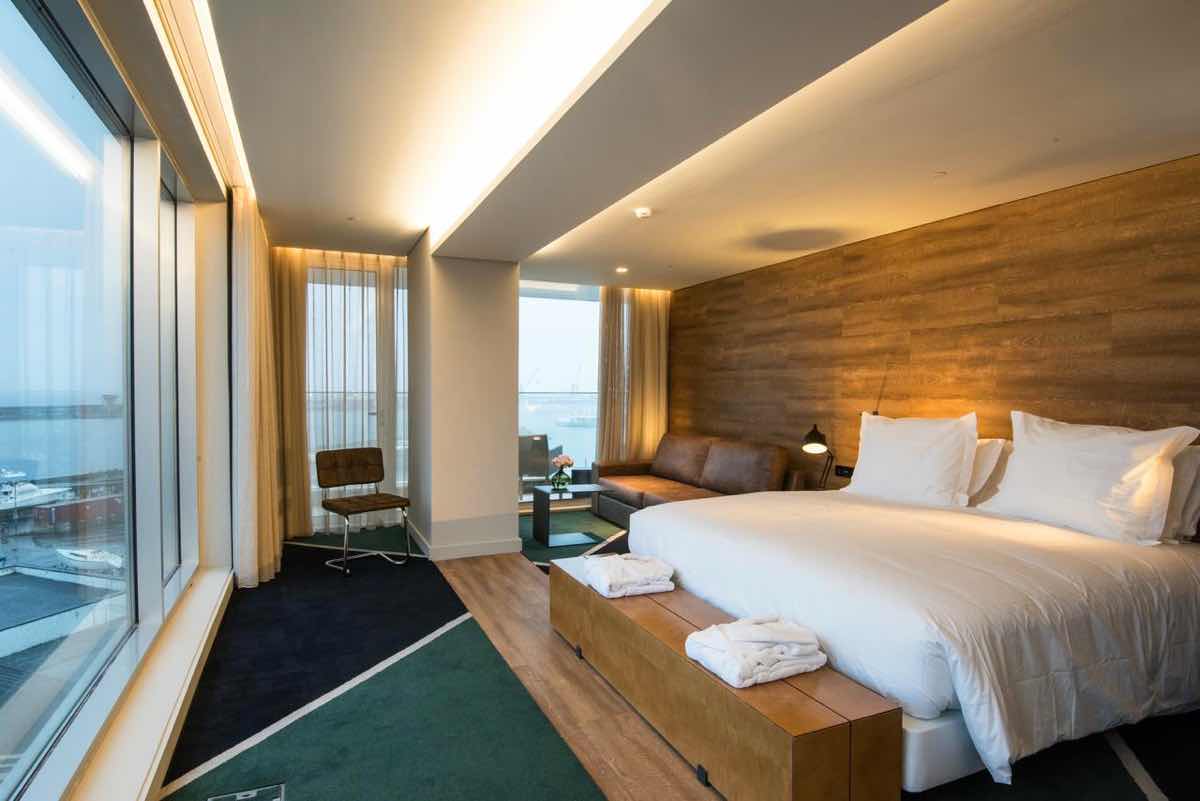 If you're looking for a premium experience but don't want to compromise on location, look no further. Hotel Octant Ponta Delgada (previously Hotel Azor) is one of the few 5-star hotels in the islands. The main restaurants, shops, and bars of the largest city in the Azores are at a short walking distance.
Points for design and functionality too. Brand new, lush, spacious comfortable rooms and with open views of Ponta Delgada's marina. The rooftop has a pool to relax after your long days exploring São Miguel.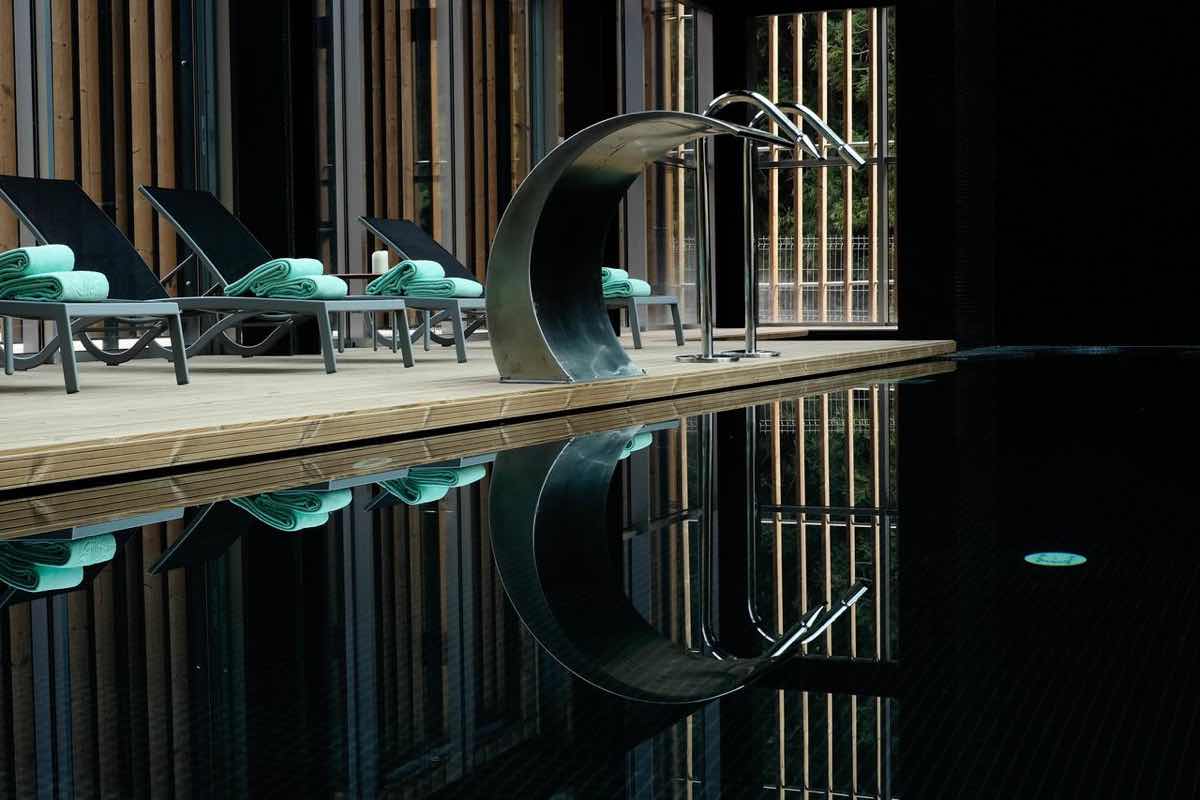 Amongst the hydrangeas and the lush green hills of Furnas valley, this may very well be the ultimate relaxing accommodation in São Miguel. A hybrid of thermal spa, Zen temple, and stylish modern hotel.
It's not only conveniently located to explore the thermal pools of the area, but also the entire eastern part of the island – Nordeste and Povoação districts.
There's no need to go outside to find bliss though. After a day of hiking or sightseeing, treat yourself to a bath in the 37.5°C mineral pool. If you're looking for unique experiences, they also have tea and milk baths now.
Best Family Hotels in São Miguel, Azores 👪
Although I don't have kids of my own, I'm very well aware of the all the logistics the little ones entail. Picking the right place to stay can make the difference towards an easier and stress-free trip.
Apart from the family-friendly hotel suggestions in São Miguel below, also take a look at my Airbnb recommendations further down the article. Acess to a kitchen is important to prepare some meals for kids or simply to save some money.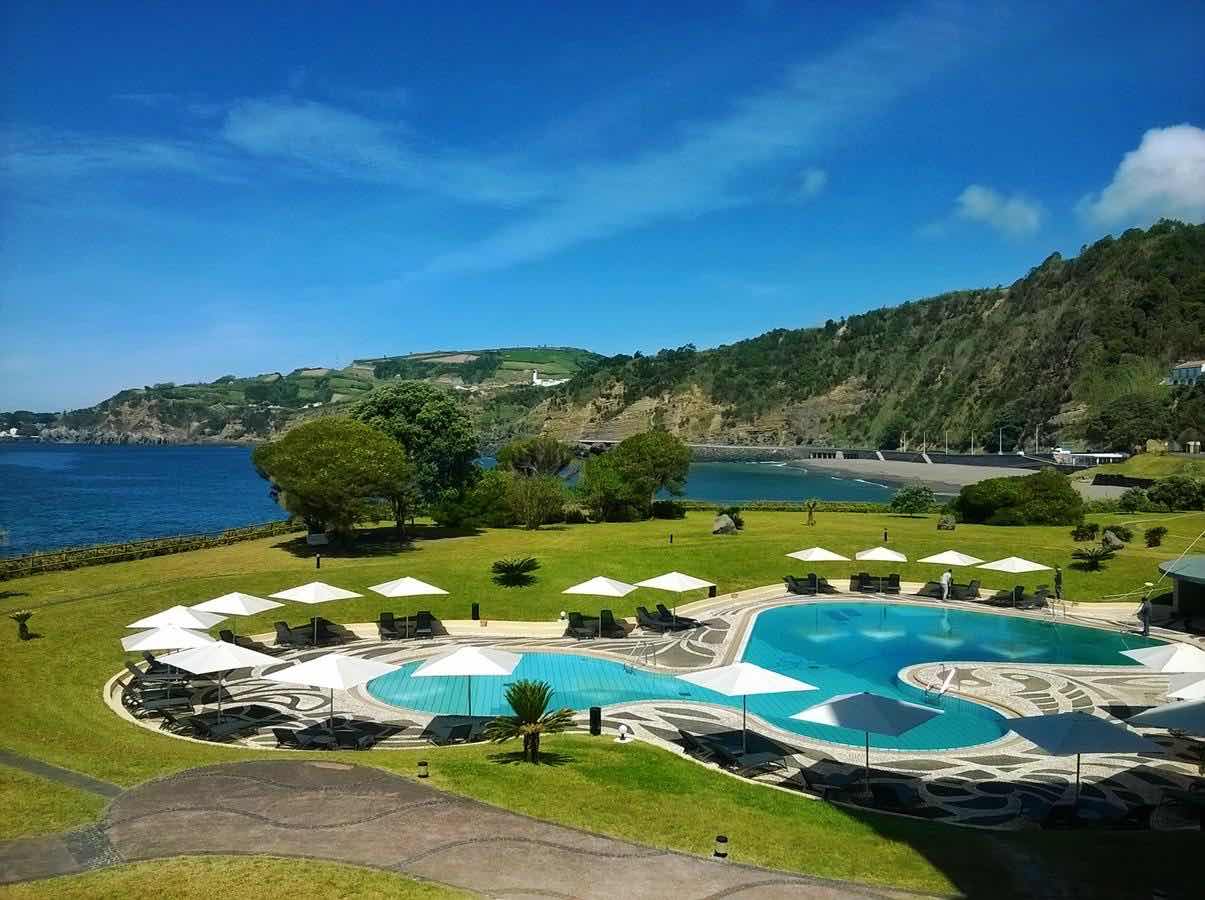 Sitting next to my favorite sandy beach on the island – Água D'Alto – this hotel boasts outdoor swimming pools for both kids and grown-ups. The ultimate beach family getaway.
There isn't much happening around this beach hotel apart from a bar and restaurant. However, the convenient location between Vila Franca do Campo and Ponta Delgada makes it a perfect home base to explore the rest of the island by car.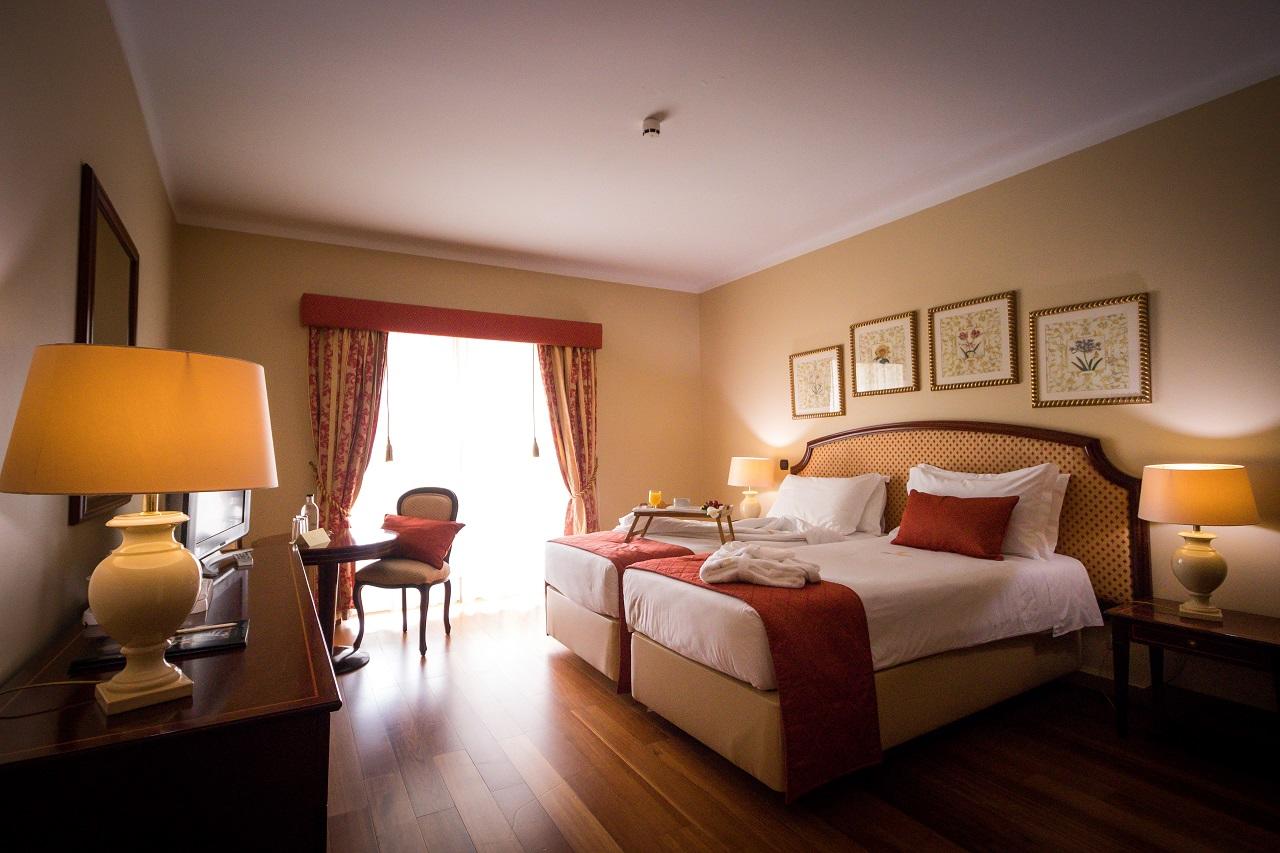 Located in the historical center of Ponta Delgada, this hotel is not only architecturally interesting, but it's also super convenient.
It's just a 3-minute walk from the Atlantic Ocean, and with several bakeries, shops, and restaurants nearby. It may not be an eye-candy or have glorious views, but if you want a solid and efficient option of accommodation to stay with your family, this is it.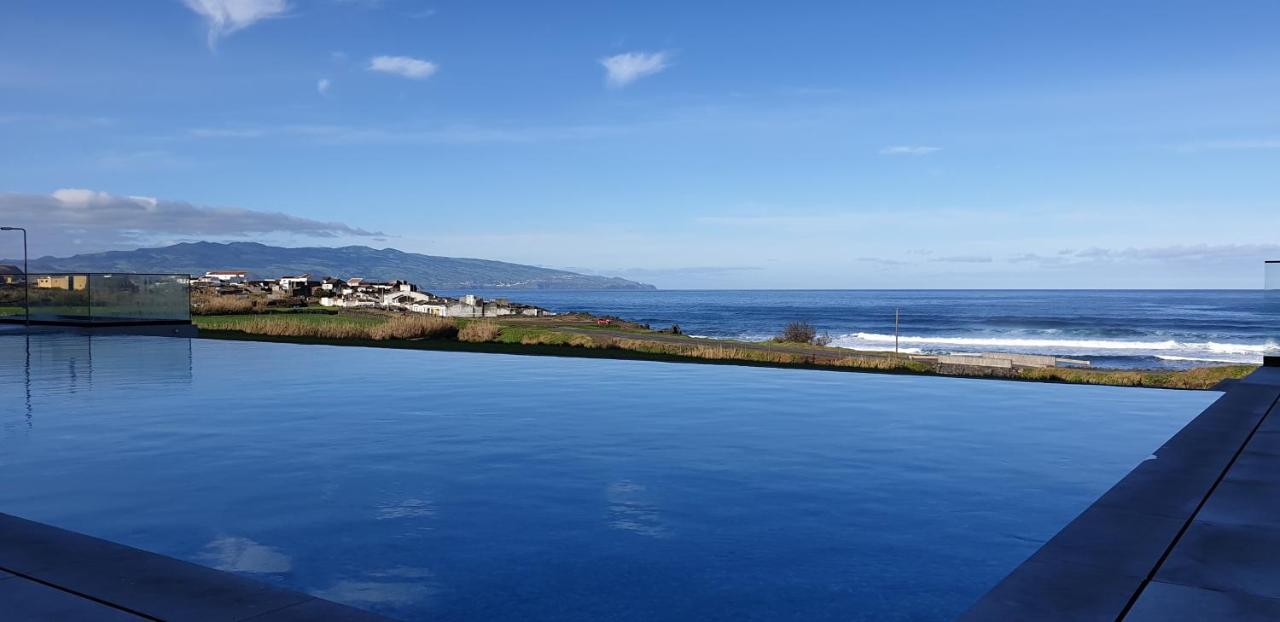 This hotel is a great choice for families because it offers spacious rooms, a children's playground, a game room, a swimming pool, and a spa for parents to relax.
Additionally, it is located near Ribeira Grande, a good location for dining and with very convenient access to nearby towns and sightseeing destinations in the island.
Best Nature Hotels & Villas in Sao Miguel, Azores 🌲
The Azores are in essence a nature destination. As mentioned on my essential things to know about the islands, no one comes here for massive hardcore partying clubs or white-sand tropical beaches (you won't find either, by the way).
So you might want to leverage that to the max and choose an eco-friendly accommodation that is – literally – in the middle of the greenery. Nevertheless, a car will probably be needed if you want to to use these places as a base to explore the island. Also, some wild fauna may or may not be present.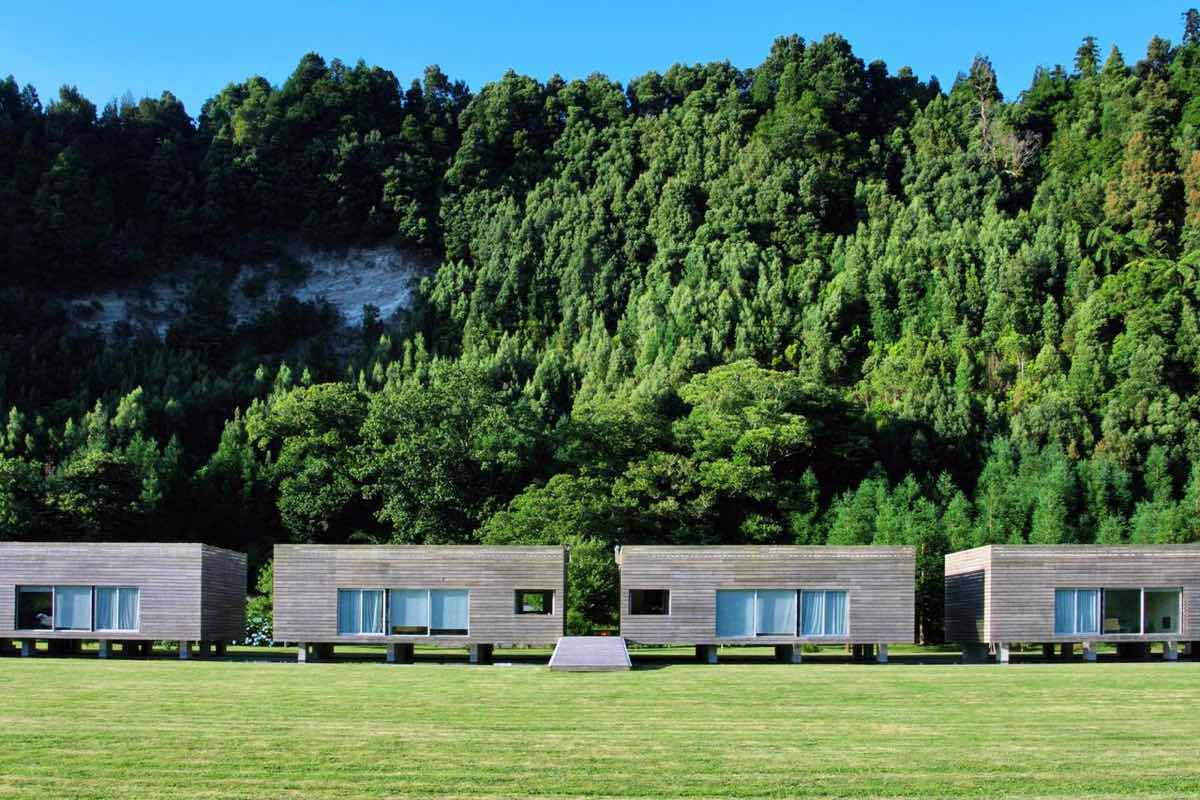 To be honest, I didn't know of the existence of these eco-friendly villas until I did some research for this article. I usually know what's "going on" around the island, but this one I've completely missed! Anyway, they're on this list for 2 reasons.
First, the architecture and concept. Once an old cattle farm, they have been repurposed into a collection of 10 rectangular Japanese cedar bungalows with minimalist Scandinavian decoration. With a total of 103 acres, it's definitely one of the boldest and more interesting architectural projects in São Miguel.
Then, the peace and quiet. Literally in the middle of the woods – but only a 3-min walk from Lagoa das Furnas – staying here is a well-deserved pause on your brain activity. Lots of hiking opportunities around, mountain bike rentals and horseback riding are also available.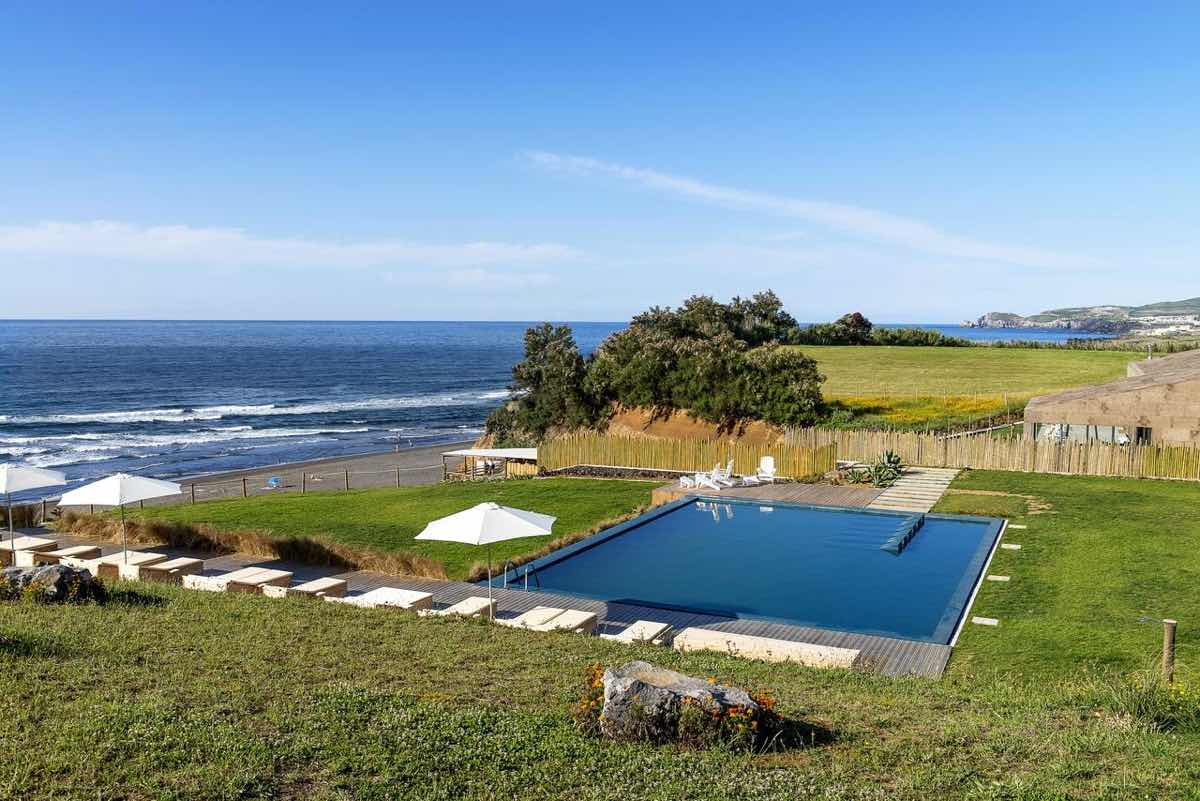 This 4-star resort comprised of 14 villas is a laid-back paradise for surfers and a delight for anyone who enjoys wild nature. It has direct access to a gorgeous dark-sand beach and an outdoor swimming pool with underwater lounge beds. It's one of the most recent hotels in São Miguel and is seamlessly integrated with the surrounding landscape.
I've eaten in their in-house restaurant Areais. Even though they have a wide choice of regional dishes as well, the place is known for the good quality sushi (a rarity in São Miguel). Apart from the salmon, the fish is fresh and a local catch from the Azorean sea.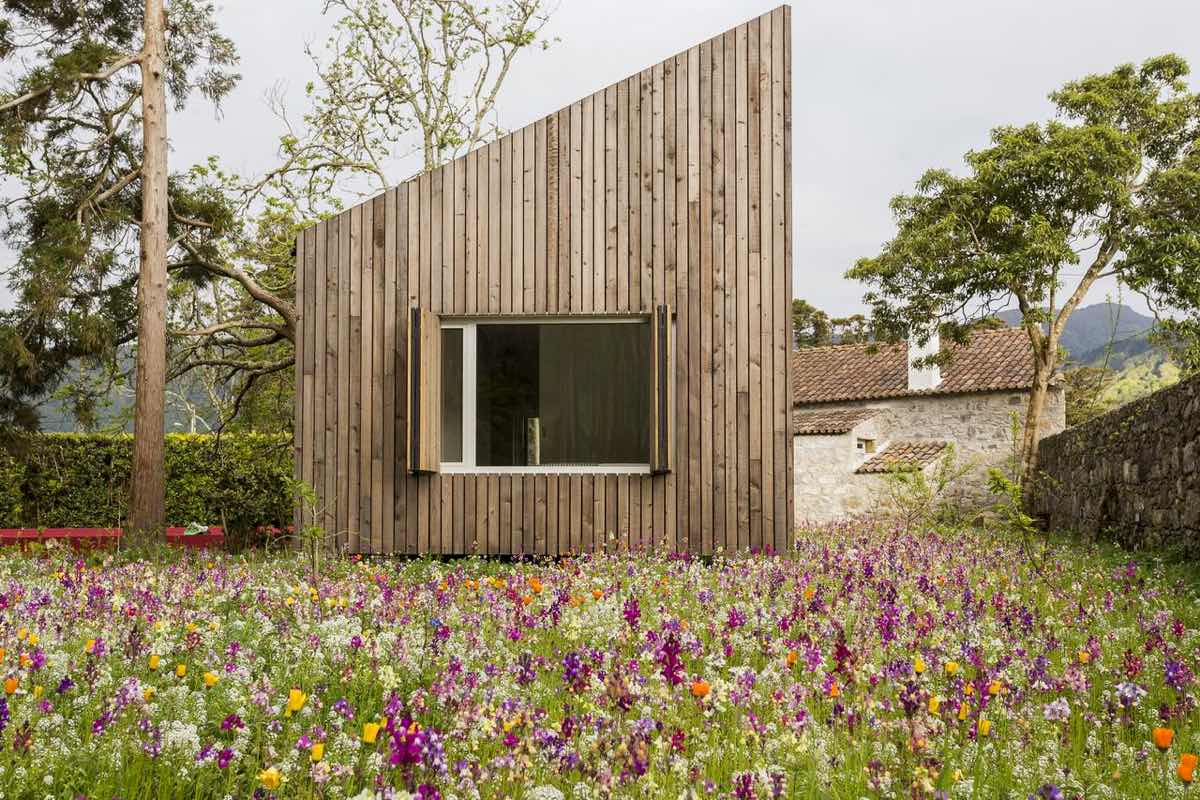 Little cocoons in symbiosis with nature. This is how I see these villas at the edge of the scenic village of Sete Cidades and right in front of the lake. There are only a couple of them – book early! – and are just the perfect getaway for couples or small families.
I'm not going to lie, Sete Cidades is not the most convenient place to base yourself if you want to road trip São Miguel, but sleeping here has its perks. An idyllic landscape during the day and (if the weather cooperates), a starry sky at night. And of course, bragging rights for staying in an ancient volcano crater.
Best Value-For-Money Hotels in São Miguel, Azores 🌟
This is the category of travel that personally resonates more with me. I usually don't look for backpacker deals – although some of them are pretty great – but don't want to splurge my budget in luxury hotels either. If you also aim for the middle and are constantly trying to get the best in exchange for your money, consider the places below.
These are my recommendations of hotels and guesthouses that currently offer the best value for accommodation on the island of São Miguel.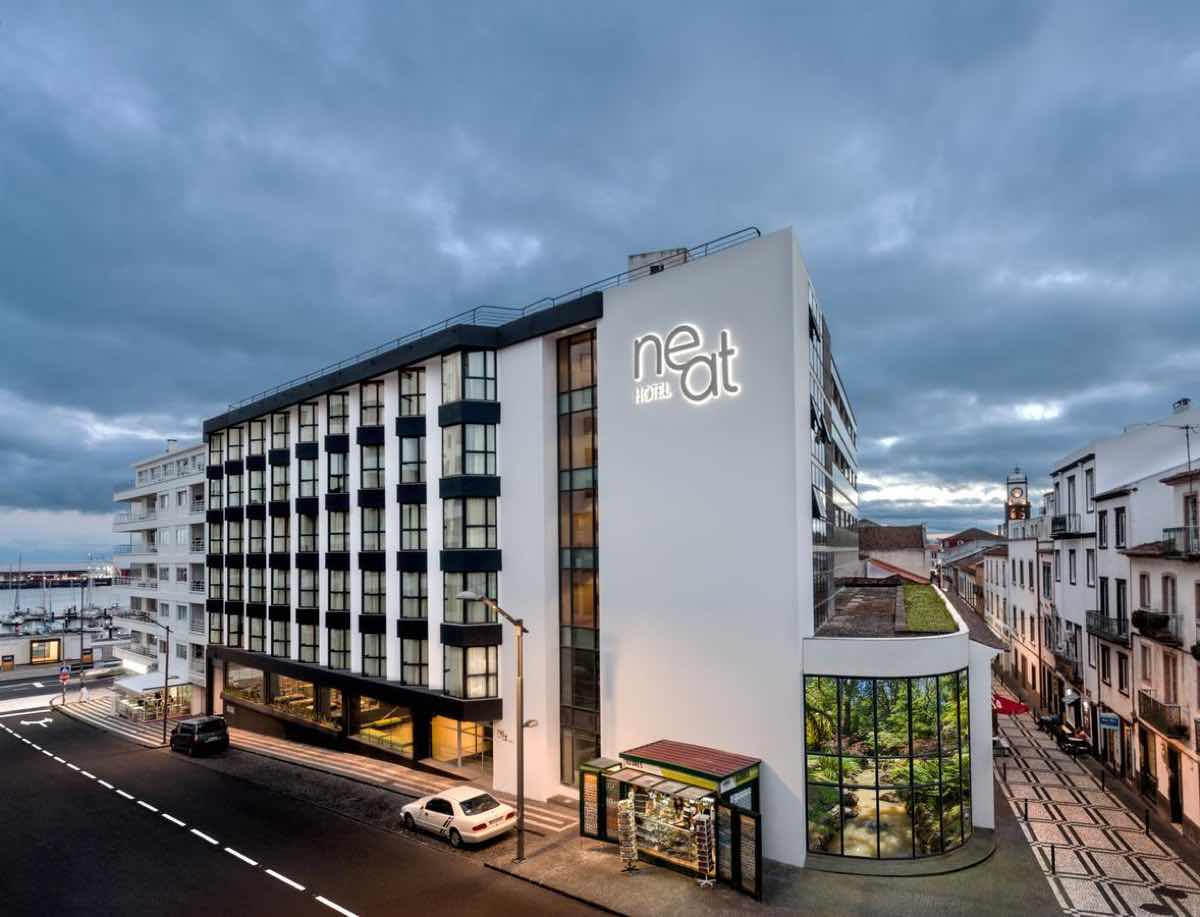 First of all, nothing beats this location in Ponta Delgada. Just a few steps away you'll find the seaside promenade, a shopping mall, car rentals, the local market, cafés and the best offer of restaurants and shops.
The hotel was recently renovated so everything is pretty much new. If you're looking for modernity and comfort without splurging your budget, this is a great place to stay.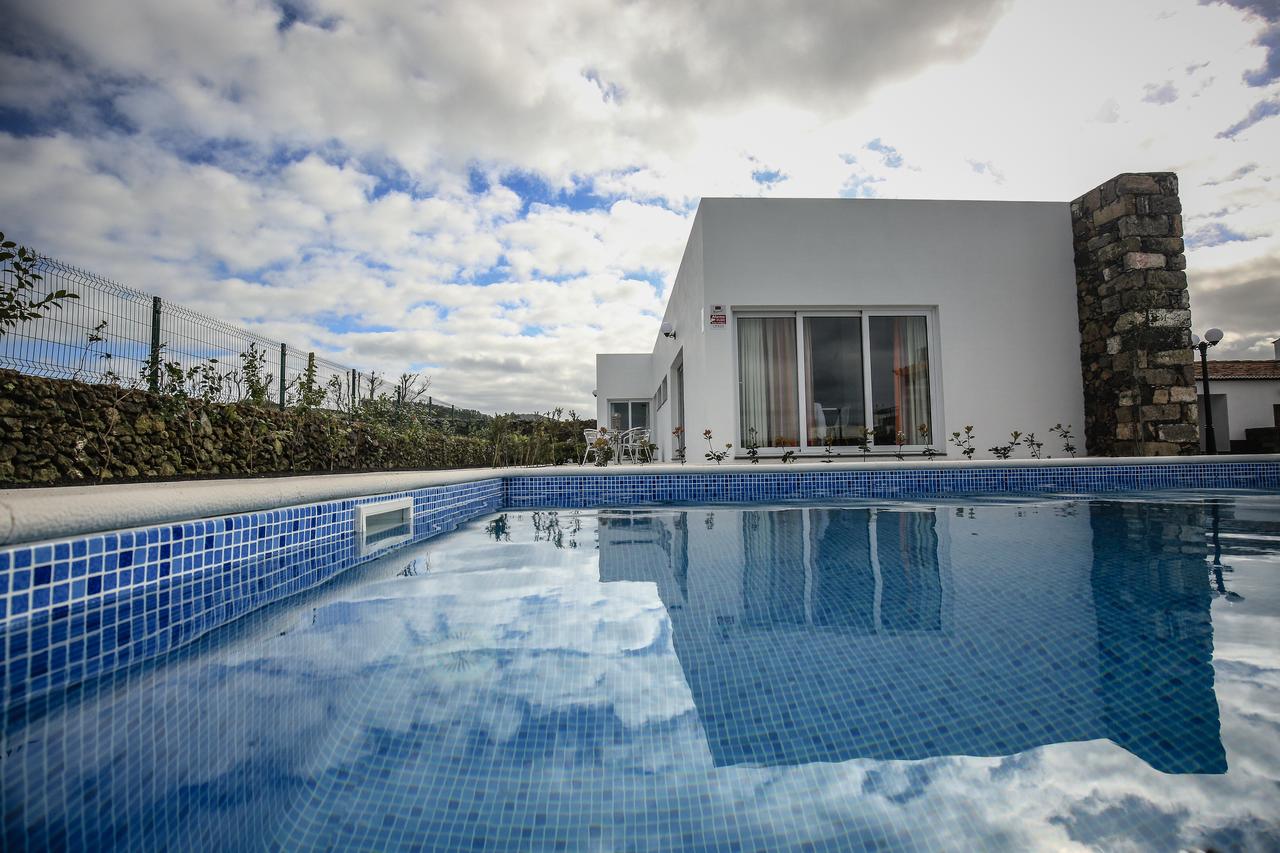 Imagine a modern and comfy home – big enough for 4 – in a chilled and relaxing location. Outdoor swimming pool. Full equipped kitchen + barbecue included. Ocean and hills view complimentary. All this for less than 100EUR/night! Meet Quinta das Giestas.
This place is actually super close to a farm my parents used to own. A big chunk of my childhood took place here and I can assure it still is a tranquil and energizing city getaway. It's located in the center of the island (Pico da Pedra) and there is a small supermarket nearby.
However, unless you plan to spend your holidays lounging in the pool, you'll definitely need to rent a car to get around.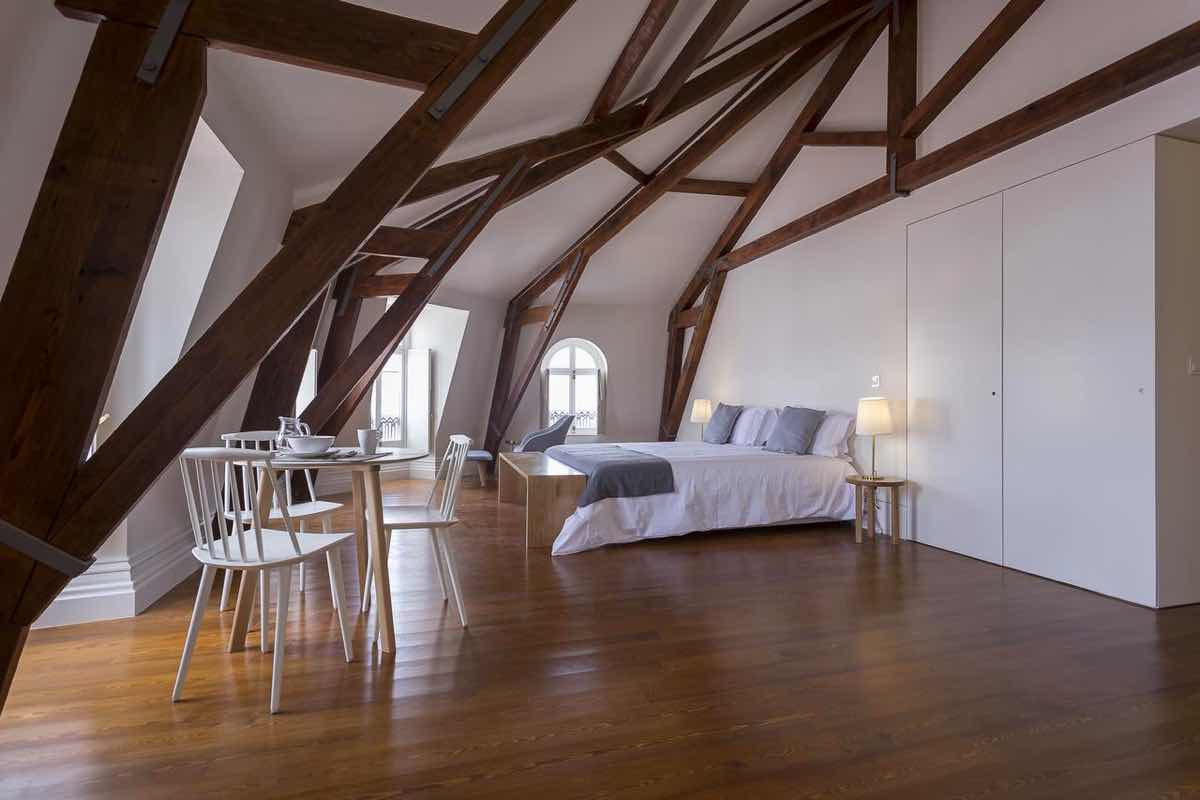 At the beginning of the 20th century, Armazéns Cogumbreiro were the largest shopping department in Azores. Think of it as the Azorean version of Macy's. It has since been owned by 6 generations of the same family and now repurposed into a modern guesthouse.
I'm a big fan of their minimalist design – from the café downstairs to the room decoration – and you'll be located in the heart of Ponta Delgada downtown, with some of the best restaurants of the island just a few steps away. Including my personal favorite A Tasca!
Best Hotels With a View in São Miguel, Azores 👀
A nice view is a deal breaker for many travelers when choosing the place to stay. I know this because every now and then I get queries from readers asking for the best hotels with a view in São Miguel. Well, now I'm sharing my tips with everyone!
The good news is that in Azores, a nice view doesn't necessarily mean a hefty price uplift. Still, I encourage you to explicitly ask for a room with a view on your reservation as in some places: not all rooms have it by default.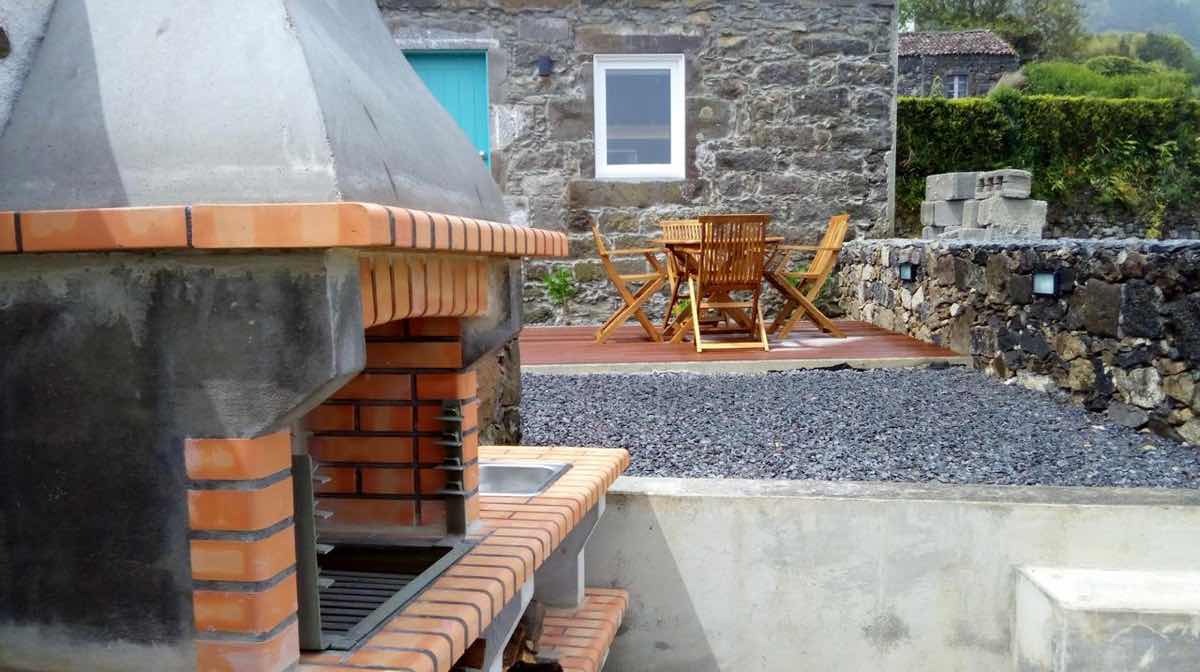 Nordeste, the easternmost part of the island was missing on this list. It's often overlooked because it's secluded (not much going on) and the hardest to reach from Ponta Delgada (about a 40-minute drive). On the other hand, it also boasts the wildest and rawest kind of natural beauty in São Miguel.
And what's special about these cottages? With features such as a patio with a barbecue, fully equipped kitchenette, a bicycle rental service, and even fresh bread delivered each morning TO YOUR DOOR (!) there's a lot to make your trip memorable.
The highlight, however, is the inspiring sea view from your own personal patio. Perfect if you're looking for a relaxed trip. Will you be reading (or even writing?) a book? Or perhaps it's time for a romantic getaway?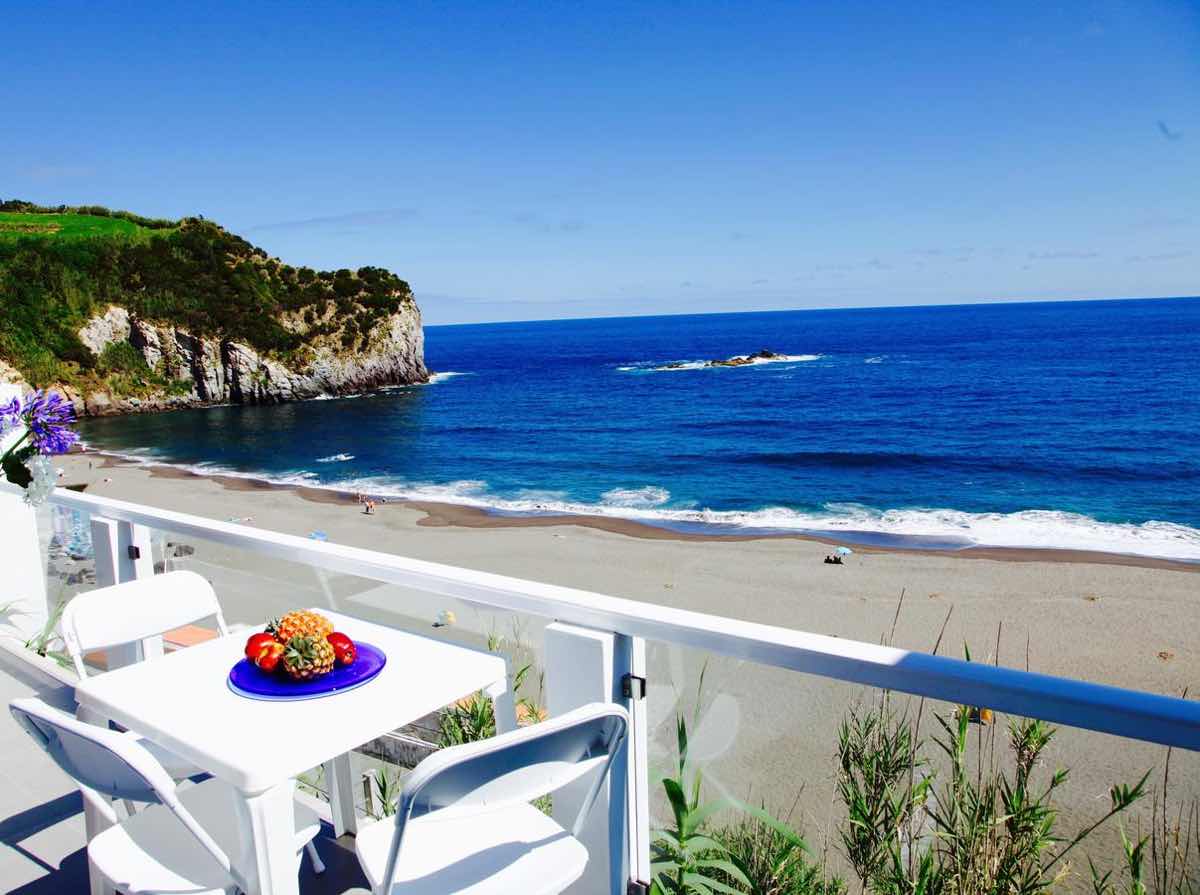 Even though the Azores are not a beach destination – the climate is not stable enough for that -, there are some very good dark volcanic sand beaches in the islands. Porto Formoso is one of my personal favorites. It literally means "beautiful port" and its beach is enclosed in a small bay, sided by beautiful green hills.
This tiny house does not scream luxury by any means, on contrary. It's unpretentious but comfy and thoughtfully decorated. A great option if you're looking for a place where you can go for a swim after a long day hiking or driving or just have dinner with gorgeous ocean views. I mean, you can even see the sea from your bed!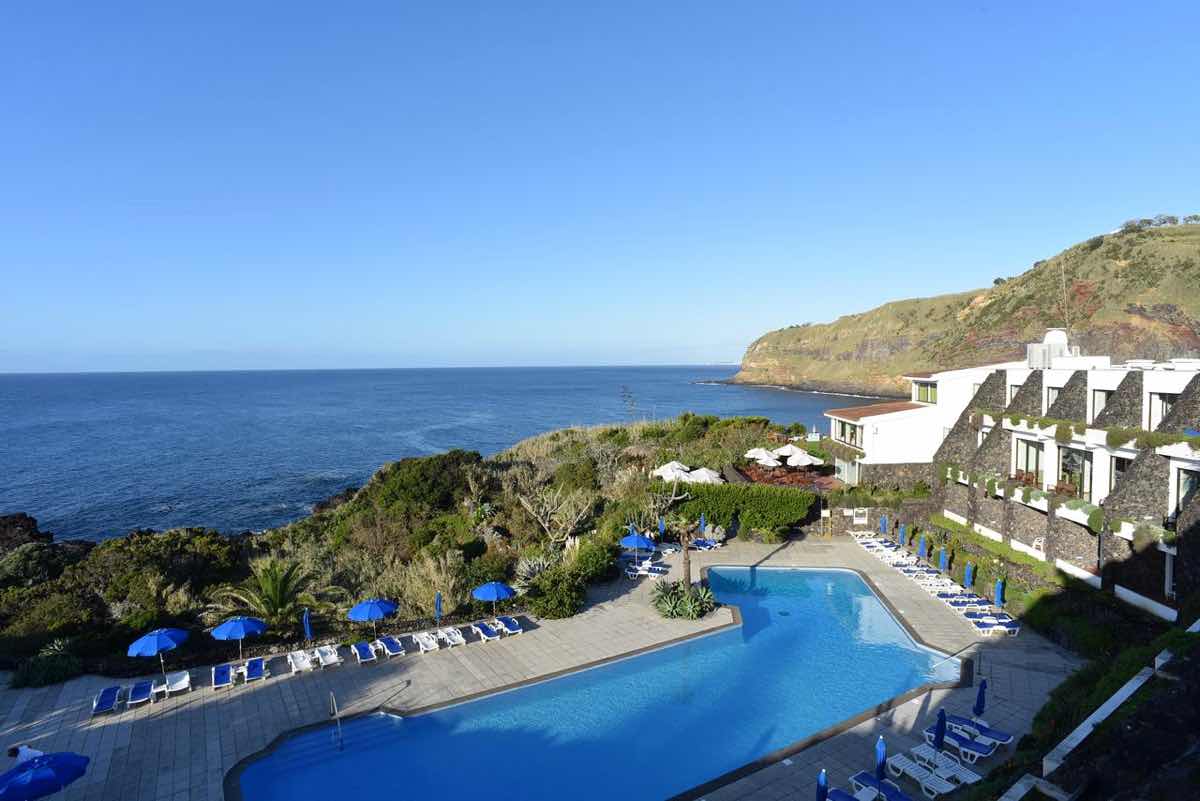 I've got to be honest and say the decoration here feels slightly outdated to me, but this is not what this place is about. It boasts magnificent sea views from the rooms but raises the bar with an outdoor swimming pool, breakfast, sauna and tennis court. Think of it as an upscale version of the previous alternative in Porto Formoso. Warning: spectacular sunsets might be seen here.
Another difference is the location. This hotel is located in Caloura, on the south coast of the island. There's a sandy beach nearby and the sea here normally is calmer and nicer to swim compared to the rough northern coast.
Best Budget Hotels in São Miguel, Azores 💰
Although prices are rising and the islands are pretty remote, the good news is that the Azores are still an inexpensive place to visit. Unless you want to, meals or entry fees won't take a big hit on your wallet. A smart choice of place to stay can make the difference though.
If your budget is limited and don't want to spend much on accommodation, a budget hotel or hostel is more than enough. If you want to explore the islands, you'll be spending most of your day outdoors anyway!
Here are my suggestions for budget hotels and hostels in São Miguel.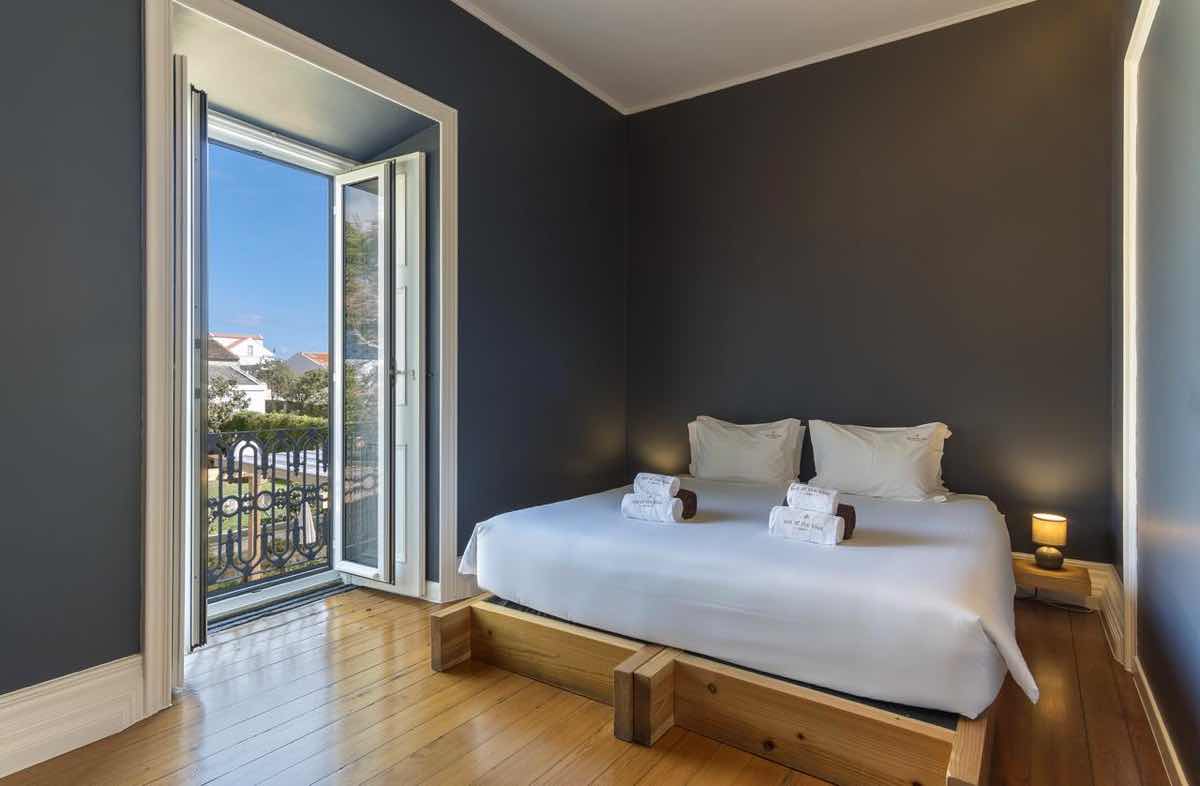 Besides the original name, this is a stylish, clean, comfortable hostel in the heart of Ponta Delgada. Beds and mattresses are fairly new and breakfast is included, but the real show stopper is the backyard garden with trees, tables and a couple of hammocks. A hidden getaway in the middle of a city.
Perfect for those on a budget, this is excellent value whether you book a dorm or a private room. Demand is high, so booking in advance is recommended.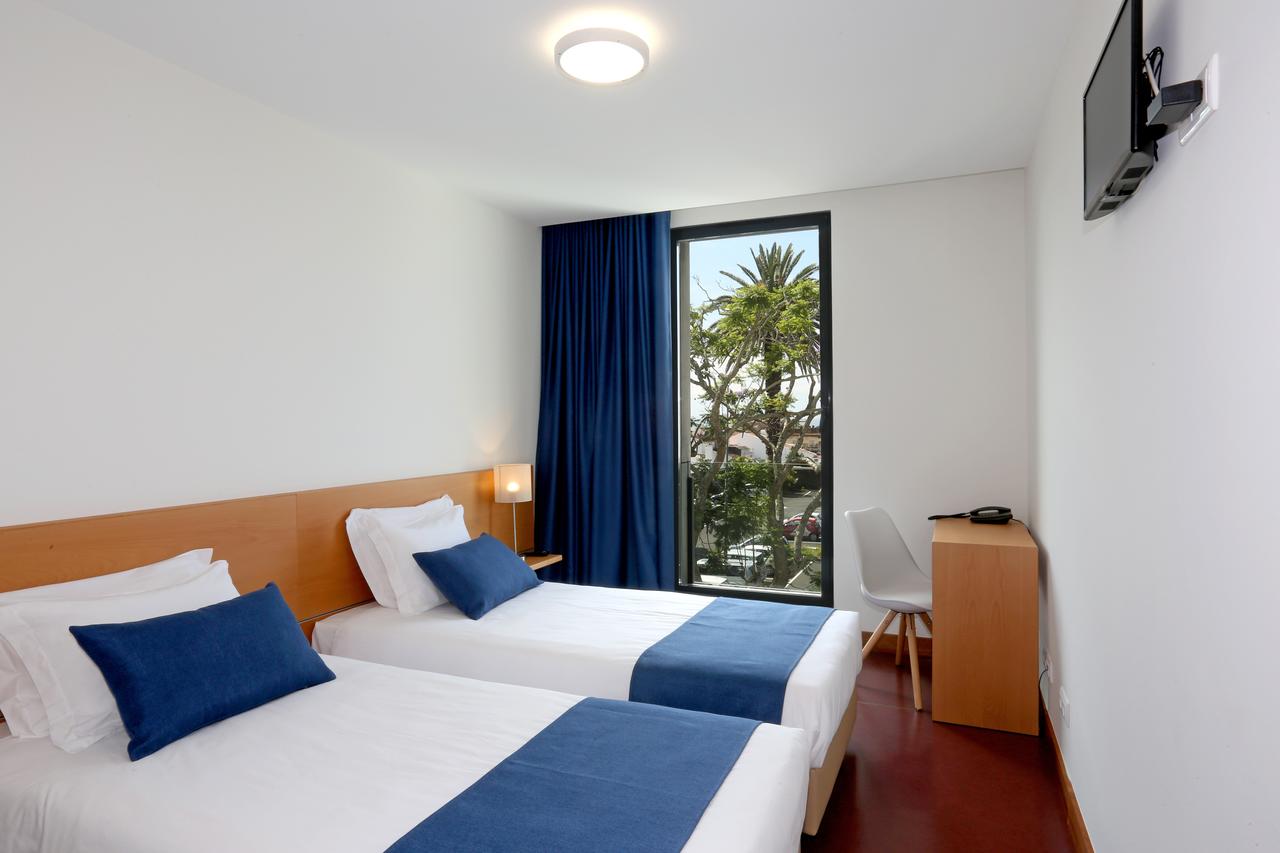 I'm pretty sure this was the first hostel that opened in São Miguel a few years ago. To be honest, I'm not sure why this is classified as an hostel because it's really more like a hotel. Anyways, let's say it set the bar very high.
Located just 3 minute walk from Mercado da Graça in Ponta Delgada, a paradise for foodies where you can find the best local delicacies, it's a comfortable and clean place to stay. If you're looking for a place to sleep more than anything, don't look further.
Best AirBnB Stays in São Miguel, Azores 💰
Even though I'm not a fan of the impact AirBnB has on local housing markets, I can understand that some have a unique appeal and can be the base for a great trip. Here's a selection of the best properties you can find on the island.
If you haven't used AirBnB before, here's some FREE money to get you started with your first booking.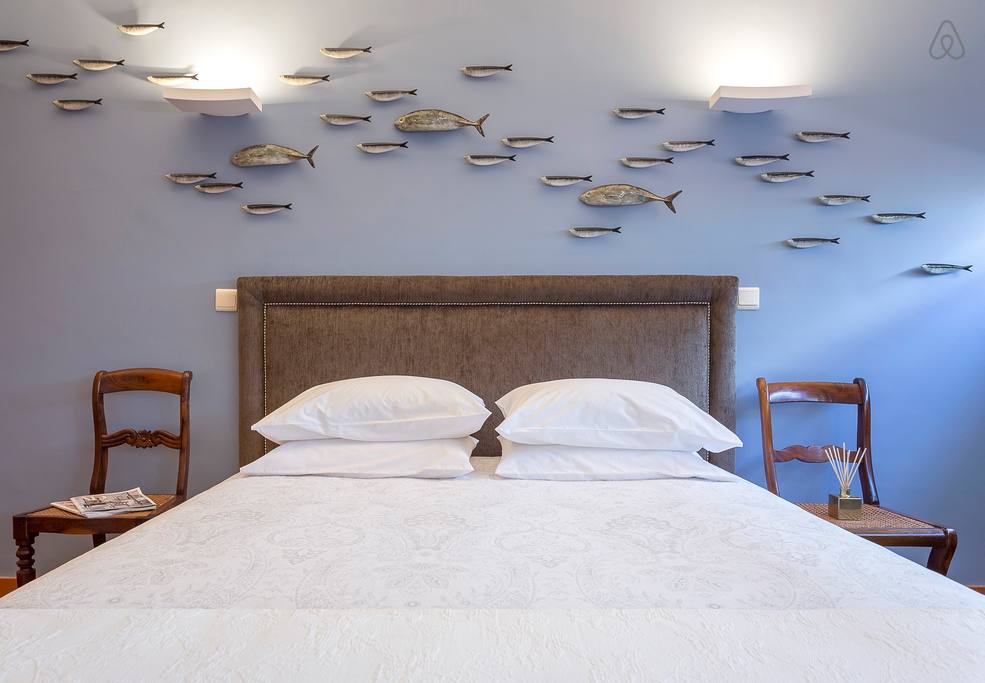 The host of this property (Rodrigo) is my personal friend, but that's not the reason its house is on this list.
He has got a ridiculously good taste and will go out of his way to make you feel happy during your stay.
43 House Azores (or as I call it, Rodrigo's House) is a true gem right at the center of Ponta Delgada: clean, comfortable and as a plus, as this lovely outdoor space, a perfect spot for an energizing breakfast. Overall, this is a great value accommodation.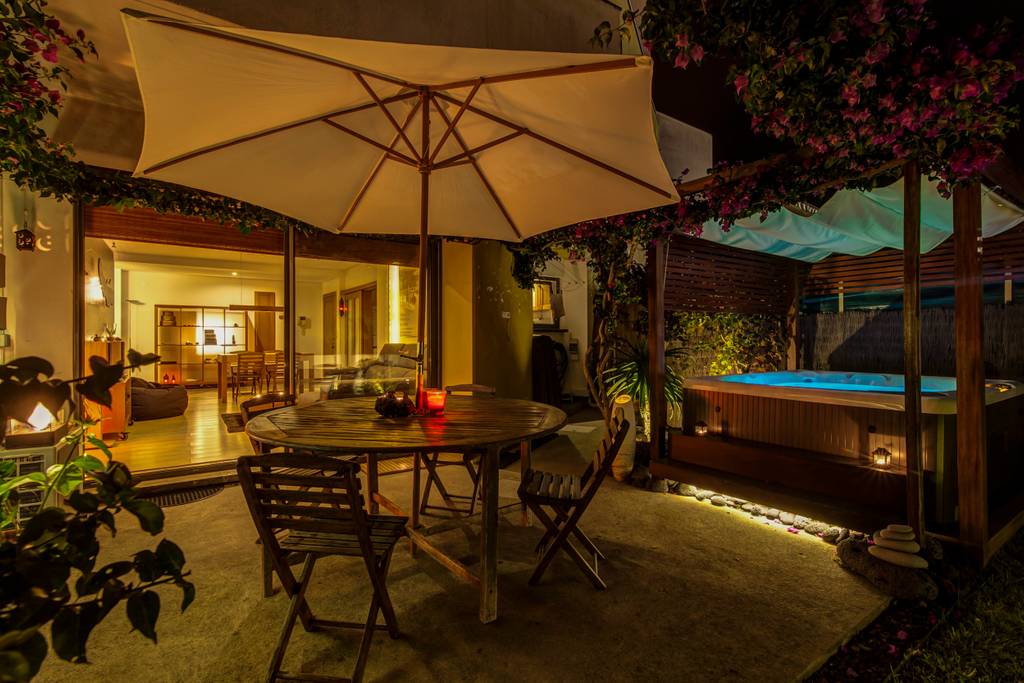 Not only the apartment is HUGE, comfortable, and well-equipped I love the stylish decoration of this flat (the wooden wall is super cool). And I mean, who doesn't enjoy a hot jacuzzi on the terrace with superb views of the ocean?
Location is also a plus. Lagoa is the geographic center of the island and this property is next to all the urban life commodities and yet feels like a lush nature oasis.
Best São Miguel hotels on a map 🗺️
To make things visual, I've also created a map so you can see all the above hotels' location plus a couple more.
Camping in São Miguel ⛺
Finally, a note about camping. Wild camping is NOT allowed by law in Azores. Are there people doing it? Yes. But if a police officer catches you, the law won't be on your side. Fines are big – can be of 500 EUR and more – especially if you decide to sleep in a Nature Reserve. I don't recommend this at all.
If you are looking for camping in São Miguel, there are 4 camping parks with good services throughout the island: Nordeste (Feira), Rabo de Peixe (Quinta das Laranjeiras), Sete Cidades and Furnas. The two last ones are the most scenic.
São Miguel Flight + Hotel Deals 💰
I usually don't use travel agencies to book holidays. They end up being more expensive in 99% of the times. Yet I have to make an exception for Azores Getaways because I honestly think they have some pretty good prices for a flight + hotel + transfers packages to the Azores – starting at 599USD!
For São Miguel in particular they have loads of deals. 2 examples:
I particularly recommend using them if you are flying from the United States and don't have much time to plan your holidays.

Other reads about São Miguel
Which do you think is the best hotel in São Miguel? Where did you stay for your Azores holidays and how was it? Share your experience below! 👇