What you need to know before heading to the Paiva Walkways and the 516 Arouca pedestrian bridge. This post has got basically everything that I couldn't find online before I go!
The Paiva Walkways are a 8-kilometer iconic wooden walkway that snakes up and down rocky hillsides along the Paiva river. It's one of the most iconic attractions in nature in Portugal.
The Paiva Walkways
The Paiva Walkways – Passadiços do Paiva in Portuguese – are located in Northern Portugal, along the left bank of Paiva river at Arouca Geopark, a UNESCO Geological Site. The Paiva Walkways extends for a total 8km, from Areeinho to Espiunca and nearest town is Arouca, at about a 20-min drive. The walk is medium difficulty, but can be made easier if you follow some of these tips.
Tips to the Paiva Walkways
1

Buy your tickets beforehand!

The entrance to the Paiva Walkways is limited to 2,500 people per day. While you can book your ticket at the entrance or at Loja Interativa de Turismo de Arouca (in the town center), purchasing your ticket in advance online is an advantage. Prices here.
2

There are no direct buses or trains

The Paiva Walkways can easily be done as a day trip from Porto. There is no public transportation available though, so you'll either have to drive there (compare car rental prices here) or take an organized tour. It's about an hour driving from either Porto or Aveiro.

3

Come prepared!

There is a small cabin selling drinks roughly halfway near Praia do Vau, but that's it. The only proper bars can be found at each end of the walkways. Prepare your backpack at home:

🏊 What to bring to Paiva Walkways
Comfortable shoes – I mean, quite basic for hiking, right?
Sunblock – Depends on the time of the day you go, but there won't probably be many shaded areas.
Swimming suit – because there is a gorgeous river beach right at the middle of the path!
Water – minimum of 1.5L/person.
Food – fruit, energy bars, sandwiches are great choices.
Trash bag – be a good citizen and don't leave anything behind!
4

Pin the parking lots on the map

Both ends of the walkways – Espiunca and Areinho – have parking areas. Pin them on the map to make sure you have its location.

Areinho: 40°57'9.68″N | 8°10'33.05″W
Espiunca: 40°59'34.67″N | 8°12'41.19″W
5

Strategically know where to start

Paiva Walkways is a linear route. You can start your trail either at Espiunca or Areinho, and I feel that's quite an important decision. If you're planning to do the trail just one way, I recommend starting at Areinho, specially if you feel you have lower fitness levels or prefer a less challenging walk. You'll do the walk downstream, and go down the set of 400+ steps right at the beginning, instead of climbing uphill the set of monstrous stairs at the end.

If you wish to walk both directions (round trip, 17km) like I did, then I recommend starting at Espiunca.
6

It may be not for everyone!

I get the "is it hard to do the route?" question too often. It obviously depends on the fitness of the person!

I can give you the facts – it takes about 2h30-3 hours to walk Paiva Walkways one way, a little bit more than the double of that if you're doing it both ways. They consider it a Hard difficulty level, but I honestly think is more of a Medium, with the exception of the set of 400+ steps next to Areeinho.

In any case, I would not recommend it for the elderly and people on wheelchairs/with mobility difficulties simply can't get through.

7

It's open from sunrise to sunset

Your tickets are valid for the day – no specific time of entrance. Keep in mind though that you're only allowed to the walk from sunrise to sunset (make sure to double check the schedule here, they can change at any time). In 2021, these are the opening hours:
May to September: from 8:00 to 20:00 (last entry 17:00)
November to March: from 9:00 to 17:00 (last entry 14:00)
April & October: from 9:00 to 19:00 (last entry 16:00)
8

Stay for the day

Your tickets don't have a time limit and have no specific time of entrance (only from sunrise-sunset) so you can turn your trip to Arouca into a full day trip. Do a picnic, read a book, or swim at one of the river beaches – like Praia Fluvial do Vau – to rest up a little bit during your journey.
9

It can get busy

The Paiva Walkways can get busy particularly during summer season – June, July and August. If possible, try to avoid weekends or public holidays can get incredibly busy, completely taking away from the beauty of the place.
10

It gets hot during summer

Summer days are hot in this area of Portugal. Starting your walk anywhere between 11am and 2pm makes you more exposed to to high heat. Even though there are several shaded areas, aim to start your walk either early in the morning or late in the afternoon.
11

Walking is the only way

Only walking humans are allowed in the walkways. In other words, the entry is forbidden to animals, strollers, bicycles, motorcycles, prams/strollers, bicycles, motorcycles or any other kind of motor vehicles.

12

There are taxis available

At each end of the trail, there are taxis available ready to take you to your starting point (obviously only relevant if you're just doing one way). You can negotiate the price. Out of curiosity, I asked the price to go back to Areeinho and they quoted me 15 euros.
13

There's always the option of rebooking your tickets!

Waiting anxiously for doing the Paiva Walkways only to get a bad weather forecast closer to the date is a bummer! While they don't accept cancellations, you can rebook your ticket to another date until 2 days prior to the initial date of the visit.
516 Arouca bridge

In 2020, a new suspended bridge opened up close to the Areeinho entrance of the Paiva Walkways.
Built by a team of mountain climbers, 516 Arouca is the second-largest suspended bridge in the world (right after this one in Nepal) and is suspended 175 meters above the gorge where the wild river Paiva flows. It's definitely an imposing structure that is worth a visit if you're visiting the area. However, if you feel a bit uneasy about heights like me, this is stuff of nightmares!
14

516 Arouca Bridge is optional

The 516 Arouca bridge is next to the Areeinho entrance of Paiva Walkways, but is not part of the path. You do NOT have to go, obligatorily, through the suspension bridge to get to the walkways. Keep in mind there are separate tickets: one for the walkways, another for the footbridge.
15

You need to book a time for the suspension bridge

Both tickets are only bought online, but contrarily to the Walkways, the 516 Arouca bridge ticket is time-specific. Book the bridge ticket first and then plan the Paiva Walkways around the time you chose. I strongly recommend doing the bridge first so you don't then have to rush on the 8km walk.
16

Doing the walkways + bridge on the same day?

I strongly recommend doing the bridge first so you don't then have to rush on the 8km walk. The entrance to the bridge is near Areeinho car park.
More about Arouca
The nearest town to both Paiva Walkways and 516 Bridge is Arouca. Arouca is a small but charming town, surrounded by green forestry. It's a nice place to go for a stroll or even stay for the weekend. When hitting the restaurants, the local delicacy is posta arouquesa, a veal chop that comes from local certified cattle.
Other places near Arouca
Finally, here are other ideas for places you can visit if you have extra time:
Lamego – visit the iconic Santuário dos Remédios, one of the most impressive stairways and religious monuments in Portugal.
Serra da Freita – natural park featuring many walking trails, abandoned villages and one of Europe's largest waterfalls – Frecha da Mizarela.
Aveiro – romantic and charming, the center of Aveiro is a mini-Venice.
Douro Valley – the oldest demarcated wine region worldwide is awaiting for you. Here are my tips for the Douro Valley.
Porto – You can easily combine the Paiva Walkways and spend a few days in my beloved Porto either before or after
Where to stay in Arouca
Arouca is a small but pleasant town, perfect for a rest after the challenging hiking day! Here's a selection of hotels in Arouca.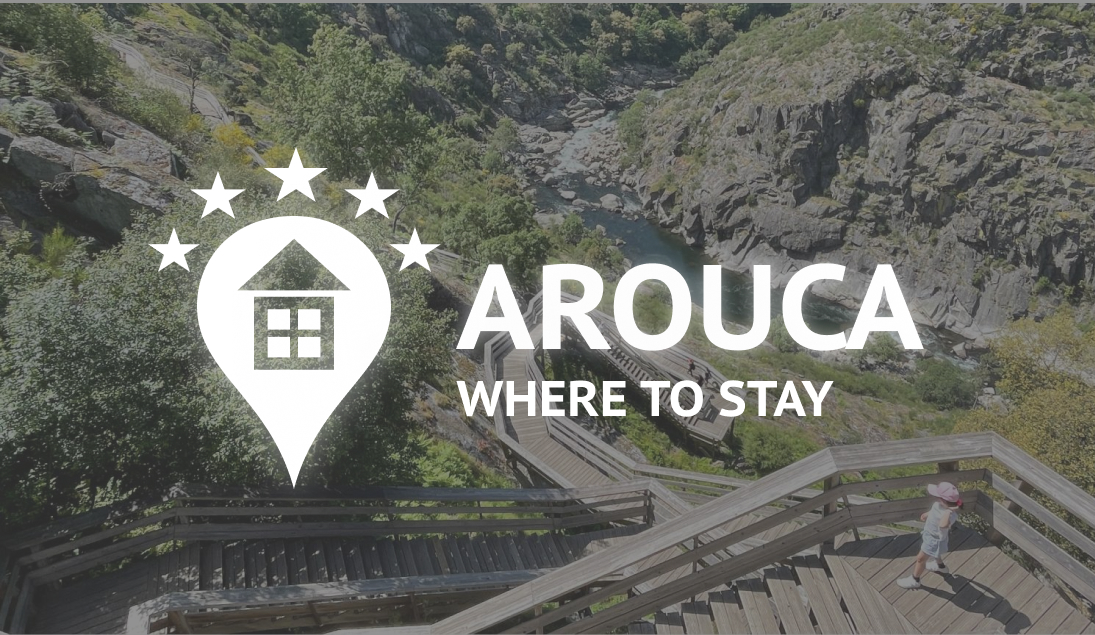 A shortlist of the best-rated hotels and guesthouses in Arouca with Superb rating.
That's it for the Paiva Walkways!
I hope you have an amazing hiking day just like I did. If you would like to add anything or just share your experience in the Paiva Walkways, please leave a comment below!
My travel tips valid anywhere