The Azores islands have no shortage of hiking opportunities. This guide has what you need to know for beautiful hiking trails amidst lakes, hills, cliffs, and lush forests.
We all know hiking is a great way to get you into nature.
At the same time, the Azores islands are an Atlantic garden of enormous and varied untouched landscapes. Combine the two and you have a match made in heaven!
This hiking guide in Azores has all you need to know: choosing the best hikes in the islands, tips for the hiking trails, signage, and what to bring and wear.
Let's put those hiking boots to use? 🥾
Hiking in Azores | Ultimate Guide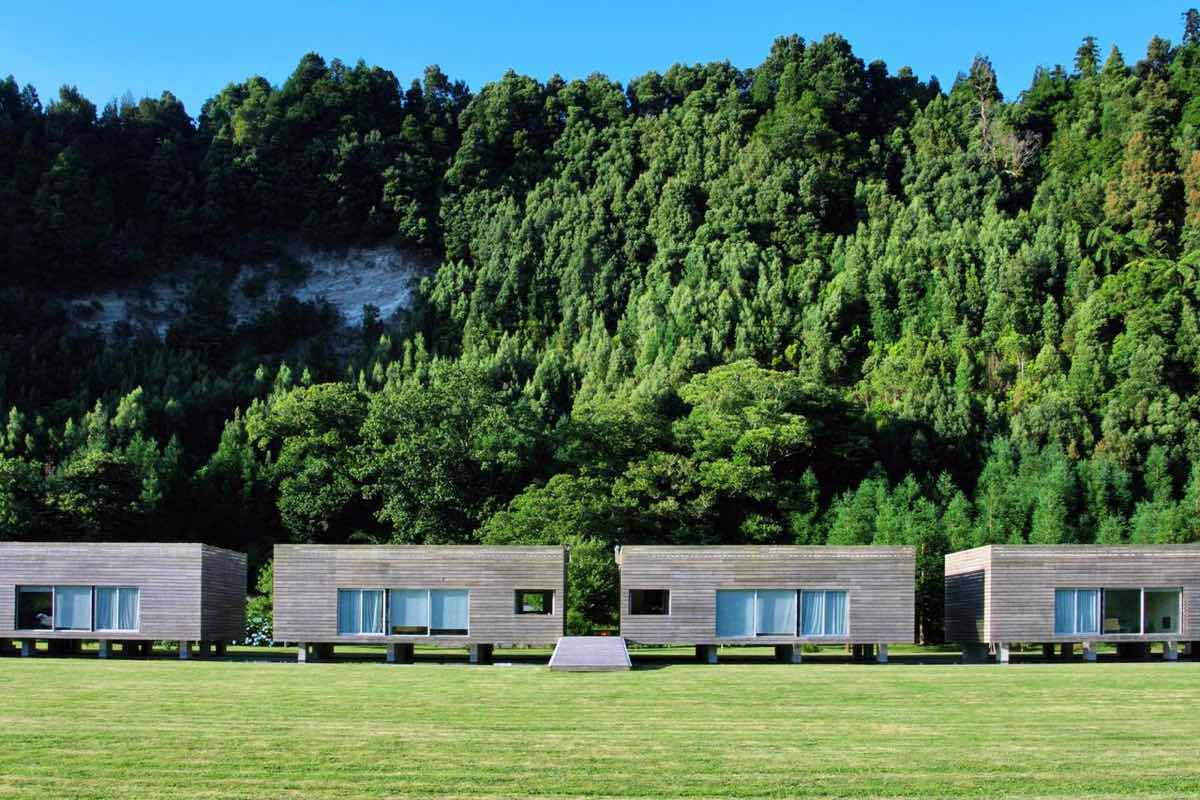 Top hotels in Azores
Pre-filtered list of hotels with top reviews and location with parking and free WiFi included.
Hiking in Azores
Coming to Azores without going hiking is like a trip to Paris without seeing the Eiffel Tower. Simply unnaceptable.
There's a total of 83 official hiking trails in the Azores islands, with different sizes, landscapes, altitudes, and difficulty levels, covering a distance of 800+ km. It's definitely one of the must-do activities in the islands.
🥾 Hiking in Azores: Numbers
Total number of hiking trails: 83
Total distance covered: 800km
Shortest hike: Baía da Folga in Graciosa (PR3GRA), 2.1km
Longest hike: Great Route of Santa Maria in Santa Maria (GR01SMA), 78km 😱
Island with more hiking trails: São Miguel (23)
Official hiking trails in Azores
A trail is considered "official" when is part of the Azores Tourism Board and is properly maintained, signed at the starting point, and has markers throughout the trail itself.
These are self-guided hikes. Navigation on these trails is pretty straightforward once you know the signage. Quite frankly, there's no need for a guide.
Additionally, Azores Trails has detailed info about each route, including maps, duration of the hike, elevation gain/loss, GPS coordinates of the starting point, and more. The PDF leaflet is especially useful as you can take all this info offline and print it, if you need. There's also a mobile app, but I never used it.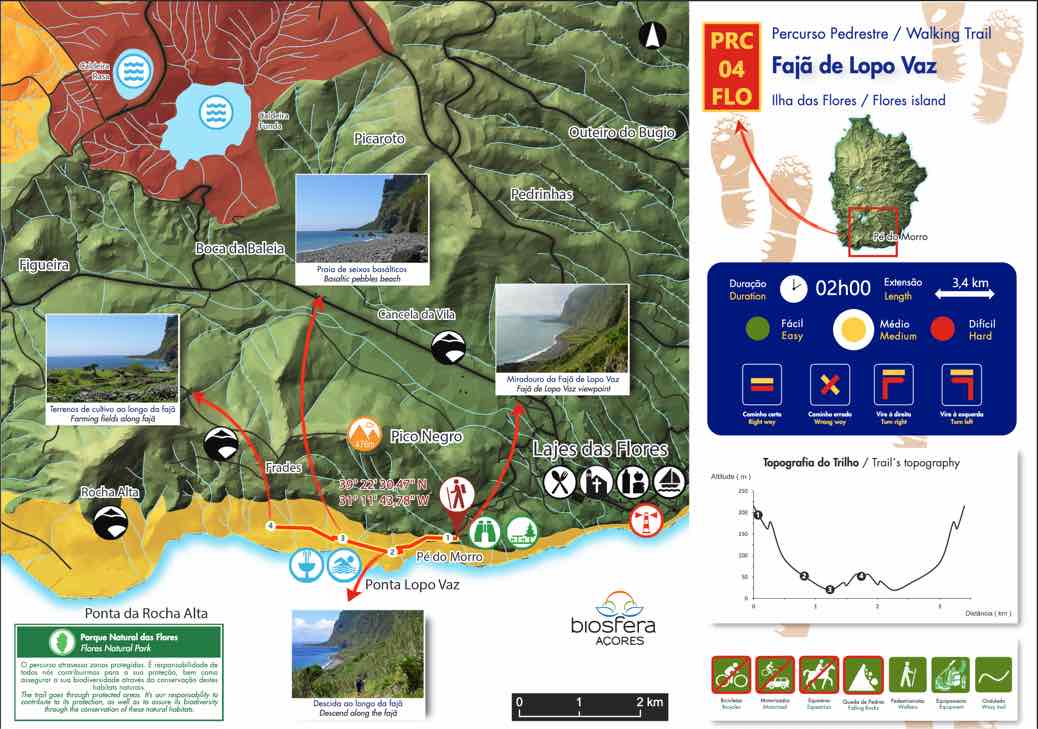 Other hiking trails in Azores
In reality, there are many more hiking trails: this listing does not include municipal trails – also marked and signalized, just usually less frequently maintained – or even other lesser known unsigned paths. I don't recommended doing the latter without a local guide or at least without following a specialized app.
An app that I find great to find these alternative walking paths and also helps with navigation (even offline) is Wikiloc. All the content is user-generated which can be great to find hidden gems, but you may find yourself in "uncharted" territory pretty quickly.
On this article though, and with the exception of the Mount Pico climb, I'll only be mentioning the official hiking trails in Azores.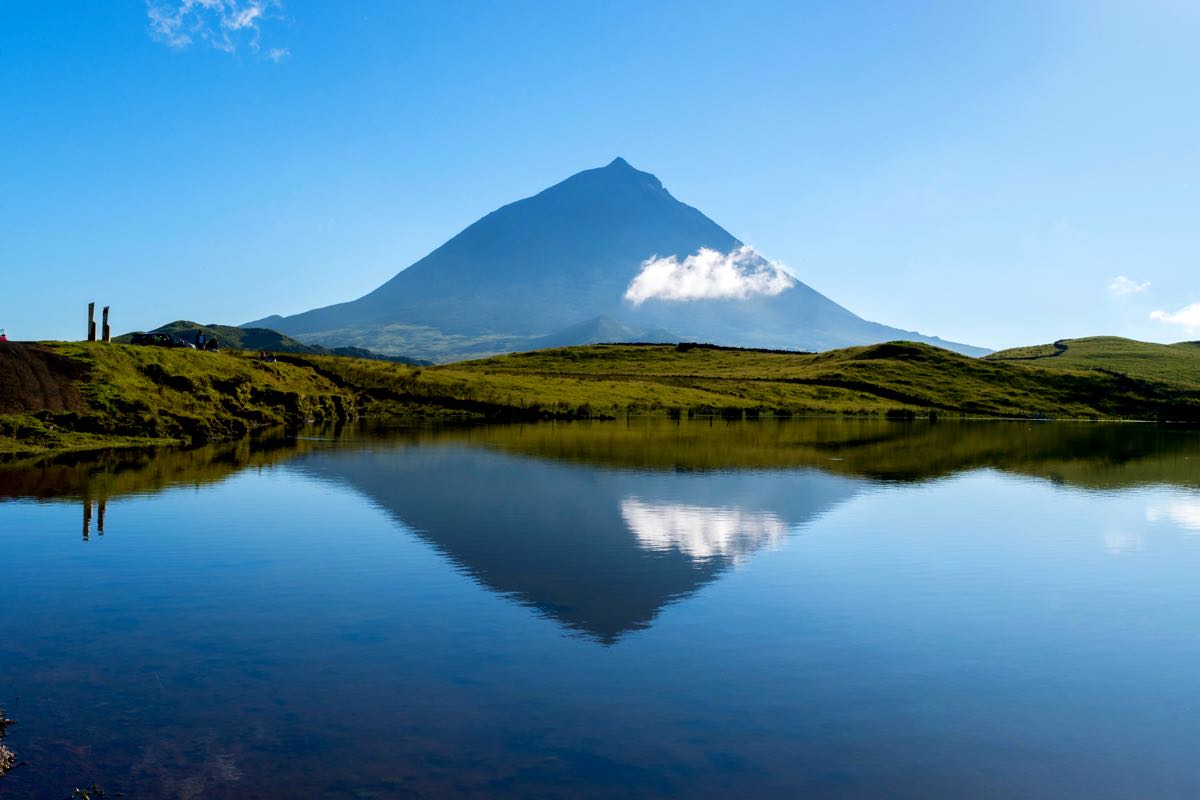 Hiking trails in each island of Azores
What is the best island in Azores for hiking?
Well, roughly a third of the trails (23) are in São Miguel, the largest island in the archipelago. There's a bit of everything for everyone.
If you're an avid hiker and heading for smaller islands, Corvo, Faial, and Santa Maria have the best trails-to-size ratio (a metric I just came up with). On the other hand, Terceira, and Pico have the lower number of trails in proportion to their size.
But quantity is not quality, though. One of the most interesting hikes I've done in Azores was Mistérios Negros in Terceira!
Overall, the islands with the most beautiful hikes are Flores, São Miguel, and São Jorge. The latter is actually considered to have some of the best and most scenic hikes in Europe, with trails made by locals to connect the local fajãs. If you're feeling confident, check out the BEAST 42km hike in São Jorge appropriately named the Great Route of Sao Jorge. 😲
Hiking trails in each island in Azores (updated January 2022)
All these trails are a bit overwhelming. Which are the best hikes in Azores after all?
I've listed some of my favorites on the next section.
Best hiking trails in Azores
Praia-Lagoa do Fogo in São Miguel (PRC2SMI)

This trail connects Água D'Alto Beach, on the southern coast of São Miguel to Fogo Lake, in the heart of the island. It's a circular trail that takes about 4 hours to hike. The highlights are definitely Fogo Lake as seen from a different perspective (on the opposite side where the viewpoints are) as well as the wonderful views over the ocean on the way back.
You pass by an area where seagulls make their nests (April-May); they can be quite territorial so don't push your luck!
Caldeirão in Corvo (PRC2COR)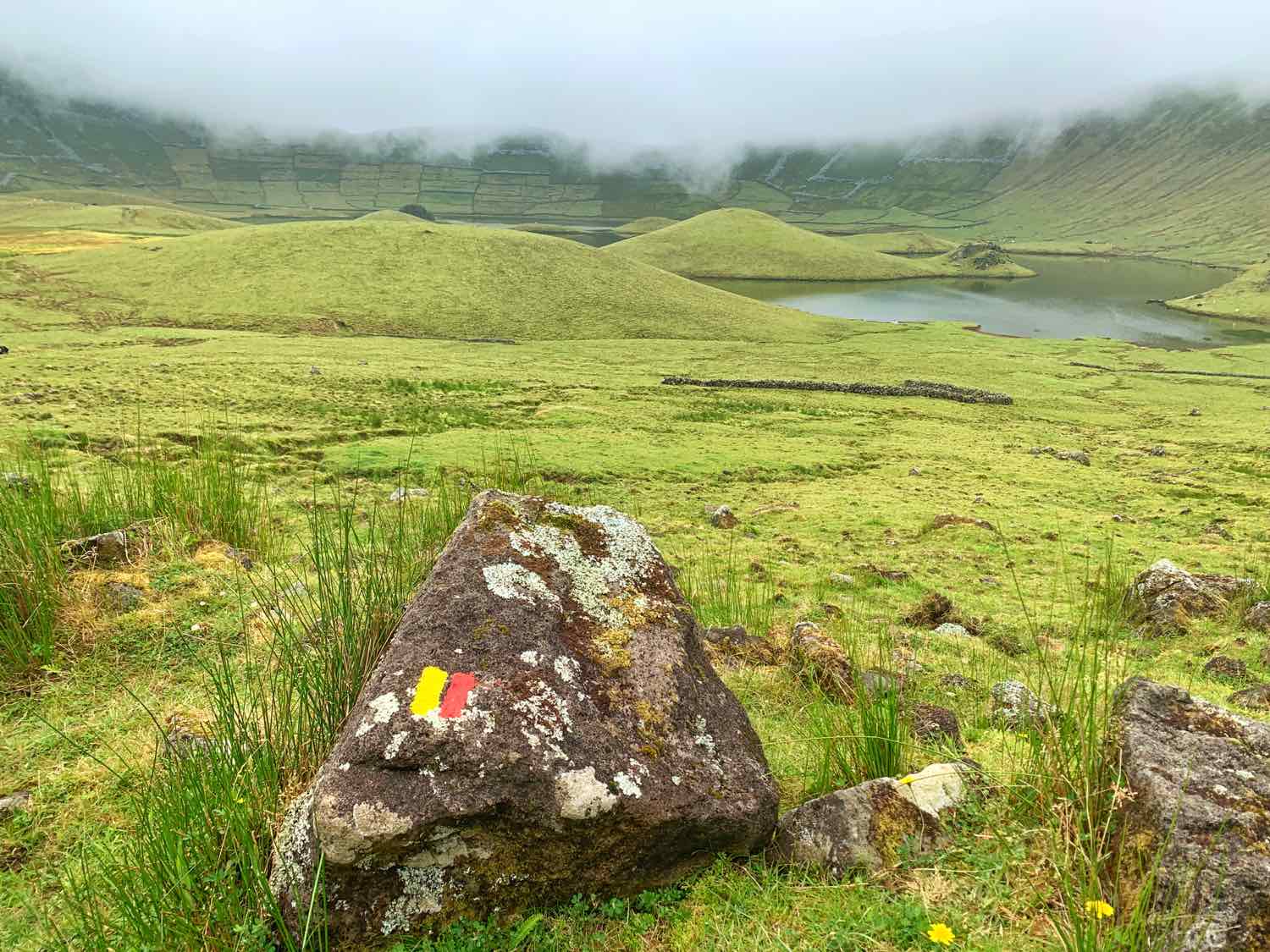 This 2h30 walking trail goes around the collapsed volcanic crater of Caldeirão, that gave origin to the island of Corvo. It's an absolute awe to be surrounded by such an impressive landscape and silence, only interrupted by cows, birds, and horses.
However, good timing and weather are key for this trail. At this altitude, and in an island with such a rough landscape, the weather can be really tricky. We started doing it, but halfway through, the rain and heavy fog made it a bit miserable to continue so we had to go back. Hope you have better luck!
Faial da Terra/Salto do Prego in São Miguel (PRC9SMI)

If you want to fully indulge in nature, this trail in the most remote area of São Miguel is a fantastic choice. It snakes through a dense forest and majestic lush hills, leading to a stunning waterfall hidden in the forest. I dare you to go for a swim in the freezing cold water.
This trail is a great option for those gloomy days as it doesn't involve many views.
Serra do Topo to Fajã dos Cubres in São Jorge (PR1SJO)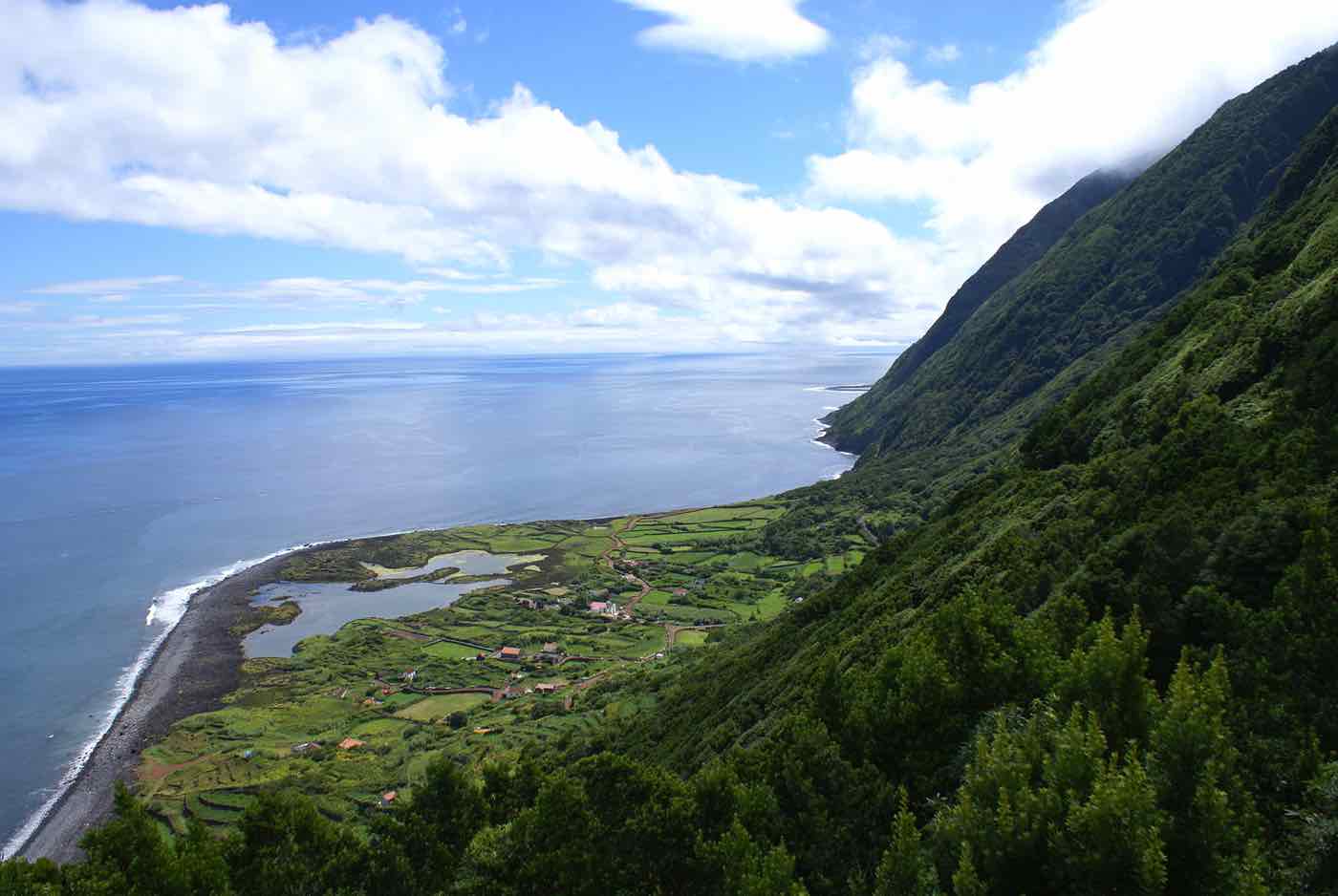 This trail takes you to one of the most stunning fajãs in São Jorge island, with a stop at the iconic Caldeira de Santo Cristo. This natural ocean pool is a well known spot for bathing and surfing, so it's actually a pit stop for rest on this 10-kilometer hike.
Scenery game is high on this one, so picking a sunny day could really make the difference. Also, since it's a linear trail, make sure you have a way of transportation to get you back from Fajã dos Cubres to the starting point (or anywhere else).
Serra Devassa in São Miguel (PRC5SMI)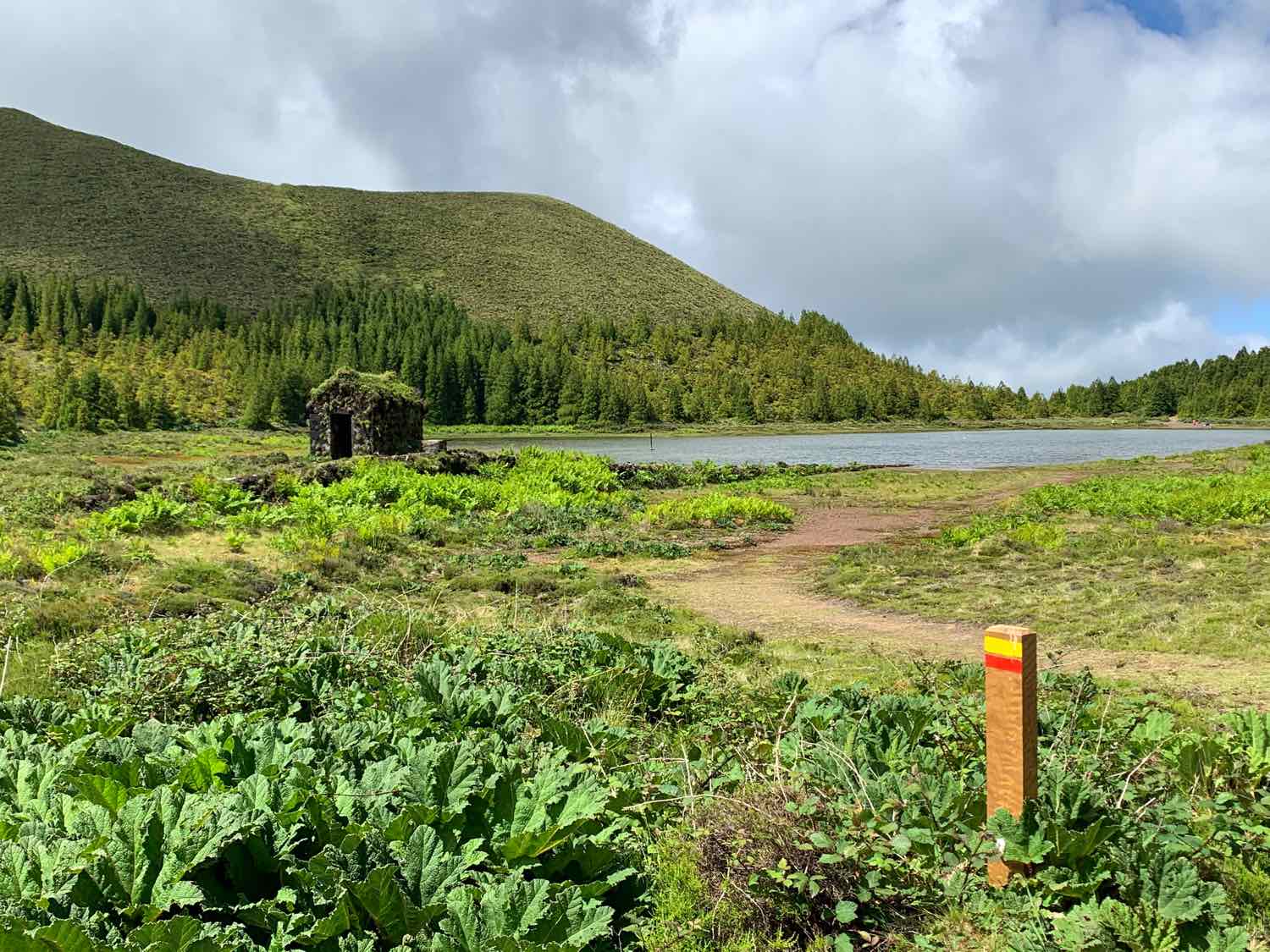 Starting at the car park next to the entrance to Lagoa do Canário, this 5-kilometer circular trail is relatively short, but packs a punch. What I like the most about it is the various views and landscapes you can find – a day with good visibility is essential.
You start at a marshy area and then rise gradually to an altitude of almost 900m, where you can see several other smaller lakes such as Lagoa das Éguas. When I did it, it was quite windy up there so make sure to bring a jacket.
The second section descends to the shores of Lagoa Rosa, goes around the lake through a beautiful wood of Japanese red cedars. I recommend doing a detour to the beautiful Lagoa das Empadadas as well. You can turn this walking trail almost into a lagoon-hopping course!
Extra: Hiking Mount Pico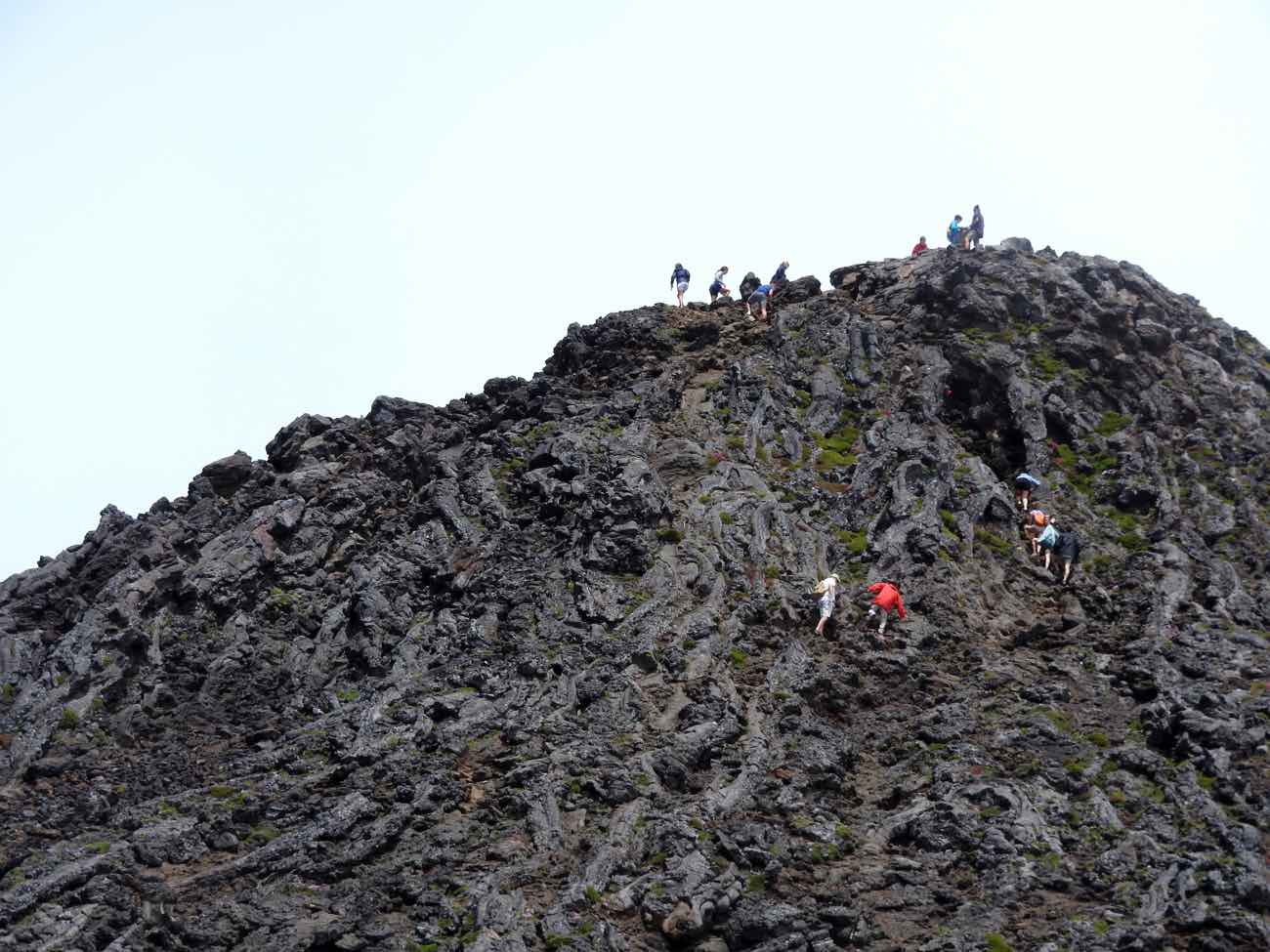 One of the hardest but more rewarding hikes you can do is actually not part of the official trail listings. If you're reasonably fit, I recommend climbing Mount Pico – the highest peak in Portugal.
A deceptively difficult terrain and ever-changing weather conditions await, but the glorious views over the ocean and the nearby islands of the Central group (Faial and São Jorge) are incredible. I'll never forget the simultaneous feelings of insignificance and accomplishment when I looked down.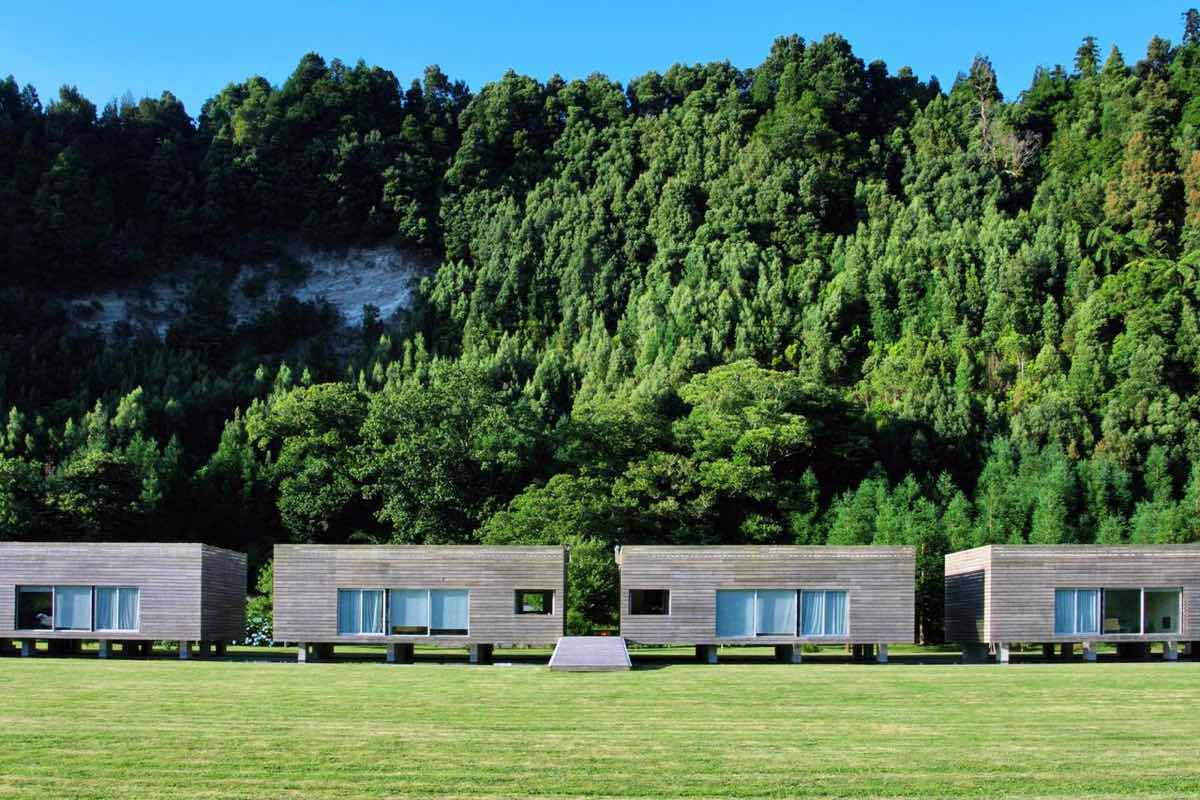 Top hotels in Azores
Pre-filtered list of hotels with top reviews and location with parking and free WiFi included.
Tips for Hiking Trails in Azores
This section has some important info and tips about hiking trails in Azores.
Starting points
Quite often the most tricky part of navigating a hiking trail in Azores is to find where it starts. The instructions on Azores Trails are usually enough, and there are often signs on the surroundings that point out the beginning of the hike. Like this.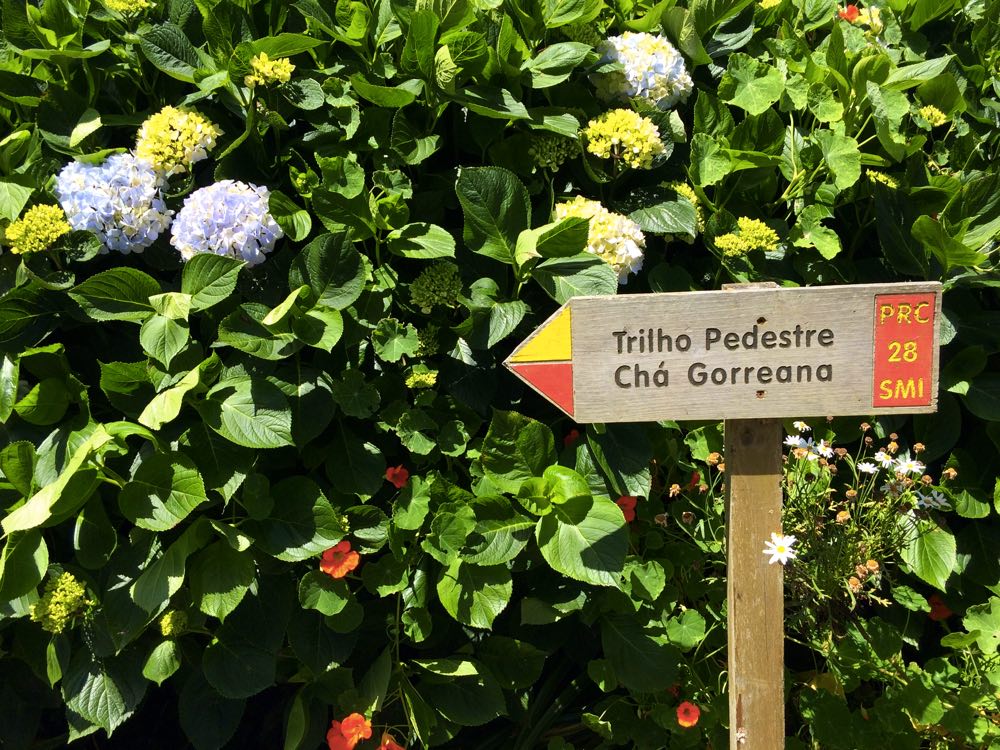 However, in other cases, it may not be that easy.
If you're lost, ask a local and they'll point you in the right direction. As a last resource, you can also use the GPS coordinates to find the exact spot. Wish it was simpler, but you can find them on the trail leaflet, input it on Google Maps (or any other maps app you use), save the location as a pin and voilà! Tip: you'll need to replace any commas with periods so that it can be recognized in Google Maps.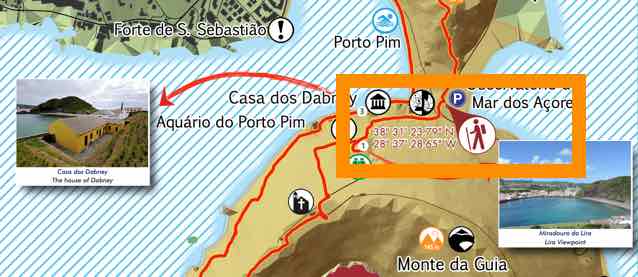 You'll recognize the starting point as it'll look like a little hut, where all the information about the trail is displayed. This should be the same info that is on the website. I recommend taking a picture of the map and trail info with your phone as it can help during the hike.
Circular vs Linear hiking trails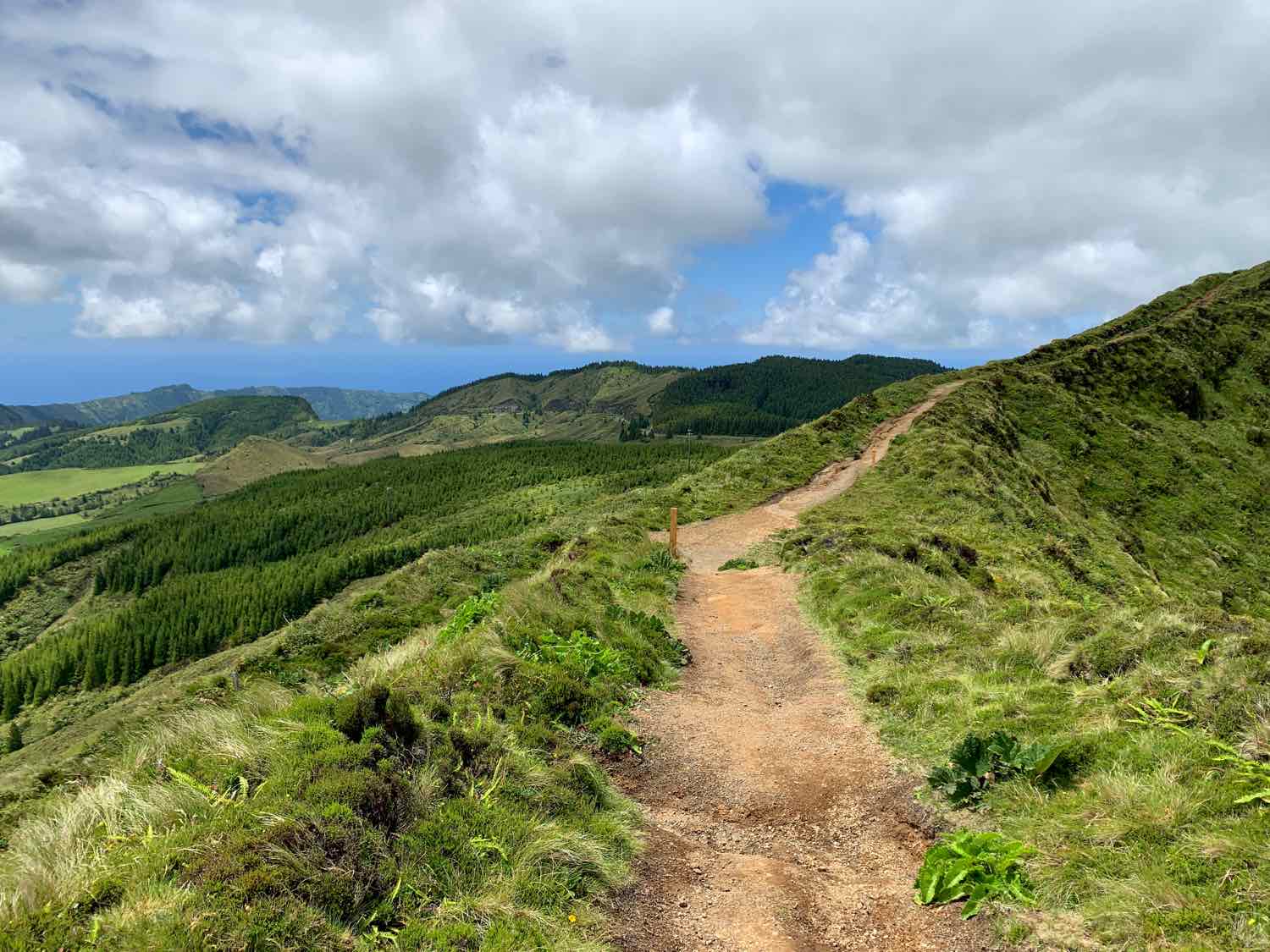 There are two types of hiking trails: circular and linear ones. Circular trails start and end at the same point; linear are one-way trails.
If I was in charge, I'd made all trails circular to make it simpler. Any circular trail can be turned into a linear one without any extra hassle, whilst the other way around means a double hike for the way back.
But I'm not in charge, am I? This means if you have a car in the Azores – and I highly recommend you rent one – and drive to the starting point of a linear trail, you'll be stuck at the end of trail with no transportation.
When doing linear hikes, always be prepared to 1) do a double hike to go back or 2) have a plan to go back to the starting point.
In some trails, the hike ends at a town or village with taxis or other kinds of transportation nearby. But more often than not, it doesn't. I suggest having a taxi number with you, or, even better, prearrange a time and spot for them to pick you up.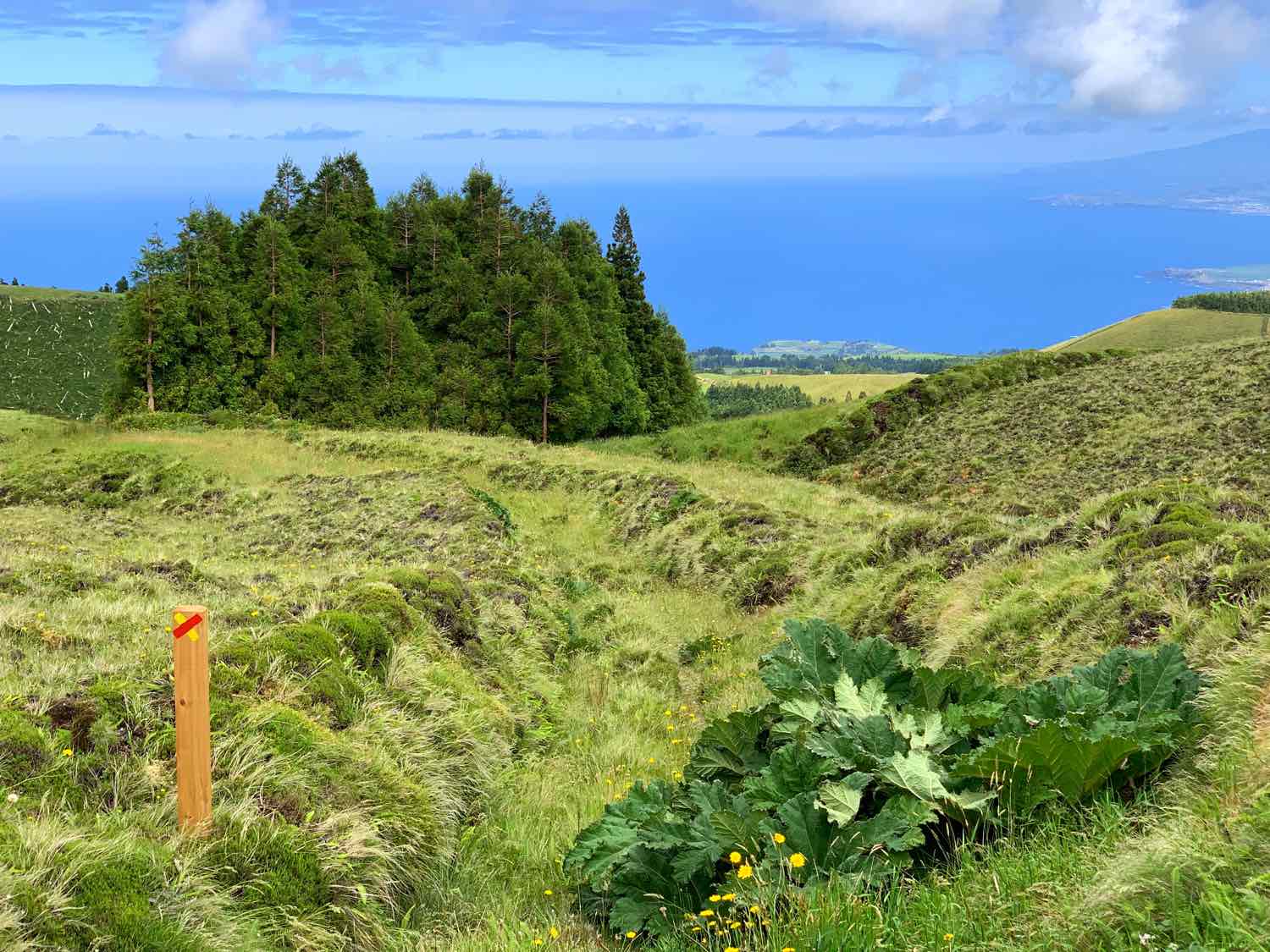 Signs and markers
Honestly, once you started a hike in Azores, there's little to worry about. The markers are numbered in increasing order and quite frequently distributed so that the average person will have no trouble finding the (correct) way around.
The only thing you need to do is to pay attention to each bifurcation or intersection. These are usually spots when you need to make a turn or choose the right way when the trail splits into two (or more).
At each of these points, there will likely be a wooden signage marker to help guide you: Right Way, Wrong Way, Turn Right, Turn Left.


If you see yourself in the rare situation of a crossroads and you don't see any marker, the best thing to do is to continue on the path you're in. Look for the next marker, that will reassure that is the right way. The official trail map, the picture taken at the starting point, or even a fellow hiker can also point you in the right direction.
⚠Take good care of the trails!
The cliché "leave nothing but footprints" has never been more of a thing. The Azores have been a site of unspoiled nature for centuries. Don't help spoil it now.
Take ALL your trash with you, until you find a bin
Keep SILENCE as much as you can to not disturb the peace and natural balance. Noise pollution is also a kind of pollution.
Clothing & Gear
You can find most of my items and clothing gear recommendations on the hiking section of my Amazon shop.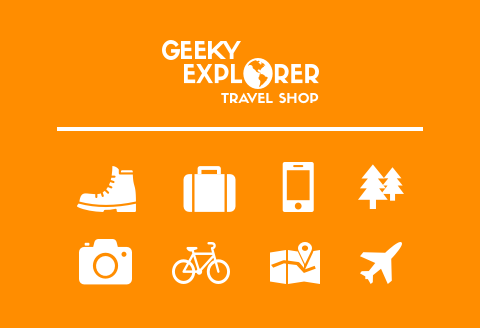 My travel shop on Amazon with all you need for a hassle-free travel.
What to wear at a hike in Azores?
The key is to be prepared for all kind of scenarios. Bring several layers and always have a rain jacket with you, no matter the forecast. For chilly days or hikes at high altitudes, a warm pullover can be helpful.
Proper hiking boots or shoes are recommended too; if possible waterproof.
What else to bring for a hike in Azores?
Water is absolutely key. It's never too much, but weight can be an issue, so aim for roughly 1L/person.
Don't forget food too, especially for those longer or more demanding hikes. Energy bars, fruit or other small snacks are perfect to give you extra energy while not occupying too much space.
Mobile phone – seriously, this can be useful in so many ways. Take a photo of the trail map, or download the trail leaflet and use it as a backup navigation system. Can also be used as a compass (so McGyver-ish), flashlight in case you run through some tunnels or simply to call a taxi at the end of linear hikes.
Sunscreen – with constant changes, sometimes you don't even notice that extra UV sunlight htting your skin.
Hiking poles – they may be a bit of an overkill for short hikes, but they really make a difference in those trails with long ascends/descends.
Sunglasses – extra style points.
Weather & Hiking in Azores
There's only two certain things in life: taxes and that the weather is unpredictable in Azores.
This means that you may start the day with a sunny clear sky and be seeking shelter from heavy rains by midday. It also means you can get lucky with a warm sunny day in February; or a gloomy rainy day in August. Even though May to October are the best months to visit the islands, this isn't a guarantee of good weather at all.

To make things even more complex, weather conditions depend on the area of the island you're in, as well as altitude, landscape, etc. That's when the webcams from SpotAzores can be helpful (although there's no guarantee the weather will remain the same by the time you get there!).
Literally anything can happen, so you might as well just go with the flow. The unstable weather is just another way to embrace all that nature has to give in Azores.
Now, what does that mean for hiking?
Apart from proper clothing, make sure you research a bit about the hike you're doing. If it's a trail with nice views, choose a day with a good weather forecast. Also, hikes with a high variation in altitude (lots of ups and downs) can get particularly dangerous after heavy rains.
Planning a trip to Azores by yourself
Booking your flight
If you are not from the US or simply not into vacation packages, you're better off by booking your flight independently.
As a rule of thumb, flights to Azores are considerably cheaper from Porto, Lisbon or London. Ponta Delgada airport has the highest number of flight connections. From there you may be entitled to a FREE connecting flight to other islands – check this page for more info.
Booking a hotel
For hotels, you can start off with this pre-filtered list of hotels, guesthouses and villas in Azores. Or explore the hotels in Azores:
Booking a car
Taxis and tours can be costly and public transportation is not reliable. Also local guides take away the fun factor. If you ask me, the best way to get around in Azores is definitely by renting a car.
Plus, an island road trip will add a sense of adventure to make your trip truly memorable!
Azores Flight + Hotel + Transfers Deals
I usually don't use travel agencies to book holidays. They end up being more expensive in 99% of the times. Yet I have to make an exception for Azores Getaways because I really think they have some pretty good prices for a flight + hotel + transfers packages to the Azores – starting at 599USD!
Plus, you can customize your package by combining 2 or 3 islands to your itinerary which is awesome:
I particularly recommend using Azores Getaways if you are flying from the United States and don't have much time to plan your holidays.
Trust me, you won't be disappointed with hiking in Azores. Each one of the trail is an opportunity to explore more of its untouched and beautiful natural landscapes.

What are your tips for hiking in Azores? Which trails did you hit during your trip?
Share your suggestions below in the comments! 👇