I'm sharing the exact Greece itinerary I followed, with honest reviews about each place. You'll be ready to plan your journey with no expensive agencies or tours and enjoy a well-rounded Mediterranean experience.
Personally, I love Greece. It's not only the idyllic beaches and the warm weather, but also the culture, the food, the history and the friendly Greeks. It's the whole package.
Greece has a lot of hype as a travel destination, but I can assure you most of it it's true!
This Greece travel itinerary I'm about to share is based on the indie route I made on my first trip to the country. Some of the places were a surprise, others lived to its hype and one big disappointment. Honest policy here.
I hope this can inspire you for your own trip and perhaps even save you days of planning. Yassou Greece! 🇬🇷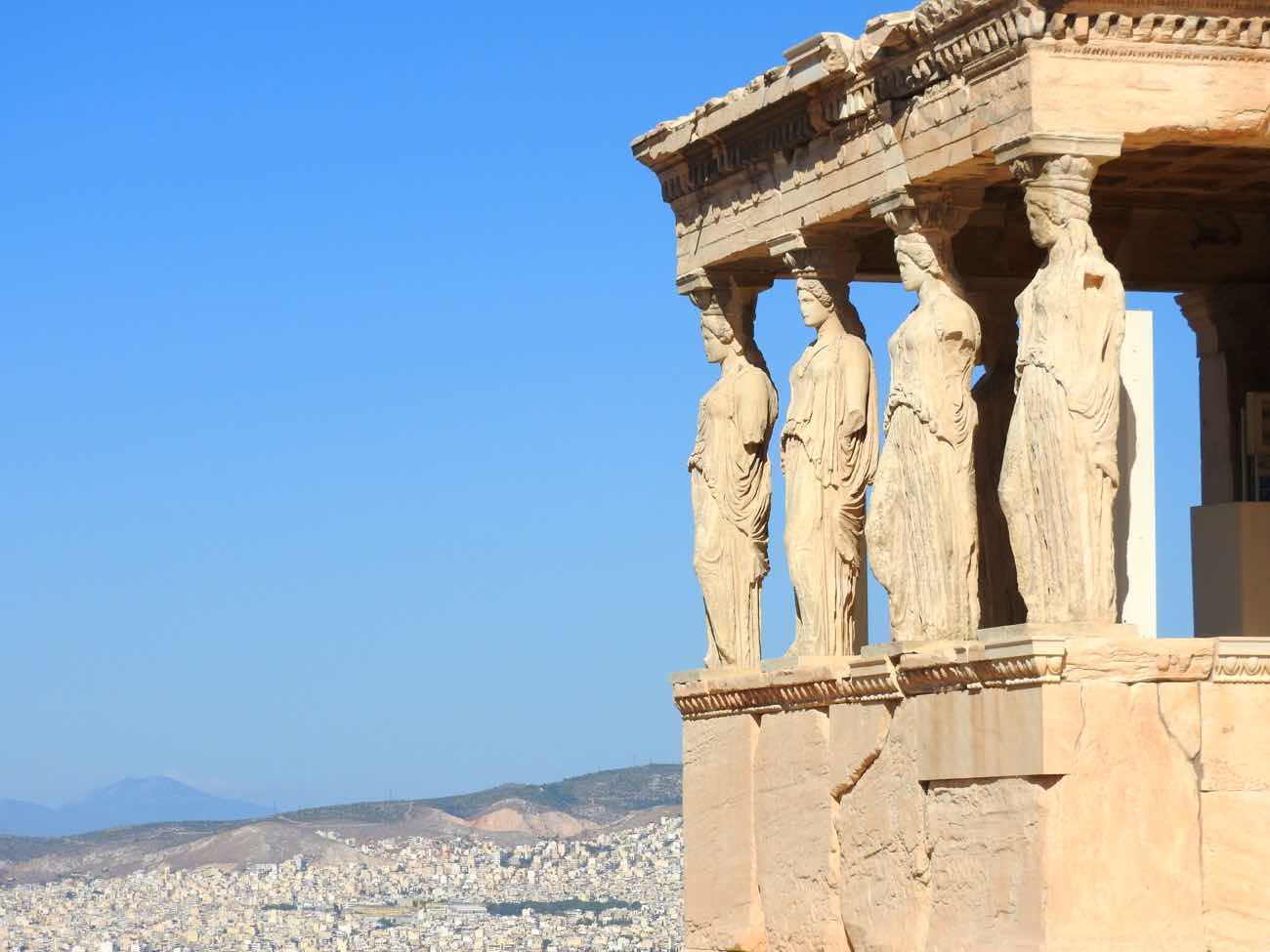 Sections of this Greece Travel Itinerary
Greece Itinerary: Overview
First things first. 2 weeks is not by any means enough time to explore Greece to the fullest.
Possibilities are endless. The country is well spread out and with – literally – thousands of dreamy islands to choose from, FOMO can easily settle in. So the first thing to acknowledge is within 14 days you're not going to see everything.
The best to do is to pick a varied selection of places that give you a good grasp of the country. Here's how my travel itinerary for Greece in 2 weeks looked like:
Athens: 3 days
Pelopponese: 2/3 days
Santorini: 2/3 days
Koufonisia: 3 days
Mykonos: 2 days
Why this itinerary?
Planning an itinerary to a new country is always highly subjective and dependent on what you want to do. To make this one I considered my main purpose: to try to find a balanced route that allowed me to know Greece from different angles and perspectives.
A key takeaway here is that it's NOT all about Greek islands. Yes they're gorgeous but there's more to Greece than Santorini and Mykonos. That's a cliché and I wanted to expand my experience.
So the main benefit of this itinerary is that you'll get to know different sides of Greece:
The historical heritage on a major European capital, Athens
The more local experience where Greek flee to on holidays, the Pelopponese peninsula
An off the beaten track island to have some well-deserved chill-out time, Koufonisia
The hyped islands of Santorini and Mykonos who are on everyone's bucket list
With no further ado, let's get into the details!

Greece Itinerary: Athens (Αθήνα)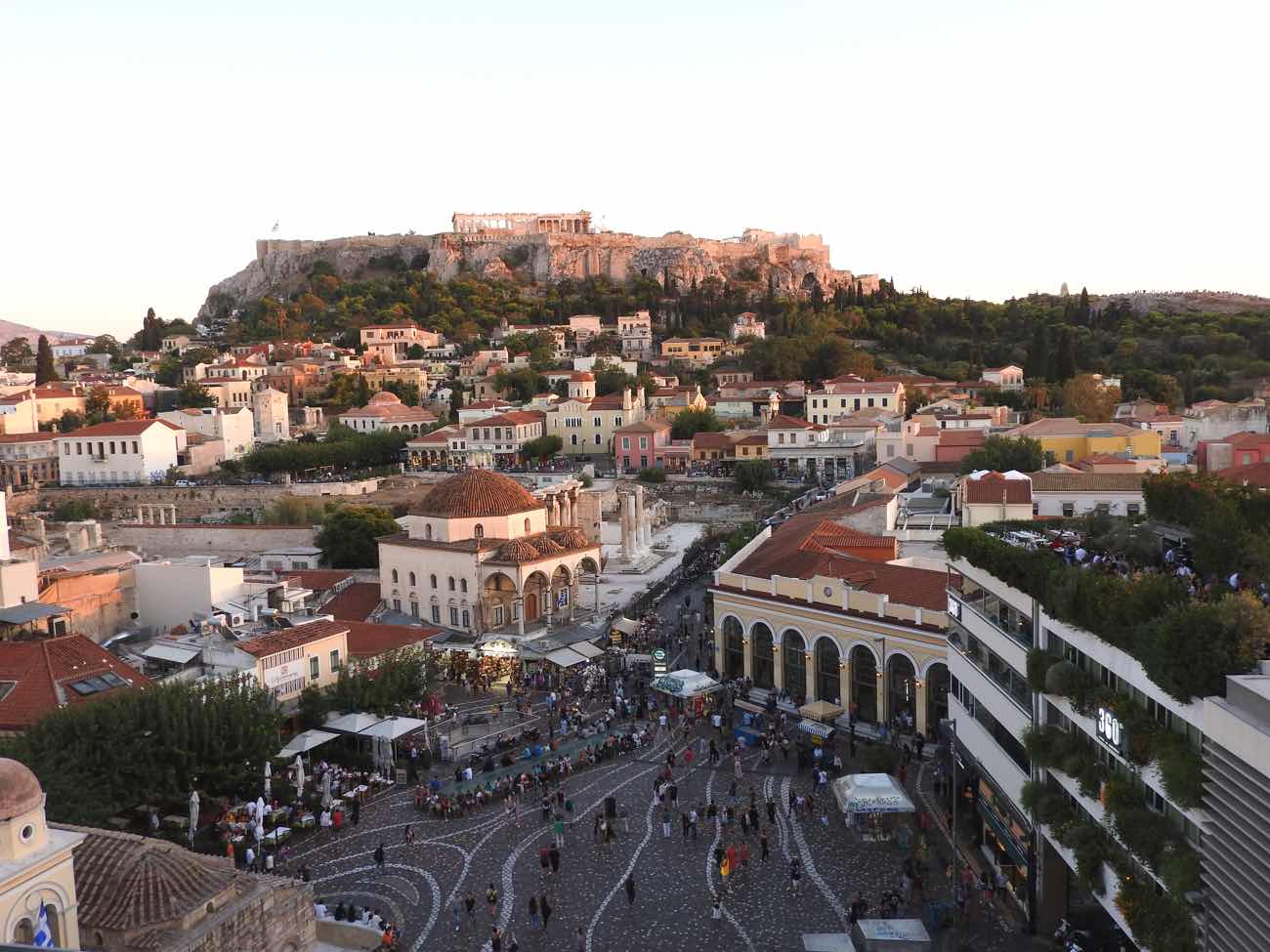 Most international flights land in the capital Athens and this usually is the first stop of travelers arriving to Greece.
Many say Athens is the ugliest side of Greece. With so many dream places to go in the country, I understand where they coming from, it is one of those love-hate travel destinations. Yes, it can be gritty and many streets are filled with decadent buildings as the most prominent feature of a country in crisis.
On the other hand, it can also enlighten you. Beautiful heritage vibes at every corner, local tavernas, charming cafés and artsy shops convey the soul of one of the world's oldest cities (about 3400 years old!).
Love it or hate it, it's a one-of-kind place in Greece – and in the entire world, for that matter – and the birthplace of an entire civilization. I personally feel it deserves a visit: we're talking about a place that can take you back to Ancient Greece here!
What to do in Athens 📸
Acropolis

It's impossible to think of Athens without thinking of the iconic Parthénon. This famous ancient temple is part of the Acropolis, a huge historical hilltop citadel with several ruins to explore. You can easily spend a whole afternoon here.

Panathenaic Stadium

This place was one of my favorites. It was the site of the first ever Olympic Games of the modern era, in 1896. Not only the all-marble stadium itself is an architecture delight, there is also an interesting underground Olympic Museum with all the original (!) torches are displayed.

Acropolis Museum

I'm not a fan of museums, but this one is quite cool. Apart from invaluable pieces of art, it gives great insights on the Greek Empire and the city of Athens along the centuries.

Plaka

The closest you'll get to a Greek island vibe in the capital. This is an entirely different Athens: narrow cobblestone streets showcasing huge trees in full bloom, tiny shops selling all kinds of local art and hip cafés with outdoor seating. It's picturesque and charming.

Lycabettus Hill

Not many travelers go up this hill – the highest in the city – but I can assure you it's worth it. Only here you realize how MASSIVE Athens is, with a wide open view of the Attica peninsula that goes all the way to Piraeus port and the sea. Tip: take an Uber up there and watch the sunset.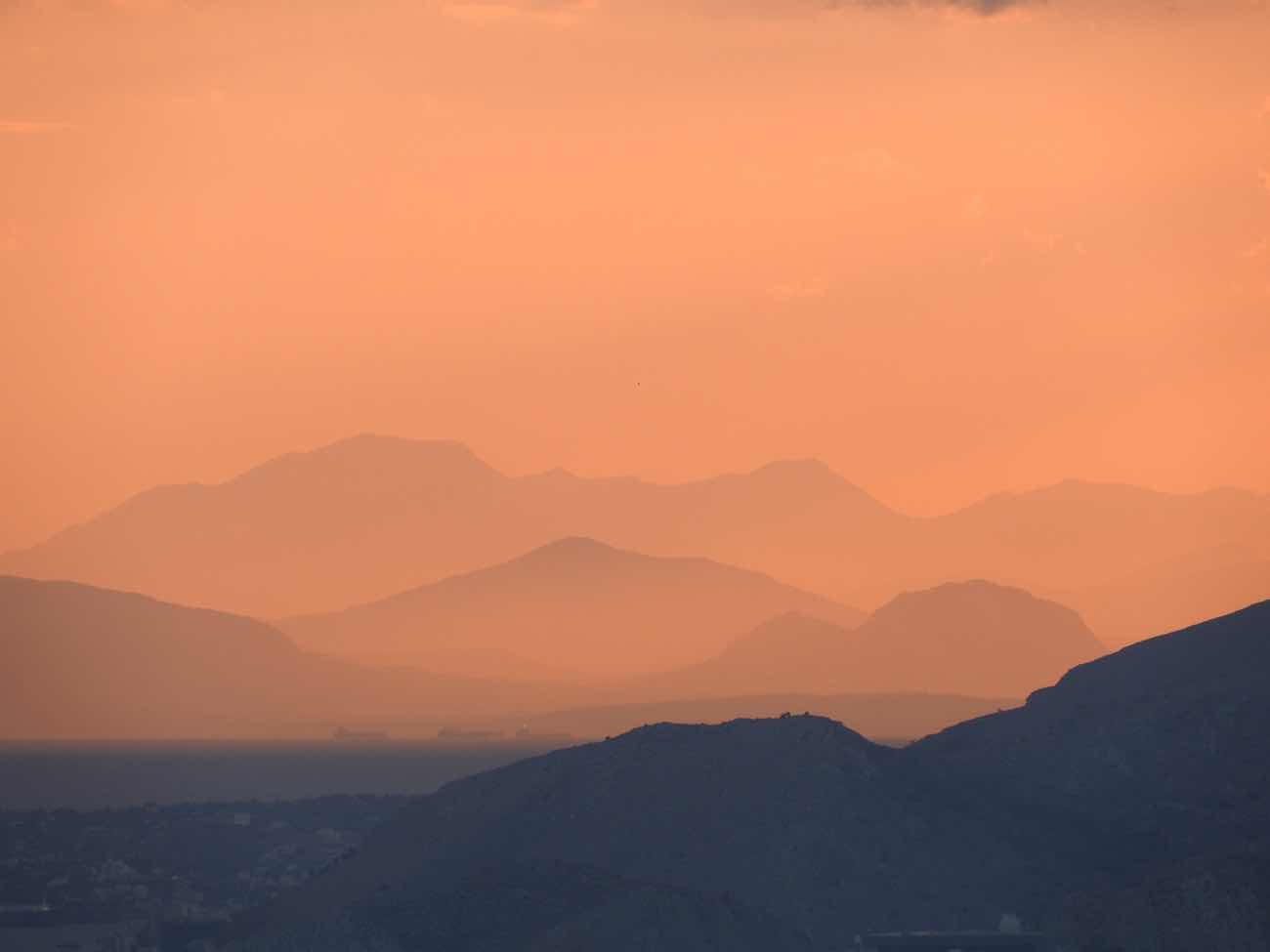 Where to stay in Athens 🏨
The best areas to stay in Athens are Plaka, Syntagma and Monastiraki, the heart of the city center. They're also the most touristy.
I actually stayed in Akadimia area which is more residential and local, but perfectly fine and within walking distance to the center. If I had to choose again though, I'd go for the beautiful neighborhood of Plaka.
Here's a suggestion for a great place to stay there.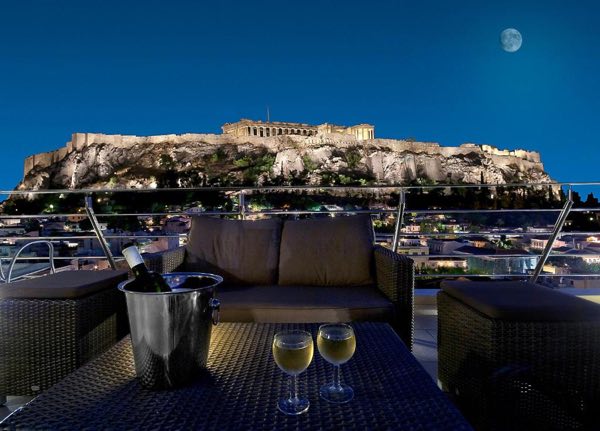 Plaka Hotel, Athens
The rooftop on this hotel is enough of a reason to stay here. Add a great location and a superb breakfast and you're set for a great time in
Athens
.
Find other Superb places to stay in Plaka, Athens.
Athens Overview 👀
📍 How to get to Athens city center: Metro Line 3 will take you to the center – Syntagma and Monastiraki squares included – in about 40 minutes (10 EUR). There's also the option of bus: lines X93 will take you to Kifissos KTEL Bus Terminal and X95 to Syntagma Square. Finally the Proastiakos train connects Athens Airport with the Central Station (also known as Stathmos Larisis). Taxi is much more expensive (40EUR+).
🕑 How long to stay: I suggest staying at least 2 full days in the city. It's not huge, but the heat can slow you down more than you think.
🔀 How to get around: no need for a car. Metro is convenient and fast and there are buses going pretty much anywhere. Uber is available and is great for some more remote places, like the Lycabettus Hill.
🍴 Best place to eat: Might be touristy, but having dinner with the Acropolis as a backdrop in Veranda was memorable. Hi-Fai Grill House was also great value for a quick dinner.
💬 Words that define Athens: history, ancient, empire, urban, Parthenon, ruins
Greece Itinerary: Pelopponese (Πελοπόννησος)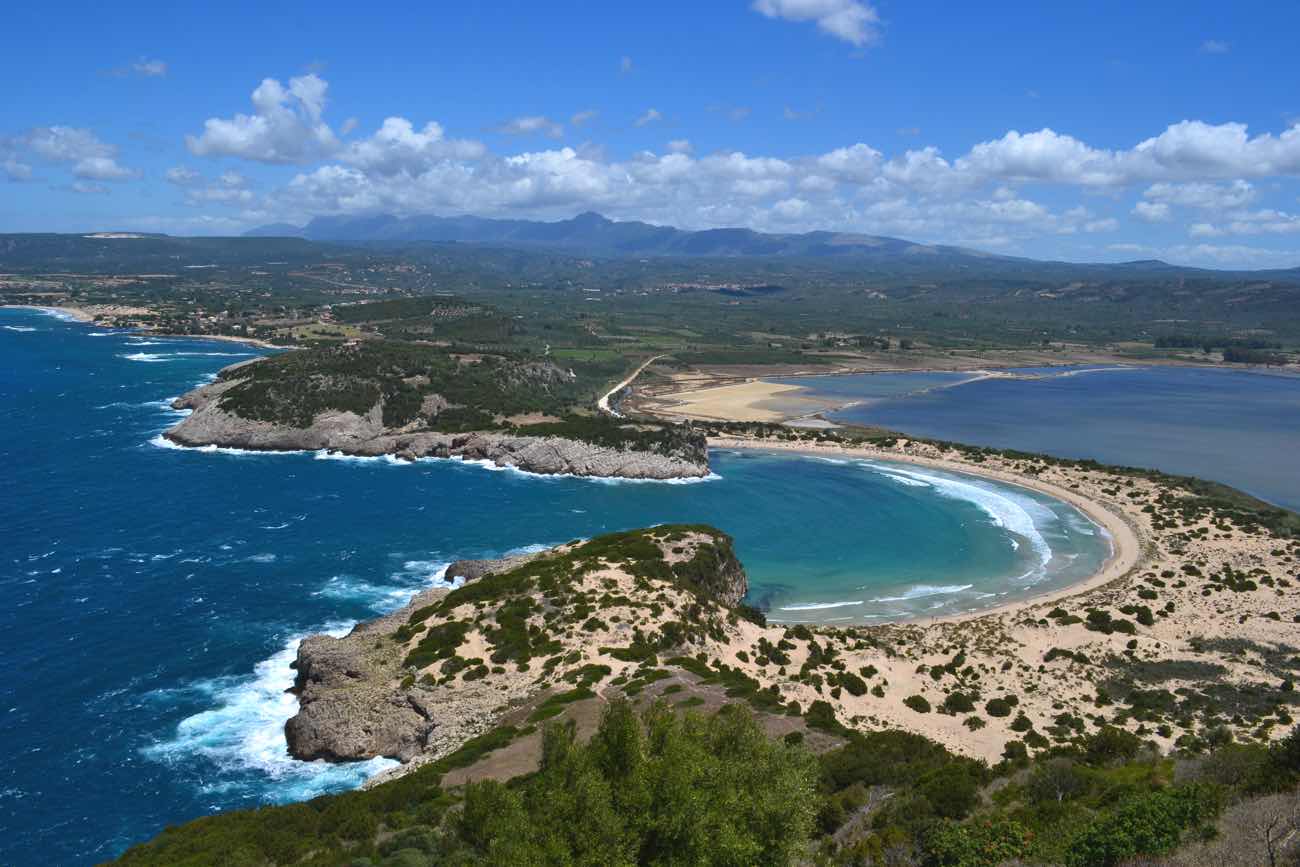 Don't frown at me just yet. I'm aware this is not a typical choice for anyone coming to Greece for the first time. But Kalamata and the whole Pelopponese peninsula can bring a pinch of Greek authenticity to your trip.
With the islands becoming overpopulated and more expensive each year, many Greeks choose Pelopponese to enjoy their time off. I feel it's a perfect place for an affordable low-key holiday, specially for family or couple getaways.
There are museums and cultural things to do here, but quite honestly you should come here with an unwinding mindset. You can easily spend 2/3 days basing yourself the Kalamata area just relaxing, but if you have a car, make sure you explore the rest of the Pelopponese peninsula.
Places to go in the Pelopponese
Beaches
This whole area is fertile in gorgeous coves and bays perfect for a sense of getaway. Stay in Avia instead of city center Kalamata for extra tranquility. Most of beaches here are pebbled, but the perfect sandy semi-circle of Voidokilia beach is a fine example of a underrated paradise. In all of them the sea is incredibly clear!
Polylimnio Waterfalls (πολυλίμνιο)
A short drive from Kalamata, this set of vivid green lakes and waterfalls is a journey to a lush Greece hard to find elsewhere.
Nafplio (Ναύπλιο)
If you have a car, this is a great stopover in the middle of the journey from/to Athens. According to mythology, the town was founded by Nafplios, the son of god Poseidon. Don't miss the spectacular Palamidi citadel.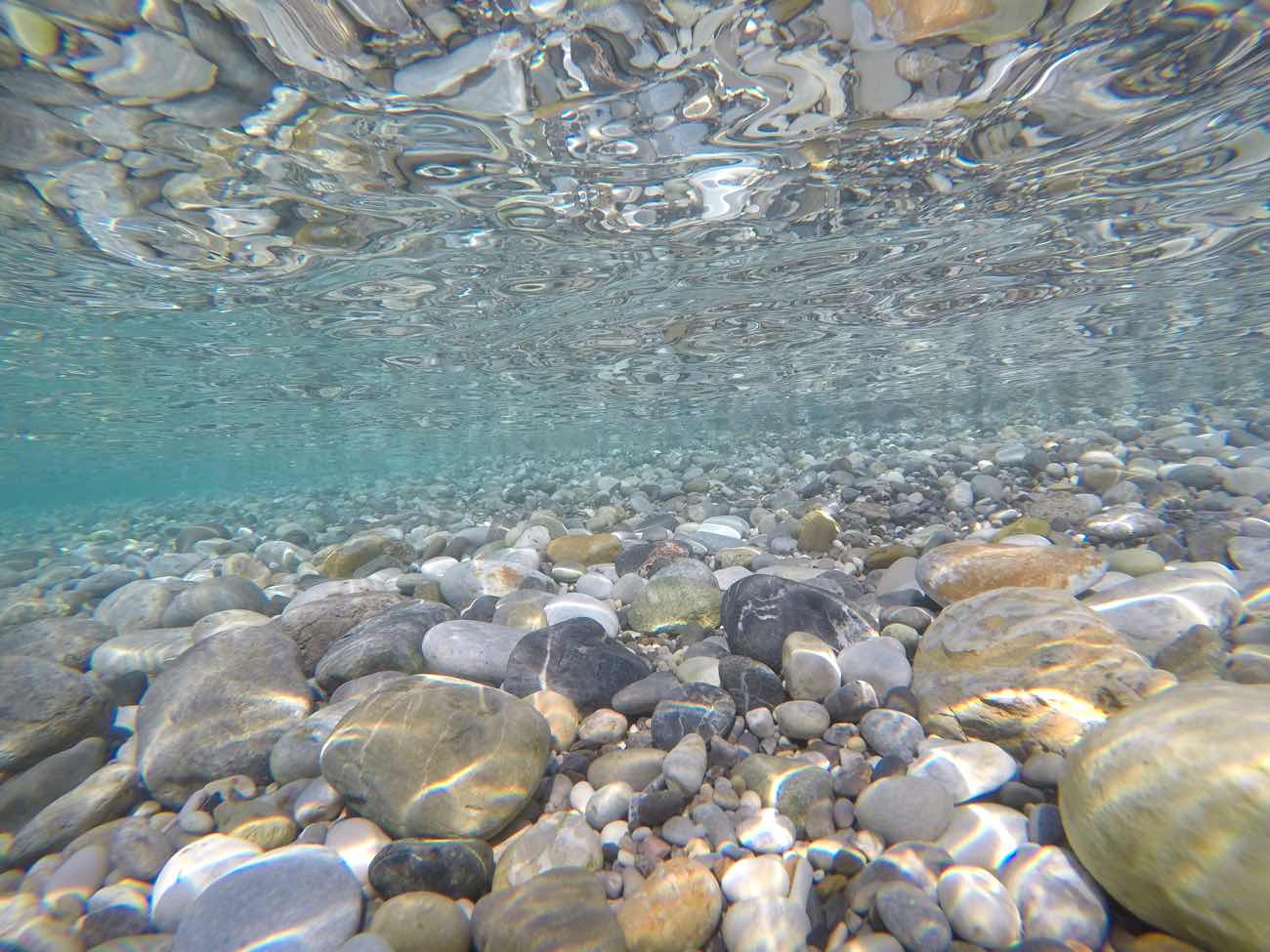 Where to stay in Pelopponese
I stayed in Avia area, very close to the city of Kalamata. The vibe here is beautifully chilled. Pebbled beaches with crystal clear water arise from dense pine forests while unpretentious bars and restaurants populate the seaside promenades. Great place to relax but also to base yourself and explore the area.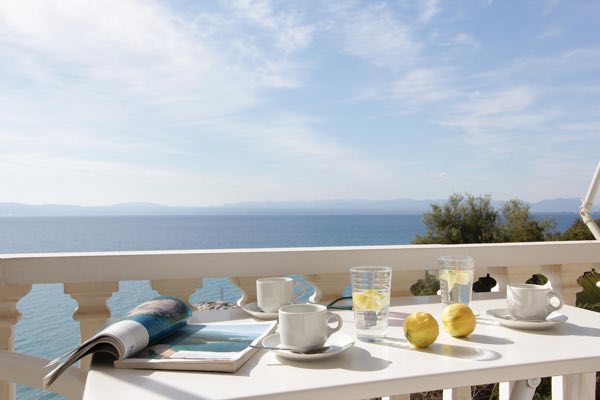 Apollon Apartments, Avia
Off the beaten track spacious apartments close to a private mini-beach. Gorgeous sunset views. Bonus points for the many cats wandering around. I loved this place! ❤️
Pelopponese Overview
📍 How to get to Kalamata: From Athens you can get to Kalamata by a 3-hour ride on an intercity KTEL bus. There are express and normal buses departing every hour from the KTEL Bus Station Kifissou terminal in Athens.
🕑 How long to stay: This is a place to relax so you can take as much time as you need. I'd say 2 full days, at the very least.
🔀 How to get around: public transportation is limited. A car would be great to avoid dependency on taxis.
🍴 Best place to eat: all the restaurants by the beach near Avia were good value. I had great meals by the sea in Akrogalia and Hobo Beach Bar.
💬 Words that define Pelopponese: relax, authenticity, Mediterranean, olives, local
Greece Itinerary: Santorini (Σαντορίνη)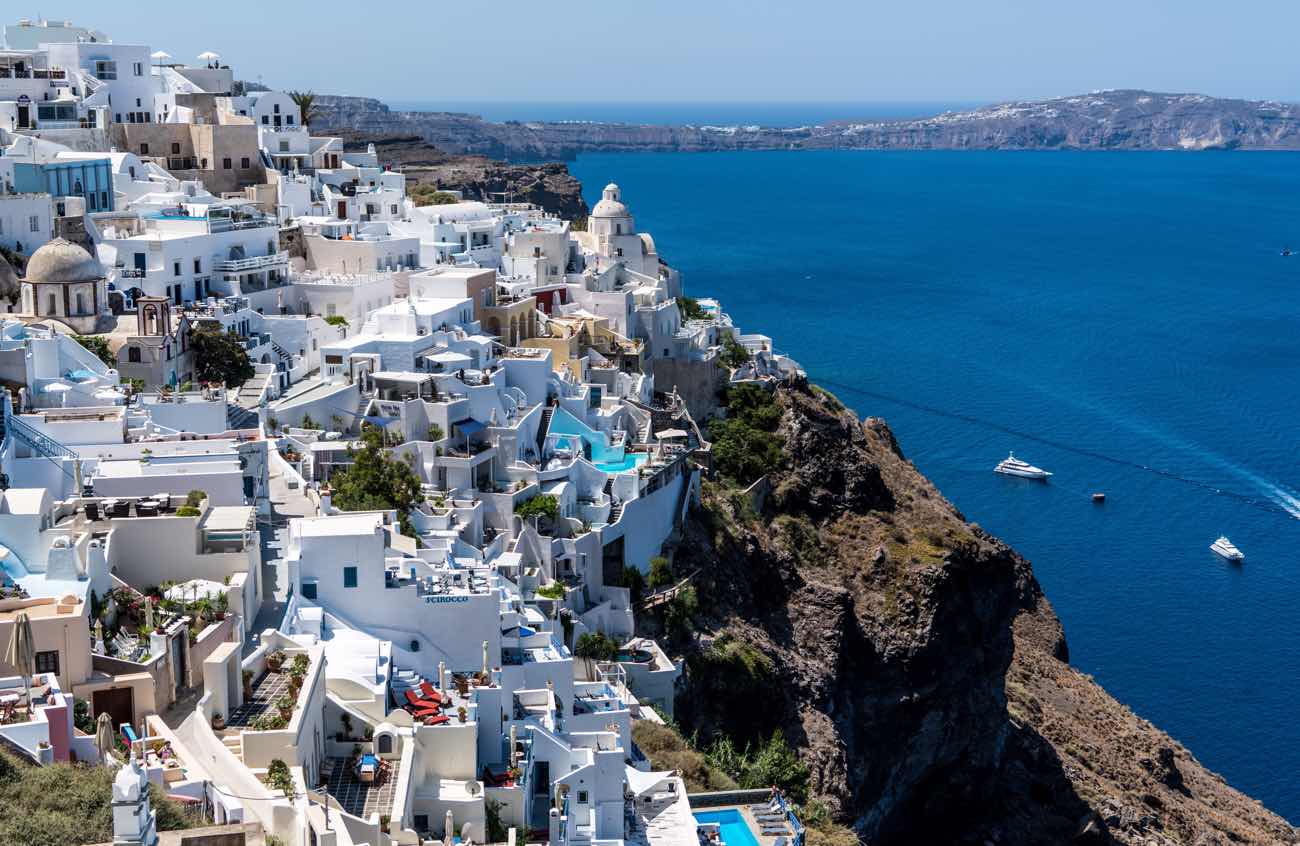 Santorini is essentially a giant collapsed crater that resulted of a massive eruption in the 16th century. With winery tours, stunning villages perched on high cliffs and blue domes of churches contrasting the white Cycladic houses, this place is likely to be the first image that comes to your mind when thinking of Greece.
And oh boy, you'll feel you've uplifted yourself and entered a whole different world where posh, fancy and finesse are the norm. Highest concentration of infinity pools I've seen ever!
And of course the sunset. When the sun sets in the Mediterranean, the fire-red glow reflects on the huge cliffs and snow-white buildings, creating a truly fantastic scenery.
Important: whatever you do, do NOT ride the donkeys in Fira. These donkeys carry tourists – normally arriving on a cruise – up and down a massive cliff all day long. Under hot blazing sun. With no water around. Is it really worth a stupid selfie?
What to do in Santorini 📸
Oia
The most beautiful and picturesque village in Santorini and I'd dare to say; the most famous sunset worldwide.
While it wasn't the most colorful sunset I've seen, I admit the light reflecting in this cliffside town and gorgeous sea view created an ambiance hard to beat. In the end everyone clapped, cheering to another day passed 👏.
Do the Fira-Oia hike
The favorite thing I did was in Santorini was to walk all the way from Fira to Oia, on the northern tip of the island. It's a 10km walk along huge volcanic cliffs, through the villages of Fira, Firostefani, Imerovigli, and Oia. In some points it's almost a lunar landscape with truly spetacular views over the Mediterranean caldera 😍
Nea Kameni
The volcanic hot springs on this small inhabitated island in the heart of the caldera attracts hundreds of travelers on tour boats every day. The yellow sulphur-enriched waters are therapeutic.
Beaches
There are better beaches in Greece than in Santorini. If you're keen on having some beach time here as well, the dark-sand Kamari and Perissa are great swimming spots. Red Beach, whose name comes from the unusual color of the surrounding cliffs, can also be worth to go for the novelty factor.
Where to watch the sunset in Santorini 🌇
Oia. The most obvious choice. The sun sets directly on the sea. The best spot to watch the sunset is the Kastro Walls (NOT the overpriced restaurant with the same name!). Go there very early, at least 1 hour ahead sunset time. Oia is crazy packed with people and the best spots are gone fast.
Fira. The main town Fira has also great sunset opportunities. The sun doesn't set on the sea, but over the small islands in the middle of Santorini crater instead. Find a good spot on the highest parts of town or grab a drink at one of the bars.
Imerovigli. Some say the most posh village of the island has better sunset views than Oia! With less crowds and a privileged view over both Oia and Caldera, it definitely has potential to be more romantic and special.
Where to stay in Santorini 🏨
OK so as you might expect, this is not a dirt cheap place to stay by any means. The majority of accommodation in Santorini are ridiculously gorgeous-looking villas with a pool and memorable sea views. The standard here is very high.
For those in a budget, the main town Fira is your best choice with good accommodation choices at decent prices. This was my case: we stayed in Costa Marina Villas. No pool or breakfast though.
I don't like to splurge money just because, but Santorini somehow feels the right place to do it. Looking back, I'd probably stretch my budget a bit more and go for a hotel with a memorable view and possibly with a pool in Imerovigli or Fira. I've shortlisted exactly these hotels in Santorini for you to get started.
In any case, it's important to book your hotel early. Specially if you're coming during summer, the best places to stay sell out too quickly!
Santorini Overview 👀
📍 How to get to Fira city center: regardless if you come from airport or plane, you can hop on a taxi to Fira or take the cheaper option: the bus. There is also a good network of buses connecting these to the main villages of the island.
🕑 How long to stay: I suggest staying at least 2 full days in Santorini. More if you plan to go to the Caldera or have some beach time.
🔀 How to get around: You can walk most of the time or rent a bike or quad-bike starting at 30EUR/day. Don't forget the buses.
🍴 Best place to eat: my favorite place to eat was by far Theonis Kitchen. Family-owned restaurant serving huge portions of delicious Greek food!
💬 Words that define Santorini: sunset, volcano, infinity pools, views, wine, hike, nightlife
Greece Itinerary: Koufonisia (Κουφονήσια)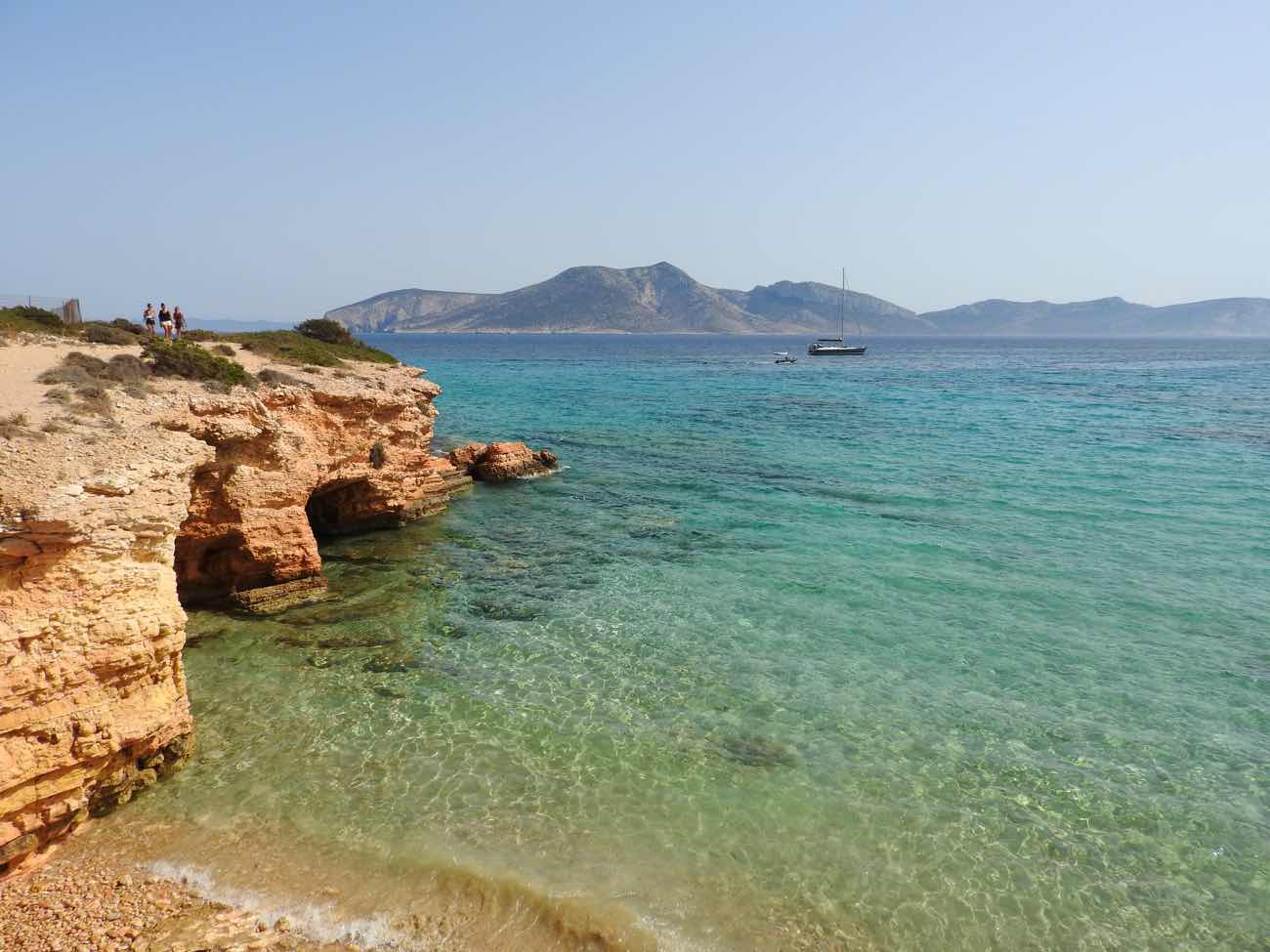 Tucked away between the super hyped Santorini and Mykonos and next to the hip Naxos, Koufonisia is a group of 3 remote islands known for their top-notch beaches. The only inhabited island – Pano Koufonissi – is home to only about 400 people.
Warning: If you're not a fan of the beach life perhaps this is not the island for you. There's not much to do here, except for tanning time and beach-hopping. But Koufonisia is REALLY good on the beach department.
I feel this was an interesting intermediate stop to detox from the intense daily life of Mykonos and Santorini. And the best opportunity to truly relax.
You can find all the info about Koufonisia on my dedicated travel guide, but here's some of the highlights.
Places to go in Koufonisia 📸
Beaches
Definitely the biggest selling point of Koufonisia and the main reason people come here. None of them are big in size – can't except that from such a tiny island – but most are sandy beaches with shallow crystal clear water. I spent more time in Pori and Fanos.
Chora
Koufonisia's Chora (or town) is a fishing village and the main port of the island. It boasts the incredibly simple and beautiful Cycladic architecture on its narrow maze of streets. It's super charming and there are hardly any souvenir shops or international food/clothing businesses here. Just authentic Greek life as it has been since decades ago.
Where to stay in Koufonisia 🏨
Accommodation options are scarce in Koufonisia. For one, this means you should expect overpriced rooms for the quality they offer. Basic demand-offer law, especially true during summer.
Secondly, if you're coming during summer – late June to late August – is very important you book as much as in advance as possible. The possibility all hotels get sold out is real.
There are about 20 different options for accommodation in Koufonisia with free WiFi and 8+ rating on Booking. Out of these, only 2 of them are outside Chora (main town).
Without any 4 or 5-star accommodation in Koufonisia, I can highly recommend the place I stayed (below).

Myrto Hotel

In the heart of Chora and super close to the port, this family-owned hotel boasts spacious rooms and patios with great views. Good breakfast. The staff is friendly and informative, they even got an app for your phone! Book now >>
Feel free to search for other options for your stay below.

Koufonisia Overview 👀
📍 How to get to Chora city center: from the port it's – literally – a 2-min walk.
🕑 How long to stay: How long do you want to relax on the beach? Take at least 2/3 full days to get into the rhythm.
🔀 How to get around: You can walk to most of the beaches and points of interest. Alternatively, there are bikes available to rent. No buses on the island.
🍴 Best place to eat: the best meal I've had in the island was in Mixalios Grill House. Specialized in meat dishes, especially lamb and goat (from Keros island), and the cheese specialties from Amargos. Locally grown food and big portions and reasonable prices: the perfect combo.
💬 Words that define Koufonisia: beaches, remote, chill, tranquil, sea, sun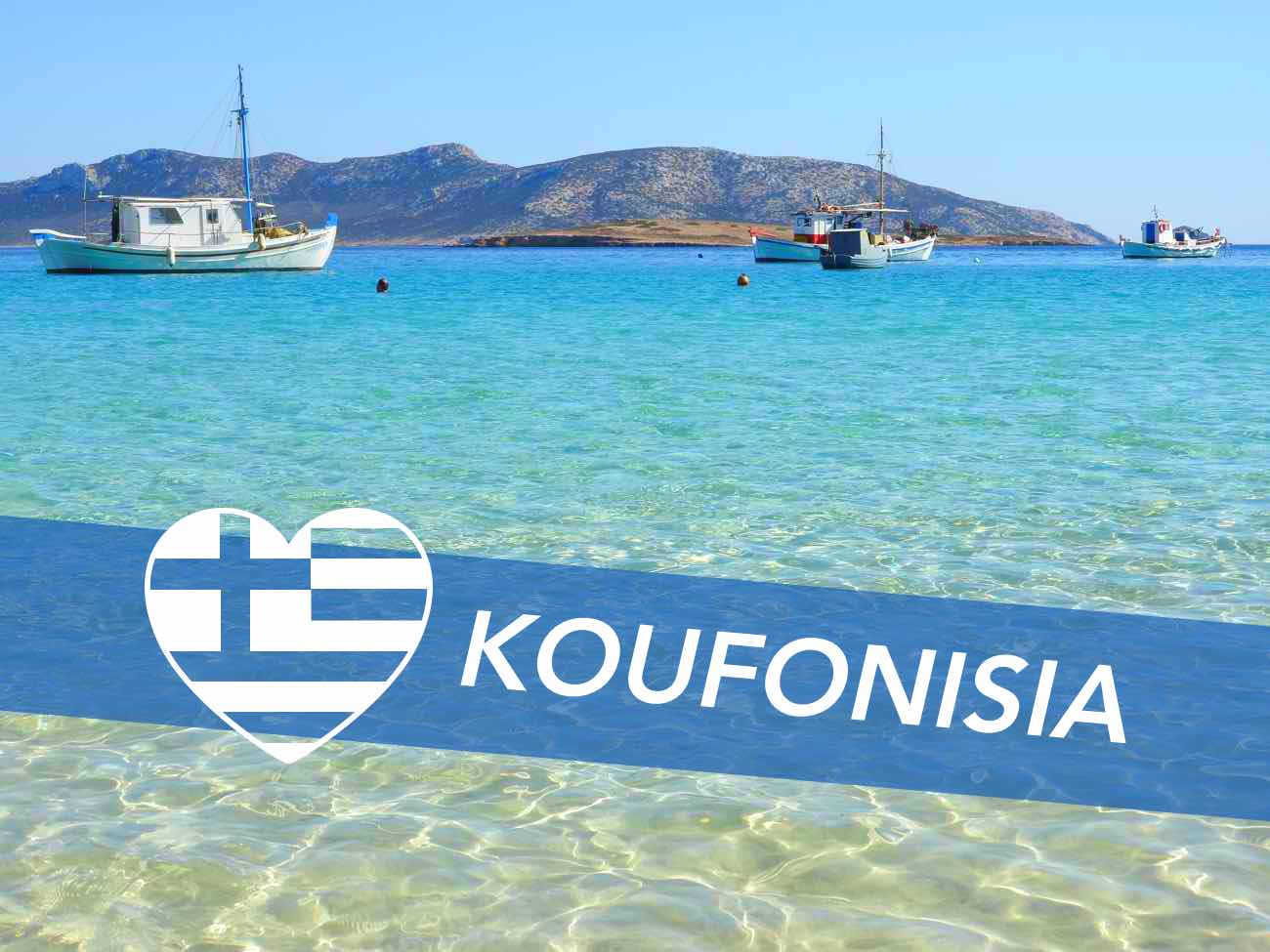 Greece Itinerary: Mykonos (Μύκονος)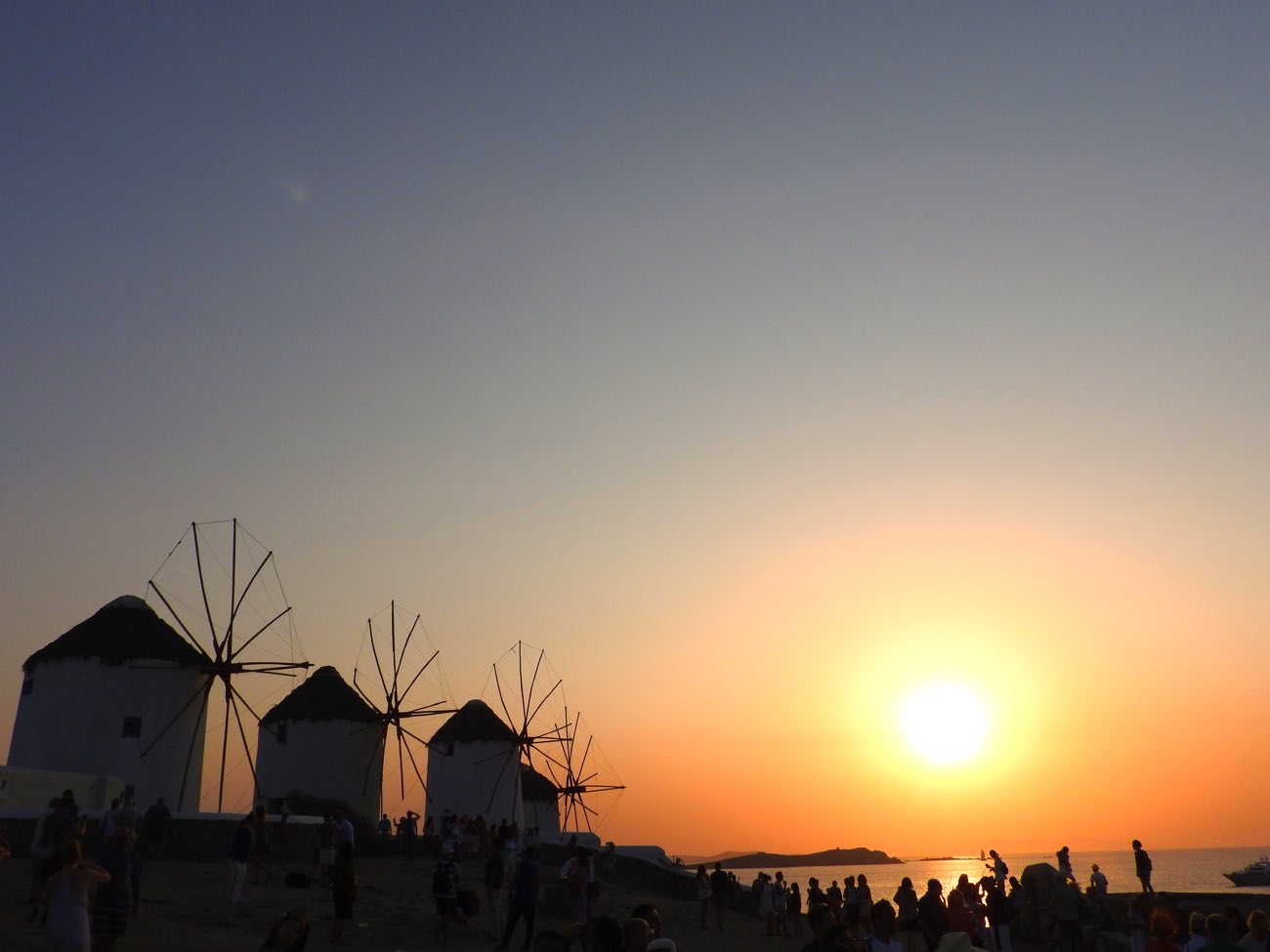 This trip was my first to Greece and I admit I felt pressured to get to visit Mykonos and see what all the hype was about.
From the moment you put your feet in Mykonos you feel the posh high-end vibe. People dress nicer, hotels and resorts look more fancy and there far more high-end shops and boutiques than anywhere else in the Cyclades. The party atmosphere is hardcore, with some beaches charging exorbitant fees to enter during the day.
Let's say I stayed for 2 days and it was more than enough. It felt too upscale, overpriced and overcrowded for my taste. Definitely my LEAST favorite place in Greece.
If you ask me, I recommend avoiding it and go somewhere else – especially if you're traveling on a small budget. But hey, it might be just what you're looking for to end your trip.
Things to do in Mykonos 📸
Kato Milli Windmills
Windmills were an importance source of income for locals and a symbol of the importance of Mykonos as part of the sea trade-routes of the Mediterranean. Kato Milli windmills are iconic features of the island, from which you can see the whole town (chora) and harbour. Tip: come here to watch the sunset!
Little Venice
Quaint waterfront area with 18th century buildings emerging of the water and with colorful balconies. These were once fishing houses and shipping merchants who had direct access to the sea. This is a iconic inspiration for painters and travelers.
Chora
Mykonos' main town attracts herds of people during the summer months. To the point of being stressful to walk the winding streets, especially Matoyianni Street. My suggestion is to go a bit off the beaten track – there are still a few beautiful local alleys where the beautiful Greek essence shine through.
Look for the pelican(s)! 🐦
Back in 1958, a local fisherman discovered a wounded pelican and brought it to Mykonos. The bird decided to stay and locals gave him the name of Petros. Today, there are 3 pelicans residing on the island. They can be spotted along the area of the harbour, the windmills and Niko's Taverna.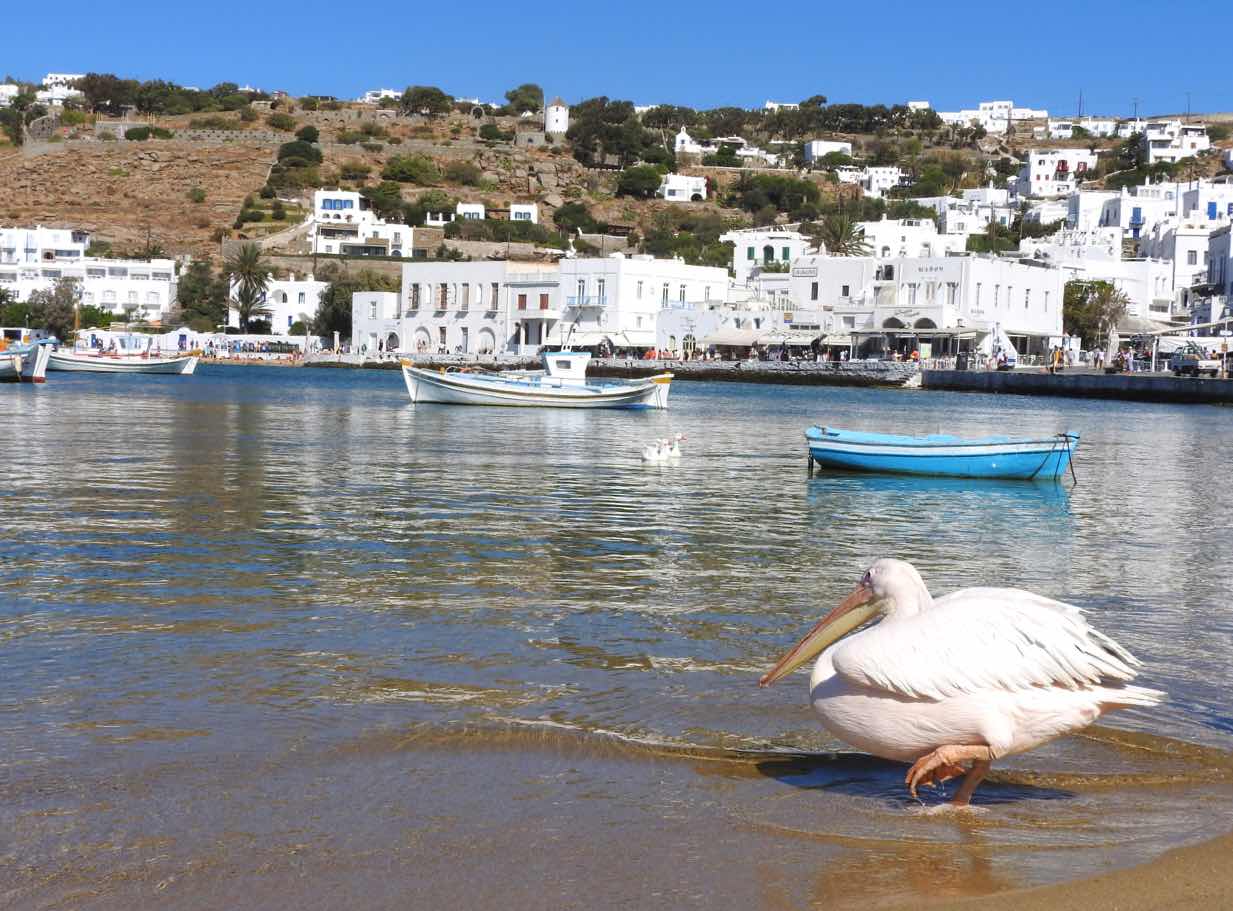 Where to stay in Mykonos 🏨
Mykonos is the place with the most expensive accommodation in the whole Greece. Since it was our last place in Greece and the budget options didn't look great either, we had to raise the budget a bit.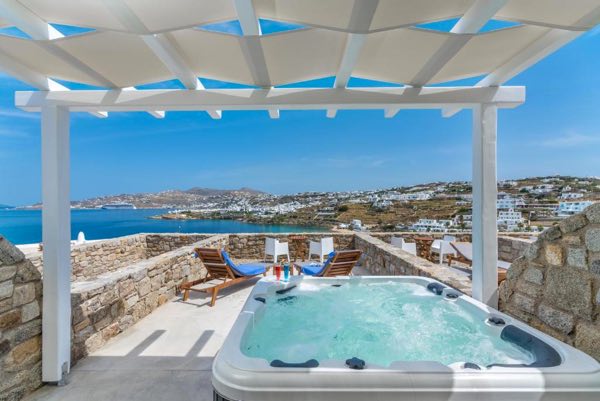 Cape Mykonos

Fabulous views over Mykonos Town and with a great quiet beach very close. Some rooms have a fancy jacuzzi in the balcony. The only inconvenience is that it's on the top of a VERY steep hill.
Otherwise, given the high prices, explore the latest offers close to Mykonos' main town:
Mykonos Overview 👀
📍 How to get to city center: from the port it's about 15-min by car. Check if your hotel has transfer included, otherwise take a taxi.
🕑 How long to stay: About 1-2 full days if you're not into the part scene; 2-3 days extra if that's your case (there's a lot to do).
🔀 How to get around: Although there is a decent bus network, to explore the whole island independently and conveniently, you'll need a bike. Quad-bikes are particularly popular here.
🍴 Best place to eat: to be fair, nothing was memorable, but I didn't want to stretch my budget. The gyros from Saki's Grill House were very good value though.
💬 Words that define Mykonos: luxury, cruise ships, party, fashion, bars, nightlife
What other places should I visit in Greece? 🇬🇷
Well, consider yourself lucky! You can add in a few more days in each one of the places mentioned before. Or change some of places you don't fancy. Or simply add more stops to your journey.
There are hundreds of cities, villages and Greek islands to choose from. Here are some of the suggestions that are high on my personal bucket list, awaiting my next visit to Greece.
Meteora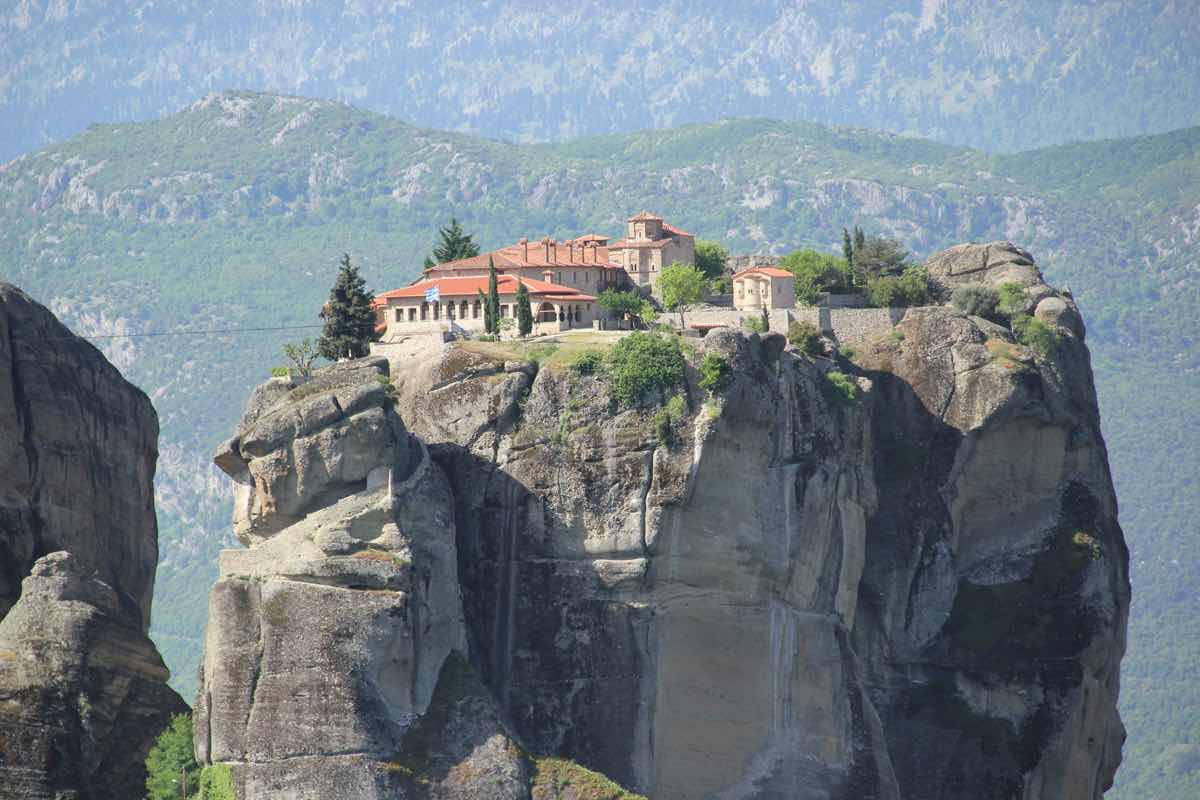 An entire region of huge sandstone peaks where monks built 24 incredible mountaintop monasteries. A trip to Meteora is an unique combination of nature, history and architecture. Want to go so badly!
Cephalonia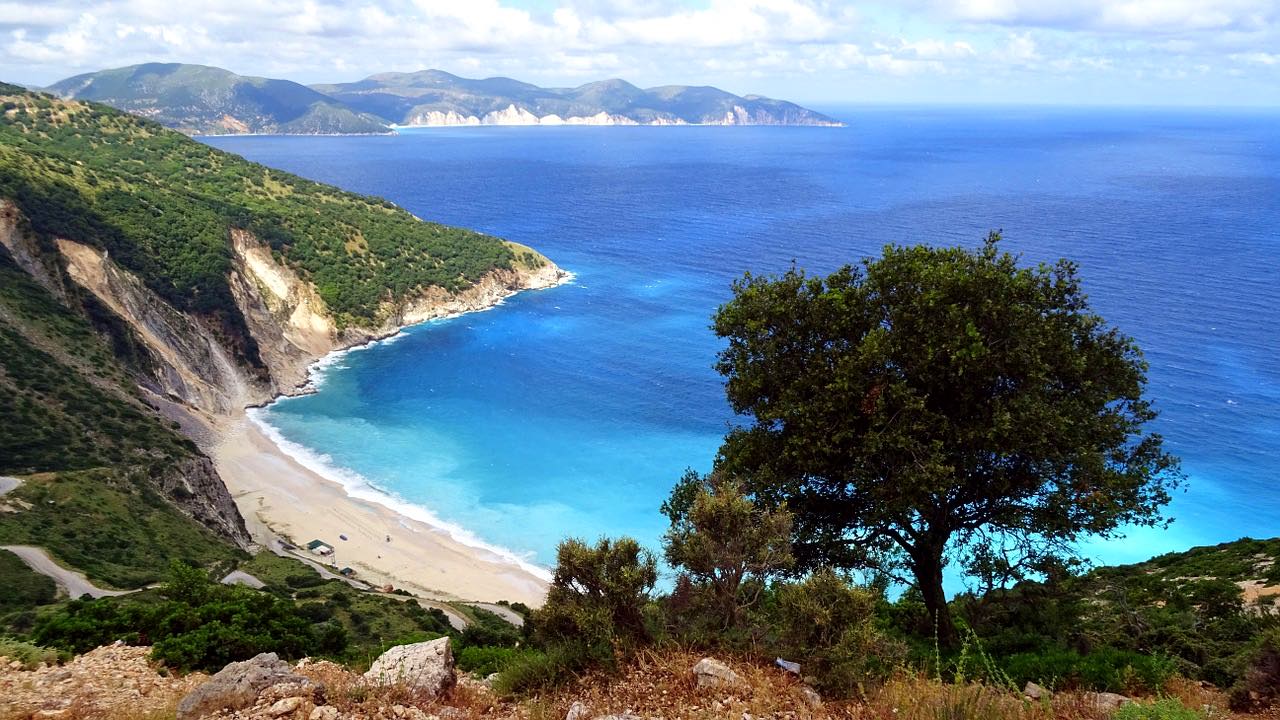 Despite the increasing number of tourists each year, the largest island of the Ionian Sea rarely feels crowded. Expect rugged landscapes and beautiful coves with top-notch beaches.
Amorgos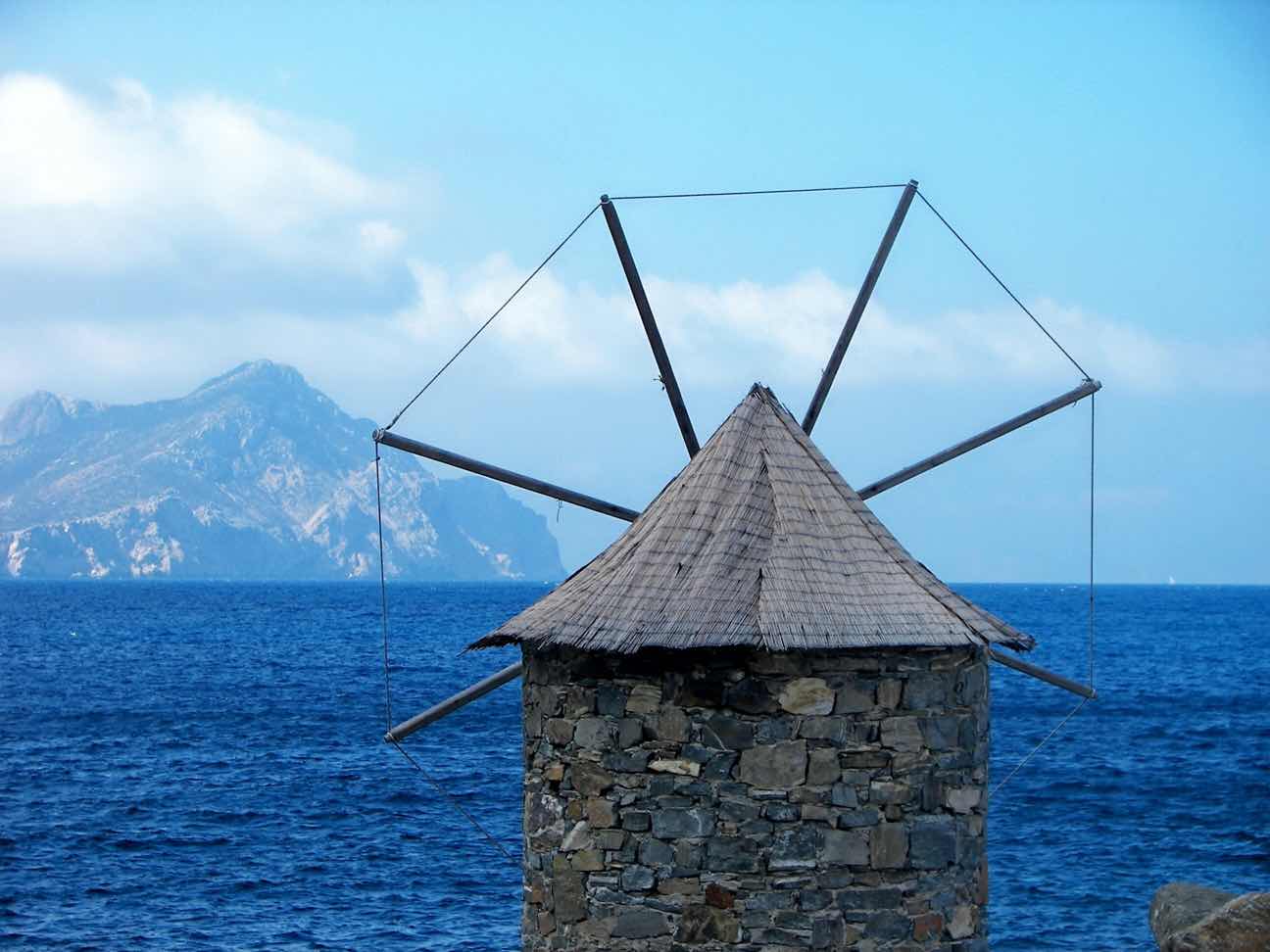 Our ferry stopped here on the way to Koufonisia and it looked so remote and interesting that I felt like disembarking and explore. Picturesque, unspoiled and with lots of hiking opportunities in the mountains.
Crete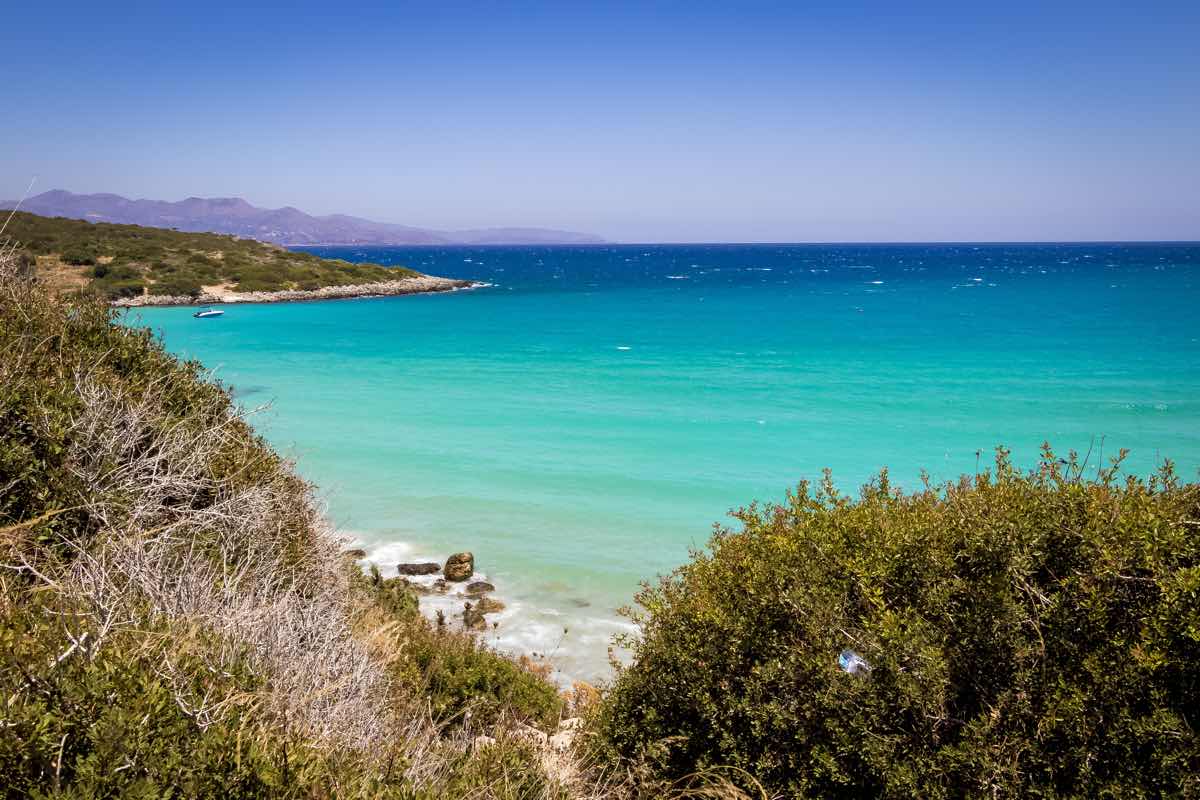 You can easily spend 2 weeks in Crete alone. After all, it's the largest island in Greece and one of the biggest in the Mediterranean. Between the rich food, the steep mountain landscapes and remnants of ancient civilizations, the white-sand beaches attract more than 4 million travelers each year.
Zakynthos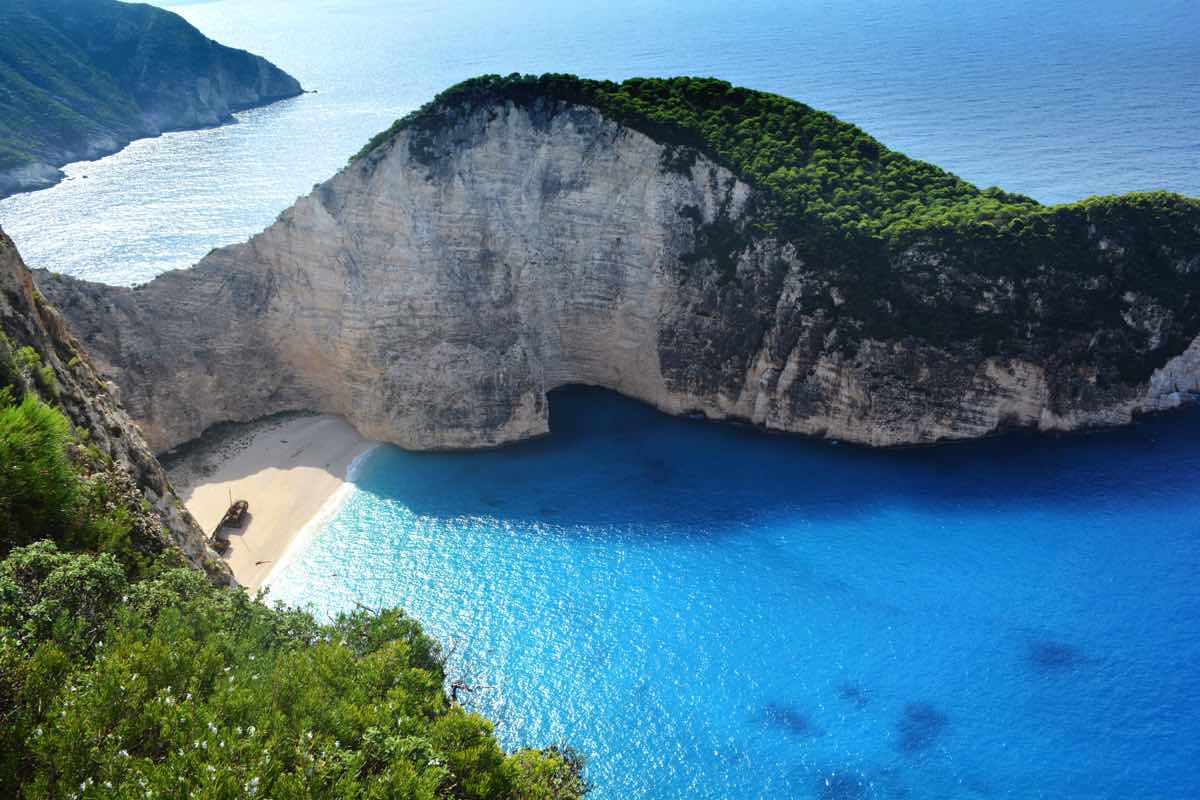 Home to the famous Navagio/Shipwreck Beach – that has to be one of the most famous travel pictures on Instagram – but also to many other idyllic beaches, sea turtles and lush forests on the mountain-y interior.
Rhodes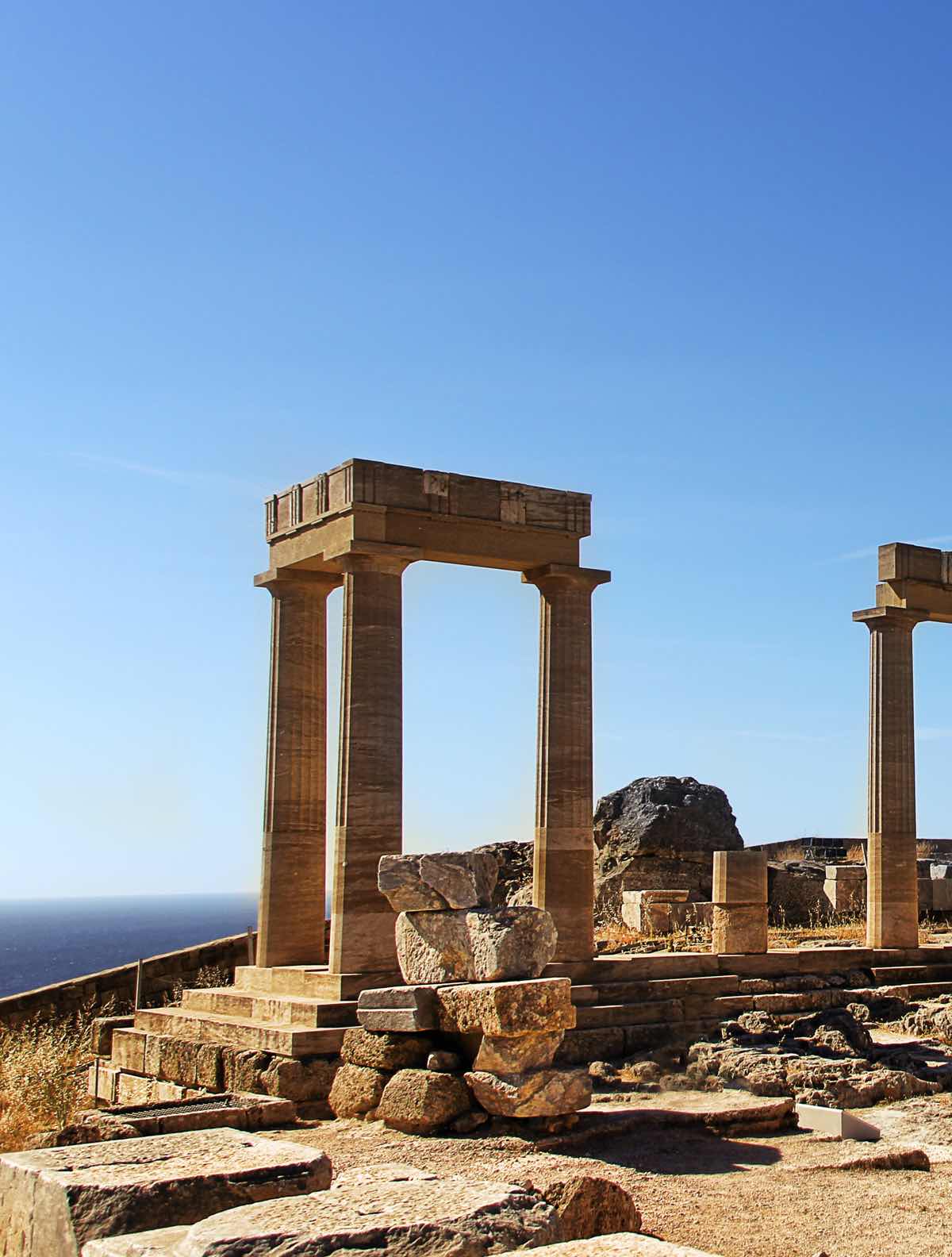 Boasting an unusual combination of rich history and white sandy beaches, this island has a lot to keep you busy for a few days.
Best time to visit Greece 🌞
Weather-wise, the best time to visit Greece and take advantage of warm sunny days would be between April and October.
That said, during the peak summer months – mid-June to August – you can expect herds of tourists and inflated prices. There is also the potential case of heat waves with temperatures often rising to 40C.
The best time to visit Greece is during spring (April to June) or in fall (September-October). During these periods, you can expect to bypass extreme weather and crowds and have a more pleasant experience.
What to eat in Greece 🍴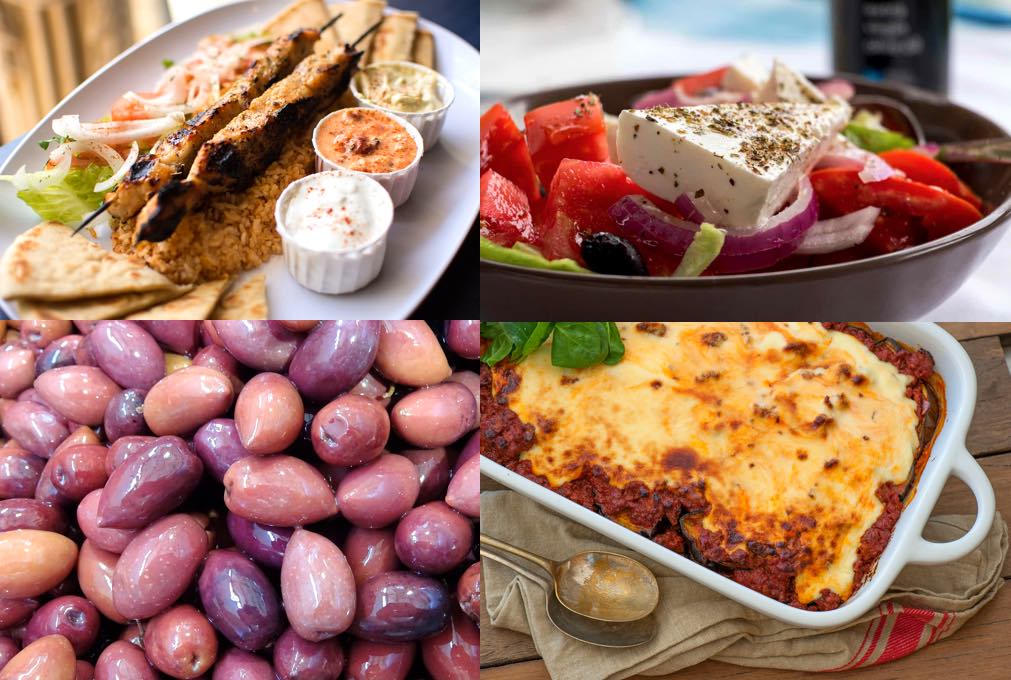 Visiting Greece is a golden opportunity to get introduced to the delicious Greek food. It is quite possibly my favorite in the entire world, together with Vietnamese and Portuguese (obviously).
Here are some of the stuff you have to try in Greece.
Gyros. Meat roasted on spit and then served either on a plate or inside a pita bread with tomatoes, onions and lettuce. Cheap comfort food, perfect for a quick bite.
Greek Salad. You probably have tried this elsewhere, but there's something about trying in Greece, with locally grown ingredients. Ripe tomato, olives, onion, cucumber and the best part – the slab of feta on top.
Moussaka. Very similar to lasagna, but made with sautéed eggplant instead.
Souvlaki. Basically anything in a skewer – lamb, chicken, pork, etc.
Olives. Greeks have been especialized in olives and olive oil for millenia. Try the unique Kalamata olives.
Tzatziki. My personal favorite dip. Greek yogurt with cucumber bits and garlic. Fresh, simple and delicious and goes well with pretty much anything.
Saganaki. Deep fried cheese. A calorie bomb but totally worth it.
Frappé. The hallmark of Greek coffee culture. Ice coffee drink with water and sugar.
Ouzo. For those cheer moments in a local taverna. Base spirit made of grapes before being flavored with anise.
Travel tips to Greece on a budget 💰
Greece is in general a cheap country and if you're smart about where you stay and eat, you can get tremendous value for your spendings.
That said, there is a wide range in cost that goes from the villages of mainland like Kalamata all the way up to upscale islands like Ios, Santorini and Mykonos. It's no exaggeration when I say your daily budget can increase to the double or more (!) between those destinations.
Here are some tips to keep you in control of your budget.
It's easy to eat cheap.
Gyros, souvlaki and other street snacks are available starting at 3-4 Euros. Order it with a salad instead of fries for a more healthy meal.
Avoid the peak season.
During July and August – the peak summer time in Greece – everyone and their mother decides to visit. Prices of hotels and restaurants can be heavily inflated. Come in spring or fall for a cheaper experience.
Spend more time on the mainland.
If you're really on a tight budget, it may be a good idea to spend less time the islands and explore the mainland and interior, where I found stuff to be at least 30% more affordable.
Even amongst the Greek islands, there is a big difference in daily budget. The most popular ones like Mykonos can be as double as expensive as going for a more off the beaten track island.
Book everything in advance.
Booking ferries and buses with a couple of months in advance will can save some money Same happens with hotels: the later you book your accommodation, the more the prices can rise (I've experienced this myself in a hotel I was eyeing in Santorini!).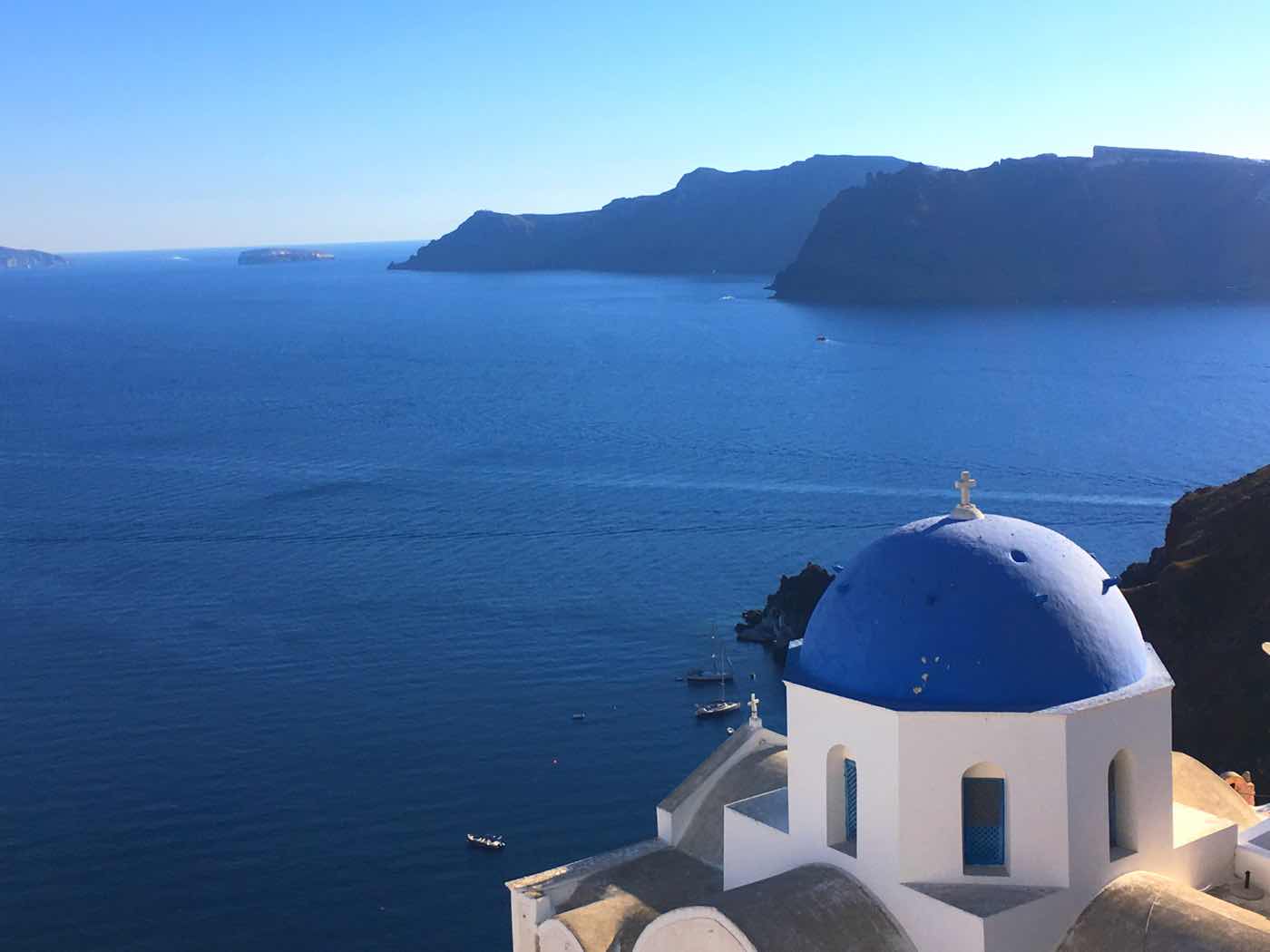 Which places would you add on a first itinerary trip to Greece?