This Mexico itinerary is for everyone looking to have a well-rounded experience in the country. It's a mix of culture, history, beaches, and many many opportunities for tasty tacos!
When thinking of Mexico, most people choose to only explore one of its features: the beaches.
But one of the essential things to know about Mexico is that it's not only about Cancún, Acapulco, or Playa del Carmen. Mexico is actually a fantastic travel destination, with a lively and vibrant culture, delicious food, and centuries of fascinating history – how many countries pack all of these?
That's why I'm sharing a full Mexico itinerary for travelers looking for more than "just" world-class beaches and go deeper into the local culture. 100% based on my own travel experience.
You'll need at the very least 10 days to follow this journey.
Mexico Itinerary: Summary
Mexico Itinerary Daily Plan
In case you need a bit more detail, I'm sharing a day-by-day plan for this itinerary, based on my journey in Mexico.
Day 0: Mexico City. Arrive and relax.
Day 1: Mexico City. Centro Historico & Roma.
Day 2: Mexico City. Day trip to Teotihuacán.
Day 3: Mexico City. Chapultepec & Condesa.
Day 4: Mérida. Early flight to Mérida and explore the city.
Day 5: Mérida. Option of seeing Uxmal.
Day 6: Valladolid. Early bus from Mérida, stop in Chichen Itza and explore Valladolid for the rest of the day.
Day 7: Valladolid. Explore cenotes and Ek Balam ruins.
Day 8: Tulum. Late bus to Tulum.
Day 9: Tulum. Trip to Akumal, or Si'an Kaan Reserve, or Gran Cenote.
Day 10: Tulum. Day trip to Coba just beach time if you're feeling "ruined-out".
Day 11: Tulum. Beach time.
Day 12: Tulum. Beach time.
Mexico Itinerary – Map

Things to know about this Mexico itinerary
It starts at Mexico City and ends in Tulum. If possible, book an open-jaw ticket from Cancún or Cozumel airports so that you don't have to go back to Mexico City to get your flight back home.
The main stops have a bit of everything: the urban side in Mexico City, the colonial side in Mérida, the cultural Mayan heritage in Valladolid and some (well-deserved) beach time in Tulum. (blue pins on this map).
In between, there's plenty of options to visit Mayan ruins, natural parks, and other towns (green pins on this map).
I avoided Cancún and Playa del Carmen on purpose. Nothing about it is the real Mexico.
The intention was not to rally course Mexico. It's a huge country and it tries to hit a balance between having a well-rounded time experience while keeping logistics and hassle to a minimum. If you have more time, find some more suggestions of places to go further below.
You don't need any tours or private transfers. To get around, I used am internal flight MEX-MID (with Interjet) and ADO buses.
Mexico City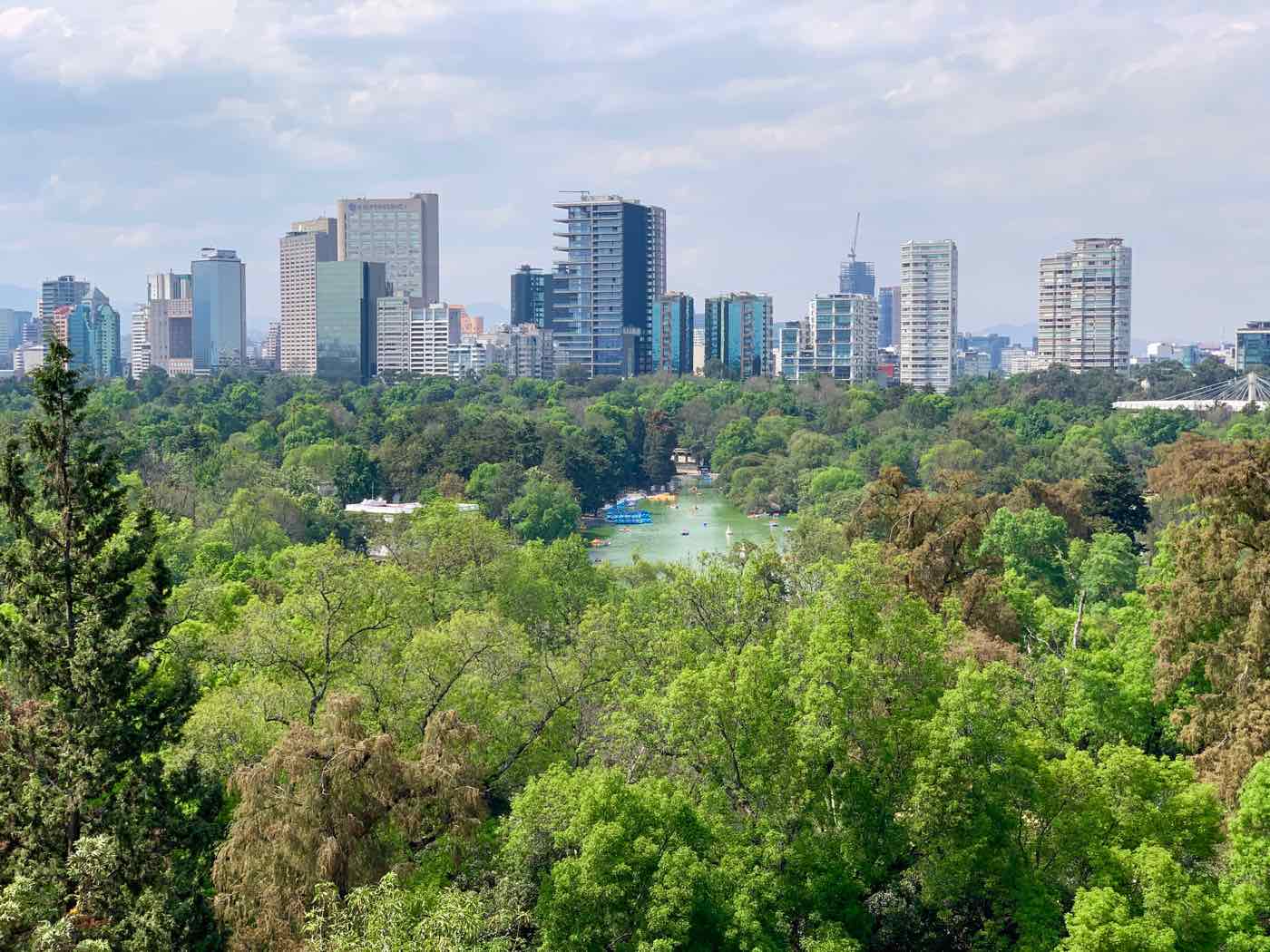 Why is Mexico City worth to visit?
While I did prefer other places in Mexico, I honestly feel no Mexico itinerary is complete without Mexico City. It allows you to know the most urban and cosmopolitan side of Mexico and especially understand much better its culture and history.
Don't overlook Mexico City or even skip it because of concerns with safety.
What to do in Mexico City
The largest city in the Western Hemisphere is bustling with life. From its top-notch museums to the hundreds (thousands?) of taquerías competing for the best tacos al pastor; from the hip districts of Roma and Condesa to the massive pyramids of Teotihuacán, there's a lot to wonder about here.
Don't underestimate your time in Mexico City, I suggest three full days, at least. Read on to know more about how to plan your time in Mexico City.
Where to stay in Mexico City
In my opinion, the single most important decision you need to make when planning a trip to CDMX is where to stay. Staying at a safe and well-connected area is already a half guarantee you'll have a hassle-free and efficient trip.
I recommend staying at Roma, Condesa, or alternatively at the El Centro districts.

Top hotels in Mexico City
I've made the hard work for you.
This is a pre-filtered list of hotels in the safest areas to stay in Mexico City.
Mérida

Why is Mérida worth to visit?
Known as the safest city in Mexico, Merida has plenty of reasons to be memorable: the friendly people, many of Mayan descent, the unique Yucatán cuisine, a fun nightlife.
Apart from a strong Mayan cultural appeal, one of Mérida's biggest draws is its architecture. The pastel colors of the houses, a gorgeous display of mints, pinks, and peach facades. The large central plazas dominated by towering cathedrals are natural meeting points for locals that come alive during weekends with local markets and cultural events. All of this adds to the colonial vibe of Mérida, which will put you in constant awe.
What to do in Mérida
All streets converge to the main square Plaza Grande boasting the imponent Catedral de San Ildefonso and the white limestone Iglesia de la Tercera Orden. This is the beating heart of the city.
The leafy Paseo Montejo – inspired by Paris' Champs-Elysées – is a local's favorite, as they flock here especially each Sunday morning when car traffic is closed.
Mérida is also a great place for gastronomy. Explore the vibrant Mercado Lucas De Galvéz and taste the local ingredients: chaya (similar to spinach), huaya (a type of lime only grown in Yucatán) or – if you dare – the almighty habanero peppers. Indulge in the authentic Mayan food, including cochinita pibil, tender slow-cooked pork, and my favorite sopa de lima, a hearty lime-infused chicken soup.
In the surroundings, explore the Cuzama and San Antonio Mulix cenotes and the Uxmal archaeological site, just an hour southwest of Mérida.
Where to stay in Mérida
I stayed in Hotel Zamna. It was okay, from service to breakfast. Because we walked everywhere, I found it a bit too far away from all the action. For the same price range, I'm sure there are far better options.
Streets in Merida are numbered (even numbers run vertically, odd horizontally). Aim to stay in the center of the city, next to Plaza Grande, between Calles 45 and 69 – the yellow shaded area on the map below.
Mérida quick guide
↪️ How to get there: by plane from Mexico City.
👀 My favorite sight: people-watching at Plaza Grande.
🗓️ My favorite activity: walking Paseo de Montejo on a Sunday morning and seeing all the locals biking, jogging, and having a great time.
🌮 My favorite place to eat: La Chaya Maya (very touristy but very good!)
🍸 My favorite place to go for a drink: La Negrita
Valladolid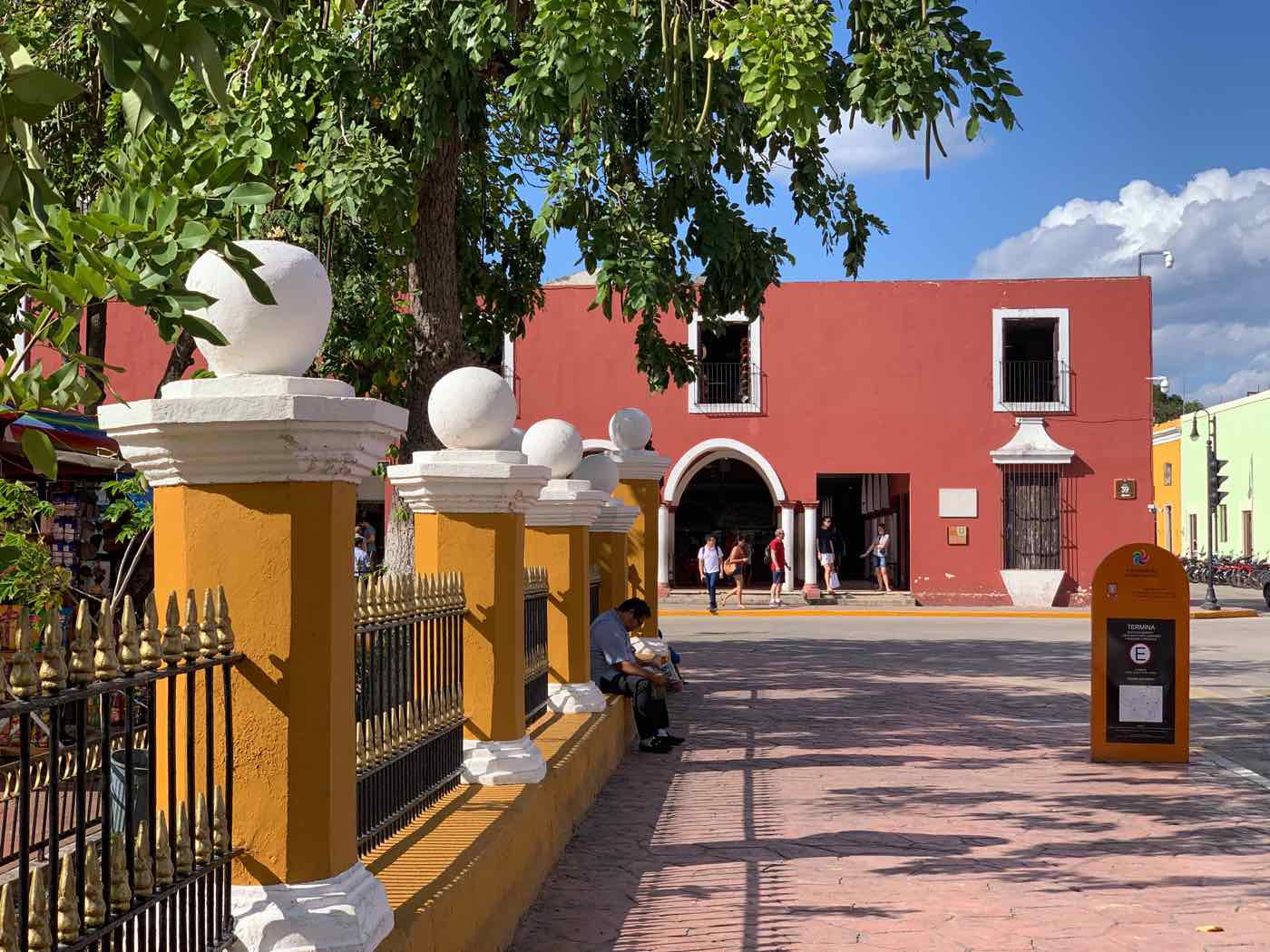 Why is Valladolid worth to visit?
Even though Valladolid is in the route of the millions of tourists from Cancún on their way to Chichen Itza, the town manages to keep an off-the-grid vibe and remains beautifully faithful to its laid-back way of living. It's an amazing opportunity to experience the authentic Mayan culture and history.
Valladolid is a breath of fresh air, you feel you are in the real Mexico. I don't want to oversell it too much, but this was probably my favorite stop in my Mexico itinerary. I felt in the set of Coco movie all the time.
What to do in Valladolid
Located deep in Yucatán's peninsula, Valladolid is a small town but packs a punch.
Make sure you stay for at least a night or two to wander through its colorful streets, see the majestic Iglesia de San Gervasio beautifully lit at night, or hunt down one of the carts selling marquesitas (Nutella and cheese crepes) in the main square.
One of the best things in Valladolid are the numerous cenotes this region has to offer, including Cenote Zaci, right in the middle of the city!
If you run out of things to do in the city, rent a car or a scooter and venture out to the surroundings of Valladolid where there are awesome things to see such as Chichen Itza (you'll easily get there before the crowds) or the less touristy Ek Balam ruins.
Where to stay in Valladolid
Valladolid is a small town, so aim to find near the main square and you'll be in walking distance of the best restaurants, bars, and sights. Here's a selection of hotels in the best area to stay.
The place I stayed – Colonte Hotel Origen – was definitely the BEST hotel I stayed in Mexico and one of the best ever. Could easily stay there for a month.

Colonte Hotel Origen
Beautiful design with an eco vibe. Delicious breakfast served in the garden. Honestly, the photos don't do it justice.
Valladolid quick guide
↪️ How to get there: by ADO bus from Mérida. Tip: you can leave Mérida early in the morning, stop in Chichen Itza (and Ik-Kil Cenote ) for a few hours and then continue to Valladolid. There's luggage storage available.
👀 My favorite sight: although quite busy, Cenote Suytun.
🗓️ My favorite activity: swim at Cenote Zaci, a few steps away from the main square.
🌮 My favorite place to eat: Yerbabuena Del Sisal (at this point, my body was in need of non-mexican ingredients)
🍸 My favorite place to go for a drink: Conato (ask for a table at the terrace!)
Tulum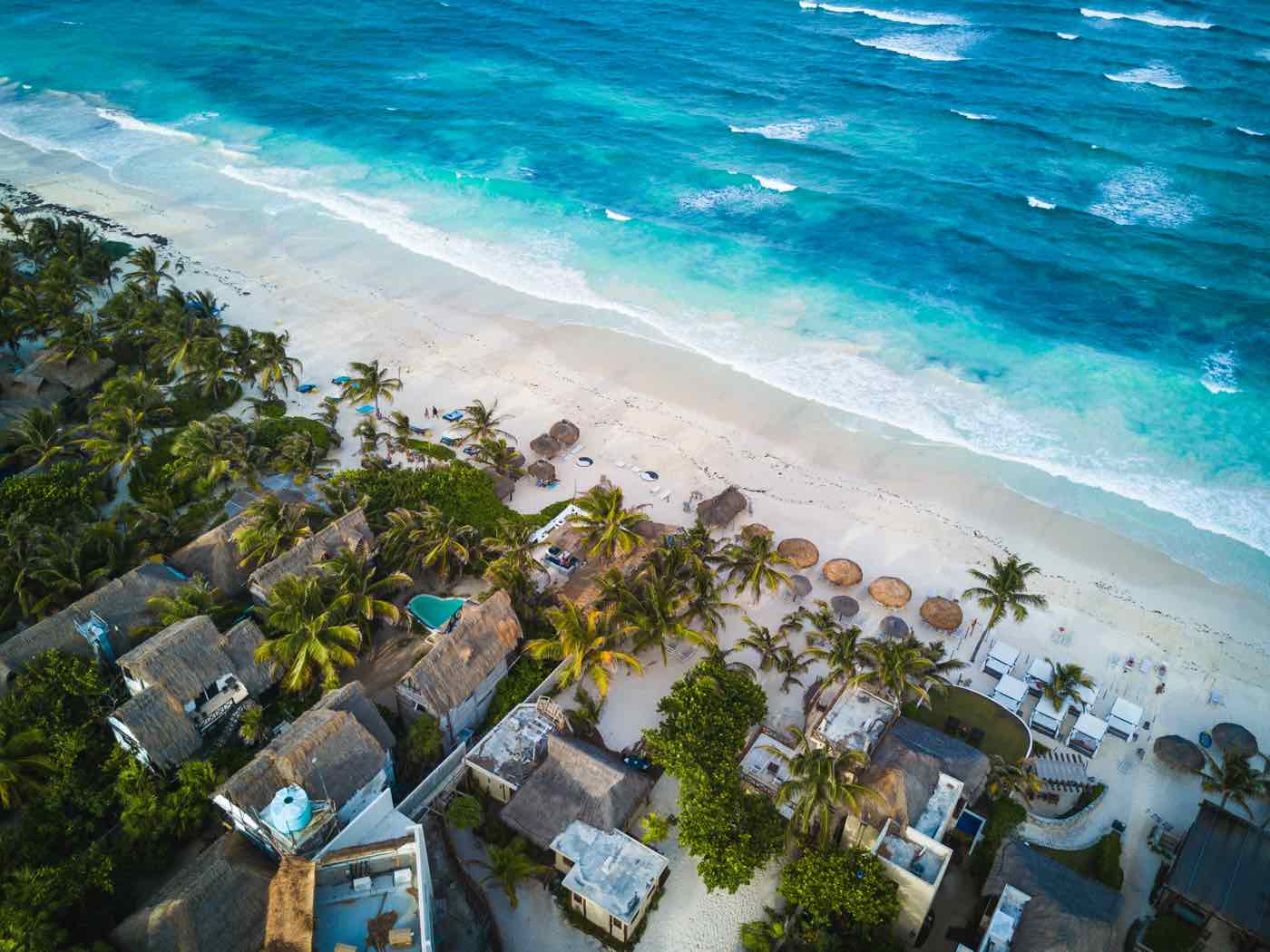 Why is Tulum worth to visit?
The best way to end any one or two-week itinerary is with a few days at the beach. The good news is that there are a plethora of choices in the Riviera Maya area.
The bad news is that very few of them are not overrun by tourists. Honestly, the photos of megaresorts in Cancún and the huge shopping malls in Playa del Carmen gave me anxiety. I mean, how unauthentic can this place be?
We ended up choosing to stay a few days in Tulum, a chance to see an Instagram-ready millennial version of Mexico.
What to do in Tulum
The pristine beaches are undoubtedly Tulum's major attractions. Keep in mind they can get a bit windy, which can be a blessing if you like to kitesurf or windsurf, for instance. Head to the public beaches Santa Fe, Pescadores or Las Palmas or directly to the beach sections in front of resorts and clubs, where you can rent out a day bed.
You can also go for a swim at one of the dozens of cenotes in the Tulum area; the most popular is Cenote Dos Ojos (get there early to beat the crowds!) Nearby, the Sian Ka'an Biosphere makes a great day trip, boasting a natural park with turtles, dolphins, and endless bird and fish species. The best snorkeling is done at off the beaten track seaside town of Akumal though.
But hey, there's history in Tulum too! Tulum Ruins may not the best the largest or more impressive Mayan ruins in Mexico, but the spectacular location on a cliff next to the beach makes it a must-go. Coba is another archaeological site worth to go, with much fewer tourists than Chichen Itza and with the possibility of climbing the main pyramid!
Where to stay in Tulum
Tulum is divided into two areas, separated by a huge national park.
One on hand, Tulum Beach where all the posh and hip resorts are located. Expect Instagram high prices. Stay here if your budget allows (and by this I mean if you have a big fat wallet able to pay for $300/night resorts), stay at one of the seaside hotels by all means.
However, if you're like me, you'll want to stay at Tulum Town, where hostels, guesthouses, and other cheaper accommodation are located. It's not exactly the prettiest of cities, but it has much better infrastructure, including affordable restaurants, shops, and supermarkets (after all, it's where locals live too).
When looking for a place to stay in Tulum, ask them if they have bikes to make your daily commute to the beach easier. I've made a shortlist of places to stay with bikes available but you can also go with my choice:

Lychee Tulum Hotel
Dreamy design hotel conveniently located in Tulum town, with breakfast and an outdoor pool.
Tulum quick guide
↪️ How to get there: by ADO bus from Valladolid. You can also rent a car for this leg of the journey and stop on the Coba ruins on your way there.
👀 My favorite sight: the gorgeous Playa Las Palmas.
🗓️ My favorite activity: biking everyday from the main town to the beach.
🌮 My favorite place to eat: Antojitos La Chiapaneca (probably the best meat tacos I've had in Mexico!)
🍸 My favorite place to go for a drink: Mateos (aim to go at sunset if possible)
📚 Read more: I love this unhipster Tulum travel guide. After all, we can't all be Insta famous.

Planning a trip to Mexico
How can I find the cheapest flights to Mexico?
If you haven't booked your flight yet, try Skyscanner to find the cheapest possible fare to Mexico.
Internally, I just took one flight from Mexico City (MEX) to Mérida (MID). There are many airlines doing this route (Interjet, Volaris, Aeroméxico, etc) so competition is high and fares are low. If you have more time though, you may want to take a bus and spend some days at Oaxaca and/or Campeche.
When is the best time to go to Mexico?
The best time to go to Mexico will depend on the places you're going. In general, aim to visit between December and April. These are the "coolest months", although temperatures can still reach averages of 28 degrees Celsius in some places.
The weather switches to the rainy season in May/June, lasting until October. This period will also include the hurricane season. Weather is impacted on the Caribbean coast of the Yucatan Peninsula, the Gulf Coast, and even the Pacific coast.
For Mexico City in particular, keep in mind December and April are the winter months and can get colder than you may expect. If you are susceptible to air pollution, you might want to consider coming during the wet season (between May and September).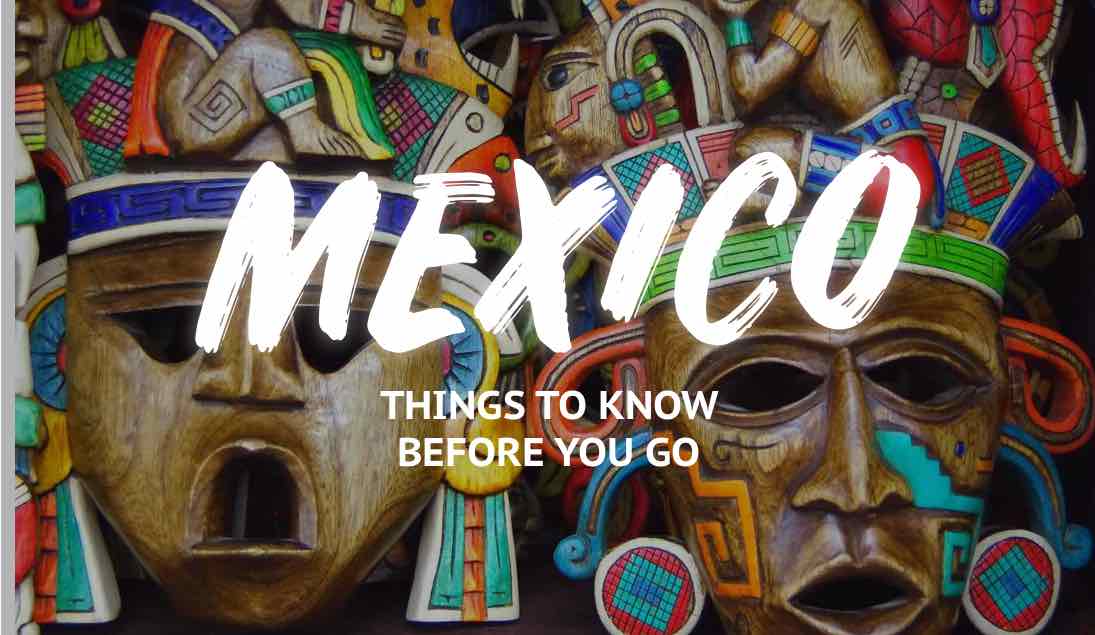 What other places can I add to this itinerary?
I did miss out on a lot of places when creating this itinerary. To properly explore most of Mexico, you'll probably need a month, at the very least.
Here are some other ideas of local and authentic places to go in Mexico, in case you have more time or are looking to do some detours.
Campeche
Guadalajara
Guanajato
Izamal
Oaxaca
Puerto Vallarta
Let me know in the comments below which other places I should visit next time I'm in Mexico.
Looking forward to your suggestions!
Have you used this Mexico itinerary on your trip?
Please share your feedback below and let me know what is missing!