A question people ask me all the time when they're planning to visit: What to do in São Miguel? Well, here's the answer.
Funny enough, there is a common misconception the Azores is a place to go when you are older because there is absolutely nothing to do.
There are indeed many island destinations where it's expected for you to relax on a sunbed holding a mojito every single day because there is little to do apart from dive and tan.
But São Miguel and the Azores in general are much more than that. In fact, it has tremendous potential in terms of outdoor activities and spoiler: it's all about nature!
Active Holidays in Azores
Going to Azores is always special for me. Not only almost my entire family is living there, but there are life-long friends I'm always delighted to see. Even though distance can be a relationship killer, I'm glad we always end up catching up instantaneously.
When I do have visitors it gets even more exciting. I show them volcanos, lakes and dark-sand beaches they have never seen before. We are off to explore São Miguel with an adventure-packed itinerary of the island in mind.
As we say in Portugal, to stop is to die. So here's a taste of what we do and what can you do in São Miguel!
⚠️
The Azores have been consecutively named one of the top sustainable destinations worldwide. Yet with the recent tourism boom, this fragile balance is now threatened.
When you're in the islands, please try to minimize your impact at all times. Leave nothing but footprints everywhere you go and be aware of any activities causing visual and noise pollution. This includes avoiding playing loud music on phones and obviously taking ALL the trash with you until you find a bin.
Thank you for keeping my home island green and beautiful. 💚
Hiking in São Miguel, Azores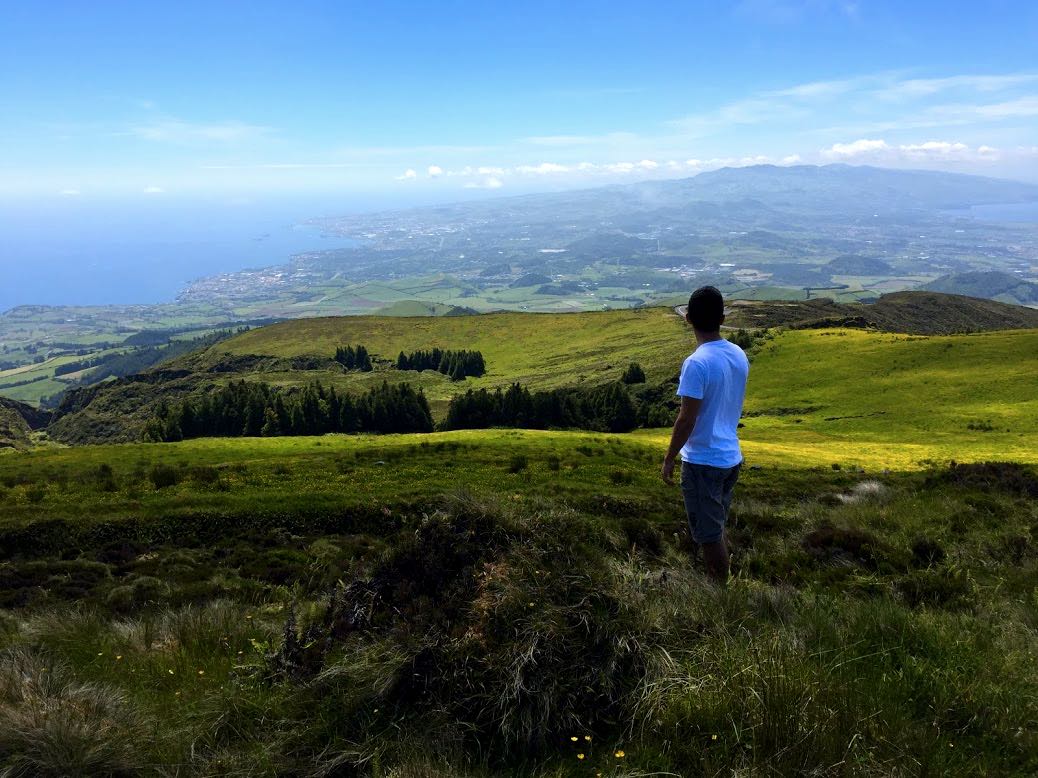 The Azores is home to some of the most scenic hiking trails you can find anywhere. Particularly São Miguel island is packed with volcano craters, lagoons, small rivers and waterfalls which are accessible only on foot. There at least 20 official trails in the island, with all ranges of difficulties and distances and covering all kinds of landscapes.
I've done several trails in the island in the past and they were all worth it, although with different highlights. If you're more interested in waterfalls, Salto do Prego, next to Faial da Terra, is a gem despite the freezing cold water.
If you want scenic views, Gorreana, Janela do Inferno and Praia da Viola all boast great views of the island and the ocean.
Unless you don't have two functional legs, doing a hiking trail should absolutely be in your Azores bucket list. Bring comfy shoes, a bottle of water and a light jacket, weather is truly unpredictable.
Top Hiking Trails in São Miguel 🚶‍♂️
Gorreana – snaking around tea plantations and boasting gorgeous views over the northern coast of the island. Easy.
Sanguinho/Salto do Prego – it goes through one of the most remote areas of São Miguel and leads to an enclosed waterfall in the middle of a lush forest. Medium difficulty.
Praia-Fogo – connecting the vibrant Lagoa do Fogo (Fogo Lake) to the ocean it's one of the most complete and rewarding to accomplish. Hard.
Serra Devassa – this trail will take you around what is known as Lake District in Sete Cidades and come back to the start next to Lagoa do Canário. Loads of eye-catching views over a series of lakes and lagoons. Medium.
Whale-Watching in São Miguel, Azores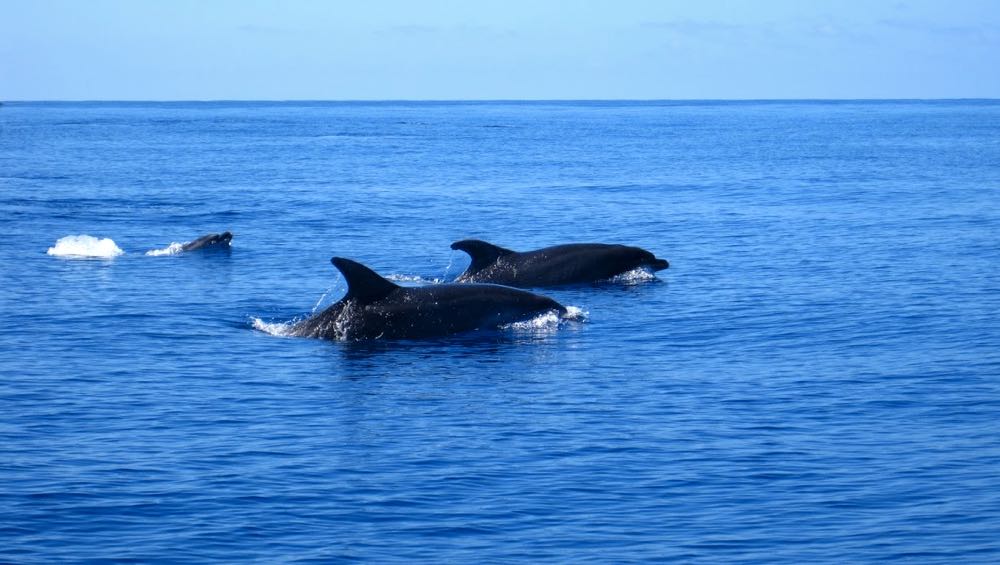 Many whale and dolphin species choose Azores as part of their migration route or even as their permanent home, including sperm and blue whales, as well as common and bottlenose dolphins (see this yearly calendar of the cetacean species in the Azores).
The Azores are praised as a worldwide mecca to watch cetaceans in their natural habitat. If you have done this before, you know you'll never want to see dolphins in an aquarium or a zoo again.
We were lucky enough to go on perfect conditions. A cloudless day, and a flat ocean – it can be really rough out there in the Azorean sea – resulted in 3 sperm whales, a turtle (!) and countless dolphins. You know it's being an outstanding whale watching day when the skipper and the marine biologist who guide the tour can't stop taking pictures! See the video I shared on Facebook.
The chance of seeing either dolphins or whales is around a staggering 98%. Lookouts in the shore guide the boats to where they can see some activity using powerful binoculars. Still, if you really are with bad luck and couldn't see anything at all, Picos de Aventura, the company I went with, refunds you the money.
Whale Watching Tips in São Miguel
📍 WHERE: Even though Faial and Pico islands are the whale sweet spot in the archipelago, there are many companies in São Miguel doing it with great results. Boats leave from Ponta Delgada or Vila Franca's marina.
💰 HOW MUCH: 55EUR.
⭐ VALUABLE TIP: Ask to go on a semi-rigid boat. It's way more adventurous and it allows for a more immersing experience. Just be careful with your gadgets don't get wet!
São Miguel is super trendy right now. Book your hotel as soon as possible for the best deal!
I've made your life easier and you can start your search with my pre-selection of the hotels/guesthouses/villas in the island of São Miguel. This list only includes the top-rated reviewed hotels in São Miguel, with wifi included. Hard to go wrong with these!
Or explore the latest hotel deals:
Paragliding in São Miguel, Azores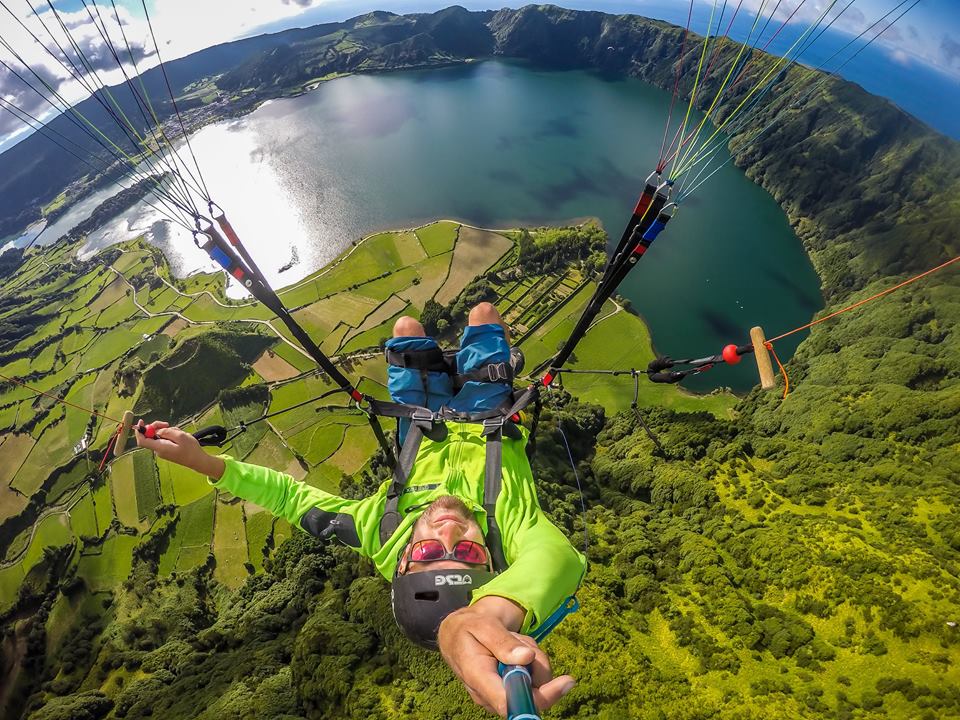 While this is a terrible idea for me as I'm afraid of heights, this can be a true one-of-a-kind experience to have during your holidays.
Paragliding has become huge in São Miguel. The island provides many top-notch takeoff and landing spots and particularly flies over the volcanic craters of Furnas and Sete Cidades are now very popular during summer months. The international Azores Paragliding Festival takes place in August for a week.
Paragliding Tips in São Miguel
📍 WHERE: The craters of Fogo and Sete Cidades are the ideal places to paraglide.
💰 HOW MUCH: Prices are negotiable. Please contact Clube Asas de São Miguel for getting a quote on private flights.
Canoeing/Canyoning in São Miguel, Azores
First of all, do not confuse canyoning with canoeing. I used to do it, but eventually, I got it right. Canyoning does not involve a boat, instead, you explore a river and try to surpass the obstacles put in front of you (currents, waterfalls, rocks, etc). Sort of a nature version of parkour.
Canoeing is the boating activity you might relate the best: a canoe, one or more paddlers, each with a paddle on their hands. Which apparently is not the same as kayaking, but for me it looks exactly THE SAME thing (if you know the difference, please enlighten me in the comment section!).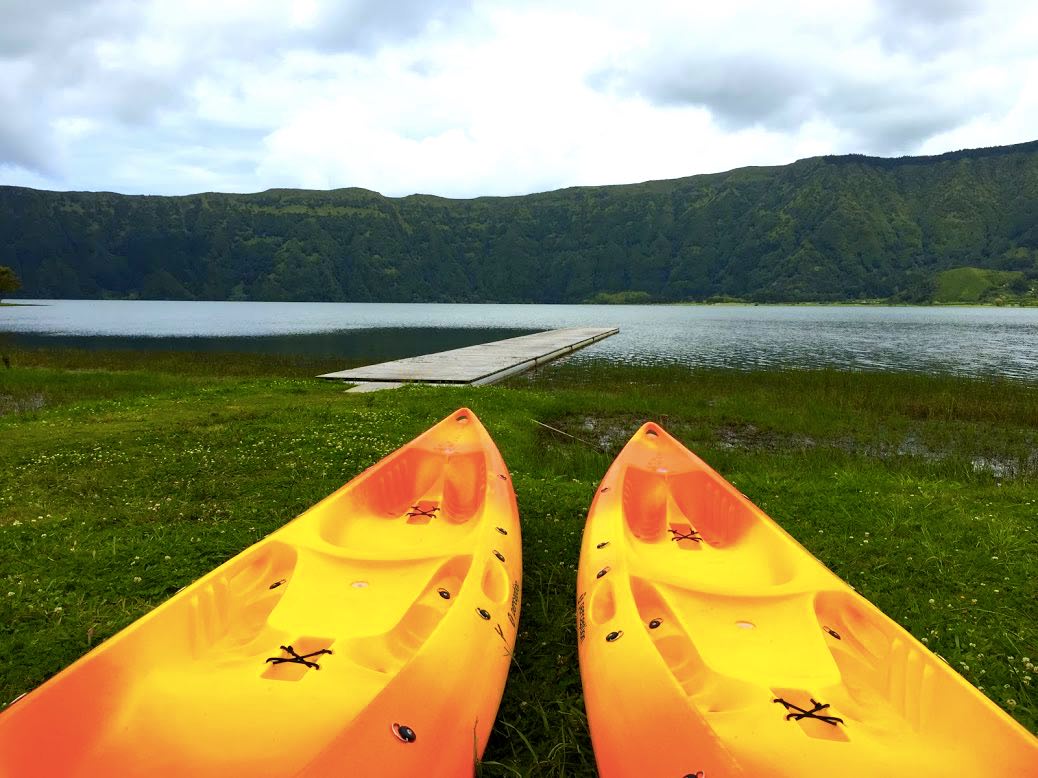 Anyway. When I lived in São Miguel, canyoning was almost inexistent, but it has risen in popularity over the years. Now it has become the next thing I want to do in São Miguel. The idea of climbing, jumping and sliding down a small river and waterfall somehow awakens the inner child in me. Plus, the swimsuit and helmet outfit make anyone look a badass.
As for canoeing, the best places are undoubtedly the Sete Cidades and Furnas lagoons. Sea canoeing is also available and a popular option is to row until reaching Ilhéu de Vila Franca do Campo (Vila Franca islet) which doubles as summer bathing site. The most adventurous might want to try other spots in the shore with free access to caves and small hidden beaches.
Canyoning/Canoeing Tips in São Miguel
📍 WHERE: Canyoning is popular in Ribeira dos Caldeirões, in the northeast edge of the island. Canoeing is easier to do, just head to the shore of Sete Cidades lagoon and you'll find a stall there with canoes to rent at a hourly rate.
💰 HOW MUCH: Canyoning: 75EUR, including transport and lunch. Canoeing can be as low as 30EUR/day or around 8EUR/hour.
⭐ VALUABLE TIP: Unless you're some kind of canoe god, sea canoeing might become dangerous. Azorean waters can be rough, remind yourself this is the Atlantic ocean! For canyoning it's advisable to have some expert with you so booking a day trip with Futurismo or Picos de Aventura might be a good idea.
Combo vacation packages for Azores
If you're coming from the United States and don't have much time to plan your vacations in Azores, here's a good option. This online travel agency has some pretty good prices for a flight + hotel to the Azores. For São Miguel in particular they have tons of different deals!
Biking in São Miguel, Azores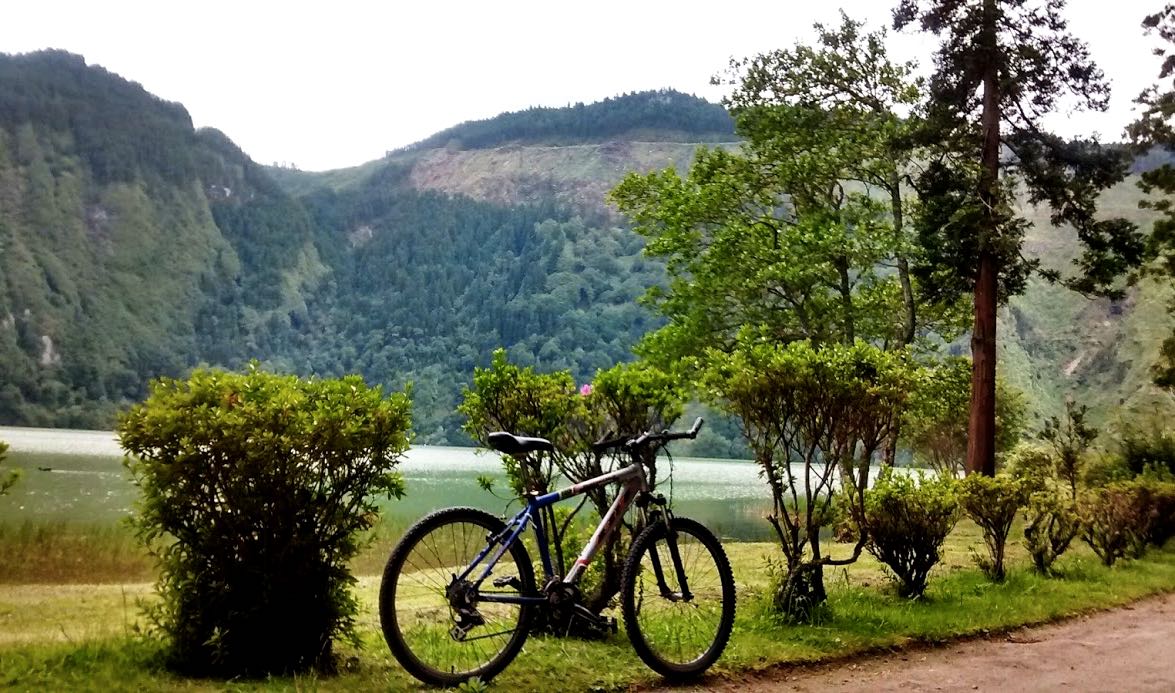 Biking in a volcano crater sounds something worthy of a bucket list, doesn't it? Well the Azores are the right place to do it!
Most adventure tour companies allow booking bikes and they now even have small stalls in the best spots in the island.
We biked around half the Sete Cidades lagoon, a total of two and a half hours through an absolutely STUNNING landscape. We got so excited we missed the time window to rent a canoe, but turned out to be one of the best experiences we had!
Biking Tips in São Miguel
📍 WHERE: Lagoon shores are amongst the best places to bike in the island, so try Lagoa das Sete Cidades or Lagoa das Furnas. If you're feeling adventurous, there are many trails and inner roads which allow for great mountain biking (MTB) rides.
💰 HOW MUCH: Prices have risen in recent years and now are around 8EUR/hour. You can get a discount for booking an entire day.
⭐ VALUABLE TIP: Do NOT rent a bike online if you're on a budget. Not only the hourly rate is more expensive, but they will charge you the cost of transporting the bike to the spot – a whopping 28 EUR! Way cheaper if you rent it on the spot.
Surfing in São Miguel, Azores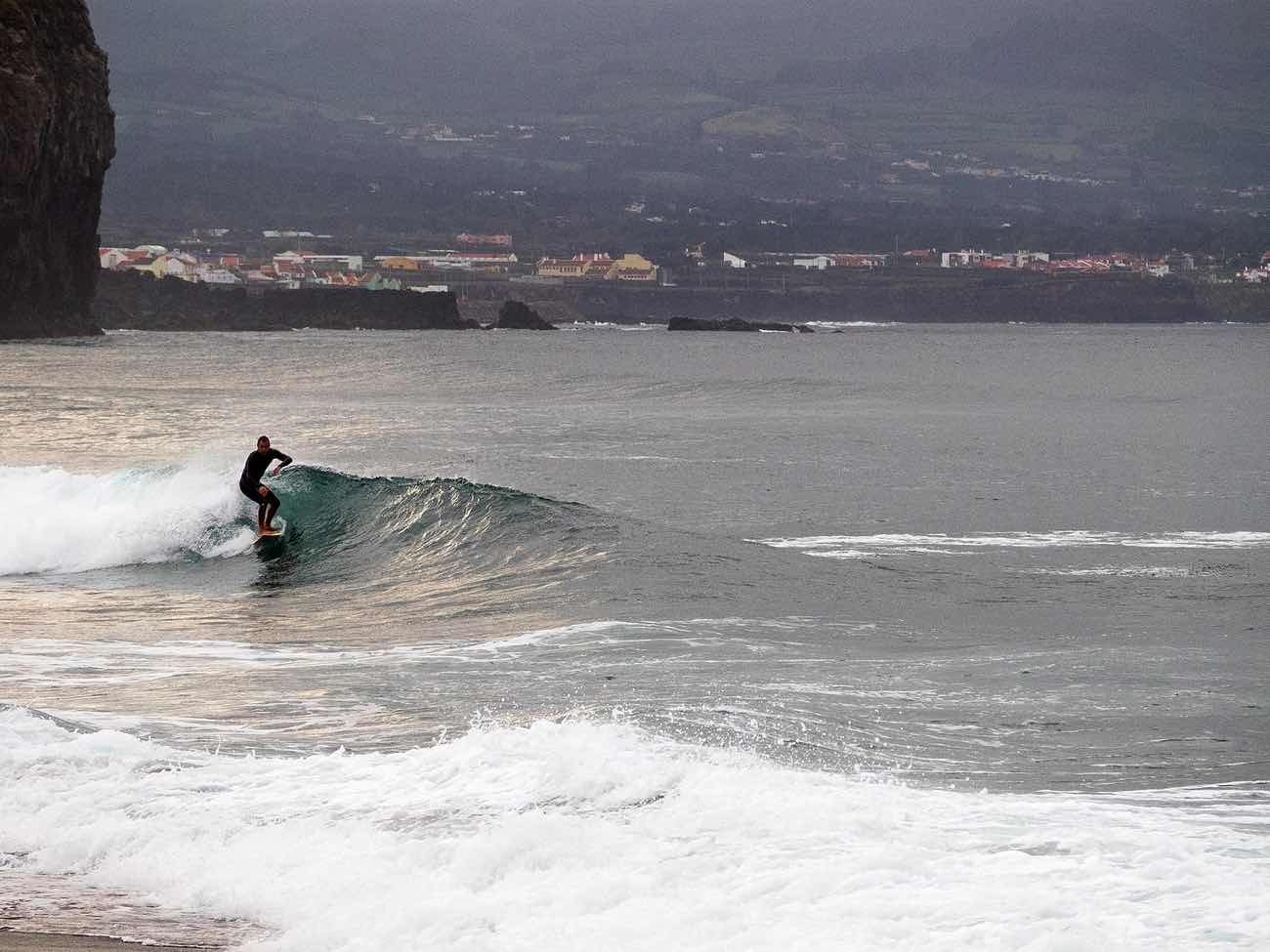 The wild Atlantic ocean allows for fine surfable waves so it's no surprise one of the stages of the World Surf League is held in Ribeira Grande.
Peak surf season in Azores is between October – February but you can find fun and uncrowded waves all the way from late August to May. Just like the weather, sea conditions are constantly changing. Expect water temperatures ranging from 15ºC in the winter to 24ºC in the summer.
Surfing Tips in São Miguel
📍 WHERE: The beaches of Monte Verde and Santa Bárbara are the main surf hotspots in São Miguel, but you can find surfable waves throughout the entirenorthern coast of the island and in Mosteiros.
💰 HOW MUCH: Surf lessons start at 30EUR (group) and 50EUR (private).
⭐ VALUABLE TIP: You'll need a light full suit for most of the year and a spring suit for peak summer months (July and August).
Fresh hotel deals in São Miguel!
Other Outdoor Activities in the Azores Islands
If you want to book tours and/or adventure packages through a company, I suggest asking how many people are going on the tour. Small groups are a much better experience, even if you have to pay a bit extra.
Here are other fun stuff São Miguel has to offer:
BIRDWATCHING: If you are an enthusiast for birds, then you might don't want to leave the Azores. 400+ American and European birds live here, including the Priôlo – Azorean bullfinch – and the Monteiro's storm petrel which can't be found anywhere else in the world.
DIVING: The potential of Azores in terms of diving spots is huge. Caves, shipwrecks, rocky shores and clear waters create the perfect place whether you're an expert or you're about to do your diving baptism.
São Miguel: the new adventure hotspot
São Miguel island, like the rest of Azores allows for a direct contact with unspoiled nature like few places in the world, even in short itineraries.
We biked a lot, hiked even more, swam in outdoor thermal waters and got to watch whales and dolphins. By the end we were damn tired but rejoiced with the power of nature. And the best is that there is so much more I still haven't tried!
Paragliding is not in the list, but next time we'll definitely be canoeing and maybe even diving!
As you can see, whether you book an activity with some tour company or do it on your own, São Miguel won't get you bored. The opportunities to do something memorable are more than many and with the expectable three-fold growth in the number tourists this year only, I reckon there will be even more things to keep you busy.
Just pick your favorite activity, get your ass off that chair and enjoy mother nature!
São Miguel Flight + Hotel Deals
I usually don't use travel agencies to book holidays. They end up being more expensive in 99% of the times. Yet I have to make an exception for Azores Getaways because I really think they have some pretty good prices for a flight + transfers + hotel packages to the Azores – starting at 599USD!
For São Miguel in particular they have LOADS of deals. Like this week-long adventure package in São Miguel (including a whale-watching tour) or this 3-island package.
I particularly recommend using them if you:
Are flying from the United States
Don't have much time to plan your holidays
Planning a São Miguel trip by yourself
If you are not from the US or simply not into vacation packages, you're better off by booking your flight independently.
As a rule of thumb, flights to Azores are considerably cheaper from Porto, Lisbon or London. Ponta Delgada airport has the highest number of flight connections. From there you may be entitled to a FREE connecting flight to other islands – check this page for more info.
For hotels, you can start off with this pre-filtered list of hotels, guesthouses and villas in São Miguel, containing only the best-reviewed places with WiFi. My top 2 recommendations are below.
⭐ My top hotel recommendations in São Miguel ⭐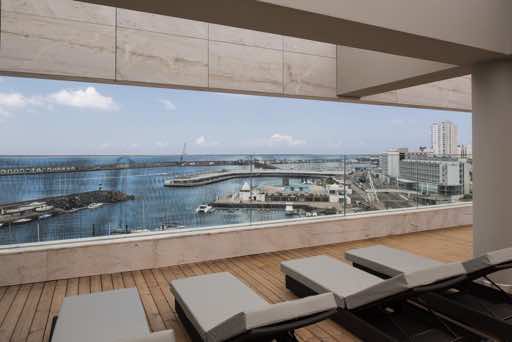 Hotel Azor, Ponta Delgada
Premium hotel with modern design (opened in 2016) and within walking distance to the city center and to the ocean. Ah and there's a gorgeous pool on the terrace!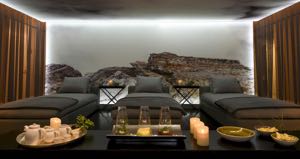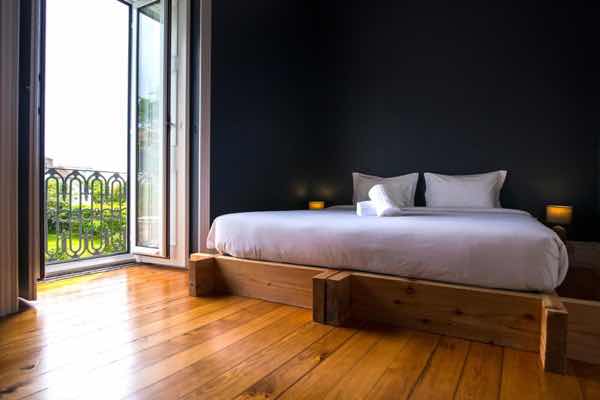 Out of the Blue, Ponta Delgada

Stylish, clean, comfortable hotel at a very reasonable price. Perfect for those on a budget, this is excellent value for money!
More about the Azores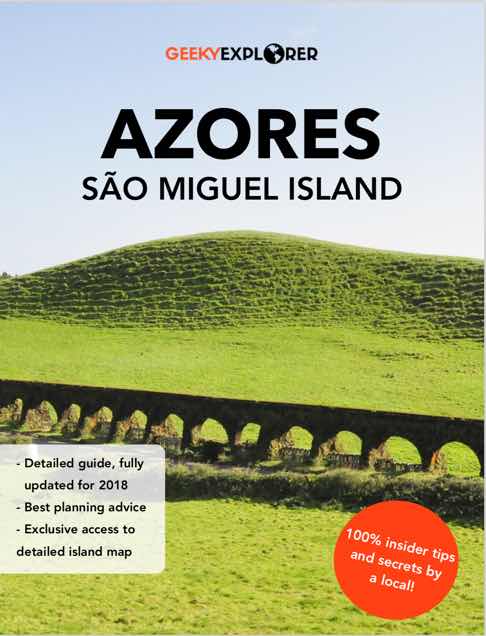 São Miguel Travel Guide 2018
My detailed PDF travel guide to São Miguel island. 100% made by me with expanded tips, itineraries, advice and secrets for a memorable trip. 2018-ready.
There's also more in my complete travel guide about the Azores islands. Including:
Don't let the prices rise more. Book your accommodation in São Miguel now!
What would you like to try doing in the Azores?