What are the best things to do in São Miguel? What to do when you're visiting for the first time? These are all tips from a local that calls São Miguel "home island".
São Miguel is the largest island in the Azores archipelago. It's also where I was born so no matter where I go, it will always be my favorite place in the entire world.
As a visitor, São Miguel is likely to be your first introduction to the Azores and let me tell you, there's a lot to keep you busy for a few days.
If you're visiting for the first time and wondering what to do, this article lists the unique things you can't miss in São Miguel island. I've threw in lakes, waterfalls, hot springs, beaches, and even things to do when it's raining.
This article has been updated for August 2021.
Let's start, these are the best things to do in São Miguel!
1

Visit the twin lakes in Sete Cidades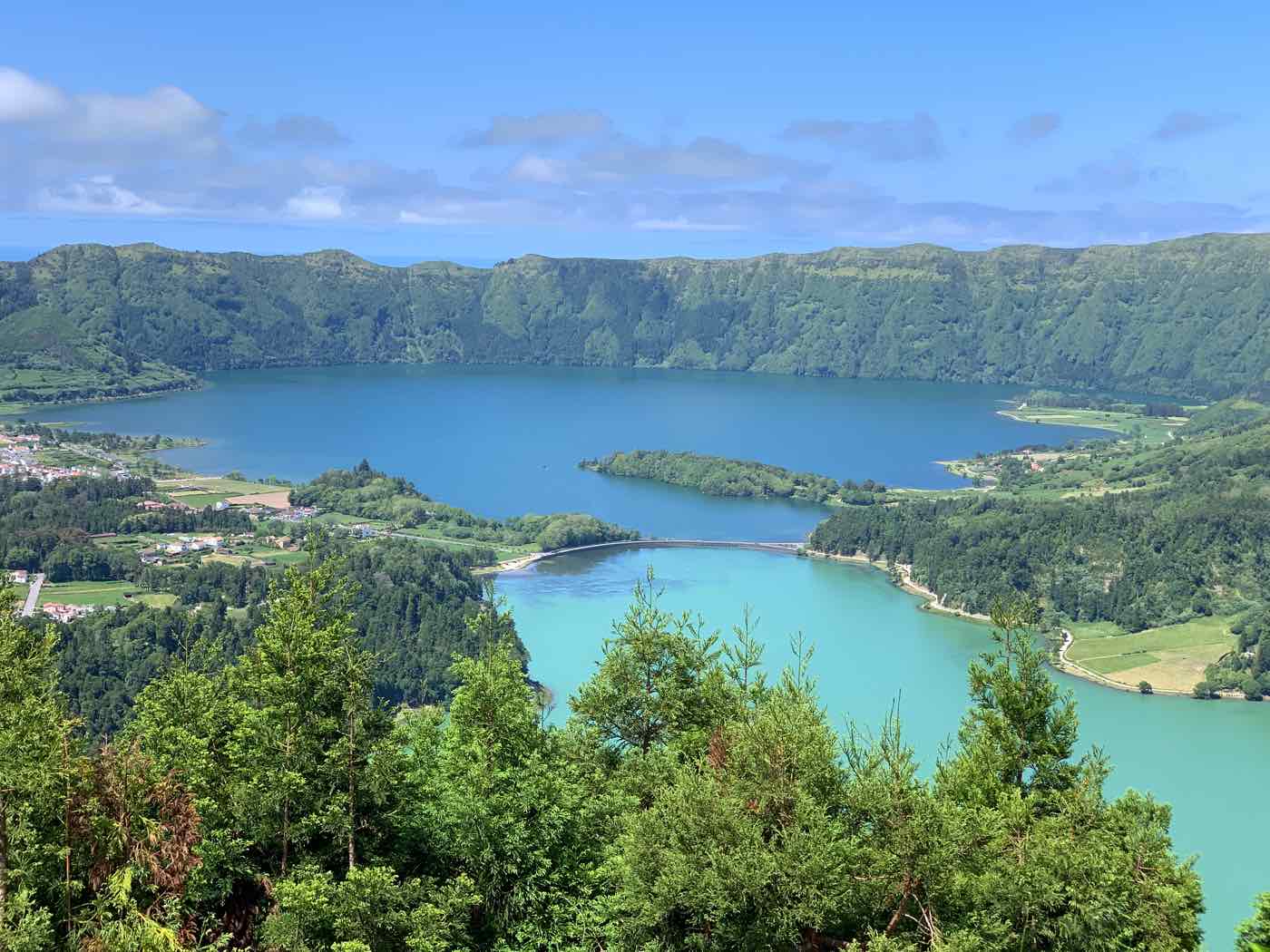 Let's start big. Out of all the lakes in the island, Lagoa das Sete Cidades (Sete Cidades Lake) is definitely the most iconic postcard of Azores.
This half-blue, half-green crater lake reflecting both the sky and the surrounding hills is a true visual wonder. Head to Vista do Rei, Cerrado das Freiras, or Boca do Inferno viewpoints for the best views.
While you're at it, go down the breathtaking caldera to Sete Cidades village passing by the bridge that divides the lake into two. The lake itself is a popular spot for stand-up paddling, kayaking, or just chilling at the shore.
There's a lot to see in the whole area of Sete Cidades , filled with unspoiled beauty and lakes come in all shapes and sizes. It's also one of my favorite areas in the island for hiking.
⚠The fragility of Azores
The Azores have been consecutively named one of the top sustainable destinations worldwide. Yet with the recent tourism boom, this fragile balance is now threatened.
When you're in the islands, please try to minimize your impact at all times. Leave nothing but footprints everywhere you go, help local and sustainable businesses, and be aware of any activities causing visual and noise pollution. This includes avoiding playing loud music on phones and taking ALL the trash with you until you find a bin.
Thank you for keeping my home island green and beautiful. 💚
2

Take a bath at the hot springs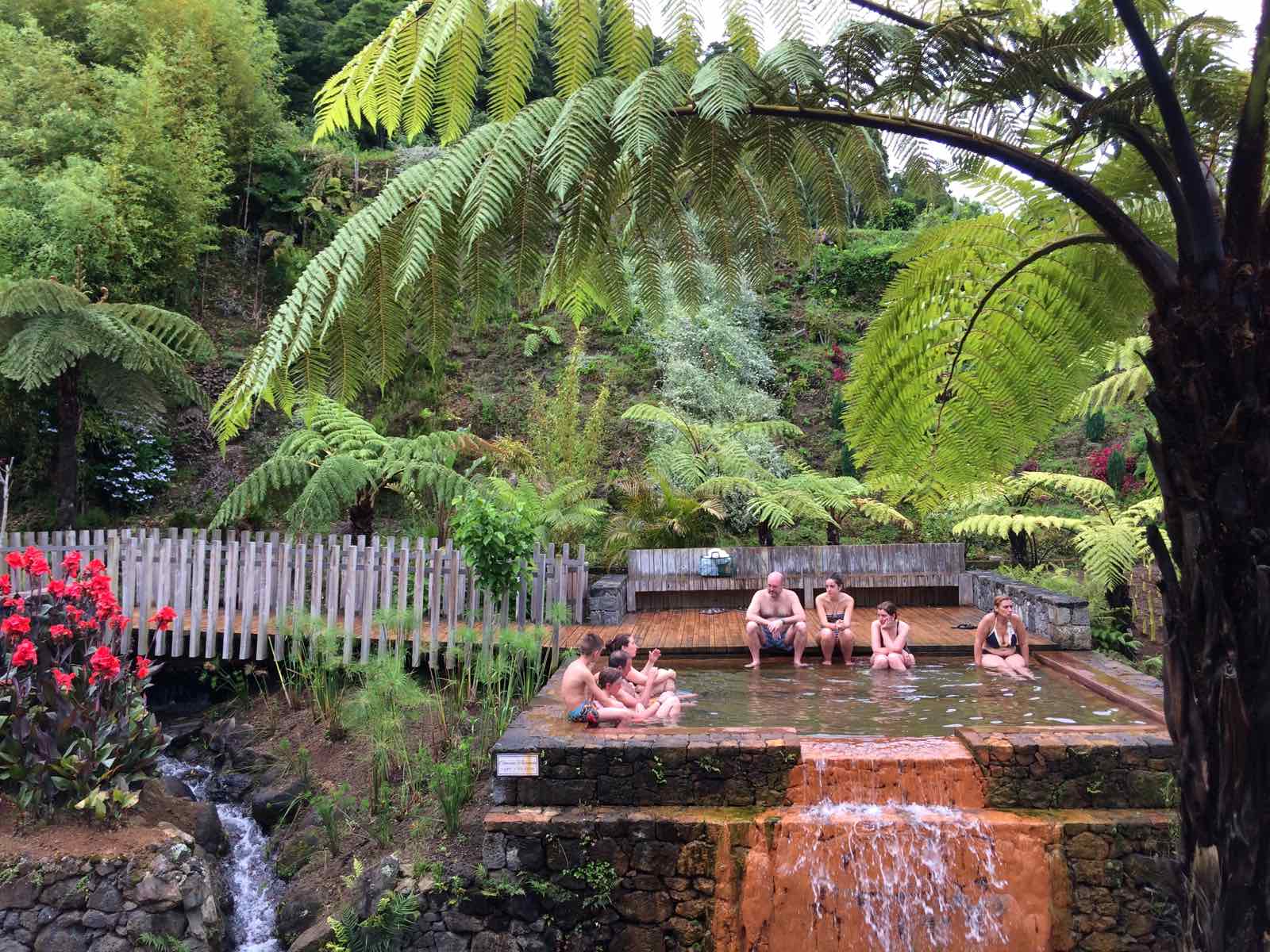 While not of the same scale of the ones like Blue Lagoon in Iceland, you can find several tropical and stunning hot springs in São Miguel. Heated up geothermally, some of these spots turn into beautiful spots, each with its one unique feature.
Hot springs are better enjoyed when the weather is misty or even rainy; they're great if you're visiting São Miguel island in the colder months.
These are the most popular hot springs in São Miguel island:
♨️ Hot springs in São Miguel
Caldeira Velha has a stunning jungle backdrop and a gorgeous-looking waterfall that runs right into the pool.
Ferraria is an underwater geothermal spring that heats up ocean water, which can reach 30 degrees.
Terra Nostra is the largest of them all and is at the heart of a lush park with the same name (see more below).
Poça Dona Beija is a set of 5 open-air pools next to a small creek in Furnas. Stunning place, but can feel very crowded at times.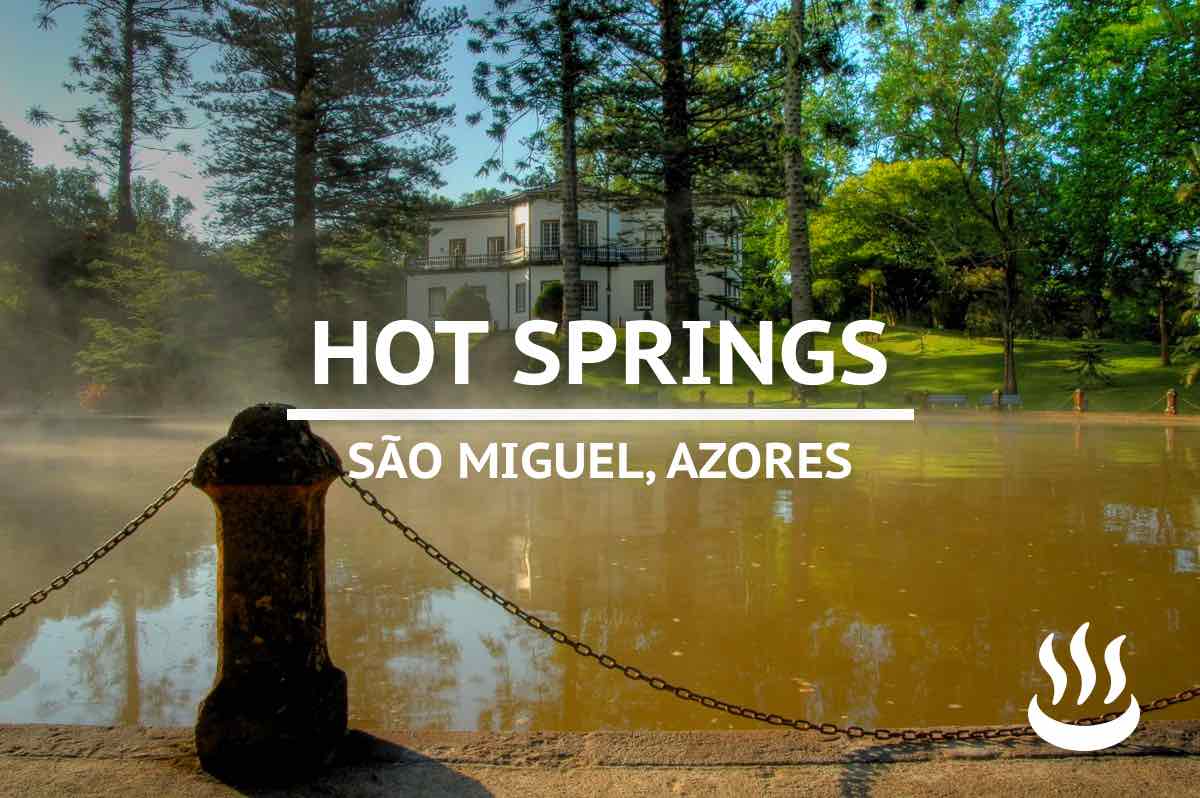 The best places to enjoy a mineral-enriched bath in São Miguel island. Includes important tips for a safe swim.
3

Relax in Parque Terra Nostra (Terra Nostra Park)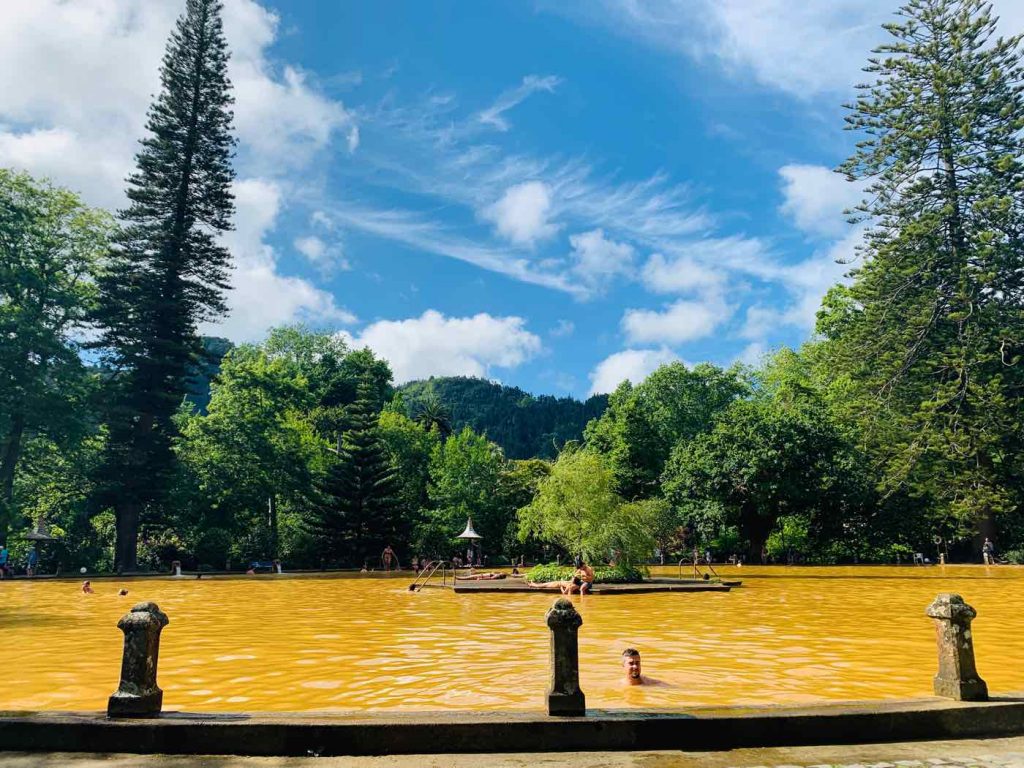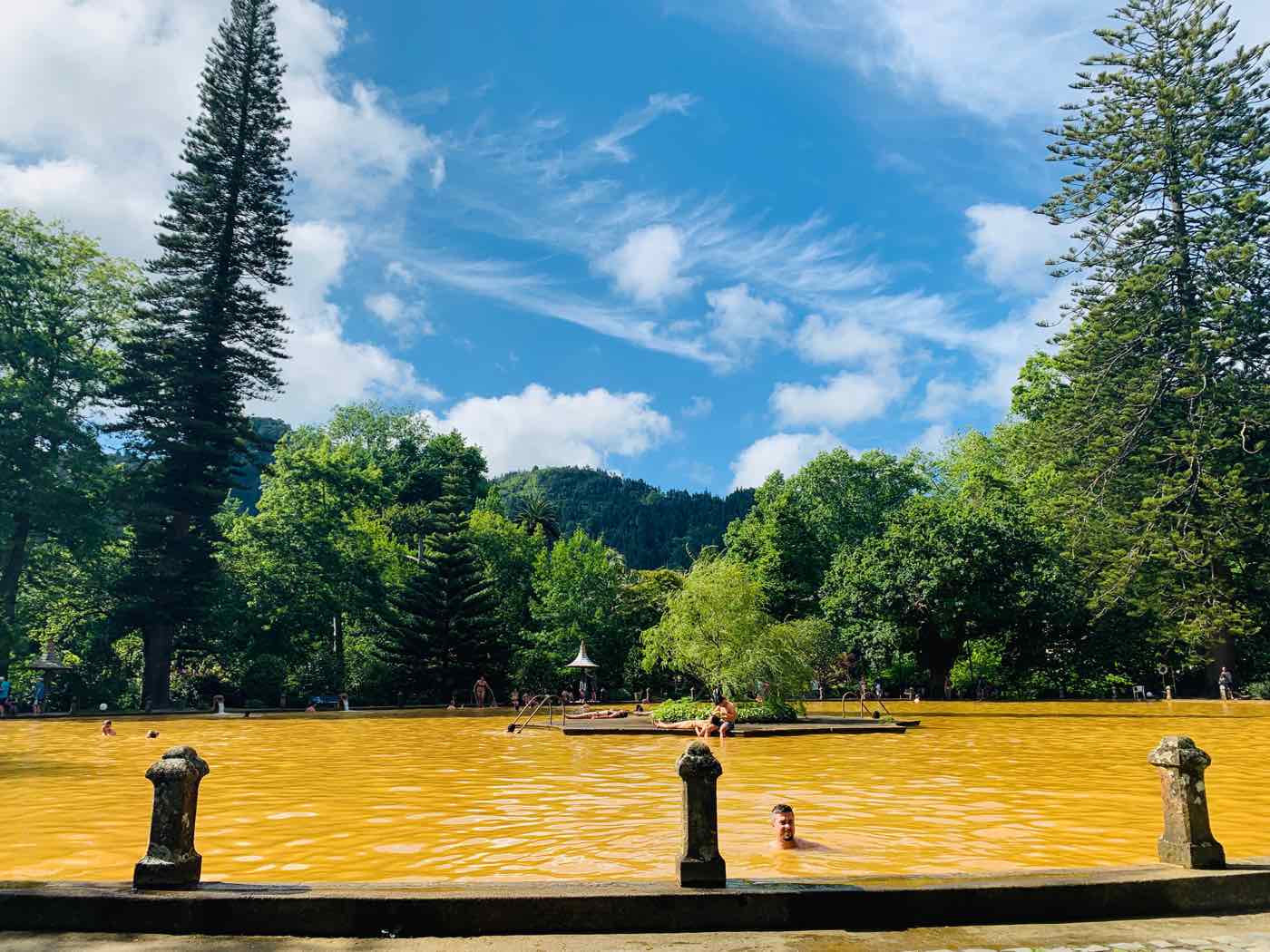 This majestic park in the heart of the Furnas valley started as a private collection back in the end of the 18th century. Since then, Terra Nostra Park has evolved to become a fascinating collection of plants, trees, and flowers, all carefully arranged by a team of in-house gardeners. It's probably the lushest and most unique garden I've ever been.
As a bonus, Terra Nostra Park also features outdoor thermal pools (included in the entry ticket). Make sure you wear an old bathing wear, as the mineral-enriched orange-y water can stain your clothes permanently.
Make no mistake guys – this is one of the most unique things to do in São Miguel.
Tip: if you have lunch at the restaurant of Terra Nostra Hotel the park entry fee is waived.
4

Have a tea break at the only tea plantations in Europe

Gorreana and Porto Formoso are the only two tea estates in Europe and have been producing organic black, green, and orange pekoe teas since 1883.
Visit the tea plantations to know more about how the tea got to Azores, how it's still produced sustainably and ecologically. Plus, there are free tea tastings too!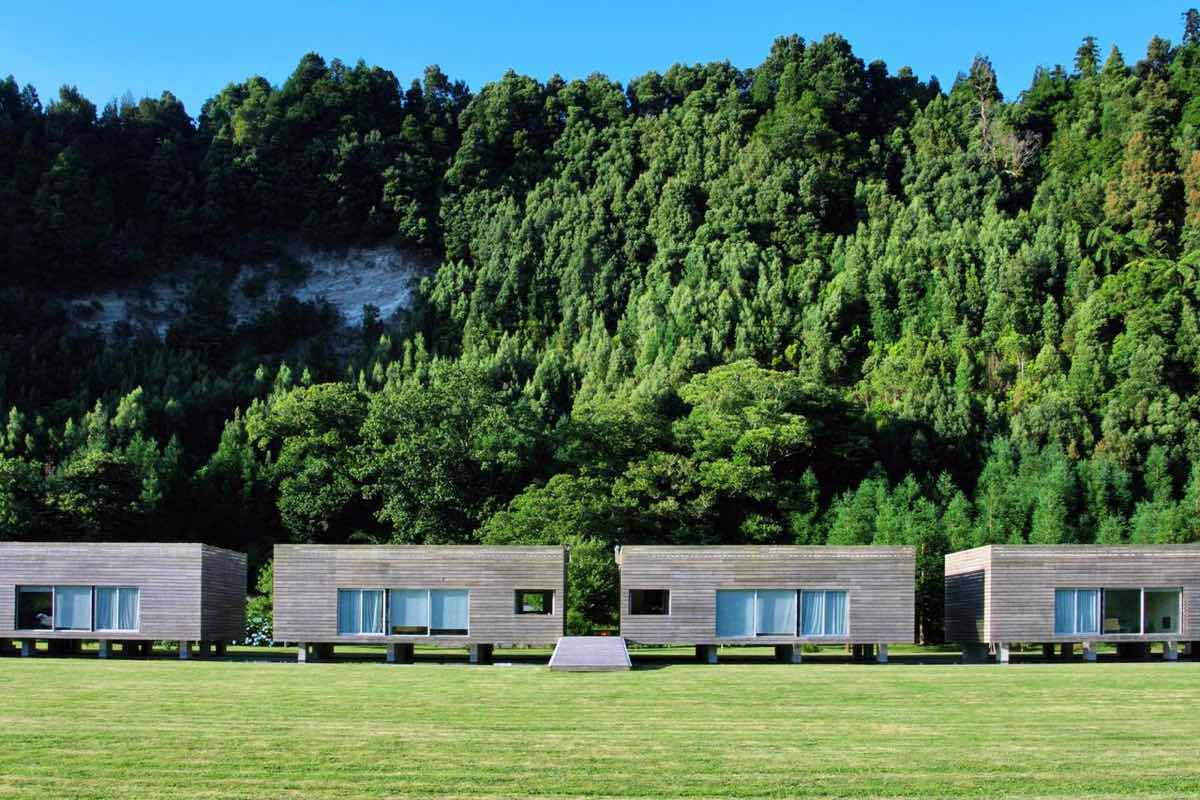 5

See baby pineapples

While pineapples usually grow in fully tropical climates typical from places near the Equator, seeds were introduced in São Miguel island in the 19th century to take advantage of the fertile and nutritious soil. And the best way they found to cultivate pineapples were in greenhouses which become very popular in the Ponta Delgada area.
You can visit these greenhouses and go for a tour about the odyssey that is to grow these fruits. It takes a total of about 2 years (!) but the end result is an Azorean pineapple smaller in size, but with a sweeter and more intense taste.
Also, can we talk about how cute are baby pineapples?!
6

Eat a meal cooked underground in Furnas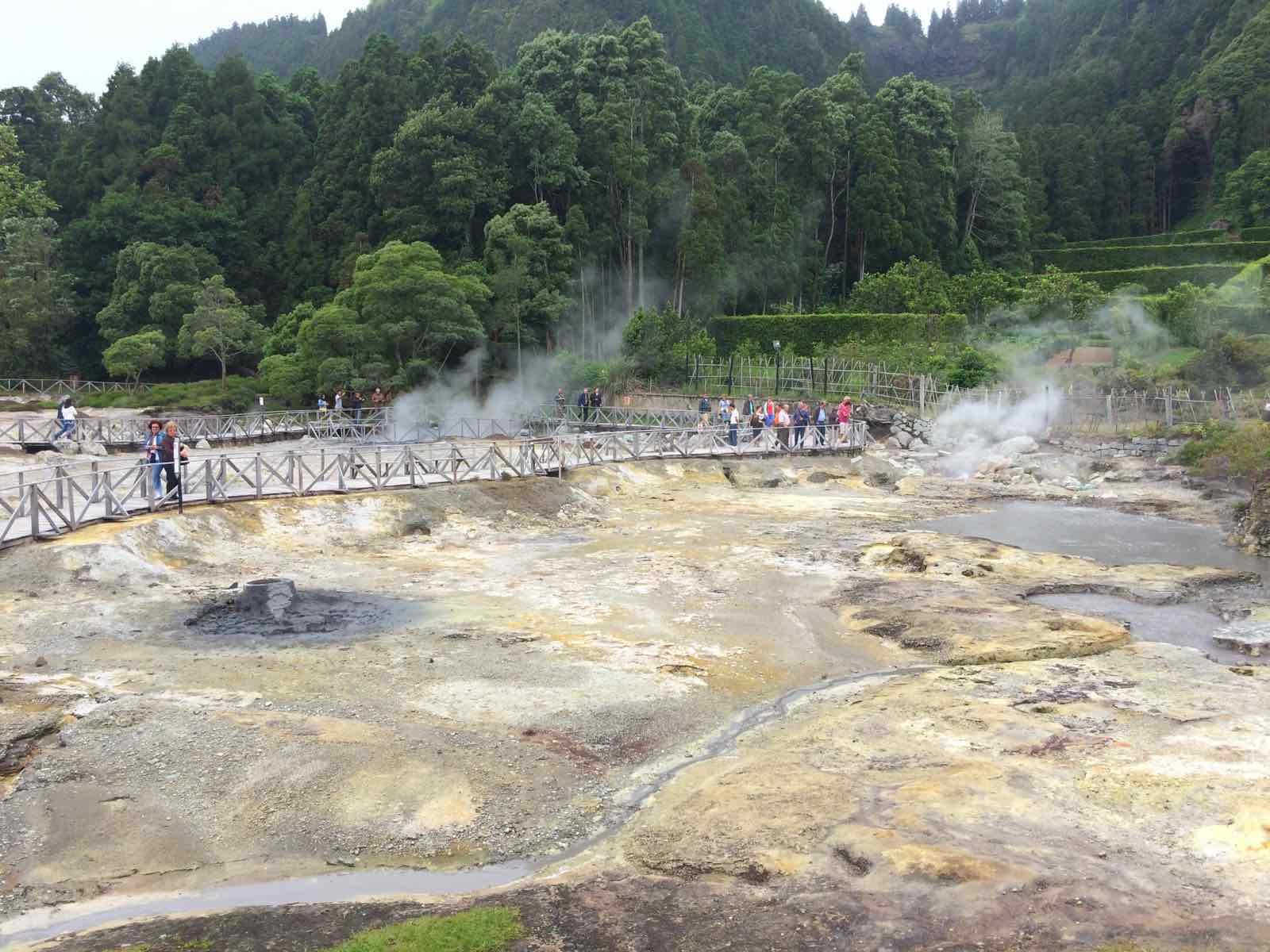 How does having a meal cooked by Mother Nature sound to you? Well, this is exactly one of the main highlights of Furnas, the volcanic hotspot of São Miguel. In between steamed vents and mud pools, there are potholes where locals bury pots of food and retrieve them about 6 hours later, fully cooked.
The traditional Cozido das Furnas (Furnas Stew) is cooked here; a rather giant mix of all sorts of meat (chicken, beef, pork) with local vegetables. Vegetarian options may be available. The best place to try this delicacy is either in Terra Nostra Hotel restaurant (elegant and more pricey) or Caldeiras & Vulcões (more pedestrian, equally tasty) in Furnas center. Make your reservation at least 24 hours in advance.
7

Enjoy the unspoiled beauty of Lagoa do Fogo (Fogo Lake)

If there's a place that will make you insignificant in front of Mother Nature, this is it. High up in the mountains and right on the heart of the most remote and preserved areas in São Miguel lies Lagoa do Fogo , literally translated as Fire Lake. This volcanic crater has collapsed and created a breathtaking lake which is best enjoyed on the (rare) clear days.
Car rentals are not allowed during summer months between 9am and 7pm. All non-residents should take a shuttle up to the lake, with a cost of 5€.
Take the steep 30-min hike down to the shore of the lake and spend some time there soaking the unspoiled nature around you. Swimming or fishing in the lake is forbidden. This is a nature reserve and one of the most fragile zones in the island, so please be extra careful with littering and/or any form of pollution you may be causing, including noise pollution!
Find your deal in São Miguel with a map!
8

Hit a hiking trail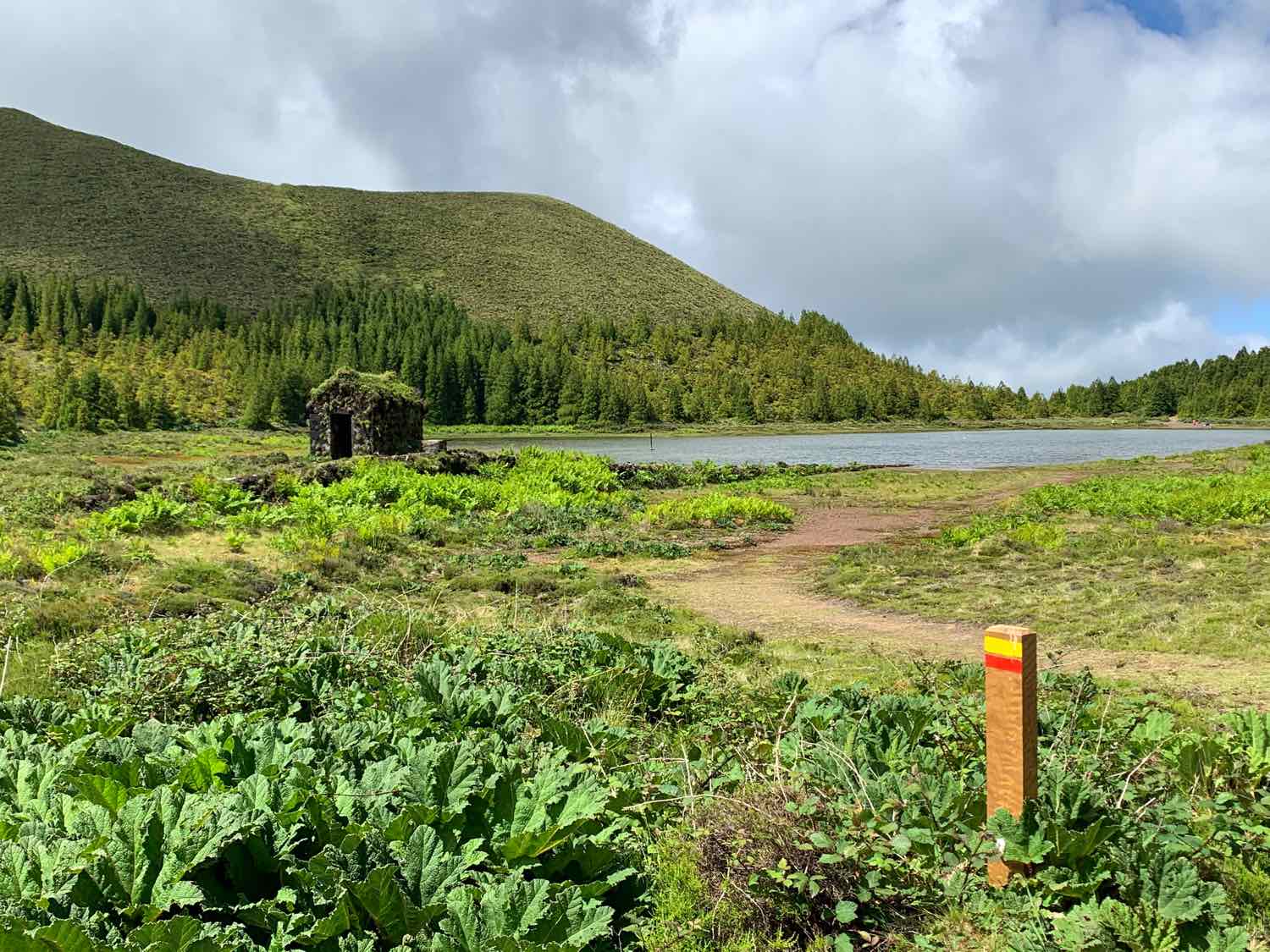 The Azores Islands are home to some of the most scenic hiking trails you can find.
In particular, São Miguel island is packed with volcano craters, lagoons, small rivers and waterfalls which are accessible only on foot. There at least 20+ official trails in the island, with all ranges of difficulties and distances and covering all kinds of landscapes.
Always bring comfy shoes, a bottle of water, and a light jacket. Waterproof clothing is also recommendable as the weather is truly unpredictable.
🚶‍♂️ The best hiking trails in São Miguel
Gorreana – snaking around tea plantations and boasting gorgeous views over the northern coast of the island. Easy.
Sanguinho/Salto do Prego – it goes through one of the most remote areas of São Miguel and leads to an enclosed waterfall in the middle of a lush forest. Medium difficulty.
Lagoa das Furnas – a circle hike around Lagoa das Furnas. More like a long flat stroll. Easy.
Praia-Fogo – connecting the vibrant Lagoa do Fogo (Fogo Lake) to the ocean it's one of the most complete and rewarding to accomplish. Hard.
Serra Devassa – this trail will take you around what is known as Lake District in Sete Cidades and come back to the start next to Lagoa do Canário. Loads of eye-catching views over a series of lakes and lagoons. Medium.
9

Do a whale-watching tour

Many whale and dolphin species choose Azores as part of their migration route or even as their permanent home, including sperm and blue whales, as well as common and bottlenose dolphins (see this yearly calendar of the cetacean species in the Azores). You'll never want to see dolphins in an aquarium or zoo again.
Whale and dolphin watching tours leave Ponta Delgada or Vila Franca do Campo's marinas.
Please make sure the company you go with complies with all the safety and ethical regulations to avoid disturbing and stressing out the animals. Sea Color Azores is a great example. Expect a price of roughly 55 euros/person, which will be refunded or used as a voucher for another trip for free in case of no sightings.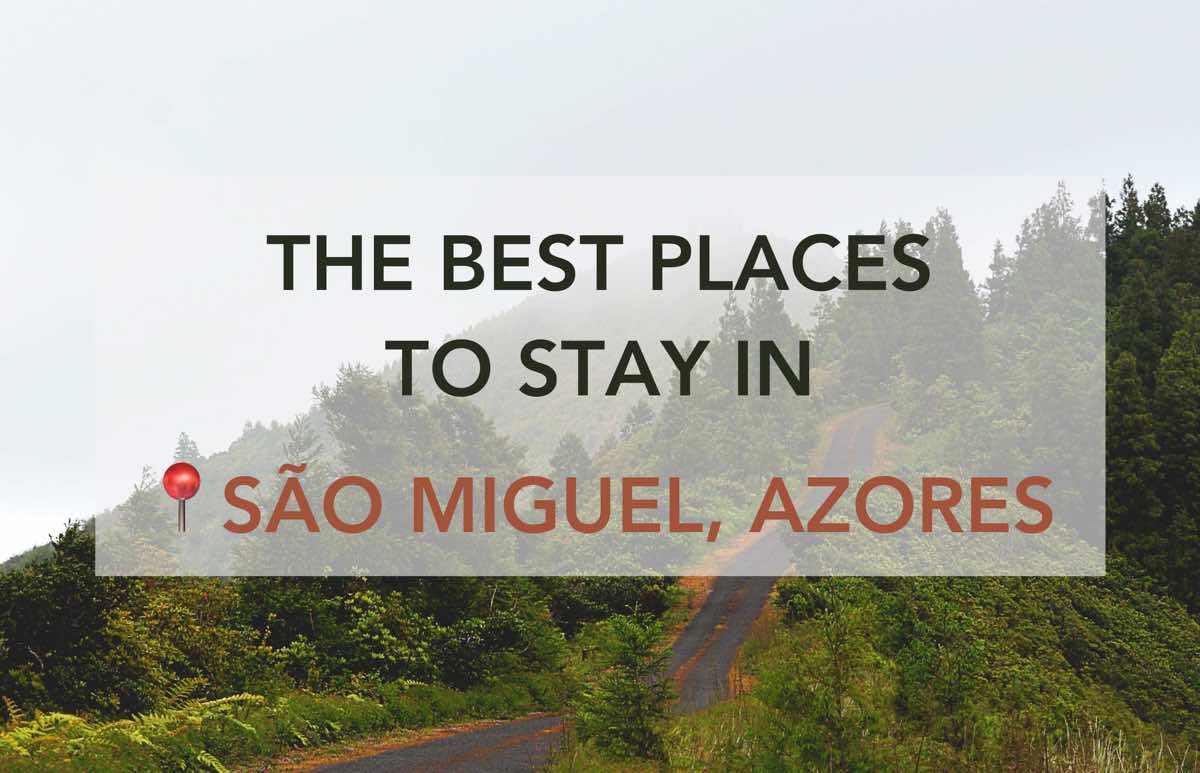 The best hotels and guesthouses in São Miguel, for each kind of traveler.
10

Awe at the view from Boca do Inferno

São Miguel has countless beautiful views, but from in loco experience the one that makes people go "wow" most often is the Boca do Inferno viewpoint. This spot has a privileged view over the entire Sete Cidades caldera and its gorgeous lakes. On clear days, the Sete Cidades, Santiago, and Rasa lakes are all visible from here, contrasting with the lush green hills and the vibrant blue from the Atlantic far back on the horizon.
To get here, follow the signs to Lagoa do Canário and enter the dirt road on your left (if the gate is closed, you can walk there for about 20 minutes). By the end of the road, there's a small car park where the small hike to paradise begins.
11

Go for a swim at Vila Franca's Islet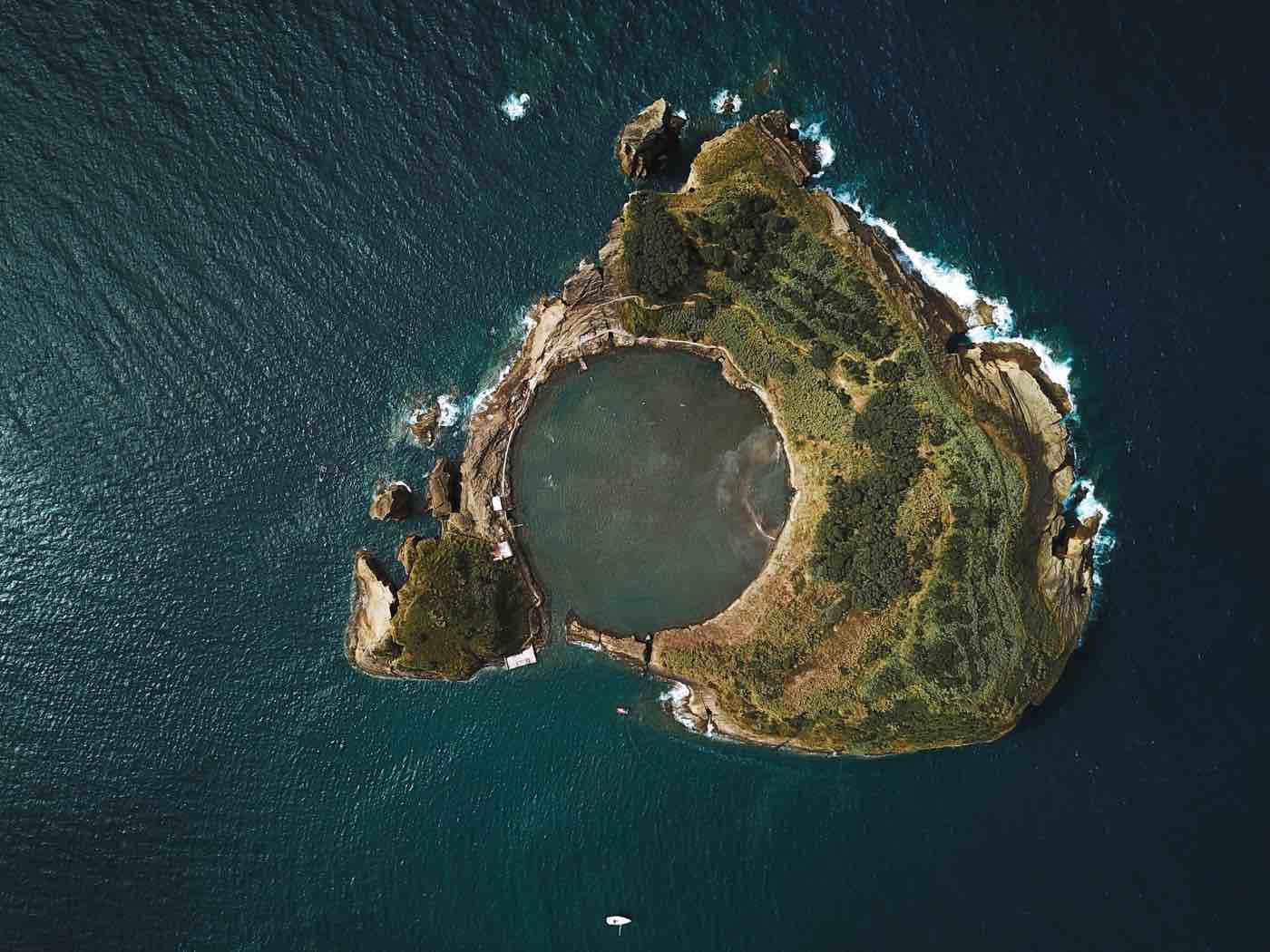 Vila Franca Islet is quite possibly the best bathing site in Azores. Almost fully enclosed in an islet, in a ring shape, lies a bay with a small strip of sand and virtually no waves. Perfect for kids but also enjoyable for grown-ups, this islet is a Nature Reserve which adds to the feeling of an exotic swim. Bring your snorkeling gear.
There's no need for tours to visit the islet. Simply book your boat ticket online and show up at Vila Franca Marina, preferably early in the morning. It's advisable to book as early as possible as the islet as regulations limit the visitors to 400 per day. The trip takes about 20 minutes.
Tip: I have to say if you're not into beach that much, there's not much to do here. The majority is area is actually a protected reserve for sea birds. Alternatively, you can see the islet from a boat tour (including whale-watching tour) or from a viewpoint in the main island. Miradouro de Nossa Senhora da Paz is your best bet.
12

Tour Ponta Delgada

With so many nature highlights scattered throughout the island, it's easy to forget about Ponta Delgada. The unofficial capital of Azores is a quiet, unpretentious, and laid-back town and is a great way to peek into the local way of life.

The local farmers market – Mercado da Graça – is held here, a one-of-a-kind opportunity to get to know local ingredients, arts & crafts, and why not, buy some stuff to take back home.

A stroll around downtown will take you from Portas do Mar, the seaside promenade and marina to some of the best restaurants of the island. Ponta Delgada is also where you can take a break from the hiking life and grab a coffee at Intz48 or a drink at Raiz Bar.

The most special travel guide I've created: my hometown's.
13

Tour Nordeste's viewpoints

Many fail to see Nordeste district, the eastern side of São Miguel which is also the wildest and most remote area of the island. However, if you want true dramatic landscapes with towering cliffs and endless ocean blues, this is the best place to go for.
Head to Ponta da Madrugada or Ponta do Sossego viewpoints for incredible views of the island with the Atlantic Ocean as a backdrop. You can even bring your own BBQ stuff and have an outdoor lunch (make sure you don't leave any trash!).
Don't miss the views over Farol do Arnel viewpoint, a breathtaking peek into the oldest lighthouse in Azores.
14

Chase waterfalls
View this post on Instagram
While Flores island boasts dozens of majestic waterfalls that are more impressive, in São Miguel there is no shortage of waterfalls sites.
The ones at Ribeira dos Caldeirões are definitely the most accessible (just by the side of the road) but head to Salto do Cabrito or Salto do Prego for a new level of unspoiled beauty. Both are in the middle of the forest and take a 2-hour and 50-minute hike to get there, respectively. I dare you to enter the icy cold water!
15

Spend a day at the Furnas Valley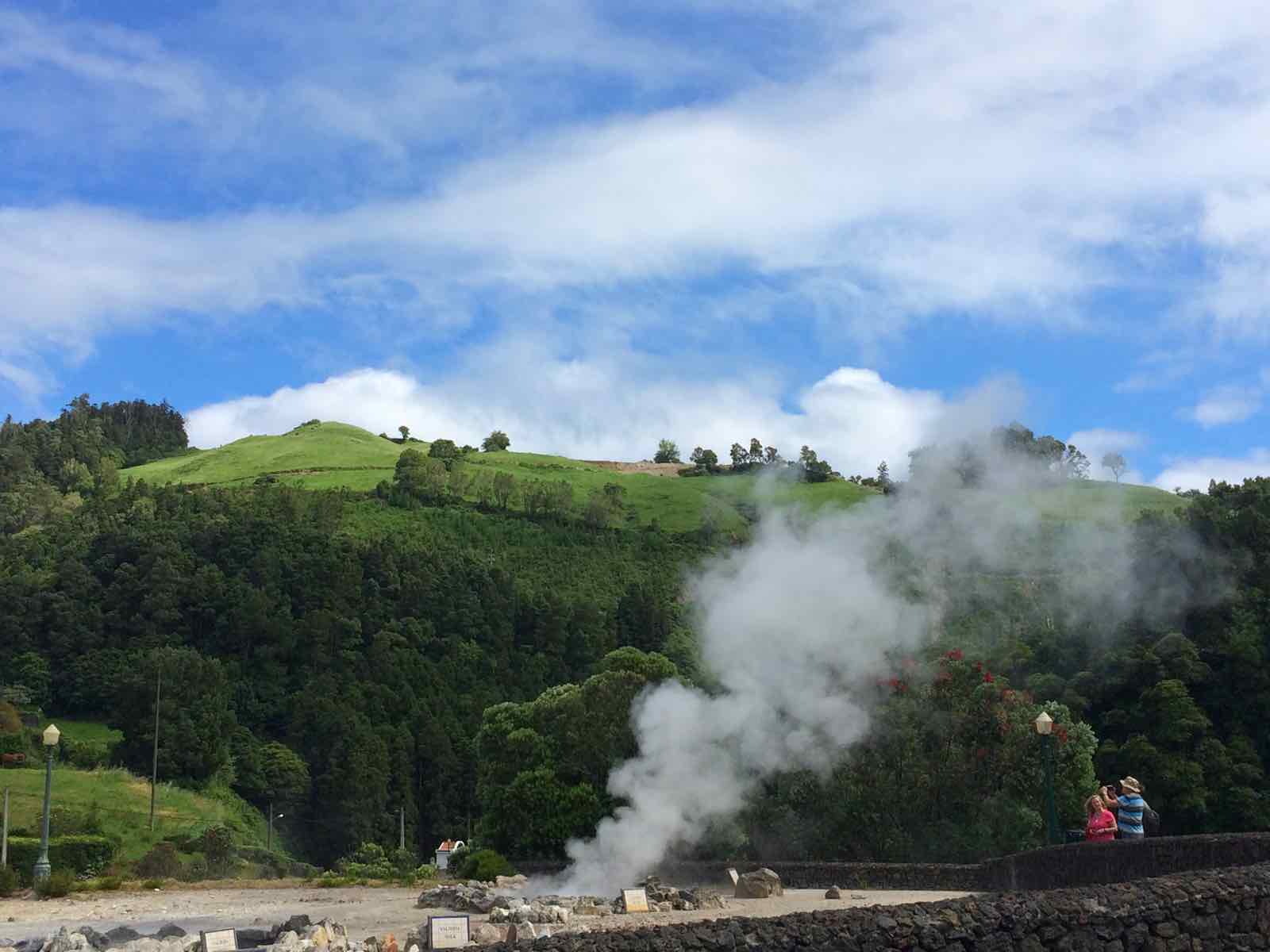 No other place in São Miguel has such visible and overwhelming volcanic activity like Furnas. You can see it on the steamed vents and in the potholes where locals cook the famous cozido das Furnas. You can hear the bubbling of mud pools. And you can definitely smell the sulfur in the air.
Surrounded by lush green hills, Furnas feels like a fairytale village where time has stopped and you're forced to witness Mother Earth reveal itself 24/7. While you're at this painfully grounding task, buy a bolo lêvedo , a traditional sweet bread from the village, usually filled with jam, cheese, or ham.
There's plenty of things to do in this side of the island, here are some highlights:
📍 What to see in Furnas
Terra Nostra Park – historical garden dating back to the 18th century, with hundreds of plant species from all over the world. It's lush, vibrant and a must-see!
Caldeiras – hot and mud springs right next to Furnas Lake which feature steamholes where the famous Cozido stew is cooked underground. Come right before lunch to see the buzz!
Furnas Lake (Lagoa das Furnas) – one of the top 3 lakes in São Miguel. While not boasting as dramatic views as the other two, it's still a beautiful tranquil place. Do the hike around the lake, it's easy, flat, and will give you a nice overview of the area.
Parque da Grená – recently opened private park with hiking trails, waterfalls, and lush forest.
Miradouro do Pico do Ferro – stunning open views over the Furnas Lake and Valley.
16

Hit the dark-sand beaches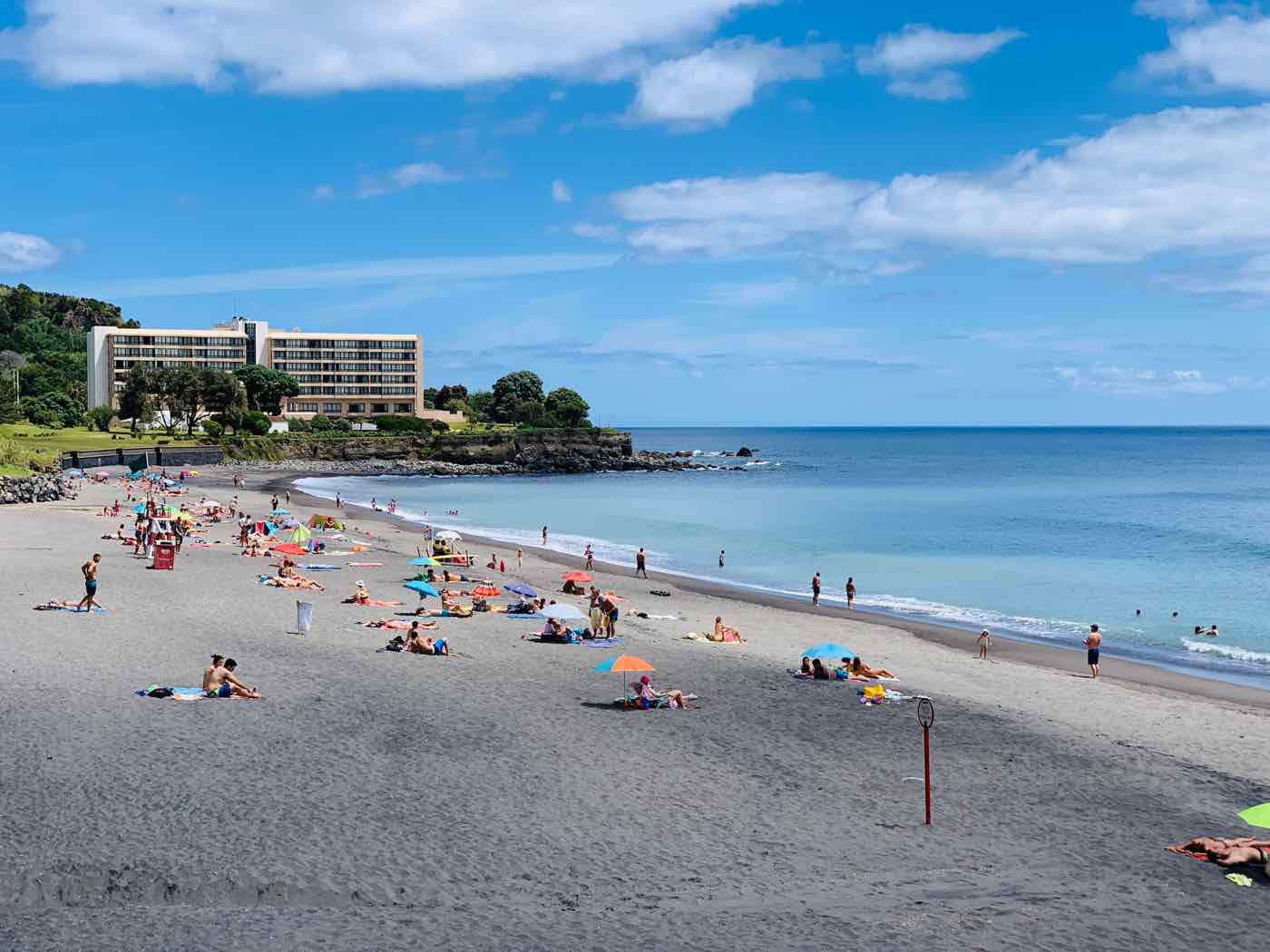 One of the first things you should know before visiting Azores is that there aren't Instagram-worthy beaches with soft white sand and turquoise waters. I've seen bloggers and influencers leave the island disappointed with what they consider "inferior beaches".
The beaches in Azores are of volcanic origin, which means the sand is of a greyish, almost black color. This obviously doesn't let the sunlight reflect (it's' hotter on the feet!) and reduces the visibility of the water. However, they're clean and warm, peaking to 24/25 degrees Celsius during late summer.
For a refreshing swim in the Atlantic Ocean in São Miguel, I recommend Praia de Santa Bárbara (which doubles as a surfing spot), Praia dos Mosteiros and Praia Água D'Alto. If you're not used to, waves can be a bit rough, especially on the northern coast.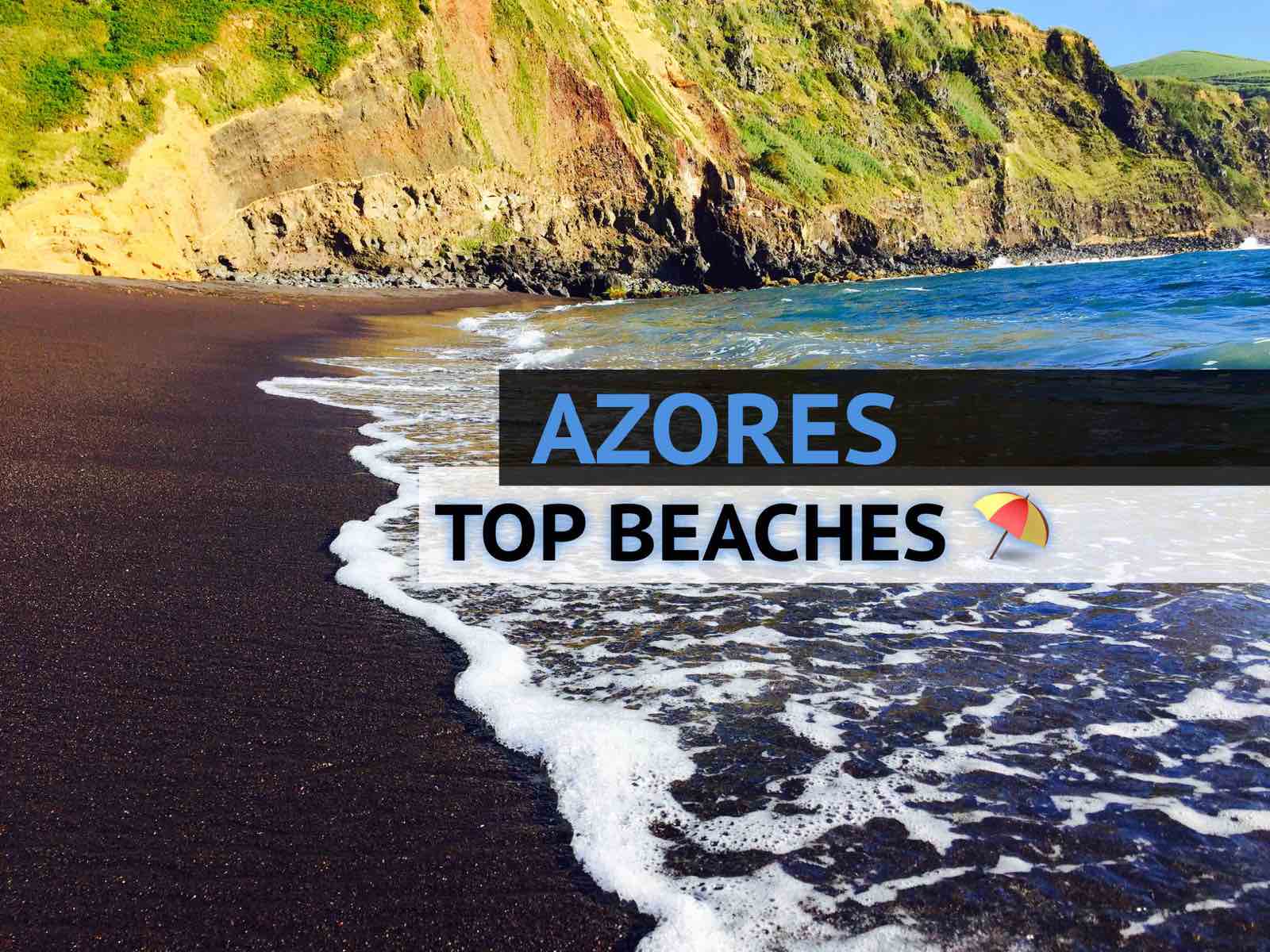 Beaches in Azores
The best Azores beaches plus important tips before you go for an ocean swim.
17

Get adventurous!

With such a fantastic scenery, no wonder adventure tours and outdoor activities are so popular in São Miguel. There's a plethora of things you can choose, from surfing classes to canyoning or horseback riding. While in Azores, why not try something you never done before?
I gathered feedback from some people – these are some of the best experiences to try:
18

Marvel at Congro Lake (Lagoa do Congro)
With as much of beautiful as of mysterious, Congro Lake is a hidden gem in the heart of São Miguel. First of all, it's not as acessible and there are no viewpoints over it. The only way to get here is by a 15-min hike down through dense forest.
Once you get down there though, it's totally worth it. With no one around, this a perfect mindfulness background, with all the vibrant green all around you, and with silence only interrupted by the birds chirping. There isn't any infrastructure near the lake, so bring a snack and water with you (but please don't leave anything behind!).
What to do on a rainy day in São Miguel?
The bad news is that statistically, your chance of getting rain in São Miguel is very high. There are rarely more than 4-5 clear sunny days straight in a row in the islands.
The good news is that as quickly as it comes, it goes away. So what should you do on a rainy day?
Hit the hot springs
No brainer. When it's misty or rainy, a great plan is to go to the hot springs in São Miguel, like the ones in Terra Nostra or Caldeira Velha. In fact, these are better enjoyed in the winter time.
Visit Mercado da Graca
Located in central Ponta Delgada, this farmers' market is the best spot to get a glimpse of the local delicacies and buy some things to bring back home.
Go to the tea plantations
Gorreana and Porto Formoso are the two tea estates of the island, where you can know more about how the tea is produced in the Azores. Out of all the things to do in São Miguel, this is one of the few which can still be enjoyed with meh weather.
Go deep inside a lava tunnel
With almost 2km of length, Gruta do Carvão is the longest lava tunnel in the island. You can go inside (with or without guide) to discover more about the volcanic origins of the island. Tickets start at 5EUR.

Planning a São Miguel trip independently
What is the best time to go?
The Azores have mild temperatures all-year round, but weather during fall and winter is a bit unstable.
If you're looking for the best chance of good weather, visit between July and August. Keep in mind this is also the time of the year with more tourists: prices of accommodation, flights, and car rentals goes up. Oh and you'll need to book the best restaurants ahead.
On the other hand, if unpredictable weather is not a concern, I recommend visiting in shoulder season, either in April-May or September-October, where temperatures are milder and you'll be able to see the best sights with fewer human density.
How many days in São Miguel?
São Miguel is the largest island in Azores, and there's a lot of nice places to visit. As a bare minimum, I recommend 3/4 full days – I planned my suggested itinerary around this timeframe – but for you to be more relaxed and flexible, stay for a full week.
If you're staying for longer, split your stay between two places (eg West and East) to save some time traveling within the island.
Booking a flight to São Miguel
If you are not from the US or simply not into vacation packages, you're better off by booking your flight through Skyscanner or Google Flights independently.
Flights to Azores are considerably cheaper from Porto, Lisbon or London. Ponta Delgada airport has the highest number of flight connections. From there you may be entitled to a FREE connecting flight to other islands – check this page for more info.
Booking a hotel in São Miguel
Arranging accommodation before arriving is highly recommendable. São Miguel is in high demand right now and hotels in the island can sell out, especially in high season.
You can start off by this curated list of insights about my favorite hotels, this pre-filtered list of hotels, guesthouses and villas in São Miguel.
⭐ My top hotel recommendations in São Miguel ⭐
Premium hotel with modern design and within walking distance to the city center and to the ocean. Ah and there's a gorgeous pool on the terrace!

São Miguel Flight + Hotel Deals
I usually don't use travel agencies to book holidays. They end up being more expensive most times. Yet I have to make an exception for Azores Getaways because I really think they have some pretty good prices for a flight + transfers + hotel packages to the Azores – starting at 599USD.
For São Miguel in particular they have LOADS of deals. Like this week-long adventure package in São Miguel (including a whale-watching tour) or this 3-island package.
I particularly recommend using them if you are flying from the United States and don't have much time to plan your holidays.

There's more in my complete travel guide about the Azores islands. Including: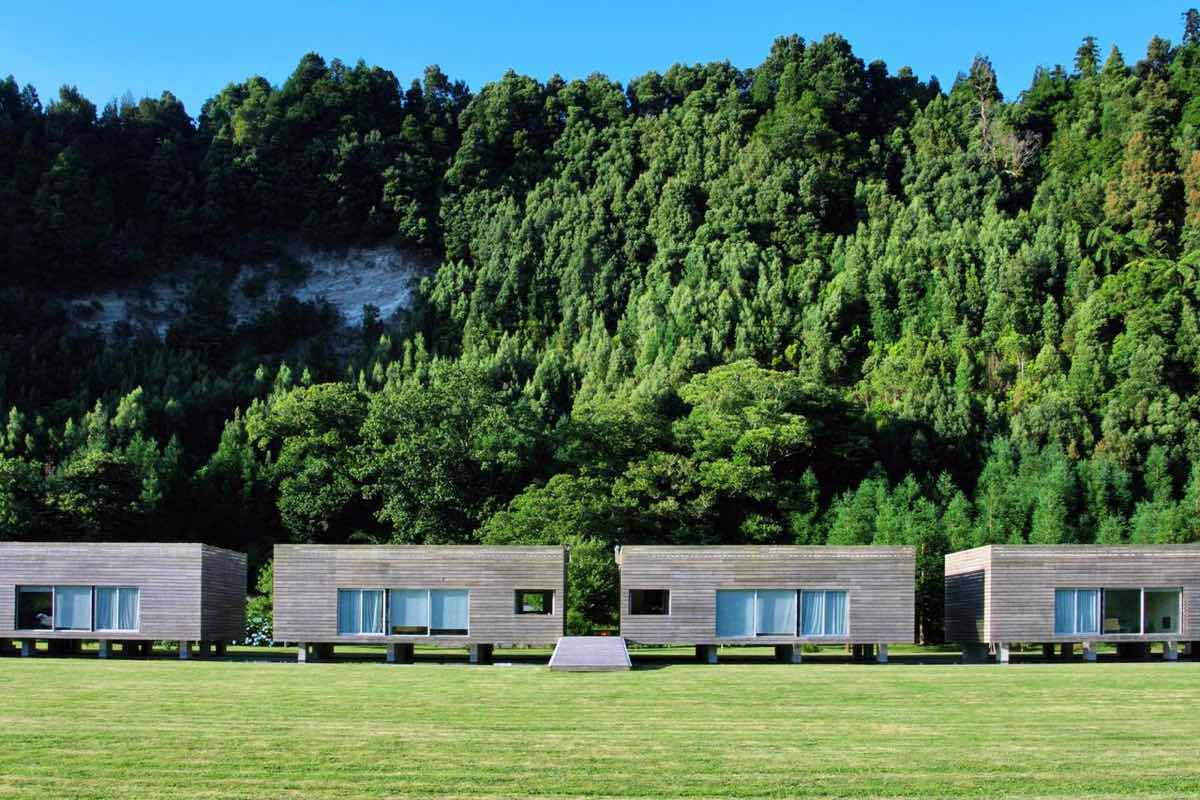 Pre-filtered list of hotels with top reviews and location + parking included.
My travel tips valid anywhere
Over to you: what more things to do in São Miguel island do you recommend? Share your suggestions below!