After all these time living in the city, I've decided to compile the absolute best 7 compelling experiences not to miss in Lisbon, Portugal. After all, who better than a local for almost 10 years (auch!) to give you insider advice?
Although I've moved to Barcelona now, I still somehow consider Lisbon my city, where I lived some of the best years of my life and which is now one of the most trendy cities in Europe.
If you're expecting beaches, I've addressed them in another post: here are the best beaches near Lisbon.
Let's get started!
1

Eat The One And Only Pastel de Nata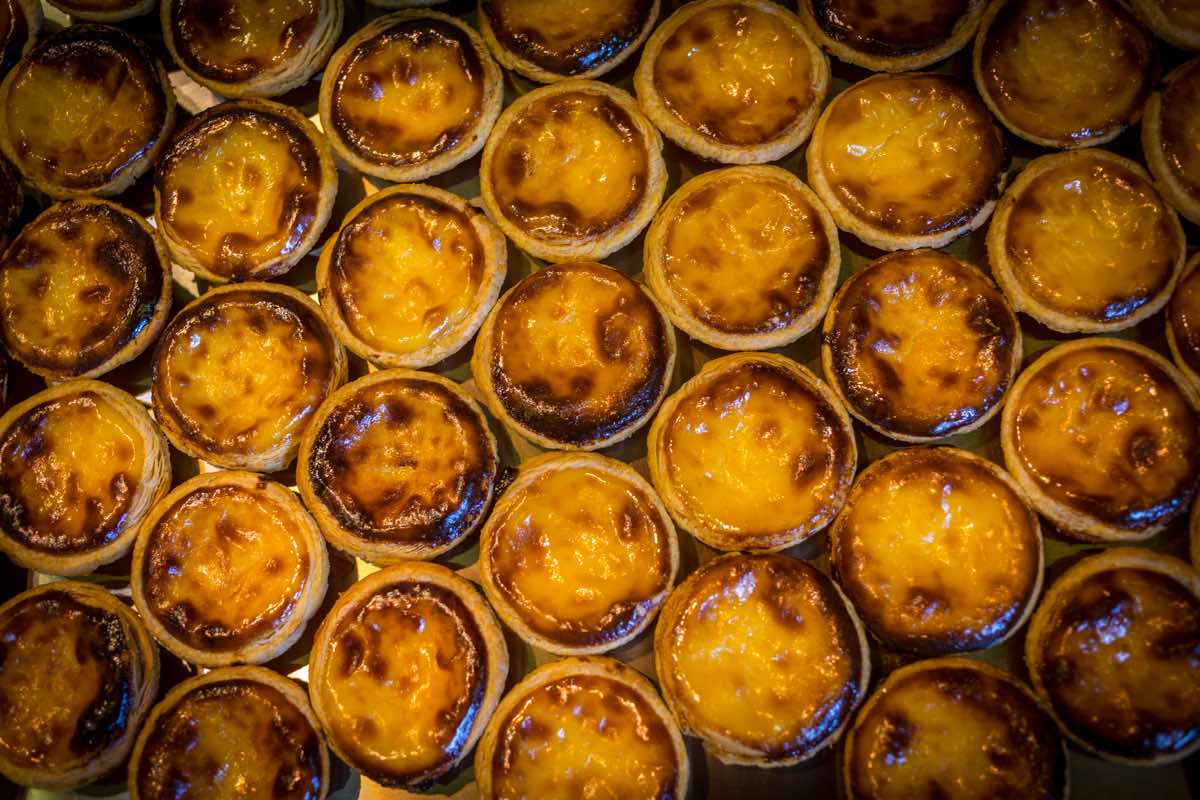 Pastéis de nata are also known as portuguese custard tarts. In case you haven't try them, you don't know what you've been missing all your life.
They taste as delicious as they look and are available in virtually EVERYWHERE in Lisbon. Together with a bica, a portuguese espresso, is the favorite snack for Lisboners.
Best places to eat egg tarts in Lisbon
The original ones are made in Pastéis de Belém factory, in Belém district. This place is often packed, particularly on weekends, but they are very good.
Interestingly enough, they never won the annual award for the best Pastel de Nata in Lisbon (yes, this is actually a real prize!).
My favorites are from the superbly located Manteigaria, in Largo de Camões. These are creamy as ever and come fresh out of the oven: it's impossible to eat only one.
EDIT: They now have opened in Time Out Mercado da Ribeira in Cais do Sodré!
2

Go Off The Beaten Track
Explore the tiny streets in Lisbon and get lost at the typical neighborhoods of Graça and Alfama. This is where you will find the real city. Older people shopping for groceries on local shops and boys playing football on the narrow streets while they mothers chit-chat about the neighbors nearby.
Bairro Alto is another of those picturesque places, but this comes with a plot twist. At night, specially during the weekends, eclectic crowds rush to turn the neighborhood into Lisbon's vibrant nightlife mecca. Here you hang out in the street chatting with your friends with a glass in your hand. Yeah, Lisbon is that easy-going. 
3

Live a Fairytale In Sintra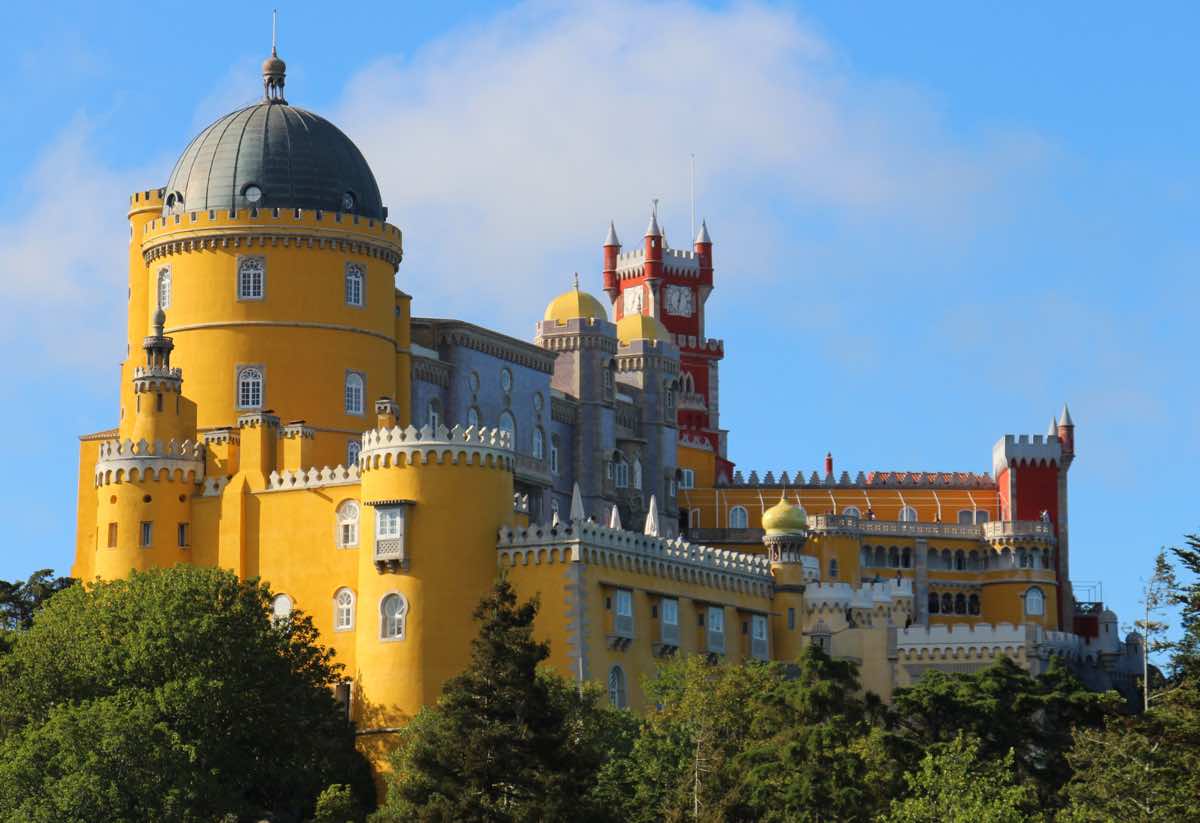 In case you are single, you have all the ingredients to find your life partner in Lisbon. With the warm weather, beautiful sun-kissed people and the great Portuguese wine, the odds are EVER in your favor.
But the fairytale I meant is a place called Sintra, a village where imposing castles and ancient palaces live in harmony with exotic gardens and greenery. This is a UNESCO World Heritage Site for a reason.
Undoubtedly, the main attraction is Palácio da Pena, a colorful palace brimming with over-the-top designs that seems to come straight out of a fairytale. It is located on top of a hill and from up there, you can delight yourself with breathtaking views from all the Sintra-Cascais-Lisbon region.  
4

Go For a Yellow Ride on Tram 28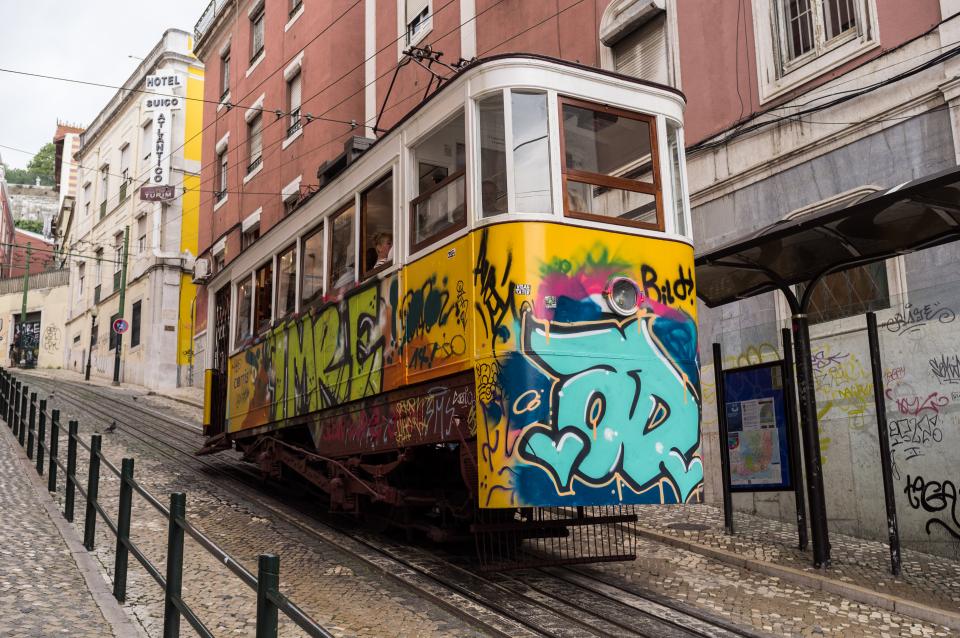 The legendary yellow Tram 28 is one of the symbols of Lisbon and at the same time, one of the most inexpensive ways to get to the traditional neighborhoods of Lisbon, like Graça and Alfama. Hopping on and off this tram is a one of a kind experience which has made it as a tourist favorite in the last few years.
However, during rush hours the tram is packed with locals who also use it as mean of transportation. Perfect time for the pickpockets to enter the scene and make their day, so beware. Another option is to ride the funiculars in Glória and Bica. Not as charming, but still gets you inside a yellow tram-like vehicle!
Lisbon is very trendy right now and hotels can sell out often. Book your hotel as soon as possible!
I've made your life easier and you can start your search with my pre-selection of hotels in Lisbon. This list only includes the top-rated reviewed hotels in the heart of the city, with WiFi included. Hard to go wrong with these!
Or explore the latest hotel deals:
5

Fish, Fish, Fish

I'm sure you agree finding cheap fresh is extremely difficult anywhere in Europe. Well, anywhere except in Portugal. Sharing the majority of its border with the Atlantic, is probably the fish-friendliest country in Europe. Enough to say the symbol of the biggest festivities in Lisbon, Santos Populares, is a…. sardine.

Make sure you take advantage of this sweet sea-kissed location to enjoy the best fish you've ever had in your life. One of the things I miss the most about my country is how simple it is to find good fresh fish. That's why this is one of the 43 reasons to visit Portugal!

Enter any typic Lisbon restaurant and ask for a grilled Dourada, Robalo or Salmão. You won't regret it. If I still can't convince you, at least give it a try to my favorite fish dish: Bacalhau à Brás, a delicious combination of codfish, scrambled eggs and fries. It still isn't meat, but it does not taste that fishy.
6

Visit The Best Aquarium In The World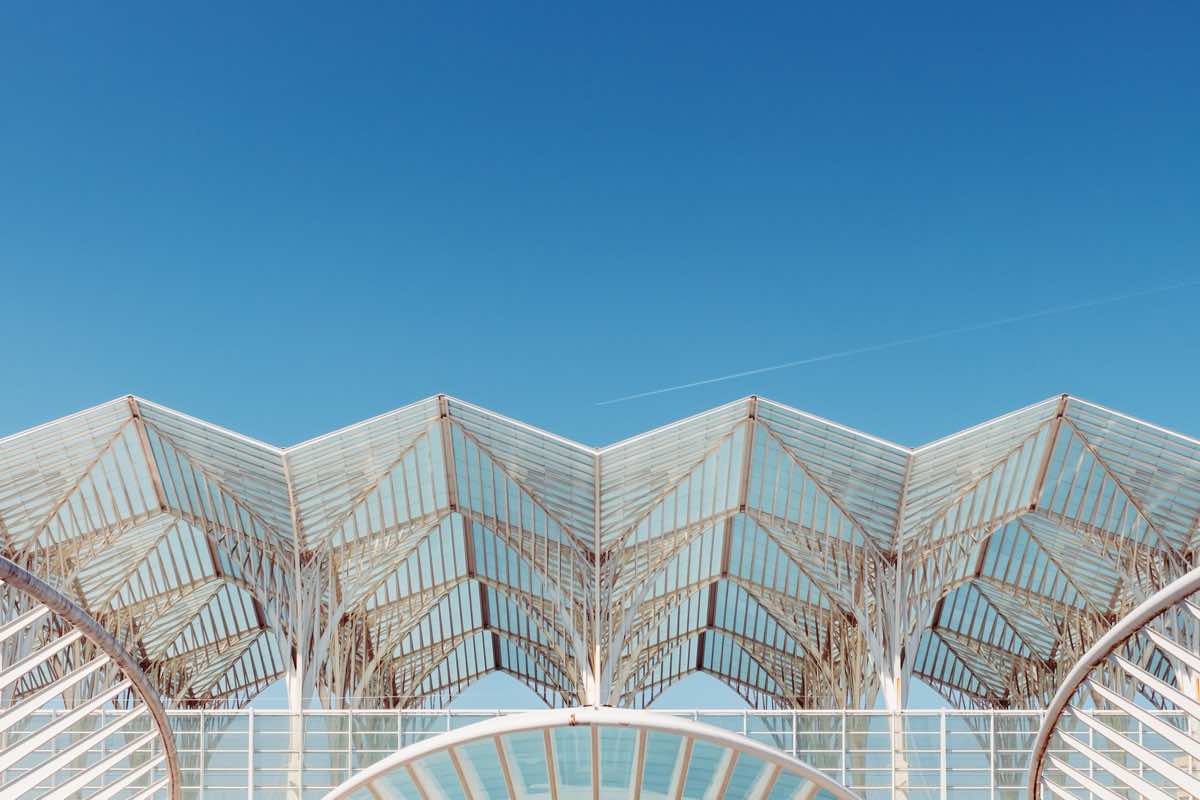 The Universal Exhibition of 1998 (Expo'98) in Lisbon encompassed a major urban redevelopment project in all the eastern end of the city's waterfront. When it was over, a new urban district named Parque das Nações (Park of Nations) was born.
A walk among this area gives you a dramatically different perspective from the rest of the city. Parque das Nações stands out as an impressive open-air contemporary architecture portfolio, includes two striking twin towers designed to look like giant sailboats (!), a ship-shaped mall, water gardens, a casino and of course, the biggest bridge in Europe – Ponte Vasco da Gama. Everything is big here.
But even in this futuristic setting, Oceanário still stands out. It's the largest indoor aquarium in Europe and recently voted in TripAdvisor as #1 in the world. If you find it beautiful on the outside, I can assure you it's even more impressive inside!
7

Enjoy The Sunset With a View

The one travel tip I always give for someone who comes to Lisbon for the first time is to end at least one day in a viewpoint (or in portuguese, miradouros). In the last few years, the municipality has finally found some value in those and made an effort to renew them around the city, building some cafés and bars that bring added value to the already beautiful setting.

For the best views of the city, head to Miradouro de Nossa Senhora do Monte, in Graça district. It's a quite challenging walk uphill but it's not that crowded and you'll have this view as a reward.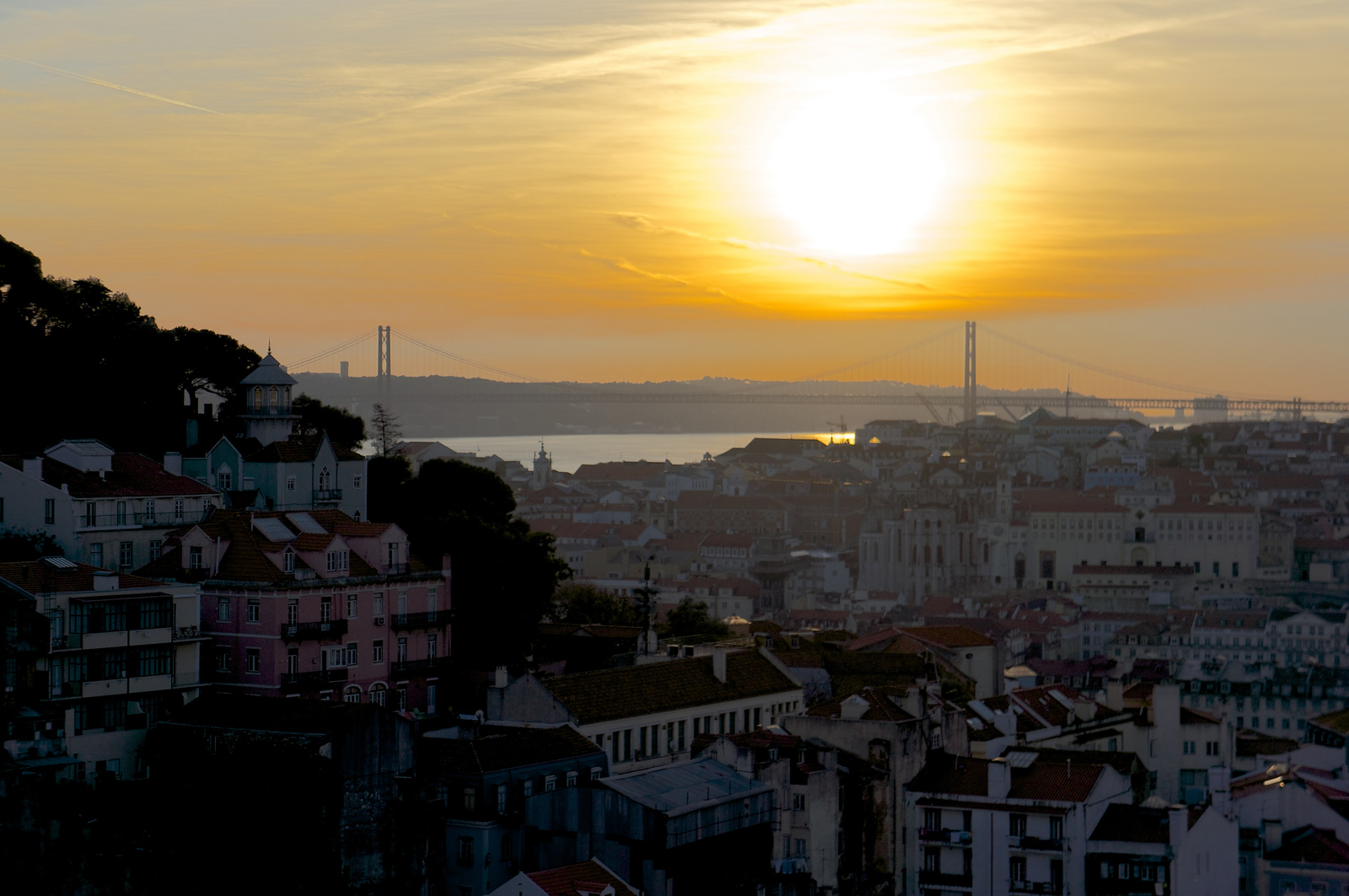 If crowds do not bother you, Miradouro do Adamastor, located in the heart of the city,  stands out as one of the trendiest spots in Lisbon. Bohemian is the code word for a place full of street musicians, dancers and beer-drinking teens and another gorgeous view. Still, Lisbon has at least ten other great viewpoints to choose from. Wherever you decide to go, grab a glass of wine while you enjoy the sunset. It will be one of the highlights of your stay, trust me.
LISBON MINI TRAVEL GUIDE
💰 Travel packages for Lisbon, Portugal
If you're coming from the United States, take a look at Azores Getaways. They have some flight + hotel + transfers deals for Lisbon, like this 6-night one, starting from 1149USD.
⭐ Where to stay in Lisbon ⭐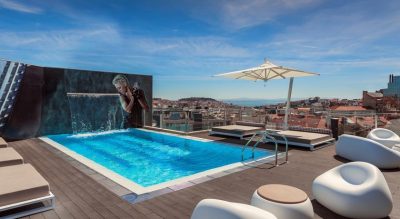 Hotel HF Fenix Music
Charmingly music-themed hotel, super close to the center. Oh it comes with this stunning rooftop swimming pool.
Book now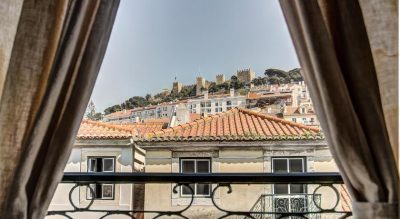 We Love F Tourists

Located in busy Rossio – the heart of Lisbon – it's just one of those amazing value places that will make you feel at home. Perfect to make friends. Book now
Or… find your own!
Use this list of quality hotels and guesthouses I've put together to get you started. ALL of these are located in the best central areas of Lisbon, with WiFi and with a rating of 8 or higher. Just pick your favourite!
Which experience in Lisbon would you add as #8?