Where are the best beaches around LISBON? How do I get there? Which ones are less crowded? And which ones should I avoid going? It is all in here!
There's a reason why Lisbon is super trendy right now. The crazy amount of sunshine hours, the loads of historically rich sights and attractions and the unique experiences to have make it a top-notch travel bucket list destination.
In addition, Lisbon has no shortage of places to go nearby with good weather, particularly beaches.
I've lived in Lisbon for 9 years and as a very picky sun seeker, I accumulated some expertise on how to get around and where to go to escape the crowds.
Here are my choices for the best Lisbon beach areas as well as some recommendations as to where NOT to go. Enjoy the sun! 🌞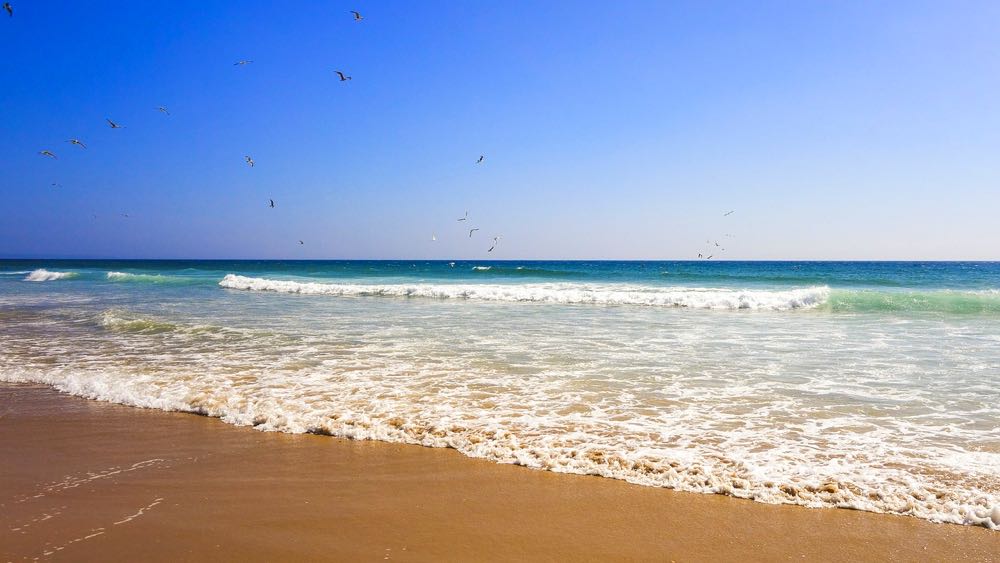 The Best Lisbon Beaches On A Map
To make your life easier, I've put all the best beaches I've visited in this map. They are color coded as per the following:
Orange: my absolute favorite beaches in Lisbon.
Blue: other good quality beaches.
Let's go into detail for some of these now.
1

Sintra beaches

Remember this name: Adraga.

It is the best beach around here! Located in the Sintra-Cascais Natural Park in the bottom of a valley, it stands out as an hidden gem enclosed in the green hills. It is never as crowded as its neighbours Praia das Maçãs and Praia Grande and it is decorated with huge rocks and caves that only add to is natural beauty.

Parking is available but it still can get crowded during the summer. Don't miss the sunset!

Minimum time to get there from Lisbon

: 40min (car)

Valuable tip: Take a walk to the south side of the Adraga beach where you will find the Pedra de Alvidrar, a huge rock formation which drops almost vertically into the sea.

Personal overall grade: 7/10
2

Estoril & Cascais beaches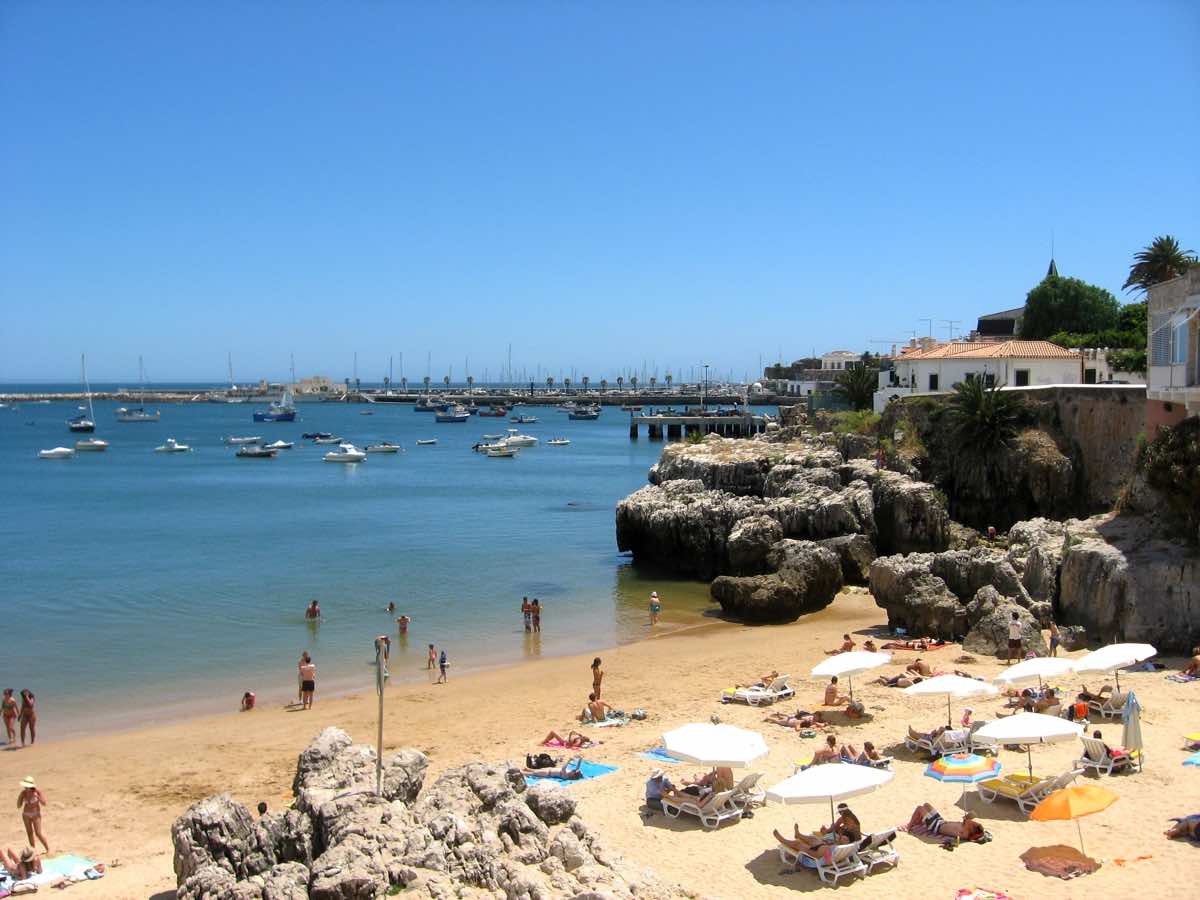 The beaches of Cascais and Estoril are the easier ones to get to from center Lisbon: approximately every 20 min from Cais do Sodré station departs a train stopping near all of them until Cascais.
Yet, these are still urban beaches. They are small so they can get severely crowded. And despite the blue flag atesting the water quality, it is far from the crystal clear you can find on other beaches.
That's why I only resort to Cascais/Estoril in case of an extreme tanning emergency and/or when I can't persuade anyone to go elsewhere. And because I don't have a car and I don't plan to, sometimes this have been too frequent. Anyway, the least bad options on this area are Praia de São Pedro do Estoril and Praia das Avencas, even though the latter has a very rocky ocean bottom.
Minimum time to get there from Lisbon
: 15 min (car) or 30min (train)
Valuable tip: If you value your health, only attempt to put your feet in the sand on Carcavelos and further away. Before that, I hardly consider them as beaches (I am picky, remember?).
Personal overall grade: 5/10
3

Costa de Caparica beaches

Located just across the river Tejo, this is undoubtely where Lisboners flock to during summertime. Grab a survival kit if you are crossing the 25 de Abril bridge after lunch and coming back at the end of the day as it can be a traffic odyssey.

If there was a value-for-distance criterion, in my opinion these are the best beaches around Lisbon. And there is a gigantic strip of sand with 15km of them!

My personal favorites are Praia da Mata and Praia da Morena. But the further south you head, the more likely you are to find less crowded beaches and better beach bars. The last ones can also be more liberal and nudity is common in Fonte da Telha for example.

Minimum time to get there from Lisbon

: 20min (car). You could do a combination of a bus and a mini-train that runs along the beaches during the summer months: it won't take you less than 1H though.

Valuable tip: Get there in the mid afternoon (15-17h) and return only after having dinner while enjoying the sunset in one of the many beach restaurants.

Personal overall grade: 8/10
4

Meco beaches

If you are feeling a bit more adventurous, head further south to the Meco beaches. These are the next ones on the coastline following Costa de Caparica and since the 1970s are known as a naturist/nudist paradise.

Nowadays, it has gone much more mainstream, but still didn't lose its appeal as a getaway with perks such as lots of sand space and huge cliffs surrounding the beaches that even have waterfalls for indulging in fun mud baths. A natural spa! Bar do Peixe facing the sea at Praia do Meco is popular even outside bathing season and it has great seafood.

Minimum time to get there from Lisbon:

45min (car)

Valuable tip: To avoid the traffic, use the Vasco da Gama bridge as it can be a huge time-saver during weekends

Personal overall grade: 8/10
5

Arrábida beaches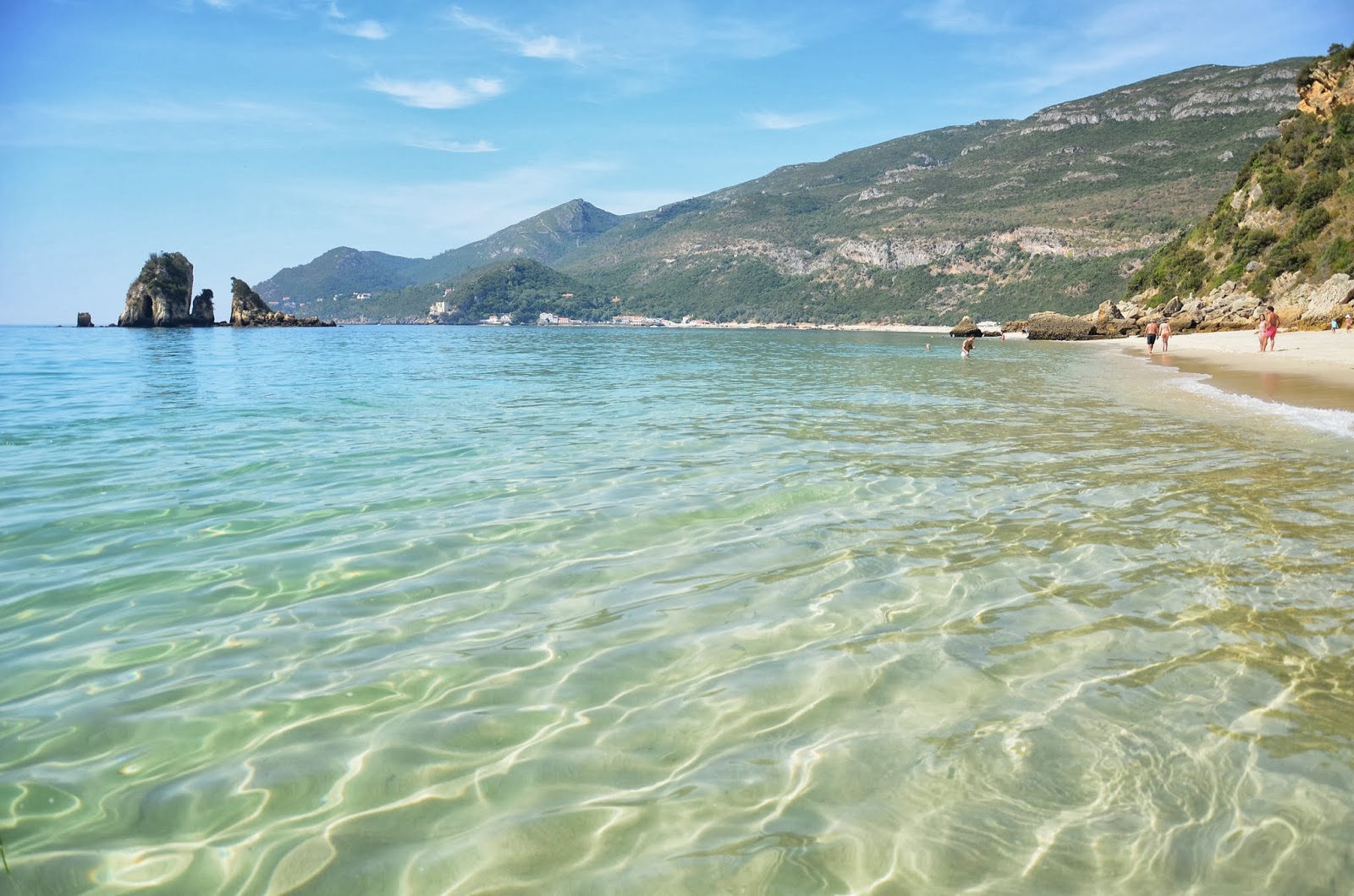 I have only been to 3 beaches in Arrábida, but it was more than enough to understand how beautiful this area is. This bay entails several beaches with the Arrábida Natural Park as the backdrop. Oh and the crystal-clear waters. The only place where I've seen waters this clear was in Zlatni Rat beach in Croatia.
The vibrant colours are fascinating. The contrast between the blue of the waters, the white of the sand and the green of the hills is just amazing. Although the lack of public transport and the few parking spots, it can be crowded during the weekends.
Most people praise the beach at Portinho da Arrábida. I personally think the best ones are Praia de Galapinhos and Praia dos Coelhos. You will need an additional 15-20min hike for both.
Minimum time to get there from Lisbon
: 1H (car)
Valuable tip: Parking is done on a one-way road, which means you'll need to go all around Serra da Arrábida to come back to Lisbon. Don't park your car too soon.
Personal rating: 10/10
6

Comporta beaches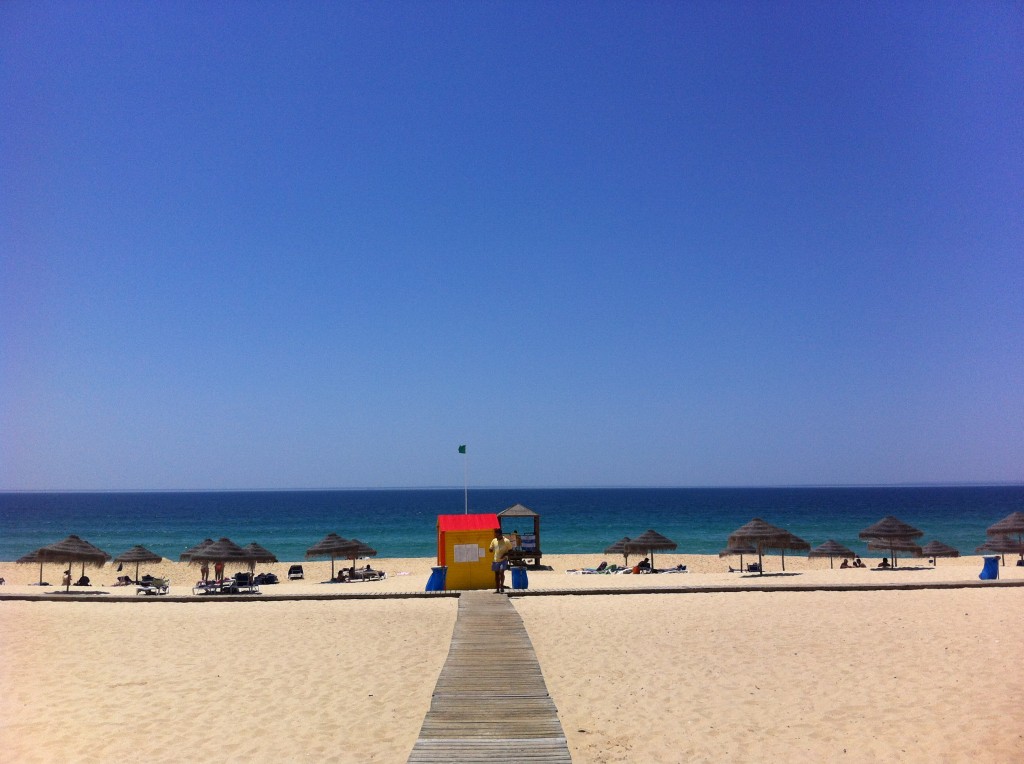 When I discovered Comporta I fell in love. Great food, an unique natural scenery of rice fields and a river estuary and of course, top-notch beaches with clear waters will make you fall in love too.
There is a lot more than just a square meter of sand to put your towel on which is refreshing. It is the perfect summer getaway weekend.
The best beaches around are the side-by-side Praia do Carvalhal and Praia da Comporta. They seem crowded when you first arrive from the parking area – lots of families! – but I only needed to walk a few minutes to find an inhabited area.
Minimum time to get there from Lisbon
: 1H20min (car)
Valuable tip: After getting a tan, make a stop at Café Central in the center of the village and order a delicious octopus salad.
Personal rating: 10/10
Beaches I do NOT recommend in Lisbon
There are plenty of other beaches around the capital. Beaches in the areas of Meco, Comporta and Sintra are almost all of great quality.
Closer to Lisbon, in Costa da Caparica, Estoril and Cascais, the story is a bit different. Most of these are easier to get to get to but that's precisely what makes them less enjoyable. Some can hardly be considered beaches on my view.
Beaches not to go to in Estoril and Cascais
The best example is Carcavelos beach. If you hop on the train in Cais do Sodré towards Cascais there is an entire coast of beaches to explore and Carcavelos is the most popular one. Locals from all the Lisbon suburbs – Amadora, Sintra and Oeiras – all converge here and there is a big offer of restaurants, surf shops and bars available.
From my experience this beach can get REALLY crowded during summertime and the water and sand are usually far from minimum quality standards. It can get noisy, packed and dirty fast. I haven't been there in years.
Apart from Carcavelos, avoid Santo Amaro, Caxias and Paço de Arcos at all means. They don't have very good reputation amongst locals either, but it amazes me to see people there every summer.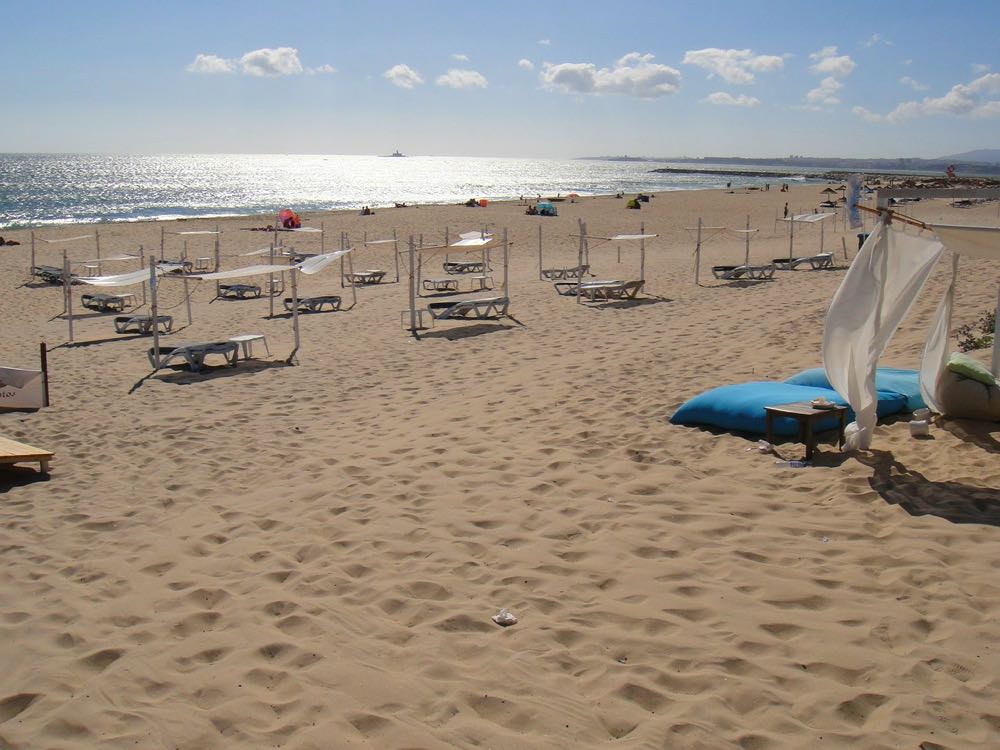 Beaches not to go to in Costa da Caparica
Costa da Caparica is a massive strip of sand – technically it's all the same beach – and the quality is generally very good.
Still, if possible try to avoid the beaches nearest to the river Tejo like Praia da Cova do Vapor and Praia de São João. Just go a bit further down and the quality of the sand and water will be considerably higher.
Lisbon is very trendy right now and hotels can sell out often. Book your hotel as soon as possible!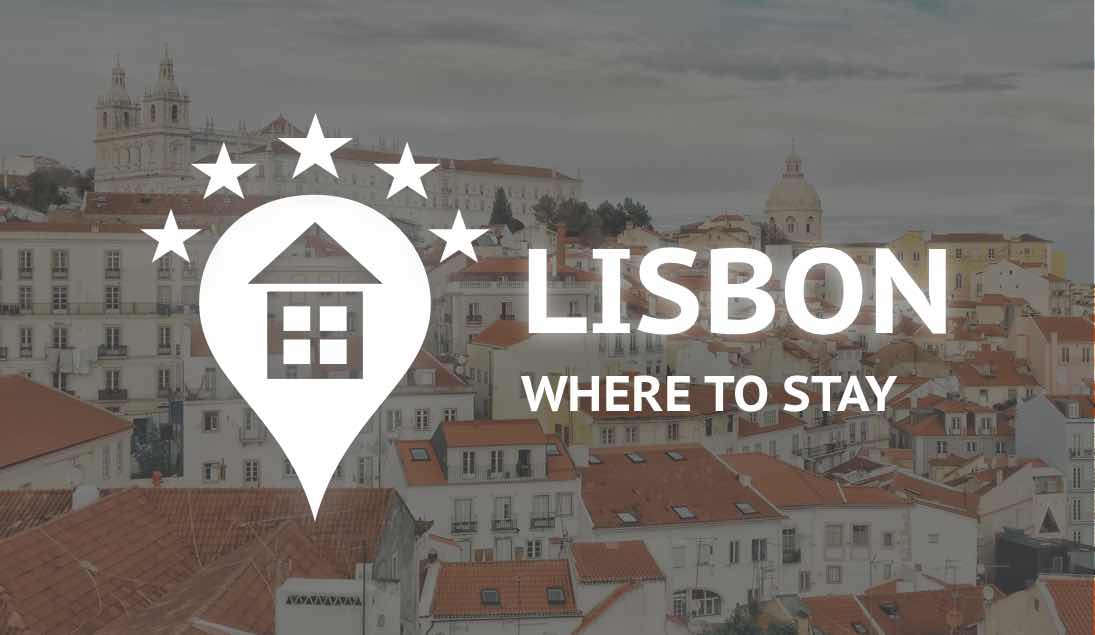 Top hotels in Lisbon
I've made the hard work for you.
This is a pre-filtered list of hotels in the best areas to stay in Lisbon.
The Lisbon Beach Experience
In a nutshell, the offer of beaches in Lisbon is impressive considering we're talking about an european capital. There are plenty of stunning beaches around, but it's better that you know where to go instead of landing on the first strip of sand you see.
If you want to have a high quality beach experience, it is definitely worthwhile to go farther away from the city and explore the wildest Atlantic beaches. Use the map I've shared with you in the beginning as a reference.
If you're planning a trip to Lisbon, find some more useful travel information below. And let me know about any beaches I'm missing!
LISBON MINI TRAVEL GUIDE
💰 Travel packages for Lisbon, Portugal
If you're coming from the United States, take a look at Azores Getaways. They have some flight + hotel + transfers deals for Lisbon, like this 6-night one, starting from 1149USD.
✈ Flying to Lisbon
You can now fly to Lisbon virtually from all the major airports in Europe. If you are flying from the rest of the world, you might want to check TAP Portugal (US, South America and Africa) or Azores Airlines (US).
To choose the absolute best price and check my options in terms of airlines, I usually use Skyscanner or Kiwi.
Where to stay in Lisbon ⭐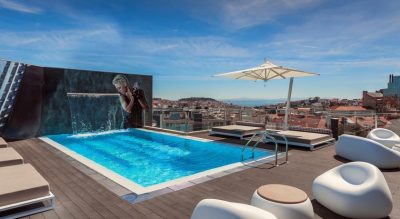 Hotel HF Fenix Music
Charmingly music-themed hotel, super close to the center. Oh it comes with this stunning rooftop swimming pool.
Book now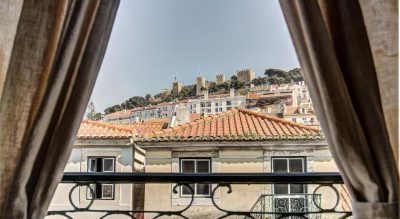 We Love F Tourists

Located in busy Rossio – the heart of Lisbon – it's just one of those amazing value places that will make you feel at home. Perfect to make friends. Check prices
Or you can do your own search. Use this list of quality hotels and guesthouses I've put together to get you started. ALL of these are located in the best central areas of Lisbon, with WiFi and with a rating of 8 or higher. Just pick your favourite!
🌞 Best time to go to Lisbon
Shoulder season has the best value-for-money relation in Europe – Portugal is no exception. While summers are long and you can expect good weather anywhere between May and October, make sure you avoid August. Unless you have a thing for packed beaches!
⚠ What you MUST do in Lisbon
Eat a Pastel de Nata. It will change you. Here are 6 other experiences to do while you're in Lisboa.
Best beaches in Lisbon – Summary
In summary, Lisbon has a wide choice of beaches around and that makes it a well-rounded capital city. Whether it's urban beaches, wild Atlantic beaches or even beaches surrounded by nature, I'm sure you'll find your perfect spot.
I highly recommend you rent a car to go to these beaches to minimize the time lost in public transportation, which to be honest is not great in the Lisbon suburbs.
Have you been to any of the Lisbon beaches? What was your favorite?