Coming to a remote island in the middle of Atlantic Ocean has so many challenges and questions you'll probably forget one of the most basic: how is the food there? Fear no more, this article will show you the local delicacies you must try and where to eat in São Miguel!
Home to stunning landscapes which allows for memorable experiences in touch with purest form of nature, the Azores islands are also a delight for foodies.
Being the largest and more populous island, São Miguel in particular is filled with quality restaurants and delicious things you will crave for months after your trip!
What to eat In São Miguel island
Like in the rest of Portugal, eating is an experience by itself in Azores. Based on a mediterranean diet, food is generally of great quality, based on local delicacies and with a very low price tag.
Here are some of the things you can't leave without trying:
Cozido das Furnas/Furnas Stew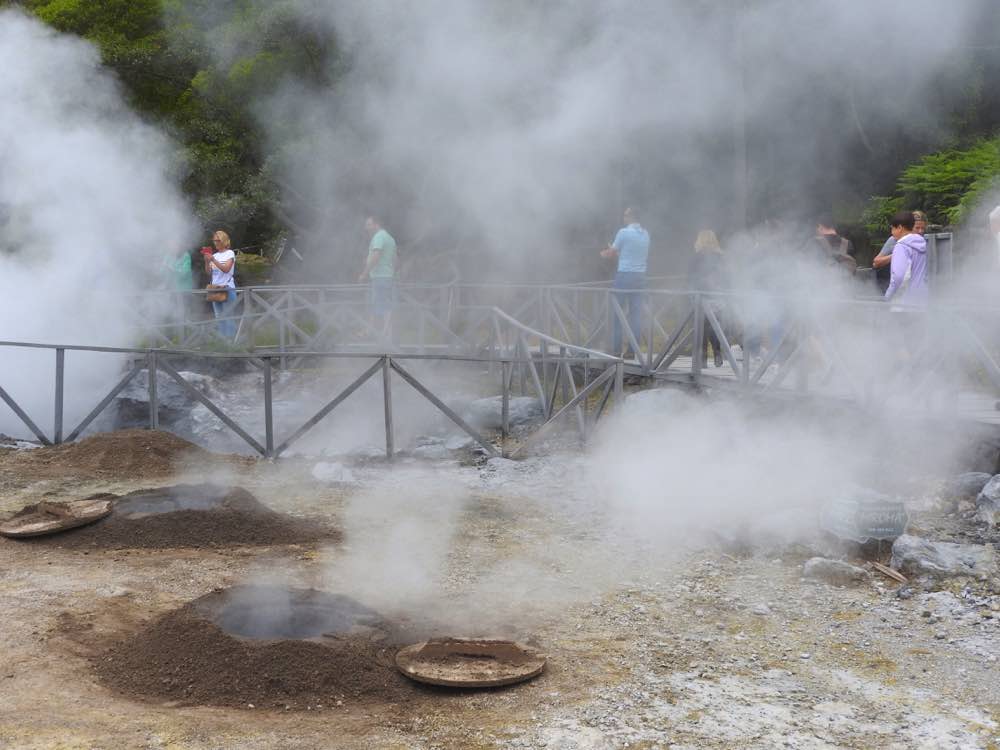 Perhaps the most popular dish in São Miguel when it comes to azorean food. Cozido is no more than a meat stew made in a large pot including pork, beef, chicken, sausage and vegetables. The unique twist here is that is cooked underground by volcanic steam. Yap.
In the banks of Lagoa das Furnas – a major geothermal and volcanic hotspot – you can watch as the pots are being hauled up from the cooking holes. This is one of the mandatory sights when touring the island.
It takes about six hours to cook which is a pain, but hey, how cool is to eat a meal prepared by Mother Nature?
Pineapple/Ananás
While the island is far from a hot equatorial weather, there is a warm organic-enriched soil which is perfect to grow many different fruits and vegetables.
This led to the building of pineapple greenhouses – which today are more than 6,000 in São Miguel. You can peek inside these structures in the A.Arruda Pineapple plantation.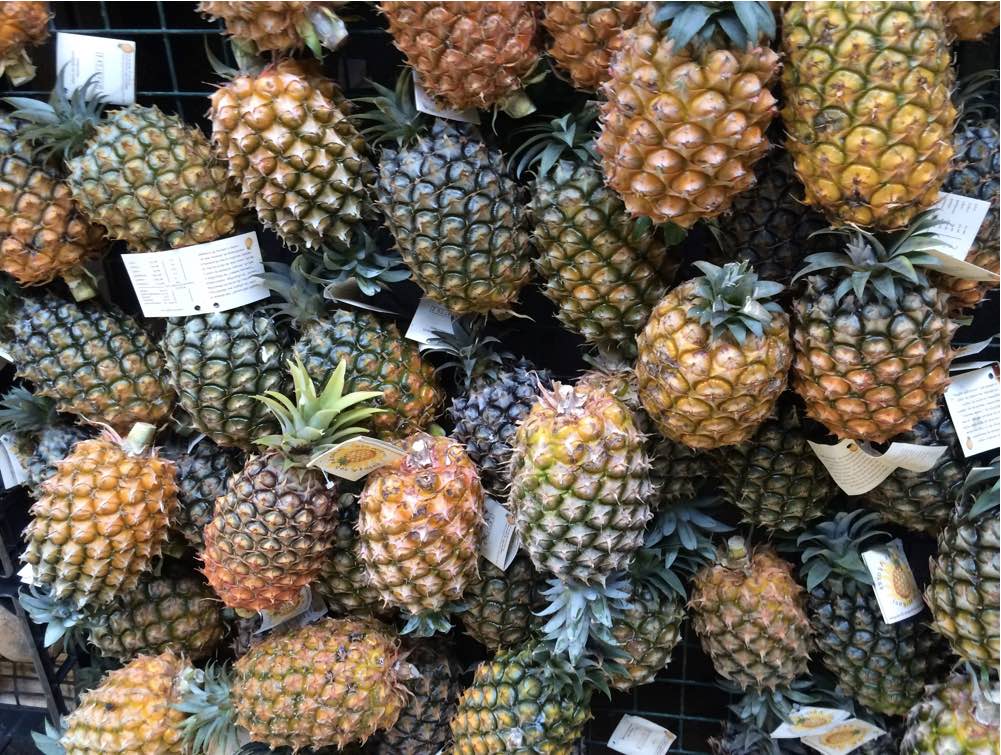 The good news is that you don't need to wait that long. The unique Azorean pineapple is smaller, sweeter and more succulent than their tropically grown brothers. More than that, it will probably outshine all the pineapples you'll ever taste onwards.
Limpets/Lapas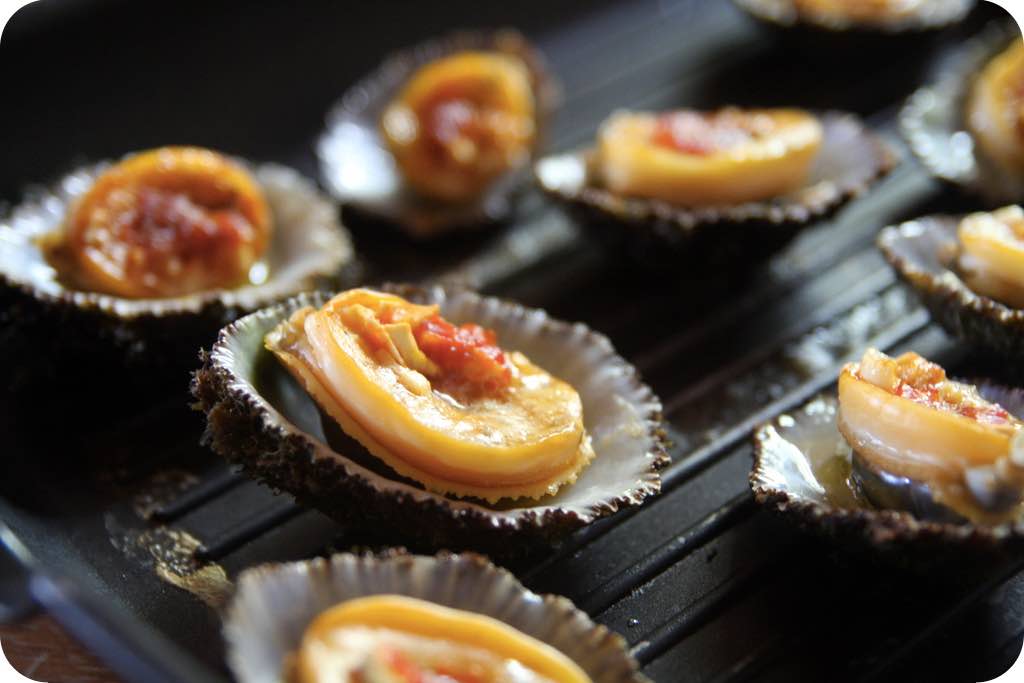 Limpets – lapas in Portuguese – are mollusks which have a conical shaped shell, living strongly attached to rocks along the shoreline. Similar to clams, but a bit superior in flavour in my opinion.
In the Azores they are typically served fried in a grill, just spiced up with a mix sauce of hot butter, pepper, garlic. In São Jorge island, a bit of cumin is also added. In the end, a bit of lemon to wrap it all up.
Some people even eat it raw, like oysters. Might be disgusting for you guys, but I love it, they really taste like sea. In any case, this is a local delicacy and you won't find in many other places in the world, so go for it!
Steak/Bife
So many happy cows feeding off the green meadows of São Miguel sadly also means… top-quality meat. And OMG, the steak (bife) in Azores is tender, juicy and… simply delicious.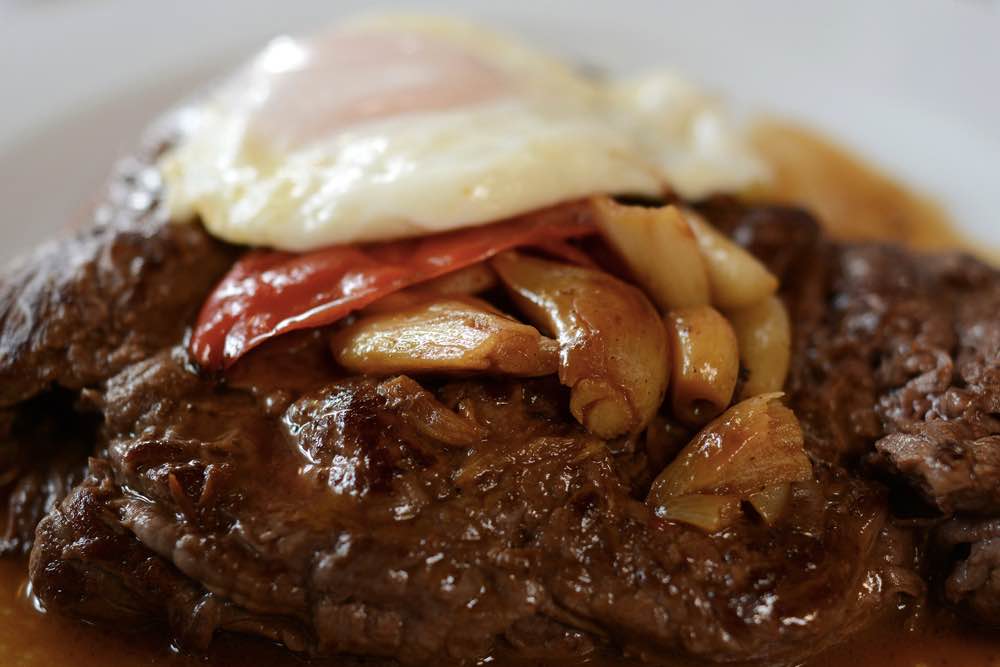 Unless you're a hardcore vegetarian, this is a MUST try. Look for the Bife à Regional in the menu, which comes with local pepper, garlic and a fried egg on top.
Bolo Lêvedo

Hard to describe this. Let's say it's like a hybrid between a cake and a bread.
Originally made in the Furnas village, versatility is its main feature. You can eat anytime with anything you want. Try it with jam, cheese or even as the bread for an hamburger!
Book your hotel in São Miguel as soon as possible for the best deal!
I've made your life easier and you can start your search with my pre-selection of the hotels/guesthouses/villas in the island of São Miguel. This list only includes the top-rated reviewed hotels in São Miguel, with wifi included. Hard to go wrong with these!
Or explore the latest hotel deals:
Queijada da Vila

Queijadas da Vila are surprisingly simple in theory – made from milk, eggs, butter, flour and sugar – but they promise to rock your taste buds if you have a sweet tooth.
Originally created in a convent by nuns, these yolky custards from Vila Franca do Campo are one of the best examples of baked goods in Portugal.
Look out for a crisp white paper in restaurants, cafés and bakeries throughout the island. Or go directly to the source, to the factory next to Vila Franca do Campo's marina, where you can taste them when they are fresh out of the oven.
Tea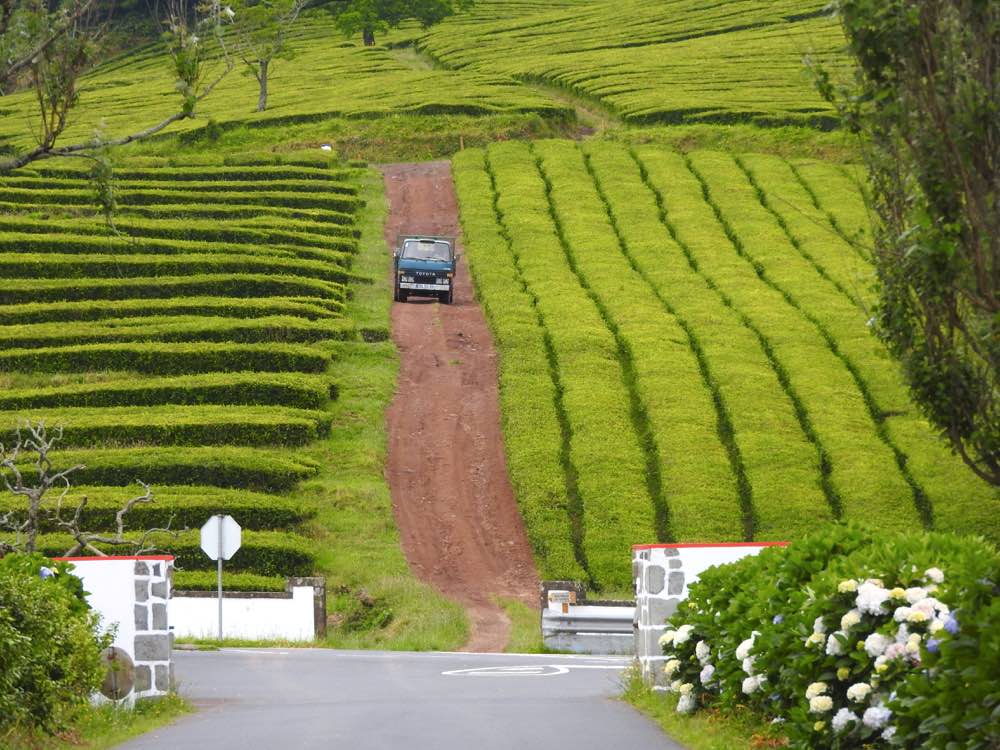 Enough of eating, let's talk about drinking too.
The Gorreana Tea Estate has been producing organic black, green, and orange pekoe teas since 1883. It's the only tea plantation in Europe and definitely a place to go when touring São Miguel. When visiting their site near Ribeira Grande, you can taste first-hand the several types of tea but also take a peek into the mesmerizing tea-making process inside the factory.
Tip: The little boxes of Gorreana tea make great gifts too.
Other Things To Try
Following the same food standards of the mainland, there are other things you should try during your time in Azores. Some of them are specialties from other islands which São Miguel "imports":
Tuna: Try the tuna steak in the local restaurants, you won't regret!
Peixe-porco: The pig fish filets are to die for and available in many restaurants throughout the island.
Queijadas da Graciosa: Delicious star-shaped sweet typical from Graciosa island.
Queijo de São Jorge: Granted with the Protected Designation of Origin status, the cheese from São Jorge island is aged for months until it reaches a yellow color and a semi-hard consistency. In São Miguel, you can see the huge cheese wheels stacked in O Rei Dos Queijos, next to the city market in Ponta Delgada.
Wine: You know wine is one of the reasons to visit Portugal, right? Well, with the island of Pico growing vineyards in basaltic terrain and organically-enriched soil, the Azores are no exception.
Places To Eat In São Miguel
Restaurants in São Miguel are great value for money. You can have a great quality meal for about 20-25 euros / person in most places, while most places offer lunch menus that make the price tag go down to 10-15 Euros.
Here are my some of favorite restaurants and places to eat in São Miguel serving local food: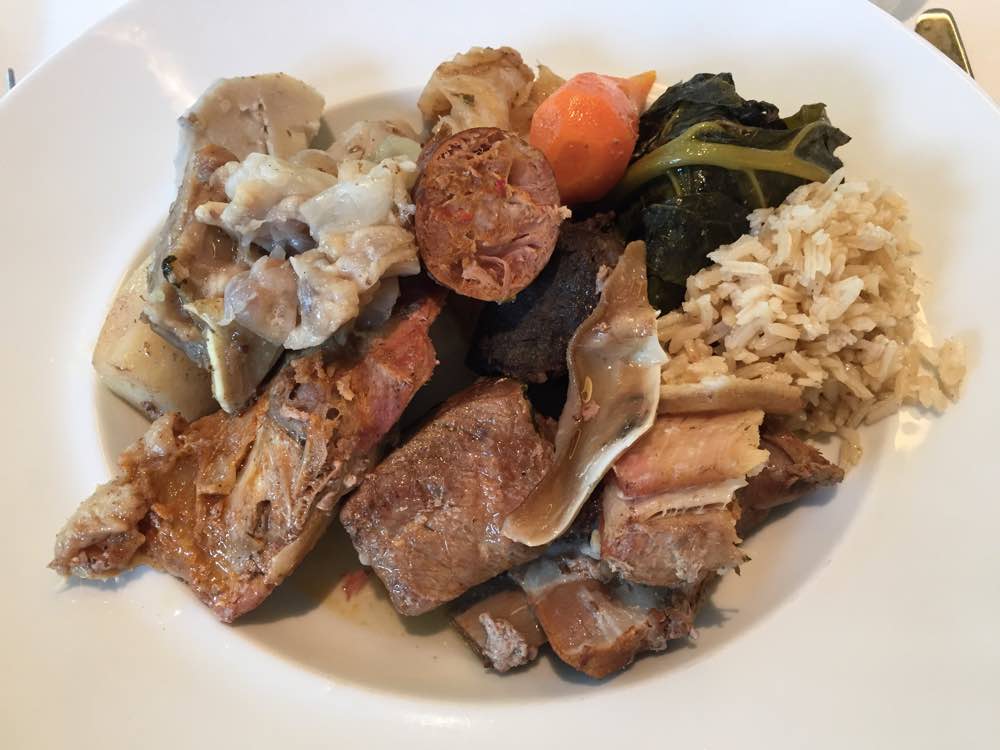 Located literally in the middle of the majestic Terra Nostra Park in Furnas, this hotel restaurant is open for everyone to taste the delicious local food in a beautiful setting.
At lunch time, they have the traditional Cozido das Furnas cooked in the cooking holes. With a gorgeous view and fine service, this is great value-for-money!

While it can be a bit expensive for Azorean standards, it's one of the best places in the island for having a juicy tender steak.
This restaurant belongs to the association of farmers of São Miguel, so everybody knows the meat here is of top-notch quality. Not suitable for vegetarians.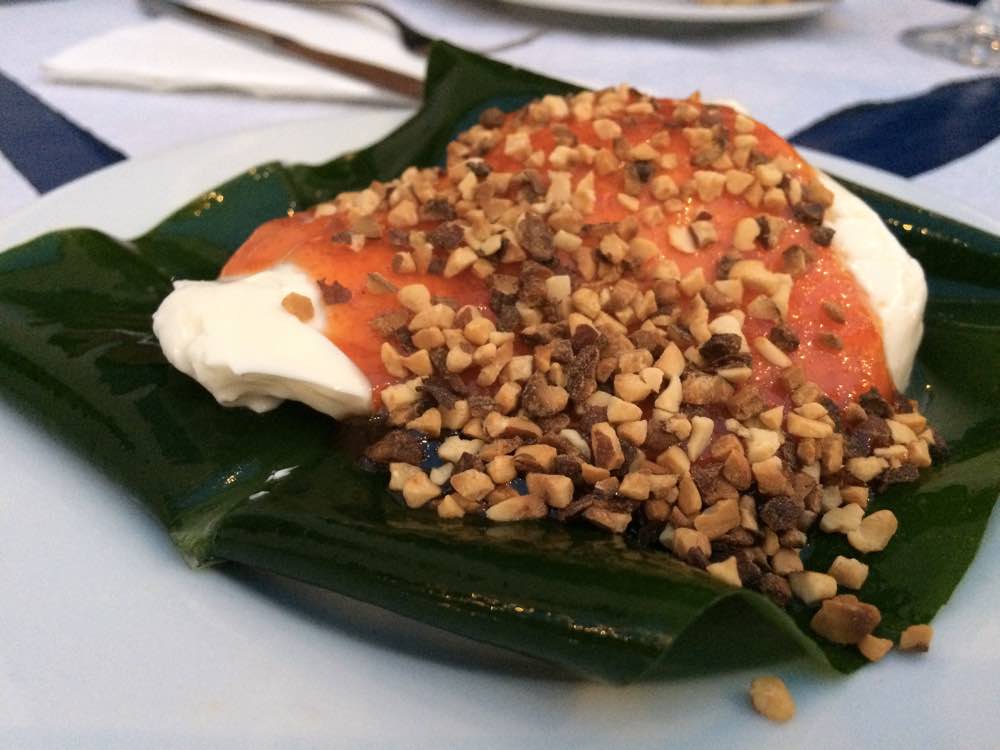 Great local food with a lively atmosphere right in the center of Ponta Delgada. I have tried the tuna, the francesinha or the daily fish specialties and everything was de-li-cious. This place is probably my favourite restaurant in São Miguel but beware, it's always packed!

Small unpretentious restaurant serving farm-to-table meals. I mean, the restaurant has a view to the farm. There's no fixed menu here – just whatever the land provides and what's fresh on the fish shop – so get ready for a food experience.
Other Places To Go
I used to recommend Cais 20 as one must-go for seafood, but not anymore. My last experiences there were dreadful. I'll only say it includes seafood soup made from Knorr package mixes. It is one of the most well-known restaurants in the island but IMO it's totally overrated.
Try these ones instead:
Pedro Homem: 2-in-1 restaurant serving both sushi and meat-based plates. I can definitely recommend the sushi, where mostly local Azorean fish is used.
Taberna Açor: I'm not a huge fan of this placeThey've upped their game and I'm now a fan! Very good azorean tapas and wine.
Alabote: A popular restaurant for seafood in Ribeira Grande.
Bar Caloura: Great grilled fish with a gorgeous view to the sea. Sometimes impossibly busy though.
Tukatulá: Don't expect a fancy cuisine – it's actually a beach bar – but the snacks are good. And the view to Santa Bárbara beach is bliss.
Vegetarian Restaurants in São Miguel 🍃
While dietary restrictions are far from being featured in most restaurants in Azores, you can find a few good vegetarian options in Ponta Delgada. You'll likely find a vegetarian option in the menu of most places, but don't expect the meal of your life.
Rotas da Ilha Verde: I go for their lunch menu all the time. Delicious.
Vitaminas and Salato: these are chains that focus on make-your-own salad bowls. A great option for a veggy, inexpensive, and healthy meal.
Santo Seitan: serves vegetarian and vegan meals with a menu that changes daily, but I have to say I didn't love the food here!
As for the rest of the island, the fancier the place, the higher the chance of them having a vegetarian option in the menu. From personal experience, I know that places like Tasquinha Vieira, Otaka or Louvre Michaelense in Ponta Delgada all have vegetarian options but it may not be so easy if you venture out to smaller villages or towns in the island.
Planning a São Miguel trip independently
Booking a flight to São Miguel
If you are not from the US or simply not into vacation packages, you're better off by booking your flight through Skyscanner or Skyscanner independently.
As a rule of thumb, flights to Azores are considerably cheaper from Porto, Lisbon or London.
Booking a hotel in São Miguel
Arranging accommodation before going is highly recommendable. São Miguel is in high demand right now and hotels in the island can sell out, especially in high season.
You can start off by this curated list of insights about my favorite hotels, this pre-filtered list of hotels, guesthouses and villas in São Miguel.
Or go with one of my top 3 options:
Renting a car in São Miguel
Book your car rental as soon as possible. There have been some days in the summer where there are virtually NO CARS available to rent in the island. True story.
If you're not comfortable driving manual, automatic cars are available but in even less quantity though.
Use Skyscanner or the below RentalCars to compare rental prices. Both are reliable and quickly give you an overview of prices across available operators.
More resources to know more about the Azores
Am I forgetting something? Do you have any other food recommendations in São Miguel?