São Miguel is the ideal setting for nature lovers who want a different kind of vacation, away from touristy crowds and filled with memorable experiences. I hope this São Miguel guide gives you the necessary insider advice for a smarter travel to my home island!
Located a two-hour flight from mainland Portugal, Azores are the Atlantic's best well kept secret. Here you can find all kinds of nature delights to get you back in touch with unspoiled nature: crater lakes, valleys, hot springs, whales and dramatic cliffs.
São Miguel is the largest island in the archipelago and home to the biggest city: Ponta Delgada. At any part of each island you will be amazed with the contrast of the blue of the ocean with the vivid green landscapes.
It's not because it's my home island. I still haven't seen a place with so much raw beauty in my life. The contrast between the blue waters and the green landscapes is astonishing!
Sections of This São Miguel Guide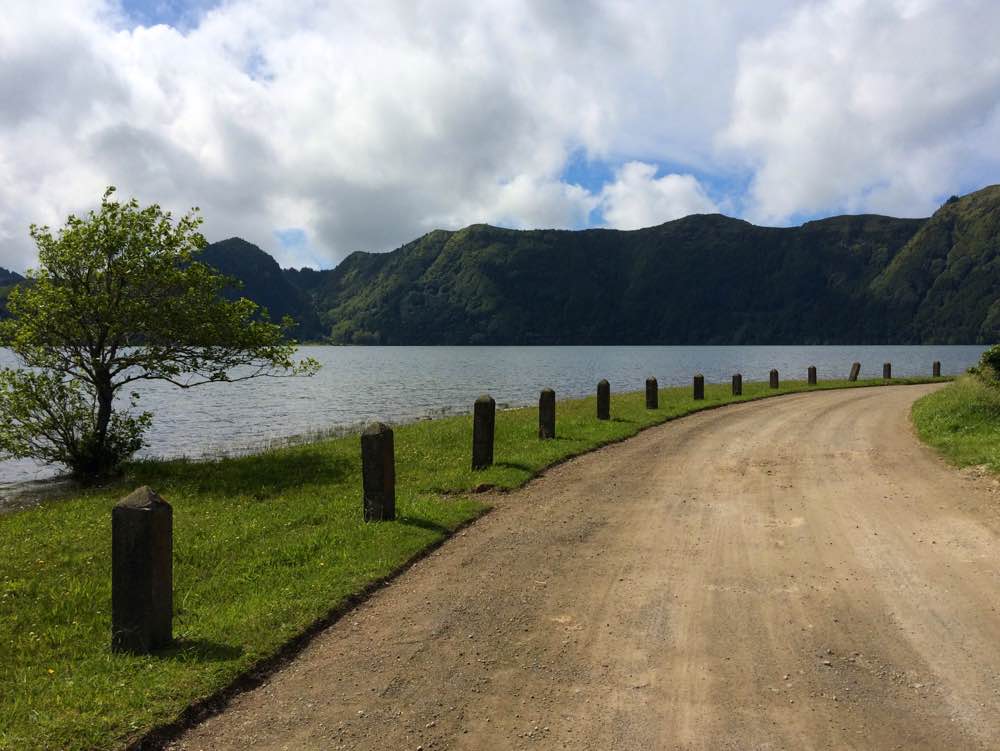 How To Get to São Miguel
Unless you want to adventure yourself to get there by boat, the easiest way is by plane. During many years, only Azores Airlines had flights to the Azores, which made it a very expensive destination.
Nowadays, São Miguel has direct flights from many airline companies, not only to mainland Portugal, but also to countries like Spain, Denmark, UK and the United States.
List of companies with regular flights to São Miguel:
Air Berlin
EasyJet
Primera Air
Ryanair
Best Time To Visit São Miguel
Weather-wise, the Azores are known for their ever-changing weather. Locals know we can have the four seasons in just one day! It's a leap of faith. Having that said, the best time to go are the Summer months, June to September.
Make sure you check Spot Azores. With this website and mobile app, you can check live webcams and chase the sun all around the islands. Make sure you know what to pack for Azores too.
But choosing the best time to visit the Azores is much more than just looking at the good weather. Eventually it all comes down on your interests and which activities are you most willing to experience in the islands: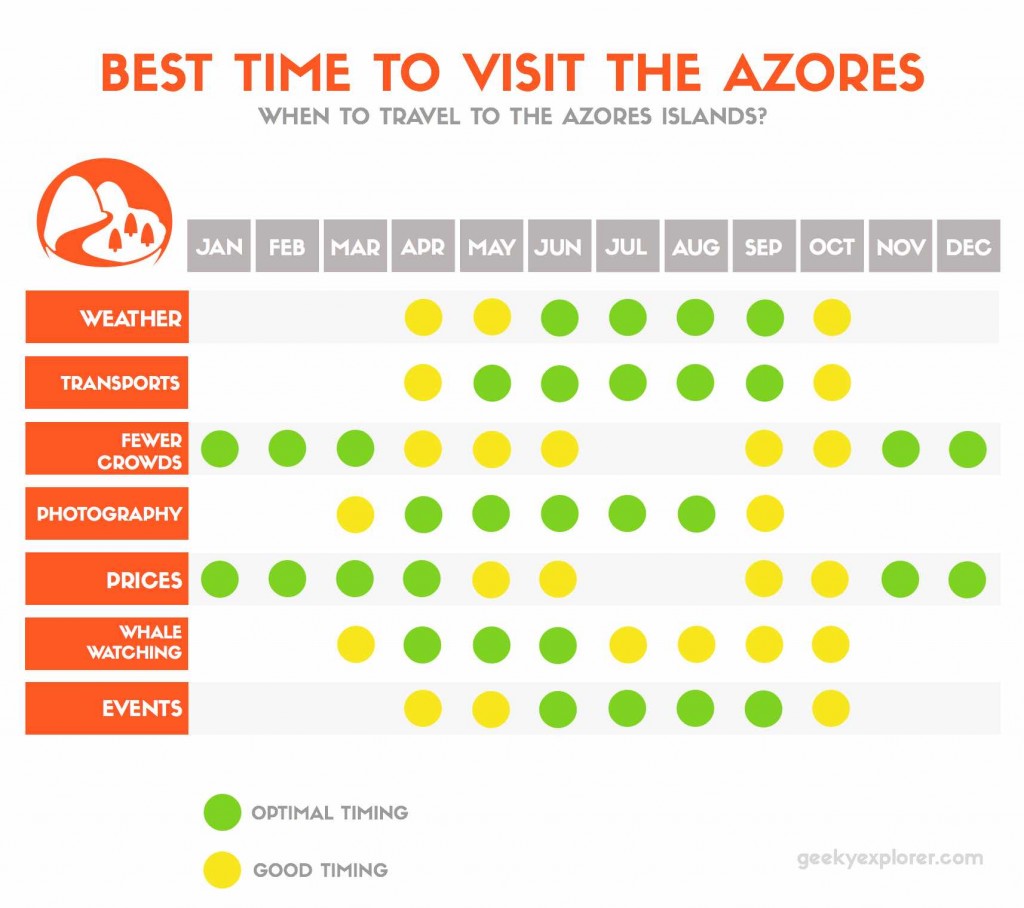 Adding all these criteria to the mix, June or September looks like winners to me. But you can find a month-by-month analysis on my page about the best time to visit the islands.
No more wait, find where to stay in São Miguel today!
Top 3 Places To Go In São Miguel
You can expect a lot more awesome spots in the island – I've highlighted at least 20 of them in my São Miguel itinerary article.
It's really hard to keep the list so damn short, but perhaps the top three spots are three lakes, each one in a different part of the island.
Lagoa do Fogo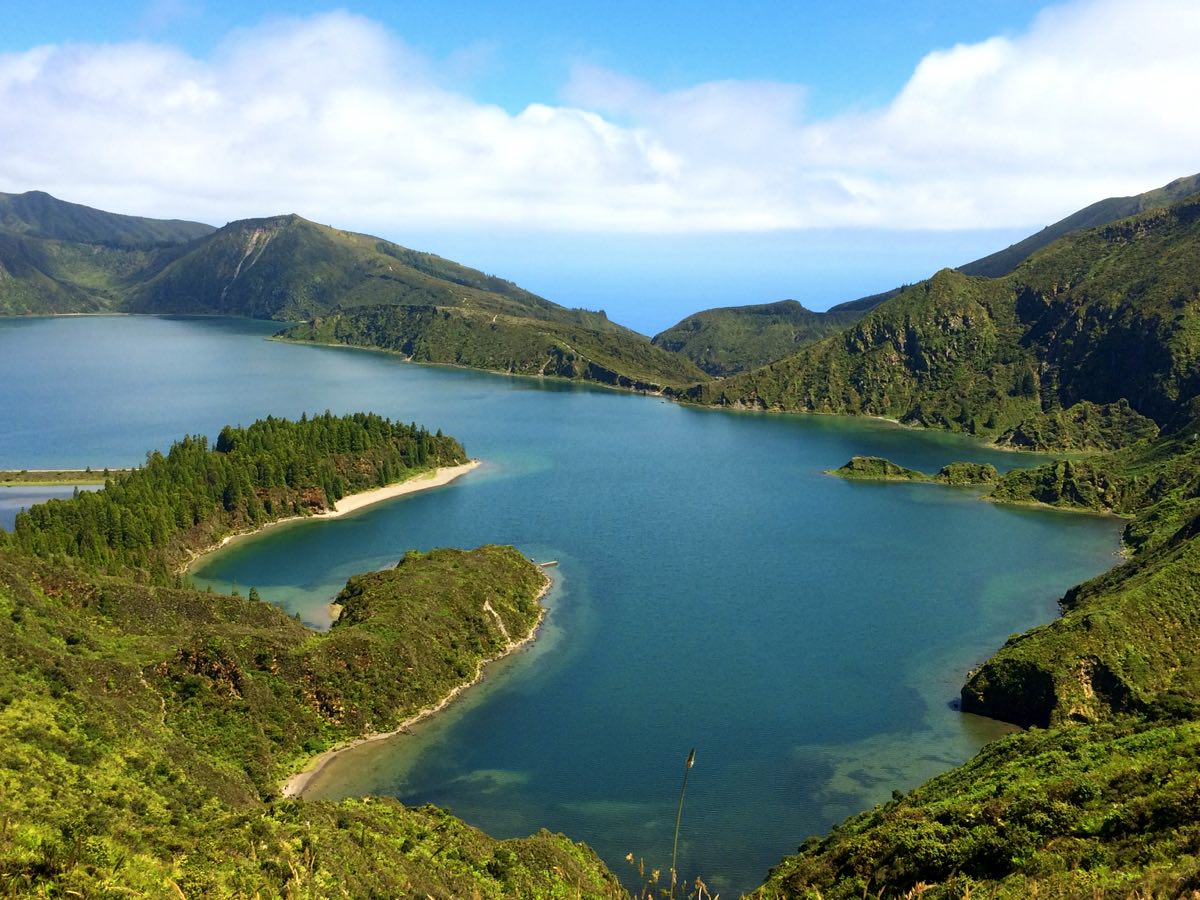 This is the kind of gorgeous nature that grabs hold of you tightly. It's such a wild area in the island – modern construction is not permitted to be built in this area – that once you're next to this lagoon, all you can hear are the seagulls all around you. A truly magical place and one of the top places in my São Miguel itinerary.
Lagoa das Furnas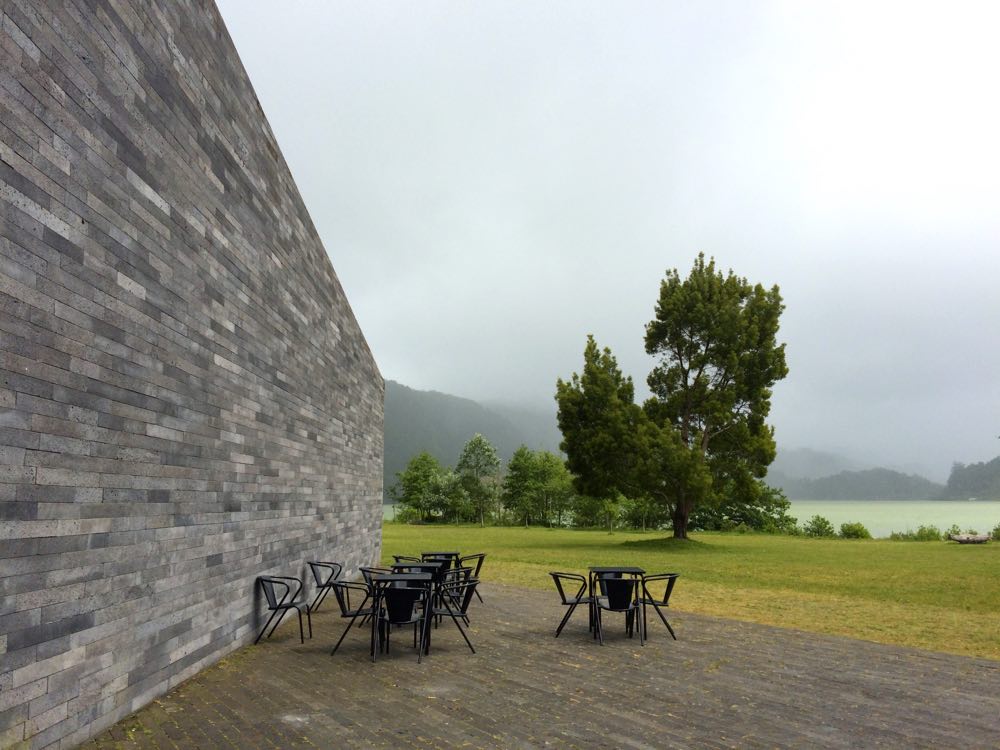 Another one of the 3 main lakes in São Miguel. The hike to the gothic church sitting in the west shore holds beautiful sights. There's also a new Interpretation Centre to better understand the efforts being done to preserve the lake as it is, despite the agriculture and tourism pressures.
On the opposite shore of the lagoon, there are hot springs where you can actually see boiling water and muds as well as holes in which they cook the famous Cozido das Furnas (Furnas stew).
Lagoa das Sete Cidades
Lagoa das Sete Cidades (Sete Cidades Lagoon) with its green and blue lakes is the most well-known postcard of the Azores. You'll see it in every brochure, ad or article about the islands.
However, the whole area of Sete Cidades in the west of the island is filled with lakes and lagoons and spectacular views. One of my favorites is Lagoa de São Tiago, the greenest of them all!
The Azores have been consecutively named one of the top sustainable destinations worldwide. Yet with the increasing tourism pressure, this fragile balance it lies in can quickly be disrupted.
When you're in the island, please be aware of your impact at all times. Leave nothing but footprints and consider any activities causing visual and noise pollution. Don't help spoil what has been unspoiled for centuries!
Top 3 Things To Do In São Miguel
In such a naturally gifted place, outdoor activities should be on top of your priorities.
There is a LOT to do!
Whale-Watching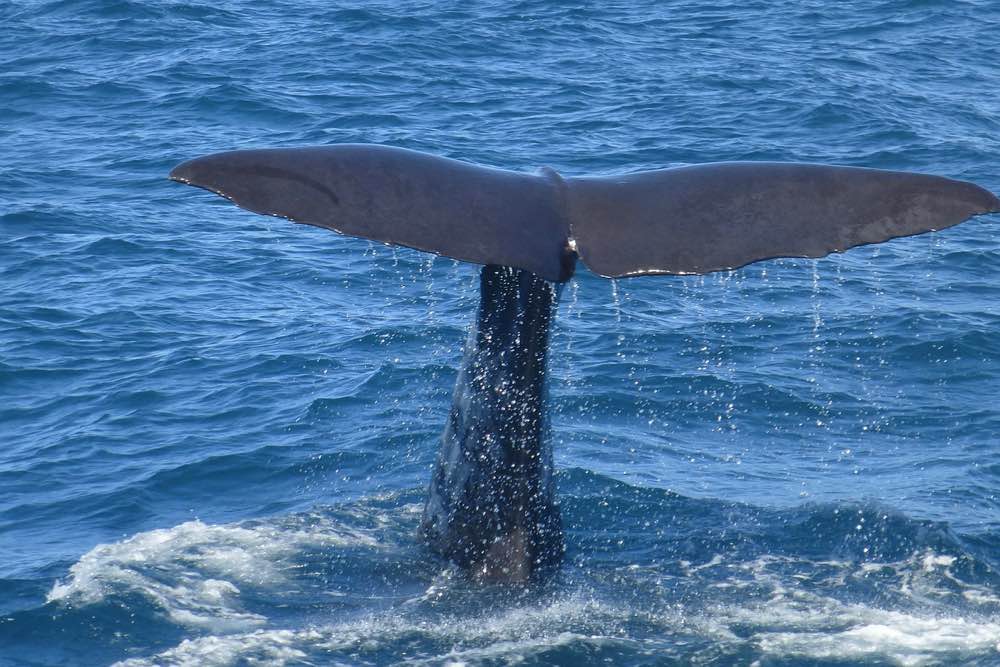 Azores are a renowned world-class whale watching spot, so I'd highly recommend adding this to your bucket list when you're in the islands. Up to 10% of ALL known cetacean species can be seen in a single three-hour trip.
April to June are the months of the year where the migratory routes of cetaceans overlap the most. Check the full whale-watching calendar here.
Hiking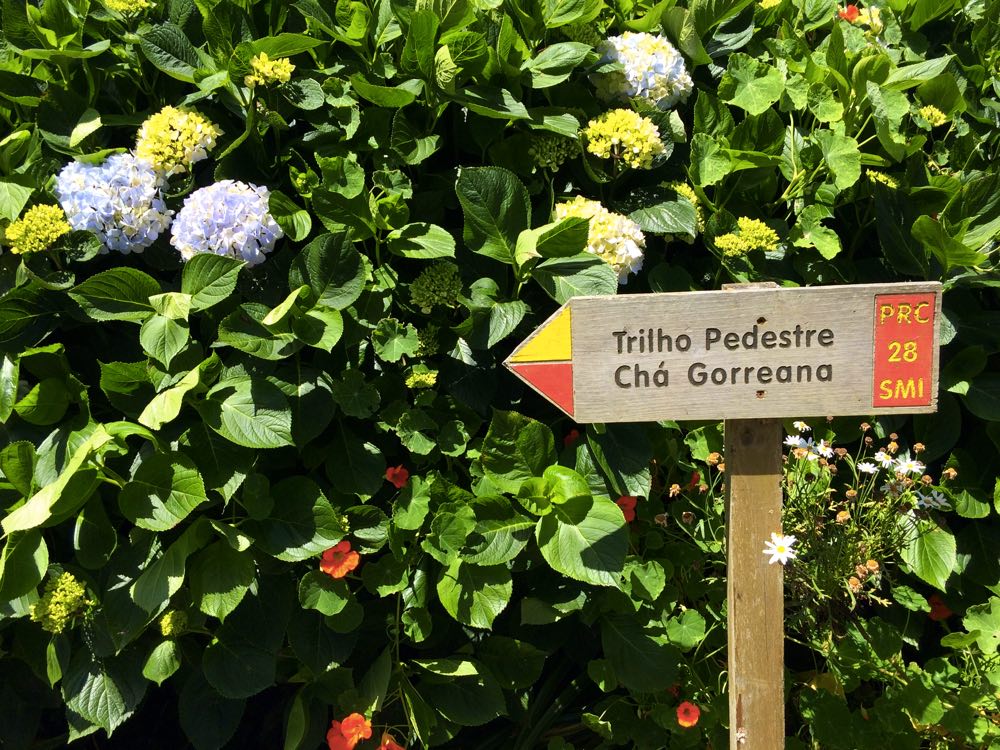 São Miguel island is home to many scenic hiking trails, packed with volcano craters, lagoons, small rivers and waterfalls which are accessible only on foot.
Perhaps the most popular one is hiking down Lagoa do Fogo, but there at least 20 official trails in the island. These cover all ranges of difficulties, lengths and all kinds of landscapes.
Have a volcanic lunch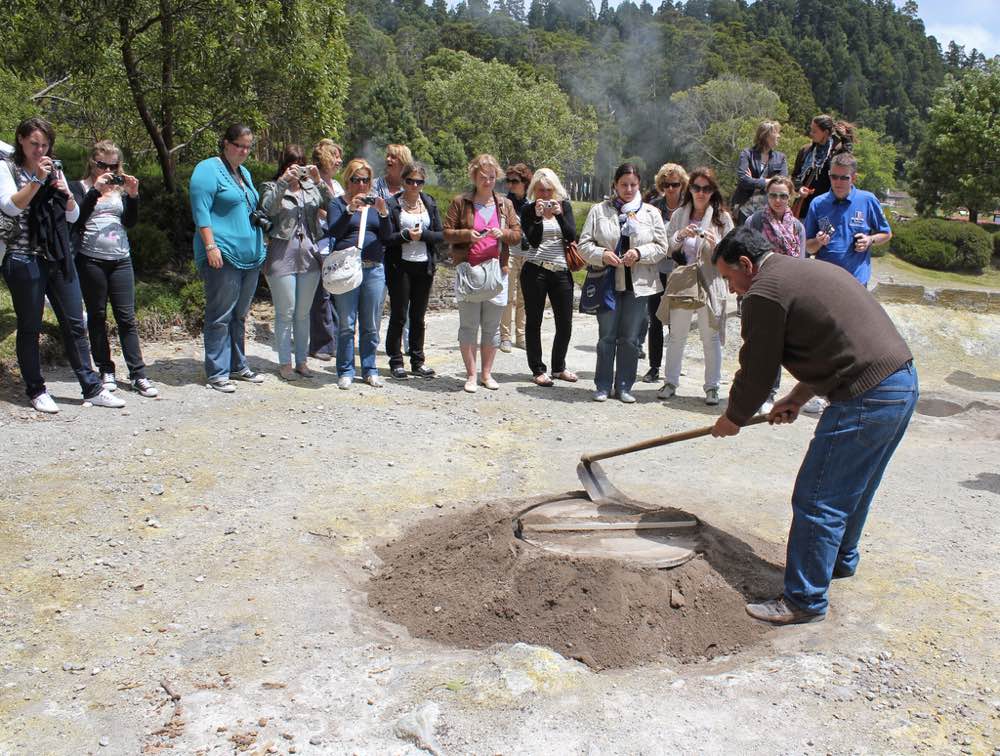 Cozido das Furnas (Furnas Stew) is a stew cooked that is boiled… underground. Yap. The food is placed in holes of the hot springs of Furnas and the volcanic heat works its magic during 4+ hours to add an unique flavour to the meat and vegetables.
You can have this volcanic lunch by going directly to one of the restaurants in te Furnas village that have the Cozido daily on the menu.
São Miguel Food
The food you can expect to eat in São Miguel does not differ much from what you can find in mainland Portugal. This includes a diet with a lot of fresh fish – specially cod, vegetables and many meat-based comfort food.
Apart from the Cozido das Furnas mentioned before, there are some local delicacies filled with tradition and unique flavour you have to try in São Miguel!
What to Eat in São Miguel
Ananás: Seems rather odd to highlight a piece of fruit, but the very famous Azorean pineapple is famous for a reason. Its extra sweetness it will probably make all the pineapples you've ever tasted banal.
Bolo Lêvedo: A hybrid between a cake and a bread you can eat anytime. Try it with jam, butter or even as an hamburger!
Bife à Regional (Regional Steak): So many happy cows living the green pastures of São Miguel also means… good beef. The meat in Azores is simply delicious, so unless you're a hardcore vegetarian, you MUST try the steak, azorean style.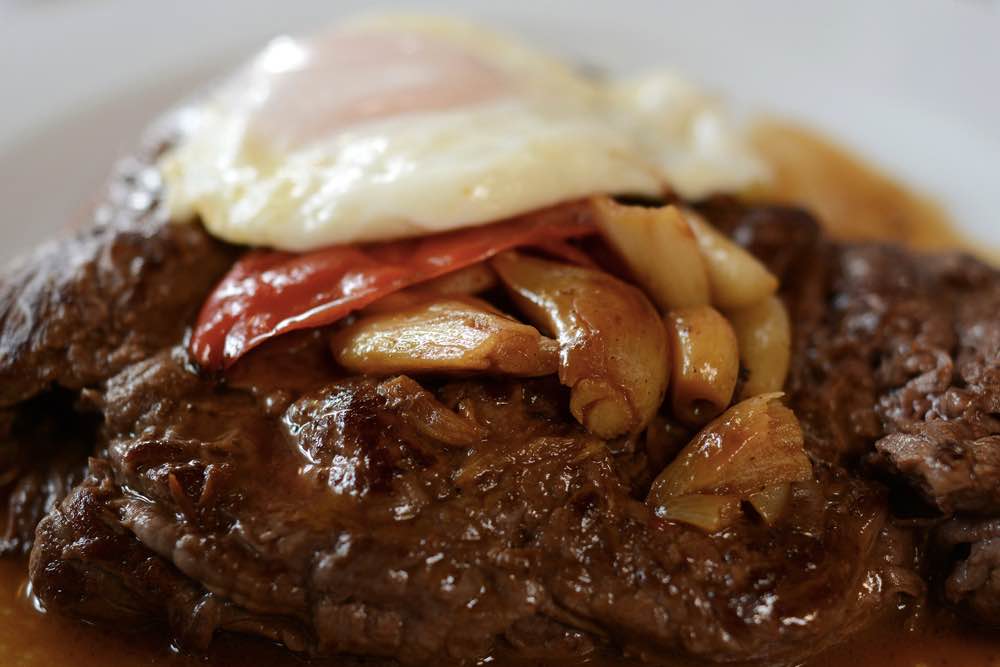 My Favorite Places to Eat in São Miguel
Associação Agrícola: While it can be a bit expensive for Azorean standards, it's one of the best places in the island for having a juicy tender steak. Not suitable for vegetarians.
Terra Nostra Garden: Located literally in the middle of the majestic Terra Nostra Park in Furnas, this hotel restaurant is open for everyone to taste the delicious local food in a beautiful setting. Great value-for-money!
A Tasca: Great local food with a lively atmosphere in the center of Ponta Delgada. This is as azorean as it gets. It's always packed.
Note: I used to recommend Cais 20 as one must-go for seafood, but not anymore. My last experiences there were dreadful. I'll only say it includes seafood soup made from Knorr packages. Totally overrated!
Still hungry for more? Check my food guide of São Miguel, with the best places to eat in the island.
Where To Stay In São Miguel
I recommend staying at least three to four full days in São Miguel. Allow yourself some time to unwind and explore the landscapes the island has to offer.
These are my three best hotel suggestions in the island:
⭐ My top hotel recommendations in São Miguel ⭐
Hotel Azor, Ponta Delgada
Premium hotel with modern design (opened in 2016) and within walking distance to the city center and to the ocean. Ah and there's a gorgeous pool on the terrace!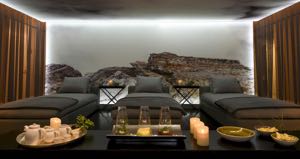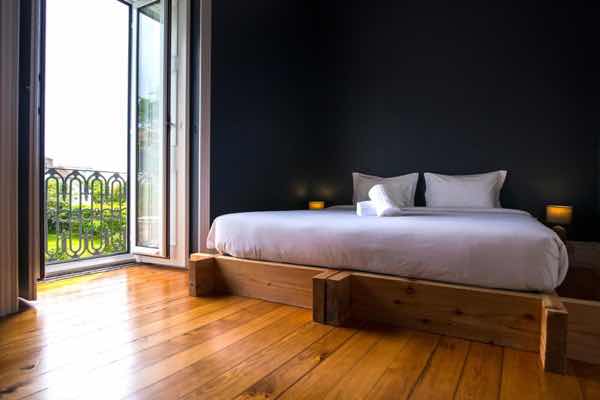 Or search for yourself!
To make your life easier, you can start your search with my pre-selection of the hotels/guesthouses/villas in the island of São Miguel. The list only includes rooms with wifi and with good-to-excellent reviews, hard to go wrong with these!
Holiday Packages in São Miguel
I usually don't use travel agencies to book holidays. I have to make an exception for Azores Getaways because I really think they have some pretty good prices for flight + hotel to the Azores – starting at 499USD.
Plus, you can customize your package by adding one or two islands to your itinerary which is great. I recommend using them if you:
Are flying from the United States
Don't have much time to plan your holidays
Like to have everything sorted when arriving your destination
If you don't fall into these categories, you're better off by booking your flight and hotel in São Miguel independently:
Don't let the prices rise more. Book your accommodation in São Miguel now!
How Many Days To Stay In São Miguel
While the island is not too big, there are a ton of activities which can take up some time. Also, weather is quite unpredictable, so it would be a good idea to have a time buffer.
I suggest a minimum of 4 full days in São Miguel, which coincides with my island itinerary. This is enough to get a good grasp of the island vibe and have time to enjoy stuff like whale-watching or just relax the entire afternoon on an hot spring.
São Miguel Travel Review
Whenever I write about my home island, I try to see things on the shoes of a traveler. It helps avoiding getting my bias out of control.
But it's hard to not get excited about São Miguel. I'm sure the vibrant green of the fields, the bright blue of the lagoons and the dramatic landscapes will win you over in a heartbeat. In a well-connected world where more and more people travel everyday, it's very hard to find a place with such unspoiled beauty and at the same time, safe and friendly.
I really think it's one of these places it will boom as a travel destination over the next few years – with all good & bad things this will entail. Meanwhile, trust me, the best time to go is now!
São Miguel Travel Ratings
☆☆☆☆☆ – nhec!
★★★★★ – wow!
Accessibility: ★★★☆☆
Accommodation: ★★★☆☆
Activities/Things to do: ★★★★☆
Cost (Overall): ★★★★☆
Food: ★★★★☆
Getting Around: ★★☆☆☆
People and Culture: ★★★★☆
Safety: ★★★★★
Scenery and Environment: ★★★★★
Uniqueness: ★★★★★

OVERALL TRAVEL SCORE: 39/50
Useful Links
More articles about the Azores