This is a complete travel guide to Santa Maria island in Azores, Portugal. Find local tips of the best places to go, where to stay, and where to eat.
Amidst the vast expanse of the Atlantic Ocean, the Azores archipelago is a treasure trove of breathtaking landscapes. While each of its islands holds an unique charm to be explored, the easternmost island of Santa Maria stands out as one of the lesser known. But from gorgeous sandy beaches to scenic hiking trails, there's plenty to keep you busy at this Azorean sunny spot.

How to get to Santa Maria
The only way to reach the serene shores of Santa Maria is by air. Santa Maria Airport (SMA) has regular flights to Lisbon (LIS) and specially Ponta Delgada (PDL) in São Miguel island.
Note: AtlânticoLine ferries between Santa Maria and São Miguel stopped during the pandemic, so are currently not available. They are rumoured to come back in 2024.
Where to stay in Santa Maria
Best area to stay in Santa Maria
Santa Maria is not a large island, so logistically it doesn't make a huge difference where you stay – pretty much anywhere in the island is a short 20-30 min drive away.
That said, I would recommend staying near Vila do Porto for accessibility and also for a wider variety of restaurants to go for dinner.
Best stays in Santa Maria
There aren't a lot of accommodations in Santa Maria, like other places in the Azores. The few larger hotels are an option, although there are other more authentic stays like villas and typical houses suited for longer stays or a home-away-from-home feel. Many come with ocean views, letting you wake up to the sound of waves.
My top choice is Charming Blue.
Located in the heart of Vila do Porto, this is a comfortable, clean, friendly hotel with good views – perfect to use as base to explore the rest of the island.
What not to miss in Santa Maria
Pico Alto Trail

As in rest of Azores, hiking trails on Santa Maria are a hiker's dream. While the whopping 76km of the Santa Maria's Great Route are not for everyone – the Pico Alto trail, leading to the island's highest point, offers views that are worth every step.
Baía de São Lourenço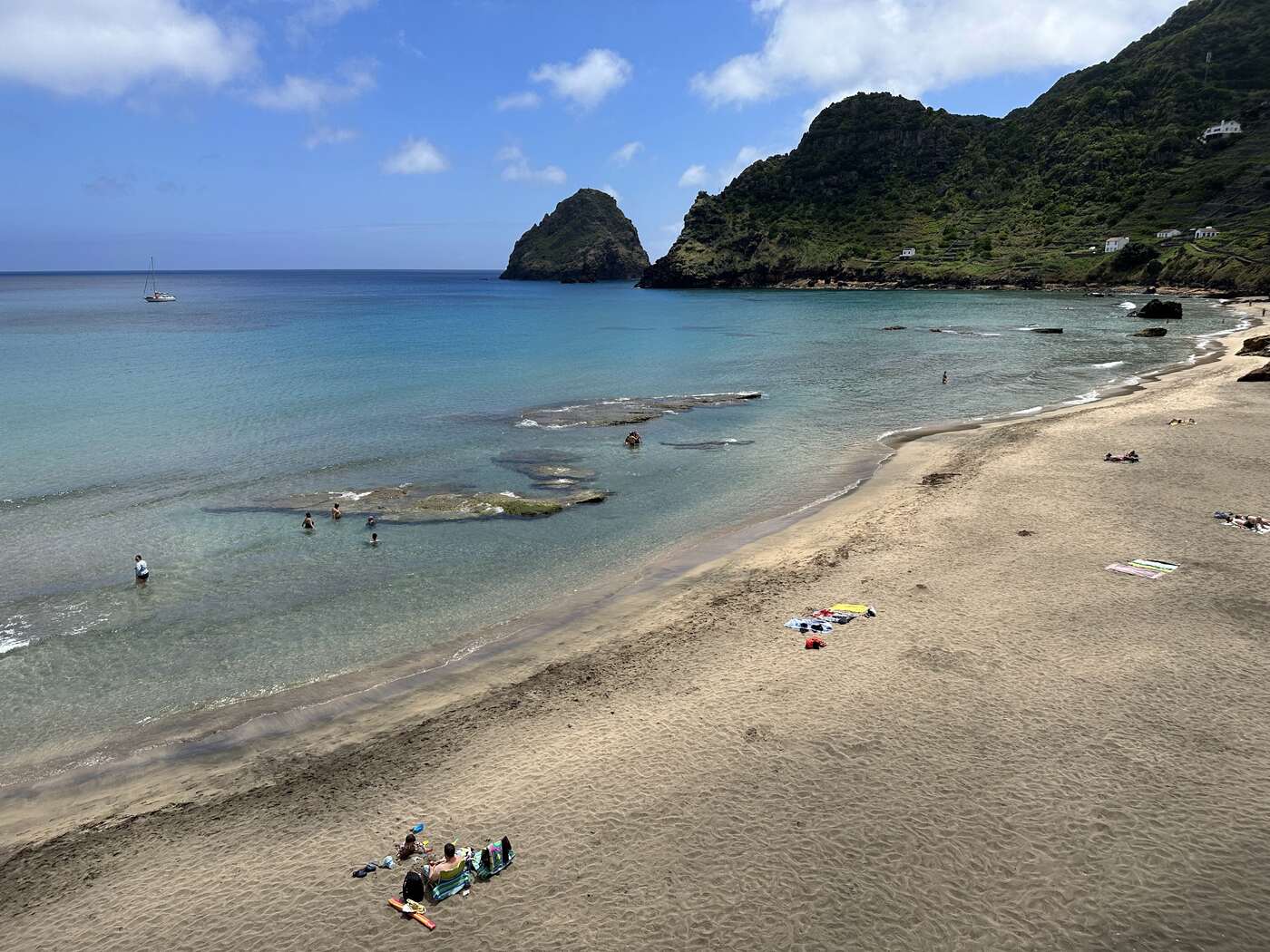 My personal favorite place in the island is Baía de São Lourenço, on the northeastern coast. Not only the clear blue waters are stunning on a sunny day, but the backdrop of mountains filled with terraced vineyards that stretch down to the sea makes it truly special.
Anjos
Steeped in history, this village was Christopher Columbus's first stop post his discovery of America. The chapel commemorating his visit is a must-see, but the area has some other things to keep you busy. Go for a swim all year-round in Anjos natural pools and go for a drink or three at the ocean-side Bar do Blues with stunning sunset views. If you're lucky, you can see São Miguel island far in the horizon!
Barreiro da Faneca

Barreiro da Faneca stands as a testament to the volcanic origins of Santa Maria, offering a unique and starkly beautiful landscape often referred to as the "Red Desert" of the Azores. Wandering through, I felt transported to another world, with the Martian-like terrain beneath my feet. This is not big enough to be a breathtaking scenario, but it's certainly unique enough to make a pit stop – there's nothing like this in the islands!
Tip: the contrast of the vivid red soil against the blue sky can make photographers spend here quite some time!
Praia Formosa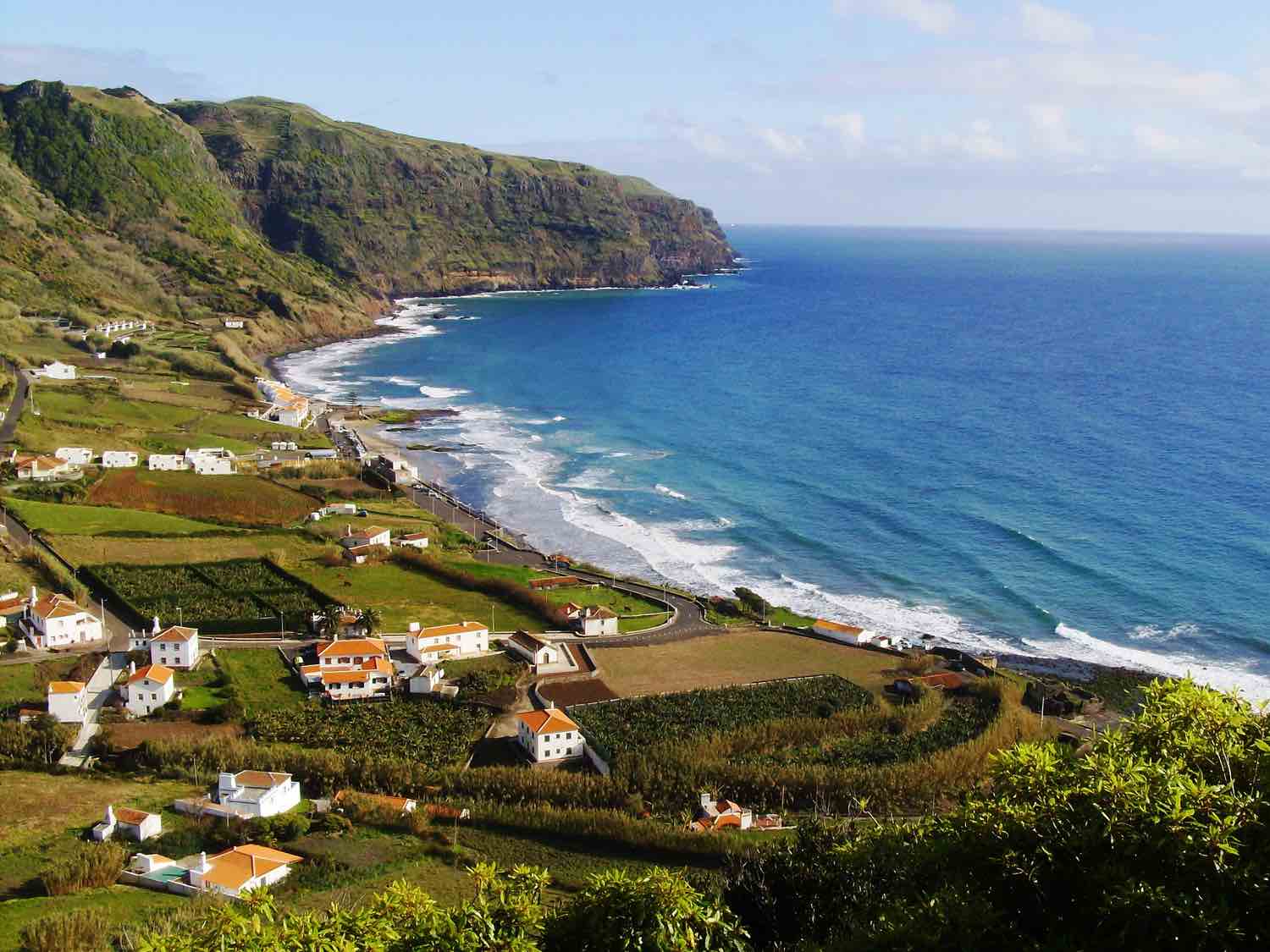 Last but not least. Praia Formosa, translated as "Beautiful Beach", is the largest sandy beach on the island of Santa Maria. With its golden sands, turquoise waters, and surrounding cliffs, it's a haven for beach lovers and surf enthusiasts. This picturesque beach also hosts the annual Maré de Agosto Festival, one of the most iconic music festivals in the Azores, drawing in international acts.
Things to do in Santa Maria
Diving
Santa Maria is a hidden gem for underwater enthusiasts. Its unique position at the convergence of tectonic plates create diverse landscapes. From colorful reefscapes to historic shipwrecks, diving here feels like plunging into a living marine documentary; watch an abundance of marine life, from manta rays to barracudas.
Music Festivals
Time your visit with the annual Columbus Festival in Anjos, Maré de Agosto in Praia Formosa or Santa Maria Blues that bring international acts to the island.
Food in Santa Maria

Not going to lie, I wasn't amazed by the restaurants in Santa Maria. The food was good – but not great – and the service can be VERY slow at times. All friendly folks though. These are some of the restaurants I recommend in the island:
Tibério: Unpretentious, but great local food at decent prices, particularly if you go for the daily menu.
Mesa D' Oito: A more sophisticated food experience in Santa Maria, good choice if you want a nice change from what's served elsewhere in the island.
Bar do Blues: Hamburgers, lapas, seafood, sandwiches are all good, but what makes it worthwile are the ocean views.
Café Central: A true pub, serving everything from seafood to pizza and tasting of traditional pastries.
🍈 Meloa de Santa Maria
If you're visiting in summer months, make sure to have meloa de Santa Maria, a locally grown variety of Cantaloupe melon richer in Vitamin C.

Santa Maria: The Azorean beach holiday
Santa Maria, often overshadowed by its more popular northern siblings in the Azores, is a destination that speaks directly to the part of you who wants to relax. There aren't a lot of hotels, crowds, or even things to do, but that's exactly part of the charm.
You come here to take a chill pill, read a book by the beach, and enjoy the beautiful remoteness of it all. It's the closest to a beach holiday you can have in this part of the world. And this, my friends, this is also Azores.