This is a complete travel guide to Terceira island in the Azores.
Terceira is the second-most populous island in Azores (and the third one in size). With numerous festivities all-year-round, a city that is UNESCO World Heritage Site, and top-notch local food, is known as the cultural beating heart of Azores.
Terceira island map
In a rush? To help you get around the island and plan your trip, I've created this Terceira map with everything I've mentioned in this article: my favorite viewpoints, main points of interest, hiking trails and restaurants.
Why Terceira?
In case you're still wondering if Terceira is a good choice to add to your Azores itinerary, here's something that can make up your mind.
Quite frankly, I can't say Terceira has a plethora of natural points of interest. Don't get me wrong – there are pretty landscapes everywhere, it's just hard to compete with islands like Flores or São Miguel in that department.
However, Terceira has many other unique selling points. Culture, festivities, history, and definitely the food are strong defining vectors of Terceira's identity and strike a contrast to other islands in Azores. In my book, that alone is a reason to visit Terceira.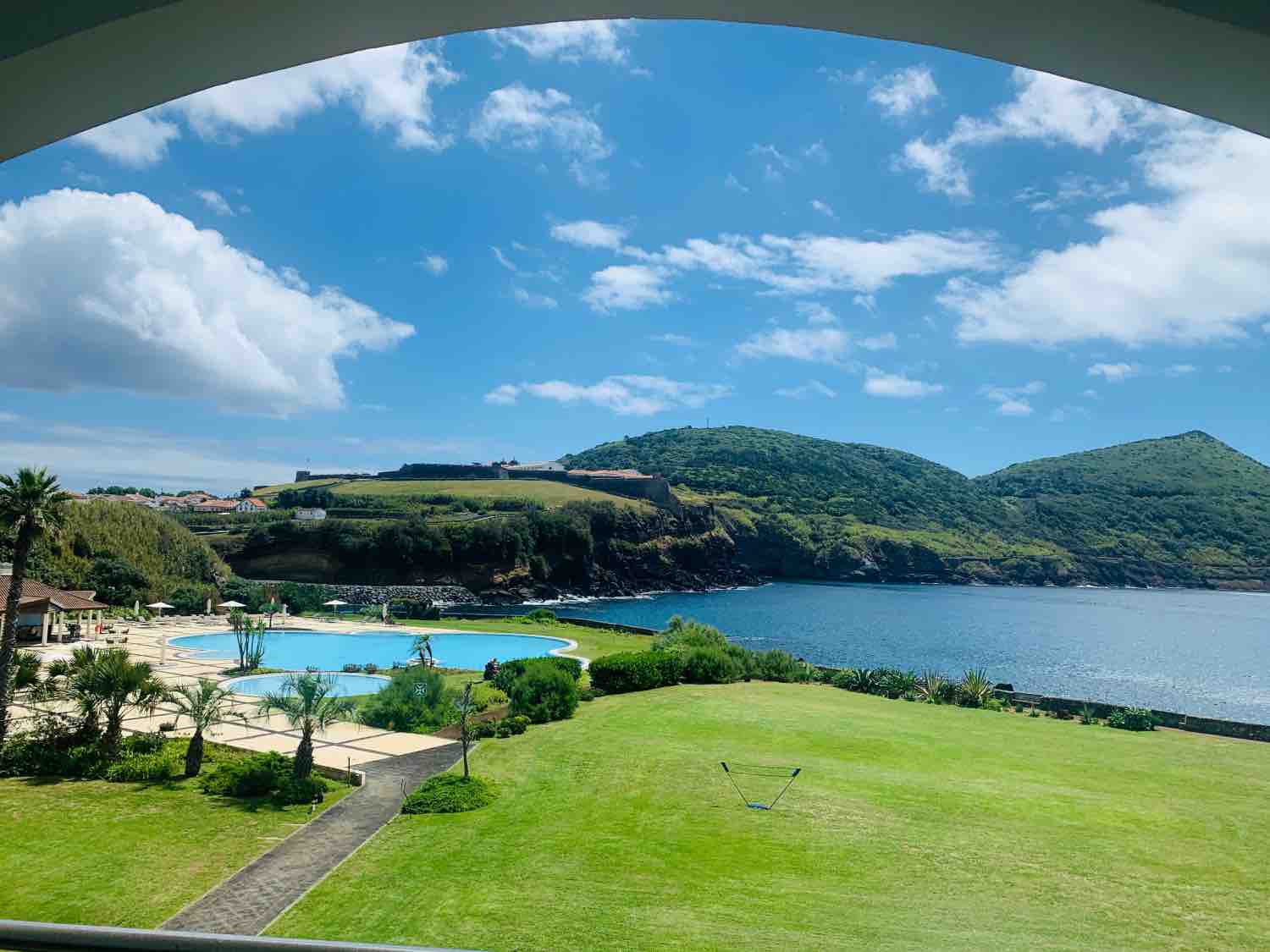 This hotel feels more like a resort. The setting is gorgeous and the pool/garden area is a true dream.
Things to do in Terceira
1

Algar do Carvão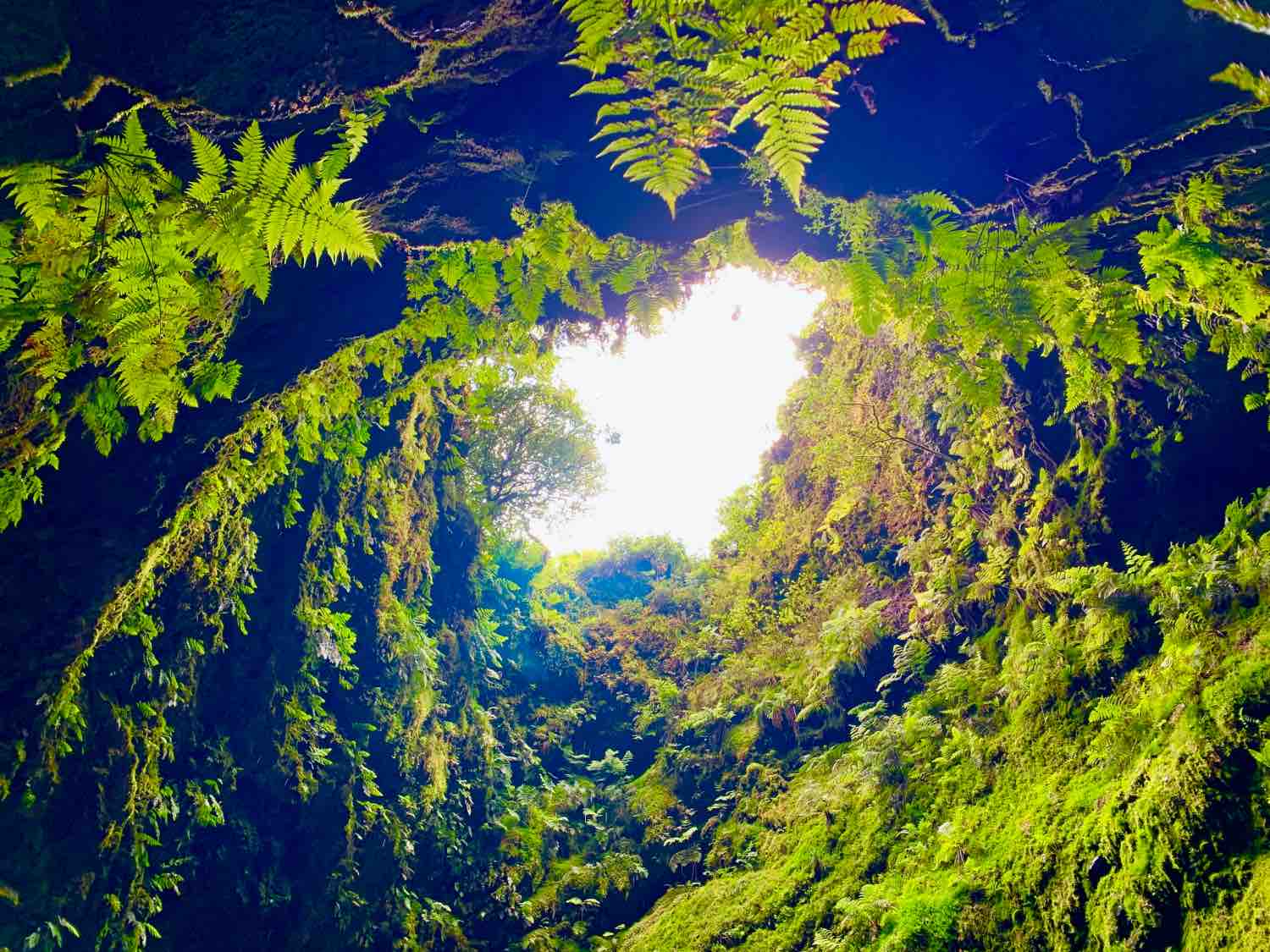 Located in the heart of Terceira, Algar do Carvão is an ancient lava tube with a drop of roughly 45 meters.
What makes it so special is that unlike most volcanic chimneys in the world, it's not entirely blocked by landslides or fills. In fact, this is one of the only THREE volcanic chimneys in the world that can be visited inside on foot. The other ones are in Iceland and Indonesia (an active one, probably not a good idea).
Oh, and it also doubles as a wedding and concert venue. EPIC!
2

Monte Brasil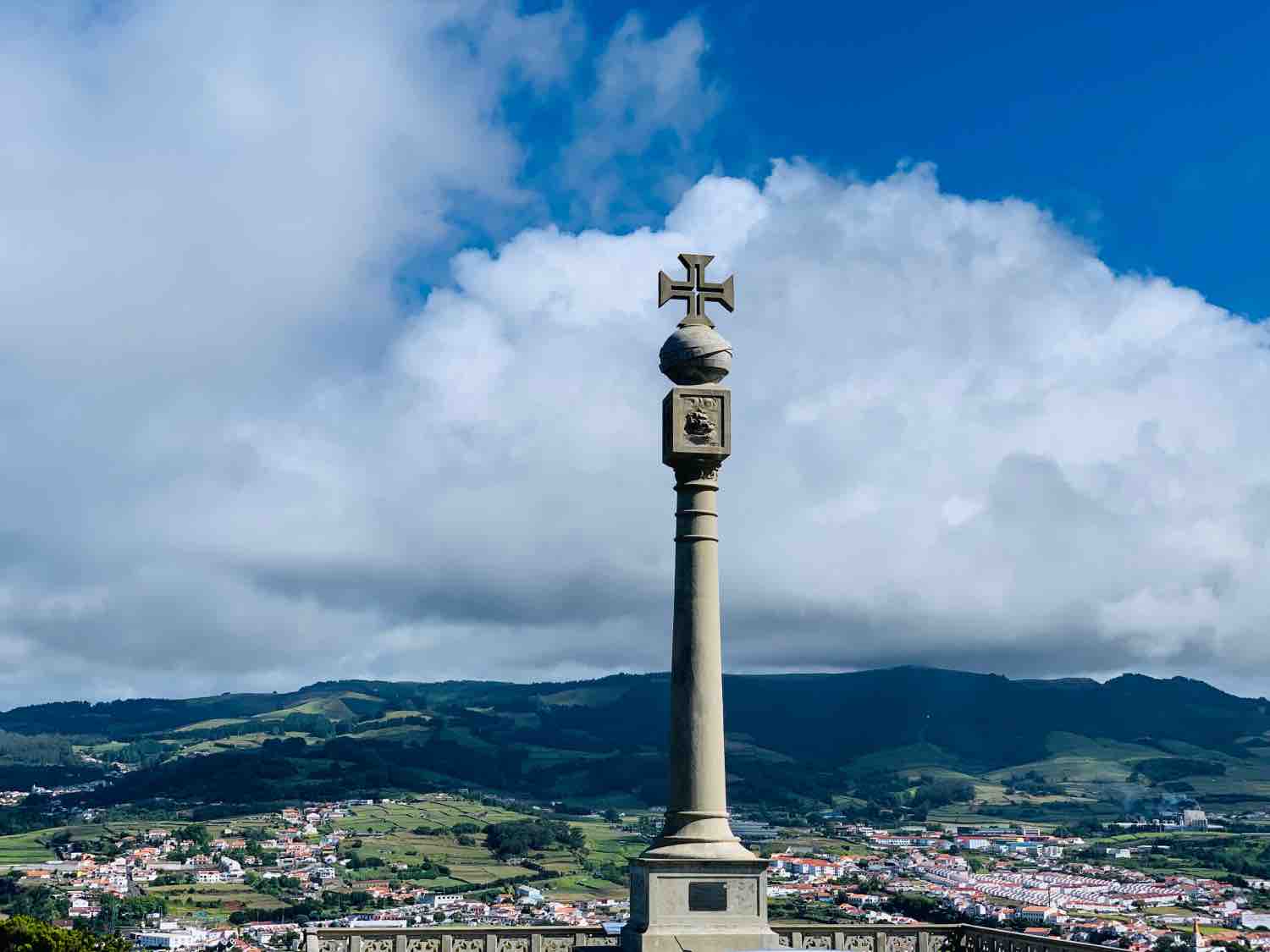 The Azores is a land of volcanoes. Monte Brasil is an extinct volcano that emerged from the sea and gave origin to a lush peninsula in the city of Angra do Heroísmo. It's used by locals as their escape for jogging, family picnics or just go for a walk.
It's a nice area to spend a morning/afternoon walking around. My favorite spot are the whale watching viewpoints – vigia da baleia – where they look for whales and then signal boats in whale-watching tours where to go. Prepare for amazing ocean views.
3

Angra do Heroísmo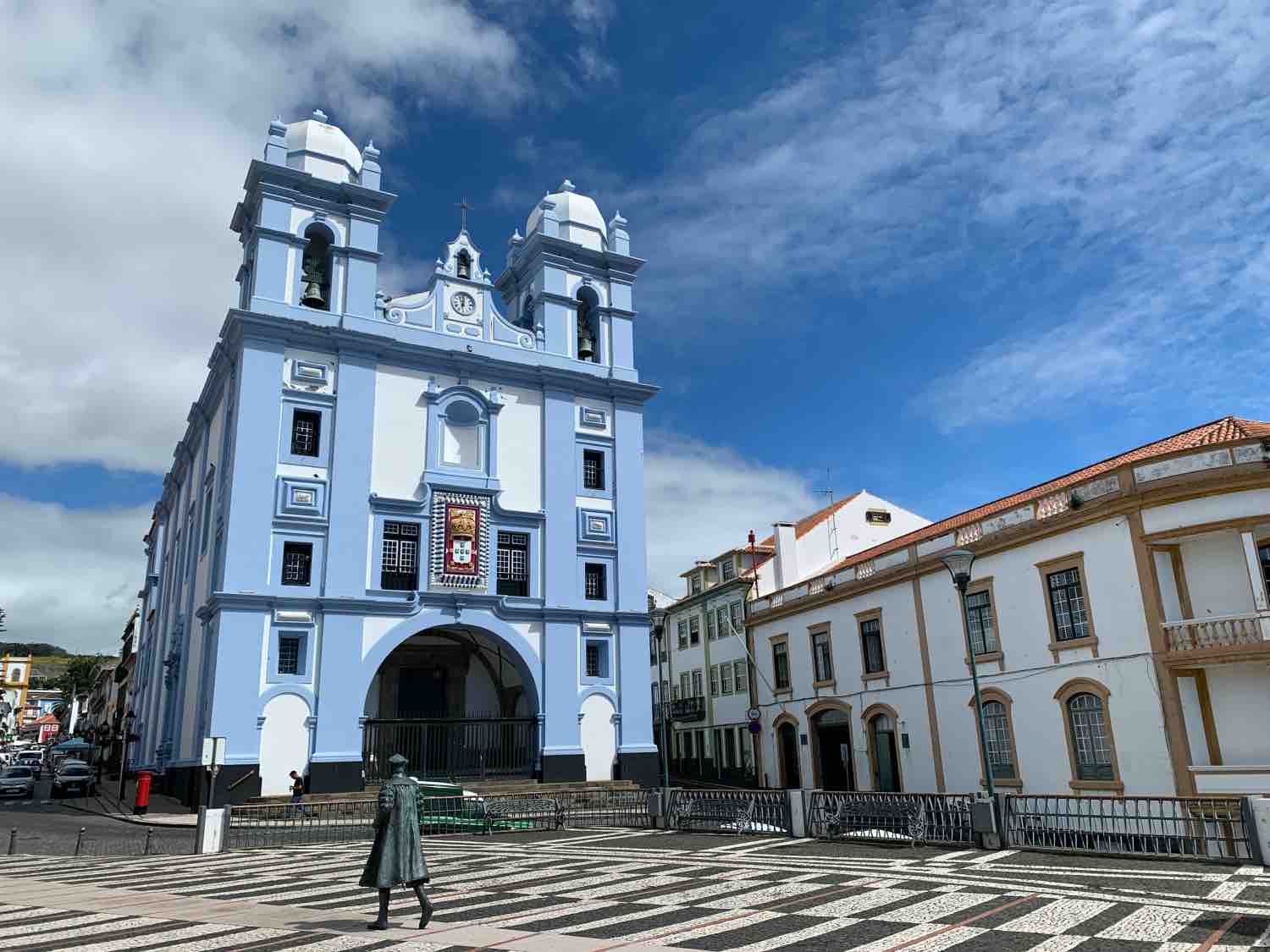 Fun fact: Angra do Heroísmo was once the capital of Portugal… twice! With a glorious past, it was a mandatory spot for fleets of Africa and of the East and West Indies routes during their journeys from Europe.
Today, and even after a devastating earthquake in 1980, the largest settlement in Terceira is a maze of colorful imperial buildings divided by a grid of cobblestone streets. No wonder is a UNESCO World Heritage Site.
📌 Places to visit in Angra do Heroísmo
Praça Velha – all roads lead to this old square, the main civic meeting point of the island.
Jardim Duque de Terceira – the lush gardens from a nearby convent
Igreja da Misericórdia – this church facing the waterfront is my favorite building of the entire island.
Prainha – I just think a beach in the middle of the city is pretty cool.
4

Sanjoaninas

The largest festivities in Azores takes place in Angra do Heroísmo in the end of June. Sanjoaninas is a street festival where locals from many places around Terceira and also from other islands in Azores gather to dance, have fun and party until the sun rises.

Similar to Santo António in Lisbon, several dancing groups showcase their training of months in more-or-less complex routines (marchas) while parading down Rua da Sé, in the historical center of Angra.
5

Miradouro da Serra do Cume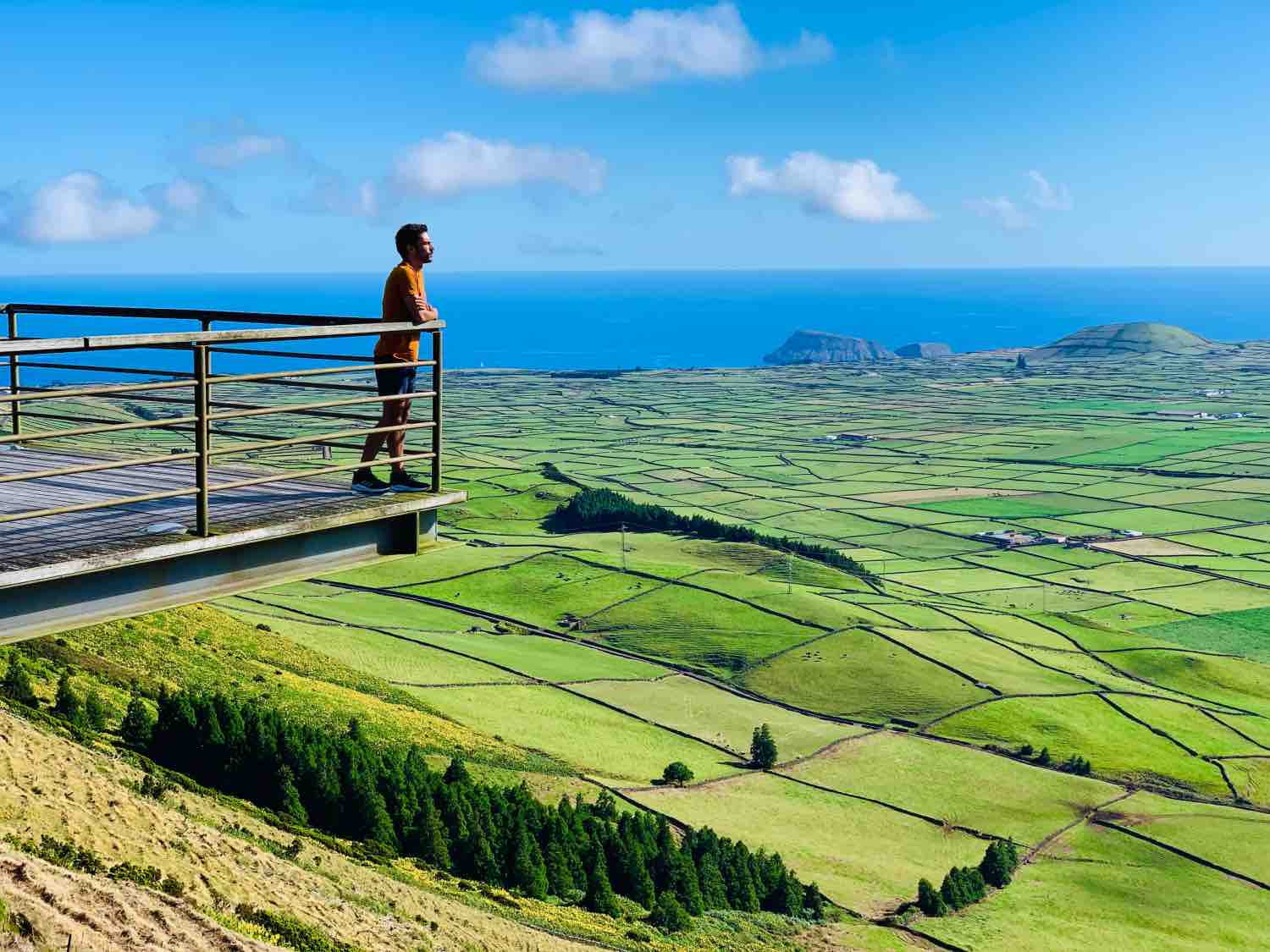 I know I said in the beginning Terceira may not be well up with other islands in terms of natural beauty. However, I feel Serra do Cume Viewpoint alone is enough of a reason for Terceira not to disappoint. It simply boasts one of the most incredible views in Azores. Sunsets here are something else.
Pro tip: when going back down, instead of the highway, take the longer but more scenic road towards São Sebastião that snakes through pastures and eolic farms.
6

Furnas do Enxofre and Gruta do Natal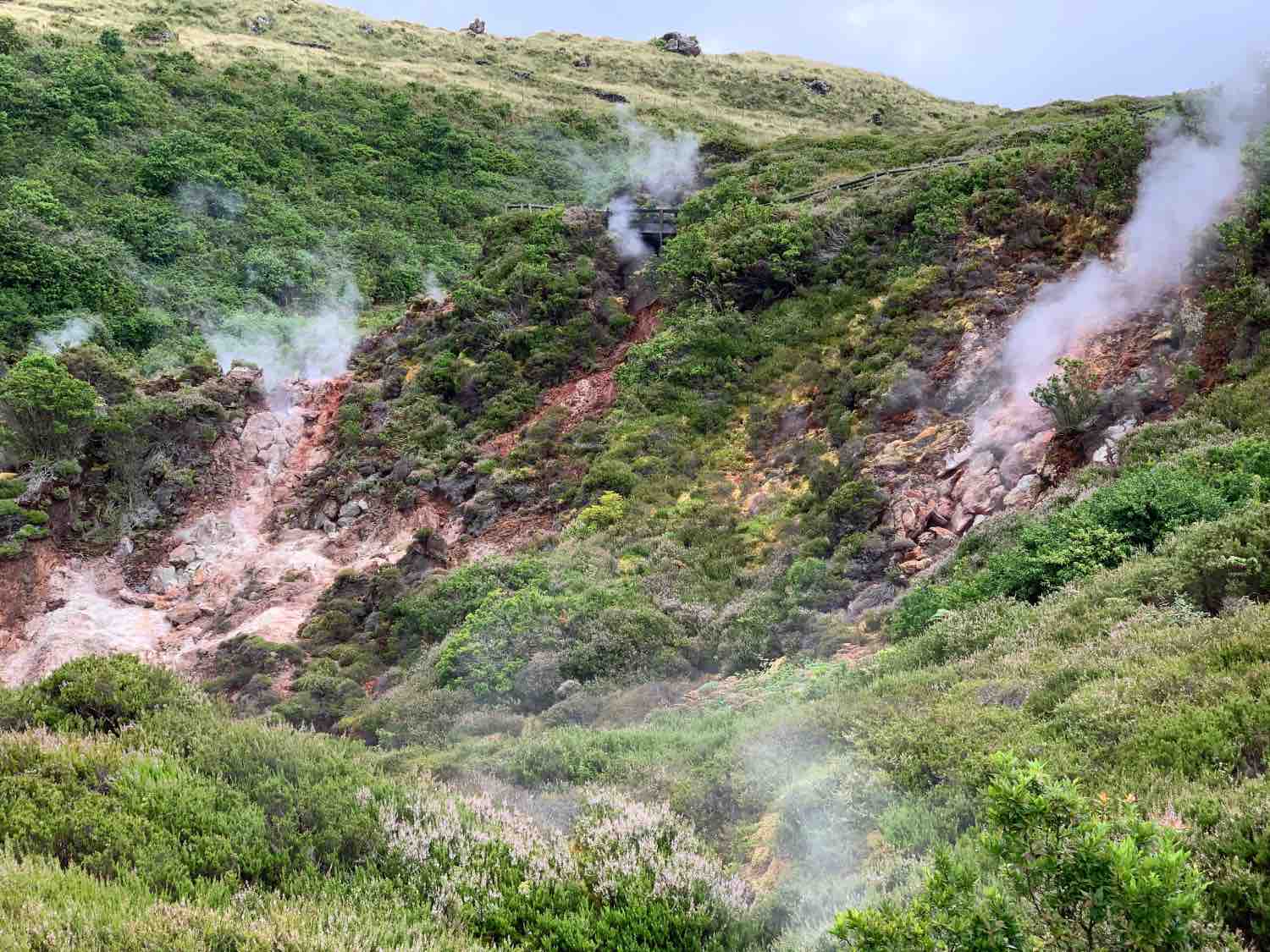 This is where you can experience the volcanic and geological heritage of Terceira. Although not particularly long (only 500m), Gruta do Natal is an impressive cave system comprised of 5km in total. Some ducking is necessary!
Just a 5-min drive away, Furnas do Enxofre are sort of a mini-volcano park with easy walking trails. From a volcanic phenomena standpoint, it might not be as spectacular as Furnas in São Miguel, but the views are worth a visit.
7

Swimming spots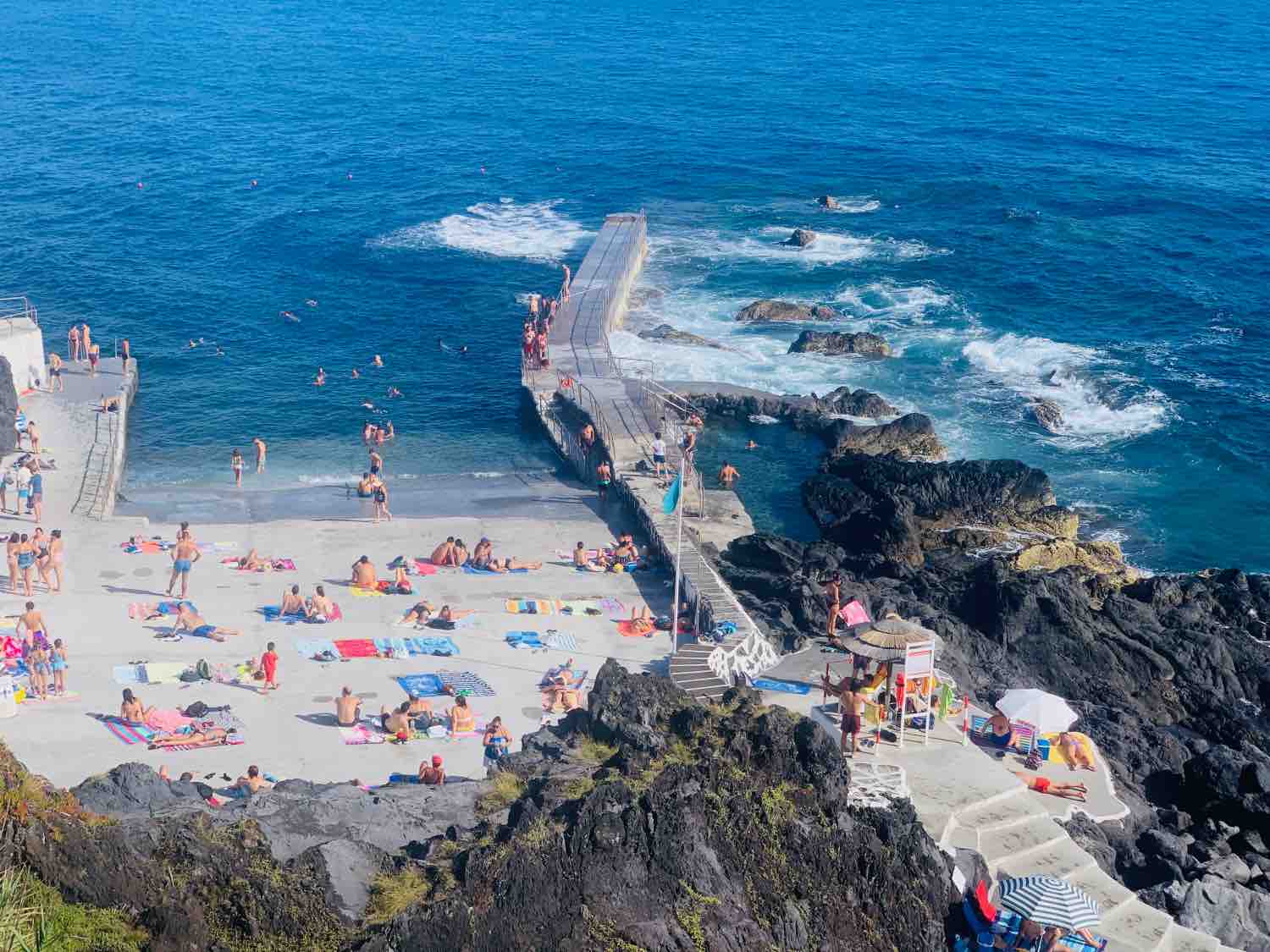 Even though Terceira is not exactly known for volcanic sand beaches, there are numerous spots around the island where you can go for a refreshing swim in the ocean.
Man-made swimming pools or even small harbors are great spots to dive into the Atlantic and they're all across terceira. They're all in the Terceira map but here are some of my favorites:
💧 Swimming spots in Terceira
Cinco Ribeiras – natural pools with some sunbathing areas. The ocean had a bit of a temper here.
Prainha – cute little beach in the heart of Angra do Heroísmo.
Biscoitos – I actually found the natural pools here way too crowded for my taste, so I headed to the little harbor nearby to spend a fantastic afternoon.
Quatro Ribeiras – rocky beach in the north of the island.
Silveira – listing it here because it was conveniently located in walking distance from my hotel.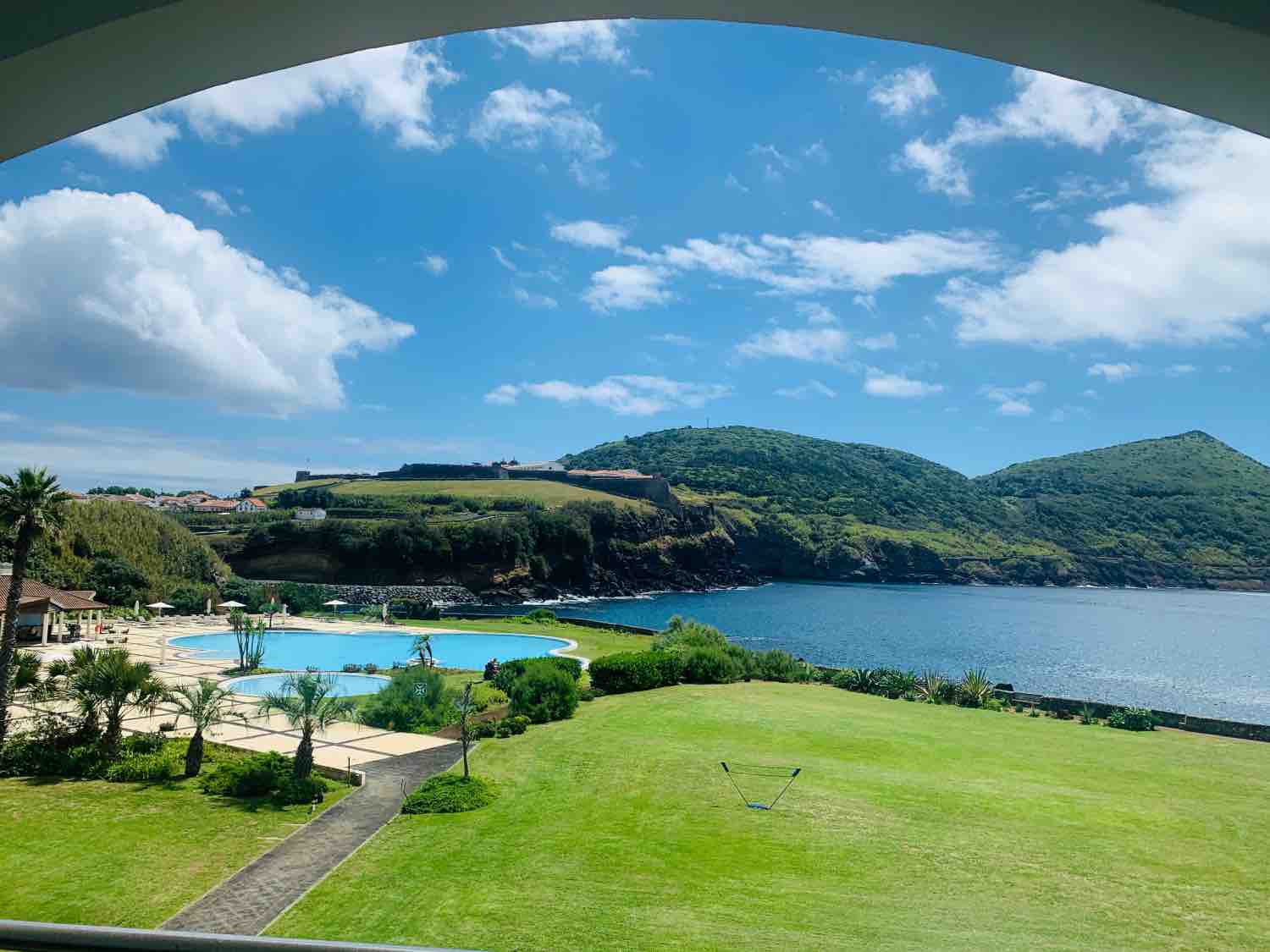 This hotel feels more like a resort. The setting is gorgeous and the pool/garden area is a dream.
Getting around Terceira
While there are decent tours around the island, there's nothing like getting your own wheels and explore Terceira independently. I recommend Aguiatur – everything went smoothly and they don't ask to block a fee on your credit card.
Hiking trails in Terceira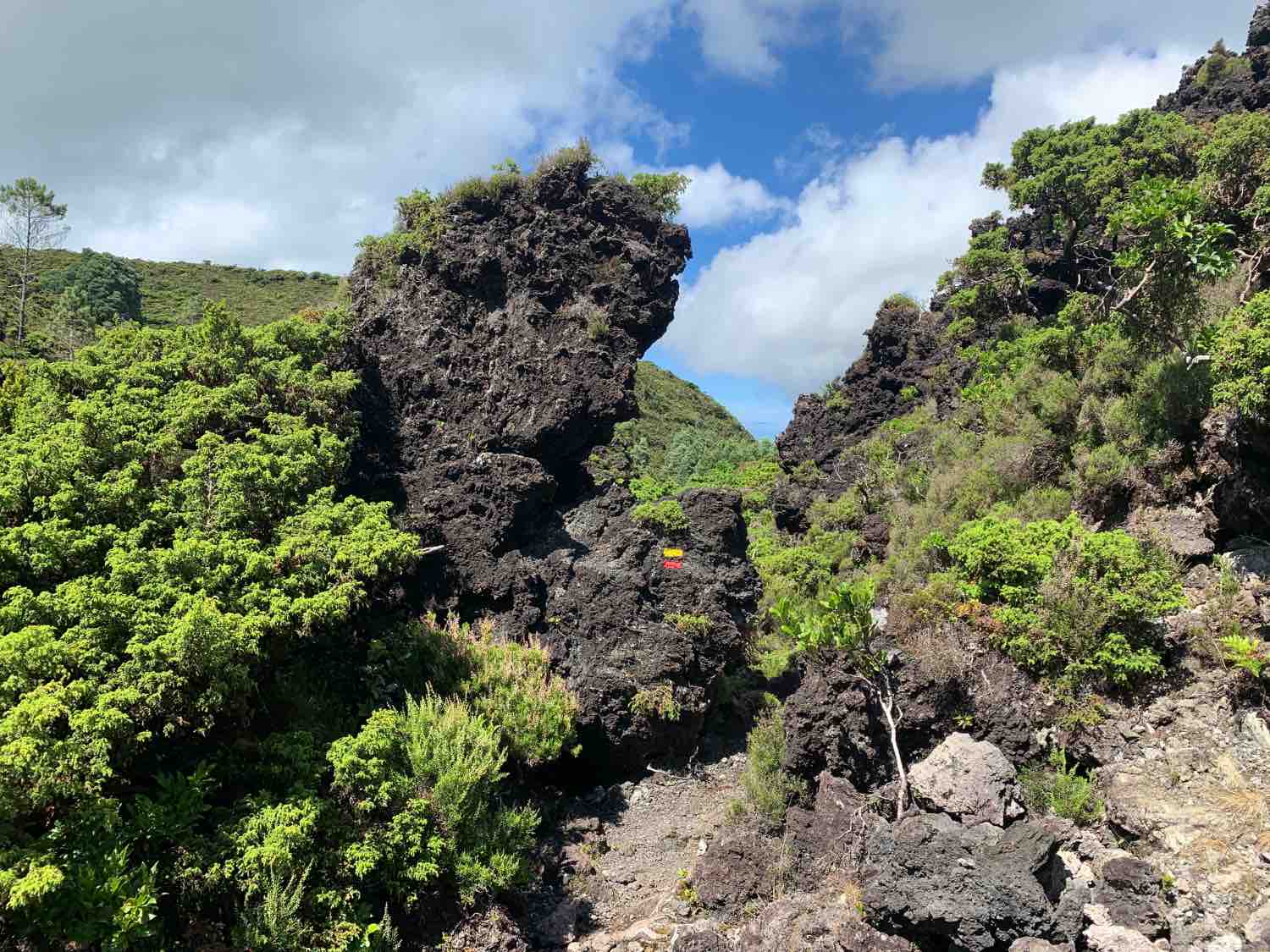 Now, it wouldn't be the Azores without a healthy dose of hiking trails, right?
Terceira is not as rich as other islands in the hiking department, but there sure are trekking opportunities to keep you busy. My favorite was Mistérios Negros. The variety of landscapes, vegetation and views is truly amazing. At a certain point, it truly feels like a Jurassic Park adventure
🥾 Hiking trails in Terceira
Mistérios Negros – a wonderful (but quite tough on the knees!) journey through Santa Bárbara Natural Park.
Rocha do Chambre – explore the inner Terceira along this trail with a total of 8.8km.
Monte Brasil – a great way to get to know Monte Brasil, the lush mountain next to Angra do Heroísmo bay.
Tours in Terceira
In some cases, a tour can add value though. I'm glad I booked a tour to visit the volcanic sights of Terceira: Algar do Carvão, Furnas do Enxofre and Gruta do Natal. Volcanos can't really speak to me and I feel I learned a lot from having a guide with us.
If you feel the same, talk with Guilherme from Angratravel. Their Algar do Carvão Express tour is a fun and enlightening Geology class, Azorean edition.
Food in Terceira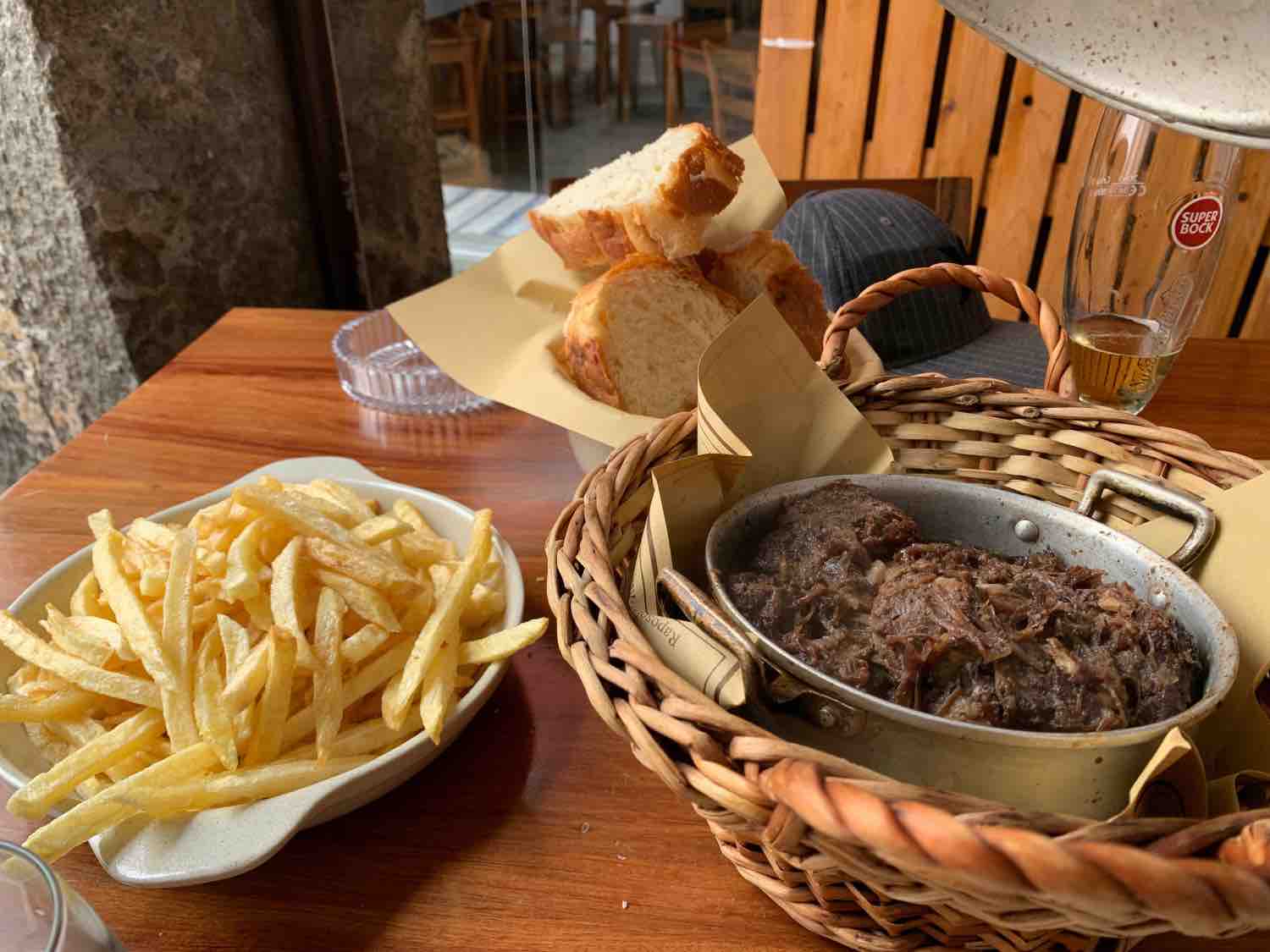 Last but not least: food! If food is one of your reasons to travel, then you've hit the right island in Azores. I have to say the level of restaurants in Terceira is pretty high: everywhere I went I ended up having an above-average meal and overall it's pretty easy to find great value deals.
Apart from known Azorean food highlights such as the grass-fed meat, the local cheese, lapas (limpets) or the plethora of fresh Atlantic fish (tuna, rosefish and wreckfish are a must!), Terceira also has some unique delicacies.
The local alcatra is the most popular dish. It's a type of slow-cooked pot roast typically cooked in clay pots and that results in braised beef short ribs so tender that fall off the bone and melt in your mouth. Yes, I'm not even a meat lover these days but it's that good. Finish your meal with a Dona Amélia, a delicious pastry made of honey, raisins, and cinnamon.
😋 Restaurants in Terceira
Beira Mar – the go-to place for seafood on the island.
Ti Choa – ask for the tasting menu of local food. The traditional alcatra is an optional add-on.
Queijo Vaquinha – great spot to taste local cheese.
Tasca das Tias – I still think about that tuna steak too often.
What else did you do in Terceira island, Azores? Let me know what I've missed in this travel guide!