I've listed the best day trips from Lisbon, including nature parks, beaches, coastal towns, palaces, and historical monuments. Add something special to your time in beautiful Lisbon.
Don't get me wrong, Lisbon is a truly unique city that can easily keep you busy for at least three full days.
But, in case you are staying for longer and have had your share of cobblestone streets, yellow trams, and bustling bars and restaurants, why not venturing out on a day trip?
There's no need for expensive tours. I've picked some of the best day trips from Lisbon that you can do independently on this article.

The best Lisbon day trips on a map
To help you visualise things, this map has all the best getaways outside Lisbon mentioned on this article.

Blue: seaside towns day trips
Green: nature day trips
Purple: historical, monuments, or cultural day trips
Orange: beach day trips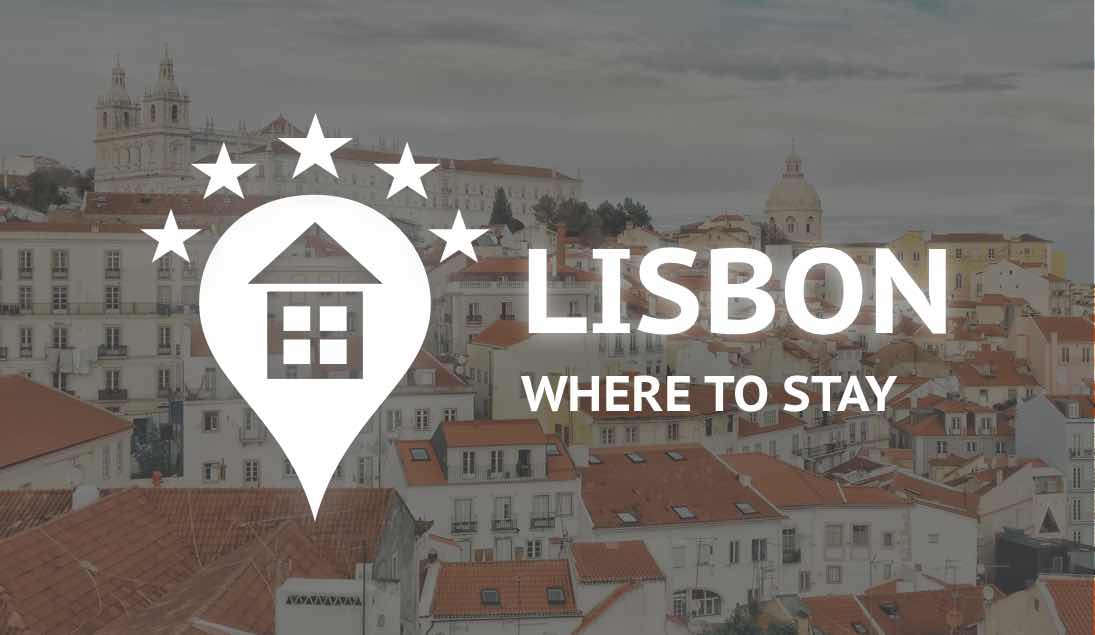 Top hotels in Lisbon
I've made the hard work for you.
This is a pre-filtered list of hotels in the best areas to stay in Lisbon.
1

Sintra

The mother of all the day trips in Lisbon, the fairytale village of Sintra is on the bucket list of many. It's extremely touristy, but for good reason as there is no shortage of things to see and do.
Topping the list and high up in the mountains, the colorful Palácio de Pena (Pena Palace) seems straight from a Disney movie. The interior is no less OTT, as its lavish décor was a reason for many monarchs to spend some days here vacationing. The palace was refurbished by King Fernando II in the 19th century and has been awarded UNESCO World Heritage status in 1995.
Further down along the serra, you can find Castelo dos Mouros, an 8th-century castle and walls with amazing open views over the Sintra, Cascais, and Lisbon districts. Also check out the intricate and curious architecture of Palácio de Monserrate as well as Quinta da Regaleira, quite possibly the most mystical gardens you've ever seen.
If your itinerary allows, I'd even suggest to stay for 1 or 2 nights in Sintra and/or combine it with a trip to Cabo da Roca or Queluz National Palace.
How to get to Sintra from Lisbon ℹ️
CP – Comboios de Portugal has direct trains from Lisbon (Rossio station) to Sintra. The journey takes about 30 minutes and will leave you at a 10-min walk from the town center.
Driving takes roughly the same time but will create a problem: parking. Even though most parking spots are paid (and pricey), finding a parking spot in the tiny streets of Sintra can be a quite complicated task.
Once in Sintra, there are buses that can take you to the main attractions. Alternatively, get your nature fix and walk in Serra de Sintra to places like Palácio da Pena and Quinta da Regaleira.
2

Costa de Caparica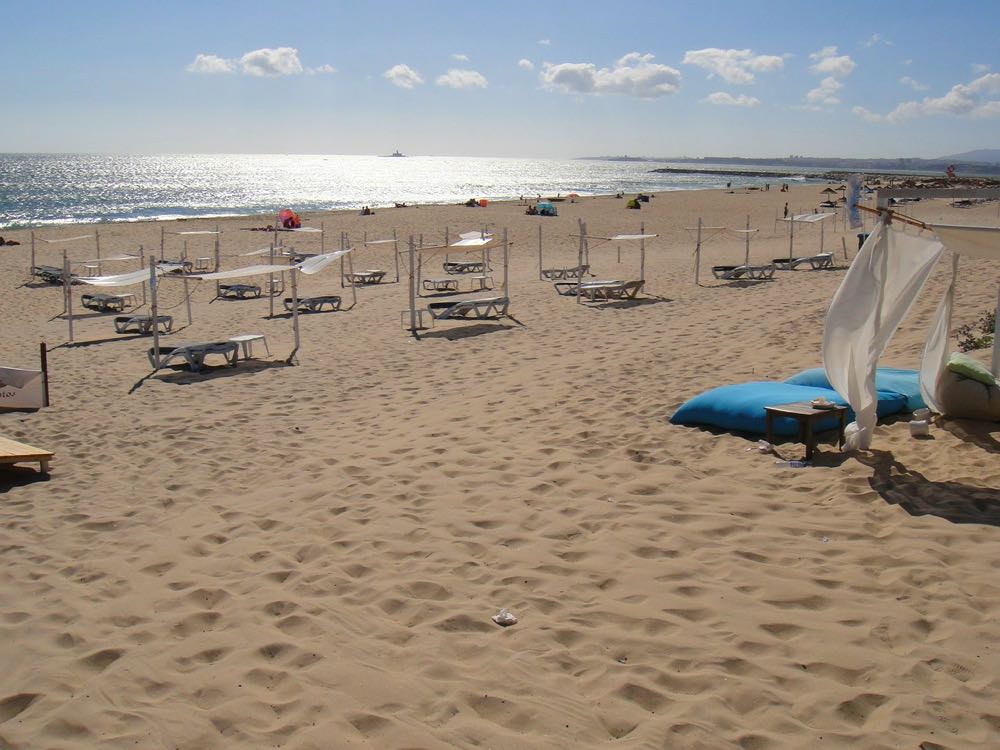 Costa de Caparica is Lisbon's most popular summer playground. On warm weekends, Lisboners flock here to spend the day at this 24-kilometer strip of sand with wonderful natural scenery. In the transition to the evening, the numerous beach bars and clubs gradually get livelier which makes them great places for sunset.
If you don't mind the crowds and loud babies, the northern side of Costa de Caparica (closer to Lisbon) is more developed and has better infrastructure and public transportation options to Lisbon.
The more you go south, the wilder and more remote get the beaches incuding the Meco beach, Portugal's original nudist beach. Read on about more beaches near Lisbon.
How to get to Costa de Caparica from Lisbon ℹ️
Transportes Sul do Tejo has several buses connections from center Lisbon to Costa de Caparica in roughly 30 minutes (traffic permitting).
The southern sections of the coastline can only be reached by car or a mini-train that operates during summer months along the dunes to Fonte da Telha.
During summertime and especially on weekends, avoid crossing the bridge between 10am and 3pm as it's likely that you'll get stuck in traffic.
3

Mosteiro da Batalha (Batalha's Monastery)

A UNESCO World Heritage monument, Mosteiro de Santa Maria da Vitória or simply Mosteiro da Batalha is a magnificent monastery located in Batalha, 120 kilometers away from Lisbon.
It's one of the most spectacular examples of the Portuguese Gothic architecture. It was built to commemorate the victory of the Portuguese Kingdom over Castille (Spain) at the 1385's Aljubarrota Battle, one of the key events in Portuguese history and culture. Given the level of detail, no wonder the construction took almost a century (!) to complete.
How to get to Batalha from Lisbon ℹ️
Rede Expressos connects Sete Rios station to Batalha in just over 2 hours. There are just a few buses per day.
Driving takes about 1h30.
Where to stay in Lisbon
Charmingly music-themed hotel, super close to the center. Oh it comes with this stunning rooftop swimming pool.
4

Sesimbra

Under the lip of the lush green hills of Serra da Arrábida, Sesimbra is a quaint fishing village, located just 40 kilometers away from Lisbon. The whole area is rich in natural beauty, but the town itself has enough reasons to keep you busy. From its 10th century Moorish castle to some of the country's finest beaches, from the lovely harbor to the winding alleys bustling with seafood restaurants serving freshly caught fish.
There are sea kayaking and diving tours departing from Sesimbra and, if you have a car, you can combine a trip to Sesimbra with Serra da Arrábida. The N379 road has incredible views over the coastline and you can even stop by one of its dreamy beaches.
How to get to Sesimbra from Lisbon ℹ️
TST bus 207 connects Lisbon (Praça de Espanha) to Sesimbra in about an hour.
However, a car rental allows you to add other fantastic nearby spots to this trip and explore Arrábida Natural Park.
5

Cacilhas & Cristo Rei

When you're in the city, you can't miss seeing Cristo Rei. Inspired (*cof cof* copied) by the Christ the Redeemer in Rio de Janeiro, the towering 70-meter Christ statue spreads its arms towards Lisbon from Tejo's southern bank. It's possible to go all the way up and enjoy the magnificent panoramic views over the river, the 25 de Abril bridge, and the rest of the city. For photography enthusiasts, the best time to go is in the afternoon, as the sun is behind you.

Since you're on the other side, spend some time in Cacilhas and have dinner or lunch at a restaurant right by the river, with a gorgeous view to Lisbon. Ponto Final serves traditional portuguese food.
How to get to Cacilhas from Lisbon ℹ️
You can cross the river in a traditional orange cacilheiro ferry, used by thousands of commuters every day. It's operated by Transtejo.
From there, you can hop on the 101 bus or venture on a 40-minute walk to Cristo Rei.
Where to stay in Lisbon, on a map:
6

Carcavelos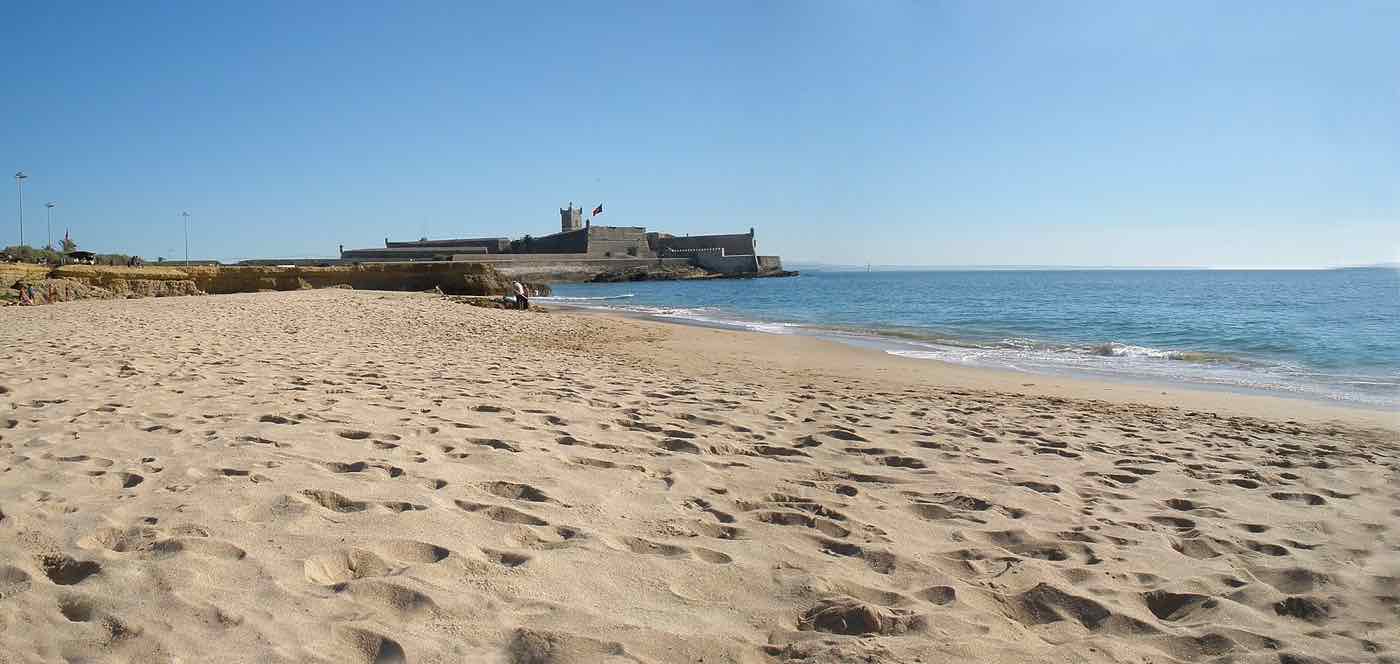 If you're craving some sun and just need a quick getaway to a nearby beach, Carcavelos is your best option. Particularly popular with students and surfers, this is the largest strip of sand between Lisbon and Cascais. It's not the most idyllic of beaches by any means but will do the trick. Gets very crowded from June to September.
How to get to Carcavelos from Lisbon ℹ️
Hop on the train in Cais do Sodré. The Cascais Line will take you to Carcavelos in roughly 20-minutes. Purchase a VivaViagem card and top it with credit using the Zapping option.
You'll then need to walk for 15 minutes to get to the beach.
7

Cascais

The fine resort town of Cascais boasts a charming coastline of rocky headlands, small sandy beaches. Once a small fishing port, this area evolved to become a noble summer retreat and today it's one of the most upscale areas in the Lisbon district, with opulent properties and mansions.
What can you do in Cascais? Well, besides wandering through the streets of the city center, don't miss the Conceição, Duquesa and Rainha beaches which are literally inside the town.
Just a small walk or bike ride away, visit the dramatic landscapes of Boca do Inferno. This chasm carved out of the cliff formations can turn the waves pounding into the natural arch and bay several meters in the air, hence its name (it's literally translated as Hell's Mouth).
Finally Praia do Guincho, one of the most stunning beach landscapes in the region and a world-class surfing and windsurfing destination.
How to get to Cascais from Lisbon ℹ️
Cascais is one of the easiest day trips from Lisbon: it's a 40-minute train ride from Cais do Sodré station. A ticket costs almost 5.00 € (per person, return trip), but it's cheaper if you purchase a VivaViagem card and top it with credit using the Zapping option.
You can then reach Praia do Guincho with a scenic bike ride or with Scott URB's 402 or 415 buses.
8

Nazaré

This little fishing village went into the spotlight back in 2011 when the American surfer Garrett McNamara set a world record on Praia do Norte for the highest wave ever surfed. The record has been broken again after a staggering 24-meter wave and nowadays Nazaré is well-known amongst surfing enthusiasts worldwide.
Even if the prospect of seeing big waves don't excite you, there's a lot more to uncover. With the stunning Atlantic ocean, traditional houses, laid-back atmosphere, and delicious seafood, Nazaré is Portugal in a nutshell.
Wander through the narrow streets and pop into one of the many traditional restaurants. Nazaré is one of the best spots in Portugal to taste fresh fish and seafood dishes such as grilled sea bass and sardines and caldeirada de peixe (fish stew).
The streets will eventually lead you to the highlight of Nazaré: the crescent-shaped Praia da Nazaré (Nazaré Beach) that is best admired from Sítio, a cliff on the northern side that can be reached by funicular.
How to get to Nazaré from Lisbon ℹ️
There are several daily bus connections between Lisbon and Nazaré. Buses depart from Rede Expressos' terminal in Sete Rios, and the journey takes a bit under 2 hours. Driving takes about 1h20.
9

Comporta
View this post on Instagram
Located at the base of Tróia Peninsula, along the Sado estuary, Comporta has a laid-back beauty that draws people of all walks of life in. It's no wonder many VIPs such as Madonna, Christian Loubotin, and even Monaco's Royal Family have getaway houses here, which gives it a casual chic vibe.
Comporta is the name attributed to a set of several tiny villages that lie between vibrant green rice fields and vast dune-backed sandy beaches. The landscape is dotted by cork trees and pines, as well as colored flamingos and storks.
How to get to Comporta from Lisbon ℹ️
The best way to reach Comporta is by car. You can use the car ferry from Setúbal to reach Tróia and continue driving along the peninsula or drive around the Sado Estuary (longer).
Located in busy Rossio – the heart of Lisbon – it's just one of those amazing value places that will make you feel at home. Perfect to make friends.
10

Óbidos

Featuring a delightful maze of beautiful cobbled streets inside medieval walls, Óbidos is one of the most charming little villages in Portugal. Since you're there, drink a shot or three of the traditional ginja de Óbidos, a strong cherry liqueur usually served in edible chocolate cups.
In the summer, the town is invaded by organised tours that also go to other nearby destinations. They usually lead people like cattle and stay for just an hour. That's why I strongly suggest to get there by your own means and stay for a couple of hours exploring the backstreets and traditional little houses.
How to get to Óbidos from Lisbon ℹ️
Rodoviária do Oeste has several daily bus connections from Lisbon. Buses depart next to Campo Grande metro station and journey time is roughly 1 hour.
The regional trains take longer (roughly 2h30).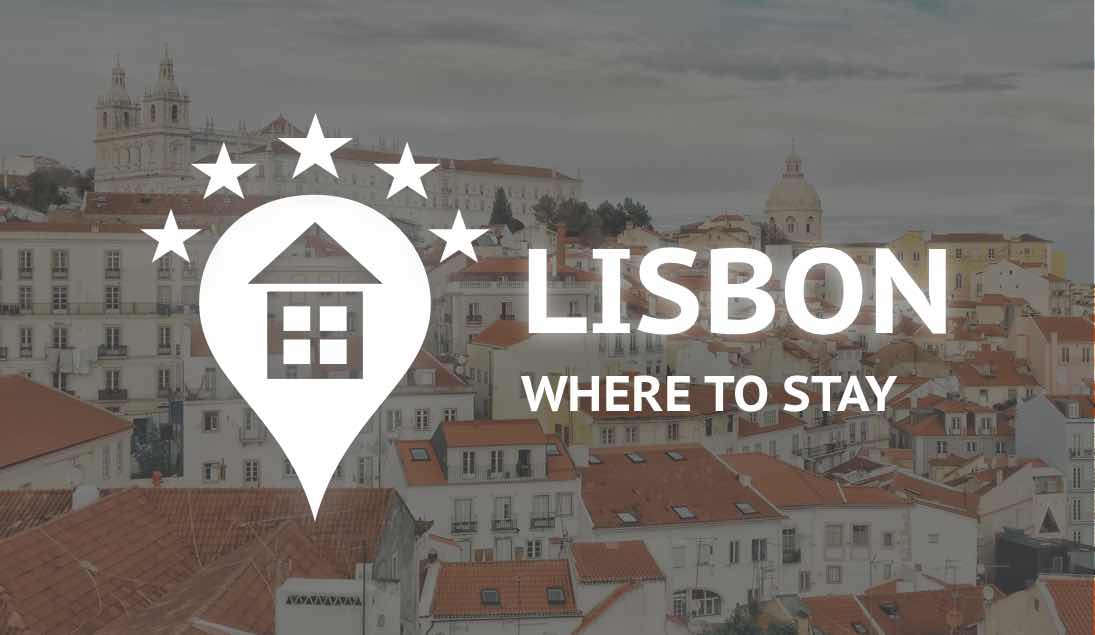 Top hotels in Lisbon
I've made the hard work for you.
This is a pre-filtered list of hotels in the best areas to stay in Lisbon.
11

Évora

This might be one of the longest day trips on this list, but it's surely worth it. Évora is an historical city located at the heart of Alentejo, with a wide array of monuments classified as national treasures. These include the beautiful aqueduct, Templo de Diana – a Roman temple, and Capela dos Ossos (the Bone Chapel), a chapel which creepingly features (real) human bones into its decoration.
Going to Évora is also taking a break from the bustling city of Lisbon. Enjoy exploring Alentejo, a region of entire fields of olive trees, scorched plains that fade away in the horizon, and with a laid-back lifestyle that will draw you in.
Important: if you suffer from heat, avoid Évora in summer months, when temperatures in Alentejo can reach 35 degrees Celsius.
How to get to Évora from Lisbon ℹ️
The best way to get to Évora from Lisbon is to take the 1h30 intercities train (IC) from either Entrecampos or Sete Rios. Buses from ALSA or Rede Expressos take an hour longer.
Driving takes about 1 hour.
12

Cabo da Roca

While the absolute westernmost point in Europe is the majestic Flores island, Cabo da Roca is the one in mainland Europe. This rugged headland is tucked between the Sintra-Cascais Natural Park and the Atlantic, at around 150 metres above the sea level.
There are a lighthouse and plenty of hiking trails with dramatic and panoramic views which are better enjoyed with clear weather. Watch out for the strong winds though. Phones, jackets, and even humans have been swept away by the wind into the cliffs.
How to get to Cabo da Roca from Lisbon ℹ️
The easiest way is by car and visit Cabo da Roca together with Sintra.
However, you can also reach Cabo da Roca by public transportation. Just hop on the Linha de Cascais line all the way to Cascais. From there, the 403 bus will take you there. Keep in the mind the bus is not that common though.
13

Palácio Nacional de Queluz (Queluz National Palace)

Queluz National Palace is one of the most lavish Neo-Classic places in Europe and has been nicknamed the "Portuguese Versailles". It features harmonious French-style gardens with caves, statues, fountains, canals, and even waterfalls as well as sumptuous interiors.
Initially built as a summer residence for the Portuguese royal family, it became their permanent home between 1794 until their escape to Brazil due to the French Invasions in 1807. While the area of Queluz is not particularly exciting, the palace deserves a visit.
How to get to Queluz from Lisbon ℹ️
The CP train that goes to Sintra departing from Rossio station also stops in Queluz-Belas. From this station, it's a 14-min walk to the Palace grounds.
Entrance fee for adults is 10 euros.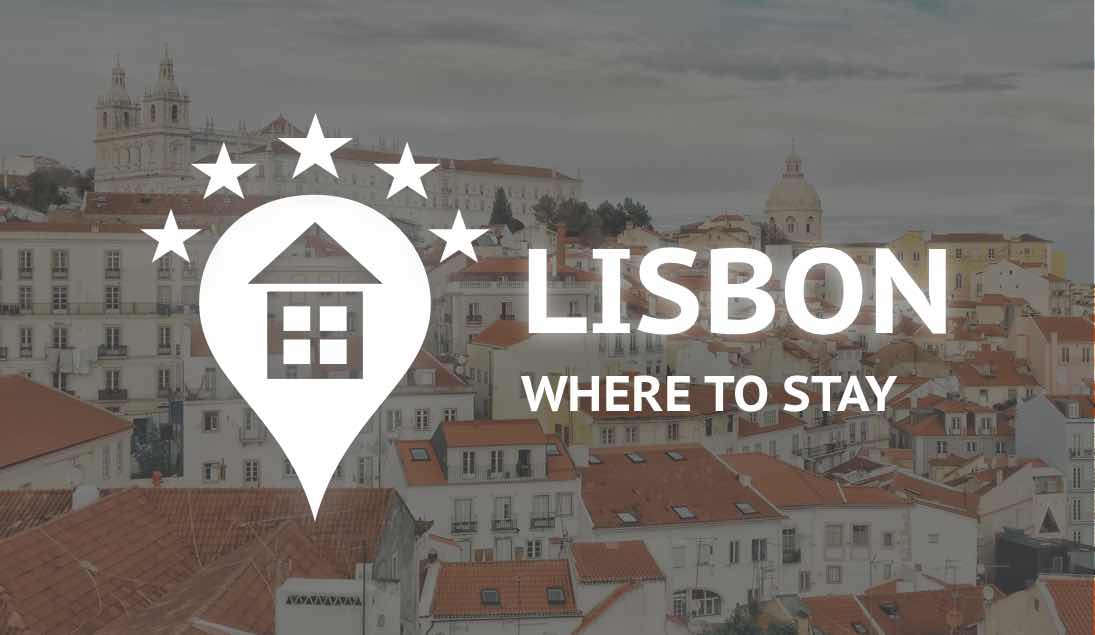 Top hotels in Lisbon
I've made the hard work for you.
This is a pre-filtered list of hotels in the best areas to stay in Lisbon.
15

Serra da Arrábida Natural Park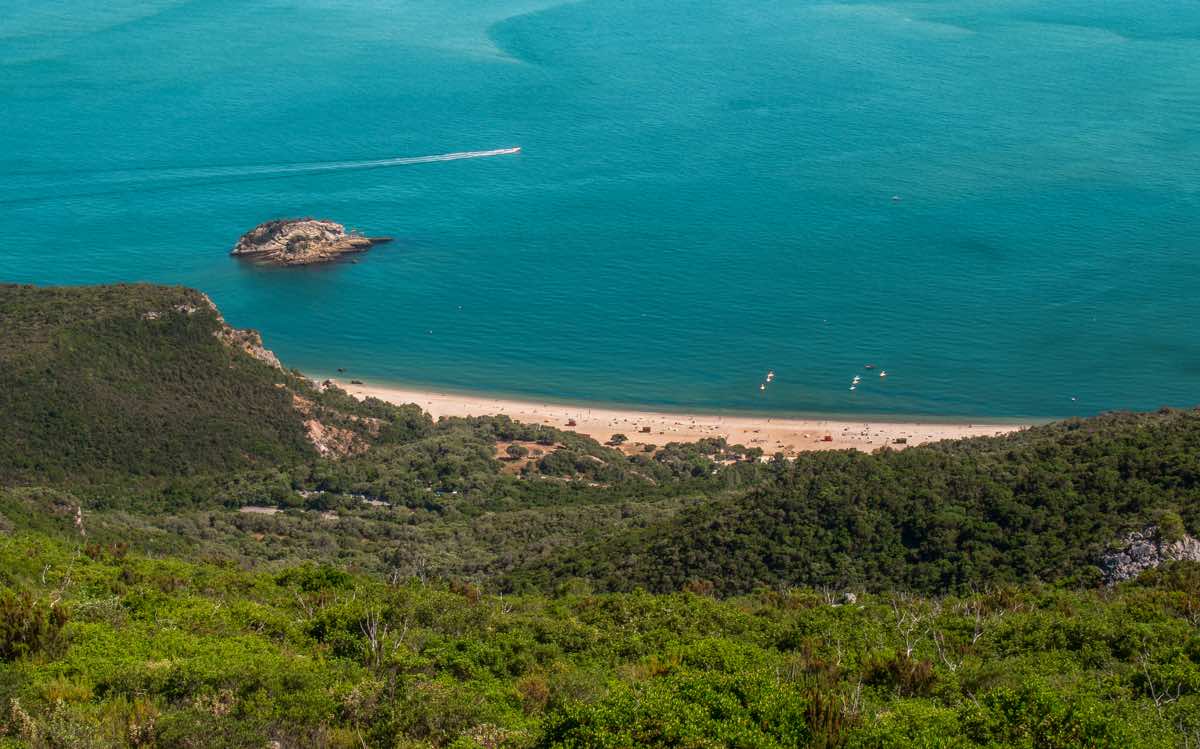 Serra da Arrábida had to be in this list, as it's one of the most fantastic landscapes in Portugal and one of my personal favorites. The wild mountainscape of this natural park is home to a wide variety of hiking trails, plants, animals and … views. For the most dramatic ones follow the winding N379-1 to Cabo Espichel.
Arrábida is also popular for its beaches. The white soft sand with turquoise clear waters of Praia dos Galapinhos or Portinho da Arrábida are dream material for beach bums like me.
How to get to Arrábida from Lisbon ℹ️
There's no other way around it: you'll need to drive to get to Arrábida.
To limit the number of people in this protected region, cars aren't allowed by the beaches between June 15 – September 15. You'll have to park in one of two parking lots: one just before Praia da Figueirinha, and the other is above Praia do Creiro.
16

Mafra & Ericeira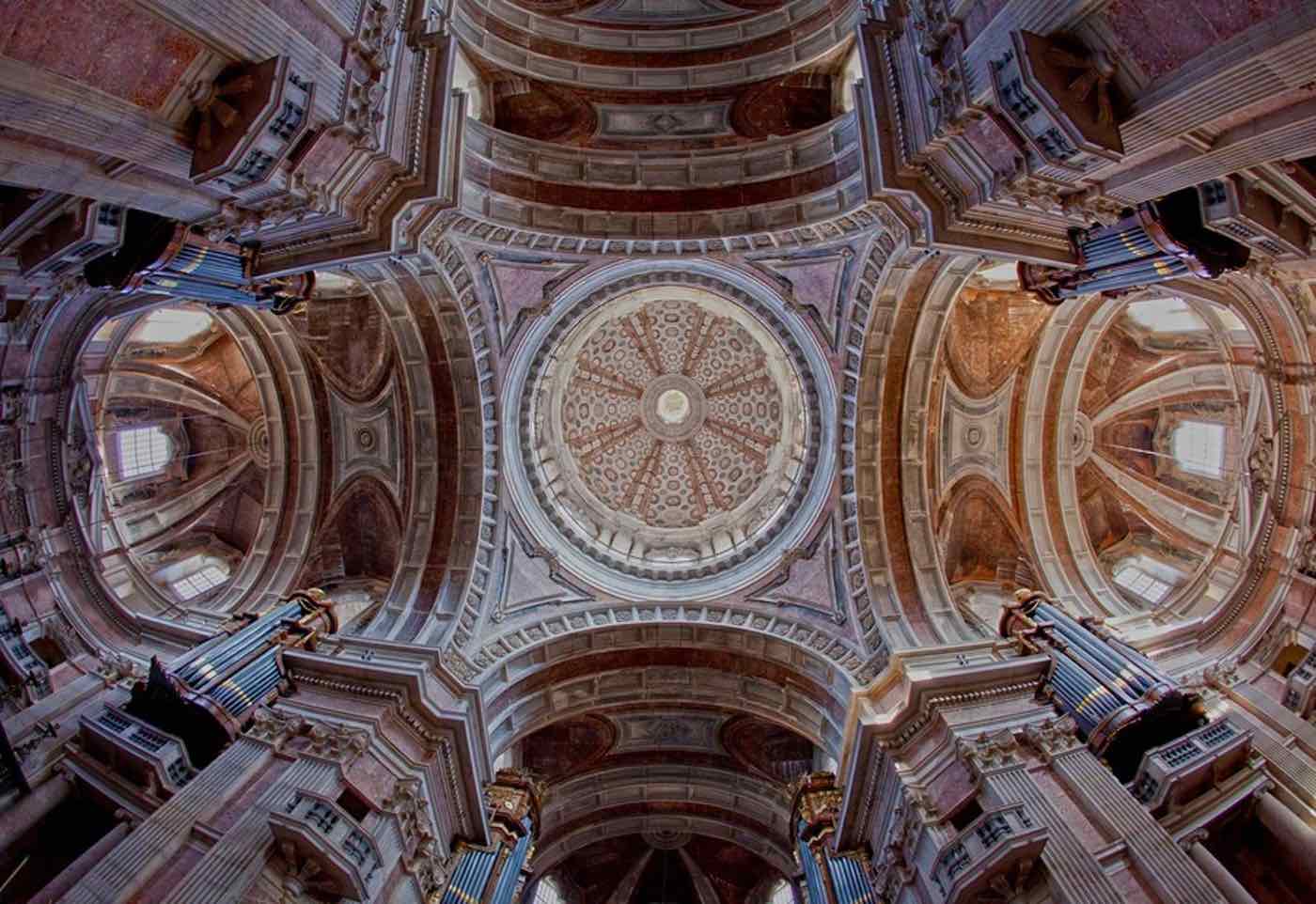 Mafra is a little Portuguese town 40 kilometers away from Lisbon that is home to one of Europe's largest and most extravagant palaces: Palácio de Mafra.
Initially commissioned by King João V as a "simple" monastery, the plans escalated quickly and ended up consisting of an opulent royal palace, a basilica, a convent, and even a game reserve.
Just 12 kilometers west of Mafra, the picturesque town of Ericeira boasts a series of sandy beaches popular with day-trippers and surfers, as well as some of the best quality seafood restaurants of the country.
How to get to Mafra from Lisbon ℹ️
The easiest way is to go by car and combine Mafra with Ericeira, enjoying the scenic views at your own pace.
Failing this option, Mafrense has buses service departing from Campo Grande in Lisbon to both Mafra and Ericeira.

16

Tróia

Tróia is a rather posh holiday resort at the top of the sand strip separating the Sado Estuary from the Atlantic Ocean. Besides the cliffs and marina, there are modern facilities and infrastructure to rent bikes or even play golf. The main attraction are the pristine beaches with stunning views over the Arrábida Natural Park on the horizon.

Along the coast of Tróia you can also spot wild dolphins. If you want a chance to get closer with them, choose Vertigem Azul who make sustainable dolphin-watching tours.
How to get to Tróia from Lisbon ℹ️
Tróia is accessible via ferry from Setúbal, a coastal city that is only a 40-minute drive, 50 minutes bus, or 55 minutes by train away from Lisbon.
If you have a car, you can drive along the peninsula and head to Comporta.
17

Berlengas

The Nature Reserve of Berlengas is a stunning day trip from Lisbon to soak in wild nature and ocean views. There's great snorkeling, diving, birdwatching, and kayaking spots in these islands just 10 kilometers off the coast of Peniche.
When you're at Berlenga Grande island, venture out to São João Baptista Fortress, arguably the most scenic fortress in Portugal, or simply go for a swim at the crystal clear waters of Carreiro do Mosteiro Beach.
How to get to Berlengas from Lisbon ℹ️
You can visit Berlenga with an organised tour from Lisbon or – my favorite way – do it on your own. Simply take the bus or drive to Peniche (1h20, great surfing spot by the way) and then hop on the boat to Berlenga Grande, the main island.
The boats only operate from May to September as the seas are too rough during the winter months. Booking your ticket in advance is recommendable. There are several operators doing this route, e.g. ViaMar.
Day trips from Lisbon: Car or public transport?
While I'm a big fan of sustainable ways of transportation, I'm the first to admit public transport isn't very reliable in Lisbon.
You can get to some of the places covered in this article by public transportation – train, bus or a combination of both. But others don't even have any public transport available. Additionally, a car will give you extra flexibility to visit 2 or 3 spots on the same day.
Before renting a car in Lisbon, I recommend to always compare prices first to get the best deal possible.
Where to stay in Lisbon
Buildings in the old neighbourhoods in Lisbon have been refurbished to serve as accommodation for tourists on Airbnb. As a result, the flat offer locals is now much smaller and the rents are unbearable for Portuguese standards.
Instead of an apartment, if possible book a hotel or guesthouse which does have less of an impact on the local housing market.
Find your place to stay in Lisbon, on a map:
Best areas to stay in Lisbon
Alfama and Castelo are entirely packed with tourists.
Intendente, Anjos are cheaper may have some (rare) safety issues and are not the prettiest areas to live for a few days.
I'd also avoid staying in the up-and-coming hipster areas of Bairro Alto (it can get very noisy at night) and in Martim Moniz.
Aim for any area in the "central axis" of Lisbon – São Sebastião, Marquês, Avenida, Restauradores and Baixa and Príncipe Real. They're all a great choice in terms of shops, restaurants, and transportation.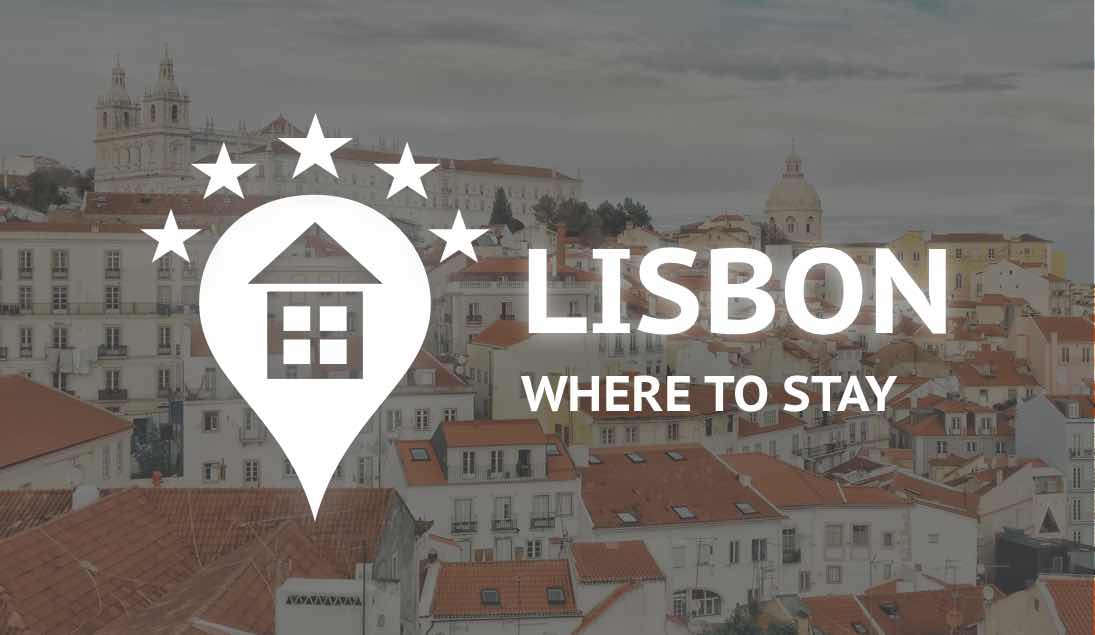 Top hotels in Lisbon
I've made the hard work for you.
This is a pre-filtered list of hotels in the best areas to stay in Lisbon.
Below are my top 2 recommendations.
Value-for-money places to stay in Lisbon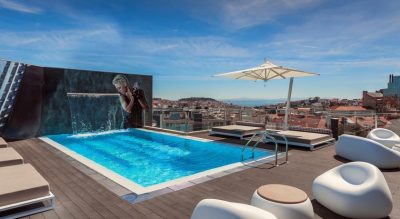 Charmingly music-themed hotel, super close to the center. Oh it comes with this stunning rooftop swimming pool.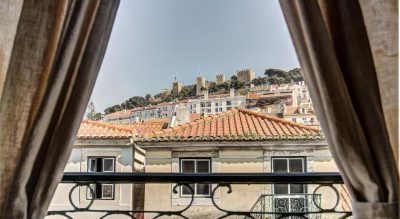 Located in busy Rossio – the heart of Lisbon – it's just one of those amazing value places that will make you feel at home. Perfect to make friends.
Summary
I've listed 17 places on this article, more than two entire weeks of travel. And trust me when I say there are plenty of more places to see around Lisbon.
Remember to use this map to help you plan out everything.
Before you venture out for the surroundings though, take enough time to explore Lisbon itself. The city has a lot to keep you busy for at least 3 full days, not counting with other local gems and hidden spots.
Other useful resources to plan your day trips in Lisbon
Which other suggestions of day trips from Lisbon do you have?
What am I missing? Share your tips below!