This Barcelona travel blog is an insider guide for first-time visitors. I lived 5 years in Barcelona and compiled lots of tips and hacks here. Find out what top tourist attractions are worth it and which ones are tourist traps. Plus, tips to eat, stay, and explore the main sights!
I've found some the more authentic ways to experience Barcelona. I've explored its most local neighborhood. And I've even ventured to explore the amazing variety of day trips you can do outside Barcelona.
But this article is focused on first-timer visitors in Barcelona. What can't you miss on your first trip?
What is really worth your time and money? This insider guide, fully updated in June 2019, can help.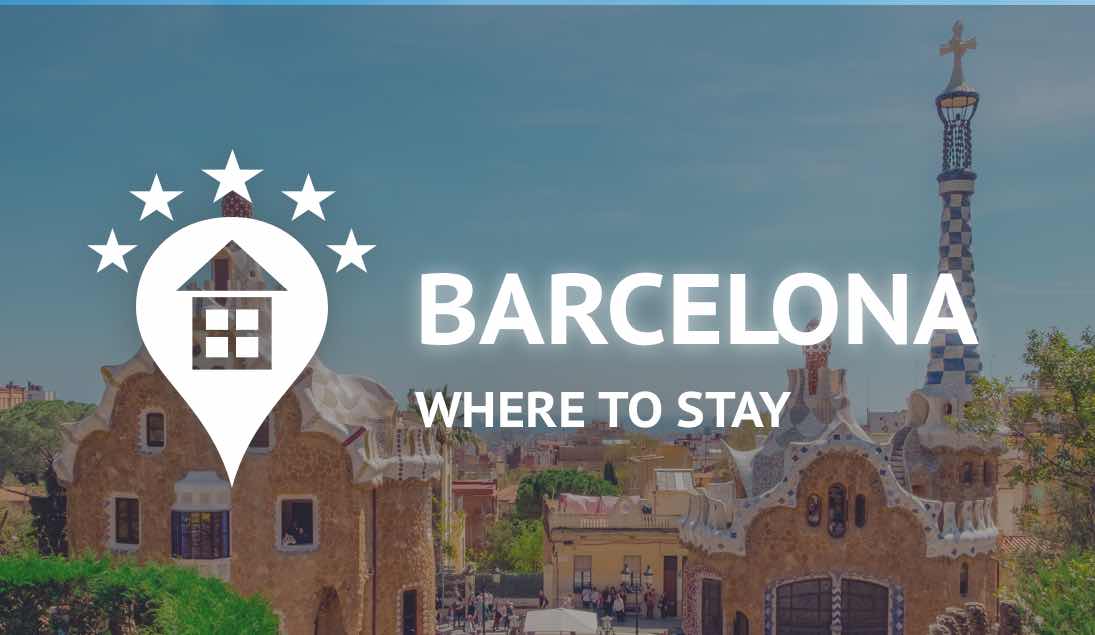 Start your search with this list of the highest-rated places to stay in the best areas of Barcelona.
Barcelona Travel Blog: Why visit?
One of the most visited destinations in Europe, Barcelona is known for a killer combination of Mediterranean food, golden beaches, tasty food, and vibrant, and bustling neighborhoods. But perhaps the most striking feature of the city is its glorious architecture. A significant chunk of it is Antoni Gaudí's work, the unofficial city's architect.
There's a lot to keep you busy here. I mean, I lived there 5 years with always new places to go and experience. Hopefully this travel blog help make your trip to Barcelona truly enjoyable and not just a "tick-off" off your bucket list.
Geography | Barcelona is the largest city on the autonomous region of Catalonia. Despite being part of Spain, Catalonia has a very strong identity and culture from the rest of the country; there have even been efforts of making it an independent territory throughout centuries.
Language | Locals speak Spanish, but a few words of Catalan (the regional language) can earn you an extra smile.
Money | Euro is used throughout Spain. Tipping is NOT mandatory and only done in case of an exceptionally good service. There are several ATMs scattered through the city and the overwhelming majority of restaurants and shops will accept cards. It's a cashless society (sometimes I don't use cash for months).
Weather | Expect mild temperatures all year round, and particularly high temperatures during July and August. Average lows from December to February are five degrees Celsius. It rarely snows in Barcelona.
When is the best time to visit Barcelona?
Overall, the shoulder seasons April-June and September-October are the best to visit Barcelona considering climate, crowds, and events going on.
To experience mild temperatures and decent sunshine hours, the best time to visit Barcelona is anywhere between April and October.
However, if possible avoid July and August months. July is too crowded as the city is PACKED with both tourists and also locals, who tend to go on vacation only in August. Plus, August sees the highest number of cruise ships and is known as the month of the tormentas de Verano – summer storms.
Is Barcelona safe for tourists?
Barcelona is a very safe city; the biggest threat will be pickpocketing and bag snatching. Like in any major city, make sure you are aware of your belongings at all time and follow the basic safety tips.
Be extra careful riding the metro and wandering La Rambla. Also avoid Raval and Poble Sec districts at night.
Top tourist attractions in Barcelona
Sagrada Família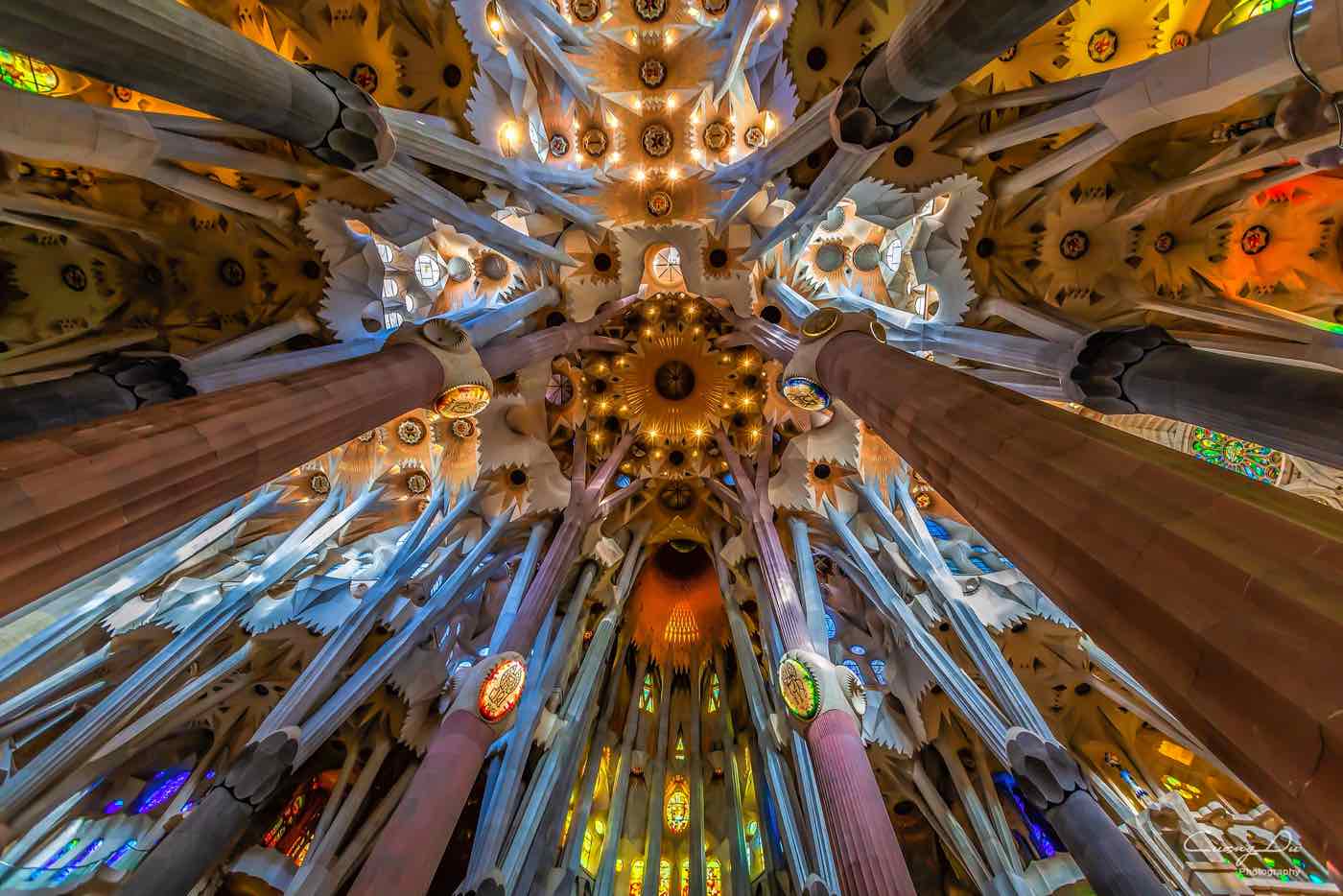 Let's start with the elephant in the room, or in other words, the iconic Gaudí's masterpiece. Sagrada Família is the symbol of Barcelona and while it's utterly impressive in size and detail, it's a rather odd combination of elements.
While I'm not personally a fan of the grungy outside, I find the interior magnificent. Quite possibly the most interesting and unique religious building I've ever been to. Visit during sunset hours to see what I mean.
Sagrada Família is set to be completed in 2026, year of the centenary of Gaudí's death.
ℹ Sagrada Familia tips
Entry fee | Tickets start at 17€ and are exclusively sold online.
How to get here by metro | The nearest stop is Sagrada Familia which belongs to both the blue (L5) and purple (L2) lines.
Insider tip | If you're on a budget, you can skip the tower visit as there are many (free) viewpoints in the city. Don't skip any chapter of the audioguide though – it will be key to fully understand the concept of the basilica as well as other Gaudí's projects.
Mercat La Boquería

The Mercat de Sant Josep de la Boqueria, often simply referred to as La Boqueria, is the most popular market in Barcelona.
More than a tourist attraction, it's a frolic experience for all senses, particularly for food lovers. Amazing assortment of food, from fresh fruit to sweets, from olive oil and chocolate to seafood and eggs. There's plenty of in-house restaurants and bars to have a meal or a light snack too.
Can get very busy with tourists, but if you come early in the morning and explore the area opposite to the main entrance you should be fine. Anyway, it's still BY FAR the most interesting thing La Rambla has to offer.
ℹ La Boquería tips
Entry fee | Free.
How to get here by metro | The nearest stop is Liceu on the Green Line (L3).
Insider tip | Avoid the first stalls at the main entrance and venture to the inside of the market where produce is fresher and prices are lower.
El Gótic (Gothic Quartier)

Known as Barri Gòtic or El Gòtic in Catalan, this neighborhood was once the centre of the Roman city of Barcino and in a way still is the heart of the city.
While the biggest selling point is to get lost in the delightful urban maze, following beautiful tiny streets that lead to open-air plazas, in Gótic you will find some of the more important buildings of Barcelona:
Catedral de Barcelona – massive and incredibly detailed cathedral. Many (including me) think it's more imponent than Sagrada Familia
Plaça Sant Jaume – the political heart of Barcelona, hosting the city hall and the Generalitat (Government) buildings.
Plaça Reial – beautiful palm trees set the tone of this iconic square next to La Rambla.
Pont Gótic – the intricate bridge that connects two buildings is a medieval fairytale material.
ℹ El Gótic tips
How to get here by metro | The nearest stops are Jaume I (L4 – yellow line) and Liceu (L3 – green line).
Insider tip | Come back to El Gótic after sunset for a slightly spooky but incredible opportunity to experience the glorious architecture without any crowds.
Park Guell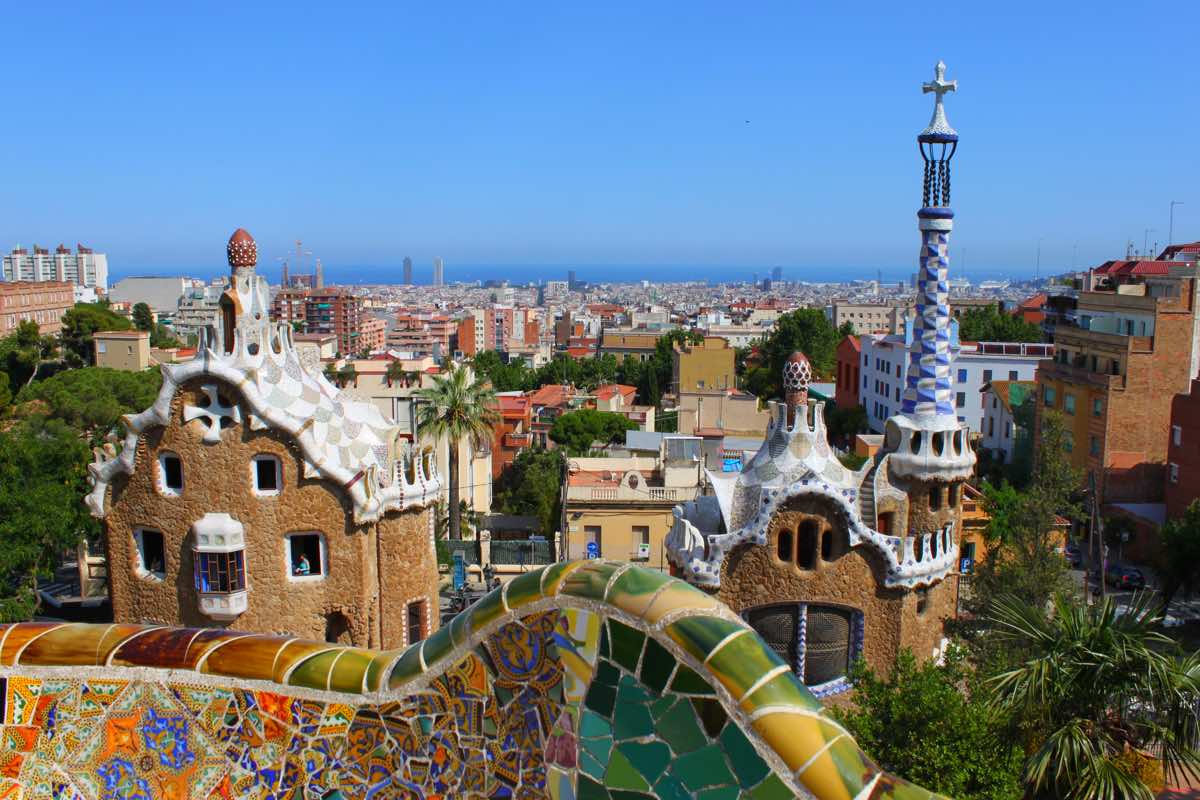 Initially designed to be a real estate project for the aristocracy of Barcelona, Parc Güell is today a unique place with exquisite buildings, footpaths, and gardens. Together with Sagrada Familia, it's the best place to admire how Gaudí was influenced by nature and to understand how organic shapes are strongly conveyed in his work.
Most of the park is free; only what they call the Monumental zone is paid as it contains the most famous architectonic pieces – including the El Drac lizard everyone seems compelled to sit next to, touch, and even kiss (!).
The free area comprised of gardens surrounding the Monumental area is definitely worth a stroll to (and my favorite). Not only there are some cool spots with hints of Gaudi's unique work but also open views over the city of Barcelona.
ℹ Park Guell tips
Entry fee | Tickets start at 8€ and sold online.
How to get here by metro | The nearest stops are Vallcarca or Lesseps on the green line (L3).
Insider tip | If you're keen on visiting the paid area, book your ticket well in advance. The hourly slots are limited!
Is it worth it? Not a must. I would consider it only if you have more than 2 full days in Barcelona.
Montjuïc's Magic Fountain
View this post on Instagram
The majestic Montjuïc´s Magic Fountain is a spectacular display of light, music and water open-air show. It displays millions of different visual combinations created from its 3600 water jets synced with almost 5,000 different lights and a wide range of musical selections.
The show starts every 30 minutes and lasts about 20 minutes. Get there early to find a good spot.
The best viewing places are usually on one of the two pedestrian bridges on the way from Plaça Espanya or at the steps that lead to the MNAC Museum.
ℹ Magic Fountain tips
Hours | Schedules vary throughout the year, it's closed in winter months. Check the latest schedules.
How to get here by metro | Plaça de Espanya on the red (L1) or green (L3) lines.
Insider tip | If you're around in La Mercè, don't miss the piromusical closing event in Montjuïc's Magic Fountain. Adding to light and water, there's fireworks and lasers too!
Passeig de Grácia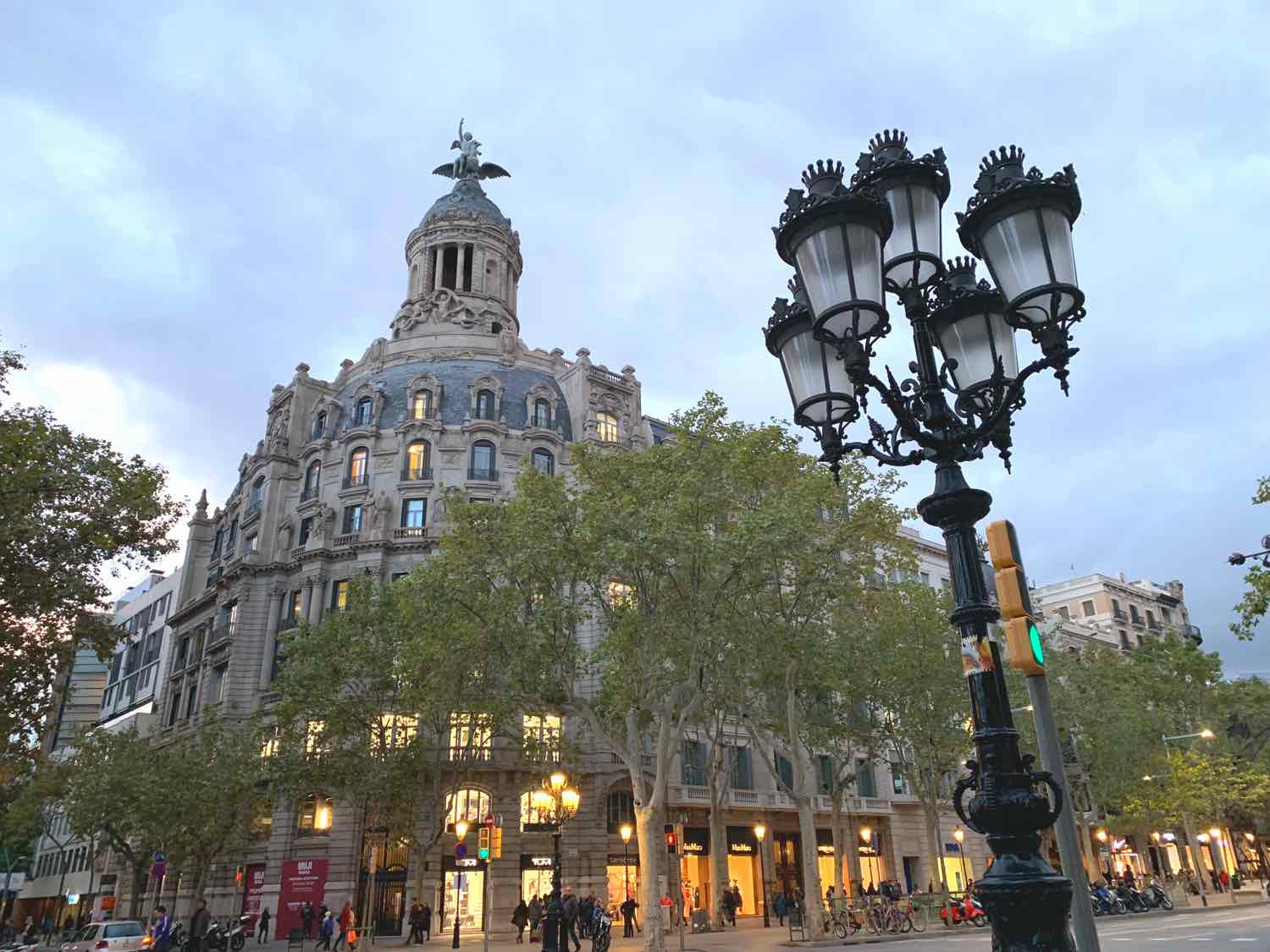 Passeig de Gràcia is the Champs Elysee of Barcelona. Luxury shops, up-market restaurants and an impressive collection of Modernist buildings make it one of the tourism epicenters of the city.
Apart from the shopping factor, this famous boulevard is another iconic area of Barcelona and has some of the most fascinating architecture examples in the city (see below).
Personally, I don't care about international clothing brands (ZARA, H&M, etc) and especially luxury brands (Prada or Versace) but they're all here too.
Casa Amatller – completely overshadowed by its over-the-top neighbor (Casa Battló), this Modernist building was designed by Catalan architect Josep Puig i Cadafalch and belonged to the Amatller family who ran a chocolate business on the 19th century (still active today!).
Casa Battló – colorful and dreamy building designed by Gaudí with no straight lines and all covered in mosaics. The small balconies resemble masks and the roof is shaped like a dragon's tail.
Casa Millà / La Pedrera – the largest of Gaudi's buildings in Passeig de Grácia. My favorite part is the building's roof with 360-degree views of Barcelona.
El Nacional – set of five restaurants in a 1920 art-nouveau vibe. Elegant and overpriced but worth to enter and dazzle at the architecture.
ℹ Passeig Grácia tips
How to get here by metro | Passeig de Grácia station is on yellow (L4), purple (L2) and green (L3) lines. You can also get here walking from Diagonal or Plaça Catalunya stations.
Insider tip | For a quick, healthy, and cheap lunch head to Faborit, tucked away inside the Casa Amatller building. You can also get a taste of the prestigious Amattler chocolates.
Map of tourist attractions in Barcelona
I've put all the main tourist attractions of Barcelona on this map.
Oh and I've also added pins in a few other categories:
Local hidden spots (many of them mentioned on this article)
Local restaurants with Spanish food
Healthy and veggy restaurants
Bars

Tourist traps in Barcelona
Las Ramblas
For some strange reason, taking a stroll down Las Ramblas is the first thing people do when arriving Barcelona. Everybody talks about it as if it were some magical street where the locals spend their free time dancing flamenco with a jar of sangria in their hands.
Guess what? Pronounce the words "Las Ramblas" to any local and you'll get a rolleyes in return. Once an authentic promenade where locals would come for a stroll on the weekends, it's now succumbed to tourism exploitation. 9 out of 10 people walking this avenue is a tourist (!!) which made it into a chaotic mess of human statues, souvenir shops, and overpriced restaurants. Plus, the high density of pickpockets make the area potentially unsafe.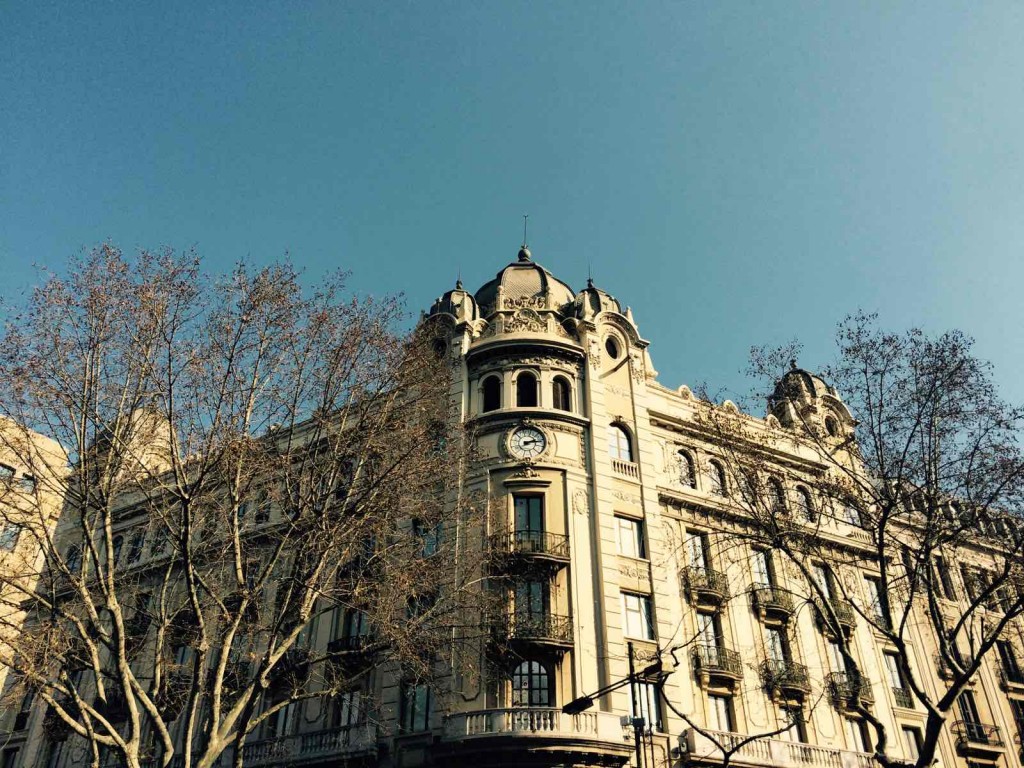 Camp Nou
I actually enjoy football (or soccer in the US) to some extent, but paying to see a football stadium – no matter which one – SCREAMS trap to me.
Barceloneta
The area of Barceloneta and the nearby Port Vell were ignored until 1992, when it was completely revamped for the Olympics.
What once was the traditional fishing district, now is Barcelona's most hyped beach area with its long strips of golden sand, terrazas serving paella, and street vendors and performers.
The only reason I go to Barceloneta these days is for (some) good seafood restaurants. I admit it has a cool promenade resembling Miami's, but it happens to be the most crowded, noisy, and dirty beach in the whole city during summer months.
There are plenty of other much more tranquil and cleaner nearby beaches just a 20-min train ride away. And with no drunken tourists.
Flamenco Tours
One of the most unique cultural features of Spain, flamenco is a dramatic and passionate dance that evokes all kinds of emotions. The "issue" is that flamenco is originally from Andalucía, in southern Spain. Yes, you can find in all the major cities like Barcelona, but only to cater to tourists. It's still part of the cultural identity of Andalucía and Andalúcia alone.
If you're still interested in doing a flamenco tour, as a bare minimum, do your research and try to support local performers and smaller genuine tablaos.
Accommodation in Barcelona
Best areas to stay in Barcelona
First of all, I suggest AVOID staying at Raval (potentially unsafe at night) and Poble Sec (too many loud bars).
Now, the biggest tourist attractions are in Eixample. For the best options in terms of logistics and if you like to stay in the center of the action, Hotel Lleó is a good option.
Hotel Lleó
Excellent location, clean rooms, helpful staff and a swimming pool in the terrace. What can go wrong?
Poblenou (next to the beach, but far from downtown) or Born (cool and hip district, potentially loud at night) can also be good options.
Best local area to stay in Barcelona
On the other hand, if you seek a more local vibe, I definitely recommend staying in Grácia. Healthy local food, cool indie shops, and a quiet vibe away from tourist crowds and loud bars await you. I recommend the below place.
ApartHotel Silver
Easy walking distance to the streets and plazas in Grácia, but also to metro that take you to other areas. It even has a private garden!
Hotels & apartments in Barcelona
You can start your search with my shortlist of top-rated places in Barcelona with WiFi.

Getting around Barcelona
Getting from El Prat airport to center
The most convenient way to get from El Prat airport to Barcelona center is by Aerobus. Buses leave terminals 1 and 2 every 5 minutes from 5am to 1am. The journey takes about 30 minutes to Plaça Catalunya, with a few stops along the way (including Plaça Espanya and Universitat). Tickets can be bought online or aboard.
Metro is also present in both terminals of the airport. However, the L9S Line does not connect to the downtown, meaning you'll most likely have to change lines which can be a hassle with luggage.
If you're arriving to the T2 terminal, there's a Rodalies train available that stops at Sants, Passeig de Grácia, and El Clot-Aragó. It's the cheapest way to get to downtown and trains depart every 20-30 minutes.
Finally, failing these options, expect to pay around 30 euros for a taxi ride to Plaça Catalunya. There is no Uber in Barcelona (as of 2019) and other similar apps like Cabify run on a limited basis.
Public transport in Barcelona
Walking is by far my favorite way of knowing a city and Barcelona is no exception. The districts of Eixample, Barceloneta, Born or Gótic are all pretty flat which makes things easier.
That said, public transportation is top-notch, so unless you plan on making a lot of day trips, renting a car in Barcelona won't be needed at all. For a medium-sized city, the amount and frequency of metros, trains, trams and buses is remarkable.
Forget about city passes or day cards for tourists: get a T-10 ticket. This ticket with 10 rides is cheap (10,2 euros, as of 2019) and can be used in buses, metro and even some trains too. The best part? This is a multi-person ticket meaning you can share the pool of journeys with others.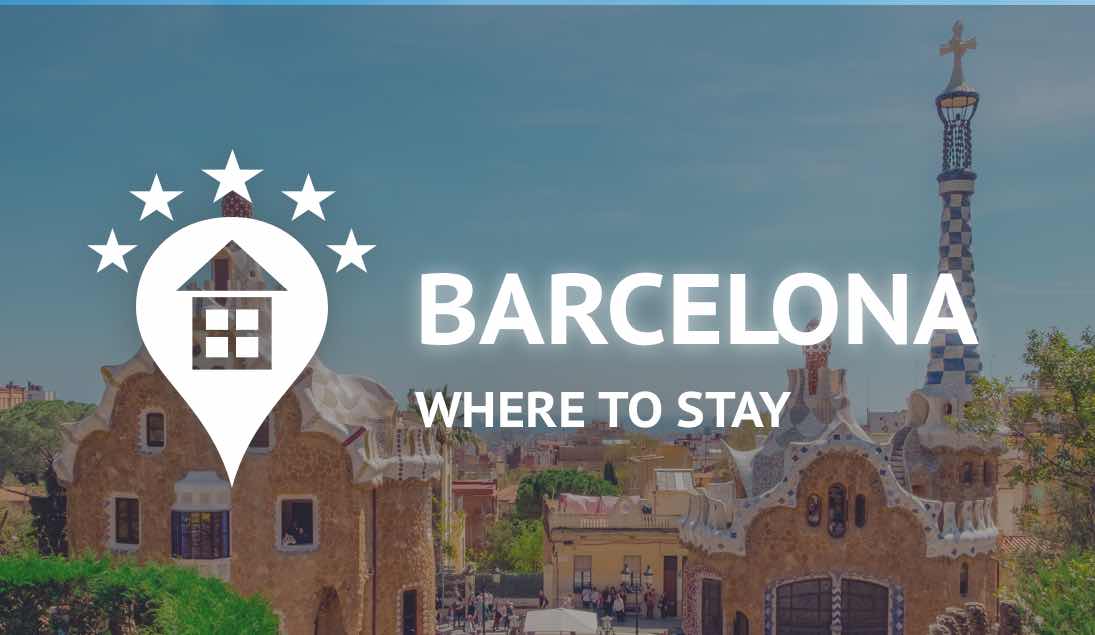 Start your search with this list of the highest-rated places to stay in the best areas of Barcelona.
Food in Barcelona
Barcelona has a pretty international vibe, with tons of expats, and there's food from every corner in the world, from kebabs and korean BBQs to ramen and pizza. There's also a HUGE variety of gluten-free and vegetarian restaurants especially in Grácia district.
I'll just focus on places with local Catalan and/or Spanish cuisine. And let me break you some news: food in Barcelona is not just paella and sangria! In fact, the chance of you ordering a bland paella with 99% rice and 1% other stuff or a hyper-sweetened sangria made with the rest of wines from the day before is very high in Barcelona.
For a better chance of better meals, explore my Eat BCN Foursquare list or follow some of my top recommendations below.
Local food in Barcelona
ℹBest restaurants in Barcelona serving local food
Can Borrell – if you're up for a little adventure on the mountains outside Barcelona, this masiá where local families go to is a guarantee of a great Catalan meal.
Ciudad Condal – extremely busy and touristy but somehow delivers decent range of tapas. No reservations allowed, so you'll have to queue up.
La Bodega d'En Rafael – cheap authentic food in a lively environment. Doesn't get more local than this.
La Paradeta – a must if you're into seafood. Pick what you want – just like you'd do to a fish monger in a market – and they'll cook it for you.
La Pepita – tasty Catalan food in an authentic athmosphere, even though it's packed with tourists too.
Pulperia A Gudiña – tapas with a Galician touch. Don't miss the star of the restaurant: pulpo a la gallega (octopus made the Galician way).
Santa Gula – tapas place serving local ingredients in unique ways. A bit pricey but worth every scent for the mix of flavors. Make a reservation.
Somorrostro – in a Barceloneta district packed with crowded bars and overpriced paellas, this is a gem. Not cheap, but the eco cuina de mercat (market's food) concept makes every dish delicious.
Xiringuito Escribá – beachside views, big portions, filled with locals. Great place for an afternoon paella.
Other useful resources
Read more about unique experiences and things to do in Barcelona, as well as some of the city's hidden gems.
For those staying longer, this list of day trips from Barcelona may be useful. Oh and don't miss my guide of Grácia, my favorite neighborhood.
What other insider tips would you add to this Barcelona travel blog?
Share your suggestions below in the comments! 👇