Is Valencia worth visiting?
Living in Spain, this is a question I get a lot. Valencia is not the first place that crosses the mind of travellers.
When thinking of Spain, crowds tend to the busy Barcelona, the trendy Madrid or even the Balearic islands for their travels. Valencia seems to be somehow lost in the list.
Valencia turned out to be one of the biggest travel surprises I've had. Here are some reasons to think again why you should bother going there to explore this gem!
https://instagram.com/p/2Wmi1Ss-Jc/?taken-by=bruno_mb
How to get to Valencia
I hadn't used train in long journeys since my Florence city break last year. So I was truly excited when hopped in to the train in the Sants Station in Barcelona. It's my favorite transport!
However, the 3-hour long ride quickly turned into hell. No air conditioning, no wifi, random stops in the middle of nowhere and uncomfortable seats during painful. For 4 AND A HALF HOURS. I arrived Valencia at 1 am in the morning, desperately needing a mojito.
If you are coming from southern Spain, Madrid or Barcelona, train are still the best way to get to Valencia. But I don't recommend Intercity trains – choose Euromed instead!
If you are coming from abroad, Valencia's international airport is well-served my european airlines, specially Ryanair, Vueling and Iberia.
A Throwback To The Past
Walking in the old city of Valencia in a Saturday morning is surprisingly pleasant: there was a fresh breeze in the air and crowds were minimal.
First stop: The Santa Maria de Valencia Cathedral, with three entrances of different architectural types (Baroque, Gothic and Romanesque) and where it's believed the authentic Holy Grail is kept.
Yeah, yeah, I've heard dozens of bullshit stories about this thingy too, but I was surprised to know carbon dating has put the manufacture of Valencia's chalice somewhere between 300BC and 100AD. Skeptics say if the Holy Grail exists, this one is the best bet. How about that?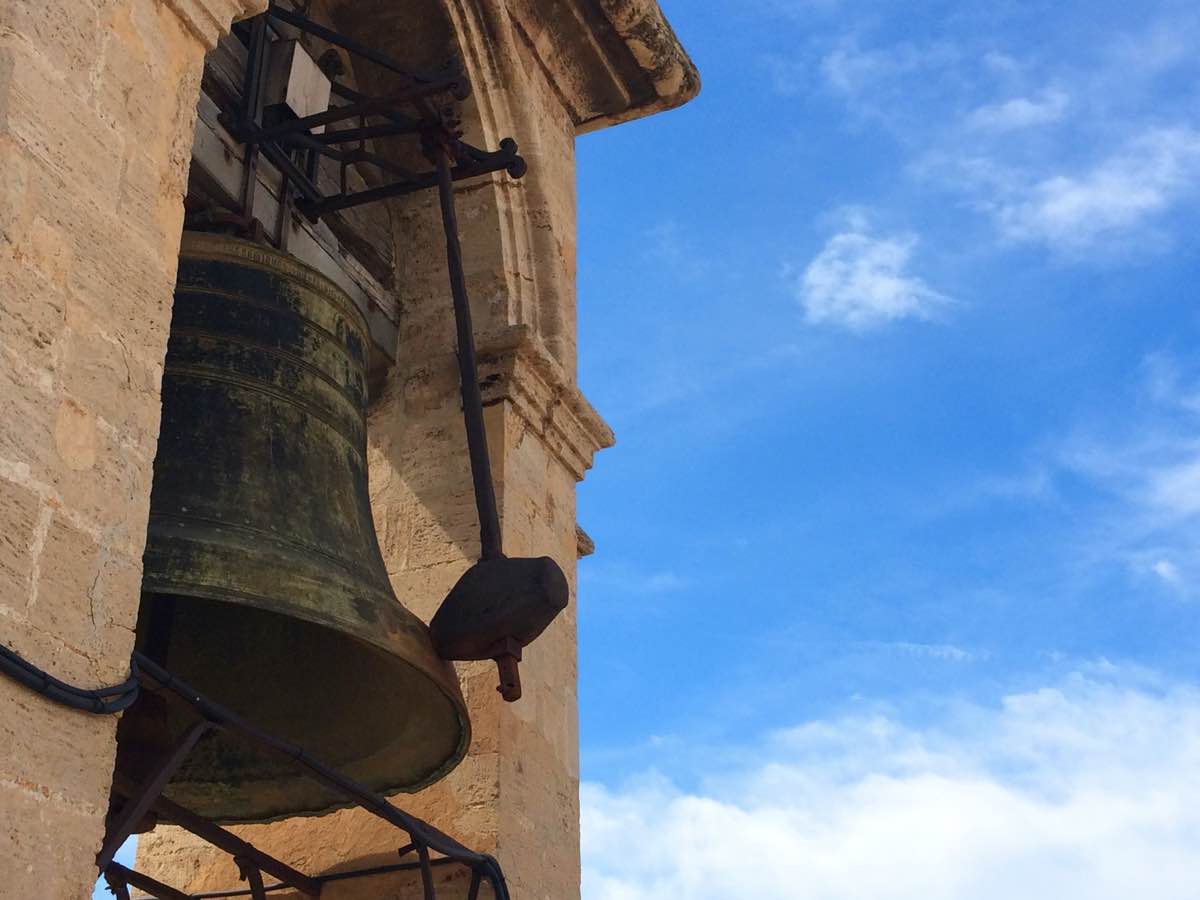 Right next to the cathedral, the highest building in the city: Micalet. This was when I first noticed Valencia has a local language, because next to the ticket office there was an exit sign saying Eixida. WTF. Valencian it's not Catalan and its not Spanish either, it's a rather awkward mix that only contributed to confuse my already confused brain – switching between Spanish/Catalan/Portuguese/English everyday is not easy…
Anyway, the Micalet. 207 steps later, after arriving to the top like an exhausted dog, I realized I need to do cardio more often. Can't say I was blown away with the view, but still was well worth the 2€ entrance fee.
It's possible to see very interesting architectural details in the Cathedral itself as well as of the narrow streets of the old town around the tower I was about to explore after.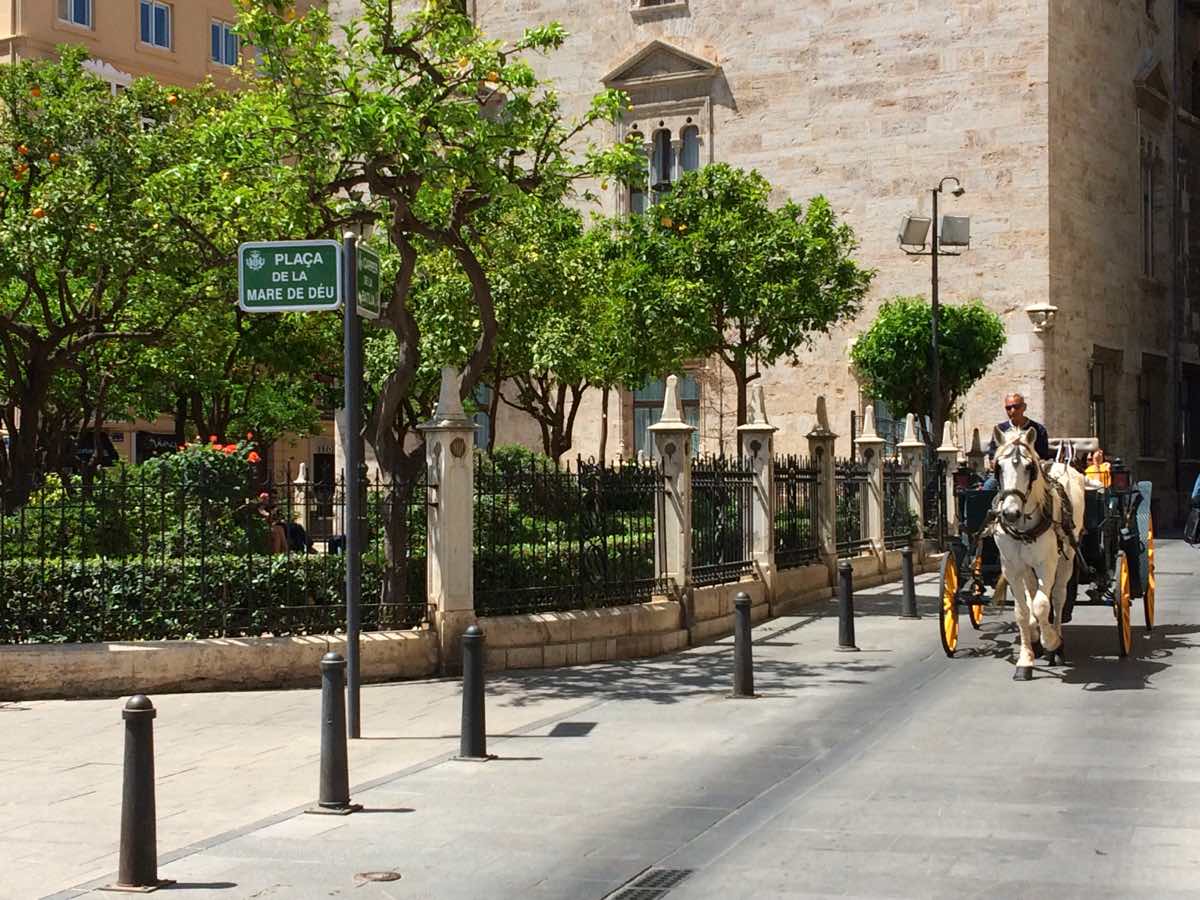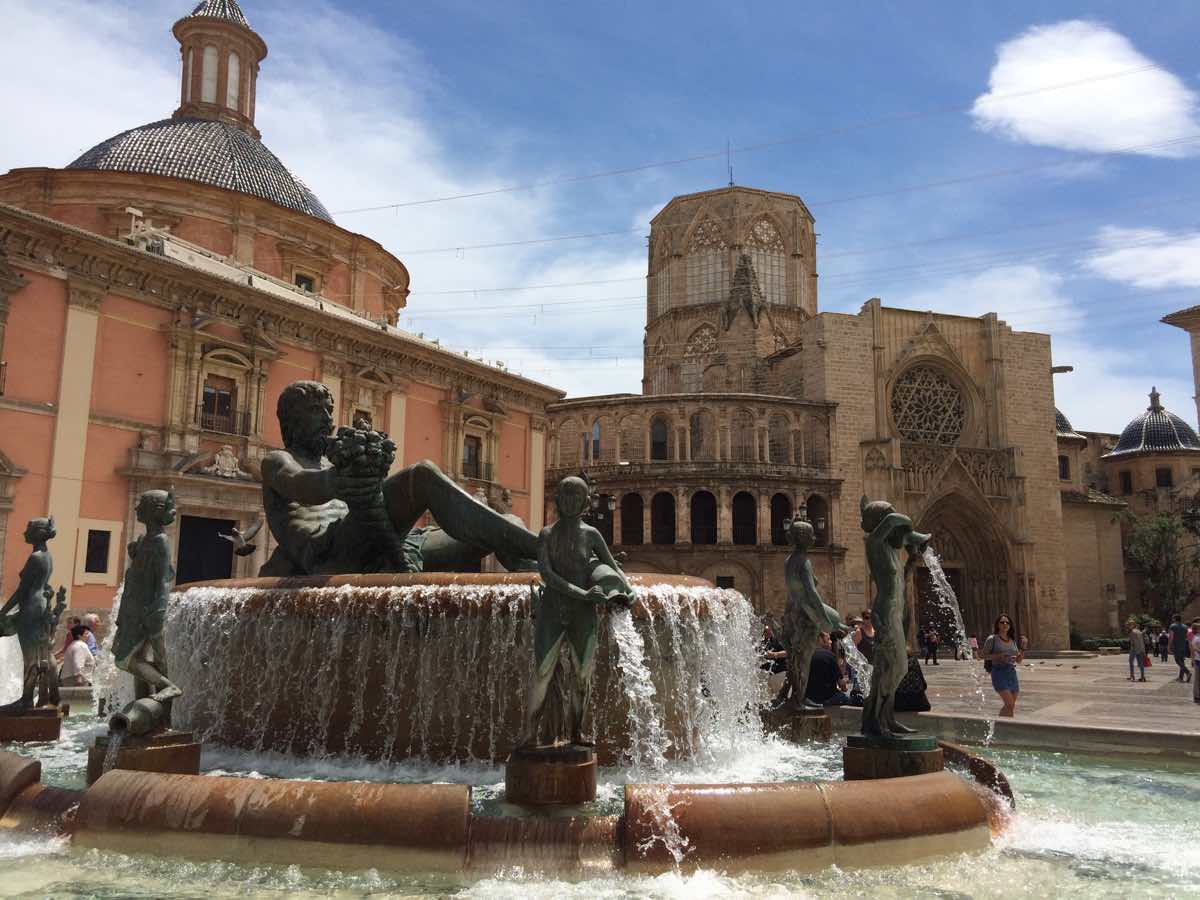 The high point of Valencia for me was Plaza de La Virgen, the main square of the old town. Sitting on the former Roman Forum of Valencia, today is a very lively place, stunning by any angle.
There are lots of tourist traps around here, so don't expect bargains if you decided to sit for a coffee or a sangria. Still, the granite paving, the central fountain and the medieval buildings in the surroundings create the perfect place to watch the world go by.
… And a Step Into The Future
I thought Barcelona was hard to beat when it comes to architecture. Besides the main touristy sights, the everyday buildings are very well-maintained and frequently display interesting details, specially in the neighborhood I live in, Eixample.
Potentially I can cause some drama with what I'm about to say, but here it goes: turns out Valencia is even more impressive. Of course it lacks an outstanding top attractions like the ones in Barcelona, like the Sagrada Familia or the over-the-top and disrupting Gaudi's work in Parc Guell.
You might not be as a big of a fan of architecture as me. But you can't help but notice the buildings in Valencia are super neat! It gives the city a very tidy, modern and trendy ambiance.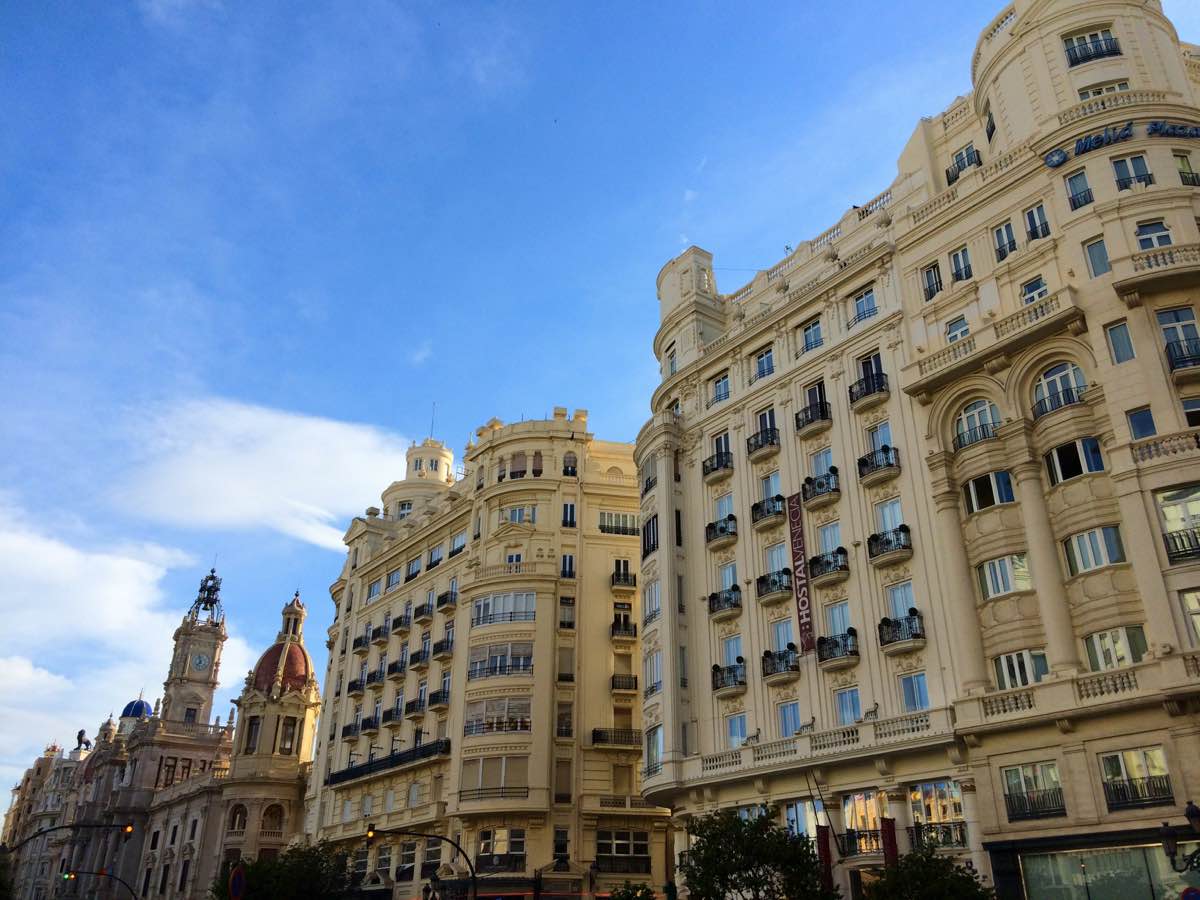 Speaking of modern lines, the most popular sight in Valencia is Ciudad De Las Artes Y Ciencias (City Of Arts And Sciences). It's a set of highly futuristic buildings comprised of an Aquarium, a Science Museum, a Planetarium/IMAX cinema, performance venues, exhibit areas, amongst others.
It was built by Santiago Calatrava, a local Valencian architect who's rocketed into fame with controversial pieces of work like the Athens Olympic Complex (Athens, Greece) or the $4B World Trade Center Transportation Hub (New York, US).
City of Arts and Sciences is an ode to Calatrava's innovation aesthetic. The blue from the pool water is reflected in the white structures creating a stunning effect. It just feels like entering another world. A world 50 years from now.
Sadly, the entrance tickets are expensive so didn't actually see the inside of any of the buildings (sorry, but there's a lot I can do with 23€!). Nevertheless, just exploring this complex is a must-have experience in Valencia. It's a damn cool sight, it's instagrammable and completely different from anything else in the city – and I'd dare say in the whole Spain.


A River of Activities
After the floods that ravaged the city in the 50s, the council decided to divert the Turia river further south. The old river bed was planned to be a highway, but THANKFULLY they eventually opted for a new urban park, which today is the largest one in Spain: Jardines de Turia (Turia Gardens).
Today this park crosses the city from the east to the west along 9 km (!) and have become the green lung of Valencia. Ciudad de Las Artes Y Ciencias it's on its southern-most point, but there's a lot more to do! Throughout the park, there are many sporting activities going on – football, rugby, baseball, etc – and even a child park shaped like Gulliver The Giant. Perfect for strolling, skating, rollerblading or biking.
One year ago I didn't know how to ride a bike. I know, shocking. There's no specific reason for this, I've just hadn't got much interest in bikes. I'd rather swim in the sea, play with Legos or climb to trees in my parent's farm. But today I'm always dying to explore a new place by bike. And Jardines de Turia was the best urban bike ride I've had so far.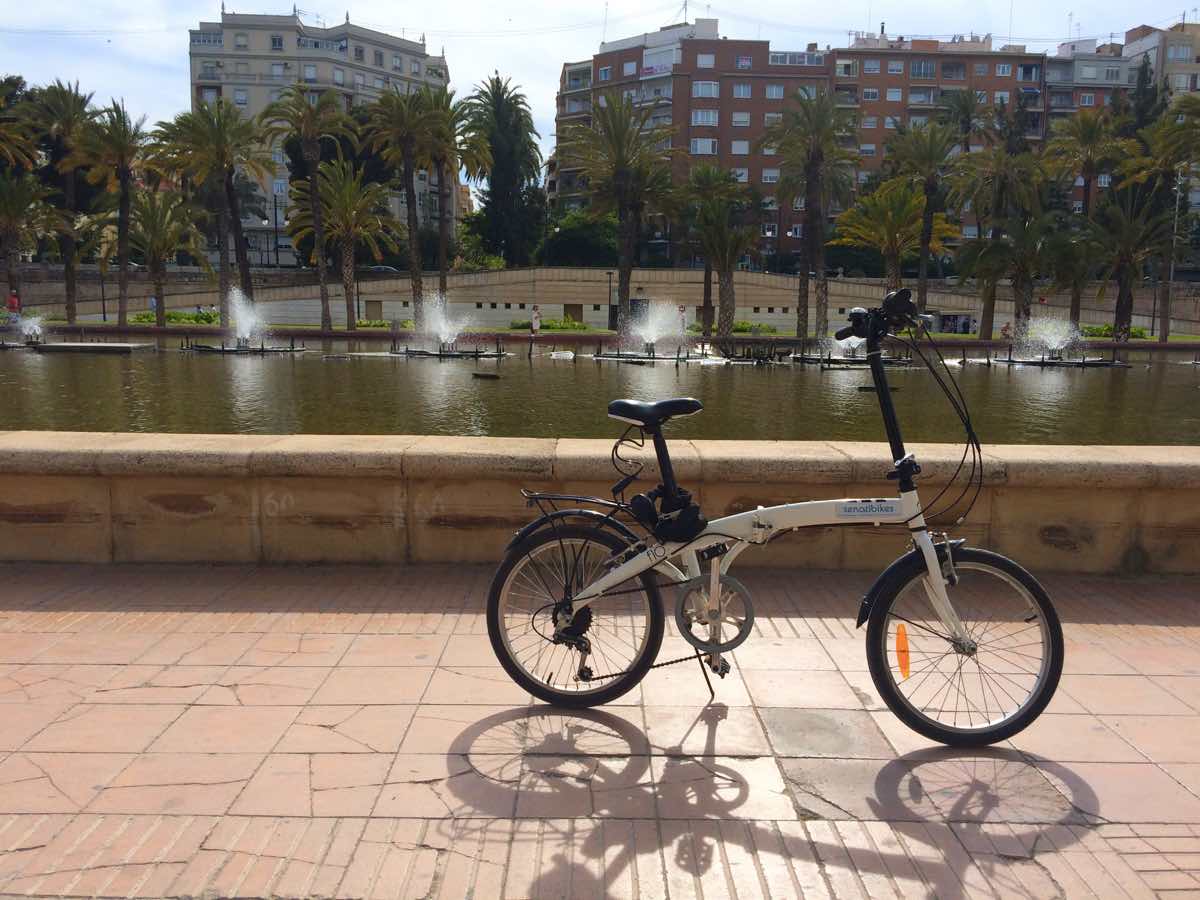 Getting to know through all the different sections of the gardens and passing by fountains, orange groves and old medieval bridges along the way was super cool. I've completed a full lap to the park, roughly 18km, which is HUGE achievement for me. A ride in Turia is THE experience to have in Valencia. Or perhaps I'm way too excited about this biking thing?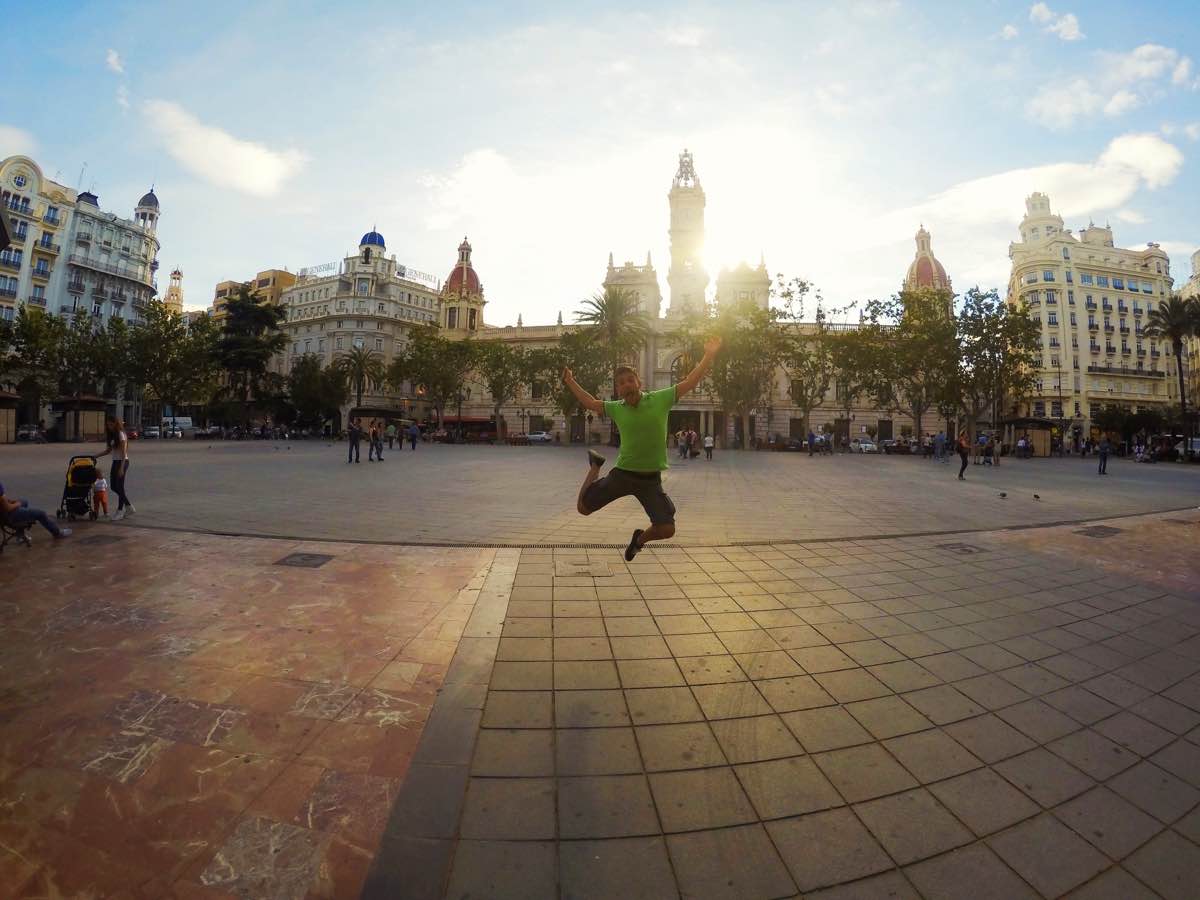 Eating And Drinking Like a Spaniard
Before going to Valencia, I had no idea what a horchata was or how was it made. I didn't even know there were drinks made from chufas (tigernuts). Well, horchata is the traditional beverage of Valencia, having a surprisingly refreshing almond-like taste perfect for those spanish hot sweaty days.
Now I'm seriously craving it and I even started noticing in many supermarkets and cafés in Barcelona. It's just like learning a new word: all of a sudden you realise it has always have been EVERYWHERE in front of you on signs, books and newspapers.
But not knowing about horchata is forgivable. But something's really wrong with you if you're going to Valencia and not eat a paella, which has grown in popularity to undoubtedly become the national dish of Spain. The Valencian version is believed to be the original recipe and consists of rice, meat (chicken/rabbit), beans, snails and artichokes.
Paella can be found virtually in any restaurant or street food stall in the city, but at least try to eat in a typical place.
If you have some extra time to spend, you can find this original recipe in the Albufera rice fields south of the city. In the El Palmar village, which is consider to be the birthplace of the paella, many restaurants are specialized in rice dishes and serve what is considered to be the most traditional paella in Spain. It doesn't get more local than this!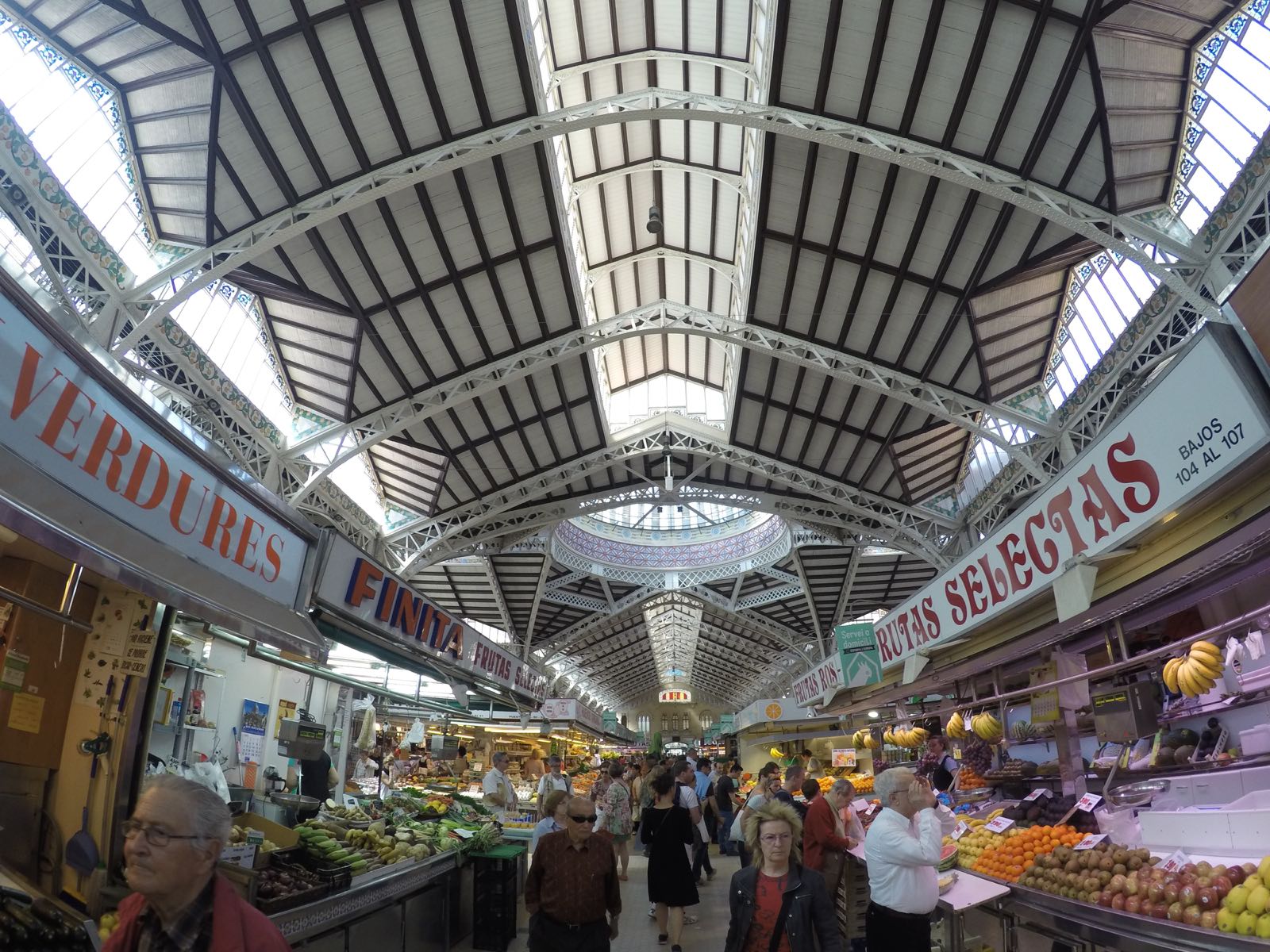 Any decent-sized city has its own market and often is the best place to get valuable insights about the food and the culture of the place.
Mercado Central (Central Market) of Valencia is no exception and besides oranges, horchatas and paella stalls, it comes with a plus: an extremely eye-candy interior. This is one of the biggest markets in whole of Europe, so plenty of opportunities to indulge in Spanish delicacies. Like a freshly squeezed Valencian orange juice.
https://instagram.com/p/2ZPahns-OJ/?taken-by=bruno_mb
Visiting Valencia also means going to the beach!
After exploring the city centre, I still found some hours to relax on the last day on the Cabanyal beach. A quick 15-min metro journey took me right next to the Mediterranean luckily in the hottest day of the year so far (33ºC).
TRAVEL NUMBERS @ VALENCIA, SPAIN
DURATION OF THE STAY: 2 DAYS
TOTAL DISTANCE COVERED ON FOOT: 35,1 km (!)
ACCOMMODATION: 43€/2 nights
TRANSPORTATION

Bike Rental: 8€
Metro Return Ticket: 4€

FOOD&DRINK

Meals: 68€
Natural Juice: 3€
Horchata x 3: 8€
Gin & Mojito : 13€

OTHERS
TOTAL COST (€): 149€/pax
Wrap-up: Valencia is definitely worth a visit!
What I liked about Valencia is that it does not try too hard to be beautiful. It doesn't need to. What I expected to be a soulless and boring destination turned out to be a cool and groovy place, ideal for a getaway weekend.
Valencia has definitely got an unpretentious vibe which I am very keen on and which I very rarely found on my travels. I will be surely be coming back and next time I won't miss Las Fallas Festival for nothing!
Where to stay in Valencia
Accommodation in Valencia is not expensive, but be smart about where to stay to fully experience the city. Here's my top suggestion:

Or do your own search in the best area of Valencia:
What did you think of Valencia? Can you find any more reasons to visit this city?