Renting a car online is one of the most frustrating and anxiety-inducing things to do when planning a trip. This is a guide filled with rental car tips for a safe and scam-free trip!
Traveling by car is one of my favorite ways of practicing slow travel. Some of my best travel memories have been of roadtrips. I have done road trips in Portugal, Croatia, apart from motorbikes in Vietnam and Thailand and it's been amazing every time!
Still, renting a car online is a ridiculous hassle and a chaotic mess of insurances, excess, credit card blockings, taxes, and fees that drive (pun intended) anyone crazy.
Car rental companies are filled with scams
Renting a car is a low margin business. Most of their profit comes from the desperate upsell of all kinds of expensive extras, insurances, and upgrades to your rental.
If you ask me, the car rental industry urgently needs more consumer protection and/or to be fully disrupted. While this does not happen, here are some tips and tricks when renting a car that can save you some time and money.
Car Rental Tips – The Summary
If you don't have time to go through everything, here is a quick summary on how to save money.
Book your car rental with brokers and comparison websites – I use RentalCars – as it's usually cheaper than directly with companies
Make your booking as early as possible – the best car rental rates are found with months in advance
Give preference to local small companies, but always do a background check with locals or online reviews
Take extra insurance with a third-party insurer – I use Insurance4CarHire
Be aware of all the extra charges, such as mileage, one-way fee or GPS and take out what you don't need
On the moment of pickup, inspect the vehicle thoroughly and take a bunch of photos and videos of the vehicle as proof
Explore peer-to-peer car rental alternatives such GetAround or Turo
Always read the tiny letters and terms and conditions of your rental contract
Renting a car online
May seem counter intuitive, but usually renting a car directly through the company is more expensive. I imagine this depends on a lot of factors, but in all my personal cases I've compared prices beforehand and the cost of my booking was always cheaper with a broker.
I always use RentalCars. Not only I find their website much easier to navigate and understand, but I normally can find cheaper bookings overall.
Which company to go for?
Customer service, quality of cars, and assistance vary a lot depending on the country you're renting your car so it's impossible to recommend one single "best" company.
I tend to go with local companies as opposed to well-known ones like Sixt, Avis or Budget because 1) they are less strict rules about their excess/deposit and 2) have superior customer service 3) you're supporting a local business.
As a rule of thumb, the hire companies with cheapest upfront prices are usually the ones with more scam potential. It's just a mask hiding fees, though excess policies, and other expensive charges.
In any case, ask locals or look for online reviews. You're looking for any issues on the quality of cars, or unexpected credit card charges. Online reviews must be taken with a pinch of salt though. There won't be any perfect 5-star companies, and expect many angry yet uninformed customers who simply failed to comply with the terms of contract they signed.
ℹ My experiences with car rental companies
Autatlantis – local company in Azores, with caring customer service. It's a shame they are ridiculously expensive now.
GetAround – a peer-to-peer car rental service that I LOVE because it removes all the complicated stuff in standard companies.
EasyWay – definitely the best prices in Mexico.
Micauto – seamless experience in São Miguel, Azores.
Hertz – I avoid them like the plague because I didn't had a good experience with them (to be fair, years ago) and I've also heard a lot of bad experiences from others.
Sixt – good option in Europe. Had no problem at all in our Croatia road trip, even though the one-way fee was hefty.

Car Rental Insurance
Let's dive into the fascinating world of insurance of car hires.
First of all, except for a handful of countries like Chile and Mexico, no rental company will let a car hit the road without a basic damage protection policy. Whether it's the company's own policy or some kind of cover from the driver's credit card, you most likely WILL need insurance on your rental.
The problem lies on the most basic coverage – CDW or Collision Damage Waiver. While this means the car you are driving is "covered", technically you'll be responsible for the damage in most scenarios. 😱
Let me explain better.
What is Collision Damage Waiver (CDW) insurance?
Together with theft protection, CDW – Collision Damage Waiver is the most basic type of insurance you can get when renting a car. Sometimes is also called Loss Damage Waiver (LDW). It reduces the driver's liability in the event of a damage to the rental car.
However, CDW is close to worthless in the context of a car rental.
The basic cover CDW insurance is too basic and only covers the car's bodywork. It leaves out tyres, windscreens, replacement keys, mirrors, undercarriage, or windows damage.
And even if it's just the bodywork that gets damaged, you'll still have to pay an excess before the CDW pays the rest of the repair cost. This value is blocked on your credit card when you pick up your car. Depending on the company and car you're driving, the values range from anywhere from $200 to $2,000 (!).
The alternative the car rental counter staff anxiously will offer you as a top-up when you pick your car is the Super CDW.
What is Super Collision Damage Waiver (SCDW) insurance?
When the car agency staff talks about insurance, it's typically their own version of SDCW – Super Collision Damage Waiver that they're selling for "extra peace of mind". They can charge up to $25 per day.
While Super CDW insurance is indeed a supersized version of CDW, covering a lot more than just the car's bodywork, it can still exclude key protection like tyres, wheels and windscreens.
The good news is that taking this type of insurance reduces the excess amount to pay. This means you don't have to pay as much in the event of damage. Sometimes the excess is reduced to zero and you don't even have to pay anything. Ah and the hold charge, the amount blocked on your card, usually drops too.
Is CDW insurance enough?
The big question. It comes down to how confident you feel on the road. If you're an experienced driver, if the roads you'll be driving are well-maintained and similar to what you're used to, you can take some chances and rely on basic protection only.
In the US, some auto insurance policies and travel credit cards offer collision damage insurance and even personal liability for a rental car. Worth checking if that's your case – you don't want to spend money in redundant insurance!
However, if you're not American and you don't feel confident driving a strange vehicle – or a vehicle at all – in foreign roads, going fully insured (Super CDW) it's probably a good idea.
Taking extra insurance, the smart way
If you decide to take full or Super CDW insurance, it's important to know you CAN add extra insurance anytime after your car rental booking (but obviously before your rental starts).
Also and more importantly, you do NOT have to take it with the company you're hiring the car from. In fact, that's often the worst possible option for your budget.
ℹ Ways to book extra insurance for your car rental booking
Directly with the company.
Most expensive option, but can mean a reduced deposit and excess (or even waived, although that's rare). In case of a claim, it's less of an hassle as there is no third company involved.
With the online broker.
Cheaper then going directly with the rental agency, but more expensive than using a third-party. The excess will be protected, but the hold charge won't be reduced at the time of booking. You'll have to deal with a separate insurer in case of damage to the car.
With a third-party insurer.
The cheapest option – Insurance4CarHire has yearly plans with worldwide coverage starting at $80 USD. They protect your excess, but the rental agency will still block an exorbitant deposit on your card. You'll also have to deal with a separate insurer in case of a claim.
Independently bought excess policies like the one offered by Insurance4CarHire or Rental Cover are not just better value, they also provide better cover. You can choose to purchase a yearly car rental insurance (vs a per rental basis) which can potentially save money.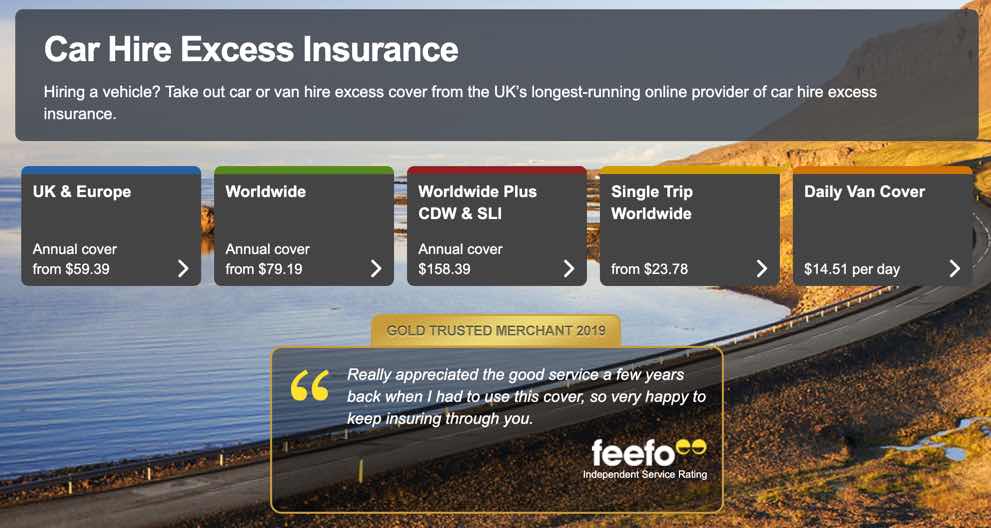 Car Rental Theft Protection
Like all this insurance madness isn't enough, there's also theft protection.
It's a separate product that limits the driver's liability for costs incurred by if the rental car gets stolen. Usually, it also covers the damage to the car incurred by the theft (or even attempted theft), but NOT personal items. Again, always check the exact terms of your rental agreement.
A combination of theft protection + CDW insurance is the most basic form of protection you should have. Some booking packages already include CDW and Theft Protection in the price listings.

Other fees and charges in car rentals
It's not just about insurance.
Car rental companies will take the opportunity to add a few more fees and charges:
Additional driver – if you want someone else to share the driving task, you'll need to pay extra. It can be a flat fee (per rental) or a per-day basis ( I've seen fees up to extra $30/day!)
Age – renting a car is probably the only situation where you may be penalized for being younger than 25.
Child seat – yup, car rental agencies charge for this too.
Fuel – don't be fooled by the convenient offer of the company filling the gas tank themselves, there's usually a fee involved.
GPS – in the era of Google Maps, I don't understand how can this still be charged. Use Google Maps, it's free!
Mileage – while most companies offer unlimited mileage, meaning you can drive as much as you want, always check this and confirm if it's confined to a state or country as well.
One-way fee – picking up and dropping off your car to the same location will fetch you a better price. If not, count on a one-way fee to be added to your bill.
Be aware these things all add up and in the end your booking can become significantly more expensive.
On the bright side, I've noticed sites like RentalCars occasionally partners up with some companies and adds some of these free of charge. This is visible when you're booking the car:


Picking up the car
Ok once you FINALLY have your booking sorted, it's then time to pick up your car.
This is what you'll need:
Email/voucher with the reservation number
Driver licence
Credit card with the name of the reservation holder
Remember to stay strong and don't fall for their offers of "extra peace of mind" when taking insurance or upgrading to a better vehicle for just $X per day.
Collect evidence
ALWAYS make a thorough inspection and take photos and videos of the vehicle when you're picking it up. Point out to the staff any scratch or imperfection you notice on the outside and inside of the car, no matter how trivial it may look.
This can come in handy if they later decide to charge with you some damage fees (happened to me in Pico!)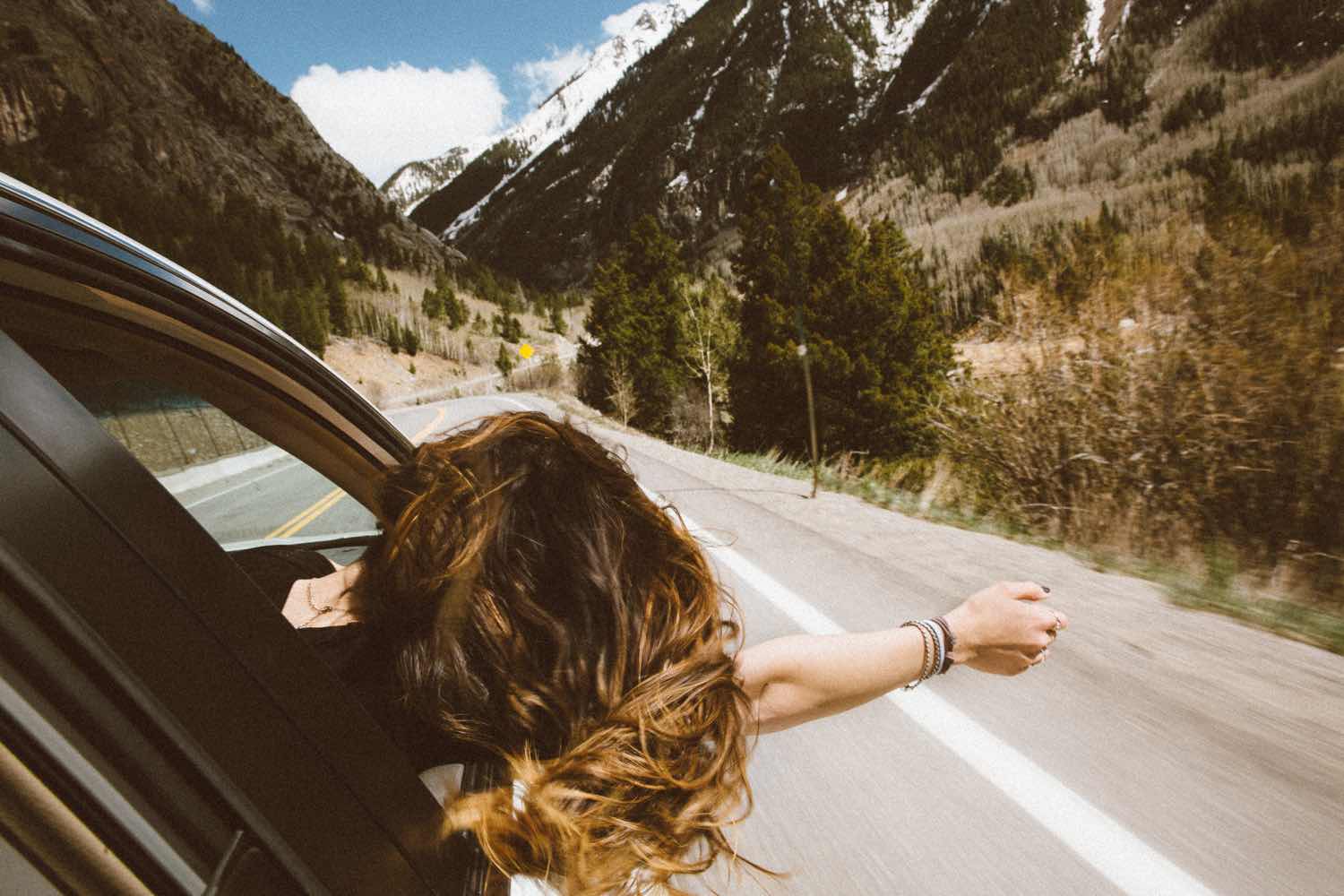 The rising alternative: Peer-to-peer car rental
The industry is slowly showing some signs of disruption and the proof is companies like GetAround, SocialCar or Turo who offer peer-to-peer car rental from private owners.
So far I've used Drivy/GetAround which allows you to search for nearby cars, book them for hours or days and return them when you're done. Easy peezy.
I can say it's a seamless experience – everything done through the app, including insurance boring stuff – and in some cases you can even unlock the car with your phone (SO MINORITY REPORT). No need to meet agencies or the owner.
What are your tips and tricks to rent a car and how do you save money?
Share your car rental experiences with me!