Read on and discover the perfect Thailand itinerary for an independent first-time trip. You'll be ready for enjoying one of the most adventure-packed destination in the world!
Thailand is a one of a kind place in the world. Despite getting 30M of tourists every year – some spots are already lost to massive tourism sadly – it still remains as an adventurous, adrenaline-packed destination.
This Thailand itinerary is based on the route I made on my first trip to the country.
In other words, this is weeks of planning in a single article. Hope it's useful for you!
Thailand Itinerary (2 Weeks) – Sections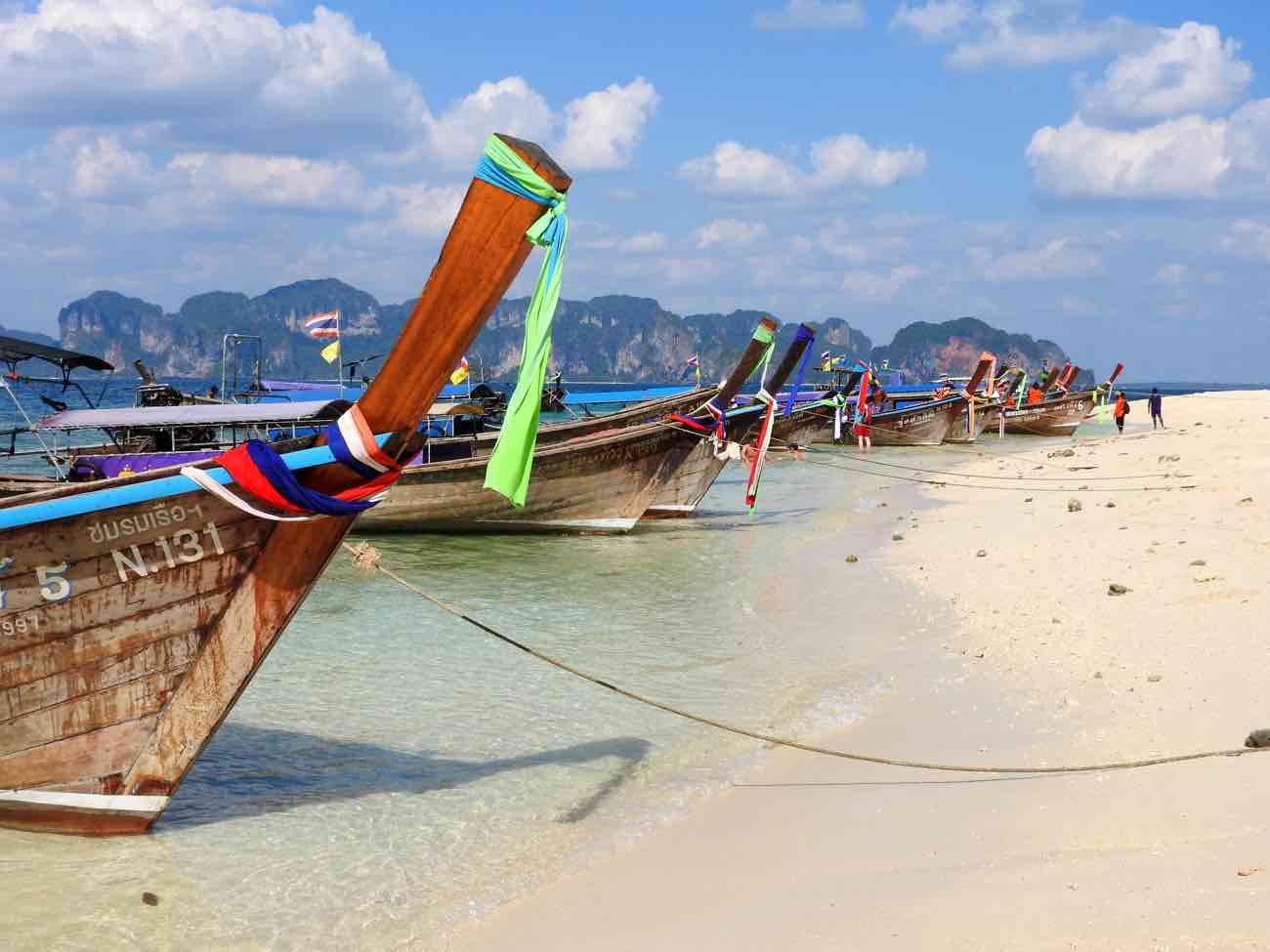 Thailand Itinerary: Summary
First of all, note that 2 weeks is NOT enough time to explore Thailand to the fullest. However this itinerary is crafted to give you a good grasp of the entire country while keeping the logistics as easy as possible.
After arriving the capital Bangkok, the idea is to know a bit of the lush (and more authentic) North of the country. An escape to the world-famous Thai islands on the south is inevitable and is the best place to relax before ending your trip.
Here's a quick summary of this travel itinerary for Thailand in 2 weeks:
Bangkok: 2 days
Ayutthaya: 1 day
Chiang Mai: 3 days
Krabi/Railay: 3 days
Koh Lanta: 3 days
Bangkok: 2 days
Thailand Itinerary on a map 🗺️
And this is how this journey looks on a map.
Why this Thailand itinerary?
Apart from the capital, you'll get to know both the North and South of the country
You'll cover a lot of places without the need of an organized tour
You'll travel in all kinds of transportation available: plane, bus, train, etc
You'll skip some of the most touristy places (e.g. Phi Phi) in favor of better value-for-money islands
You'll have enough time to shopping in the end of the trip and going back home with some goodies
Basic things to know before a Thailand trip
What do I need to pack to go to Thailand?
Quite frankly, the least you take with you the best. It will be less weight to carry and you'll have more space to bring local stuff. Bring light, airy clothing and a rain jacket. Backpacks work better than trolleys for island hopping. Oh and invest in a good repellent. If you're a man, check this article for more packing tips to Southeast Asia.
Is Thailand expensive?
Local goods and services are not expensive at all for Western standards. Your budget can run out easily in alcohol and accommodation. There's many opportunities to splurge in the plenty of expensive luxury hotels in all major touristy destinations.
Do I need to book transportation and hotels in advance?
I highly recommend booking domestic flights and accommodation in advance to get the best prices.
As for tours, buses, boats, or trains you can book everything on the spot one or two days before.
Is Thailand safe?
If you haven't been to Southeast Asia before, it can take a bit to know your grounds and feel safe, but Thailand is extremely safe and locals are very keen in helping you.
How much does a trip to Thailand cost?
Well, this will significantly depend on your choices. This 2-week trip with middle-priced hotel choices, and a mix of street food and sit-down restaurants, tallied to a total of 1000-1200 EUR for two people, not including flights.
Thailand Itinerary, Place #1: Bangkok 🌆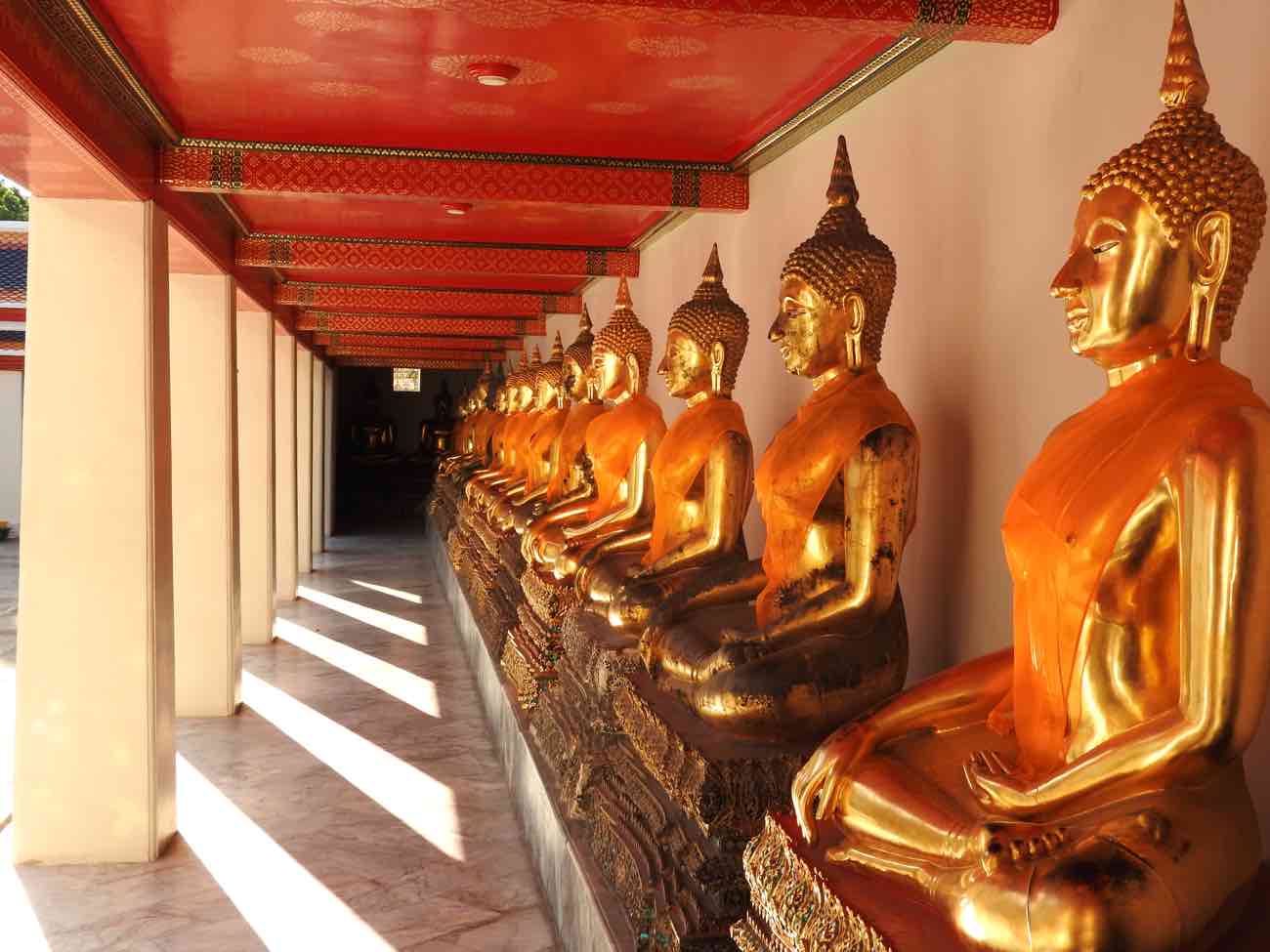 Most international flights land in Bangkok and it is normally the first stop of travelers arriving Thailand.
Bangkok is one of those places you either love it or hate it. It's busy, crowded, dirty but you can also see the glass half-full: it's also stimulating, vibrant and colorful. Somehow it made me feel alive and that's why I miss it so much.
If you think you have the energy, you can skip staying in Bangkok when you arrive and head directly to the next stop. This will save time of your journey, but can be though considering the jet lag and the hassle of another journey after a long-haul flight. Up to you.
What to do in Bangkok
Don't miss out the temples area – Wat Pho, Wat Phra Kaew and Wat Arun – are amazing pieces of architecture. A golden option to dive in Thai culture right from the beginning.
By the way, I didn't like Khaosan Road at all – on my eyes, it's just a westernized, overrated and touristy place. Not sure why it became so popular in the first place. I came here only to find drunken backpackers and some of the highest prices in the entire Thailand.
Important: Save all the shopping for when you're back to Bangkok on the end of the trip. There's no point in carrying extra stuff throughout your trip.
Where to stay in Bangkok
It makes sense to stay near to one of the shopping areas in Bangkok. But since you'll come back to the capital in the end of the trip, this is not a priority for now.
I stayed in iSanook. Great swimming pool and breakfast in a very quiet area. We had FREE taxi service to the main areas of the city.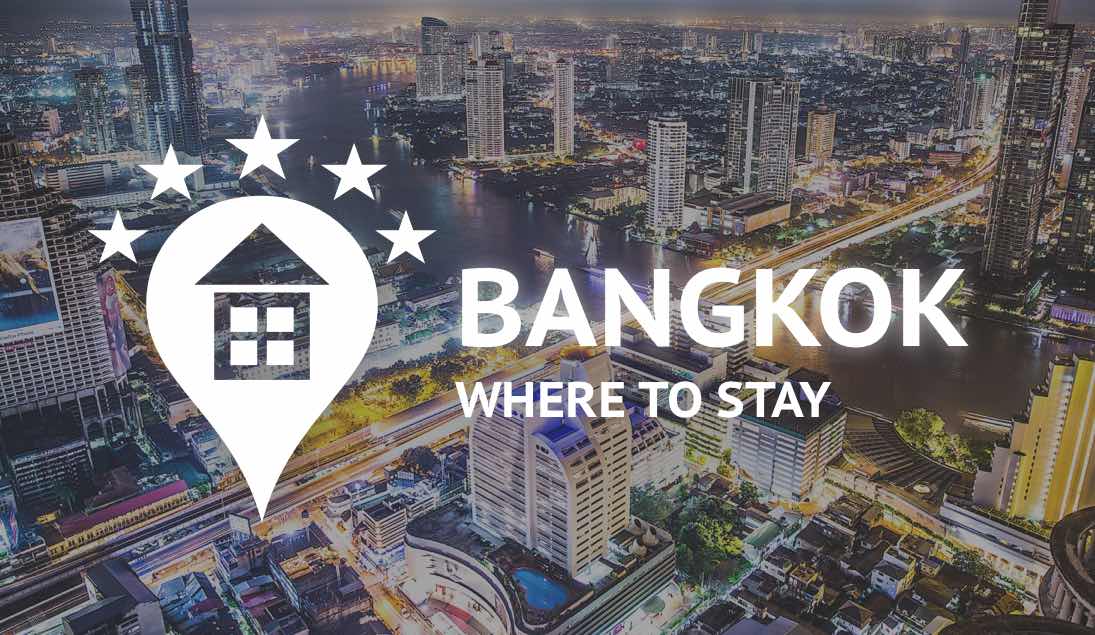 Location is key in Bangkok. Explore this list of places to stay in the safest areas, with top reviews, and of course, free WiFi.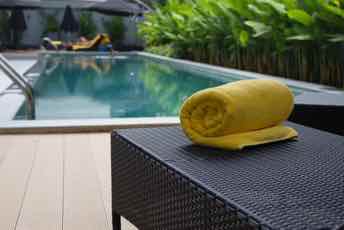 Super clean, friendly staff and an amazing breakfast in a terrace with a gorgeous view over Bangkok.
Bangkok Overview
📍 How to get to Bangkok: Flying. We arrived on an Emirates flight from Dubai and got the MRT (metro) to the center. Cheap and convenient.
🕑 How long to stay: I suggest to stay 1-2 days in the beginning of your trip for sightseeing and another 1-2 days right before your flight back home for shopping.
🔀 How to get around: Bangkok has all possible ways of transportation possible. MRT (Metro), BTS (Sky Train) and boats will get you anywhere. Taxis and Uber are MUCH cheaper than tuk-tuks.
Thailand Itinerary, Place #2: Ayutthaya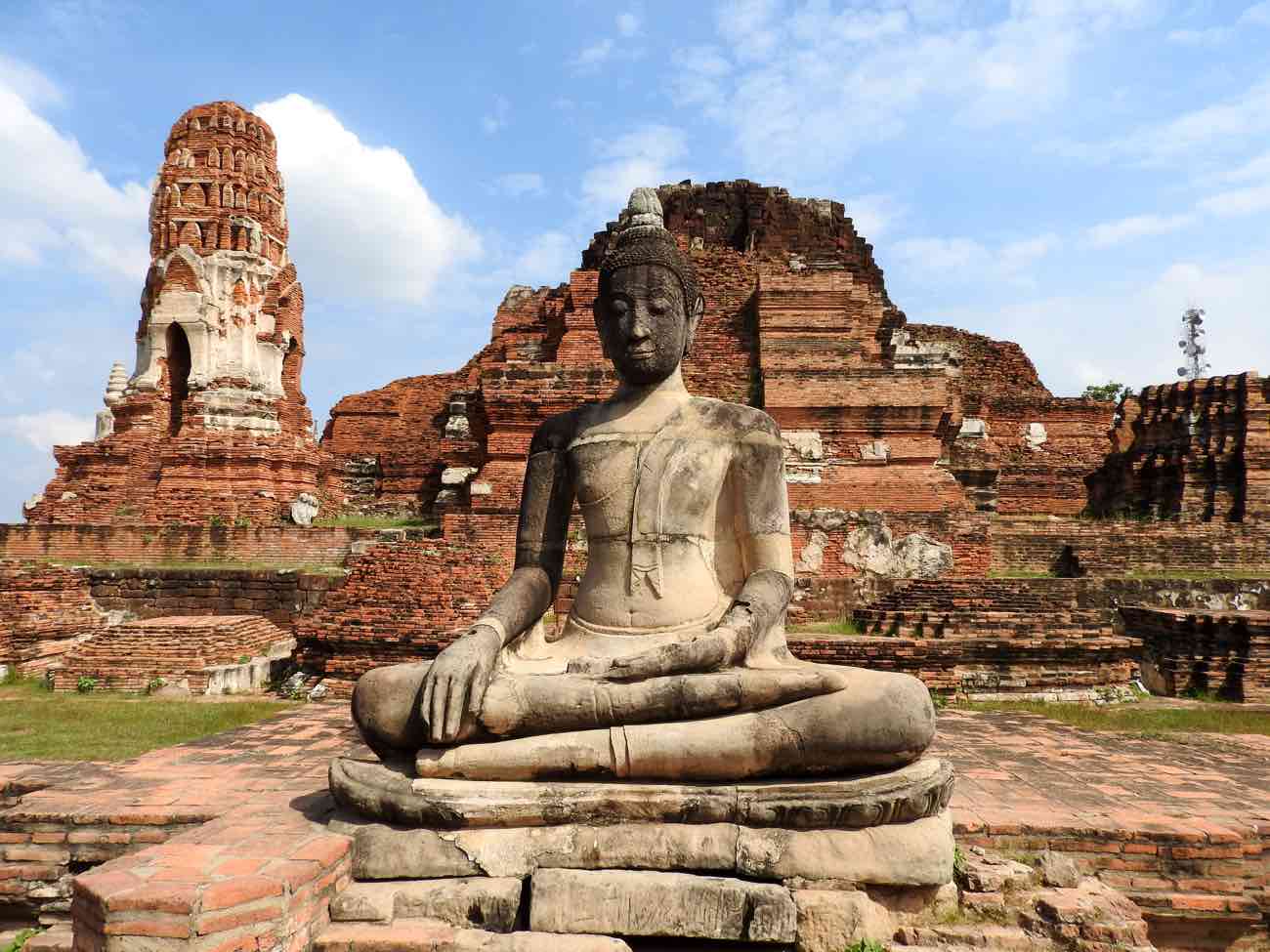 Ayutthaya was once the capital of Siam and the LARGEST CITY IN THE WORLD from the 14th century to 1767 when it was completely destroyed by the Burmese army.
Its glory faded since then and another small port in the south started to become gradually important. That port is called Bangkok.
Today, the one-of-a-kind ruins of the old city of Ayutthaya are an UNESCO World Heritage site, with an impressive concentration of huge Buddhist temples, splendorous palaces and monasteries.
What to do in Ayutthaya
Definitely explore the ruins in the Historical City. Get a map and explore the sites on your own, by foot or by bike. You'll most likely not be able to see them all in one day, but that's OK.
Here is a shortlist of the most interesting sites to see in Ayutthaya:
Wat Phra Si Sanphet: the largest temple in Ayutthaya has 3 giant photogenic chedis that are the symbol of the city.
Wat Phra Mahathat: you'll find loads of Buddha statues scattered through the ruins. But this buddha's head is completely entwined in the roots of a banyan tree is the most photographed of them all.
Wat Chaiwattaranaram: a large temple containing large pagodas scattered around a central chedi. Good place to watch the sunset.
Where to stay in Ayutthaya
To be honest, I found the city of Ayutthaya to be a bit ugly and un-invinting. I'm glad I went there as a day trip from Bangkok, but I understand for logistics reasons it could make sense to spend a night there.
I suggest you pick a place between the old city ruins and the train station to save time on transfers.
Ayutthaya Overview
📍 How to get to Ayutthaya: From Bangkok you can get here by train or bus. I recommend train for convenience, there are many departs per day from the Hua Lamphong train station. No need to buy your tickets in advance. Prices range from 40 – 260 baht depending on the class.
🕑 How long to stay: Unless you're an avid history fan, I found 1 full day to be enough in Ayutthaya. Remember you'll most likely be walking amongst ruins under extreme heat and/or hot blazing sun.
🔀 How to get around: a bike is the best way to go through the temples quickly. We rented a bike there to explore all the temples easily. It's not exactly the most bike-friendly place, but it's perfectly doable, just learn how to avoid the elephants (no kidding!).
Thailand Itinerary, Place #3: Chiang Mai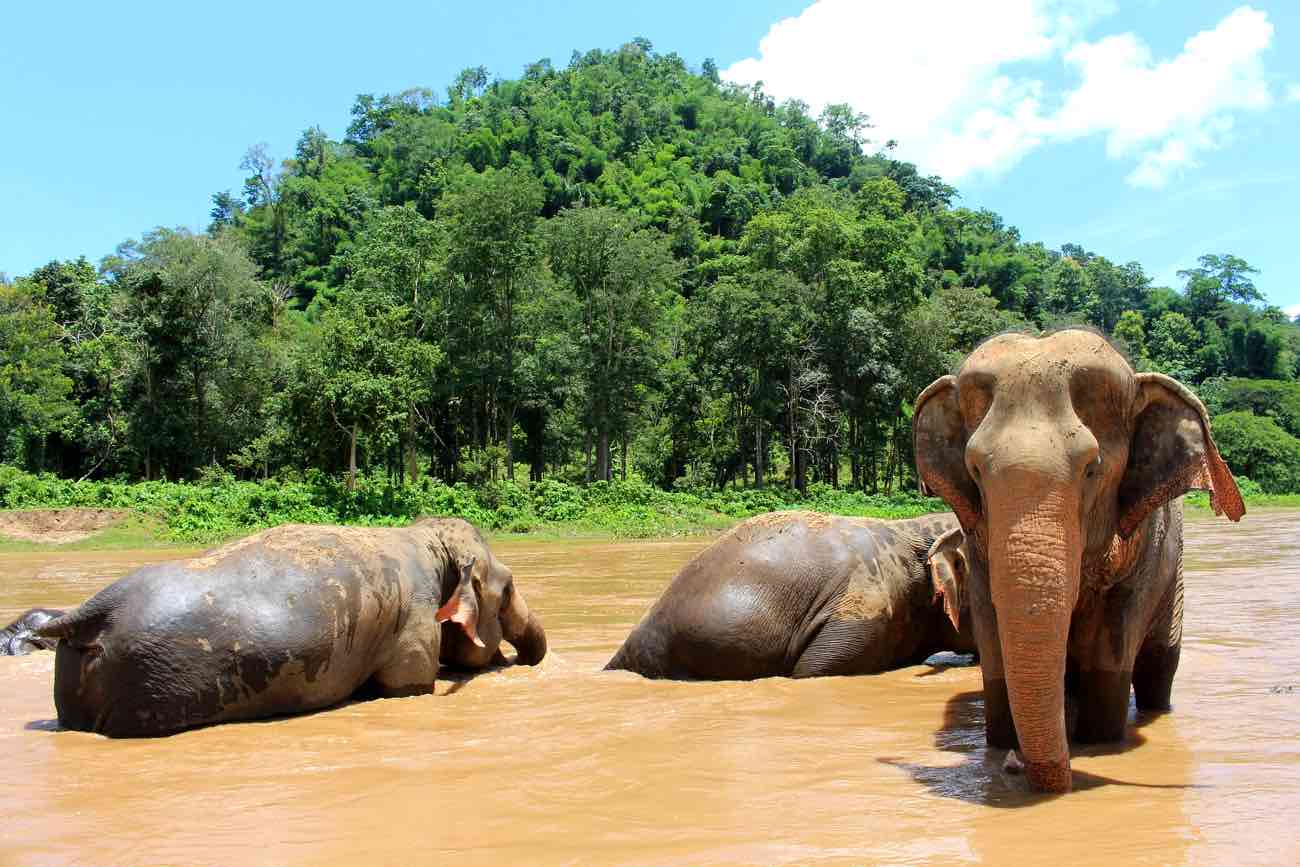 Hands down my favorite place in Thailand. The stunning scenery, the cheap massage places, the monks on the streets and specially the overall vibe of the place. I don't think never been to a city that made me feel so relaxed.
No wonder Chiang Mai has become a paradise for expats. Between the coffeeshops filled with digital nomads and hipster vegetarian restaurants, there is just enough to weirdly make you feel home away from home.
What to do in Chiang Mai
Chiang Mai is a paradise for adventure seekers. There are a lot of unique experiences you can do here.
Normally tour agencies pick you up and take you somewhere for the entire day. My favorite was zip-lining through the treetops. But you can do many other stuff:
Trekking on the mountains
Cooking classes
Elephant sanctuaries
Important: for the latter, make sure you go to a legit sanctuary (there are many scams these days) and NEVER EVER ride elephants in Thailand. A reliable place is Elephant Jungle Sanctuary.
Apart from these, the town of Chiang Mai itself has places worth to see. Temples like and the Sunday Night Market, where the entire city goes out to check handicrafts, clothing and street food stalls. Don't miss it!
Where to stay in Chiang Mai
Make sure you stay inside the Old Town walls to be in walking distance of all the major sights. There are also many cheap guesthouses and bed & breakfasts around.
These were my top two choices when I was looking – both are cheap, have WiFi and are conveniently located in the Old Town. For the record, I decided to go with the second one in the end:
Rich Lanna House
Stylish and charming, this hotel has breakfast included and a salt-water (!) swimming pool.
Yindee Stylish Guesthouse
With an excellent location, friendly staff and clean minimal rooms, this guesthouse is suited for the more budget-conscious.
Or… find your own accommodation!
The results of your search are pre-filtered to show you only the best-reviewed accommodation in Chiang Mai's Old Town.
Chiang Mai Overview
📍 How to get to Chiang Mai: From Ayutthaya the best way to get to to Chiang Mai is by train. It's a long trip and the trains are safe and comfortable (don't expect luxury though!).
🕑 How long to stay: I'm biased because I could stay in Chiang Mai for weeks. But I'd say 3 full days is the bare minimum to scratch the surface of the beautiful vibe of this place.
🔀 How to get around: We rented a bike in Chiang Mai, but a motorbike is a good choice too. Keep in mind if you're going on tours, they will pick you up and drop you off on your hotel, so you don't need transportation at all for those days.
Thailand Itinerary, Place #4: Krabi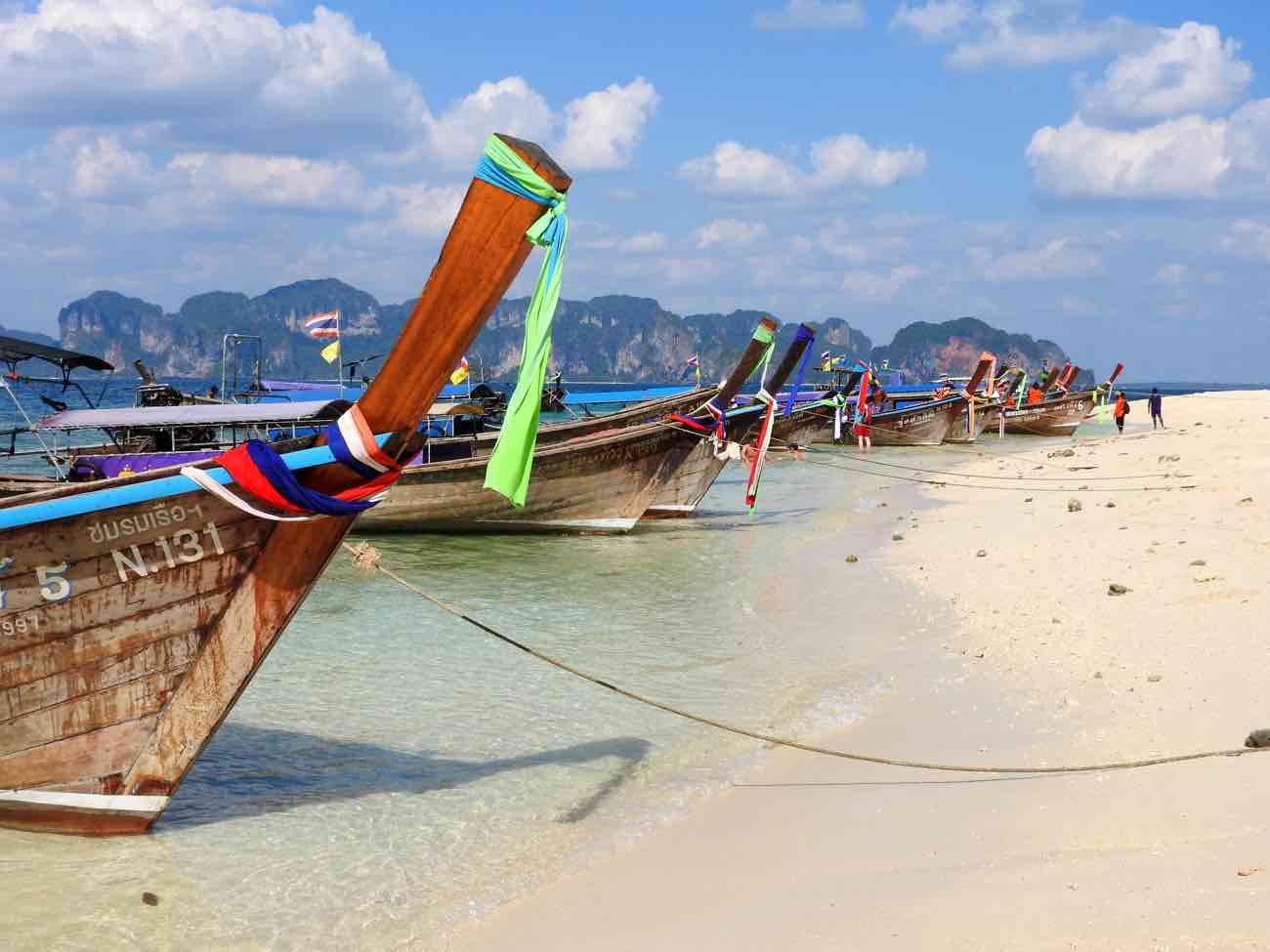 Time to fly to the islands! I suggest the province of Krabi over Phuket because island hopping in the Andaman Coast seemed more exciting.
Plus, Phuket seems too pretentious too me.
What to do in Krabi
No matter what they say, Railay Beach is not a decent beach. It's dirty, noisy and overrun with longtails on peak season.
I'm sure it once was a gem and the scenery of limestone cliffs around is indeed stunning, but that's certainly not happening now. A much better option is Phra Nhang, a 15-min walk through the peninsula or "just around the corner" by kayak.
Krabi is a worldwide renowned spot for rock-climbing, but I preferred to focus my time on exploring nearby islands. For a small fee, longtails can take you to nearby inhabited paradises or you can arrange a bigger boat that takes you to Thailand's major hotpot: Phi Phi islands.
Where to stay in Krabi
Basically you can choose to stay in 3 places in the Krabi province:
Krabi Town, the main city. Not much to see, not many tourists around.
Ao Nang, has superior mobility and connections to other islands. You can spend a week here just doing day trips to nearby beautiful tropical islands. The city itself is simply a long road with hotels on both sides.
Railay, small peninsula with many resorts and hotels. Very touristy, more expensive but decent beaches are in walking distance (no need to get in a boat). Curious monkeys are known to visit hotel's balconies.
Fortunately I had enough time to stay in both Ao Nang AND Railay and here are the places I recommend:
Railay Princess Resort & Spa
This resort is in a quiet location, has 2 amazing swimming pools and a memorable breakfast. Looking back, I think this was GREAT value. Make sure you keep the windows closed, as monkeys can steal your stuff!
If these don't appeal to you, start your search by using my shortlist of the best resorts with WiFi in the Railay peninsula.
Krabi Overview
📍 How to get to Krabi: From Chiang Mai, the quickest way to get to to Krabi is by plane in one of the several daily flights available. AirAsia might be the cheapest.
🕑 How long to stay: There are loads of places to uncover in this area, so reserve at least 3/4 full days. If you skip staying in an island for the last bit of itinerary (see place #5) expand to a full week.
🔀 How to get around: Boat. Longtails usually do the short islands trips and speedboats can take you farther away for entire day trips. No need to buy tickets in advance.
Thailand Itinerary, Place #5: Koh Lanta

If you think you've covered enough, you can easily stay in Krabi (Place #4) for a full week exploring the nearby islands.
However like I wrote on my island hopping guide, a "relax" island is a good idea to end your trip after days of moving around. Staying overnight in a tropical island is an experience by itself.
2 weeks is a short time and you'll want to minimize transfers as much as you can so I chose Koh Lanta, but feel free to explore other Thailand islands.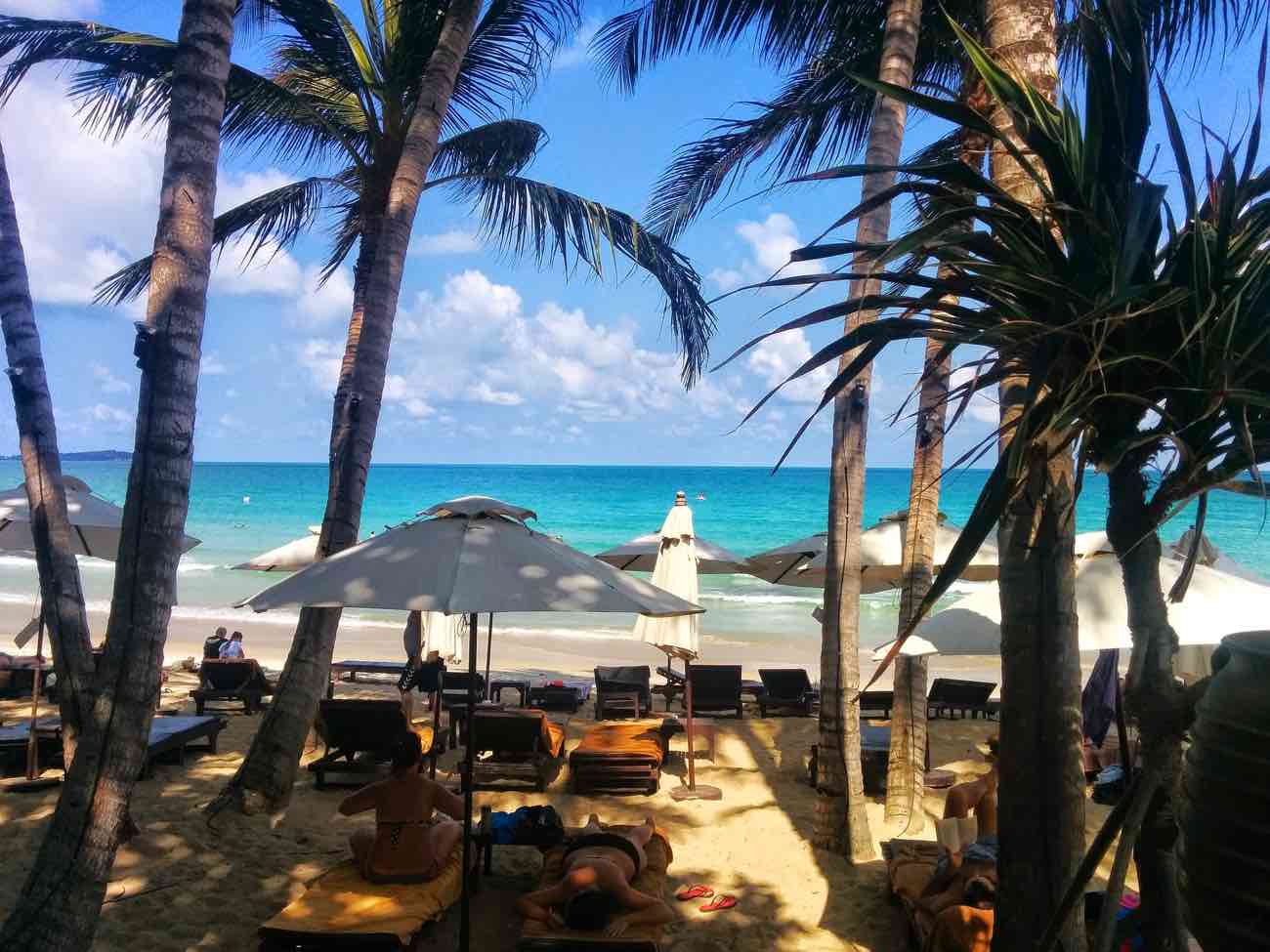 What to do in Koh Lanta
Nothing. Zero. Nada. Niente. Seriously, it's time to calm down, relax and spend long days on the beach reading, swimming and napping. Don't underestimate what days of moving around in hot & humid Asia can do to you.
This is the island to embrace procrastination and enjoy a luxury tropical lifestyle.
Where to stay in Koh Lanta
They say you should increase a bit your budget for the last legs of any trip, so this is it. I can't think of a better place than Koh Lanta to choose a more fancy resort. Hotels in Koh Lanta are slightly more expensive than the general Thai standards, but we're talking about paradisiac resorts and bungalows. So still amazing value-for-money! Personally, I'm sold with long breakfasts with my feet on the sand.
Although there are some remote resorts to the south, the hotels along Long Beach are a great place to stay. With memorable sunset shows every day, you're in for a treat! They also usually offer sun beds and/or breakfast on the beach.
I stayed 5 nights in the beautiful Long Beach Chalet and could easily stay a few more.
Where I stayed in Koh Lanta
Long Beach Chalet
High-quality comfortable Thai-style bungalows just a 5-min walk from the best beach in Lanta? Heck I could LIVE there.
Or… find your own resort in Koh Lanta:
Start your search with this shortlist of the top-rated hotels in Koh Lanta, with WiFi and swimming pool.
Koh Lanta Overview
📍 How to get to Koh Lanta: you can hop on a ferry or bus to Koh Lanta both from Krabi Town or Ao Nang. It will take between 2 to 4 hours. Buses are more convenient (they drop you off at your hotel), ferries are more scenic, with beautiful views of other islands, including the nearby Koh Jum.
🕑 How long to stay: Number of days to enjoy Koh Lanta: starting in 3 and tending to infinity. This is the kind of place you will briefly consider moving to.
🔀 How to get around: There are tuk-tuks and taxis to move you around. However you can live a life between your hotel and the beach just by walking.
Thailand Itinerary, Place #6: Bangkok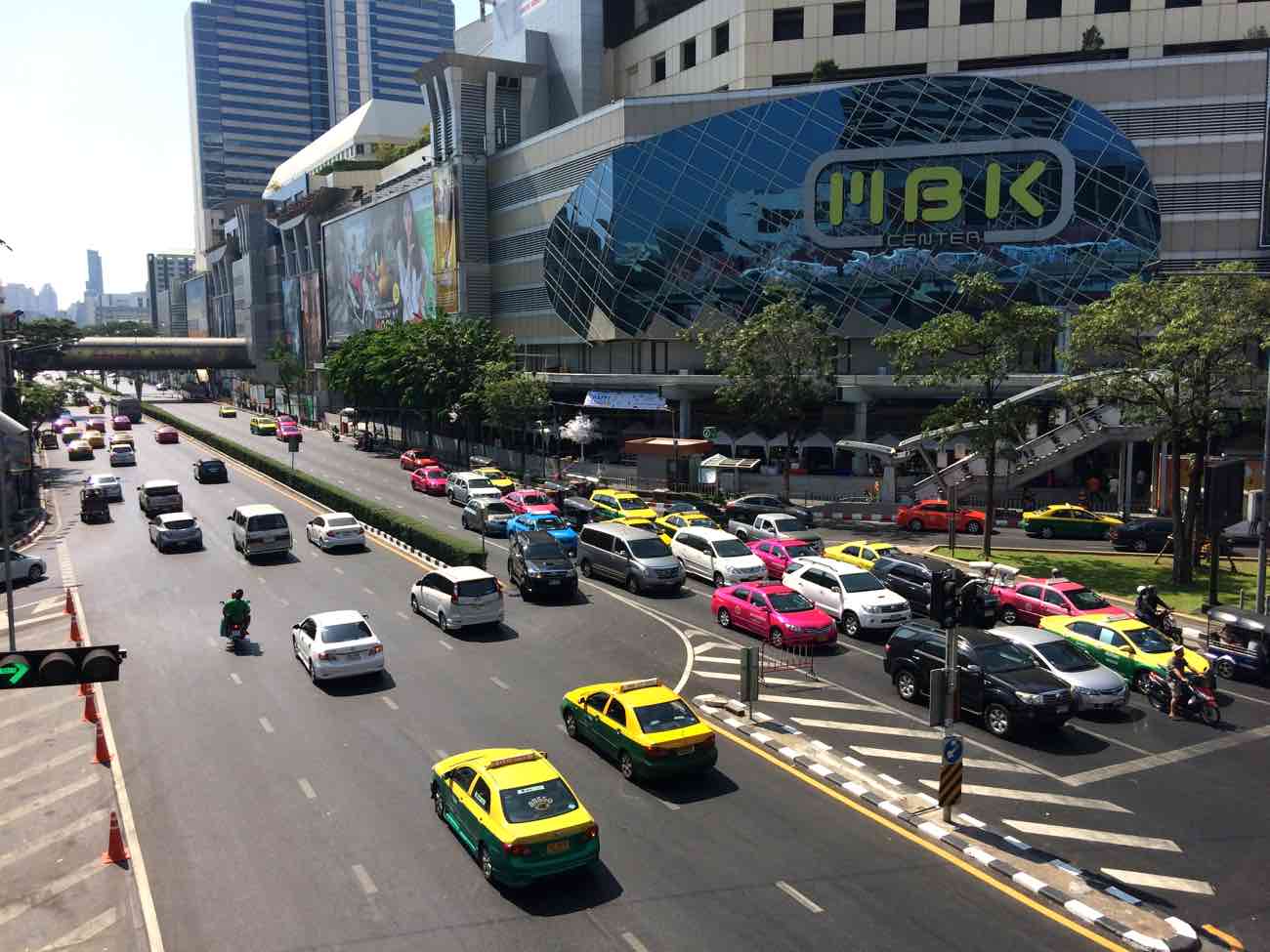 Pro tip: Always back to Bangkok a few days in advance before your international flight back home for enough buffer time. NEVER on the same day. You never know what can happen and missing a long-haul flight is a shitty (and expensive) situation.
So Bangkok, again. Final stop on this trip! Take some time for some bits of sightseeing you haven't done yet or to get a drink at some of the most spectacular rooftops in the world. Some of the most popular are Sky Bar, Vertigo Bar or SO Sofitel.
But with only a few days to go back, it's also time to go shopping. After all you're in one of the best places in the world for shopping! You can find pretty much anything you want at laughable prices, but haggling skills come in handy!
This is the time to stay in the shopping district of the city – Siam!
Islands in Thailand
There are thousands of islands in Thailand, across two different sides: the Gulf of Thailand (the east side) and the Andaman Coast (the west side). To pick the best island to go in Thailand, you'll need to take into account the time of the year as well as the logistics to get there.
Here are some options of islands for you to consider, with some pros and cons of each.
My #1 island in Thailand. A relaxing and paradisiac island in the south of the country, better from December to February months.
The only problem is: it's a bitch to get there, like I witnessed first hand. After several days of moving around, the last thing you want is more hassle.
While Koh Samui has gorgeous coves, sandy beaches and bays, it also seems to be a popular choice for everyone seeking resort-kind-of-holidays.
As a plus, the 3rd largest island in Thailand can be conveniently reached by airport. There are several daily flights between the island and other airports in the country, specially Bangkok. However it's located in the Gulf Coast. It can be tricky to get there from Krabi.
The best time to go to Koh Samui – and any other island on the Gulf Coast – is between January and April.
With a wild jungle scenery in the interior, a huge Marine National Park and long sandy beaches, Koh Lanta is a great final stop to any Thai trip.
The best time to go to Koh Lanta is anywhere between November and March and the island can be reached by ferry/bus from Phuket or Krabi. To go back to Bangkok, you can also choose to fly from Trang airport.

What if I have more time to visit Thailand?
Well, consider yourself lucky! You can easily add in a few more days in each one of the places mentioned before. I'd do it mostly in the islands.
If what you need are more places to add to your itinerary, here are a couple of suggestions.
Koh Lipe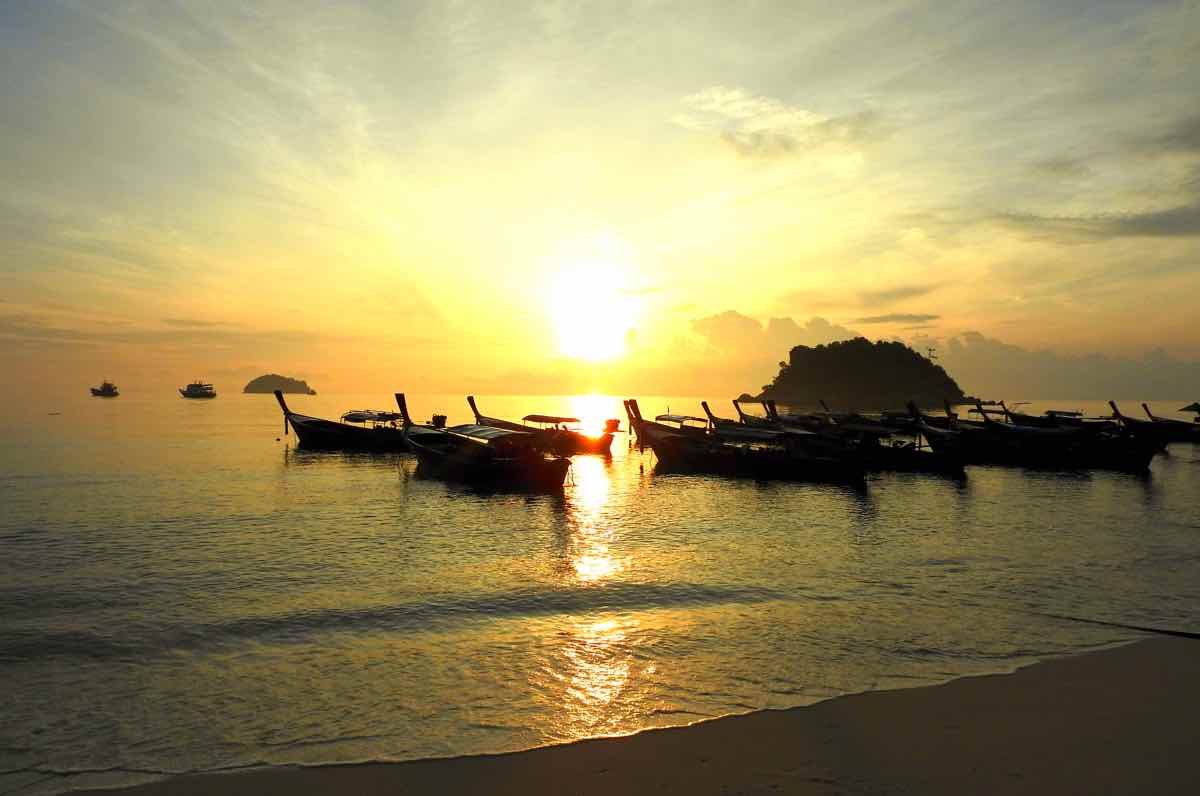 The best way to describe Koh Lipe was that I felt I was in a dream the whole time. It's still my favorite island in Thailand.
Oh the white soft sand beaches, the turqoise waters, the smile of the people and the amazing food. Not to mention the super cheap massage places. Read more about Koh Lipe.
Khao Sok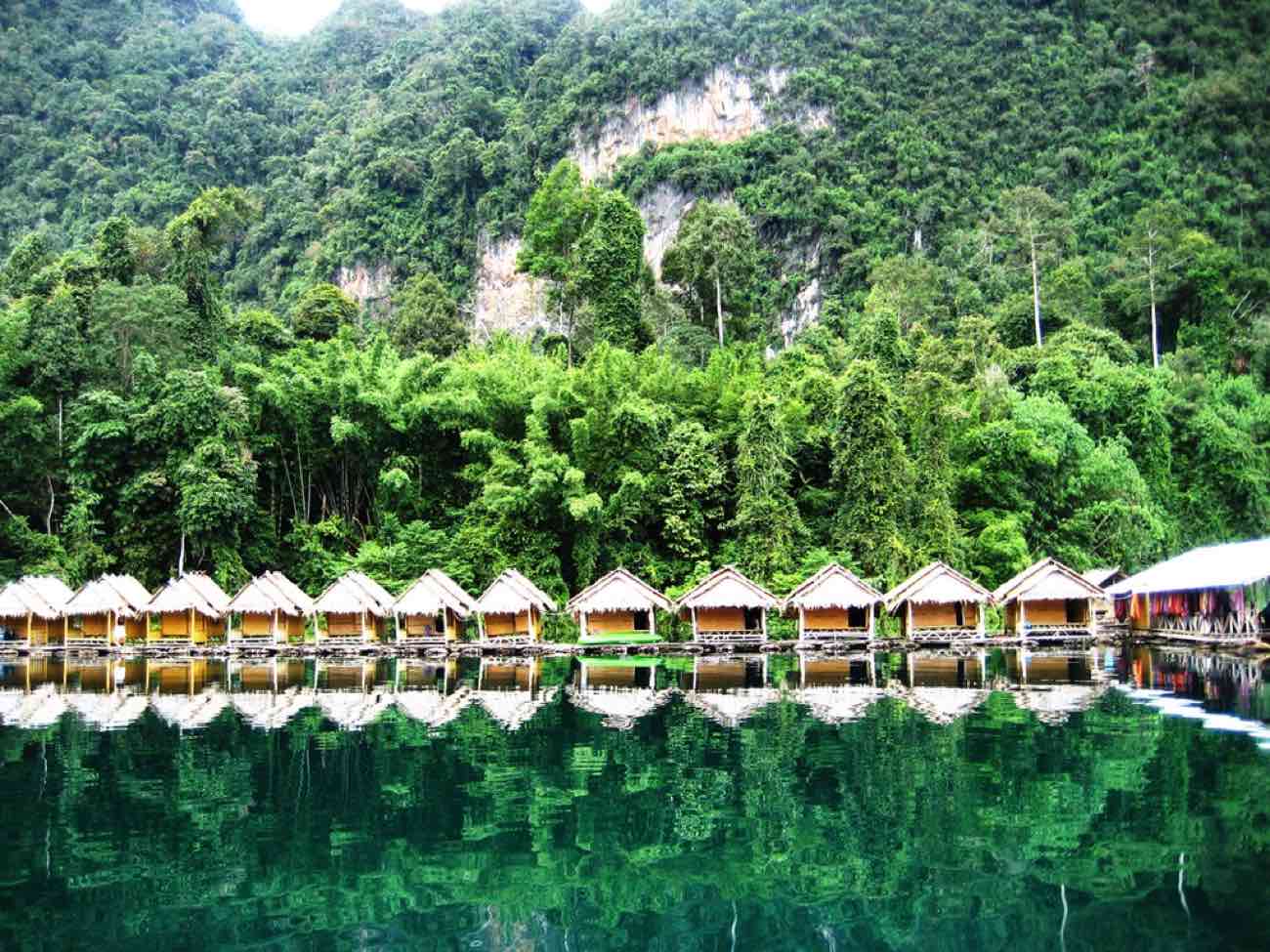 Khao Sok National Park is a jungle reserve in Southern Thailand. With the oldest evergreen rainforest in the world and with mountains as a backdrop, it's a heaven for nature lovers.
Very high on my bucket list – I will certainly pay a visit next time I'm in Thailand.
Chiang Rai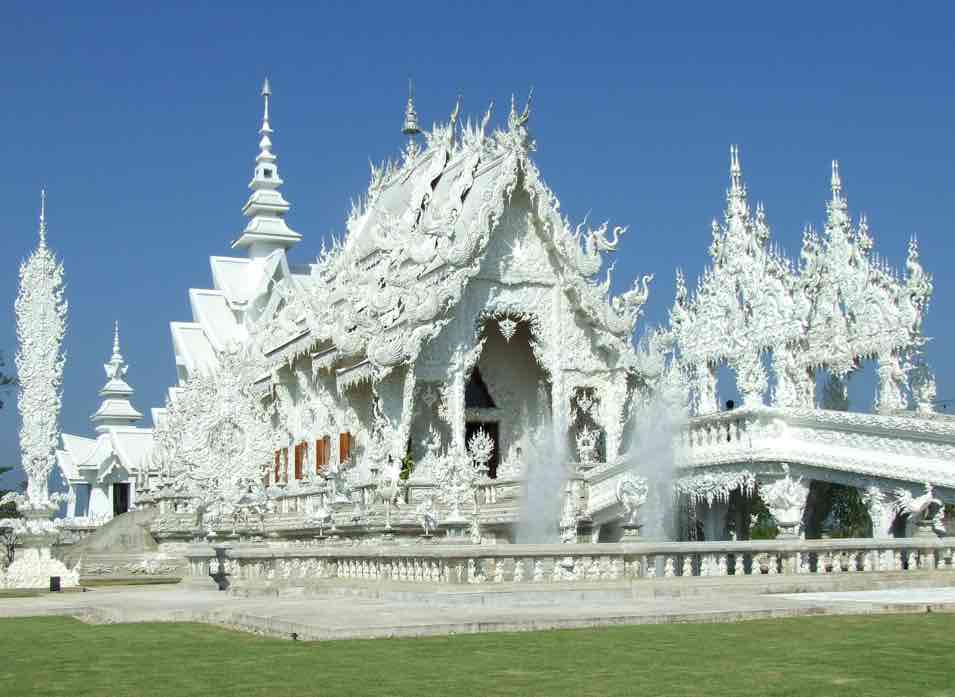 In the north of the country and right next to the border with Laos, Chiang Rai province is one of the most authentic in Thailand. Its most recognizable attraction is the stunning Wat Rong Khun, also known as the White Temple.
What?! No Phuket or Phi Phi Islands?
Tourists are still seen as a blessing in most of Thailand, but when you get to some places you'll understand how they are completely overrun with visitors. So much that the traditional Thai culture is completely gone in favor of trash-filled waters, mega-resorts and nightclubs and drunken backpackers.
That's the definition of both Phuket and Phi Phi. Sadly, even Krabi is becoming more and more like that.
Now maybe this is your thing and I understand there is some level of curiosity to see it with your own eyes. By all means, go ahead! But now you know why these places don't appear in this itinerary.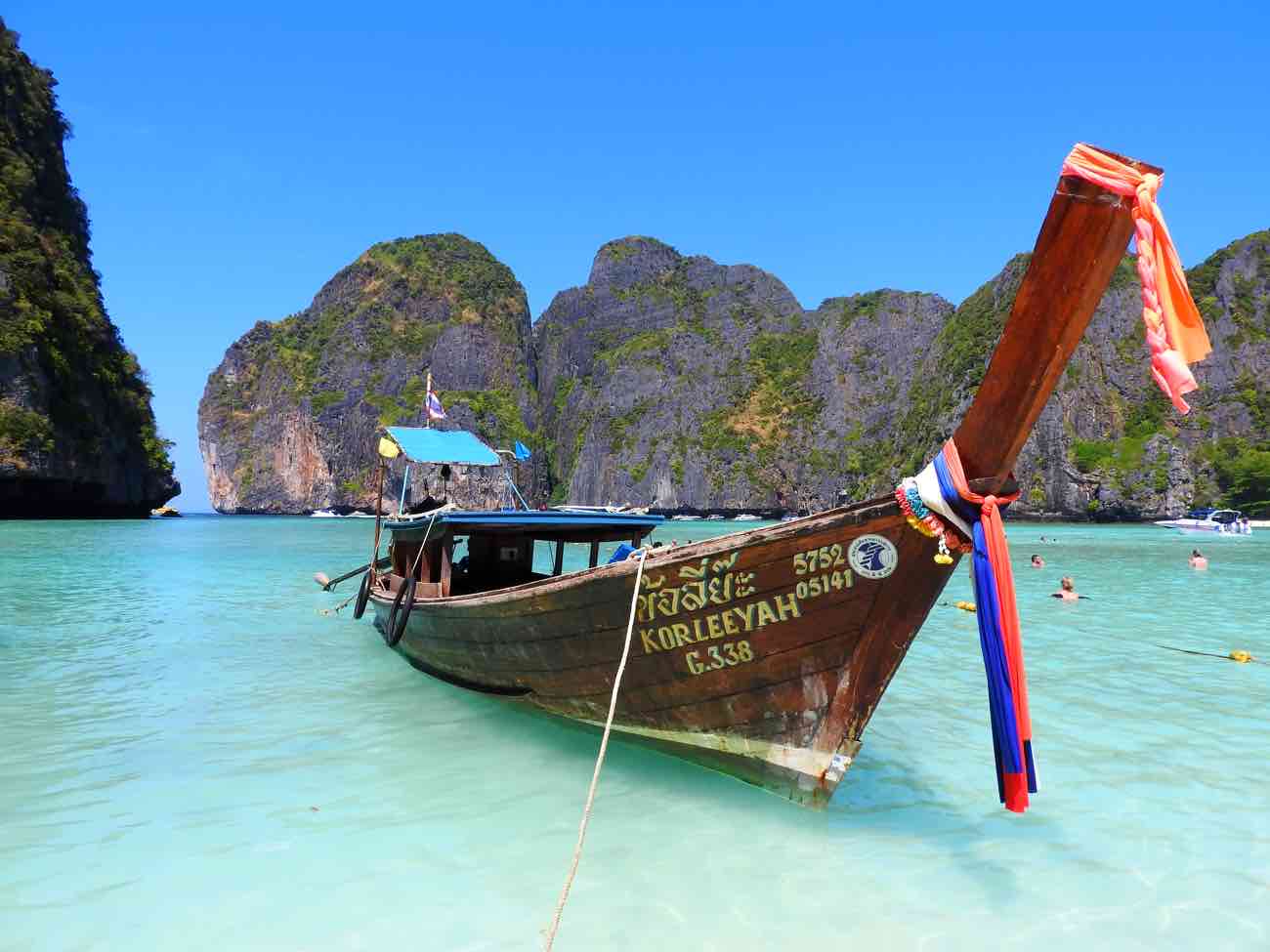 Best time to visit Thailand
Generally speaking, the best weather in Thailand can be found anywhere between October and April.
But Thailand is a massive country and the weather varies a lot depending on the area you're in. I was impressed to know seasons are different in the islands in the Andaman Coast vs the Gulf Coast. They're so close!
Selective Asia allows you to check the weather in the different regions of the country by month.
Final tips before going to Thailand
My first recommendation: be smart about packing. 30% of what I packed for my first trip to Asia had been more than enough. Trust me, you'll want to be light, agile and have space for stuff bought there. Have a read at what to pack for Southeast Asia, specially if this is your first trip.
Invest in a good repellent. The ones you find back home with a high DEET percentage are fine, although you can wait to buy them in any 7/11 in THAILAND (cheaper).
And most importantly, be responsible. Tourism is a huge driver of the economy in THAILAND and businesses are popping like mushrooms – both the good and the bad ones. Before going on a tour – ask yourself if you're not getting scammed, and if it is a sustainable activity, not hurting animals or humans in any way.
Thailand Itinerary – Other Useful Links
12 Go Asia: bus, ferry and train tickets all over Asia
Have you visited Thailand already?
Which places did you visit on your first time in the country?