This is a shortlist of the best apps to find flights on your phone, iOS and Android.
Not many years ago, you would need an appointment with your travel agent to book a flight.
Today, you can book flights yourself in the comfort of your own home. Heck, you can even use your phone!
The thing is: just because it's more accessible it does not mean is necessary simpler, specially if you are very price-sensitive. Finding a cheap flight online is a very useful skill to have nowadays and part of my favorite travel tips ever.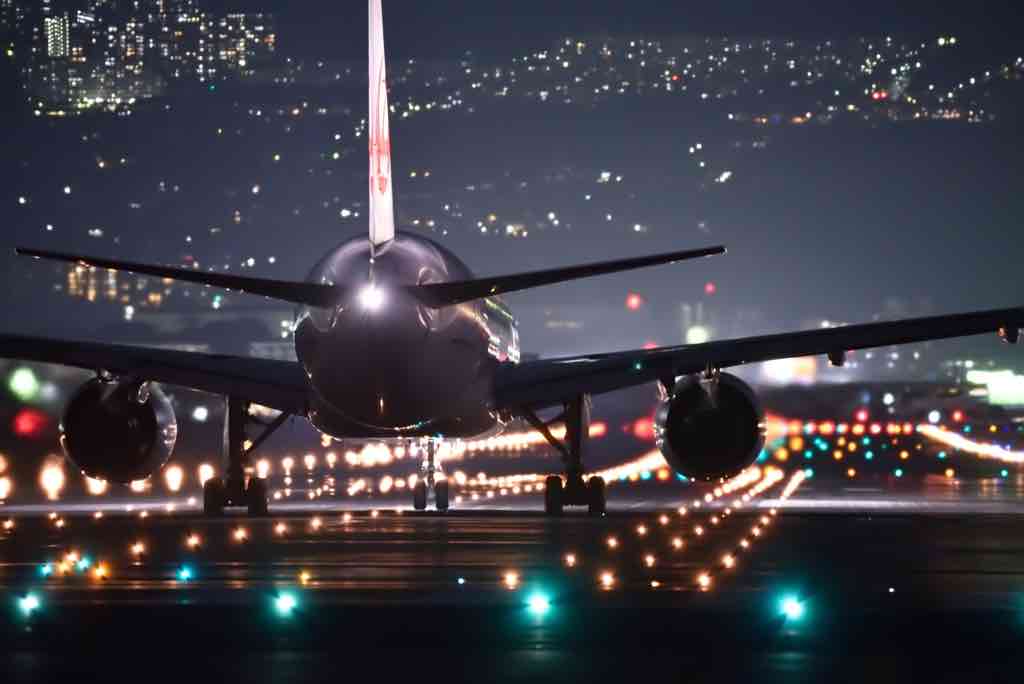 The best apps to find cheap flights
I tend to feel lost in the sea of numerous mobile apps out there. There's just so many travel resources that promise you to save time and money! Finding the most reliable, with accurate pricing and that don't charge ridiculous hidden fees translate into many hours wasted.
So, and while Google Flights doesn't have a proper mobile app, I came up with this selection of the best travel apps to find cheap flights on your iOS or Android device.
1

Skyscanner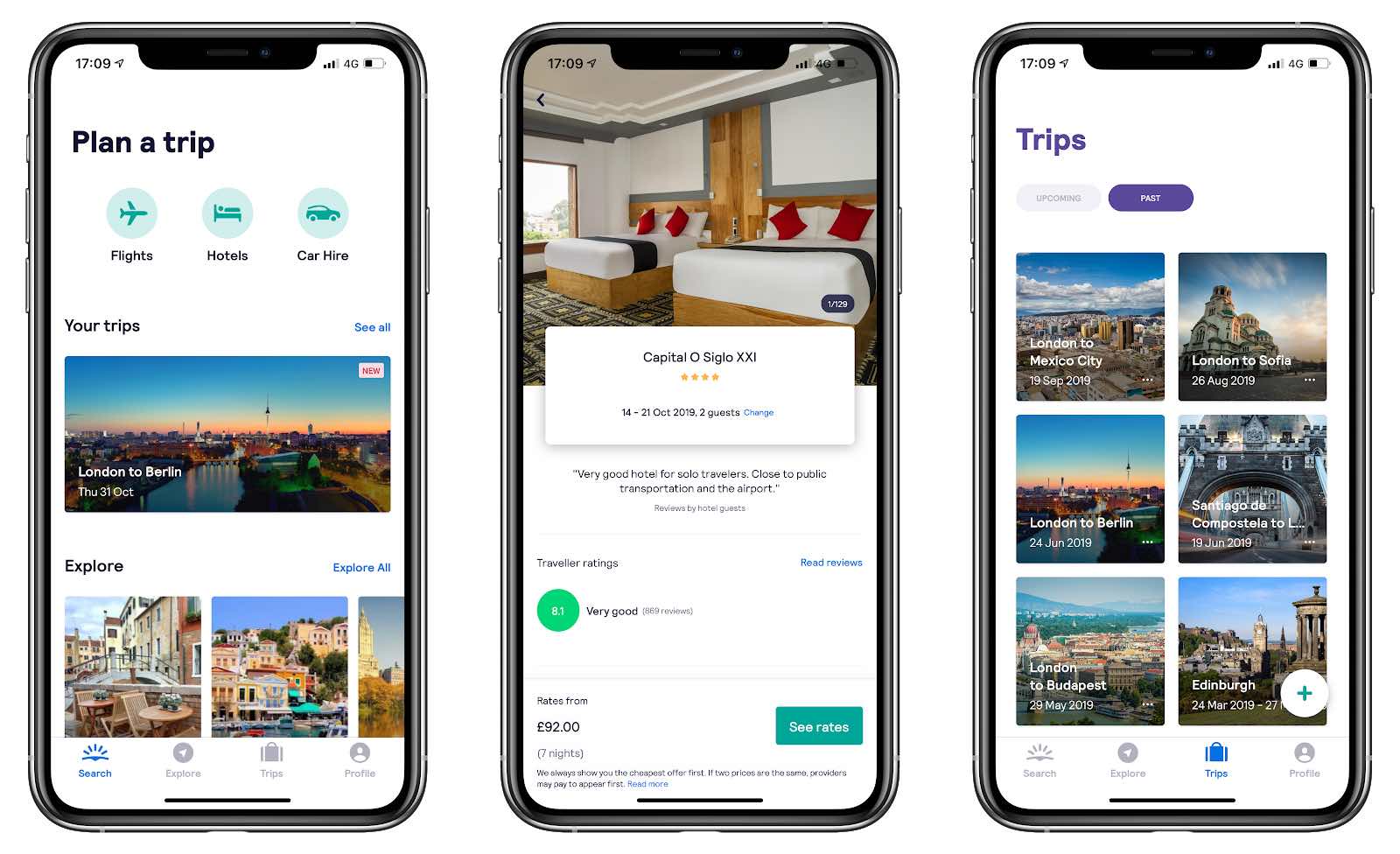 Alongside with the good speed and usability of their app, I find 2 of the features of Skyscanner particularly interesting.
One is the price chart: you can see your search results per day in a intuitive and interactive monthly bar chart. This is great in so many ways and it means it can help you decide immediately which is the cheapest date to book the flight within a time period.
Number 2 is that you don't even need to know where you want to go. Based solely on your fixed dates or a broad time period, the Explore option shows you where is cheapest to fly, which is a perfect tool for the early stages of your trips. I use it this feature a lot when planning a trip itinerary or choosing which hub city should I adopt in a multi-city trip.
SkyScanner's iPhone app has a smooth interface and I even prefer it to the web version. Since it's free I would say this is an amazing life-saver app and a must-have for any traveller looking for cheap flights.
The only drawback I see is that not all airlines show up on their searches (e.g. Ryanair in Europe).
2

Kiwi.com TravelPerk

I stopped recommending Kiwi after a bad personal experience with them. Their cancellation fees are ill-intended and they don't even respect the 24-hour grace period, which standard in the airline industry. I don't think this is good customer experience or even acceptable in 21st century travel.
TravelPerk is a Barcelona-born startup with a focus on business travel. Apart from a fantastic UX, hey have got a bunch of unique features going on for them.
Flight search engines usually look to book the entire route on either the same airline or airlines with codeshares. One of the coolest features about TravelPerk is that you can bundle different airline tickets under the same trip for a all-in-one experience.
But there's more – trains are also included! Great if you're touring Europe for instance and are looking for more environmentally-conscious trips.
3

Momondo

One thing is for sure: Momondo wins the award for the the most colorful app out there.
The start screen presents the departure and arrival airports are visually identified through its IATA code, although it is also possible to choose a city. The visual identity is strengthened in the loading screen, where you can find an image of your destination city.
Within Momondo's flight results, there are tabs across the top of the screen that let you move between the cheapest, quickest, and best value flight. The results are extremely easy to read and feature all the information you need at a quick glance, including the airline logo and total transit time. When you click on one of the them, you are quickly forwarded to the airline's website.
Overall, it is a very unique and neat looking app delivering solid results.
4

Kayak

I was a heavy user of Kayak a few years ago. The simplicity of its design, the excellent filter and sorting interface and the speed at which you can get a booking done was amazing.
The app also contains a flight tracker, airport gate information and price alerts for any changes. It is even possible to actually finish the booking process within Kayak, without the need to forward for external websites.
5

Skiplagged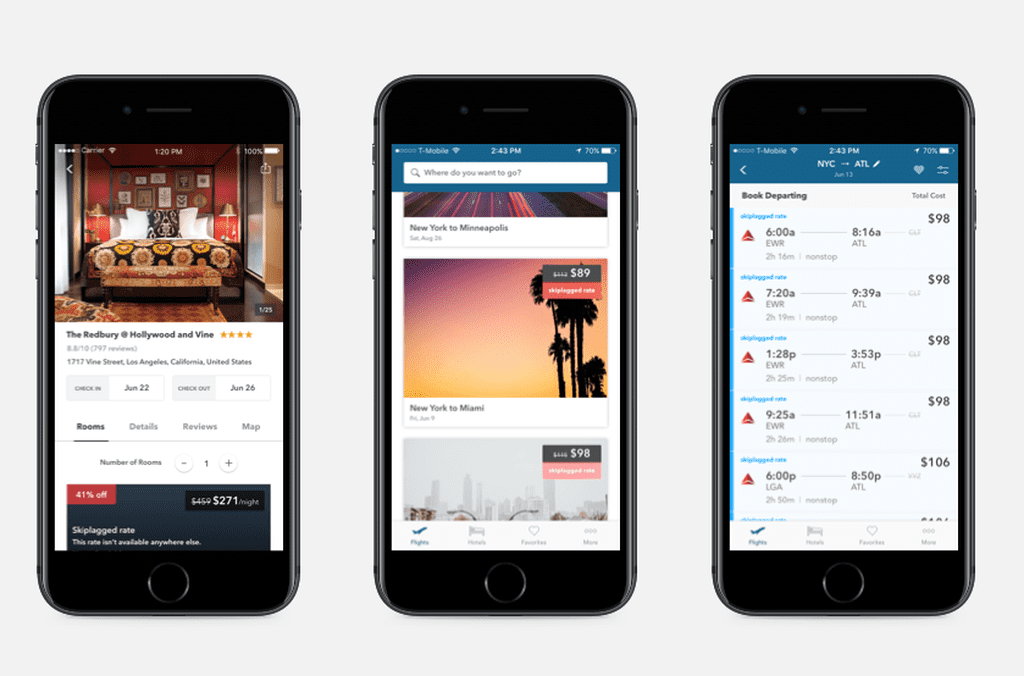 Now for something more unconventional. Skiplagged brags about finding exclusive travel deals that you can't find elsewhere. They even claim to have such good deals that United has sued them!
Apart from the features of a traditional flight search engine, they are able to look for loopholes in airfare pricing that can save hundreds of dollars. An example: journeys with two flights that end up being cheaper than direct flights (you can ignore the second leg of the trip).
With their app, you can set alerts for deals and customize it with your interests to show relevant flights and destinations.
6

Hopper

Some might not consider Hopper a flight search engine per se, but it can be extremely useful in finding the best timing to buy a flight.
In essence, you track flight prices to a given destination and monitor the price until you find a good deal. You can also generate a color calendar to find the best dates to fly: from green, the cheapest, to red, the most expensive. If you happen to have flexibility on your trip dates, Hopper is a great tool.
Through Hopper, I've saved some bucks booking long-haul lights to Thailand, Japan and Vietnam.
Other flight booking apps
Don't get me wrong, there are much more ways to book flights out there. Google Flights is quick, effective and simple to use but is not yet an app (what are you waiting Google?).
I could also mention apps like Expedia or Rumbo, but from my experience, I don't think these have particularly groundbreaking features and tend to inflate prices.
Tips to find cheap flights
Seek your own process of booking a flight, finding out what works and what doesn't for your most common trips. Read my guide about when to book flights online to get you started and my ultimate cheap flight guide.
Also note the price of the airfare fluctuates considerably depending on the airline, airport, time of the day, day of the week and time of the year, amongst many other factors.
In the end it all comes down to a process of finding the travel app(s) that not only best suit your needs, but also the ones that feel better to use. These are the ones that in the end, will most likely improve your travel experience!
Apps to find cheap flights: Other useful reads
Which apps do you use to find cheap flights?
And which ones you don't recommend?