Because finding a good and reliable travel app to find cheap flights can be a hard task.
Not many years ago, you would need an appointment with your travel agent to book a flight.
We booked flights with rigid dates and destinations and it was simply a matter of finding the best deal.
Today, you can book flights yourself in the comfort of your own home. Heck, you can even use your phone!
The thing is: just because it's more accessible it does not mean is necessary simpler, specially if you are very price-sensitive. Finding a cheap flight online is a very useful skill to have nowadays and one of my favorite travel tips ever.
The whole online flight booking paradigm is changing.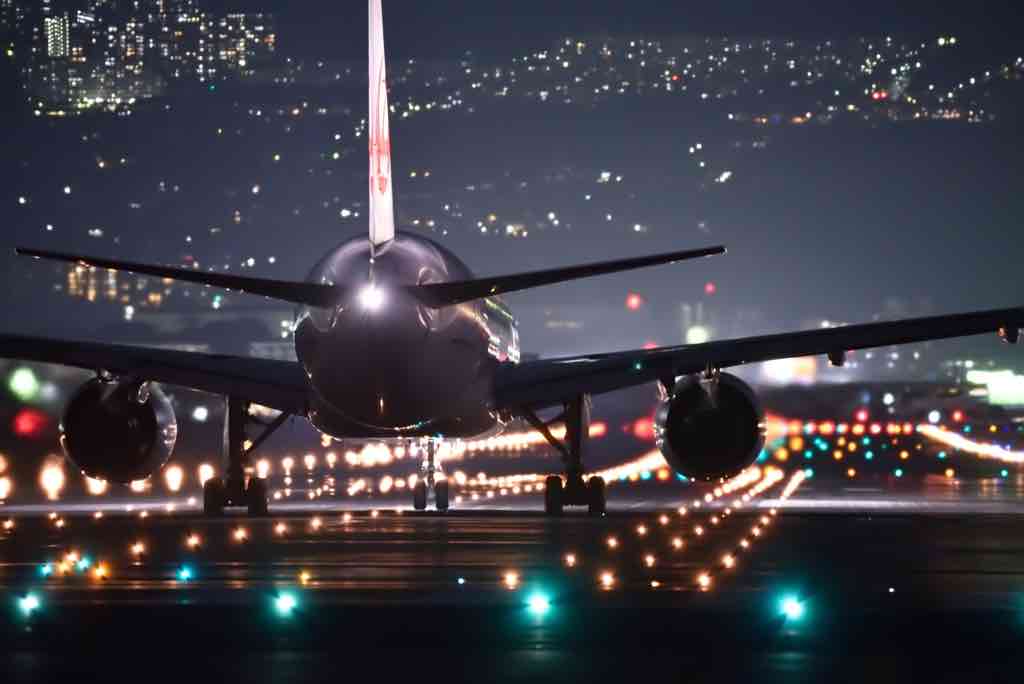 The best mobile apps to find cheap flights
I tend to feel lost in the sea of numerous mobile apps out there. There's just so many travel resources that promise you to save time and money! Finding the more appropriate for your travels can be a trial and error exercise which translates into many hours wasted.
So, I came up with a selection of the best travel apps to find cheap flights to get you started with.
There's no particular order to it.
Best mobile apps to find cheap flights
Let's go into more detail for each one of these. I will score all of them using 4 different criteria: usability, design, uniqueness (presence of distinctive features) and reliability in finding the absolute cheapest flights.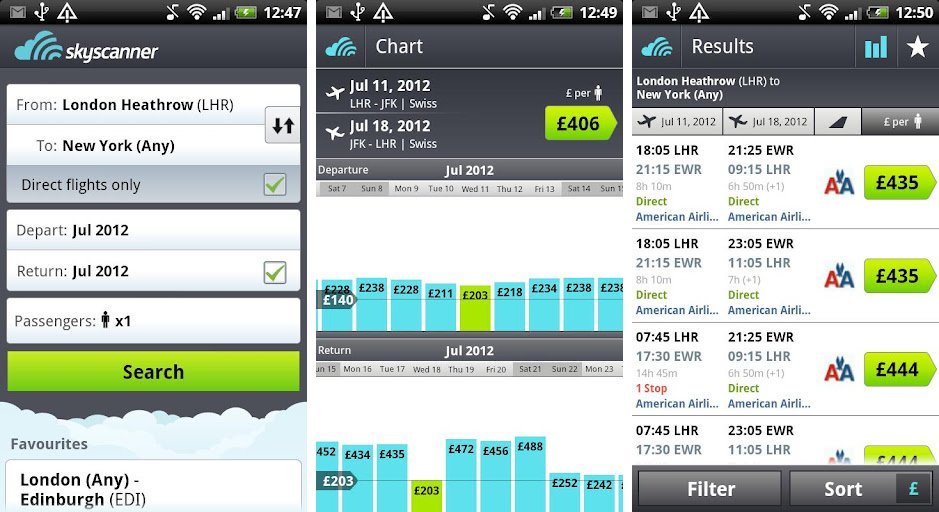 Alongside with the good speed and usability of their app, I find 2 of the features of Skyscanner particularly interesting.
One is the price chart: you can see your search results per day in a intuitive  and interactive monthly bar chart. This is great in so many ways and it means it can help you decide immediately which is the cheapest date to book the flight within a time period.
Number 2 is that you don't even need to know where you want to go. Based solely on your fixed dates or a broad time period, the Explore option shows you where is cheapest to fly, which is a perfect tool for the early stages of your trips. I use it this feature a lot when planning a trip itinerary or choosing which hub city should I adopt in a multi-city trip.
SkyScanner's iPhone app has a smooth interface and I even prefer it to the web version. Since it's free I would say this is an amazing life-saver app and a must-have for any traveller looking for cheap flights.
The only drawback I see is that not all airlines show up on their searches (e.g. Ryanair in Europe).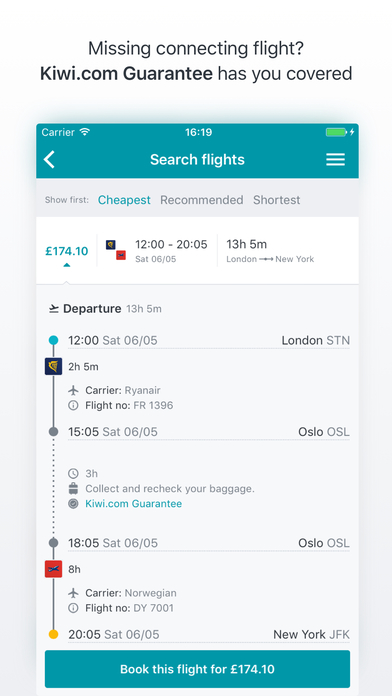 A recent player in the market, this Czech startup has gained popularity due to its seamless usability and powerful search engine. Overall I'm kind of obsessed with them and predict they will be huge over the next few years.
One of the coolest features about Kiwi is that unlike it will look at ALL the cheapest possibilities, even if it means putting you on 2 totally separate flights. Other flight search engines will try to book the entire route on either the same airline or airlines with codeshares. It might not always be the fastest or more convenient, but great for anyone on a budget.
But for me the best thing about Kiwi is the guarantee they offer covering cases of flight delays, cancellations, and schedule changes. It's a real game changer and adds extra peace of mind when you're booking separate flights.
3. Momondo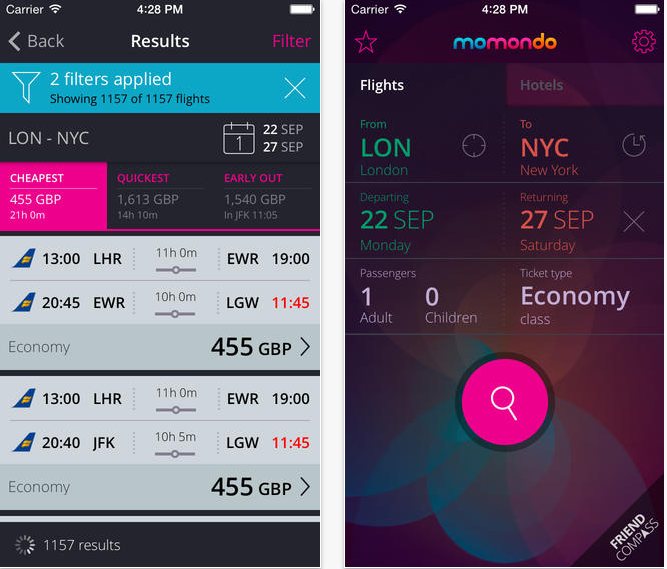 One thing is for sure: Momondo wins the award for the the most colorful app out there.
The start screen presents the departure and arrival airports are visually identified through its IATA code, although it is also possible to choose a city. The visual identity is strengthened in the loading screen, where you can find an image of your destination city.
Within Momondo's flight results, there are tabs across the top of the screen that let you move between the cheapest flight, quickest flight time as well as options for 'early out' and 'late in'.  The results are extremely easy to read and feature all the information you need at a quick glance, including the carrier logo and total transit time. When you click on one of the them, you are quickly forwarded to the airline's website.
Perhaps there are too many colors in the screen, which makes it feel a little bit busy sometimes. But overall, it is a very nice looking app delivering solid results.
4. Kayak

I was a heavy user of Kayak a few years ago. The simplicity of its design, the excellent filter and sorting interface and the speed at which you can get the information you need were its major differentiators. I can literally book a flight in less than 5 minutes! 
The app also contains a flight tracker, airport gate information and price alerts for any changes. Nowadays, it is even possible to actually finish the booking process within Kayak, without the need to forward for external websites.
However in recent years, they've redesigned the interface and now is looking too clumsy for me. What it was a quick and efficient search now it's looking a bit clumsy. Good luck if you forget to untick the "Compare with eDreams and Expedia" boxes, beware with the amount of pop-ups.
I still think it's a decent choice, but the way I see it they are quickly losing ground to other competitors.
5. Hipmunk

Hipmunk is definitely more popular in the U.S. than in Europe, but this app is an interesting choice for comparing and selecting flights. At least in the iOS version, the interface is clean and choosing the date of the flight – which I feel is the trickiest of the actions in search engines design-wise – is wonderfully simple.
The results can be easily sorted by departure time, price and agony (amount of stops you'll have to make to get to your final destination). Fare alerts can also be set in an option the lower menu.
A couple of things bother me though. First, the little hyperactive chipmunk is annoying at times. Then, the information on the graphic results is not immediately comprehended. Only after clicking around the screen, I could decipher the different symbols and colors that identified the flights. There is definitely a learning curve to take advantage of all the features in this app which I don't think it should exist.
Booking cheap flights elsewhere
Pretty much anything that Google does introduces disruption in usability and simplicity at some level. Google Flights is not an exception. It's quick, effective and simple to use. Right now is my favorite flight search engine but sadly they don't have an app yet. What are you waiting Google?
There are much more options out there. I could also mention Expedia or Rumbo, but from my experience, I don't think these have particularly groundbreaking features nor return more reliable results.
While not being a flight search engine per se, Hopper can be extremely useful in finding the best timing to buy a flight.
Tips to find cheap flights
Seek your own process of booking a flight, finding out what works and what doesn't for your most common trips. Read my guide about when to book flights online to get you started and my ultimate cheap flight guide.
Also note the price of the airfare fluctuates considerably depending on the airline, airport, time of the day, day of the week and time of the year, amongst many other factors.
In the end it all comes down to a process of finding the travel app(s) that not only best suit your needs, but also the ones that feel better to use. These are the ones that in the end, will most likely improve your travel experience!
Tip: Don't let expanded U.S / UK. laptop-ban on flights hit your work while travelling, With the help of Cloud solutions from CloudDesktopOnline.com and CloudAppsPortal.com access your Desktop and online files from anywhere with your favorite mobile device.
Apps to find cheap flights: Other useful reads
Which apps do you use to find cheap flights?
And which ones you don't recommend?