This article is a comprehensive list of what to pack for Southeast Asia. Figure out what to take, what to leave at home and other useful packing tips for your trip!
Asia is such a diverse and intense region of the planet, with so much to see and explore. So many different cultures, ethnicities, and experiences – from the fascinating culture of Japan to the beaches of Thailand. And don't get me started on the food!
If you have been there, you know what I'm talking about.
If you're just planning to go there for the first time, well congrats, you made a great decision!
This article is intended to provide a complete list of what to pack for Southeast Asia on a backpacking trip. From my experience, this can be an overwhelming and headachy process.
Let's start packing!
What to pack for Southeast Asia
Choose a category:
As important as what you bring is what you leave at home.
The Backpack 🎒
The last time I island-hopped Thailand I couldn't help to find silly to see people disembarking the longtail boats on the beaches with fancy carry-ons. They need it to carry them over their heads the entire beach to where the paved roads start. User friendliness level: non-existent.
If you don't have a travel backpack, I strongly recommend you get one for traveling Asia. It will give you much more flexibility on the road than a carry-on. You probably will spend a lot of time moving around in beaches, rough terrains, and dirt roads, all places where a backpack is much more convenient.
How big should the backpack be?
A 25L backpack should be fine for a week's trip. For trips longer than a week, you'll probably need a 40-60L one. Leave 70L and more just if you traveling for a month or more. Remember you'll probably want to bring stuff back home.
Additionally, a small backpack is recommended for everyday use.
Here are some recommendations for all kinds of sizes, including my own current travel backpack.
Clothes to pack for Southeast Asia 👗
The best clothing tip is to dress like a local. Most countries in Southeast Asia have high temperatures all year round, so light and thin comfy clothes are the best choice. Flip-flops are enough for most of the days.
For longer travels, remember most hotels and hostels in Asia have a laundry service so you can easily reuse your stuff. So no reason to overpack!
Shoes Packing List
Flip-flops.
This is what you'll be wearing most of the time so invest in some decent ones.
Trekking shoes.
Only if you plan to go to remote areas. Here are some top-rated shoes recommendation for men
Comfortable shoes/sneakers.
For daily urban use. If possible impermeable!
Bottoms Packing List
Underwear.
Obviously. Limit of 10 (you can wash them there if you need).
Socks.
You're probably not going to be wearing them most of the time. A maximum of 6-7 pairs is enough.
Shorts.
For everyday use. Rule of thumb: 2 per week of travel, limit of 5.
Loose cotton shorts.
Can be used as pyjamas or sport equipment.
Jeans.
One pair, for chilly nights.
Hiking pants.
If you plan to do some trekking. It prevents mosquito bites, it provides protection for vegetation and small animals and can be also be used to go out at night.
Swimming shorts
I usually take just one.
Tops Packing List
T-shirts
They can get unusable for sweaty reasons really quickly, but at the same time you can find literally TONS of t-shirts in Asia at laughable prices. I'd say 3 per week of travel, with a limit of 7.
Sleeveless shirts
They're the best for humid climates, but you can't enter some temples showing off your shoulders. I tend to use t-shirts for "urban" days, and sleeveless shirts for outdoors. I'd say 2 per week of travel with a limit of 4, but this depends on where you are going.
Long-sleeve shirts.
Make sure they are made of a thin material. They can get handy when the temperature drops. 2 is enough.
1 light rain jacket.
1 warmer jacket.
Only if you're going to cold places or higher ground (examples: mountains in Japan, Sapa in Vietnam or Cameron Highlands in Malaysia)
What colors to wear in Southeast Asia?
Bet on neutral colors. They're easier to combine and to maintain. Plus, nothing puts a giant "tourist" label on you than flashy or highly patterned shirts.
Dark clothes are easier to maintain and don't get dirty so easily, but they also retain more heat. When it's a humid 35C sunny day, the last thing you want is to wander around in a black t-shirt.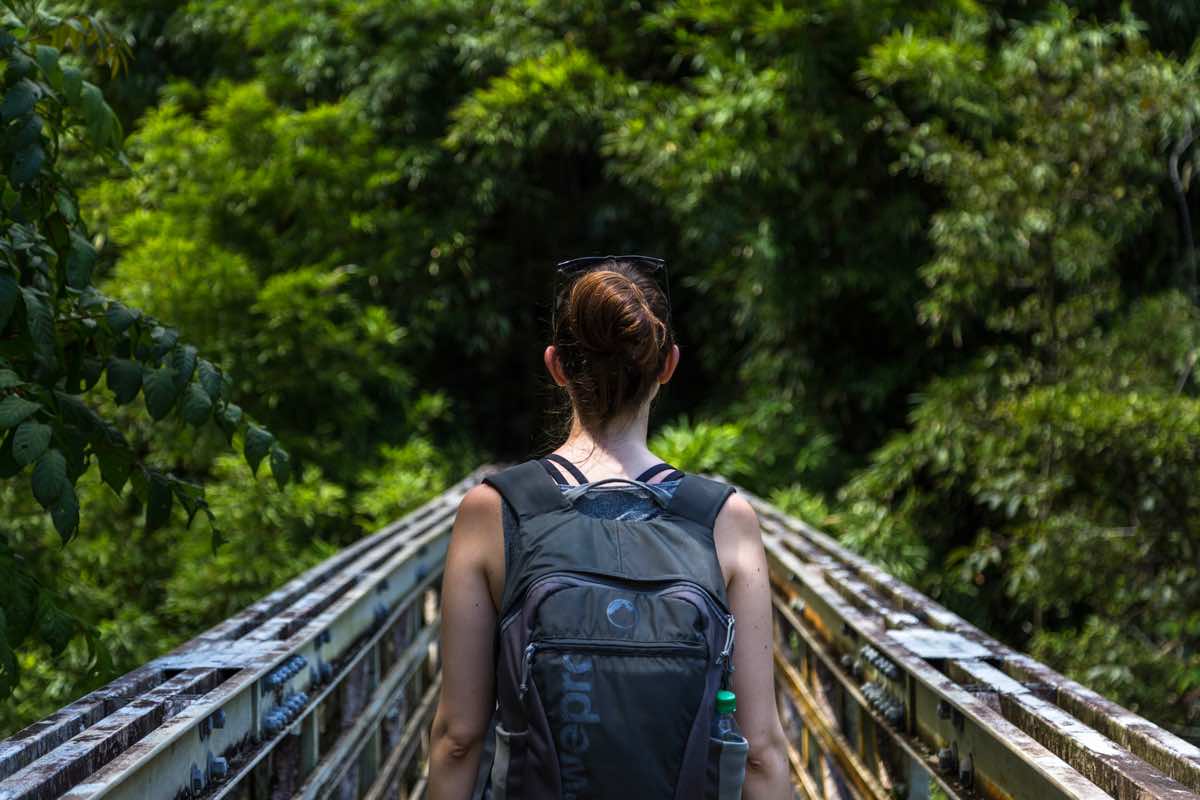 Gadgets to pack for Southeast Asia 📱
Gadget Packing List for Southeast Asia
Travel Adapter
Pretty much essential.
Noise-cancelling headphones
Drastically improve your experience on planes, trains, and buses.
Laptop
I don't recommend taking a laptop for a trip. Period. If the desire to stay connected is too strong or you need to plan on doing any work choose a light weight, I highly recommend a MacBook, this marvel of technology. Or an iPad is a better option.
Power Bank
Don't underestimate what a trip can do to the battery life of your gadgets. It's essential you can power up your gadgets anytime. Invest in a good one – with at least 15,000mAh capacity to future proof it. Here's a list on Amazon to get you started.
Amazon Kindle
If you are into reading, a Kindle is a great option to bring lots of books with you without occupying much space.
Mobile phone (unlocked!)
Make sure you bring an unlocked phone. Local SIM cards are the cheaper way to stay connected in Asia.
Digital camera
Choose a reliable and compact one that complements your smartphone camera. I travel with a digital camera that takes up very little space and takes incredible shots due to its out-of-this-world zoom.
Headphones
They will make your journeys in trains, buses and planes way more enjoyable.
GoPro Hero
Essential camera for adventure footage and photos. The new GoPro is completely waterproof and submergible so you don't need extra cases.
Mobile WiFi Router
Another of my top buys recently. Since I'm always traveling with a lot of gadgets with me and/or I'm traveling in a group, getting all the devices connected is a pain. A mobile router, unlocked to all networks, is reliable, easy to use, and a potential huge money-saver. An essential travel item if you ask me.
Hygiene items to pack for Southeast Asia ✨
When we're traveling it's time to take it easy, but let's not become troglodytes. Many of the everyday things we need are widely available in Asia. Especially in big cities, any 7/11 will have what you need. In any case, there are things it's convenient to bring with you.
Hygiene Packing List
Hand sanitizer
The best protection you can have for viruses and bacteria causing diseases (including travelers' diarrhea). You may not realize, but you're touching your face, eyes and mouth all the time!
Deodorant
If possible, roll-on. They're smaller and better for the environment anyway.
Toothpaste
For longer trips, bring a small one and buy a bigger one later.
Toothbrush
Nail clipper
Many people forget this. Why having to buy a new one if you can take your own?
Shampoo + body wash gel.
Some hotels/hostels don't provide this, but there's no need to load up. A couple of small bottles is enough.
Beard shavers/trimmers.
Pharmacy items to pack for Southeast Asia 💊
You can find most meds anywhere in Southeast Asia. All you need to go is head to the next 7/11. That said, it's better to have some with you, in case you start feeling bad on a long plane/bus/train trip or are stuck in a remote area.
Pharmacy Packing List
Mosquito repellent
Another key item. A good repellent can protect you from severe tropical diseases. Use one with high percentage of DEET for higher effectiveness – especially if you're going on the rainy season or into malaria or dengue areas.
Melatonin
Helps fall asleep faster and minimize that annoying jet lag.
Ultrasonic Pest repeller plug-in
Useful to keep mosquitos and other bugs away from your hotel room!
Sunscreen
Another VERY important item. If you're snorkeling in an area with sensitive areas, make sure your sunscreen is harmless to corals.
Ibuprofen
Paracetamol
Melatonin drops
Minimizes jet lag and helps you sleep on planes.
Antihistamine
For allergies. Even you are not aware of any, you may find one new!
Motion sickness pills
Because of the bus and boat trips in Asia can be rough. I was glad I had these with me during my trip to Koh Lipe in Thailand
Accessories to pack for Southeast Asia 👝
Accessories packing list
Water Purifier Bottle
Avoid the environment-damaging habit of buying many plastic bottles a day. Plus, with a reusable water bottle, you can turn any fresh water source into clean drinkable water anywhere you are.
Microfiber towel
Plenty of the accommodation places I've stayed in Asia in don't provide bathing towels. When they did, they charged for them as a first-necessity item they are. A simple microfiber towel makes all the difference. does the job, does not occupy much volume and dries super quickly.
Travel Pillow
The first time I went to Asia I arrived drousy, sleepy, and with severe neck pain after my long-haul flight. Chances are your flight will be a long-haul too so something to support your neck while you rest can really make a difference.
Second backpack
You'll need something to carry your stuff everyday, especially if you're going to urban areas. This one is tailored to carry digital cameras.
Ear plugs
These do wonders to sleep or relax in noisy conditions, especially flights.
Sunglasses
Too much light can harm your eyes. Glasses with polarized lens are highly recommended.
Padlocks
For an extra layer of safety. Use them for hostel lockers on your backpack, to block the zippers when you're away from your stuff.
Wet wipes
Useful for SO many situations I don't even know where to begin.
Backpack cover
Weather in Southeast Asia is hard to predict and for most of the year, there are showers almost everyday. Get ready.
Digital organizer
To keep your cables and devices tidy.
Notebook + Pen
Even you are not keen in showing off your drawing skills, it's good to have something to write a note to someone, sketch something or even write down your trip memories.
Packing Cubes
Trust me, you'll never be able to travel without them.
Documents to take for Southeast Asia 🛂
Last but definitely not least. Make sure you have all your important travel documents in order and well organized.
Document packing list
Document Organizer
Take good care of your travel documents. For safety reasons, only take with you every day the absolute essential and leave the rest at the hotel.
Passport
Save this with your life. It's literally the most important thing you will be carrying. A passport cover might be a good idea.
VISAs
Check your VISA requirements for the countries you plan to visit in advance. Vietnam is one of the most picky, but you can apply for it online
Photos
In some countries, you may need some physical photos to complete the VISA application.
For divers: Diving licence
Driving licence
Credit Card
Be very careful to who and how you hand over the card as scams can be common in Asia.
Revolut card
Save money in exchange fees when making payments abroad. You can also exchange currency via phone app!
How NOT to overpack for Southeast Asia
The most common mistake travelers do is overpacking. In my first big trips, I used to bring everything "just in case". Over the years I've realized these "just in case" items are rarely used and the reason we carry way too much weight. If an item is "just in case", don't take it!
Overpacking is such a serious issue that people are selling anti-overpacking courses on the web and making money out of it.
My opinion is that you don't need to spend money on these courses. Save your money and follow the next FREE guidelines and you'll be fine.
Be smart about what you pack.
Bring only things that are high-priority. Despite lacking some first-world amenities, in Southeast Asia you can easily find basic hygiene items, meds, clothes, etc.
Make sure you give a read to my curated list of basic travel accessories to give you a generic idea.
Plus, shopping in Bangkok, Kuala Lumpur or Singapore can be at least as productive than Western countries.
Plan ahead.
Check the weather of all the places you're planning to go. While most Southeast Asia is warm all year-round, there are some countries where it can get really chilly, depending on the time of the year.
Bring old clothes/items that you plan to ditch during your trip. Give it away to someone in need if possible. I do it all the time and is a win-win: you make room for new things and you get to renovate your closet.
Organization is key.
A very important thing when you're on the road is the level of organization of your stuff. During my previous trips, my stuff evolved to become a giant mass of clothes. Not functional nor pleasant to see, especially because during a trip we tend to go through our stuff looking for things CONSTANTLY. These magic boxes help a lot.
Another thing to keep in mind is how you distribute weight. Heavier items should be placed closer to you.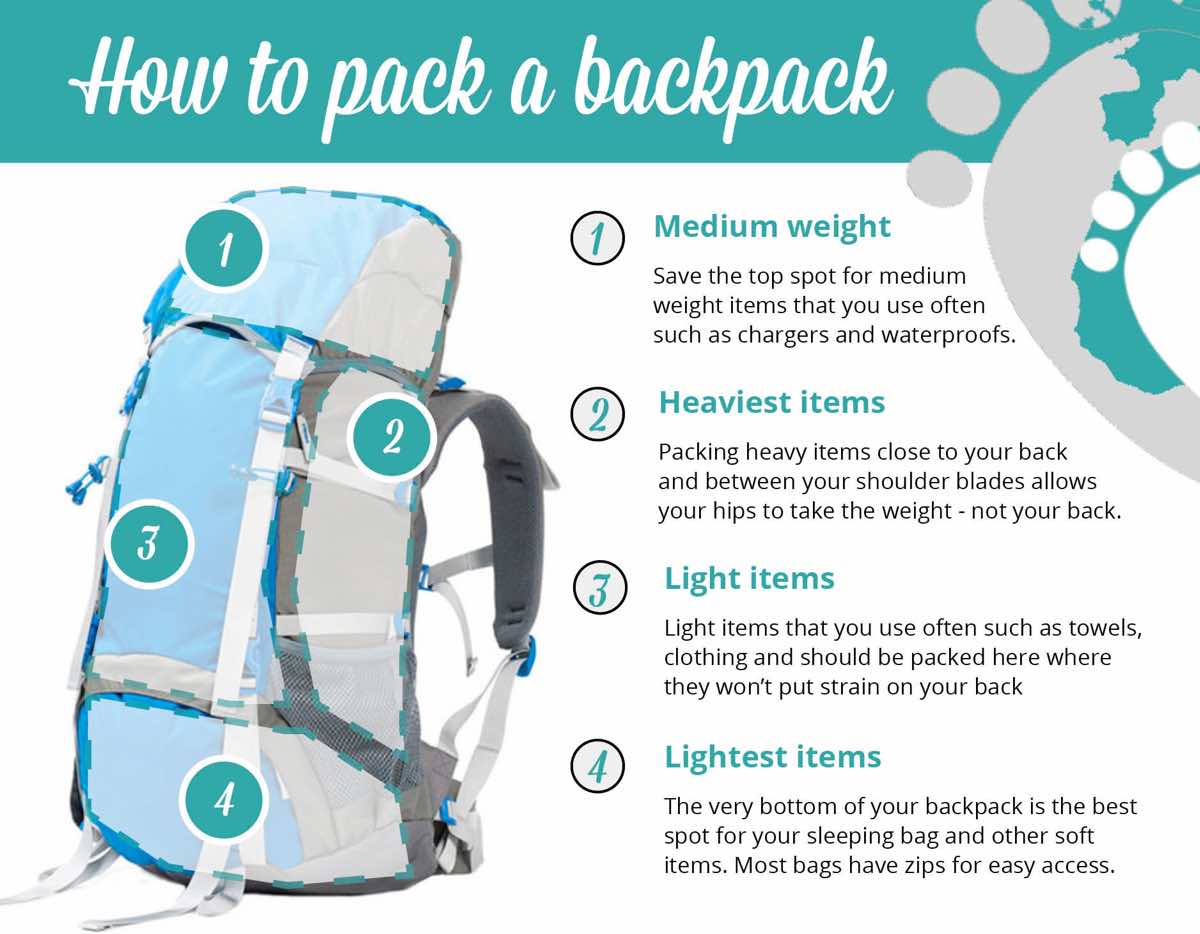 Be strict about numbers.
Don't bring more than 10 items of the same kind. Whether it's socks, underwear, t-shirts, whatever, and regardless of the duration of your trip. If you need more, you can either buy it or wash it.
Your backpack should weight a maximum of around 12 kilos. More than that and will start become really heavy and uncomfortable on your back. Another good rule of thumb is to fill your backpack to a maximum of 50% of its volume.
Here's exactly the process I use when I'm packing.
Extra: What to buy in Southeast Asia
Like I said in the beginning, as important as what you take is what you don't. These are some items there's no point in bringing – just wait until you buy there!
Tiger Balm
This menthol and camphor cream is mega popular in Asia. Locals say it cures everything. It may not be EVERYTHING, but it helps ease mosquito bites, muscle aches and even cough and congestion.
Clothes
In both Thailand and Vietnam I was overwhelmed with the potential for shopping. Particularly clothes. Whether it's in the malls or on the street markets, you will find everything you need to wear at super cheap prices.
Aloe Vera
For sunburns there's nothing better, but these can be found everywhere. No need to take one from home.
Was this packing list useful?
What else do you want to pack for Southeast Asia? Share your recommendations below!