Considered the spiritual capital of Thailand, Chiang Mai also opens doors to a whole different set of experiences and activities hard to find elsewhere. Here are some of the coolest things to do in Chiang Mai!
After the big capital Bangkok and after the bit of island hopping in the south of the country, Chiang Mai is the most popular destination for travellers visiting Thailand.
Because of its laid-back vibe, friendly people and great value-for-money in food and shopping, it was possibly the place I enjoyed the most. But what impressed me the most was the huge variety in things you can do and see.
It's a great place to go for a 180º degree turn on your 9-to-5 routine and experience completely different things. Here are some of them!
>> Top 7 Things To Do In Chiang Mai
1

Play With Elephants (And Even Bathe Them!)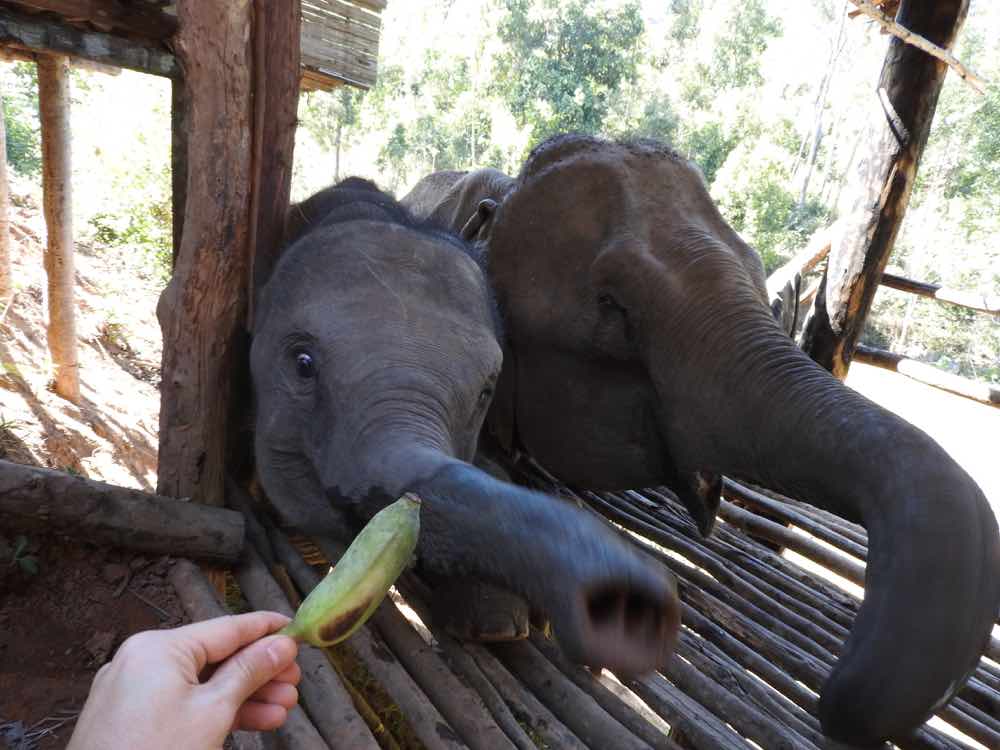 Before coming to Thailand, I knew getting up and close with elephants was one of my top bucket list activities.
Indeed you can find hundreds of elephant tours in Thailand and in Chiang Mai in particular. The challenge is to find one that does NOT include riding them.
Elephant's spines are not prepared anatomically to carry people all day and animals in most tours are often subject to a violent process known as Phajaan. This is intended to mentally "break" them and become completely submissive to exhaustive days of work and humans in general.
Fortunately, there are a couple of elephant sanctuaries and conservations projects to pick from in Chiang Mai. The 2-hour ride to get to the Elephant Jungle Sanctuary was completely worth it. We could feed them, bathe them and hang out with them for a few hours. The hyperactive baby one was the star of the day! Trust me, there's no need to jump onto their backs!
Which elephant tour to choose in Chiang Mai
Unfortunately, due to poor regulation and criminalization laws, most of the elephant tours in Thailand still practice riding. If you want to get close with these gentle giants, please choose wisely where your money goes to.
I went with Elephant Jungle Sanctuary, but another valid option is the Elephant Nature Park. It's slightly more expensive though.
2

Do Your Bit Of Temple-Hopping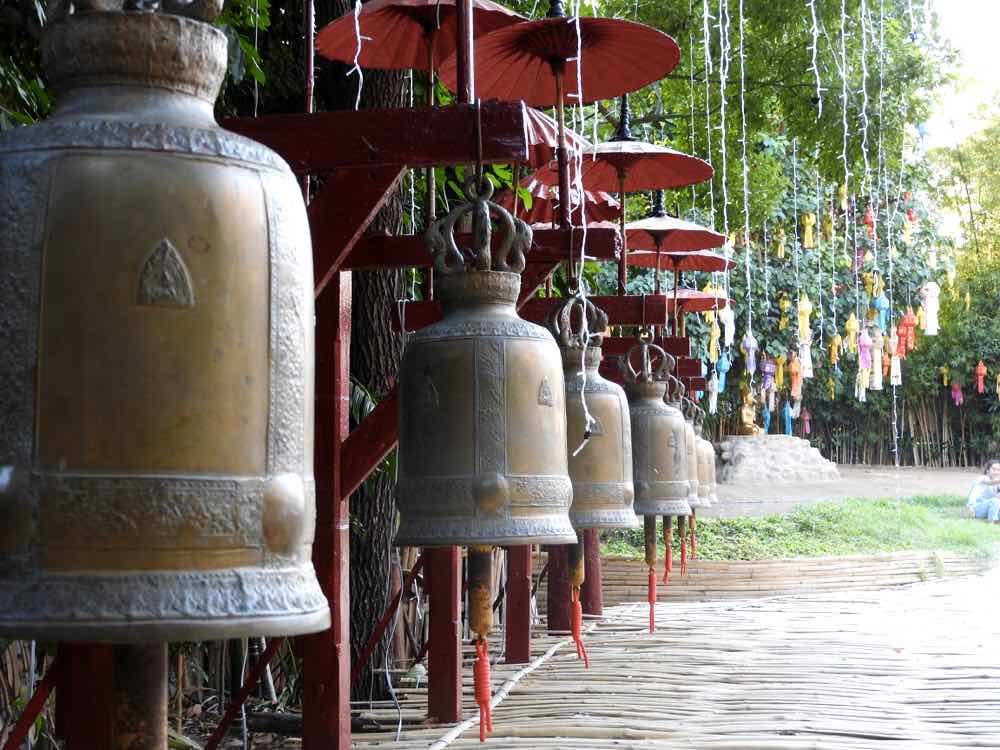 There are over 200 ancient wats (temples) scattered along Chiang Mai, which makes it the right place to start a journey to your inner self and keep you in the path for enlightenment.
Remember that these are active worship locations, so make sure you have the upmost respect for locals. You are expected to wear modest clothing and keep quiet during your visit.
Best Temples In Chiang Mai
Some of the temples not to be missed are Wat Chiang Man, the oldest in the city, Wat Chedi Luang, in the heart of the walled old town, and Wat Phan Tao, my personal favorite.
Outside of the old town, make sure you also pay a visit to Wat Prathat Doi Suthep. It's the city's jewel and apart from the stunning temple complex, it also has a commanding view of the entire Chiang Mai valley.
3

Go On A Night Shopping Spree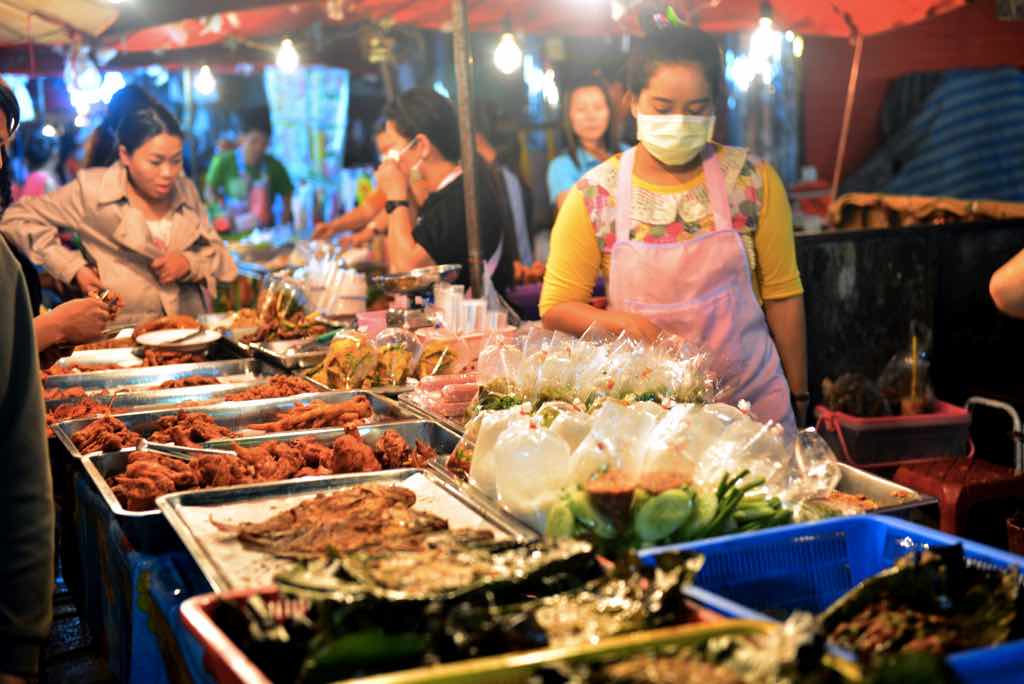 I've been to a lot of street markets in many different places. What happens most of the times is that I eventually find them dull and get bored. This didn't happen at all in Chiang Mai's Sunday Night Market. It completely surpassed my expectations.
First of all, it's huge. It not only extends itself through Rachadamnoen – the main street in the old town – but many other streets were closed to traffic and filled with stalls and vendors. Basically the entire old town is transformed into a giant market.
Then, there is so much to see, eat and do. From inexpensive quality massages available in every corner to clothes, souvenirs and creative Thai-inspired arts and crafts. If it wasn't for luggage space, I could easily take four or five paintings from this place. And don't even get me started on the street food!
I mean, shopping in the markets of Bangkok still has an advantage in terms of quantity, but from what I could see Chiang Mai definitely wins in quality. For some reason, everything that is being sold – specially food – seemed better.
If you happen to be on a Sunday in town, this market is a must-do, don't miss it!
Sunday Night Market pro tip
Get there early to avoid crowds. Don't worry about dinner, just grab some bites throughout the night. This way you can try out many different specialties!
Most of the food stalls are to be found near or within the properties of the wats. You'll find hundreds of choices for low-cost quality food. Go for the most popular stalls amongst locals!
4

Zip Line Through The Jungle
Being afraid of heights – as you can judge by my terrified face on the photo above – my first time zip-lining in Chiang Mai was the most memorable Thai experience.
Contrarily to many other places where all you get is a go in a single zip line, in Chiang Mai you can try a complete course of zip lining and Indiana-Joning through the jungle.
The whole ride was a 2-hour adrenaline-packed adventure. I can't believe I got to literally fly at 70 meters of height or ride a 800-meter (!) single zip line. Highly recommended!
Which company to go zip lining with in Chiang Mai
There are many companies offering zip lining tours, but unfortunately some of them don't quite comply with safety standards. Some tourists got seriously hurt in the past.
Flight Of The Gibbon is slightly more expensive than the competition, but they don't mess around with safety in the treetops and neither should you. The equipment is all new and secure and the guides were flawless in making us comfortable and feel safe. Plus, in the Mae Kampong forest you get to see wild gibbons!
5

Indulge On A Thai Cooking Class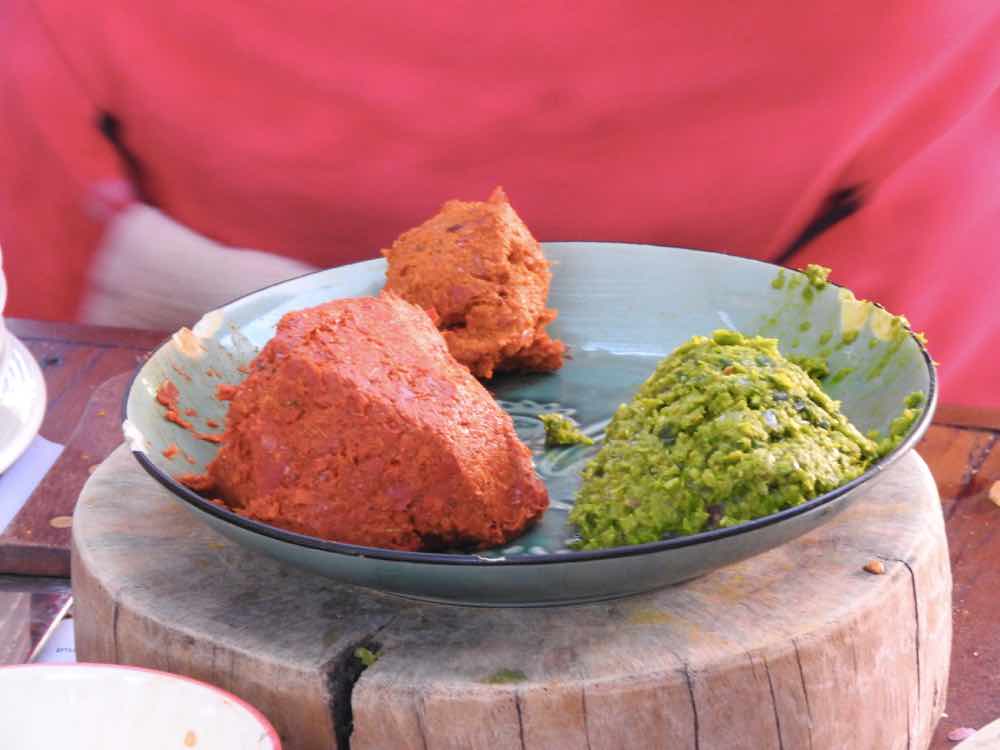 Thai food is a true delight for your taste buds. It's hard to find such an incredible balance of sweet, spicy and salty in the same dish.
But what most surprised me in Thai cuisine is how easy it is. Most dishes can be conveniently prepared without much hassle or preparation. My creations looked and tasted like delicious with much less effort then western cuisine. We did several different dishes, including a traditional spicy soup, curry paste and a spring roll, all delicious!
In the end, we even got a very detailed recipe book which was great to recreate the dishes back at home. Overall, I feel this is an experience worth having not only for foodies like myself. Even the most novice of cooks can prepare yummy Thai dishes!
Which cooking class to do in Chiang Mai
To say the least, the competition in cooking classes is fierce in Chiang Mai. There are DOZENS of schools available. In some of them you can cook an extra dish, in others there's a market tour included or any other catchy feature to stand out amongst the competitors.
I can only speak by the company we went with: Asia Scenic Thai Cooking School. They absolutely nailed it. The instructor was knowledgeable, VERY funny – loved how the level of spicyness was determined by how sexy you want to be – and with clear understandable English.
Also their prices seem to be slightly cheaper than the competition so highly recommended!
6

Try Out Different Massages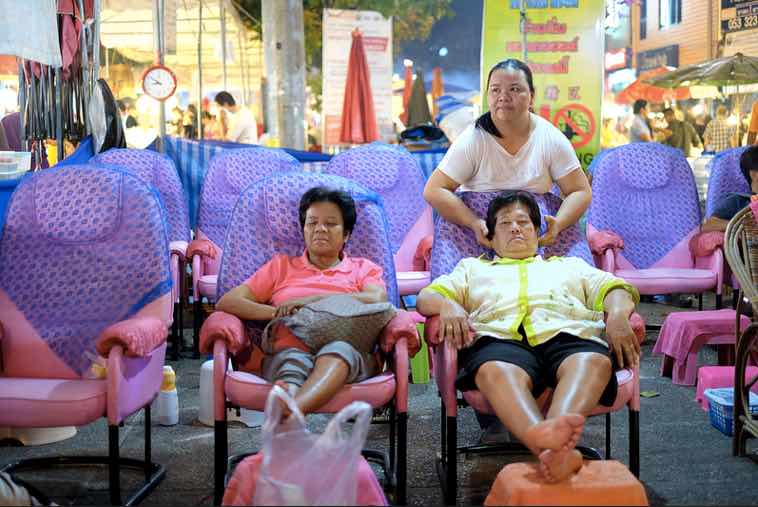 Yes, I know you can get a Thai massage pretty much anywhere in Thailand. The question here is value for money and Chiang Mai is hard to beat.
We did an one-hour full-body Thai massage for around 200-400 baht, which is ridiculously cheap. The masseur even massaged my fingers (!) which felt surprisingly reinvigorating.
There are many types of massages you can get in Chiang Mai:
Massage by a prison inmate: do this at the rehabilitation program of the Womens Correctional Institution
Foot massage at the Sunday Night Market: I did an AMAZING foot massage for 50 (!) baht. Hard to beat this.
Blind massage: Blind therapists with an allegedly enhanced tact sense are awaiting for you at the Association Massage of Blind People
Do as many massages as you can. My only regret was not getting more while I was there!
7

Chat With A Monk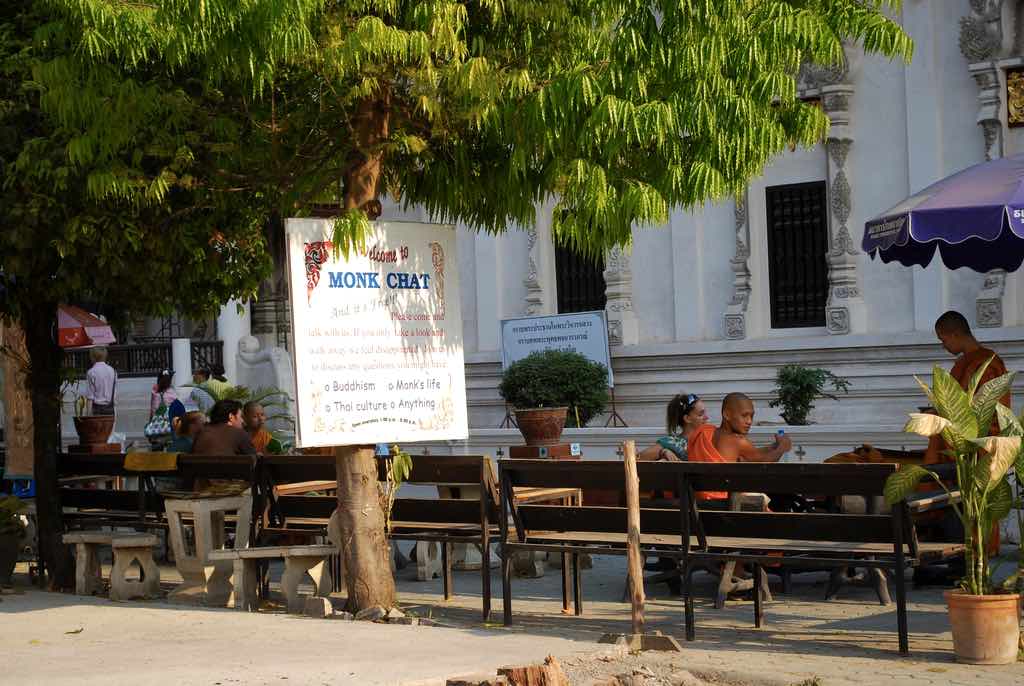 Exploring the amazing wats of Chiang Mai is amazing experience by itself, but you can enrich it even more.
A few of the temples in the city have a "Monk Chat" program, where you can speak freely to monks about their beliefs or simply mundane aspects of their lifestyle. In exchange, they get to practice their English.
We've done this with two monks and it was indeed a unique experience. While one of the monks was extremely shy, the other one was very talkative and friendly. Putting into perspective your own life against such a different way of life is very enriching and (really) makes you think.
Monk chat programmes in Chiang Mai
These are some of the most popular places to chat with monks in Chiang Mai.
Wat Chedi Luang: Monk chat available daily from 9am to 6pm. Look for the tables under the shady trees.
Wat Suan Dok: Has a room dedicated for the monk chat programme. Mondays, Wednesdays and Fridays from 5 to 7pm.
Wat Sisuphan: Daily, from 5:30pm to 7pm.
Things to do in Chiang Mai that are not on this list
You may noticed I have skipped some very touristy things to do from this list. On purpose. Tiger Temple is one of them. I don't see any reason why I would give money to a place that holds drugged animals just for the stake of a cute selfie or a new Facebook profile picture.
Same thing applies for the Karen Village. In this one, humans are the main attraction, just because women are culturally encouraged to grow extremely long necks. If zoos are not my thing to start with, human zoos are much worse.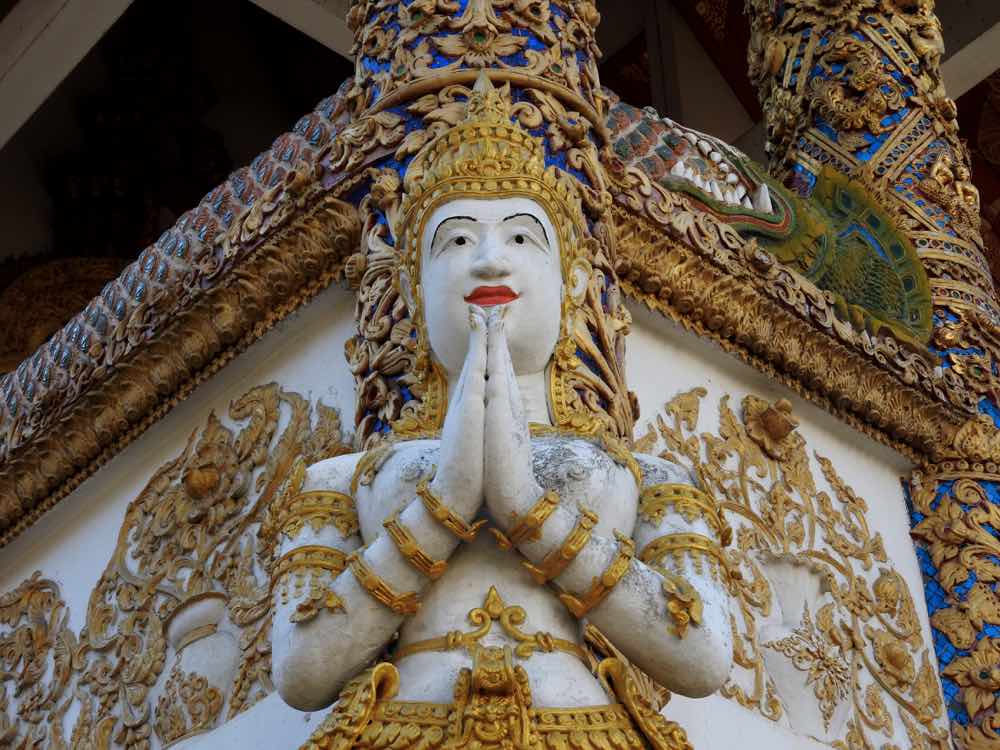 Where to stay in Chiang Mai
With so much to do in the city and its surroundings, I also didn't want to waste time looking for a place to stay. Also, I went during the peak season, so I decided to skip the hassle and book ahead my accommodation.
These were my top two choices when I was looking – both are cheap, have WiFi and are conveniently located in the Old Town. For the record, I decided to go with the second one in the end:
Or… find your own accommodation!
The results of your search are pre-filtered to show you only the best-reviewed accommodation in Chiang Mai's Old Town.
Chiang Mai, the place to feel alive!
Overall I left Chiang Mai with the feeling is that kind of place for years live in your imagination and all of a sudden it came true.
Once you get there, you are exposed so many different experiences and activities that it's overwhelming. It's a paradise to tick off things off your bucket list and indulge on authentic and inexpensive Thai activities. The way Chiang Mai makes you feel alive is incomparable.
Have you been to Chiang Mai?
Which other activities would you like to try out in Thailand?