Koh Lanta, Thailand. Few crowds, clean waters, and a chilled vibe. If that's what you're looking for in Thailand, you found it. Check this Koh Lanta guide to get you introduced to this island paradise!
When doing a bit of island hopping in the Thai islands you are sure to find a lot of different experiences to offer.
I think Koh Lanta hits the sweet spot between crowds and remoteness, between silence and noise. Forget the western food chains, you won't find them here (at least for now). There are some bars spread out throughout the island, but this is mainly a chill-out island.
Nevertheless, there are still many things to do in Koh Lanta to keep you busy during your trip.
Further down in the article you can find a guide to plan your trip here!
Koh Lanta, Thailand: Full Guide

Best resorts in Koh Lanta
Start your search with this shortlist of the top-rated hotels in Koh Lanta, with WiFi and swimming pool.
Things to do in Koh Lanta
1

Watch the sunset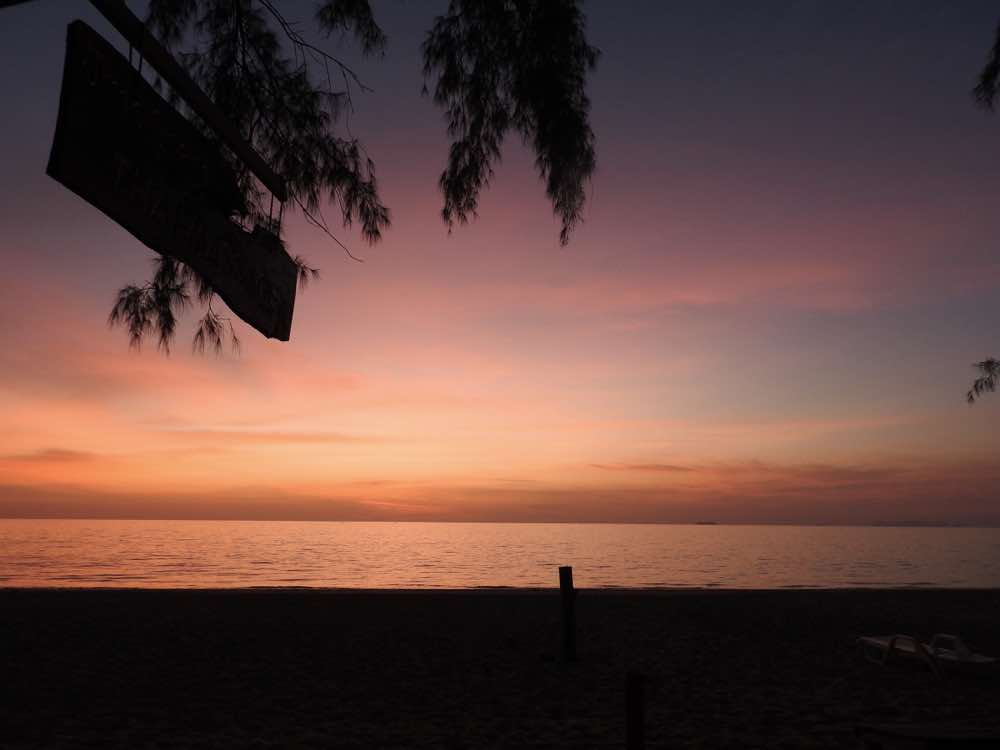 Sunsets in Koh Lanta are outstanding, especially if there are some clouds in the mix.
The majority of resorts in the island face west, so you don't even need to go far away.
You can do it like me and institute sunset walks as a daily ritual. Regardless of wherever I went and whatever I did during the day, at 6 pm I was religiously walking in Long Beach and then finishing at a lounge chair enjoying nature's most beautiful show.
2

Hire a motorbike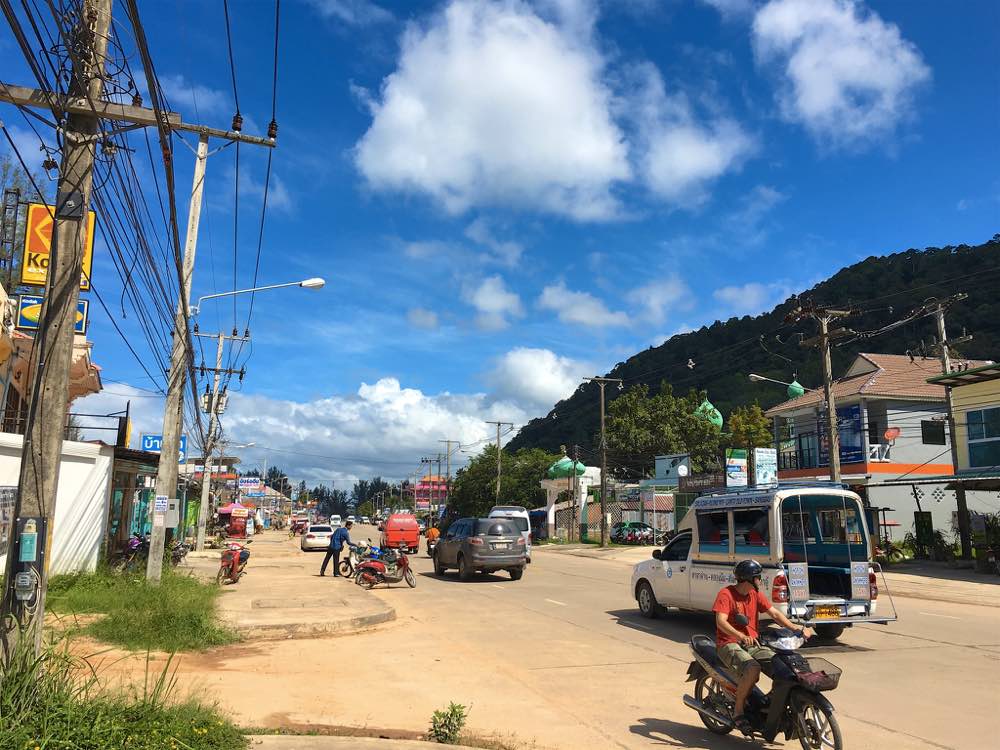 Renting a motorbike is the best and cheapest way to get around the island. The roads are paved, mostly flat, and it's hard to get lost as there is one large main road in Koh Lanta. The only things to be careful with are potholes and the steep hills when crossing from one side of the island to the other.
And what about the price? Well, you can rent a moped from many hotels and travel agents for prices as low as 200 baht/day. Gasoline is sold on the side of the road (in old whiskey bottles!) for about 40 baht/liter. Pretty good price for complete freedom to explore the island.
3

Take a cooking class

As this was one of the things I've already experienced in Chiang Mai, I didn't take a cooking class in Koh Lanta. But this something you should be looking at in Thailand.

In Koh Lanta, Time For Lime is the most popular cooking course. Apart from indulging in Thai food and culture in a way that is hard to beat, all profits from this lovely school go to Lanta Animal Welfare. It's a win-win situation!

Best resorts in Koh Lanta

Start your search with this shortlist of the top-rated hotels in Koh Lanta, with WiFi and swimming pool.
4

Visit Lanta Animal Welfare

Speaking of which. It may be weird to see an animal shelter as a tourist attraction, but the work these guys do is incredible. Not only they rescue, care and sterilize stray dogs and cats in the whole island of Koh Lanta, they also release them when they're feeling better. Often they can find a home for them abroad too!

We had a small tour of the center to know the grounds and meet the animals. You can also take a dog for a walk in the morning (up to 11 am) or in the afternoon (after 3 pm).
5

Chill at Long Beach
Seriously, if there's a memory I am more nostalgic about Koh Lanta are the days I spent in Long Beach chilling. I stayed in Long Beach Chalet, so my bungalow was literally a few steps away from the sea.
I loved the contrast between the beaches and the jungle just across the road. And even with this tropical vibe, basic services like water, electricity – and of course WiFi! – are easily available in Long Beach. A great place to stay.
6

Explore Koh Lanta's southern beaches

If you are looking for more secluded and wild beaches, head south.
The southern you go along the west coast of Koh Lanta, the quieter they get.
Apart from the popular Long Beach, go beach hopping at Ao Mai Pai (Bamboo Bay) and Ao Klong Jark (Waterfall Bay). The latter has a small hike to a nearby waterfall.
7

Go on a snorkeling tour

Koh Lanta is in a sweet spot in the Andaman sea, close to other islands and some top-notch diving and snorkeling spots. One of the best islands for snorkeling is Koh Rok.

While there are plenty of tour companies to go with, please do your research and try to find companies that are concerned about sustainability and the impact on the environment (such as corals). Also always ask how many people are going on the tour with you: a snorkeling experience with 30+ other people is not the same as with only just a few.

Finally, remember that you get what you pay for, but you usually can negotiate to charter an entire boat as a group of six or eight for about the same price as buying as individuals in a group of twenty people!
8

Go on the 4 Islands tour

Another popular day trip out of Koh Lanta is the 4-island tour.
The itinerary can vary from company to company, but roughly it would be something like this:
Koh Cheok – for snorkeling
Koh Mook – includes the stunning Emerald Cave
Koh Kradan – lunch break + time to snorkel and walk around
Koh Ma – small stop to see tons of bats hanging upside down on cliffs!
Since this tour involves a considerable amount of time at the ocean, if possible, splurge a bit to go on a speedboat (vs a longboat) for a more comfortable ride.

How to get to Koh Lanta
Now for some more practical information about Koh Lanta.
While there are also ferries from Phuket, the easiest way to get to Koh Lanta is from Krabi/Ao Nang. You can hop on a direct ferry or a bus to get to the island. Both options take around 2 to 3 hours.
Ferry vs bus from Krabi
Even though there is only one ferry a day from Krabi (in the morning) and buses drop you off at your hotel, I think ferries are a better option. It's comfortable – for Thai standards – and you get to see beautiful views of other islands, including the nearby Koh Jum.
Plus, no one has forbidden from sitting on the deck of the boat and put your legs to the outside – a much more whimsical ferry ride!
You can book things on the spot, but if you are of the planner type, 12Go Asia is a reliable company to book buses, trains, and ferries in Thailand.
Bangkok to Koh Lanta
Koh Lipe to Koh Lanta
Koh Lanta is well connected by ferry to other Andaman islands. You can get to Koh Lanta from Koh Lipe on the Tigerline ferry (a 5-hour trip).
Where To Stay In Koh Lanta
The number of days to enjoy Koh Lanta: starting in 3 and tending to infinity. Seriously, it's the kind of place you will want to stay as long as possible.
Hotels are slightly more expensive than the general Thai standards, but since we are generally speaking about resorts and bungalows, these are great value-for-money. The more you south you go, the wilder you'll find the island which means less accommodation available.
I stayed 5 nights in the beautiful Long Beach Chalet but could easily stay a few more.
⭐ My value-for-money smart deal in Koh Lanta ⭐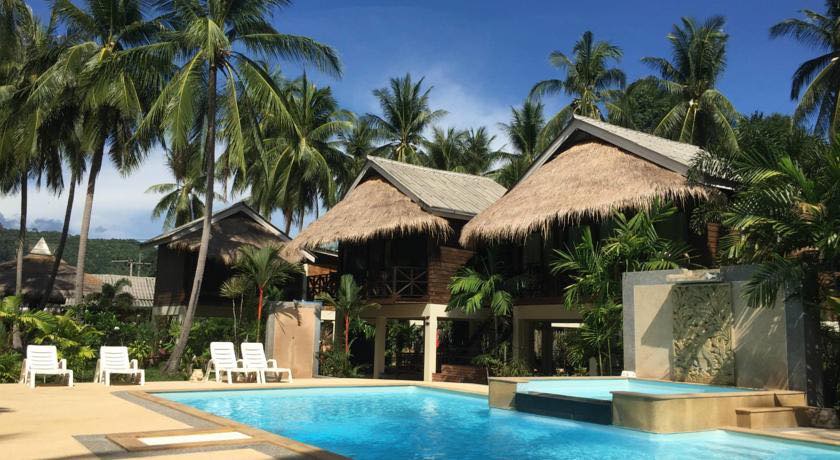 Long Beach Chalet
High-quality comfortable Thai-style bungalows just a 5-min walk from the best beach in Lanta? Heck, I could LIVE there.
Or… find your own resort in Koh Lanta: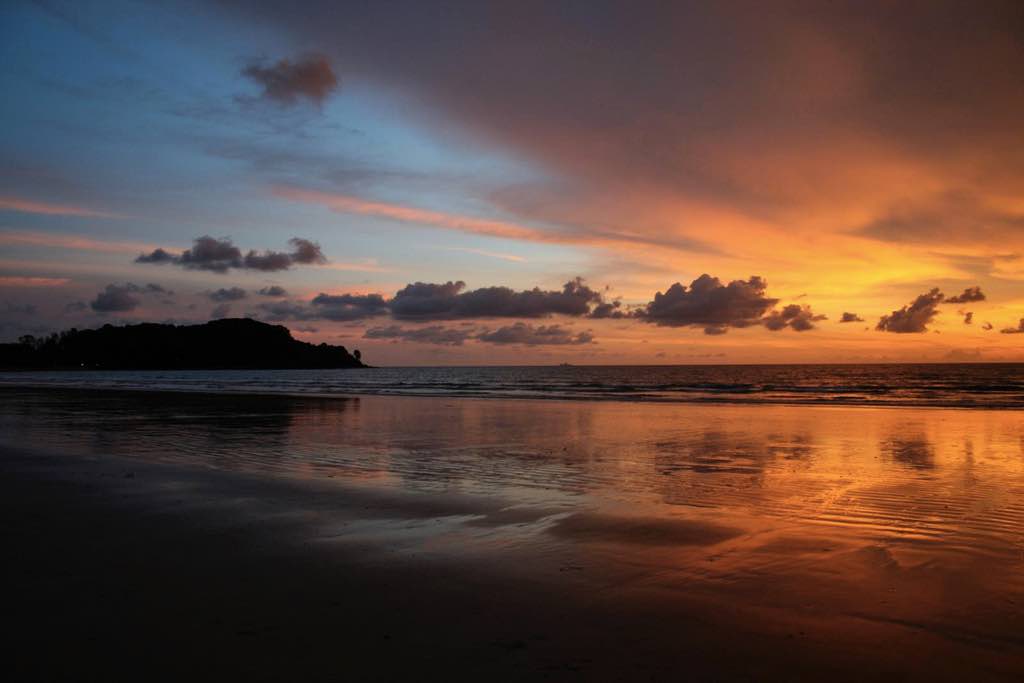 When is the best time to visit Koh Lanta?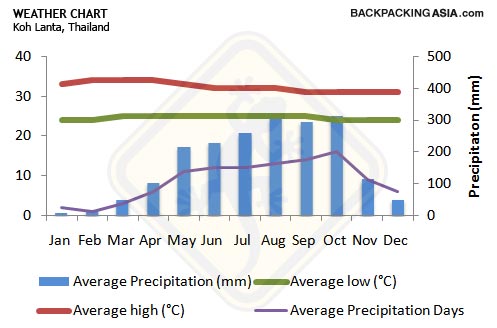 As a tropical island, temperatures are fairly consistent throughout the year in Koh Lanta; what changes is the rainfall. It can pour unpredictably during most months of the year.
To avoid the probability of showers, the best time to go to Koh Lanta is definitely from November to April, with December and January being the absolute peak months. The weather is the driest, although it's also the busiest period with hotels raising their prices up to 30-40%.
While many bars, restaurants and transportation services can literally shut down after May due to the monsoon season, this is also when you can get the best prices. Not to mention you'll have the island almost for yourself. An option to consider if you don't mind the occasional downpour.
Bottom line: every season has its own pros and cons. If you are going for a short period, I'd suggest to play it safe and point to go in the peak season. Instead, if you are planning to go for a long time and/or you are in a tight budget, between May and September can be a good bet. After all, weather is unpredictable and you might even get lucky and get several sunny straight days.

Where to eat in Koh Lanta?
To be honest, after coming from the foodie paradise Chiang Mai – where is eating really is a experience – I was slightly disappointed with the food in Koh Lanta.
Even so, you can get decent healthy food at cheap Thai prices (albeit higher than in the mainland). Apart from the pad thai and green curry, some places serve western food to make tourists and expats feel like at home.
Weirdly enough, I didn't find many street food options available.
What to Eat in Koh Lanta
Maang massaman (Massaman Curry): A different Thai curry dish, with clear Muslim influence.
Pad Thai: VERY touristy, but delicious when well made.
Penang curry: A very popular curry in southern Thailand
Sticky rice with mango: A must-have for dessert anywhere in Thailand
My Favorite Places to Eat in Koh Lanta
There are other places in the beach serving decent to good food too.
As a bonus, you can eat with the feet on the sand while watching a fire show.
There are also evening markets on various days around the island where you can pick up fresh fruit and vegetables. Check the Old Town on Sundays, Saladaan on Saturdays, and Klong Dao on Mondays.
Koh Lanta Travel Review
I absolutely love Koh Lanta.
The days I spend there were of true relaxation and allowed me to unwind from other rather busy places in Thailand. In that sense, the island is a huge contrast to places like Koh Samui or Phuket, where is harder to relax.
For now, whether you are coming with friends, partner or even alone, Koh Lanta remains one of the best islands in Thailand to visit away from the party scene.

Best resorts in Koh Lanta

Start your search with this shortlist of the top-rated hotels in Koh Lanta, with WiFi and swimming pool.
More about Koh Lanta, Thailand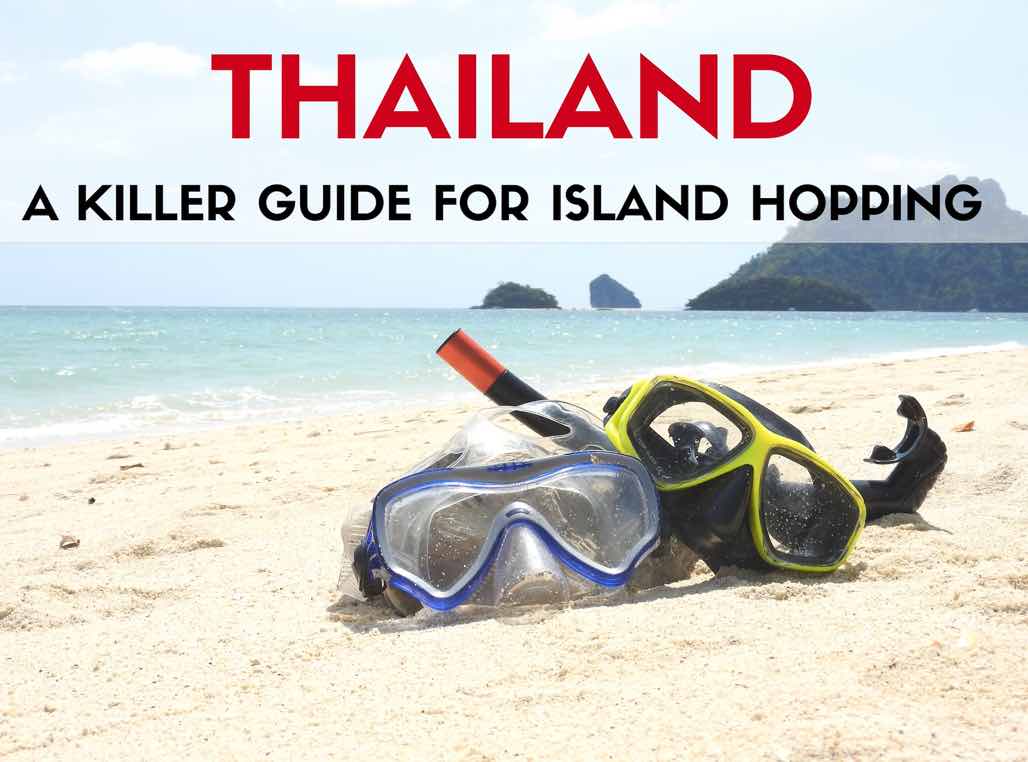 Other Useful Links
What other things to do in Koh Lanta, Thailand do you recommend?
Share your insider tips below!