Get to know Sal, Cape Verde with this honest guide. This is all you need to plan your trip including cool things to do apart from… well, laying down on the beach.
The islands of Cape Verde in West Africa are still pretty off the beaten track. Many don't even know where it is on the map!
What if I told you it's a country of humble, smiley people with top-notch beaches and sunny weather all-year-round?
Each island has its own culture and identity. Sal island, in particular, is a place for "No Stress" (the in local language, "morabeza") and it's the ideal destination if you're chasing the sun and looking to unwind for a few days.
In the wise words of Shakira, It's time for Africa!
🇨🇻 Sal, Cape Verde – Travel Guide 2020
Tips for Sal, Cape Verde
Here's a short summary of the essential tips and things to know about Sal island in case in you're in a hurry.
Sal is only one of the 10 islands of the Cape Verde archipelago, and has the largest tourism infrastructure.
Any taxi from the airport to Santa Maria has a fixed cost of 15 euros (as of 2020). If anyone quotes you more, you're being overcharged.
You can book your transfer ahead with your hotel or just hop on a taxi when you arrive. Taxis are reliable as long as you use the official ones: light blue with a yellow stripe.
The official currency is escudos (CVE), but euros are widely accepted.
Stick to bottled water at all times and avoid iced drinks. A reusable purifier bottle saves some plastic.
Most high-end hotels have an in-house medical service should you get sick. In any case, travel insurance is highly recommended.
Always check the type of vehicle and group size before booking a tour. Local agencies do it better than big travel operators. I used TudSab.
Keep reading to know more about Sal!
Where to stay in Sal, Cape Verde
I'm starting with this because choosing a good hotel is KEY in Sal.
Which area to stay?
If you're going to Sal for some quality beach time like 90% of visitors, then Santa Maria is the place to be. Plus, it's definitely the town with the best tourism infrastructure.
If possible, choose a hotel within walking distance to a Santa Maria Beach, but beware there are sections where the wind blows more than others and waves get a bit too intimidating. As a rule of thumb, the closer you are to town, the calmer the waters.
Staying close to Santa Maria gives you the option of going for a walk into town, check local shops or have lunch at a local restaurant. These walks were a refreshing twist on the lazy 2-min walks between buffet restaurant, pool, and the beach.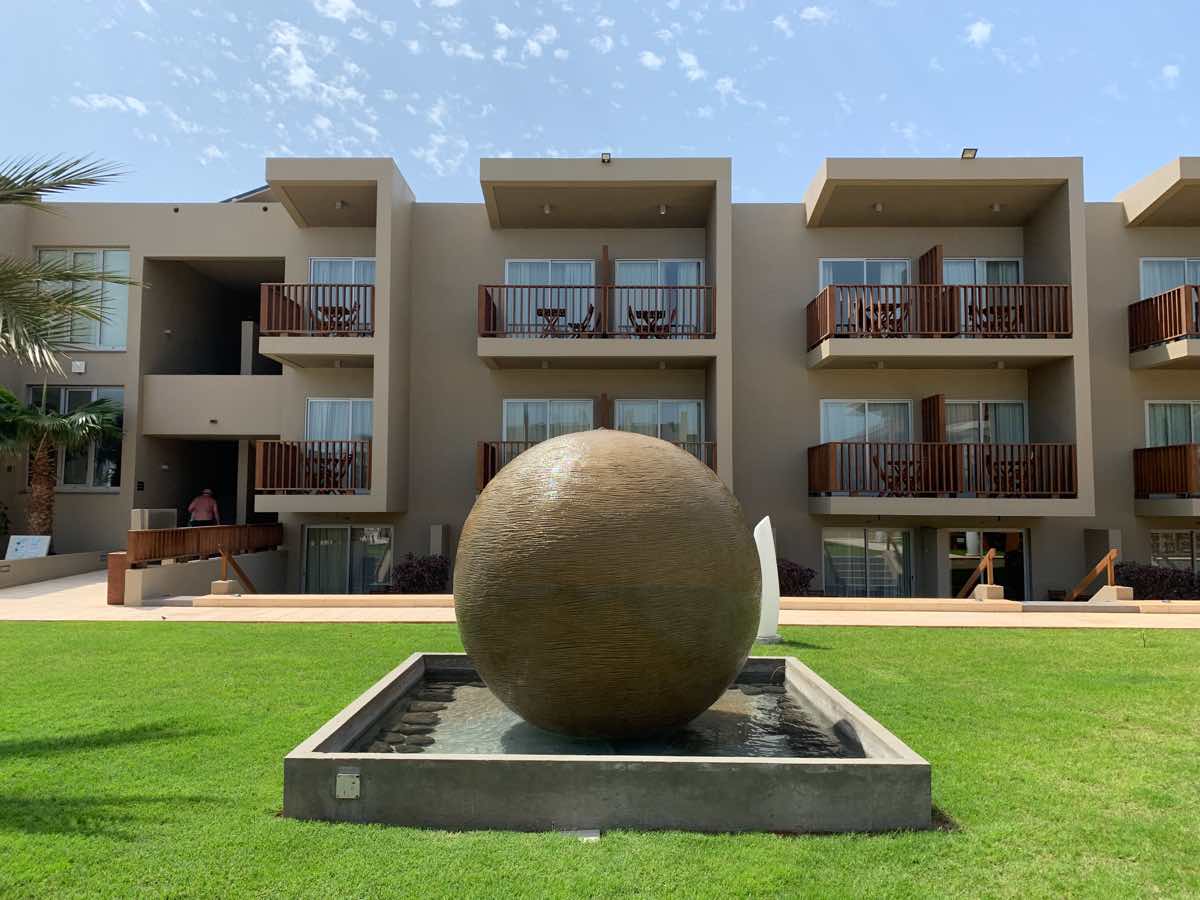 Cleanliness, friendly staff, and a great location next to a superb beach.
What to look for?
Cleanliness, obviously. And food quality. This is obviously a bit harder to judge, but you want to be sure the food at the place you'll be eating most (all?) of your meals is good.
Check online reviews and find out which kind of restaurants they have. Ask the hotel for specific food restrictions (e.g. "do you offer vegetarian and gluten-free options"?), even if you don't have any, just because it's a good indicator of the overall food standards. Speaking of food, check out the food section to know more about food in the island and all-inclusive regimes.
Hotels in Sal, Cape Verde
I present you my shortlist of hotels in Sal. I ended up choosing Oásis Salinas Sea and I don't regret my choice, although I found the food to be a little bit disappointing, especially when they had thematic dinners (Mexican, Asian, etc).
Things to do in Sal
Don't expect a lot to do in Sal. In fact, sightseeing is a bit limited when compared to other Atlantic islands like Madeira, Canary Islands or the Azores! But there's still some cool stuff to do apart from toasting in the sun.
Pontão de Santa Maria (Santa Maria Pier)

One of the iconic images of Sal is Pontão de Santa Maria, the pier where fishermen arrive daily with tons of freshly caught fish. The place gets busy every morning around 11h.
Santa Maria Beach

There's no way around it: Praia de Santa Maria is the main ex-libris of the island and most likely the main reason you are going to Sal. The beach is stunning, personally one of the best I've been, only losing out to Philippines and Greece.
Ponta Preta on the western side is a good place for sunset. But to avoid big waves and strong gusts of wind, you may want to go to the area towards Santa Maria town.
Buracona

Locally called Olho Azul (Blue Eye), it's nothing but a tiny hole where sunlight enters around 11-12am and reflects a turquoise blue on the waters. Honestly, it felt quite underwhelming. The scenery, with the desert meeting the wild rugged coast is quite beautiful though.
Entrance to Buracona costs 3 euros (as of 2020) and is not included in the price of an island tour.
Palmeira

The sleepy town of Palmeira is one of the most authentic in Sal. Colorful houses in cobblestone streets lead to a quiet bay that is only disturbed by the arrival of fishermen every morning. The local restaurants are great for a seafood lunch – try the atum (tuna) or garoupa (grouper) at Gata Fish.
Kitesurfing
The almost constant wind that blows from Africa makes any water activities such as kitesurfing and surfing very popular on the island.
Salinas de Pedra Lume

For decades, Sal island had a thriving salt industry, exporting the "white gold" to countries like Brazil. Today the production has declined but the salt ponds of Salinas de Pedra Lume became a major tourist attraction. I mean, how often can you swim/float in water 27x saltier than the ocean? Fun fact: that's more than the Dead Sea!
Entrance to the Salinas cost 5 euros (as of 2020). Ask your tour operator if this ticket is included in the island tour.
Baía dos Tubarões (Shark Bay)
Near Pedra de Lume, there's a bay where up to dozens of lemon sharks can be spotted. The fins cutting through the shallow water might be quite a scary sight, but they are actually harmless to humans.
This is part of some island tours but other operators have a separate tour here to allow more time for "interacting" (whatever that means) with sharks. Rubber shoes are recommended and can be rented on the spot.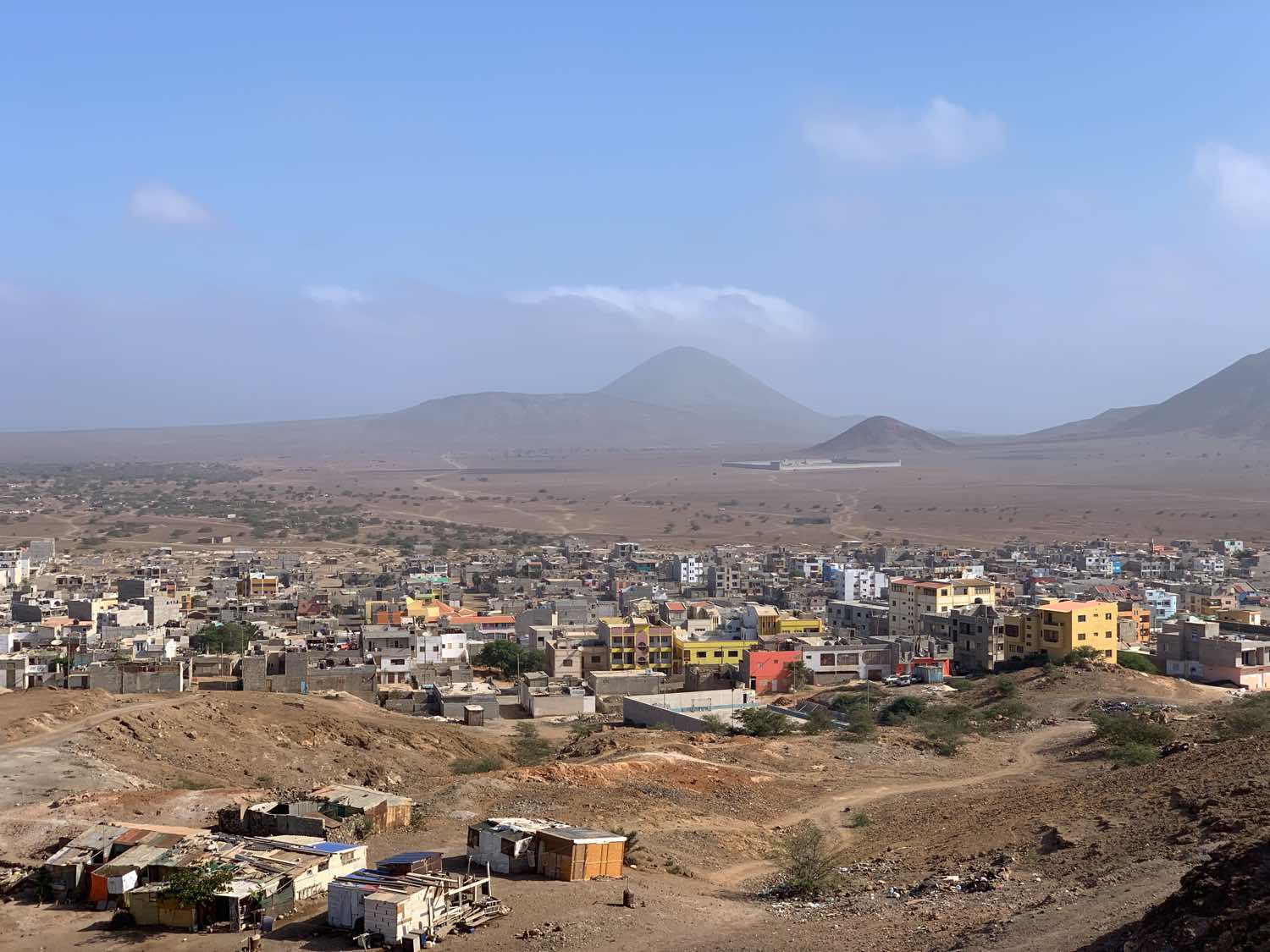 Food in Sal
Is an all-inclusive regime worth it?
Honestly, I've always avoided all-inclusive regimes in my travels. It seems counterintuitive to what I like doing abroad while exploring towns in search of cool local restaurants and shops.
That said, if there's a place to try an all-inclusive is Cape Verde. While there are good local restaurants in Sal, especially in Santa Maria, breakfast options didn't seem great and going for all-inclusive gives you the option of staying in the hotel grounds if you choose to. One less decision you have to make for the day, yay! Plus in AI regime, any water, soft drinks and snacks you need throughout the day will be free too.
Overall, I'd definitely go for a half-board as a bare minimum in Sal island and strongly consider the all-inclusive option, depending on the price difference. But venture out to taste local food, at least once during your trip!
Local food
The typical Cape Verdean dish is cachupa, a rather energy-boosting stew that includes beans, corn, cassava, sweet potato. The exact ingredients vary from island to island, but it can also contain fish and meat. This variation is sometimes referred as cachupa rica (rich cachupa).
The best food I tried in Cape Verde was seafood though. The time between fish gets caught and jumps on the grill is little, which makes it taste fresh and delicious. Grilled Garoupa (grouper) or atum (tuna), lagosta suada (lobster stew) or moreia frita (fried moray) are some of the more common and delicious! choices.
If you're into spirits, try the local grogue.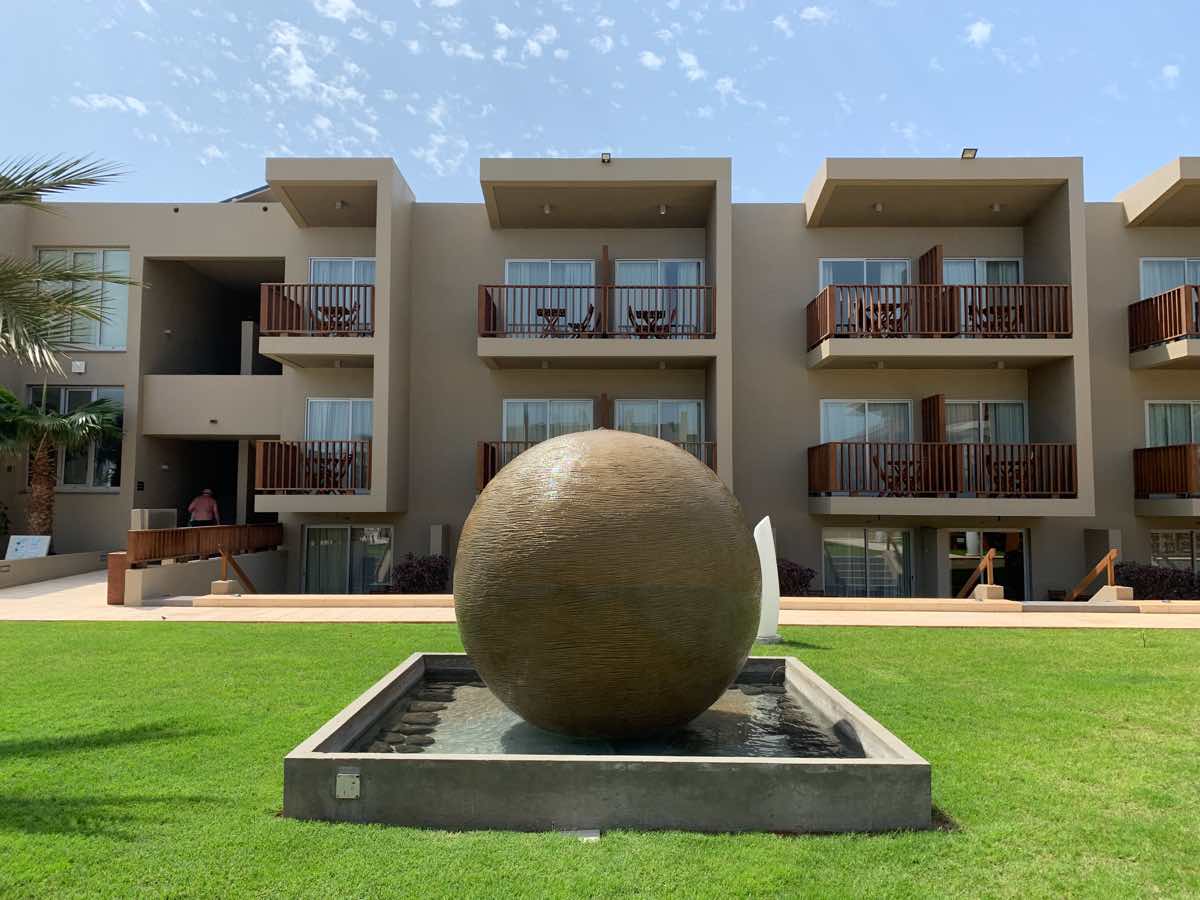 Cleanliness, friendly staff, and a great location next to a superb beach.
Getting around Sal island
Tours
There are many tours and experiences you can take in Sal, from fishing to stargazing, from surfing classes to 4×4 buggy rides in the desert. I'll focus on the more popular though: island tours.
These pick you up from your hotel in Santa Maria and take you through the major spots of the island in about 6-7 hours.
As of 2020, most island tours are operated by TUI, a major operator that also operates charter flights to Sal. The thing is that they tend to take only LARGE groups (we're talking 15+ people!) in small vans which completely takes away the experience. For the same price – or cheaper – you can get better value elsewhere.
I chose TudSab, a local agency, and our island tour – including lunch at a very good local restaurant in Palmeira and entrance to the Salinas (salt ponds) – costed 40 euros/person. They do tours with a maximum of 8 people, but in my case it ended up being a private tour.
Besides asking how many people are going with you, always ask about the vehicle you're going in. As adventurous as it may sound, sitting on the backside of a truck is the recipe for an uncomfortable trip where you'll only be eating dust and (probably) get sunburnt. I've seen many of these tours around and they looked miserable!
Car rental
Instead of a tour, you can rent a vehicle and explore the island on your own. Prices start at about 45 euros/day. I recommend getting a jeep or at least a good traction vehicle because some of the roads are rough. Sometimes even non-existent!

Best time to visit Sal
Climate in Cape Verde is usually mild and extremely dry all year round, with temperatures ranging between 20 and 28 degrees Celsius. There are only two seasons: windy (October to July) and rainy (from August to October), although it only rains a few times per year.
So the truth is that regarding weather, there's no such thing as a bad month to go to Sal. That said, according to locals, if you're looking for the best time for the beach (not surfing or kitesurfing!) you'll probably be better off going from March to June where wind tends to be less noticeable. You may encounter storms carrying Sahara sands during this period though.
Which things did you do in Sal island?
Which other tips for Cape Verde would you add?