This Bohol travel guide has all you need to know to plan your trip to one of the most diverse and adventure-packed islands in the Philippines.
I see the island of Bohol as a showcase of what you can find in the entire Philippines. Paradisiac beaches, river cruises, jungle adventures and top-notch diving spots all in one place.
This travel guide of Bohol and Panglao is packed with the most up-to-date and reliable information (up to 2017) to start planning your journey. Find here tips about where to go, what to do, budget and more.
This really is a must-have for an itinerary for any first-timers in the Philippines.
Let's start!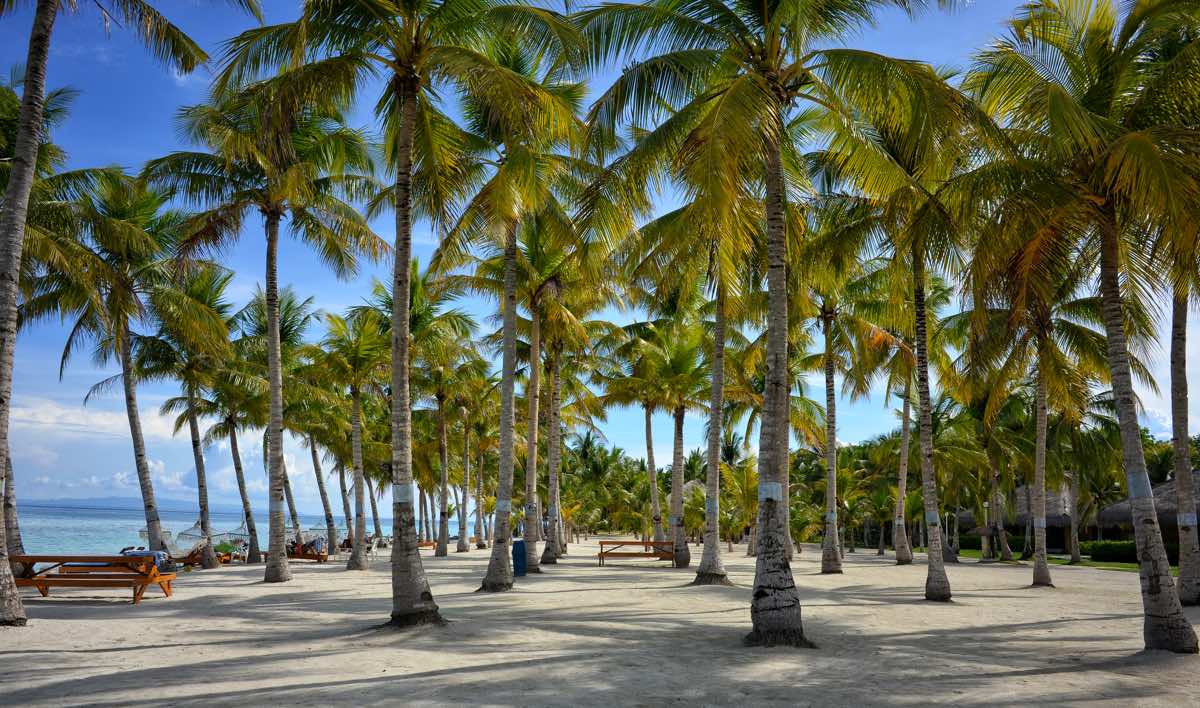 Sections of this Bohol travel guide
How to get to Bohol island
Getting to Bohol by plane
There are several airlines flying to Tagbilaran airport in Bohol:
Air Asia
Cebu Pacific
Philippines Airlines
Most of these fly from/to the capital Manila, but you can also find flights connecting Bohol to Cebu City. Flights are generally inexpensive, but book ahead to guarantee a good price.
Getting to Bohol by ferry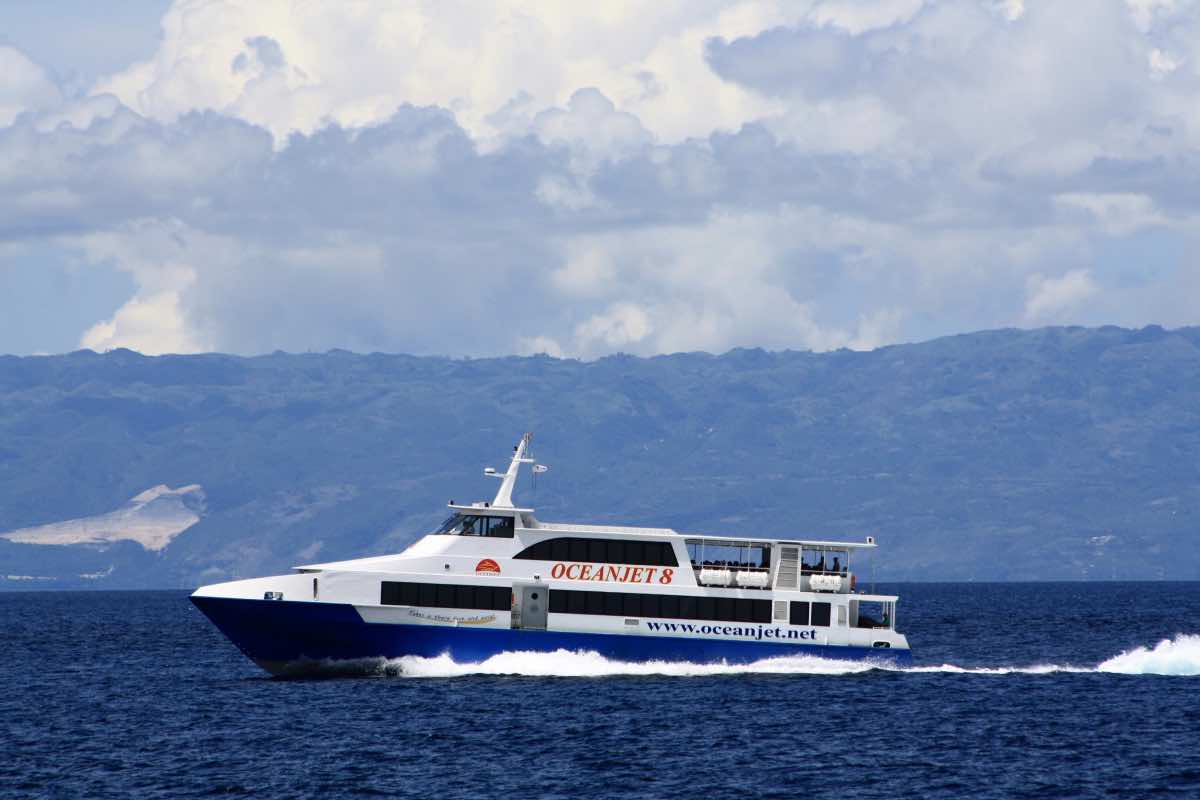 Bohol has also many ferries connecting it to other ports nearby, specially in Cebu island. The most popular route is definitely between Tagbilaran and Cebu City, with several connections per day.
Ferry schedules from/to Bohol as per February 2017
Bohol (Tagbilaran) – Cebu
Ocean Jet: 6:00,7:05,8:20,9.20,11:40,13:00,14:00,15:30,16:20,17:30,18:30
2Go (Supercat): 6:30,11:15,17:25
Lite Ferries: 12:00,22:30,00:00 (Sunday, Tuesday, Thursday only)
Cebu – Bohol (Tagbilaran)
Ocean Jet: 6:00,7:00,8:00,9.20,10:40,11:40,13:00,14:00,15:30,16:20,18:35
2Go (Supercat): 8:45,1:45,19:40
Lite Ferries: 12:30,22:00,13:00 (Monday, Wednesday, Saturday only)
Bohol (Tubigon) – Cebu
Lite Ferries: 7:00,12:00,14:00,19:00,00:00
Cebu – Bohol (Tubigon)
Lite Ferries: 7:00,10:00,12:00,19:00,22:00,00:00
Bohol (Tagbilaran) – Siquijor (Larena)
Lite Ferries: 20:00 (Monday, Wednesday, Saturday only)
Siquijor (Larena) – Bohol (Tagbilaran)
Lite Ferries: 19:00 (Sunday, Tuesday, Thursday only)
Complete ferry schedules in the Lite Ferries, Ocean Jet and 2Go websites.
If you can, I recommend you hopping on an Ocean Jet ferry. It will be slighty more expensive, but the boats seemed newer and more comfortable.
Best time to visit Bohol

Like most of the Philippines, Bohol has a tropical climate, which means very rarely the temperatures drops below 20 degrees Celsius. This makes Bohol pleasant for a visit in any time of the year.
That said, June to December is normally the rainy season and you can expect heavier rainfall. Apart from an unpredictable weather there are more heavy showers between August and October – when the southwest monsoon prevails.
My weather experience in Bohol
I visited Bohol in December. The temperatures were warm without being unbearable. However it was still very unpredictable. Weather changed from a clear sunny day to heavy showers in a short bike ride. Actually we were struck by surprise twice when we were on the road.
The good thing is that the rain never lasted for long. 1 hour tops. And being soaked while driving just made us appreciate the warm sunny weather even more!
In any case, I feel coming in December or January – right after the end of the rainy season – adds to your experience in the island. The rice fields are still vivid green and everything looks more fresh.
Getting around Bohol
Getting from Tagbilaran to Panglao
Most travelers arrive in Tagbilaran to then get to Alona or Dumaluan in Panglao, where most beach accommodation is located. To make this trip, you have some options:
Hire a taxi. Most convenient but also more expensive.
Hire a tricycle. It should be around 500 pesos.
Go on a van. Share it with other people – just ask around – and haggle the price down.
We ended up sharing a van with other travelers to Alona. We were 5 in total paying 400 pesos, which totals a very unexpensive 80 pesos per person!
Tours vs independent transport in Bohol
Bohol is one of those places I absolutely recommend getting your own wheels. And not only because the public transportation is unreliable. It's mainly because you'll be missing out exploring the beautiful scenery of Bohol on your own.
One of my best memories and experiences of Bohol was riding a bike around the island. You get to drive next to vivid green paddy fields, forests or just stunning beaches with a view to the Pacific.
You can also book some day tours to explore the island if you prefer – these will cost 500-1000 pesos per person. Organized tours can be pretty useful in other places but IMHO there's absolutely no need for them in Bohol if you're young and active.
Jeepneys and tricycles in Bohol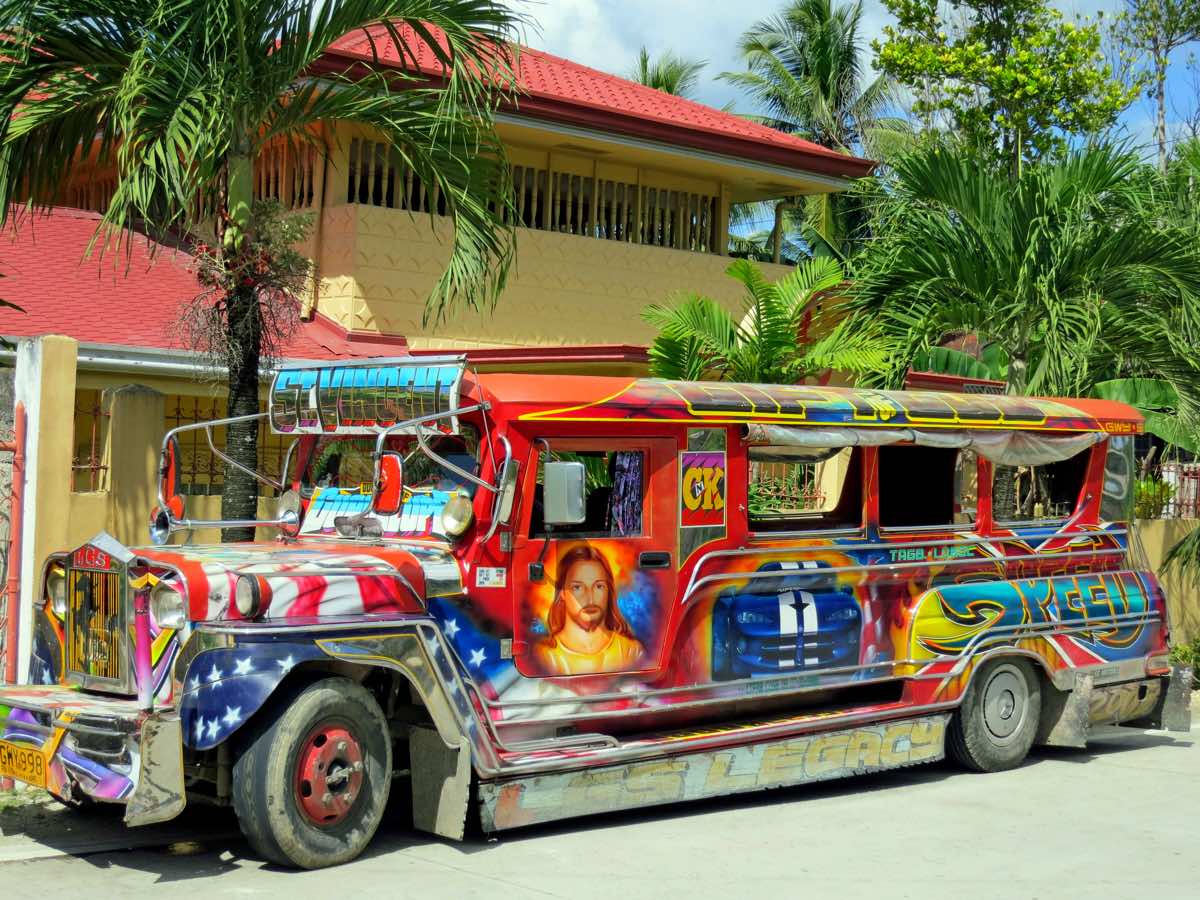 Jeepney is a local's favorite and prices depend on the distance. Most jeepneys going along the south side of the island depart from Dao Terminal. This includes Baclayon, Carmen and Jagna.
Jeepneys are often old and overcrowded. While the experience of a ride in the middle of dozens of Filipinos, chickens and other animals might be appealing, note that distances in Bohol often mean more than 1-hour long trips.
You can also hire a tricycle driver to get you around Bohol for the day. This can cost you between 800-1000 pesos per day. Did you know tricycle drivers are actually obliged to place verses from the Bible on the back of their vehicle? Yes it's a mandatory law by the Government!
Anyway. For shorter trips, jeepneys or tricycles are good options and only cost a few pesos per trip.
Vans and buses in Bohol
Air-conditioned vans with capacity for 10-11 people are aso available. However, they tend to depart from the Dao terminal only when they are absolutely packed with more than 15 people.
Buses going North of the island – Loon, Calape and Tubigon for instance – start from Kogon Market in Tagbilaran.
Top places to go in Bohol
The island of Bohol is packed with possibilities for tours and outdoor activities. If you're looking for a more relaxed time, the white-sand beaches of the twin island of Panglao can also the place for you.
I've prepared a map of all the main sights in Bohol. You can easily download this map offline and use it to get around when you're there.
I'll go through some of these in detail.
Tarsier Sanctuary (the real one!)
When in Bohol you'll see that are quite a few tarsier "sanctuaries" in Bohol. But make sure you go to the Tarsier Sanctuary near Corella.
They have less than a dozen animals, but it's the only place where they live in the wild and have enough space to have an acceptable quality of life. You see, when they tarsiers don't have an hectare of forest to live and are enclosed in little cages, they often attempt suicide.
Ticket fee: 60 pesos
How to get to the REAL Tarsier Sanctuary: Follow the road to Corella and Sikatuna. There are buses from Tagbilaran to Sikatuna where you can drop off nearby too.
Loboc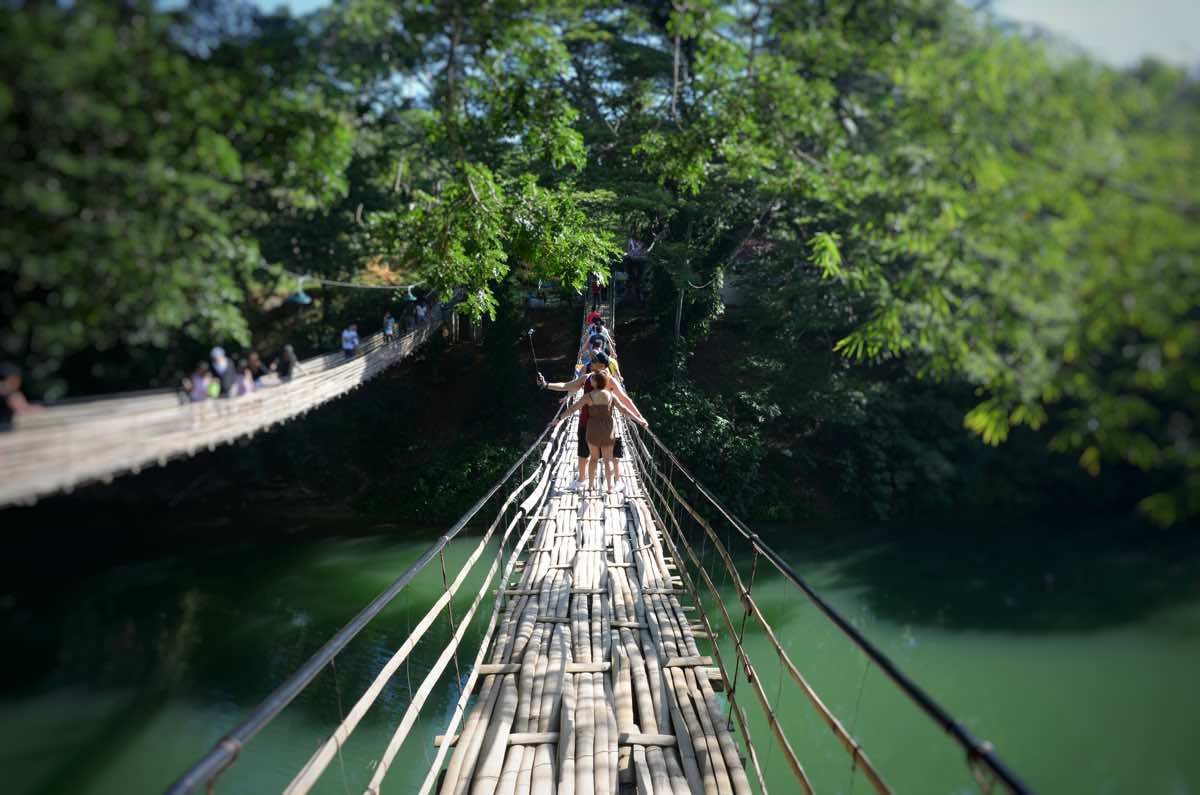 I found Loboc to be one of the most interesting little towns in Bohol. The people are friendly and the setting is beautiful, right next to the jungle-resembling Loboc River. Next to it, the Baclayon and San Pedro churches, destroyed during the 2013 earthquake that stroke the Philippines are there to remind of the country's Spanish colonial past.
Loboc is also more popular for its river cruises that take you up and down the river. They often are restaurant boats which means you can have a fancy meal aboard.
Chocolate Hills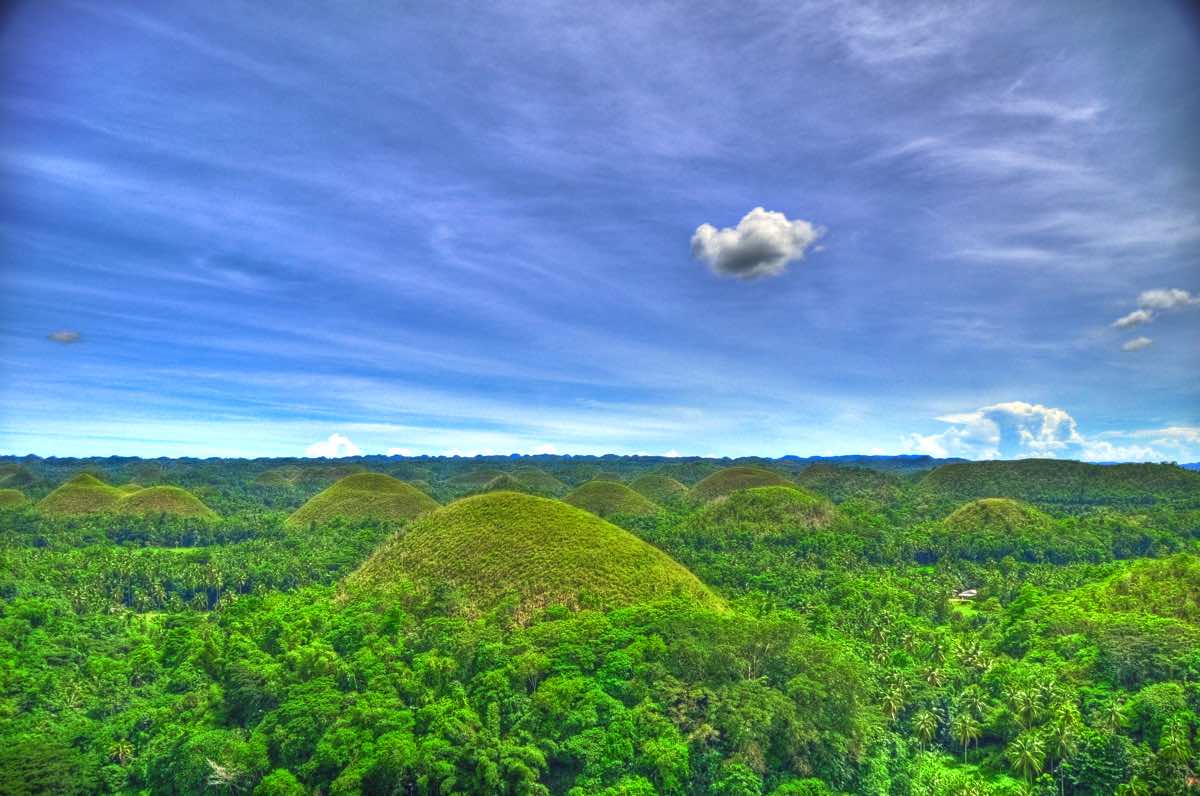 Probably the most iconic postcard of Bohol, the Chocolate Hills are a geological formation consisting of 1,776 conical-shaped hills ranging from 30 to 120 meters high. The name comes from the fact that during the dry season they change their color to a light brown color. In the rest of the year they're actually a lovely vivid green!
The Chocolate Hills Complex is located in Carmen, in the very center of Bohol. The road there wanders across beautiful paddy field sceneries but nothing prepared me for the moment I got to the viewpoint. The hundreds of identical hills going as far as your eyes can see is dazzling. Don't miss this.
Ticket fee: 50 pesos
How to get to the Chocolate Hills: Follow the road to Carmen. After you pass the Man-Made forest, it's a fairly straight ride. If you're on a a bus, take one at Tagbilaran bus station heading to Carmen. You can ask the driver to drop you off at the Chocolate Hills.
Hit the white-sand beaches of Panglao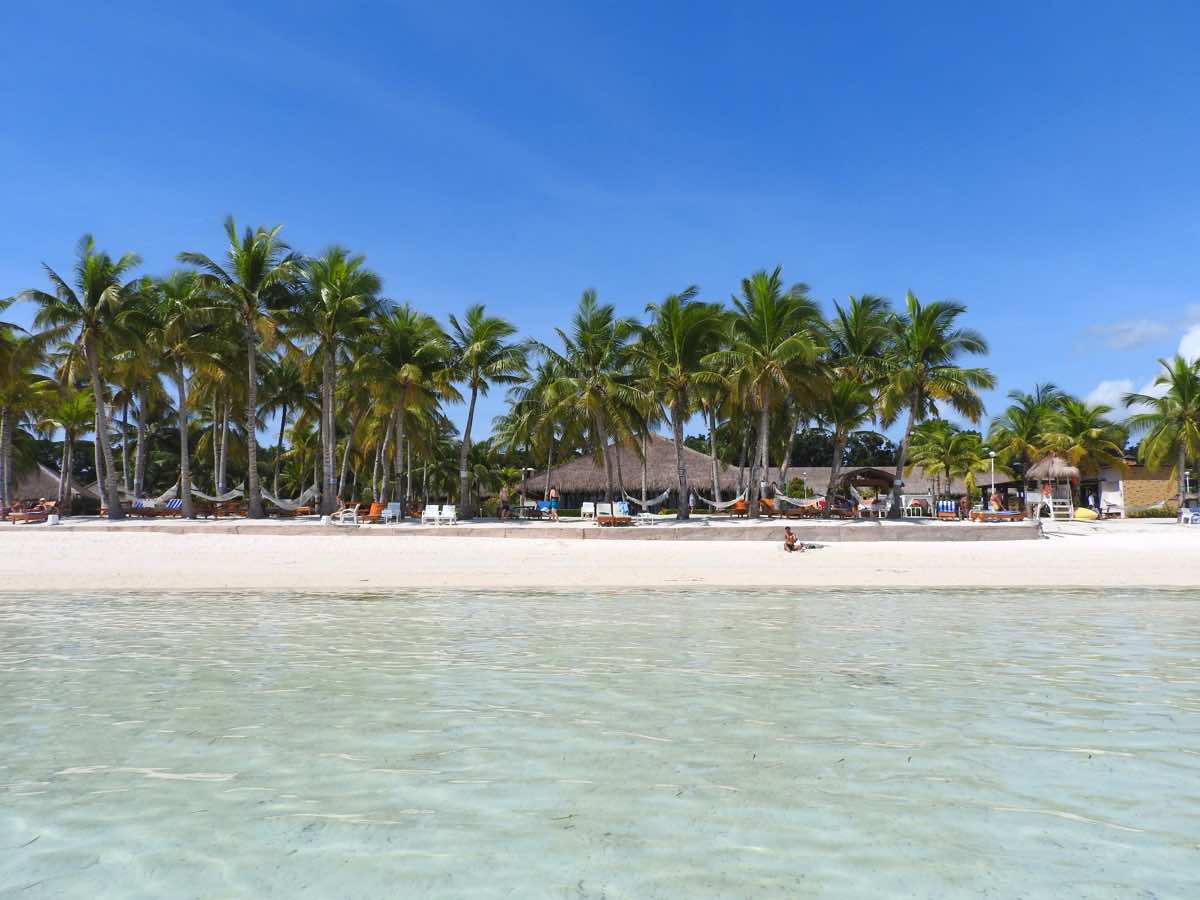 While Bohol has Anda Beach, a rising eco-tourism hotspot, most beaches of Bohol are actually located in the twin island of Panglao. On the map it looks like an appendix, but this place boasts a different vibe from Bohol.
Panglao is packed with at least a dozen white-sand beaches to choose from. There a handful of them with beautiful palm trees, clean sand and crystal clear beaches, specially if they are maintained by resorts or hotels. In this category, Dumaluan Beach was my favorite.
But to be completely honest, I was expecting more from the beaches in Panglao. My biggest disappointment was the infamous Alona Beach. What once was a tropical paradise, now it's a dirty overcrowded beach, full of restaurants, bars and dodgy stalls oriented for mass tourism.
I've toured across other beaches and whether was the trash, the algae or the total absence of sand to lay in, they all seemed they needed some kind of maintenance.
Beaches in Panglao and Bohol
Alona Beach: don't matter what Google images tell you, skip it. What it used to be a picture-perfect beach in Panglao, today is a mega-touristy and rather depressing stretch of sand full of boats, trash and restaurants.
Anda Beach: unspoiled stretches of sand in the southeast tip of Bohol. A great choice if you're looking for the off the beaten track.
White Beach: packed at first, but pretty secluded after a 10-minute walk. I still found some plastic and trash on the sand, but nothing dramatic.
Dumaluan Beach: awesome. You need to pay an entrance fee to the STUNNING Bohol Beach Club, but it's worth it. This the kind of beach you see in travel magazines.
Doljo Beach: the scenery here is stunning. The sand is so white it creates a natural mirror during low-tide. Lots of starfish. I didn't find it amazing for swimming though.
San Isidro Beach: super disappointed with the level of trash and low level of sand. The way I'd describe it: a dirty rocky bay.
Danao Beach: another one not inviting enough to lay around for long.
Also read my 7 experiences not to miss in Bohol and Panglao.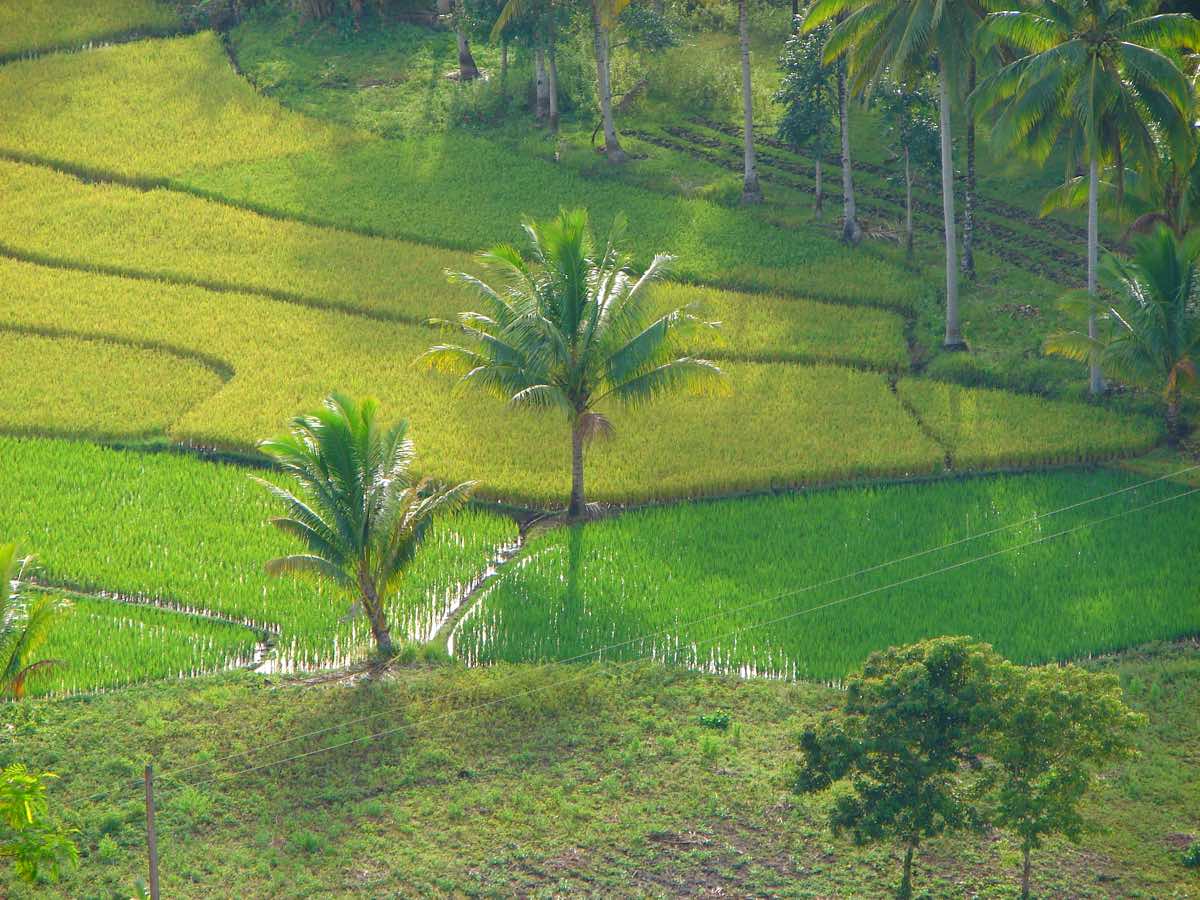 Itinerary in Bohol
Find below a suggested itinerary to explore Bohol and Panglao. I've created a list of sights up until 5 full days available in Bohol. I'd say 2 full days is the very minimum to have a well-rounded experience of the island.
This is in order. For instance, if you only have 3 days available in the island, my suggestion is that you do the things on first 3 rows.
Days
What to see
1
- Chocolate Hills
- Tarsier Sanctuary
- Man-Made Forest
2
- Dumaluan Beach
- Bohol Bee Farm
- White Beach
3
- Loboc River Cruise
- Hanging Bridge
- Baclayon Church
- Mag-aso Falls
4
- Balicasag Island
- Doljo Beach
- Hinagndanan Cave

5
- Anda Beach
- Cabagnow Cave Pool
- Candijay Rice Terraces
Where to stay in Bohol
My first suggestion is to skip beach-front accommodation in Alona Beach. Firstly, all the prices are inflated. And then from what I've seen I can hardly call it a "beach" anymore.
Basing yourself in Panglao is a good idea, specially if you're looking for some beach-bum time. But instead, base yourself near Alona Beach. If your budget allows, don't even think twice. Stay in Bohol Beach Club:
Bohol Beach Club

You might never want to leave this place. The setting is fantastic and right next to the best beach I've seen in the entire Philippines. Book now >>
I understand if you can't spend that much. Here's another suggestion of good value:
Find your accommodation in Bohol
If you want to find your own hotel, start with this shortlist of the top-rated hotels and resorts in Bohol, with WiFi and breakfast included.
Where to eat in Bohol
Compared to other places in Southeast Asia like in Vietnam, the food in Philippines can be somewhat disappointing. Or maybe I was biased because I came to the Philippines coming from Ninh Binh in Vietnam which has some of the most delicious food I've tasted!
The most famous dessert in the Philippines is the halo-halo a rather odd and indulging mix of shaved ice, jelly, sweet beans, coconut and fruits.
Bohol Bee Farm Restaurant
This restaurant in Panglao is part of a hotel with the same name and serves healthy, organic food. The ingredients come from the owner's farm and the view of the sea brings up the experience by a notch. They also have a smaller café right in Alona Beach where I went religiously every evening for their organic ice creams.
Bohol Bee Farm Restaurant
Dao, Dauis, Panglao Island, 6339
Bohol
Website
Gerarda's Place
Located in Tagbilaran, this family-owned restaurant serves unpretentious, delicious and inexpensive food. Good for trying local flavors. Try the buttered chicken, actually served on butter!
Gerarda's Place
30 J. S. Torralba Street, Tagbilaran City 6300
Bohol
Website
What to eat in Bohol

Chicken Adobo: chicken marineted in a delicious rich sauce of vinegar, soy sauce, garlic, peppercorns and bay leaves
Kare-Kare: traditional Filipino stew complimented with a thick savory peanut sauce. Beef, pork, ox or chicken meats can be used.
Lechón: roasted suckling pig. I don't eat babies so I didn't try this, but I got to say it looked good!
Halo-halo: the most famous dessert in the Philippines. It's a rather odd and indulging mix of shaved ice, jelly, sweet beans, coconut and fruits.
Cost of things in Bohol
To give you a good idea of the budget you can expect, I'll give you some examples of what things can cost. The prices are up-to-date at the date of writing of this article.
Bohol budget and daily costs
Transportation: The ferry from Cebu on Ocean Jet was 500 pesos (plus extra 100 for the luggage). We haggled down the price of a van from Tagbilaran to Alona for 400 pesos.
Vehicle rentals: motorbikes can be rented from 350 pesos per day next to Alona Beach. I'm sure you can find for less in other more remote areas.
Gasoline: if you go to the petrol station, filling your tank can be as low as 100 pesos
Food: Local restaurants serve main dishes starting at 60 pesos, but on average a lunch would cost around 150-200 pesos. Some restaurants in Alona can be slightly more expensive during dinner: a full meal for 2 people starts at around 300 pesos. A beer starts at 40 pesos.
Water: don't forget to hydrate! A big water bottle (1,5L) was around 15-25 pesos.
Accommodation: I'd say you can expect to pay somewhere between 1000 and 1600 pesos per day for a medium-quality double room in most places in Bohol. Even in Alona Beach. Of course there are backpacker dorms cheaper and resort rooms more expensive than this.
Entrance fees: everywhere you go in the Philippines you need to pay a small entrance fee (even in airport terminals!). See below the entrance fees for the main sights in Bohol.
| Attraction | Entrance fee (in pesos) |
| --- | --- |
| Tarsier Sanctuary | 60 PHP |
| Chocolate Hills | 50 PHP |
| Loboc River Cruise | From 450 PHP |
| Python Sanctuary | 10 PHP |
| Bohol Bee Farm | 30 PHP |
| Man-Made Forest | Free |
| Butterfly Sanctuary | 30 PHP |
| Hinagdanan Cave | 30 PHP |
| Baclayon Church | 25 PHP |
| Mag-Aso Falls | 40 PHP |
I found the prices in Bohol to be in line as compared to other places in the Philippines and a bit lower than in touristy hotspots like El Nido.
If you're traveling with more people, you can easily get around with less than 1000PHP or 50EUR/USD per day.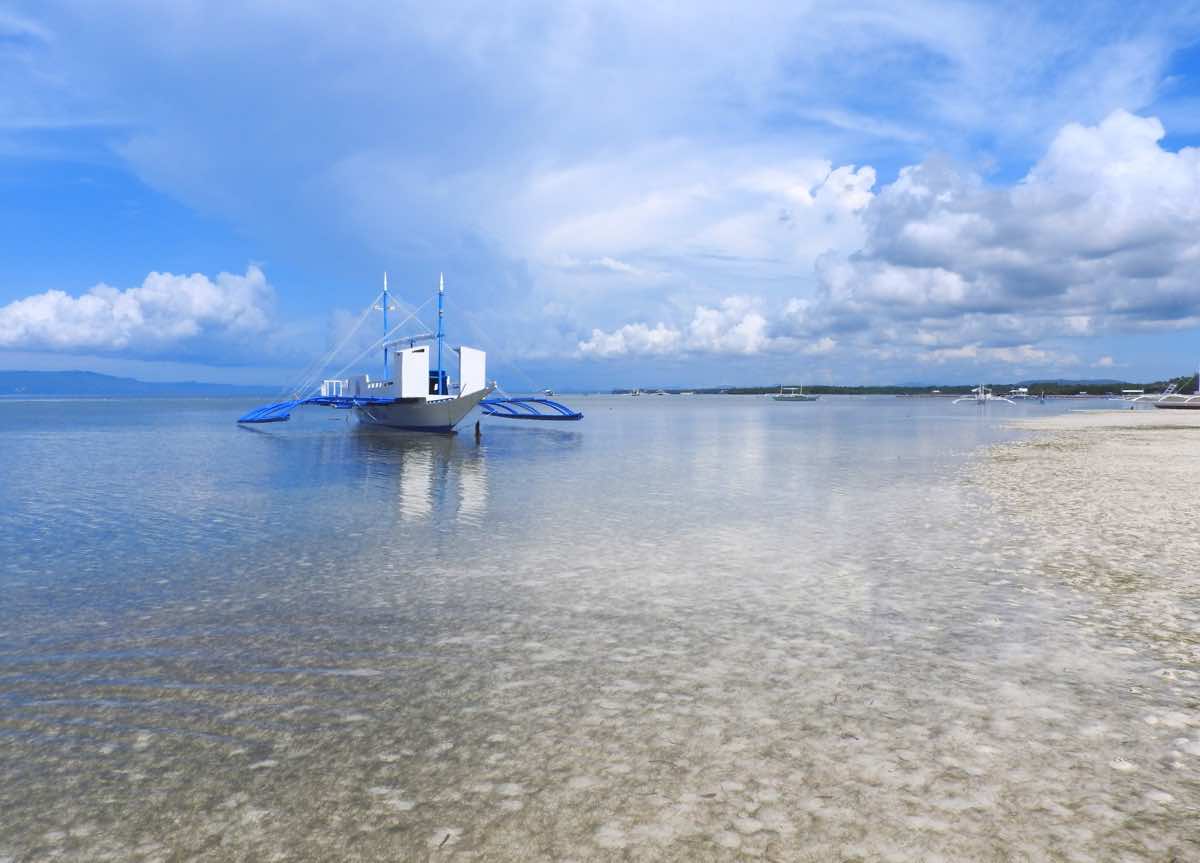 Bohol Travel Tips
Bring sunscreen.
You can get burned easily if you're not careful. Read other stuff to pack while traveling in Southeast Asia.
Always have some change and small money with you.
In the Philippines (too) any places ask for a minimal entrance fee (even churches and airport terminals). They might just change their name to FEE-lipphines.
Don't stay right in Alona Beach.
Biased by Google Images results and promises of a tropical paradise, I almost made this mistake.
Bohol Review
Bohol stroke me as the most diverse place in the Philippines. While other islands excel in beaches or jungle landscapes, this one seems to have a bit of everything. Sort of a mini-showcase of the Philippines.
While the Chocolate Hills and Dumaluan Beach were definitely an highlight, my fondest memories were actually small things on the day-to-day. Like driving through the island. The winding roads through paddy fields and lush forests are beautiful to look at. The school kids waving at you and older people smiling every time you enter a restaurant or a shop.
The level of infrastructure is just right and it is suited for all kinds of people, from the budget backpacker to the most luxurious traveler. However, some places are starting to lose its charm and yes I'm speaking again of Alona Beach. What a disappointment!
In any case, Bohol is safe, friendly and the definition of adventure. If it's your first time in the Philippines I highly recommend you stay for a few days.
Bohol Travel Review
☆☆☆☆☆ – nhec!
★★★★★ – wow!
Accessibility: ★★★★☆
Accommodation: ★★★★☆
Activities/Things to do: ★★★★☆
Cost (Overall): ★★★★☆
Food: ★★☆☆☆
Getting Around: ★★★☆☆
People and Culture: ★★★★☆
Safety: ★★★★★
Scenery and Environment: ★★★★☆
Uniqueness: ★★★☆☆

OVERALL TRAVEL SCORE: 37/50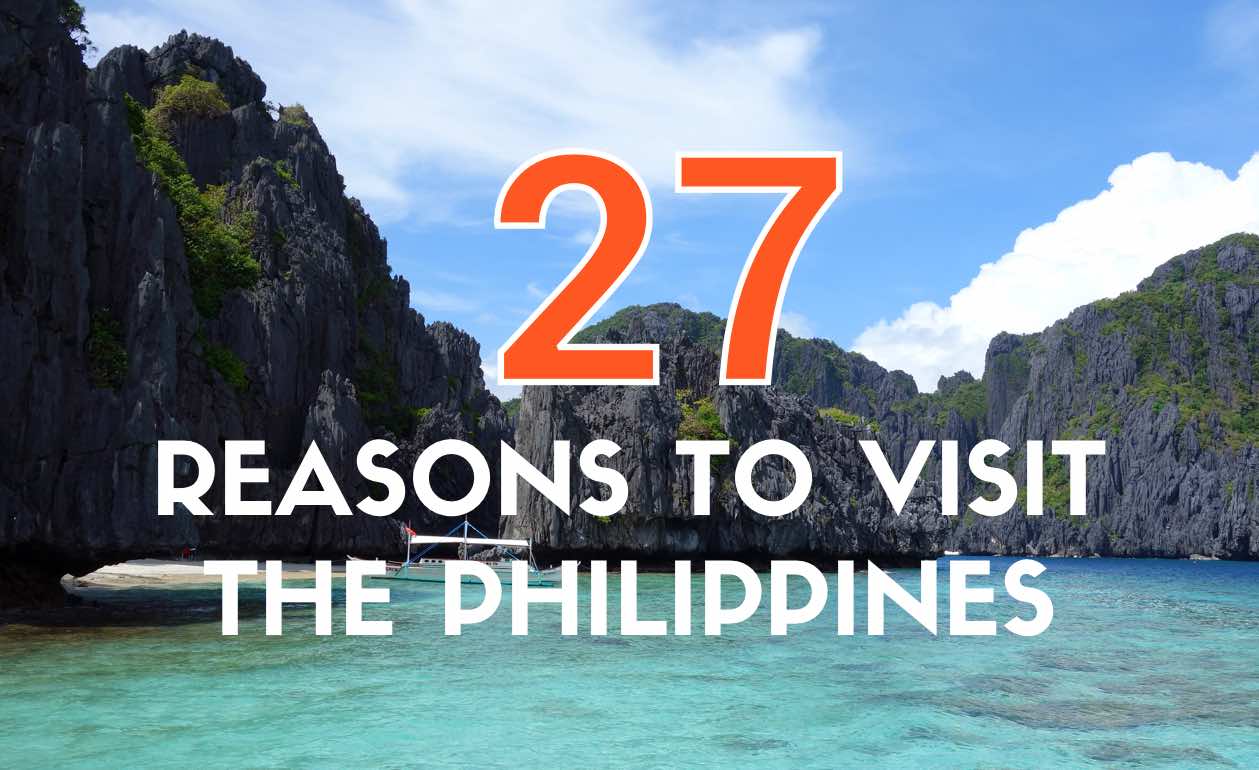 Bohol Travel Guide – Other Useful Links
Which island is your favorite in Philippines? Let me know your experience in Bohol and other places in the Philippines!