Explore the most unique things to do in Budapest, one of the most amazing and underrated cities in Europe, if you ask me. It's all on this list!
Budapest is many things — boring is not one of them.
Its nightlife pulsates with dreamlike energy, while its breathtaking architecture attracts those with an eye for aesthetics. Owing to its majesty magnificence nature and hip and alternative style, it belongs squarely on any Europe traveler's list, perfect for families, couples, friends and backpackers alike.
I've been twice to Budapest, the last time spent two fabulous weeks exploring the best of the city, even though the flu hit me hard (seriously, who gets the flu in summer?).
This is the list of my 21 favorite things to do in Budapest. Enjoy!
1

Go for a spa day at Széchenyi Baths

Think Budapest and spa baths come to mind. Undeniably an icon of the city, the Széchenyi Thermal Baths must have a top spot on your list.
During the daytime, let the sun glint off the bodies of your fellow bathers and soothe you into a mood of tranquil serenity. Standing in the heart of the beautiful Varosliget park, this a huge adult playground of outdoor and indoor pools, from a warm and relaxing 37 degrees Celsius to "freezing cold", as well as 10 different saunas, massage rooms, and luxury spa options.
At night, things get fruity. Fuelled by bottomless booze, electronic music and a wet and wild atmosphere, sparties are Budapest's renowned night time raves.
ℹTips for Széchenyi Thermal Baths
⏱ Hours: Open everyday between 6am and 10pm.
💰 How much: Up to 6500 HUF, but ticket prices depend on the time of day, day of the week, and whether you want locker or cabin.
💡 Pro tip: Go on a weekday, after 7pm, and save 1500 HUF!
💻 Website
2

Take in the views from Buda Castle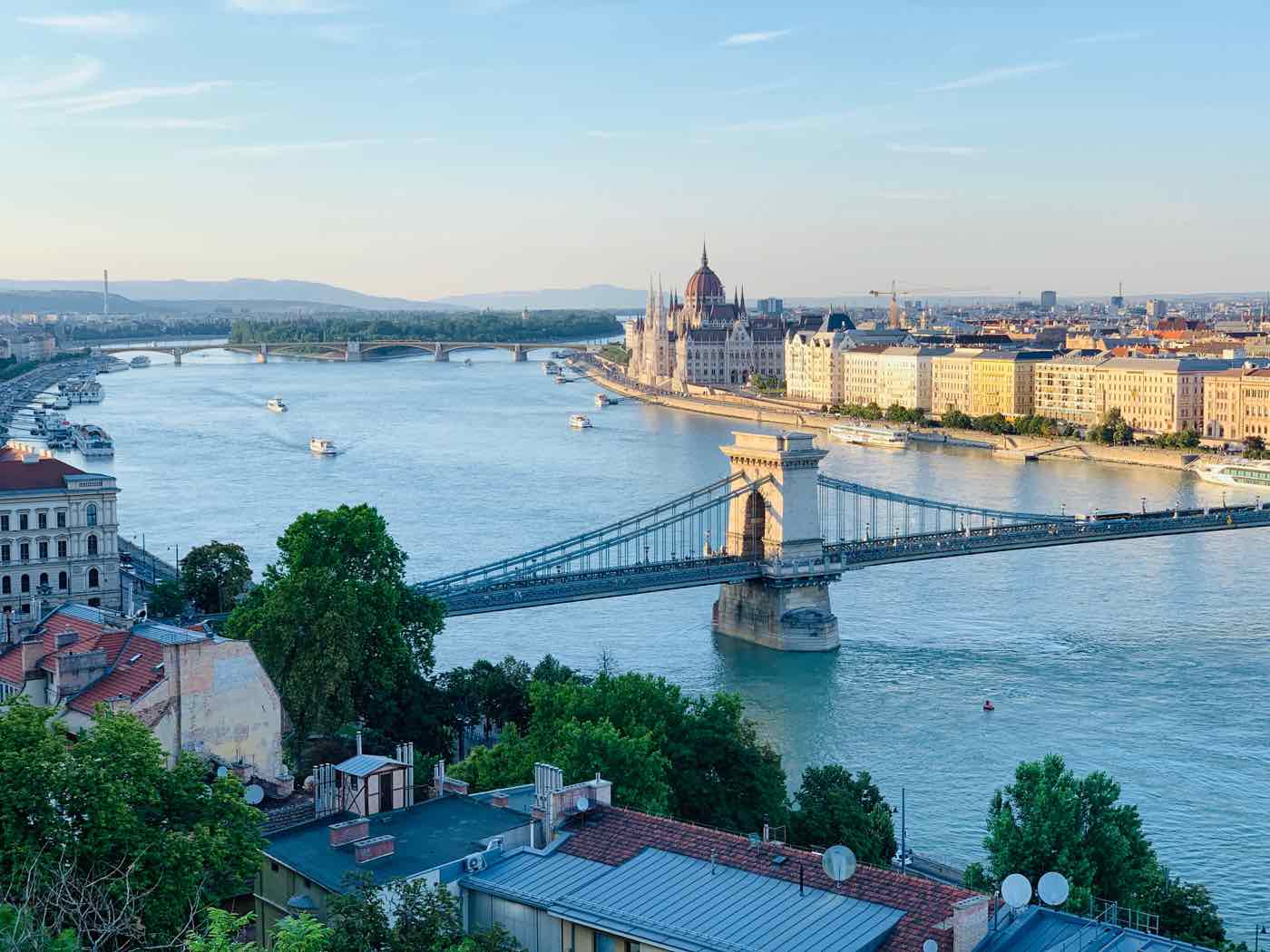 This spectacular palace was built in the 13th century and stands on the aptly named Castle Hill. It is a Unesco World Heritage site and houses the Hungarian National Gallery, the Castle Museum and the National Library.
The whole complex really is magnificent and it is hard to decide where to look at. Once you're up there, you can spend a long time just ambling its paths and courtyards, but I spent most of my time admiring the views over the Danube. Bonus points if you manage to be up there for sunset!

Top hotels in Budapest
I've made the hard work for you.
This is a pre-filtered list of the top-rated hotels in Budapest.
3

Hit the local markets

Standing out amongst Budapest's grandest and most impressive buildings (and there are many to choose from!), Central Market Hall is a multi-story market near the banks of the Danube, enclosed within a magisterial neo-Gothic building.
Here, you will find local farmers selling a plethora of locally grown produce. Think meats, fruits, and vegetables, miscellaneous items and trinkets. There are also many stalls selling Hungarian chess sets, so you can play like the locals do, in a cafe during the late morning, while soaking up the rhythms of a bustling boulevard.
Nevertheless, 99% of tourists stop by here. For a much less touristy experience with 100% Hungarian-speaking people head to Lehel Market where I did buy some of the most amazing berries and local fruit.
ℹTips for Grand Market Hall
⏱ Hours: Open everyday between 6am and 6pm (3pm on Saturdays). Closed on Sundays.
💰 How much: Free entrance.
💡 Pro tip: Look around and compare before buying, prices are not dirt cheap.
4

Take a stroll at City Park (Varosliget)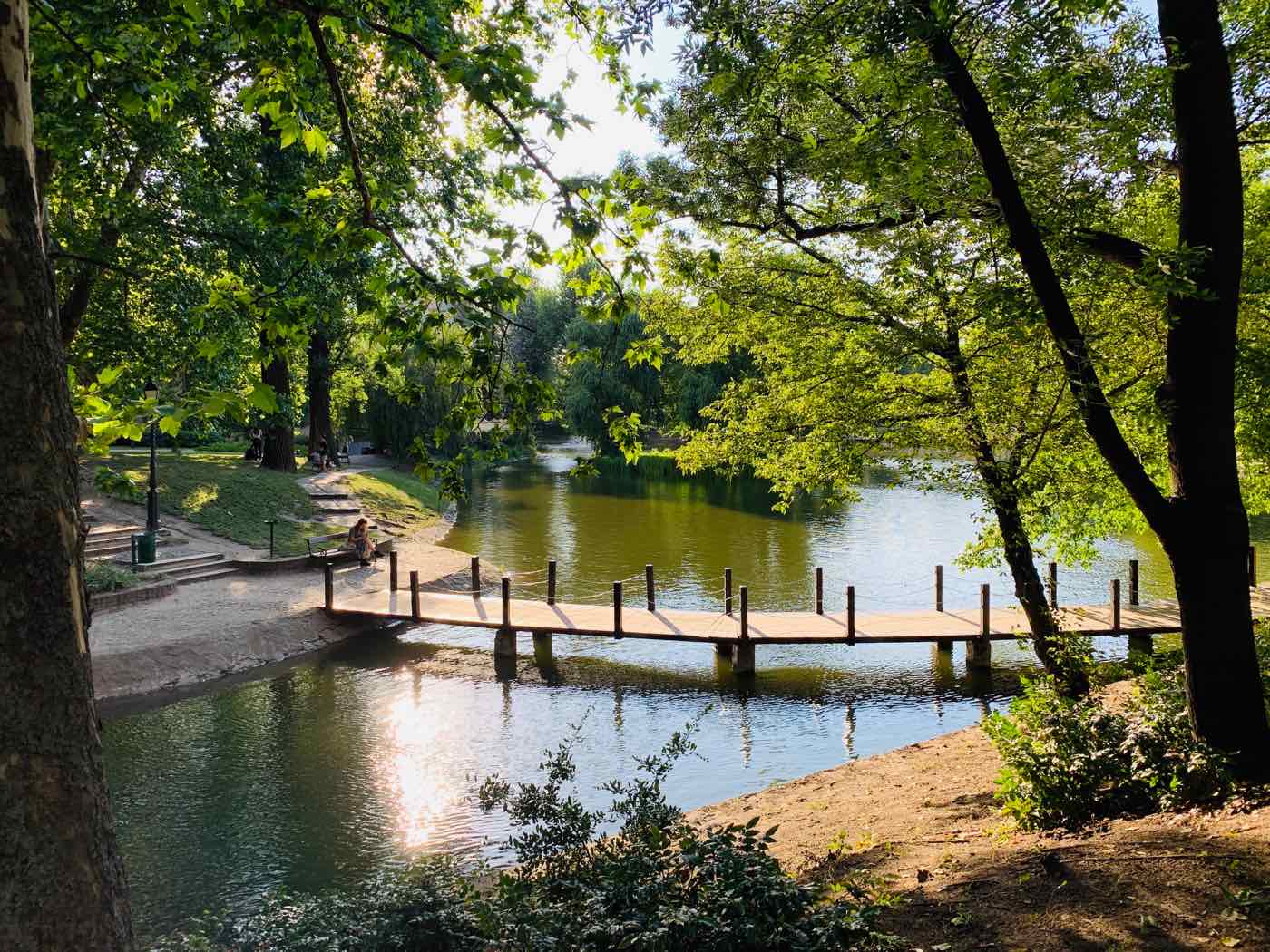 The entrance to Varosliget (City Park) at the end of the majestic Andrássy Avenue is flanked by a variety of other figures depicted within the colonnades. At its center, there's a grandiose homage to the Seven Chieftains of the Magyars, tribal leaders that led the Hungarian people from central Asia to the Carpathian Basin in 895 AD.
Varosliget covers an area of over 300 acres and contains, among other things: Budapest Zoo, the Municipal Circus, a castle, the famous Szechenyi thermal baths, a restaurant which has been open since 1894, and a web of tree-lined walkways. My favorite spot in Budapest to escape the city buzz after Margitsziget.
5

Admire Széchenyi Chain Bridge at night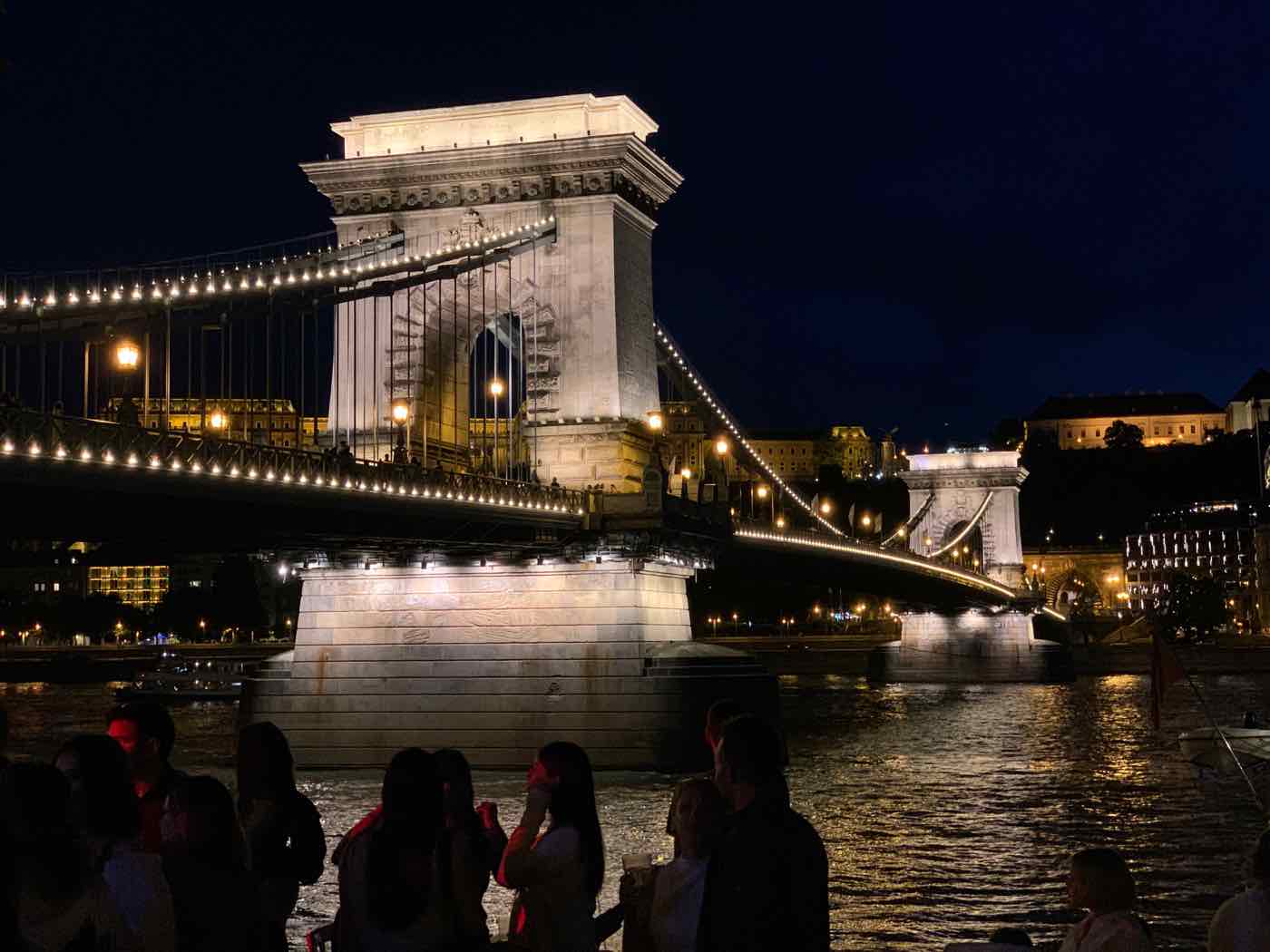 Another icon of Budapest is the impressive suspension bridge which joins the two halves of the city, Buda and Pest. For the Hungarians, this bridge symbolizes economic advancement and connectivity.
Aside from the practical benefits of getting you from Buda to Pest, and vice versa, a stroll across the bridge will give you photo opportunities galore. You'll be close enough to get a good shot of both sides and the views up and downriver are magical too.
If there's anything Budapest does good is building illuminations and Chain Bridge is no exception. Make sure you stop by at night to see the amazing lights!
6

Explore the Buda side

While not as developed as Pest, the western side of Budapest is actually a lovely and lush place to go for a walk. Here, among greens of all shades, you will find bike trails and hikes to suit all levels.

Whether you explore the Castle District or climb all the way to Citadella or Géllert Hill and take in the open views over the city. Hungary isn't known for its highlands, but here is where you can pretend you're on top of the world!

My advice: take a picnic basket, some Hungarian wine, and wait for the sunset at a sun-dappled hillside or by the river in front of the iconic Parliament.
7

See Parliament Building (Országház) from all angles

Another bastion of neo-Gothic architecture, Országház (Parliament Building) is perhaps the city's most iconic landmark and one of the absolute must things to do in Budapest.
The third-largest Parliament building in the world (knowing it has 20km of stairs inside disturbed me) is one of the most impressive pieces of architecture I've ever seen. I'm obsessed with this building for some reason and could look at it for hours, especially at night. The incredible lighting makes the whole structure becomes golden just like a jewel shining bright by the river Danube.
ℹTips for Parliament Building
⏱ Hours: Open everyday between 8am and 6pm.
💰 How much: In 2019, EU citizens pay 3500 HUF to go inside, while for non-EU citizens the price is 6700 HUF.
💡 Pro tip: Walk by the river bank at night to admire the beautiful lighting. For some reason seagulls get fascinated by it and fly around the building in a tornado-like formation. Oddly beautiful.
💻 Website
8

Try goulash

OK, I've got to be honest and say Budapest didn't exactly captivate me for its food, but if there's any dish you have to try is goulash.

Originating in medieval Hungary, goulash is one of the national dishes of the country consisting of a hearty soup or stew with meat and vegetables seasoned with paprika and other spices. I had my favorite goulash at Paprika Vendéglő, a touristy but delicious Hungarian restaurant close to Heroes' Square.

Top hotels in Budapest
I've made the hard work for you.
This is a pre-filtered list of the top-rated hotels in Budapest.
9

Feed your alternative side at a ruin bar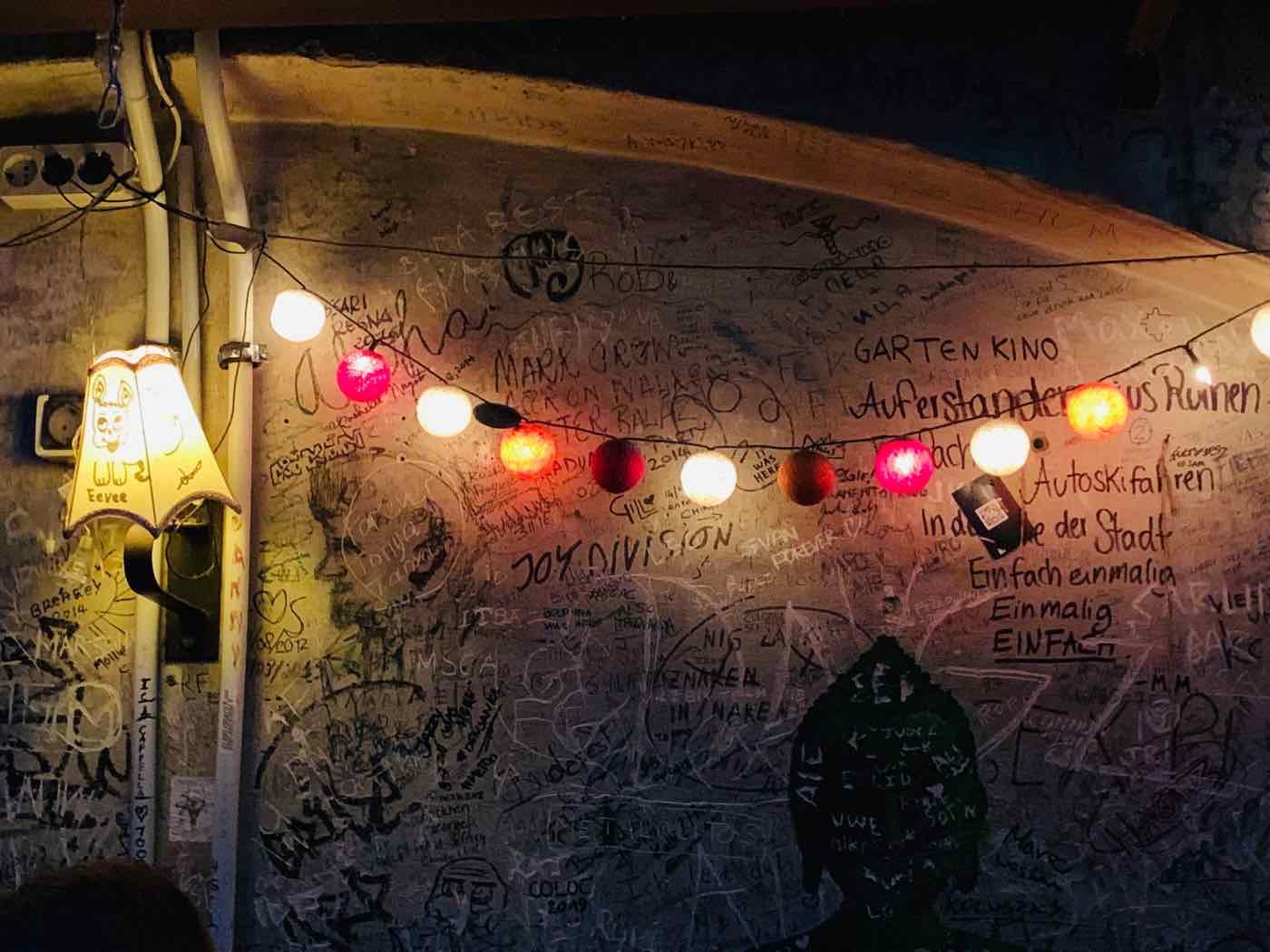 Usually located within large, dilapidated buildings, Budapest's famous ruin bars are a hotspot for urban artistic gatherings. The most popular, Szimpla Kert, was restored to steam-punk chic and houses an expansive open courtyard and a veritable labyrinth of rooms. Decorated with communist memorabilia and a vibrant array of artworks and furniture, it is certainly worth an afternoon, evening, or night (closes at 4 AM).
Head here for a taste of the Hungarian nightlife's gold standard, for one of its frequent live music events or just for a trip into one of the "kitschest" and out-of-the-box places I've been.
10

Relax at Gellért Thermal Baths

I've tried these baths during my last visit and boy, they're an entirely different vibe to Széchenyi. Overall they're smaller but felt cozier and a bit less crowded.

Not only are the baths set within the walls of a wonderful piece of Art Nouveau architecture (largely renovated, unfortunately), but they also come in a variety of shapes and sizes. There are effervescent swimming pools, an open-air pool, a complete Finnish sauna and a range of plunge pools and saunas.

The pools have an elaborate design which adds to the overall atmosphere of the spa. Also, they're conveniently located right next to the heart of the city. Kick back and relax!

ℹTips for Gellért Thermal Baths
⏱ Hours: Open everyday between 6am and 10pm.
💰 How much: Up to 6800 HUF, but ticket prices depend on the time of day, day of the week, and whether you want locker or cabin.
💡 Pro tip: Go after 6pm to beat the crowds.
💻 Website
11

Get your nature fix at Margaret Island (Margitsziget)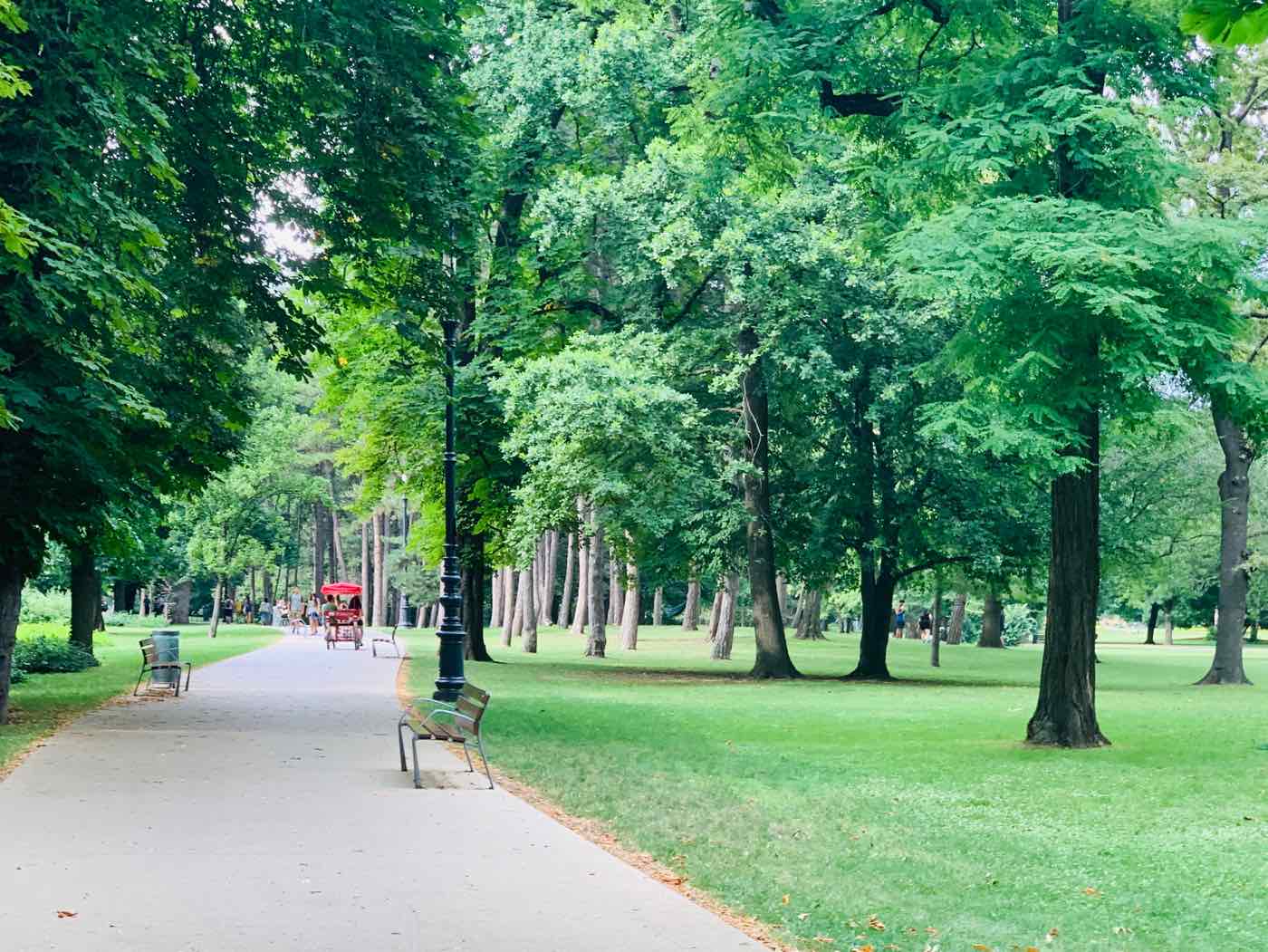 It turned out to be one of my favorite places to hang out in Budapest. After 2 weeks of me, an islander, living the city life and in need of a nature fix, Margaret Island was a true lifesaver. In the heart of the Danube and connected to both Buda and Pest by a bridge, this river island is perfect for those in need of peace and quiet.
The island has got 2.5 km of serene parkland and secluded tranquillity, dotted with cafes, silent spaces, jogging and biking routes, meadows, parks, and even a Japanese Garden. Kind of like a mini version of Central Park in NYC!
Apart from all the greenery, there's some things to keep you busy like Palatinus Strand or the Musical Fountain. Featuring 10-meter high water jets and special multimedia effects, this fountain comes to life several times a day, dancing a watery dance to the sound of Mozart, Vivaldi and arguably Budapest's favorite piece of classical music, "The Blue Danube".
12

Have fun at Palatinus Strand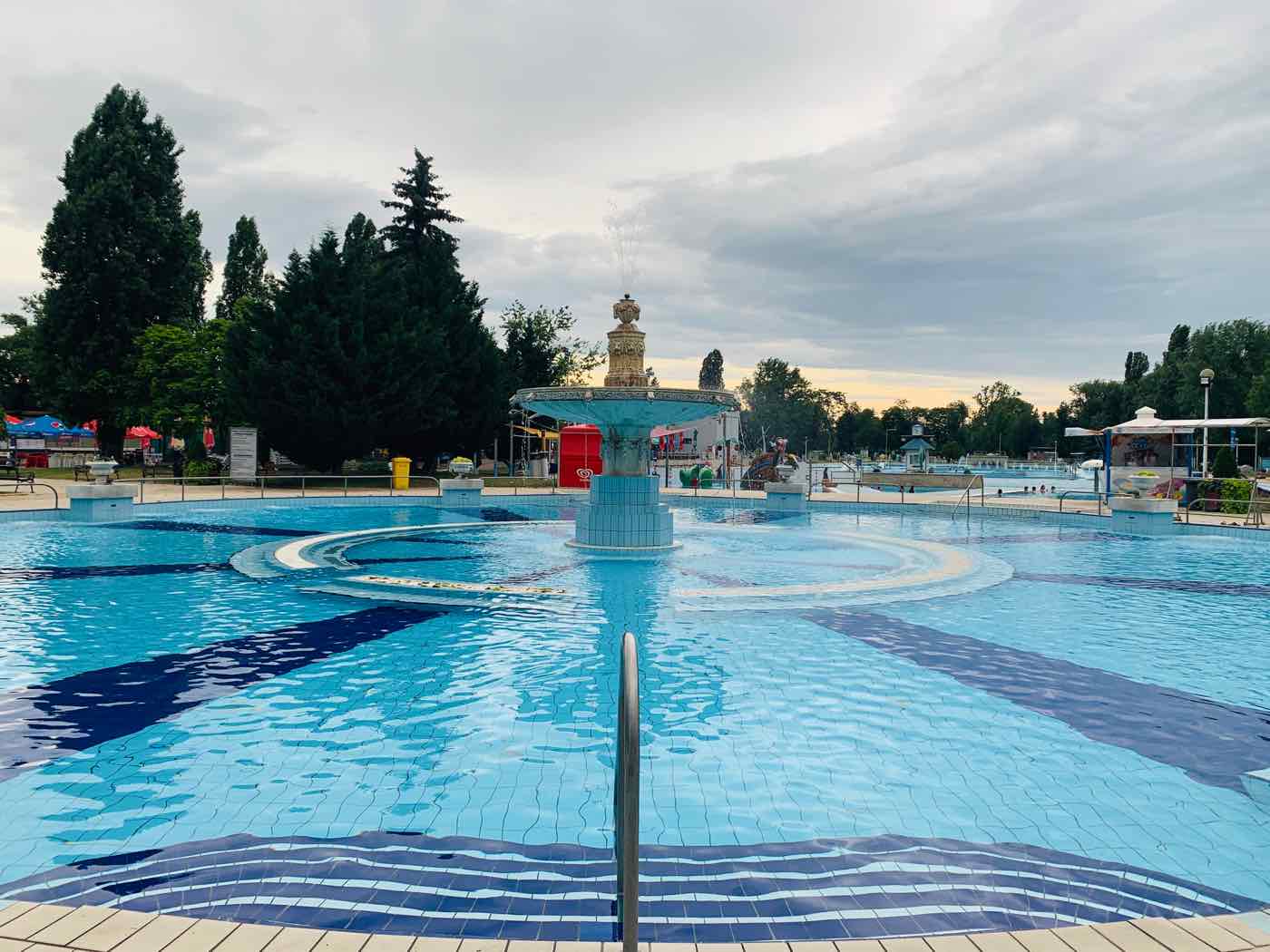 I discovered Palatinus by chance during my first visit to Budapest and somehow having fun in the water carousels became one of my most vivid memories of the city throughout the years. So I knew I had to go back there.
Hungarians do pools like no one else and this yet another living proof. In the heart of Margaret Island, this superb set of outdoor and indoor pools complete with water slides, massage booths, and saunas provides enough fun for both kids and grown-ups.
Compared to other pools in Budapest, this feels like more a waterpark so try going on a warm sunny day.
ℹTips for Palatinus Strand
⏱ Hours: Open everyday between 8am and 6pm.
💰 How much: Adults pay a 3000 HUF entry fee during weekends (2019 prices). Go on a weekday and/or after 5pm for a lower price.
💡 Pro tip: No need to purchase private cabins. There are free lockers you can unlock with your entrance wristband and using the dress room is also free.
💻 Website
13

Indulge on langos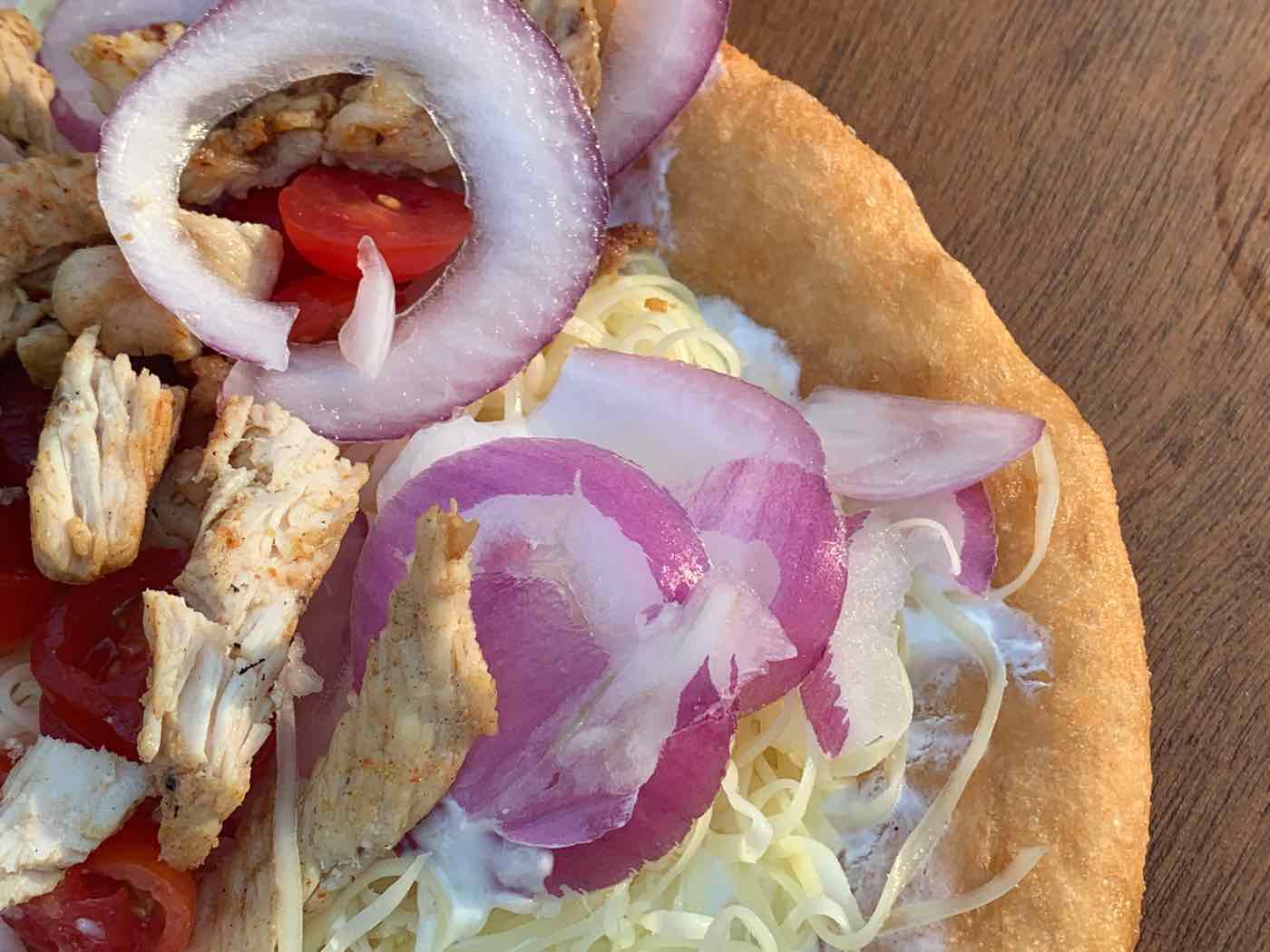 If there's a way to get to know a country is through its street food. And you can't leave Budapest without tasting one of the country's most popular street foods: langos!
We're talking about a deep-fried dough that can be topped with anything, but usually sour cream, cheese, and butter are always involved. This is not compatible with any diet, I'm afraid.
Central Market Hall is a good place to sample this specialty, although I got a delicious one at Eiffel Square, next to the Nyugati train station.
14

Visit the House of Terror (Terror Haza)

This place may sound like a theme park attraction, but it goes much deeper than that, unfortunately.
In this grand building in Andrássy Street, you can learn about Stalin's regime and its effect on Hungary, the 1956 uprising, and the Hungarian secret police. It details and illustrates many of the darkest parts of Hungary's history with reconstructions of prison cells and even real-life spy paraphernalia.
Even though you may not be here European political history enthusiasts, there is something here for everyone. In the world of today, I think is well worth a visit as it gives a whole new perspective on the Hungarian people. Get to grips with its past to appreciate the present.

Top hotels in Budapest
I've made the hard work for you.
This is a pre-filtered list of the top-rated hotels in Budapest.
15

Have dinner on the Danube

One of the most important waterways in Europe, this river throbs and teems with wildlife and human activity. Frequented along its shores by dog walkers, cyclists, joggers and picnickers, this is certainly a lovely river to get to know.

There are also plenty of boats cruising the Danube all-day long, from cheap quick tours to luxe nighttime cruises with dinner included.

Quite frankly, a cruise on the Danube has "tourist trap" written all over it. However, my "tourist trap radar" didn't go off and I still think this is worth it. It won't be exactly cheap, but how many times in life are you on a night-time boat trip downriver admiring the stunning lights of Budapest, while having a romantic dinner?
16

Explore Fisherman's Bastion (Halászbástya)

Another striking example of the Gothic Revival in Hungary, this stone fortress was constructed between 1895 and 1902 to ring in the thousandth birthday of the State of Hungary. Spread over a large area on Castle District, this impressive structure affords its visitors stunning vistas, particularly from one of the towers which line the exterior of the Bastion.
Honestly, this is probably my favorite place in all of Budapest and it will feel like you are in a fairytale. The boats lolling in the water below, the sun glistening on the ripples, a warm breeze floating up from the river valley. Just spectacular!
Right next to it make sure you stop by Matthias Church, a 13th century Gothic church with an eastern-inspired colorful tiled roof and intricate design.
To top it all off, you can stop in at Ruszwurm Confectionery, which has been making first-class pastries for 200 years.
ℹTips for Fisherman's Bastion
⏱ Hours: Open everyday between 9am and 11pm.
💰 How much: Most of the balconies and towers are free to enter. The upper towers or turrets have an entrance fee of 1000 HUF (2019).
💡 Pro tip: If you're not up for the climb, bus #16 can take you there from the city center.
💻 Website
17

Walk by Shoes on the Danube Bank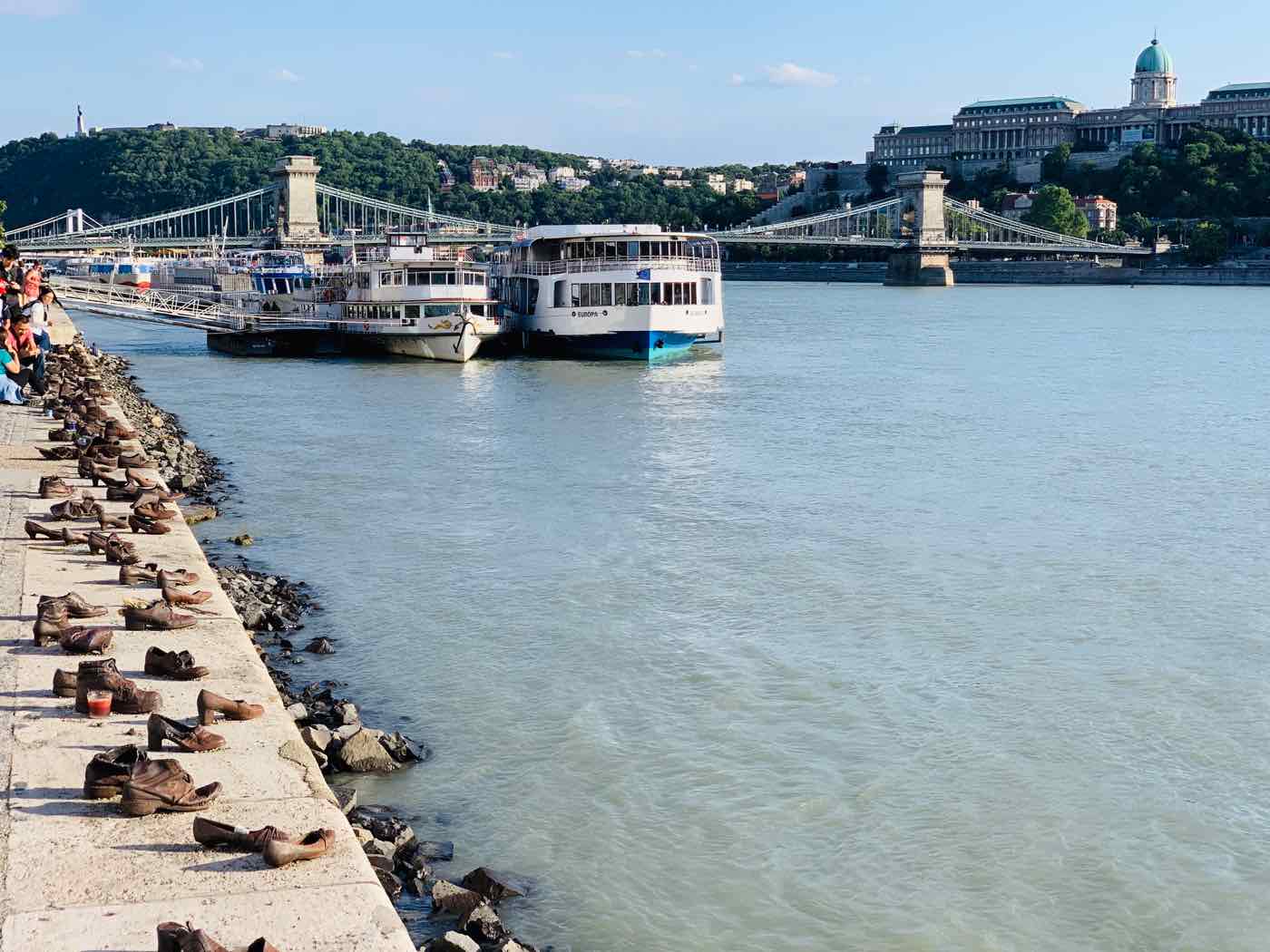 3,500 civilians (including 800 Jews) were killed by fascists during the Second World War in Budapest. They were forced to remove their shoes before being shot. When they tumbled into the river, all that was left was their shoes.
Designed by artists Gyula Pauer and Can Togay, this stunning sculpture cast in iron and lining the Danube's bank consists of 60 pairs of shoes that pay tribute to those who were taken their lives during the Nazi regime. So simple yet so powerful.
18

Visit St. Stephen's Basilica

With a capacity of 8,500 people, Budapest's biggest church is as mesmerizing as it is grandiose. Seriously, the scale of buildings in Budapest is (literally) a whole new level and this is one of the finest examples.
Left of the primary altar, you can catch a glimpse of the mummified hand of Hungary's first king, St. Stephen. Weird? Perhaps. If a king's time-frozen digits aren't up your street, then just marvel at the cavernous, 96m high dome, adorned on the inside with the most spectacular reliefs.
You can go up to the cupola for yet another memorable view of Budapest.
ℹTips for St. Stephen's Basilica
⏱ Hours: Open everyday between 8am and 6pm.
💰 How much: Adults pay a 3000 HUF entry fee during weekends (2019 prices). Go on a weekday and/or after 5pm for a lower price.
💡 Pro tip: Organ concerts are held on Mondays starting at 5 pm year-round. Tickets are 3000 HUF.
💻 Website
19

Walk around the Jewish Quarter

Something like Tel Aviv in miniature, this locale truly buzzes with an edge. Inside the thriving Jewish district you can find Dohány Street Synagogue (*humbly* known as the Great Synagogue) and the popular Szimpla Kert, among a smorgasbord of other thriving spots.

Head to Mazel Tov – a spacious and trendy cafe lined by trees serving the best Israeli food outside of Israel—maybe. Order a plateful of falafel and tahini sauce and watch the world go by.

This whole area is busiest during the weekend nights and is often the start and end place for Budapest party-goers. If you happen to join them, end your night enjoying street food around the clock at Karavan.
20

Cross Liberty Bridge (Szabadság Híd)

Built for the Millennium World Exhibition in 1896, this is the shortest of all Budapest bridges, connecting the flat Pest (near the Central Market Hall) with the hilly Buda side (near Géllert Baths).
During some weekends in the summer, the bridge is fully closed to car traffic and turned into an ad-hoc park with live music, stalls, and open-air markets, drawing hundreds of people to hang out. When I was there, they had a full-on spinning class going on!
21

Escape to Lake Balaton

If you do get a chance to visit some places outside Budapest, this is the one to go.
Flanked on its northern bank by a sea of mountains, this expansive lake is a beauty to behold, and very popular among Hungarians. Its shape stretches out like a baton, or exclamation mark, and the shallow and calm waters attract many Hungarian families every year. Why not join them in basking on its banks?
During summer, Lake Balaton is also home to several festivals and parties such as Balaton Sound.
If all that isn't enough to entice you, I don't know what is. Oh, maybe the price of a pint of beer!
Check my tips below for the best areas to stay and how to get around Budapest.

Where to stay in Budapest
What are the best areas to stay in Budapest?
I stayed in a lovely residential area in Ujlipótvaros in the Pést side of the city for my two-week stay, but if you're on a shorter trip, it's wise to choose a place closer to the center. Usually the closer to the river banks, the more high-end and pricier are the lodging offer.
Staying in Buda is a good option for those who want a chilled stay, putting you within walking distance of a plethora of attractions. However, the offer in terms of restaurants in shops on this side is much lower and you'll probably end up crossing to Pést for dinner anyway.
Avoid the areas close to Keléti train station which can be a bit dodgy at night.
Budapest Hotel price map
How to get to Budapest
Flying is the best option. I use Skyscanner to find the cheapest flight possible.
How to get around Budapest
How to get to Budapest city center from the airport?
To get to the city center from the Ferenc Liszt Airport (BUD), the shuttle bus (100E) can take you to the city center (Deák Ferenc Square) in just about half an hour.
You can also use miniBUD, the official airport shuttle service provider for Budapest Airport. I used miniBUD without problems to get to the center, even though reviews say the pickup from the hotel is not as reliable.
Is it easy to walk around Budapest?
It's fairly easy to walk around, however, the city is big and distances can be discouraging. Using public transport – trams, buses, and metro, and bikes – is recommended.
What is the best way to move around Budapest?
To move around, the trams connect most areas of the city. Particularly tram #2 is a non-official sightseeing tram, rumbling along the Danube's bank while giving you golden opportunities to admire the views over the Parliament Building and the Buda Castle.
When trams are not available, public buses take you to the most remote areas such as Buda Castle and Citadella. Don't count much on the metro.
As per 2019, the cost of a single fare in any public transport is 350 HUF.

Top hotels in Budapest
I've made the hard work for you.
This is a pre-filtered list of the top-rated hotels in Budapest.
What other things to do in Budapest should I add to this article?
Let me know in the comments below!