Most people arriving Belgium will stuff everything that looks good in their mouth.
And that's exactly what I did too *whips himself*.
This is a peek into popular belgian food.
Food is alone a reason for me to travel. Eating the most authentic tacos in Valladolid or gyros in Greece are some of my favorite travel memories.
But Belgian food is different. It's indulging. Belgian street food is so delicious it's hard not to over-eat and feel bad afterwards (yes, that's a compliment!).
I actually enjoyed it much I've decided to investigate further about the most popular Belgian food and put together my findings. Considering calories, maybe I shouldn't have. But it's too late to second guess my post.
Here's what've learned about food in Belgium!
MOULES FRITES
Moules frites are mussels served with fries. I was surprised alone with seafood being one of the national delicacies there, much more that are served with fries. A serious WTF combination from my point of view.
I didn't actually try moules frites only because I could have at least 6 or 7 waffles for the price of a dose. Yes, waffles did become my currency at some point.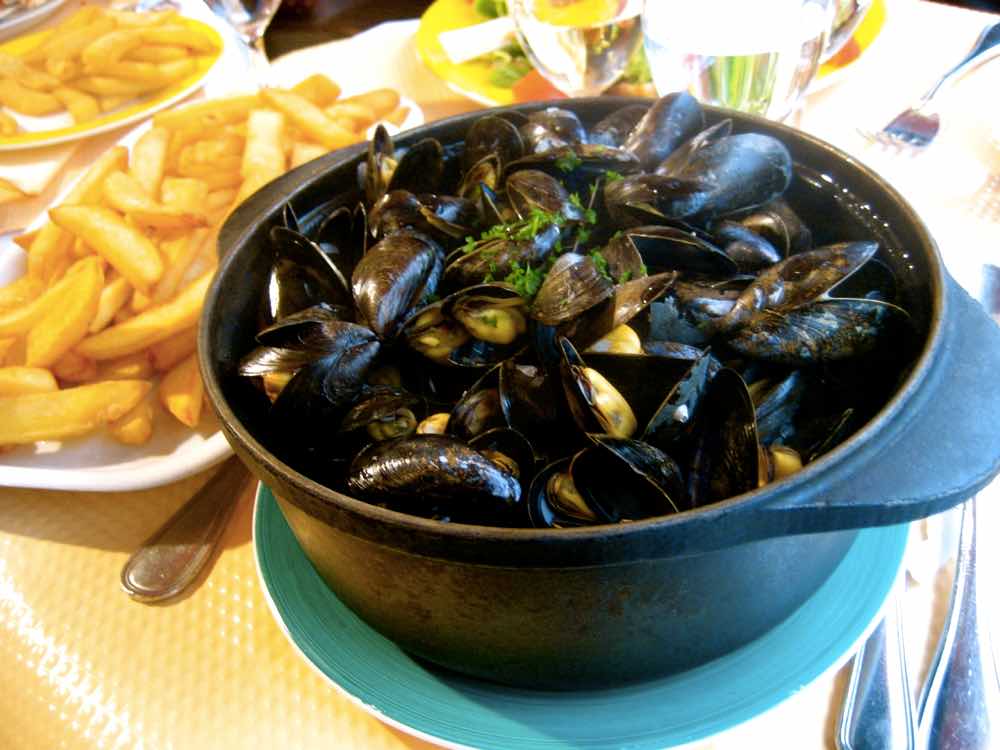 If you are to try this delicacy, eat them when they are in season (September-February) and be careful: seafood is one of the foods most likely to get you an extra trip to the bathroom, so avoid eating dodgy-looking mussels or the ones remaining with the shell completely closed.
PRICE: 16-30€
CALORIE COUNT: The mussels are about 100-150 kcal/100g. The fries are an extra 250-300kcal/100g.
WAFFLES

Waffles are the most popular street food snack in Belgium and it is easy to understand why. They are literally in every corner and the only thing changing from stall to stall is the topping: Nutella, strawberries, chocolate syrup, whipped cream or if you want to be one step closer to be diabetic, all of it together!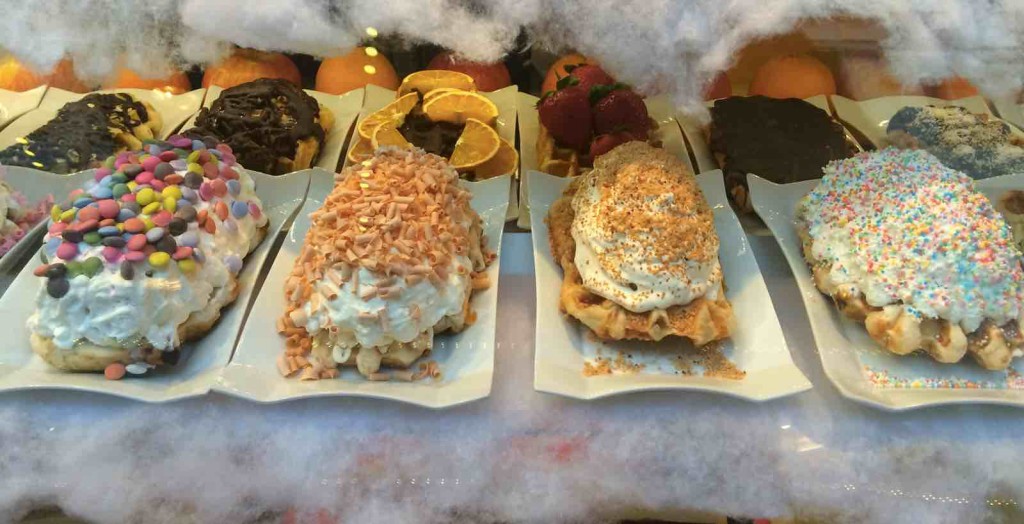 Still, one thing I was glad to learn about Belgium with a local before arriving was the way waffles are supposed to be eaten. And I hate to disappoint 90% of the population, but they are are just supposed to be pinched with sugar. Simple as that. I feel THE WORLD NEEDS TO KNOW ABOUT THIS.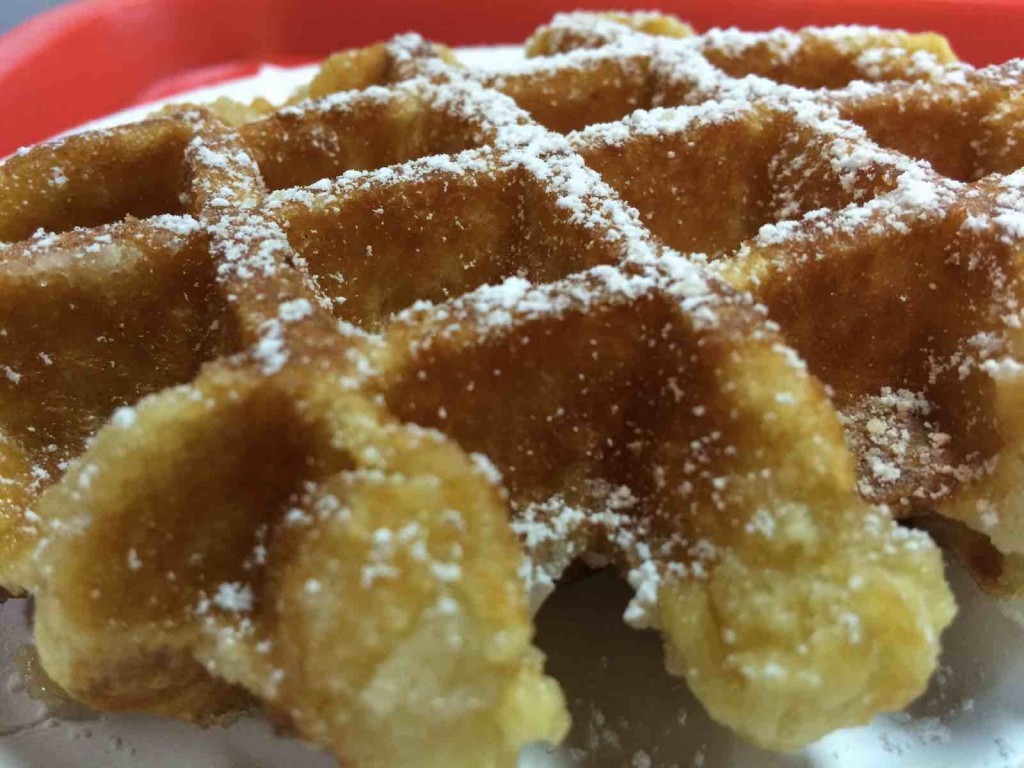 Aside from this huge detail, I have to say waffles in Belgium really surprised me. The ultimate best I had was in a random coffee shop in Bruges, but there were a lot of tasty options everywhere.  
I have obviously eaten waffles before but they have never really got me going. But the ones in Belgium…Mother of god. Imagine a big, warm, freshly made, gooey one, sprinkled with a bit of sugar. I have been craving them since I came back!
PRICE: 1-3€
CALORIE COUNT: Hard to say as it really depends on what you put on top. For a plain simple with sugar, it's around 150-200 kcal/waffle
BELGIAN CHOCOLATE
All my life I've heard the reputation of belgian chocolate, but my knowledge of it summarised to me ating those shellfish-shaped Guylian chocolates. Was it possible for a belgian chocolate to be bad?
Short answer: No.
Belgian pralines are made of a hard chocolate shell with a softer or even liquid filling. It is hard to resist following the scent that leads inside the chocolate shops in Belgium, specially on the most touristic streets, where they shove chocolates through your throat.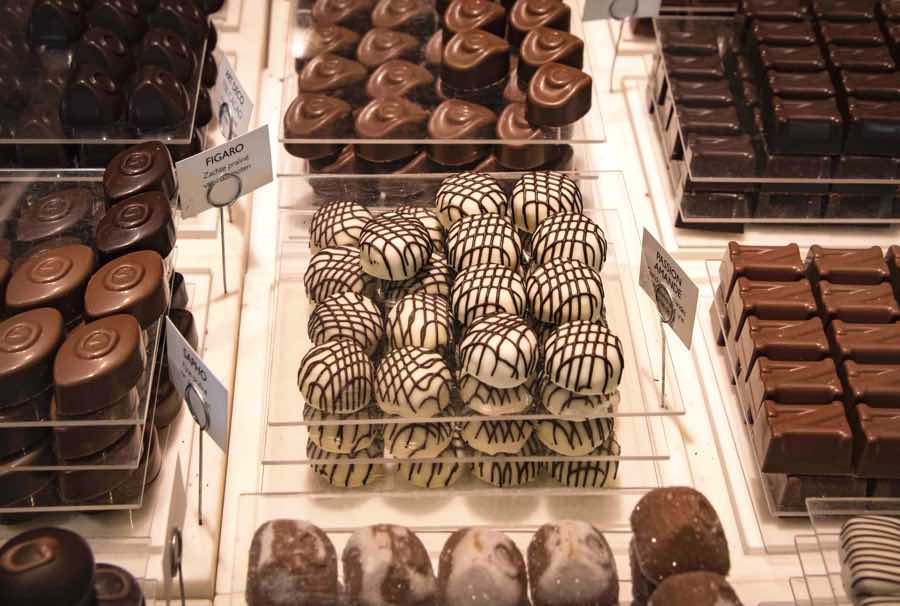 I ended up buying a little box of 18 chocolates for little more than 6€ in one of the many Leonidas shop in the city of Ghent which I found out to be cheaper than other shops such as Godiva and Marcollini.
They are obviously all gone now, but I think they were good value-for-money. My favorite: dark chocolate & mint filling. Yum.
If you just fancy a normal chocolate bar, I recommend the ones from Cote D'Or. They are a bit expensive, but your taste buds will feel the difference in quality.
PRICE: anywhere between 6-30€/box
CALORIE COUNT: Each little tiny chocolate should be around 50-80kcal.
POMMES FRITES
Fries always have been my weakness. Most of the times I went to large fast food chains were because I was actually craving the fries. So I couldn't wait to try fries – or frites – in a place where they are almost a cult.
The best ones I had were on Fritland, in Brussels. They seem to have fries in every way you can possibly imagine (including fries sandwiches!).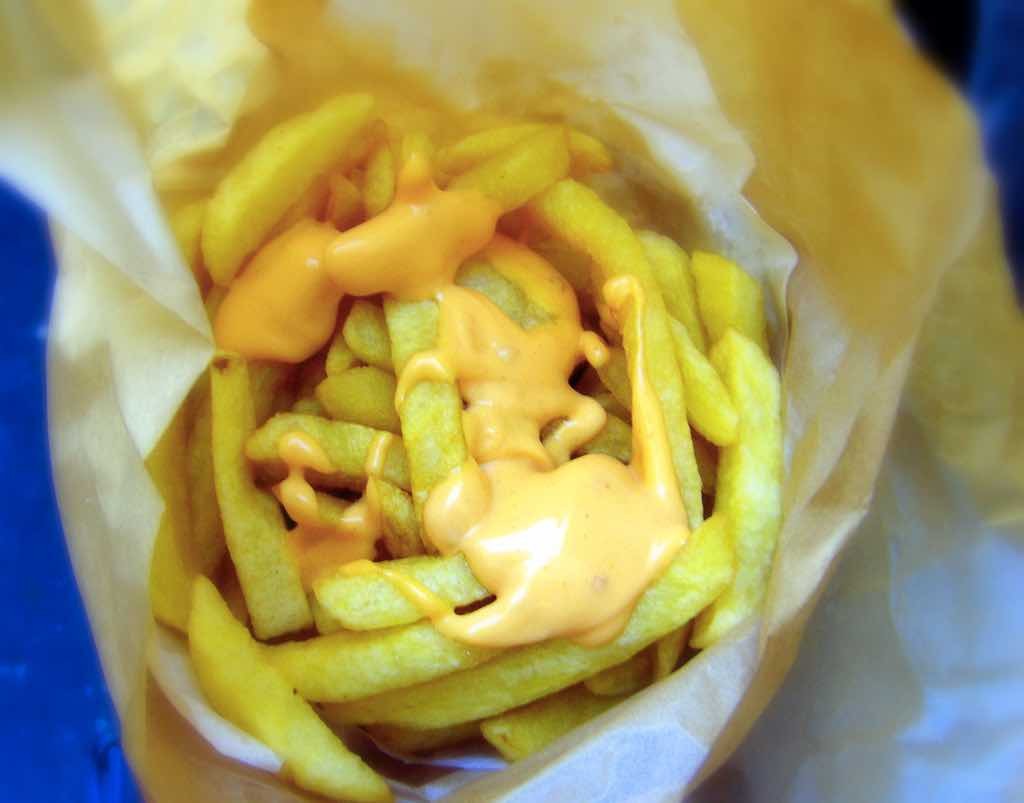 Only it was not simple at all. A HUGE portion of delicious crunchy fries served with a mayonnaise spillover of industrial proportions on top (many other sauces available) came in the direction of my hands. I could feel my cholesterol molecules having a feast on my bloodstream afterwards, but it was completely worth it! Other place worth to go for pommes frites is Maison Antoine, also in Brussels.
Note: when ordering fries in Belgium try not to call them french fries. I think you can figure out why.
PRICE: 2€/cone
CALORIE COUNT: 300-350 kcal per 100g
BEER
If beer had a motherland, it would definitely be Belgium.
Coming from a wine-loving country like Portugal, I'm really more of a wine person and all my life beer had been just… beer. And all of a sudden I'm in Brussels entering Delirium bar, with 250+ different beers, each one with its own particular glass "to improve its flavour". Overwhelming to say the least.
Looking at the huge list of belgian, international, artisan, Christmas and fruity beers, I had no idea what I was doing. I was not alone: the american girl next to me just said the waiter: give me whatever. I didn't crack under the pressure and used the highly reliable criterion of the most appealing name to order my beer. The one with a name of mediocre drag queen won: Chimay Triple.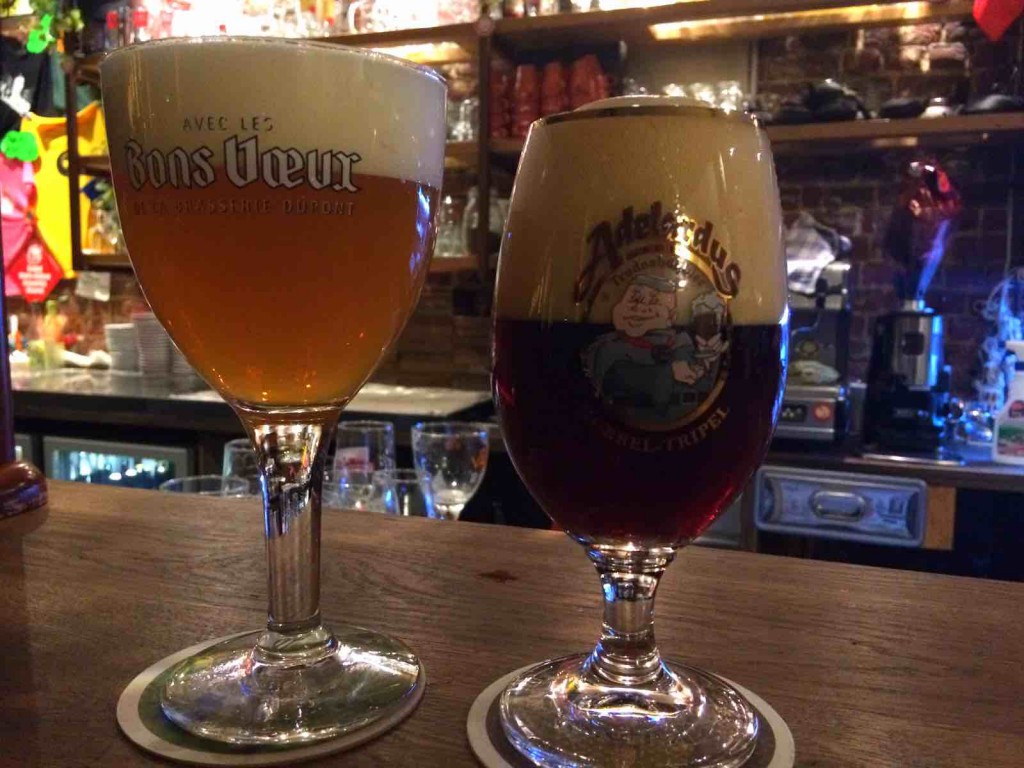 My experience on Moeder Lambic was far better. First of all, it was MUCH less crowded. The atmosphere was more relaxing, not drunky studenty and the waiters actually took some time describing some of the beers which I found really helpful. Highly recommend this one. I ended up choosing a Christmas beer: Adelardus Brune, which I re-ordered (!). Please note this is HUGE: re-ordering a beer has not happened in my life since college. This one was beerlicious! Just for you to know, re-ordering a beer probably happens once every two years in my life.
If you are like me and you have no idea what to do when it concerns to beer, head to Moeder Lambic. Those guys will give you a hand.
PRICE: Between 3-6€.
CALORIE COUNT: Highly variable, depending on the type of beer. But count with a range of 120-350kcal per pint.
SPEKULAAS
OK, I think The Netherlands are the official birthplace of these cookies. To be honest, I was too lazy to confirm this, but since they can also be found anywhere in Belgium and they're freaking delicious I feel they somehow deserve to be in this list. Spekulaas are spiced shortbreads usually flat in shape. They were originally made for Christmas season but now found all year round.
I just call them the most addictive cookie ever made: it's impossible to eat just one! I don't know what exactly happened, all I know is they magically appear on my mouth when I'm on my daily evening tea ritual.
PRICE: 2-3€/box. Supermarket may be cheaper.
CALORIE COUNT: 60 kcal/cookie
Important note: I'm not a nutritionist. All calories count are ranges taken from simple Google searches. Don't take them too seriously.
Eating is definitely one of the best experiences you can have in Belgium. Particularly in Brussels you can spend a full day eating outdoors as the choices of street food are close to endless. During my time in Belgium I've learned three main things about Belgian food:
Deliciousness.

Food in Belgium is dangerously good. The best compliment I can give is that I need to go back to the gym with urgency.

Street food in Belgium is to die for.

And I love the convenience of this. Most of Belgian specialties can be found as budget friendly street food options. In other words, my concept of food paradise!

I'm still a Jon Snow of popular food in Belgium. I know nothing.

My knowledge of waffles, pralines or Belgian beer is still similar to what I know about cultivation of bell pepper in Sri Lanka. There's a lot more to discover!
Aaaaand this made me hungry!
What belgian food do you fancy the most?