The city of Ghent or Gand (French) or Gent (Dutch), in the Flemish part of Belgium, is one of the biggest in the country – 2nd in population and 4th in size of metropolitan area.
Surprisingly, many don't seem to find time to explore Ghent. Certainly the geography certainly does not help: it is enclosed nearly halfway between the cosmopolitan Brussels and the golden boy of belgian tourism, Bruges. Not easy.
But Ghent might be coming from the back to take it all. It was definitely a great travel surprise. Just to be clear, one year ago I haven't even heard of this place!
Here's five reasons why the city of Ghent is underrated and severely underlooked by travelers:
1

The Architecture Is Impressive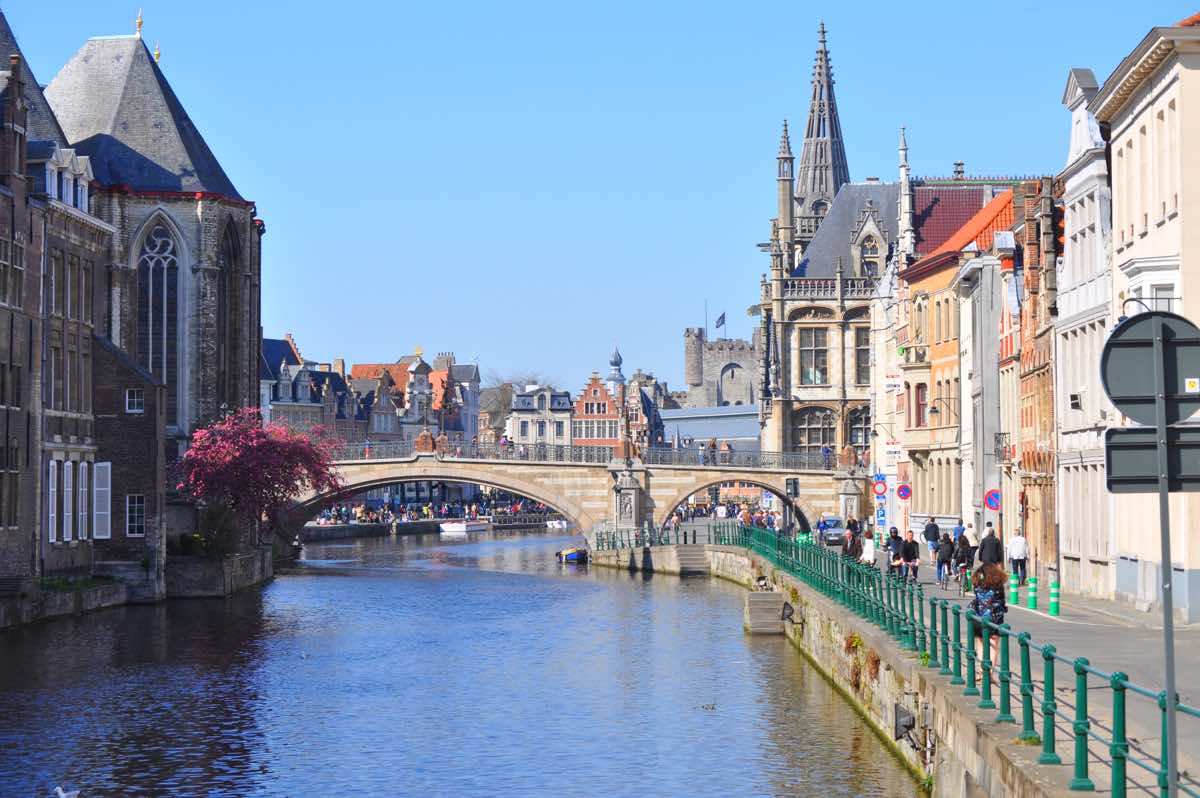 Being straight to the point, I was not expecting the center of Ghent to be so impressively beautiful. So woaah. Walking through all the cathedrals, squares, castles and all the other architecture landmarks it's like seeing an historical life-size painting in front of your eyes.
The top archigasms in the city are the impressive Sint-Niklaaskerk (St. Nicholas) medieval church and Sint-Baafskathedraal (St Bavo's), the tallest structure in the city. But I had many other gasp moments just by strolling around the city and looking at random old merchant houses. Too bad the photos don't make justice to the beauty of this place as the weather was cloudy, misty and pouring rain at most of the times. Damn.
2

It's Not As Touristy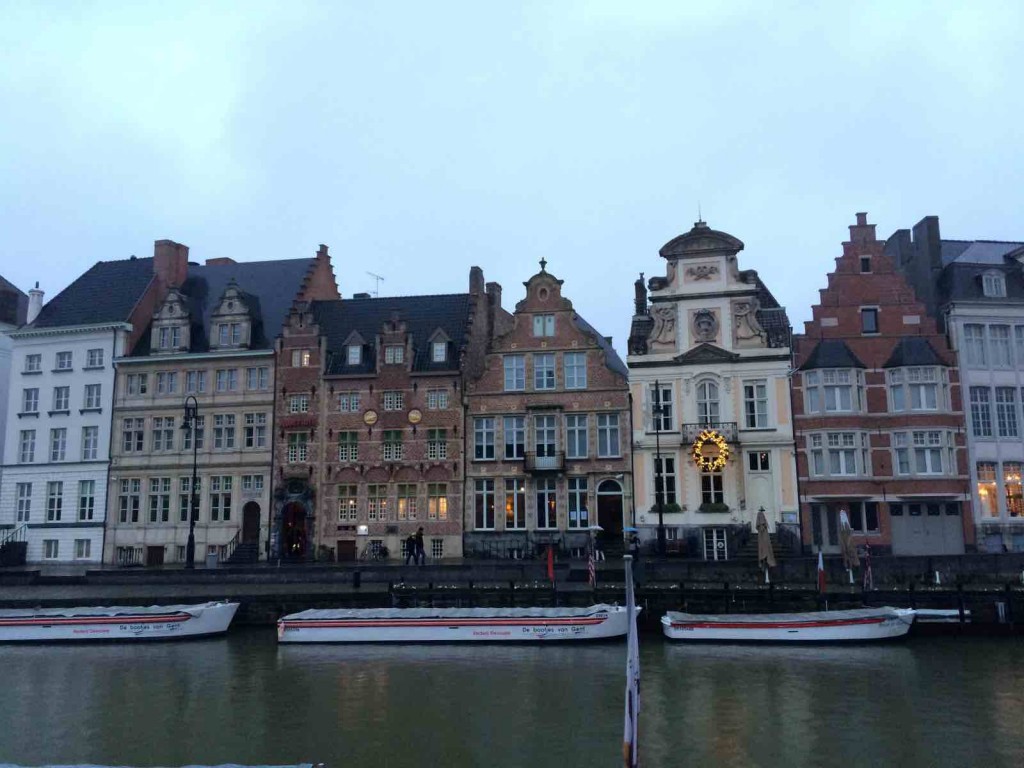 Specially if you are coming from the completely understandable but bothering tourist craziness of Bruges and from the buzz of a european capital like Brussels, arriving to Ghent is a delight. The locals-to-tourists ratio is much higher and the odds you feel you are in a urban Disneyland are much lower. I spent more time in Bruges, but I was able to get much more interesting insights from the everyday life In Ghent.
It just feels more real and I love it.
3

It Has a Dutch Feel To It

Ghent has a very cool Amsterdamy feel and actually there's a reason for that. Back when the Spanish invaded Flanders and the merchants there (specifically from Ghent) flocked to Amsterdam and started influencing its architecture and culture.

Wether it's on the stunning facades of the colourful narrow buildings heading back to the 1600s or in the canals just right in width and number to add an extra charm to the city. This is very much conveyed in Graslei and Korenlei: once the main port of the city, these waterside promenades are now the prime highlight and the beating heart of Ghent. The canal views are enriched by St. Michael's bridge and the stunning Gravensteen castle in one of the ends. How cool is having a castle right in the middle of a city?


4

It's Walkable And Super Easy to Get Around

First of all, it's very easy getting there. Ghent – St. Pieters station is one of the busiest in the country and it runs train services taking only 30min from Brussels/Bruges. Return tickets from those can be bought around 18€ or if you're traveling on holiday season like me, only 11€!

Once you're arrived to Ghent, it is pretty straightforward to get around. Although there is no metro, the city center is reachable by a 20min walk or by what seemed to be an efficient tram system. Nevertheless, the best way to get to unlock the secrets of Ghent is by walking around, marveling at historical buildings and charming canals while encountering the irresistible chocolate shops every other corner.
5

It's Modern And Trendy

Despite its huge historical heritage, Ghent also surprised me for being super modern. The city is often described as the hipster capital of Belgium and has a lively alternative scene and a strong student presence which means great cultural opportunities.

Without leaving its historic reputation behind, it has gained increasing attention as a place for design lovers, cool restaurants and striking caféteries and all kind of unique shops. I definitely didn't see any of this in the more conservative and familiar-like Bruges. In the department of fun, Ghent is clearly topping the charts in Belgium.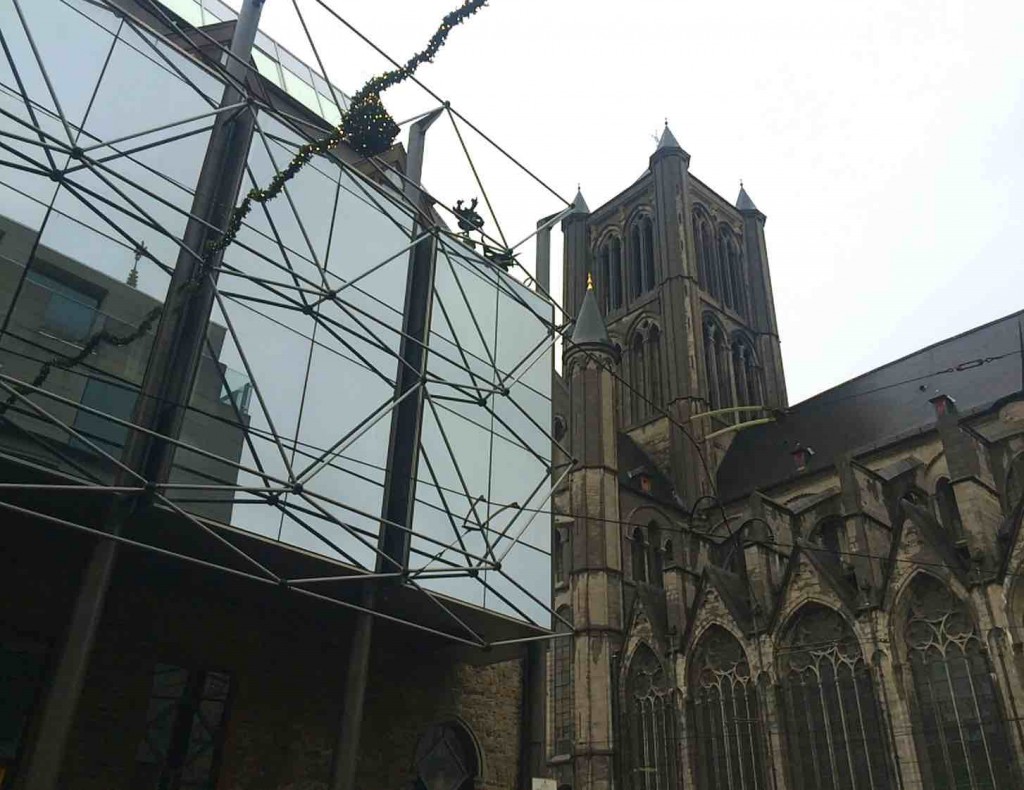 Ghent stands on a perfect balance of being small enough to feel intimate, yet big enough to be lively and dynamic.
Why You Should Bother Visiting The City Of Ghent
In a nutshell, it seemed Ghent has it all. These were five reasons, but could easily be more. Number 6 could be waffles, fries or chocolates: you absolutely should indulging in them when you are visiting. It's so good that street belgian food deserves a completely independent post.
For years going to Belgium without exploring chocolate box pretty Bruges has been a huge sin. It probably still is, but it's time to start looking a little bit to the right on the map. Ghent surpassed my expectations so massively I can't even put down in words how undervalued it is. If even while pouring rain I could embrace how this place is completely unpretentious and incredibly eye-catching, imagine how it would have been with nice weather!
Looks like someone carefully selected the ultimate best of Amsterdam, of Bruges and Brussels and put it all together in this little town. Maybe the best way to define is simply as a feel-good city. And yet, many travelers still don't give it a chance.
On my part, it was a true pleasure to meet you, Ghent. But please make it more sunny when I come back!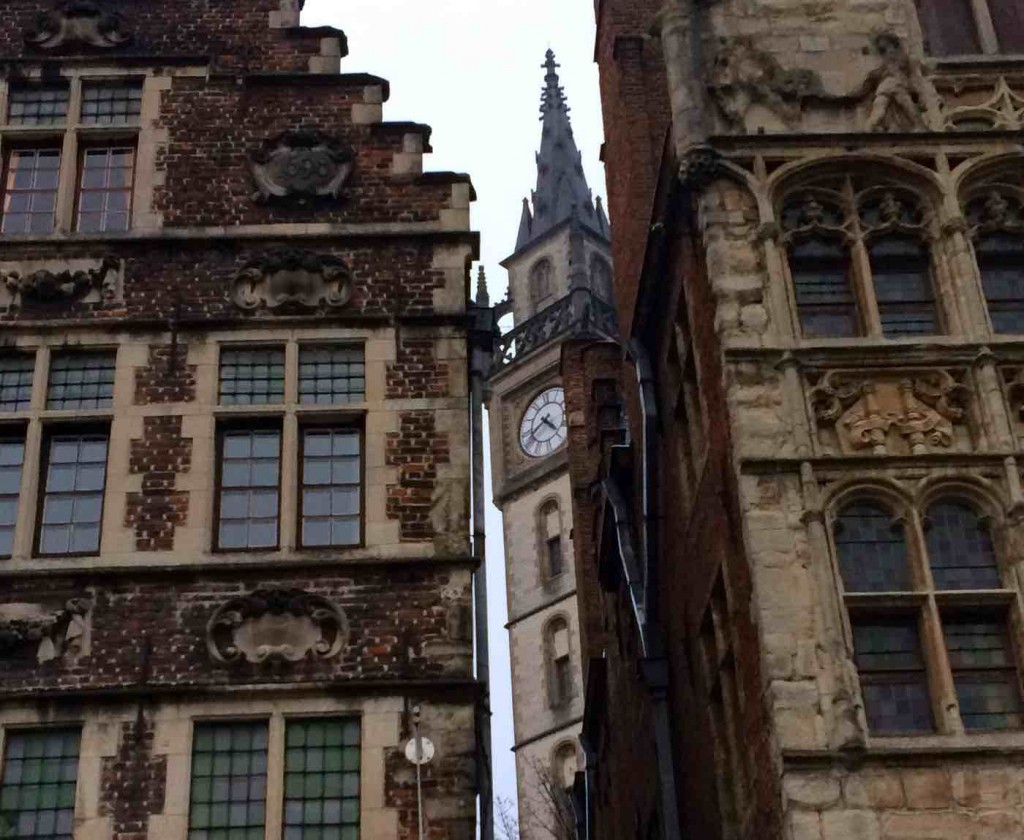 How to Get To Ghent
We decided to use the train to get to Ghent. After finally getting to explore the medieval town of Bruges the day before, we headed for the main train station in Brussels again with no idea where to go. We decided on the spot, using the Where does the next train go? criterion. And just like that, Ghent won (sorry, next time Antwerp!).
Make sure you check SNCB, the Belgian national railway company, for online discounts. Ours were just 11EUR! The train to Ghent from Brussels takes less than 50 minutes.
Where to stay in Ghent
Ghent is such a quaint city that it's worth to stay right in the city center to fully take it in. Start your search with my shortlist of the top-rated places to stay with WiFi.
Or just use the box below.
TRAVEL NUMBERS @ GHENT, BELGIUM
DURATION OF THE STAY: 1 DAY
TOTAL DISTANCE COVERED ON FOOT: 8,7 km
ACCOMMODATION: 0€
TRANSPORTATION

Train trip from Brussels (return ticket): 11€
Tram ticket 2€

FOOD&DRINK COST

Lunch + Hot Dog + Waffle + Box of Chocolates: 20,10€

TOTAL COSTS (€): 33,10€/pax
Have you been to Belgium? What is your favorite destination in the country?