This is a complete travel guide to Valladolid, Mexico. I'm sharing tips of the best places to go, how to get around, where to eat and things to do in Valladolid.
I don't want to oversell it too much, but Valladolid was probably my favorite place in my entire Mexico trip. It's authentic, it's vibrant, and it's beautiful. I'm sharing a bit of knowledge to guide you through a visit to this amazing Mayan colonial city in the heart of Yucatán.
First things first… why Valladolid?
Apart from beating the crowds on Chichén Itza (more on that later)… because it's a hidden gem! Don't get me wrong – Valladolid is in the route of the millions of tourists from Cancún on their way to Chichen Itza. There are a lot of day trippers who stop there in their way back to their giant 5-star resort.
However, once the buses are gone, Valladolid manages to keep an off-the-grid vibe and remains beautifully faithful to its laid-back way of living. It's a breath of fresh air compared to other busy places in Mexico. It's also an amazing opportunity to experience the authentic Mayan culture and history in a safe and beautiful little town.
Adding Valladolid to your Mexico itinerary is ensuring you'll be witnessing the real Mexico.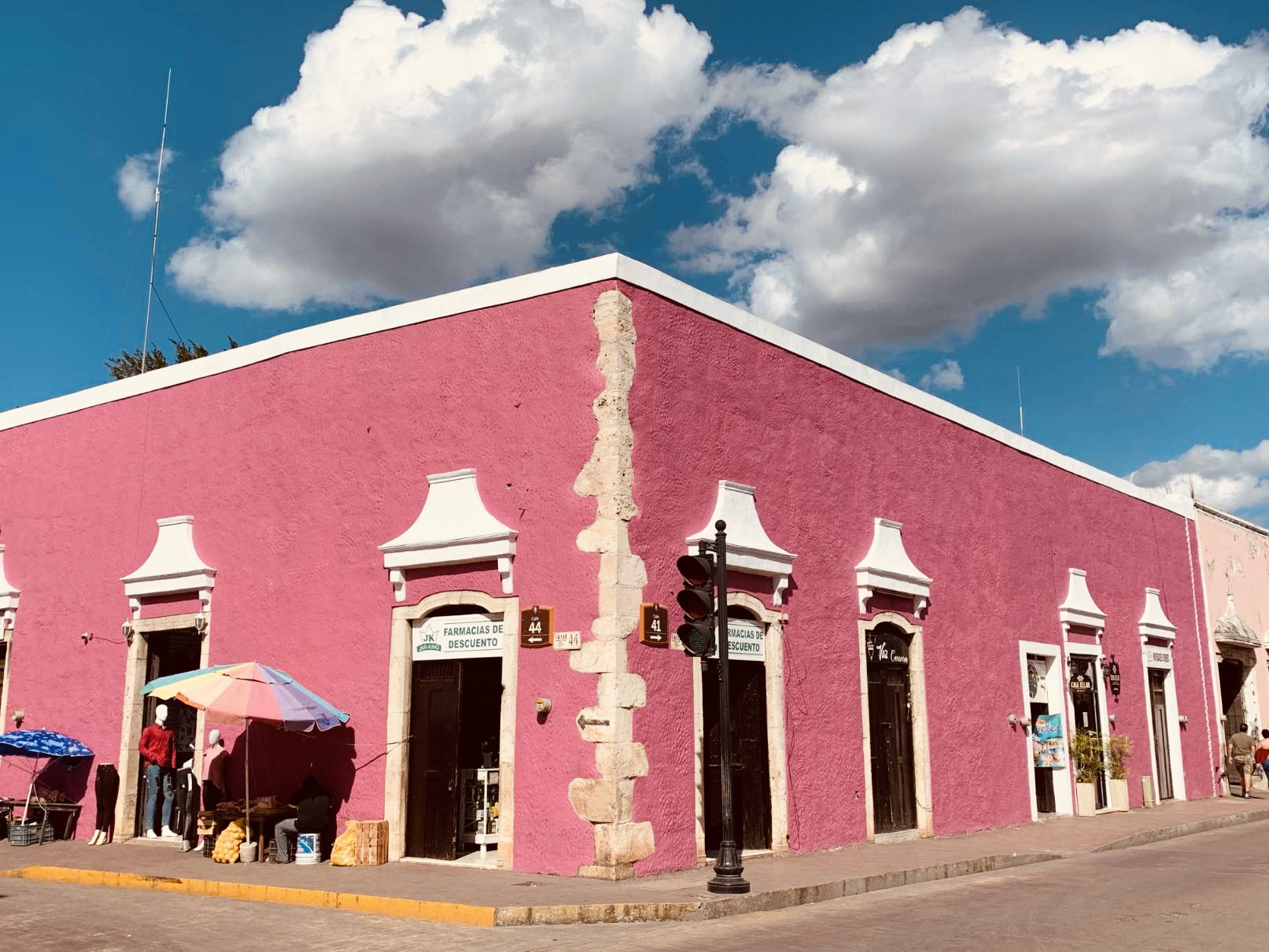 When to go to Valladolid?
Valladolid is an all-year hot destination. There are essentially two seasons: the wet season, starting in May and ending in October, and the dry season, generally from November through May. If you're looking for the absolute hottest weather, May to August would be the best time to visit, although the humidity allied to high temperatures (33°C/92°F) can make any kind of sightseeing a challenge.
I visited Valladolid in March. The weather was incredible and prices were reasonable. However, this also peak season and Chichén Itza was packed with tourists coming from all over.
How many days in Valladolid?
I recommend staying in Valladolid for at least 2 full days. While the city seems tiny on the map, there is plenty of things to do in it and around. If you want a less rushed trip and extra time to do more hikes, aim for 4-5 days instead and make Valladolid a base to explore the surroundings.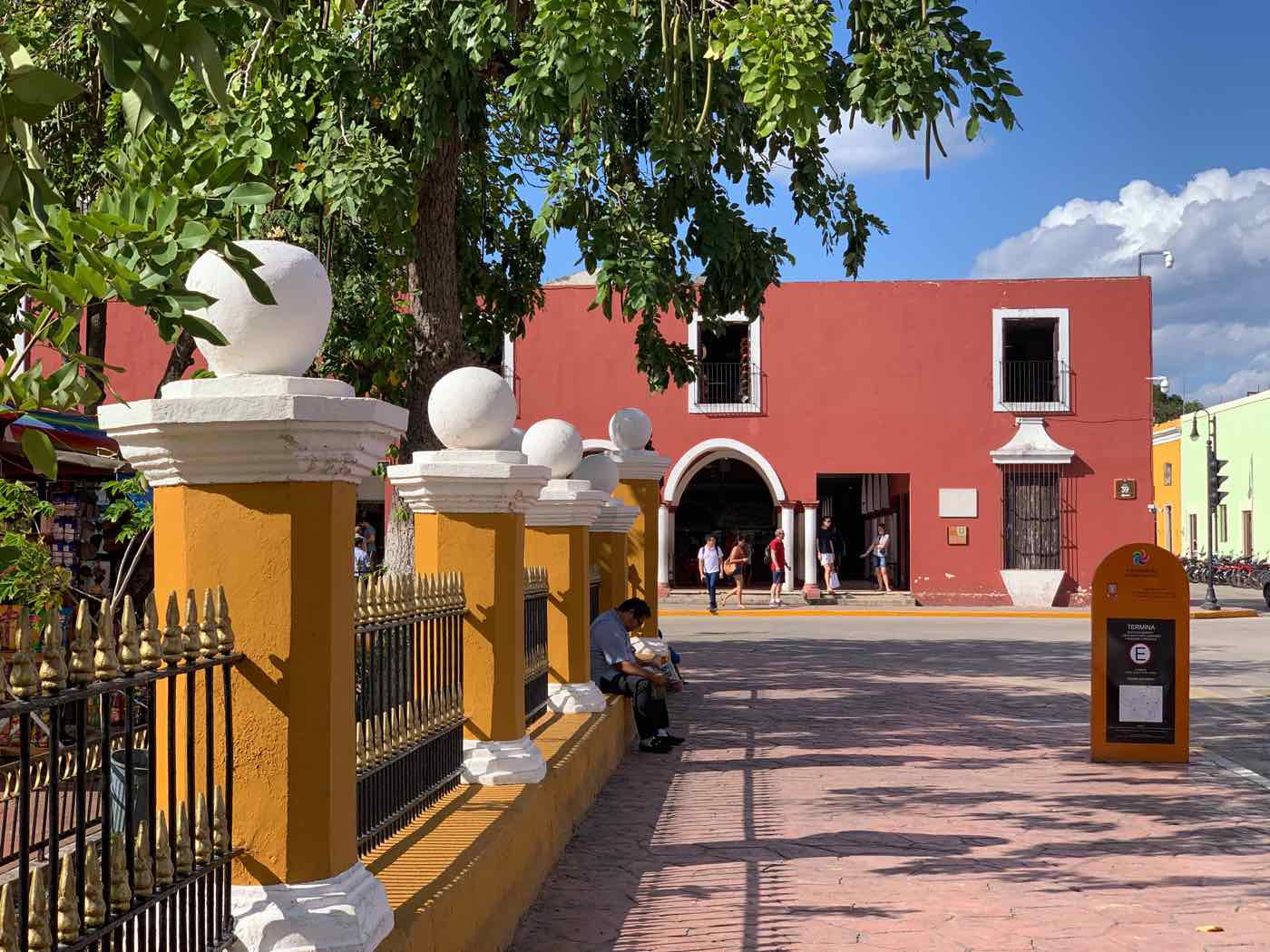 Is Valladolid safe?
Yucatán is one of the safest regions in Mexico and Valladolid is right in the heart of it. It is safe! We stayed a few minutes away from the main square and had no issues at all. People were always welcoming and we felt safe walking around in the evenings, which didn't happen in other places in Mexico. To give you some perspective, I felt much safer in Valladolid than in Mexico City, specially at night.
That said, it is recommended to have standard precautions as you would anywhere else – don't flash anything of value (e.g. shiny jewelry), don't carry too much money with you, and stick to the main, well-lit streets.
Where to stay in Valladolid
Valladolid is a small town, so aim to find in the streets near the main square. You'll be in walking distance of the best restaurants, bars, and sights. Here's a selection of hotels in the best area to stay.
The place I stayed – Colonte Hotel Origen – was definitely the BEST hotel I stayed in Mexico. Could easily stay there for a month!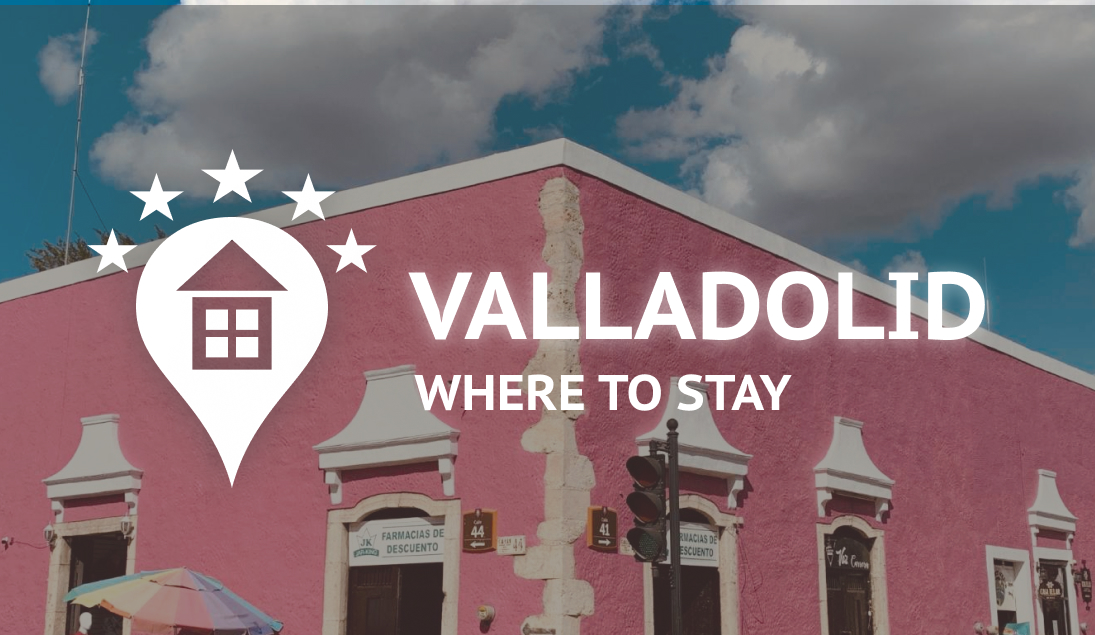 A shortlist of the best-rated hotels, guesthouses and haciendas in Valladolid with Superb rating.

Beautiful design with an eco vibe. Delicious breakfast served in the garden. Honestly, the photos don't do it justice.
Getting around Valladolid
You can reach Valladolid in different ways:
By plane – You can fly to Valladolid directly from other cities in Mexico such as Mexico City.
By bus – ADO buses connect Valladolid to Cancún, Playa del Carmen, Tulum, or Mérida. It's cheap, comfortable, and the buses are reliable.
Drive there – Renting a car is an option and gives you extra flexibility to visit Valladolid and other places in Yucatán. Be careful though – car rental companies sometimes advertise very low prices only to charge crazy fees for a mandatory insurance. This is particularly common in Cancún. Read more on how to avoid getting scammed on your rental.
Getting around Valladolid
Valladolid is a small flat town, which makes it very walkable. You want to be around the main square, in downtown, where everything it's at a few-minutes-away walk.
It's easy to explore the main streets on foot or alternatively, on a bike or scooter, as many locals do. There are many bike rental shops throughout Valladolid where you can rent a bike for as little as $80-$100 pesos/day.
Things to do in Valladolid
While much of the appeal from Valladolid comes from its laid-back nature and the chance to discover how an authentic Mexican city is like, logistically it's a great base to explore nearby cenotes and Mayan ruins.
Here is my top 10 of things to do and see in Valladolid:
1

Iglesia de San Servicio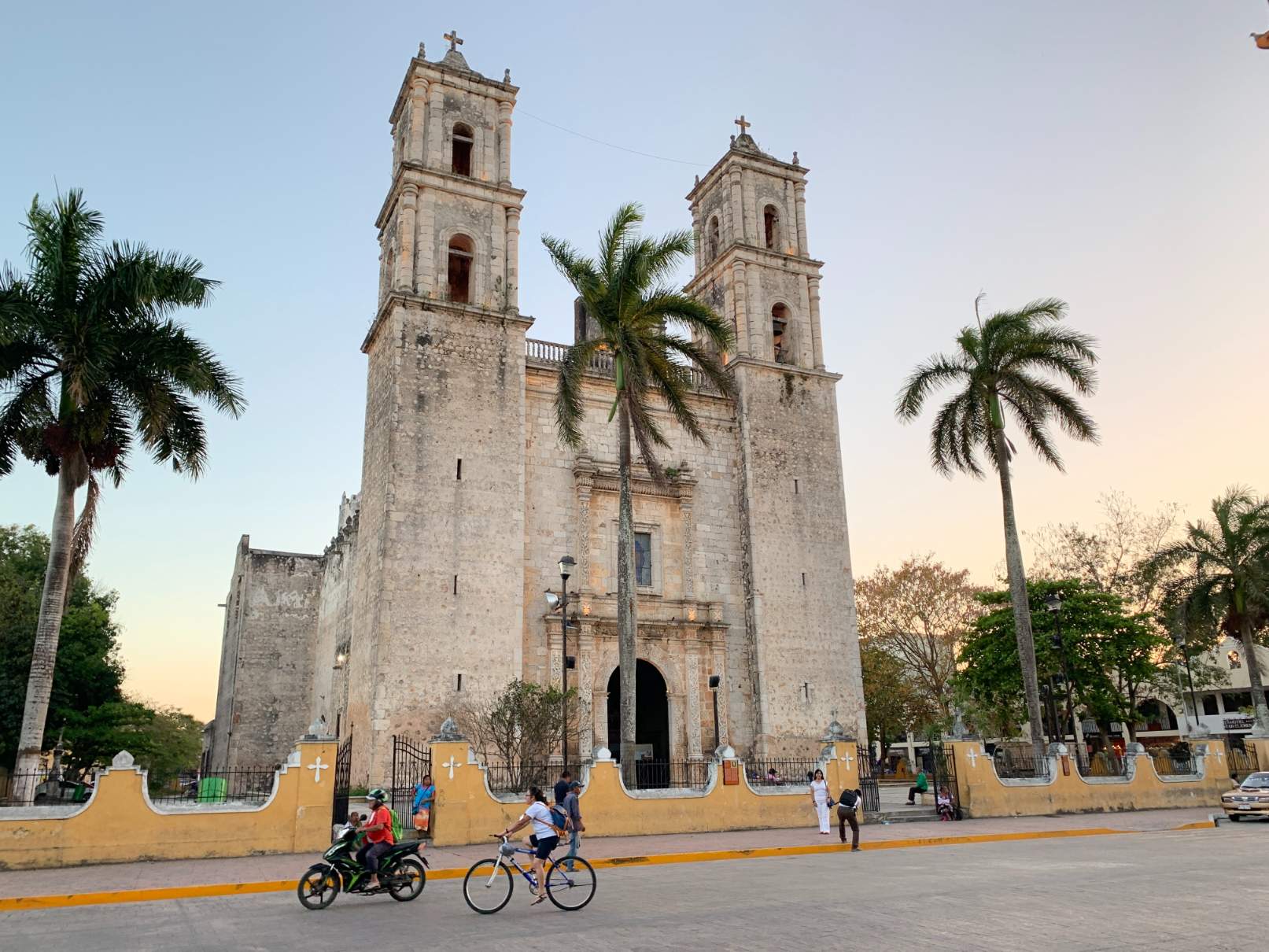 Perhaps the most iconic landmark in Valladolid is the Iglesia de San Servicio (or Cathedral San Gervasio), located just south of the main square. The inside is a bit on the simpler side, but the outside is incredible and it gets particularly beautifully lit at night. It has a fascinating background though – the Spanish built this towering cathedral in the 16th century, over a demolished Mayan pyramid!
2

Cenote Zaci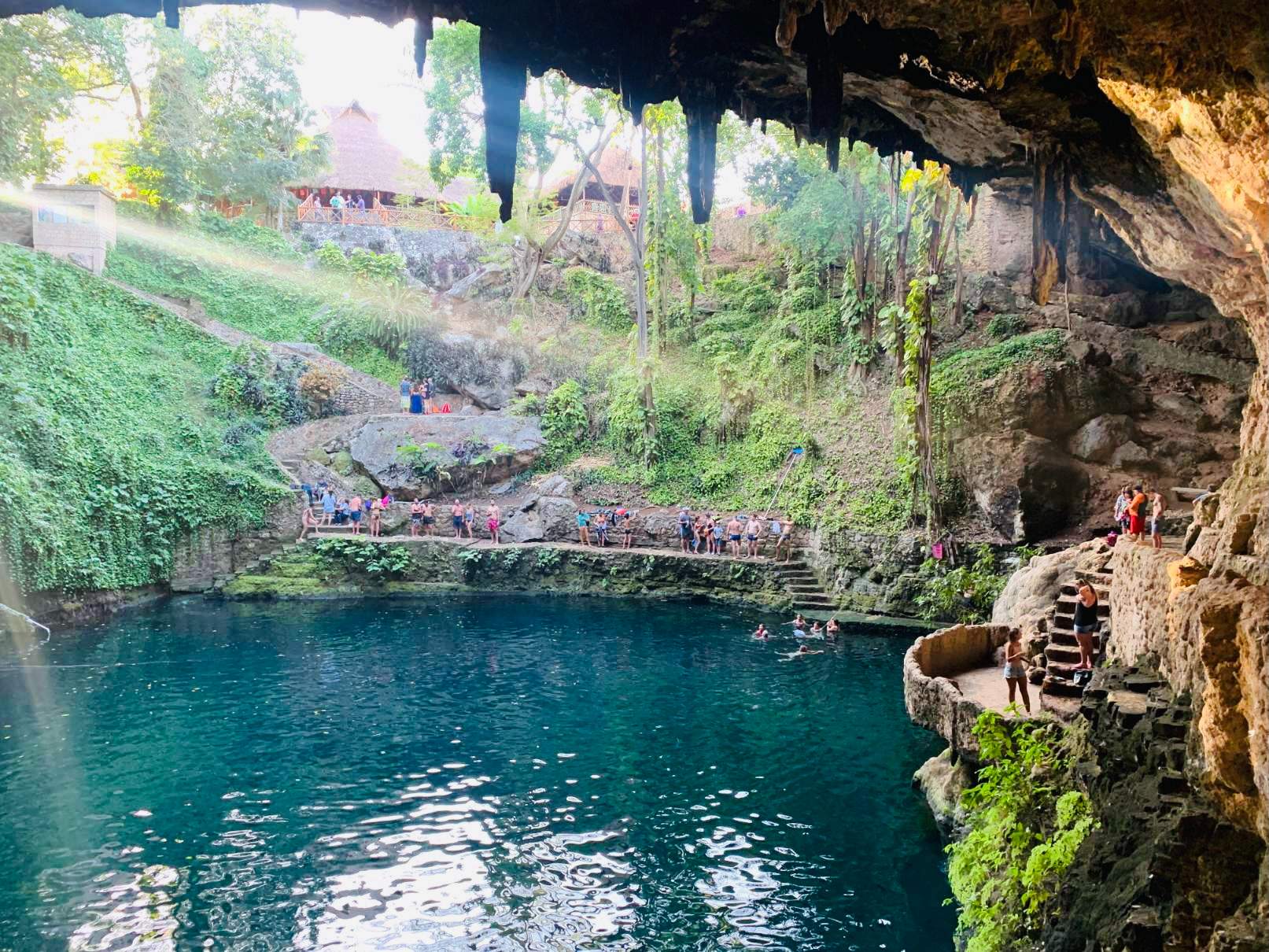 Oh, cenotes. The ancient Mayans believed these were passages to the underworld and it's easy to see why – A cenote is a giant swimming hole carved into limestone bedrock by spring water. One of the best things in Yucatán are the countless ones this region has to offer.
Valladolid features some of the best in Mexico, including Cenote Zaci, right in the middle of Valladolid urban grid. It's only a 10-minute walk from the city center and it costs just 30 Pesos to enter. Great place to interrupt your sightseeing and go for a quick refreshing swim.
3

Chichen Itza

The massive Mayan ruins complex of Chichén Itza has been named one of the New Seven Wonders of the World, so no wonder (pun intended) is one of the most popular things to do in Mexico. However, it also attracts a HUGE number of tourists, coming from resorts in Playa del Carmen, Cancún, and Tulum on daily tours.
A big advantage of staying in Valladolid is that you can easily make a day trip to Chichén Itza and get a head start on these crowds. Wake up early, and try to arrive at Chichén Itza before 10am. You'll be off to explore a stunning archaeological site without tons of people taking away from its beauty.
Near Chichén Itza, there are several cenotes to explore: the most popular (common pit stop for tours) is Cenote Ik Kil.
📌 How to get to Chichén Itza from Valladolid
By colectivo: Take a colectivo minibus from the station on Calle 46. They leave every 30 min or so, and start as early as 7am. Cost: 40 pesos.
By bus: From the main Valladolid bus station (Calle 46 x Calle 39) take an ADO bus directly to the entrance of Chichén Itza. Keep in mind there are "first-class" and "second-class" buses, which mainly differ in the number of stops along the way and the model of the vehicles. No worries, any of them is fine. Cost: up to 90 pesos.
By car: Rent a car and drive there.
4

Parque Francisco Cantón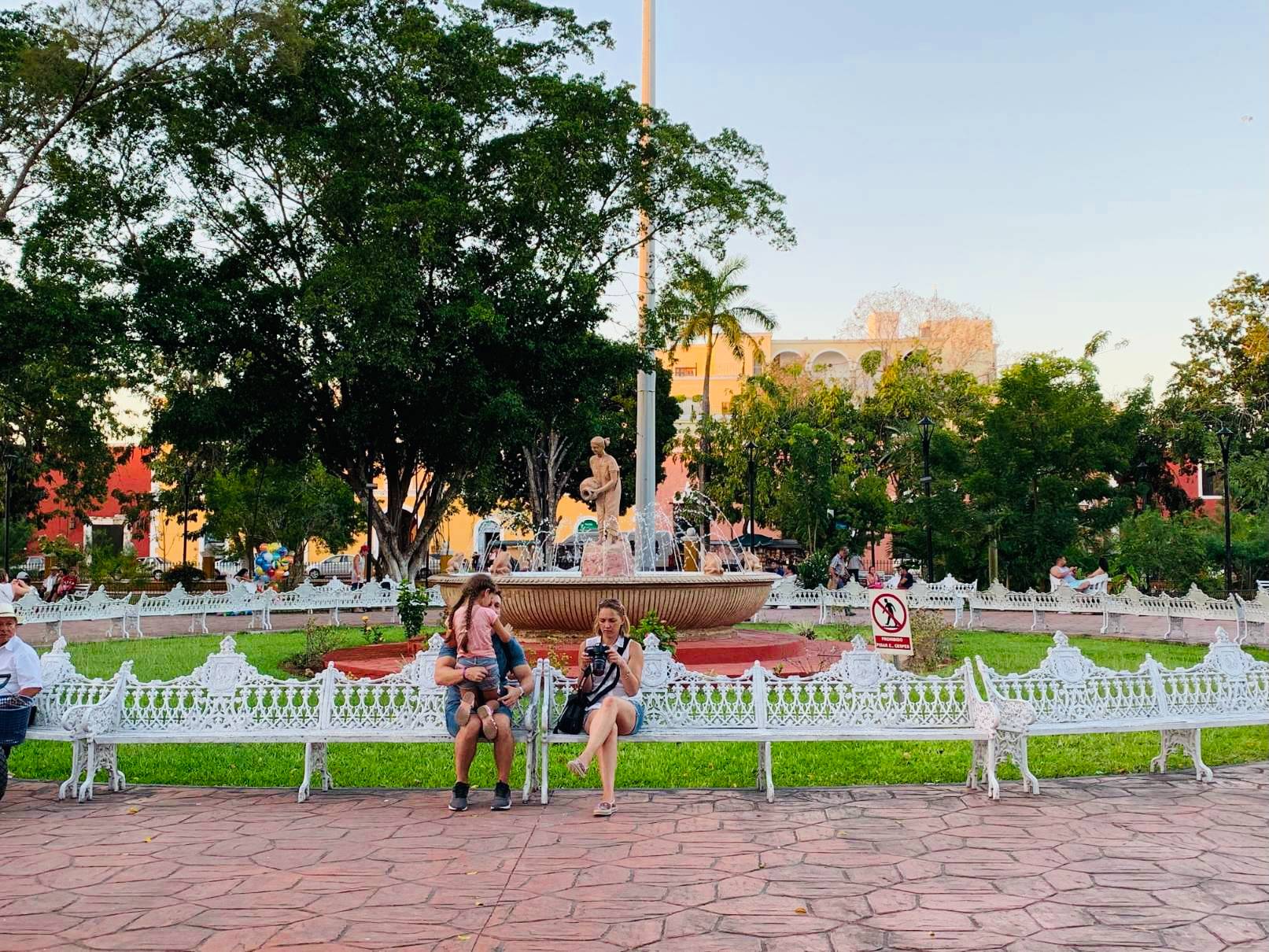 Valladolid is laid out on a classic grid format that radiates from a central town square, in this case, Parque Francisco Cantón Rosado. This the beating heart of the city! Every day, performances of music, dance, or theatre takes place either in the square or on the streets surrounding the park. An example is traditional Mayan dancers that dance to the sound of jarana yucateca, traditional folk music of the region.
It's also a good place for foodies: down one of the carts selling marquesitas (Nutella and cheese crepes). Or just sit around and appreciate the surroundings. I found it to be a fantastic place for people-watching!
5

Cenote Suytun
This was by far my favourite Valladolid cenote, and definitely the one with the most Instagram potential. The large light beam that enters the cave through a small opening in ceiling is mesmerizing. When it aligns with the circular man-made ledge in the center of the cenote, it's truly an otherworldly sight.
It's possible to swim at the cenote, even though I didn't find it particularly inviting. Life jackets are mandatory. If you don't want your photos polluted by a bunch of bright orange spots floating in the water, get there first thing in the morning or late in the afternoon to avoid the crowds. Keep in mind the most photogenic time of the day is when there's more light entering the cave though, which happens between 12-2pm.
To get to Cenote Suytun, we coordinated a taxi to get here from our hotel since it's roughly 8km away from Valladolid.
6

Mercado Municipal

When we talk about Valladolid, we're talking about the chance of diving face-first into authentic Mexican culture. And what better place to experience this than venturing to the stalls of the local market?

In Mercado Municipal de Valladolid, you can find everything from local fruits and veggies to honey, clothes, meats and several handicrafts, often cheaper than in the shops that cater to tourists. I was particularly amazed by the many hot sauces, of different colors and smells. It's a place to soak in everything, even if you don't buy anything.
7

The streets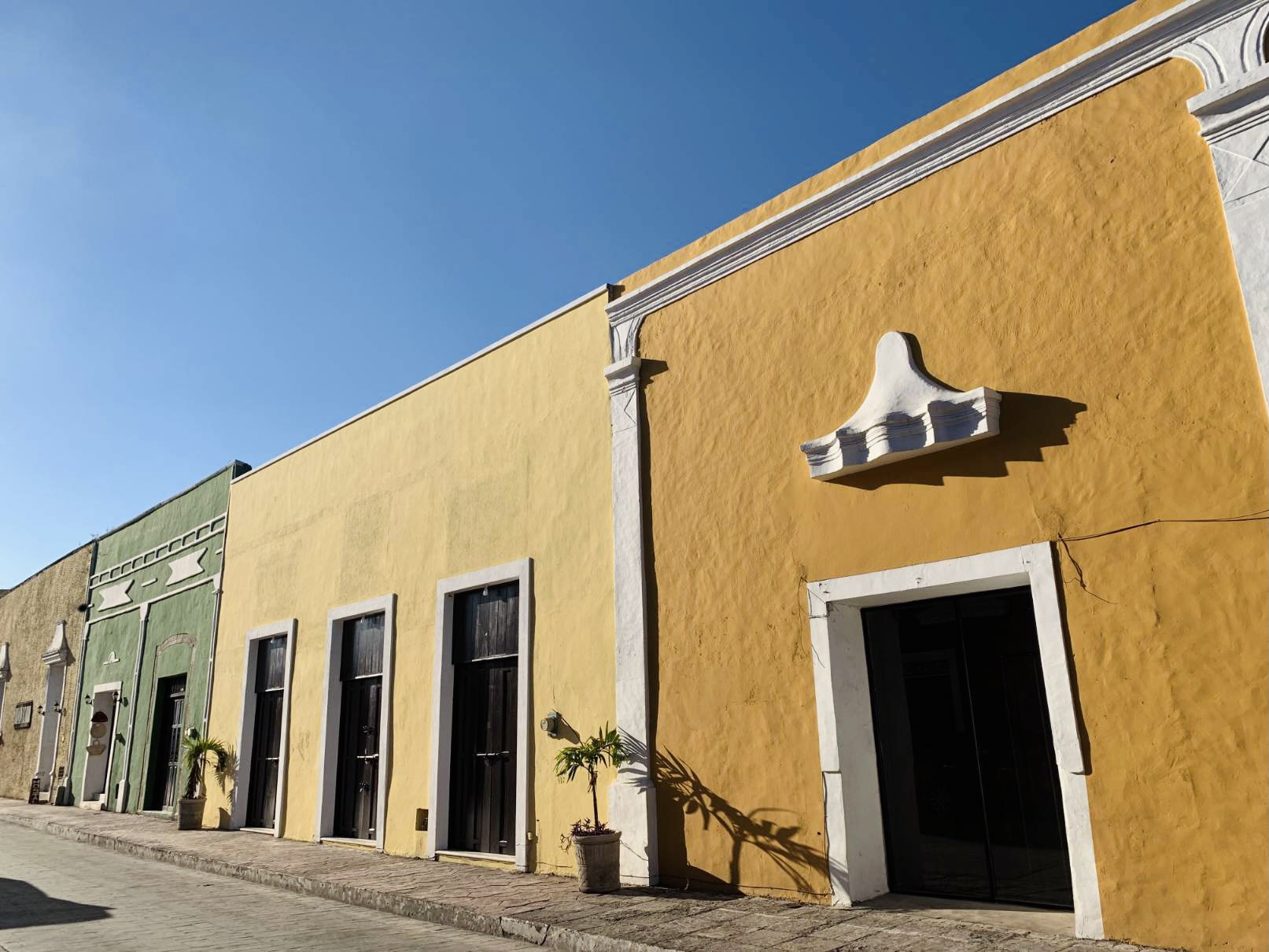 Walking through Valladolid is a delight to all senses – the range of colors used in private homes, shops, and government buildings is much larger than we, non-Mexicans, are used to! These vibrant colonial walls make for cute backdrops for photographs, or just a pleasant sight while you wander the cobbled streets of downtown.
Calzada de los Frailles is one of the most iconic and colorful streets and is home to dozens of wonderful handicrafts, cafes, and clothing stores.
8

Cenote Oxman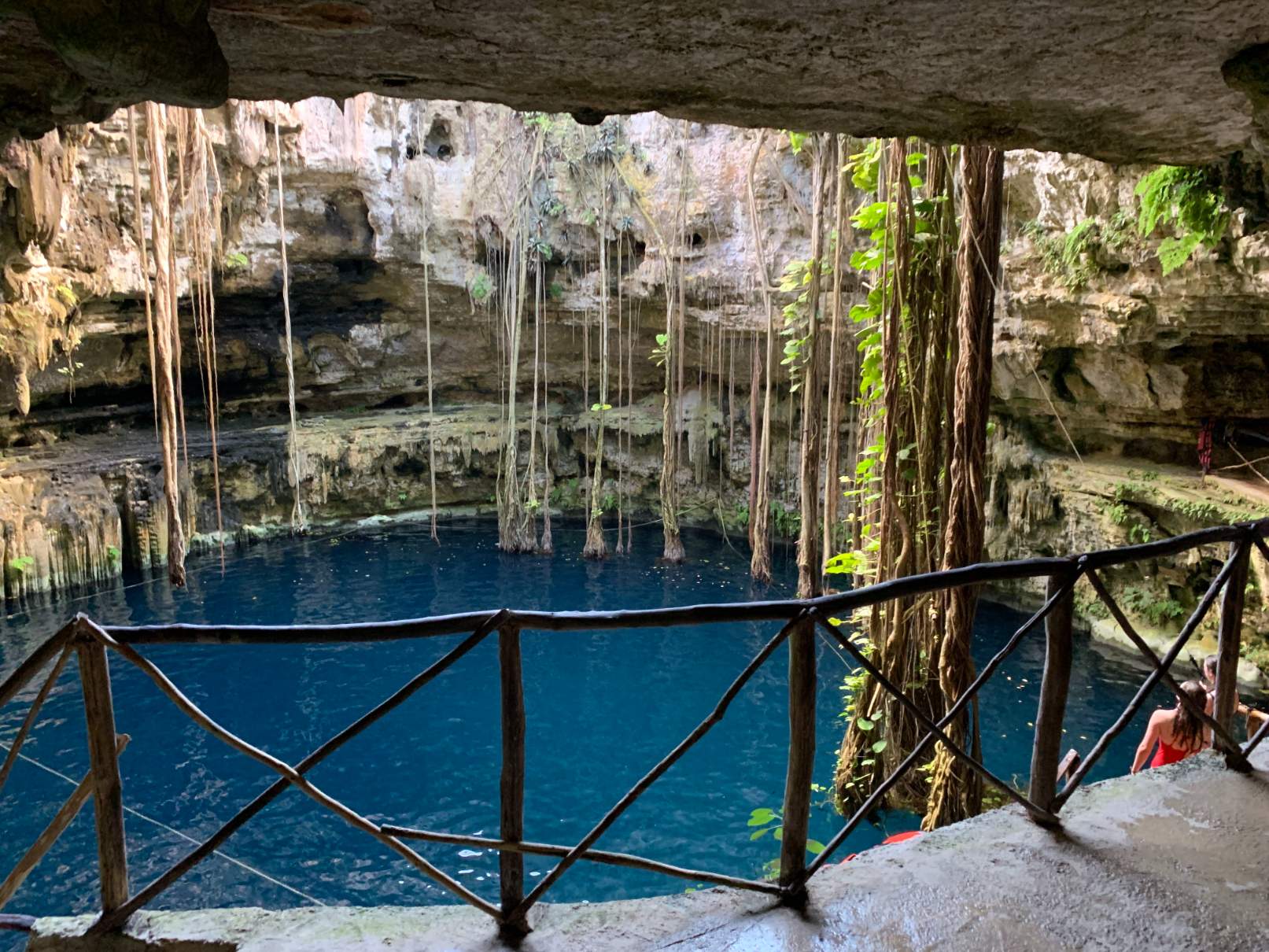 The final cenote on this list! Set in the very local Hacienda San Lorenzo Oxman, Cenote Oxman is set in a collapsed semi-open cave where both natural light and hanging tree roots cascade towards its refreshing waters. There's even a rope swing for some extra fun!
Apart from the cenote, this 18th century Hacienda grounds also feature a restaurant and an outdoor swimming pool. It's a great place to escape the Valladolid heat and chill for a few hours.
To get here, I rented a bike (~30 min from Valladolid). While the distance is perfectly doable, the road to get there is in pretty bad shape so it's better if you rent a scooter or hire a taxi instead (~$100 pesos). Since taxis come from Valladolid, keep in mind you'll to pay double on the way back as you'll have to pay the fare for both ways.
9

Ek Balam

If you're into archaeology, then you don't want to miss a day trip to Ek Balam. Once home to a city of 20,000 people, this site has an impressive set of 40+ ruins with a fraction of the tourists of Chichén Itza. It's a golden opportunity to get to know more about the ancient Mayan culture in an intimate setting. I highly recommend getting a guide here.

There's another plus – unlike other popular ruins like Chichen Itza and Tulum, you can still climb the 106 steps of the great Acropolis pyramid at Ek Balam, for dramatic views of the Riviera Maya.

📌 How to get to Ek Balam from Valladolid
By colectivo: Take a colectivo minibus from the station on Calle 46. They leave every 30 min or so, and start as early as 7am. Cost: 40 pesos.
By joining a tour: I'm not usually a fan of organized tours, but I open an exception for any kind of ruins. Joining a small group and have a knowledgeable guide explaining what you're looking at makes all the difference.
By car: Simply rent a car. It's a 30-min drive from Valladolid to Ek Balam.
10

Convento de San Bernardino de Siena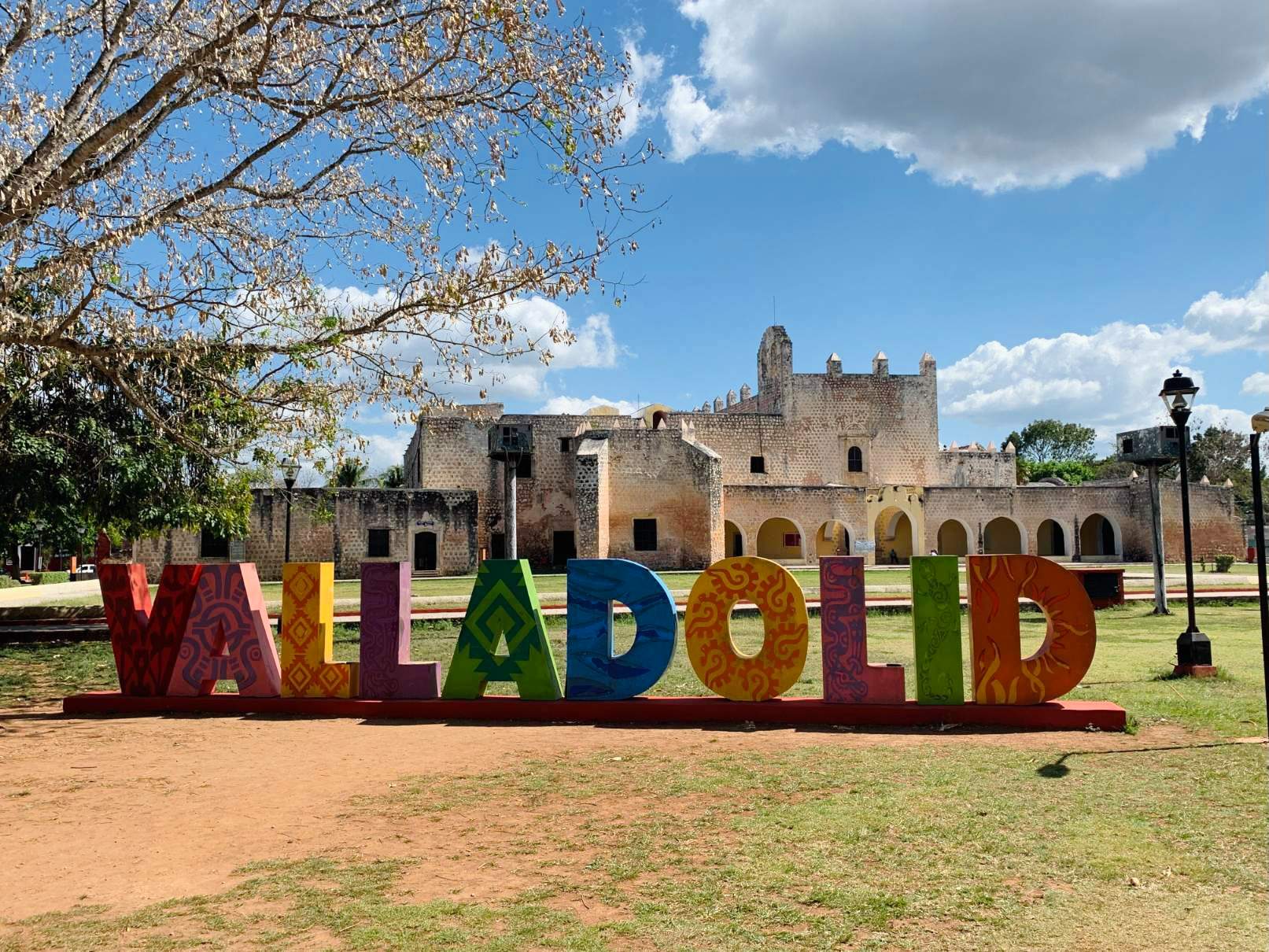 Located at the end of Calzada de los Frailles, a short walk from the main square, this 16th century convent is an unusual combo of a place of worship and a military fortress. For $40 pesos, you can enter the grounds and learn all about the history of this place which used to be the headquarters of the Mayan "reconversion" to Catholicism.
Every evening a video-mapping show lights up the building and tells a bit of the story of Valladolid. It runs Tuesday through Sunday at 9pm (Spanish) and at 9:20 pm (English).
While you are at it, right in front of the convent in Parque Sisal there's a colorful Valladolid sign (every little Mexican town has it these days). Good place to snap a family photo!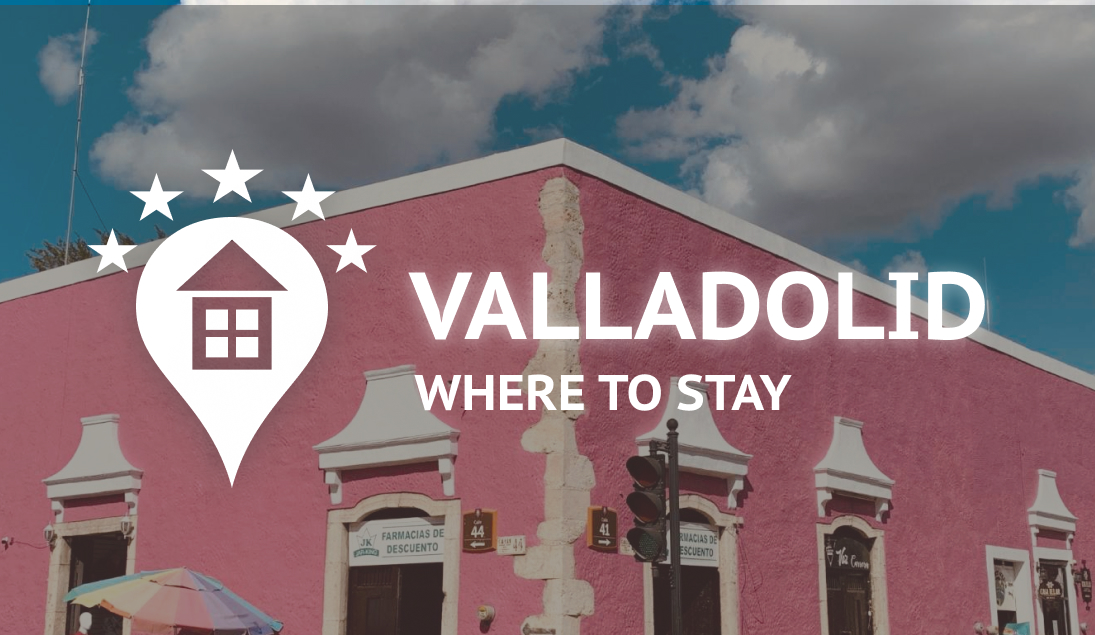 A shortlist of the best-rated hotels, guesthouses and haciendas in Valladolid with Superb rating.

Beautiful design with an eco vibe. Delicious breakfast served in the garden. Honestly, the photos don't do it justice.
What to do in Valladolid
What else do to in Valladolid? Here are some ideas.
Cenotes in Valladolid
Valladolid is strategically located in an area of many different cenotes that will help cool you off, even during the hottest of the days. In a radius of 10km there are dozens of them, perfect for some cenote hopping.
🏊 Cenotes near Valladolid
Cenote Zaci – the easiest to get to, since it's in the middle of the city. Entrance fee: $30 pesos.
Cenote Suytun – definitely the most idyllic and Instagramable of them all.
Cenote Xkeken – a beautiful underground cenote with just a small opening where the light shines through.
Cenote San Lorenzo de Oxman – stunning scenery with a cool natural swing to jump from. Life jackets are mandatory here. Entrance fee: $150 pesos.
Cenote Samula – very closed to Xkeken (you can combine both in the same trip), this is an enclosed cenote with stalactites on top, formed due to the water filtration.
Cenote Palomitas – off the beaten path cenote with a bright blue pool where you can swim without crowds.
Other places to go in Valladolid
Finally, here are other ideas for places you can visit in Valladolid:
Museo de Ropa Étnica de México – also known as Murem, this is the Mexican Ethnic Clothing museum. A stylish way of absorbing the local culture.
Xkopek Parque Apícola – A beekeeping park that helps remind us how important bees are to our planet. I actually didn't visit, but it's saved for my next time in Valladolid!
Casa de los Venados – an impressive private collection of Mayan artwork. It's not a government-owned museum, but it's actually a hacienda where the owners run tours everyday at 10am.
Iglesia San Juan -small church facing a small park where you can witness Mexican daily life while indulging on a helado (ice cream).
What to eat in Valladolid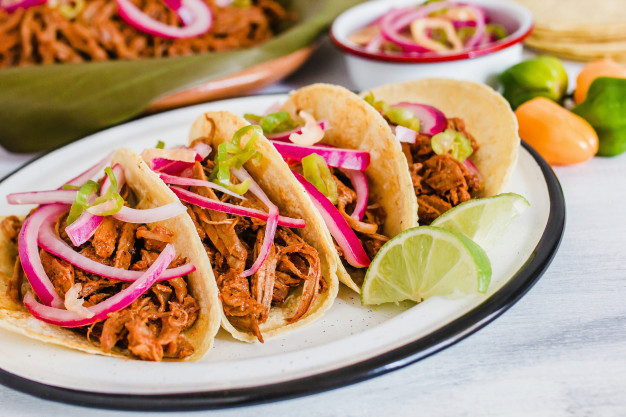 You'll eat very well in pretty much the entire Mexico – honestly, it's one of the most satisfying things to do! – but in places like Valladolid you can taste the authentic thing for a much lower price than in the resort towns. These are some of the delicacies to try in Valladolid:
😋 Things to eat in Valladolid
Sopa de lima – a personal favorite! Chicken and lime soup, topped with tortilla chips. Freaking delicious.
Cochinita pibil – the piece of rèsistance of the Mayan food. Slow-cooked pork wrapped in banana leaves, previously marinated in citrus juices. Depth of flavour is insane on this one!
Salbutes – deep-fried corn tortilla served open-face with several different toppings: pulled pork/poultry, cabbage, tomatoes, onions, avocados, etc.
Chaya – a native plant of southeastern México and staple food of the Mayas, it can be found in soups, juices or as a side dish. Also known as "spinach tree".
Marquesitas – very popular street food dessert which is sort of a crepe made with different fillings (usually chocolate, fruit, and/or cheese), but then it's rolled into a tube.
Restaurants in Valladolid
Last but not least – this is where I had my best meals in Valladolid.
El Atrio del Mayab – right in the main square, it's quite popular with tourists, but it's a solid choice to indulge in authentic Mayan tastes. Lots of choices. Make sure you sit on the garden area, with beautiful fountains and trees.
Casa Conato Cultural 1910 – fantastic restaurant serving local Mexican food, with very reasonable portions. Doubles as a bar, so you can stay for a drink afterwards. Ask for a table in the terrace!
Yerbabuena Del Sisal – almost two weeks in of being in Mexico, my body eventually craved non-mexican food. This is a good place to switch things up and eat a salad or hamburger. Lots of veggy options too.
More about Mexico 🇲🇽
That's it for Valladolid, Mexico!
I hope you enjoy this fantastic hidden gem of a town as much as I did. Nested in the heart of Yucatán, it's a delight to explore and additionally, serve as a great base to venture out to other places around.
If you would like to add anything or just share your experience in Valladolid, please leave a comment below!
My travel tips valid anywhere