Its picturesque charm has been putting Bruges on top of the bucket list of many travelers.
My high expectations led me to ask myself one question: is Bruges the ultimate best medieval town?
This year I decided not to lose any time and decided to sort my bucket list by crossing out another country, Belgium. It was sort of a spontaneous Christmas decision. Me and J. booked the flights and hotels just a few days earlier (booked a secret hotel again, I think I'm becoming hooked) and got about 20% off the normal price. Pretty good considering it was still holiday season!
So right on the 1st of January we were landing in Belgium and Bruges was the first destination on the map!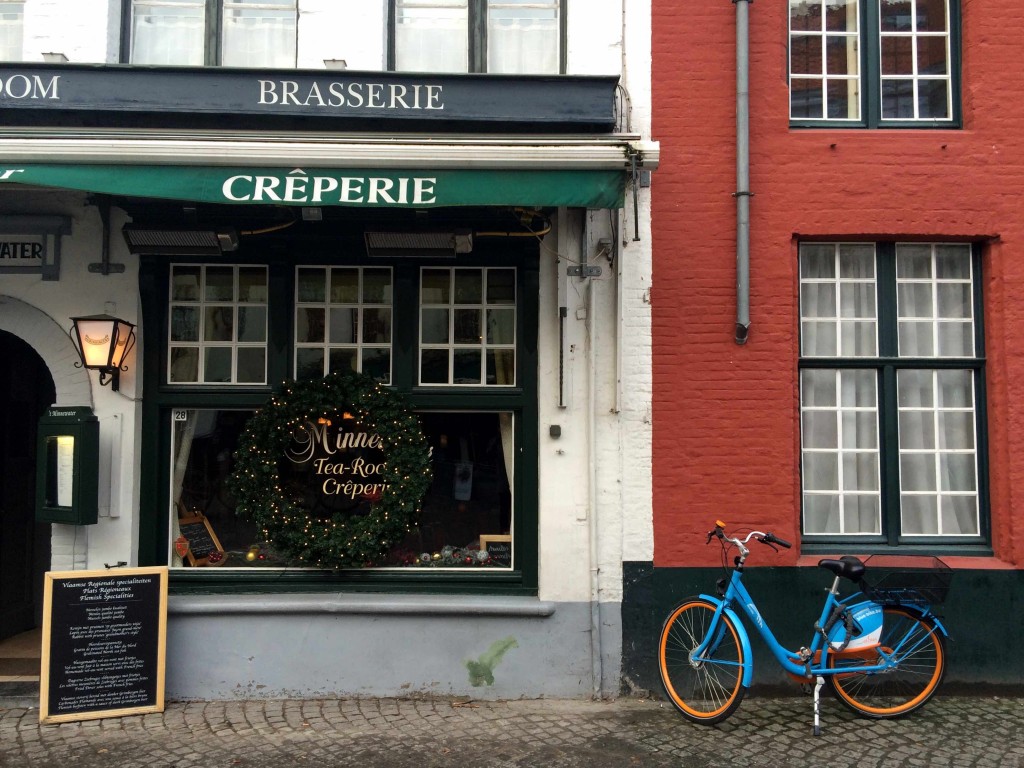 GROWING EXPECTATIONS
Bruges, or Brugge in Dutch, is the capital of West Flanders in the northwest of Belgium and once considered the most important commercial port in the world, specially for the trade of Flemish textiles. Although the port of Bruges-Zeebrugge still plays a major role in the economy of the country, today the old town of Bruges has lost the direct connection to the North Sea, but instead it has been discovered by tourists, being considered a World Heritage Site of UNESCO since 1999.
Expectations are decisive in the overall travel experience, but I was hoping to visit Bruges for a long time. After seeing so many photos and videos and heard so many stories, the image of exploring a medieval village in the center of Europe had really grown on me.
When I have such high expectations about a destination, that ultimately just adds up to the moment I first arrive there and realize: I made it here. This place is mine to explore now. It's one of the best feelings I can have on my travels and I really felt it in Bruges.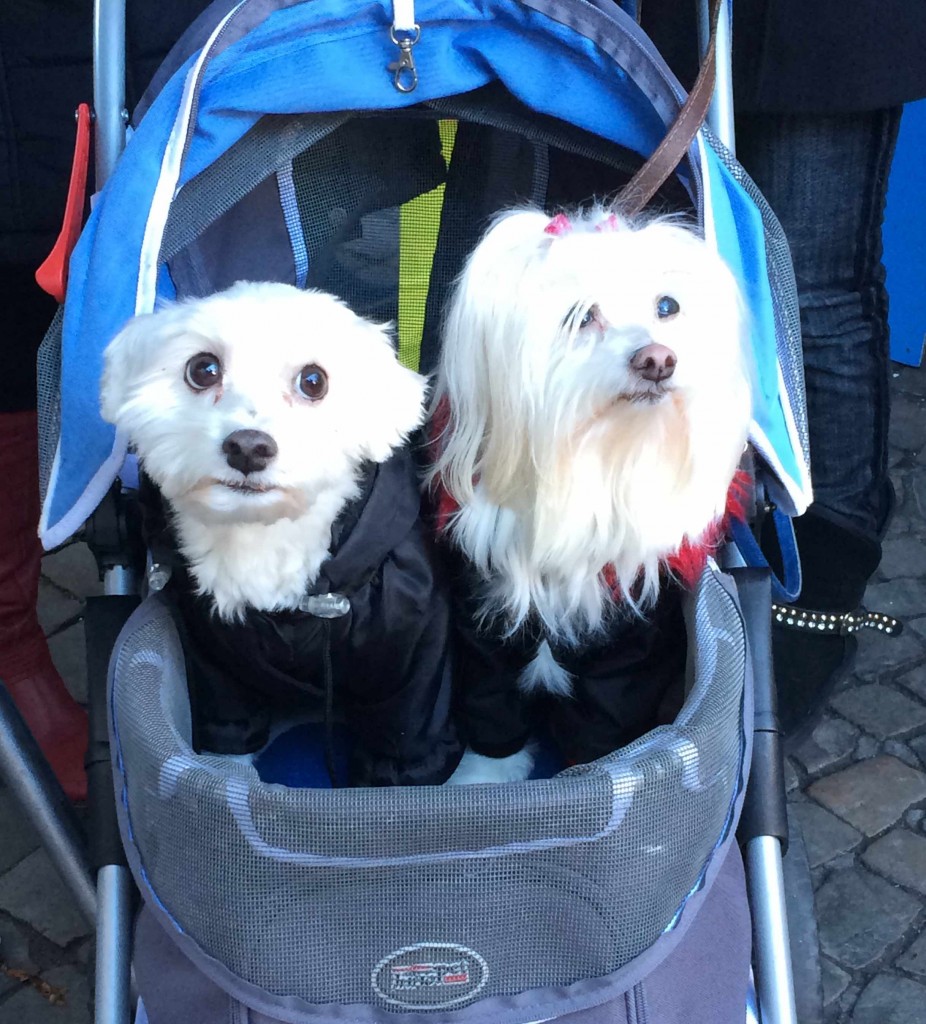 GETTING THERE

I was much more excited to visit Ghent and specially Bruges, but our decision to base ourselves in Brussels was due to having more opportunities of eating waffles and fries (omnomnom) but also more frequent train connections from its three main stations. Moreover, the Belgian Rail had an awesome Christmas Deal available: ANY return train trip between two cities in Belgium had the same price: 11€ (!). An absolute steal we HAD to take advantage of. For a more detailed cost breakdown please check the end of the post.
The train to Bruges from Brussels takes about 1 hour and leaves every 20-30 minutes. We arrived Brussels – Centraal early in the morning to envision hell. The platform was absolutely packed with people literally pushing each other in order to board the train first. Felt more like trying to board a metro in China. We eventually found out a breathable place in which we could squeeze ourselves, but it was a painful one-hour ride.
Here's the first problem of Bruges: everyone seems to know about it.
TREADING CANALS AND COBBLESTONES
It was still an icy cold and foggy morning when we finally arrived, but the sun was shyly starting to appear in the sky. Getting past the train station area and arriving at Begijnhof, the first impression is that you are getting at a bucolic village lost in time.
That timeless feel was exactly the essence I was expecting Bruges to be. I was so excited I started taking photos of EVERYTHING: canals, buildings, trees, ducks, swans, bridges! And I still wonder why I'm always out of storage on my phone…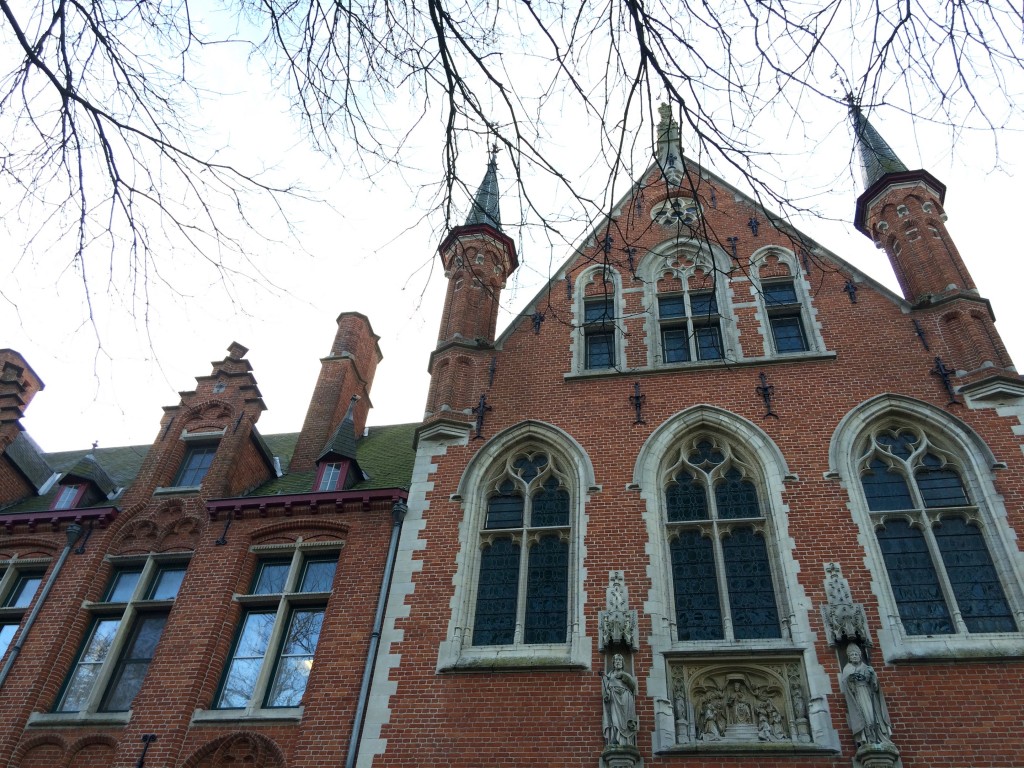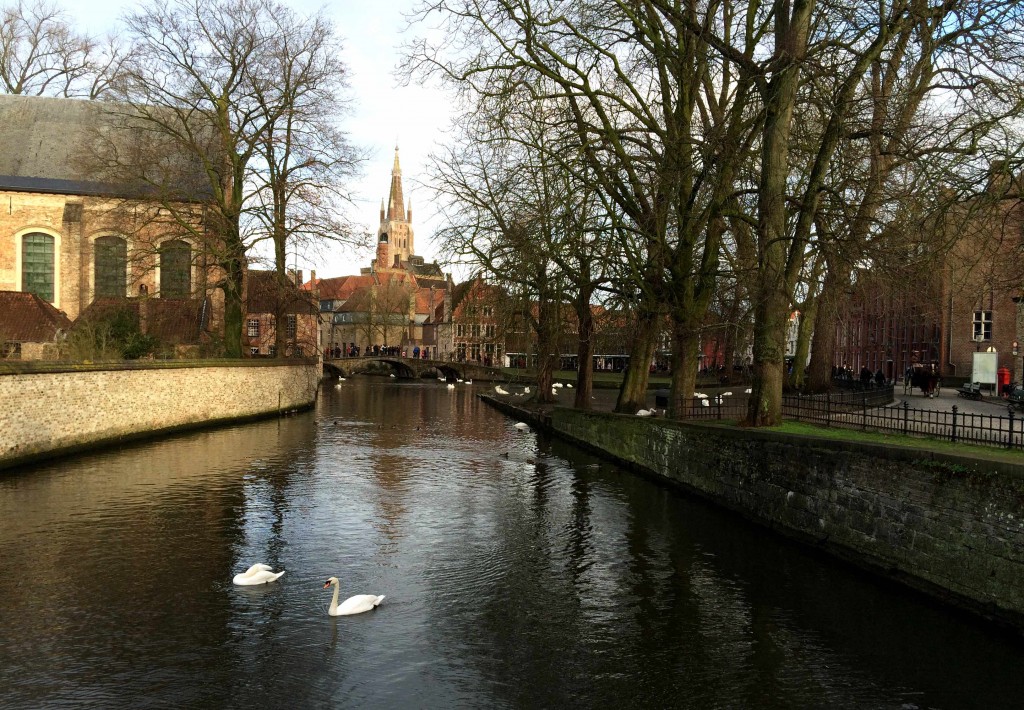 As I stepped into the town, this initial rush slowly went away and gave place to a controlled thrill to be there. I was so glad to see the big majority of medieval architecture in Bruges is still intact and to see all the ornamented buildings lined up by the canals creating a uniquely romantic setting.
The canals of Bruges were once navigated by Viking ships and nowadays are now exclusively used for tourist boats run by a limited number of local families. The canals are not as big as the ones in Amsterdam and they shouldn't be supposed to be, although I still get to hear that silly comparison. However, for some reason, I was expecting to be more of them. I mean, they say Bruges is the Venice of the North, right?
Anyway, and besides Begijnhof, the most beautiful canals were in Dijver and Groenerei where brick bridges and elegant trees bring even more charm to an already quaint and scenic place. The best really is to wander around and discover yourself some quaint places. Like this one after I entered a hidden alley on my way to the center square.


THE CITY BUZZ
Not all places in Bruges are quiet. Actually, it only takes a few steps inside to the main streets to realize people go crazy all around just like in every major city. They might go crazy for different reasons though: two of the most known Belgium's passions, chocolate, and waffles, are showcased HEAVILY there. Every other door there's a chocolaterie (more than 50 in such a small town!) with sugar junkies salivating at the window.
Bruges definitely would not be suited for sugar rehab programs as basically everywhere is a diabetic catastrophe waiting to happen. Anyway, let's keep food out of this, I will probably have material to write a whole article about food in Belgium.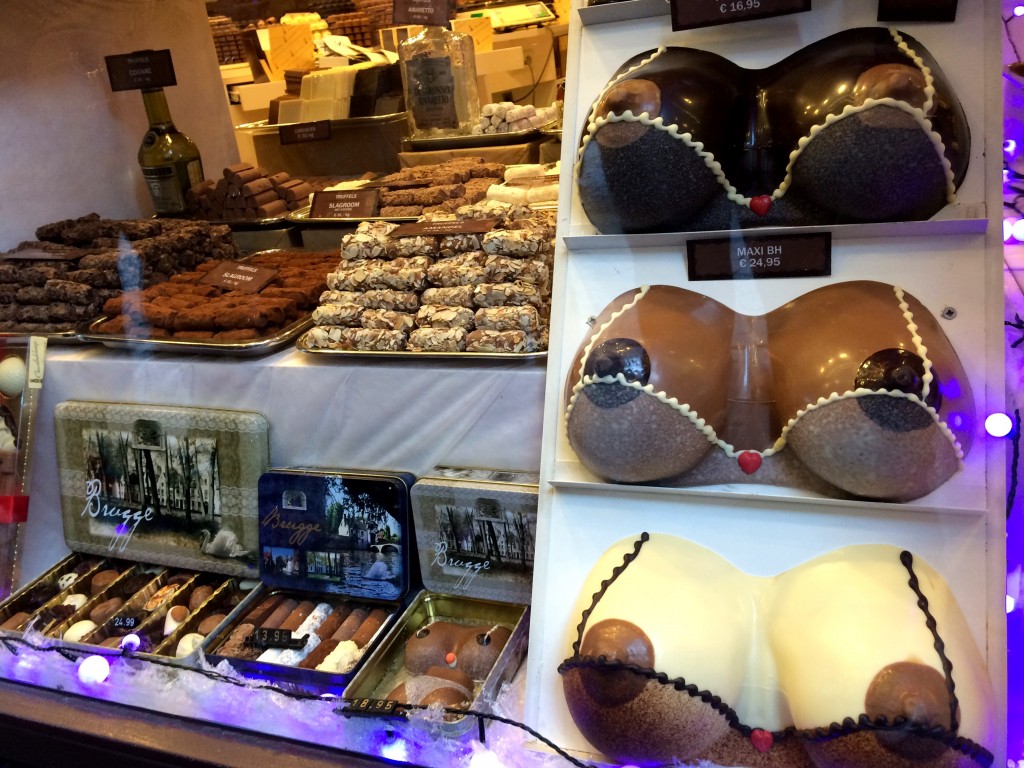 It's on the main square – Grote Markt – that one encounters not only the real buzz of the town but also a feast of architecture delights expressing all the wealth Flanders once had. It's the heart of the city and we were lucky to go in the holiday season as it had a small ice rink with the gorgeous Provinciaal Hof (Provincial Court) as a backdrop. Does not get more beautiful than that.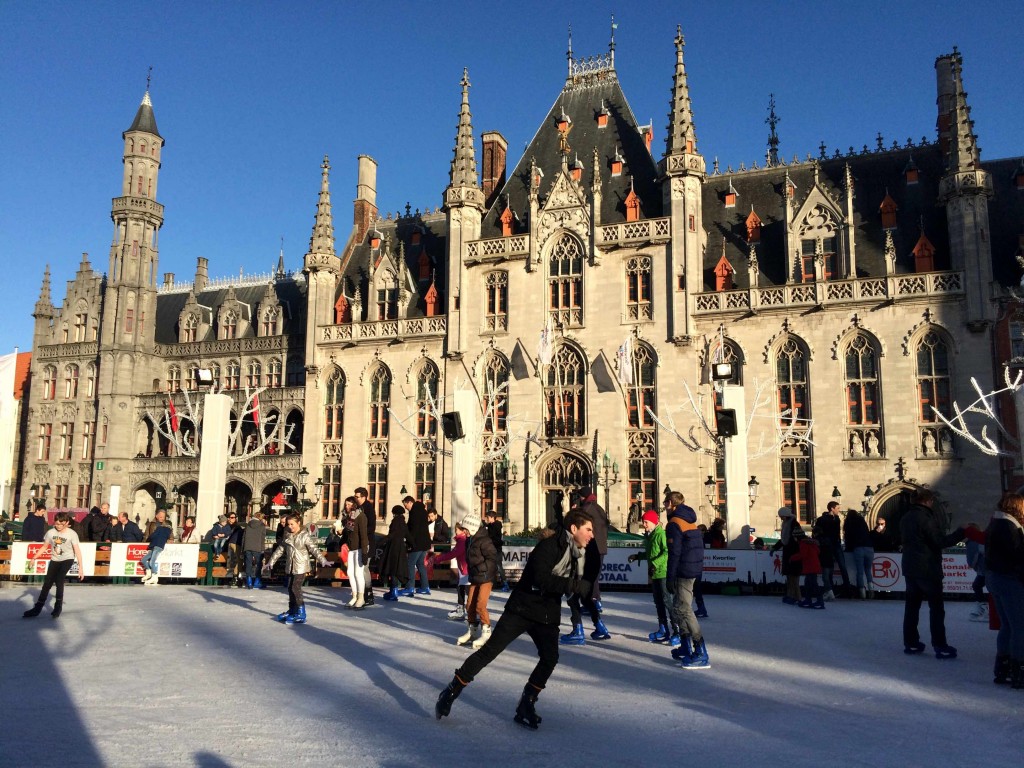 Literally everywhere you look in this square you encounter a beautiful building, like Belfort, a medieval bell tower and one of the most prominent landmarks of the city, mostly known as Belfry of Bruges. After watching In Bruges where this monument is the central focus of much of the movie, I had the intention to climb up there, but I ended up saving my 8€ to spend elsewhere. I could eat at least 3 waffles (again, food!) with that money! Yes, at some point of the day, I adopted waffles as my currency. And now I'm ashamed of what does this say about myself.
Moving on. My favorite section of the Grote Markt were the random little houses that remind me of dollhouses. An architectural game of colors which was a real treat to admire and to instagramate!
From here, Breidelstraat leads through to Burg square where the town hall, or Stadhuis, is located. This is the administrative center of Bruges and it is impressive, yet in my opinion not as nearly as the archigasm I had in Markt. We blindly followed a mass of people walking towards a door in the corner of the square just out of curiosity and ended up discovering a dark church/crypt. It was spooky but nothing really out of the ordinary. Still, with 0 degrees outside, it was a great idea to thaw ourselves!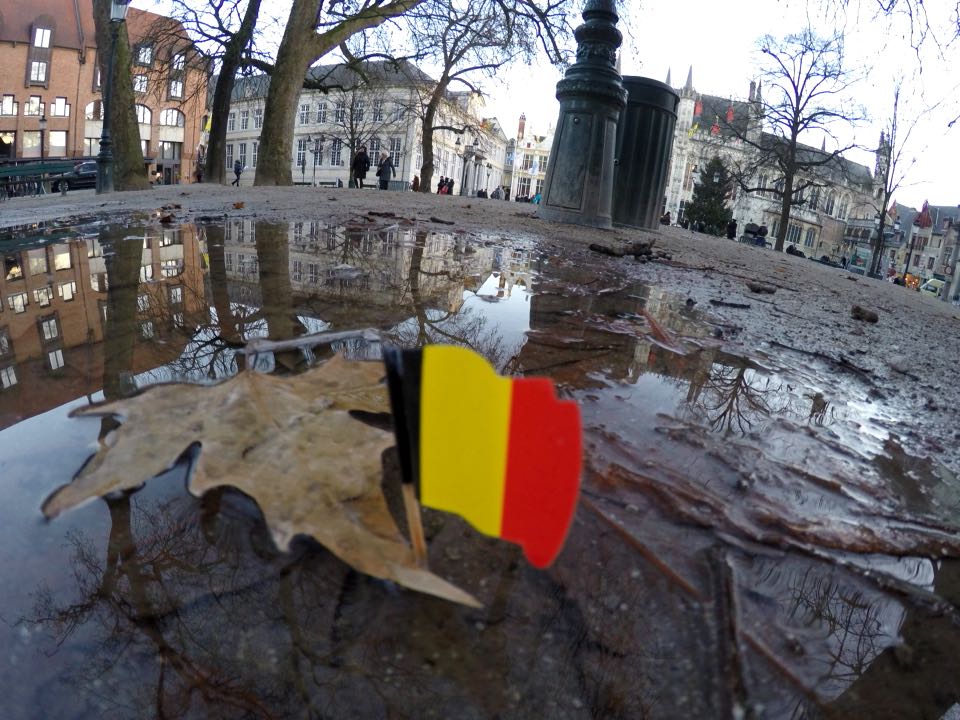 THE WINDMILL WALK
It was getting late and we were running out of two things: sunlight and patience to navigate through the crowded streets. After lunch, Bruges got even busier and we decided to escape towards the outskirts to Kruisvest and do the so-called windmill walk.
That's right: on the northeastern side edge of the canals circling the old town and probably too far away to have bothersome crowds, there are four old wooden windmills scattered across a big green area. Originally they were 25 of them (!) and the 15-minute walk is well worth in order to leave the main streets for a while and take a nice riverside stroll. Or, like we did, just fill up (again) your memory card with tons of unnecessary and ridiculous photos. And others not so bad.
Despite being a great escape from the masses, eventually, we adventured ourselves into the buzzing center again in a quest for one last waffle before returning to Brussels. Note to self: I really need to go back to the gym this year.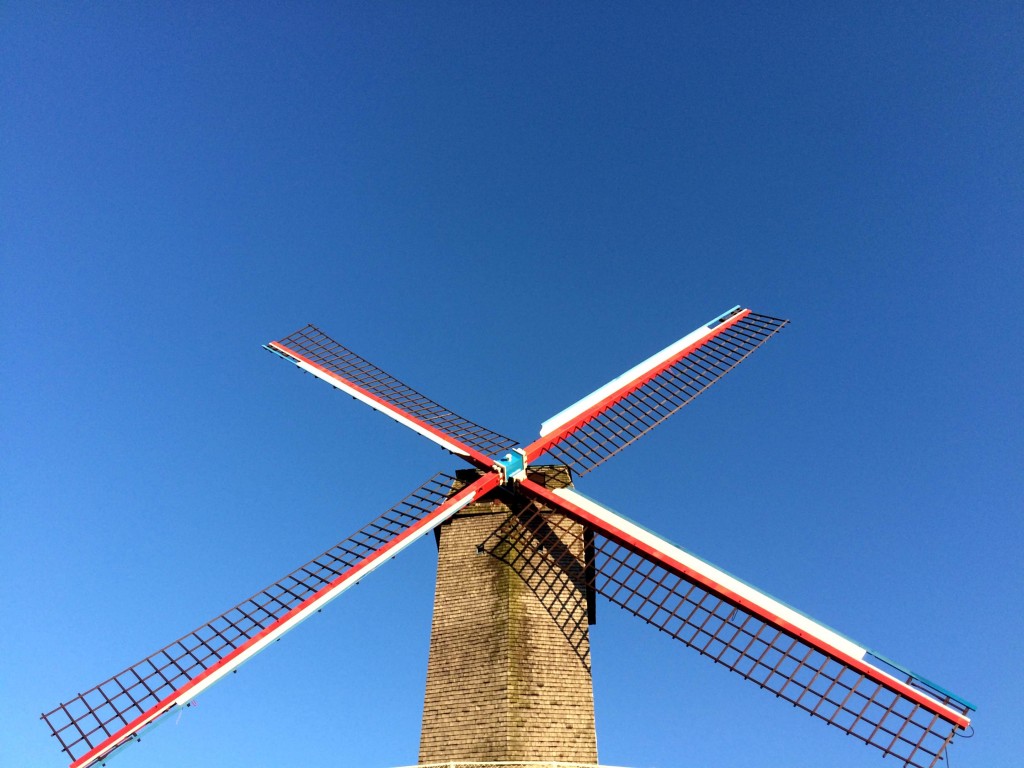 WRAP UP
While not standing out for any particular attraction or sight, Bruges is compelling right from the beginning. I don't say this very often, but it's really hard not to embrace the picturesque atmosphere and let yourself go into the soft elegance mood of this place. The way all the beautiful Gothic architecture, the bucolic canals buildings, the unique chocolate shops and the cobblestone streets and all the rest work all together to create such a unique setting is really fascinating. I can definitely tag it as a must-go if you are touring around Europe: it would make a worthwhile catch-my-breath detour to before getting back to the urban madness of Brussels, Paris or Amsterdam for instance.
SO, IS BRUGES THE BEST MEDIEVAL TOWN?
While it sure has a bunch of tourists that take away some of its original ingenuity, going to Bruges is like going back in the time as the town is faithful to its principles and surely does not disappoint. I honestly don't see how it could.
Overall, my understanding is that as far as fairytale towns are concerned, it's very hard to beat, even with the competition of beautiful nearby places like the city of Ghent. Put it this way: if someone were to design a medieval town from scratch, it would be a very tough task to make it better than Bruges!
TRAVEL NUMBERS @ BRUGES, BELGIUM
DURATION OF THE STAY: 1 DAY
TOTAL DISTANCE COVERED ON FOOT: 11,1 km
ACCOMMODATION: 0€
TRANSPORTATION

Train trip from Brussels (return ticket): 11€

FOOD&DRINK COST

Lunch + Hot Wine + Waffles: 18,70€

OTHER COSTS
TOTAL COSTS (€): 32,70€/pax
Have you visited Bruges?

Which place do you think is the top medieval city?