The 5 most annoying things about Rome that give me mixed feelings about the Eternal City.
Tutte le strade porteno a Roma (All roads lead to Rome), so goes the saying. Rome is indeed one of the top tourist destinations worldwide but that prestige comes with a toll.
In a place with such an historic impression, in the Eternal City of Rome you don't have to look too far to find examples of stunning art, architecture and charismatic places. Places that have filled your imagination since a child. Nevertheless, there are always two side of the coin and Rome sure can take its toll, specially on summer months.
1 | THE TRAFFIC
During my first trip to Rome in 2010, I was nearly runned over by a police car while I was crossing the road on a pedestrian crosswalk. Sometimes I feel I am at Pamplona's Running of the Bulls. And you are NOT the bull. Since that event, I know it is a bit survival of the fittest in the roman streets. If you value your life don't even try to rent a car in Rome.
2 | THE RESTAURANTS
It's a given: Romans are not the kindest human species out there. They aren't rude, but they sure aren't nice for the customers. But that's not the worst. You need to have a keen eye at your bill: they often like to charge an extra few items you didn't consume or overcharge the service (servizio). After our first complain, our bill was reduced in almost 10€ (!).
3 | THE TOURISTS
I know I am a tourist too, I know I count for the statistics. But MAN most of the time it's hard to find a local during summer time. Everywhere I looked there was someone with an umbrella or a ridiculous flower leading a huge group of asians who will photograph all the mundane and trivial things around them. This was particularly common in The Vatican. And how annoying it is when you are contemplating a monument, trying to embrace history, and a giant iPad blocks your view? No prejudice here, these are facts. You start to feel like cattle, which leads me to the next annoying thing about Rome.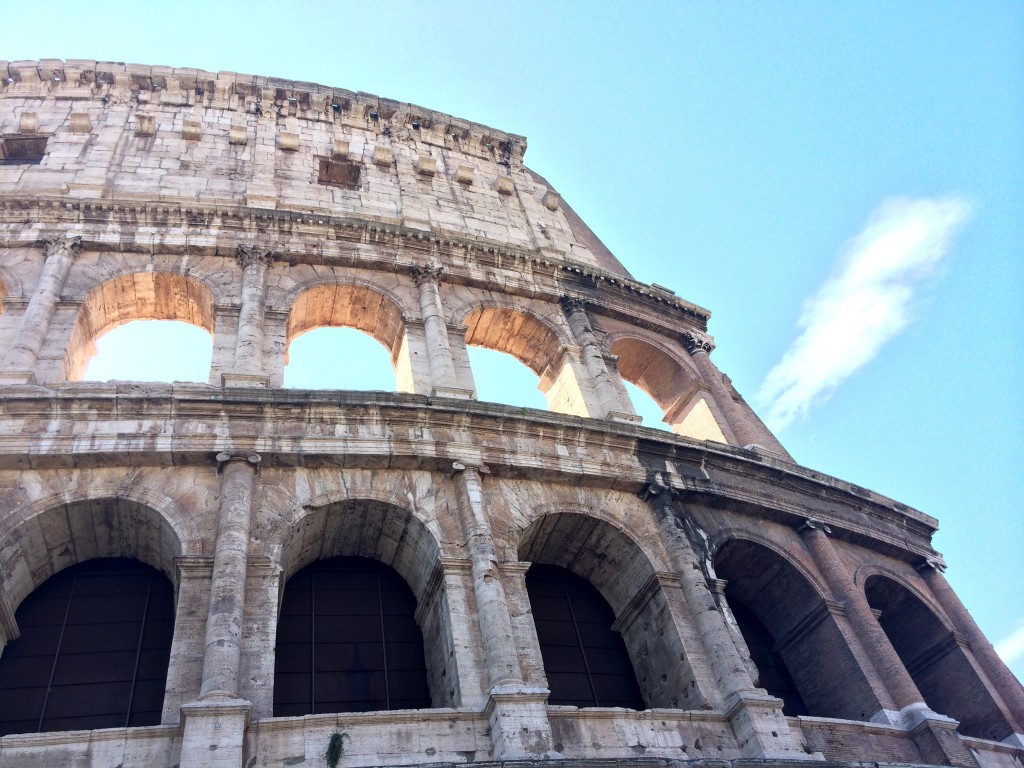 4 | THE LINES
There are lines for everything in Rome, including to enter restaurants and public WCs. The only place you won't find a line is to enter your hotel room (or maybe you will?…).
While these huge crowds can desperately slow down your entrance in monuments and museums, there are some ways to bypass this. The most obvious one is DON'T VISIT ROME IN THE SUMMER PEAK. As for the most iconic monument in Rome, the Colosseo, I am still amazed how people still do not know there are alternatives to spend half a day in a line under the blazing sun. I bought the ticket at Roman Forum at lunchtime, visited it and hit the Colosseum at 15:30. Sailed into both sites with minimal wait.
5 | TERMINI STATION
What to say about this place? It's confusing, there are people selling crappy stuff everywhere, it smells bad and the area is most known for the pickpockets during the day and the hookers by night. How pleasant, hun? For me, the most annoying were the people staying next to automatic ticket machines, imposing offering their help to buy you a ticket, expecting to keep the change in return. For our weekend city break in Florence, we used a credit/debit card to buy our train tickets.
Yet, for those on a budget like myself, the Termini area is likely to be where you end up based in Rome. For safety reasons, try not to stay too far away from the main streets. I stayed on Termini Station Rooms in Via Cavour, one of the main arteries in the city. Excellent value-for-money.
Do you agree with this list?
Tell me what's your take on Rome!