The world has been obsessed with this little Tuscan settlement for centuries. Today, no trip to Italy is truly complete without at least a Florence city break!

I see Italy as the ultimate paradise for travellers. Everywhere you go you're guaranteed to be wowed by delicious simple food, stunning architecture (check my Vatican City review article) and alluring historical cities and towns like the the city of Rome that are able to take you on a journey larger than life.
We have all this and then there's Florence.
FLORENCE CITY BREAK: THE DECISION
With a full weekend to spare in Italy and with all our friends defining it as the most beautiful place in Italy, our choice ended up being Florence (Cinque Terre, you're next, I promise!).
We used the secret hotel rooms system for the first time – highly recommended! – and next thing we knew our FrecciaRossa train was departing from Termini station in Rome to beautiful Firenze!
After a full weekend, the best compliment I can make is that I quickly realized the problem in Florence is not what to see, but rather what not to see. 
WELCOME TO FLORENCE
Florence amazed us right at the start with this BEAUTIFUL sunset. Right of the get go, this view. BAM!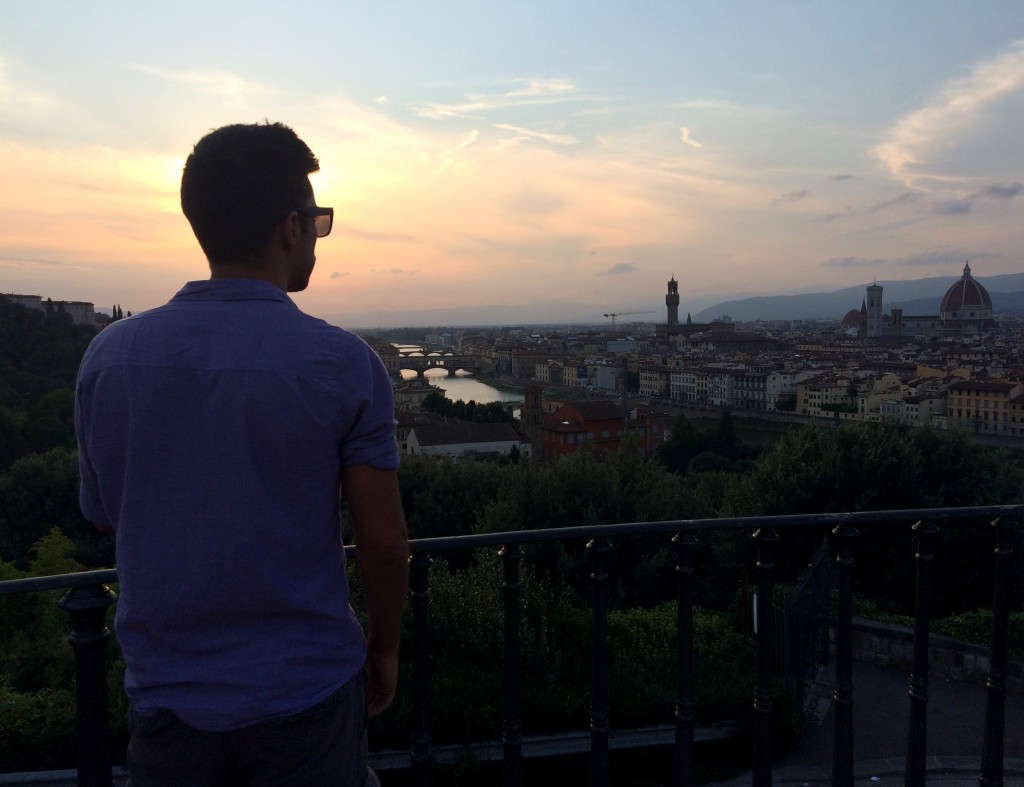 This is the view from Piazzale MIchelangelo, the most known spot for enjoying an unobstrocted view over not only Florence but all Arno valley. We got there on foot, wandering through the Oltrarno, the neighborhood on the other side of the Arno river and were rewarded with this incredible scenery with the Tuscan hills as a backdrop. The piazza is dedicated to the most famous Renaissance artist, Micheangelo, and the center of the square also displays a replica of his most famous statue, the David, safeguarding Florence.
In search for a more quiet place and slighty uphill after a short walk along the Viale Galilei, we found the picturesque church of San Miniato al Monte, which remonts to the 11th century. Although there are some trees blocking some parts of the city, the view here can be as stunning.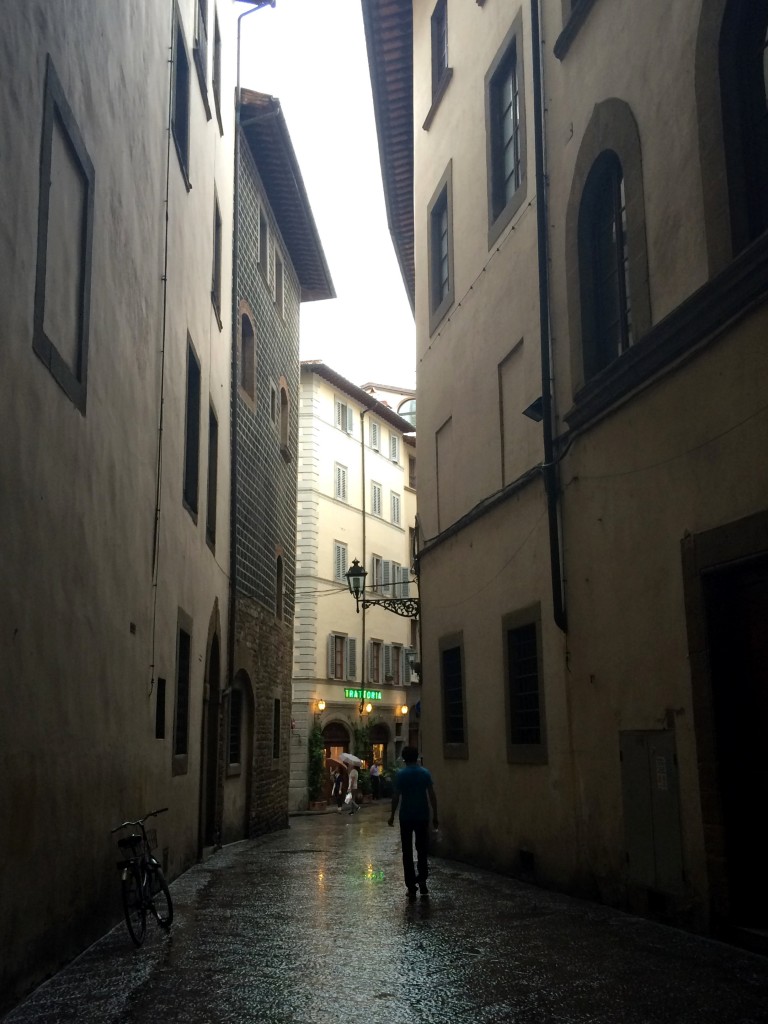 THE MEDICI HERITAGE
While for centuries Florence had been the epicenter of political and religious tumults as inumerous shifts of power, its golden era coincided with the 15th century and the birth of Renaissance. At that time, Florence was the place to be. As a self-governed, independent city-state (commune) and the seat of the most impressive artistic, technological, and scientific flowering, Florence became a glorious hub of tremendous innovation, due largely to the funding of the powerful Medici family. They took power in 1434 and their political and financial influence spread, particularly ruled by Lorenzo de Medici (Il Magnifico) who turned Florence into the most important and beautiful city in Italy. If you watch Da Vinci's Demons like I do, this part of the history is surely familiar. If you don't, please do it before your trip. From my experience, Florence gains a whole new layer of interest.
Medici's heritage is still present, with places like Palazzo Medici-Riccardi (Medici's old palace), the Boboli Gardens and the Medici Chapels (the burial place for the family) remarked as one of the most imposing landmarks in the city. As a matter of fact, it is impossible not to be swept away into the Renaissance times, surrounded by the ammount of well-preserved historical architecture and impressive art.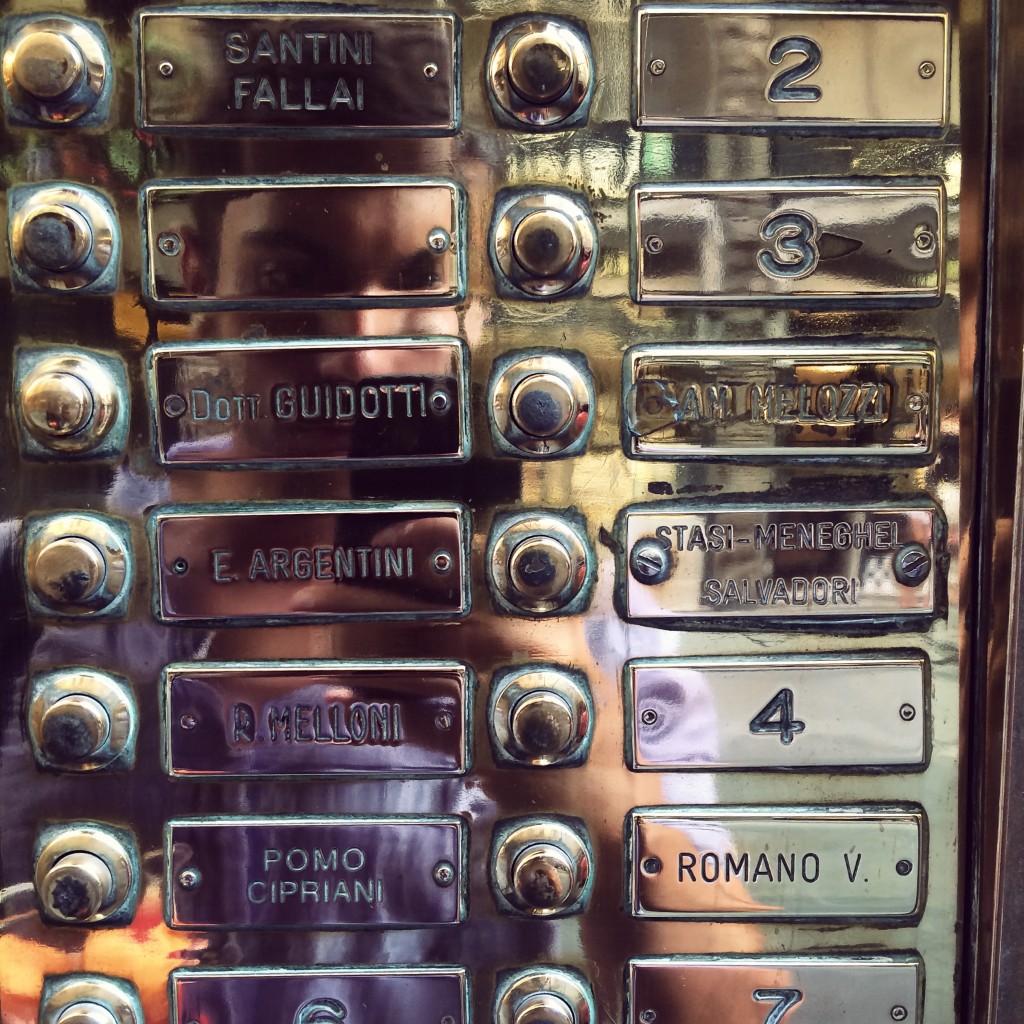 ART AND CULTURAL CENTER
The ex libris of Florence is clearly the Santa Maria del Fiore cathedral, or more simply, Il Duomo. Three letters to define this place: O.M.G. With a facade built with only three types of marble (pink, green and white) and designed to look it is all painted. It took 150 years to complete and it shows. I never seen nothing like it. The building of its dome, by Brunelleschi (he used 4 million bricks!), set the tone for the creative explosion that defined the Renaissance period. And the interior of the dome is at least as incredible as the exterior.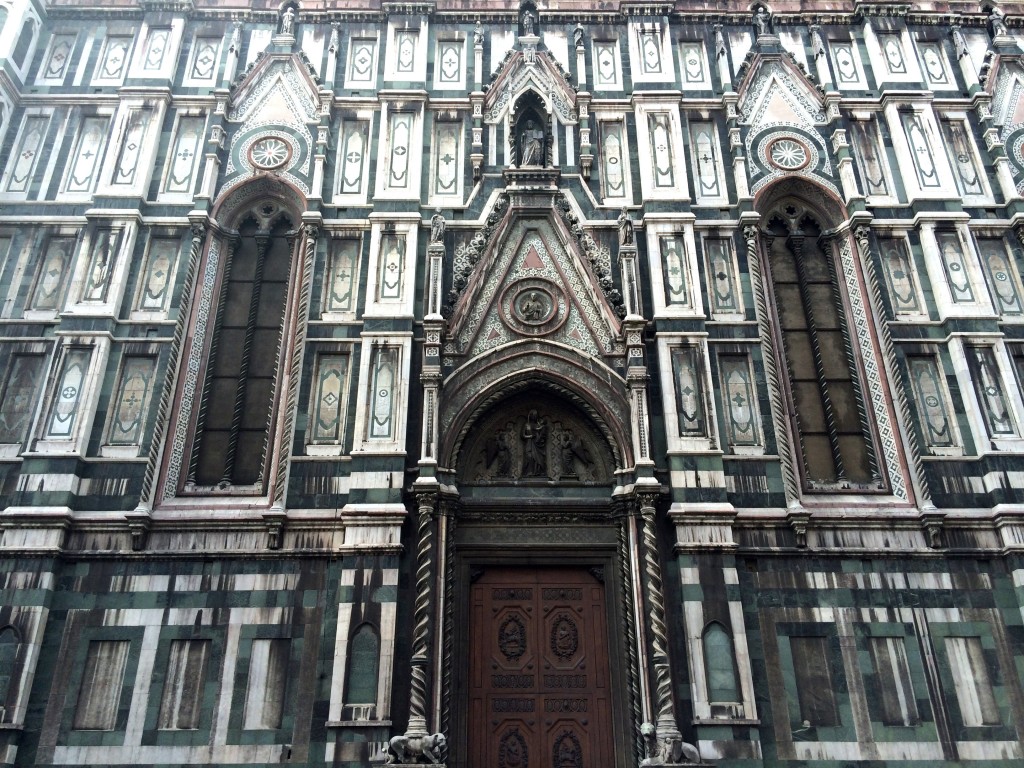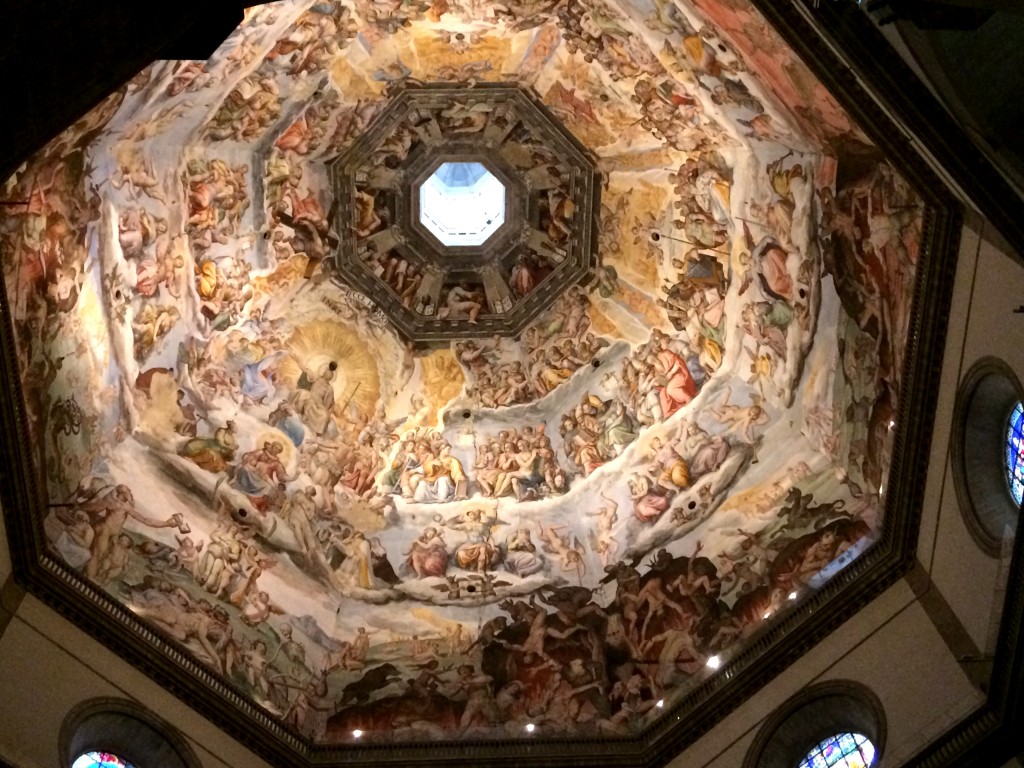 Ponte Vecchio is another of Florence's iconic landmarks. Spanning the Arno river, its shops have been initially occupied by butchers but since the Medici era, they sell gold, gems, jewellery and souvenirs. Another curious note I learned: During World War II and unlike all the other bridges in Florence,  Ponte Vecchio was not destroyed by Germans due to an express order by Hitler. I can see why. And now I understand why it is the Florence's postcard: this bridge metaphorically represents the whole history of the city. Maybe that's why the view of Ponte Vecchio during sunset is the most vivid image from Florence in my memory right now.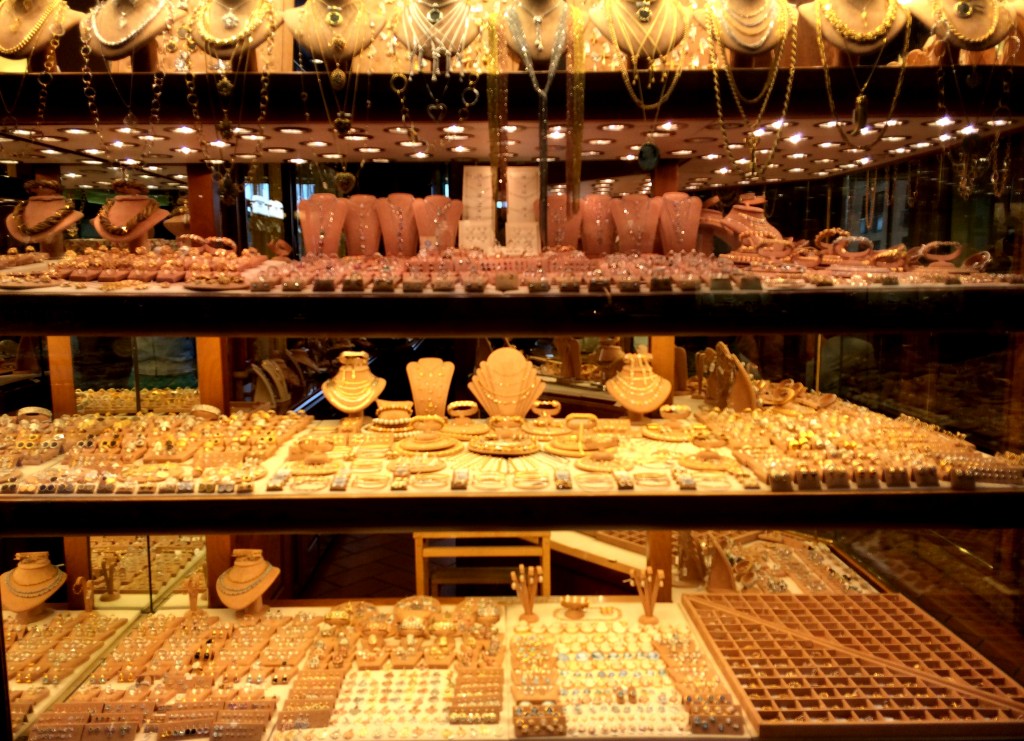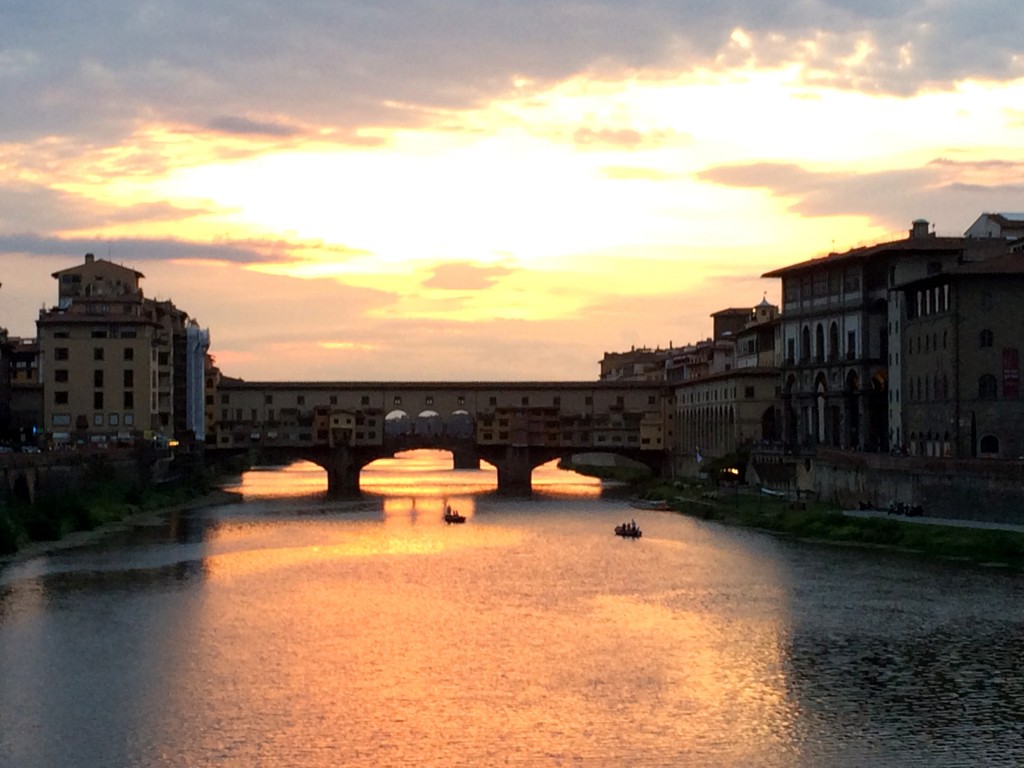 I didn't spend too much time in the lines. I didn't climb Brunelleschi's dome because the line almost entirely circled the cathedral. I didn't enter the Uffizi Gallery, which alledgely contains one of the best art collections in the world because it was raining and literally everybody lined to be inside. Being very optimistic, I would probably need a whole day just for these two, which didn't seem to be a very smart idea with only a weekend in Florence. Still, for some reason yet to be explained, we entered Galleria dell'Academia, without knowing much about it. In fact, the only thing we knew is that it had the statue of Michelangelo's David (the real one).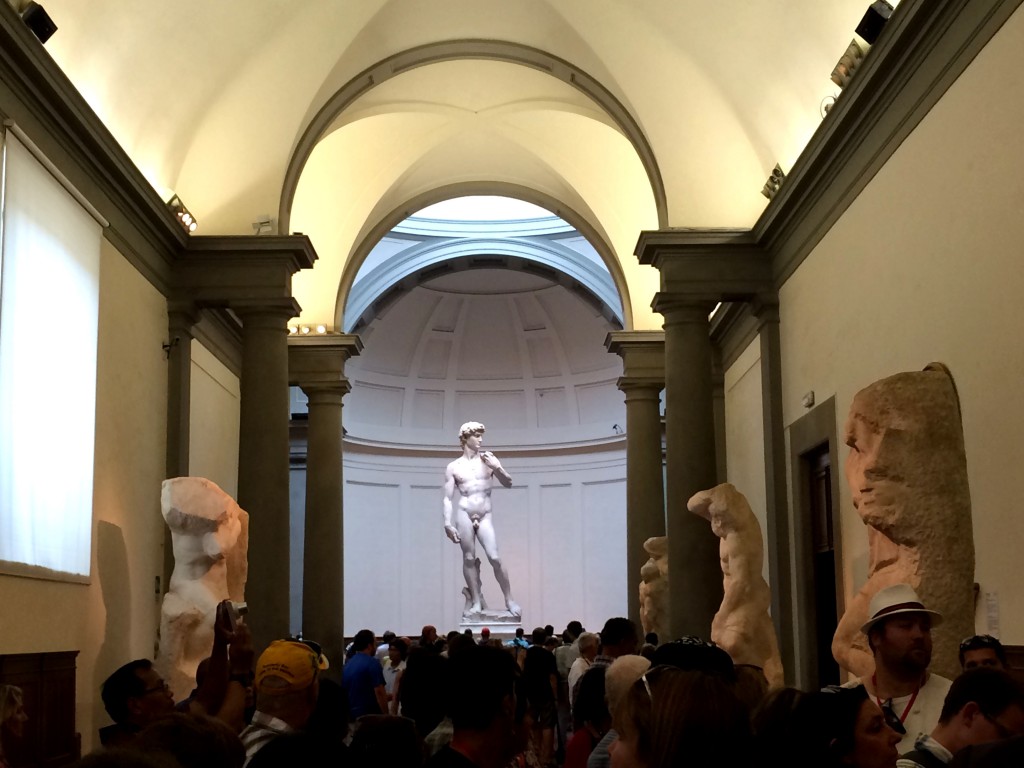 He was bigger than I imagined and he certainly can cause an impression in person. However, there are two other real-size replicas in the city which can perfectly satisfy your curiosity about its genitalia and the museum as a whole is one of the worst I've been. In fact, I hated it. Basically, there were clearly too many people within the narrow corridors admiring a rather boring art collection, which mainly consists of sacred art. It was a severe waste of time.
The scenery at Piazza Della Signoria is a lot to take in. This is and always have been the heart of the city. In a exquisite L-shape square there is as astonishing number of points of interest: the Uffizi Gallery, the Fountain of Neptune, ANOTHER replica of David (among many other sculptures at the outdoor museum named Loggia della Signoria) and of course, Palazzo Vecchio which is also the city hall. The artistic level per m2 here is gigantic. During summer nights, Piazza Della Signoria holds several classical, opera and jazz concerts. We happened to experience a classical concert and oh boy, what an experience.  The maestro was jumping, clapping and frenetically conducting not only the orchestra but also the euphoric crowd. I am not used to this sort of celebration of art in southern Europe and it felt so similar and so different from a random pop concert at the same time.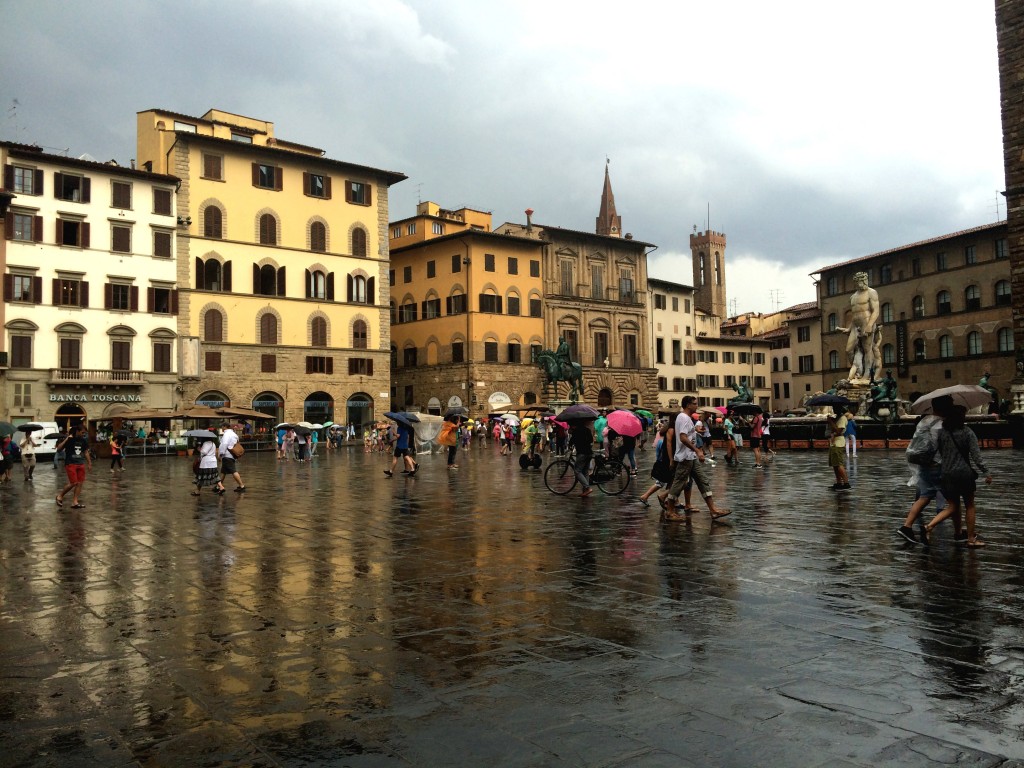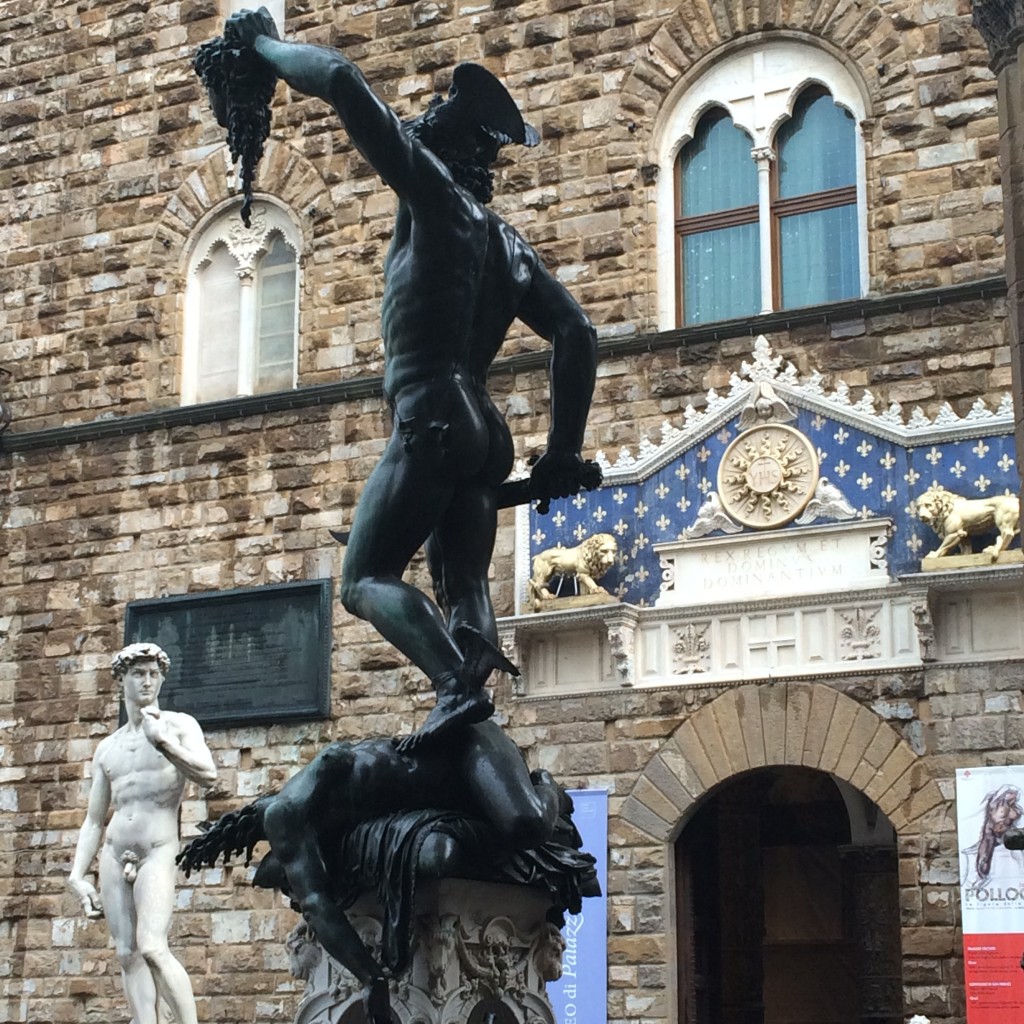 Florence is unlike any other italian city. While the historical center is buzzing with the massive crowds consuming Renaissance art (the biggest concentration of Americans and Asians I have ever seen), just a few streets away there is a village vibe which I really think it's its differentiator factor. Like the Arno riverside, where there were just a few people strolling or riding bikes. Or the buzz of San Lorenzo flea market and nearby streets (I must have a thing for markets…). These are the places where I find bliss and the authentic Firenze.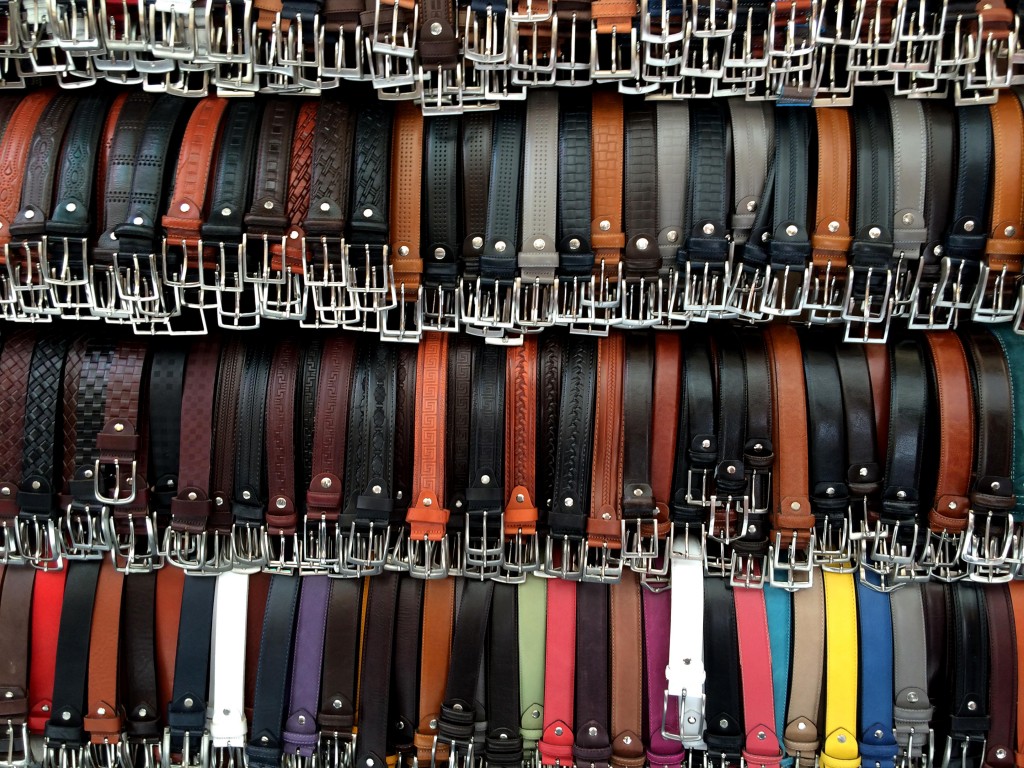 Hotel prices rise every single day. Don't waste any more time booking yours!
APERITIVI TRADITION IN FIRENZE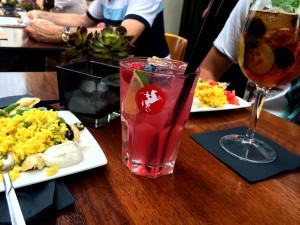 Every few steps in Florence you will be taken by the smells wafting from the trattorias, osterias, and of course the pizzerias. We tried the so called best pizzeria in town,
Il Pizzaiuolo
. They claim to serve the real pizza 
napolitana
and not only was the best pizza in Florence, but the best one I've tried in whole Italy. Now I'm seriously considering doing a pizza trip to Naples!
Anyway, after a few days eating pastas and pizzas (we were in Rome before), we were looking for something different. At that point, I was a giant carbohydrate in human shape wandering around. Luckily we were in northern Italy, where some cafés and bars have sort of an happy hour called aperitivi, a selection of small bites to go along with your drink. This usually goes from 17h to 19-20h, but can go until 22h! While it's not technically a dinner, you can enjoy quality genuine food and drink instead, the Italian way. And the best thing is that many of these bistro's are instantly transformed into hopping bars or nighclubs once the aperitivo time ends. 
Judging exclusively by the deliciousness of the food as seen throughout the window, we ended up choosing Oibò. A cocktail for €8 gives you free access to the buffet (cold pastas, salads,  couscous and fruit) and to a terrace with a privileged view to Piazza Santa Croce. No need to say I fell in love with this concept.


THE TOURISM THREAT
It's now time to discuss the big elephant in the room. Over time, Florence has seen countless invasions of several enemies and now it is being massively invaded by tourists. Wherever there is a church or mini-church, there is a ticket booth (and the entrance is never below €6). Whenever you notice an interesting architecture detail, there are 20 Asians photographing it behind you. And there is a real danger that you half of your time in Florence is spent in a line for something. Even David's genitals are overly marketed.
All this combined can't do good for the charm of a city and certainly does not creates a positive individual experience.  I'm afraid Florence will be losing a bit of its enchantment over time.
But don't get me wrong. I loved Florence. It is a big city with the vibe of a lost-in-time medieval village and lots of eye candy to entertain your body and soul. I think the secret is not to try to squeeze it all on your visit. It will be much more amusing if you find new ways to explore this jewel of Italy and really get off the beaten path. Biking on the Arno's riverside? Wander around the market? Riding a vespa through the Tuscany's vineyards? Hell yes. I just wish I had more time in Florence to do it. 
FLORENCE MINI TRAVEL GUIDE
How to get to Florence
Florence has a quite big international airport with several flights to anywhere in Europe and United States. I usually use Skyscanner to compare the flight prices.
You can reach the city also by train. Although not exactly cheap, railways in Italy are super reliable and effective. Try to book in advance to be the first one getting the low-cost tickets.
Where to stay in Florence
I highly recommend using Booking.com to find accommodation on your travels. They're highly reliable and the website and apps are super easy to use. Love them! Get start with this of the hotels with best reviews in the Florence.
Best time to go to Florence
Florence in July was absolutely packed! Shoulder season in Europe is a smart way to travel to Europe. Between April-June and September-October you can get better prices, mild warm weather and fewer crowds.
What to do in Florence
Enjoying one of the many classical concerts held on Piazza Della Signoria gave me chills. I think is a great idea to celebrate the cultural athmosphere of the city. Also, do not miss the sunset at either Piazzale Michelangelo or San Miniato al Monte, depending on your physical fitness.
What NOT to do in Florence
I profundly regret the money I've spent to enter Galleria Dell'Accademia. The art collection is not that vast and there are two other real-size replicas of David to satisfy your curiosity about his genitalia.
Also, try not spend all your time in Florence on the line for the major tourist attractions. Skip one or two and take a stroll or a biking ride near the Arno. You'll have much more fun!
What to eat in Florence
C'mon this is Italy. You just can't stop eating gelato. The best one I tried was at the bio gelateria Edoardo.
Have you been to Florence? What was your favorite spot?