The reputation makes one wonder: Is Mexico City safe? TLDR is that while I found Mexico City to be WAY safer than what people think, there is some important safety tips everyone should follow for a hassle-free trip.
Reports of crime and violence in Mexico City (CDMX) have made many headlines on the media, so it's natural the question "Is Mexico City safe?" is on everyone's lips.
Quite frankly, my experience in Mexico City was way more relaxed than in Rio de Janeiro and about the same as any european city with pickpocketing problems. It's not Japan, but it isn't a warzone either.
Crime events tend to happen away from the central districts where tourists tend to be located. So these days downtown CDMX – which includes the main tourist areas – can even be considered safe. Yay!
However, bad things can happen. According to Numbeo, Mexico City is on the top 30 cities with more crime worldwide. Not exactly a stellar score, albeit safer than some US cities.
Here are 11 tips to stay safe in Mexico City and give you more chances of a stress-free trip.

Top hotels in Mexico City
I've made the hard work for you.
This is a pre-filtered list of hotels in the safest areas to stay in Mexico City.
1

Get a SIM card

More and more, I find getting a SIM card is a question of safety, more than convenience. With a SIM card, you can use mobile data to find your whereabouts in the city, call an Uber, check reviews of places, or even to contact others in case of help.

I used GigSky to buy an eSIM to my iPhone. Use the code BRUN138 for a $5 off your first card.

Alternatively, you can buy a SIM card when you're already in Mexico City. Hop into of the many Telcel stores (there's one at the airport's terminal) or into an OXXO convenience store.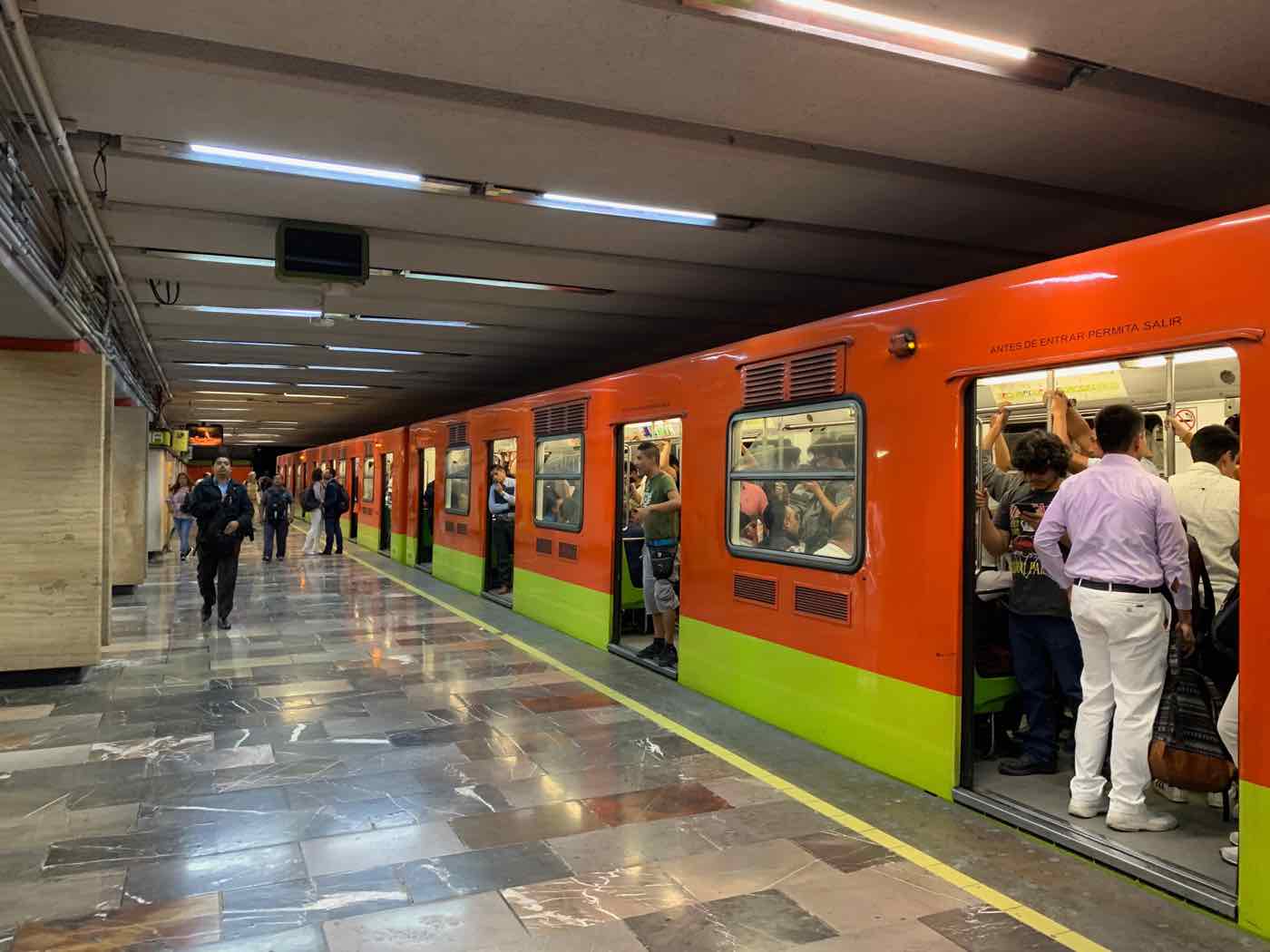 2

Never take public transportation at night

At night, always take an Uber to move around. A friend of mine, born in Mexico City, advised me of this one.

After sunset, buses and metros can be sketchy and criminals target solo travelers (especially women) with more frequency. In fact, there have been some mysterious and unsettling reports of women disappearing in the city's metro system.

Even during the day, solo female travelers should take advantage of the female-only carriages available and stick to their side of the platforms whenever possible.
3

Stay in the safest neighborhoods

In such a massive city of 20+ million people, every district is entirely different from its neighbor and the place where you choose to base is absolutely key. Pick a safe, well-lit and central barrio to stay in Mexico City and your chances of a hassle-free dramatically increase.

The safest neighborhoods to stay in Mexico City are the Centro, Roma, and Condesa districts.

On the other hand, avoid the more dangerous areas of Tepito, La Lagunilla, Doctores, and Mercado Merced.
Where to stay in Mexico City, on a map:
4

Be extra careful in the pickpocketing areas

Just like in any major city, touristy areas are the delight for pickpocketers. A crowded metro station or busy commercial street is they preferred habitat.

Be extra aware of your mobile phone, purse, wallet, and pockets when going to the following places.
Zócalo
Bellas Artes
Francisco J. Madero street
Donceles street
Any metro station, but particularly Zócalo, Pino Suárez or Bellas Artes
5

Take care of your money

Cash is obviously a sensitive item and you should take all precautions you can when taking out money and carrying it throughout the city.

First of all, avoid bringing all your cash with you. It's wise to estimate the amount of cash you'll need each morning and leave the rest at the hotel. I do the same with debit/credit cards and never take all of them with me.

If possible, spread your cash by different locations (purse, wallet, pockets, jackets, etc). A money belt can be an interesting purchase. If you're traveling with more people, share the total money amongst yourselves.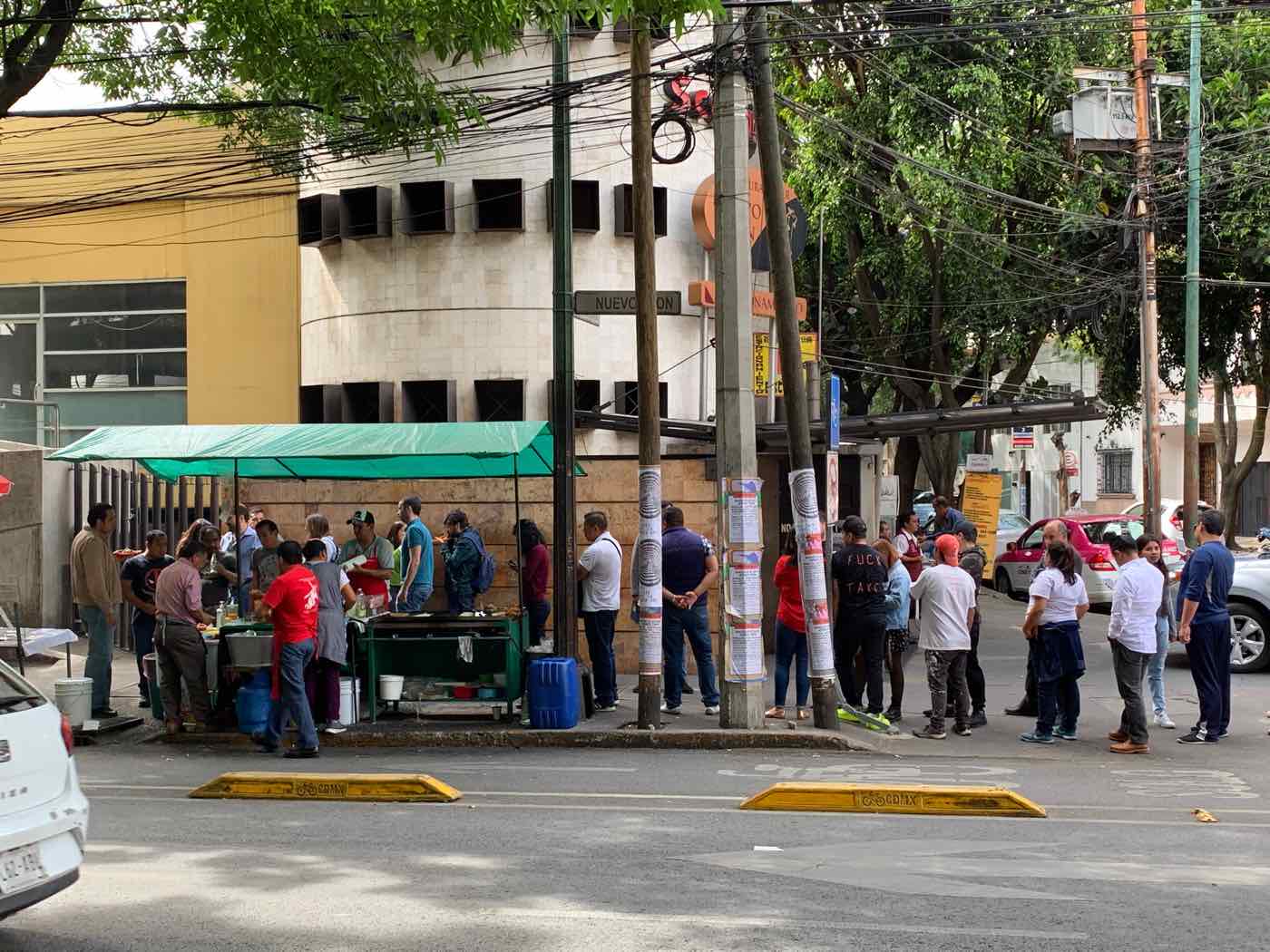 6

Be careful with what you eat

Mexico City is a true paradise for foodies, with cheap taquerías every other door and street vendors selling all kinds of delicious snacks and treats. Indulging on an epic dose of tacos has never been easier.

Please don't refrain from trying the local food. Eat whatever you want, but choose wisely. Pick the stalls that have more locals. If those extra 10 minutes on the queue means fewer chances of getting ill, it's worth it.

Additionally, avoid drinking the tap water and wash your hands as frequently as you can.

Top hotels in Mexico City
I've made the hard work for you.
This is a pre-filtered list of hotels in the safest areas to stay in Mexico City.
7

Blend in

The first step to being mugged is to draw unwanted attention. Keep in mind not to look like a tourist. Easier said than done if you're a blond tall Norwegian, but the more you can do to look and act like a local, the better.

So if you don't want to become a walking 500 peso bill, avoid rocking a cliché tourist outfit with flip-flops, shorts, and expensive camera around the neck, when the rest of the city has pants and sweaters. Also, don't try to "dress Mexican" with a poncho and sombrero. Just dress… normal.

ℹClimate of Mexico City

A common problem with travelers going to CDMX is that they expect the same all-year round tropical weather as in Cancún or Playa del Carmen.

The capital has an entirely different climate than the rest of the country and can reach low temperatures (below 5 degrees Celsius) in January and February. Most of the year though, you'll find mild temperatures.
View this post on Instagram
8

Prefer Uber over taxis

Robberies and kidnapping in taxis are rare in Mexico City, but not entirely unheard of. Any possible way to verify if the taxi you're boarding is legit are welcomed:
Only use sitio taxis, usually safer and trackable, but more expensive.
Look at the photo on the driver sheet on the window and check if it's the same person.
But honestly? Even if the driver and car are legit, taxis in CDMX are known for ripping off clients whenever they can. I can't be bothered.
I found that the best way to move around in CDMX outside the rush hours is to call an Uber or Grab. It's a double guarantee: 1) you're using a licensed taxi 2) you're paying the fair amount for the journey. Prices fluctuate depending on demand and traffic, but for reference, a 15-minute ride should cost about 60 pesos.
9

Take travel insurance

Wherever you go, you should take a travel insurance. As contrary as to what many think, it's not something just for the adventurers looking to climb mountains or try extreme sports. It can happen to anyone.

Rest assured Mexico has very good health care and you'll be well treated in case you're injured. However, we don't want to pay the expenses out of our pocket, do we?

Travel insurance can also secure your most precious items, including tech gadgets like phones and DSLR cameras. Get a quote from Allianz or Safety Wing.
10

Tap water is not to be trusted

My biggest problem during my whole trip to Mexico turned out to be diarrhea, very likely from drinking water or drinks with ice cubes.

Hey, maybe my gut actually benefited from making some Mexican friends and it took the opportunity to grow my defenses. But I don't recommend to anyone.

It's generally a better idea to play it safe and drink bottled water. Also, reuse the bottles when you can. In restaurants, ask for agua del filtro or agua del garrafon (filtered water) instead for yet another plastic bottle. The planet says thank you.
11

Leave your passport at the hotel

Never carry any original documents with you when you're wandering around the city.

Leave them at the hotel preferably. If you think you'll need your passport, visa, or another important document, take a copy (or photo) with you.

Where to stay in Mexico City
The most important decision you can make to safeguard your trip. Here's a quick take on the top neighborhoods to stay in Mexico City.
Condesa: definitely the most upscale district, that could belong to any european city. The chilled lounge bars, tasty bistros and wide leafy avenues are a welcomed breather from the chaos.
El Centro: Mexico City's downtown. Stick to the southern half, where most monuments, government buildinds, markets, and squares (including the overscaled Zocalo) are located.
Roma: hipsters rejoice, this your spot. Trendy coffeeshops, alternative decor shops, craft beers, and a fair amount of street art.
Zona Rosa: some famous monuments are here (e.g. the Angel of Independence) but this is the district known for partying and for being Mexico City's LGBTQ core.
Where to stay in Mexico City, on a map:
Is Mexico City safe for sure?
Let's put it this way.
You're a bit of an idiot if you don't take basic tips to stay safe (avoid sketchy areas at night, use flashy jewelry, etc). Additionally, if you follow the tips I just shared, you should have an extra layer of protection by making you more aware.
However, you'd even of a bigger idiot if you shorten or even cancel your trip to Mexico City because you're afraid. Bad things can happen anywhere, don't let fear win. And especially don't miss out on one of the most vibrant and culturally interesting cities in the world.
Ok but what if something happens? 😱
In the rare situation where you see yourself being the victim of a crime or even kidnapping while in Mexico City, the first rule on your mind is: do not resist. As frustrating as it is to let your attackers take all your possessions, any item can be replaced; your health can't. There's NOTHING on you worth going to the hospital for.
A common type of theft occurs in some urban areas where victims are forced to withdraw funds at a cash point to secure their release. This is referred as "express kidnapping". Have a look at other common scams in the city.
If you're a victim of this (or any other crime), report it to the Ministerio Público.
ℹEmergency numbers in Mexico City
911 – Police
066 – Ambulance
080 – Fire services

Top hotels in Mexico City
I've made the hard work for you.
This is a pre-filtered list of hotels in the safest areas to stay in Mexico City.
Which other Mexico City safety tips and advice do you want to add to this list?
Share your experience below!