Struggling making a decision between Hanoi vs Ho Chi Minh City for your upcoming trip to Vietnam? In this article I'm comparing both cities in terms of food, safety, places to visit and overall vibe for you to decide its overall travel potential. Which one is the right for you?
Vietnam is not the easiest of countries to travel in but at the same time is one of the most rewarding and fascinating to visit.
As part of my month-long trip to Vietnam, I had the chance to visit both of its major cities.
Hanoi and Ho Chi Minh City (formerly Saigon) are very similar in some aspects. The flavorful street food options, the quaint traditional shops and surely the hyperactive pace led by the endless hectic traffic of scooters crossing the streets.
Still they look and feel completely different. How do they actually compare as a travel destination? Let's go into the nitty gritty!
Food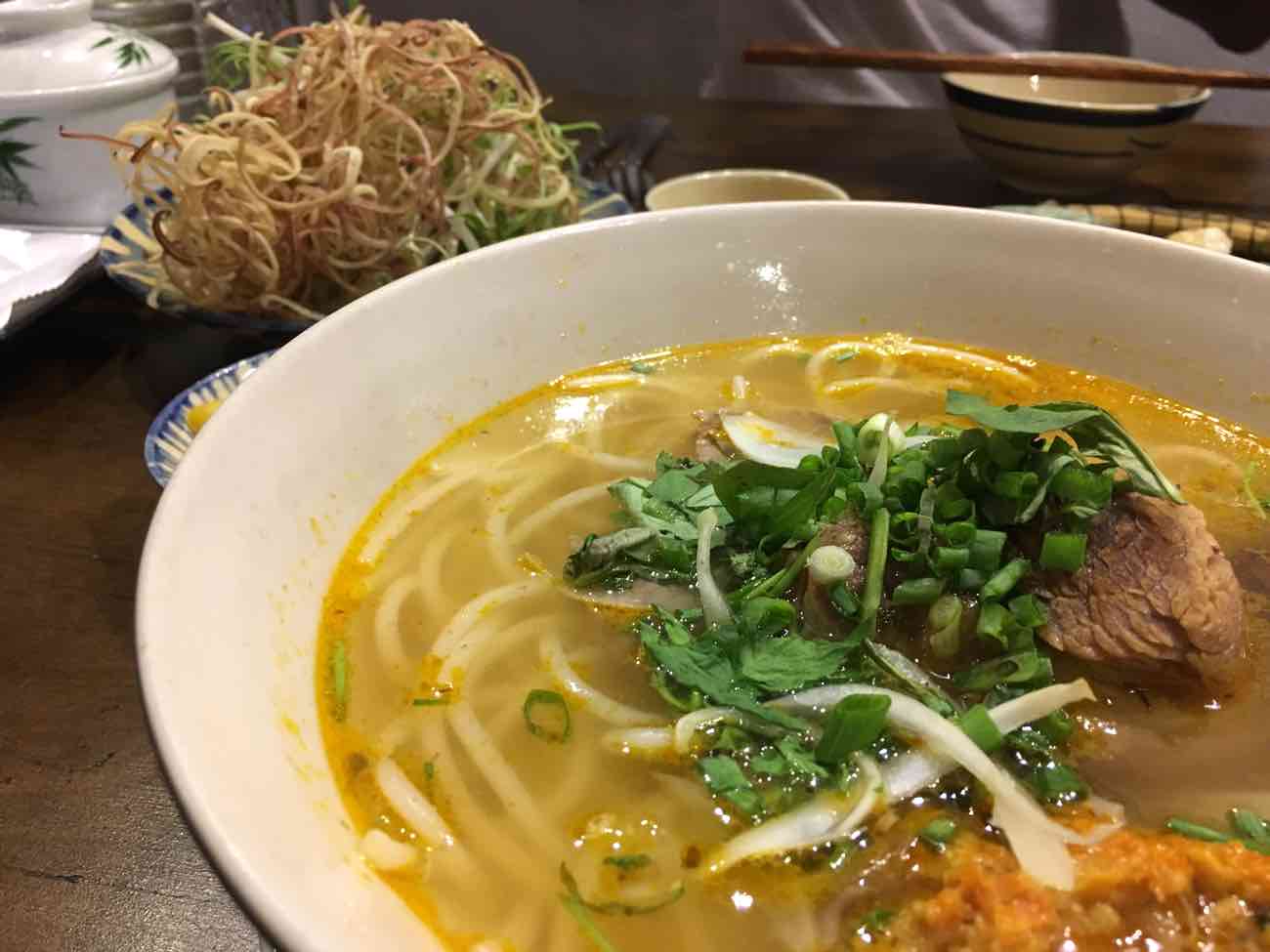 The entire Vietnam is a true gem to try affordable mouth-watering dishes. Expect lovely combinations involving mint, dill, lemongrass and turmeric. Honestly I think both Hanoi and Ho Chi Minh City are amazing places for foodies.
The national dish, pho, is king in Hanoi. This delicious hearty noodle soup with meat and fresh greens is available in virtually every restaurant and street food stall. It's a satisfying meal for less than a $1. There is no shortage of other local delicacies though like banh mi (filled baguettes), bun cha (grilled pork and noodles) and gỏi cuốn (fresh translucid spring rolls).
HCMC is a bit more ecletic and modern. Apart from street food options at least as solid as its northern counterpart, it has a strong café culture thanks to the French influence and a huge variety of international restaurants. From the local stall to fine-dining experiences, the food spectrum is wider, earning former Saigon the title of food capital of Vietnam.
Ho Chi Minh City trumps Hanoi on this one. 0-1.
Weather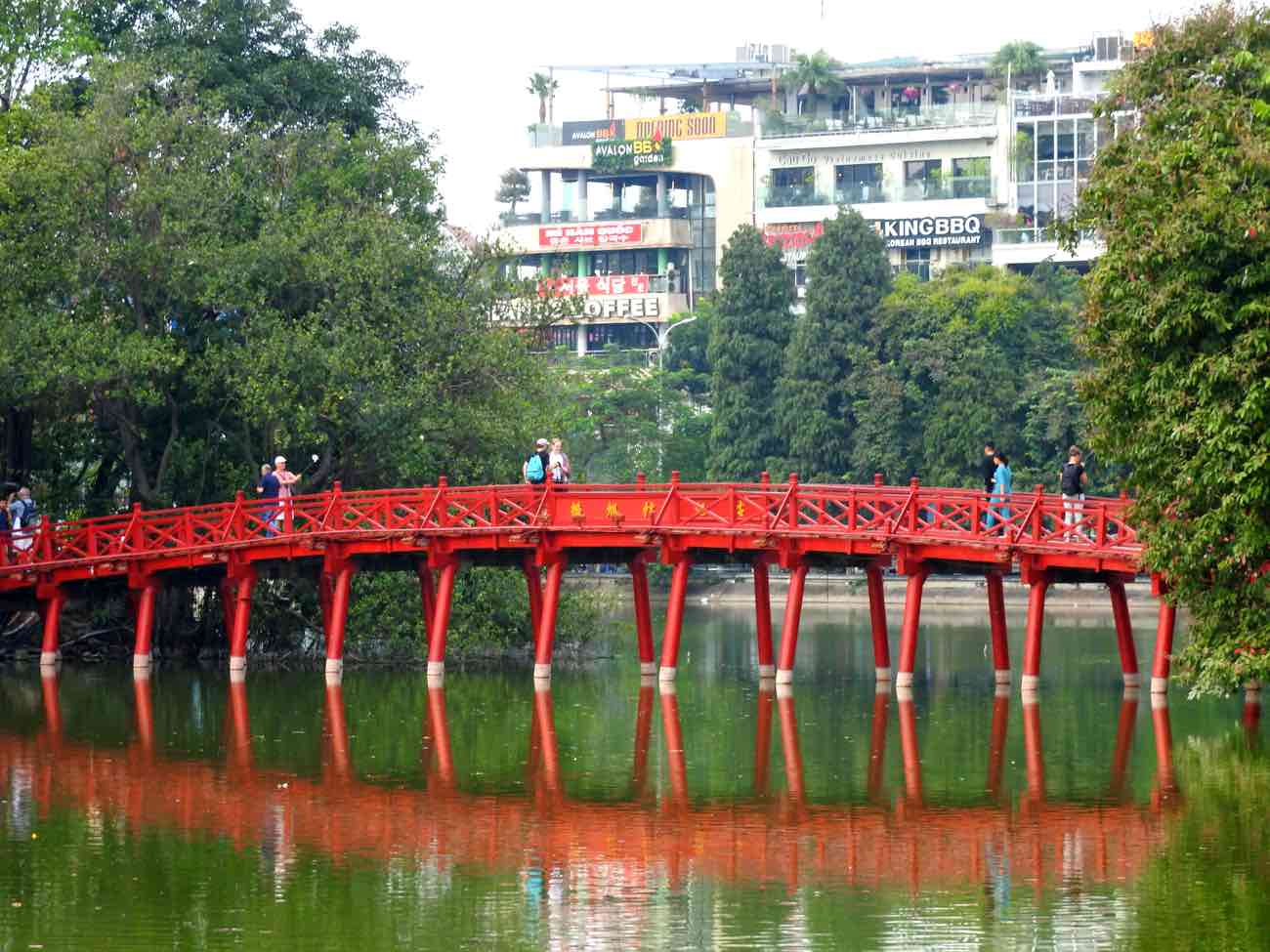 Even though they're part of the same country, there's a marked difference between the climates of Saigon and Hanoi. In fact Vietnam is so spread out that weather changes dramatically in each region.
Hanoi is located on the Red River delta, up North. Expect hot wet summers and cool dry winters. It can get quite cold here during northern hemisphere winter so from September to November and from March to May are 2 best periods to visit Hanoi.
Ho Chi Minh City lies 1130km (!) south of Hanoi, on the southern tip of Vietnam. With a tropical climate, there are only 2 defined seasons (wet and dry). The best time to go is obviously during the dry season, from December to April.
When it comes to weather, the warmer the better. Ho Chi Minh City wins again. 0-2.
Safety
Let's be honest, Vietnam doesn't exactly hold the award for the safest and scam-free country in the world. As a foreigner, the sad truth is many people WILL try to take advantage of you. The more you look like a tourist, the more often it will happen.
Vietnamese people are not violent or aggressive in any way, but be cautious of pickpocketing and overcharges in tour agencies, hotels and shops.
Tip: carry your stuff thinking somebody will try to steal it. Not going to lie – it's tiring after a few days – but it's the best way to keep everything safe.
Scams are not uncommon in both Hanoi and Saigon. In Hanoi, there was a lot of pressure to book overpriced tours for Sapa and cruises in Halong Bay. From my hotel to shops and street vendors. Also, anyone who offers to pose with you on photos will eventually ask for money.
My experience in Ho Chi Minh City was more hardcore though. I'm pretty sure they tried to clone my card in a restaurant (they removed the safety strip I had put in the 3-code digit on the back). Also bag snatching there reaches another level with people mounted on bikes stealing belongings from the ones walking on the sidewalk. In a city with 6 million motorbikes, that's a real problem.
Overall I felt safer in Hanoi: it wins the point on this one. 1-2.
Cost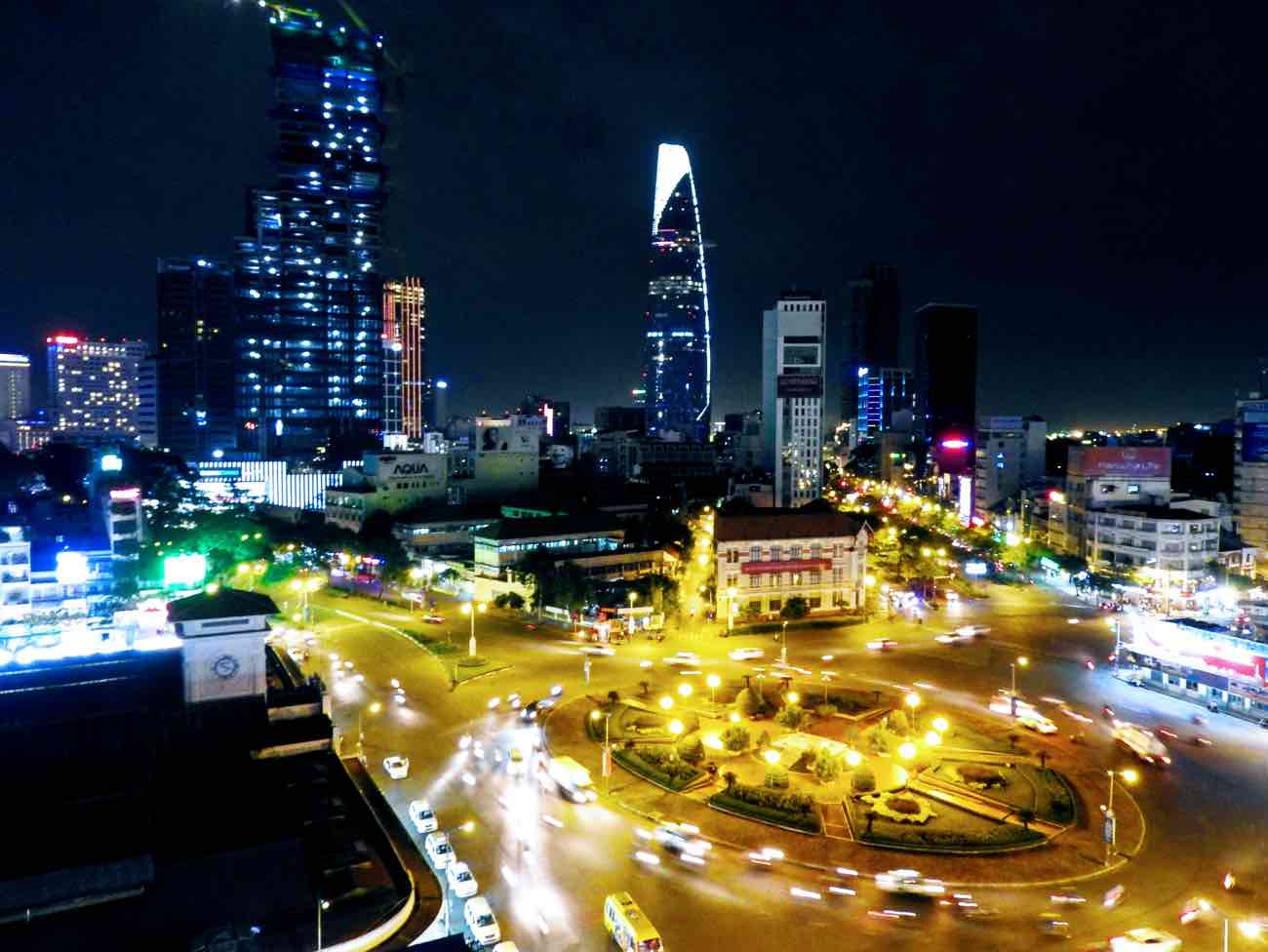 Vietnam is in general very inexpensive. The major cities are perhaps the places where prices are more inflated, but even so a standard local restaurant has much lower prices than anywhere in the West.
Saigon feels more developed and it has a larger number and variety of infrastructure. Particularly in terms of food, here's a bit of everything from improvised restaurant terraces on the sidewalk to high-end dining. Both my cheaper and most expensive meals we've had in Vietnam were in Ho Chi Minh. The same range of prices can be found in hotels and shops.
My impression is that if you want to travel on a shoestring budget, Ho Chi Minh City offers the best opportunity just because it has a larger offer. But don't get me wrong, you can easily spend less than $40 per day in Hanoi, accommodation included.
Even though Numbeo sees it as a close call, I think Ho Chi Minh City has a slight edge on cost for travelers. 1-3.
Accommodation
Both cities have a big choice of great hotels with excellent value-for-money ratio. As a heavy user of Booking.com I've never had to decide between so many hotels with 9+ ratings like in Vietnam!
Accommodation in Hanoi
Hotels in Hanoi tend to be properties with original concepts and extremely personalized services.
Amongst the streets of the Old Quarter there are elegant colonial buildings with a wide offer of accommodation.
Accommodation in Hi Chi Minh City
Saigon on the other hand, offers more variety – from the backpacker's hostels in Pham Ngu Lao Street to fancy hotels targeting business and high-end travelers in District 1.
Honestly can't decide, so a point for each. 2-4.
Sights & Things To Do
Sightseeing in Hanoi: Temples & History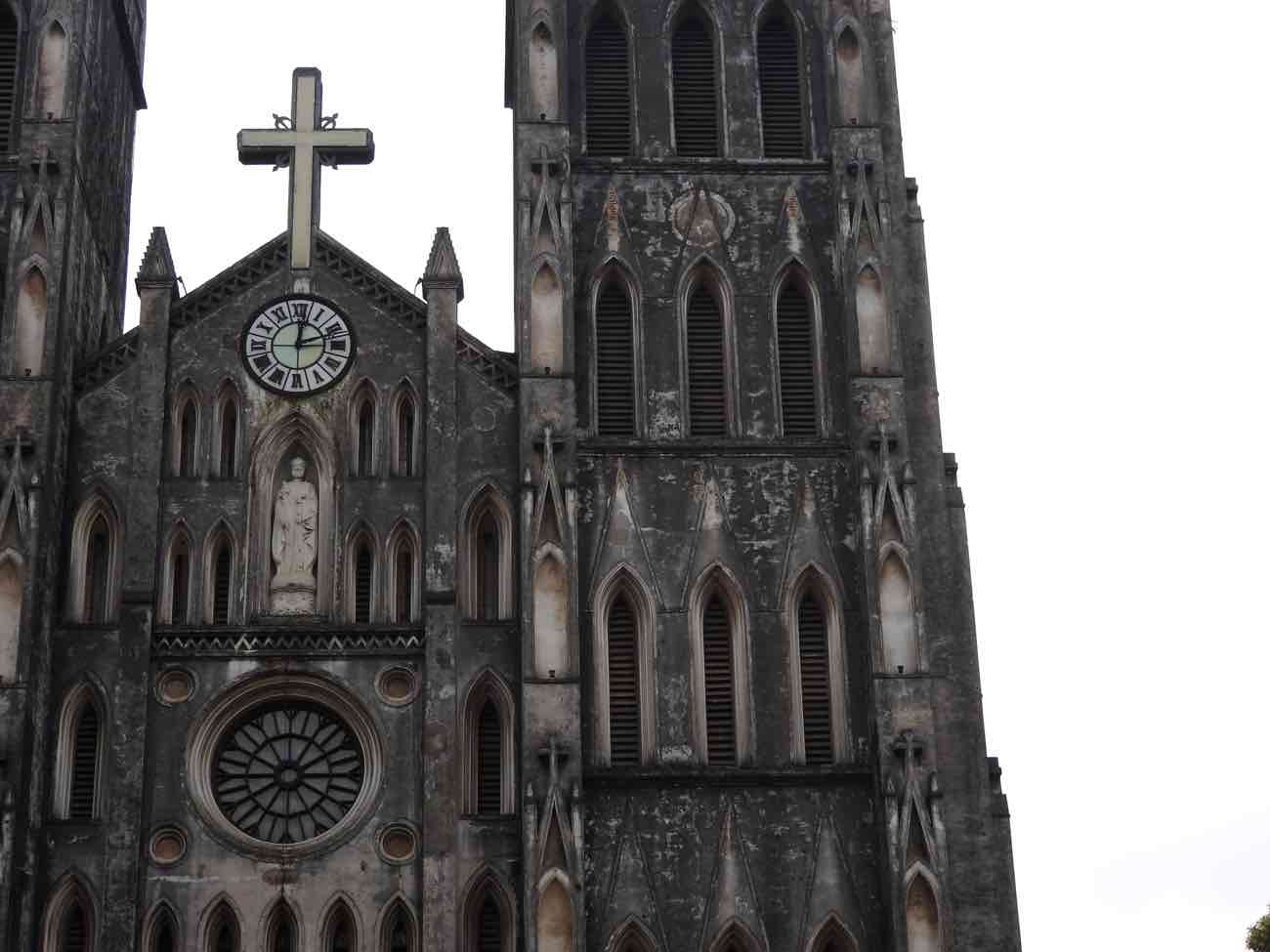 Saying I fell in love with the atmosphere in Hanoi is an understatement. In the middle of such a chaotic city, there's genuinity and history flowing in between the pagodas, shops and markets of the Old Quarter. The city is considered the cultural capital of Vietnam for a reason.
Here are Hanoi's top attractions:
Old Quarter: fascinating maze of streets to get beautifully lost and indulge in great food, haggle in the hundreds of artisan shops for anything you could possible want. Each street is unique and is reminiscent of a time where each was specialized in selling one type of item.
Temple of Literature: Home of Vietnam's first national university, this picturesque temple and its grounds are an intelectual escape from the noisy center.
Hoan Kiem Lake: The focal point of the city. You can find people doing tai-chi classes on its margins.
Sightseeing in Ho Chi Minh City/Saigon: War & Colonial Buildings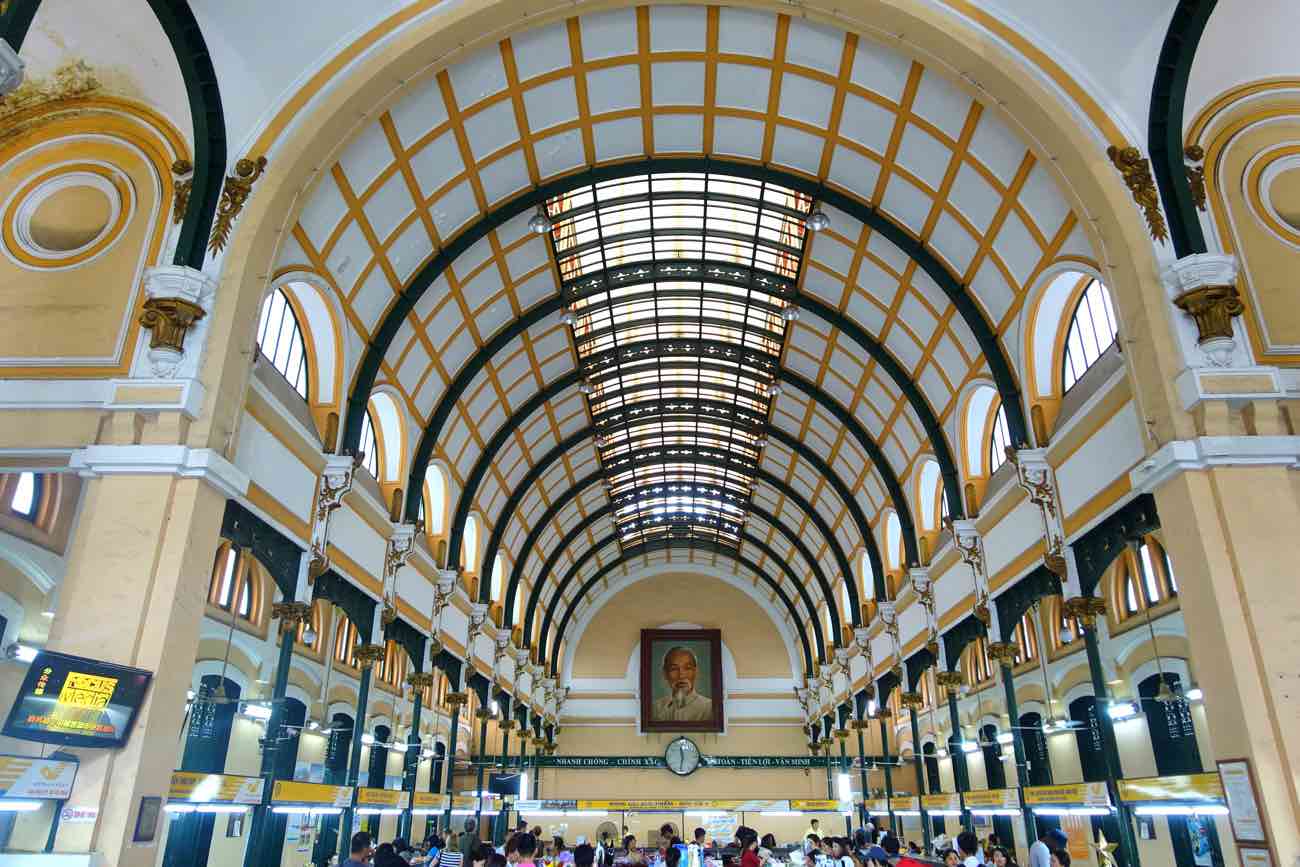 Ho Chi Minh City is much harder to get around. The most popular attraction – Cu Chi Tunnels – are really far away so you'll need to get your own wheels or book an organized tour. Nevertheless there are still things to do.
Here are Saigon's top 3 attractions:
Golden Dragon Water Puppet Theater: go here for an authentic Vietnamese puppet show who takes place in the water. It's odd but entertaining.
Saigon Notre-Dame Cathedral: yes, thanks to the French influence, Saigon has its own Notre-Dame Cathedral! A true colonial architecture delight that really stands out in the landscape of the city.
War Remnants Museum: since most of the fighting in Vietnam War happened in the south of the country, many evocative artefacts can be found in the city. Eye-opening, impactful and gruesome.
Overall Hanoi definitely wins this one, it's much more interesting as a tourist. 3-4.
Day trips
Day trips from Saigon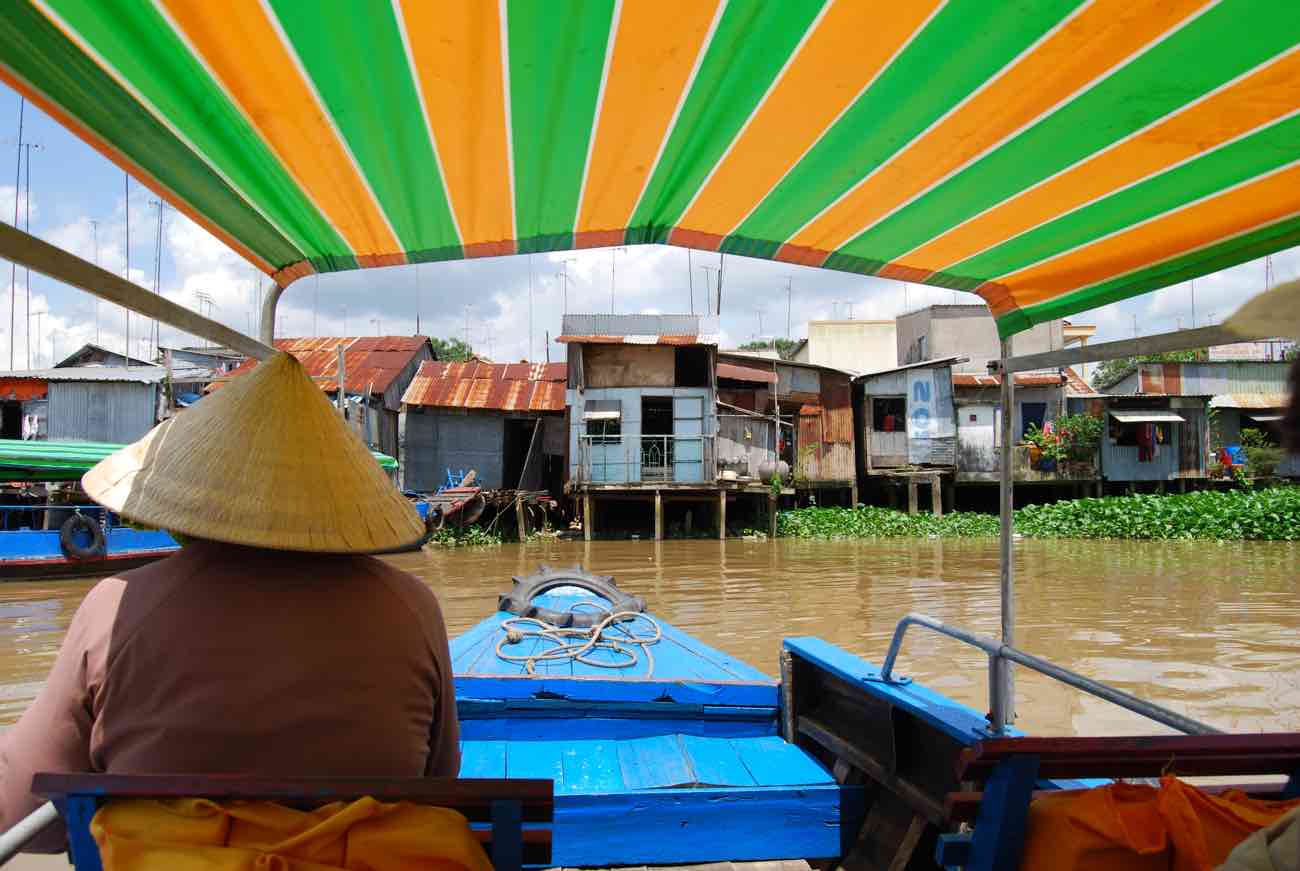 A top option for a day trip from HCMC is the Cu Chi tunnels. During the Vietnam War, this incredible but claustrophobic work of engineering was used by the Viet Cong Army. Tours are best booked through a travel agency.
Further south, the Mekong Delta is one of the most unique experiences to have in the whole country. Tours allow you to cruise the river on a private long-tail boat while glimpsing into floating markets and the fascinating aquatic lifestyle of the locals.
Day trips from Hanoi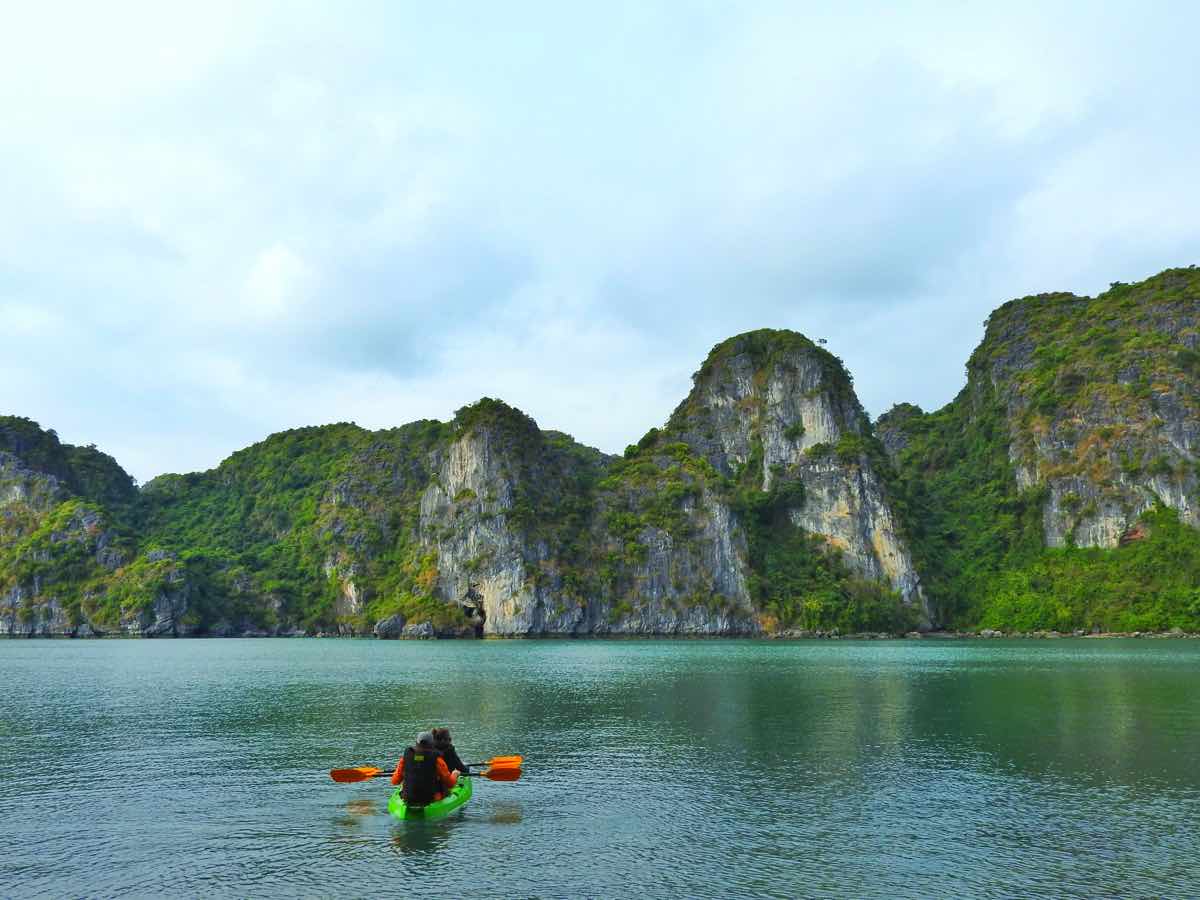 From Hanoi, you can reach one of the Modern 7 Wonders of the World. Halong Bay is a breathtaking seascape of limestone rocks emerging of calm blue waters. Technically it can be visited as a day-trip, but for a more slow-paced unique experience, people normally opt for 1,2 or 3-day cruises. There are hundreds of options so I've written an article on how to choose the best cruise in Halong.
Another popular day trip from Hanoi is the Ninh Binh, appropriately nicknamed the "Halong Bay in land". It's a dreamy landscape of rice fields, pagodas and limestone cliffs unlike anything I've ever seen before. By far my favorite part of Vietnam and I highly recommend adding 2/3 days here to your itinerary.
There are great day trip options on both, but Hanoi has the edge. 4-4.
People & Lifestyle
People from the northern Vietnam are known for being a bit more blunt and formal than further south. Not that they're rude. It's just traditional values still dictate most of the behaviour of people in Hanoi and they can easily come across as less friendly.
On this sense, I believe the influence of other cultures, specially American and French, had a great impact in Ho Chi Minh City. Innovation and modernism are encouraged and in general everyone is more open to engage with foreigners. We had friendly people spontaneously starting conversation with us when we were sitting on benches in a park.
Without wanting to cause a war, I think Ho Chi Minh City wins the people's award. 4-5.
Shopping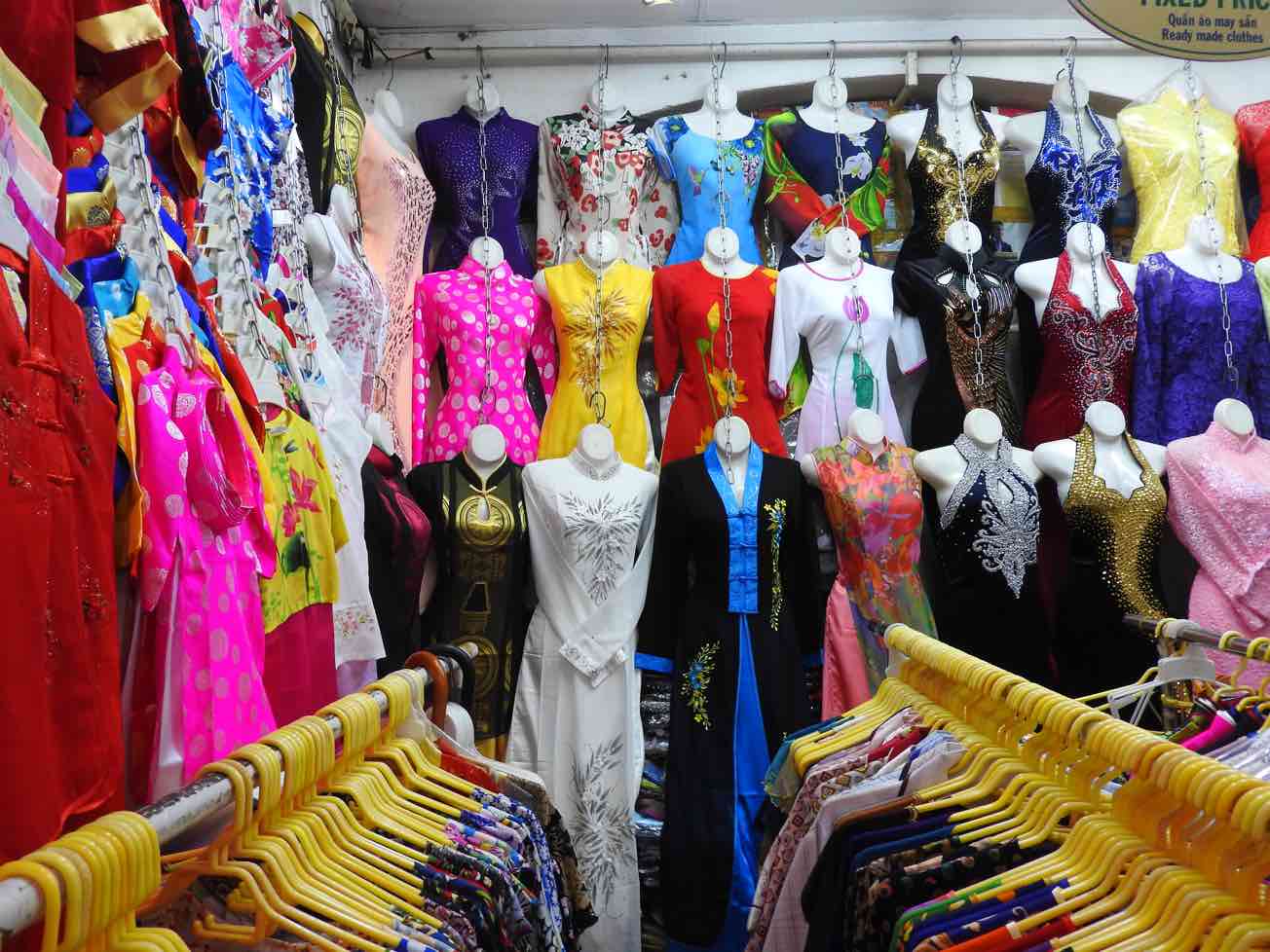 Neither of these 2 cities have the spectacular impact of shopping experiences found elsewhere in Asia – looking at you Bangkok. But if you're looking for bargains, you can't go wrong in Hanoi and Ho Chi Minh City.
In Hanoi's Old Quarter the streets are still named according to pre-colonial times. Each one of them is specialized in a certain type of products like shoes, silk and silver items. Souvenirs, textiles and other unique handmade items are also common.
In Ho Chi Minh City you can haggle pretty much anything in the world-famous Ben Thanh Market. Higher-end shops and modern shopping malls like Takashimaya Vietnam and Vincom Center complete a rather more comprehensive and varied shopping scene. Superior shopping in clothing and electronics.
This really depends on what you're looking to shop. It's a really close call but Hanoi is more authentic. 5-5!
Hanoi vs Ho Chi Minh City: Where To Go After All?
So it's a tie 5-5! What to do now?
The truth is Hanoi and Ho Chi Minh are contrasting cities in many ways and they shed a different light on Vietnam as a country. If you have enough time on your hands, include both on your itinerary for a more well-rounded experience.
However if you have to take a pick, this has to come down to your travel style and what do you plan to do in Vietnam. In a sense it's a showdown of history vs innovation, tradition vs modernity. The below can help:
Why to choose Hanoi over Ho Chi Minh City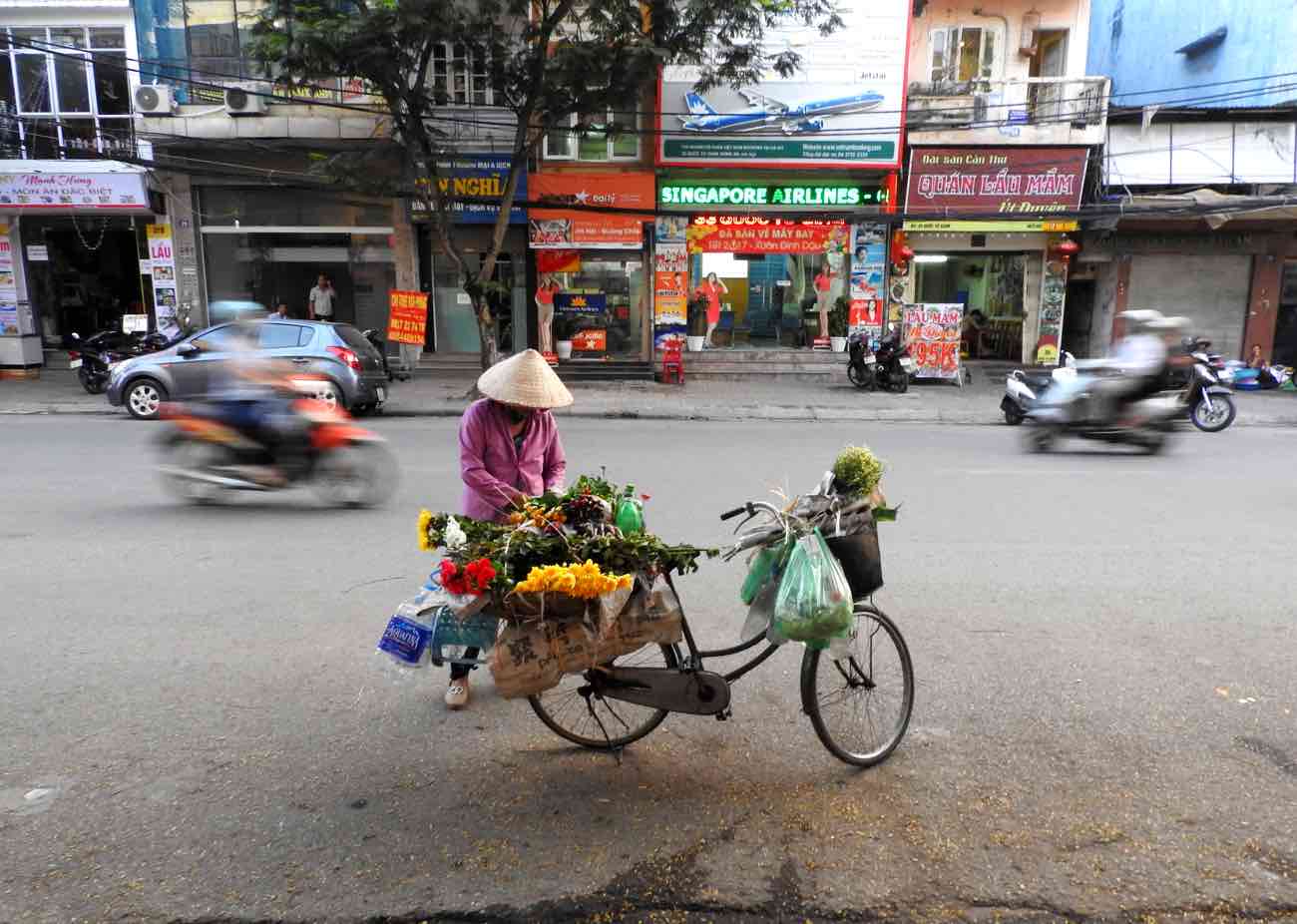 Somehow, Hanoi feels like a big village. Even though it's a massive metropolis, the Old Quarter has managed to keep grasps of authenticity. The artistic, traditional and creative side of Vietnam is more evident here.
If you're in Vietnam just for leisure and in a short schedule, I'd definitely choose Hanoi. It has a fascinating mix of culture, parks and architecture and overall enough things to keep you busy for days.
It's also closer to some of the most amazing experiences you can do in the country such as cruising Halong Bay and exploring the Ninh Binh region.
Why to choose Ho Chi Minh City over Hanoi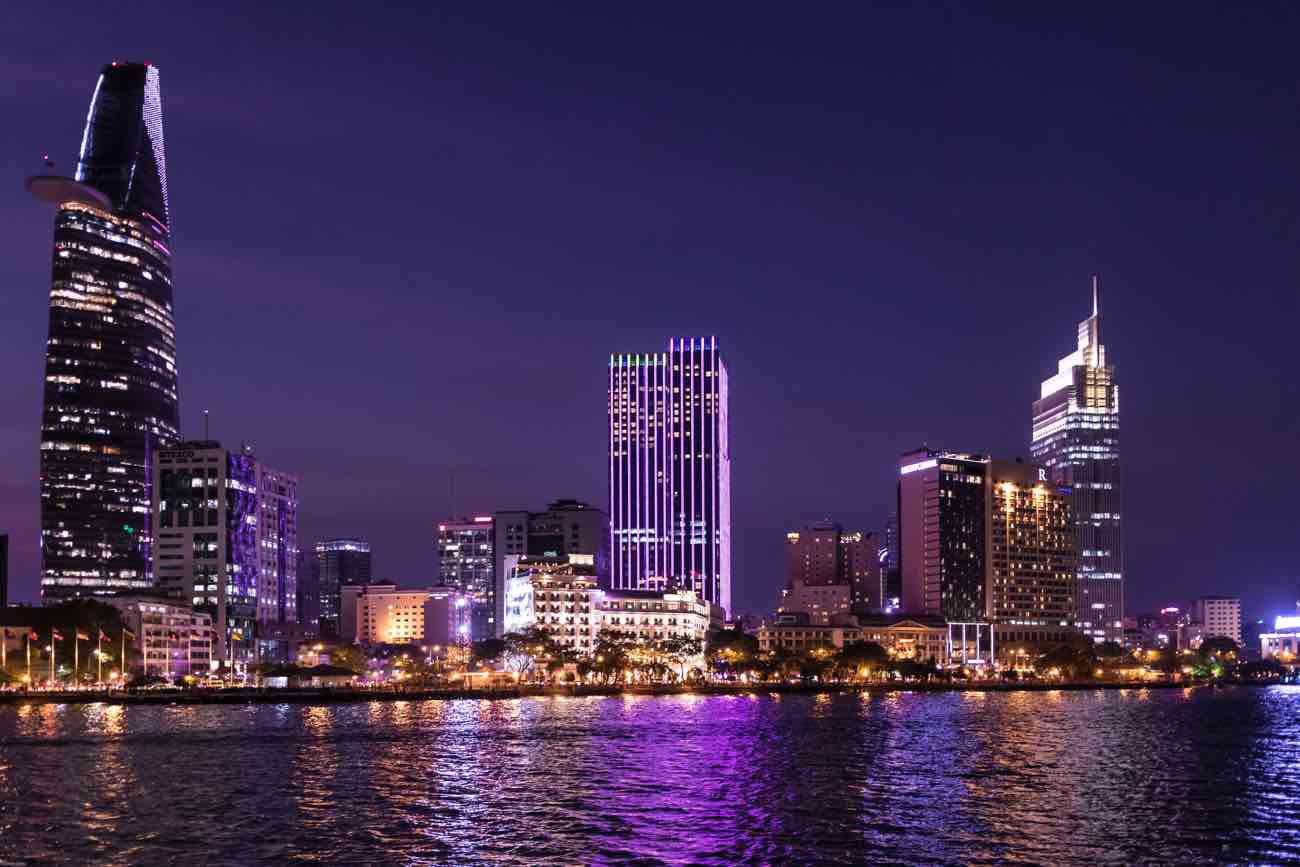 As the business and economic beating heart of Vietnam, Ho Chi Minh City feels much more busy and lively. There are more things happening and it has superior better infrastructure for tourists. It's more Westernized and boasts a wider range of options for eating out, shopping and partying late. Surely one of the most exciting cities in Asia!
If you're in Vietnam for a longer period, Ho Chi Minh City is definitely your place to settle. It doesn't come as a surprise that many entrepeneurs and digital nomads choose Saigon to settle for a few weeks/months. Side note: the coffeeshops and co-working spaces are the best I've seen in the entire world.
In between the chaos, there are great opportunities for a high standard of living in HCMC.
Hope this article helps to make up your mind on this Hanoi vs Ho Chi Minh City decision!
Would love to hear where are you heading in the end!