Some of the most memorable days of my 2-month backpacking trip in Asia were spent in Ninh Binh, Vietnam. I'm sharing my full detailed Ninh Binh itinerary to visit Vietnam's hidden gem.
The whole Ninh Binh province is an extremely low-key and amazingly scenic place, still not packed with tourists (yet). It's the perfect place to get to know the real authentic Vietnam.
The drawback of this is that information online about Ninh Binh is still scarce and confusing. Apart from my Ninh Binh guide, of course.
It can be challenging to plan a trip independently to Ninh Binh, but anything is WAY better than to explore Ninh Binh on a soulless and rushed organised tour together with dozens of other travelers.
As a matter of fact, try to stay away from tours in the whole Vietnam.
Ninh Binh Itinerary – Sections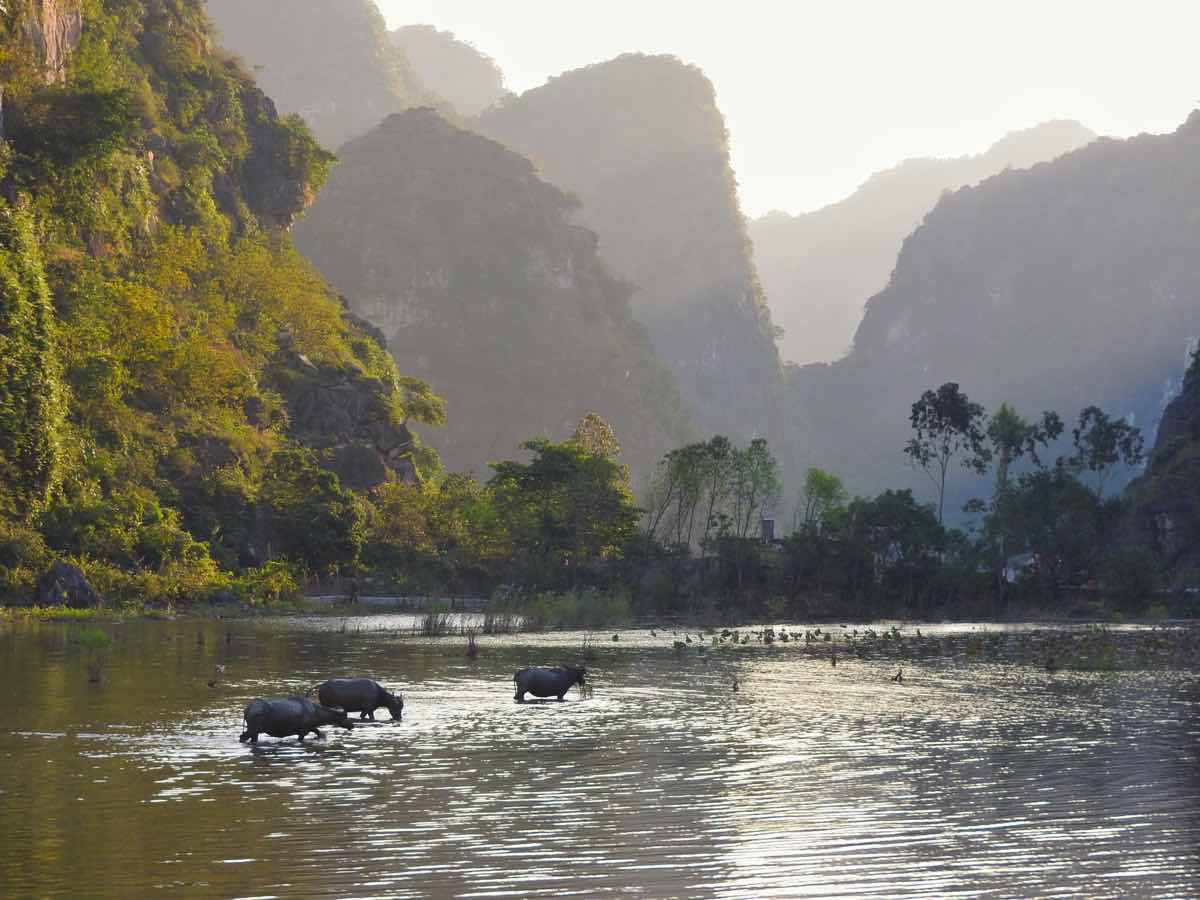 Ninh Binh Itinerary & FAQs
Some introductory notes about this itinerary:
Who is this itinerary for?
The itinerary is based on my own trip. It's tailored for independent travelers making their own way in Ninh Binh. I believe this is the way this region should be explored.
How to get around in Ninh Binh?
While there are plenty of tour agencies, it's better if you have your own wheels. Rent a bike or a motorbike. I strongly recommend the latter, at least on the first day of the itinerary.
How many days do you need in Ninh Binh?
I recommend staying in Ninh Binh for at least two days. Anything less and you'll need to cut down on some important sights and/or rushing your trip. And who wants to stress while on the countryside?
How rushed is this Ninh Binh itinerary?
It's definitely NOT a rushed itinerary. You can squeeze in more places if you want. However I suggest allowing some time to really take in the scenery, explore the area calmly and – why not – get wonderfully lost!
2-Day Itinerary to Ninh Binh
I've put together a map to help you navigate around Ninh Binh area in these two days. It contains all of the main sights and places worth going – IN ENGLISH!
There's also some additional sights in case you've got more time or want to switch up something.
Day 1 in Ninh Binh – ORANGE pins
Trang An Grottoes
Hoa Lu Ancient Citadel
Bai Dinh Pagoda
Day 2 in Ninh Binh- PURPLE pins
Tam Coc Rice Fields
Bich Dong Pagoda
Hang Mua
Thung Nham Bird Park
Additional places worth seeing in Ninh Binh – BLUE pins
Tam Coc Boat Ride
Phat Diem Cathedral
Van Long Nature Reserve
Cuc Phuong National Park
Now let's go in detail about these sights!
Day 1 in Ninh Binh
This first day only has 3 places, but each one of them will need a couple of hours to explore. I strongly suggest you get around on a motorbike as distances between these sights are significant.
Trang An
A UNESCO World Heritage Site, Trang An Landscape Complex is an impressive set of large limestone karst cliffs covered by forest. In the entire area, you can find temples, dozens of valleys and about 50 different caves.
The best way to enjoy this inspiring scenery is to take a boat ride. A lady rower will row the boat for you, the technique they use to manouevre the boat inside the underwater caves is truly amazing. It's unreal the amount of effort these ladies has to put every day for a living.
Since the whole trip lasts for about 2 hours (!), I helped the rower for some time by using the spare oars.
Trang An was definitely a main highlight of Ninh Binh and apparently a much more beautiful and relaxing ride than Tam Coc's (see below). Being surrounded by the huge mountains in almost every direction while on a tiny boat is truly a spectacular feeling. Don't miss this!
Trang An Boat Ride – Tips
📍 Where: Trang An is 7km away from Ninh Binh and about 11km from Tam Coc. You can get there by bike, just make sure you head to the pin in the above map – simply searching by "Trang An" in Google Maps will lead you to another place.
⏱ How long: The ride has a duration of 2-3 hours.
💰 How much: The entrance fee is 250k dong + a parking fee for your vehicle.
💡 Tip: Most day tours from Hanoi start arriving around 10, so it's advisable that you make your way there very early in the morning or late in the afternoon.
Hoa Lu Ancient Capital
Hoa Lu is the ancient capital of the Dinh and Le dynastys, dating back to the 11th century. It's located roughly 14km from Ninh Binh and close to the Trang An boat ride.
Today, the remains of this ancient city are just that: remains. The buildings still standing include the royal temples of Dinh Tien Huang, housing a statue of Emperor Dinh Bo Linh and his sons as well as the royal temple of the early Le Dynasty.
Still, more than the buildings or temples, I found Hoa Lu to be beautiful because of the scenery. The ruins are just too ruiny to be memorable IMHO. It's still worth to have a stroll around and imagine how the city was a millennium ago.
Bai Dinh Pagoda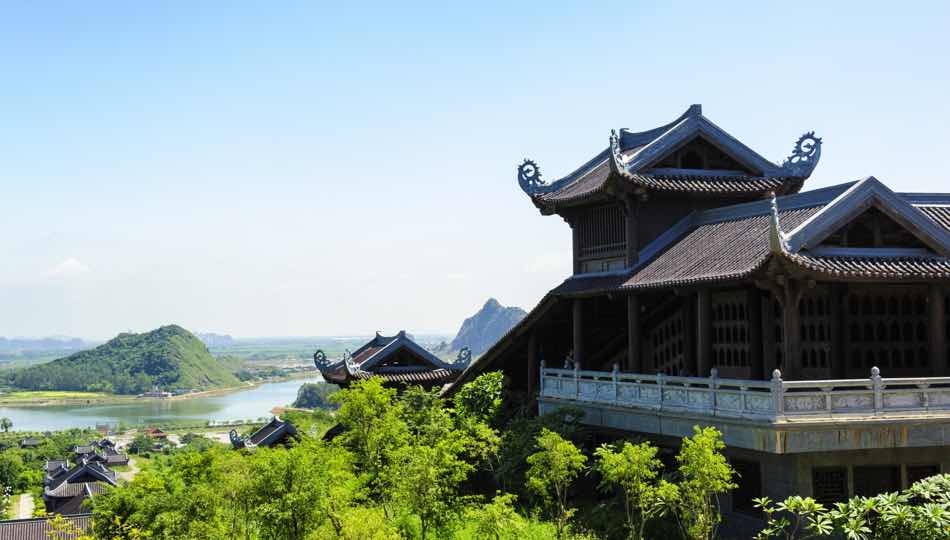 Located 15km away from Ninh Binh city in a mountain area, Bai Dinh Pagoda is a HUGE religious complex. In fact, everything is massive here. Within the 539-hectare premises, there are 5,000 Buddha statues, a 36-ton bronze bell and dozens of Buddhist temples, each more opulent than the other. Usually visitors explore the compound by electric car (!).
It's the absolute largest pagoda in South East Asia. Climbing to the top gives you an amazing open view over the Ninh Binh province.
Just like Ninh Binh in general, I honestly don't know how Bai Dinh can fall this much under the radar. But it does and I guess that's a good thing!
Day 2 in Ninh Binh
Contrarily to the first day, this one can be done on a bike as distances are shorter. All the sights are in or around Tam Coc.
Tam Coc Rice Fields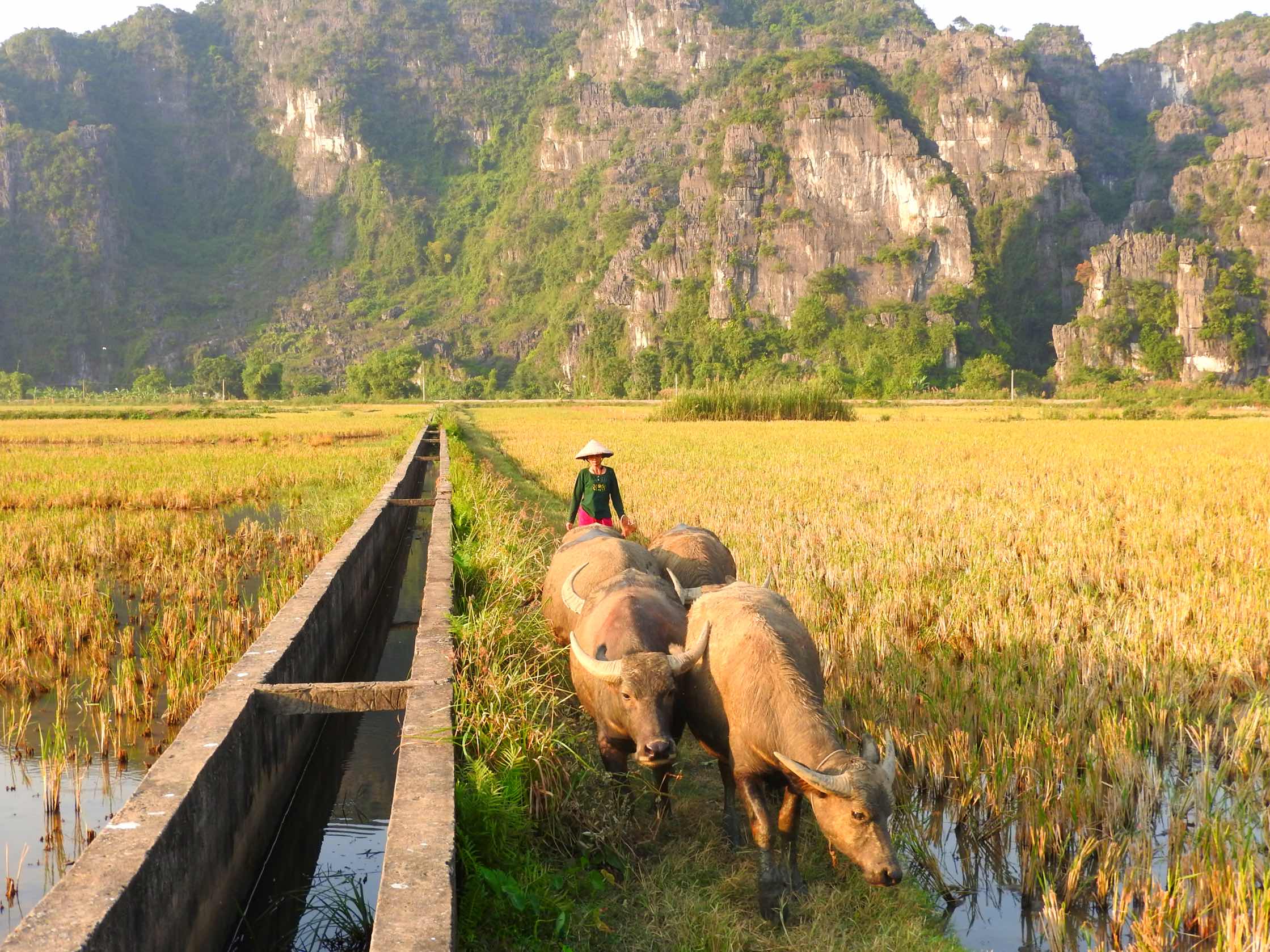 The boat ride in the Tam Coc rice fields are the main reason tourists come to Ninh Binh. The area is surrounded by hundreds of stony outcrops similar to the ones found in Halong Bay. For this reason, the area is nicknamed "Halong in Land".
I skipped the boat ride when I heard it's a hotspot for scams and hawkers. Apart from the ticket fee, the rowers often "ask" (aka demand) tourists a tip on the middle of the ride. Plus, when you get back on shore, you're coerced to buy some food for your rower. Since I had already experienced the awesome boat ride in Trang An, I decided I could live without it.
A great alternative option to explore the rice fields is on a bike. It's hassle-free, way more adventurous and cheaper in the end. Cycling along the paddies, waving to the people working on the fields and getting up close with some cute animals on the way felt like the absolute right choice!
Bich Dong Pagoda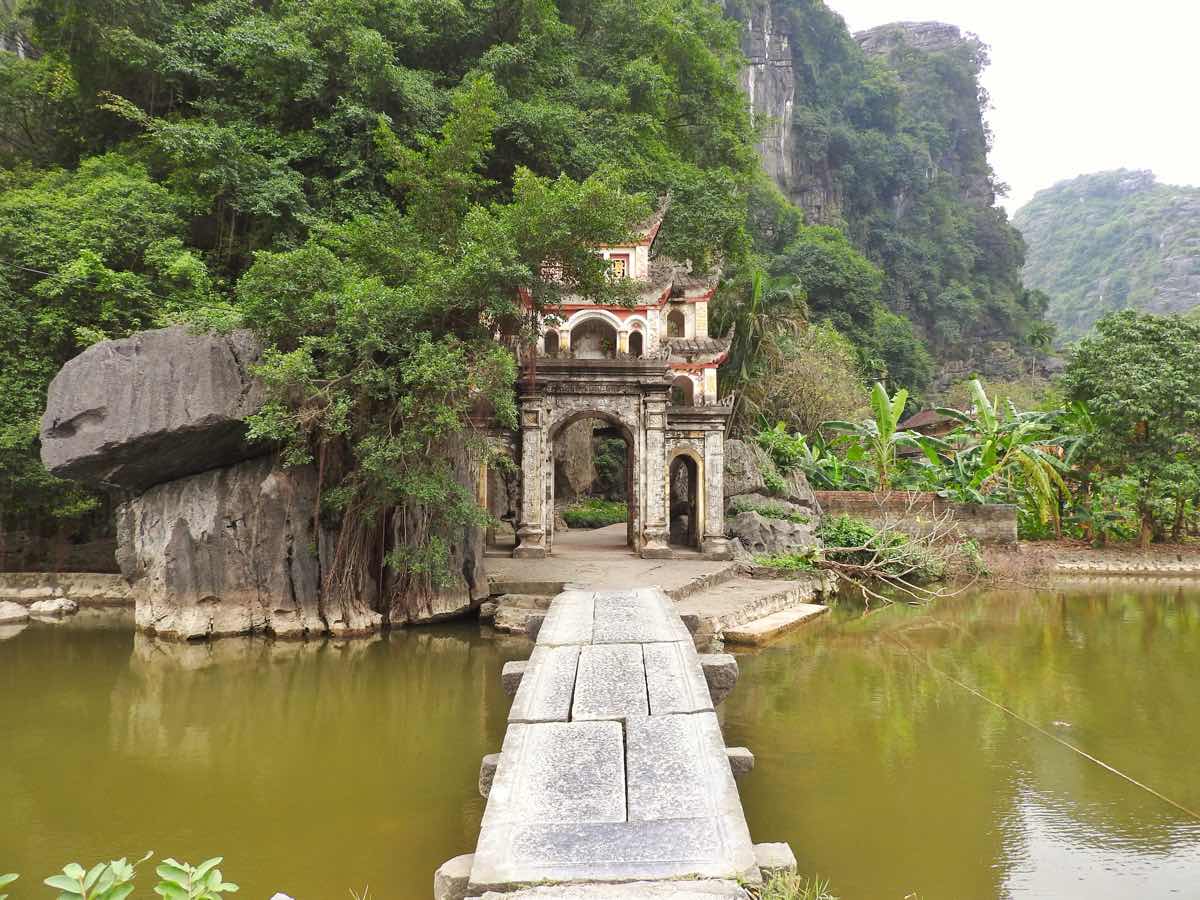 If you're coming from Tam Coc, the road to Bich Dong Pagoda is simply gorgeous. At a given point, you'll be surrounded by huge rice fields with limestone cliffs as a backdrop. Definitely worthy of stopping for some selfie moments!
Bich Dong Pagoda itself is a set of 3 temples enclosed in an mountain. To explore the highest one you need to pass through a series of caves. At some point it's pitch dark inside, so watch your step!
Inside you can find several Buddhist images carved in stone and hollow stalactites on which you can play some tunes. Some of these caves were used by the Viet Minh to hide from the French during the First Indochina War.
Bich Dong Pagoda – Tips
📍 Where: Bich Dong is located about 2km after Tam Coc center, a 2-min walk from the place we stayed.
⏱ How long: Aim to stay 1 hour maximum, as the site is not that small.
💰 How much: There is no entry fee to the temples, although we had to pay 5,000 dong to park our bike. Motorbikes are double the price.
💡 Tip: Bring comfortable shoes to climb up to the third temple on the very top.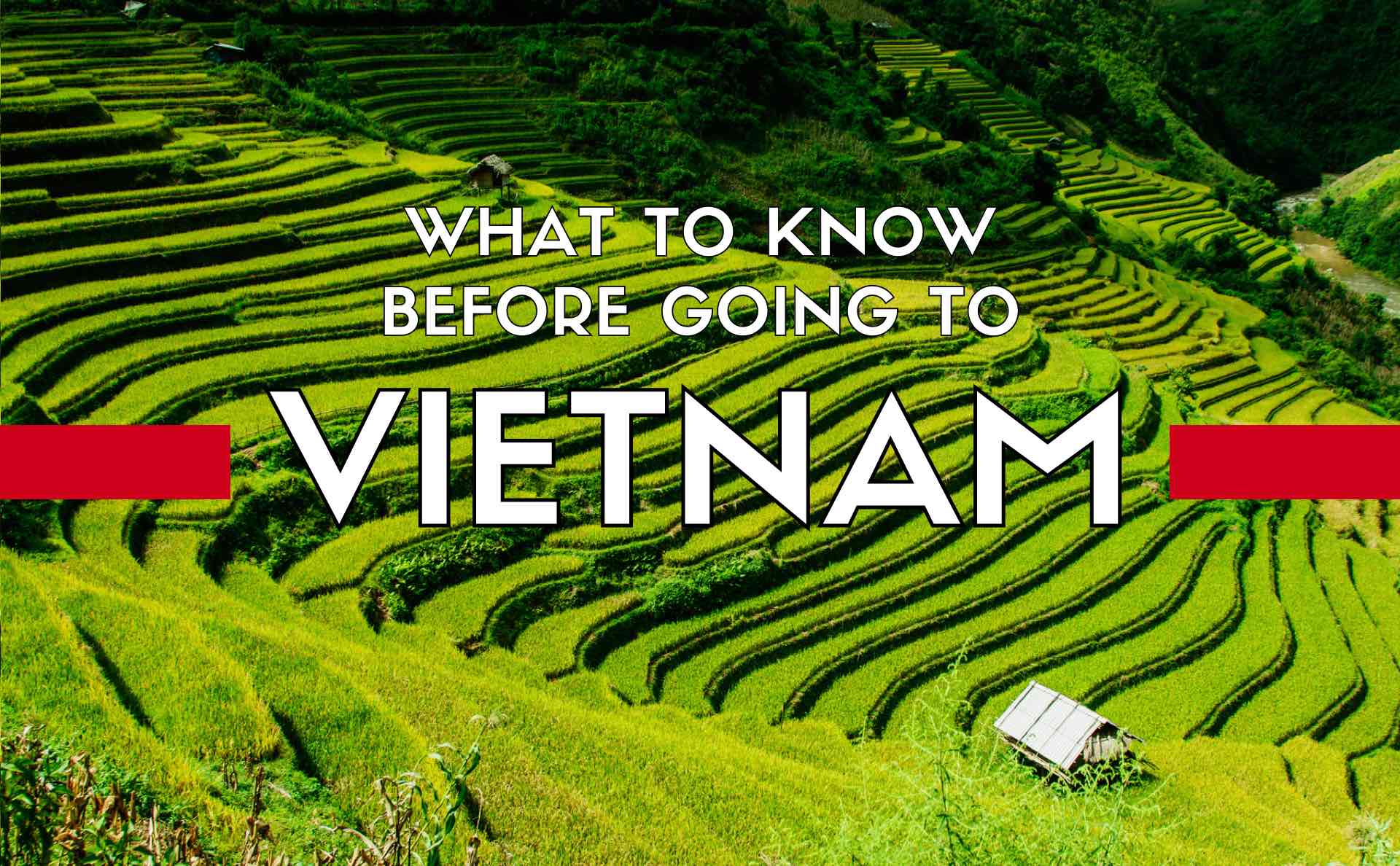 Hang Mua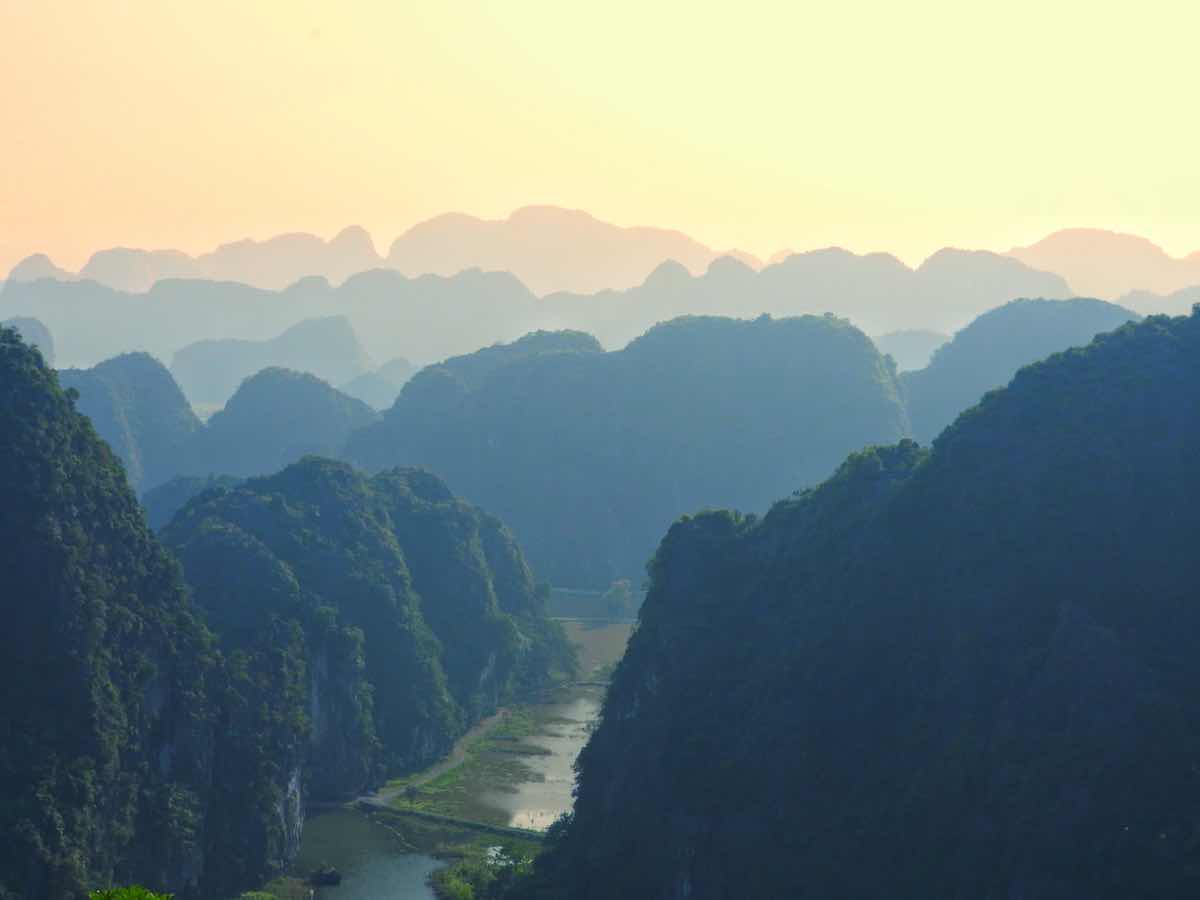 Everyone addresses this place as the Hang Mua Caves, but to be honest the caves are nothing special. In fact if I had it skip completely, I wouldn't have missed anything. Even the ones in Thung Nham Bird Park are better IMHO.
The real appeal of this place lies on the temple on top of the mountain. You can see the set of stairs to get there from a distance. It's a fair climb of almost 500 (!) steps. Yes, it's exhausting, specially because they are uneven – some are really tiny, others can be made for giants.
But don't get discouraged. Once you have had this proper workout, you'll be rewarded with a spectacular 360° view over the Tam Coc valley. The views over the countryside and paddy fields are truly amazing. There's no better place to catch your breath and find your inner zen again. Totally worth the effort, believe me.
Hang Mua – Tips
📍 Where: 5 km from Tam Coc. The road there is literally between rice paddies. If it feels you're in the wrong way, you're not!
⏱ How long: Allow at least 1-2 hours here, depending on your pace.
💰 How much: The entrance fee is 20,000 dong.
💡 Tip: No need to say you'll need water and some good comfy shoes to climb up to the temple. I wouldn't recommend going up if you see the weather is rainy-ish. There's not much shelter on the way up and with gloomy weather you probably can't see much anyway.
Thung Nham Bird Park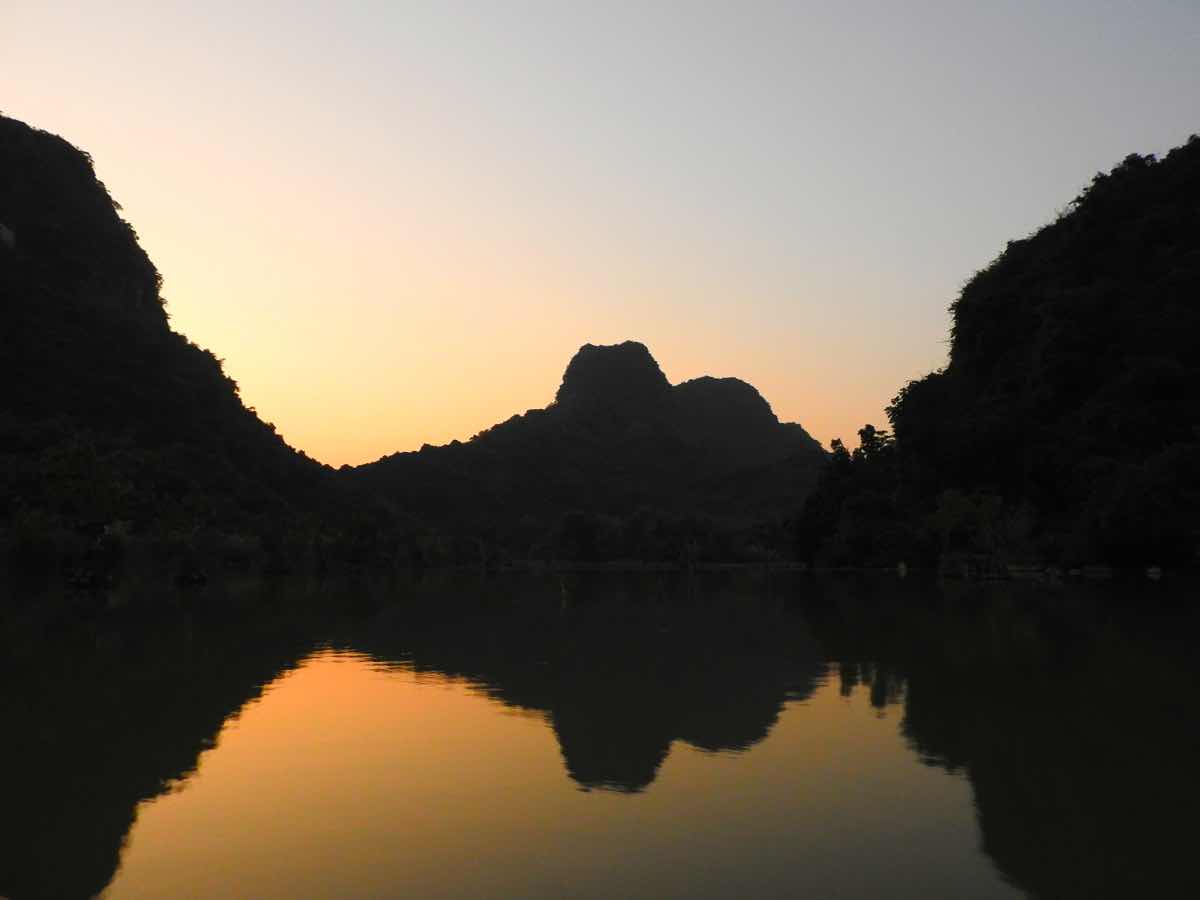 During my research about Ninh Binh, I've NEVER heard of this place. It was the lovely girl on the reception of our hotel that not only suggested us to go to Thung Nham, but offered to be our guide there!
For those who love nature and an adventurous bird-watching trip, the natural reserve of Thung Nham (Nham Valley) is a must go. Deeply enclosed in the mountains, it's a place with great natural beauty with many underwater caves and rivers. The Hang But (Buddhist Cave) is one of the largest. With lots of stalactites and stalagmites inside sitting beside an underground river, going inside is quite an adventure.
A total of 150 different animals (beware of the snakes!) and more than 40 species of birds – some of them critically endangered species – can be found in Thung Nham. There are so manny there's even a place inside dedicated to them – the Bird Park.
We took the boat to watch the birds at dusk, the peak time for foraging birds. Picture a small rowing boat on the mangrove forests, with HUNDREDS of birds hanged on the trees, all wrapped around in a drop dead gorgeous forest. The only noise comes from the birds while the sun is setting in the background. Magical.
I went there knowing absolutely nothing about this place and came back mesmerized (can't thank you enough Trang!).
Thung Nham Bird Park – Tips
📍 How to get there: Thung Nham is about 7km from Tam Coc. Head in the direction of Bich Dong Pagoda and turn left on Anna Tham's Hotel sign. 5km later, you'll find the ticket booth for the reserve.
⏱ How long: I'd say a minimum of 1 hour, but you can spend a whole afternoon here.
💰 How much: Entrance fee is normally 100,000 but drops to half after 5pm. There's a parking fee as well. Once you are inside, you have 2 options to get to the Bird Park: you can either walk (a 1,5km trail, free) or go on a boat ride (30,000 dong).
💡 Tip: Early morning and late afternoon (around dawn and dusk) is when most birds come to the park. Definitely the best time to visit, specially if it is spring or summer.
Extra sights in Ninh Binh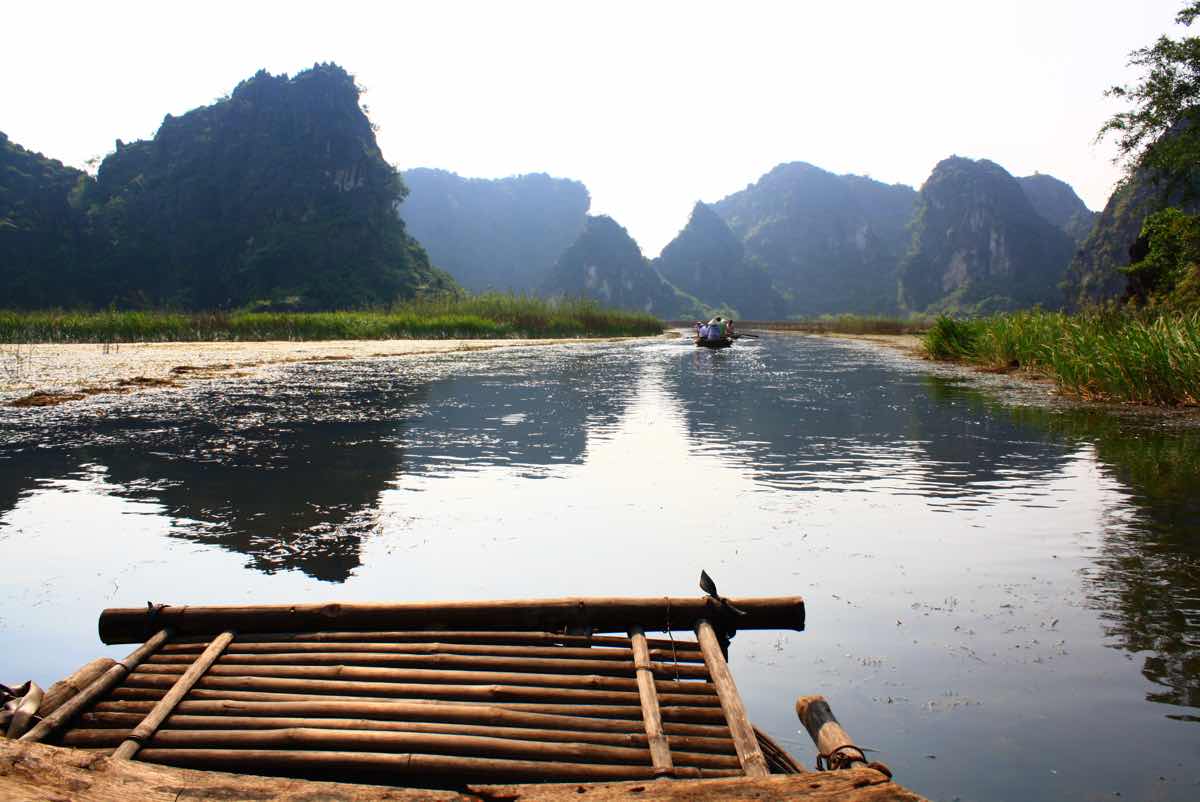 The previous sights are the standard to visit the region. If you're feeling more adventurous or have a little bit more time, then you can expand your route. And oh boy, there's a lot to see and do in Ninh Binh!
Right off the get go, you can go on the infamous Tam Coc boat ride. I'd recommend you to only if it's the right season and the fields are vivid green. Good luck with the hawkers though!
Located east of Ninh Binh city, Phat Diem Cathedral is considered to be one of the most beautiful churches in Vietnam. It's western-inspired and it's worth to visit if you're into architecture or just want to extend your religious-site hopping spree.
Another spot worth looking into is Cuc Phuong National Park, 1.5 hours from Ninh Binh. It's a well-preserved rainforest, filled with hiking trails, prehistoric caves and ancient trees. It's also a site with rich fauna: turtles, butterflies and critically endangered primate species can be found here.
Finally in Van Long there's the option to go on a much more off the beaten track boat ride than Trang An and Tam Coc. It's relaxing and perfect for bird-watching. The natural reserve also holds the world's largest population of Delacour's langurs, a critically endangered primate species.
Driving around Ninh Binh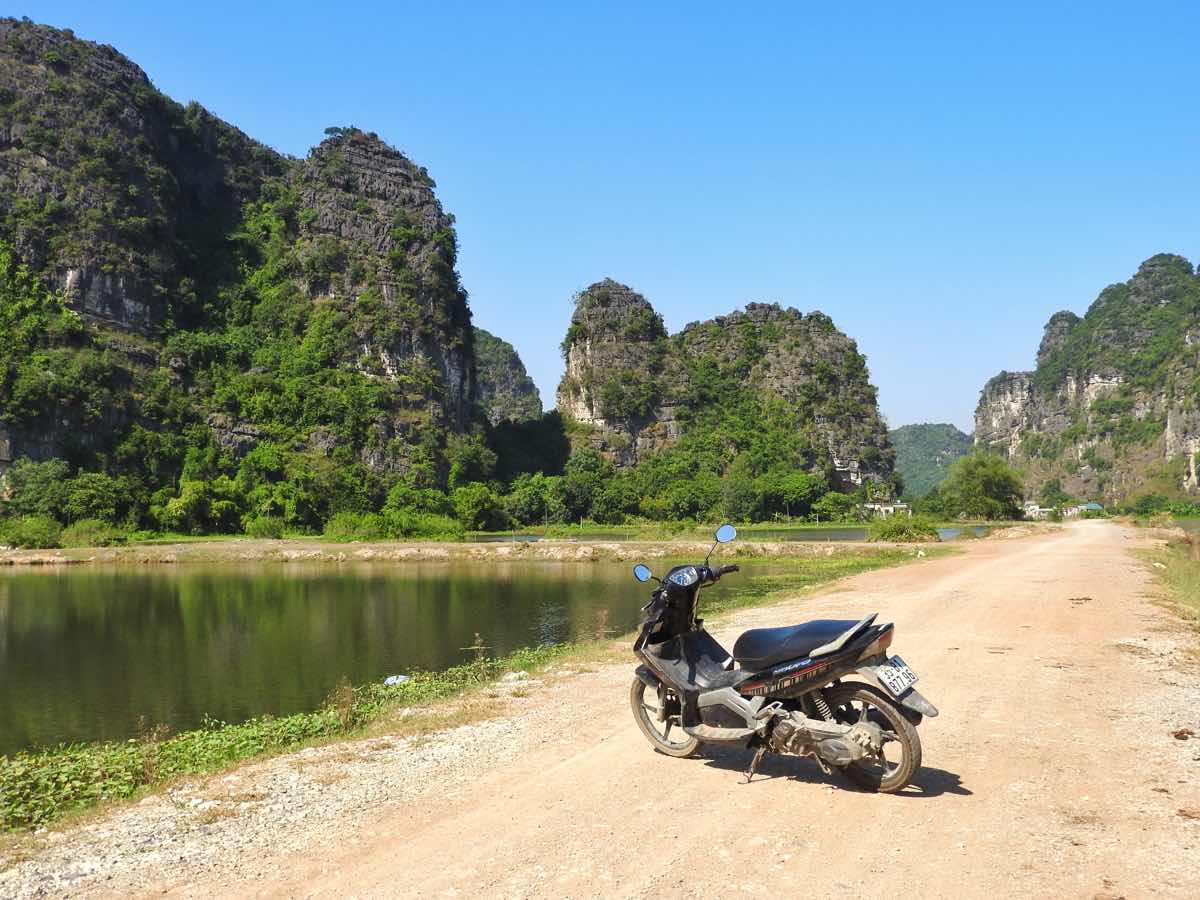 Ninh Binh is pretty much all flat which makes driving around fairly easy. And pleasant! Actually you could just wander around skipping all sights and the surreal backdrop for your drive would still make the trip worth it. I felt like in a movie set all the time!
That said, Ninh Binh city can be a bit crazy, just like everywhere else in Vietnam. We had to go there to withdraw money – there are currently no ATMs in Tam Coc – but other than that there's no reason to go there anyway.
My recommendation is to drive slowly, ignore all the noise around you and don't make any sudden maneuvres. If you stick to this, you'll be fine.
How much does a bike cost in Ninh Binh?
We rented a motorbike for 100,000 dong per day in Tam Coc. Not the most visually striking one, but it did its job. A bike will cost you roughly half of it. Gas is very cheap, you can fill the deposit for about 70,000 dong.
Read more about getting around on my Ninh Binh guide.
Where to stay In Ninh Binh
Don't stay in Ninh Binh city. I can't understand how people come to such a nature-gifted place and stay in an uninspiring and ugly city.
Instead, base yourself in Tam Coc, in the countryside. It's a much more pleasant small town closer to the main attractions – including the rice fields.
The only downside from the place we stayed (below) was the location: 2,5km from Tam Coc center, with all the shops and restaurants. On the other hand, we had a quieter location with much better views!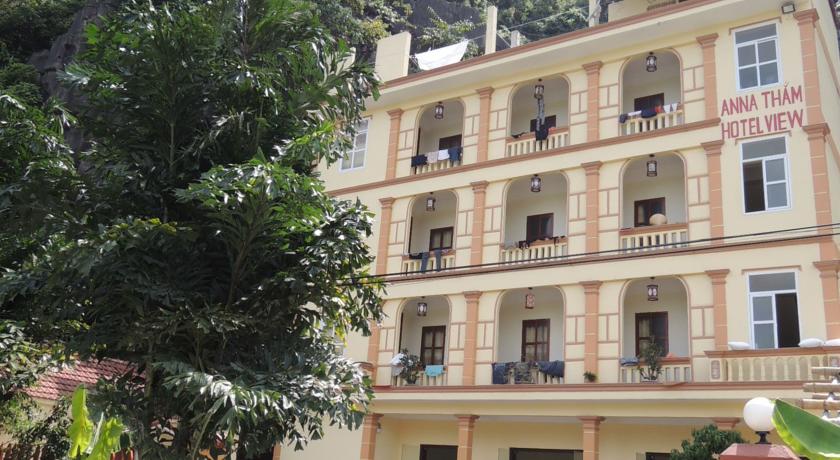 Anna Tham Hotel View

Beautiful views and clean HUGE rooms, but the best is the lovely family who will treat you like one of them. It's a 5-min bike ride from center Tam Coc in a quiet location. Book now
Find your accommodation in Ninh Binh
I usually use Booking.com to find accommodations. It's safe, easy and reliable and you use my shortlist of the top-rated places to stay in Ninh Binh with WiFi included.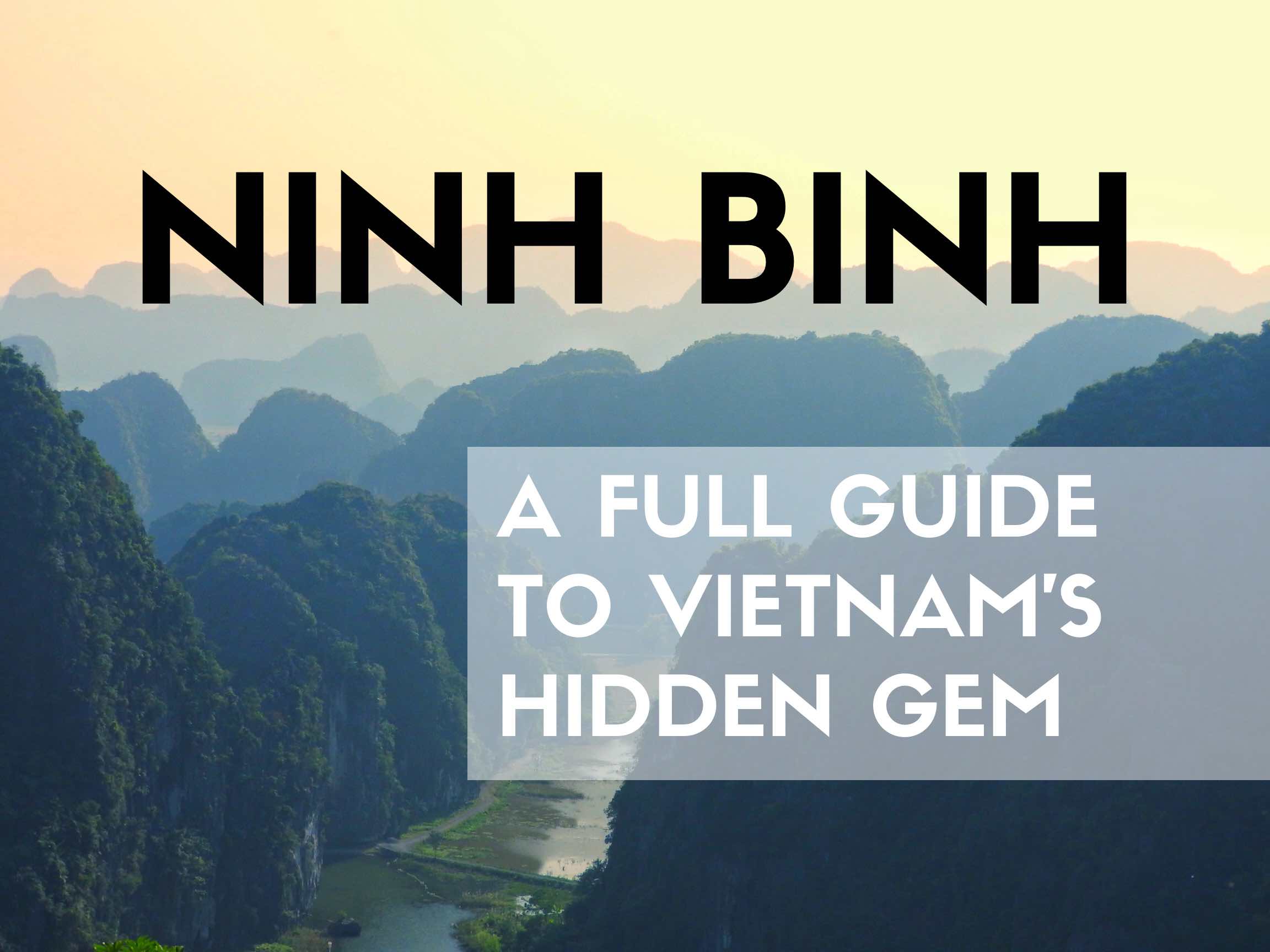 More about Vietnam:
Was this Ninh Binh itinerary useful to you? How are you planning to explore the area? Share your feedback in the comments below!