I'll be honest: I struggled with planning a trip to Cinque Terre. Which town to stay in? What to do? What to eat? How to go from A to B? This Cinque Terre guide covers the logistics to plan your trip without hassle plus my insider tips for a hassle-free trip.
I've been to Italy several times, mostly basing myself in major cities.
Milan is worth to go for its day trips. Rome is literally walking on history. I found Naples to be safer and much more interesting than its reputation. And as much as I loved the Amalfi Coast, I have to admit no place felt as special and charming as Cinque Terre.
Just the concept of this place is whimsical. A set of 5 remote villages right by the rugged Mediterranean coast backed by vineyards, interconnected by a network of trekking paths and with colorful houses spawning across dramatic cliffs. *sigh*.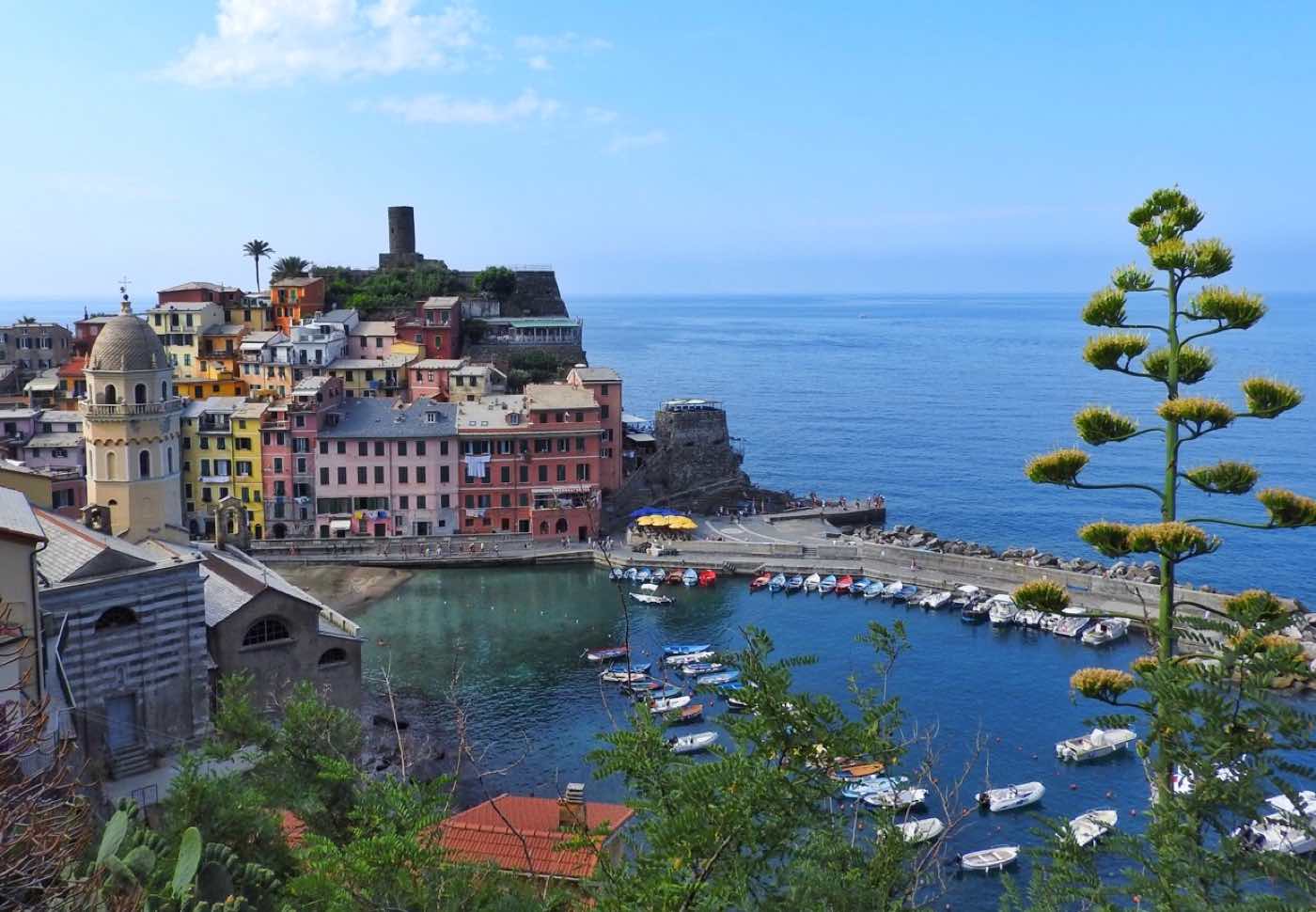 Things to Know Before You Go ℹ️
First of all, let's clear the air. Don't make the mistake of thinking Cinque Terre is one "place". This information is crucial to your planning. There is no "train to Cinque Terre" and by booking a hotel in Cinque Terre you can actually be booking something in several (very) different places.
Like the name suggests, Cinque Terre (or 5T for friends) is a group of five villages in the coast of Liguria, northwest Italy. From North to South: Monterosso, Vernazza, Corniglia, Manarola, and Riomaggiore. It's been a Unesco World Heritage Site since 1997.
For centuries locals mainly lived off vineyards, fishing and olive cultivation, but the construction of the railway in the 19th century suddenly connected Cinque Terre to the world. Later, the boom in tourism at the end of the 20th century transformed the economy and the whole vibe of the place.
5 Tips For Cinque Terre
Make sure you book your accommodation as much as in advance as you can. As you may expect, Cinque Terre gets especially crowded during peak summer months.
Look after your budget. Compared to the rest of Italy, you can expect to pay at least 30% more for your food and accommodation here.
Watch your feet. A pair of comfortable shoes is essential especially if you're planning to hit the hiking trails. For the mother of god, don't go on flip-flops or high-heels, they're not for the faint-hearted!
Timing is everything for photography. For streets, the best photos are usually taken early morning when the towns are half-asleep. For landscapes, aim for around midday or just before sunset when the towns acquire beautiful warm tones. Generally, the best views and landscapes are either from the hiking paths or from the sea.
Pack smartly. If you're coming in summer, don't forget to pack sunscreen. A pair of sea shoes might come in handy to make your way on the rugged coastal rocks.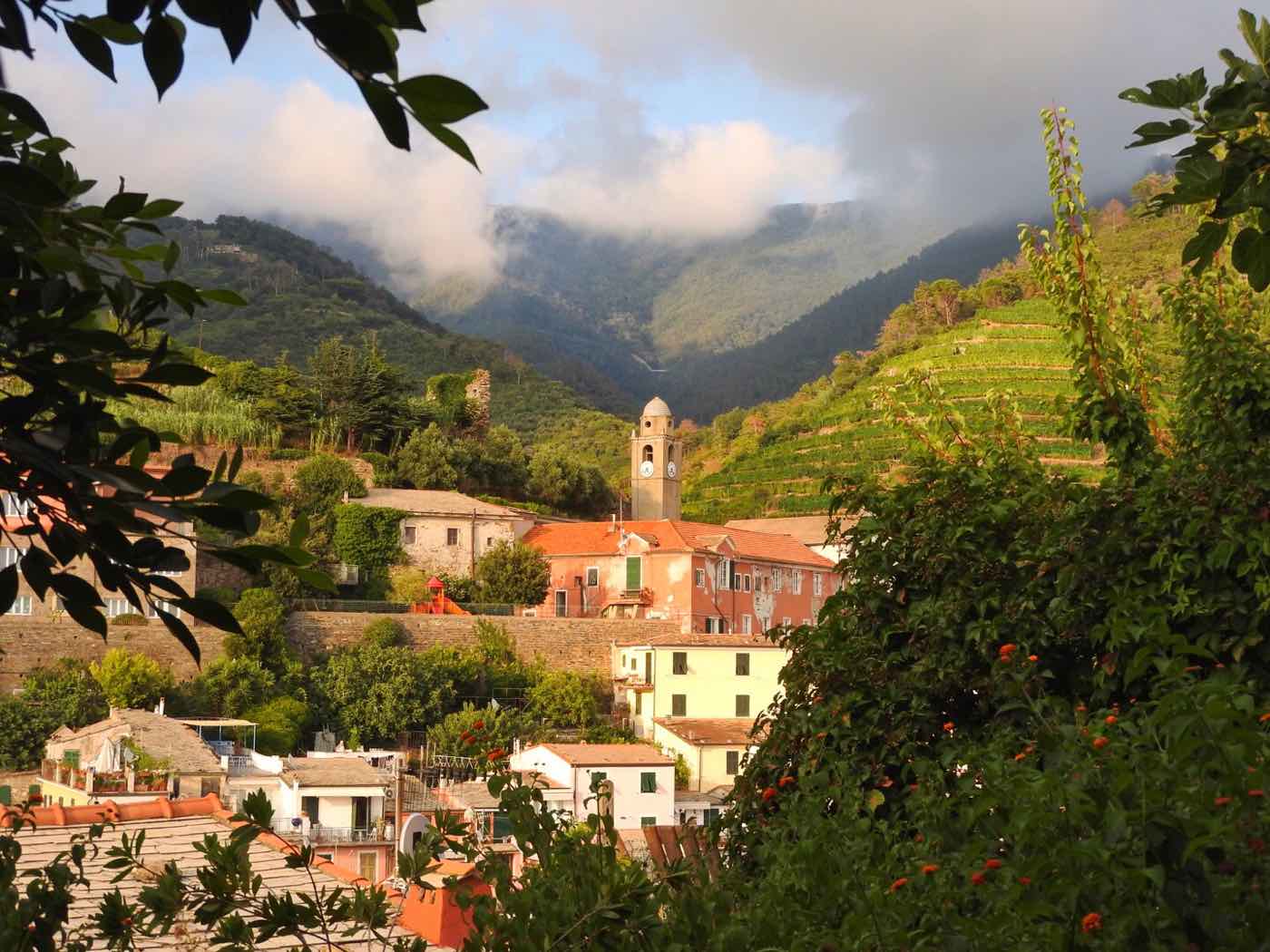 Best Time to go to Cinque Terre 📅
Ok so I braved all the horrendous tales I found on the web about Cinque Terre in summer and still visited in July. Flash news: I'm still alive.
Make no mistake: yes, there will be people. Loads of them. In some places, it can get overwhelming (*cof cof* Monterosso). To be honest it was the only really annoying thing about Cinque Terre.
But actually, I'm very glad I visited during the summer. Turns out the warm weather brings an added layer of fun and activities in the sea (kayak, SUP, cliff diving or simply swimming) that you can't do otherwise. Entirely worth it, if you ask me.
That said, when I visit again – yes, that will happen! – I will probably aim for shoulder season. Not only prices will be more accessible, but in mid-April to mid-June or September-October, the temperatures vs crowds ratio seem to be more balanced.
Don't be like me: book your place ahead in Cinque Terre!
How To Get To Cinque Terre 🗺️
The closest airport to Cinque Terre villages is Genoa. However, it's not that of a big airport.
It may be more convenient for you to fly to Milan, Florence or especially Pisa. Once you arrive in Italy, the best way to reach 5T villages is by train.
There are frequent trains from any of these cities to Cinque Terre, even though from Pisa, Florence or other places in Tuscany a change is required in La Spezia. Expect a journey of about 3 hours from either Florence or Milan.
Trenitalia Trains
Buying train tickets in Italy is pretty easy and you don't even need to talk to any humans.
Head to the main train station, find a Trenitalia red machine and input your end destination. It will automatically tell you the best itineraries, including the time and platform of the train and even if there are any delays. You will need to validate your ticket before you board the train.
💡Pro tip: I used the Trenitalia app (Android, iOS). You can check schedules beforehand – important because there are express trains that don't do all the stops – and book your ticket online. No registration needed and it's not necessary to validate anything! Saved me some time in long queues.
Best Town to Stay in Cinque Terre 🌟
Oh boy, here we go. If you look online, there are hundreds of forum posts about this. Every person has its own opinion and reasoning about the best town to stay in.
I suggest that you first pick your base town based on a combination of convenience, budget, options of activities nearby and of course, personal taste. And then pick the hotel/guesthouse/apartment you want to stay in. There are solid choices in all of the villages; if possible go for places with a view!
Here's a little more about each one of the villages to help you decide which one to stay and which ones you want to visit.
Monterosso al Mare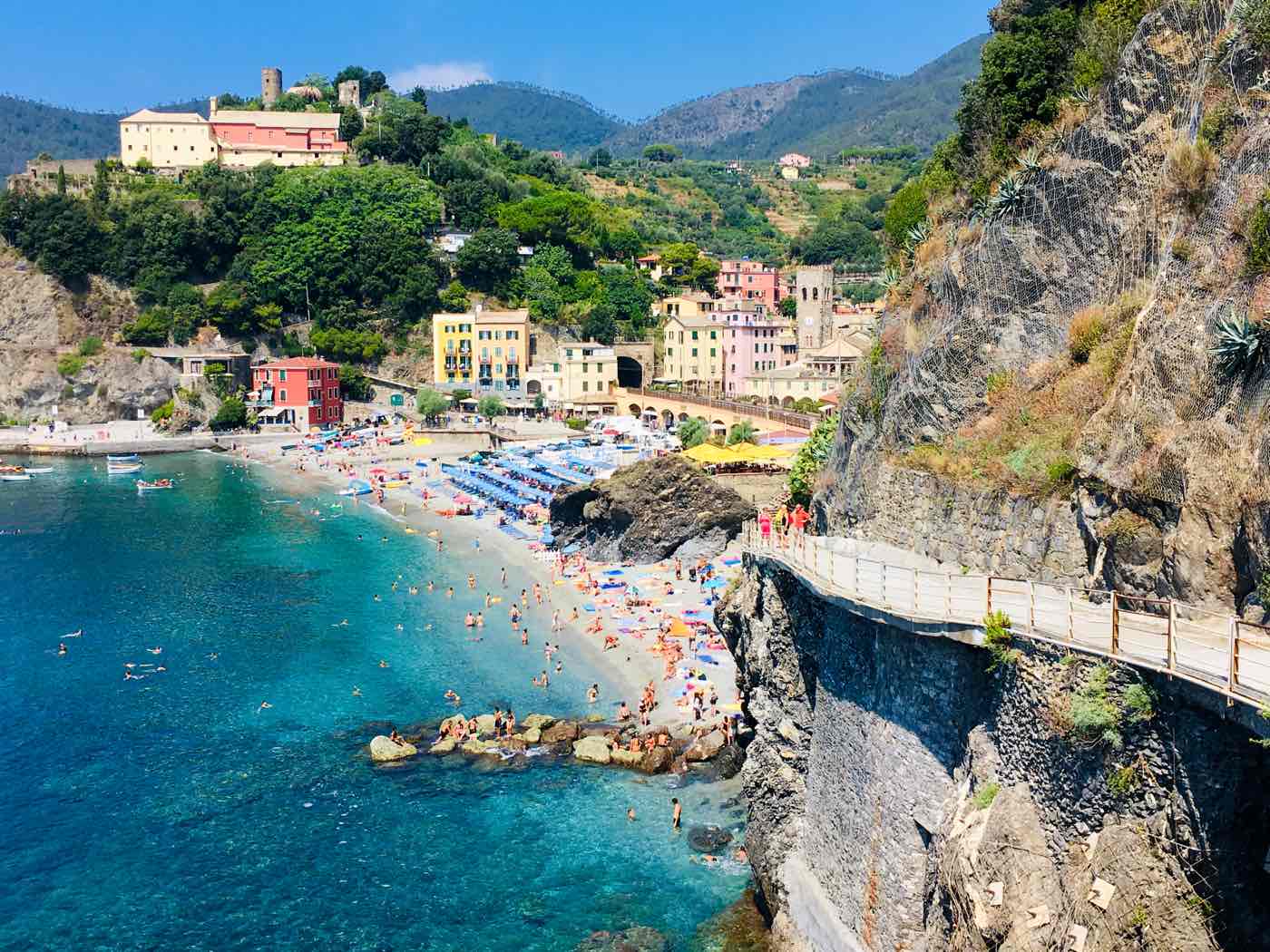 The largest, more "horizontal" and best connected of all the villages was probably my least favorite of them all.
Don't get me wrong – it's a beautiful village. But pumped up by the summer crowds, I felt Monterosso was too Amalfi for my taste. Has the same clothing-shops-with-expensive-organic-cotton vibe. Many daytrippers from cruise ships also pass here, giving it a more resort-y feel.
Apart from sandy beaches – a rarity around here – and the beautiful seaside promenade, don't miss the black-and-white marble Church of San Giovanni Battista in the heart of the town.
Personally Monterosso didn't click for me, but if you're looking for larger hotels, access to the beach and more options for shopping and eating, it may very well be the best place to stay in 5T.
⭐ Highlight: The lovely sandy beaches with eye-striking crystal clear water. Too bad most of the area is private though.
🥘 Where to eat: The unpretentious Gastronomia San Martino has fresh affordable lunch dishes.

Vernazza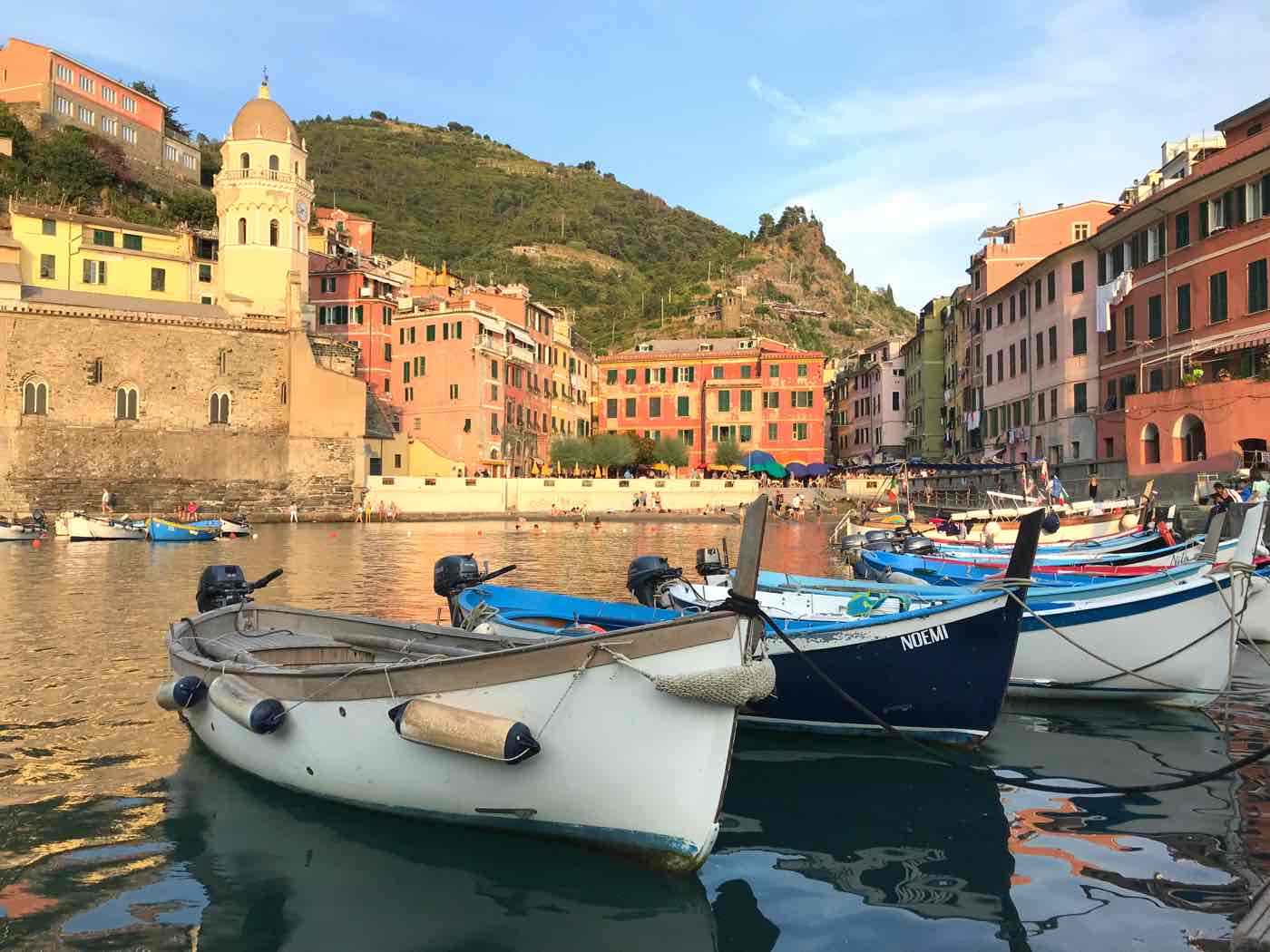 Scenic, quaint and charming, one-street Vernazza is a tiny piece of rustic paradise. For me, it encapsulates the best of each town in Cinque Terre, like magnificent views from the top of its castle (resemblant of Corniglia), a colorfully vibrant set of houses (like Manarola) or the harbor landscape (Riomaggiore).
The area next to the harbor, with a movie-like seaside piazza and fishing boats spawning across the swimmable bay, was my favorite spot during this trip. In fact, I have to confess Vernazza was my favorite town of them all in Cinque Terre (gasp).
Vernazza was devastated by the floods of October 2011; if there's anything positive that came out of the tragedy was a brand new rocky beach on the eastern part of the town.
⭐ Highlight: It's quite a climb, but Castello Doria is worth a visit for the views over Vernazza and the Mediterranean. Pro tip: go there for sunset!
🥘 Where to eat: My favorite meal in Cinque Terre was in Il Pirate Delle 5 Terre. DON'T MISS OUT ON THE PANNA COTTA.
🏨 Where to stay: I can't fully recommend the Airbnb I stayed in, so I suggest this plan B – Casa Catò.
Corniglia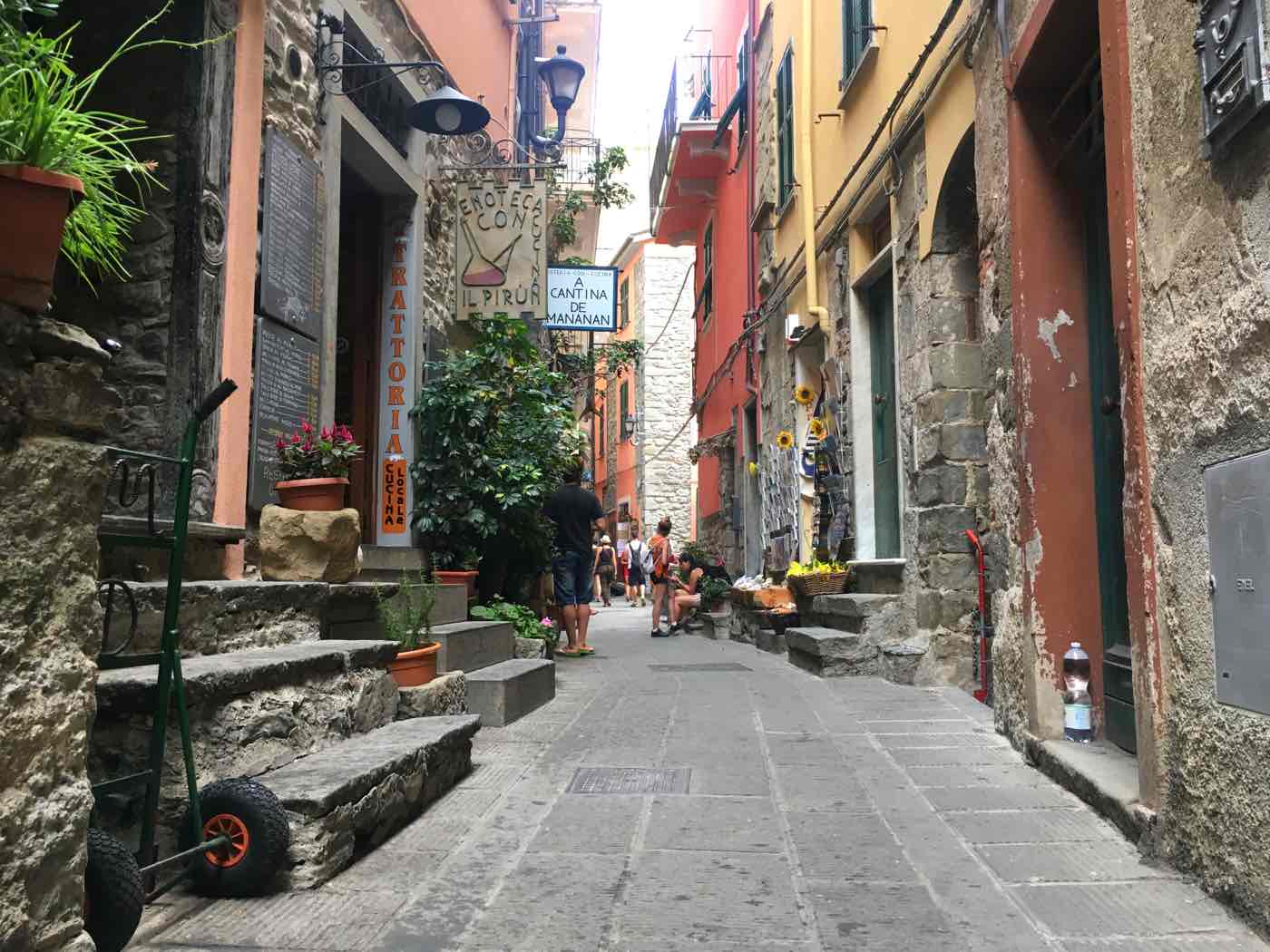 Corniglia has a completely different vibe than the other villages and not only because it's the only town without sea access. Looking far above the water, it has significantly fewer tourists and a more local vibe. It also takes the award for "Best Views over the Mediterranean" – better than anywhere else in Cinque Terre I think.
If you decide to stay here, keep in mind the train station is located significantly below the town center. 382 (!) freakin' steps to be more precise. It's neither luggage or couch-potatoes friendly. While a big commuting challenge, if you decide to stay in Corniglia, you'll be rewarded by an incomparable seclusion and getaway vibe. And hey, there's no better way than to fight the extra dose of Italian carbs!
⭐ Highlight: Head for Terraza Panoramica Santa Maria and take in the amazing sea views.
🥘 Where to eat: There are not many places to eat in Corniglia, but all of them seem a good choice. Try A Cantina da Mananan for fresh local food in a small cozy atmosphere.
🏨 Where to stay: Affittacamere Arbasia De Ma.
Manarola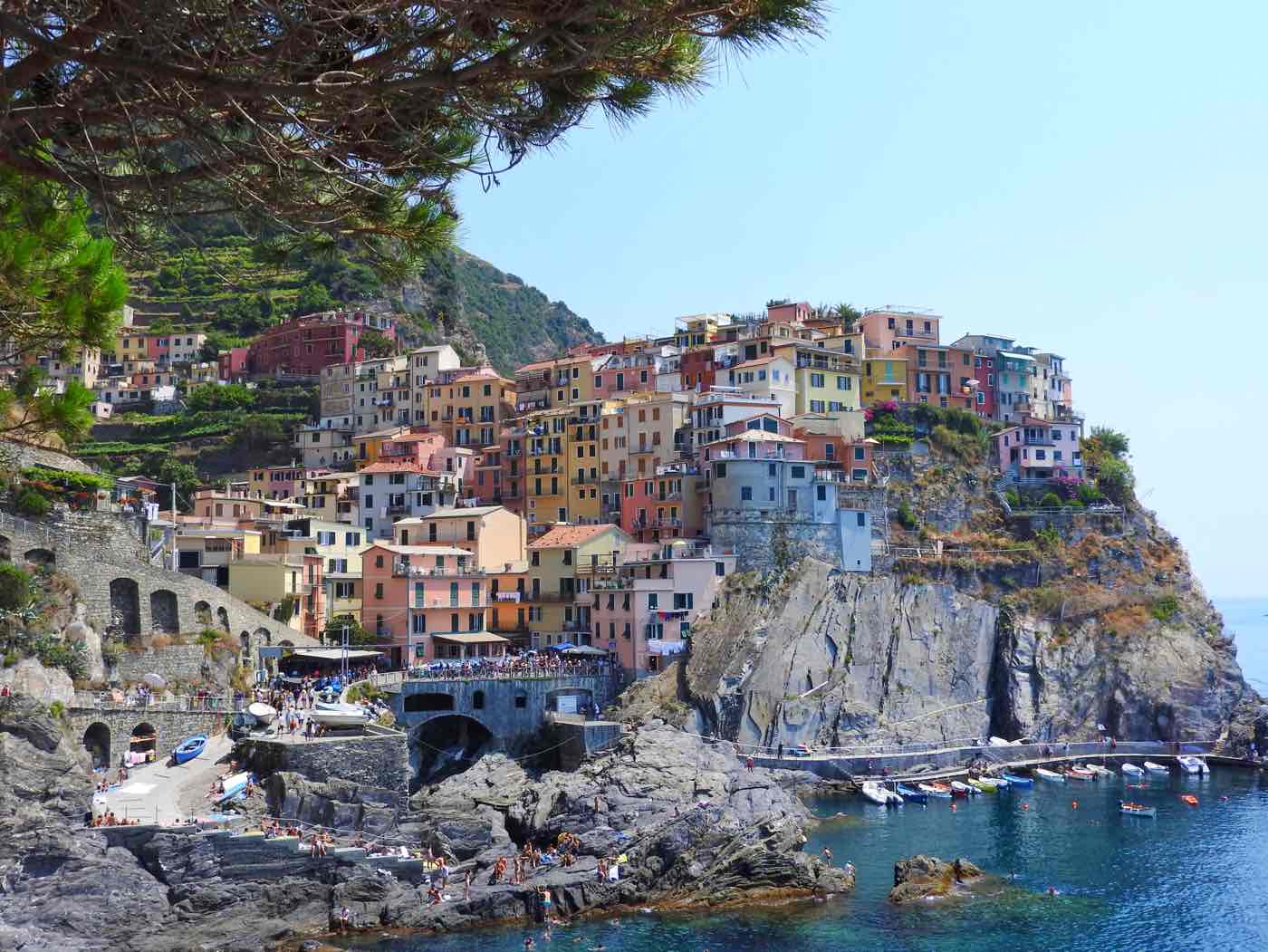 Manarola is the most Instagrammed of all the villages and for good reason. Seeing the colorful houses spawning from the vineyards in the mountains all the way to the sea is a wow moment.
I feel this town is a solid choice if you're going during summer time. Lay down your towel in a rock next to the harbor and swim in the turquoise sea. Perfect spot to try out some cliff jumping!
⭐ Highlight: The pathway called Via Dei Bambino has the best views of the town. Make sure you go around to the other side where you can see Corniglia at a far distance.
🥘 Where to eat: There's always a queue to Nessum Dorma, but the food is surprisingly inexpensive and the views over Manarola are unbeatable.
Riomaggiore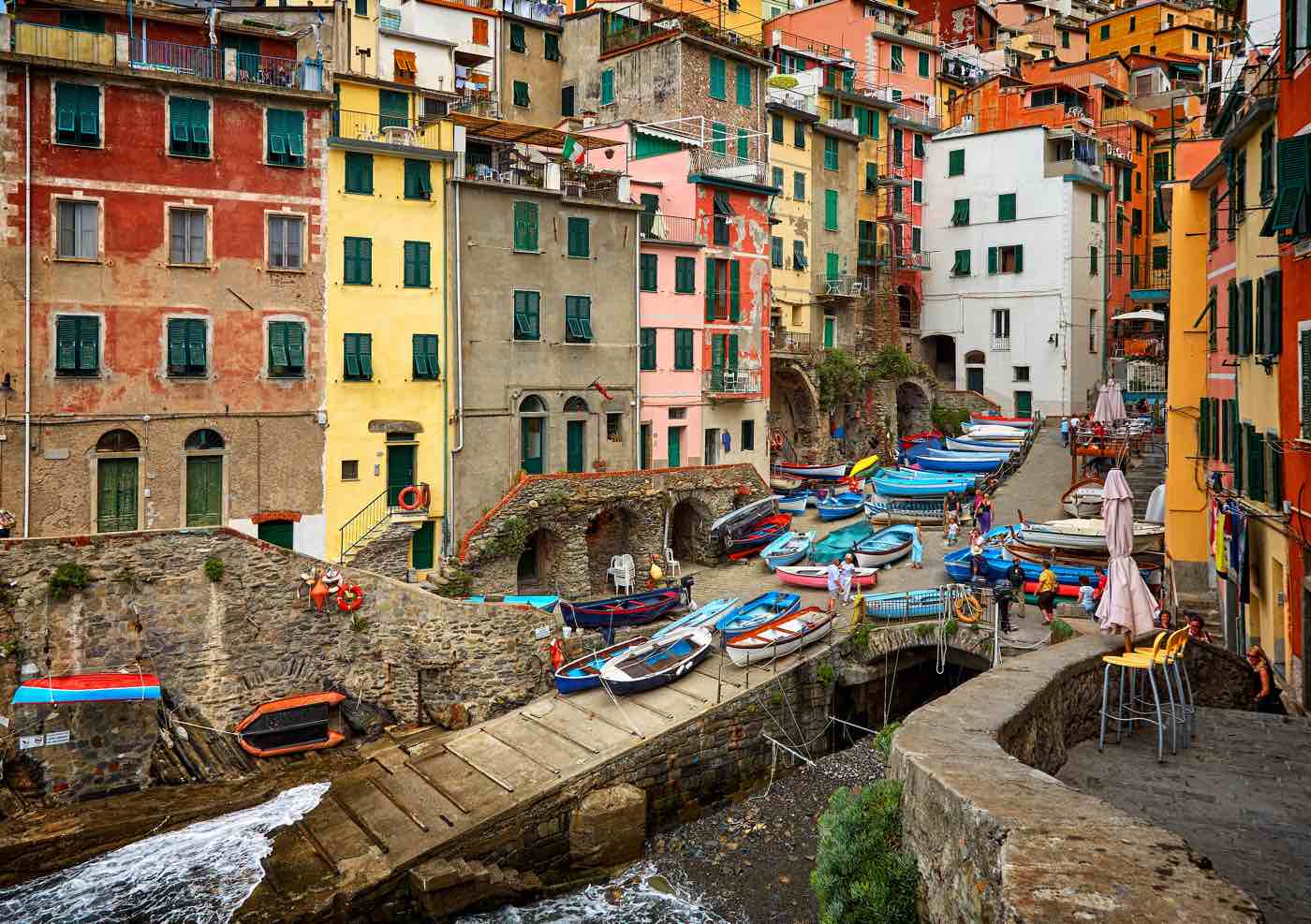 The closest town to the train hub La Spezia, Riomaggiore also has only one main street leading to a scenic harbor surrounded by photogenic radiant buildings. Oh well – I guess we will have to live with it! 🤷
Staying here is a smart choice if you want to privilege convenience. There are very good train connections. A rocky beach nearby.
Keep in mind however the main hiking path to Manarola – the famous Via Dell'Amore – is closed (until 2021) but you can also head on the opposite way and visit Portovenere (free).
⭐ Highlight: The pathway called Via Dei Bambino has the best views of the town. Make sure you go all the way to the other side of the cliff where you can see Corniglia at a far distance.
🥘 Where to eat: There's always a queue to Nessum Dorma, but the food is surprisingly inexpensive and the views over Manarola are unbeatable.
🏨 Where to stay: Crêuza de Mä.
Where to Stay in Cinque Terre 🏨
Ok but what about specific places to stay?
As a rule of thumb, most of the standard hotels will be in Monterosso, while you can expect more guesthouses and apartments in the other villages. There is a good choice of places to stay but demand is always high so BOOK EARLY.
I also think I made a mistake by not booking a place with a view. Cinque Terre is absolutely the right place to do it: splurging will be worth it. Here's a short list of the best places to stay in Cinque Terre with a terrace/balcony and Excellent reviews.
Here are some options I came across during my research that sadly were already booked for the time I went there.
<
Crêuza de Mä, Riomaggiore
Boasting 180-degree seaside views (literally NEXT to the sea) this is the ultimate relaxing place to stay in Riomaggiore.
Casa Catò, Vernazza
Vernazza hit me hard, I could live there for a while. This modern accomodation with gorgeous view over the town has everything to make your trip memorable – perfect for couples in a romantic getaway! 💖
Affittacamere Arbasia De Ma, Corniglia
Now for something completely different. If you're young and active (remember the 382 steps) and want to get away from it all, try Corniglia. These unpretentious apartments with gorgeous views are a true chill pill.
My accommodation in Cinque Terre
Don't be like me. I was looking for a place to stay last-minute in Vernazza. Result: it was 98% booked on Booking. No decent places with views. All the good deals were gone!
Plan B was to book an apartment in Airbnb. It was reasonably affordable and very well located… but that was it. Not the most stylish of flats – on the contrary – cleaning standards were a bit dubious but above all, I got bummed I didn't get a place with a view.
Lesson learned: BOOK YOUR ACCOMMODATION EARLY. And go for the views!
Getting Around Cinque Terre 🔄
While the towns of Cinque Terre are not spread over a gigantic area, it's not advisable or practical AT ALL to hike between them with your luggage to move from hotel to hotel. Use a ferry or train instead.
Cinque Terre by ferry
There is a ferry service between Cinque Terre towns (except Corniglia that doesn't have sea access). The only line operating is Consorzio Marittimo Turistico 5 Terre – Golfo dei Poeti. It runs during summer months and additionally, with a limited schedule from September-November (when sea conditions permit).
Ticket prices are rather complex and depend on point of departure and arrival. It's not possible to book tickets in advance, so the only option is to queue up on the booths. Important: cash only!
Cinque Terre by train
Despite being remote villages, they are all connected via short train rides which pass through coastal tunnels and right next to the mountain vineyards. Scenic, easy, quick. This is by far the most popular and convenient option.
A one-way train ticket between any two towns will cost around 4€ and you can buy your tickets online or directly at the station. Trains are frequent – I'd say every 10, 15 minutes at most – but make sure you board the right train as some are express trains and don't stop in all the towns.
Many visitors opt for a Cinque Terre Train Card but you may not even need it. See more details below.
Is the Cinque Terre Card worth it?
Short answer: for me, definitely not. But for you, maybe?
Cinque Terre cards are passes to explore the towns without hassle. As per 2018, there are two (freaking expensive) types of cards:
Cinque Terre Card: acess to the trekking paths. 1 day:7.50€ / 2 days:14.50€. There are special prices for kids and families.
Cinque Terre Train Card (Treno): includes the above and unlimited train rides in the whole Levanto-Cinque Terre-La Spezia section. 1 day:16€ / 2 days:29€ / 3 days: 41€. Special prices for kids, families, and off-season.
The thing is: the individual 16€ Treno card will hardly pay itself. If you're only planning to visit 1 or 2 towns in a day, it's cheaper to buy singles. No matter if you're hiking or using the train.
To make the 16€ Treno card pay itself, you'll need to make 4 (!) train rides in a single day. Even if you do a hike to a town + 2 train rides (to an additional town and then back to your base) the total cost is 15.5€, still below 16€.
Besides the convenience factor, the only way the Cinque Terre Train Card may be worth it is if you take advantage of the families and/or off-season discounts.
How I moved around Cinque Terre
I got the Cinque Terre Card (hiking only) for one day and get all the hiking done a single day.
We were staying in Vernazza, so we hiked Vernazza > Monterosso in the morning, and Corniglia > Vernazza in the afternoon. Looks like a lot, but in total was roughly 3 hours of trekking – perfectly doable for a reasonably fit person. To get from Monterosso to Corniglia we used the train.
Total cost to visit 2 villages on a single day: 7.5€ (hiking pass) + 4€ (train ticket) = 11.5€. For the remaining days in Cinque Terre we just used individual train tickets to get around the villages.
What to do in Cinque Terre 🚣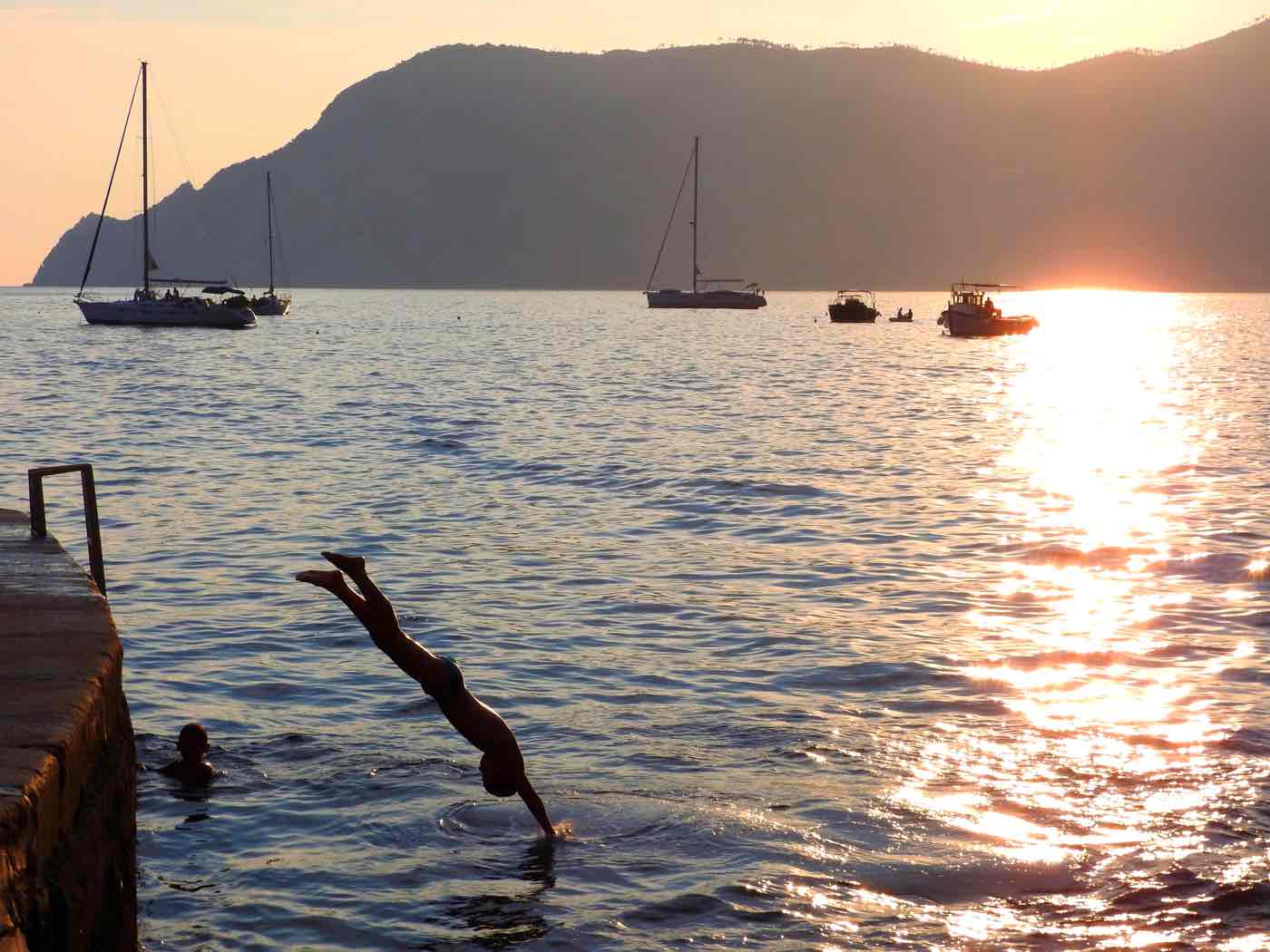 The thing is: there's not really a lot to do in each of the villages. *awkward silence*. You can spend a couple of hours wandering around, exploring alleys and paths next to the sea. But that's it. The rest is basically chill, eating and take the dreamy landscape in different ways.
Don't even dream of coming to Cinque Terre and not doing at least a hiking trail. While it can be a big challenge for some, here's something special about trekking from one town to another with stunning views in between. The best kind of workout!
Summer opens up new sea-related possibilities and that's why I think is very worth to come here in the warmer months, despite the crowds.
The Best Experiences in Cinque Terre
Trekking
A must in my opinion. See my section below. If you are willing to do only one trek, do the one Vernazza to Monterosso.
Go on a boat tour
Feeling like a splurge? A private boat your along the coastline will take you private beaches, coves and secluded swimming spots.
Kayaking
Escape the crowds and see Cinque Terre from a new perspective. To navigate the rocky cliffs, some level of experience is recommended though.
Swimming
Even though there aren't many traditional sandy beaches, the crystal clear Ligurian sea is appetizing.
Eating
Because when in Italy, you must take food seriously!
Don't be like me: book your place ahead in Cinque Terre!
Hiking in Cinque Terre 🚶‍♂️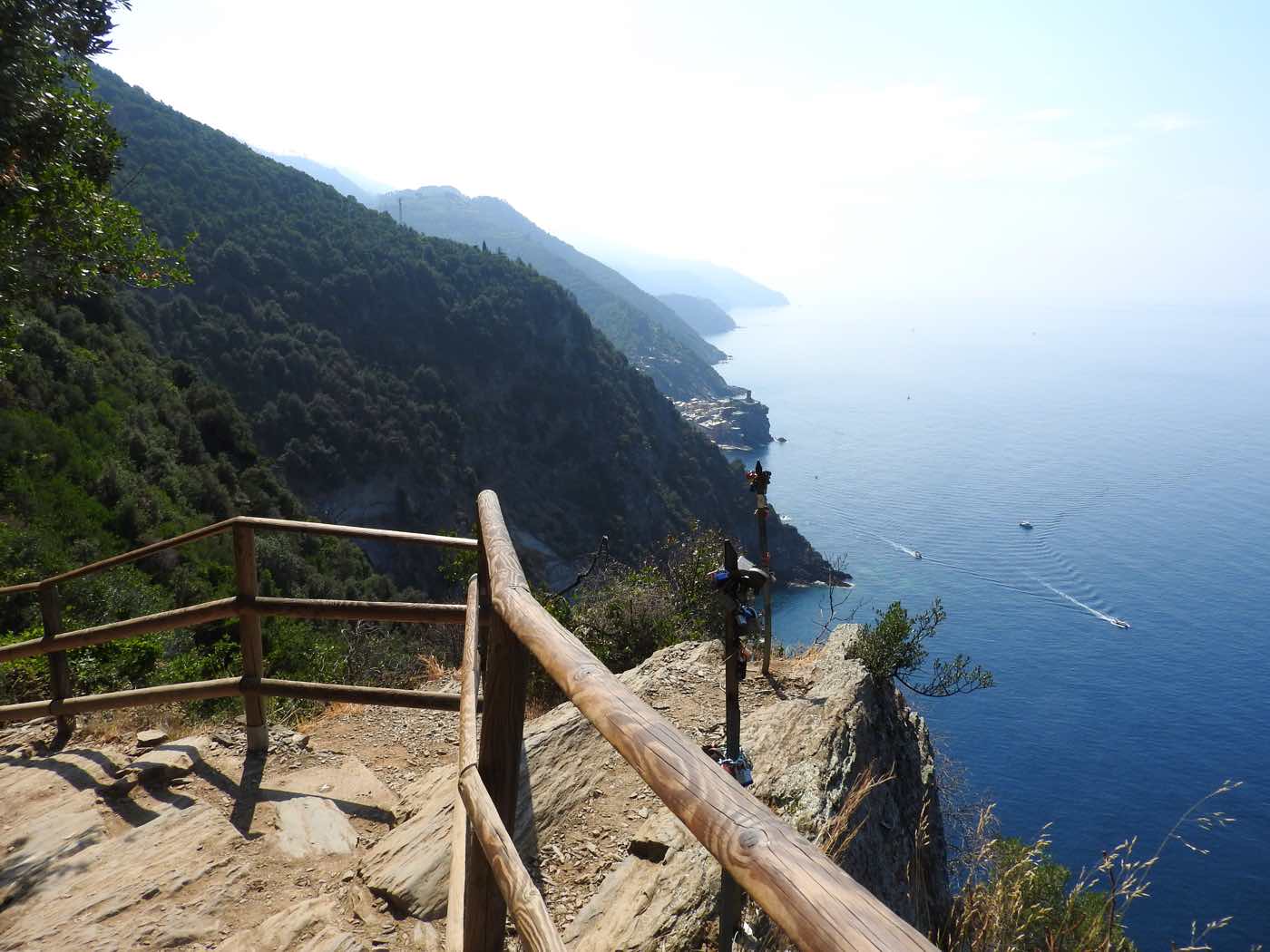 If you're reasonably fit, it's a must that you do at least one hiking trail in Cinque Terre. The views over the Mediterranean make it entirely worth it and the hikes were definitely a highlight of my trip.
It's also a nice activity to break the pasta-pizza-foccacia feeding cycle.
Now for the bad news. 🙈
Almost all the routes are demanding and have a lot of steep stairs to overcome. The easiest trail of them all – Via Dell'Amore (Path of Love), from Manarola to Riomaggiore – is currently closed except for the first 200m (Manarola side).
You don't need to be a fitness guru – I'm certainly not – but let's say couch potatoes can struggle here. You definitely need to have a minimum level of fitness. Crowds of tourists and hot weather in summer can make things harder.
There are dozens of paths connecting the five villages and the nearby mountains. The main paths connecting directly the towns next to the sea are the most commonly used by tourists AND ARE PAID (see below).
Cinque Terre Hiking Trails Map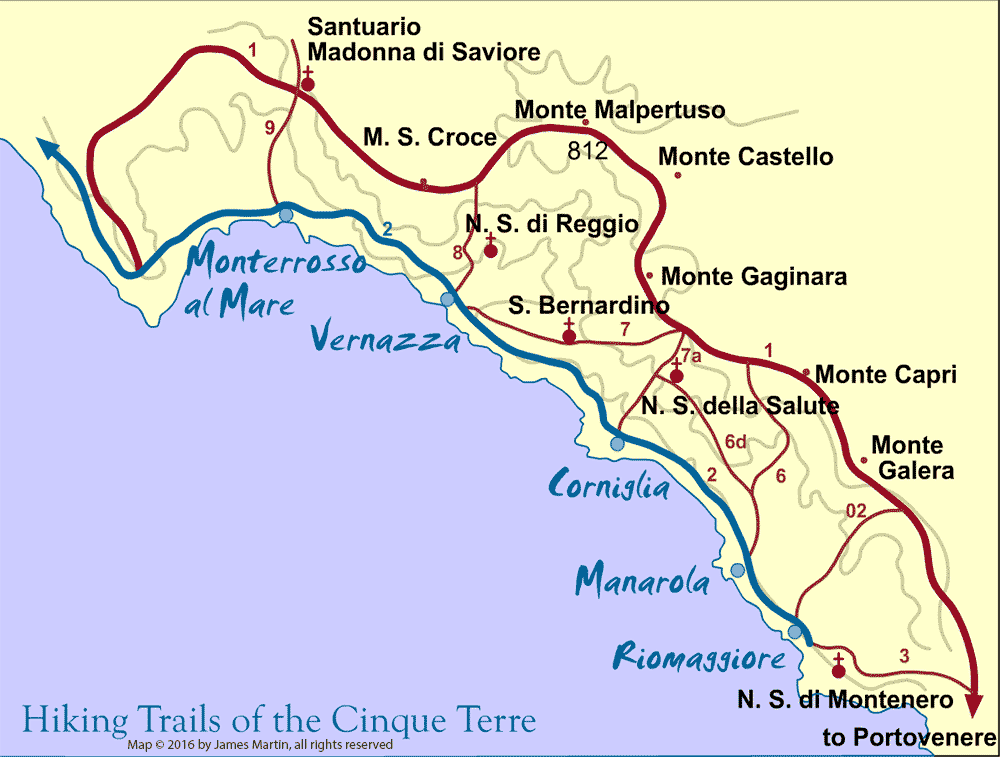 When hiking in Cinque Terre, always check the latest status of the hiking trails. Some of the paths may temporarily close for renovations due to erosion. For instance, the whole blue path section between Corniglia and Riomaggiore is closed until 2021.
Quick hiking guide in Cinque Terre
Hiking trails are PAID.
A day pass – corresponding to the Cinque Terre Card – and costs 7.5€. Please note this ticket does NOT give you access to trains, just exclusively to all the trails.
Timing is important.
Most people hike from Monterosso to Vernazza and from Riomaggiore to Manarola (although this path is currently closed) at the beginning and end of the day to escape the heat. Expect these towns to be packed during these hours.
Choose your battles well.
Corniglia is the toughest village to get to as it's on a hilltop, way above the sea. I was very glad I hiked from Corniglia to Vernazza and not the other way around. It's also generally recommended to hike in the direction Vernazza–Monterosso because there are less uphill sections and stairs. But you know your body better than anyone: going up impacts the legs; going down impacts your knees. What is preferable for you?
Be prepared.
Comfy shoes, a bottle of water, sunscreen and some food is essential. Why not go local and grab a piece of focaccia for lunch?
Cinque Terre Beaches 🏖️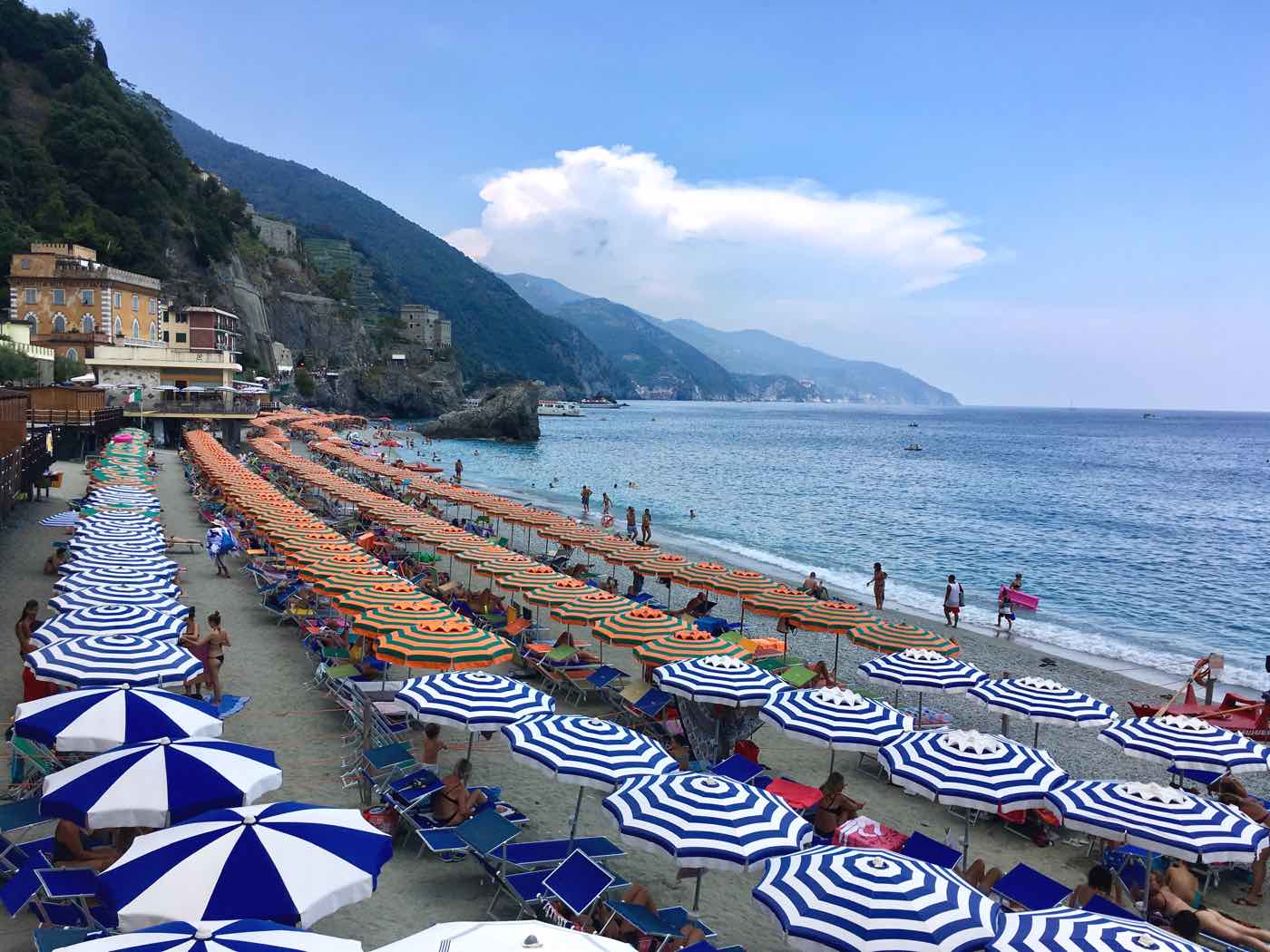 I'll throw it right away: Cinque Terre isn't really known for its beaches.
The only village where you can expect to find proper sandy beaches is in Monterosso al Mare. During summer you'll need to pay for a sunbed and/or umbrella on the main beach – about 20 EUR/day. You can also settle in a free area with your own towel. Overall it seems the best option for families with kids as it's the safer, more traditional beach environment.
That said, swimming in the crystal clear Ligurian sea is exciting and you have more options in other villages, including Corniglia! Along the coastline, there are rocky quays and pebbled beaches where you can find a nice tanning spot.
If you want to reach the wildest and more secluded spots the best way is by boat. I've seen good reviews online of "Cinque Terre from the sea" tours but didn't try it in the end.
Here are the best beaches in each of the villages in Cinque Terre.
Best Beaches in Cinque Terre
Monterosso Beaches
The town of Monterosso has 2 options for sandy beaches. There's one in the old part of the village, next to where the trail to Vernazza starts. The other one is in the new part – next to the railway station – and most of it concessioned, except for the northernmost bit called La Spiaggia del Gigante. In the low season, the entire beach is free though.
Vernazza Beaches
There's a small beach in Vernazza suited for families with kids, as it's a natural harbor with calm waters. There's an area with flat rocks just nearby (perfect to swim during sunset). If you're willing to explore a tiny bit more, the town has a rocky coastline with several spots where you can lay down your towel for free. Try going through "the cave" on the east side of the town!
Corniglia Beaches
Guvano Beach is a narrow and uncrowded pebbled beach on the way to Vernazza. Warning: It's a "clothing optional" beach (avoid if this freaks you out) and getting there by land isn't a piece of cake. There is another swimming spot if you are willing to trek down to sea-level to "Marina" and also a tiny rocky beach on the way to Manarola.
Manarola Beaches
The whole area next to the boat ramp in Manarola has rocks literally emerging out of the sea, perfect for cliff-jumping and swimming. The sea here is deep, but floating with the colorful houses as a backdrop was priceless, I spent an entire day here!
Riomaggiore Beaches
A public beach – Spiaggia Libera – of boulders with turquoise waters can be found east of the village. To get there from the train station, simply follow the tunnel and the signs to "marina". Elsewhere, Canneto Beach is a piece of paradise relatively unknown to tourists but only accessible by boat or kayak (you'll need to be experienced rower!).
Other beaches in Cinque Terre
There are more "traditional" sandy and pebble beaches around Cinque Terre, especially between Levanto and Genoa. Make sure you explore Bonassola, Portofino, Moneglia, Framura or Deiva Marina if you have more time.
What to Eat in Cinque Terre 🍨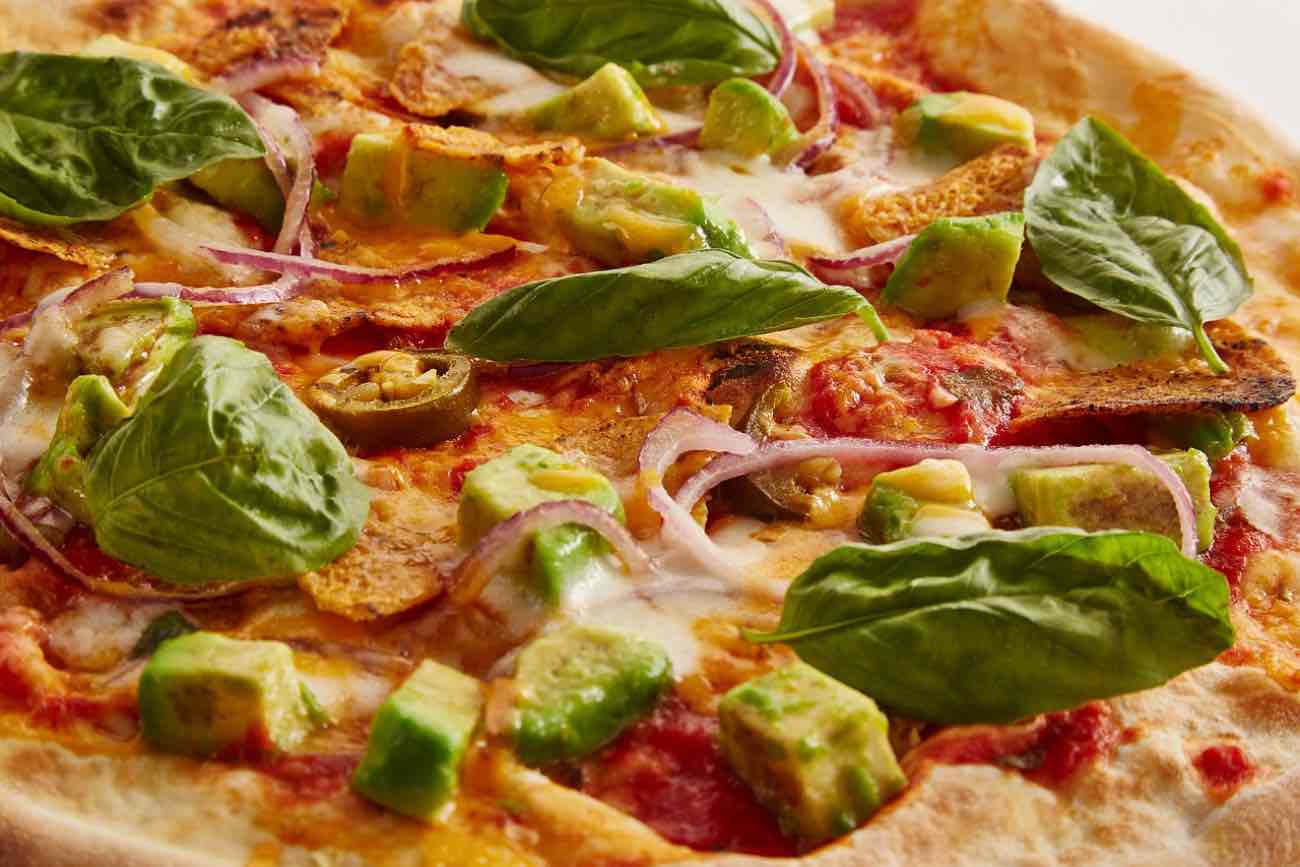 It's a shame traveling to Italy and count calories. Italian food is so special that doesn't deserve any excuses not to be indulged. Apart from the all the basics (pasta, pizza, gelato), pesto, ravioli, and focaccia all originated in the Liguria region and Cinque Terre in particular also does seafood extremely well.
I've highlighted my favorite places to eat in each of the five lands earlier on the post, now here's a quick overview of what you should aim to order.
Must-try Food in Cinque Terre
Pasta
Let's start with the obvious. Delicious homemade pasta is available pretty much in any restaurant. They say both pesto and ravioli were created in Liguria region, so a solid choice would be something like ravioli alla genovese or pesto alla genovese. Personally I couldn't get enough of seafood pasta, mixing two local specialties in one!
Focaccia
In the mornings the scent of freshly made foccaccia floods the tiny streets of every town in Cinque Terre. This Ligurian flat-bread is mostly a street food comes flavored in so many different types, but my favorite was the pesto one.
Frito misto
Seafood is big in Cinque Terre and this another just way to eat it. Basically, frito misto is a mix of fried seafood – shrimp, octopus, anchovies, etc – wrapped in a cone. The ultimate street food.
Farinata
Another local specialty made of chickpea flour. Crusty on the outside but deliciously soft on the inside.
Vino
Most of the 5T towns are backed up by vineyards covering entire mountains so don't miss out on local wine. No need to get fancy – everytime I asked for vino della casa I wasn't disappointed.
Gelato
Who can resist a delicious soft and creamy gelato? My favorite was Gelateria Vernazza where I had the best👏pistachio👏ice👏cream👏of👏my👏life.

Other useful reads to plan your trip
and…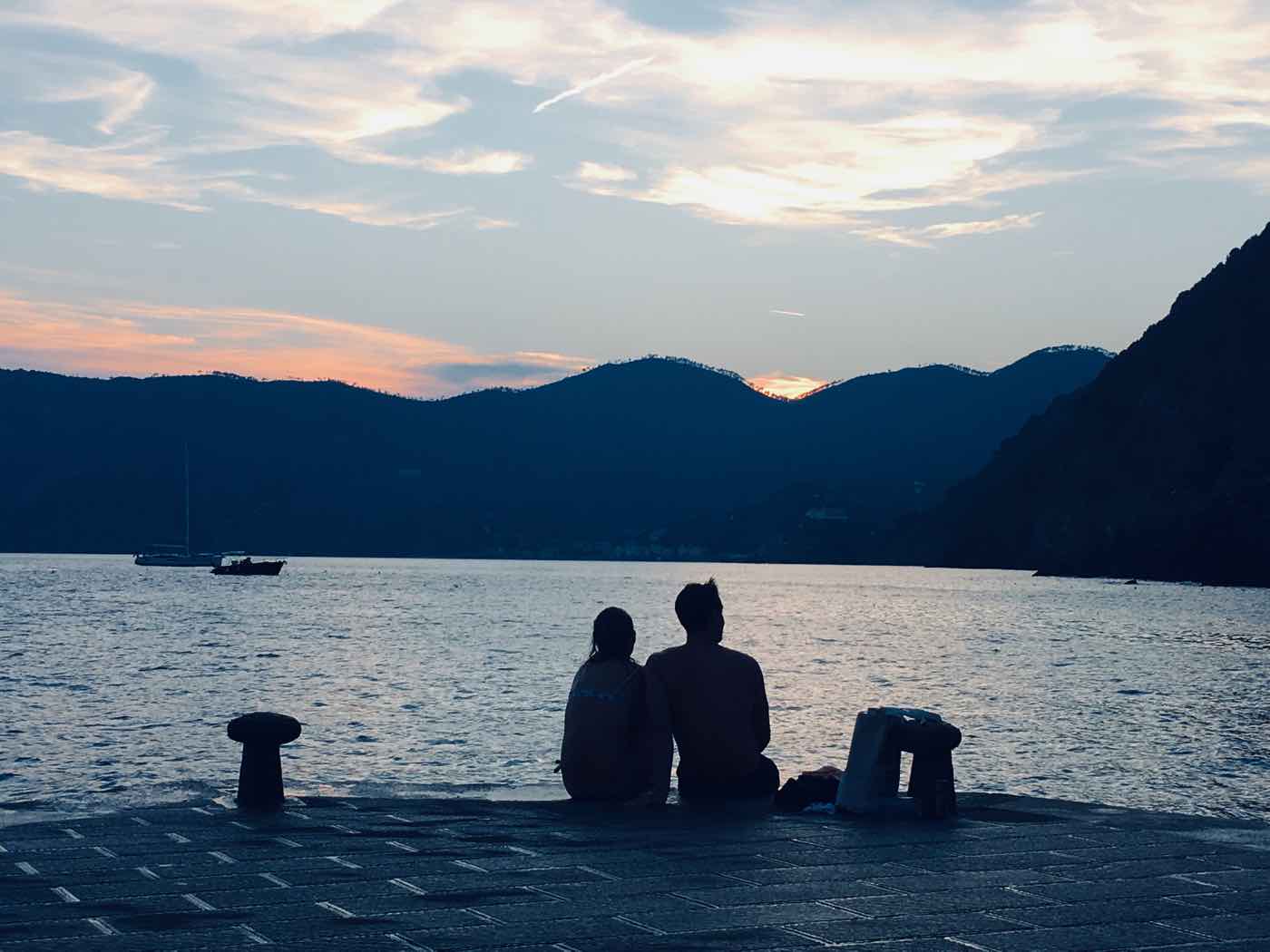 Was this Cinque Terre blog useful? What's your favorite town in Cinque Terre?
Share your experience in the comments 👇!