This is a guide to the charismatic district of Grácia, Barcelona, my favorite neighborhood in the whole city. Find the main sights but also the quirky shops, art galleries and tasty restaurants on this complete guide about Grácia!
Out of all the neighborhoods, Gràcia is definitely my favorite. And for someone who lived in Barcelona for 5 years, that's saying a lot. I was lucky enough to live nearby and work in Grácia for a big chunk of this time. And the more I explored it, the more I fell in love with it!
If you're visiting Barcelona and want a peek of the charming local way of living, I definitely recommend that you go to Grácia. In fact, I suggest that you stay in Grácia.
Why is Grácia different?
Barcelona can be a noisy and overwhelming place. The queues to tourist attractions, the deafening motorbikes, the array of international clothing stores.
But in bohemian and laid-back Grácia, everything is different. This little district is like a different city inside a city and it definitely packs a punch. Visiting it it's one of the best experiences you can have in Barcelona.
It used to be an independent municipality until the 19th century before being annexed by Barcelona. Somehow their independence still shows as the vibe here is entirely from the rest of the city. Here's Grácia in 5 words:
Authentic – no tourist buses or tours here. It's mostly a place where you can see the beautiful mix of locals, from hipster entrepeneurs and creatives, to young Catalan families and even lovely elderly couples.
Charismatic – there's a strong marked personality and creative spirit in Grácia you won't find anywhere else in Barcelona.
Hipster – SO many eco/bio/vegan shops and restaurants, yoga studios, art galleries, swing and salsa dance lessons, as well as indie decorative shops, and sustainable clothing brands.
Quiet – there's hardly any traffic. The large leafy squares interconnected by tiny streets make the noise minimal.
Safe – not that Barcelona in an unsafe city, but there's hardly any pickpockets here. You can put your guard down and enjoy your stroll.
Places to see in Grácia

Even though you'll be in walking distance to some Gaudí sights, you won't find that many popular tourist attractions inside Grácia. They're all in Gótic and in the neighbor Eixample districts.
At the same time, there's still plenty of stuff to see. Every little detail and element of the urban landscape is interesting.
Park Guell
Gaudí's famous Park Guell is located in the outskirts of Grácia and features fascinating shapes, surfaces, and mosaics that push the creative boundaries of architecture and design.
You'll need to buy tickets in advance for the paid area (called Monumental Area), which is a bit overrated in my opinion. I much prefer walking around its surrounding gardens with gorgeous views over the city.
Plaça Virreina
Order a cortado in one of the nearby terrazas and see life go by in one of Grácia's most beautiful squares. The old medieval church sets the laid-back tone. For those with a sweet tooth, the wonderful world of Chok is right on the corner.
Casa Vicens
The very first house designed by Gaudí can be found in a small street in Grácia. Dating back to 1889, Casa Vicens is a cultural heritage and museum and a great example of his delicate and intricate architecture.
Plaça del Sol
Considered by many the beating heart of Grácia, Plaça del Sol is filled with restaurant and bar terrazas. It's also a popular spot for the eclectic local crowds to gather, from chilled dog-walkers to lively students, from the elderly coming back from grocery shopping to professionals thirsty for an after-work drink.
Festa Major de Grácia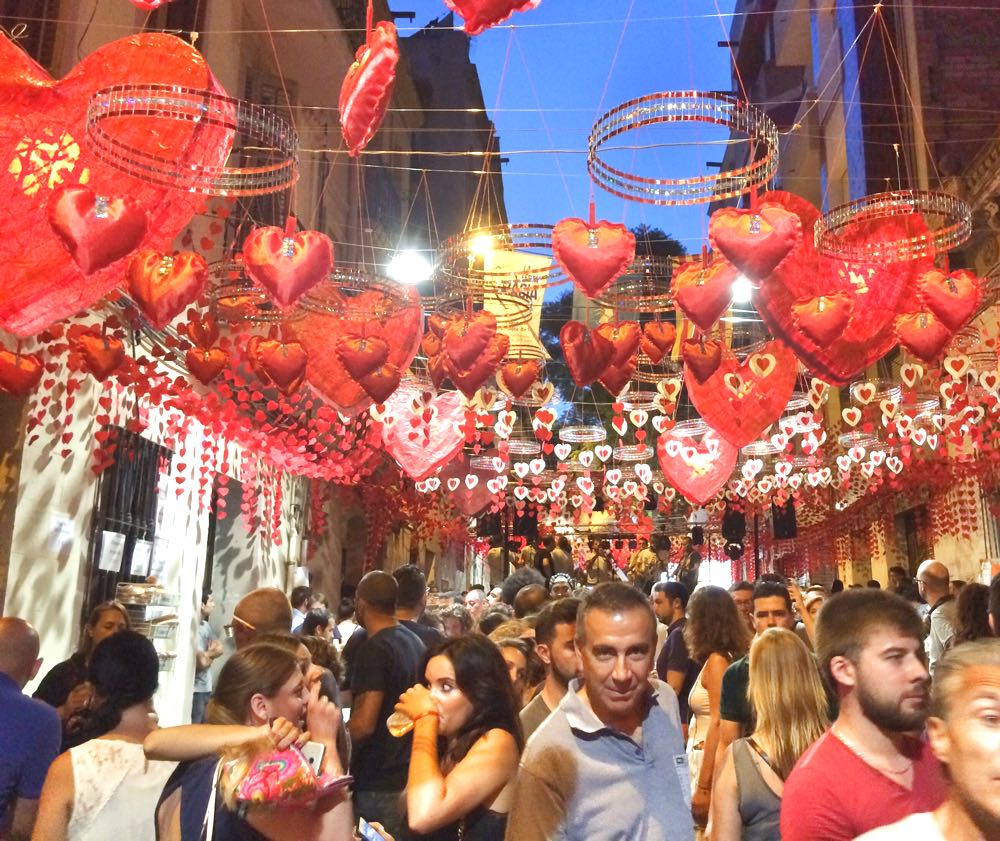 Gràcia keeps a laid-back and chilled vibe all year round… except for this one week in August.
When the Festa Major de Gràcia takes place, the entire barri bursts into a huge street festival. In between the street parties, mojitos, concerts, workshops, and open-air concerts, a competition is held to find who creates the best-decorated street.
If you happen to be around, don't miss the huge street parade on the 15th of August. Always had GREAT fun here!
Places to eat in Grácia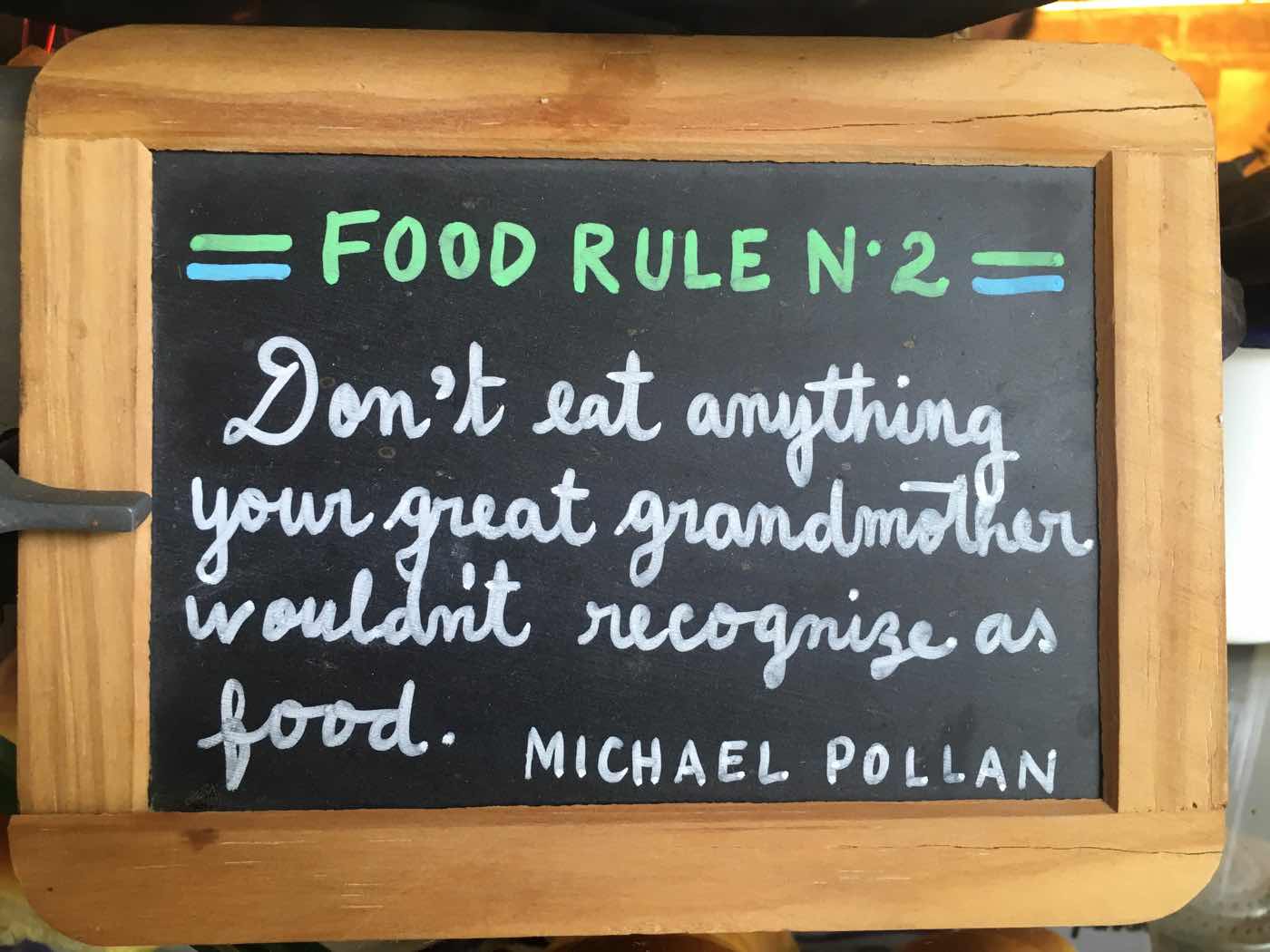 I've worked in Grácia for a fair share of my time in Barcelona and got the chance to explore its local restaurant scene. There's a huge range of affordable places to eat, from the typical Catalan food to all international restaurants you can imagine (Greek, Palestinian, Lebanese, Italian, Japanese, just to name a few).
Also – the entire barri is extremely vegetarian & vegan friendly.
These are some of my favorite restaurants in Grácia.
🍔 Favorite restaurants in Gràcia
Can Codina – cozy place filled with locals serving Catalan food.
Gut – nicely presented mediterranean food in an elegant nordic design setting.
Les Tres A La Cuina – one of places I miss the most in Barcelona, as I used to go there at least twice a week for lunch. Healthy and tasty homemade food by a family of 3 sisters.
La Besneta – incredible variety of vegan desserts and cakes.
Hip Fish – the best poke bowls in town.
La Macchina – when you see an Italian restaurant filled with Italians, that's always a good sign. .IT is also pretty good.
Quinoa – tiny vegetarian bar with super tasty quiches, tortillas, pastas, and salads.
Santa Gula – tapas place a bit on the pricey side, but worth every cent for the flavors and overall experience. Book in advance!
Taverna El Glop – very good place for a legit seafood paella.
The Quick Greek – the name says it all. Juicy greek takeaway food.
For more restaurants tips in Grácia, check the Grácia map.
Shopping: Places to shop in Grácia
Food shopping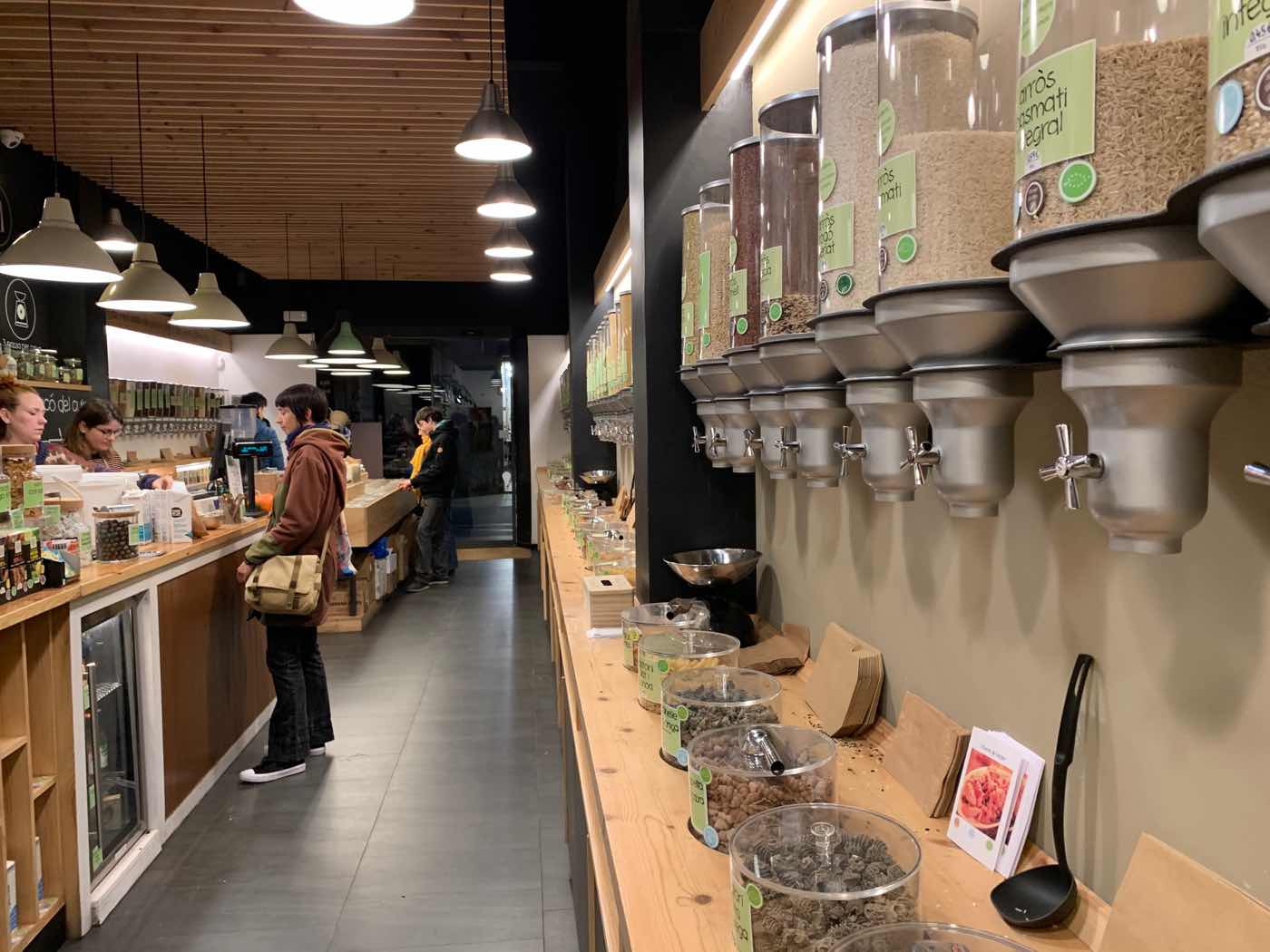 To be honest, the only shopping I'm interested in these days is food shopping.
One of my favorites is the bulk-buy store Gra de Grácia, with a huge variety of nuts, seeds, flours, spices, beans, granola or muesli, all paid by the weight. Handsel & Granel has a similar concept and is considerably cheaper, albeit with less variety.
For bio products, have a look at La Comunal, a cool fruit & vegetable shop, and Organic Market, a supermarket with all kinds of ingredients that also do wok-based menus for lunch.
If you're looking for specific international food items, Grácia has got you covered. Consider Um Sabors d'Asia, a tiny but solid Asian store; The Quick Greek, a greek store with tahini, feta, and Kalamata olives; and A Casa Portuguesa, with a very good selection on Portuguese wines, cheeses, and pastries. Grab a pastel de nata while you decide (can confirm they're legit).
Other cool shops in Grácia
Big brands are uncommon in Grácia. On the other hand, the choices of smaller independent shops are more than many, often with interesting creative and artsy twists. Fashion in Grácia is a mix of bohemian, alternative, hippie, vintage, and cool stores catering to young crowds living there.
For decoration and house supplies, Fulanitu i Meganita has such creative pieces that will unleash the inner decorateur in you. Amazonica has natural dry plants which is a conversation starter for your friends back home. Be Free is a cool store to find gifts to bring back home.
🛍️ Shopping streets in Grácia
Carrer d'Astúries – so many interesting bio grocery, cosmetics, and natural remedies' shops. My personal favorite. There's a second-hand HUMANA store here.
Carrer Verdi – trendy and leafy, there's a bit of everything here including restaurants, young creative fashion brands, and local boutiques. Check Streeters for some cool urban wear.
Gran de Gràcia – spawning all the way from Passeig de Grácia on the edge of the district, it's the best chance to find more well-known brands in Grácia.
Travessera de Gràcia – another array of cool small stores. Don't miss Quinoa, the veggy restaurant!

Staying in Grácia
If you seek a more local vibe for your stay in Barcelona, Grácia is probably the best choice. There are decent choices for accommodation here: from backpackers' hostels to more high-end hotels and apartments.
Aim to stay in the area around Fontana metro station. Not only it's more convenient to move around other areas of the city, but some of the most charming and quaint streets in Grácia can be found around here.
Hotels & apartments in Grácia
If you don't feel like wasting time booking a place, this is a no-brainer. Go with my main suggestion: ApartHotel Silver, very close to Fontana station.

ApartHotel Silver
Easy walking distance to the streets and plazas in Grácia, but also to metro that take you to other areas. It even has a private garden!
Check prices >>
Or you can start looking your place to stay with my shortlist of top-rated places in Grácia with WiFi. This map can also help.
Logistics of staying in Grácia
Depending on where you stay in Grácia, you can reach many different areas of the city in a 30-min walk. Barceloneta should be a 45-50 min walk, with lots of cool things to see on the way. Walking is by far my favorite way of knowing a city and Barcelona is no exception.
Public transportation is top-notch, so unless you plan on making a lot of day trips, renting a car in Barcelona won't be needed at all.
By metro, Grácia is accessible via the stations Fontana (L3, green line) or Joanic (L4, yellow line). The neighborhood is between these two metro stations. Additionally, there are plenty of buses connecting Grácia to downtown areas – look for the V buses (means vertical journey) such as V17.
Which tickets to get?
There are daily passes for tourists, but I strongly suggest getting a T-10 ticket. This ticket with 10 journeys is not only cheap (a little over 10 EUR, 2019 prices) and gives you access to buses, metro as well as some trains too. The best part? This is a multi-person ticket meaning you can share the pool of journeys with others.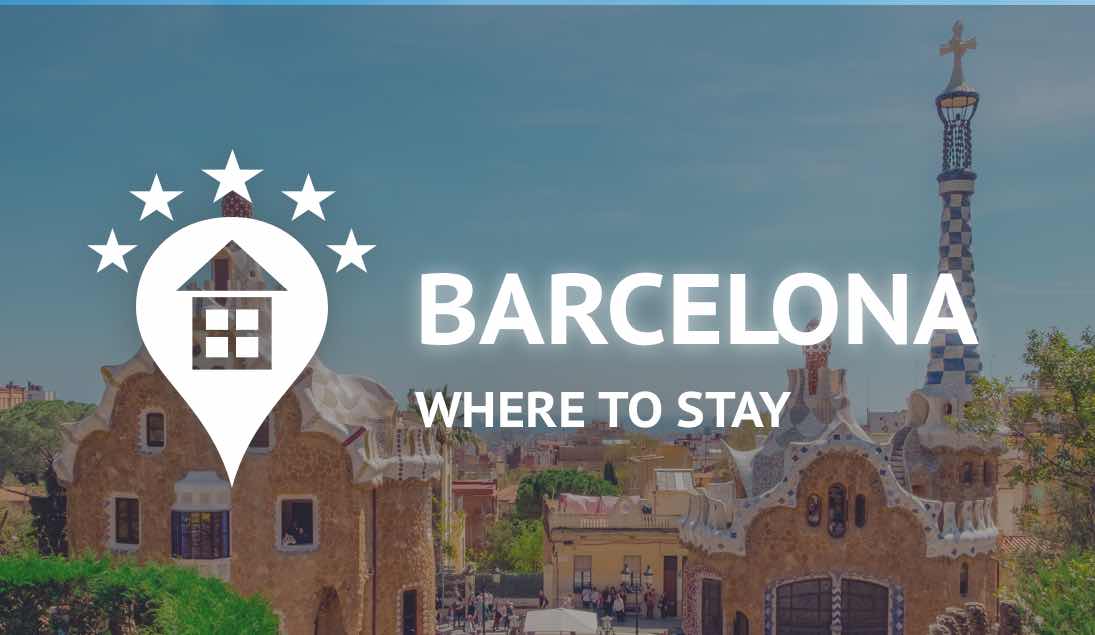 Grácia Map with Sights
I've put all of the places I've mentioned before plus a few extra ones on this map.

What other unique experiences you recommend in Grácia and in Barcelona?
Share your suggestions below in the comments! 👇