Siquijor is a tiny and remote island in the Visayas. Apart from pristine waters and beautiful beaches, there are many other sights to keep you busy for a few days. These are the top places to visit in Siquijor, Philippines!
We were in Palawan when we met a friend who had been traveling around Philippines for a few weeks. She mentioned her favorite place was Siquijor.
That's when I decided to go to Siquijor.
Apart from the fact I read it was a bewitched island, I didn't know much more. But I was sure motivated to find out.
For a total of 5 days we explored the island in a motorcycle and found bliss. Here's my top 10 travel sights in Siquijor!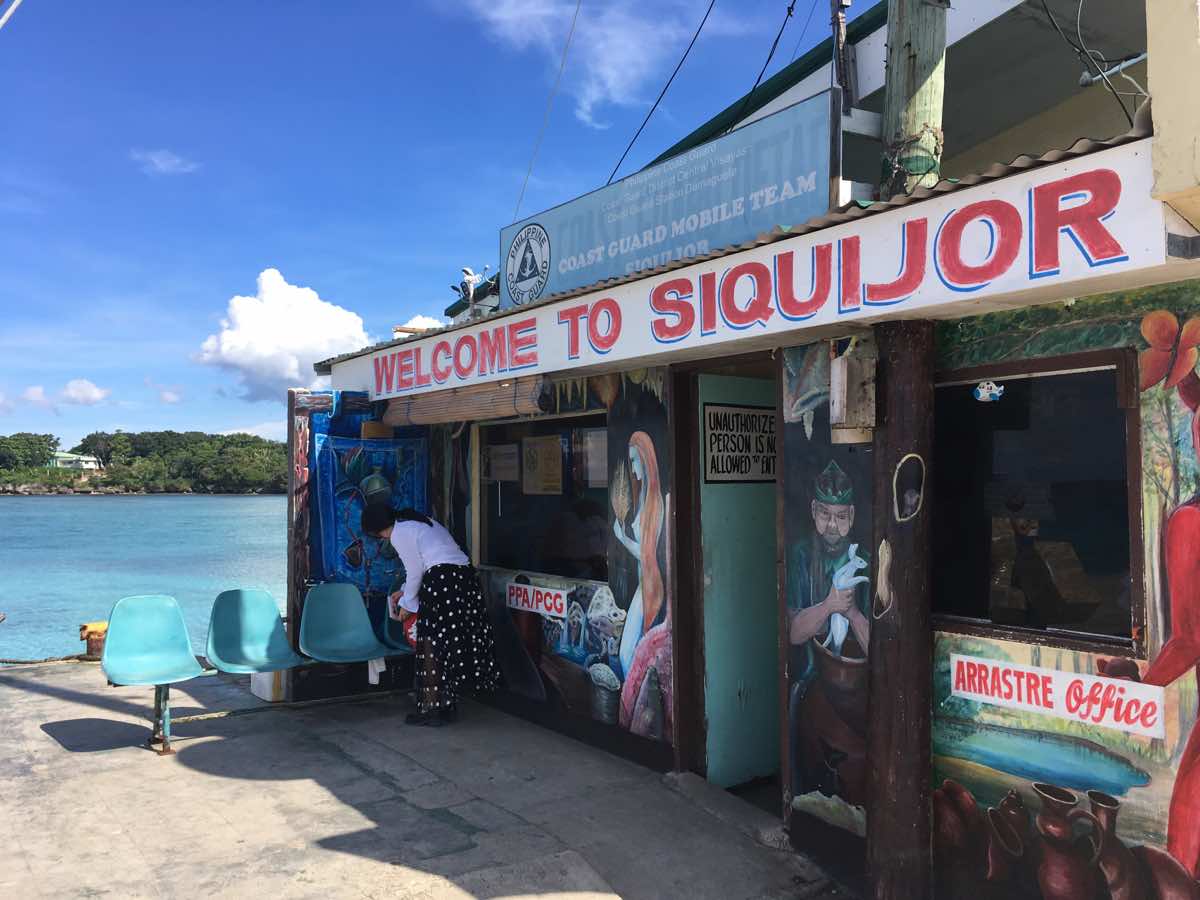 10

Places to visit in Siquijor
10

Lugnason Falls

A wild trek in the forest takes you to a set of 12 waterfalls, each one corresponding to one of the signs of the Zodiac. Not sure if it was the wrong season, but some of them can hardly be called "falls"…

In any case, the main ones are worthy of entering this top 10 and of your visit. so Actually just taking a moment to immerse yourself in the tropical forest is enough of a reason to go. Plus: there are not many people there!
9

St. Francis of Assisi Church

Like in the entire country, Siquijor has a very Catholic population and churches are everywhere. If there's a place to try church-hopping it's here!

The church of St. Francis of Assisiis a historical landmark in the island and probably the first one you'll see. Built in 1774, it preserves the old colonial style from old Spanish churches and is not opulent or rich on the inside. On the contrary.

What is interesting about this church is that the belfry (bell tower) is a few meters away from the church, in the middle of a plaza. It suggests it served as a watch tower against Siquijor invaders.
8

Coco Grove Beach Resort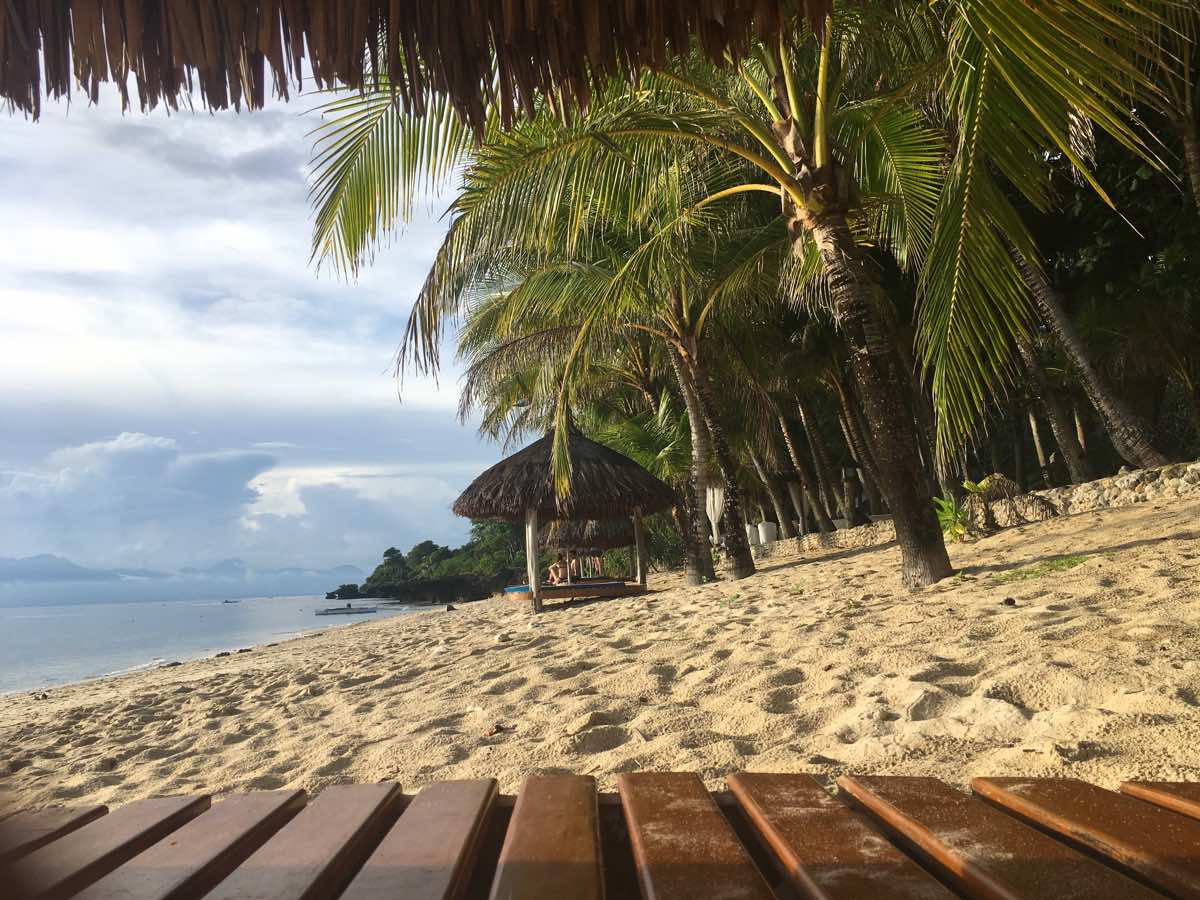 Yes, it's a resort, but not an ordinary one. We organized our visit to Apo Island through them and got the chance to explore its surroundings before and after the trip.
For starters, Coco Grove is located right in front of a marine sanctuary and it's a well-renowned diving spot. Bam!
What I enjoyed the most though is how Coco is beautifully integrated within the landscape while still having all the commodities possible. I'm talking restaurant, bar, spa, 2 swimming pools and loads of tours activities to keep you busy. There's even an aquatic center inside where you can get your kayak, diving equipment or just flippers…for free.
It's easily the best hotel in the island and might be the best-value resort in the Philippines. The island Siquijor is stunning, but I don't blame you if you don't want to leave this hotel.
Coco Grove Beach Resort

There's a 1-kilometer-long private beach and tropical gardens everywhere inside the surroundings. I mean whaaat?! If you're looking for relaxation, this is it!
Check prices >>
7

Kagusuan Beach

One of the most remote beaches in the island, Kagusuan beach is a reward after a long drive + a passage through a thick forest.

Not many people get here – not even locals – so you likely have the beach almost for yourself. The sand is soft, the scenery is postcard-perfect and the rocks make great photo sessions. If you're a beach bum, don't miss it!
6

Guiwahon Spring Park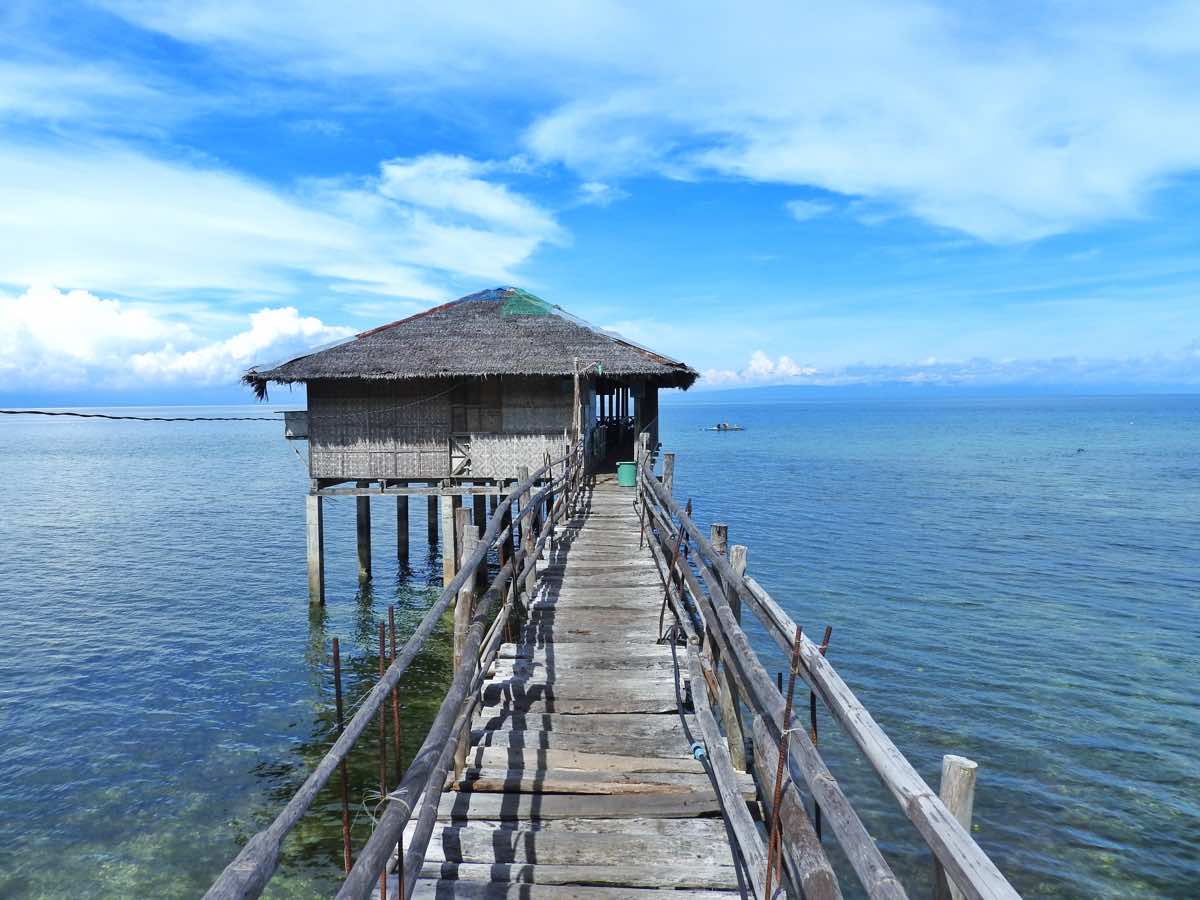 This park in Luyang is a sanctuary for various marine species. It's located right on the edge of the road and was a bit hard to find for us. Still clueless about what's inside we were asked to pay 10 pesos each. But the sight of walking along huge bamboo/wooden bridges was exciting enough!
The whole thing is man-made and it's been built on huge mangroves. There are some little huts along the way and some of the views into the ocean are pretty espetacular.
However I feel the experience could be improved. I understand the logistics of having wooden planks makes it hard to improve infrastructure, but at least some explanation of what we were seeing would have been nice too.
5

Siquijor Port Beach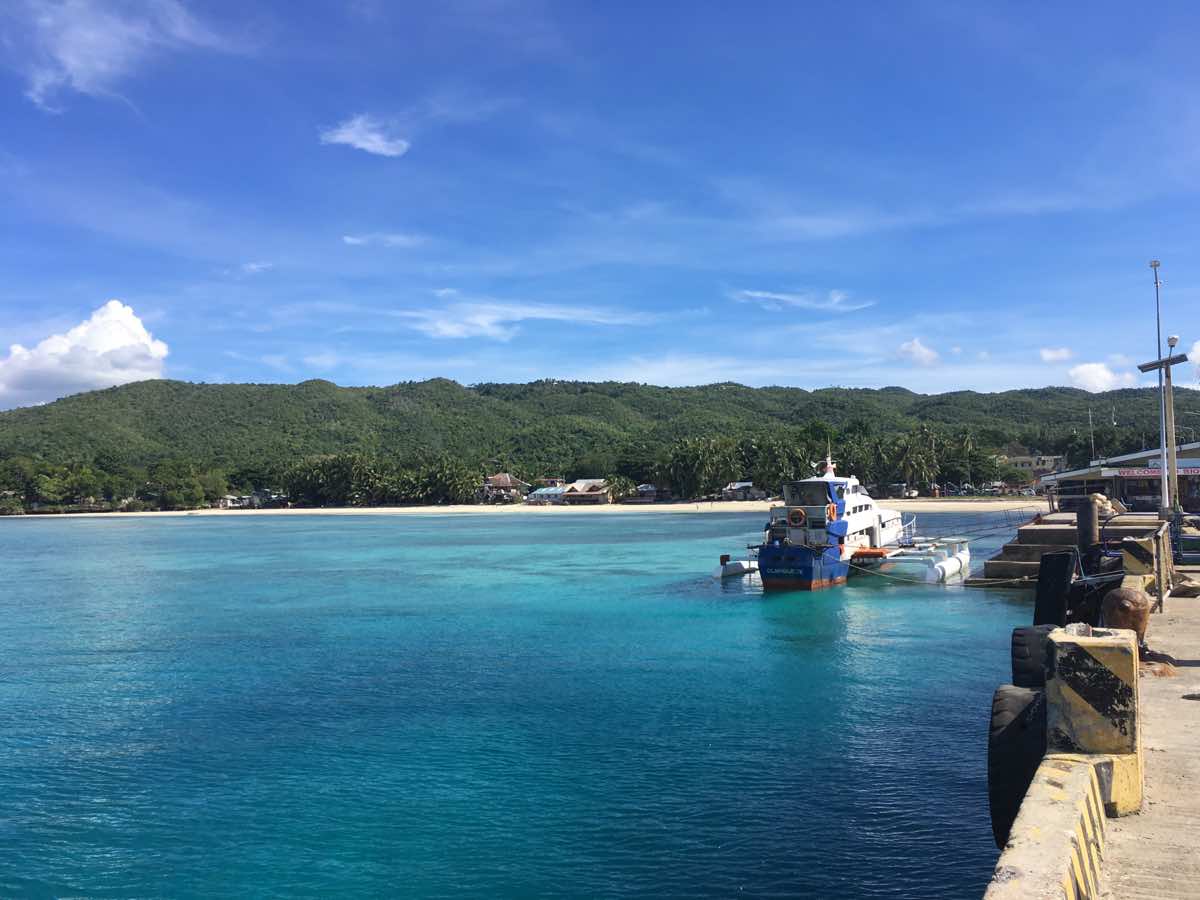 One of my fondest memories of Siquijor was just when I got off the boat and saw the scenery. The incredible color of crystal-clear water. The deserted white-sand beach with lush forest as a backdrop. Couldn't have asked for a more welcoming view!
I came back to the beach a few days after and again, no one was there. Provided you don't go in the ferry's busiest times, you are guaranteed to have a relaxing time within a gorgeous setting!
4

Century-Old Enchanted Balete Tree

OK so this is simultaneously one of the most weird and interesting places I've been in the Philippines.

This 400 year-old tree in Lazi is located along the main road in Barangay Campalanas. It has beautiful hanging vines and roots and it's believe to be enchanted.

Right next to it there's a small pool where you can dip your feet and enjoy a free feet spa session. If only some of the fishes were not big and look like they will bite your small toe off…

The site has caretakers maintaining the place and selling some snacks and drinks which maintain the cleanliness of the place. They also keep a baby monkey in a tiny cage (WHY?!).

To be honest, I left without knowing what to think about the place, but for sure one was one of the most memorable in Siquijor.
3

Salagdoong Beach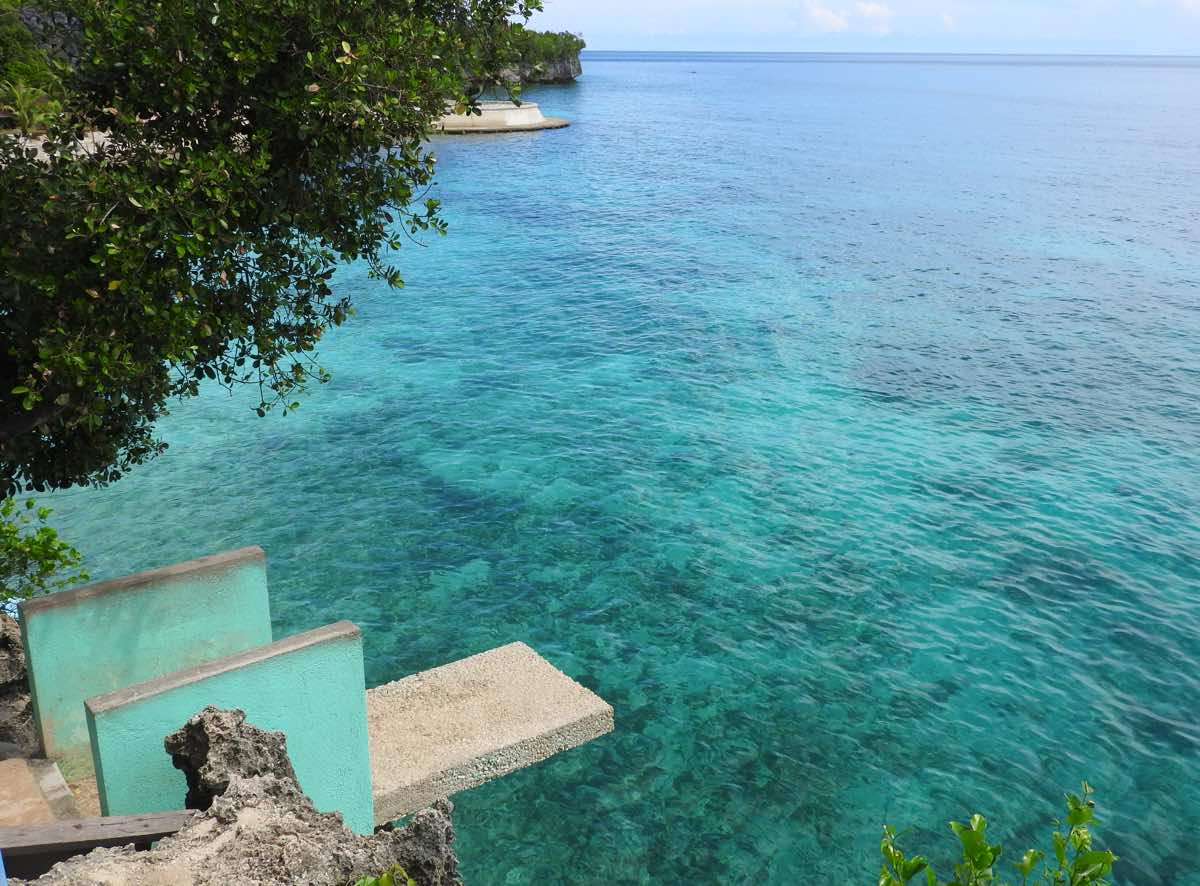 And we enter top 3! This beach in Maria, the east side of Siquijor is privately owned and that's probably why it feels less rugged. There's a restaurant, concrete tables and even a swimming pool there.
The main attraction though are the diving platforms embedded in the rock formations which divide both stretches of beach. The highest is 22-feet high. This means borderline terrifying to me.
By the time I encouraged myself to jump off the highest one, the security guard closed it due to the low tide. I may or may not have waited on purpose to wait to use this an excuse for my cowardice.
Nevertheless, Salagdoong is an AWESOME place for beach lovers. Swimming in the sea or snorkeling are popular activities on the crystal clear water. You can easily stay here for the entire day.
There's an entrance fee paid to the resort who maintains the site.
2

Cambuhagay Falls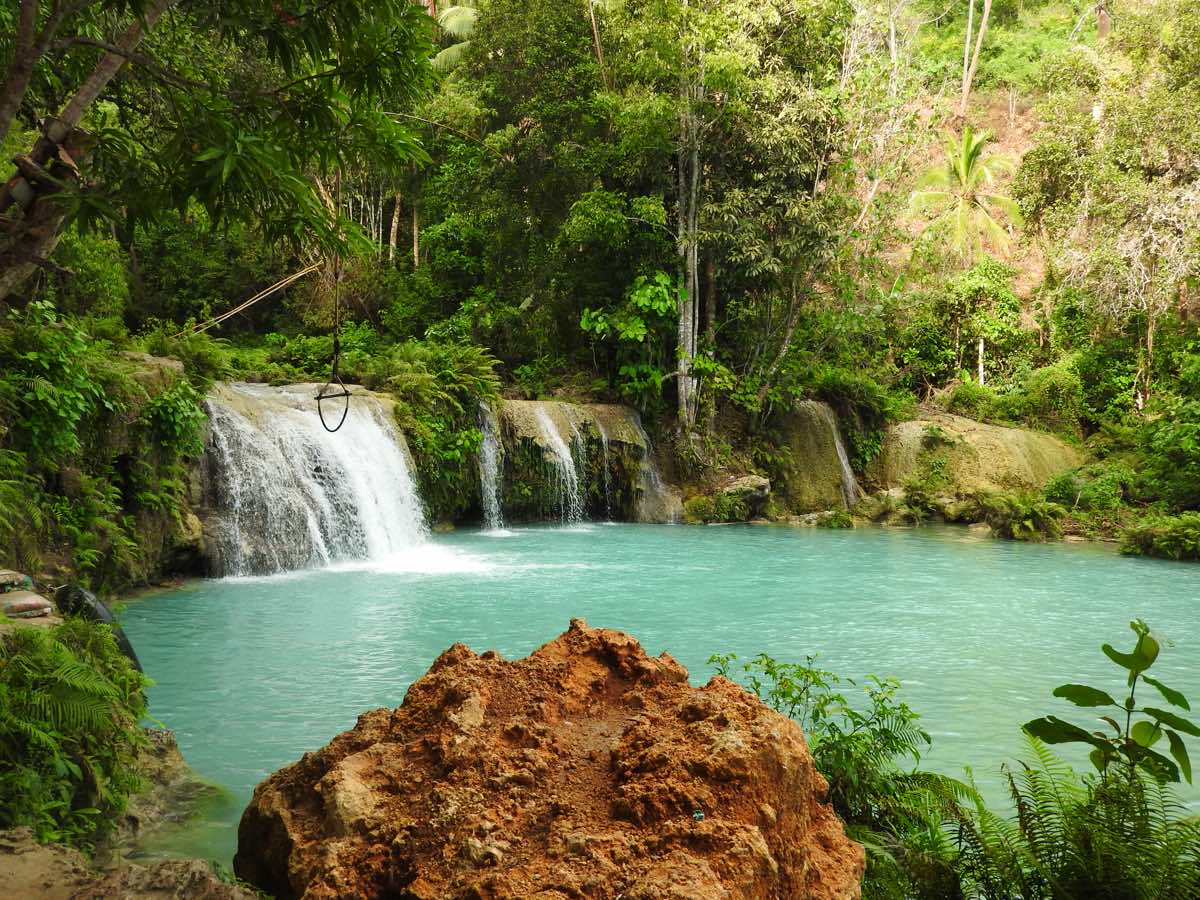 Located in Lazi, these falls are probably the most well-known in Siquijor – and an exciting place to visit. They're very well worth the short but steep hike down.
The waterfalls are actually of three-tiered cascading falls. To get there you pass through a small trail of rocks in the river. The most striking feature is the vibrant turquoise of the warm water, originating from natural springs.
Make sure you try their Tarzan swing from one of the many vines! The only thing is: there's a fee to do this. Or putting it differently: there are some kids who think they own the vines and as such, demand money for you to swing on them.
1

Paliton Beach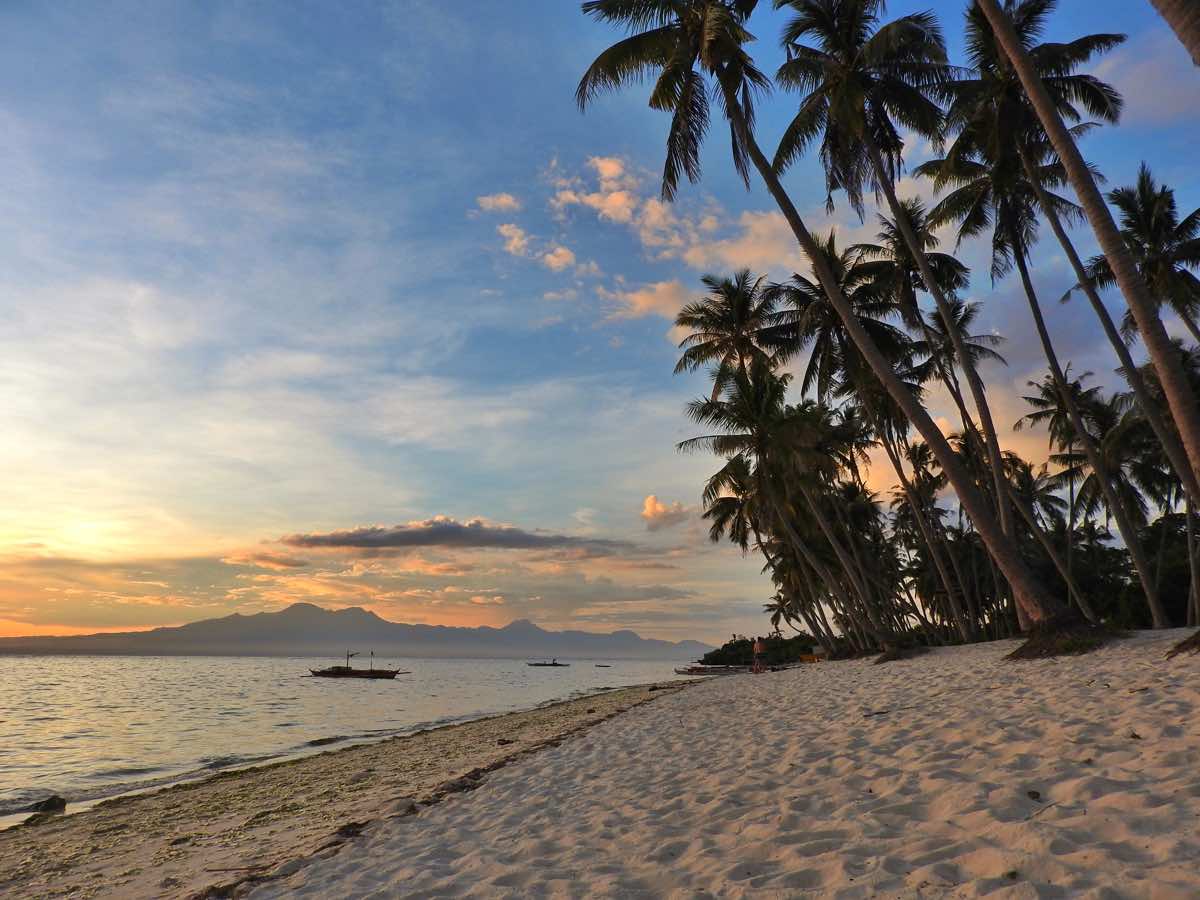 Picking a beach for the favorite place in a tropical island might be a cliché. The neigbour island of Bohol also has some top-notch beaches. Heck, the entire country is a beach paradise.
But I'm a beach bum. And trust me, Paliton beach, in San Juan is unique enough. The line up of huge palm trees, the fine white sand and the view to the nearby islands make it memorable.
And of course, the sunsets. Sunsets in Siquijor will be some of the most amazing I'll ever see and Paliton/San Juan is the best area to watch them.
If it were not for the industrial quantities seaweed those days I was there, Paliton would have been even more amazing. But was still enough to grab my #1 spot!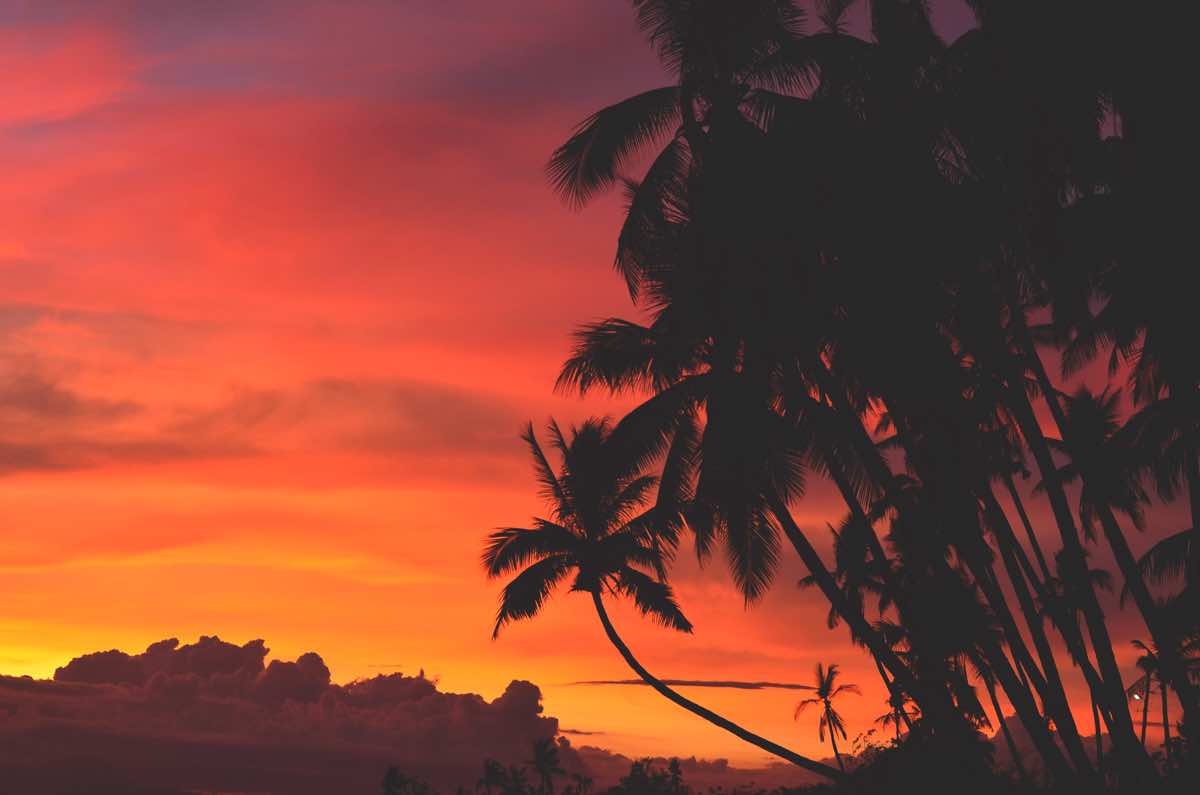 To make your life easier, I've put all these spots in a Google Map. Save it offline to your phone or tablet and start your exploration!
Siquijor island: the perfect tropical getaway
Yes, Siquijor has many beautiful places to visit, especially considering its tiny size. But this island is more than merely the sum of its beautiful places.
The sweet spot is really going from place to place and take it all in. Far away from huge touristy resorts or infrastructure, this remote island is a true delight to explore. It's safe, unspoiled and charming in every possible way.
Oh and the people. Smiles are contagious and it's impossible not to be in a great mood when everyone around you has a genuine smile on their face.
Learn more about Siquijor in my complete travel guide with budget and itinerary details.
How to get to Siquijor
Siquijor does not have an international airport. The closest one is Dumaguete, to where there are many direct flights from the capital Manila. More and more I recommend Skyscanner.com: this tool makes it super easy to find the best flights.
UPDATE: You can now fly direct to Siquijor from Cebu with AirJuan.
From Dumaguete, get on a tricycle or taxi to the port and then hop on a ferry (1 hour-long). There are also ferries from Tagbilaran (Bohol) and Cebu City (Cebu), taking slightly longer.
Where to stay in Siquijor
The island is tiny and there aren't (yet) that many offers in accommodation. By far the best resort is Coco Grove, in San Juan. Considering the price vs all the commodities, activities and excellence in service, it's GREAT value.
I didn't stay here though, as they had no availability. Instead I went for the place below and glad I did it. In fact we liked it so much we ended up extending our stay!
Which other places to visit in Siquijor do you recommend? Share your experience there below in the comments!