These are the most memorable activities and experiences in Bohol and Panglao. They're one of the most authentic and diverse islands in the Philippines – exactly how it should be!
Visiting the Philippines creates the massive task of choosing which islands to squeeze in into your itinerary. There are just too many things to do and see in the Philippines!
This first world problem is a bitch so I'm about to show you why Bohol is a great addition to your trip. Beautiful landscapes, big potential for adventure experiences or just do some time of beach bum. It's one of the most diverse destinations in the whole Philippines. What's there not to like?
I've spend a total of 5 days exploring Bohol and the sister island of Panglao. These were my favorite experiences.
1

See The Smallest Primate In The World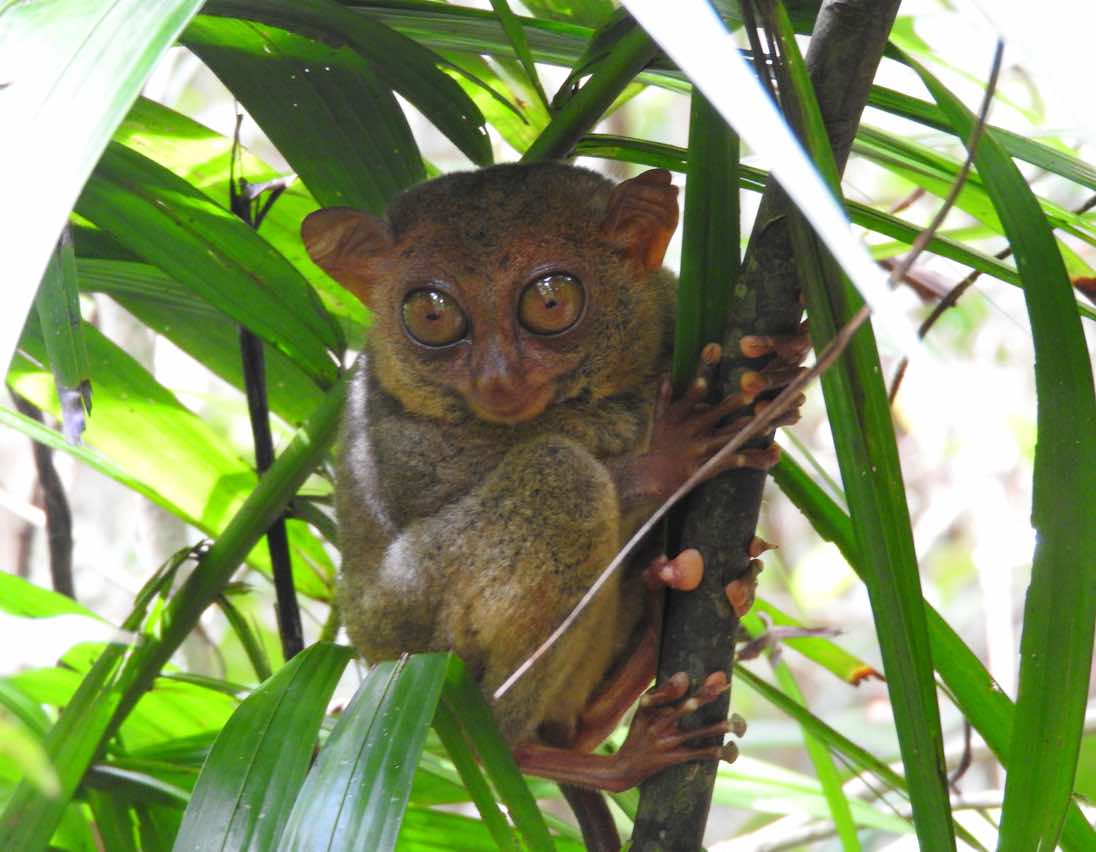 I've barely heard of tarsiers before coming to the Philippines, but who can resist to these big eyes looking at your soul? They're about the size of a human fist (!) and the absolute smallest primate in the world. They are also one of the most endangered species worldwide, with only about 130 animals left in the wild.
To see them in Bohol, make sure you go to the Tarsier Sanctuary. It's the only place where they do not live in cages and have enough space to have a good quality of life. You see, when they don't have an hectare of forest to live and are enclosed in little cages, they often attempt suicide.
It's one of those places you will always remember, let's hope this alien-like creature thrives!
2

Get Your Own Wheels
We've learned how to ride a bike in my latest Southeast Asia trip and I almost immediately got hooked. After that I've tried it out in a few places like Ninh Binh – they all turned out to be awesome experiences. Bohol was no exception.
The roads are well maintained and sided by huge palm trees. Children wave at you from the side of the improvised sidewalk. And the landscape is incredibly beautiful and diverse: everything from vivid green paddy fields, lush forests or just stunning views to the Pacific.
I strongly recommend you get a bike too. Way better and cheaper than getting jeepneys to get around if you ask me. Sometimes the journey is the best part of the trip. We had a few days where it poured, but hey, that's part of the experience!
3

Relax On The White-Sand Beaches of Panglao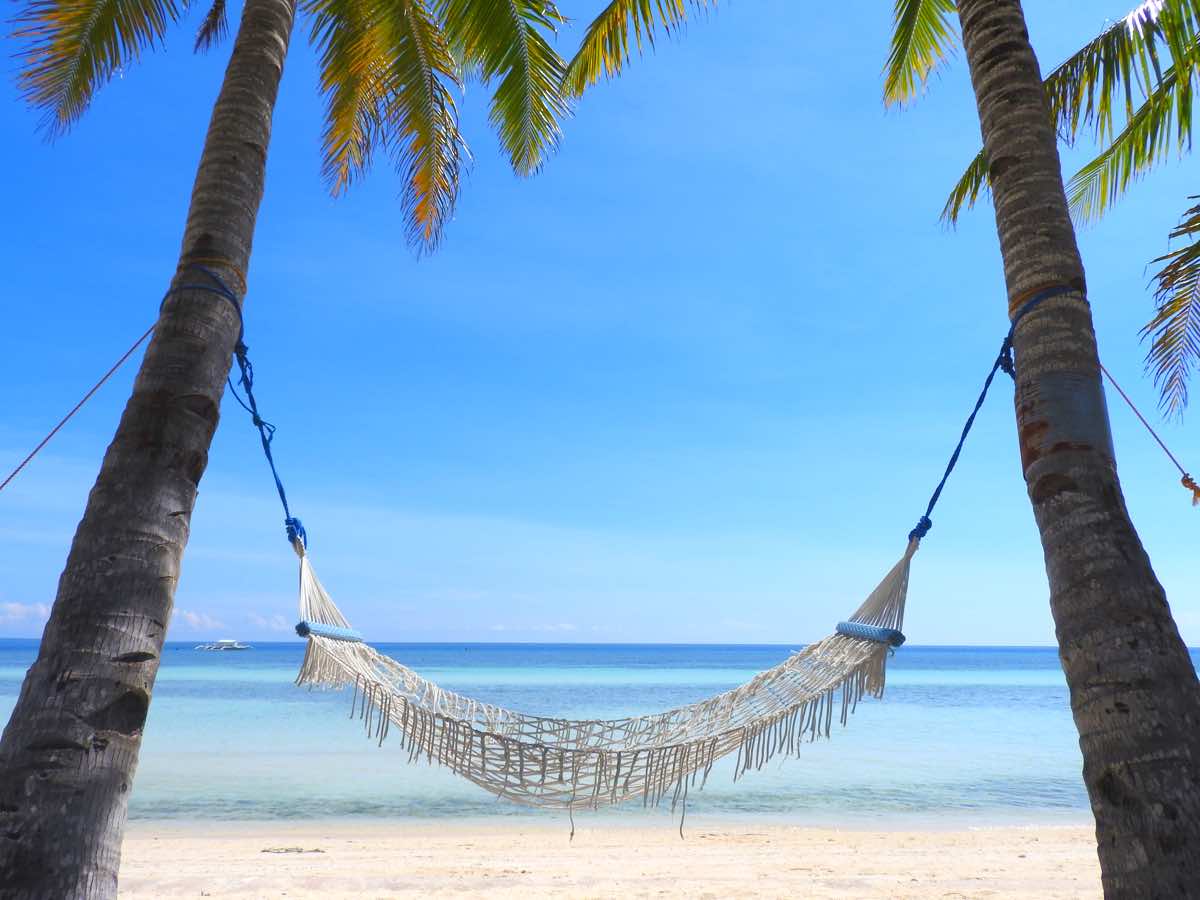 After being in Koh Lipe (Thailand) or even in Palawan, Panglao my beach expectations in Panglao were rising high.
And I've got to be honest here: I found some of them to have either too much trash or too much seaweed (obviously I prefer the latter). Not that they are not beautiful places to pay a visit to – they ALL are – but plastic on the sand and a huge dark-green mass in the water throws you off a bit. Maybe I'm too picky or maybe was the time of the year?
Still, I'm glad I could find a stunning beach: Dumaluan Beach. White clean sands, turquoise waters and not crowded at all. Not only amazed me, but was probably the best beach I've ever been!
The best resort in Bohol
4

Go Underwater

Bohol and specially Panglao are not only beautiful places above water. The underwater world is also stunning.

For starters, you can enjoy decent snorkeling right off the beach in many sites. There are hundreds of starfish even in the most popular spots.

Panglao is a great option for diving and snorkeling areas in Bohol. It offers rich shallow reefs hiding stone fishes, frogfishes all within crystal clear waters with temperatures ranging 25-30C.

A paradise called Balicasag island is available at a 40-min boat ride away. The Marine sanctuary is considered the best place to dive in the Visayas region and one of the best in the whole Asia. Prepare for close encounters with turtles and dolphins!

If you are hooked on scuba diving, learn some more of Bohol best dive sites.



5

Visit the Chocolate Hills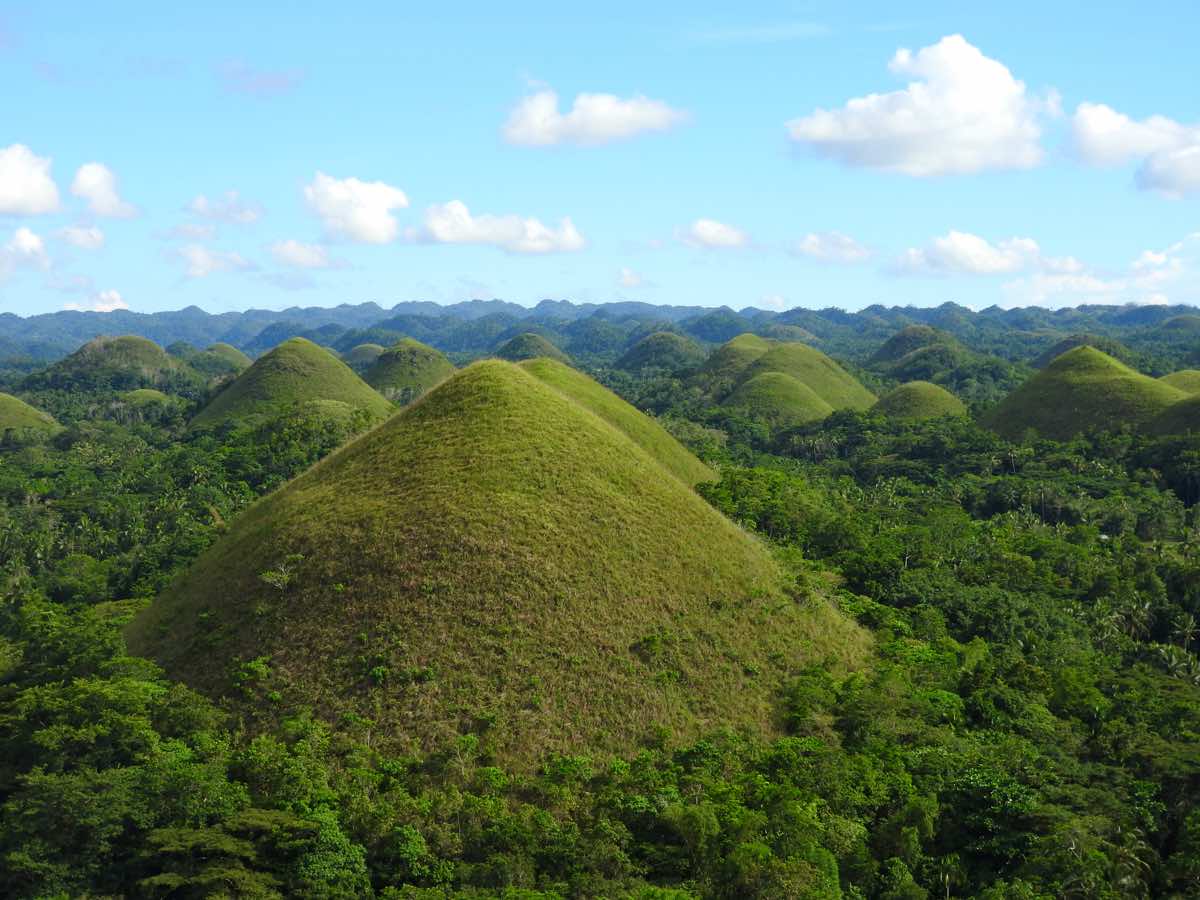 A few years ago, I remember seeing a picture of the Chocolate Hills for the first time and wondered if I ever would have the change to go there. And it happened!
This surreal landscape is a geological formation consisting of 1,776 conical-shaped hills covered in a vivid green grass. No, they are not made of chocolate nor they have no cocoa trees! During the dry season, they do mute to a brown color, hence their name.
The hills are located in Carmen, in the heart of Bohol, and range from 30 to 120-meter high. Needless to say is a great place for pictures or just contemplate a true wonder of nature.
Pro tip: Try to go from November to March to see them at their best.
6

Explore Loboc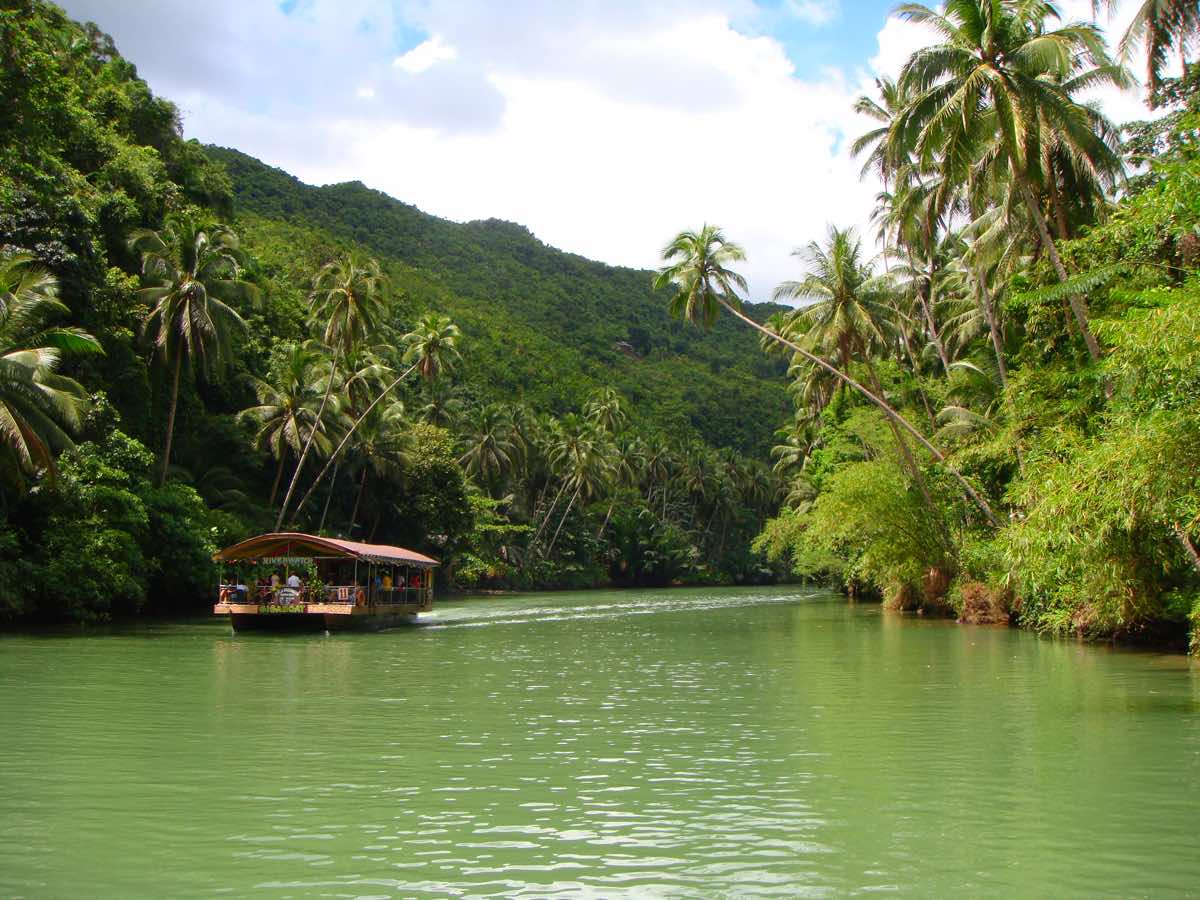 Many people visit Bohol for a couple of days and barely visit more than Chocolate Hills and the Alona Beach area. That's a shame. The interior of the island is full of hidden gems of towns, incredibly smiley and friendly people and interesting landscape.
Apart from a charming setting, Loboc is known for its river cruises. While rather expensive, these are boats that take you up and down the scenic Loboc river. There are boat restaurants which include lunch.
Other landmarks in Loboc are the Baclayon and San Pedro churches. Built during the Spanish colonial era, they were heavily destroyed by the 2013 earthquake. Their restoration is still a work in progress, but it still attracts lots of travelers with a bit more of morbid curiosity (like myself).
7

Man-Made Forest

The Man-Made Forest is a stretch of mahogany tree forest completely uniformized in height, species and spread of branches. It occupies a 2 km wide area in a mountainous area of Bohol island.

What's special about it apart from just a pretty sight? Well it's worth to stop your bike/car, take a very literal breath of cool fresh air and hear the amazing forest sounds all around. Trust me, this is gold in the hot and humid weather of Bohol.
What experience #8 would you add to the list of the best things to do in Bohol or Panglao?