This is a complete travel guide to Madeira Island, Portugal. I'm sharing tips of the best places to go, how to go around the island, where to stay and what to eat.
I spent one week in Madeira in January 2021 and wanted to share a bit of knowledge to guide you through a visit to this amazing island. It's known as the Pearl of the Alantic for a reason!
When to go to Madeira?
If you ask me, the ideal time of the year to come to Madeira would be between April and June. Why?
If you're looking to do whale and dolphin watching, just like in Azores, it's the best time of the year.
April and May also feature a spectacle with all the flowers in full bloom.
It's also perfect for hiking: past the rainy season but still not on the unbearably hot summer months.
Weather in Madeira
Madeira is an all-year destination. The very mild climate allows for very stable temperatures throughout the entire year. To give you an idea, in early January I got 20 C / 68F temperatures which were perfect for a swim in the sea! However, if you're looking for the best chance of sunbathing, then anywhere from April to September is your best bet, with the months of June and July being particularly dry.
Keep in mind that the weather can change quickly and unexpectedly all year, specially in the mountain areas in the center of the island.

Crowds in Madeira
Like any destination, avoid summer holidays (August) if you want to avoid crowds. Apart from this, Madeira has several popular events scattered throughout the year, which are also busy periods:
Carnival – a highly festive period traditionally filled with street parades and parties.
Flower Festival (Festa da Flor) – taking place in April/May when the flowers are at their best, it features a parade of hundreds of performers and beautifully decorated floats.
Christmas – The mild temperatures lure many tourists to choose Madeira as a Christmas family destination.
New Year's Eve – Madeira is well known for the amazing light & music fireworks in Funchal bay – it was once considered the best firework show in the world!
That said, with the exception of the capital Funchal, Madeira hardly feels crowded. Venture out to the more rural areas and you'll find plenty of space to relax. The northern coast is particularly less crowded compared to the southern coast.
How many days in Madeira?
I recommend staying for at least 5-6 full days. While the island seems tiny on the map, there is plenty of things to do. You also need to account for the driving time to get around the island and for the changing weather which can prevent you from visiting some places.
If you want a less rushed trip and extra time to do more hikes, aim for 8-9 days instead and throw in a few lazy days to lay around the pool or go to the beach.

What to pack for Madeira
Keep in mind that Madeira has a very diverse range of landscapes with ever-changing weather. It might be bright and sunny in the beaches in the southern coast, but you'll quickly start to regret not bringing a warmer jacket on the way up to Pico do Arieiro, 1,8km above the sea level.
My point is when packing for Madeira, be prepared for that diversity. Have a range on your clothing and equipment:
Water bottle– keep yourself hydrated
Sunscreen – it gets HOT
Hiking shoes – needed for the rural areas of the island
Rain jacket – you'll never know
Headlamp – some of the hiking trails feature long tunnels!
Day backpack – to bring all this gear
Warmer jacket – don't play around if you're coming during winter time; it snowed in the highest areas of the island this year.
Where to stay in Madeira
I recommend staying in Funchal. Not only it has the largest offer of places to stay in Madeira, it's also where you'll find the largest offer of restaurants, bars, and shops. Being close to the geographical center of the island, where most roads lead to and depart from is also an advantage for any trip.
That said, Funchal is also the most crowded, expensive, and touristy place in the island. If you are looking for a more relaxing and "closer to nature" kind of trip, perhaps consider staying elsewhere for a few days.
Hotels in Funchal
When looking for a place to stay in Funchal, I recommend looking for a hotel or apartment with free parking to avoid headaches at the end of the day. Being in walking distance to Avenida do Mar, the main seaside promenade (and the city center!), and not having to worry about parking, was also a great addition to my evenings.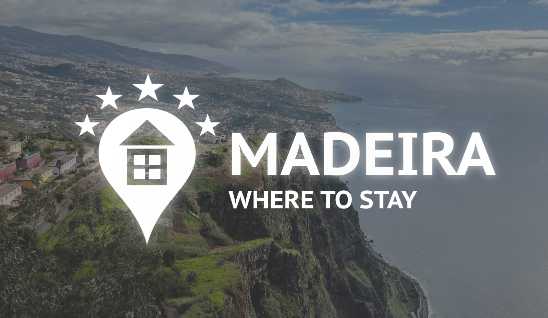 A shortlist of the best-rated hotels and apartments in Funchal with free parking and Superb rating.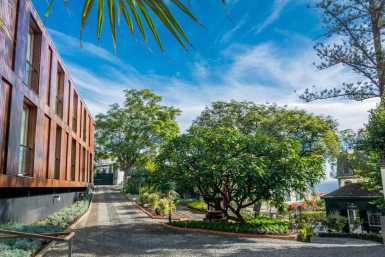 A restored Madeiran mansion with great breakfast and beautiful views over Funchal bay.
How to get around Madeira
Driving in Madeira

I have driven in many places but Madeira definitely wins the Craziest Roads Award. Long tunnels, narrow lanes, sharp curves, viaducts, steep roads and sometimes all of them at the same time. It felt like an intense Mario Kart course!
That said, you should be fine as long as you drive slowly and carefully. Maybe it's part of the Madeira charm! Here are some tips for renting a car in Madeira:
Get full insurance (Super CDW) – potentially saves you a lot of nerves.
Rent a place with a parking spot/garage included – it's almost impossible to find a spot in the narrow steep roads of Funchal.
Get a compact but powerful car – there isn't a lot of space in Madeira but at the same time, any extra horsepower is welcomed when going up 30-degree roads.
To give you an idea, I paid 220 Euros for a fully insured car during a full week.
Taxis in Madeira
If you haven't that much experience driving, I recommend getting around using tours or taxi drivers. Hiring a taxi driver for the day is the best way to stay independent while exploring Madeira, but is also the most expensive option: around 100 Euros/day.
Buses in Madeira
Public transport is inexpensive and works pretty well in the capital Funchal, but quite frankly, to explore the rest of the island it's very inefficient. Planning a day out by bus is like solving a complex puzzle of bus schedules and routes that will still never get you to the most remote and awesome places.
Bus is still the cheapest option to get around. There are 3 types of buses in Madeira:
Horários do Funchal – orange buses operating in Funchal.
SAM – red buses operating in Eastern Madeira (Machico, Caniço, Santa Cruz, etc).
Rodoeste – green buses operating in Western Madeira (Câmara de Lobos, Ponta do Sol, Porto Moniz, Calheta, etc).
Places to go in Madeira
Madeira island map
To help you get around the island and plan your trip, I've created this Madeira map with everything I've mentioned in this article: my favorite viewpoints, main points of interest, hiking trails, and restaurants.
In the meantime, here is an overview of my top 10 places to visit in Madeira.
1

Pico do Arieiro

Standing at 1,8km high in the heart of Madeira, Pico do Arieiro is one of those landscapes that crush you and make you feel tiny. My favorites! Once you're up there, watching the clouds revealing and hiding mountains, lush forests, and huge ravines is mesmerizing.
For extra adventure, you can start here the Vereda do Arieiro PR 1 hiking trail that goes to the highest peak in Madeira: Pico Ruivo.
You can go there by car, but keep in mind the road is curvy, steep and frequently has fog and strong winds. Tip: get there by sunset or even sunrise for extra beauty.
2

Porto Moniz

Almost. I almost got a glimpse of sun that would have motivated me to go for a swim at Porto Moniz lava pools. It's the highlight of this little seaside village although there a few paths that lead to whale watching viewpoints (vigia da baleia).
The natural swimming pools are open year-round but obviously summer months is when they get real popular. Entrance fee: 1,50 EUR. To try and avoid crowds, there are other free smaller pools nearby, right next to the Cachalote restaurant.
Tip: On the road to Porto Moniz, arriving Seixal, stop by Véu da Noiva viewpoint (Miradouro do Véu da Noiva) for beautiful views of the Northern Coast of Madeira and for this incredible sight of a waterfall plunging into the ocean.
3

Monte Palace Tropical Garden

Many say that Madeira is a garden, so this technically is a garden inside another garden. Jardim Tropical Monte Palace is located in Monte, high up in Funchal, and boasts an incredible collection of exotic flowers and trees from all over the world.
The garden also has a collection of typical portuguese tiles describring social and cultural events of the country throughout the centuries. Entrance fee is 12,50 Euros (2021 prices) and the easiest way to get there is to hop on the Funchal-Monte cable car (prices and operation hours here).
4

Ponta de São Lourenço

Ponta de São Lourenço was probably my favorite place during my week in Madeira. It's the most eastern point in the island and has an entirely different landscape. No crowds, no trees, just stunning ocean views.
This is a great hiking spot, with almost 10km of trails to discover. I encourage you to park your car and adventure yourself a little bit to explore viewpoints with stunning ocean views. Get there early – the parking is limited!
5

Fajã da Quebrada Nova

Scary? Yes. Crazy? Yes. Immensely beautiful? Also yes. Fajã da Quebrada Nova is possibly one of the most unique places you can find in Madeira.
You can get to this little fajã by driving to Achadas da Cruz and then get down there by three ways: by boat, a steep 1h30 hike down or an unusual cable car ride. Keep in mind the cable car works from 10am to 6am, weather permitting.
6

Ponta do Garajau

Above the natural reserve of Garajau, this headland is famous for the Christ statue (Cristo Rei). Originally built in 1927 to welcome whoever arrived to Madeira by sea, it's a great photo opportunity, with amazing views over Desertas (uninhabited islands) and the beaches of Reis Magos and Galo.
7

Balcões Viewpoint (Miradouro dos Balcões)

This viewpoint is the finale of a small 1.5km levada trail (PR11 – Levada dos Balcões) starting at Ribeiro Frio. You'll be rewarded with an awe-inspiring 300-degree panorama over the laurissilva forest of the heart of the island as well as the largest peaks of the island – Pico do Arieiro and Pico Ruivo.
Miradouro dos Balcões is also a mecca for birdwatching enthusiasts. Pro tip: bring a bit of bread and you'll have several curious little winged creatures flying around you.
8

Cabo Girão

Standing atop a 580-meter high cliff, Cabo Girão has some of the most incredible views over Funchal and the wild Atlantic Ocean. This viewpoint is the highest cape in Europe and is essentially a suspended glass-floored skywalk so it can be a… breathtaking experience (in every sense of the word!).
I visited it during pandemic times and it was still busy, so I recommend to come early in the morning to avoid crowds.
9

Curral das Freiras

Nested in a mountain valley almost a kilometer deep, the small village of Curral das Freiras is certainly a dramatic sight. It's literally translated as "corral of the nuns" because nuns from Santa Clara Convent in Funchal seeked refuge here to escape attacks from French pirates.
To take in the scenery in full, head to one of the viewpoints in the surrounding mountains. Miradouro do Paredão and particularly Eira do Serrado have amazing views over this special place. The little town is worth a visit to, just to have a glimpse of what is living at such a remote place. Make sure to try the local chestnut cornbread (broas de castanha).
10

Funchal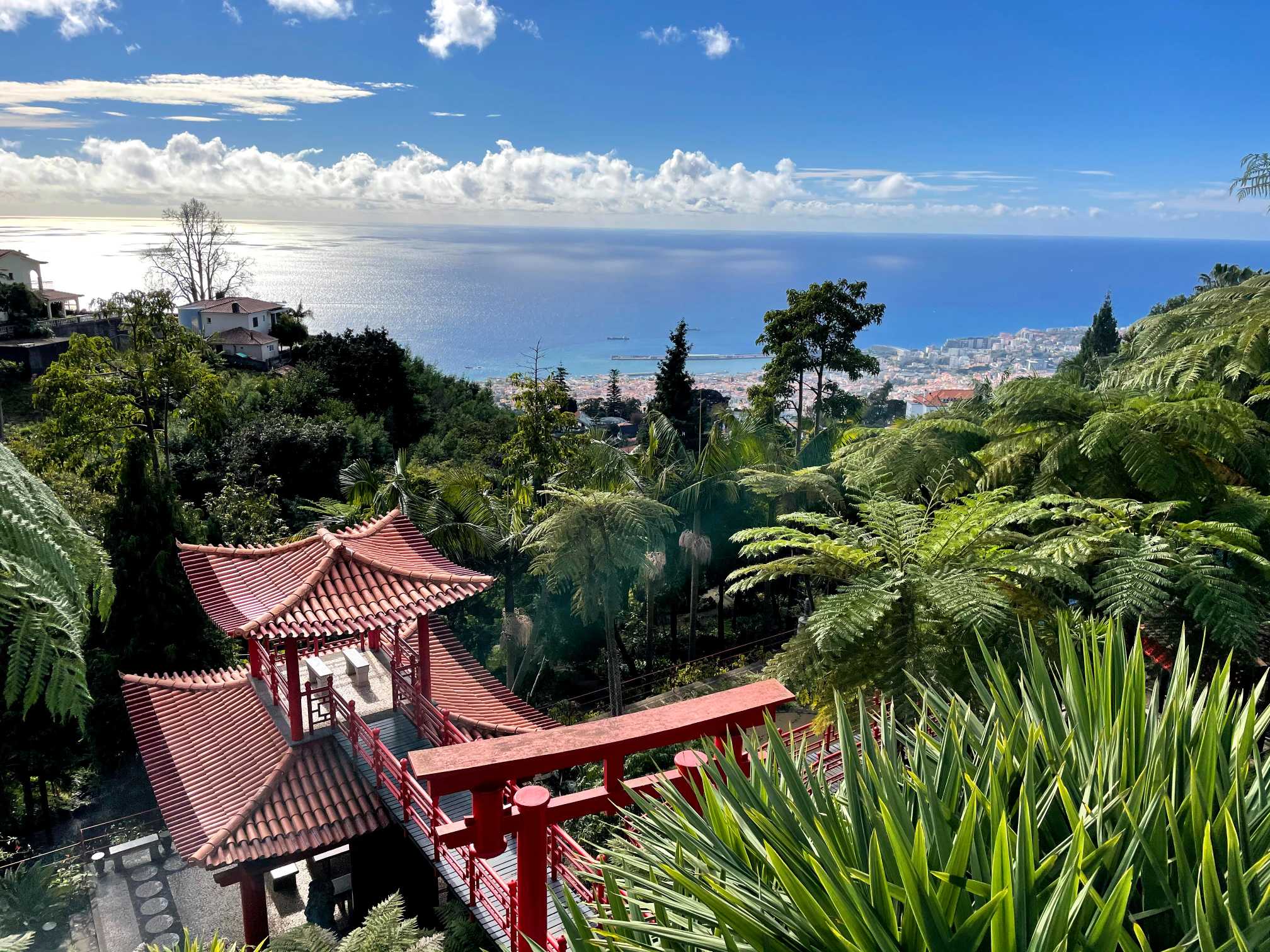 Last but certainly not least: the capital of Madeira. Funchal was a surprise for me. Not only it's much bigger than I anticipated, but the city was literally built on a natural amphiteather so everywhere you go you'll set to enjoy stunning ocean views.
Because it's so catered to tourists (expect crowds all-year round!), the streets are extremely neat, clean, and filled with restaurants and shops. It's a joy to walk in. These are some of the sights to see in Funchal:
Avenida do Mar – the main seaside promenade
Botanical Garden (Jardim Botânico) – boasting flowers from all over the world
Funchal Cable Car (Teleférico) – a 15-min ride all the way up to Monte where you can visit Monte Palace Madeira
Funchal Cathedral – gothic 15th-century cathedral
Lido – bathing complex with saltwater pools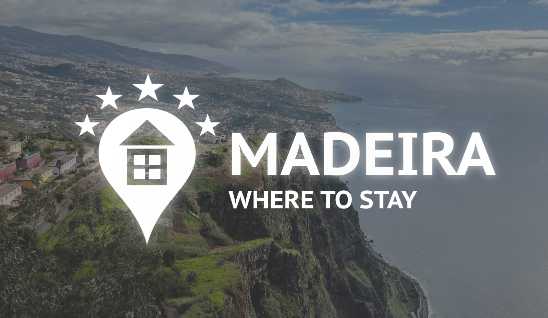 A shortlist of the best-rated hotels and apartments in Funchal with free parking and Superb rating.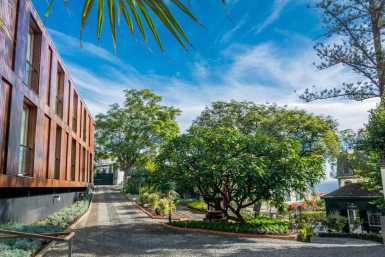 A restored Madeiran mansion with great breakfast and beautiful views over Funchal bay.
Tourist traps in Madeira
Not everything was perfect though! I had the chance to visit Madeira in pandemic times, which clearly benefited my experience. But it's clear the island can suffer a bit of the overtourism virus, specially around the Funchal area (where you pay just to go for a swim in the ocean!) and in some crowded hiking trails (which takes away the whole experience, if you ask me).
Mercado dos Lavradores – even though the largest market in Funchal is worth a visit, beware of the sellers giving you exotic Madeiran fruits to taste. They're usually flavor enhanced with a bit of syrup and you can easily pay dozens of euros for a few pieces of fruit!
Santana Traditional Houses – I was expecting to see an entire village filled with the triangular-shaped iconic houses you see in postcards and are marketed as typically Madeiran. The reality is that there's only a 3/4 of them in Santana, selling souvenirs and traditional food to tourists. A disappointment.
Things to do in Madeira
Hiking in Madeira

Madeira is a paradise for hiking lovers. The typical levadas – trails that follow old water canals through the forest – range in size, difficulty level, and landscape giving a bit of everything for everyone.
🥾 Hiking trails in Madeira
Levada das 25 Fontes PR6 – the most popular levada of them all leads to a stunning waterfall surrounded by lush forest. Avoid arriving late morning or early afternoon due to crowds!
Vereda da Ponta de São Lourenço PR8 – the beautiful remote eastern tip of Madeira boasts amazing views over the ocean and the other islands of the Madeira archipelago.
Levada dos Balcões PR11 – easy and entirely flat 30-min path to one of the most iconic views over the Madeira forest.
Vereda do Arieiro PR1 – connects Pico do Arieiro to Pico Ruivo in something that can be described as walking on clouds. This trail was closed when I was there due to a landslide (January 2021).
Levada do Caldeirao Verde PR9 – another hidden waterfall, but you need to go through a few long tunnels to get there. Bring a flashlight or headlamp!
Swimming spots in Madeira
Although Madeira is not exactly known for being a beach destination, there are some spots around the island where you can go for a swim in the ocean.
Man-made swimming pools or even small harbors are great spots to dive into the Atlantic and they're all across the island (check my map!). Here are some of my favorites:
💧 Swimming spots in Madeira
Porto Moniz – natural lava pools in the northwestern tip of the island, quite popular in summer.
Calheta – a couple of artificial beaches between breakwaters.
Prainha – small beach in Caniçal hidden among the hills, popular amongst SUP and scuba diving enthusiasts
Garajau – acessible by cable car or to a steep descent by car.
Machico (Banda D'Além) – artificial yellow sand beach (one of the largest in the island), imported from Morocco in 2008.
Porto do Seixal – volcanic beach surrounded by green cliffs and mountains.
Porto Santo – if you have some extra time, head to the neighbor island of Porto Santo for one of the best beaches of the country!
Other things to do in Madeira
These are other tours and outdoor activities you can find in Madeira:
Canyoning – the geological conditions of Madeira are fantastic to try out this sport.
Coasteering – jumping, swimming, and snorkeling amongst the rocky coastline
Cooking Class – food in Madeira is delicious, so this is something I highly recommend. Check Portugal Farm Experience for farm-to-table cooking classes!
SUP – experience Madeira from a different perspective: from the sea!
Food in Madeira

What to eat and drink in Madeira
You'll eat extremely well in Madeira. The level of restaurants in Madeira is pretty high and there's a bit of everything: from hole-in-the-wall hidden gems to Michelin-worthy restaurants. Honestly, it's great value for money overall.
These are some of the delicacies to try in Madeira:
😋 What to eat in Madeira?
Bolo de mel – made with dark sugar cane and nuts, it can last for a whole year after baked.
Bolo do caco – delicious flatbread, served with garlic butter. Served virtually everywhere as a starter.
Espetada – meat skewer with beef, bay leaf and garlic, grilled on charcoal.
Peixe-espada – black scabbardfish served battered and then fried along with a banana or/and with passionfruit sauce.
Lapas – limpets are my favorite seafood, also typical from my homeland Azores and I couldn't be happier to find them in Madeira too!
Poncha – the most traditional Madeiran drink, made with aguardente, honey, sugar, and different fruit juices. You'll hardly believe this has alcohol!
Restaurants in Madeira
Last but not least – some of my favorites restaurants and bars in Madeira.
🍴 Where to eat in Madeira?
Cachalote – not exactly the best value, but it's compensated by good quality food is and the beautiful views over the Porto Moniz coastline.
Doca do Cavacas – even if the food was average, the ocean view would make any visit worthwhile. But the food is absolutely delicious. Specialized in seafood – order lapas!
Santo António – meat-focused restaurant in Câmara de Lobos. This is a great place to try the traditional espetada.
Taberna da Poncha – located in Serra D'Água, this is the place to try the typical poncha.
Taberna Madeira – all the Madeiran specialties can be found in this restaurant in Funchal, from milho frito to lapas and bolo do caco.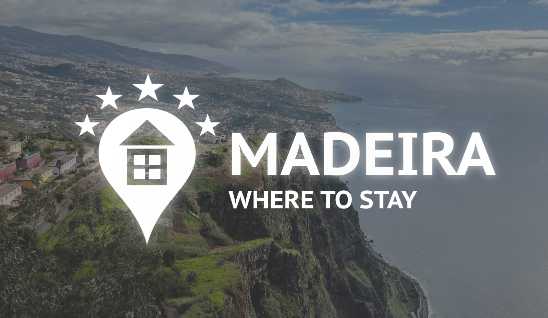 A shortlist of the best-rated hotels and apartments in Funchal with free parking and Superb rating.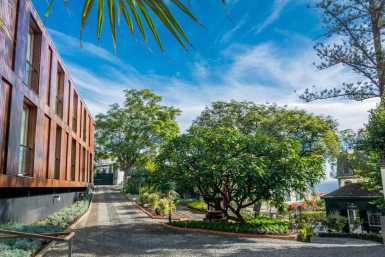 A restored Madeiran mansion with great breakfast and beautiful views over Funchal bay.
What else did you do in Madeira island?
Let me know what I've missed in this travel guide!