With a one-of-a-kind history and location bridging Europe and Asia, there are certainly a lot of unique experiences to have in Istanbul.
I decided to share with you my top 7!
1

Eat a Kebab

Eating kebab is not unique by itself as it's now a global food available in every major city in the planet.
But eating a kebab in Istanbul, where it all started, is a completely different story. It's still meat on a stick, but a damn good and superbly spiced meat.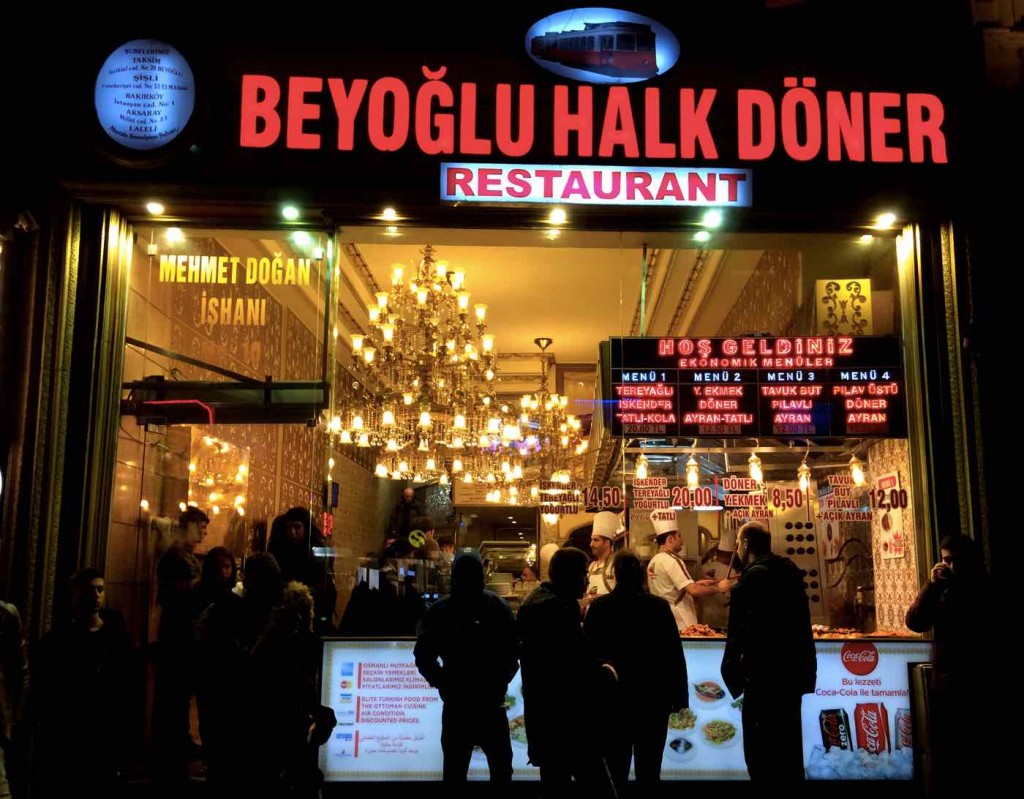 I've been trying to eat less and less meat in the last months but seeing those succulent chunks I just couldn't contain myself. I tried lamb, chicken and beef (not pork though, it's a Muslim country, remember?) kebab in the shape of several dürüms and döners.
 Eventually found my favorite and it was simultaneously the one with more of a local feeling. Glad I had friends living in Istanbul which took us to this place. It's called Durumzade, you can thank me later.
2

Drink freshly-made pomegranate juice
It's hard to miss the street vendors of natural juices every other door in Istanbul. The unique thing here is they are selling pomegranate juice (nar süyü) freshly made in front of your eyes using a somewhat archaic device which resembles a medieval torture tool. The juice is extracted from the pomegranate in less than 2 seconds and it's healthy, addicting and super cheap. If you avoid the more touristic areas, while they can cost you 10 Turkish Lira, this sweet nectar can dazzle your taste buds for just around 3 Liras (1 EUR)!
3

Let someone wash you in a Turkish bath

Sounds a bit awkward? Well that's because it is! Turkish baths – hamam – are a variant of the Roman baths with a focus on a more humid environment and steamy air. Basically a very classic spa, including relax in a hot marble stone, a full body scrub, a bubble bath and if you want to splash your money, a reinvigorating massage.

While the idea of someone giving me a bath hasn't been on my mind since I was 5, this is certainly one of the most unique things you can do in Istanbul.

The extremely basic communication with the masseurs felt daunting sometimes. But overall it was a surprisingly good combination of relaxation and pain (still can feel their hands on my calf muscles).

There are many hamami scattered around Istanbul to which local people go the most, which are usually cheaper; we decided to bet on a more high-end place.
4

Haggle something in the Grand Bazaar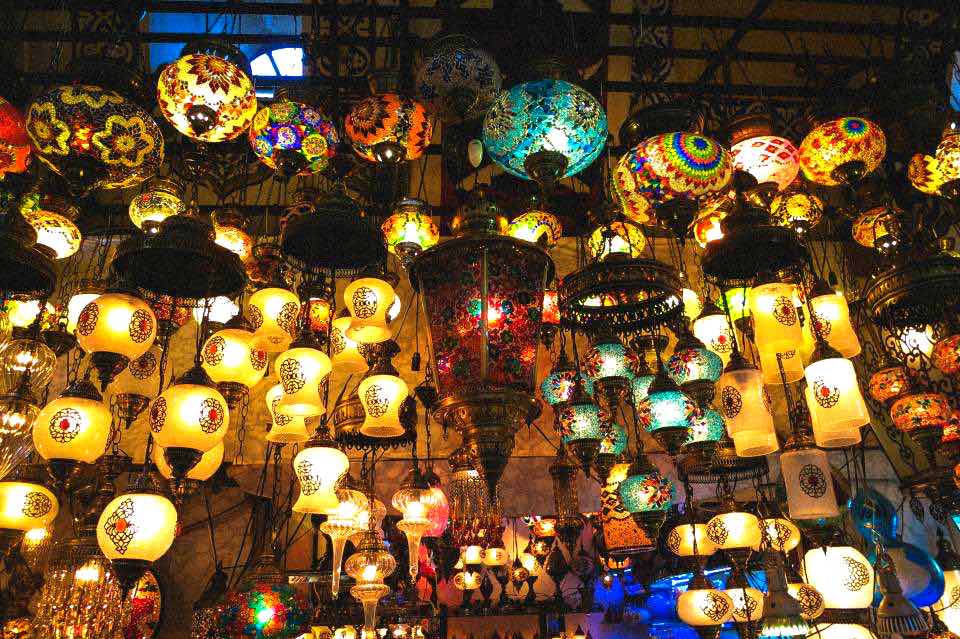 Grand Bazaar(Kapalıçarşı) surprised me for its dimensions. It's a HUGE underground world of traditional shops selling everything you can imagine of: apple tea, expensive jewelry, turkish towels, pairs of socks or other absolutely random stuff.
If I weren't wandering around with no destination already, I would definitely be lost very quickly. It's also a great place to initiate or perfect your haggling technique. Oh the excitement of wanting something and having no idea what you'll pay for it!
The variety of stuff you can buy here is comparable to what I've seen during shopping in Bangkok. The good things is that vendors are not as aggressive as in other parts of the world. 
This was quite an interesting experience, definitely more authentic than the Souks in the shopping malls in Dubai.
Where to stay in Istanbul
Istanbul is a huge city so make sure you pick a safe and convenient location to stay. This can save you a lot of time and money getting around. This is my top suggestion to stay in Istanbul.

Hotel Ibrahim Pasha
Located near the main sights of the city, this elegant hotel has a friendly staff and a very good breakfast each morning.
Book now >>
Or just do your own search with this shortlist of the top-rated hotels in the heart of Istanbul, with breakfast included.
5

Ride the busy crowds at Istiklal

İstiklal Caddesi (Independence Avenue) is a 2km-long pedestrian avenue and the beating heart of the 21st-century Istanbul. Connecting the iconic Taksim Square to the Galata area, Istiklal is a crazy mix of shops, churches, restaurants, mosques and hotels.

Everyday 2-3 million people (!) walk in this street and at home hours it's so busy it's even hard to maintain a conversation with the people on your side, as you have to CONSTANTLY be detouring people walking in the opposite direction. Getting a clean shot of the red tram that crosses the avenue was a even harder task, the one below was my 10th try! Anyway, Istiklal is definitely worthwhile for the feeling of the overwhelming energy of Istanbul and to remind you this city can be as european as any other.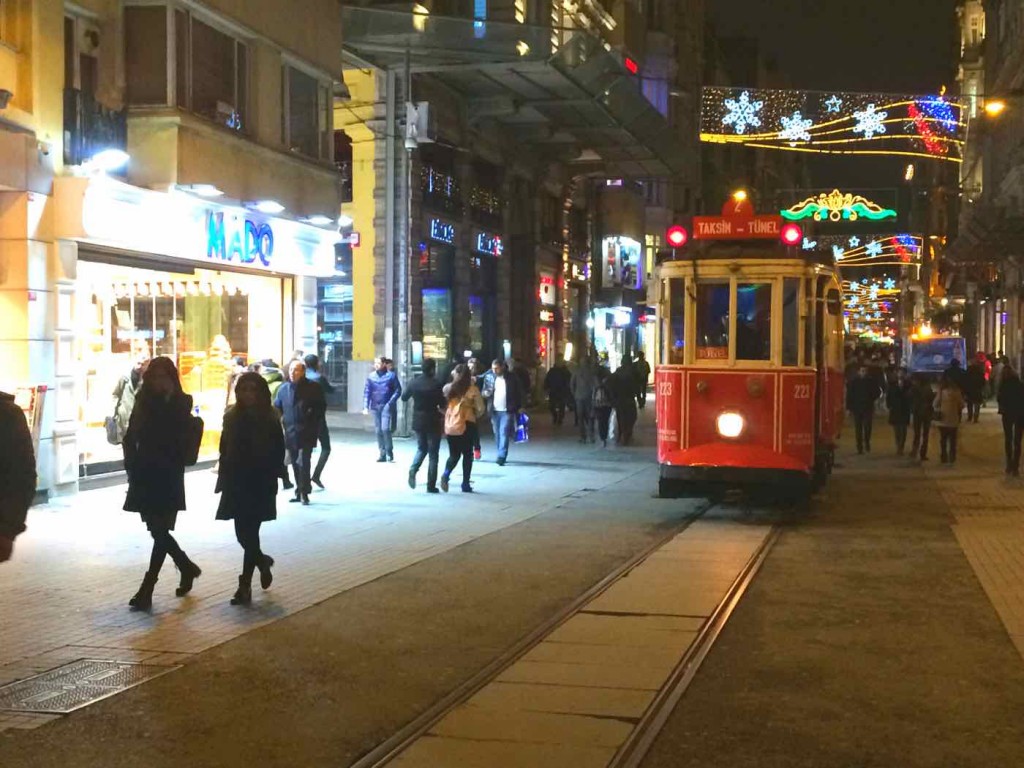 6

Pay a visit to a mosque

Getting in such close contact with the Islamic culture it is definitely one of the best things one can do in Istanbul. It does not matter if you're Muslim or Christian or anything else. Hell it does not matter if you're religious or not.

The city has nearly 3000 mosques for you to choose and when I visited the top mosques in Istanbul, I got to say I was completely overwhelmed by everything.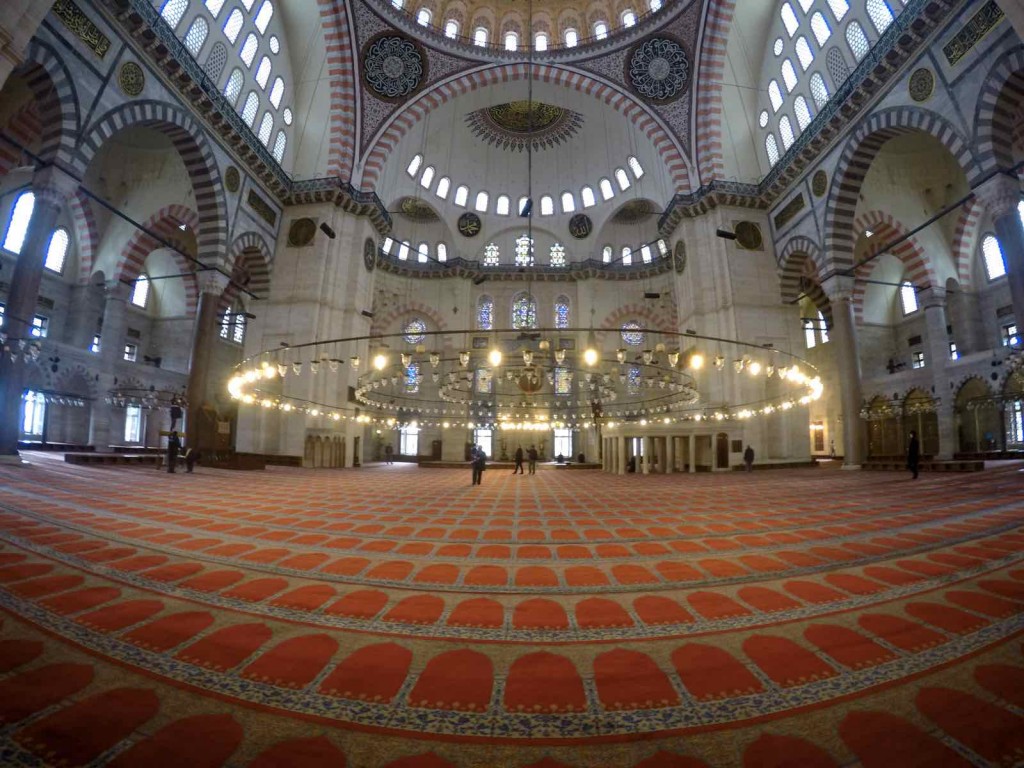 Amongst all of them, Sülemaniye Mosque is probably my favorite. Impressive in size, minimalist in design but still beautiful. Particularly liked it because it allowed me to tune down the volume of the craziness of Istanbul and have a moment of peace with the inner you. Which is the ultimate goal of spiritual places, isn't it?
7

Indulge yourself in Turkish pastries

Generally speaking, Turkish food is great value-for-money and pastries are not exception. You've probably heard of baklava but there is a immensity of other deserts worth trying that can make your diabetes pound the alarm:
Türk lokum – as known as Turkish delights. Make sure you save some space to bring back boxes of them, I literally sweated trying to fit everything in my luggage.
Tavukgogsü – Made with chicken meat and fat. But surprisingly good.
Künefe –  Somehow similar to baklava, it's made of Levantine cheese and is often topped with pistachios or ice cream.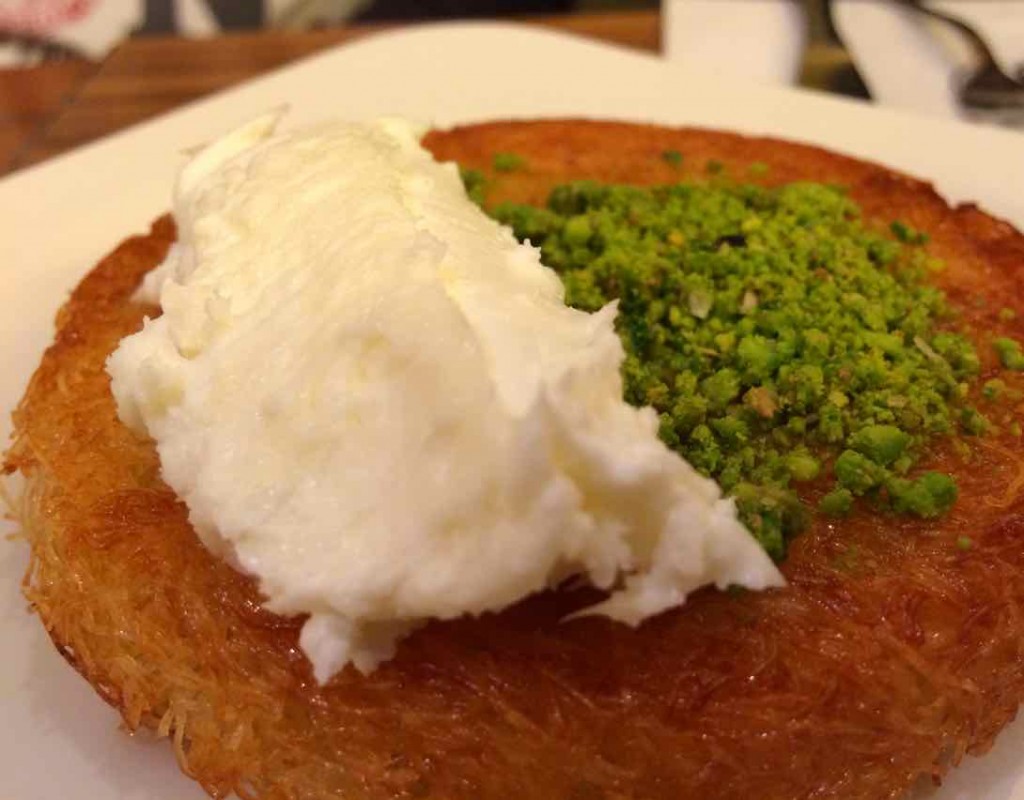 After having dinner, we went to Sutis for a feast of these sweet treats while drinking turkish tea (now that I think about it, four huge desserts to only three people was maybe a bit too much). Can't think of a better way to finish your day in Istanbul!
ISTANBUL TRAVEL INFORMATION
How to get to Istanbul
With one of the busiest airports in Europe, you can reach Istanbul conveniently by plane. I always recommend Skyscanner to compare the prices upfront and choose the cheapest fare.
Where to stay
Booking.com is my favorite resource to find accommodation on my travels. User-friendly, reliable and you can even cancel your reservation in case you've changed your mind. I've pre-selected the hotels with best reviews in Istanbul for you.
Best time to go to Istanbul
The best time to go coincides with shoulder season in Europe – between April-June and September-October. If possible, avoid the Ramadan months (dates vary) as many businesses and shops close.
More info
If you are planning to go to Turkey discover GO Turkey.
What have you done in Istanbul? What would you include as #8? Share your turkish experiences!