Do you have one day in Helsinki and want to make it count? Here's a simple and efficient guide to getting around the Finnish capital in one day.
Helsinki wasn't on my plans at first. But after finding out it was so easy to go there on a day trip from Tallinn (where I was staying for two weeks), I didn't hesitate.
In this article, I'm sharing my exact day plan in Helsinki which allowed me to cover most of the main highlights of the city.
I also recommend alternatives in case you want to see or do different stuff. It's all on this map.
One Day in Helsinki: Summary
🇫🇮 Helsinki Day Plan (from Tallinn)
How to get to Helsinki from Tallinn

First things first. If you come from Tallinn, the best way to get to Helsinki is definitely by ferry.
The trip on the Tallink Silja ferries takes about 2 hours each way, so you can get on a ferry early in the morning and return in the evening, giving you anywhere between 8 and 14 hours to explore Helsinki. I honestly found it was enough and it saves you money on the hotel. Trust me: Finnish prices are ruthless.
Check my detailed trip review with Tallink Silja below.
What to do in Helsinki in one day
Kamppi Chapel

Kamppi Chapel was my first stop.
No, I'm not religious at all. Apart from its peculiar architecture, what drew me here was that contrarily to other churches these days who turned from temples helping those in need to money-making machines for tourists, this tiny chapel was built with a legitimate and beautiful purpose.
It is intended to be a "refuge" in the city and it provides support and help to anyone who needs it. You can go in for a meditative session, a break to organize your thoughts or even have an anonymous conversation with a staff member if you need to talk. All for free.
ℹ Helsinki Cathedral
Get there from the ferry terminal: Take Tram 7 or 9 at West Harbour (Tallink's ferry terminal) and leave at the Simonsgatan station.
Entrance fee: Free.
Schedule:Open 9am to 6pm, everyday.
Kauppatori (Market Square)
Take the leafy Esplanadi boulevard to reach Kauppatori (the Market Square).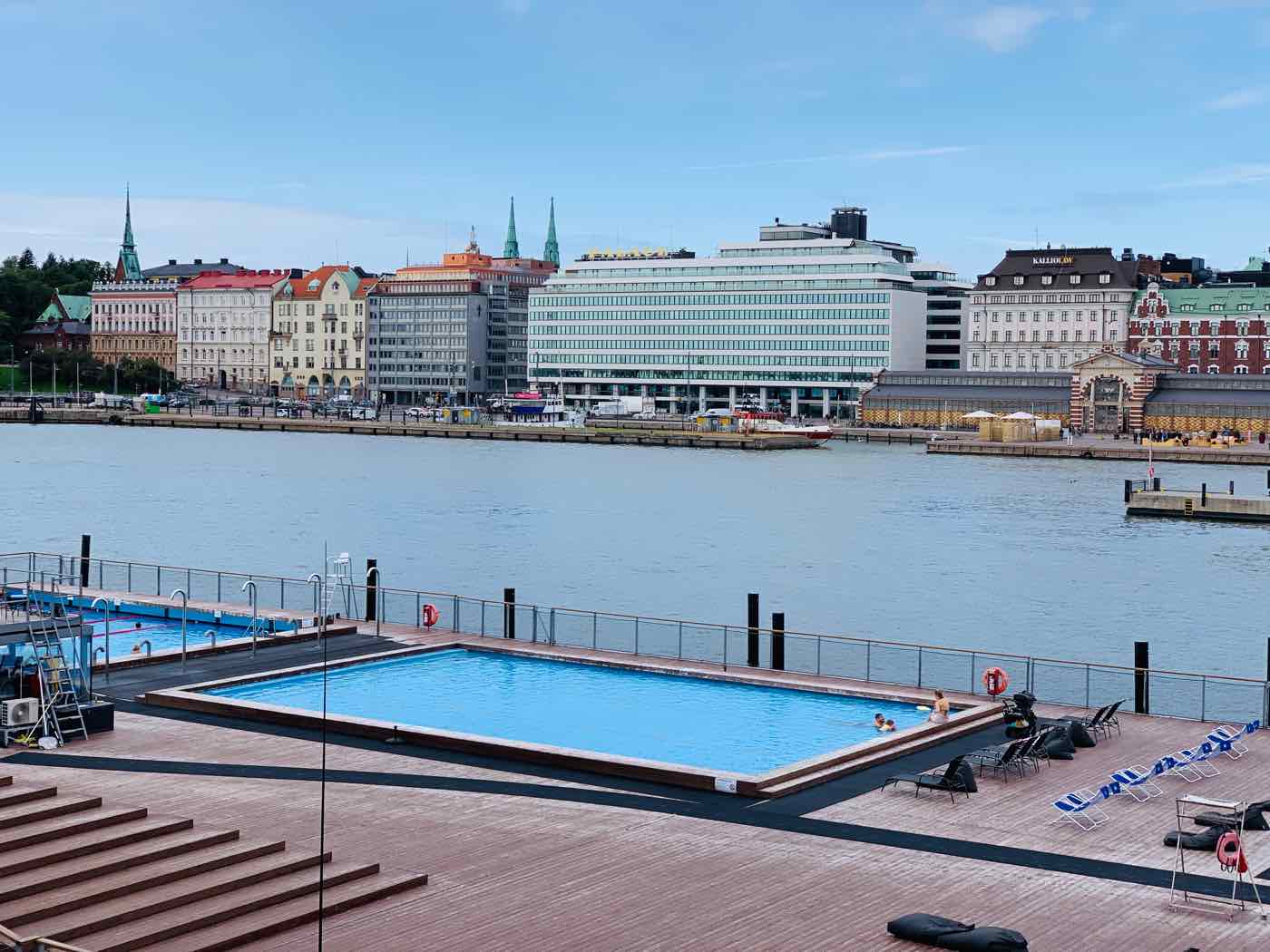 This area has some things to do, the first one being the market itself. It's not huge, but the stalls have a wide variety of souvenirs, handicrafts typical to Finland, and my favorite: berries. There are also inexpensive places to eat all-things-fish like baked salmon, salmon soup, anchovies, and herring. Once you're done with the outdoor market, head to indoor Old Market Hall (just a few steps away, in Eteläranta). Worth to go inside just for the cool building.
As far as I could grasp, locals come to neither of these sites as it's targeting mostly tourists. If you want a more local market experience, head to the Hakaniemi Market Hall in the hip Kallio district (I did go, but only to find out it was closed for renovations in September 2019).
ℹ Other things to do near Market Square
The epicenter of Helsinki has other reasons for interest. The views over the yachts, ferries, and nearby island are beautiful and better experienced from the top of Allas Sea Pool . This set of open-air pools at different temperatures sees locals bathe even during winter.
Just 2 minutes away located on a small hilltop, take a peek at the Uspenskin Katedraali, which will also double as a vantage point with a nice overview of Helsinki.
Finally, Kauppatori is also where ferries to Suomenlinna depart. Built as a sea fortress spread across seven different islands, it's one of the most popular day trips from Helsinki. As it's mostly outdoor and it was raining the entire day I was there, I had to skip it. Hope you get better luck!
Helsinki Cathedral

Dominating Helsinki's landscape, the whitewashed neoclassical Helsinki Cathedral (locally called Helsingin tuomiokirkko) is perhaps the most recognizable landmark of the city. You can spot it from pretty much anywhere in the central area.
On the outside, it's impressive and majestic. Taking the massive steps from the plaza to get up there is already quite a sign of the grandiosity of this place. On the inside, however, I found it to be a bit bland and underwhelming.
ℹ Helsinki Cathedral
Get there from Kauppatori: Just a few steps inwards from the sea, you'll get to Helsinki Cathedral.
Entrance fee: Free.
Schedule:Open 9am to 6pm, everyday.
Sibelius Monument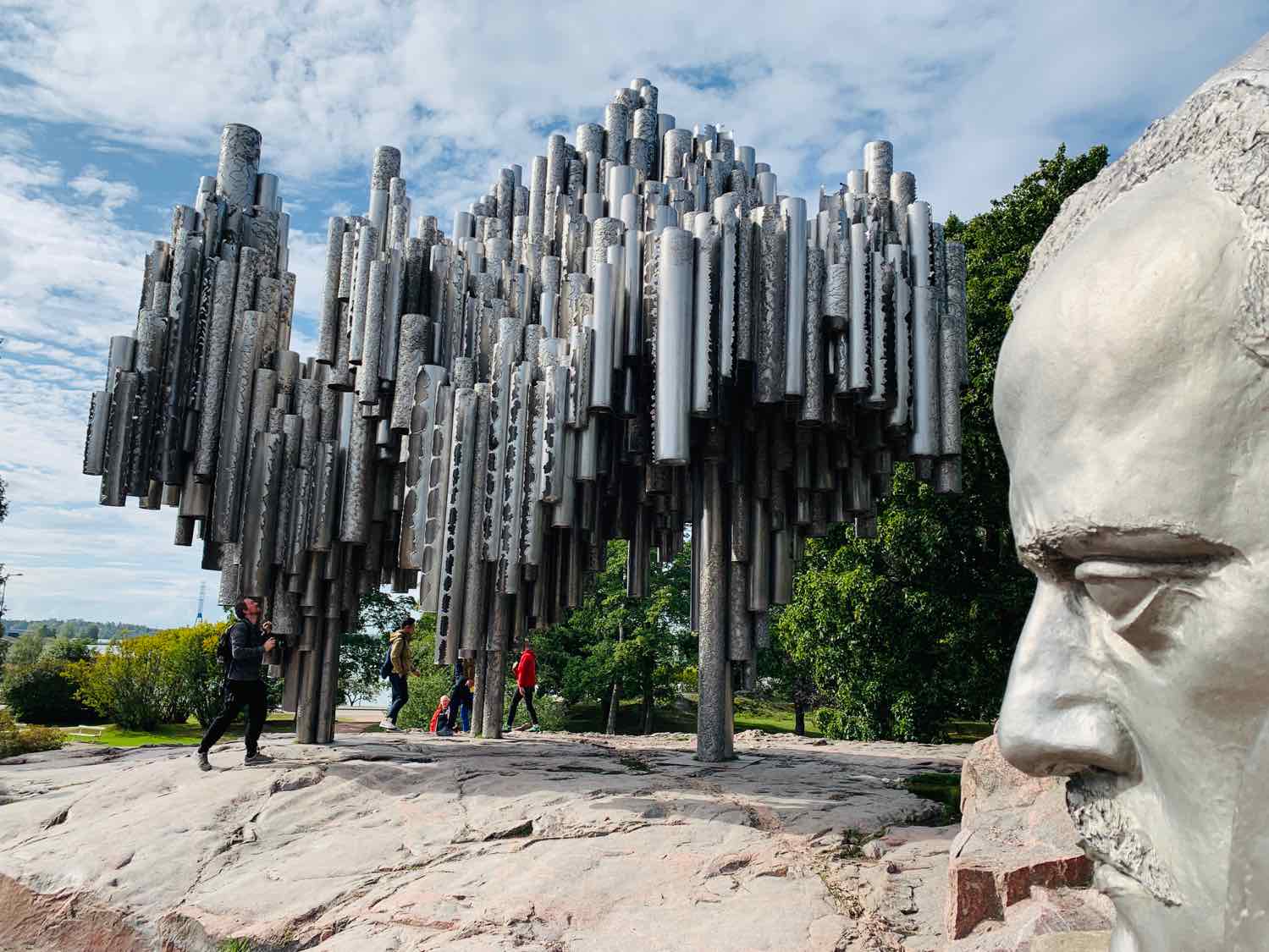 I found this a bit over-the-top but unique and beautiful at the same time. This piece of art consists of 600+ steel pipes that form a wave-like shape, representing music.
At first, I was a bit disappointed, but the more I looked at it, from different perspectives, the more I liked it. The structure makes a sound whenever the wind blows or you talk or clap into it.
The surroundings are beautiful too, with a quiet park and a lake where you can rent kayaks at the nearby Regatta Café.
Regatta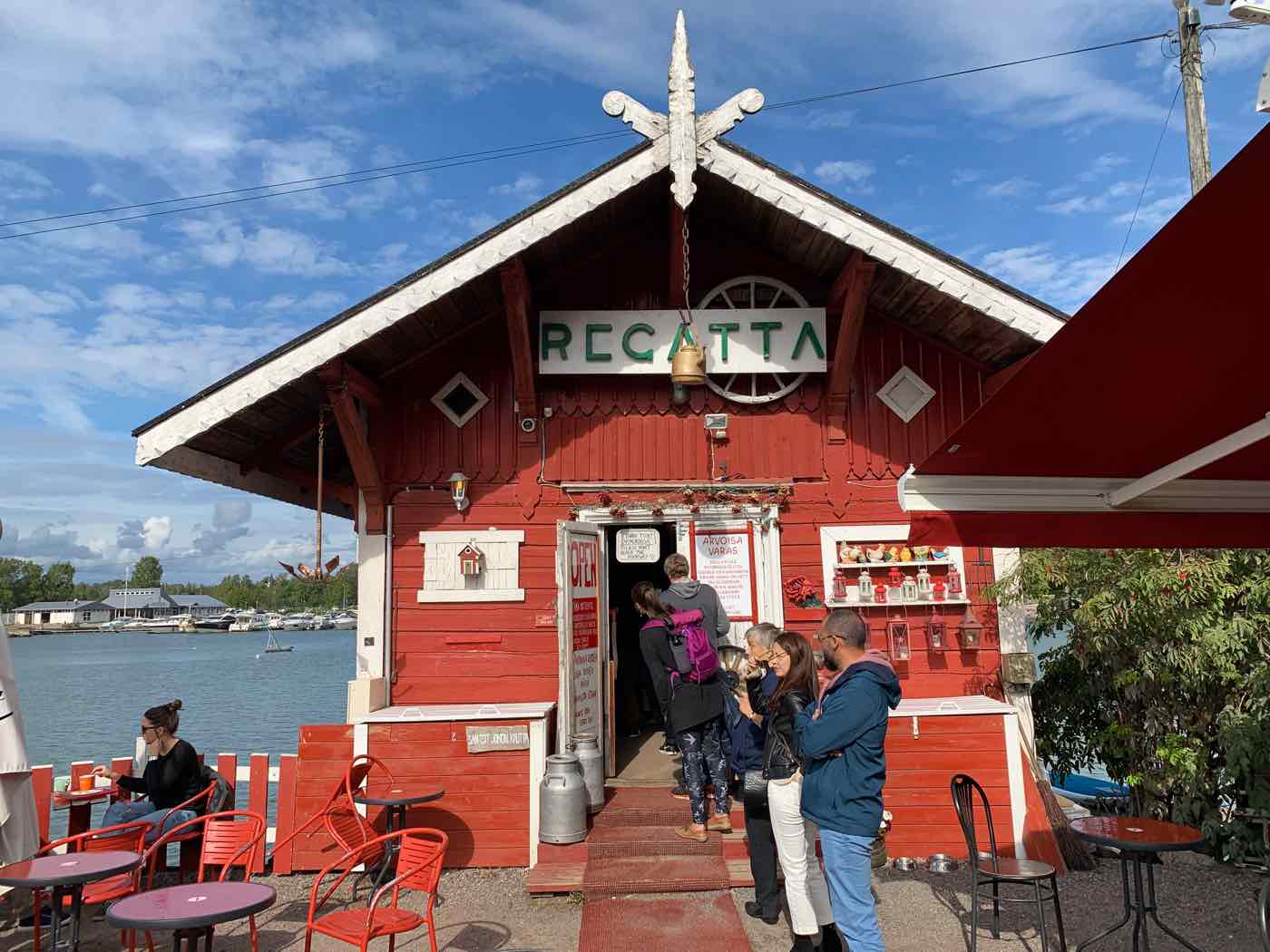 Everyone coming to Helsinki seemed to include this apparently normal café in their plans, so I had to check what the hype was all about. Guess what – this place is brilliant.
First of all, is not "just" a café. It's a quaint cabin on the shore of a gorgeous lake, that also rents kayaks and boats. Unless it's freezing outside, you can sit outside and take in the views.
Then, the food. A large variety of snacks is available, from tasty sandwiches to all sorts of cakes and desserts. I do have a motto: when in the Nordics, eat a cinnamon bun per day. And – just so that you know – it ended up being an outstanding cinnamon bun.
Finally, it has a bonfire outside where you can make yourself cozy as well as cook your own sausages. DIY hotdogs – how no one thought of this idea before is beyond me.
This place is cozy, charming, and unique enough for me to consider it – as weird as it may sound – a must thing to do in Helsinki.
Temppeliaukion
Also known as the Rock Church, Temppeliaukion is a unique church entirely built into a huge solid rock surrounded by residential buildings in the district of Töölö.
This magnificent building was designed by brothers Timo and Tuomo Suomalainen and opened in 1969. Not only the light that comes from the circular dome skylight is beautiful, but the sound of the rain mining from the walls with the piano music playing on the background are delightfully wrapped by the amazing acoustics. What a place.
ℹ Temppeliaukion
Get there from Regatta: Walk to Tölö Torg for about 12 minutes and from there take either the tram 1 or 2 to Sampogatan.
Entrance fee: 3 euros (2019)
Schedule: Weird schedules. Officially from 10am to 5pm most days, but it can be randomly closed for private ceremonies any time of the day.
Löyly Helsinki

The last stop of the day is also a well-deserved rest. It's sauna time! In case you didn't know the sauna was created in Finland. Sauna is actually a Finnish word! Heck, going to the sauna is the most Finnish thing you can do.
There are over three million of private and public saunas in Finland, and there is no shortage of them in Helsinki too. Whether it's winter or summer, is a cool thing to experience to have while in Helsinki. Try the new modern seaside Löyly Helsinki complex in southern Helsinki. This is actually a multi-purpose space where people also go to meditate, work on their laptops, read a book, or simply relax.
Remember that men and women are usually separate (although there are mixed-gender saunas too), silence is king, and that nudity is common. No one will care if you bring a towel though.
Do I have time to do all this in Helsinki?
Provided that you use the public transportation to get around – buy the day pass! – all the places mentioned above are doable in a day. I stayed for a total of 10 hours in Helsinki (9h30-19h30), but you can work the ferry schedules to stay a bit less or a bit more.
However, with only a day in the city, you'll probably have to choose between Suomenlinna island and the sauna complex at Löyly Helsinki. If the weather is bad, I'd definitely recommend picking the sauna experience. If it's not and you prefer to be outdoors, take the ferry out to Suomenlinna.
If none of these appeal to you and prefer to hang out at a museum, check Amos Rex right next to Kamppi Chapel or just go for a shopping spree at Stockmann.
How to get around Helsinki for a day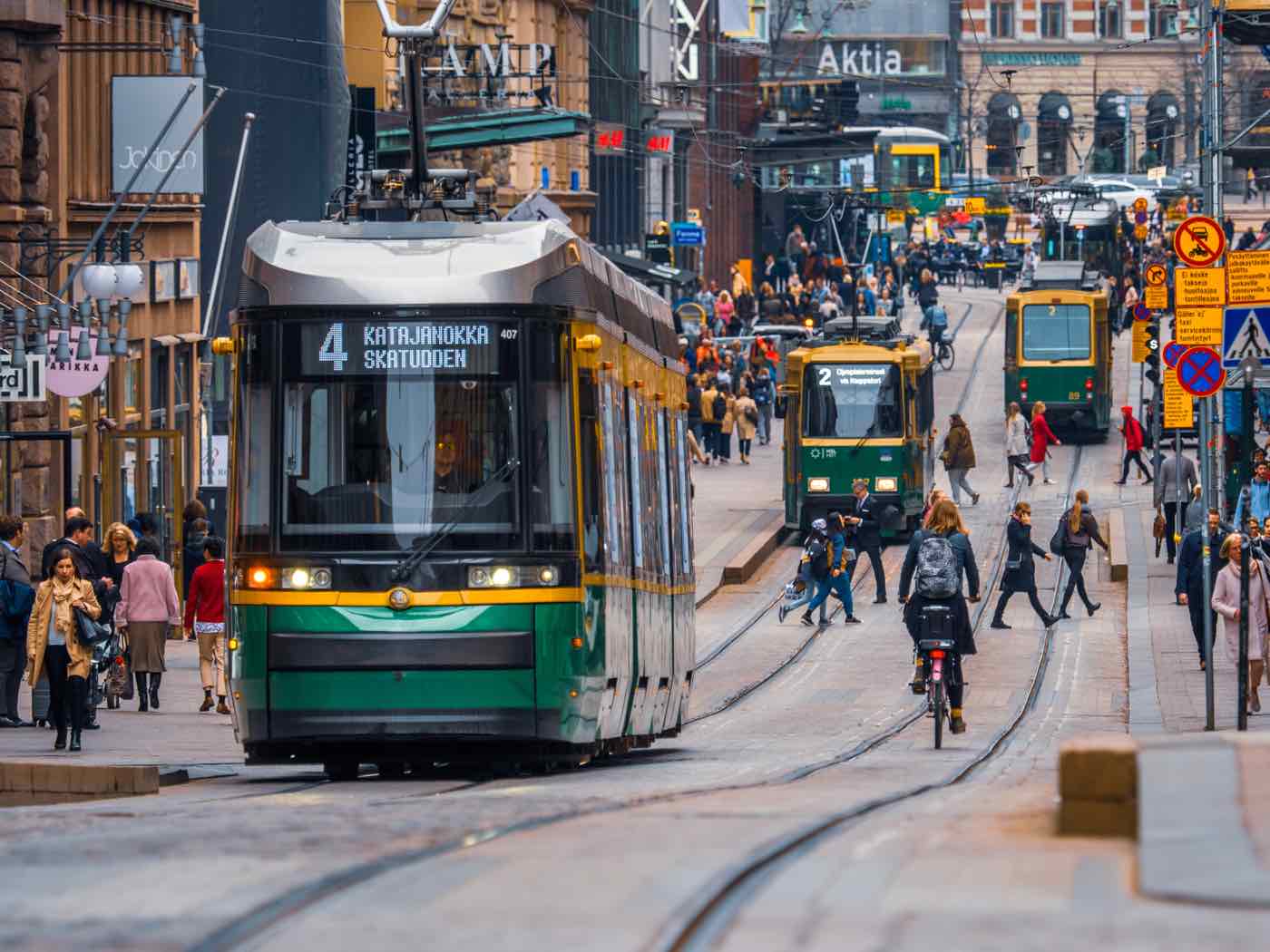 The best way to get around Helsinki in a short amount of time is to use the eficient public transportation system, particularly the trams.
A day pass (8 euros) is more cost-effective than individual journeys (roughly 3 euros). I think I've done about 5-6 journeys in total, so it can quickly add up.
To buy your ticket, just head to any tram station or purchase the tickets online. I downloaded the HSL app on my phone and bought a full day pass there with a few taps. When I arrived at West Harbour, I simply walked to the Tram 7 station to catch the tram to the center.
Fun fact: you can also purchase monthly passes on a subscription basis via the app. Finland is already in 2030.
Where to eat in Helsinki?

Quite frankly, I can't comment much on the food department because I didn't have a sit-down meal in Helsinki. My super breakfast in Tallink's Megastar ferry kept me full for (too) many hours and then I had a tasty meatball dinner back on the Star ferry. Here are my two cents anyway.
A sit-down meal in Helsinki is potentially time-consuming, affecting your day plan, and above all it won't be exactly cheap. Single dishes hit frequently the 20 euro mark.
That said, I imagine ordering a salmon soup (saw it everywhere, must be a trend?) is both filling and recomforting under the chilly weather, for just about 8-9 euros. I also did get some recommendations of affordable and good value restaurants from people who knew I was going there, so feel free to check them out.
Fafa's (falafel)
Friends & Brgrs (burger place)
Hills Dumplings (Asian fusion dumplings)

My trip to Helsinki with Tallink Silja
I took the 7h30 Megastar ferry to Helsinki and came back to Tallinn at 19h30 on the Star ferry. Here's a review of my trip with them.
Why choose Tallink Silja?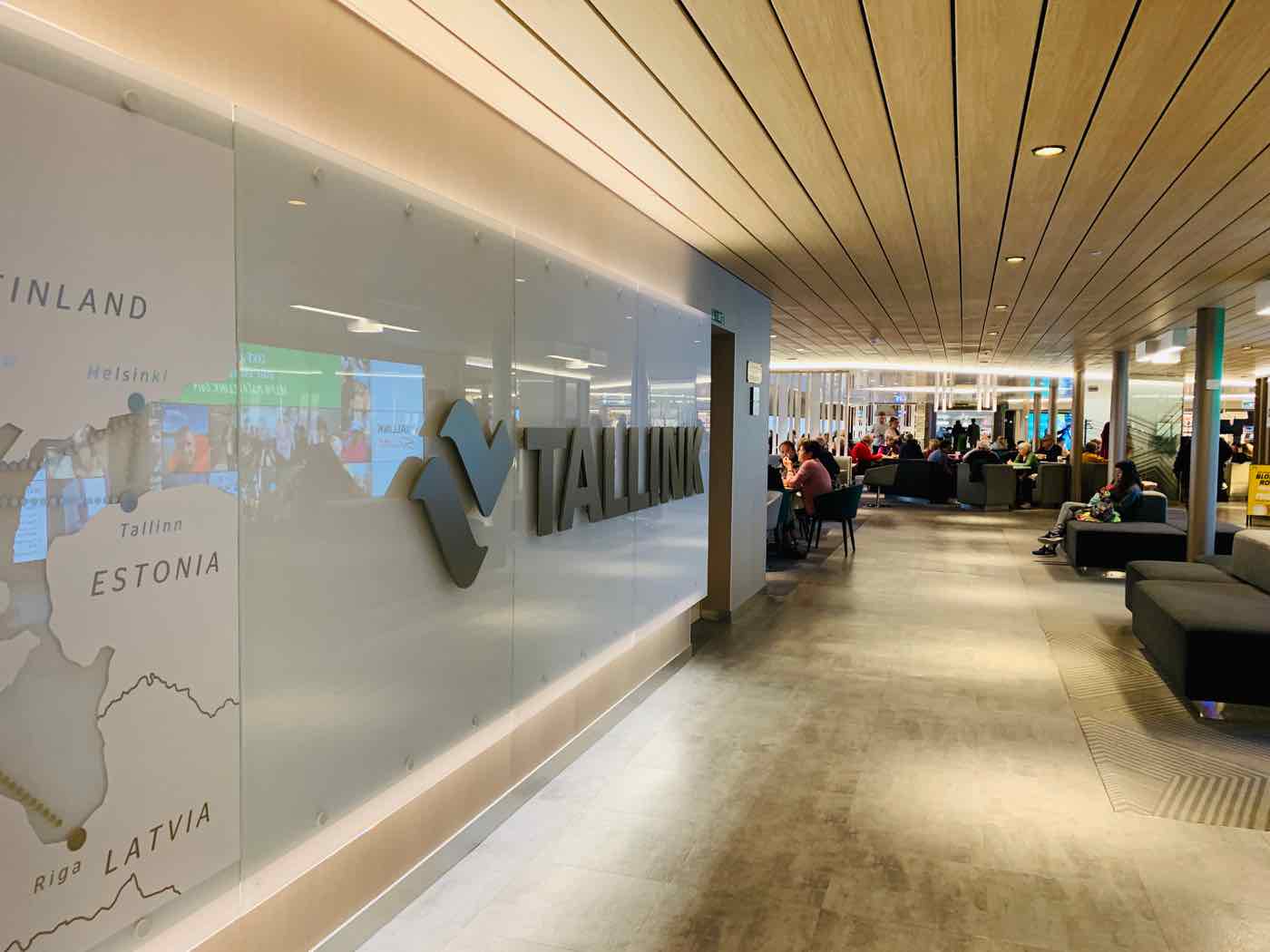 Tallink is the leader of sea transportation services in the Baltic Sea, carrying almost 10 million passengers/year across its fleet of 14 vessels.
The Tallinn-Helsinki route is operated by Megastar, Star, and Silja Europa. The ferries operated by Tallink Silja have the most frequent departures – up to 7 trips/day – connecting the two city centers throughout the entire year.
And when I say "ferries" I really meant HUGE vessels who are prepared to deal with any variant of the rough Nordic weather. This took away all of my insecurities of navigating in the open sea and assured me I was in for a great trip.
Also, I'm very aware of the impact of cruise ships in the environment so I confirmed their environmental practices were up to standard and they were. Low-sulphur fuel, check. No-spill policy, check. Sewage pollution prevention certificates, check. That's already a huge improvement compared to most cruise ship companies.
The terminals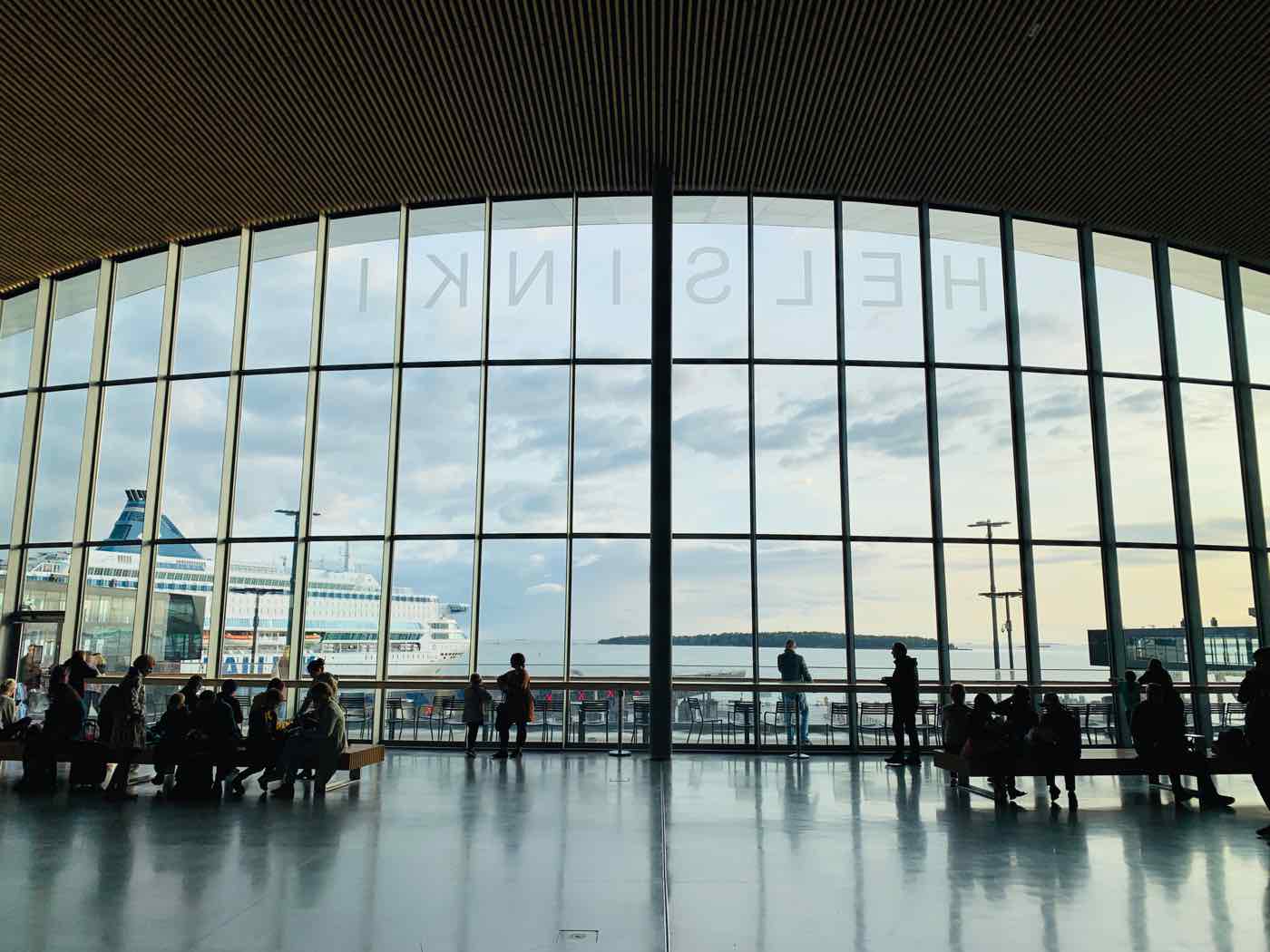 To go Helsinki, you need to go to Tallinn's ferry D-Terminal, a short 15-min walk from the Old Town. On the way back, ferries depart from Helsinki's West Harbour Terminal 2, a modern and ample terminal a short 15-minute tram ride from the city center (trams 7 or 9).
Pretty much everything works just like a normal airport. I recommend checking in online the day before so all you need is to show the QR code on your ticket that goes directly to your email. No paper needed.
Make sure you arrive at the terminal at least 30 to 45 minutes in advance before departure.
The boats

The Megastar was built in 2017 so everything looks and feels brand new. Holding up to 2,800 passengers, the vessel has 10 (!) floors, and 3 of them are open for passengers on foot. It is equipped with a casino, supermarket, restaurants, a fully stocked Traveller Superstore (with spirits, souvenirs, clothes, and much more!), and even a Burget King and a Starbucks.
The Star is very similar to Megastar in terms of layout and infrastructure. Because it's a 2007 boat, it's slightly less modern design-wise but I found the main difference to be in the fewer amount of lounge areas and places to relax. I did find a quiet spot to lay down and close my eyes for a while though. It has a total capacity for 2,080 passengers.
The journey

The journey takes 2 hours each way. Apart from a slight oscillation on the way there for about 10 minutes, both journeys were super smooth.
To save some money (again, Finnish prices are ruthless!), I opted to eat in both boats. On the way to Helsinki, I purchased the breakfast menu ticket for 12 euros, which gives access to a full all-you-can-eat buffet with eggs, bacon, granola, yogurt, coffee, juices, etc.
On the way back to Tallinn, I had dinner at Star main restaurant, that serves daily specials. For 13,50 euros, I had the meatballs with potato purée with a gorgeous view over the Baltic Sea.
Apart from exploring the boat, my favorite memory of traveling in Tallink's boats was when we were departing Helsinki's port. I sat at the upper deck on the back and took in the sweeping views while the sun was setting and the boat navigated through the dozens of tiny islands nearby. Magical.

Tallink Silja Review
✅ The good
✅ The boats were MUCH bigger and better than I expected and have all kinds of amenities to keep you busy.
✅ The whole process of getting to the port, checking in, and traveling was much smoother than I had imagined on my mnd.
✅ Also, I was a bit uncertain about traveling in the open Baltic Sea, but both journeys was comfortable and relaxing.
✅ Overall, considering it's a 2-hour ride, both boats deliver tremendous value-for-money and will give you an experience by itself other than Helsinki. Highly recommend it.
❌ The less good
Quite frankly, there was nothing bad enough in any of the journeys to report.
❌ If I go into the nitty gritty, I'd probably say there are few lounge areas in the Star ferry. However, I was traveling on a Saturday night which I assume is one of the most busy times of the week.
Disclosure: I partnered up with Tallink Silja on this trip.
Nevertheless, all opinions are, as usual, my own.

What other recommendations you have to see Helsinki in one day?
Did you go on a day trip from Tallinn as well? Share your experience below.